As a jewelry maker or seller, you know how important it is to purchase the right jewelry clasp types for your necklaces or bracelets.
Although not many buyers pay attention to the clasp, it's the only thing that determines how secure the piece of jewelry is and how long it will last. So, in the end, the customer will definitely care about your choice of clasp!
Don't worry! Whether you're a seasoned pro or just getting started in the jewelry industry, this article will provide tons of value and teach you how to choose the best clasps and closures.
Let's dive in and see the ten most popular jewelry clasp types this year with all their pros and cons!
1. Box Clasp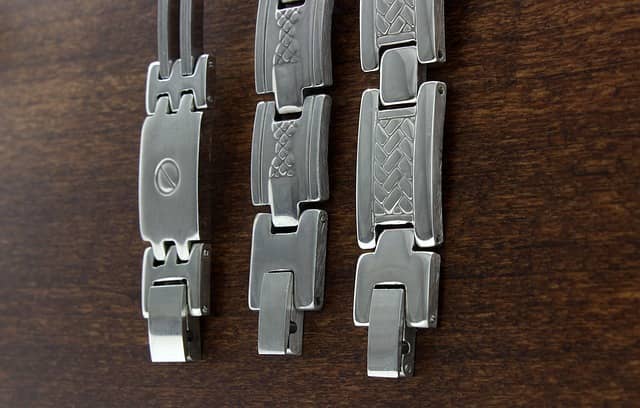 The box clasp is commonly used among jewelry designers for its elegant and secure design.
The mechanism of this clasp consists of a small box-shaped component, which contains a spring-loaded tab inserted into a frame to lock, keeping the jewelry securely fastened.
This type of clasp is often used in bracelets and necklaces since it's perfect for more intricate and refined designs. Additionally, the box clasps can be decorated or embellished to add an extra touch of elegance to the final piece.
Pros
Elegant and often used for their seamless blend with gold chains and necklaces;
They're versatile and can be used for both necklaces and bracelets;
They can be engraved, branded, or otherwise customized to fit your needs;
A box clasp of high quality is usually pretty durable;
Cons
Their locking mechanism might be complex or confusing for first-time users;
They're heavier and bulkier than other types of jewelry clasps, so they fit thicker pieces of jewelry rather than very delicate and fine ones;
They could be more expensive due to the bulkiness and amount of material used to produce them;
The part that folds can wear off and become less secure over time;
2. Bead Clasp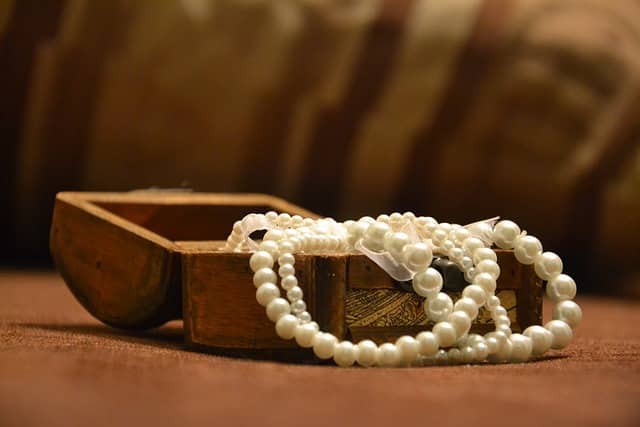 A bead clasp, also known as a ball clasp, is another popular type of fastener used in jewelry-making. It's designed to blend seamlessly with the necklace or bracelet design, which is why it's often used in pearl and bead jewelry.
The bead-shaped clasp usually contains a hook on the inside. When the hook is securely fastened, it becomes hidden within the bead, creating a smooth and uninterrupted appearance.
Pros
It's discreet and fits seamlessly and without interruption with pearl or bead necklaces;
The hook inside the bead is usually secure enough to withstand all types of movements;
Bead clasps come in tons of models, sizes, and varieties, making it easy to find one that matches what you need;
Lastly, bead clasps are easy to lock and unlock, even using just one hand;
Cons
Bead clasps are usually recommended for lighter jewelry, as they aren't strong enough to support heavy items;
Once they get damaged, bead clasps are usually impossible to repair;
3. Fishhook Clasp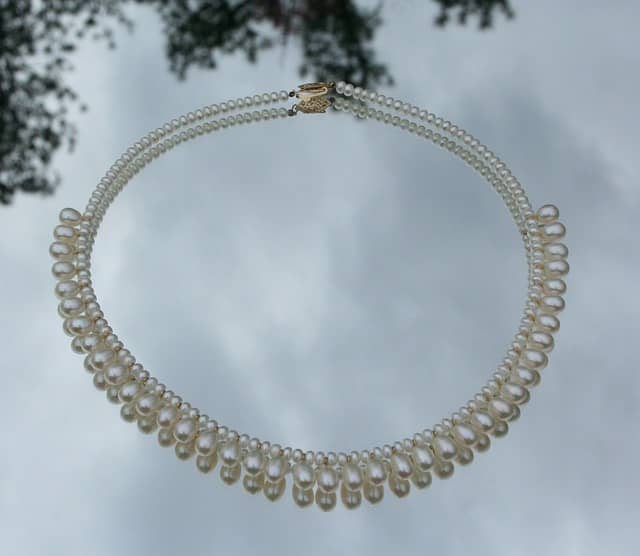 A fishhook clasp, also known as a fish-eye clasp, is a fastener that adds elegance and glamour to a necklace or bracelet.
The clasp has an ornate design on the outside, usually in the shape of a marquise. It contains a hook that loops through and slides into the marquise shape. This creates a secure lock that prevents the jewelry from coming loose or falling off.
Traditionally, fishhook clasps are used for pearl necklaces, but lately, they're also used in diamond and other necklaces and bracelets.
Pros
Great for elegant pearl or diamond necklaces or bracelets;
A secure hold;
Inexpensive and available for sourcing;
Cons
Prone to wear and tear with frequent opening and closing over time;
Not suitable for all types of jewelry;
Could be a safety hazard around little children or accidentally damage fragile clothing;
4. Magnetic Clasp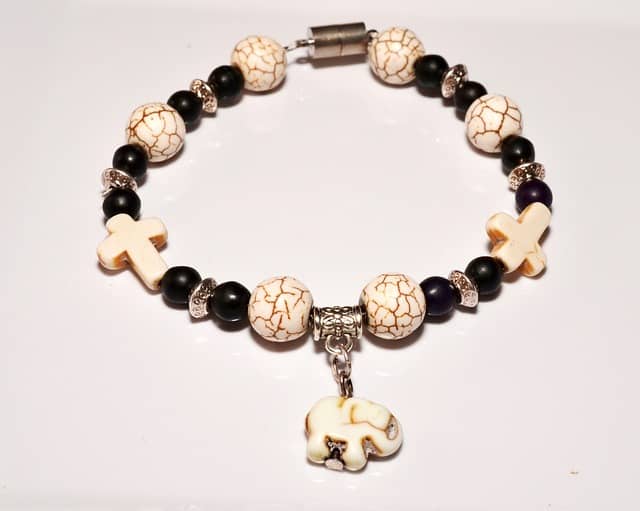 A magnetic clasp is a type of fastener that allows for easy and convenient jewelry fastening. It's typically used for necklaces and is suitable for those who have difficulty with other more traditional types of clasps.
These clasps use two magnets on each end of the clasp that attract each other when brought close together, securely fastening the jewelry. They're a practical option for jewelry worn daily since they're easy to connect and disconnect.
However, it's important to note that magnetic clasps may not be suitable for bracelets as they can get stuck on things where your hand goes, like purses, pockets, etc. Additionally, it's important to note that magnets may not be strong enough to hold heavy chains or pendants.
Pros
Easy to open and close, even with one hand;
Versatile and suitable for almost all types of jewelry and styles;
Safe to use with delicate clothing as they're smooth and cannot tear or break anything;
Many different models, sizes, and types are available on the market;
Cons
The strength of the magnetic fastener depends on the quality and strength of the magnet itself – if it's low quality, the magnetic clasp will be weak;
They can lose their strength if exposed to environmental influences over time;
They aren't suitable for people with conditions that prevent them from being their magnets;
Lastly, magnetic clasps are often more expensive than other jewelry clasp types;
5. Spring Ring Clasp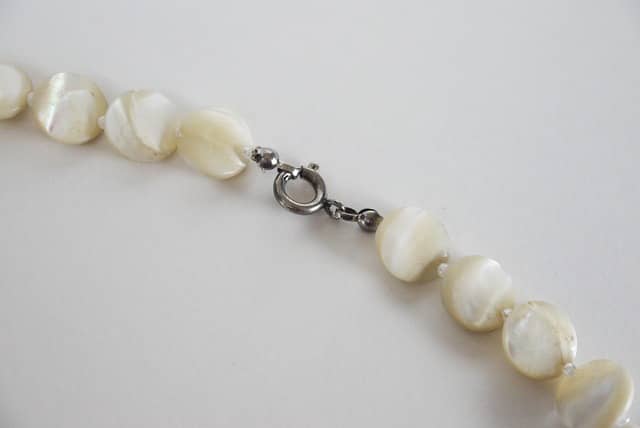 A spring ring clasp is a type of fastener that uses a spring-loaded mechanism to securely hold jewelry pieces in place.
It works similarly to a lobster clasp, where a small lever is pushed down, allowing you to open and close the jewelry. Once the lever is released, the spring-loaded mechanism snaps the clasp shut, securing the jewelry in place.
Pros
Inexpensive compared to other clasp types;
Versatile and can be used for both bracelets and necklaces;
Easy to source and a variety of sizes, materials, and models available;
Cons
Suitable for lighter jewelry only since it might not be strong enough for heavier pieces;
Might be difficult to handle since it's very small in size;
Prone to wear and tear with frequent use;
6. Toggle Clasp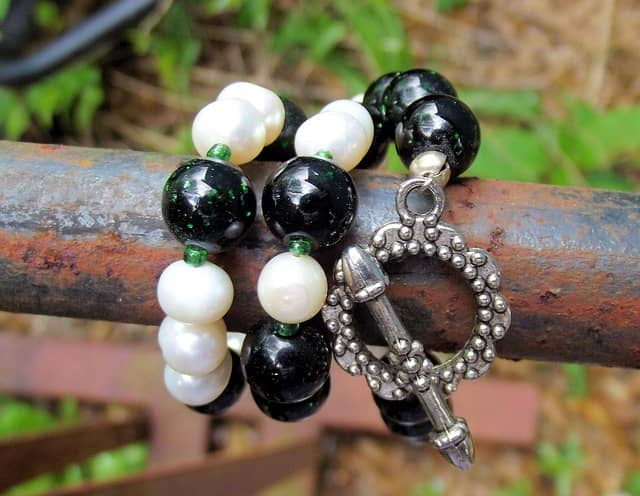 A toggle clasp is a type of closure commonly used in necklaces, bracelets, and other jewelry. It consists of two main parts: a toggle bar and a toggle ring.
The toggle bar is inserted through the toggle ring to fasten the jewelry. Then, the weight of the jewelry keeps the toggle securely fastened and less likely to come apart.
Pros
Easy to use and simple to open and close;
Toggle bars are stylish and work with a variety of designs;
They can withstand larger and bulkier jewelry;
They're versatile and can be used for bracelets, necklaces, and other types of jewelry;
Cons
With a lot of movement, the toggle clasp may come undone;
Toggle clasps might be more expensive than other types of fasteners;
They can't adjust, and the piece of jewelry is fixed in length;
Toggle clasps can often be too bulky for elegant jewelry pieces;
7. Barrel Clasp
A barrel clasp, also known as a screw clasp or a tornado clasp, is a type of jewelry fastener that consists of two cylindrical pieces that fit together and screw in to close. It resembles the shape of a barrel, hence its name.
One of the main benefits of the barrel clasp is its strength, as the screwing action creates a tight hold that keeps the jewelry secure. However, you'll need both hands to fasten it, which makes it less convenient for bracelets or people with limited dexterity.
Pros
A secure and safe closure, even for bulkier jewelry;
Barrel clasps are typically made of metal, and they're very durable;
A wide variety of barrel clasp types, sizes, and models are available on the market;
Cons
You need both hands to close, which is not great for bracelets;
Not the most elegant choice for high-end jewelry;
8. Lobster Clasp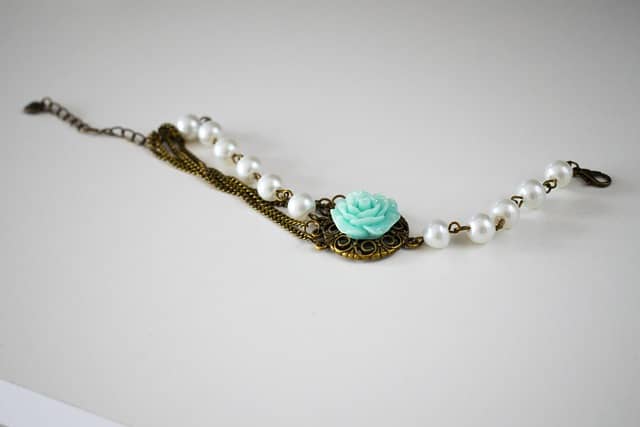 A lobster clasp is another type of spring-loaded and self-closing clasp similar to the spring ring clasp. The difference is in the shape, which is where the name comes from.
To open the clasp, you press down on the lever with your thumb, causing the bottom section of the claw to swing inward. Releasing the lever will then close the claw, keeping the jewelry securely fastened.
The lobster clasp can turn 360 degrees at its base, making it very flexible and secure.
Pros
A simple mechanism that's easy to open and close;
Easier to open than a spring ring clasp;
It's usually adjustable in size because it has a longer chain or links allowing you to modify it to your need;
Lobster clasps provide a secure hold and are unlikely to come off;
Cons
More expensive than spring ring clasps because of more material used;
Might not be suitable for jewelry that's too heavy or bulky;
Prone to wear and tear;
9. Slide Lock Clasp
Designed for multi-strand bracelets or necklaces, the slide lock clasp is a great choice if you plan to sell layered necklaces or bracelets.
Slide lock clasps are composed of two long tubes, one of which fits inside the other. Each tube has rings attached to it, which can be used to pull strands of chain, wire, thread, or cord. To use the clasp, you simply slide the two tubes together, which will lock in place, providing a secure hold.
Pros
Great for customization and designing unique jewelry;
The best option for multi-strand jewelry such as layered bracelets or necklaces;
A secure lock that doesn't open easily;
Cons
Not the best option for single-strand jewelry;
Bulky and not suitable for lighter, elegant jewelry;
10. S Hook Clasp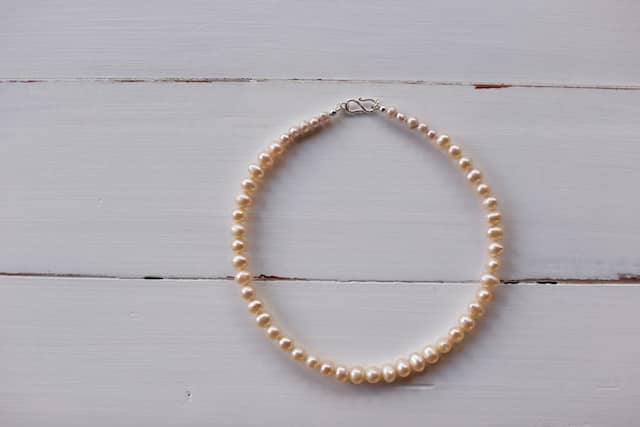 Last but not least, we have the S hook clasp. This type of jewelry fastener consists of a curved, S-shaped piece of metal that latches into a loop on the other end of the chain.
S hook clasps are popular for necklaces and other jewelry that requires an easy-to-use yet secure hold.
Pros
Ideal for heavier jewelry as it relies on weight for security;
Best used for hanging necklaces;
A variety of sizes, shapes, styles, and models to choose from;
Cons
Not ideal for lightweight jewelry as it might come undone with movement if it isn't pulled down with enough weight;
Not suitable for children's jewelry as it isn't safe enough;
Not the best fastener choice for bracelets;
FAQs about Jewelry Clasp Types
Now, let's look at some of the most frequently asked questions about the different jewelry clasp types.
What Are the Different Types of Jewelry Clasps You Can Sell?
All of the above are popular types of jewelry clasp types you could purchase and sell or use for your jewelry-making business. It all depends on the type of jewelry we're discussing.
What Is the Most Secure Jewelry Clasp?
To answer this question correctly, we'd have to know the exact type of jewelry in question. However, generally speaking, the lobster clasp is considered to be one of the safest jewelry clasps for both necklaces and bracelets.
After the lobster clasp, in terms of safety, we have the barrel clasp, as well as the box clasp.
What Is the Best Bracelet Closure Type?
The best type of bracelet closure will depend on your specific needs and preferences. Some of the most popular ones are typically the lobster clasp, box clasp, spring ring clasp, toggle clasp, and magnetic clasp.
What Are the Best Types of Necklace Closures?
You could choose many different clasps for necklaces, depending on the type of necklace you're designing. Some great choices are lobster clasps, spring ring clasps, toggle clasps, barrel clasps, etc.
However, if we're talking about layered necklaces, then a slide lock clasp would probably fit better. It all depends on your specific needs.
Where Can I Find Reliable Jewelry Clasp Suppliers?
You can try the following ways of searching for reliable jewelry clasp suppliers:
Google the keyword "jewelry clasp suppliers", "best jewelry clasp types", or something similar to find sellers;
Browse B2B marketplaces like Alibaba;
Visit trade shows in China;
Partner with a sourcing agent like Niche;
Can You Help Me Source Different Types of Jewelry Clasps from China?
Yes! Niche is an industry-leading sourcing agent in China, and we can help you source all jewelry clasp types for your business. Thousands of brands use our comprehensive services to source, store, pack, and ship their products to end consumers.
Furthermore, we can help you customize any product you need and help you build your brand from the ground up!
To Conclude
Many different types of jewelry clasps are available on the market today, each with its unique features and benefits. Understanding the most popular options can help you make an informed decision about selecting the right clasp for your jewelry business.
Hopefully, this list of the ten most popular jewelry clasp types has helped you figure out what you need. Can't find the type of clasps you need? Let us know, and we'll send you a free sourcing quote!