Alibaba is a well-known name in eCommerce especially when it comes to doing business online. It is even more than that. Having started from a simple online marketplace meant to buy and sell things online, it has grown into a group of companies.
Although it has reached heights of popularity, people still ask the two most famous questions. Is Alibaba legit and is Alibaba safe?
This article deals with answering these questions. At the end of this article, you will have all your doubts cleared about the legitimacy and safety of making transactions on Alibaba.
Let's start.
What Is Alibaba?
Alibaba is a group of companies that primarily started as an eCommerce platform. It is based in China and has spread to many companies including AliExpress, 1688, and Taobao to name a few.
Currently, Alibaba is serving as a B2B eCommerce platform. It is where you can buy and sell products preferably in larger quantities where MOQs are applied.
Starting in 1999, it has grown to dominate the major online selling world. But people still ask questions like is Alibaba legit or is Alibaba safe?
Let's answer these questions once and for all.
Is Alibaba Legit?
Yes. Alibaba is a legitimate business. It trades with the name of BABA on NYSE (New York Stock Exchange). So, for the American readers and the people who believe that American companies are legit, it is sufficient proof that Alibaba is legit.
Alibaba Legal Security
How would you know if the products you have ordered from Alibaba are legal to be received? Alibaba has also addressed this concern.
Alibaba does not allow the prohibited items via its platform which can create trouble for the sellers and the buyers.
Alibaba has a list of prohibited items that it has shared on its website.
These items include hazardous material, drugs, prohibited firearms, etc.
Had Alibaba been not legit, it would not have been following international rules of trading legal items.
So, it is also safe and legal to buy from Alibaba regarding the nature of products.
Is Alibaba Safe?
Alibaba is a safe and secure company. Alibaba has a proper International Securities Identification Number (ISIN).
This is sufficient to prove that Alibaba is a legally registered entity that is recognized all over the world. People invest in this company by buying its shares.
People do not invest in companies that are not legit and safe to work with.
Alibaba Group Holding Ltd had a peak share value of 300 HKD in 2020. This means that people had been trusting this company for many years to bring its share to that level.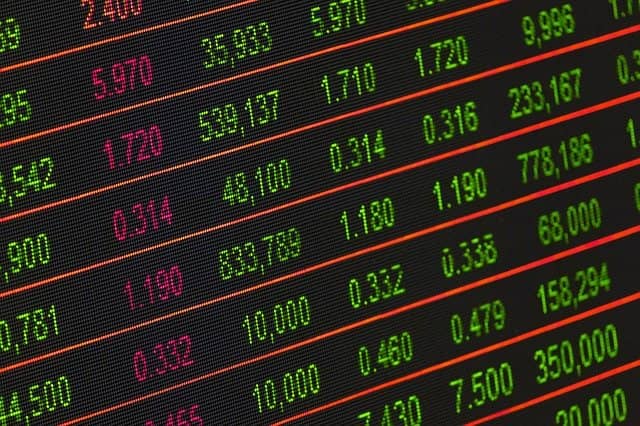 Let us analyze other factors of safety when you decide to buy from Alibaba.
Alibaba Website Security
When you surf the Alibaba website, you may wonder if your data is safe with this website. Your data may include your email address, password, and other information such as your contact number and address, etc.
Alibaba is very fair in disclosing that they may share your data with other parties provided that the data is not sensitive. That is, Alibaba will never share your passwords with any other party.
The general information like your email address may be shared with other third-party groups including Google and Facebook, etc.
This is considered a normal activity in the online world. You must have noticed that you start seeing Alibaba ads on Facebook and Google after you have done some activity on Alibaba.
That is because of this data sharing between these groups. The basic purpose of this sharing is to refine your search and help you find the product that you want for yourself.
This creates a win-win situation between you and Alibaba. So, you can surf Alibaba safely.
Alibaba Payment Security
Alibaba has gathered a total of 1.28 billion active customers in 2021. That makes up around 16% of the world population.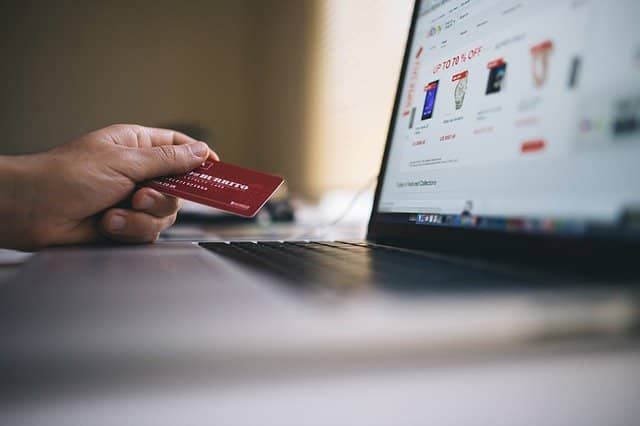 If we only consider the adult population of the world then Alibaba has around a quarter of the world's population as its customers.
That statistics should be enough for you to trust that Alibaba is a safe and sound platform to shop from. If all of them are buying from Alibaba, it means that Alibaba has secure payment methods.
You just need to go by the books when it comes to paying your suppliers at Alibaba. We mean to say that you must follow the standard and allowed payment procedures while paying your suppliers on Alibaba.
The accepted payment methods on Alibaba are as follows.
Credit Card
Wire Transfer or Telegraphic Transfer (TT)
Online Transfer (For some European Countries via Trustly, Klarna, iDeal)
Western Union for US citizens
PayPal (Not available with Alibaba Trade Assurance)
These are the safest payment methods and are covered by Alibaba too.
Alibaba Products Security
A question regarding the security of ordered products might pop up in the minds of buyers.
If you have used Alibaba's safe methods of buying from Alibaba, you can be sure that you will get those products. That will be Alibaba's responsibility.
Alibaba has developed a mechanism that makes sure that you get what you order from Alibaba. How is that so? Let's discuss.
When you make a payment to the supplier, it is not credited to the supplier's account immediately. Alibaba holds on to that payment until you confirm that you have received your order.
Alibaba does not let the suppliers take hold of your payment without a green signal from your side. So, it is all in your hands.
This mechanism makes ordering from Alibaba more secure.
Tips to Buy Safely and Securely from Alibaba
We thought it to be very pertinent to share some of the professional tips to buy safely and securely from Alibaba.
Following are the tips that would help you buy safely from Alibaba.
Select the Right Types of Suppliers
When you search for a product on Alibaba, you find various filters on the left-hand side of the website. These filters include the supplier types too.
At the moment, Alibaba has the following three types of supplies which you can choose by ticking the options.
Trade Assurance Suppliers
Verified Suppliers
≤1 hr Response Time Suppliers
Have a look at the screenshot below.

Let us discuss each of them briefly.
Trade Assurance Suppliers
These are the suppliers for which Alibaba assures you that your orders will be protected in case of any non-compliance by the sellers.
According to the official information on the Alibaba website, a trade assurance covers you in the following two cases.
If the seller does not dispatch your products according to the commitments.
If your product's quality is not as per the commitment of sellers.
In both of the above-mentioned cases, your orders are covered by Alibaba as a mediator if you select the "Trade Assurance" option in supplier types.
The trade assurance suppliers do their work with due diligence because they would always want to remain under that category. So, you will be treated well by them every time.
Verified Suppliers
These are the suppliers that third-party services have verified in terms of their quality of products and services.
If you check this option while searching for the products on Alibaba, you will have the results from the suppliers that are verified for their production capabilities, quality of their products and services, etc.
This supplier assessment gives you the confidence that these sellers mean business. That is why they have got their products and services accessed by third-party evaluators.
So, you can be confident that you have cleared the clutter from the search results in terms of the suppliers' quality.
≤1 hr Response Time Suppliers
As the name suggests, these are the kinds of suppliers that have less than or equal to 1 hour of response time on Alibaba.
When you search for the products on Alibaba, you have queries most of the time. For those to be answered, you need to contact the suppliers.
These suppliers are shortlisted by Alibaba based on their activity and behavior of responding to customer queries. This early timeliness of responses makes them fall under this category of suppliers.
So, you can also click this option if you want to include the suppliers in your search results who respond quickly to their queries.
In addition to the types of suppliers mentioned above, Alibaba used to have another category of suppliers called "Gold Suppliers". The Gold Supplier status was awarded to the ones that paid Alibaba to fall on the top search results.
Check for Supplier's History
When you search for the products on Alibaba, do check the brief details of the supplier that accompany every search result. Look at the screenshot below.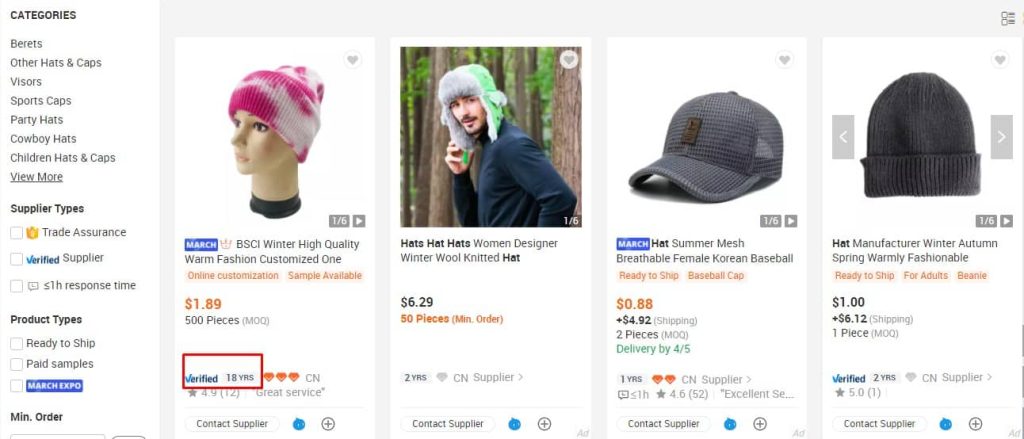 As you can see, the highlighted supplier has been here on Alibaba for around 18 years. Such an old supplier would most probably be the genuine supplier.
No scammer could have survived on a platform like Alibaba for 18 years.
So, you should always look for suppliers who have been selling on Alibaba for many years.
It is not like the new suppliers are always fake or scammers. But to be on the safer side, you can opt for the old suppliers.
If you want to see a little more details on the suppliers, you can hover your mouse over the supplier information to have a summary about that supplier as shown in the screenshot below.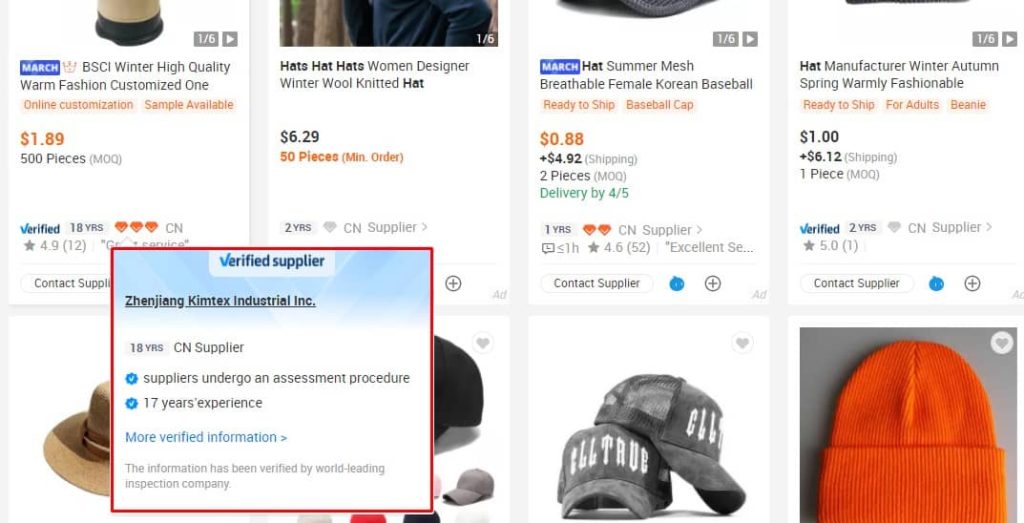 Assess Supplier Communication
While communicating with the supplier, you must check the level of their communication and whether they pay attention to your queries or not.
This will give you an idea of how the supplier will behave in the future.
If you place an order with that supplier and you contact him for the shipment information in the future, they will be in a position to answer your queries amicably.
The other factor of communication is that the supplier, who will be professional and will have an established business on Alibaba, will have a team of representatives to talk to their customers or prospects.
So, good communication and timely response are the keys to selecting the supplier on Alibaba.
Ask for References and Feedback
A legit and trustworthy supplier on Alibaba would have a history of successful transactions. So, they will always be in a position to share pictures of the happy reviews of their customers.
You just have to be sure that the reviews are genuine and not made up. If a supplier has a website, you can ask for the link to its website and see for yourself.
You will most probably find the reviews on their websites. From that, you can also go to their social media pages to check if they are legitimate sellers.
It is always in the supplier's favor to have reviews from its customers so that he can attract more customers in the future. So, if a supplier is short of reviews and positive feedback, he can either be a new or an unsuccessful supplier on Alibaba.
Ask for the Manufacturing Sites
Most buyers on Alibaba have a major preference for buying from factories. That is true in most cases. It gives you the best prices with genuine products.
But you need to be careful about rechecking whether the supplier is a real manufacturer or he is just posing to be one.
You can ask for the pictures or live videos of the manufacturing sites that the supplier claims to have.
In that way, you can determine if the supplier is a manufacturer or not.
You can also ask related questions including the daily production capacity.
A good technique to confirm whether the supplier is a real manufacturer is to ask them if they can make custom products.
The custom products can only be made by the real factories. By customization, we mean to give detailed instructions regarding a product, not just putting a logo on the product.
The small changes can also be made by a trading company and a middleman to serve big orders.
Alibaba Reviews in the US and European Countries
Alibaba is a verified company on Trustpilot with a score of 4.1 out of 5. Alibaba has 81% excellent feedback from around 18K reviews on this independent review service.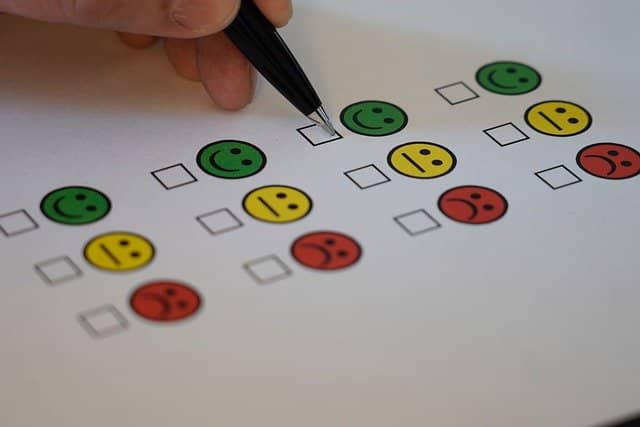 Moreover, Alibaba has a huge customer base from the USA and European countries. This makes Alibaba a trusted platform to buy from in these countries.
You will have a huge surge in Alibaba sales during the holiday seasons in these countries. These days are mostly Halloween, Black Friday, Christmas, and New Year.
All of these days are celebrated in these countries and Alibaba's sales skyrocket around these times. That is sufficient to believe that consumers from these countries rush to Alibaba and its subsidiaries to shop online these days.
This proves that Alibaba is also trusted widely in these countries as well.
If you want to look closely, you can observe the reviewers' details on Alibaba products. You will find many customers from the USA, Canada, and European countries.
FAQs on Alibaba Legitimacy
We have answered the frequently asked questions regarding the safety and legitimacy of Alibaba. So, read the answers to these FAQs below to resolve your confusion.
Is Alibaba Reliable in Terms of Suppliers?
Not all suppliers on Alibaba are reliable. Alibaba does not have its sellers. You need to understand that it is just a platform that brings buyers and sellers on its platform and lets them interact with each other.
So, you need to be cautious about the reliability of the Alibaba suppliers yourself. You cannot just log in to your Alibaba account and start buying thinking all of them are reliable suppliers.
You can also be a seller on Alibaba. One just has to fulfill certain requirements to be a seller on Alibaba.
For the reliability of the suppliers on Alibaba, you have to go through certain checks which we have discussed earlier in this article.
Just don't forget to choose the type of suppliers as per your requirements while you start buying from Alibaba.
Is Alibaba Safe to Order from My Bank Account?
Yes. It must have been clear to you by now that you can trust Alibaba with your financial information like your credit card numbers and bank account details.
Alibaba is not a company that rose overnight. It is certainly not going to lose its customer base by not protecting the critical information of its customers.
The buying trend on Alibaba shows us that they aim to be the top eCommerce company in the world. So, Alibaba is safe to order from your bank account.
How to Buy from Alibaba without a Company?
People are often worried if they would be able to attract the best suppliers on Alibaba if they did not have the companies. That is nothing to be worried about.
Of course, this is true that most Alibaba suppliers are interested in working with direct companies instead of individuals. That is why it is a B2B platform.
They have a separate international platform called AliExpress for consumer selling. But you can also buy from Alibaba even if you are an individual.
Certain suppliers facilitate you with their lenient MOQs. You will find products that will have the MOQ as low as one to 2 pieces per order as shown in the screenshot below.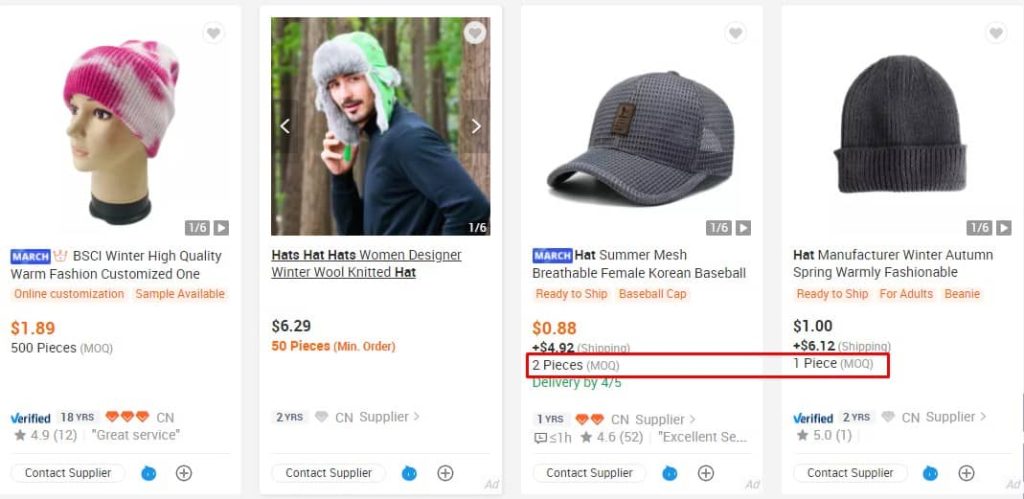 But to have a larger pool of suppliers, you can pose to be a company instead. You just have to be associated with a website that requires the items you are interested to buy from Alibaba.
You can either build a website using cheaper methods or you can partner with a website to use its company email ID.
This way, Alibaba supplies will start taking you as a business and will be generous enough to offer free samples and lower down MOQs for the time being.
How to Avoid a Scam or a Fraud on Alibaba?
Bumping into a scam on any platform is possible. Alibaba is no exception. If you don't follow the instructions or tips that we shared in this article to buy safely from Alibaba, you will be vulnerable to experiencing a scam or fraud at Alibaba.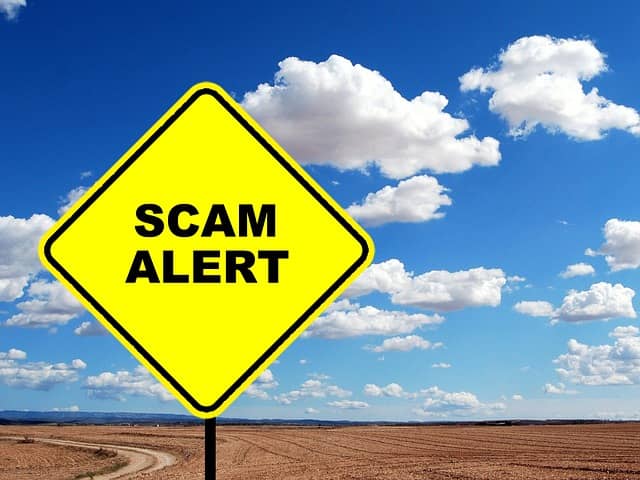 We are sharing some additional tips that you must follow if you want to avoid fraudulent activity on Alibaba or any other website.
Always follow the rules of Alibaba while dealing with suppliers.
Do a price comparison between suppliers. If you find a supplier who is offering insanely low prices, you should become suspicious. Either the supplier will not be genuine or the product quality would be compromised.
Avoid buying big branded products at cheaper prices on Alibaba. This is something that your subconscious will also tell you. Think twice if you are being offered the latest iPhone at half price on Alibaba. That's most probably a scam.
Making direct communication with the suppliers is not an issue. Try not to make direct payments to the Alibaba suppliers. If you are scammed doing this, that will not be an Alibaba scam technically.
You can check for the Alibaba scams by doing basic research online. People share their experiences on the discussion forums. You can learn from their experiences and try not to repeat them.
Ask for references in your own country. If the supplier can provide references in your country, you can contact them and ask about their experience with that specific Alibaba supplier.
These are only a few of the tips that might be helpful for you to avoid being scammed on Alibaba. The button line is, if you go by the book, everything will be just fine on Alibaba.
Is Alibaba the Best Source to Buy Products from China?
Alibaba is a good source to buy products from China. It is certainly not the only source to buy products from China. There are other methods for importing from China as well.
Two of the most popular ways to source products from China have been discussed below.
E-commerce Platforms
There are other B2B sites like Alibaba to buy from China which you can make use of. Some of the most popular websites are listed below.
Made-in-china
Chinavasion
China Brands
1688.com
DHgate
Taobao
Out of the above-mentioned sites, 1688 and Taobao is owned and operated by Alibaba group itself in the Chinese language. But you can still use them by utilizing techniques like Google translator.
You must always do a price and service comparison before deciding to buy from any of these Chinese e-commerce platforms.
Trade Fairs and Business Expos
Trade fairs and business expos are wonderful opportunities to interact with Chinese suppliers. You can attend these fairs if you want to reach out to the real manufacturers and factories in China.
Trade fairs keep happening throughout the year inside and outside of China. The most popular trade fairs in China are Canton Fair and Yiwu Fair.
Product Sourcing Agent
This is probably the smartest and easiest way to source products from China in the most efficient manner.
You must have realized by now that carrying out a comparison or product research is very important while buying anything, especially from China.
That is because China is full of suppliers. There are millions of suppliers on Alibaba alone. So, it may take a lot of your precious time and effort to reach the right suppliers for your business.
Having done all of that research does not even guarantee whether you will reach the right supplier for your business or not.
That is where the China sourcing agent helps you. It is a third-party sourcing company that takes all the hassle on your behalf.
It will make sure to reach out to the best supplier for you and come up with the product solutions that have the best quality and prices.
A good and professional sourcing agent like NicheSources is all that you would need to fulfill your product requirements.
A good sourcing agent is already experienced with finding the best products from the best suppliers. That is because they have already done this many times.
It will certainly cost you some extra bucks to pay for the services of a souring agent but you have to analyze what you would be getting in return. After all, satisfaction and peace of mind are all that a good business needs to skyrocket its sales.
Summary
Alibaba has been the primary source of arranging products for many businesses around the world. It is very much reliable and safe for repeat buyers to source products from Alibaba.
Much has been said and discussed for the new buyers who keep thinking of questions like is Alibaba legit, is Alibaba safe. The best way to counter your fears of buying from Alibaba is to break the ice and buy from Alibaba using tips that we shared.
If you need our assistance in sourcing products for you, ask for a free quote and our representative will be right there with the best possible product solution for you.