International shipping from China to the UK can be challenging, even for those with experience importing goods from China. This is especially true after the Covid-19 fiasco, which is now almost over but has left its mark and disrupted many supply chain processes.
As a result, we're still experiencing delays in the delivery time from China to the UK and have increasingly growing freight costs. All of this makes the process even more complex to deal with.
So, how to choose the best freight forwarder from China to the UK? And, how to calculate your shipping cost from China?
We've got your back! Let's dive in and read the newest 2023 info!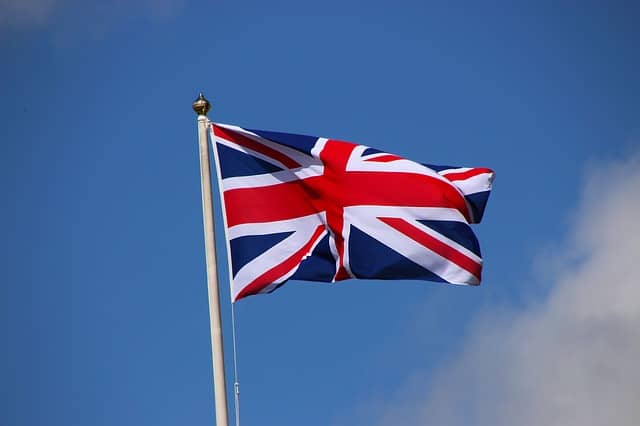 How to Ship from China to the UK?
There are several different shipping methods from China to the UK: FCL sea freight, LCL sea freight, air freight, air express, road freight (truck shipments), and rail freight.
Let's take a deeper look into each of them:
Sea Freight
Sea freight (ocean freight) is one of the most widely-used shipping methods from China to the UK due to its price, which is much lower compared to air freight.
Depending on the size of your order, you can choose between FCL (Full Container Load) or LCL (Less than a Container Load) shipments. In both cases, sea freight is typically the most cost-effective shipping method for bulk orders.
FCL (Full Container Load)
Importers typically use FCL if their stock occupies more than 15 CBM (cubic meters). The smallest option is a 20-foot container, so anything over 15 CBM would be suitable for FCL shipments.
A full container load (FCL) doesn't mean that you have to necessarily fill the whole container. It's simply a shipping mode where you rent an entire shipping container from China to the UK for a flat fee — regardless of how full it is.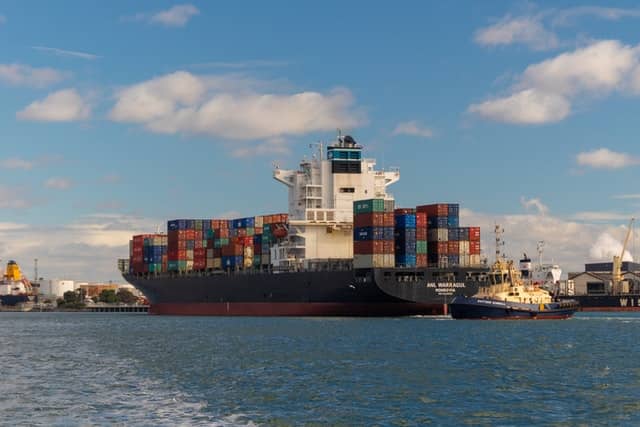 LCL (Less than a Container Load)
If your order occupies anywhere from 1 to 15 CBM, your more efficient option would be LCL sea freight. With LCL, you share space in a container with other importers and pay only for the space that you occupy (in cubic meters).
Note that LCL shipments will be consolidated and de-consolidated at the origin and destination ports, respectively. That's why these shipments often take some days longer compared to FCL shipments.
Pros of Sea Freight
The cheapest shipping method for bulk orders
A larger capacity to transport
A smaller carbon footprint
Fewer product restrictions than air freight
Cons of Sea Freight
Slower than air freight (a longer transit time)
More chances to damage valuable cargo
Door-to-door shipment takes much longer than port-to-port shipment
Requires expertise and knowledge of shipping Incoterms
Air Freight
Airfreight is the second most favorite shipping method from China to the UK. Generally speaking, air freight shipping is the best for smaller orders of about 100 to 300 kilos, and it's best suited for sensitive and perishable items which need careful transportation.
Although you can often ship up to 500 kgs comfortably with air freight, the price for larger orders will be higher than LCL sea freight.
Despite the high prices, many UK importers choose air freight during peak seasons. It's convenient and it makes the entire supply chain process faster and more agile.
The main air cargo international airports in China are:
Shanghai Pudong
Beijing Capital
Guangzhou Baiyun
Shenzhen Bao'an
And, the main air cargo airports in the United Kingdom are:
London Heathrow (LHR)
East Midlands Airport (EMA)
Manchester Airport (MAN)
Your freight forwarder can advise you on the best China to UK shipping route.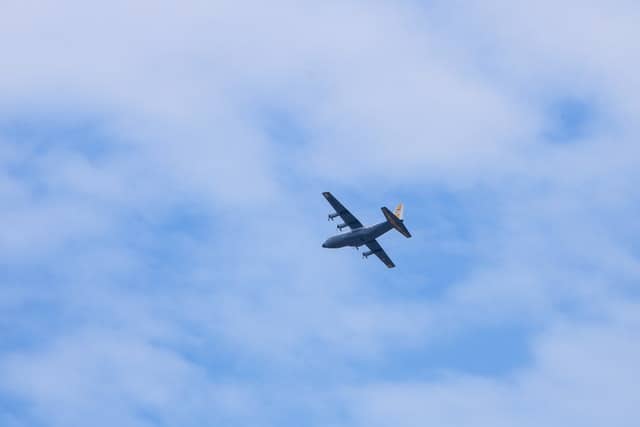 Pros of Air Freight
A faster shipping method than ocean freight
Safer for shipping valuable cargo since it has fewer chances of getting damaged during transit
Best suited for shipments between 100 and 300 kg (price might be similar to that of LCL but with the added value of speedy delivery)
Better than sea freight for perishable goods and goods that need special conditions during transport
Cons of Air Freight
More expensive than sea freight
More product regulations and restrictions
A bigger carbon footprint
Slower than air express couriers
Air Express
An express shipping courier from China to the UK is your most expensive but fastest option. These are air express services like DHL, USP, FedEx, etc. However, note that express couriers only make sense if you're shipping smaller orders, ideally less than 30 kg.
Many eCommerce owners choose express shipping for product samples or dropshipping. These orders are light, don't take up too much space, and won't be too expensive.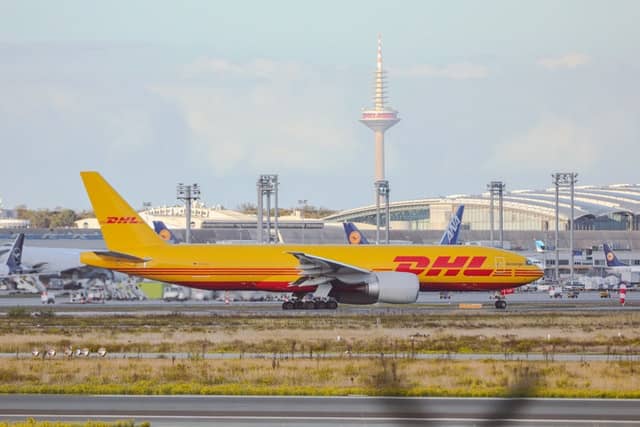 Pros of Air Express
Speed is the main benefit.
No extra costs and procedures (the courier service takes care of customs clearance, duties, and taxes)
Cons of Air Express
The most expensive shipping method
Suitable only for small orders with low weight and size
Road Freight
Trucking your goods might be another alternative way to bring them from China to the UK. It's an economical option that's faster than sea freight and more affordable than air freight.
Road freight has a high carbon footprint, but some importers still prefer it as a compromise between air freight and sea freight.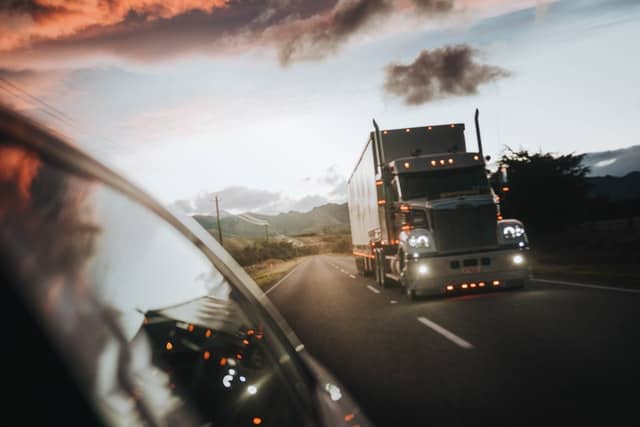 Pros of Road Freight
More affordable than air freight
Faster than sea freight and rail freight
A good middle alternative to air freight and sea freight
Cons of Road Freight
High carbon footprint
Slower than air freight
Limited transport capacity
Rail Freight
Last but not least, if you need something cheaper than air freight but with better transit times than sea freight, consider rail freight. The price and speed will be very similar to road freight, but it's a more eco-friendly transport mode. You can still ship your products in containers with rail freight.
Typically, the main route of choice is the Yiwu – London railway line. However, you can also ship your order to the Felixstowe Port from the following cities in China:
Chengdu
Chongqing
Wuhan
Xian
Yiwu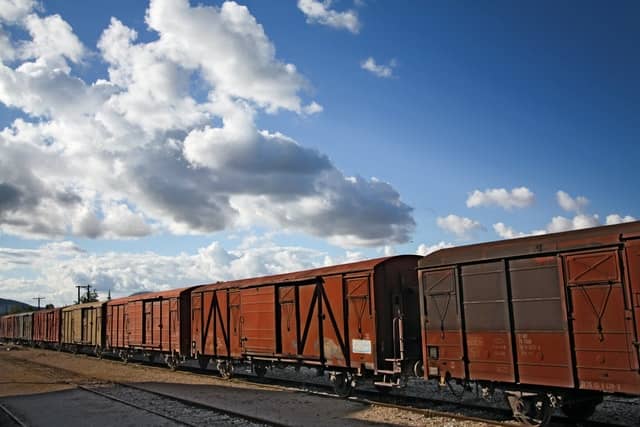 Pros of Rail Freight
Shorter transit time than sea freight
Cheaper than air freight
A good middle solution between air freight and sea freight
A smaller carbon footprint than trucking or air freight
Cons of Rail Freight
Slightly more expensive than sea freight
Slower than regular air freight and road freight
How Long Is Delivery from China to the UK?
The transit time of your order will vary depending on the location, season, shipment time, door-to-door or port-to-port shipments, etc.
Note that Covid-19 has resulted in many after-effects in both China and the United Kingdom, so expect unplanned delays due to customs clearance, loading and unloading, consolidation, and other similar processes.
Nevertheless, let's see the average shipping times with different freight methods:
Shipping Time by Sea
Ocean freight has the longest lead time for door-to-door shipping from China to the UK. Expect anywhere from 30 to 60 days, which can vary depending on the season, ports of origin and destination, and the shipping mode (door-to-door vs. port-to-port).
Generally speaking, FCL shipments have a shorter delivery time than LCL due to the lack of need for consolidation. So, we can safely say that LCL sea freight is considered to be the slowest shipping method from China to the UK.
Shipping Time by Air
Airfreight shipments from China to the UK usually take anywhere from 5 to 10 days. In the case of door-to-door shipments, allow for 15 days at most.
In the case of small shipments with air express couriers, you will receive your items door-to-door in just 3 to 5 days. For instance, if you ship with DHL from China to the UK, it will take just 4 to 5 days. These couriers also allow you to pay for premium services and receive your order overnight.
Shipping Time by Train
If you choose rail freight, expect a transit time of roughly 18 to 24 days, depending on your origin and destination.
Shipping Time by Truck
Road freight has a better transit time than sea freight and often rail freight. Typically, orders will arrive in 14 to 16 days, perhaps 20 days as the very maximum.
Fastest Shipping from China to the UK
The fastest shipping from China to the UK is air express shipping. However, this is only useful for smaller orders. The second fastest shipping method is regular air freight (5 to 10 days). It can be pricier than sea freight but it's suitable for orders up to 500 kg.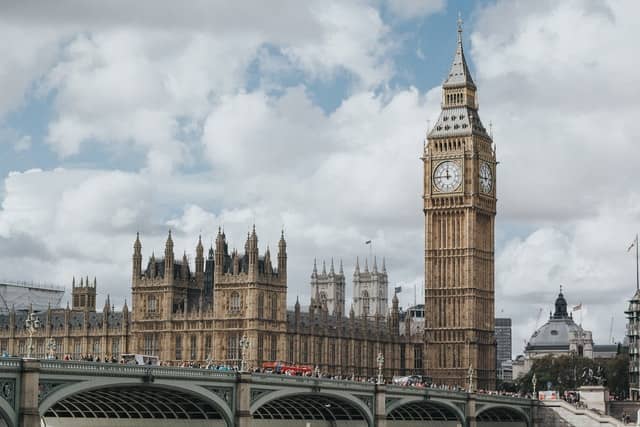 How Much Is Shipping from China to the UK?
Freight charges from China to the UK can fluctuate depending on different factors, most notably on:
The types of goods you're shipping
The mode of shipping
The chosen freight forwarder
The weight or volumetric weight of the cargo
The distance and destination
The season and current demand
The changes in fuel costs
The service needed (door-to-door or port-to-port)
It's important to note that these freight rates can change seasonally.
So, we cannot really talk about there being an average shipping cost from China to the UK since there are too many variables. But, let's see some rough numbers:
Cost of FCL Ocean Freight
Assuming you have enough stock to fill a container by yourself, FCL can be cheaper than LCL. You can either ship in 20' or 40' containers, and you pay a flat rate, regardless of how full your container is.
The price for FCL sea freight of a 40' container used to be anywhere from £1,200 to £1,800 pre-pandemic, but it has now skyrocketed and can go upwards of £13,000!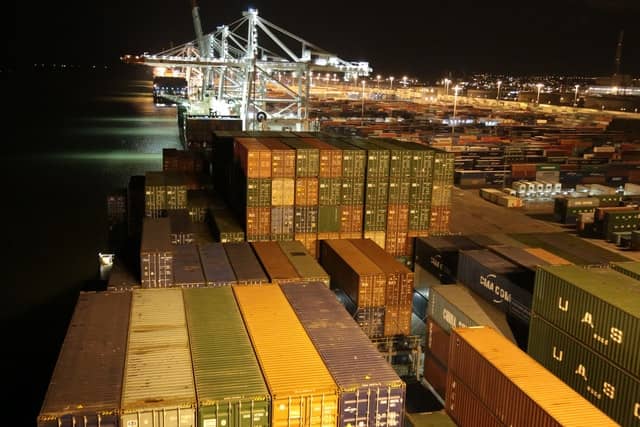 Cost of LCL Ocean Freight
In the case of LCL, you usually pay per cubic meter (m3) of the container space you occupy. Just like any other transport method, the price of LCL sea freight also fluctuates. However, it can go over £1,000 for a load of 200 kg/1 CBM.
These rates increase constantly in the last few years, so always get a current quote from your freight provider.
Refer to our FCL vs. LCL guide to choose the best and most cost-effective option for your needs.
Cost of Air Freight
Regular air freight from China to the UK can often be a great option for mid-sized orders that weigh between 150 and 500 kg. Airfreight quotes will vary depending on the season, demand, etc. They can go anywhere from £5 to £10 per kg. The bigger the order, the cheaper your price per kg.
Although it might cost slightly more, at this weight, you get more in value when we consider the shorter transit time. For shipments over 500 kg, consider LCL sea freight.
A word of consideration – note that air freight quotes are usually not "all-included" unless it's specifically pointed out as such. So, they usually won't include the logistics from the China factory to the origin airport, logistics from the destination airport in the UK to your warehouse, and customs clearance costs in the UK.
Cost of Road Freight
Road freight is a relatively affordable way to import goods from China to the UK. It will cost you less than air freight. It might be around the price range of rail freight, or slightly more expensive.
Cost of Rail Freight
Rail freight is cheaper than trucks or air freight, but slightly more expensive than sea freight. However, rail freight is faster than sea freight, so it's definitely worth considering if time is of the essence, yet you don't have the funds for air freight.
Cost of Small Shipments
Small shipments, like those for ordering a sample or dropshipping single products to your customers, are the best candidates for air express couriers or air freight.
Air express couriers could go from £20/kg upward, while regular air cargo is between £5 and £10 per kg.
The most cost-effective way of dropshipping and dispatching single products is to store your bulk order in a warehouse close to your customers. That will allow you to use more affordable shipping methods suitable for bulk orders like LCL or FCL sea freight.
A dropshipping agent like Niche can help you import from China to the UK in bulk, store your items, and ship single orders to your end customers.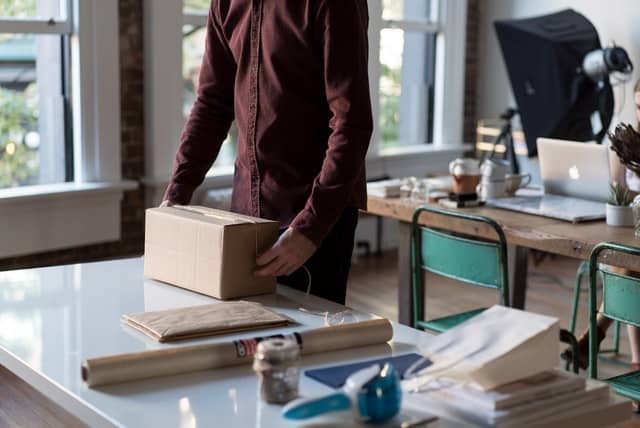 As we've mentioned above, shipping rates can fluctuate throughout the year. So, always ask for a fresh China to UK shipping quote from multiple freight forwarders or shipping agents. Then, compare the rates and services and see what suits you best.
Are There Delays in Shipments from China to the UK?
If you're shipping from China to the UK during busy or peak seasons, you might experience delays, leading to backorders that can pile up quickly.
Usually, these delays are due to China's local holidays since China is the origin country. Some periods of the year when you should expect delays in your shipping from China are:
Chinese New Year
Period: late January / early February (follows the lunar calendar)
Following the lunar calendar, late January or early February is the time of the Chinese New Year. This is unquestionably the period that causes the most problems for retailers and eCommerce owners since many businesses in China, including factories, shut down for several weeks.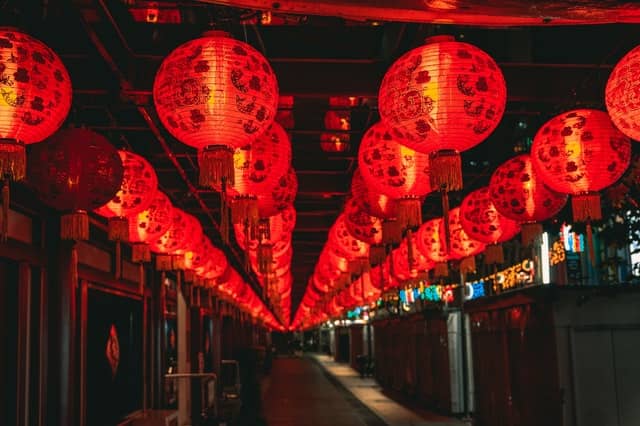 Golden Week
Period: October 1 – October 8
Expect possible delays and higher container prices during this first week of October.
Dragon Boat Festival
Period: June (follows the lunar calendar)
During the Dragon Boat Festival, Chinese businesses close down for three days. It doesn't sound like a lot, but if you're shipping in June, it can be more than enough to cause delays in your supply chain.
Holiday Shopping Season
Period: July – October (sea freight) / October – December (air freight)
Finally, we have the holiday shopping season which differs for air freight and sea freight in China. For sea freight, the busiest season is July through October. For airfreight, the peak is from October to December.
If you're selling seasonal products, it might not be possible to avoid these peak shopping times.
Customs Clearance in the UK
Regardless if you're using a cargo ship from China to the UK or air freight as your preferred shipping method, your order will go through customs clearance on arrival. Let's see what you need:
Documents Required
At the UK customs clearance, you or your freight forwarder need to show the following documents:
Commercial Invoice
Certificate of Origin
Bill of Lading (for sea freight)
Air Waybill (for air freight)
Packing List
L/C or other Payment Terms
EORI number (all UK businesses that plan to import from China need to acquire their EORI number – Economic Operator Registration Identification).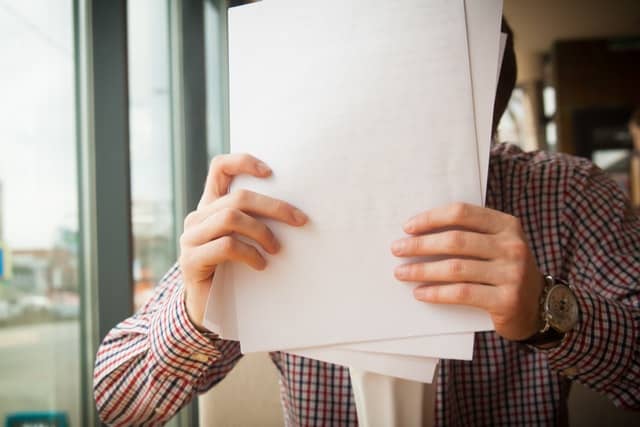 You have to pay import duty on every shipment that you import from China to the UK. The duty rate is calculated according to the HS code of your commodities and can range from 0 to 12%.
VAT in the UK is 20%, and every business entity registered for VAT needs to pay it. VAT is calculated on the total sum of your shipment, including the product price, shipping cost, and import duty.
Later on, you can claim back your VAT expense.
Prohibited and Restricted Items
The items you are allowed or not allowed to import depend on the United Kingdom government and their customs clearance laws, as well as the mode of transport you choose. Generally speaking, air freight is more restricted than sea freight.
According to the UK's government page on banned and restricted items, customs will seize all products that are:
controlled drugs
offensive weapons (like flick knives)
self-defense sprays (pepper spray, CS gas, etc.)
endangered animal and plant species
rough diamonds
indecent and obscene materials (books, magazines, films, and DVDs)
personal imports of meat and dairy products from most non-EU countries
The above items are banned. But, there are also some products with restrictions to be aware of:
Firearms, explosives, and ammunition
Food and plants that are not free from pests and diseases
Food and plants not grown in the EU
Which Company Provides the Best Shipping Services from China to the UK?
When searching for a shipping company or a freight forwarder, opt for one that has trustworthy reviews and years of experience in international trade.
We here at Niche have been shipping orders for our clients from China to the entire world. Plus, we're local, we speak the language, and we represent you, as our client. We act in your name and negotiate the best prices for your products and shipping.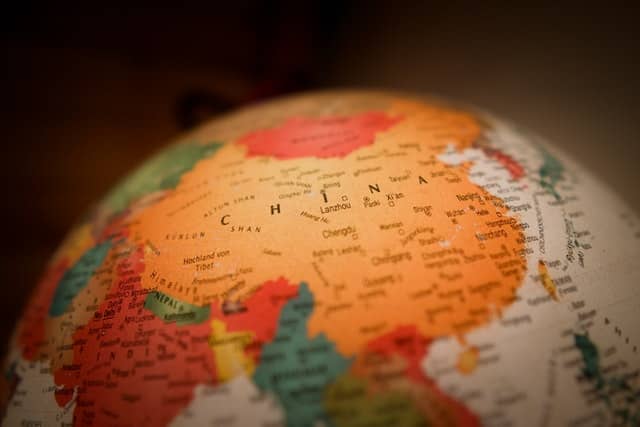 Tips to Save Time and Money When Shipping from China to the UK in 2023
Shipping from China to the UK can be a costly endeavor if you don't know what you're doing. Let's look at some tips to save you time and money when importing from China to the UK:
Choose the Right Shipping Incoterms
If you choose sea freight from China to the UK and want to save money, learn all you can about shipping Incoterms. There are 11 Incoterms that represent international contracts outlining the responsibilities, obligations, and costs of both the buyer and the seller in the shipping process.
If you're a beginner in international trade, choose DDP Incoterms (Delivered Duty Paid) since they place almost all responsibility on the seller.
Compare Multiple Quotes
Ask for multiple China to UK shipping quotes from different freight forwarders and shipping companies, and compare them. You need to have an idea of the costs of other forwarders to ensure you don't get scammed and overcharged.
When comparing prices and quotes, don't forget to consider the shipping Incoterms in question. Some Incoterms cover costs like shipping, insurance, and duty, while others don't.
Purchase Insurance
Consider insurance each time you buy in bulk from China. If your order gets damaged during shipping, especially with sea freight, returning it and getting reimbursed will be much easier if you have insurance.
Choose Efficient Packaging
Shipping companies and freight forwarders will charge according to either dimensional weight (volume, cubic meters) or actual weight, depending on which one's higher. So, be careful of the types of packaging that you choose.
If you want to save space and money, don't go for bulky and oversized packaging. It will only add to your costs. Instead, choose the most minimalistic packaging that still provides solid protection for your products.
Avoid Peak Shipping Seasons
Above, we've given you some peak shopping and shipping seasons of the year. If possible and your supply chain allows it, avoid these peak seasons.
Off-season freight costs will be much lower. Plus, it will give you the best chances of avoiding possible delays.
Hire a Shipping Agent in China
If you are not familiar with shipments from China, we recommend working with a local shipping agent who is well-versed in international trade.
For instance, Niche is a leading sourcing and dropshippingagent with warehouses in China and abroad that offers a full scope of services for importers and buyers from the UK:
FAQs about Shipping from China to the UK
As always, let's check out some of the most frequently asked questions on the subject of shipping from China to the UK:
What Is the Cost of Shipping a 40-ft Container from China to the UK?
The cost of shipping a 40-foot container from China to the UK can fluctuate based on many market variables. Pre-Covid, a 40 ft container with FCL sea freight during peak season cost anywhere from £1,200 to £1,800. However, these prices have skyrocketed. Today, the same shipment could go upwards of £13,000!
The best is to ask for a current quote from your freight forwarder or shipping agent.
How Much Does It Cost to Ship a 20-Foot Container from China to the UK?
Generally speaking, pre-pandemic, the cost for FCL sea freight of a 20' container was between £500 and £900. However, post-pandemic, we have prices ranging upwards of £5,000.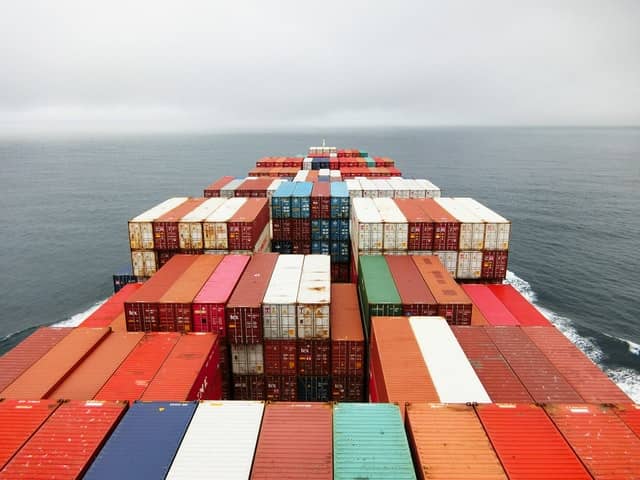 What Is the Cheapest Way to Ship from China to the UK?
Generally speaking, the cheapest way to import from China to the UK is FCL sea freight. However, we can't say for sure before knowing the size, weight, and service needed. For instance, if your shipment takes less than 15 cubic meters, LCL sea freight is cheaper. If it's 100 kg, even air freight could be cheaper.
So, all in all, it depends on the size and nature of your order. But, for bulk orders that can fill a container, FCL is still the most affordable option.
How Long Do UK Customs Take to Clear Packages from China?
Usually, if everything's fine with your shipment, customs clearance in the UK takes minutes (or worst case – some hours). However, if anything is missing, found non-compliant, or your order goes through inspection, it could take days or even weeks.
To stay on the safe side, calculate about 3 days from when your goods arrive in the UK to having them in your warehouse. In most cases, it's shorter than this, but you always need to have some days included that are "just in case".
Can You Ship from China to the UK without Paying Duty and VAT?
No. When you import shipments from China to the UK, you have to pay VAT and customs or import duty. The duty rate in the UK is calculated according to the HS code of your products (commodities) and can go from 0 to 12%. VAT is 20% of the total cost (products, delivery, and duties).
Every entity that is VAT-registered needs to pay VAT. In the UK, you need to be registered for VAT if your taxable income exceeds £85,000. However, you can claim back your VAT later on.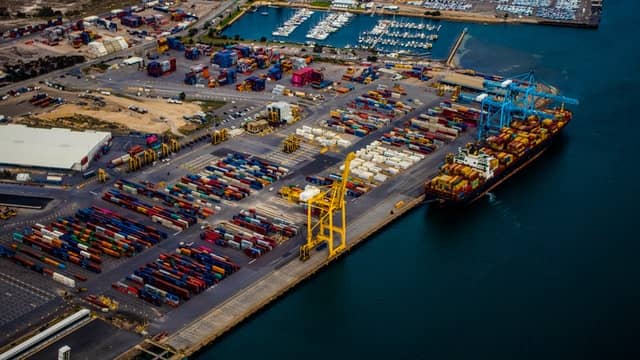 Key Takeaways
Let's shortly summarize when to use which shipping mode:
Shipments below 30 kg or smaller parcels (like product samples) – air express is the fastest option.
Shipments up to 100 or 150 kg – choose air freight as it could have the same price as LCL.
Shipments up to 500 kg – suitable for air freight but might be more expensive than LCL.
Shipments over 500 kg (or up to 15 cubic meters) – choose LCL sea freight.
Shipments over 15 cubic meters – FCL might be the most cost-effective shipping method.
If importing goods from China isn't your strong suit and you're not familiar with international trade and shipping terms, leave it to us.
Niche is an industry-leading sourcing and dropshipping agent in China with warehouses in different countries. We can take care of your shipping from China to the UK in the most professional manner.
To show you what we can do, get a free quote today with no obligations whatsoever.
All in all, we sincerely hope that this guide to shipping from China to the UK has given you the clarity you need to make an informed decision.