The shipping industry has been the backbone of the international supply chain process. The focus on the shipment processes increased dramatically after the pandemic in late 2019.
If you have anything to do with the international shipments, you need to be aware of slightly technical variations in the shipping processes like LCL and FCL shipments.
This article throws light upon the FCL shipment, its freight costs, pros, cons, and useful tips about when and how to utilize this shipment option.
Let's start.
What Does FCL Stand For?
FCL is a logistics abbreviation that stands for Full Container Load. As the name suggests, FCL would refer to a container that would be fully loaded. 
But the containers are loaded fully in most of the cases, right? So, what exactly does FCL refer to?
Let's find out in more detail.
What Is FCL Shipment?
Containers are generally loaded with their full capacity in the shipping industry. That is to optimize the shipment process and reduce costs per product.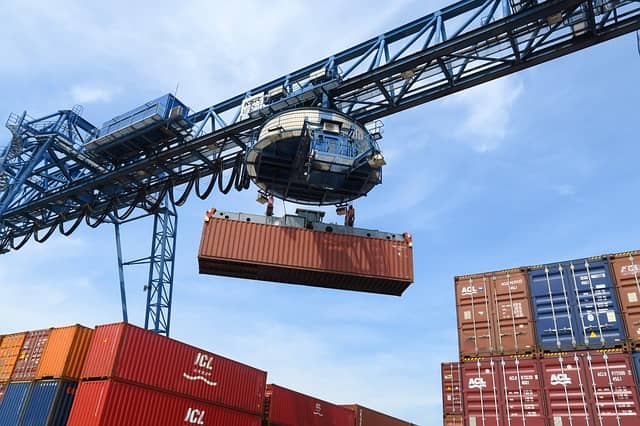 This is the rule of thumb for every shipping industry. But it is up to an importer if he wants to have pay for the full container load.
He can go for an FCL shipment in two cases. If his products are in a large quantity and can fill up the whole container or he wants his products to be shipped in a separate container even if they do not fill up the whole container.
In both of these cases, an importer would go for an FCL shipment.
Now, let's define FCL in practical shipping terms. An FCL means to get the container fully loaded whether it is a 20' container or a 40' container. The FCL shipments are generally shipped through ocean freight options.
This would mean that a container is fully packed with the products of a single importer ideally from the factory and it will be loaded and unloaded at a single destination respectively.
Simply put, FCL meaning in the shipping industry is one container for one importer irrespective of what and how much is inside the container.
The Cost of an FCL Shipment
It is generally a flat fee for the entire container. Your products inside the container will not increase or decrease shipping FCL cost.
The average range of costs for an FCL shipment is from $3000 to $12,000 per container.
Again, the cost of an FCL container will not be lowered even if the container is half-loaded with your products.
Factors Affecting Cost of FCL Shipment
The exact cost of having an FCL shipment will depend upon the following factors.
Container Size
The cost of an FCL largely depends upon the container size. You will be charged differently for a 20-foot container and a 40-foot container.
Locations of Container Origin and Destination
The cost of an FCL shipment will also depend upon the origin of the container and where the container is headed towards.
Therefore, the cost of an FCL shipment will be different for a container that will be shipped from China to the USA and from China to Europe.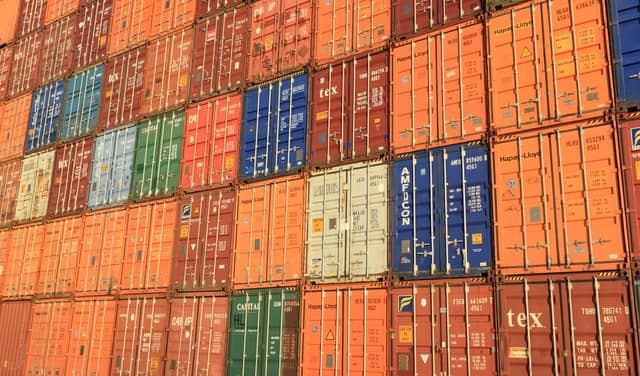 Shipment Method
Another factor that determines the cost of an FCL is the shipping method. The cost of an FCL shipment will be different for the container that will be shipped via the following.
Airfreight containers are different and of much smaller sizes as compared to the containers that are shipped by road, rail, and sea.
Shipping Company
The costs of an FCL shipment also vary from one shipping company to another.
Special Shipping Factors
The special shipping factors can also make an impact on the overall shipping cost of FCL. These factors include the following.
Amazon FBA requirements
Custom clearance charges
Seaport charges and price hikes
Price Fluctuations in FCL Shipment
In addition to the normal shipment charges, you can also expect the prices to go up suddenly due to certain reasons.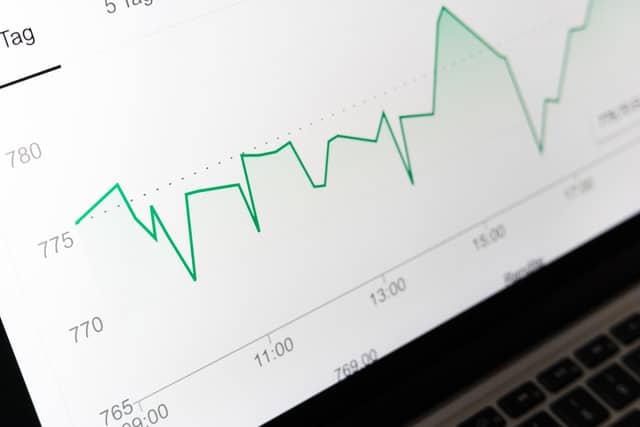 Some of the reasons are mentioned below.
General Price Increases
These are the price hikes that shipping lines can apply. This is just like the normal price hikes in everyday items. The same can happen in shipping rates too.
High Demand
The shipping rates can increase when there is very high demand. This is the season in which there is a huge rush and pressure on the shipping companies. An example of peak season in China is just before and after the Chinese New Year.
Holiday Season
Due to the recent surge in e-commerce shipping, the shipping rates can be at a peak during the holidays, Black Friday sales, Christmas, and the new year, etc.
Uncertain Circumstances
The shipping companies can experience unplanned and uncertain blockages and delays due to multiple reasons. Such incidents can also impact shipping prices.
Examples of such circumstances are the lockdowns during the pandemic and the blockages at sea routes, etc.
Pros and Cons of FCL Shipment
Before we go further, let us discuss the advantages and disadvantages of choosing the FCL shipment.
Following are the pros and cons of FCL.
Pros of FCL Shipment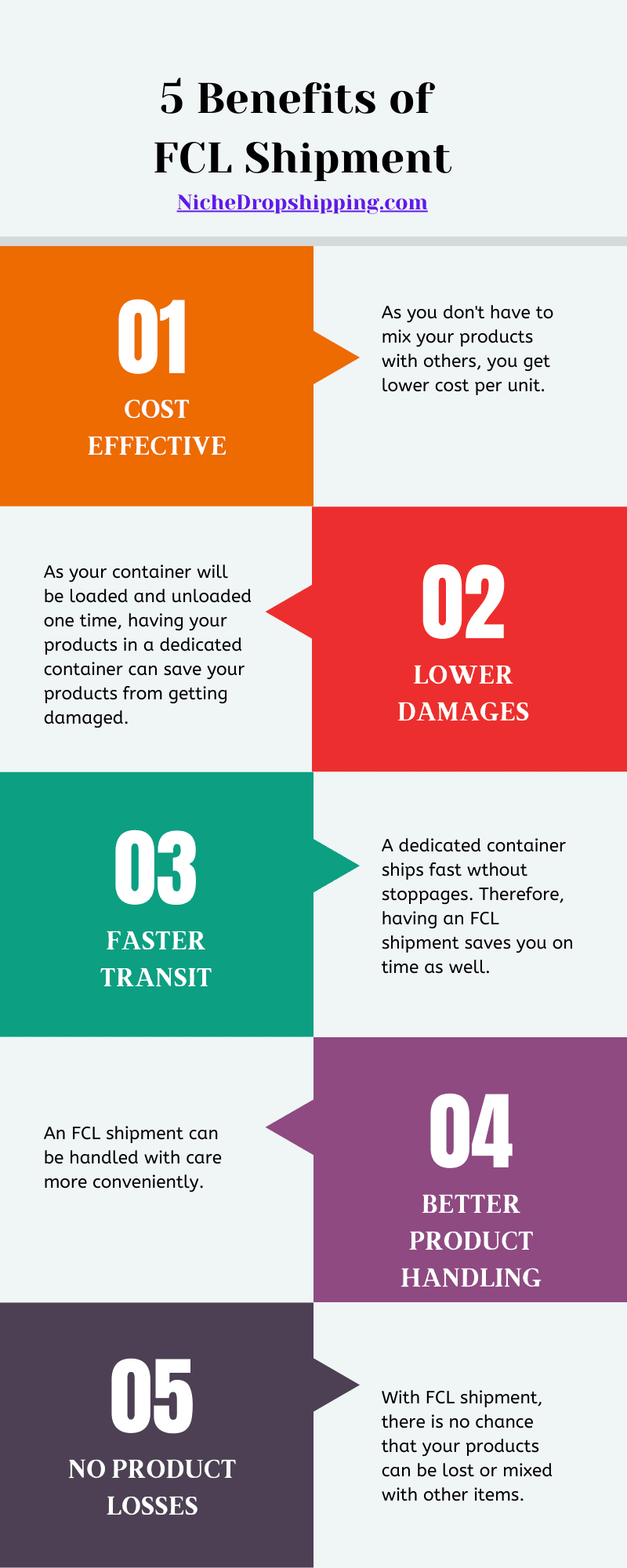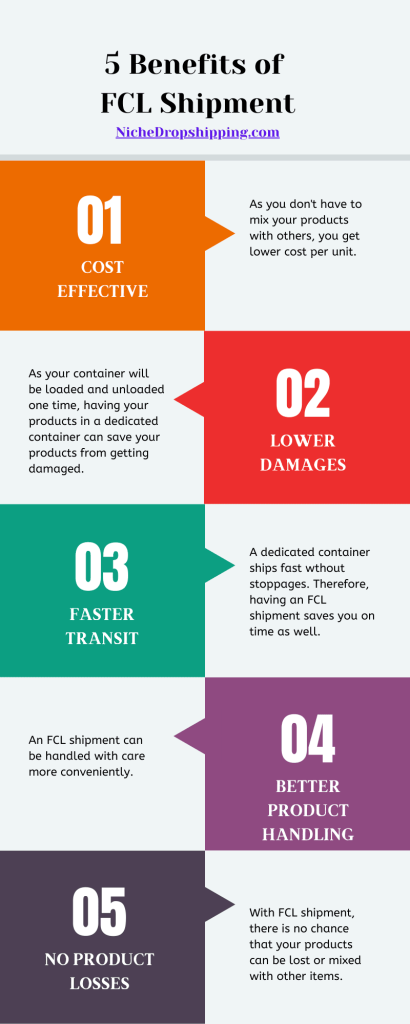 Cost-Effective
You get better rates of shipping per product when you choose FCL. That is because the shipping company does not have to mix the products of different importers.
Lower Damages
Your products will be safe and sound in the FCL shipment. This is because the products will be packed and loaded in a single container. So, there will be a very low risk of damages that mostly happen during loading and unloading.
Faster Transit
The transit time of FCL shipment is faster as compared to LCL. This is due to the fewer stoppages and dedicated routes from start to finish.
Better Product Handling
The products are handled carefully in FCL. That is because the shipping company doesn't have to sort, mix, or organize the products with the products of other merchandisers.
No Product Losses
There are very less chances that your products are lost in a dedicated container. You get what you asked for right from the start to finish. Therefore, there are no chances of product losses.
Cons of FCL Shipment
Following are the cons of FCL shipments.
Expensive for Lower Quantities
If your products do not fill up the full container, but you still want to select the FCL option, the shipping cost per product can be higher.
Less Time for Delivery Appointments
With FCL shipment, it becomes a little difficult to get the delivery appointments to pick up the container from the port and deliver it to the destination.
You also have to return the container to the port within 7 to 8 days. Otherwise, you may have to face extra charges. You get more time for delivery appointments in case of LCL.
Special Instructions
As you will have the full container in FCL, you may have to give special instructions to the shipping company so that your products are intact and do not get toppled over one another.
No Option for Partial Shipment
Partial shipment or split shipment becomes difficult with FCL. If you have to deliver the products to different locations in the destination country, you should go for LCL.
You may need such options in the cases of Amazon FBA shipments.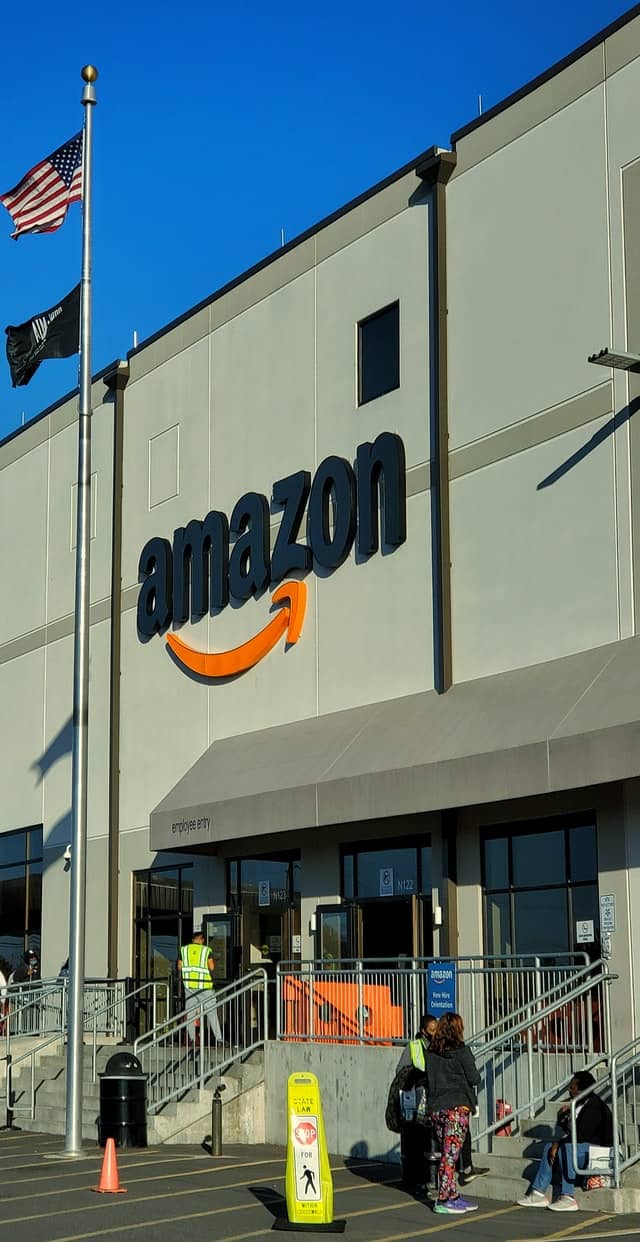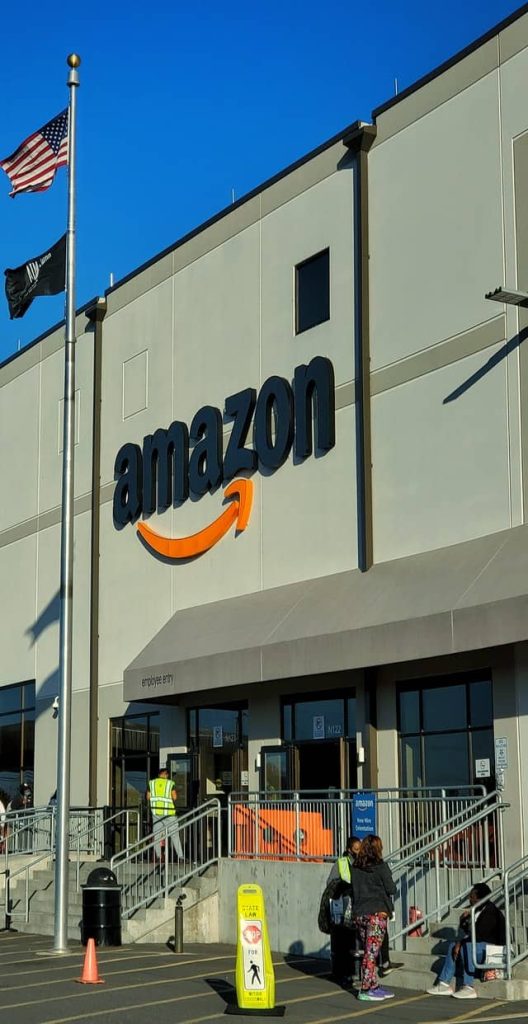 With FCL, you have to collect the full container in one place and split deliver the products to different locations manually. This will increase your handling charges after the product lands.
Tips to Optimize the FCL Shipment
With some of the issues and limitations shared in this article about FCL, you might be wondering how you can utilize the FCL option with the best rates and services.
Following are the pro tips to get the most out of FCL shipment in your favour.
Check all the port options in your origin country and choose the one that offers the best rate and fastest delivery.
Avoid peak rates, surcharges, and custom fines, etc by working on each task proactively.
Book your shipment wisely by paying by acting well in advance. The rates become higher as you book your shipment closer to its arrival date.
Determine the type of container that will be required to carry your products. If you come to know that your products require another type of container at a later stage, you may have to pay extra in that case.
FCL VS LCL: Which Shipment Option Is Best for You?
It largely depends upon some factors that will help you decide whether you should go for the FCL or LCL shipments. These factors are briefly described below.
Shipment Size
The size or volume of the shipment should be the foremost deciding factor for you in choosing between FCL and LCL. As discussed before, you should go for the FCL if you have to get larger volume shipments.
If you have a small size of your shipment, you should consider selecting the LCL shipping option instead.
Shipment Cost
It is always advised that you calculate the shipping cost on a per-product basis. If FCL offers you a lower shipping cost per product, you should choose FCL. Otherwise, you can go for LCL shipment.
Shipment Safety
If the safety, security, and privacy of your shipment are the prime concerns, then FCL shipment should be your first choice.
Shipment Speed
If you want your products to arrive as soon as possible and for that, you are also willing to compromise on the costs, then you must select the FCL shipment option.
FAQs about FCL Shipment
We have answered the top 5 FAQs regarding FCL shipment. Here are the answers.
Can I Use FCL Shipment If My Products Are Less Than a Full Container?
Yes. You can still choose an FCL shipment even if your products or shipment does not occupy the full container. An FCL shipment generally has a flat fee for the whole container. It does not count if your products fill up the entire space of the container or not.
You just have to make sure that your products are packed and stacked safely in the container so that they don't mingle up and get damaged during the shipping process.
Is FCL Cheaper than LCL?
Generally, yes. But it is not necessarily true in every case. If you choose to select the FCL even if your products do not occupy the full space of the container, you may have to calculate the shipping cost per product.
If the shipping cost of importing one item is less than the cost per product in LCL, then the viable option for you would be to ship via FCL.
How Long Does FCL Shipping Take?
It depends upon the distance between the origin and destination of the shipment. It also depends upon the ports used and the route adopted by the shipment.
Generally, it may take up to 3 to 6 weeks for an FCL cargo to reach from China to the USA.
What Are the Documents Required for FCL Shipment?
There is no special documentation for FCL shipment. The same documents that are required to ship or import products will be required for the FCL shipment too.
These documents include the following.
Shipping quotation and invoice.
Certificate of Origin and material safety datasheet
Instructions for the shipping company.
The confirmation letter on booking of shipment.
Bill of landing and letter of credit.
What Are Standard Container Sizes?
The global standard containers are available in the following two sizes. They are generally named as per their length in the foot.
20 Foot Container
This is a smaller container as compared to other types of containers. This is used for international shipping. They are 20-foot long. Therefore a 20 FCL means a full container load that is 20 feet long.
Following are its approximate specifications.
Length: 20 foot
Width: 8 foot
Height: 8 – 9 foot
40 Foot Container
This is a larger size container and has a huge capacity for the products to be loaded in it. Following are its approximate specifications.
Length: 40 foot
Width: 8 foot
Height: 9 – 10 foot
Other North American standard container sizes include 48 foot and 53-foot high cube containers.
Takeaway
FCL shipment is a preferred method of shipment for many importers. But you need to be cautious about when to go for this shipping method and when to explore other options.
The main idea is to import your products safely at the cheapest possible shipping option.
We have described the FCL shipment process in detail. If you want further assistance in this regard, contact us immediately and we will be right there to help you.
If you want us to help you with your FCL shipments, request a free quote now and get the best shipping and sourcing services at the most competitive rates.