Jewelry is one of the most precious belongings of a person. In addition to being costly, people have special attachments to a few jewelry items and don't want them to get tarnished or damaged.
But what are the jewelry metals that don't tarnish? What are their pros and cons, and how do you source them properly? You will have it all in this article.
You will also learn about how to choose and keep them from tarnishing over a long period.
Let's start.
What Does Tarnishing Mean in Jewelry?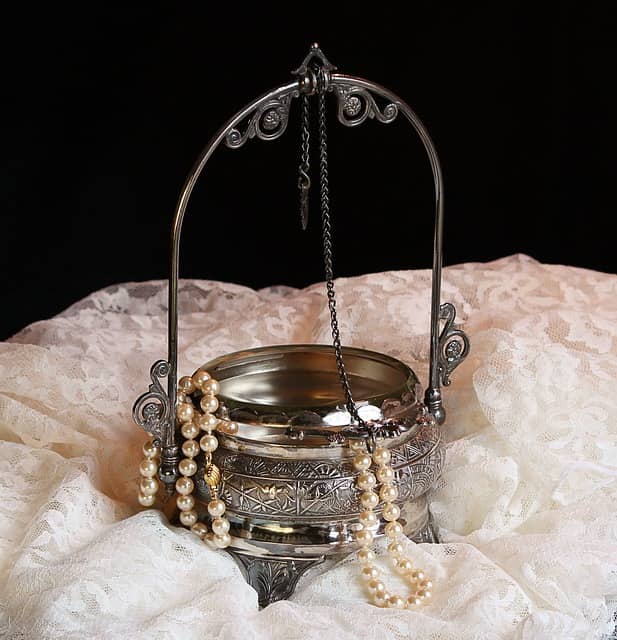 Tarnishing means the dullness, discoloration, or fading away of the jewelry. This affects the shiny appearance of the jewelry and makes it look less attractive and old.
Jewelry made up of metals is prone to get tarnished over time for many reasons. Let's discuss the reasons for the tarnishing of jewelry metals.
Why Do Jewelry Metals Tarnish?
Metals tarnish over time when they get in contact with the environment. The same happens to jewelry metals. When the jewelry metals are exposed to environmental factors like air, soil, water, heat, etc., they start getting tarnished.
The intensity or the speed of metal tarnishing depends on the severity of the exposure of jewelry metals to environmental conditions. If the environmental conditions are harsh, the jewelry metal would tarnish sooner.
Following are some of the reasons that make metals tarnish sooner than expected.
Moisture
Jewelry metal would tarnish sooner if a person keeps wearing it while swimming or having a bath. The metal would react with water or moisture and will tarnish sooner.
Working Environment
If a person wears a piece of metal jewelry while working in an environment surrounded by acidic gases, the metal on the ring will most likely react with the acids and tarnish sooner than expected.
Effect of Chemical Reaction
In many cases, the tarnishing effect on jewelry metal results from a special layer above the metal that is formed after the chemical reaction between the jewelry metal and the environmental substance.
This special layer disturbs the metallurgy of the jewelry metals, and hence they start performing differently. In most cases, the metals get damaged, broken, or reshaped.
Nature of Metals
The speed or tendency of metal tarnishing differs from metal to metal. Some metals are hard to get tarnished, while others are easily tarnished. That explains the difference between expensive and cheap jewelry items.
Excessive Usage
Excessive use of jewelry metals will speed up the tarnishing effects on jewelry metals. If you don't wear off your jewelry while having games and exercises, the jewelry will get tarnished sooner.
Poor Maintenance
If you do not care for your jewelry, don't keep your jewelry covered, or don't clean it regularly, it will get tarnished.
Metal Polishing
The polishing on the surface of the jewelry also plays an important role in tarnishing. If the polishing or metal plating on the jewelry is of high quality, it will resist tarnishing.
Jewelry Metals That Don't Tarnish
Let's learn about jewelry metals that don't tarnish. We will also know about the jewelry metal that takes more time to tarnish.
Gold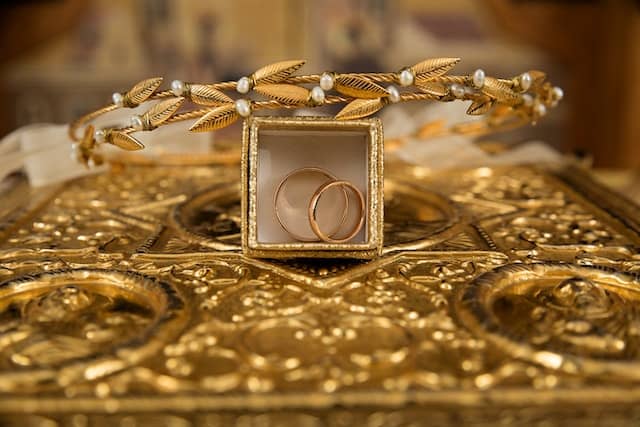 Gold is the first metal that comes to mind regarding jewelry. Gold has always been in high demand due to its exclusive properties.
It is known for its stability and resistance to tarnishing. Unlike other metals, gold is very resistant to rusting and corrosion.
Despite its high stability and resistance to damage, gold also gets tarnished if you don't maintain it properly.
Gold comes in a variety of types. The most common types of gold are yellow gold, white gold, and rose gold. Those who cannot afford to have gold jewelry go for gold plating of the jewelry to give it a golden look.
Pros
High in demand
Elevates the beauty of jewelry
Safe investment
Easily reshaped into a variety of designs
Maintains and even increases the resale value of golden jewelry
High resistance to tarnishing
Used with other metals as alloys to increase the jewelry's durability
Cons
Precious metal. Not easily affordable
Increases the price of the jewelry
Pure gold can deform easily due to its soft nature
Requires regular care and maintenance
Platinum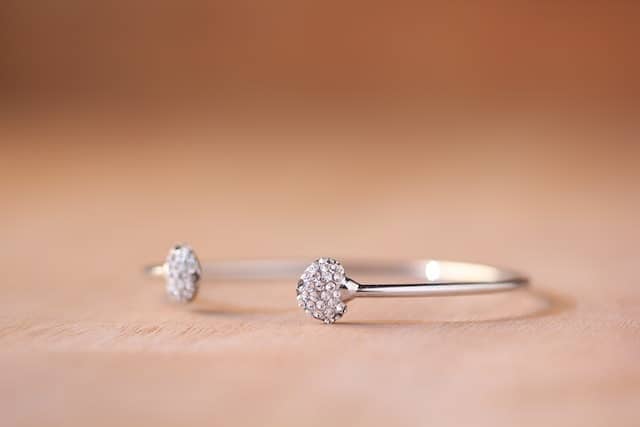 Platinum is a fine and hard metal that comes in silver-like white color. It gives the impression of being a white metal. Pure platinum is much harder than pure gold. That's why it is usually used alone in jewelry making. It is rarely mixed with other metals as alloys.
Pure platinum is quite resistant to tarnishing. It retains its shape, beauty, and properties over a long period. But still, it requires regular maintenance.
Pros
High strength metal. Doesn't change shape easily.
High density. Weighs more than other metals.
High value. It is more valuable than gold.
Unlike other metals, platinum is rarely found.
Naturally bright and beautiful. It retains its brightness and spark for a long time.
Cons
Highly expensive metal.
Platinum is more suited to make heavier jewelry.
Gets scratched easily. Requires more maintenance and care.
Limited jewelry styles are available with platinum.
Palladium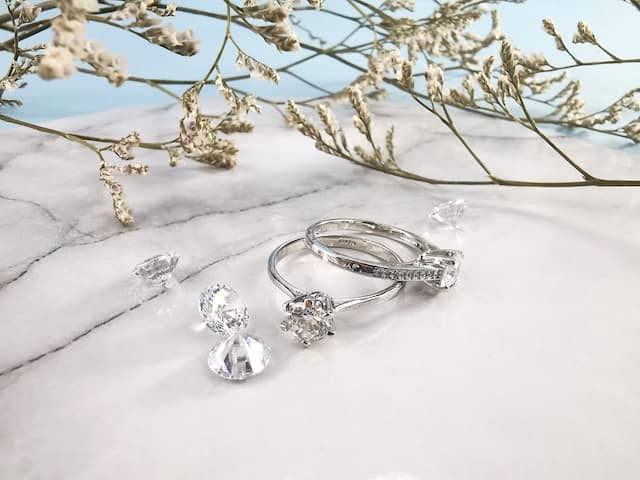 Palladium is another valuable metal that belongs to the platinum family. But unlike platinum, palladium is relatively softer, lightweight, and less expensive.
Palladium is also very resistant to tarnishing. It is also silvery white in color and is rarely found.
It is mostly used as a standalone metal in jewelry as it isn't easily mixed with other metals to form alloys.
Pros
Lower cost as compared to platinum.
High-strength metal. Good for making long-term jewelry.
Offers great resistance to tarnishing and corrosion.
Rarely found metal, hence increasing its value.
Ideal for making expensive watches.
Retains natural shine and brightness over long periods.
Cons
Although it is less expensive than platinum, it is still more expensive than other metals.
Not easily available. It is found in specific parts of the world.
It can get scratched if not treated properly.
It requires regular maintenance to keep it intact for long periods.
Stainless Steel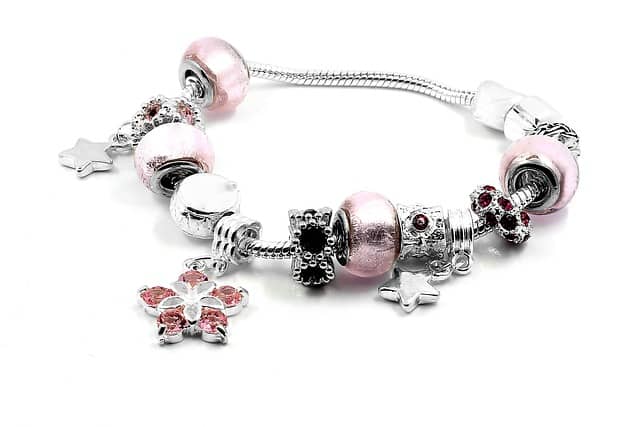 Stainless steel, as the name suggests, is a metal that doesn't easily get stains. It comes in a silver-like color and is widely used in many applications, including the production of jewelry and watches.
Unlike regular steel, stainless steel is hard to suffer from corrosion or rusting. So, it is a good choice for making jewelry that doesn't tarnish so easily.
Pros
Less expensive.
Highly durable. The jewelry made from stainless steel remains intact for long periods.
High resistance to tarnishing. It also resists corrosion and rusting.
Unlike other metals, stainless steel is found more easily.
Cons
Heavier metal.
Less attractive.
Requires special maintenance like polishing or plating to avoid visible scratches and smudges on the jewelry.
Titanium
Titanium is another metal that doesn't tarnish easily. It is a lightweight metal with high strength. It comes in a metallic-white or silver-gray color.
It offers high corrosion resistance, making great jewelry that remains durable over a long period.
Titanium can be obtained in various colors, including natural gray and black. You can also get titanium with a bluish or greenish texture.
It can be used as a standalone metal and mixed with other metals like gold to enhance the jewelry's appearance and value and various shades of blue, green, and purple, depending on the method used to create the color.
Pros
High resistance to tarnishing, corrosion, and scratching.
The color of titanium doesn't easily fade away.
More color choices.
More suited to people wearing jewelry in active and tough environments.
Ideal for men's watches and jewelry.
Cons
Less affordable.
Titanium cannot be transformed into multiple designs easily.
Requires regular maintenance and care. It can get scratched easily.
Tungsten
Tungsten is another great metal that doesn't easily get tarnished. It is a relatively denser and harder metal as compared to others.
The jewelry made from tungsten goes through special processes that involve heat and pressure. The jewelry made from tungsten carbide is hard enough to retain its shape and properties over a long period.
Pros
Makes highly durable jewelry. Many jewelry items made from tungsten last a lifetime.
Tungsten is cheaper than other expensive jewelry metals.
Jewelry made from tungsten is scratch-resistant.
Gives attractive color and shine to the jewelry that doesn't easily fade or tarnish.
Cons
Jewelry made from tungsten cannot be resized easily.
Being brittle in nature, tungsten can break and get damaged more easily after being exposed to shock.
Requires regular care and maintenance to last longer.
Being denser in nature, tungsten makes heavier jewelry items.
Rhodium
Rhodium is another jewelry metal that doesn't get easily tarnished. It is an expensive metal found very rare in specific parts of the world.
Rhodium comes in silver-like white color and provides a hard and long-lasting coating known as metal plating. This plating over other jewelry items keeps them protected from getting tarnished. It gives the jewelry item a shiny and glowing effect and increases its life.
Pros
Rhodium increases the life of a jewelry item.
In addition to making a jewelry item tarnish-resistant, Rhodium also makes it more durable and scratch-resistant.
Gives a shiny and attractive, and brighter look to the jewelry item.
Cons
It is less affordable, expensive, and rarely found.
Requires regular care, maintenance, and repolishing of the rhodium plating.
Rhodium coating limits the repair and resize options. You have to remove the coating to make any changes to the jewelry.
How to Choose the Right Jewelry Metals That Don't Tarnish?
While you order jewelry, you must consider the metals used to make jewelry items. You can consider the following tips while choosing the right jewelry metals that don't tarnish.
Choose the best available tarnish-resistant metal. You may ask the supplier about the available metals and take help from this article to select the metal that is less likely to tarnish.
If you have a good budget for ordering jewelry, consider metals like gold and platinum.
If budget is a constraint, you can go for affordable stainless steel metal that doesn't get easily tarnished.
You may also use plating options to protect your jewelry from getting tarnished. You should go for plating your jewelry from one of the tarnish-resistant metals discussed in this article.
If you are comfortable maintaining your jewelry properly, you may go for expensive metals that don't tarnish. If you can't ensure proper and regular maintenance, use metals like stainless steel.
You should avoid choosing the metals with which you have an allergic reaction.
How to Keep Jewelry Metals from Tarnishing?
While many metals are tarnish-resistant, they can still get tarnished over time for several reasons. Consider using the following tips to prevent jewelry metals from tarnishing.
Get your jewelry coated with a metal that resists tarnishing. Also, keep checking if the coating is wearing off of the jewelry.
Regularly clean and maintain your jewelry.
Avoid exposure to reactive substances such as moisture, heat, and dirt.
Avoid overusing or misusing your jewelry. Try to avoid getting your jewelry into a tough environment.
Keep your jewelry covered and stored in a clean, cool, dry place.
Don't expose your jewelry to chemicals such as perfumes, sprays, etc.
How Can NicheSources Help You Source Jewelry Metals That Don't Tarnish?
At NicheSources, our professional team of sourcing specialists has developed special liaising with legitimate suppliers in China. We know the suppliers that provide authentic products.
We can help you source jewelry metals that don't tarnish. We are in contact with the direct factories and jewelry manufacturers. We can approach them on your behalf and discuss your requirements with them.
As a leading product sourcing company in China, we will be your eyes and ears in China to come up with the best available jewelry metals that don't tarnish.
You can source high-quality, authentic, and genuine jewelry metals that don't tarnish with our help. You can focus on your retail business while leaving the sourcing headaches of all the tarnish-resistant metals to us.
FAQs about Jewelry Metals That Don't Tarnish
Let's read the answers to the top frequently asked questions about jewelry metals that don't tarnish.
What Jewelry Metals Tarnish Easily?
There are a lot of jewelry metals that easily get tarnished. Metal alloys such as copper and nickel easily get tarnished. Other common jewelry metals that easily get tarnished include silver, brass, and bronze.
What Is the Best Jewelry Metal for Everyday Wear?
The best jewelry metal for everyday wear would depend on the personal choice of every person. If you want to know the best jewelry metal you can sell for everyday wear, the answer would be stainless steel.
Stainless steel is far less expensive, and it also avoids quick tarnishing. So, you have a high chance of selling stainless steel jewelry in high volumes.
Do the Jewelry Metals That Don't Tarnish Also Don't Get Scratched?
It is not necessary that jewelry metals that don't tarnish would also not get scratched. Many tarnish-resistant jewelry metals are also scratch-resistant, but it is vice-versa too.
Summary
Jewelry is all about attraction, style, and beauty. Tarnishing affects a jewelry item's overall appearance and reduces its life. You can refer to this article whenever you need to choose a jewelry metal and decide after carefully reading the pros and cons of every tarnish-resistant jewelry metal.
If you want to source jewelry metals that won't tarnish, ask for a free quote today. One of our sourcing experts will guide you through every step.