Your Go-To Source for Buying Candle Vessels Wholesale from China
Let Niche source the best quality wholesale Pilates equipment from China and help you build your brand or Pilates studio from the ground up. We are your one-stop shop for business growth!
No upfront costs. No obligations.
High-quality products
Inconsistent product quality is the number one problem for eCommerce stores and private label brands. With us, you'll no longer have that issue. We only work with reliable suppliers and check every product that goes through us for quality.
One-stop-shop
No need to juggle ten different service providers. With Niche, you get it all in one place. We offer services tailored to DTC brands, eCommerce stores, retailers, wholesalers, and brick-and-mortar stores. All you need to do is market and sell!
Personal support agent
Working with Niche means having your very own personal support agent to contact whenever you have a question. We're proud of our one-on-one customer support model since it allows us to treat every client with the attention they deserve.
Trending Candle Vessels and Containers to Sell
Welcome to the largest collection of candle vessels wholesale! From wholesale candle jars and candle containers to different candle-making supplies, we can buy any product you want! If you don't see what you need below, let us know – we can partner with factories to develop custom wholesale candle containers for your brand!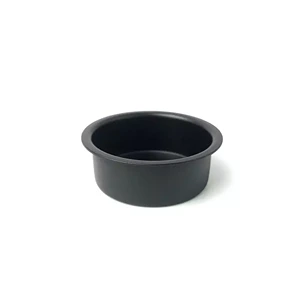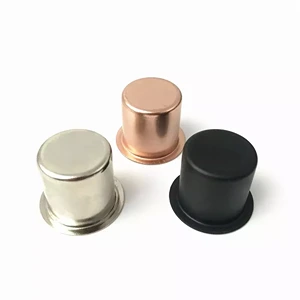 Metal Candle Vessels
Material Tinplate
Color Black, Nickel, Rose Gold
MOQ from 1000 pieces
HOW IT WORKS
Buy in bulk or customize in 3 steps
Tell us what you need and we'll buy or custom the products you want.
Get a sample to hold and feel for assessment or improvement.
Place your first order when you feel confident to start your project.
They give very fast solutions, high-quality products, the best customer service that you can get!!! Products are being delivered to the USA very fast. Warehouses in different countries. If you want to take your business to the next level, this is the company you want to work with!
Sergey
Niche client
The largest selection of trending candle vessels at wholesale prices
Find the candle vessels you want, customize them, and store them at our warehouse – everything your business needs!
Learn more about candle vessels
Selling candle vessels and other candle-making supplies is a great idea for many different reasons:

Candles are a product in demand;
As a result, the number of candle-makers and stores that sell branded candles has increased;
Candle vessels have a good wholesale price, which means good profit margins;
Selling candles is a competitive business but selling candle vessels is more niched;
We can source or develop any type of candle vessel you need at the best prices on the market;
Here are the most popular types of candle vessels:

Glass candle jars
Metal candle containers
Aluminum candle containers or tins
Ceramic candle jars
Concrete candle jars

This is the most common categorization of candle vessels. However, you also have many sub-types, such as square or round candle jars, amber or clear glass, etc.
Let's examine some of the advantages and disadvantages of glass candle jars.

Pros:

Glass is BPA and lead-free
They're leak-proof
They sell well
They're eco-friendly and toxin-free
They can be repurposed and are good for the environment
Many different models and colors available
You can see the wax (transparency)

Cons:

Prone to cracks and breaks when not handled with care
Less durable than metal or aluminum vessels (tins);
Now, let's go over the advantages and disadvantages of metal candle jars.

Pros:

Inexpensive
Usually come with strong lids
Can be repurposed
More durable than glass candle vessels

Cons:

Prone to dents, scratches, and leakage
Wax is not visible
More suitable for low-budget candles
Many candle-makers choose amber glass instead of clear glass not just due to its color, but due to the many other benefits it provides:

Amber glass has a traditional amber (brownish) color and isn't as transparent as clear glass;
Amber glass protects the contents from UV light damage while clear glass doesn't;
Amber glass is inexpensive yet very durable and resistant;
Amber glass has a high-end look and feel;
Amber glass can cover up wet spots from wax pulls;
When inspecting candle jars, focus on the following points:

Leakages or cracks – by pouring water into the candle vessels, you can check for leaks or cracks. Otherwise, they might cause wax spills and even pose a fire hazard;
Inflammable materials – ensure your candle vessels aren't made of any flammable materials;
Heat resistance – your candle vessels need to be heat-resistant and of good quality since hot wax will be poured into them and they'll be close to open flame;
Here are some points we believe are crucial to consider when choosing candle vessels to sell:

Type of material – do you need glass, metal, aluminum, ceramic, or concrete candle vessels;
Price range – what is your ideal wholesale price vs. projected sale price (this will determine your profit margins);
Niche and target group – what is your audience and who is your ideal buyer (candles for children, luxury candles, etc.);
Design and style – how do you want your candle vessel to look like, what's the shape, colors, and style you're looking for;
Private labeling or branding – do you want to private label a product or add your custom logo;
Quantities – what's the MOQ you're aiming to buy (note that custom orders usually have higher MOQs);
China can offer countless quality candle vessel manufacturers and suppliers with various choices that can satisfy everyone's needs.

We can bet that 90% of your favorite candle brands manufacture in China or at least outsource some of their manufacturing to Chinese factories.

So, why pay the interest of everyone who bought the product before you when you can tap into the actual source?
To start with, Niche can help you buy any type of candle vessel at wholesale prices. For those of you who are creative and brave enough, we can also partner with factories and design a brand-new custom candle vessel for your brand.

As a bonus, Niche can help you with packaging, warehousing, order fulfillment, and worldwide shipping to clients! Everything a brand might need to survive and thrive!