Order Quality Wholesale Dog Beds at the Best Prices in China
If you're looking to buy high-quality wholesale dog beds at the best prices on the market, you've landed on the right page! Let Niche match you with the best dog bedding supplier for your business and help you scale and grow easily. Try us for free!
No upfront costs. No obligations.
First-class suppliers
With Niche, finding the best dog bedding supplier for your type of product is a given! We have established relationships with reliable and trustworthy suppliers who consistently deliver high-quality products and can adapt to the growing needs of our clients.
Comprehensive services
Over 3,000 brands have chosen to work with us because we offer a comprehensive solution that can save them time and money. From sourcing and product development to fulfillment, storage, and shipping, we can handle all backend operations and allow you to focus on growth!
One-on-one support
At Niche, we believe in the power of personal connections. When you work with us, you'll have the support of a dedicated personal support agent who will answer your questions and address any concerns you have from the moment you place your order.
Trending Dog Beds to Sell
Scroll through our wholesale dog beds and choose your winning model! We can buy all types of dog beds – from orthopedic bedding suitable for dogs to rest their heads comfortably to memory foam beds and different machine washable covers – we have it all. Don't see what you need? Let us know and we'll do our best to find it!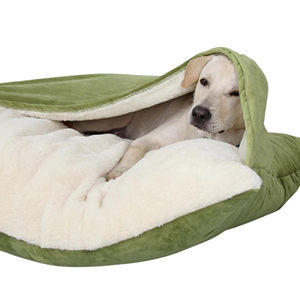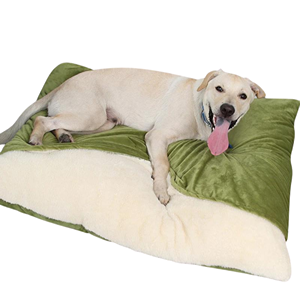 Dog Beds With Covers
Material Cotton, Velvet
Color Green, Khaki, Orange, Silver
MOQ from 1000 pieces
HOW IT WORKS
Buy in bulk or customize in 3 steps
Tell us what you need and we'll buy or custom the products you want.
Get a sample to hold and feel for assessment or improvement.
Place your first order when you feel confident to start your project.
They give very fast solutions, high-quality products, the best customer service that you can get!!! Products are being delivered to the USA very fast. Warehouses in different countries. If you want to take your business to the next level, this is the company you want to work with!
Sergey
Niche client
The easiest way to buy custom wholesale dog beds for your brand
Your vision. Your brand. Your logo. Our expertise. Our skills. Growth is inevitable!
Learn more about wholesale dog beds
The demand for dog beds is consistently high, making it a reliable industry to tap into. Just keep in mind that the dog bed market is fairly saturated, so we recommend niching down and focusing on a specific area within the industry.

So, consider offering private label brands rather than generic products to stand out among your competitors.
Here are some common popular types of dog beds you could sell:

Orthopedic beds
Memory foam beds
Donut or nest beds
Machine washable dog beds
Heated dog beds
Mattress beds
Outdoor beds
Waterproof beds

Aside from these typical types of beds, you could also buy designer dog beds wholesale or another type of high-end product. Additionally, we could divide the types of dog beds into sizes (for small, medium, and large dogs), etc.
We analyzed purchase volume data from Amazon and ended up with the following list of dog beds that sell best in declining order (from most to least sales):

dog beds for large dogs
dog beds for medium dogs
elevated dog bed
orthopedic dog bed
outdoor dog bed
washable dog bed
dog bed for crate
heated dog bed
puppy bed
dog bed with sides
chew-proof dog bed
round dog bed
fluffy dog bed
donut dog bed
Most dogs prefer sleeping on a bed or soft surface rather than a hard floor. However, every dog is unique and their preferences may vary. It's a good idea to give your dog a comfortable place to sleep and see what works best for them.
Although firmer mattresses are better and more orthopedic for your dog's support, most dogs prefer softer beds that are warm and comfortable to sleep in. However, once again, it all depends on the dog's needs, age, and preferences.
Dogs should have a designated place to sleep, like a crate or bed in a quiet spot. So, a minimum of one bed is absolutely necessary. How many beds or sleeping areas a dog needs depends on the individual situation.

If a dog only spends a short time in one room, it may not need a bed in that room. But if a dog spends a lot of time in multiple rooms, it may be more convenient for them to have a bed in each room. The owner should decide what works best for their dog and living situation.
Generally speaking, yes, it's ok to reuse the dog bed for a new dog as long as the bed is washed and disinfected properly in advance. The idea is to ensure that the new dog has a clean, hygienic place to sleep and prevent potential health issues.
It's a good idea to replace your dog's bed every six months to two years, depending on the bed's condition and your dog's needs.

Here are some signs that your dog's bed needs replacement:

Torn or frayed fabric;
Lumps or flattening of the filling;
Stains or odors that aren't machine washable;
Sagging or collapsing support;
Consider and research the following aspects when choosing the right dog bed types to sell:

Sub-niche and target: first, think of a sub-niche and a target audience for your product (consider customer needs to isolate a market gap);
Price and profits: then, calculate your wholesale price vs. sale price to see if you get satisfactory profit margins;
Quality and durability: next, check if the product you're thinking of selling is durable and high quality;
Size range: think of the sizes you want to offer (consider your target group and offer as many sizes as appropriate);
Quantity: your following consideration should be the quantity you're ready to buy (how many units are you confident you can sell);
Branding: the next point is branding as a way to stand out from the competition;
Supplier availability: lastly, make sure you have found the right supplier and backup suppliers to support you as you grow;
Of course! Dog beds are a hot evergreen product that's always in demand. Here are some tips to help you succeed:

Identify a customer need gap and develop or customize a product to fill it;
Don't be afraid to specialize in a narrow niche if the demand is there;
Consider private labeling and selling under your own brand to stand out;
Find a reliable supplier with fair wholesale prices that will allow you to have a healthy profit margin;
Do your research – this includes keyword research and analyzing your competition;
Consider adding new features or upgrading existing products to bring something unique and innovative to the market;
China's wholesale dog bed market is massive, with many major brands sourcing or manufacturing in the country. This is because China offers a wide selection of high-quality products at competitive prices.

However, navigating the Chinese market can be challenging due to language barriers and the risk of scams, especially concerning private labeling or product development.

That's where we come in. As your local sourcing agent, Niche can help you find the best wholesale dog beds in China without worrying about these potential pitfalls.
At Niche, we're here to help you streamline your business and save time, money, and stress in the long run. Whether you need a little assistance or a lot, we've got you covered. We handle everything from sourcing and product development to branded packaging, fulfillment, storage, and shipping.

Our services are tailored to meet the needs of DTC brands, wholesalers, retailers, eCommerce owners, brick-and-mortar stores, and dropshippers.

Above all, our goal is to help you grow your business in a simplified and risk-free way. Let us take care of the details so you can focus on what matters most – boosting your sales!