Order High-Quality Wholesale Dresses at the Best Prices in China
If you're searching for wholesale dresses in bulk, you've landed on the right page. Niche can help you find reliable suppliers for wholesale clothing dresses or manufacturers who can develop custom dresses at wholesale prices. Let us turn your dreams into reality!
No upfront costs. No obligations.
High-quality products
When you let Niche buy wholesale women's dresses for your business, you can rest assured of the product quality. We work with vetted and trustworthy suppliers who are reliable and able to meet the evolving needs of our clients.
All-in-one service
We pride ourselves on offering an all-around service to our clients. Aside from product sourcing, Niche can take care of other backend operations such as storage, order fulfillment, shipping, private labeling, branding, and more. Everything you need from one provider!
Personal support agent
As soon as you place your order with us, we'll appoint a personal support agent for you. They'll be available on Skype, email, or WhatsApp, it's up to you – ready to guide you through the process and answer all your questions and concerns.
Trending dresses to sell
If you're looking to buy dresses in bulk, check out our collection of trending wholesale dresses for sale. We follow the latest trends and constantly add new dresses at wholesale prices to our selection. Couldn't see the wholesale clothing dresses you need here? Let us know, and we'll find it!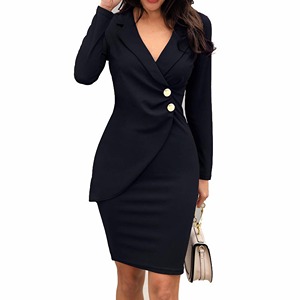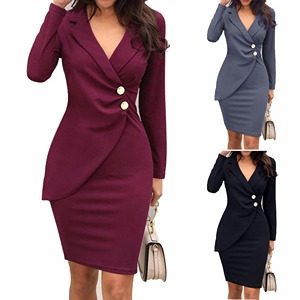 Work Dress
Material Polyester, Cotton
Color Black, Light Blue, Purple, Rose Madder
MOQ from 1000 pieces
HOW IT WORKS
Buy in bulk or customize in 3 steps
Tell us what you need and we'll buy or custom the products you want.
Get a sample to hold and feel for assessment or improvement.
Place your first order when you feel confident to start your project.
They give very fast solutions, high-quality products, the best customer service that you can get!!! Products are being delivered to the USA very fast. Warehouses in different countries. If you want to take your business to the next level, this is the company you want to work with!
Sergey
Niche client
On-demand custom wholesale dresses that match your brand image
Niche is the ultimate hack for brand success. Let us source your bestselling fashion dress for free!
Learn more about wholesale dresses
According to recent Statista data, the worldwide revenue for dresses and skirts amounts to $89.03 billion in 2022. On top of that, this market segment is supposed to grow at a rate of 5.57% annually until 2026 (CAGR 2022-2026).

So, dresses will stay a product that's in demand for the foreseeable future, and this is a fact. The only thing that will inevitably change and evolve are the trends.

Additionally, women's dresses are a very broad and general niche consisting of hundreds of explored and unexplored sub-niches. So, as long as you're creative and think outside of the box, we believe selling clothing dresses can be a lucrative business model.
When we talk about different types of women's dresses, we can refer to the length, pattern or style, season, style, occasion, etc. With this in mind, here are some popular types of women's dresses to sell:

Shirt dresses
Wedding dresses
Maxi dresses
Mini dresses
Midi dresses
Summer dresses
Floral dresses
A-line dresses
Babydoll dresses
Kimono dresses
Cocktail dresses
Evening dresses
Beach dresses
Denim dresses
Gowns
Tutu dresses
Polo dresses
Balloon dresses
Long sleeve dresses

This list is definitely not all-inclusive, so if you want a type of dress that's not here, let us know.
We've analyzed recent Amazon purchase volume to get to the kinds of dresses that sell best. Here are some of them in declining order – from most to least sold:

wedding guest dresses for women
maxi dress for women
midi dresses for women
womens summer dresses
formal dresses for women
work dresses for women
beach dresses for women
floral dress for women
flowy dresses for women
wedding dress
t shirt dress women
denim dress for women
party dress
women's casual dresses
mini dresses for women
women's cocktail dresses
athletic dress
maternity dresses
fall dresses for women
evening dress
Evening dresses and cocktail dresses are often used interchangeably and incorrectly. They're not the same thing. Cocktail dresses are typically shorter, bolder, and semi-formal, making them more suitable for daytime parties or late-night after parties.

On the other hand, evening dresses are formal, gown-like dresses that are longer, elegant, and more suitable for special occasions and more sophisticated events.
In the simplest terms, shift dresses are shapeless and flow down straight without exposing the shape of your body. On the other hand, sheath dresses are form-fitting and reveal the hourglass shape of a woman's body.
Here are some important things to research and consider when choosing the best types of dresses to sell:

Price and profit margins – first and foremost, calculate the profit margins for your selected product with the help of the wholesale price vs. the sales price you set (don't forget to include all other related expenses);
Sub-niche and target group – consider narrowing down your sub-niche and isolating a precise target group;
Product type and model – according to your target group, choose the type of product that fits (don't sell wholesale summer dresses if your target group would rather buy expensive evening gowns);
Supplier availability – next, you should ensure that you can find the right supplier or manufacturer for the type of dresses you need;
Product quality – the consistency of your products' quality should always be your number one priority;
Competition – the next thing we recommend you check is the competition and market saturation in your niche;  
Seasonality – if you buy bulk summer dresses or wholesale sundresses in bulk, ensure you're aware of the seasonality of the products (choose evergreen products whenever possible).
Making good profits selling women's dresses is possible, but we recommend finding a sub-niche or an underserved market segment to avoid strong competition.

In terms of trends and demand, women's dresses will never go out of style as a product. So, anyone could do a profitable business out of this as long as they play it smart.

Lastly, sourcing your wholesale dresses from China will give you a wide selection of models to choose from and the best chances for high profit margins.
Absolutely! The best proof is the thousands of brands that outsource their manufacturing to Chinese vendors. China is the world's hub for the clothing industry, and this is a well-known fact.

Unfortunately, many Chinese suppliers "abuse" the popularity of China as a clothing exporter and come to the market with scammy offers to foreigners who don't speak the language.

Luckily, a local sourcing agent like Niche can help you check the product quality on the spot and overcome these problems.
Here are some examples of the services we can do for you:

Sourcing generic wholesale dresses and private labeling them with your branding;
Developing a unique new dress for your brand by partnering up with reliable Chinese manufacturers;
Fulfilling orders and dropshipping to your customers worldwide;
Branding your packaging, slips, cards, etc.;
Custom backend solutions adjusted to DTC brands, retailers, brick-and-mortar stores, eCommerce owners, and wholesalers;
Storing your wholesale dresses in our warehouses in China or the USA.