Top-Notch Wholesale Loungewear at the Best Prices on the Market
Loungewear is an evergreen niche with immense possibilities. Let Niche buy the best wholesale loungewear for your budget from reliable loungewear wholesale suppliers in China. Need custom loungewear sets in bulk? No worries, we can develop a brand-new product. Test us for free.
No upfront costs. No obligations.
Superior product quality
We're dedicated to providing only top-notch wholesale loungewear for your business. We understand that the quality of your products is crucial for your brand's success, so we carefully select our suppliers to ensure that they meet our high standards.
All-around services
You can delegate a wide range of business tasks to our experienced team. We can do everything from product sourcing and development to branding, warehousing, fulfillment, and shipping. With us handling the backend, you get time to focus on growth!
Exceptional customer support
Our team is committed to providing excellent support to all of our clients, regardless of their size. So, as soon as you place your first order, you will be paired with a dedicated support agent and enjoy personalized assistance throughout the process.
Trending Loungewear to Sell
Browse through our trending wholesale loungewear sets and choose what your brand needs. Can't find what you need? Let us know, and we will develop custom loungewear in bulk with your branding. With an experienced local sourcing agent like Niche, finding the perfect product is a given!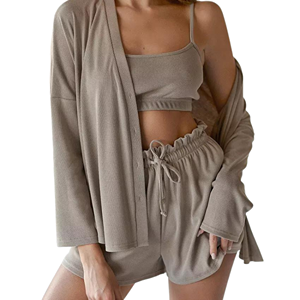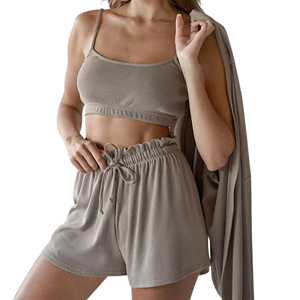 3 Piece Loungewear Set
Material Ribbed Cotton
Color Black, Blue, Brown, Pink
MOQ from 1000 pieces
HOW IT WORKS
Buy in bulk or customize in 3 steps
Tell us what you need and we'll buy or custom the products you want.
Get a sample to hold and feel for assessment or improvement.
Place your first order when you feel confident to start your project.
They give very fast solutions, high-quality products, the best customer service that you can get!!! Products are being delivered to the USA very fast. Warehouses in different countries. If you want to take your business to the next level, this is the company you want to work with!
Sergey
Niche client
The easiest way to buy trending wholesale loungewear from China
We know how difficult it can be to find reliable wholesale loungewear vendors. Let us help!
Learn more about wholesale loungewear
Loungewear is the middle ground between pajamas and jeans. This is comfortable, casual clothing that's typically worn at home or in relaxed social settings. It's designed to be comfortable and stylish at the same time and can be worn for lounging, working from home, or running errands.

Loungewear can include a wide range of clothing items, such as leggings, joggers, sweatpants, sweatshirts, hoodies, t-shirts, etc. It's generally made from comfortable, breathable materials like cotton, fleece, or jersey.
Selling loungewear is a great idea for many different reasons:

These are products in constant demand over the last few years;
They're versatile in terms of types, sub-niches, and target audiences;
Great profit margins when comparing their wholesale price vs. sale price;
A great niche for private labeling or branding;
The possibility to choose between an endless pool of suppliers and products that fit all types of budgets;
Many different clothes can be categorized as loungewear. Here are the most common types of loungewear you could sell:

Leggings
Sweatpants
Joggers
Sweatshirts
T-shirts
Hoodies
Shorts
Tracksuits
Tanks
Camisoles
Pullovers
Onesies
The main difference between loungewear and sleepwear is their purpose and the materials they are made from. Sleepwear is specifically designed for sleeping, while loungewear is designed for various activities and can be more stylish.

Sleepwear includes nightgowns, robes, and pajamas, while loungewear includes hoodies, leggings, T-shirts, etc.
Yes! That's the main difference between sleepwear and loungewear! Loungewear is like the all-around type of clothing – you can wear it at home to do chores or outside to run errands.

Loungewear is perfect to wear outside if you want a casual, modern, and laid-back look.
Yes, loungewear is still a trend and is likely to remain popular in the future. The movement was particularly pronounced during the COVID-19 pandemic, as many people were spending more time at home and looking for comfortable, casual clothing to wear. But, due to its practicality and style, loungewear stayed a trendy category to sell in.
When searching for loungewear to sell, there are several factors to consider:

Type of loungewear: the first thing to decide is the type of loungewear you want to sell (this will determine your niche and target audience);
Supplier availability: find reliable vendors or manufacturers who can provide the type of loungewear you want to sell;
Price: calculate your profit margins by comparing your wholesale price and your selling price;
Material: loungewear can be made from a variety of materials, such as cotton, lycra, polyester, etc.
Quality: consider the level of quality you need and choose between low-ticket, middle-ticket, or high-ticket products based on your target group and budget;
Customization: decide whether you want to sell generic products or you want to private label or brand your loungewear pieces;
Style: consider the color, pattern, and overall style of the loungewear;
Of course! Many people believe loungewear is a saturated market, but this is only partially true. While loungewear as a broad category might be saturated, you need to realize the opportunities for countless sub-niches within this broad type of clothing.

So, with the right branding, marketing strategy, and target group, selling loungewear can be a really successful business.

Last but not least, ensure that you're getting your wholesale loungewear at great bulk prices, allowing you to set solid profit margins at an acceptable sale price.
Yes. In fact, China is the number one choice for loungewear and clothing in general, as most large brands outsource their manufacturing to China.

That's likely due to the superior price vs. quality ratio that's difficult to find in other countries.
We offer a range of services to meet your specific needs. Depending on your preferences, we can work as your sourcing agent or act as a full-service business partner. Here are some specific ways we can boost your loungewear business:

Sourcing bulk loungewear wholesale from Chinese suppliers;
Collaborating with Chinese manufacturers to develop OEM, ODM, or private-label loungewear;
Branding wholesale loungewear with your logo and specifications;
Storing your bulk order in our warehouses in China or the USA;
Shipping orders to end buyers worldwide;
Providing order fulfillment services including inventory management and store automation;