Purchase Luxury Candle Jars Wholesale from China
Let Niche help your candle business by buying high-quality luxury candle jars wholesale from Chinese suppliers. With us, you can buy all the candle supplies you need at a wholesale price. Tap into the greatest choice of wholesale luxury candle vessels!
No upfront costs. No obligations.
Industry-leading suppliers
Niche sources from reliable and trustworthy suppliers only. We've been working as sourcing agents for many years now, which allowed us to build a large network of suppliers and manufacturers in every niche possible. We don't compromise on quality!
All-in-one service provider
In today's fast-paced market, it's all about being agile and ready to respond to fluctuating demand. Nobody has time for ten different service providers. With Niche, you get everything in one place – from sourcing and branding to storage, fulfillment, and shipping!
Excellent customer support
We dedicate time to each client equally and pride ourselves on our one-on-one customer support. As soon as you place your first order, we will assign you a personal support agent who will be there to answer all your questions and concerns.
Trending Luxury Candle Jars and Vessels to Sell
Take a look at our trending collection of wholesale luxury candle containers and luxury candle jars. We can add a custom logo to any of these products, which means you can sell them as a branded product. Don't see what you like here? Let us know and we'll find it!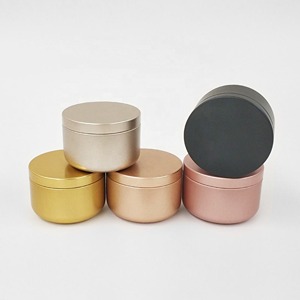 Luxury Metal Candle Jars
Material Aluminum
Color Gold, Matte Gold, Pink, Black 
MOQ from 1000 pieces
HOW IT WORKS
Buy in bulk or customize in 3 steps
Tell us what you need and we'll buy or custom the products you want.
Get a sample to hold and feel for assessment or improvement.
Place your first order when you feel confident to start your project.
They give very fast solutions, high-quality products, the best customer service that you can get!!! Products are being delivered to the USA very fast. Warehouses in different countries. If you want to take your business to the next level, this is the company you want to work with!
Sergey
Niche client
Bestselling High-Quality Luxury Candle Jars at Wholesale Prices
Niche is the ultimate business hack! Let us source your luxury candle jars for free.
Learn more about luxury candle jars
Candle jars are a great product to sell both wholesale to candle makers and retail as a high-end private label product. Besides, candles are always in demand, especially in the winter and holidays such as Christmas and New Year's.

Additionally, we can source luxury candle jars at wholesale prices that will allow you the opportunity to work with high-profit margins and reap financial rewards continuously.

All in all, with a little creativity and differentiation, selling luxury candle jars can be a really profitable business endeavor.
A luxurious candle typically entails:

A full-bodied fragrance;
High-end wax such as beeswax, soy wax, or coconut wax;
A quality slow-burning wick;
Luxury candle jars, containers, or vessels;
Minimalistic and high-end packaging;

In terms of just candle jars that are considered luxurious, trends for this often change and evolve. However, this is the general outlook:

Quality material (glass, concrete, ceramic, metal, or aluminum);
Artistic yet minimalistic design;
Matte dark spray colors;
Interesting lids;
Wooden details;
Custom logo with white space, small font, and minimalistic design;
Quality control is an essential process for a product such as candle jars. These are the most important things to inspect:

Leakages – your candle jars shouldn't leak so that you don't have to struggle with wax spills during the manufacturing of the candles – putting water in candle jars usually works best to check for leakages;
Inflammable materials – using materials unsuitable for candles can cause the vessel to catch on fire and result in damages or injuries;
Jar cracks – the next thing to watch out for are jar cracks, especially with ceramic or glass containers;
Heat resistance – lastly, ensure that all the candle jars and containers you use are heat resistant; otherwise, you run the risk of cracks or even explosions;
Here are some important points to consider when you're choosing luxury candle jars:

Material – do you prefer glass, concrete, aluminum, ceramic, or metal containers;
Quality, durability, and resistance – how durable and heat resistant are your candle jars, are they suitable for storage and transport;
Target audience and niche – who is your ideal buyer and what's your sub-niche;
Price and profits – the wholesale price vs. the sale price of your luxury candle jars will give you the profit margins;
Branding and private labeling – have you thought of the visual design of your brand, custom logo, and product;
Supplier availability – lastly, are you able to find the right supplier or manufacturer to develop your product;
Yes! In terms of price vs. quality, Chinese suppliers will have the best ratio. Additionally, most luxury candle jar manufacturers are in China, allowing you to tap into unlimited choices and varieties.

Lastly, with a sourcing agent like Niche, you will surpass all the cultural and linguistic barriers connected to buying from China. We simplify the process until you receive the exact product you expect!
Niche can help you source luxury candle jars at wholesale prices from Chinese suppliers. Additionally, we can help you white label and private label your candle jars by customizing parts of their design or adding your custom logo and branding.

Last but not least, for business owners who have a lot on their plate and don't want to deal with backend operations, we also offer inventory storage, order fulfillment, and worldwide shipping as part of our services.