Buy High-Quality Silk Pajamas Wholesale at Unbeatable Prices
If you're looking to buy luxury silk pajamas wholesale from China, you're on the right page. We believe there's something magical about a quality set of silk pajamas – they make a great product for branding! So, let us find reliable wholesale silk pajama vendors and help you grow.
No upfront costs. No obligations.
Zero-risk sourcing
We want to ensure you're always confident in the product you choose. That's why we start with a free sourcing quote, allowing you to see exactly the type of product you're getting. If you don't love it, there are no costs or obligations to place an order.
One-stop shop
The times when you had to juggle five different service providers are over! With Niche, you get it all in one place. From product sourcing and development to packaging, storage, and worldwide shipping – we do it all. This saves you a ton of time and money!
Personal support agent
With Niche, you'll never be left alone wondering what's next. As soon as you place your first order, you get your own personal support agent who will be there to give you one-on-one support and answer all your questions.
Trending Silk Pajamas to Sell
Browse through our bestselling wholesale silk PJs and wholesale silk sleepwear and pick your bestsellers. With Niche, you can private label, add your brand, or customize any of the products below. Can't find what you need? No worries! We have the network and experience to develop any type of custom silk pajamas in bulk.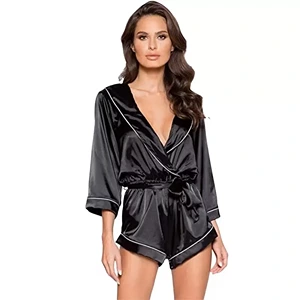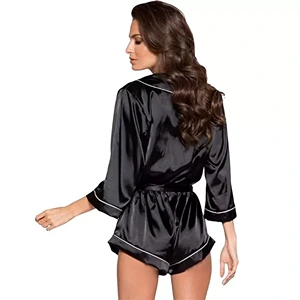 Silk Romper Pajamas
Material Silk
Color Black, Blue, Champagne, Silver
MOQ from 1000 pieces
HOW IT WORKS
Buy in bulk or customize in 3 steps
Tell us what you need and we'll buy or custom the products you want.
Get a sample to hold and feel for assessment or improvement.
Place your first order when you feel confident to start your project.
They give very fast solutions, high-quality products, the best customer service that you can get!!! Products are being delivered to the USA very fast. Warehouses in different countries. If you want to take your business to the next level, this is the company you want to work with!
Sergey
Niche client
A simpler way to buy top-quality silk pajamas wholesale from China
Let industry experts find the best silk pajama wholesale suppliers for your brand!
Learn more about wholesale silk pajamas
Selling silk pajamas can be a good business opportunity for those looking to offer their customers high-quality, comfortable, and stylish sleepwear and loungewear.

Silk is a natural fiber that is smooth and soft to the touch. It's also a breathable material, which helps regulate body temperature and keep you cool while you sleep. Lastly, silk has hypoallergenic properties, making it beneficial for people with sensitive skin or allergies.
There are many good reasons why some people prefer silk pajamas over materials like cotton or flannel:

Silk is great for sensitive skin; it keeps it moisturized and wrinkle-free;
Silk is a natural fiber that's breathable and regulates body temperature;
Silk pajamas can be more comfortable than cotton or flannel pajamas because they don't retain heat and moisture as much as other fabrics;
Silk is resistant to wrinkling, which makes it a great choice for people who don't enjoy ironing their sleepwear;
Silk looks more luxurious and high-end than cotton or flannel pajamas;
Both silk and satin pajamas can be comfortable and luxurious, but there are some differences between the two materials.

Silk is a natural fiber that is soft, smooth, and hypoallergenic. It is also a good insulator, so it can help keep you warm in the winter and cool in the summer. However, silk can be more expensive than other materials and may require more delicate care.

Satin is a synthetic material made from polyester or nylon. It's also smooth and shiny, but it's generally less expensive than silk and easier to care for. On the flip side, it's not as breathable as silk and has a less luxurious feel.
Yes, but only on the "Delicate Wash" cycle (or the appropriate alternative). Otherwise, it's generally not recommended to machine-wash silk pajamas. Silk is a delicate fabric that can easily become damaged in the washing machine, especially if it is not washed correctly:

Silk doesn't tolerate hot water;
Use silk-friendly detergents;
Avoid softeners;
Place your silk pajamas in a mesh bag before washing;
Do not bleach or pre-soak your silk sleepwear;
Use the appropriate machine program or hand wash;
There are several ways to determine if a garment is made of 100% silk:

Check the smoothness: real silk is extremely smooth; it even feels like wax on your hands;
Check the label: the label should say 100% silk;
Check with fire: we don't recommend doing this, but when burned, real silk will smell like burnt hair, not like burnt plastic;
Check the price point: real silk will always be more expensive than satin or other artificial materials;
Yes, mulberry silk pajamas are made from real silk. Silk is a natural protein fiber produced by some insects, such as silkworms. Mulberry silk is produced by the silkworms of the mulberry silk moth. These silkworms feed exclusively on the leaves of mulberry trees, where they get their name.

Mulberry silk is known for its softness, shine, and strength, making it a popular choice for different types of clothing including pajamas.
According to recent data, here are the silk pajama pant colors that sell the best (in declining order, from most to least searched):

pink silk pajamas
black silk pajamas
red silk pajamas
white silk pajamas
green silk pajamas
blue silk pajamas
purple silk pajamas
brown silk pajamas
orange silk pajamas
yellow silk pajamas
gold silk pajamas
When choosing silk pajamas to sell, you should consider these factors:

Quality: look for pajamas that are made of 100% pure silk, as this will ensure that the pajamas are soft, luxurious, and comfortable to wear;
Comfort: consider factors such as the fit of the pajamas, the weight of the fabric, and the overall design of the pajamas;
Style: fashionable silk pajamas will be more appealing to customers;
Size and fit: offer a range of sizes to suit different body types, and consider offering both standard and plus sizes;
Price: consider the price point of the silk pajamas you're selling, as this will impact their appeal to customers and your profit margins as well;
Supplier availability: make sure you can find the right supplier who can provide what you need and can follow you as you scale;
Of course! There are different approaches you can take to sell silk pajamas:

An online store: you can create an online store to sell your silk pajamas directly to consumers;
Wholesale selling: you can also sell your silk pajamas to retailers or other businesses that want to resell them;
Brick-and-mortar or pop-up shops: If you want to sell your silk pajamas in person, you can set up a pop-up shop or start a brick-and-mortar business. This can be a good option if you want to build a local following;

Regardless of your approach, you should first do market and product research to understand what types of silk pajamas are in demand and price your products competitively.
Absolutely! China is known for producing a wide range of products, including clothing, at relatively low prices due to lower labor and production costs. This makes sourcing silk pajamas from China cost-effective, especially if you want to purchase a large quantity.

Additionally, China has a reputation for producing high-quality silk, and many companies in the country have strict quality control measures in place to ensure that their products meet the necessary standards.
To start with, we can source any type of sleepwear and silk pajama sets in bulk and customize them with your branding. Additionally, we can help you store your ready products in our warehouses, fulfill orders, and deliver worldwide to end customers.

With Niche, you have the world's greatest factory at your fingertips – all you need to launch and scale a brand!