With millions of shoppers and brands on Amazon, it can be overwhelming for shoppers to navigate through the site to find their desired brand. Amazon storefront is an eye-opening idea for both sellers and shoppers.
So what is an Amazon storefront? Amazon vendors can create mini-websites to showcase their brands and products in one location. This mini-website is what a storefront is. Brands can now customize their mini-websites to reflect everything their brands stand for.
Below is a highlight of the top 15 Amazon storefront examples to help you get ideas for starting yours. Let's get started.
Top 15 Amazon Storefront Ideas
Troubadour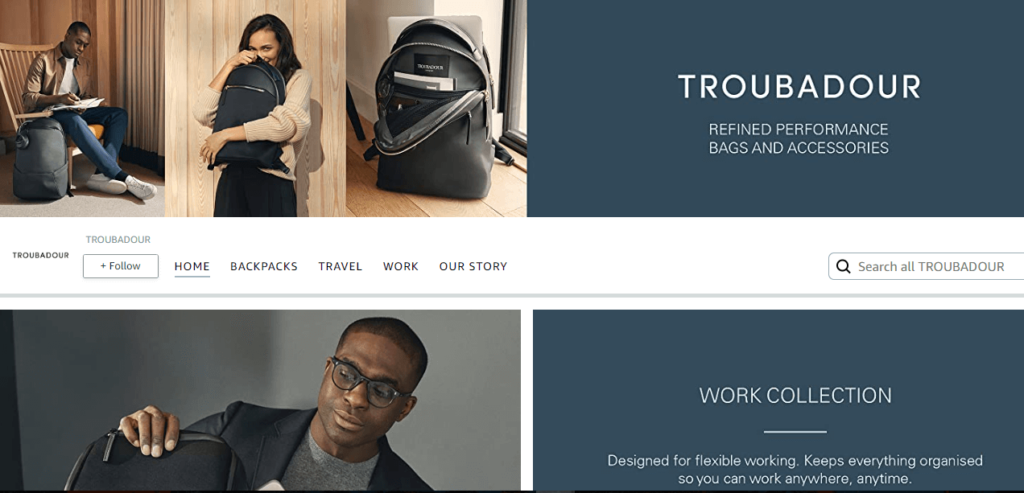 Troubadour is an Amazon store that deals with backpacks. The store started small by selling what they believed was the perfect backpack and grew into a successful brand.
They offer durability, comfort, and performance in their products, making them one of the most trusted stores on amazon.
Key Features
Troubadour has a well-established storefront that permits customers to access their products easily.
Their background story allows new clients to get acquainted with the brand.
Their site showcases their products in use.
They have a share button, meaning their clients can recommend their site to others.
Hapinest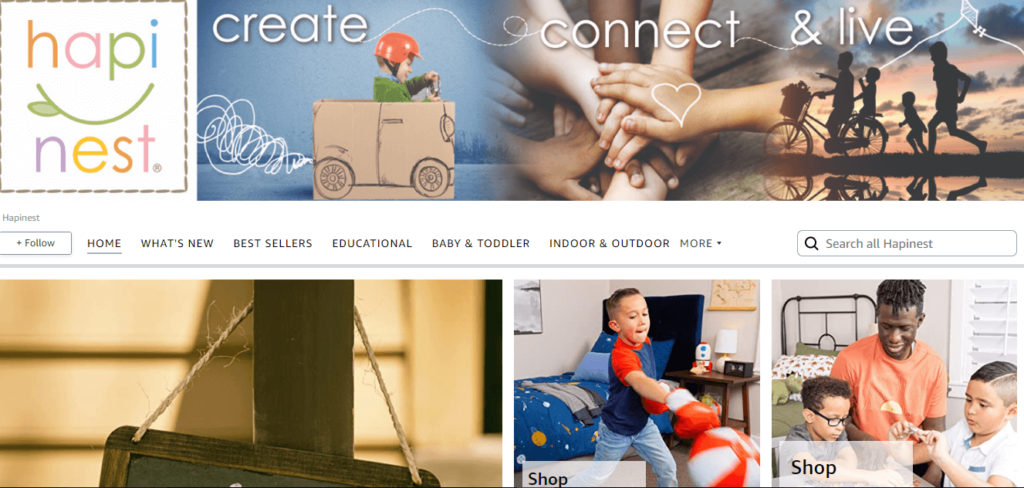 As the name suggests, Hapinest is a store dedicated to selling kids' toys, games, puzzles, educational tools, arts & crafts, etc. They have indoor and outdoor products that children can use with their peers.
Key Features
Their site design shows customers they are in the right place for kid's play tools.
They have a playful logo to attract prospects to their store.
Their homepage displays children playing with some of their products, putting more emphasis on their products.
The use of playful colors also helps sell their store.
Seventh Generation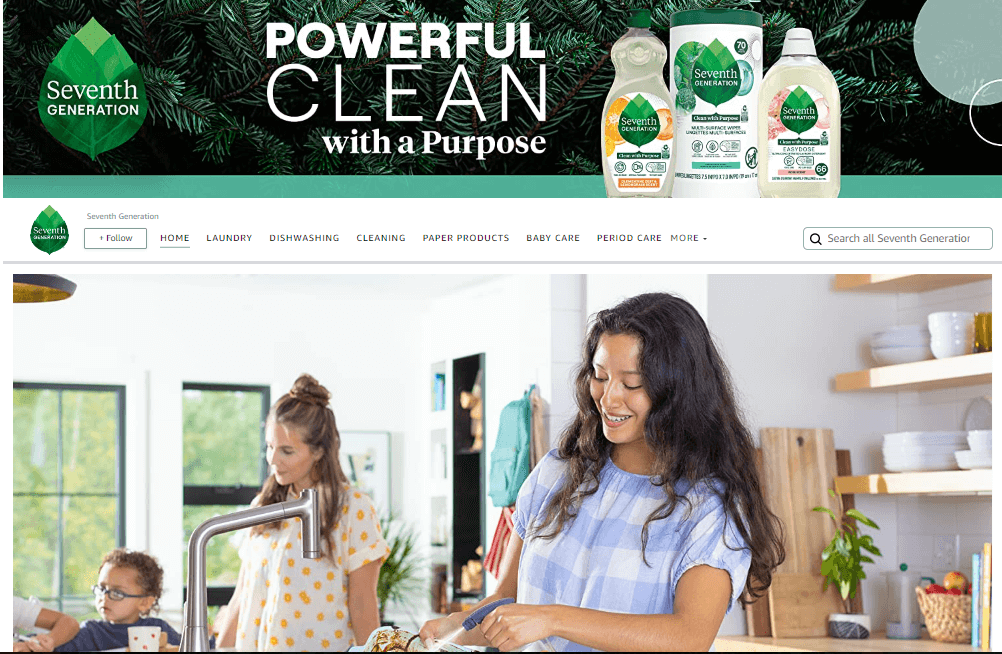 Seventh Generation is a brand that sells general cleaning products such as dishwashing, laundry, period care, baby care, and so on. The store also focuses on organic products made from plants.
Their packaging and products are either renewable or recyclable, meaning that, as a brand, they also value the ecosystem.
Key Features
Their site uses high-resolution images to push their brand's agenda.
Seventh Generation is environmental-friendly and mentions it on their homepage to ensure their customers are aware.
You can view their products easily and clearly.
All their products are listed categorically.
Zober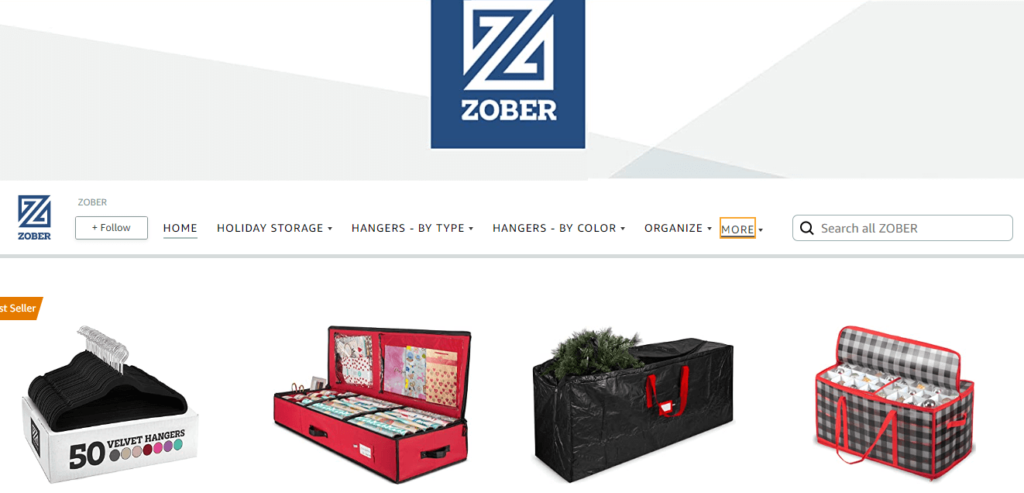 If you're looking to declutter and organize your home, then Zober is the place to shop. Zober sells several organizing items to make your home look chic and neat.
They sell organizers, hangers, shelves, storage tools, etc. Their products are also easy to use, as showcased on their page.
Key Features
The page features images of their products in use and how well they function.
They use high-quality images.
Their catalog is well-organized, making it easy to find products.
They have different styles for every product to provide variety to their customers.
Globalwin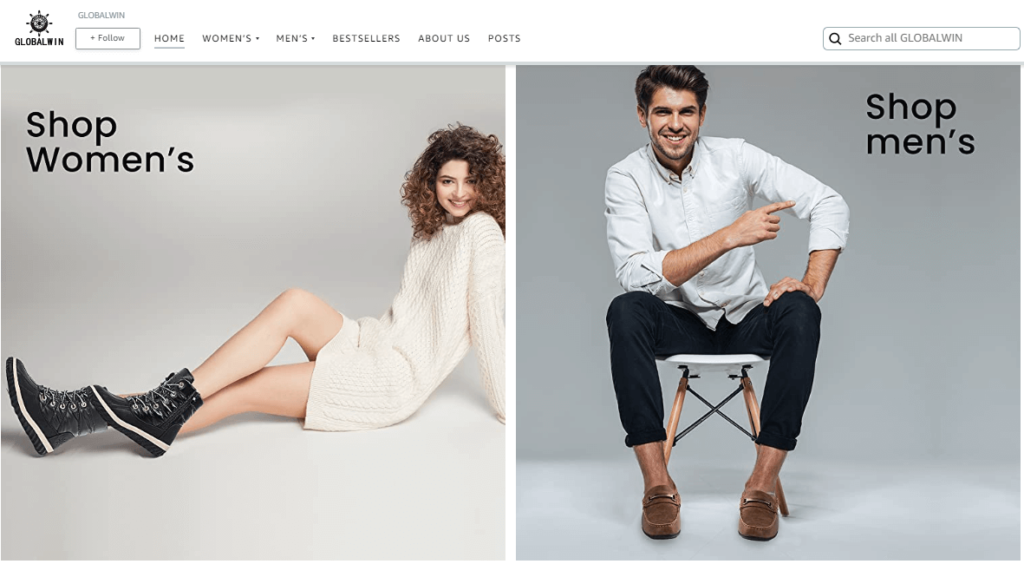 Globalwin offers premium footwear for both men and women. Their collection consists of various footwear for various seasons. They sell trendy and unique shoes that are applicable in an office, for a night out, for events, for a casual outfit, and more.
All their products have reasonable prices, guaranteeing you value for your money.
Key Features
Their storefront features images of models wearing their shoes, showing how comfortable and fashionable they look.
They have a bestseller section to help customers know what's trending.
Every product has a description making it easy for customers to choose their favorites.
They have a size chart on their site.
The Hate Stain Co.
This brand focuses on essential stain removers that everyone needs for their day-to-day lives. The Hate Stain Co. sells products that you can carry and use anywhere, like at events, on road trips, or at home.
Some of their popular stain removers are for wine, road spills, all-purpose stains, and more.
Key Features
The storefront has a catchy tagline that captures people's attention.
The color scheme on their page is incredible and lures in prospects.
They provide instructions on how to use their various products efficiently.
They have featured some of their popular products on their homepage.
GearLight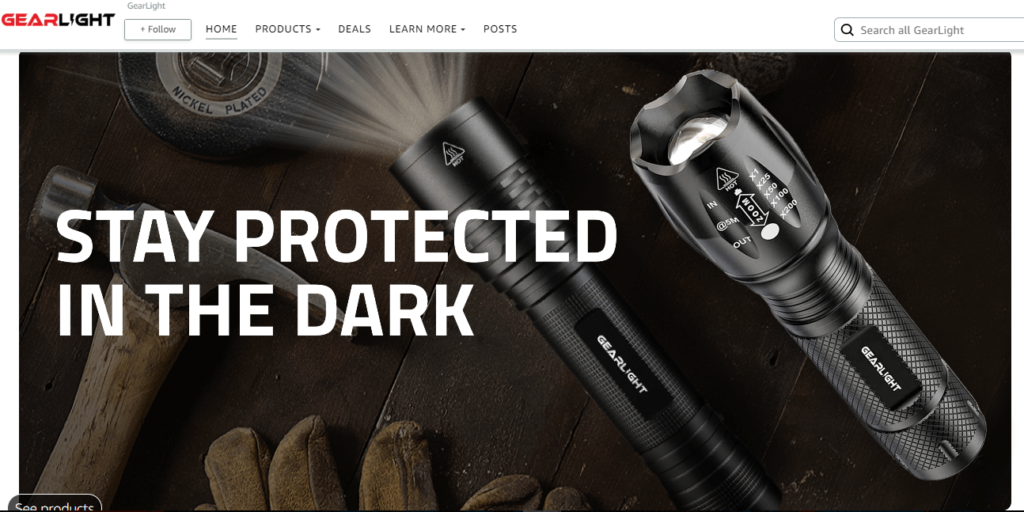 GearLight is situated in the US but has facilities in other regions to help reach millions of clients.
This brand deals with various types of LED lights such as lanterns, headlamps, flashlights, ring lights, UV lights, bike lights, etc.
Key Features
Their dark theme helps display their products in use better; the light against the darkness.
They have an easy-to-follow product list.
All their listings vividly describe what to expect when you buy.
They have a clever call to action to prompt people to buy.
Reebok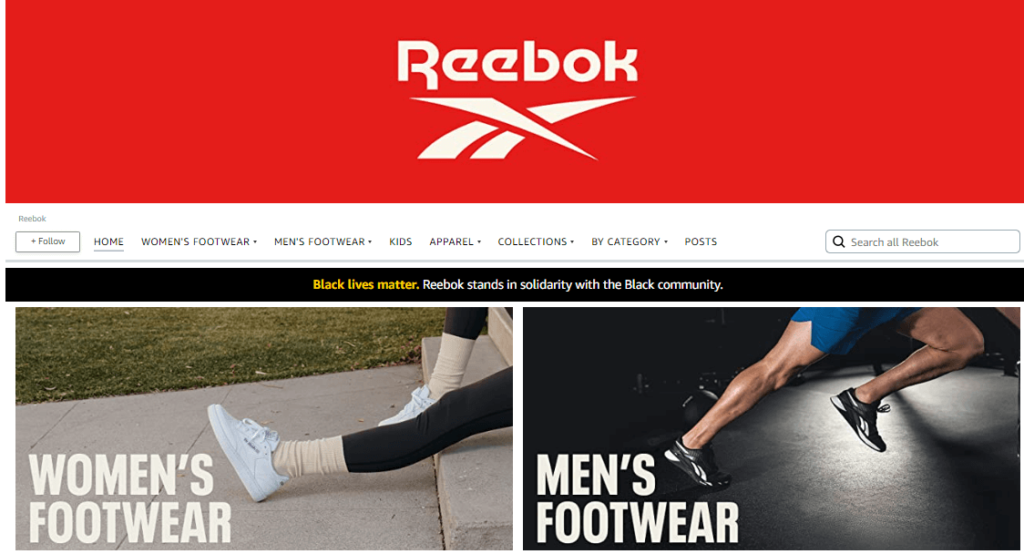 Reebok is a renowned brand globally, hence their storefront on Amazon has to meet its standards. Being in the fashion sector, their Amazon storefront idea is eye-catching to meet their target sales.
They feature products that cut across men, women, and children. Moreover, their products apply to various situations like training, lifestyle, and work.
Key Features
Their page features various athletes training while wearing their products. It is a feature that helps bring customers into Reebok's world.
They use sleek graphics as a promotional tool for their latest additions.
They have subpages that direct traffic to their desired items and categories faster.
MCS Industries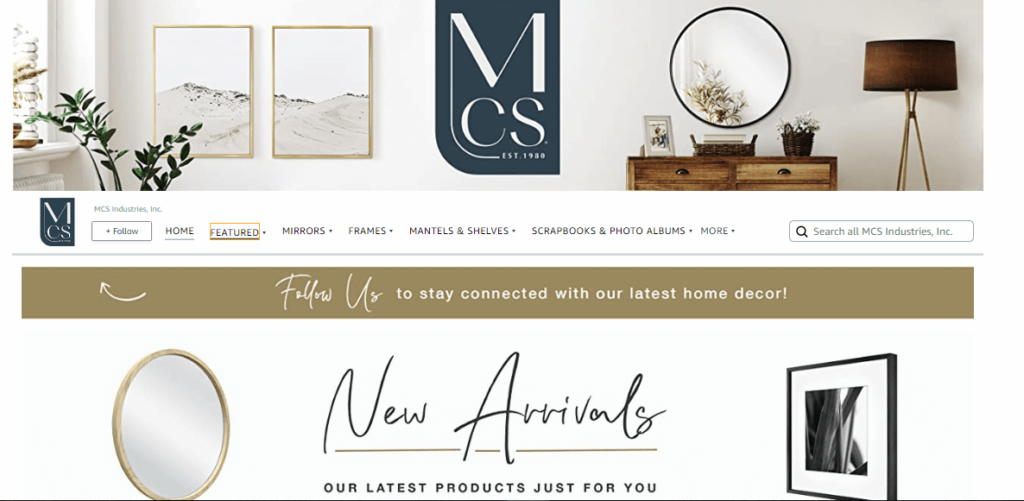 Are you in the mood for redecorating? MCS Industries deals with all things interior decor. They have a collection of products that will make your home look like a page in a magazine.
Some of their products include mirrors, frames, shelves, mantels, and more. They also offer different kinds of items in each category.
Key Features
Their storefront design is very appealing. Using high-resolution images and product organization to mimic a home gives them an edge over other stores.
They direct traffic to new arrivals on their homepage so that customers can look at the latest unique decor ideas they offer.
Godiva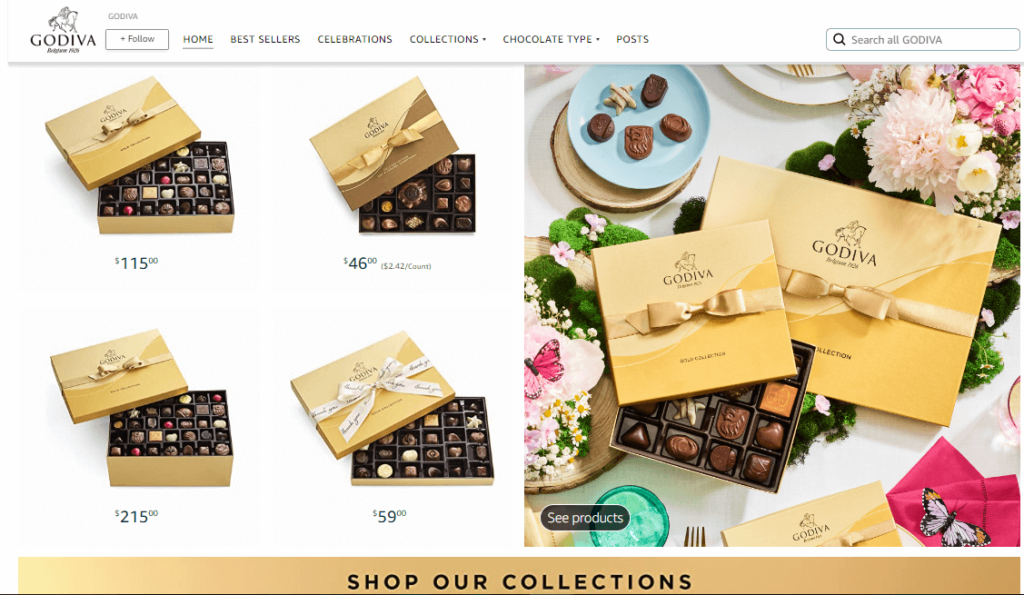 Godiva is a popular chocolate brand that offers an iconic collection of chocolates. Their chocolates come in various flavors that appeal to different kinds of people.
Their storefront page is covered with chocolate images and videos. They use alluring visuals to drive traffic and convert it into sales.
Key Features
They entice buyers through the use of visuals. The visuals are very appetizing, making anyone want to buy the chocolates.
Since Godiva is a luxurious brand, they have invested in high-quality images and videos.
Every displayed chocolate has a marker that customers can click and read the prices and descriptions of the product.
Gemmach Lifestyle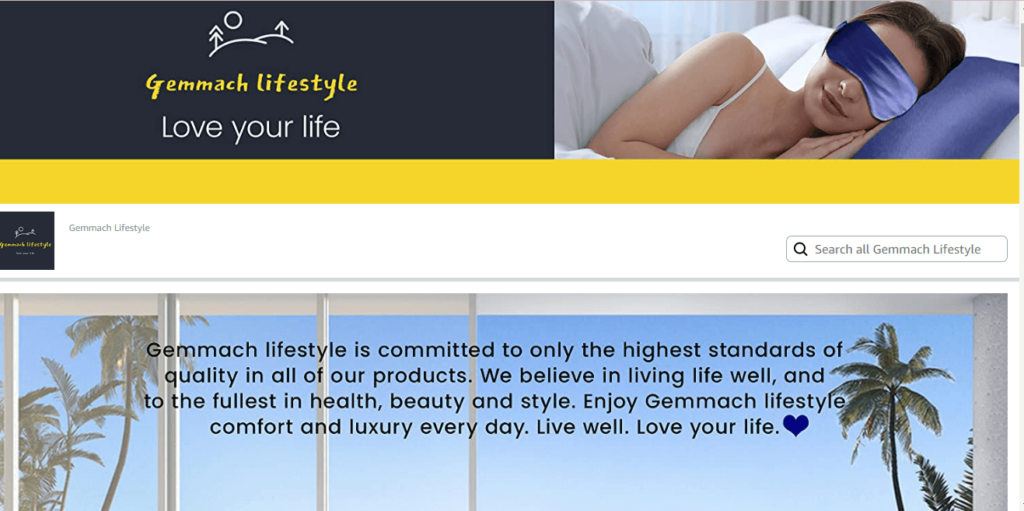 Gemmach focuses on people's lifestyles, including health, beauty, and life. They are dedicated to creating sleeping gear that promotes a healthy lifestyle.
Their products are made from silk, which is the best material when it comes to sleeping. Products you will find at Gemmach Lifestyle are eye masks, pillows, night dresses, and hair ties.
Key Features
The storefront homepage features their four popular products in use to show customers how comfortable they are.
They have displayed their products' superior qualities so customers know what to expect.
The site has a search button so shoppers can search for specific items.
They have an easy website to navigate.
All the products are listed with clear descriptions and prices.
LifeStraw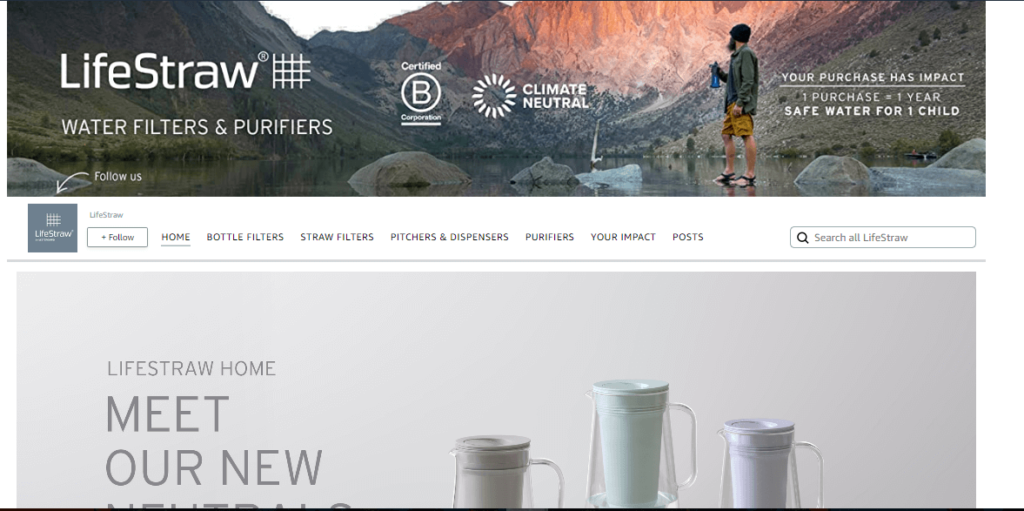 LifeStraw is a brand that deals with water filters and purifiers. The products in their store include bottle filters, straw filters, dispensers, purifiers, and pitchers.
They are also an eco-friendly company, meaning all its products have little to no environmental impact.
Key Features
Their storefront uses large images showcasing their products in use (both indoor and outdoor).
They have a tagline on their home page that informs shoppers that they are saving a life with every purchase. This information entices buyers to place their orders.
Gaiam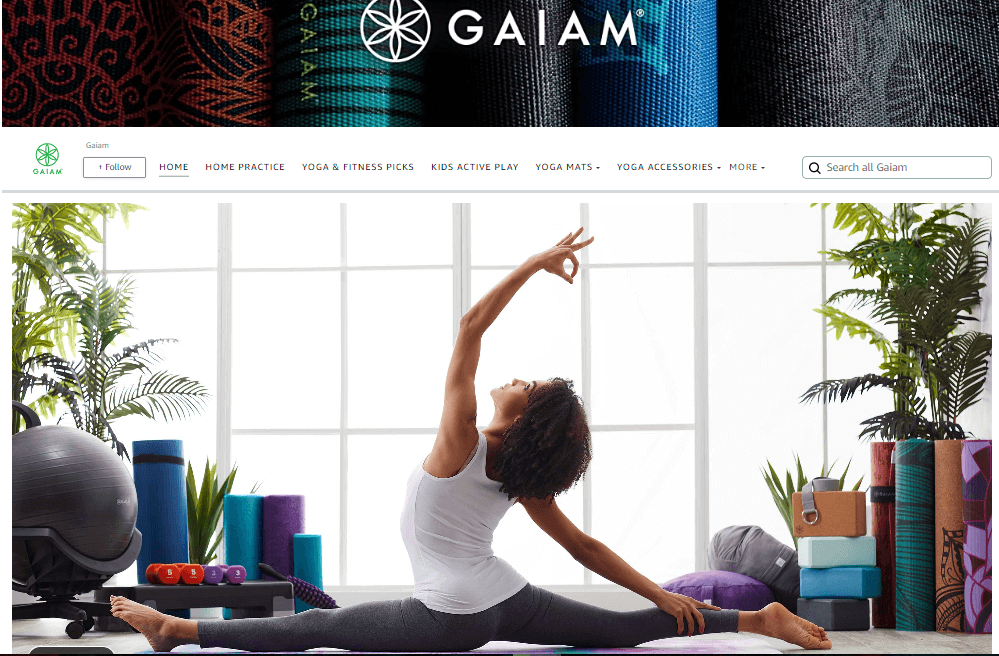 Gaiam is also a lifestyle brand that deals with yoga items. Their yoga and fitness products include yoga mats, yoga accessories, balance balls, standing boards/mats, ball chairs, and many more.
They cater to both adults and kids, so the whole family can be active.
Key Features
The homepage features a woman doing yoga and a bunch of other products. Gaiam uses this image to entice shoppers to buy their products.
They also use well-thought-out calls to action to make any shopper want to buy.
Gaiam's product display is also organized well, easing shoppers' work.
Miracle Care
If you are a pet owner, then this brand is for you. Miracle Care focuses on animal care, such as first aid, eye care, ear care, grooming, nail care, and more.
They have products for birds, dogs, cats, and other small animals. All their products are made in-house; hence, they guarantee high-quality products safe for animals.
Key Features
The site has dedicated image tiles making it easy for people to place orders for their pets.
They mention being in business for decades now, which is a plus for any business. Since they have experience, shoppers will trust them more than new brands.
Revlon

Revlon is a cosmetic company that sells makeup, makeup tools, hair, fragrances, hair accessories, styling tools, etc.
Key Features
The site is easy to navigate since their organization is top-notch.
They feature a button for 'what's new' and 'bestsellers' to help customers choose products that sell best or something new in the market.
They use animated images on their banner, which helps capture shoppers to their page.
FAQs
Who Can Have an Amazon Storefront?
Any vendor/seller or agency can have a storefront on Amazon. The only condition is that you have to enroll in the Amazon Brand Registry to be allowed to own one.
For you to complete your brand registry, you will have to have a registered trademark. If you have a registered trademark, then you can start the process, and within 3 days, your store will be up and running.
What Are the Challenges of Owning an Amazon Storefront?
The challenges of owning an Amazon store are the same as any other online store. The top challenges include;
Excess competition with brands selling similar products
There are a lot of price issues where one is forced to reduce prices to attract buyers.
Returns from customers also affect the business in terms of revenues.
There are many other challenges, but the benefits of owning a storefront outweigh the challenges.
Can You Own More than One Storefront?
Yes. It is possible to own more than one storefront; however, you have to seek permission from Amazon first and have a valid reason for why you want to do so.
Conclusion
The concept of a storefront has aided many brands in their market introduction and sales growth. Vendors all over the world are now capitalizing on this concept to propel their brands forward and stay relevant in the market.
If you want to own an Amazon storefront, this post contains the best examples to follow to make your store unique and appealing. In addition, NicheSources is here to assist you with your sourcing needs so that your storefront remains open all year.
We find the best supplier for your brand and make the process as simple as possible. Request a free quote and begin your e-commerce journey in style.