Is stainless steel jewelry good, or are there better options in terms of wear and tear and durability? Good news if you plan to launch a steel jewelry brand – this metal alloy is incredibly durable, and resistant to tarnish and corrosion. So, it's definitely a great choice!
Additionally, stainless steel is not really a precious metal, making it much more affordable than gold and platinum.
But, are there any disadvantages of stainless steel jewelry? We're here to explore exactly that!
Let's dive right in!
What Is Stainless Steel Jewelry?
Stainless steel jewelry is a type of jewelry made from an alloy of carbon and iron. It typically contains at least 10.5% or 11% chromium and 1.2% maximum carbon content. This metal alloy is then combined with nickel and titanium for added durability.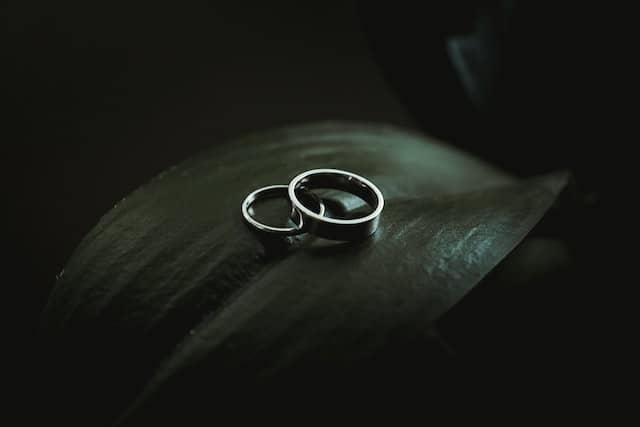 The main features of stainless steel jewelry are rust and corrosion resistance, and being hypoallergenic, durable, and non-tarnishing.
Due to its ability to mimic other jewelry materials like gold and silver, stainless steel is popular for jewelry, watches, and similar accessories.
Pros and Cons of Stainless Steel Jewelry
Now, let's look at all the stainless steel jewelry pros and cons to help you decide if it's the right product for your brand:
Benefits of Stainless Steel Jewelry
Durability: stainless steel jewelry is considered very durable and is typically prone to scratches and tarnish;
Corrosion resistance: stainless steel contains a layer of chromium, making it rust and corrosion-resistant;
Hypoallergenic: unless it contains nickel, stainless steel jewelry is great for sensitive skin as it won't cause an allergic reaction;
Affordability: compared to precious materials like gold and silver, stainless steel jewelry is much more affordable;
Versatility: stainless steel jewelry is genderless and works for both male and female jewelry. Additionally, it's suitable for watches, bracelets, earrings, necklaces, and more;
Eco-friendly: in terms of recyclability and carbon footprint, stainless steel is one of the best jewelry metal choices available;
Low maintenance: last but not least, stainless steel jewelry is easy to clean and maintain – all it needs is soap, water, and some elbow grease;
Disadvantages of Stainless Steel Jewelry
Less valuable: unlike gold and platinum, stainless steel is an easily affordable material whose value isn't expected to go up;
Prone to chemical damage: if exposed to harsh chemicals such as chlorine, stainless steel might lose its color or get damaged over time;
Susceptible to dents: if used carelessly, stainless steel jewelry can dent. Although it's tough, it's not as tough as gold and platinum;
Possible nickel allergy: if you're allergic to nickel (as some stainless steel alloys contain nickel), this material might not be suitable since it might cause an allergic reaction;
A rigid material: stainless steel jewelry may not be so versatile in terms of intrinsic designs as other metals since it's very rigid;
Difficulties resizing: finally, if you're thinking of selling things like stainless steel rings, note that this is a metal with a high melting point so it's almost impossible to resize without damage;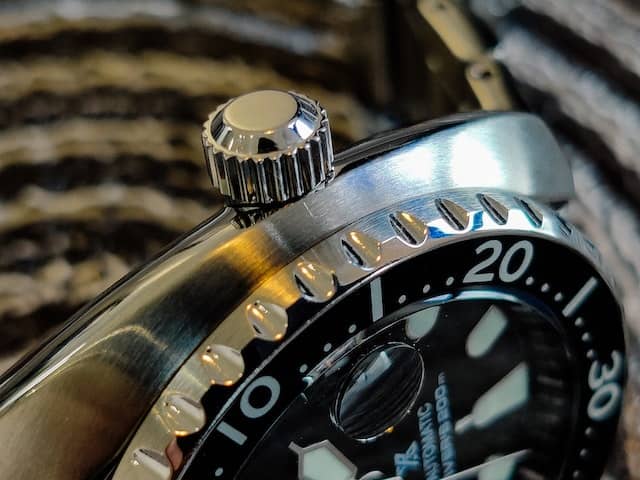 How to Choose the Right Stainless Steel Jewelry?
Here are some important factors to consider when choosing the right stainless steel jewelry for your business:
The Right Stainless Steel Grade
Different types of steel grades are suitable for different purposes. For instance, grades 304 and 302 have a higher nickel content which isn't suitable for sensitive skin and people with allergic reactions to nickel. In this case, you might opt for 316L or 316VM.
The Right Type of Jewelry
Next, deciding on the type of stainless jewelry you want to sell is important. Here, consider your target group and their needs. Will you sell stainless steel rings? Perhaps necklaces? Or jewelry sets?
A Suitable Plating Process
If you're looking for an affordable option, electroplated jewelry may be a good choice as it's typically less costly. However, if you're willing to invest in higher-quality jewelry, then you might want to consider PVD-coated pieces since they're known for their superior luster.
The Right Finish
Stainless steel jewelry comes in various finishes, such as polished, matte, and brushed. When purchasing stainless steel jewelry, it's important to look closely at the finer details. Ensure that the finish is uniform across the surface, and get informed about the polishing process.
Good Price vs. Quality Ratio
While stainless steel jewelry is more budget-friendly than precious metals, there can still be a significant price difference. Aim to find pieces that offer an excellent balance between cost and quality to make the most of your budget.
The Right Supplier
Next, we want you to consider the reliability and trustworthiness of your supplier or seller. To stay on the safe side, look for local sourcing agents like NicheSources, or check customer reviews if available.
The Right Sizing
The last important consideration is choosing the right sizes to offer to your buyers. Stainless steel is very rigid, making it extremely difficult to resize or remold. For this reason, it's best to display clear size measurements. This will save you many unnecessary return costs.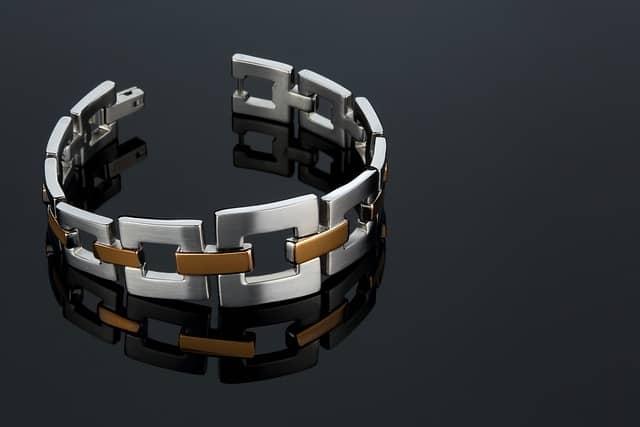 Will Stainless Steel Jewelry Tarnish?
Stainless steel is generally durable in terms of wear and tear, but it can still happen over time. This depends on the usage as well as the exposure to harsh chemicals and other elements that can cause discoloration or dullness.
Having said that, the risk of tarnishing is lower compared to other metals like silver or copper. With proper care, stainless steel jewelry can last for many years without noticeable tarnishing.
To prevent tarnishing, it's best to store stainless steel jewelry in a dry, cool place and avoid exposing it to harsh chemicals or extreme heat.
How to Clean Stainless Steel Jewelry?
Cleaning stainless jewelry is very simple. All you'll need are:
A soft cloth and/or brush
Warm water
Mild dishwashing soap
Some elbow grease for polishing
Step 1: Prepare the soapy water
First, fill a bowl of water with warm water and some drops of mild dishwashing detergent. Mix it well. If necessary, you can soak your jewelry in the soapy water for some minutes before proceeding to the next step.
Step 2: Clean the jewelry
Then, dip the soft towel or cloth in the soapy water and gently scrub your stainless steel ring or bracelet. If necessary, use a brush with soft bristles to clean any debris in hard-to-reach places.
Step 3: Give it a final wash
Your third step is to wash your clean jewelry from all the soapy water and dirt with clean water. Afterward, dry it well with an absorbing cloth.
Step 4: Polish the jewelry
If needed, you can use elbow grease or a similar product to polish the jewelry and give it a better shine. Some matte types of stainless steel jewelry won't need this step.
How Long Does Stainless Steel Jewelry Last?
Quality stainless steel jewelry is very durable and can last for many years if used properly and kept away from abrasive chemicals. However, in the case of gold-plated stainless steel, the top layer might not last more than a couple of months to a year.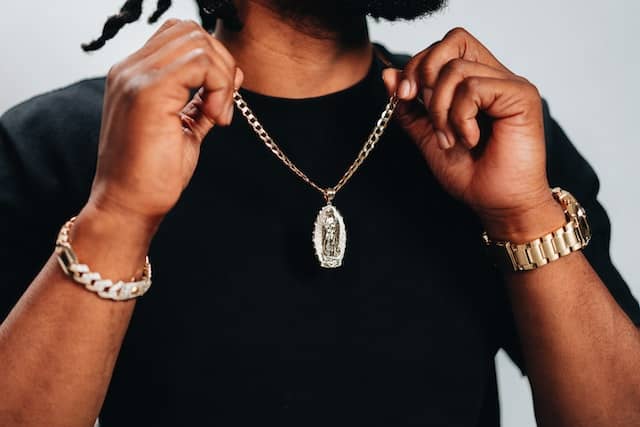 How to Maintain Stainless Steel Jewelry?
Stainless steel jewelry can be ageless if maintained properly. Luckily, this material is very easy for daily upkeep. Here are some best practices to follow:
Gently clean regularly: clean your stainless steel jewelry at least once a month if you're using it regularly. Otherwise, adjust your cleaning schedule according to the usage but make sure you do it regularly;
Store it properly: store your stainless steel jewelry in a clean and dry place, out of direct sunlight or extreme heat. Avoid storing it with other metals that might cause reactions. Lastly, try to use a fabric-lined box to avoid accidental scratches;
Keep it away from chemicals: although stainless steel is very durable, it can get damaged by chemicals and abrasive substances;
Leave it home when swimming: one of the worst chemicals for stainless steel is chlorine, which is what you find in almost all pools. So, when swimming in a pool, leave your stainless steel jewelry at home;
Is Selling Stainless Steel Jewelry a Profitable Business Idea?
Absolutely! And there are many good reasons why we're so convinced:
More affordable and easier to sell than precious metals;
It's a durable and low-maintenance choice of jewelry;
There's a growing demand for stainless steel jewelry;
It's an eco-friendly choice of jewelry that appeals to many customers;
There's a wide range of varieties in terms of jewelry types (rings, necklaces, bracelets, piercings, etc.);
A wide range of men's jewelry available, which makes the niche less saturated;
It's a business model with low startup costs;
Possibility for eCommerce selling, branding, and higher profit margins;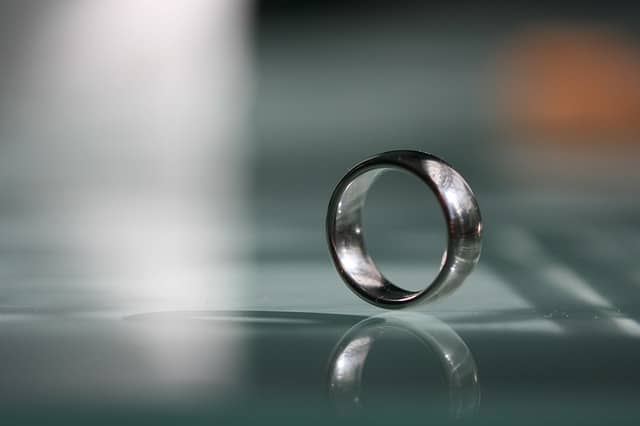 Sell Stainless Steel Jewelry with NicheSources
We're an all-around product sourcing agent in China with industry-leading experience in many different niches, including jewelry. Aside from sourcing generic stainless steel bracelets, rings, necklaces, etc., we can also help you develop a brand-new jewelry piece according to your specifications.
We've partnered with many trustworthy suppliers and wholesale stainless steel jewelry manufacturers throughout the years, and we're sure we can find exactly what you need!
Lastly, we're often the best option for eCommerce stores and DTC brands ready to scale, since we offer a full spectrum of services, including product development, branding, sourcing, packaging, storage, order fulfillment, and dropshipping.
So, with NicheSources, selling stainless steel jewelry and launching a brand can be effortless. We can overtake your boring backend processes and streamline your business, allowing you to focus on sales and growth. And, the best part? You can try us with zero obligations by getting a free sourcing quote today!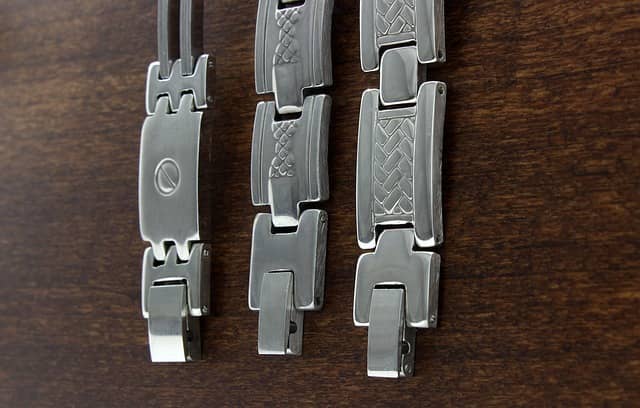 FAQs about Stainless Steel Jewelry
We want to cover every aspect of this guide to ensure you make the right choice. Let's look at some of the most frequently asked questions on stainless steel jewelry.
Is Stainless Steel Good for Jewelry?
Yes! Stainless steel is one of the best metal alloys for jewelry in terms of durability vs. value. For just a fraction of the price of gold and silver, you get an equally long-lasting and beautiful piece of jewelry.
For you as a seller, stainless steel jewelry will be much easier compared to high-ticket gold and platinum jewelry. It's easier to convince buyers to buy a $30 necklace than a $3000 one. So, keep in mind this as a pro for stainless steel jewelry!
Is Wearing Stainless Steel Bad for You?
Not at all. Stainless steel is hypoallergenic, making it suitable for sensitive skin and people of all ages. Sometimes, you might find nickel in the stainless steel alloy, which can cause an allergic reaction if a person is allergic to nickel.
Talk to your sourcing agent or supplier to avoid this problem.
Is Stainless Steel Jewelry Worth Any Money?
Unfortunately, stainless steel is not a precious metal like gold, platinum, or silver, so it's much cheaper. That means that the jewelry price isn't likely to go up in terms of buying it as a future investment.
However, if we talk purely about the quality of the jewelry, stainless steel can be compared to precious metal quality in terms of durability, corrosion resistance, and the value you get for your money.
All in all, stainless steel is a mid-ticket product in terms of average jewelry offerings.
Can I Wear Stainless Steel in the Shower?
Yes! You can do all your daily activities, including showers while wearing your stainless steel jewelry. The invisible chromium layer protects your stainless steel jewelry from any rust or corrosion when in touch with water.
However, be careful not to damage your jewelry by exposing it to chemicals like chlorine, bleach, or other harsh detergents. That means it's best to leave your stainless steel rings at home if you go swimming in a pool.
Is Sterling Silver or Stainless Steel Better?
In terms of durability and affordability, stainless steel takes the lead. However, in terms of intricate designs and delicate and elegant jewelry, sterling silver is more suitable since stainless steel is too rigid. So, we can't really talk about which one is better since they're both suitable for different uses.
However, if we talk purely about durability, affordability, and general wear and tear, stainless steel is the better option.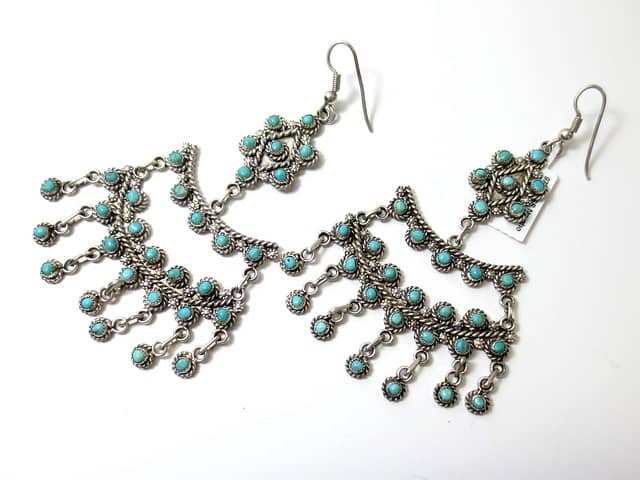 Is Stainless Steel Jewelry Good for Sensitive Skin?
Yes! Unless it contains nickel, stainless steel is a hypoallergenic metal that's great for sensitive skin as it won't cause any allergic reactions or flare-ups.
Is Stainless Steel Jewelry Good for New Piercings?
Yes, it's ideal! Stainless steel is one of the most commonly used metals for first piercings, earrings, and other body jewelry. The reason for this is the hypoallergenic property of stainless steel, making it safe to use without causing any reactions.
Summary
All things considered, we can conclude that stainless steel is an ideal choice for those seeking a stylish and long-lasting piece of jewelry that's budget-friendly. It offers affordability and low maintenance ensuring that the ring will maintain its shine for many years to come.
Paired with the beauty of stainless steel jewelry designs, and we've got a winner!
So, to answer your question – is stainless steel jewelry good as a product to sell? The answer is a clear yes! Interested in buying stainless steel jewelry at the best prices on the market? Get in touch!