Platinum, gold, silver, and other precious metals are often what come to mind at the mention of jewelry. However, outliers like stainless steel jewelry are quickly gaining popularity among shoppers too.
The truth is, not everyone can or is willing to splurge on day-to-day jewelry pieces. As such, availing affordable, durable, and skin-friendly alternatives like stainless steel jewelry in your store would be a welcome reprieve.
This brings us to a crucial question; where do you find suppliers for this kind of jewelry? Well, you are in luck. We have curated a list of top-shelf manufacturers and vendors that supply stainless steel jewelry wholesale in China to light your sourcing path.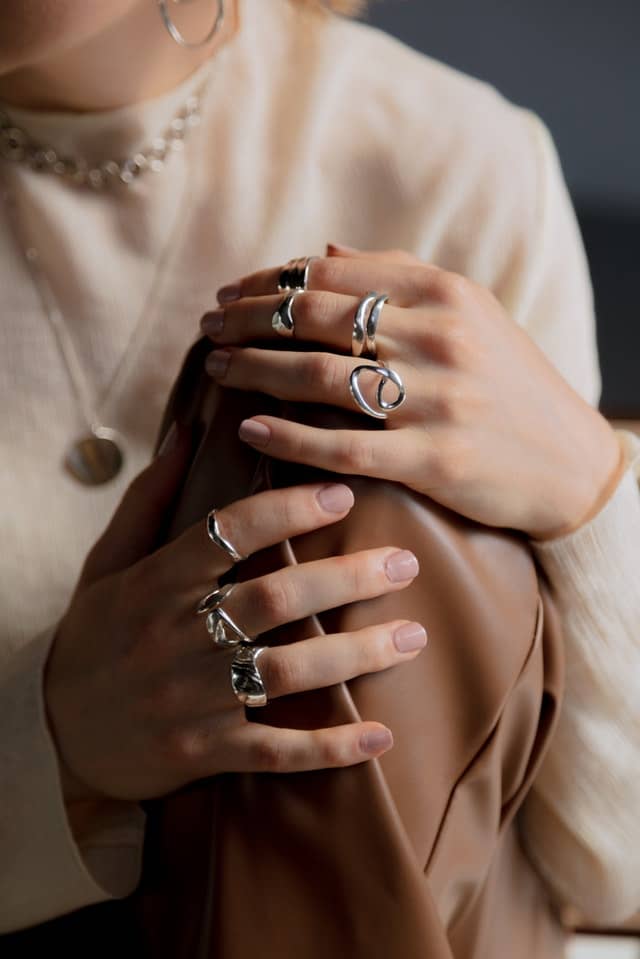 Ready? Let's see what they have to offer.
Caboli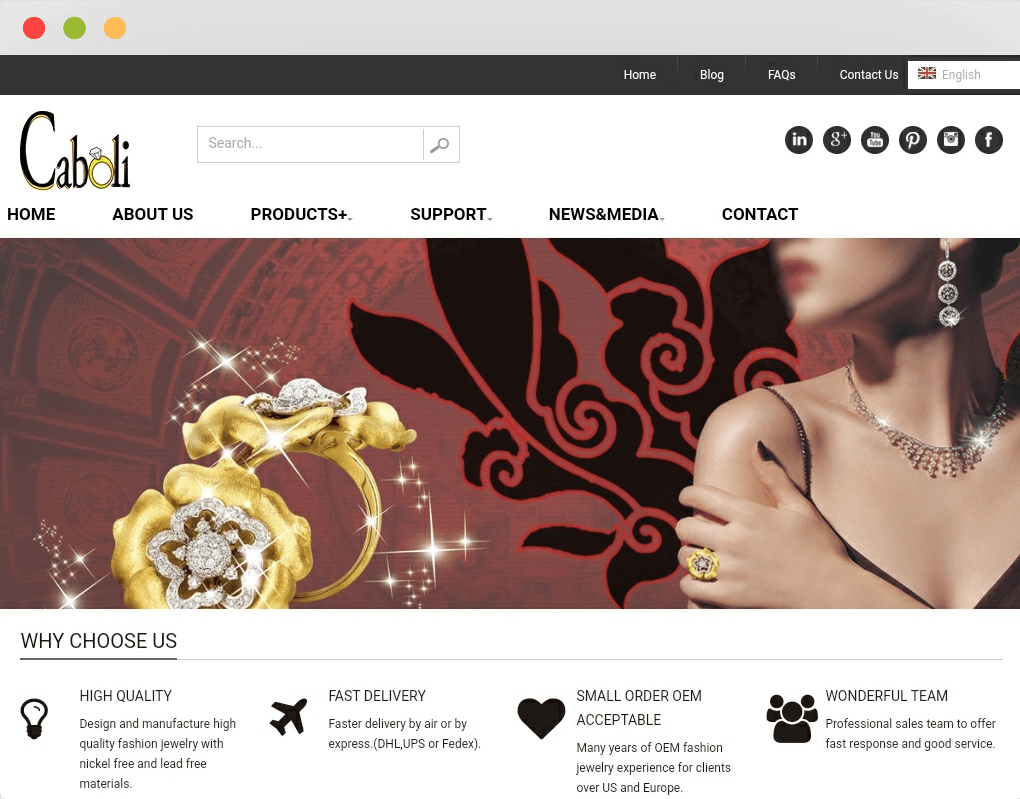 Caboli is a jewelry manufacturer based in Dongguan, China. The company was set up in 2007 and is thus well-experienced in the art of making ornaments using different types of materials.
The Caboli product catalog includes stainless steel designs of:
Rings
Bracelets
Necklaces
Cufflinks
Jewelry sets
You would also get to choose between plain stainless steel pieces or gold-plated designs. The company uses plating vacuum deposition or ion plating for the latter to ensure that the jewelry does not fade or chip and become unsightly.
In terms of design, Caboli certainly makes its pieces stand out. They are bejeweled using different stones and colorful markings to give them a sophisticated and elegant look.
If you would prefer custom stainless steel pieces instead, the in-house design team at the Caboli factory can help you perfect your concept and bring it to reality.
The MOQ is 200 pieces per design but it can be negotiated to about 100 pieces based on the size of your order. Lead times range from 30 to 35 days.
While Caboli mainly ships to Europe and America, it accepts orders from other global destinations too.
Winda Jewelry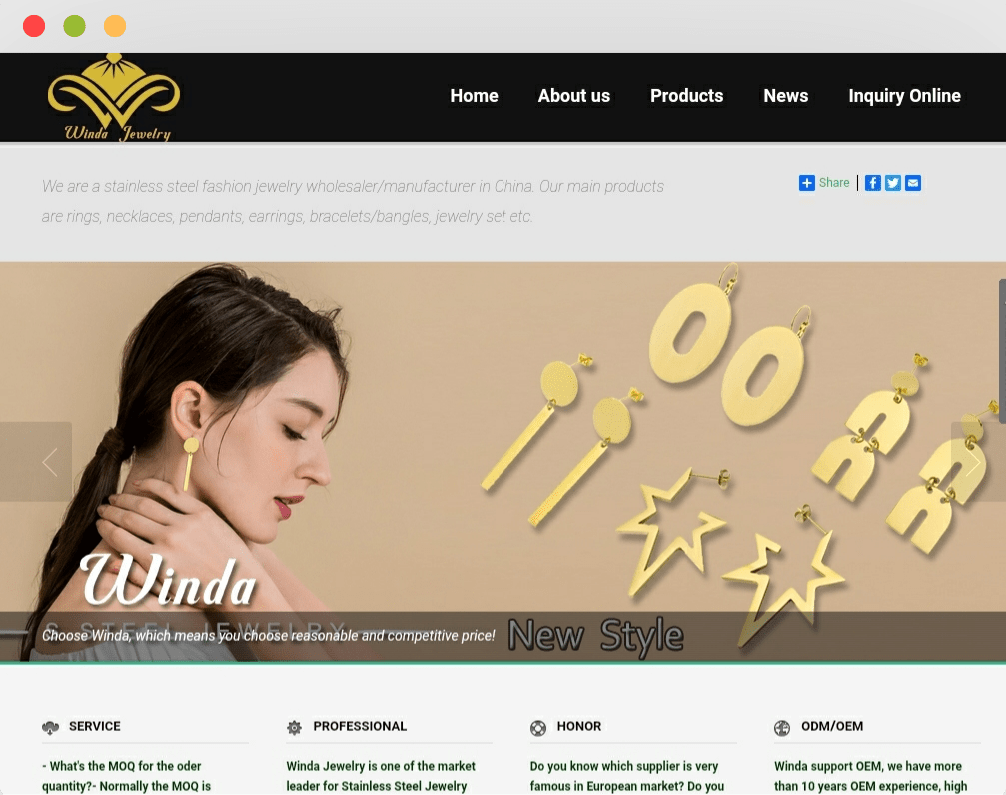 Winda Jewelry is solely dedicated to the production of stainless steel jewelry. Its factory is based in Dongguan but it also has a showroom in Guangzhou.
The Winda jewelry collection comprises over 20,000 designs of earrings, necklaces, bracelets, bangles, rosaries, and rings, all made of stainless steel. Some are plain and modest while others are more sparkly or given a double-color look through gold or rose gold ion plating.
Unfortunately, this company does not disclose much in terms of prices and other supply terms on its platforms. You would have to seek a quote directly from them based on the items you would like to buy.
Zuobisi Jewelry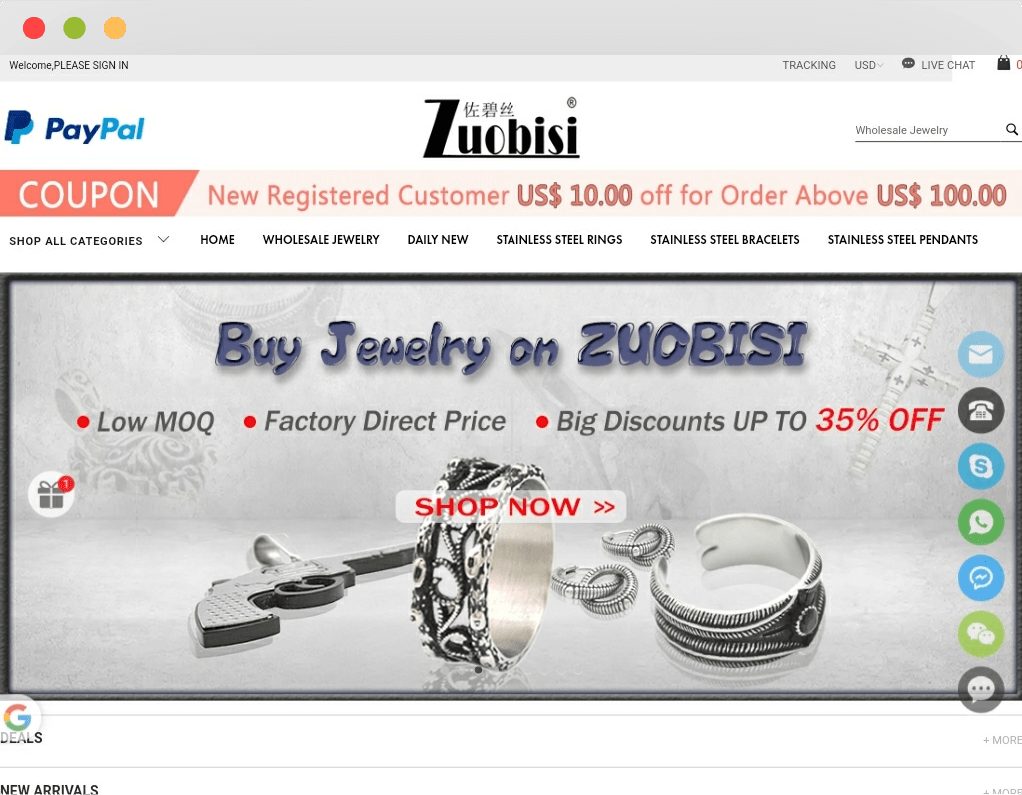 Zuobisi Jewelry manufactures jewelry pieces made of stainless steel, beads, among other materials. It is situated in Guangzhou but has a wholesale online store through which it encourages customers to place their orders.
A key advantage to this supplier is that they offer stainless steel jewelry for both men and women. The designs are equally diverse as they include simple elegant designs of bangles and necklaces to gothic rings and earrings.
Zuobisi Collection also includes ear-piercing shotguns and replacement cusps that can be used for different ornaments. While these are not necessarily jewelry items, customers would likely appreciate and buy them due to necessity.
MOQs begin from as low as 3 pieces per design. You could also start with the trial order service which allows you to first make a small order and evaluate the jewelry, how well they sell, or the firm's customer service before committing to a bulk purchase.
Zuobisi Jewelry also takes custom jewelry orders and can produce up to 300 new designs per month. It ships to countries all over the world.
Shenzhen Hengda Xin (HDX) Jewelry
HDX Jewelry was established in 2004 and has since grown into a leading stainless steel jewelry manufacturer in China. It now owns 3 factories that meet ROSH, L'oreal, and BSCI guidelines. They all have a combined monthly output of 500,000 pieces.
The product catalog from this jewelry brand only provides jewelry design ideas and showcases their production capabilities. This would, therefore, be an ideal supplier to partner with if you would prefer to only sell private label jewelry.
All orders are on a wholesale basis but the prices will depend on the size of your order and the complexity of the custom designs you choose. MOQs are equally not fixed but often start at 200 pieces.
Besteelex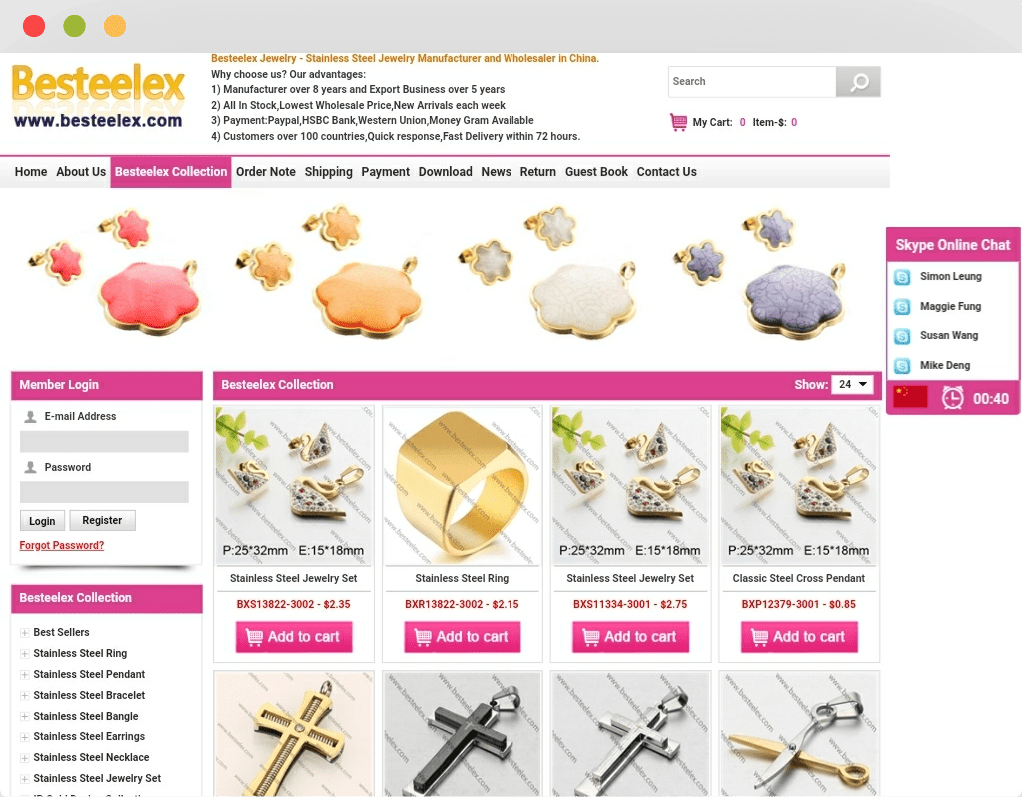 Besteelex has a jewelry factory in Dongguan and a showroom in Guangzhou. It is also a frequent participant at the Hong Kong Jewelry Show where it showcases its products to local and international potential customers.
The Besteelex collection solely consists of stainless steel jewelry pieces such as rings, pendants, bangles, and jewelry sets.
If you reckon none of them would appeal to your clientele, you could request customization or share your custom jewelry designs for production.
Most items on the catalog are in stock and can, therefore, be delivered within a short time. In contrast, orders that require custom work may take 15 to 30 days. The company allows mixed orders where you can pick more than one style of jewelry to meet MOQ.
Additionally, this may be an ideal supplier if you run or are looking to start a jewelry dropshipping store. It offers dropshipping fulfillment for all pieces and ships them based on your instructions.
Julong Steel Jewelry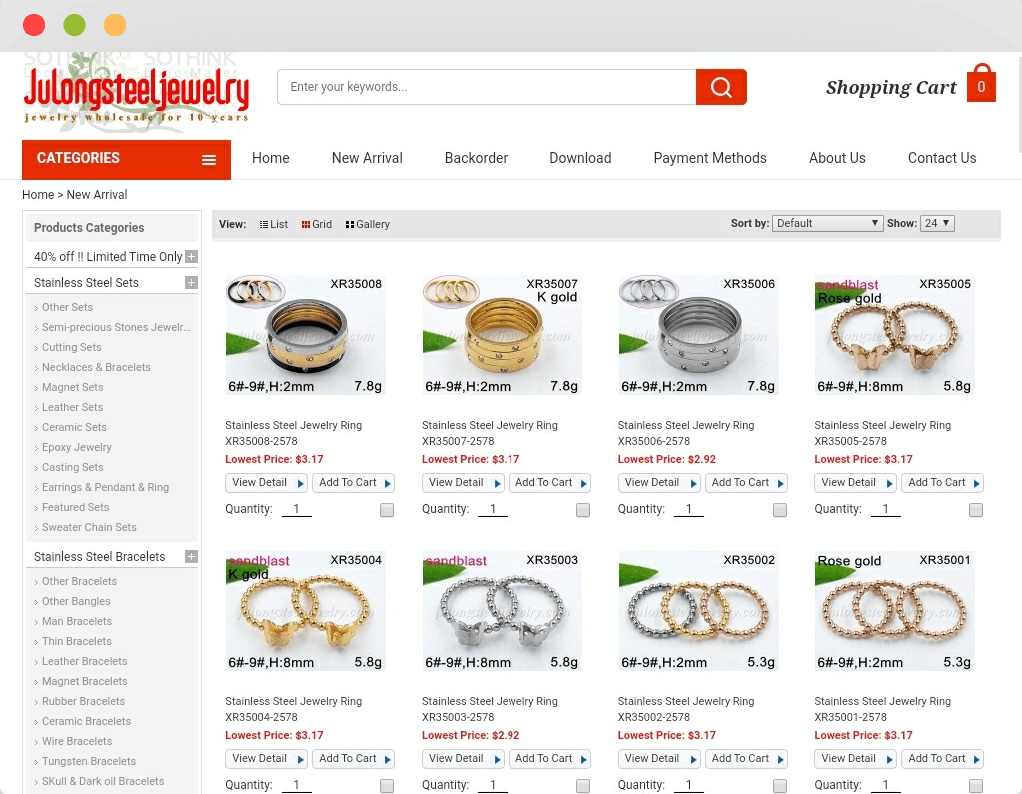 Julong Steel Jewelry is accessible through its online store or at its premises in Guangzhou. It is a manufacturer and wholesale supplier of stainless steel and tungsten jewelry.
The Julong Steel ornament selection is quite vast and about 100,000 new designs are added to the collection every month.
Suffice to say, whether you are looking for trendy earrings or vintage-looking stainless steel necklaces, this supplier will have you spoiled for choice.
The MOQ for wholesale purchases is 3 pieces per design at a total minimum value of $300. Further, if you become a regular wholesale buyer, you would be eligible for membership discounts based on the sizes of your orders.
Julong Steel currently ships to over 80 countries across the world. There is also a shipping estimator on the company's platform to help you get a rough idea of how much shipping would cost you.
A2A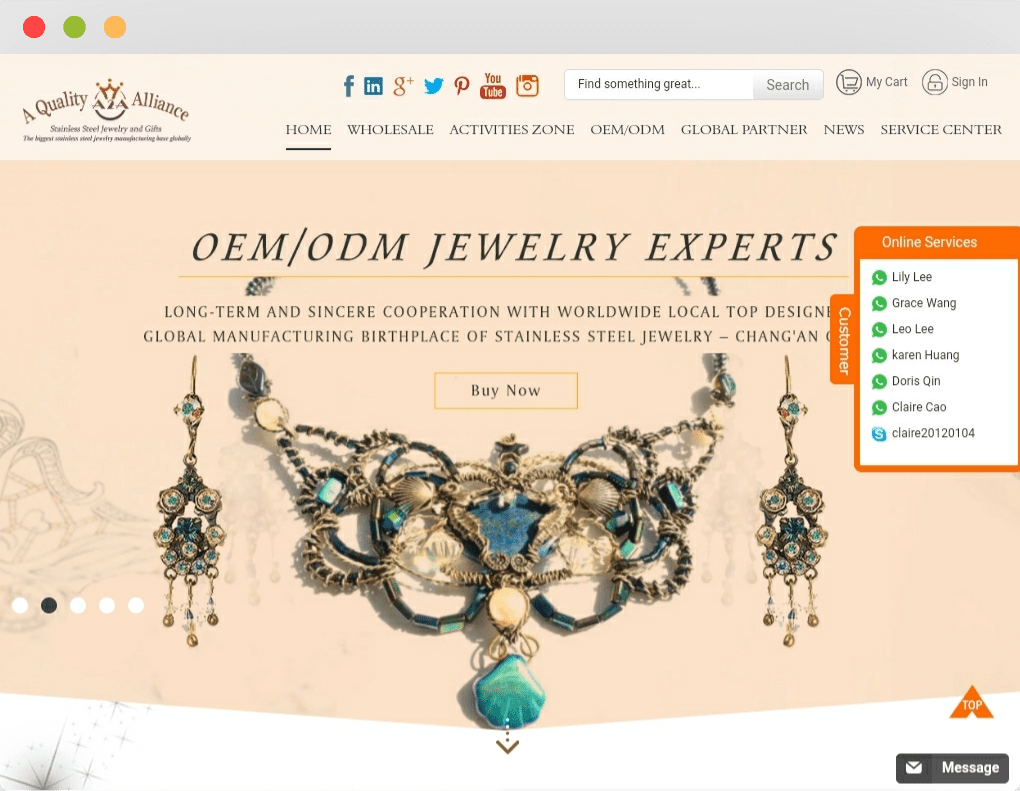 A2A prides itself on offering outstanding stainless steel jewelry and supportive customer service to help make purchases easy for its customers. It is based in Dongguan, China.
This jewelry manufacturer sets themselves apart by designing jewelry based on themes such as:
Country flags
Festivals like Halloween
Hip Hop culture
Romance
Formal dress codes
This unique concept delivers an impressive variety of jewelry and also makes it simple for you to select what your target market would be interested in.
The list of jewelry items also includes stand-out pieces like brooches and body jewelry that most manufacturers may not offer.
You can order in-stock items or request custom alternatives. The MOQ for most items is 10 units and wholesale prices are determined based on the size of your order.
Hulpf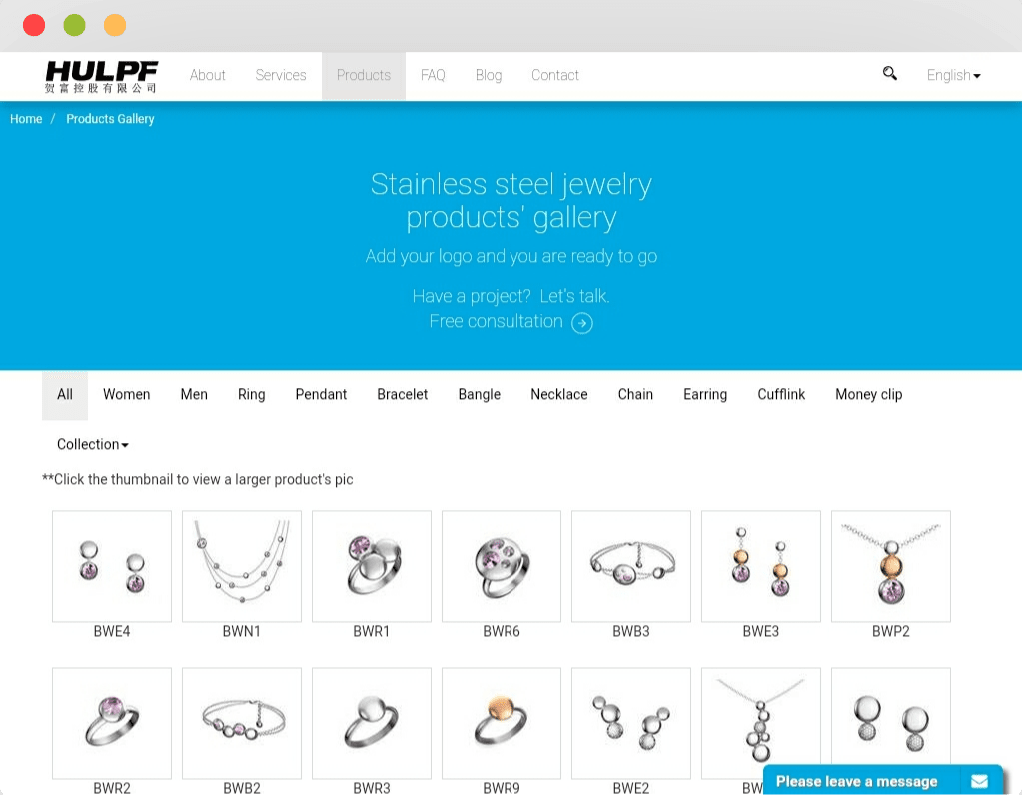 Hulpf could be a good jewelry manufacturing partner for your business if you would like to offer your customers high-end stainless steel jewelry.
This company combines the simplicity and durability of top-grade stainless steel and amplifies it with outstanding finishes and additions such as Swarovski crystals. It is located in Langxia Village, Dongguan.
Its production expertise covers necklaces, cufflinks, rings, necklaces, pendants, among many other accessories. Hulpf provides lots of samples of these products that you can choose to customize or use as inspiration for your own product development.
If you are able to visit China in person, Hulpf has a standing arrangement with a local hotel to offer you discounted accommodation rates.
If you will be using a sourcing agent, the company is equally open to having them inspect your orders before and during packaging.
The costs of Hulpf products are on a wholesale basis but they are higher than what average suppliers charge. Minimum order quantities are also negotiated based on the materials and designs you choose for your jewelry. Consultation is free.
AFXSION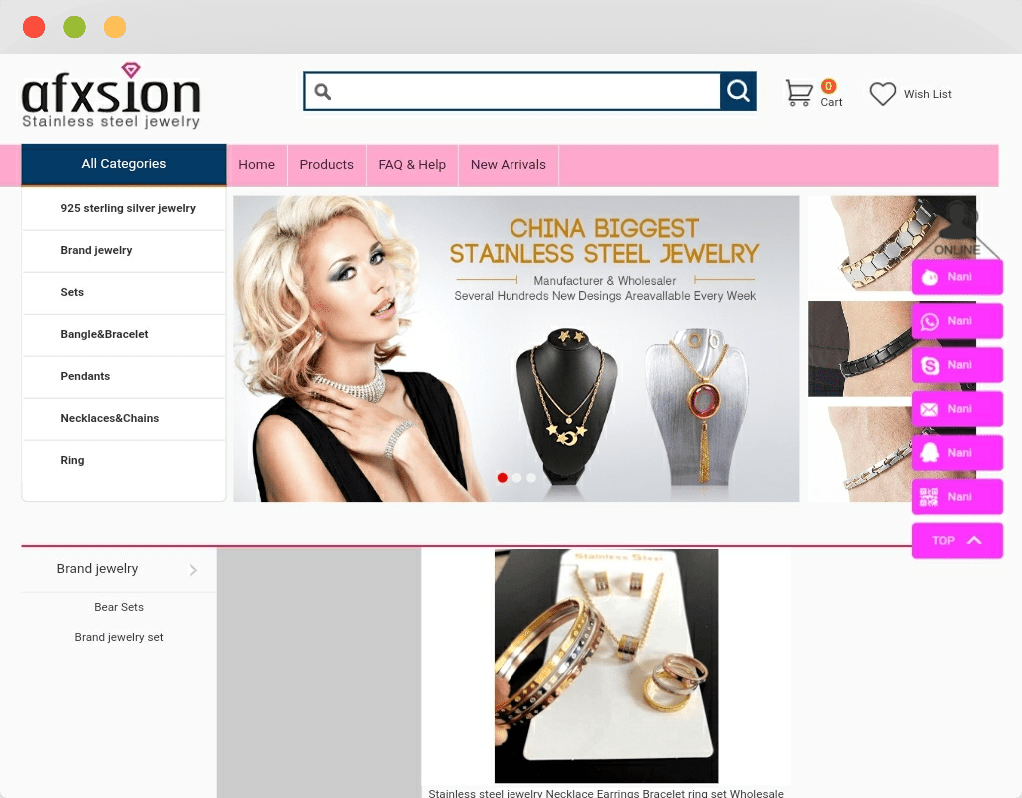 Afxsion has been designing and manufacturing jewelry for well over a decade. It is primarily accessible through its online wholesale jewelry store.
In terms of variety, this supplier offers thousands of different designs of locket necklaces, rings, bracelets, and accessory sets. It produces options for both men and women and blends stainless steel with other materials, such as beads, quite well.
You may also wish to consider Afxsion if you would like to offer your customers personalized jewelry. It offers laser engraving services for up to 12 letters per piece but your order has to meet an MOQ of at least 12 pieces.
Other Afxsion wholesale terms include:
Mixed orders are allowed
Wholesale prices are provided if you meet the set MOQs
White labeling and private labeling services are provided
In-stock orders are dispatched within 24 to 72 hours
Afxsion ships worldwide to over 100 countries
Kalen Jewelry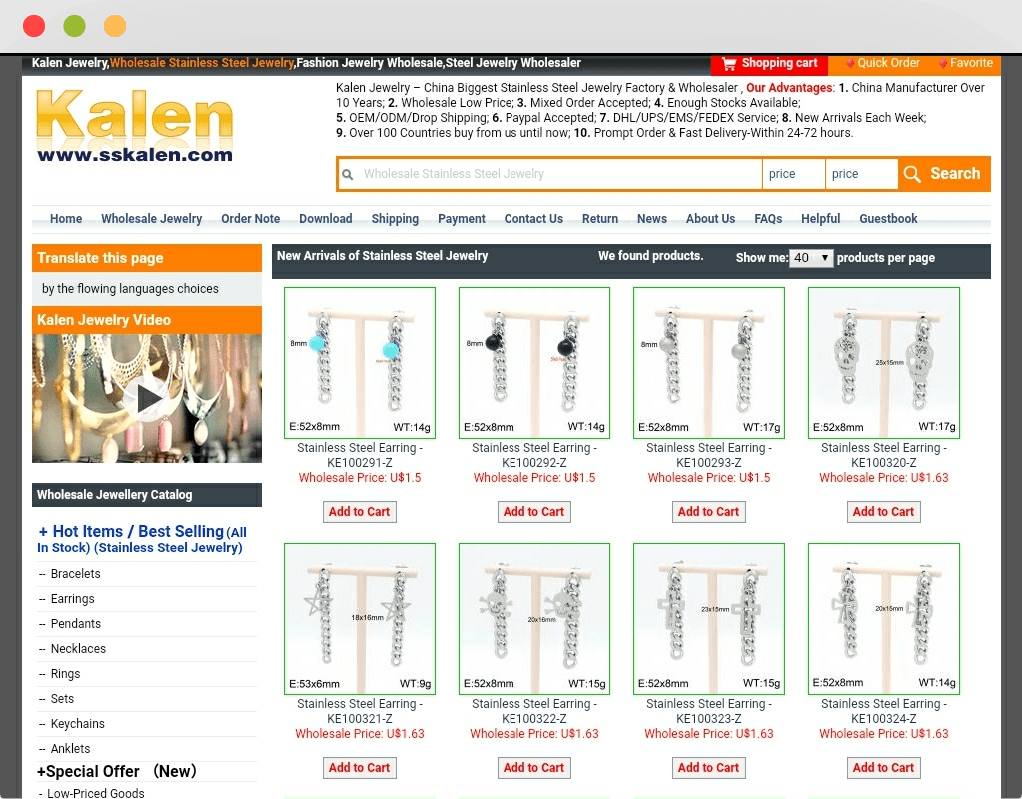 Kalen Jewelry has multiple factories in China but its headquarters is located in Dongguan. It has been manufacturing stainless steel, tungsten, and titanium jewelry since 2008.
Kalen Jewelry would be a great go-to supplier for jewelry products that other manufacturers do not offer. For example, in addition to the typical necklaces, earrings, and bangles, it offers:
DIY jewelry components- these include clasps, decorative toes like pearls, chain segments, and jewelry tools that can be used for repairs or DIY jewelry tasks.
Functional jewelry- from dog collars, hairpins, and ropes, to money clips and keychains, these pieces provide day-to-day solutions while providing a touch of elegance.
Festival jewelry- if you need jewelry items for Q4 dropshipping events like Christmas and Halloween, lettered pieces for personal gifts, or special days like Valentine's day, Kalen has something for every occasion.
Kalen additionally provides customization services such as engraving and different kinds of plating finishes. It also accepts custom orders where you provide a custom design that is uniquely produced for your store/brand.
This supplier requires buyers to select items worth at least $300 to qualify for wholesale discounts. The larger your order, the better the discounts you could get.
YIBI Jewelry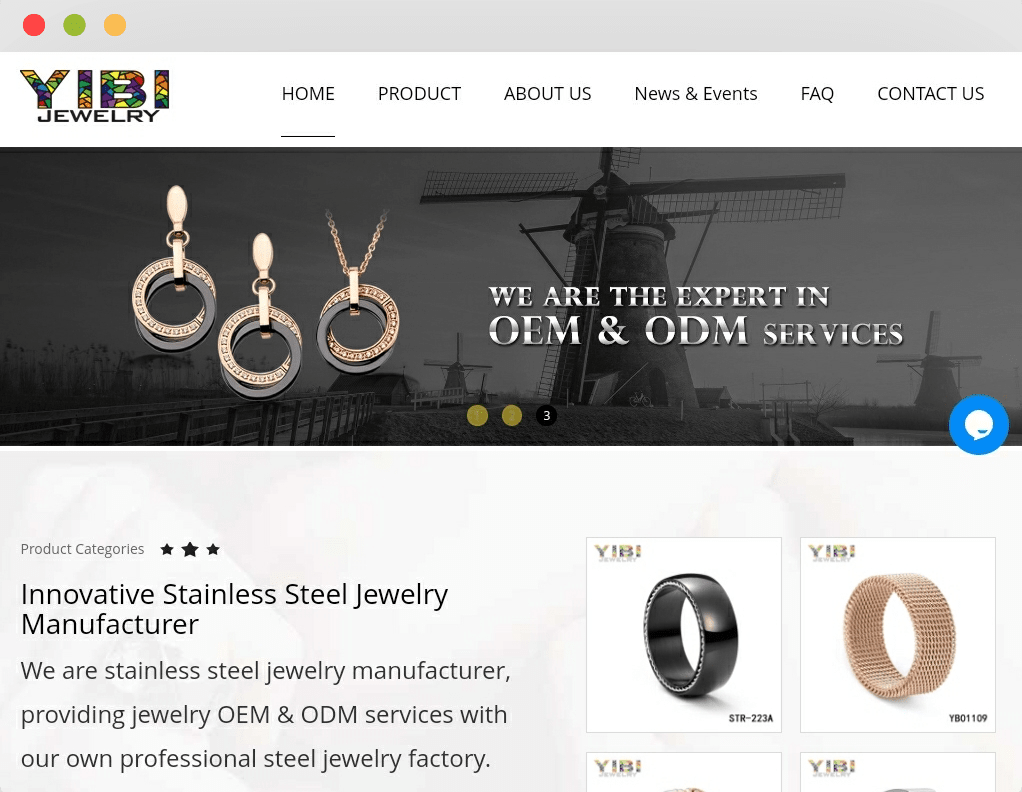 If you are looking to start your own line of jewelry then YIBI Jewelry may just be the kind of partner you need. This Shenzhen-based manufacturer specializes in producing custom stainless steel and titanium jewelry designs for ornament brands across the world.
Engaging YIBI Jewelry's services is quite simple. If you already have a jewelry design in mind, you can share it with the company and they can begin production.
Alternatively, if you only have an abstract concept, the YIBI R&D team can help you turn it into a proper design.
Once the design details are agreed upon, you will receive a quote within 48 hours and a sample within 12 days. Mass production lead times are between 30 to 45 days and MOQs vary based on the complexities of your chosen design.
The quality of YIBI Jewelry is remarkable even at first glance. This can be attributed to its state-of-the-art production machinery and stringent quality control policies.
Keke Jewelry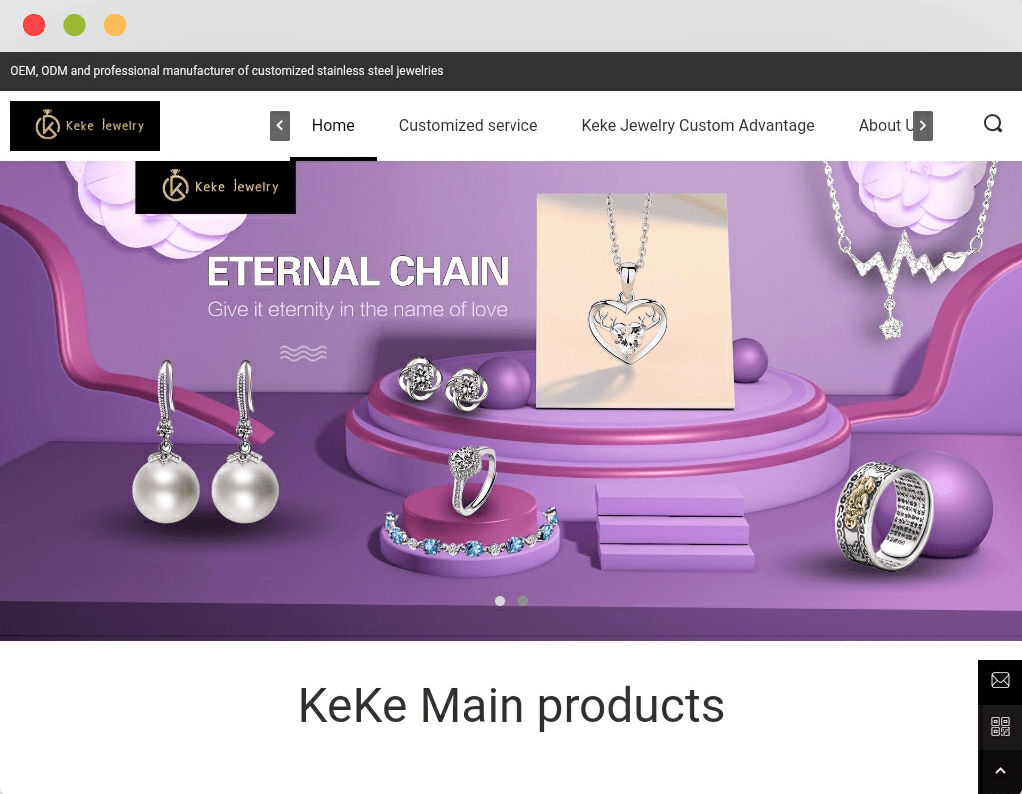 Keke Jewelry was launched in 2006 and is based in Foshan in Guangdong. It manufactures custom stainless steel jewelry for different jewelry brands.
Keke Jewelry promises top-quality design execution and equally top-tier raw materials. It uses grade 316L stainless steel and uses machines to ensure accurate production.
Plated jewelry from this supplier is rigorously tested for oxidation and designed to last up to 3 years without tarnishing.
The jewelry selection comprises some unique items such as rainbow jewelry, magnetic jewelry, pieces with personal lettering, men's jewelry, and piercing equipment. Add to that the classy gift boxes and your customers may have no excuse not to shop from your store.
After selecting a design, Keke Jewelry provides a sample within 10 to 15 days whereas mass production lead times are between 25 to 35 days. MOQs are established based on the specifics of your order.
Nihao Jewelry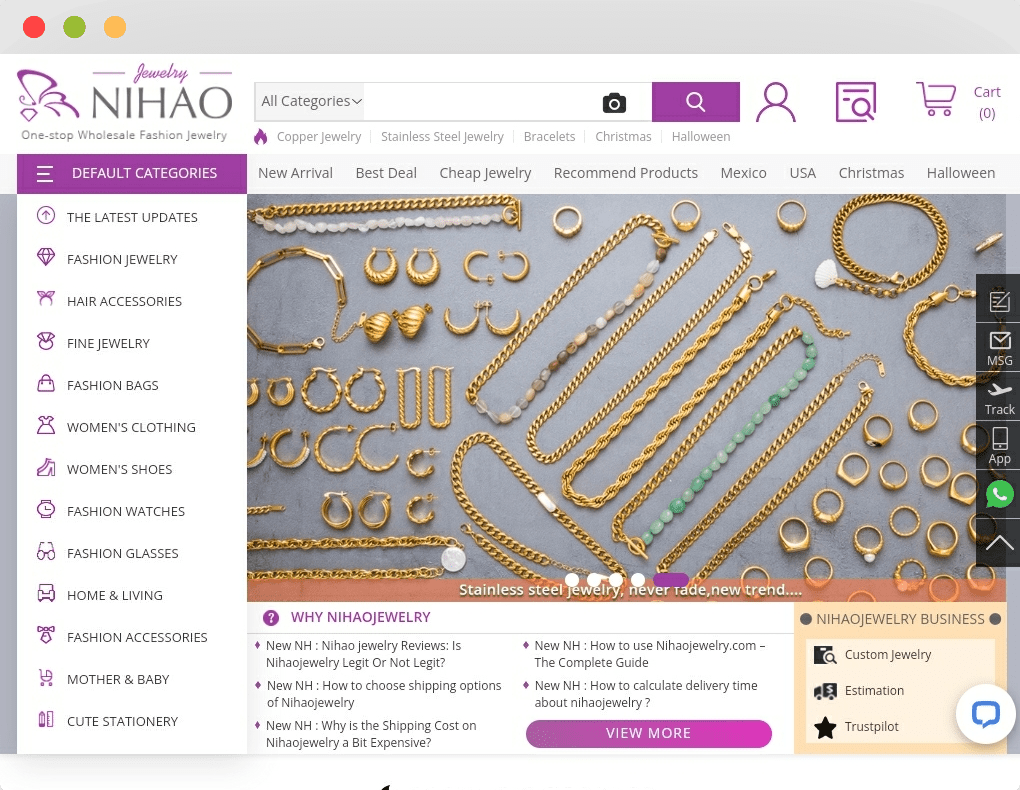 Nihao Jewelry is a manufacturer and wholesale supplier of different kinds of jewelry and accessories. It sells all its products via its online jewelry shop.
Aside from stainless steel jewelry it also offers designs made of crystal, copper, titanium, silver, plastic resin, and many other materials.
The quality of Nihao stainless rings, chains, bangles, bracelets, anklets, and other pieces is quite impressive. The catalog is also regularly refreshed with new designs which would help your jewelry business stay on-trend with the latest fashions.
Nihao does not impose any MOQs but, naturally, bulk purchases make it easy for you to negotiate much better wholesale prices. The company also provides branded packaging (which would be ideal for dropshipping) at an extra cost.
In the bigger picture, it may be a wise move to choose Nihao Jewelry as your supplier if you plan to scale your business in the future. Its all-inclusive product variety would make it easy for you to source other kinds of jewelry if customers show interest in them.
Amo Joyas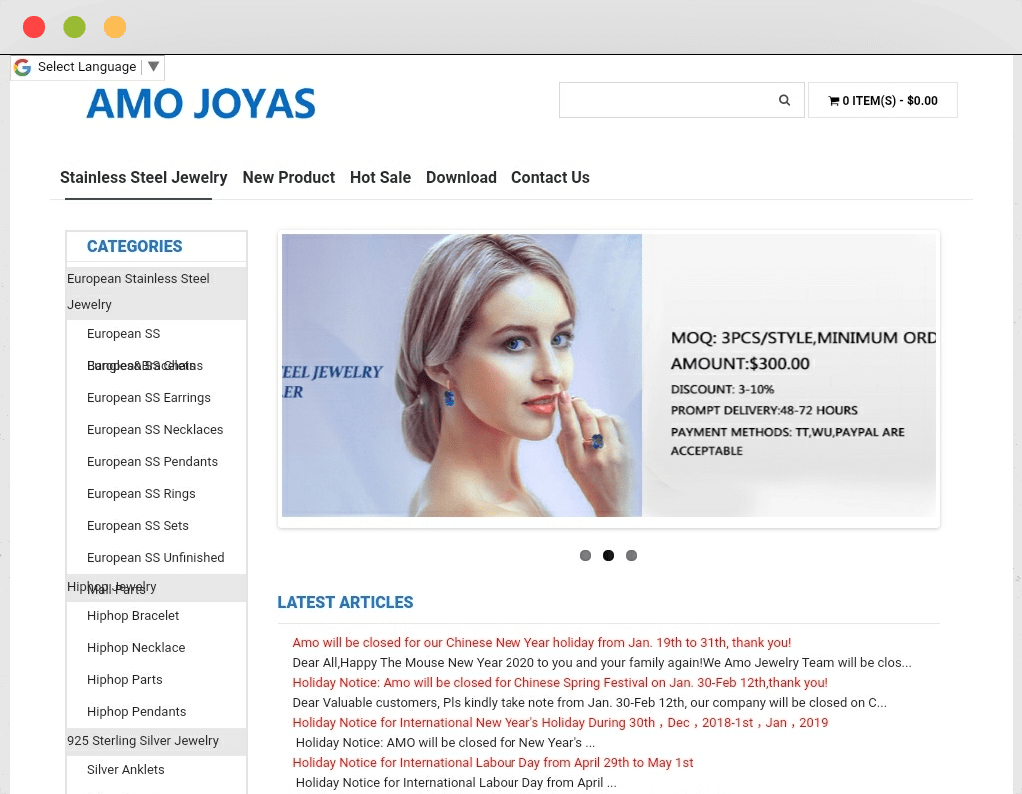 Amo Joyas is primarily a manufacturer and wholesaler of stainless steel jewelry. It, nonetheless, also offers other kinds of jewelry made of sterling silver, pearls, natural stones, and copper. Notably, this is also one of few brands that offer children's jewelry.
The variety of Amo Joyas' listings does not end at that. Its innovative approach to jewelry design delivers unique stainless steel ornaments such as:
Expandable bangles
Black-plated bangles
Casting rings
Gold-plated and rose gold-plated rings
Further, Amo Joyas produces jewelry sets for men and women as well as pieces made of stainless steel and other materials. You would have over 60,000 designs to choose from.
Wholesale purchases can be done through the Amo Jewelry online website. The MOQ is set at 3 pieces per style and a total minimum order of $300. In-stock orders are shipped within 24 to 48 hours. Amo Jewelry ships to over 100 countries.
FAQs about Stainless Steel Jewelry and Suppliers
Why Choose Stainless Steel Jewelry?
Stainless steel is a metal alloy that is not prone to rust when exposed to elements such as body oils, sweat, or water. Consequently, jewelry made from it is durable.
Additionally, it is not a precious metal and is thus affordable to most people. Its appearance can also be enhanced to look chic and sophisticated through techniques such as PVD plating or ion plating.
When looking for budget jewelry, customers also opt for pure stainless steel pieces because unlike nickel alloys or copper, they do not tend to cause skin irritations.
Does Gold-plated Stainless Steel Jewelry Last?
The gold-plating coating used to embellish stainless steel jewelry is not permanent. It fades off after a while because it gets tarnished after repeated exposure to different elements.
The trick here would be to aim for jewelry suppliers that use top-notch plating methods that offer a longer period of retention such as PVD. Their pieces would offer your customers better value for money albeit for the short run.
Are All Kinds of Stainless Steel Jewelry the Same?
No, they are not.
For starters, there are different grades of stainless steel. Grade 316L, for example, is of better quality than grade 304. Subsequently, stainless steel made using the latter is likely to cost a bit more and offer better features.
Design and a manufacturer's jewelry production methods also make a significant difference in the quality of stainless steel jewelry. The use of high-precision machinery often yields neater stainless steel pieces.
Where Can I Find Stainless Steel Jewelry Wholesale Suppliers and Manufacturers in China?
Region-wise, Yiwu is home to what is arguably the largest stainless steel jewelry market in China. The variety from different vendors is astounding and the prices are also very reasonable. It is, however, important that you are discerning to ensure that you pick quality pieces.
Lots of jewelry manufacturers also have factories and showrooms in Guangzhou. If you can not make it to Yiwu, this would be a good option to consider. Most merchants here are also more fluent in English or have representatives to attend to non-native customers.
If you would like to see an even larger variety of stainless steel jewelry options, set aside some time to visit fashion and jewelry trade fairs. They host hundreds of suppliers and can be more efficient than having to make trips to different parts of China.
Finally, if you do not have the time or ample resources to visit China in person, you could find stainless steel jewelry suppliers via online searches or through sourcing agents.
Online searches are great because they cost next to nothing but they take time and lots of effort because you would have to vet numerous manufacturers before you find the right ones.
Sourcing agents, on the other hand, already understand the jewelry manufacturing sector in China and know how and where to find the kind of pieces you are looking for.
Moreover, unlike pictures and email correspondence, they can give you honest and accurate feedback regarding the quality of a supplier's work.
Other services offered by sourcing agents include:
Negotiating better wholesale terms on your behalf
Organizing shipping or dropshipping order fulfillment
Resolving quality issues with suppliers
Providing new information about local market or shipping trends
Guiding you through purchase processes and pertinent details about how to manufacture a product in China
Final Word
It is easy to assume that only high-end jewelry can sell but nothing could be further from the truth. Quality budget jewelry is affordable to more people and caters to a broad market segment that high-end jewelry manufacturers do not focus on.
The only caveat to this niche is that shoppers want and look out for stainless steel jewelry that is not only appealing but also offers value for money.
At NicheSources, we understand how quickly jewelry trends change and the importance of finding quality pieces at great wholesale prices.
Subsequently, we have carefully tailored our one-stop product sourcing services to ensure that they fulfill all these needs and more for your budding business.
Request a free quote or drop us a message to start enjoying our convenient business-friendly sourcing services.