For most people, watches are not just an accessory but an investment. They come in handy when you need to elevate your outfit and also provide functionality by helping you keep track of time.
As a result, there are thousands of watch brands across the globe. However, most of them are either targeted at high-end or low-end shoppers. This leaves a market gap for quality watches that would appeal to middle-class shoppers with discerning tastes.
If you run a watch shop, you can fill this market gap by developing a private label watch collection that matches the needs of that market segment. Here are some top private label watch manufacturers that you can partner with for your project.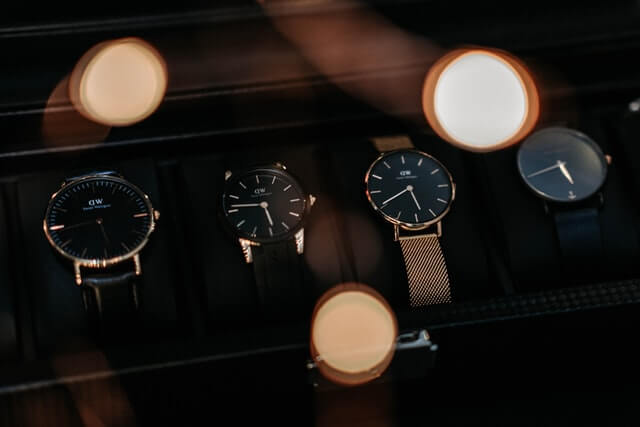 The Bolong Group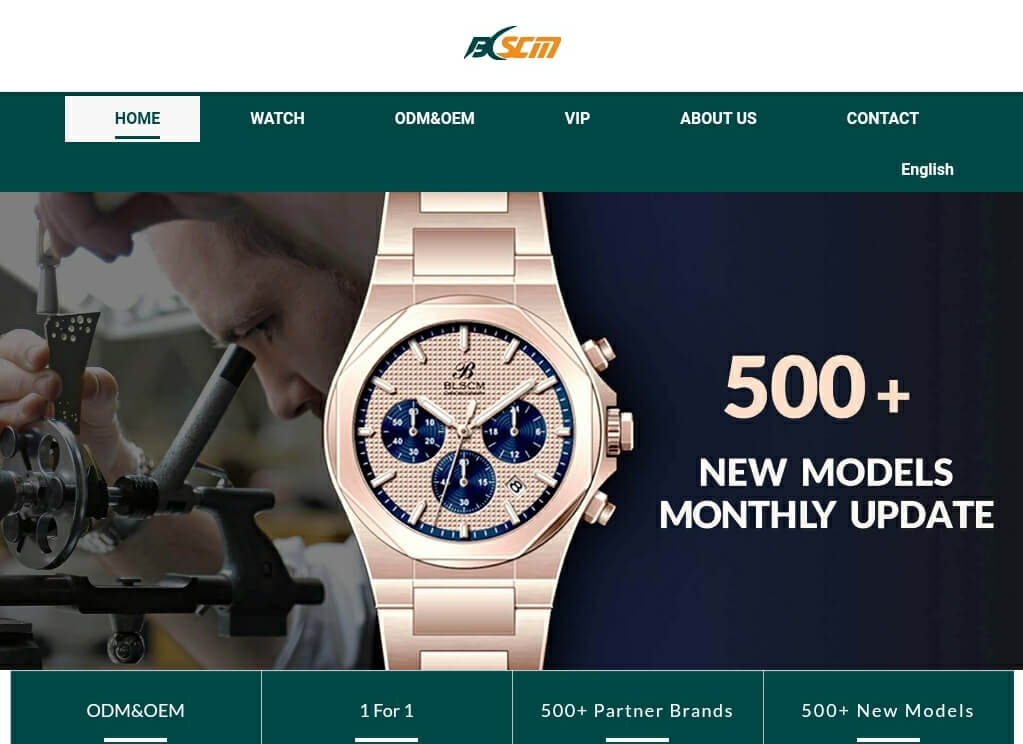 The Bolong Group is based in Foshan, China, and has been in the business for almost 30 years. It specializes in manufacturing watches made of steel alloys. The use of steel makes the watches affordable, less likely to trigger skin allergies, and highly durable.
Bolong is a full-service firm that covers all aspects of private label watch manufacturing.
The in-house R&D team could help you come up with outstanding designs while the production and international supply chain departments will help you figure out the logistics of getting watches made and shipped to your country.
Notably, this firm also offers help with branding strategy which could prove very helpful if you are new to private labeling.
The branding strategy team researches your market to understand your target customers as well as other watch brands that you will be competing with. They then advise you on how to elevate your watch designs and branding to excel in the market.
3 Wells
3 Wells has over 35 years of experience in the watch industry. It is based in Hong Kong China but also has a branch in Germany which could be convenient if you would like to cater to the European market.
The firm manufactures watches using stainless steel but every other detail is based on your preferred design. It also offers Seiko Quartz, Japanese Miyota, ISA, Ronda, and Swiss ETA watch movement options.
3 Wells currently works with customers in over 40 countries around the globe. The company offers in-house R&D services, assembly or semi-assembly, and can help you obtain product certifications to give your customers confidence in the authenticity of your watches.
Vaucher Manufacture Fleurier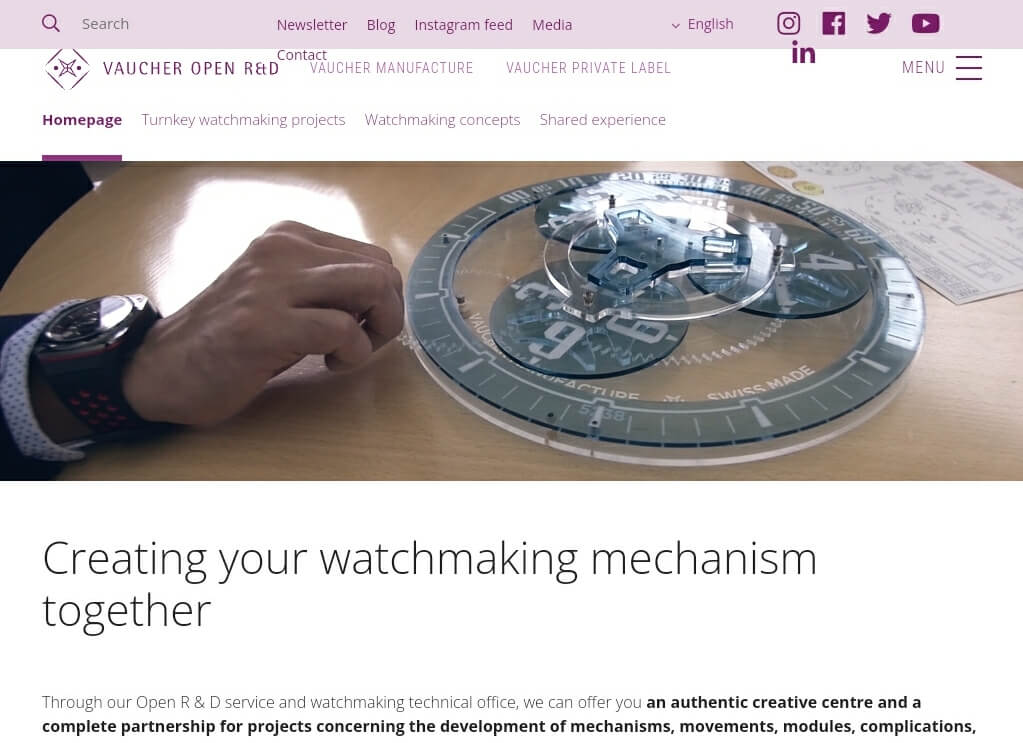 Vaucher Manufacture Fleurier would be an ideal option if you would like to develop a high-end private label watch collection.
The company is based in Switzerland and staffed with professionals that have decades of experience in Swiss watch-making techniques.
Vaucher prides itself on an open R&D approach where you and the firm's team consult to come up with the best watches for your vision. You would also have a wide selection of top-of-the-range automatic and mechanical watch movements.
This ostentatious manufacturer further promises quick turn-around times, hand-made finishes, provision of certifications on request, and after-sale support.
Jean-Loup Ribordy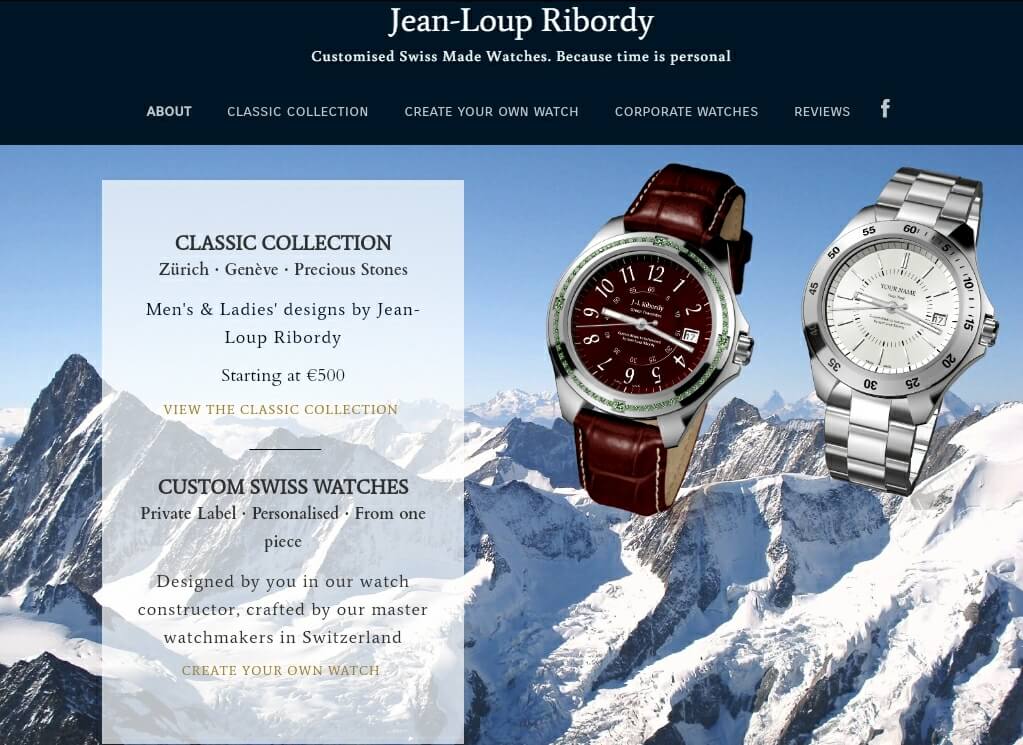 Jean-Loup Ribordy makes creating private label watches an extremely easy process. The company website has a 'make your own watch' page that allows you to design your watches in real-time by selecting the kind of features you would like them to have.
Further, if you are ordering more than 10 pieces, you have the option to completely omit any Jean-Loup Ribordy markings and use your brand name or logo.
Jean-Loup Ribordy also provides feedback on designs upon request just in case you are uncertain about your ideas.
Once your design process is complete, the configurator generates a price and you can choose whether to confirm your purchase of the watches you have designed.
Ribordy's style of watches is mainly corporate and suave. So, this could be a good company to consider if you are aiming for business executives or shoppers that require formal watches or sophisticated watches to gift to loved ones.
B-Watch SA / Your Swiss Watch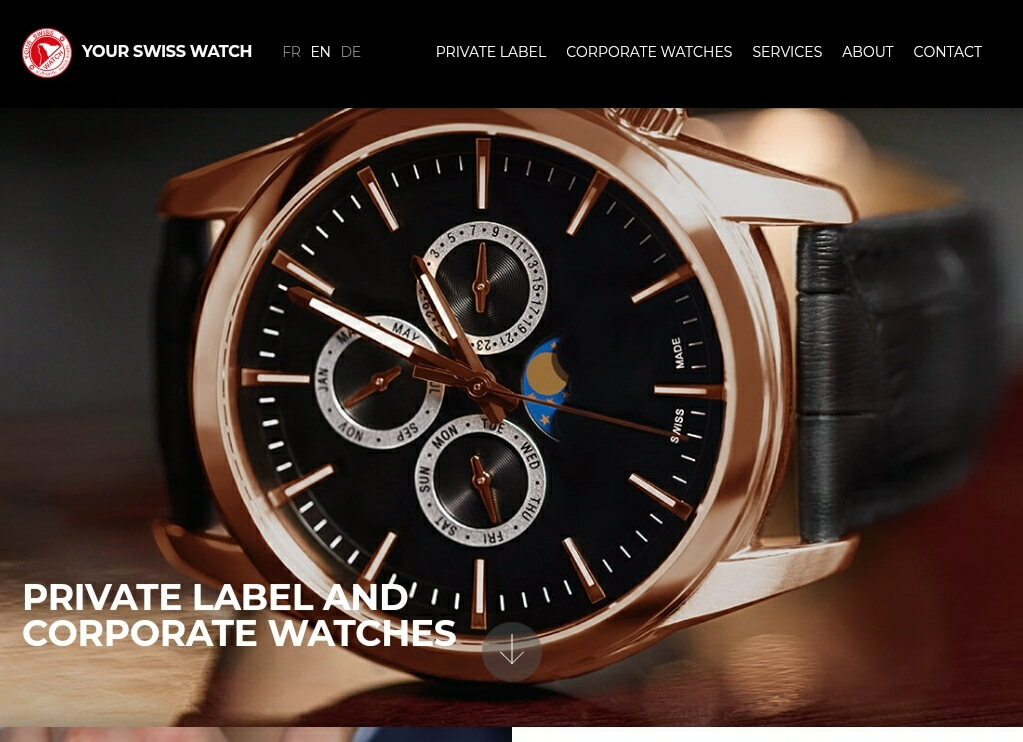 B-Watch SA produces watches that could appeal to all kinds of preferences. Their showcase catalog includes leather and metal straps with different styles of watch faces. They additionally make pieces for men and women suitable for formal and casual events.
This company is based in the Swiss Jura region and has been perfecting its craft for over 2 decades. It serves clients from different parts of the world and has chronographers and designers that can work with you to create custom watch designs that stand out.
B-Watch SA has a minimum order stipulation of 300 pieces.
ITS Time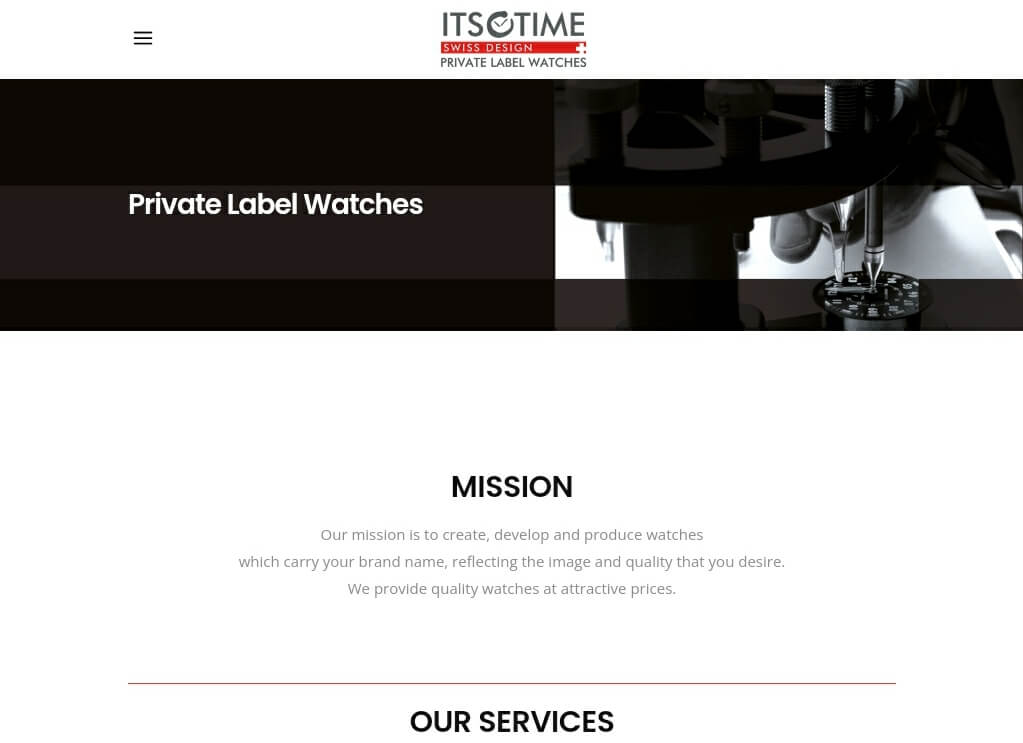 ITS Time is based in Grenchen, Switzerland, and has satellite offices in Germany and Asia. It specializes in making private labels for different styles of brands.
All ITS Time watch movements, assembly, and quality control procedures are done in Switzerland. As such, partnering with this firm would enable your watches to have the highly coveted 'Swiss Made' tag. The firm can also provide a Certificate of Origine on request.
This company considers every private labeling project to be unique. Subsequently, factors such as minimum order quantities and whether they can ship to your location are all discussed on a case-by-case basis.
Trend Creation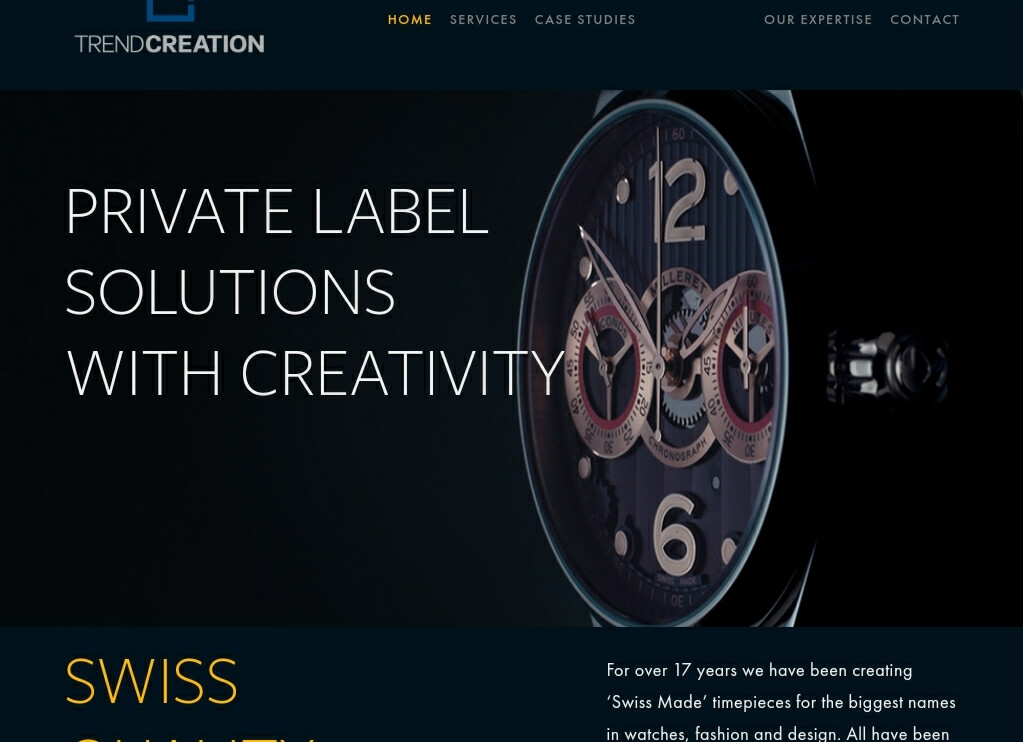 True to its name, Trend Creation promises quality timepieces that complement modern fashion. They blend age-old Swiss watch-making with modern design trends to produce watches that can draw the attention of discerning style-oriented shoppers.
The watch dials, movements, and cases are all customized based on your design preferences. Their raw materials are sourced from top watch-making regions in East Europe in bulk. This ensures that you are able to achieve exquisite quality standards and cost-efficiency.
In terms of supply and distribution, Trend Creation works with clients from all over the world. You only need to provide a brief, brainstorm with the design team, and approve the samples before production.
American Watch Company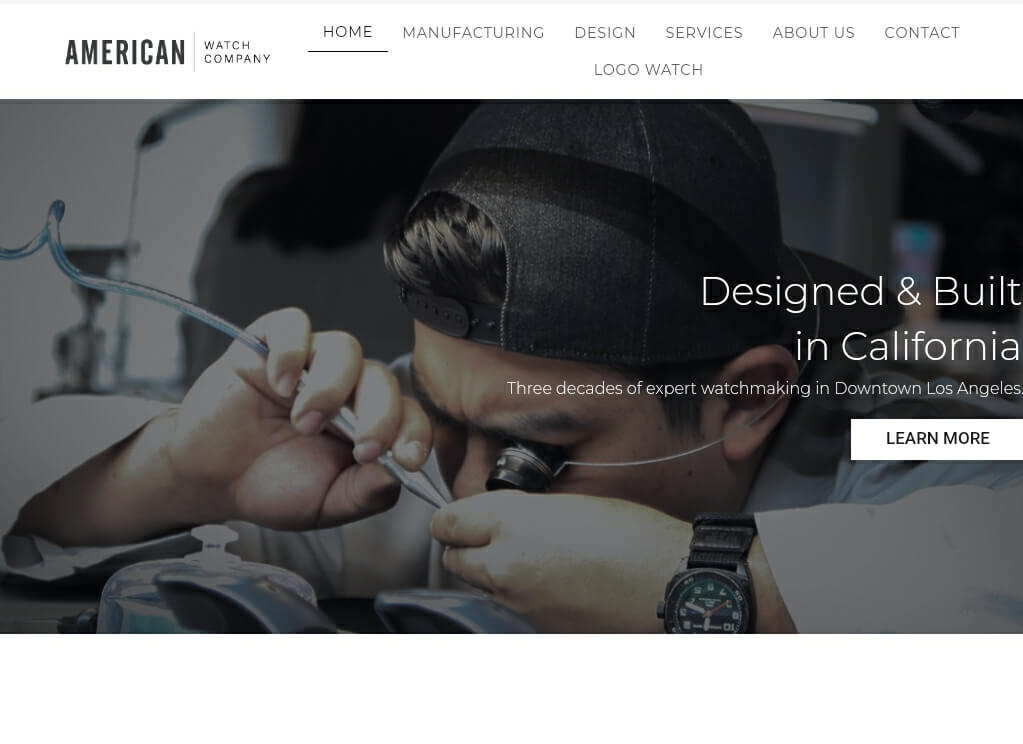 The American Watch Company is located in Los Angeles, California. It is a full-service watch production firm with over 3 decades of experience.
The company's manufacturing capabilities enable it to produce watches using different strap materials, finishes, and colors. You can also opt for automatic, quartz, or smart movements.
The smart movements are, particularly, impressive because they are not offered by most private label watch manufacturers. Yet, smart and digital watch styles are increasingly becoming a top choice for most consumers.
American Watch promises delivery within 60 to 180 days, depending on your order. They also offer marketing, branding, and aftersale support all under one roof.
Roventa Henex SA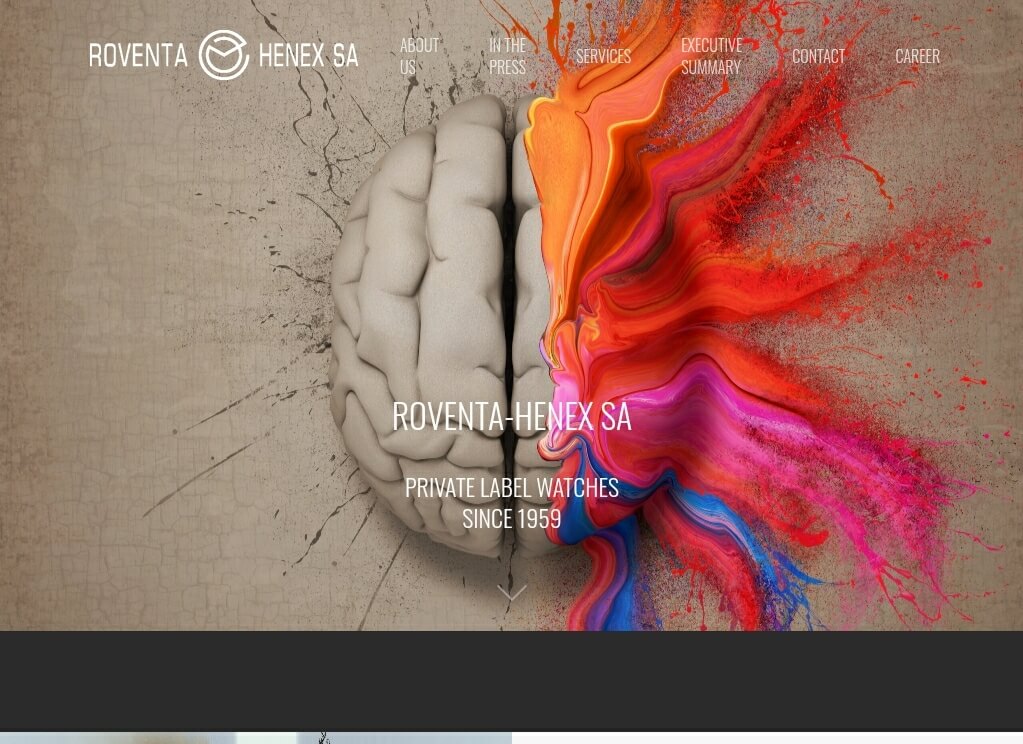 If you prefer a private label manufacturer with a tried and tested track record, then Roventa Henex SA could easily top your list. This firm has been making watches since 1959 and has continuously kept up with the evolution of production techniques.
The private labeling process begins when you present the company with your brief. The design team will then give feedback, prototype, and begin manufacturing on approval.
The company has extensive experience in buying watch components and can easily source whichever components you choose to use. All Roventa Henex watches are, however, assembled in Tavannes, Switzerland, and thus qualify for the 'Swiss Made' tag.
The firm also has offices in Hong Kong. This could work to your advantage as your watches can be shipped from or warehoused at whichever of these locations is more convenient for you.
121TIME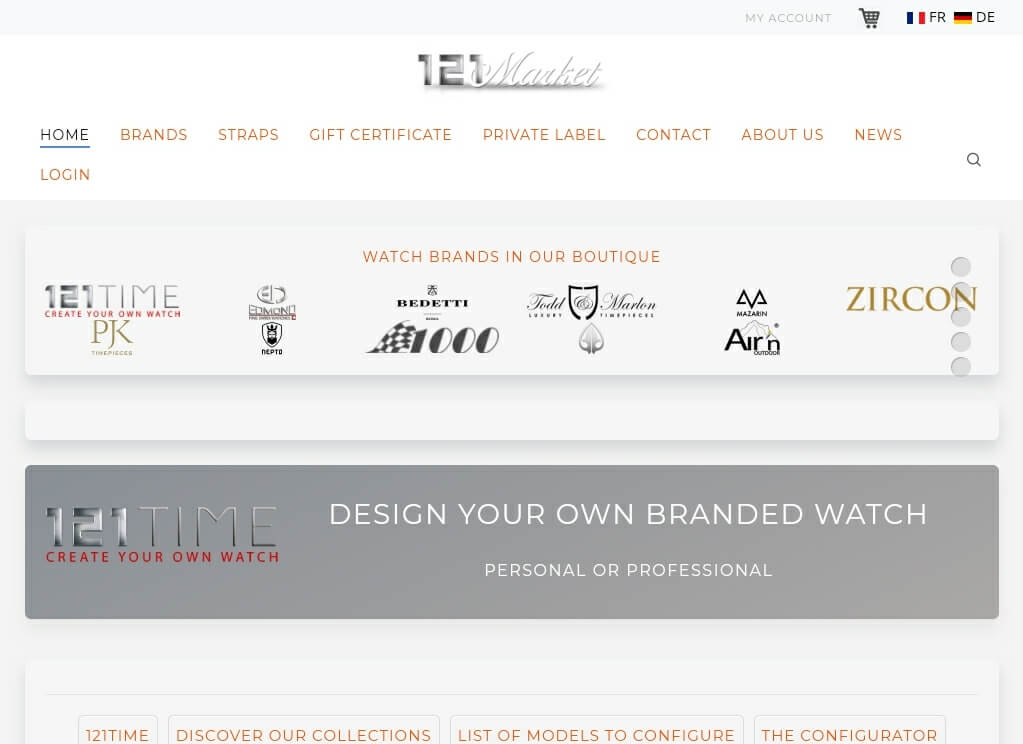 121TIME is another Jean-Loup Ribordy franchise. It has won multiple awards including best of Swiss web online marketing and efficiency awards.
This company manufactures watches in accordance with 'Swiss Made' quality standards. It has multiple watch design collections that you can use for inspiration or you can present the firm with your own original design concepts.
It offers multiple logo placement options and a vast array of watch strap, bezel, and buckle options. Plus, every watch you order will have a 2-year guarantee against manufacturing defects and can be packaged in gift boxes designed to your preference.
121TIME has a low MOQ of 50 pieces and works with brands from all parts of the world. As such, it would be ideal even for businesses making their first attempt at selling private label watches. The 30 to 90 days turnaround time is also quite convenient.
Private Label Watches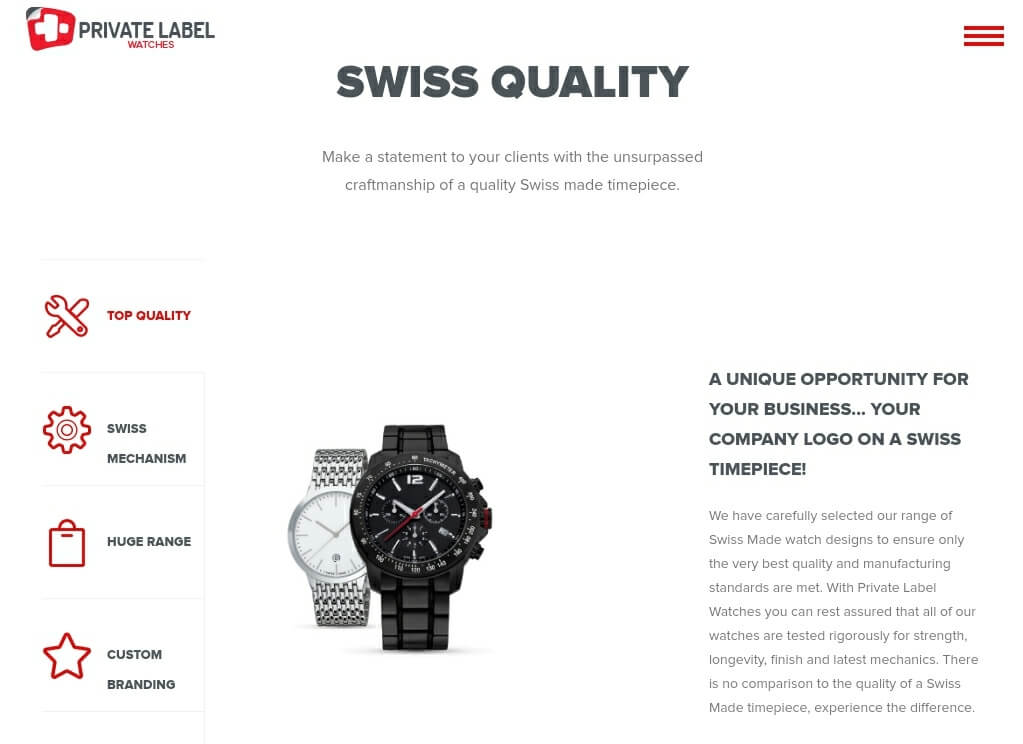 Private Label Watches is a company of Australian origin. However, the assembly of its watches is done in Switzerland. The firm has been making private label watches for a great variety of brands since 1981.
One of the upsides to this watch manufacturer is that they can deliver high-end or standard affordable watch designs.
The affordable ranges are, nevertheless, not poor-quality watches. Their prices are only lower because they are made using durable but budget-friendly materials like stainless steel.
If you are looking for design inspiration, the company's website showcases an extensive catalog of watch designs. You could use it for inspiration as you decide:
How to blend different strap and bezels materials
Where to place your logo
What watch styles to offer (sporty, elegant, corporate watches)
What kind of watch movements to incorporate
Chrono AG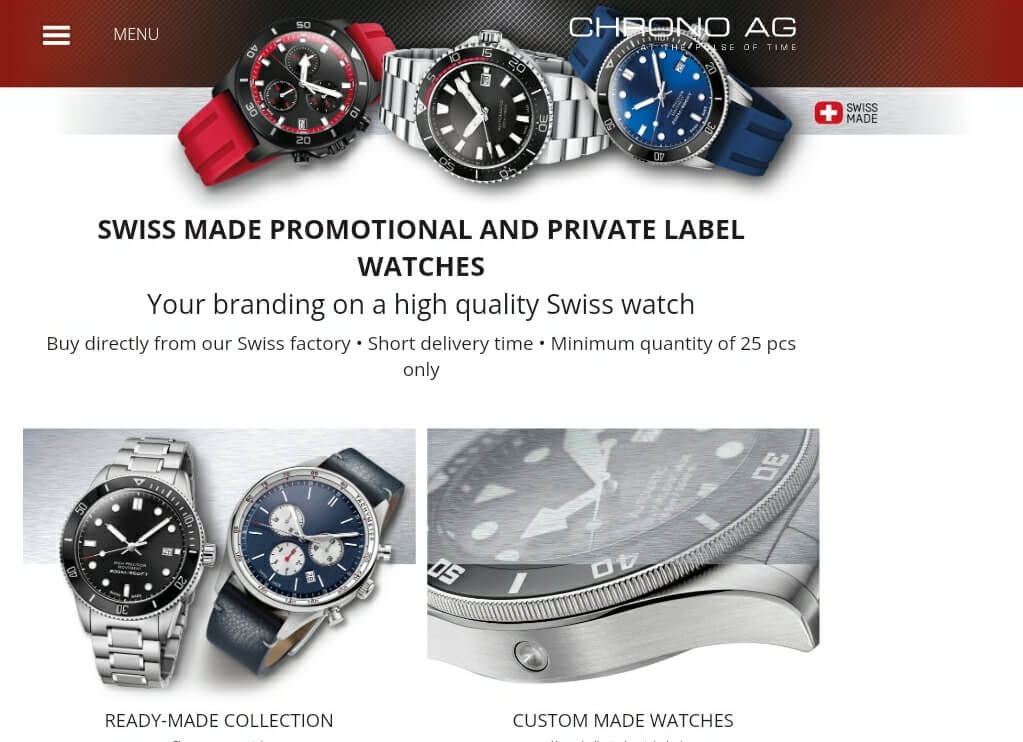 Chrono AG is based in Solothurn, Switzerland. It manufactures Swiss Made private label watches and has over 35 years of experience.
The private labeling process at this form is no different from others on this list. It starts with you sharing a brief or a watch sketch which the R&D team can perfect or give feedback on.
OIce the design is finalized, you can order samples for pre-manufacturing approval.
The minimum order quantity for private label watches is 500 pieces. If the design is to be developed from scratch, the company estimates a period of about 6 months to move from concept to getting the product ready for market.
Chrono AG offers a 2-year warranty and has maintenance outlets in different parts of the world. It has networks that enable it to ship its watches across the globe.
ADVOLAT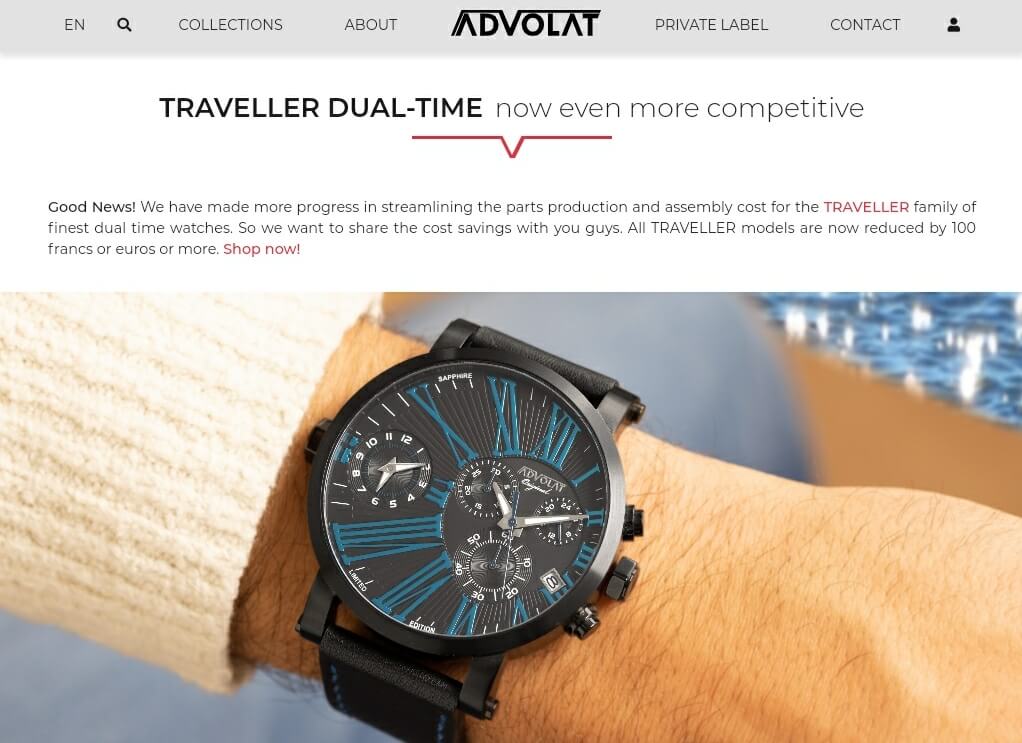 ADVOLAT is based in Reihen, Switzerland. It is a member of the esteemed Federation of the Swiss Watch Industry. In other words, working with this firm gives your brand unquestionable Swiss Made authenticity.
In an interesting twist, despite ADVOLAT's deep Swiss roots, it also offers Asia Made private label watches. It may seem unusual but it could be quite helpful if you would like to develop a collection of quality affordable watches.
This is because Swiss standards increase production costs and, in turn, prices. In contrast, Asia Made standards are less stringent thereby mitigating costs.
The MOQ for one-off orders is 300 pieces. You could also opt for a serial order of 10,000 pieces a month. ADVOLAT ships watches internationally and offers branded gift box packaging on request.
Watchmakers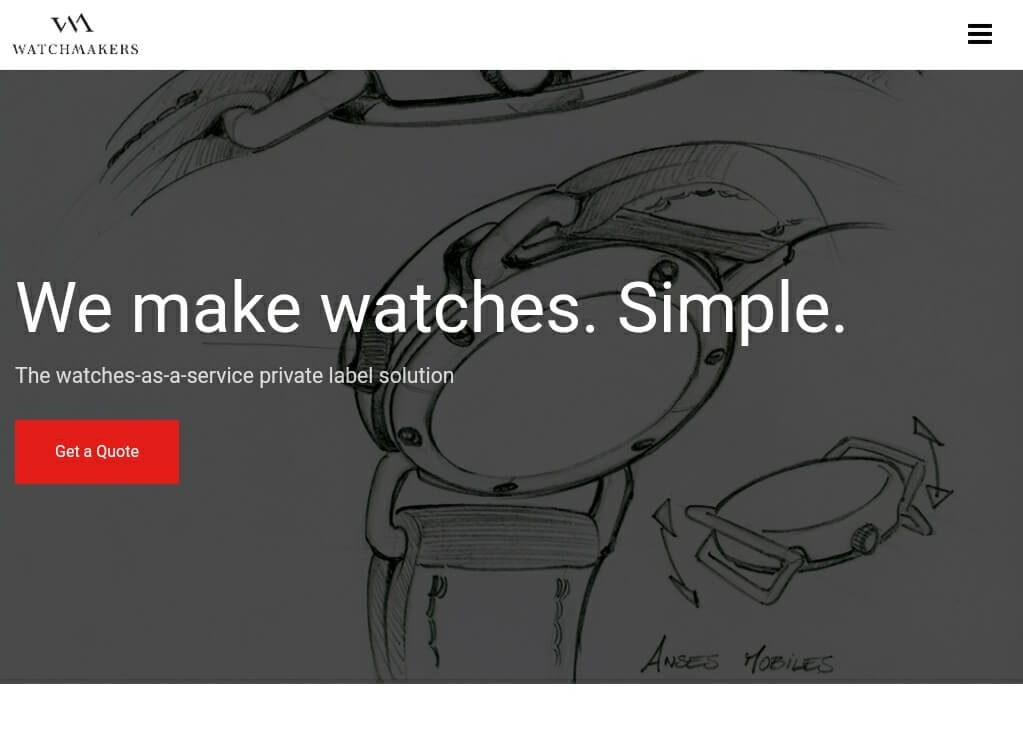 Watchmakers is situated in Mendrisio, Switzerland. It produces white label and private label watches based on each customer's design preferences and budget.
The designs comprise traditional watch designs with automatic and hand-wound movements as well as smartwatches. They are also available in a variety of materials to suit different style preferences.
Nonetheless, it is the incomparable turn-key services of this firm that make it such a worthy partner. They are unlike anything provided by other private label watch manufacturers and could greatly position your brand to excel. The services include:
Order fulfillment for e-commerce businesses
Product photography and content marketing
Point of sale and retail design assistance
Recommendations to distributors in the companies networks
Aftersale services
Support services for start-ups
These services are grouped into different categories and you can request a quote based on what you reckon is best for your business.
The estimated turnaround time for developing private label watches at WatchMakers from concept to market is 6-11 months. The MOQs range between 300 to 500 pieces.
Meigeer Watch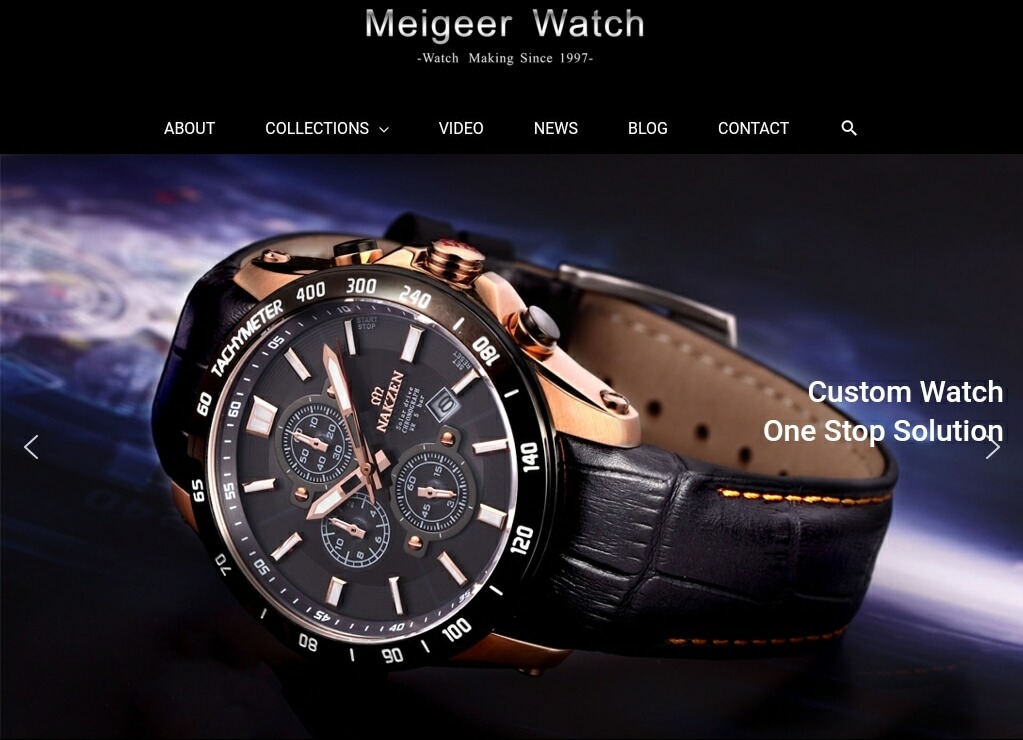 Meigeer is based in Shenzhen, China. It has a well-equipped factory with a production capacity of about 1 million watches per year. The factory also produces stainless steel cases.
The Meigeer Watch product catalog demonstrates the kind of watches that the firm can deliver. They include watches with leather and stainless steel strap watches for men and women as well as smartwatches.
The design possibilities are endless though given that the company has an in-house design team that you can work with to bring your ideas to fruition.
All Meigeer watches are thoroughly inspected and meet RoHS, Reach, and CE certification standards. The company ships internationally and can provide fulfillment too on request. Each watch comes with a 2-year warranty.
Montrichard Group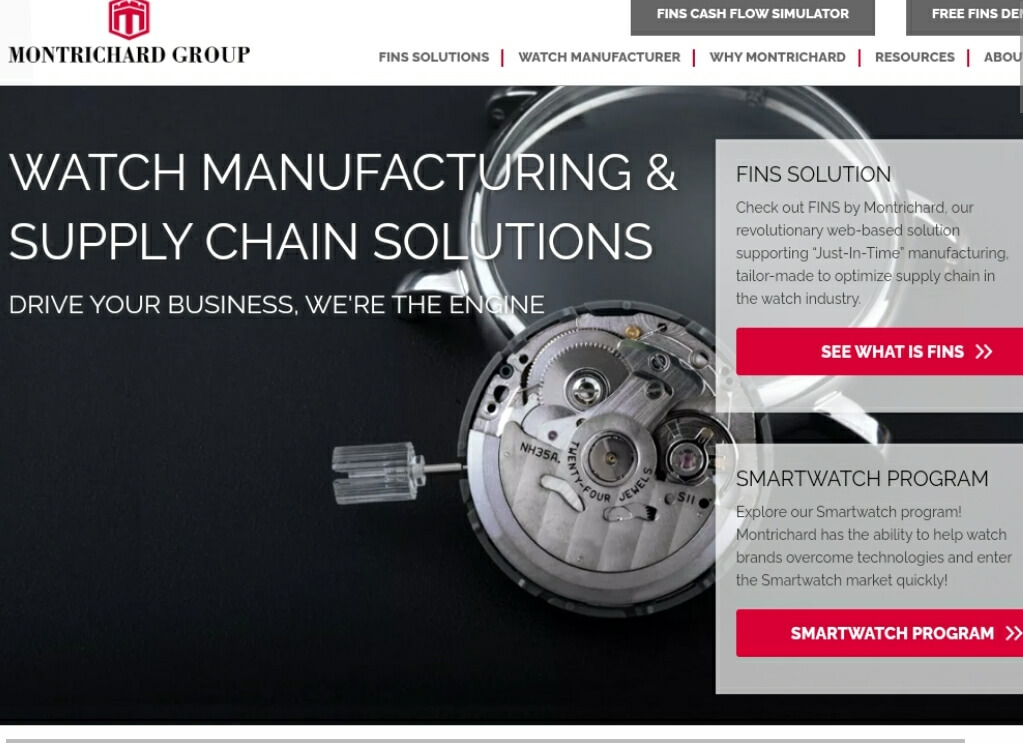 Working with the Montrichard Group could present numerous advantages for your private label watch brand.
For starters, the company has its main premises in Hong Kong and Switzerland. You can, therefore, order Swiss Made watches or Asia Made watches. It also has marketing offices in USA and Europe which could greatly ease your access to those markets.
The Montrichard factories churn out different designs of custom watches with automatic, mechanical, and digital movements. It all depends on what you would prefer for your brand. It also offers different watch material and color selections.
The one-of-a-kind FINS system designed for this firm enables you to keep track of the watchmaking process.
You can use it to customize and submit your designs, create catalogs, request quotes, and place orders. It also has provisions to guide you on how to achieve just-in-time delivery.
Tian Wang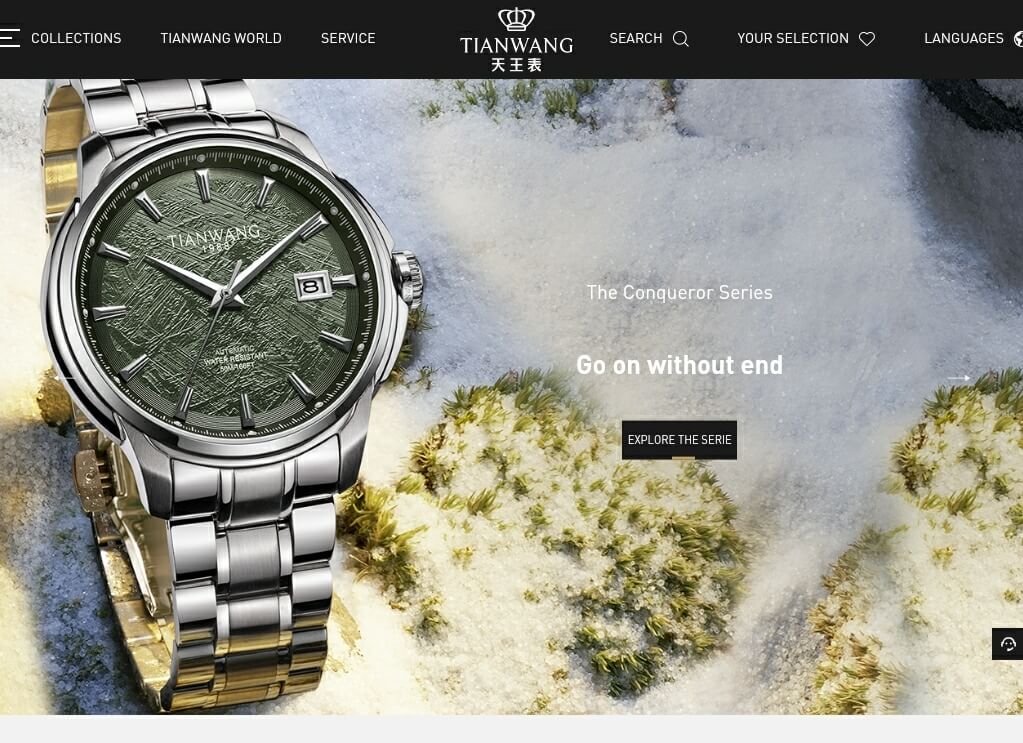 Tian Wang is a leading watch manufacturer in China. It is famous for its fashion-forward designs and outstanding quality of watches.
It was founded in 1988 and is a subsidiary of the successful Time Watch Investments firm that is listed on the Hong Kong Stock Exchange.
Tiang Wang designers are experts in making watches using dynamic materials. It was one of the first brands to make a full tungsten steel watch or use screws to embellish watches.
As such, if you are worried that your design is a little out of the box, this would be a firm to consider.
Material options aside, you would also have a wide selection of watch movements to pick from and you could also request different degrees of water resistance.
Mitschele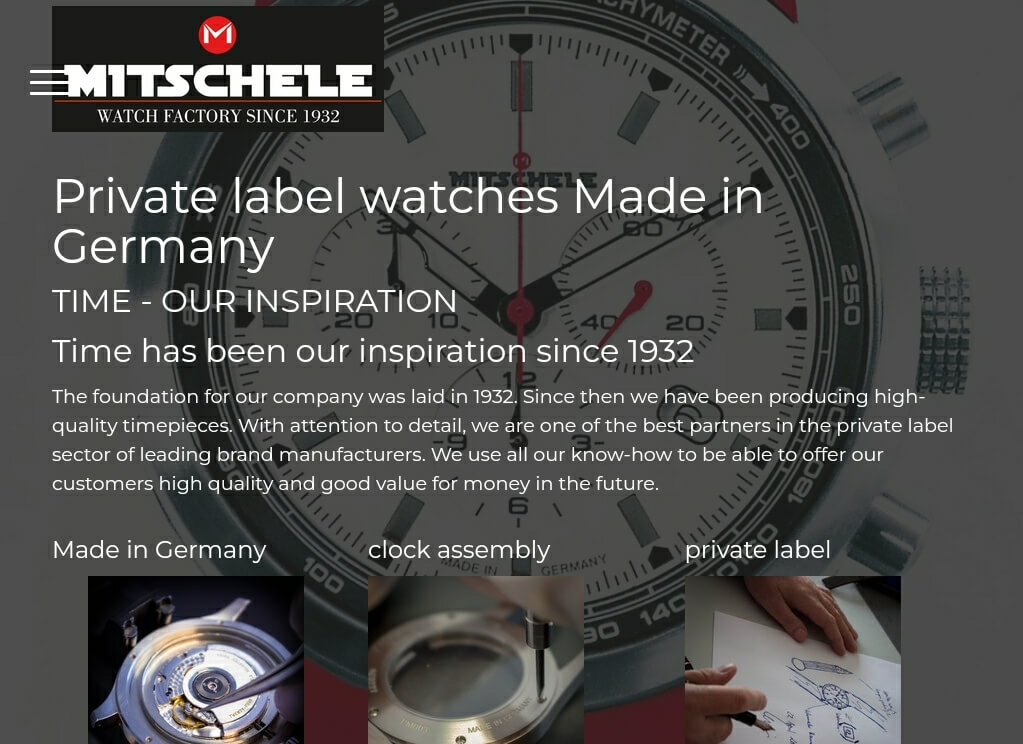 The Mitschele Watch Company gets its name from its founder Ernst Mistchele. It began as a family enterprise but has grown into a mega-firm that has lasted through 4 generations. It is based in Pforzheim, Germany.
Once you provide your brief or design sketch to this firm, the designers evaluate it and work with you through any necessary consultations. The firm then sources the requisite materials to make your watches from best-in-class suppliers in Switzerland or Japan.
Mitschele delivers quality pieces made with heart and the genius of German innovation. You would, however, need to consult the firm directly to establish if they can ship orders to your destination.
Intermedia Time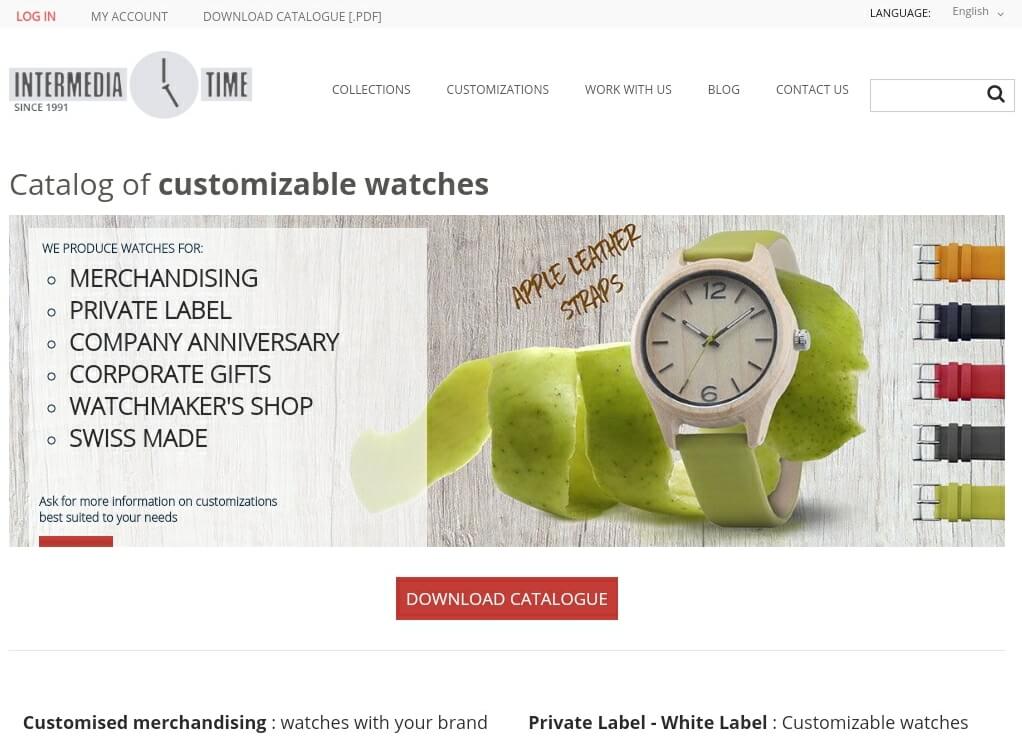 Intermedia Time certainly delivers on its mission to make watches for every occasion. Its catalog includes:
Vintage watches
Camouflage watches
Watches for men and women
Diver watches
Chrono and Nato watches
As a private label entrepreneur, you can either provide a watch design for the firm to execute or modify any of the designs in the company catalog.
Intermedia Time is located in Venezia, Italy and this is evident in the company's fashionable design touches. However, it also offers Swiss Made watches if those are more to your liking.
Belair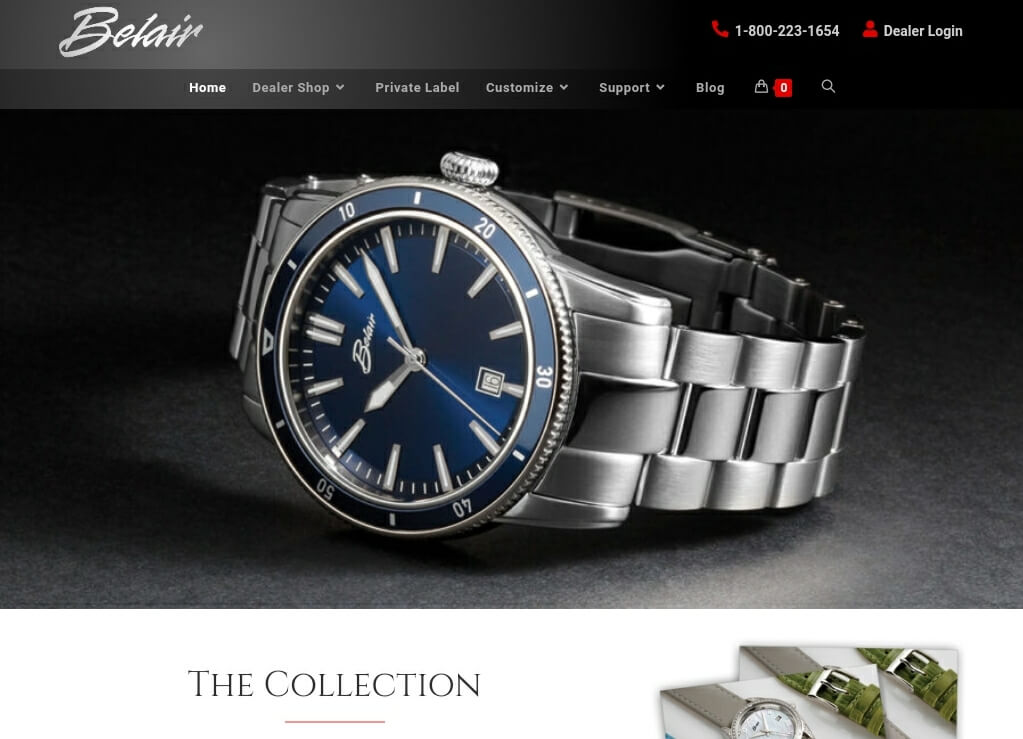 Belair is one of the oldest private label watch manufacturers on this list. It was established in 1945 and thus carries a long prestigious heritage in all matters of watch-making.
Like private label watch manufacturers, the designs of your Belair-made watches will be based on the preferences you share with the firm. However, the company only uses Swiss parts to fulfill the Belair quality standards.
In addition to watch-making, you can also rely on Belair from private label packaging complete with branding decorations. The packaging, just like the watches, will be made to match your vision for your private label watch brand.
FAQs on Private Label Watch Manufacturers
What Is a Private Label Watch?
A private label watch is a watch that is made using a design that is unique to your brand.
Under a proper purchase agreement, your private label manufacturer can not offer the same design to other brands or use it to make watches under their own brand name.
Are Swiss Watches Made in China?
Legally, a watch can only be 'Swiss Made' if:
The watch movements are made in Switzerland
60% of the production costs for making the watch are incurred in Switzerland
The technical development of the watch was done in Switzerland
The movement or most of the assembly was done in Switzerland
Based on these regulations, it is not possible to manufacture a watch in China and label it Swiss Made. At the bare minimum, part of the watch development and encasement has to have happened in Switzerland for the watch to qualify as 'Swiss Made'.
It is due to this reason that most private label manufacturers in USA, China, Australia, and other parts of the world have a watch factory in one country and another in Switzerland.
Why Do Swiss Made Watches Cost More?
Switzerland has, for decades, remained a leader in watch manufacturing. Swiss watch-making techniques are very refined and can only be compared to the Chinese adeptness at knife-making or the Germans' expertise in machine production.
As such, the Swiss government established strict quality rules that govern what can qualify as a Swiss Made watch. These high standards, the high cost of achieving them, and the prestige that comes along with them make Swiss watches cost a little extra.
How Can I Find a Private Label Watch Manufacturer?
An online search could be an easy way to begin your search. This would give you a good idea of what manufacturer options you may have based on the designer you have in mind.
Make an effort to browse through different websites of private label watch suppliers and compare options before creating a shortlist. Online marketplaces like Alibaba could also be of great help.
If you prefer an in-person approach, you can make a shortlist of top manufacturers that you find promising and visit their workshops/factories.
Alternatively, you could look out for and attend exhibitions like the Hong Kong Watch and Trade Fair. They bring together so many international watch manufacturers that you would be spoiled for choice.
On the other hand, it could be that you are pressed for time or just prefer tge certainty of expert guidance. If so, then consider hiring a sourcing agent. They would find you private label watch manufacturers based on the kind of watches you need.
A sourcing agent could also provide a better turnkey experience to ease your private labeling experience. They could:
Help you navigate product development
Advise on or handle product branding processes on your behalf
Negotiate suitable shipping terms with your manufacturer or handle shipping for you
Execute order fulfillment if you are looking to dropship private label watches
To Sum It Up
If this list is anything to go by, there are more than enough private label watch manufacturers to go around. The trick is to refine your vision for your watch brand as best as you can and find a manufacturer that can fulfill it with precision, on time, and on budget.
Are you having a hard time finding the right manufacturer for your private label watches? We, at NicheSources, have a network of carefully vetted manufacturers and can work with you to find one that suits your needs.
Simply send us your brief and request a free quote and we will get back to you with how we can help you purchase from the supplier directly.