Baby clothes are a long-term necessity for every parent expecting or raising a child. More so, because infants and toddlers seem to outgrow their clothing overnight. However, parents and caregivers want the best for their kids and are thus very keen on quality.
Consequently, if you would like your babywear store to corner this lucrative market, it is important that you partner with suppliers that can help you bring quality and affordable baby clothes to your customers.
That said, finding the right suppliers can be difficult and time-consuming. Especially in a country as vast as China. In light of this, we have put together a list of top baby clothes manufacturers to ease your journey as you source baby clothes in China.
Come along and let's see what they have to offer.
Guangzhou Meiqiai Garment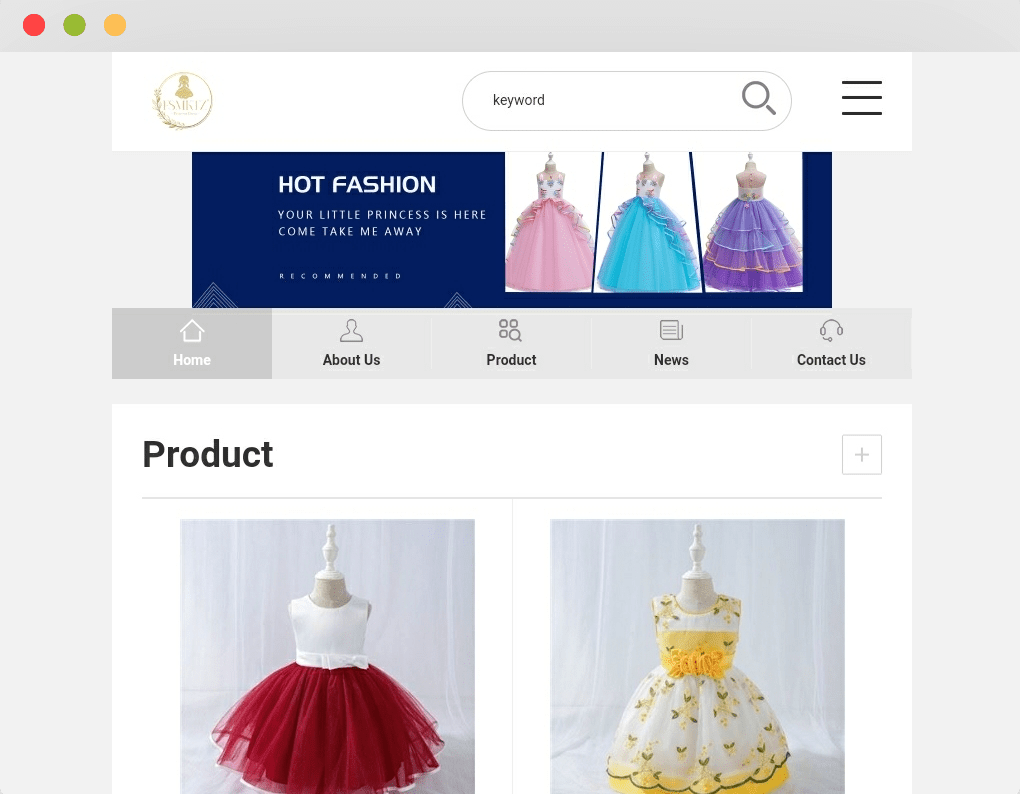 Meiqiai is based in Liwan District in Guangzhou, China. The company has been in the baby clothes industry for about 20 years. It specializes in producing clothing for children aged between 0 and 15 years.
The Meiqiai product catalog mainly features baby girl clothes. They are made in impressive designs that are reminiscent of princesses. The party-themed dresses and tutus are also beautifully decorated with sequins, bows, and similar accessories.
Meiqiai manufactures baby clothes for the China and Hong Kong markets and also exports to retailers in:
Macao
Taiwan
USA
Europe
Australia
Japan
South Korea
The Middle East
The company is open to providing samples for your evaluation and also promises reliable shipping complete with tracking details.
Finefine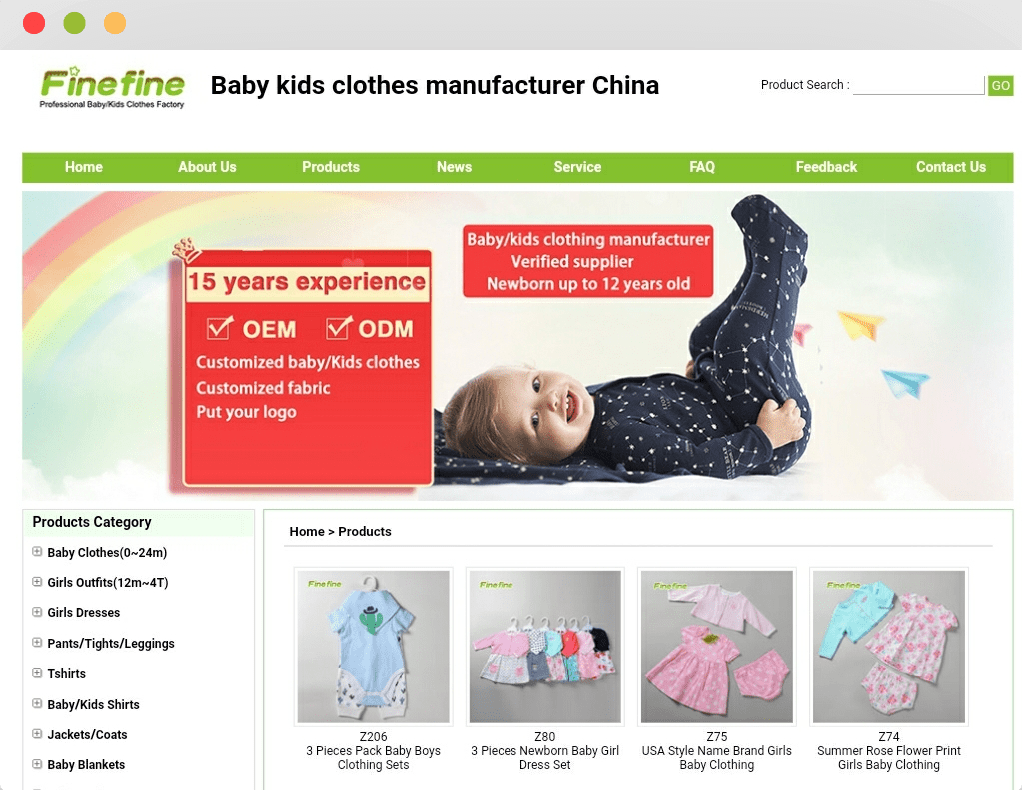 The Finefine factory is located in Qingdao Shandong, China. The company is a manufacturer and wholesale distributor of baby clothes made for children between 0 and 5 years. However, it also carries a few pieces that are suitable for children up to the age of 12.
Finefine offers a rich variety of clothing for baby boys and girls from birth to the age of 5. They range from baby rompers and dresses to pajamas, t-shirts, and lots more. The company also produces some clothing items such as leggings for girls up to the age of 12.
Additionally, Finefine offers white label and private label services. White labeling is easy because the factory maintains stock that you can order for quick delivery. Private labeling, on the other hand, allows you to order custom baby clothes in specific colors, sizes, or fabrics.
Finefine exports its products to major brands such as COSTCO in the USA and others in Africa, Brazil, and the Middle East.
Alamby Fashion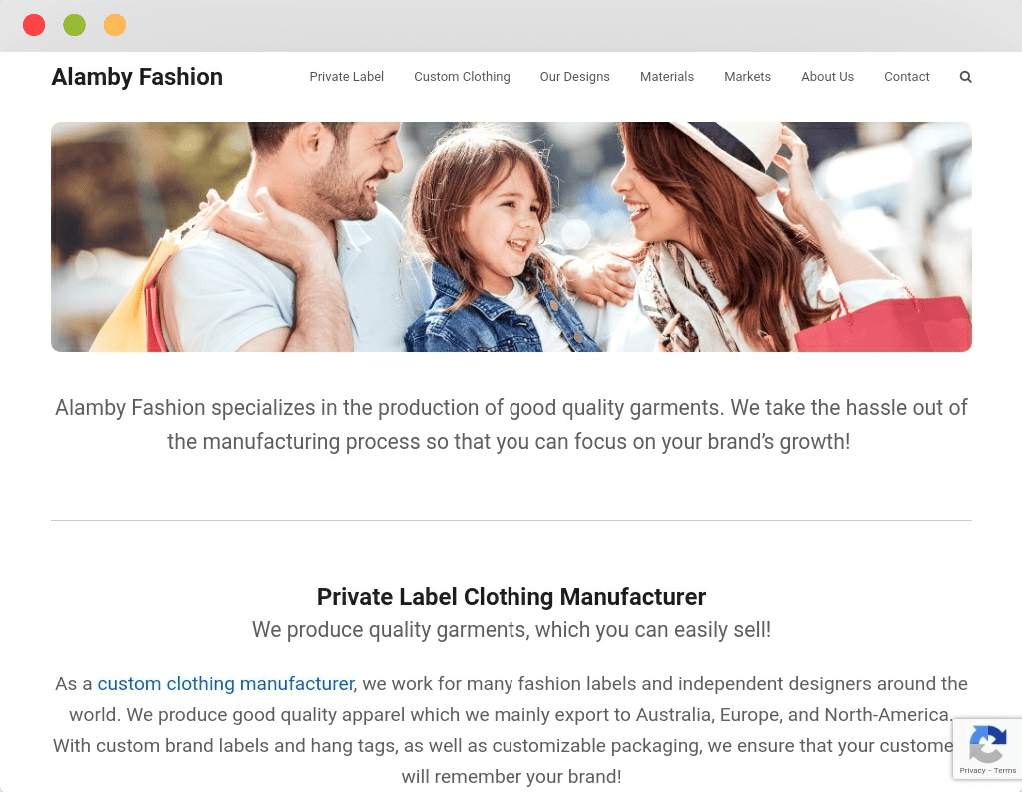 Alamby Fashion is conveniently located in Dongguan City which is commonly known as China's fashion city. It is a full-scale clothing company but has a dedicated baby clothing department.
Notably, Alamby only manufactures custom baby clothing. As such, this would only be a suitable supplier if you are keen on venturing into private label baby clothing.
It accepts orders for infant, toddler, and older boys' and girls' clothing items including:
Tops; t-shirts, vests, baby girl tops
Bottoms; shorts, trousers, leggings
Baby girl dresses
Rompers and jumpsuits
Baby bibs
The minimum order quantity is only 100 pieces and the company also caps its maximum production capacity at 100,000 pieces.
Alamby currently ships to private label customers in Australia, Europe, and North America. Its location is, however, close to multiple neighboring ports which makes it possible to request shipping to other regions.
KDTEX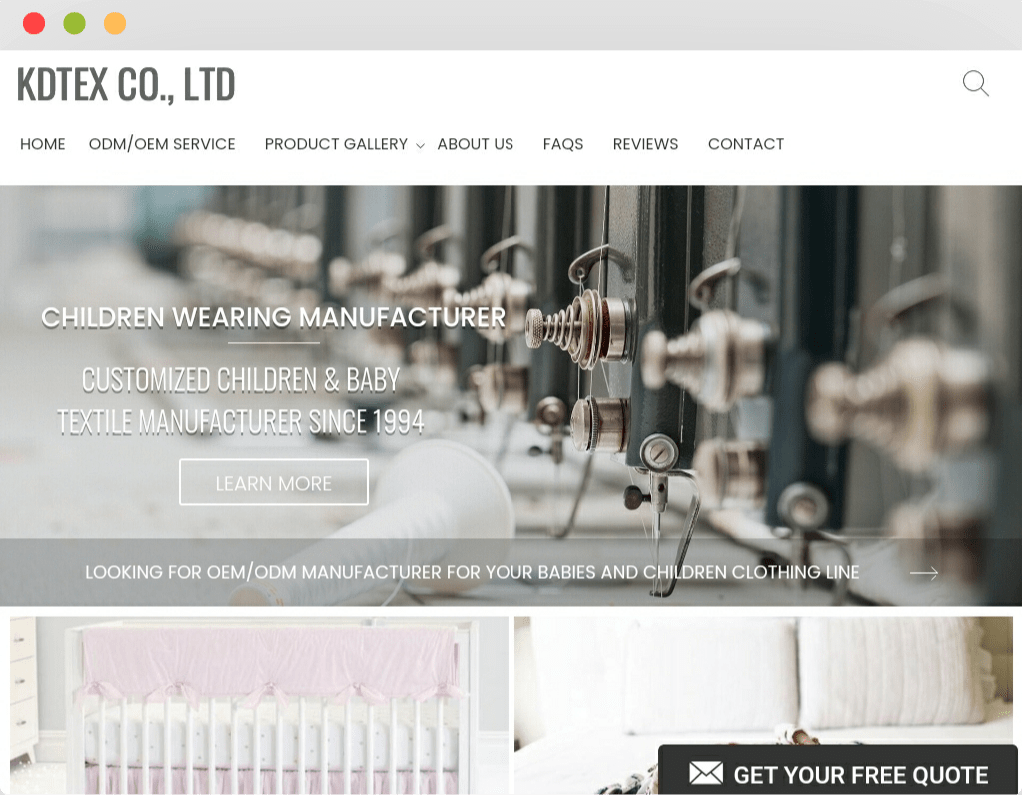 KDTEX exclusively focuses on manufacturing baby clothing and has 25 years of experience in the business. Its factory is located in Qingdao, China. It manufactures:
Joggers
Rompers
Dresses
Pajamas
Knotted gowns
Polo shirts
Baby linens
KDTEX stands out from most baby clothing manufacturers because it is a full-service firm. For starters, you get to choose between white label and private label clothing. If you choose private labeling, KDTEX works with you right from the custom design stage to other processes such as:
Branded tag development
Sampling
Decorative options like embroidery and printing
KDTEX is quite selective about the fabrics it uses. This would thus be an ideal manufacturer if you prefer cotton baby clothes or other baby-friendly fabric blends. The MOQ is set at 100 pieces and product samples are free except for shipping costs.
Fakifii Garment Factory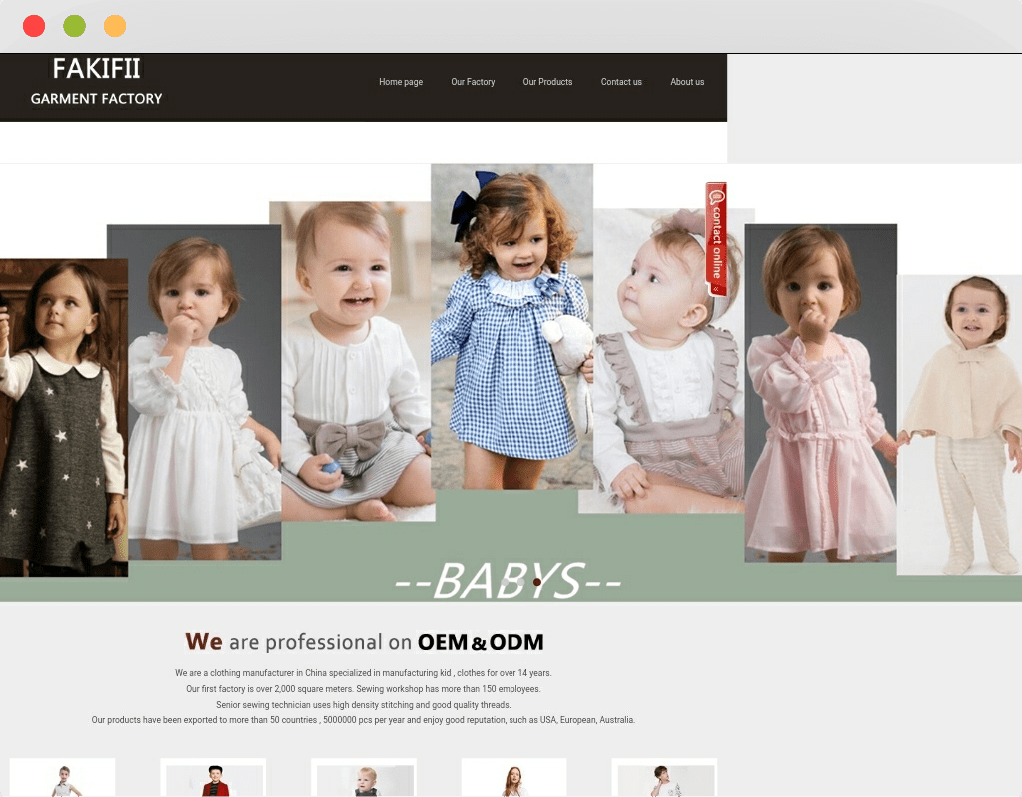 This Guangdong-based manufacturer has over 16 years of experience in the industry. They have a production capacity of 3 million pieces a month which are sold both locally and exported mainly to the USA and Europe.
The Fakifii Garment Factory would be a good pick if you are planning to scale your baby clothes business in the future. It manufactures clothing for infants and toddlers as well as outfits for young boys and girls.
The product offering provides a vast range of clothing items for baby boys including clothes sets, underwear, shorts, t-shirts, and more. Baby girls are also well-catered to with a selection of rompers, dresses, leggings, and tutus.
All items are customizable upon request as there is an in-house design team. Lead times range between 2 to 3 weeks after the placement of your order.
Qingdao Longtai International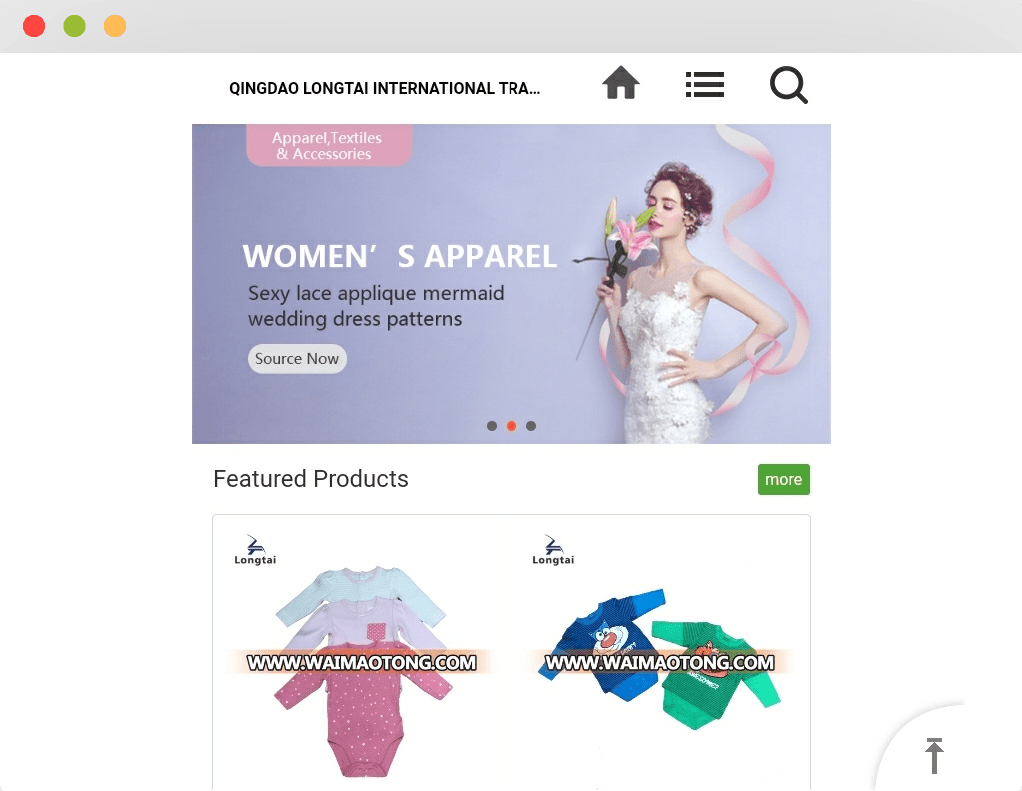 Qingdao Longtai International is a babywear manufacturer that specializes in knitwear. The company factory is located in Qingdao which is in northern China. It is run under BSCI guidelines which ensure workers and the entire manufacturing operation is run ethically.
Most baby clothing items in the Qingdao Longtai catalog are designed for newborns and toddlers. The catalog also includes baby clothes for boys and girls as well as unisex options. They include rompers, bodysuits, hoodies, pants, and much more.
Each type of clothing has a unique MOQ and a maximum quantity that you can order within a set period. However, stock items are exempt from this rule; you can buy as few or as many of them as you like, as long as the inventory can match your order.
Keenago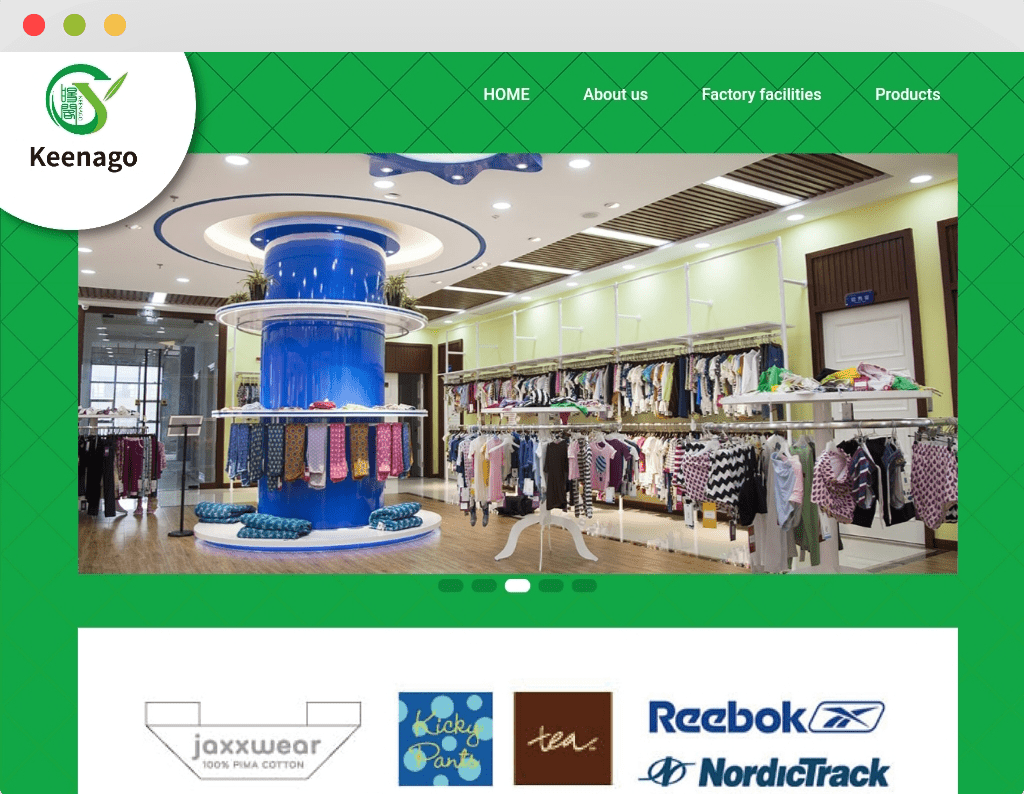 Keenago was established over 17 years ago and is located in Shanghai, China. It is, primarily, a babywear manufacturing company but it also offers clothing items for older children and even expectant mothers.
The Keenago product selection comprises infant clothing and toddler clothing for boys and girls. They include footies, rompers, bodysuits, pajamas, baby clothing sets, and more. All items are made using eco-friendly materials blends such as organic cotton and ecovero.
Suzykids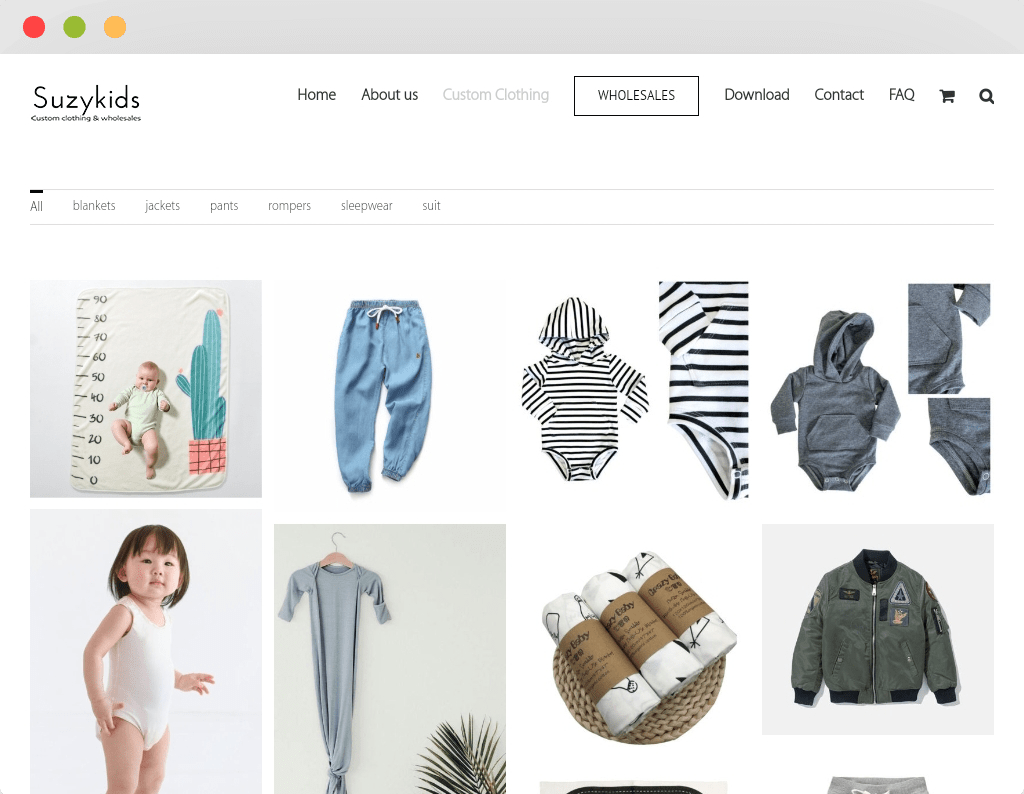 Suzykids was founded by a single entrepreneur that is passionate about kids' clothing. She has years of experience in the China baby clothes industry and has incorporated that knowledge to perfect this brand.
The Suzykids factory is located in Dongguan City, China. It manufactures clothing for infants, toddlers, and middle-aged boys and girls using organic cotton and soybean organic cotton.
If your customers are particular about fabrics, the company has certifications to authenticate these claims.
Suzykids' terms of service are as follows:
The company only manufactures custom baby clothes. You would, therefore, need to share a custom design with the firm for production to start.
The MOQ for knit fabric baby clothing is 200 to 300 pieces and you can request assorted sizes.
If you would like an order below MOQ you can only order custom baby clothes made using stock fabric.
Suzykids exports baby clothes to Australia, New Zealand, the UK, and the USA.
Guangzhou Haowei Children Product Company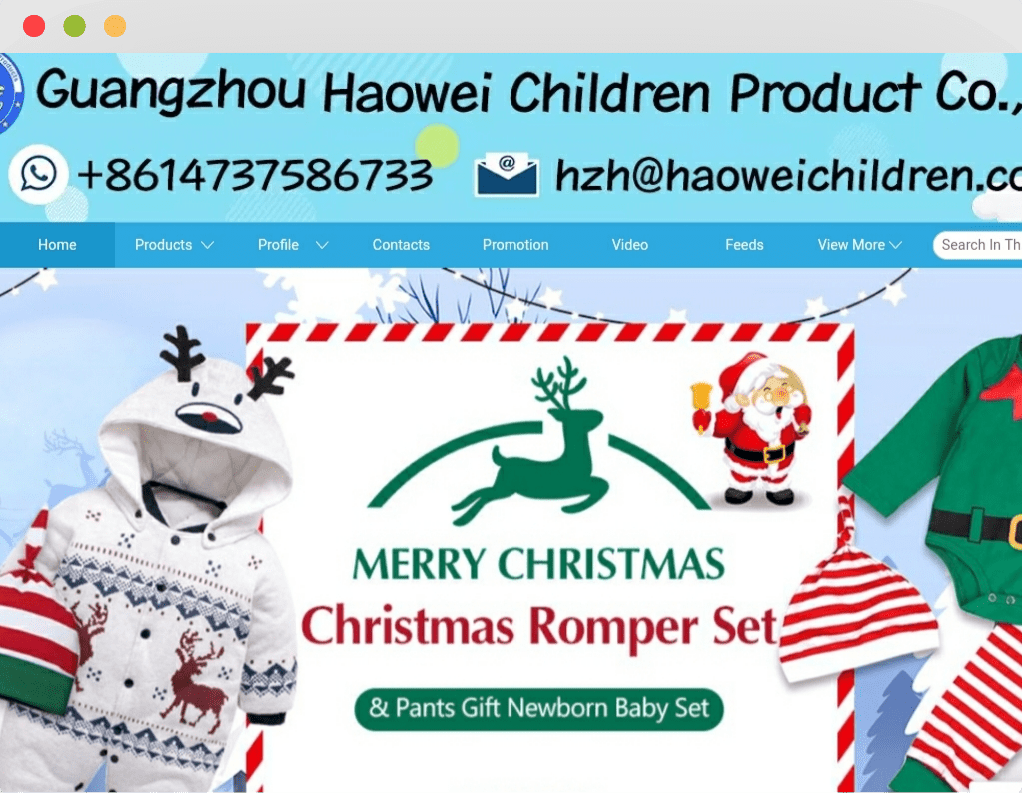 Guangzhou Haowei Children Product Company was established in 2014 and is based in Guangzhou, China. It is a manufacturing company that offers a vast range of baby clothing Including:
Jeans
Dresses
Polo t-shirts
Socks
Pants
Other baby care accessories
The company factory has a production capacity of 300,000 pieces per month. They are supplied to the local market but some products are also exported to Africa, South America, and other regions across the world. The average lead time for orders is 7 days.
Shijiazhuang Cool Apparel Company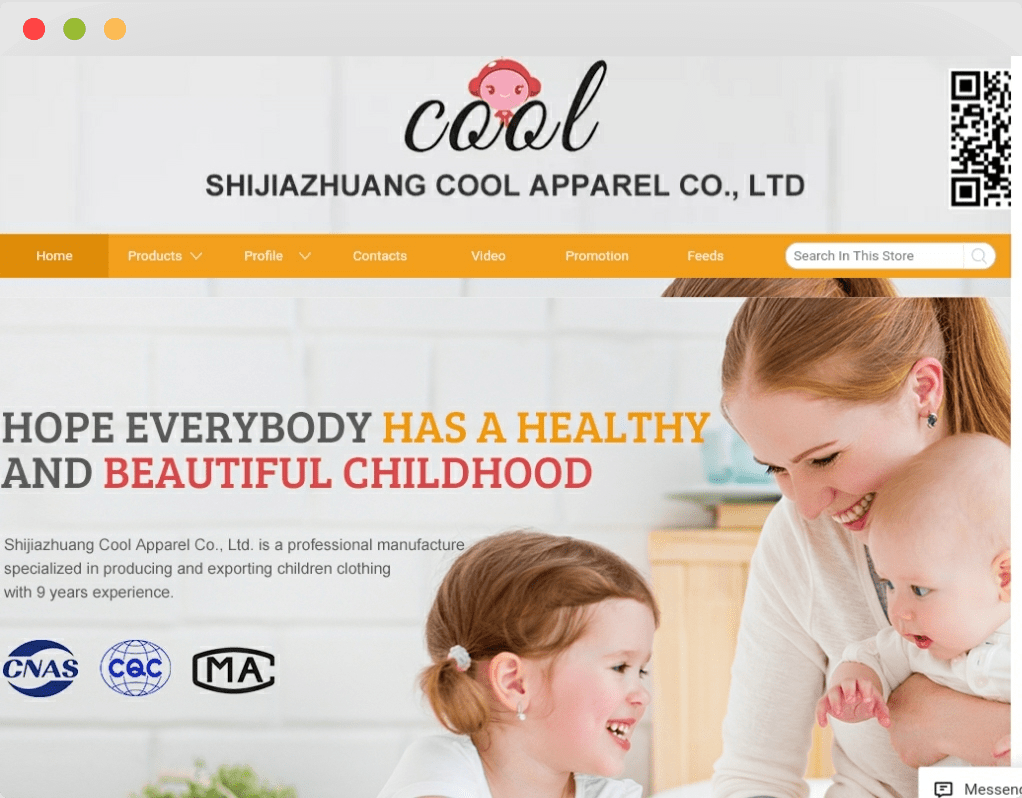 If you have been holding out for a baby clothes manufacturer that produces fun trendy designs of baby clothes, Cool Apparel is right up that alley.
It manufactures bibs, onesies, dresses, and pajamas in colorful prints with some bearing fun printed messages. It also designs and produces costumes for special events like Christmas or themed parties inspired by animation characters.
Cool Apparel also offers white labeling and private labeling services to help you grow your brand. The company's factory in Hebei, China has an R&D department that can help you come up with custom concepts and the quality control team will ensure that they are well-executed.
Guangzhou Tunnai Baby & Mother Product Company
Guangzhou Tunnai Baby & Mother is a manufacturer and supplier of wholesale baby clothes. It is located in Guangdong, China.
Tunnai Baby & Mother covers all the bases when it comes to baby clothing and baby care supplies. The designs are also quite creative and could draw customers' attention to your retail or baby clothing dropshipping store due to their uniqueness.
Some of the stand-out baby clothing items include:
Colorful digital printed jumpsuits
Rompers with hoodie extensions
Pajama sets with matching soft baby caps
Matching parent-baby outfits
Christmas-themed baby outfits
The company produces 200,000 pieces of baby clothing for boys and girls in a month. MOQs are flexible but buying baby clothing in bulk will earn you way better prices.
However, if you would like customized items, you would have to meet the fixed MOQs. The R&D team would provide samples within 3 to 7 days of discussing the concept with you.
Tunnai Baby & Mother ships baby clothing orders globally.
Kangkang Garment Factory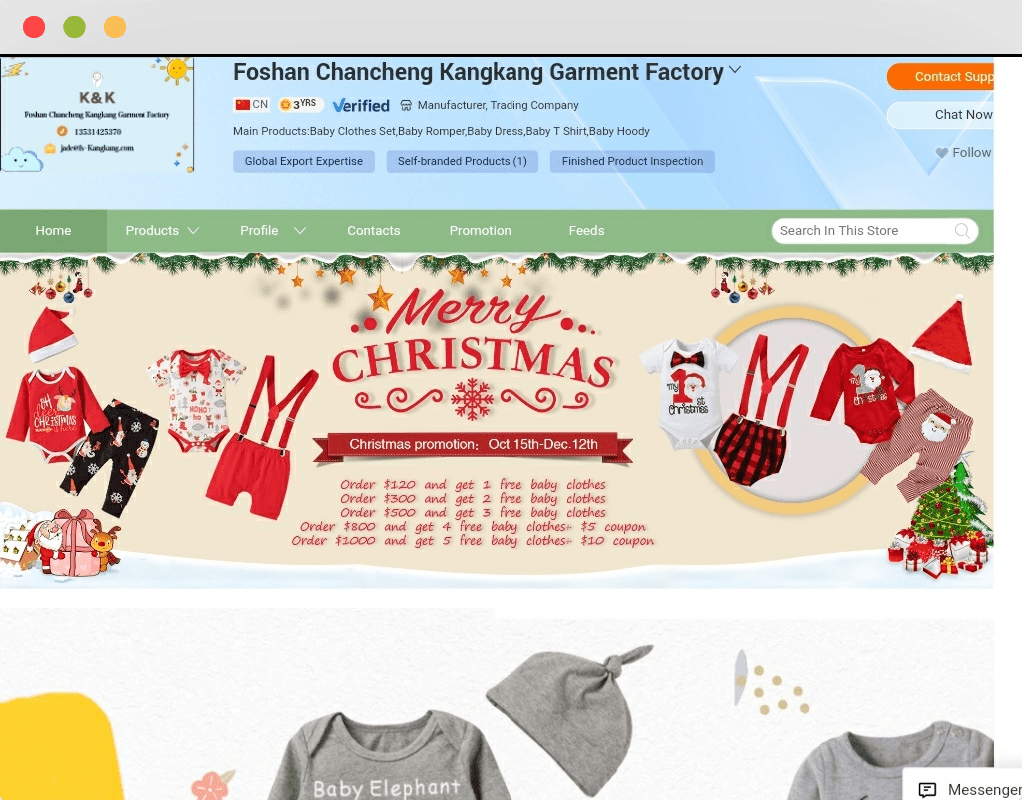 Kangkang Garment Factory is located in Chancheng District in Foshan. The company has been manufacturing baby clothes for more than 12 years and has a production capacity of 100,000 baby clothes sets per month.
The Kangkang product selection easily makes it a one-stop-shop for babywear. It includes everything from hoodies, onesies, rompers, dresses, and t-shirts. Little tidbits like socks and bibs are also available.
As a Kangkang customer, you would have a choice between customizable pieces and ready-to-ship baby clothing. Customizable items are recommended if you would like to brand your products but they have longer lead times.
Export orders are shipped from the ports of Guangzhou or Shenzhen as they are both within the factory's proximity. Kangkang ships baby clothing to retailers and stores across the world.
FAQs about Wholesale Baby Clothes Manufacturers
What Qualities Should I Look Out For When Sourcing Wholesale Baby Clothes From China?
You will encounter countless baby clothes vendors when sourcing wholesale baby clothes from China. However, before you get lured in by the incredible prices, consider:
Fabric quality- babies are highly sensitive to fabric fibers. Subsequently, it is imperative that you choose quality fabrics such as cotton and flannel that are soft and less likely to cause irritations.
Workmanship– even the best of fabrics will appear cheap and unsightly if seams and hems are poorly done or the design is hurriedly executed. Insist on top-notch sewing and design execution.
Size variety- children grow through milestones at the speed of light. It would, therefore, be a good idea to offer your customers baby clothes in a variety of sizes to see them through such transitions.
Labeling- shoppers rely on manufacturer labeling to guide them on what sizes of clothing would be ideal for their babies. Therefore, sizes should be clearly indicated on the clothing tags to make it easy for customers to identify what they need.
How Can I Find More Wholesale Baby Clothes Suppliers?
While this list presents some of the top baby clothes suppliers in China, there are plenty of other options in the market. You could find them through:
Google searches- a quick Google search with the right keywords could lead you to discover numerous baby clothes suppliers in China. You could even narrow down your search by looking up the specific baby clothing items that you want.
Online marketplaces– platforms such as Alibaba host plenty of suppliers and are thus a great resource. They make it easy to evaluate, compare, and contact hundreds of vendors at the same time.
Tip: Keep in mind that there are marketplaces that list retail suppliers and others that list bulk suppliers. Aim for the latter if you are looking to source baby clothes in bulk from China.
Sourcing agents– sourcing agents help you find the right manufacturers and handle other aspects of the engagement on your behalf. They charge a fee for their services but it is often worth it because they could save you lots of time and effort.
Is Selling Wholesale Baby Clothes Profitable?
According to data gathered through financial research, the baby apparel industry is projected to grow at a rate of about 8% in the next 6 years. Based on this, it is likely to be worth over $200 billion by 2026.
These statistics prove that the baby clothes industry is thriving and will continue to do so with healthy returns. If you find the right type of baby clothes for your target market and offer efficient customer service, there is no reason why your venture would not be profitable.
In Conclusion
Baby clothes bear all the qualities of an evergreen product whether for traditional retail, online stores, or even dropshipping. All you have to do is find a wholesale baby clothes supplier that is affordable, efficient, and innovative.
However, if you would rather not take chances by sourcing baby clothing on your own, consider partnering with us.
We, at NicheSources, are a professional and reputable product sourcing company. We understand the manufacturing sector in China and have cordial working relationships with top-tier manufacturers. We can help you:
Request a quote and discover more about our business-friendly sourcing services.