Running a clothing dropshipping or retail store can be profitable but also very challenging. On one hand, it is not always easy to find quality affordable clothing. On the other, even when you do, the fashion industry is driven by trends that change every other day.
The best way to get around these challenges would be to find a creative wholesale clothing vendor that adheres to high-quality standards. China, in particular, would be an ideal destination to source suppliers from due to its robust clothing manufacturing industry.
Are you wondering how to begin your search? Then this blog is just what you need. Read on as we discuss some top-tier manufacturers and suppliers of wholesale clothing in China that may be worth partnering with.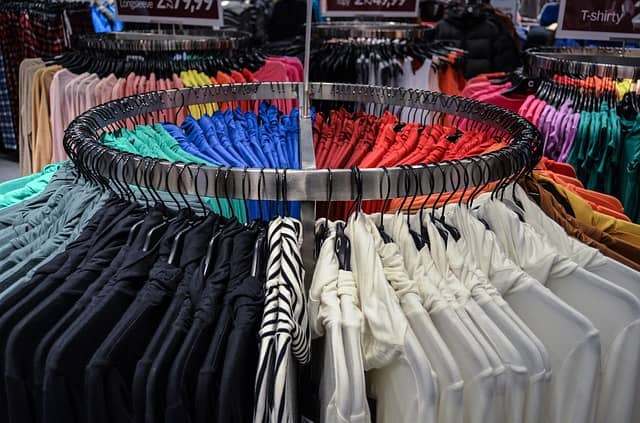 Ready? Let's dive in.
Yaaku Wholesale Fashion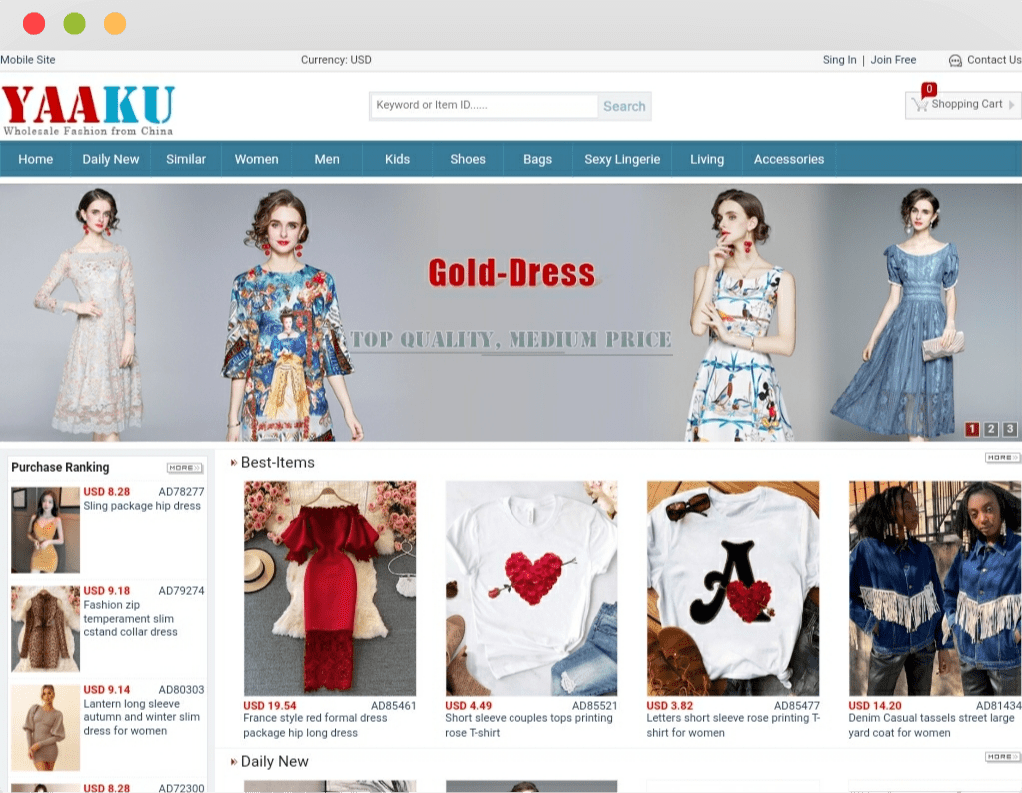 Yaaku is a wholesale clothing vendor based in Guangzhou, China. The company buys different types of clothing from assorted manufacturers and sells them at competitive rates to individuals and resellers.
You can browse through and order clothing items from Yaaku through its online platform. However, if you would like to evaluate the quality of Yaaku products or negotiate supply terms, the firm allows customers to freely visit their warehouses.
The Yaaku product catalog includes numerous styles and fabrics of:
Dresses
Skirts
Leggings
Jackets and coats
Tops and sweaters
Undergarments
Yaaku requires customers to spend at least $1,000 to qualify for wholesale terms of purchase. It also has a designated online store (CloClothing.com) for wholesale buyers. Upon payment, Yaaku can organize delivery. It currently ships to over 50 countries worldwide.
UHNICE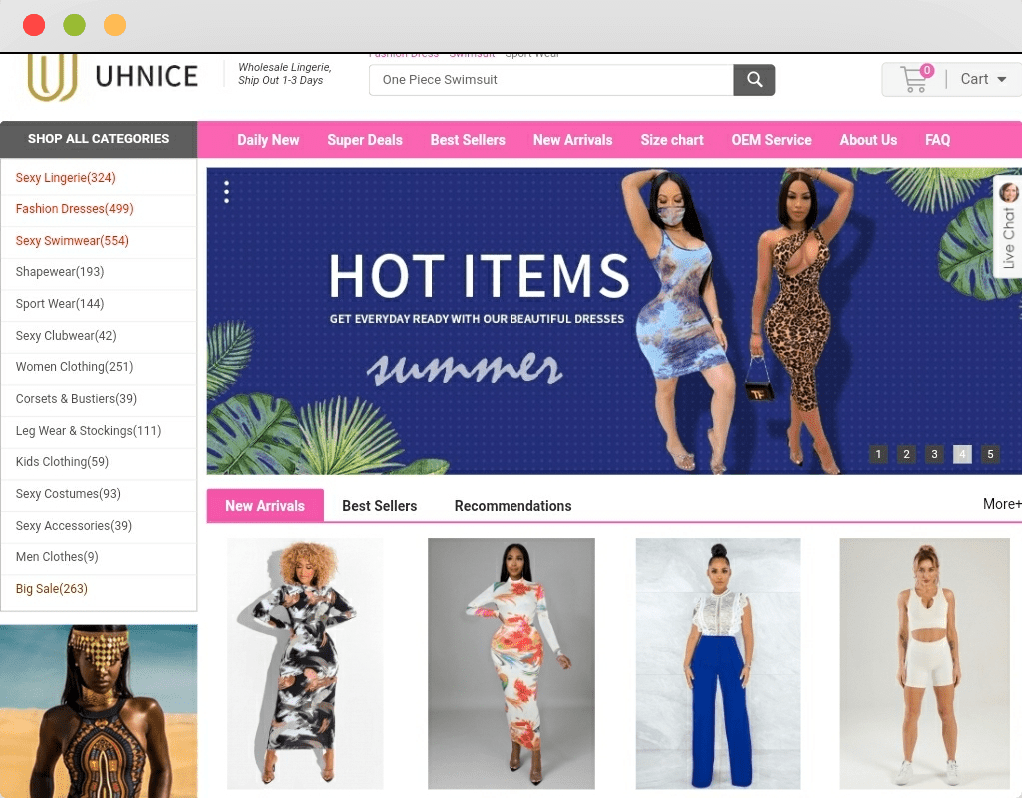 UHNICE primarily manufactures clothing for women and girls. The clothing items include:
Bodycon dresses
Jumpsuits
Corsets and lingerie
Swimwear
Sportswear
The UHNICE in China has a production capacity of 1.5 million in a year. The company does not impose minimum order quantities for most items but bulk orders attract favorable discounts.
That said, UHNICE can only supply 200 pieces per clothing item. It would, therefore, only be an ideal partner if your business is of small to medium scale.
Further, UHNICE offers private labeling services that allow you to share custom designs for production. This manufacturer exports its clothing products to buyers in Europe, the USA, Japan, South East Asia, South Africa, and South America.
Tosin Fashion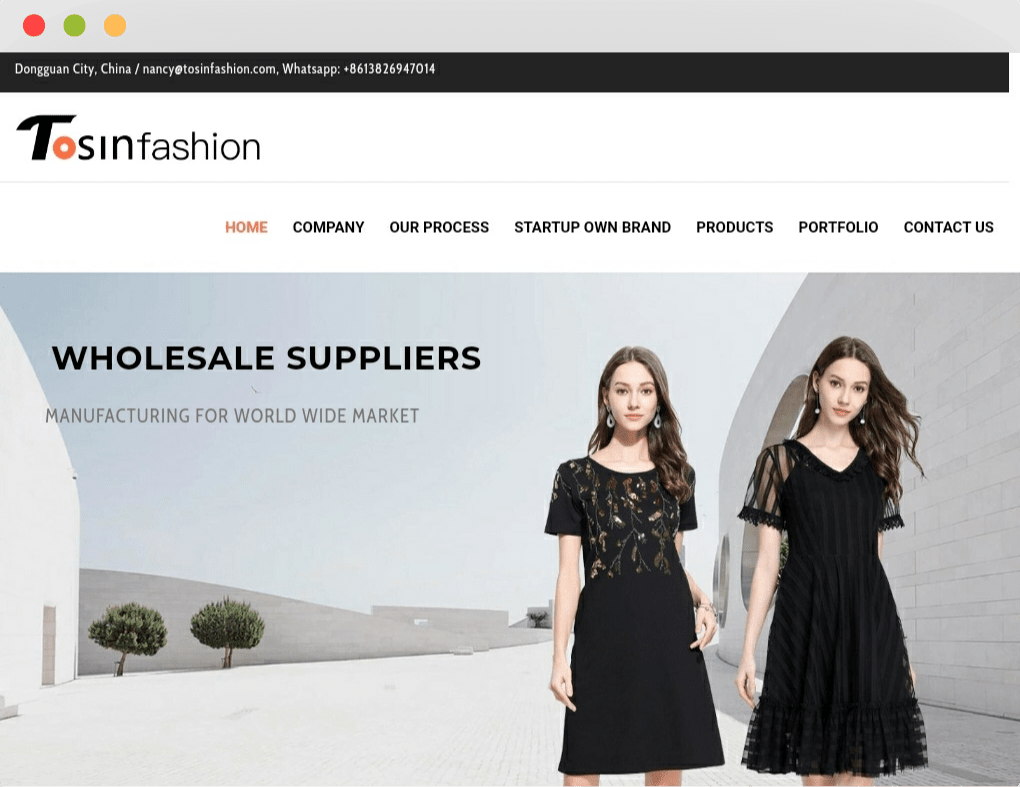 Tosin Fashion is a full-scale apparel manufacturer that specializes in women's clothing. The company is based in Dongguan City, China, and has over 12 years of experience in the business.
This is arguably one of the most diverse wholesale clothing manufacturers in China. It offers dresses, jumpsuits, skirts, tops, and Muslim attire. The latter stands out because Muslim attire is often only offered by niche suppliers.
Tosin is also worth considering because:
It has favorable terms for both large-scale and small-scale clothing businesses
Its MOQs are set at only 100 pieces
It ships clothing orders be globally
It offers white labeling and private labeling services complete with branded tag design and production
Once you place your order, Tosin promises a lead time of 7 to 14 days depending on the order size. It has an in-house R&D team that can help with branding your clothing items and after production and quality control, the logistics team coordinates delivery.
Hujoin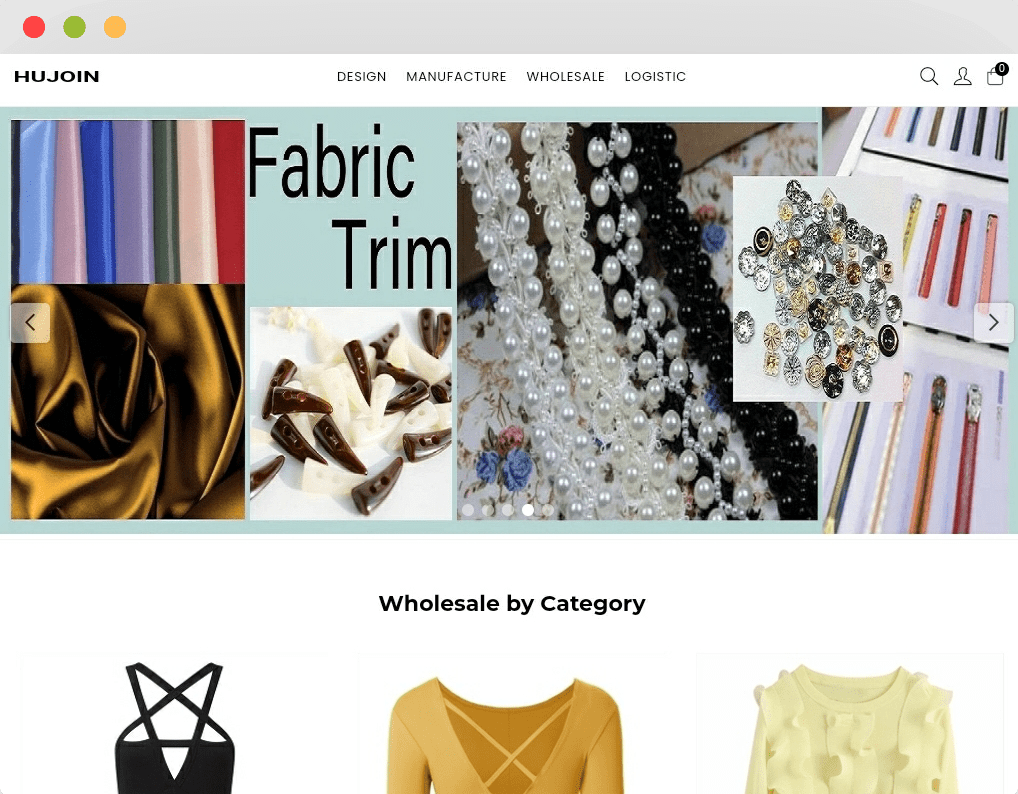 Hujoin may be a suitable wholesale clothing supplier for you if you run a small-scale clothing business.
Hujoin is situated in Suzhou City, China. It manufactures dresses, pants, skirts, tops, vests, coats, and jackets for women. It provides an all-inclusive range of services comprising:
Fabric selection
Designing
Printing
Embroidery
Label design and stitching
Notably, Hujoin is one of the Chinese wholesale clothing manufacturers that has structured its services to benefit small-scale businesses.
For starters, it has low MOQs of 50 to 100 pieces. If you would like to build your brand identity, Hujoin is also well-equipped to handle private label and white label orders.
Hujoin provides samples for custom designs within 14 days or less. The cost of the samples is refunded if you place an order of more than 100 pieces. It ships orders globally and offers air, rail, and sea shipping options.
MZ Garment Co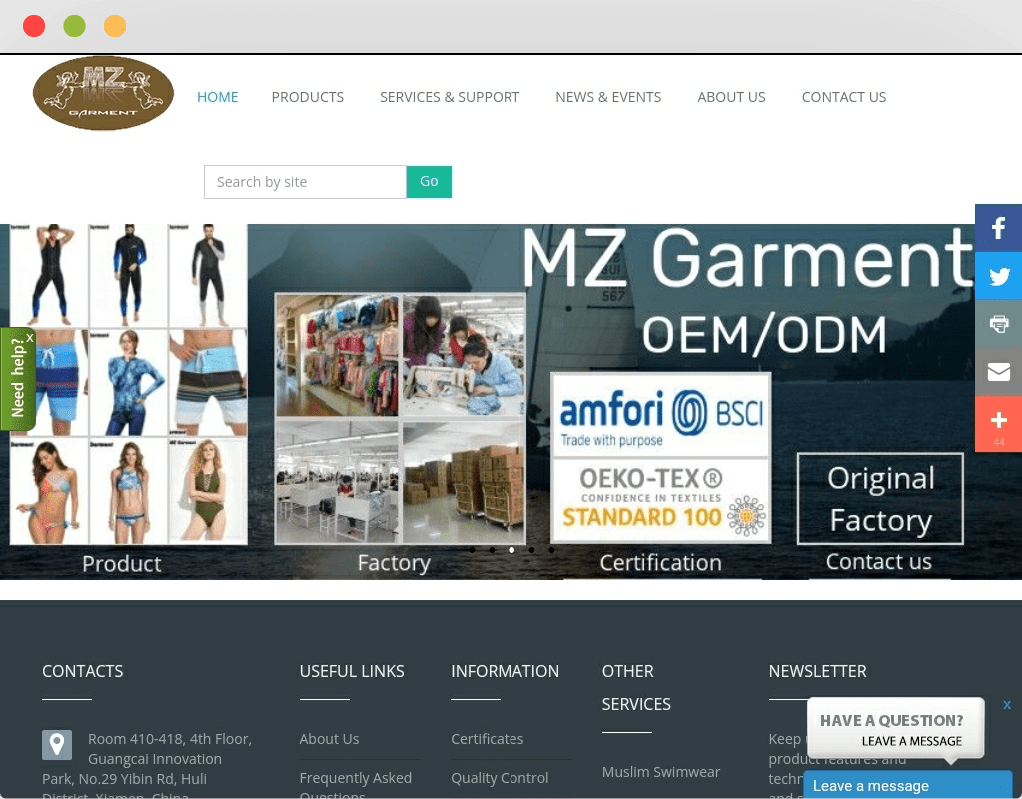 MZ Garment Company was established in 2008 and is located in Xiamen, China. It is a stock and custom clothing manufacturer and supplier. Its main clients are local and foreign clothing brands and chain stores.
The MZ Garment collection consists of clothing items mostly for women and kids. They include swimwear, sportswear, and Muslim attire as well as a variety of kids' clothing in organic cotton and jersey fabric.
The MOQs are set between 800 and 1000 pieces. These are comparatively high and thus, this firm may be ideal if you are a large-scale entrepreneur.
On the upside, the company offers private labeling services that allow you to popularize your brand. Upon receiving your brief, the design team will come up with a sample within 14 days or less and ship it to you.
You will be billed for the samples but the fees are refundable once you confirm your bulk order.
Production begins after your approval and the lead times are between 20 to 30 days. MZ Garment has an active in-house quality control team and operates under BSCI guidelines.
Apparel CN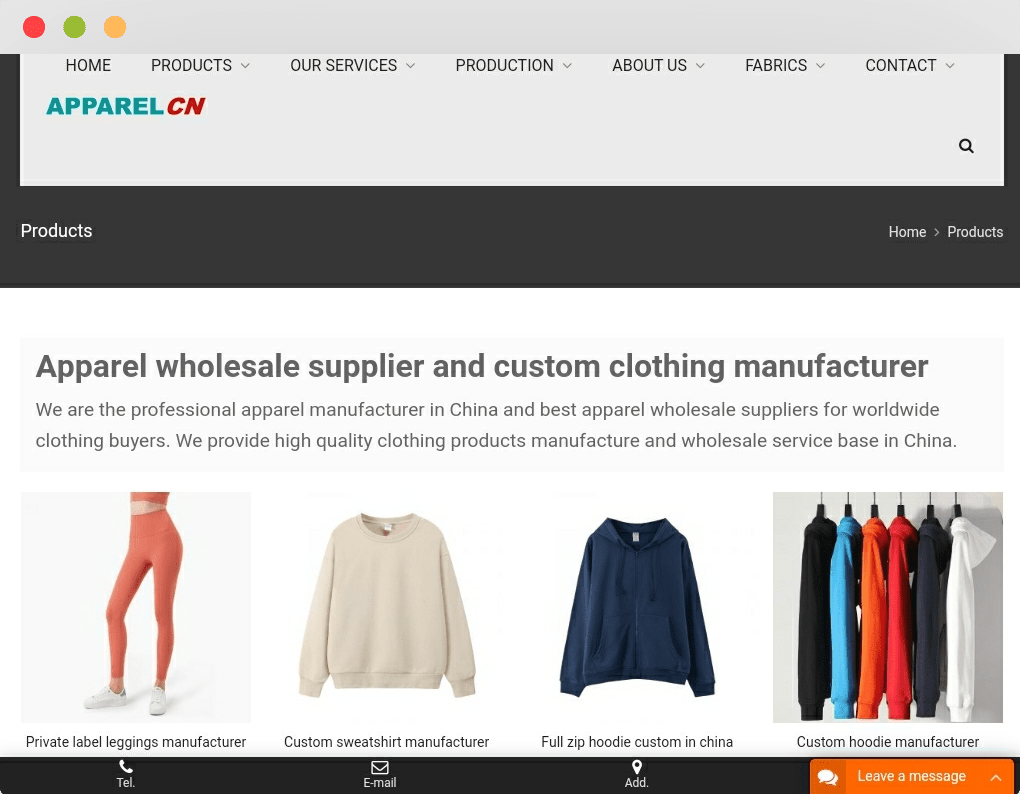 Apparel CN may be the right supplier for you if you are looking for a manufacturer that focuses on private label clothing. The company is located in Zhejiang, China, and has been in the industry for over 20 years. Its private label services include:
Fabric sourcing and selection
Helping customers improve or perfect their custom clothing designs
Sample production for custom designs
Sourcing accessories like buttons and zips for custom designs
Embellishing services I.e printing, screen printing embroidery
Apparel CN is, by all standards, a large-scale supplier. It churns out about 5 million pieces of clothing a year. Nevertheless, it strives to keep its services available to ventures of all sizes. Some of its MOQs are as low as 50 pieces which is uncommon for bulk manufacturers.
On the other hand, if you are not ready to venture into private labeling, Apparel CN offers non-stick designs of:
T-shirts
Polo shirts
Yoga attire
Hoodies and jackets
Camisoles
All orders undergo quality inspection after production. They are then packaged and can be shipped to just about any global destination.
SBC Clothing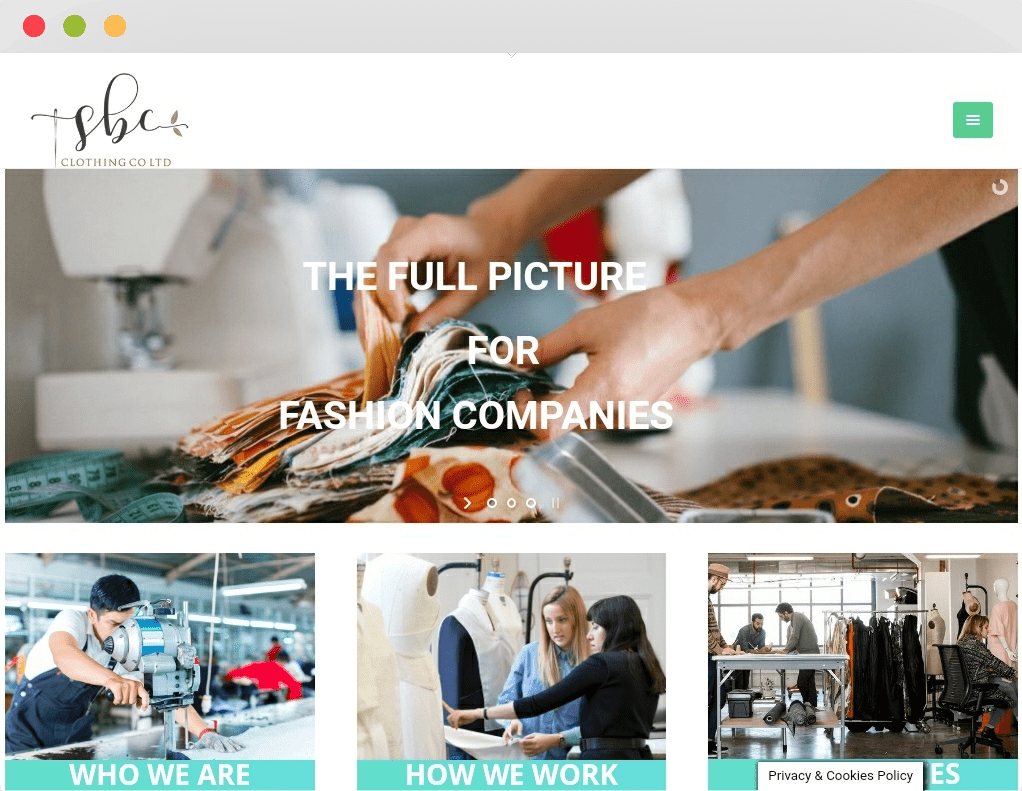 SBC Clothing is a clothing manufacturing company based in Foshan City, Guangdong Province. It has a mega factory that produces about 2 million pieces of clothing in a year.
Given its scale, this production capacity may seem low but the company prioritizes production quality over quantity.
SBC specializes in manufacturing denim wear such as jeans pants, skirts, jackets, and shirts for men and women. It also has product lines for swimwear as well as shorts, pants, t-shirts, and jackets made of different fabrics.
If you would like a quick purchase or are simply sourcing wholesale clothing for resale, SBC offers in-stock clothing items. However, if you prefer custom designs, the SBC team can help you through the whole process from the design, to sampling, and production.
For an extra special touch, SBC offers custom packaging which would be a great way to showcase your brand even if you are selling in-stock designs.
Better still, the custom branding items are available in numerous designs that include eco-friendly biodegradable options.
It is also worth mentioning that SBC is a manufacturing partner for top brands such as LEVI, River Island, Wrangler, and So.Basic.
Vepeen Apparel Company
The Vepeen Apparel Company is only about 6 years old but it is striving to make its name in the Chinese clothing industry. It is located in Baiyun District, Guangzhou, China.
This apparel manufacturer and supplier specializes in women's clothing. They include dresses, blazers, tops, skirts, and pants.
In an interesting twist, Vepeen Apparel does not maintain a product catalog but there are a few samples on its website that showcase its capabilities.
Based on this, if you would like to partner with Vepeen Apparel, it would be best to do some research and come up with the kind of clothing designs you would like. You can then share them with the team at Vepeen Apparel for sample development and eventually, production.
This style of operation also means that Vepeen Apparel does not hold any stock but instead, all garments are made on order. It would thus be wise to plan accordingly and anticipate some wait time before delivery.
Wholesale prices are calculated based on the complexity of your preferred design, your fabric choices, and the size of your order. Vepeen Apparel ships to the USA, Australia, and select countries in Europe.
Nihao Styles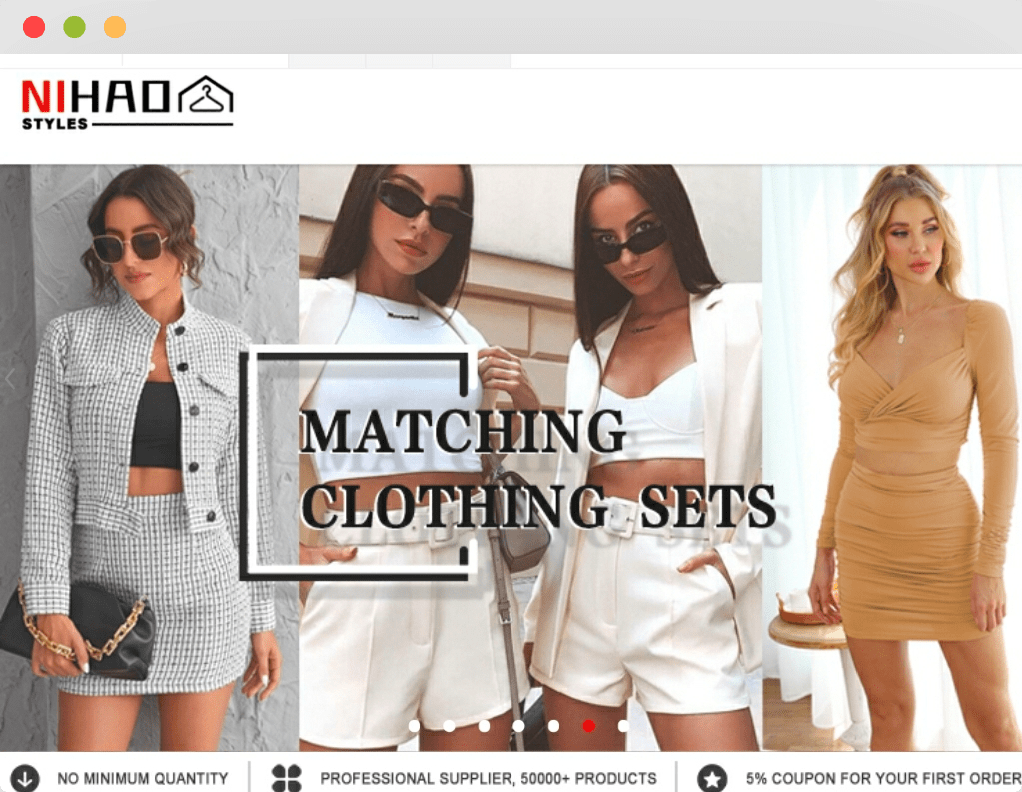 Nihao Styles is an online wholesale supplier of women's clothing. It has an incredibly vast catalog that includes everything from sweaters and tops to pajamas, cocktail dresses, and gowns.
There are numerous advantages to Nihao Styles' supplier approach. Let's look into some of them.
You can shop and place your order online no matter where you are in the world (as long as DHL ships to your location).
There are no MOQs.
The larger your purchase, the bigger the wholesale discount you get.
Nihao Styles promises updates of 200 new products every day. This could easily help you keep up with ever-changing fashion trends.
Nihao Styles may also be a good fit for you if you run a clothing dropshipping store. The firm even allows you to use branded packaging if you are willing to pay for the paper and printing services.
Wenzhou Yiling Garment Company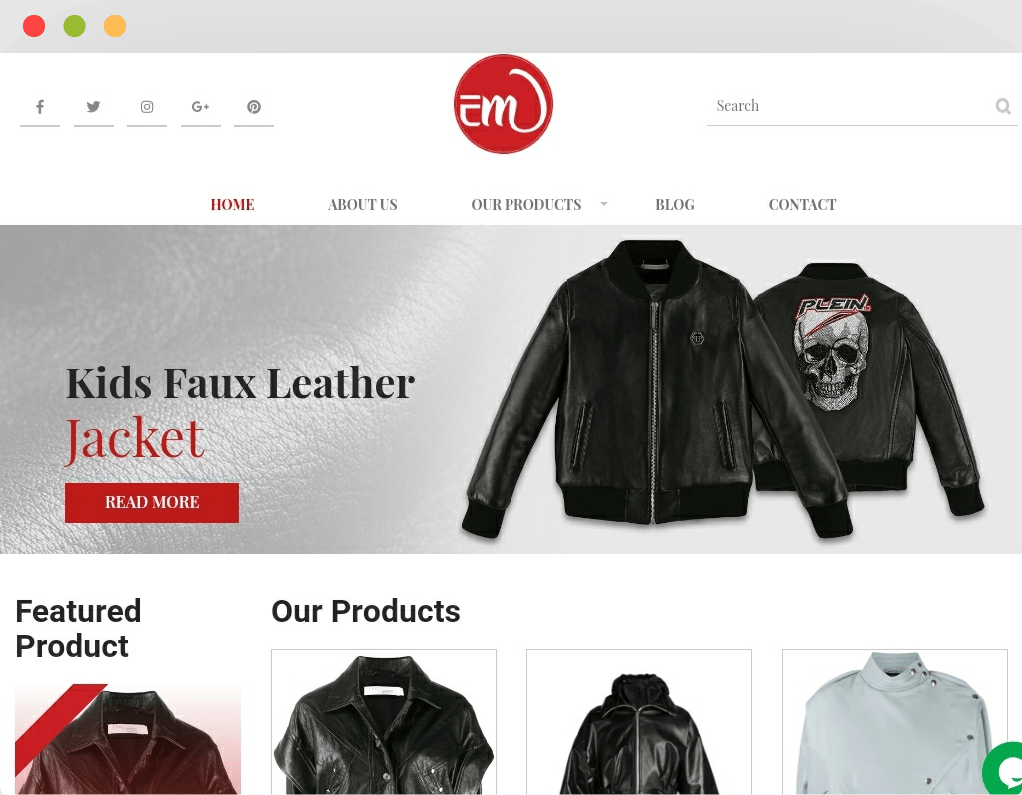 Wenzhou Yiling Garment may be the supplier that adds the cool factor to your clothing store's collection. It primarily manufactures and supplies PU leather jackets for women, men, and children.
The cool factor about Wenzhou Yiling leather jackets is that they are made in unique and diverse designs. The colors are bold and the embellishments are minimal but tasteful. More importantly, the jackets are padded and are thus ideal for winter weather.
The MOQs for the jackets are mostly set at 1,000 pieces. This may be a tall order for start-ups but the wholesale prices may make it worthwhile.
More so if your target market is a cold region or if you are trying to meet Q4 dropshipping or retail demand for warm stylish clothing.
In the periphery, Wenzhou Yiling also produces and supplies womens' dresses, skirts, jeans, and shorts. If you have a keen eye for fashion, you could boost your sales by cross-selling some of these pieces as outfits with the jackets as the main piece.
Sichuan Ecogarments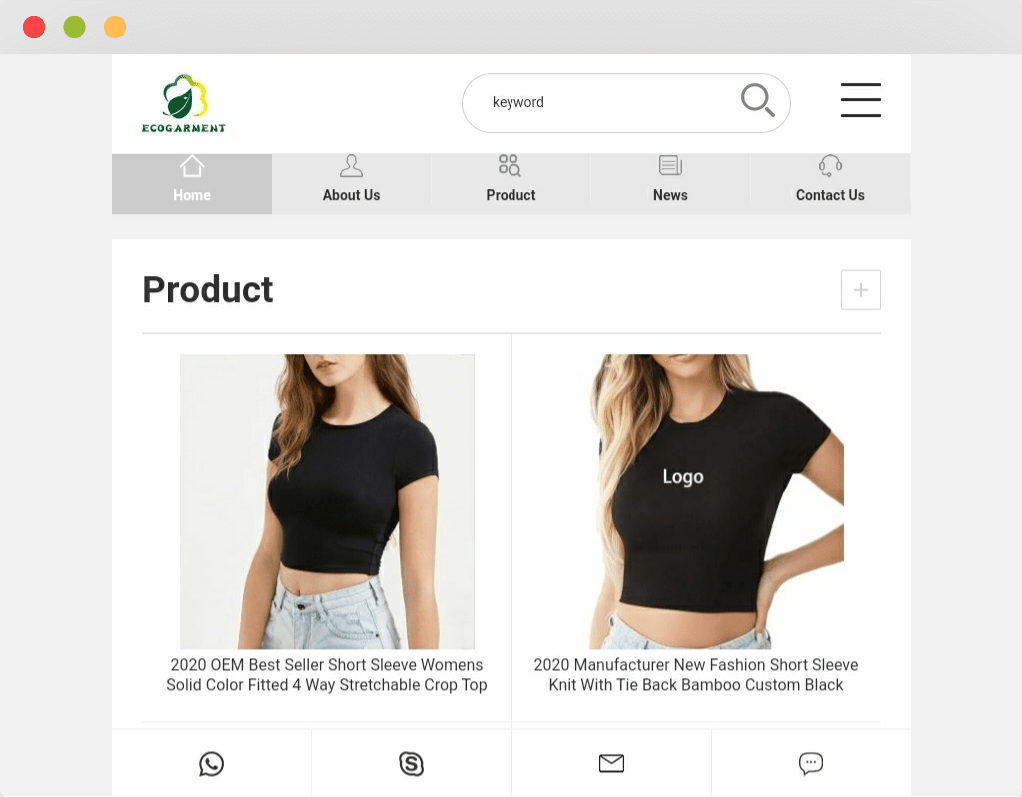 Consumers are increasingly becoming eco-conscious due to the recent adverse effects of climate change witnessed around the world. Most shoppers are, therefore, partial to eco-friendly products and businesses that demonstrate environmental responsibility.
If you would like to honor this noble cause and appeal to such customers, then consider partnering with Sichuan Ecogarments Company.
It manufactures baby clothing and accessories, fitness, and yoga attire, as well as a full range of women's clothing including hats, socks, and undergarments.
All clothing items from Ecogarments are made of eco-friendly fabrics from sustainable sources. They include:
Bamboo fabric
Organic cotton
Viscose
Linen fabric
Silk
The company is fully certified by eco-related industry regulators such as OEKO-TEX. It has a stipulated MOQ of 100 pieces per design per color and also accepts white label and private label clothing orders.
Lanxin Apparel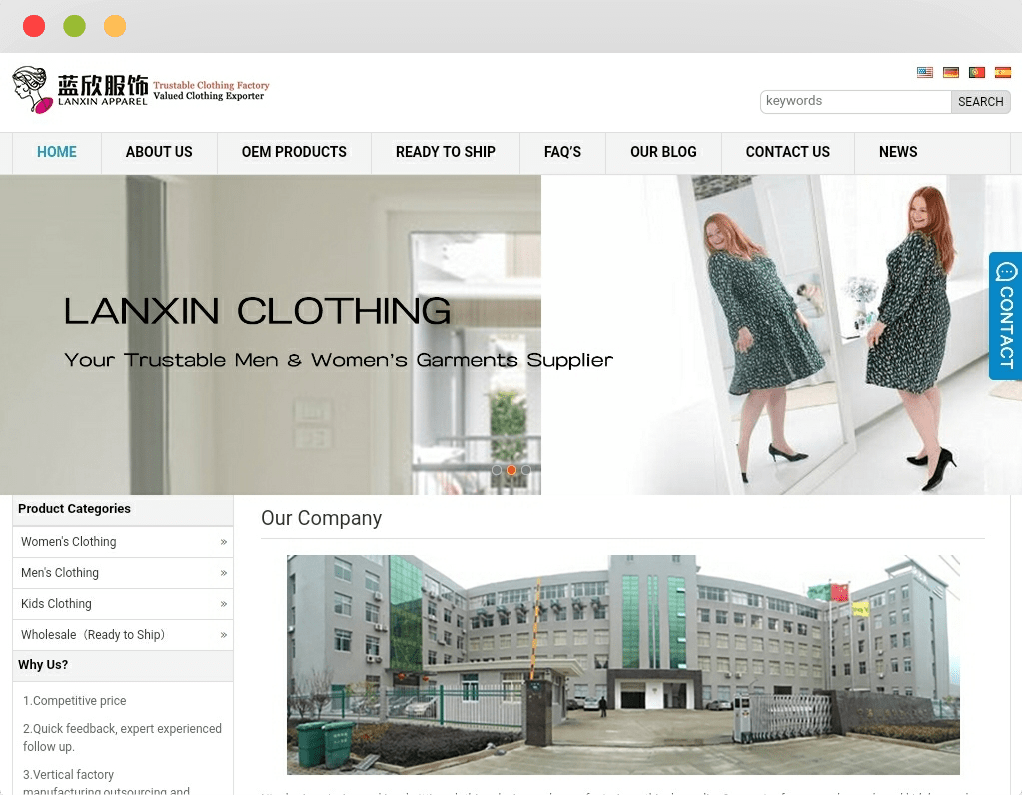 Lanxin Apparel is a one-stop-shop for all kinds of clothing. It manufactures attire for women, men, and kids for different occasions.
Whether you are on the hunt for sportswear, casual wear, dresses, t-shirts, or shorts, you could likely source it all from Lanxin Apparel.
The firm's main factory is based in Ningbo, China but it also has satellite factories in Jiangxi, Anhui, and Jiangsu provinces.
This makes it a more efficient wholesale supplier because you could easily access its products from multiple locations and ship through multiple ports.
However, it is important to note that Lanxin fashion has no catalog. Instead, it requires customers to share their preferred custom designs as they place their orders. In a nutshell, this is a private label clothing manufacturer.
The MOQ is 500 pieces if you would like specific colors of clothing but if you agree to use in-stock fabrics in assorted colors, the MOQ, and price could be lower.
The firm promises lead times of about 60 to 90 days and the company can ship items directly to your location.
Hucai Sportswear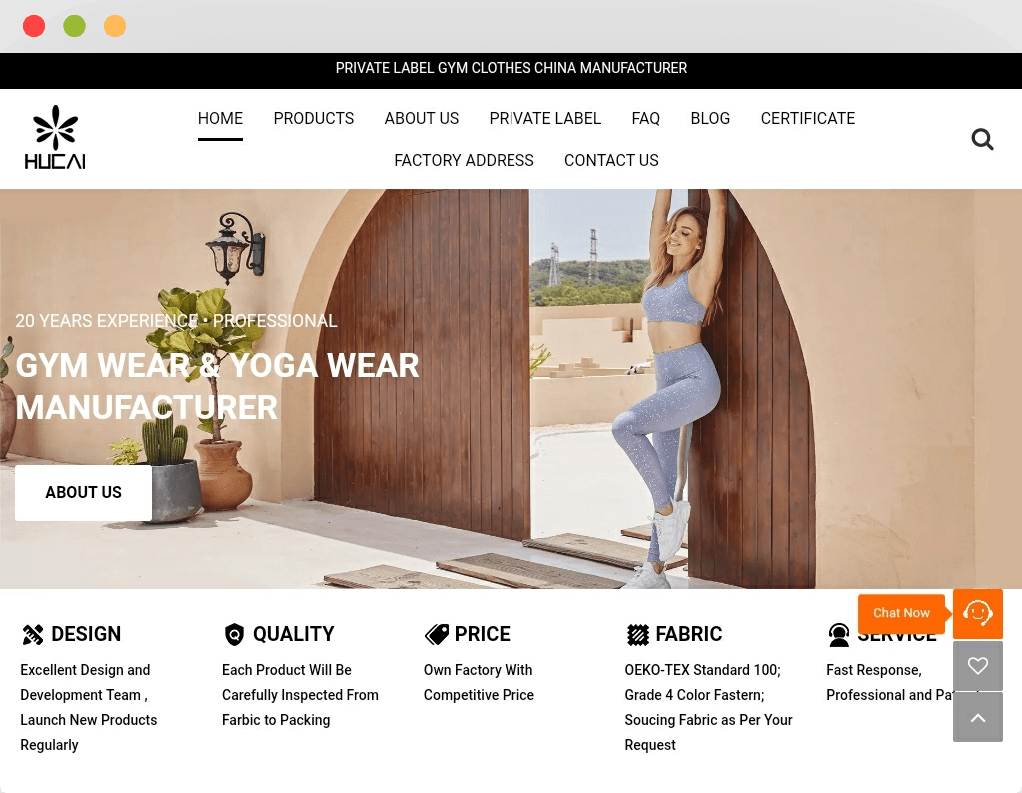 Hucai Sportswear would be right up your alley if you would like to focus on fitness clothing as a retail or dropshipping niche. It specializes in the production of:
T-shirts
Tank tops
Leggings
Sports bras
Men's athletic wear
As you shop from the Hucai product catalog, you could opt to buy the company's designs or choose to order private label sportswear designs. The MOQ is set at 200 pieces per clothing item and you can request an assortment of 2 colors and up to 4 sizes.
Hucai, additionally, provides custom services such as branded packaging and built-in greeting cards upon request. Both of these would be a great marketing approach if you are trying to build your brand.
Jinqai Clothing Company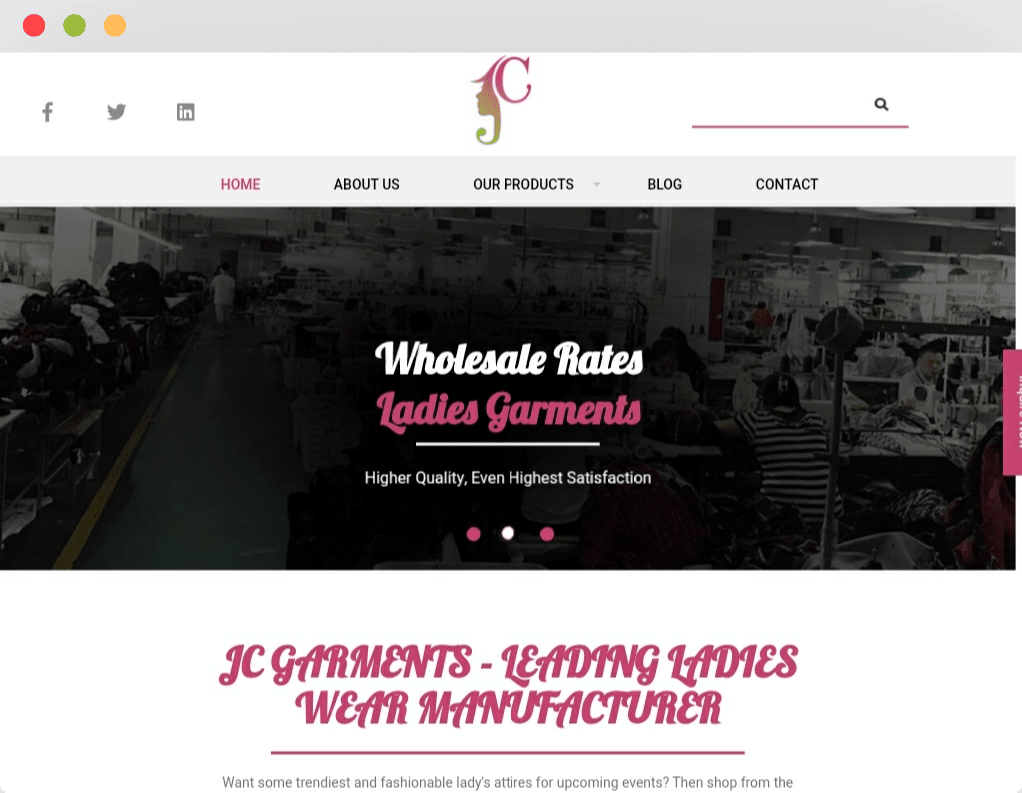 The Jinqai Clothing Company is based in Guangzhou, China. It is a manufacturer and wholesale distributor of women's clothing.
The Jinqai product offering comprises women's coats, trousers, and wool and knitwear shirts. Their designs vary between casual and loungewear.
Admittedly, this may not be the trendiest supplier you could work with. Still, they could come in handy if you would like to offer some laid-back pieces for home use and shoppers that prioritize comfort over sophistication.
Maya Jeans
Maya Jeans is the home of all things denim. Its product collection includes skirts, shirts, trousers, vests, dresses, jackets, and shorts, all made of denim. These items are further differentiated by the firm's ability to execute numerous denim washes.
The Maya Jeans factory located in Zhengcheng in Guangzhou City has a production capacity of about 80,000 to 100, 000 pieces of denim clothing in a month.
However, despite this bulk scale of production, the company still maintains a low MOQ of 50 pieces for foreign orders.
All production processes at Maya Jeans are performed under the inspection of quality assurance and quality control teams.
Upon completion, the firm's foreign trade and customer service departments take over to ensure that your order is safely shipped across international lines.
FAQs about Sourcing Wholesale Clothing in China
Is It Cheaper to Source Bulk Clothing From China Wholesale Clothing Suppliers?
Yes.
China is colloquially termed as the world's factory because it has a thriving manufacturing sector. Not just in clothing but in everything from tech to furniture. This success is a result of:
The Chinese government greatly incentivizing factories
Labor in China being more affordable compared to what it may cost in other countries
Chinese manufacturers having easier and affordable access to high-tech machinery due to the country's incredible technological advancements
Chinese manufacturers having access to other thriving neighboring countries makes it easy for them to access raw materials
Each of these factors works to make the production of clothing items in China cheaper, efficient, and more innovative. Consequently, the prices offered by wholesale clothing vendors in China are simply unbeatable.
How Do I Find Good Quality Wholesale Clothing in China?
The truth is, every clothing vendor or manufacturer will market their clothing items as the best in the market. Unfortunately, this is not always true. Countless clothing manufacturers in China prioritize quantity and neglect quality.
You could avoid such mishaps by:
Always asking for samples- requesting, waiting for, and shipping samples before confirming your order can seem unnecessarily cumbersome. However, it is the surest way to ascertain the quality of a manufacturer's work.
Treading carefully on prices– low prices are always a great advantage but often, if the price is too low, the manufacturer may have had to sacrifice factors such as fabric quality or workmanship to keep production costs (and prices) minimal.
Investigating production processes- the quality of the fabric, fabric cutting and stitching methods, and decorative approaches all impact the final quality clothing. Evaluating such processes will give you a true picture of what to expect from potential manufacturers.
How Do I Order Wholesale Clothing From China?
Purchase processes may vary from one wholesale clothing supplier to the next. Let us examine some of the scenarios you may encounter:
Online store orders- some suppliers have online stores where you simply add items to a cart and specify how many pieces, colors, and sizes you would like, and proceed to pay. It is a straightforward process.
Written correspondence- others, such as private label and white label clothing manufacturers, may require more detailed communication. You may, therefore, have to submit your orders via email or a formal order form.
In-person visits- visiting potential clothing suppliers in person gives you a chance to inspect their premises and products before placing your order. It provides better clarity for all parties and may even leave room for negotiation.
Ordering via a sourcing agent- a sourcing agent works as your representative to clothing manufacturers. They can help you find reliable suppliers, negotiate wholesale prices, and MOQ terms, handle quality inspection, and coordinate all purchase processes on your behalf including shipping.
What Qualities Should I Look For When Comparing Chinese Wholesale Clothing Vendors?
The truth is, once you begin looking for wholesale clothing suppliers in China, (whether in person or online) you will be spoiled for choice. The options can even get a little overwhelming.
So, it would be best to start by creating a definitive list of what you need in a manufacturer. Some non-negotiable requirements could include:
Verification details from the China Chamber of Commerce or other regulators to prove that the manufacturer/supplier is authentic.
High-quality clothing that can meet your customers' expectations.
A product selection that offers a wide range of options in terms of size, design, color, and more.
Fair and affordable pricing that is within your budget.
Comfortable MOQ terms.
Ethical production processes.
The factors on this list are only a start. Take your time and add or exclude others to suit your business interests.
What Are the Best Places to Buy Wholesale Clothing in China?
Whenever possible, it is always a great idea to buy wholesale clothing directly from a manufacturer.
They would likely give you factory-direct prices, access to their full range of services, and the customer service may be more reliable especially if any of the goods turn out to be defective.
You can find manufacturers through online searches, online marketplaces, or even B2B referrals.
The China apparel industry also hosts fashion fairs like the China International Fashion Fair (CHIC) or Ningbo International Fashion Festival that bring hundreds of vendors together.
Alternatively, you could tour famous clothing markets such as Baima, Shahe, and Liuhua, in Guangzhou. You may be able to make great purchases if you can avoid unscrupulous middlemen and are not hindered by language barriers.
To Sum It Up
Sourcing wholesale clothing in China would certainly be worth your while if you are looking for:
Variety
Affordable prices
Quick turnaround times
Consistent supply that enables you to scale your business and keep up with fashion trends
Still, it is best to be discerning and do your due diligence before proceeding with any major transactions.
Finally, there is absolutely nothing wrong with asking for help. In fact, your sourcing efforts may work out so much better if you partner with a professional sourcing company like NicheSources.
We understand the local Chinese clothing industry and can help you find exactly what you need. Our dynamic range of services also enables you to delegate to us all the hard work of sourcing wholesale clothing while you focus on running your business.
Request a quote today and learn more about how we can help your business thrive.