Sneakers are one of the most versatile types of shoes in the market. They work well as stylish everyday shoes for men, women, and children, and at the same time, they are a must-have for athletes and fitness enthusiasts.
It is thus no wonder that demand for sneakers remains reasonably high for most of the year. They also easily check all the boxes for a winning product in most parts of the world and can be a top money-maker for your shoe store.
If you would like to pursue this product niche, it is an open secret that most of the world's sneakers are made in China. Still, your sourcing endeavors could be much easier if you have a shortlist of trusted suppliers to refer to.
So, on today's blog, we share some of the best suppliers of wholesale sneakers in China and highlight what they have to offer. Read on.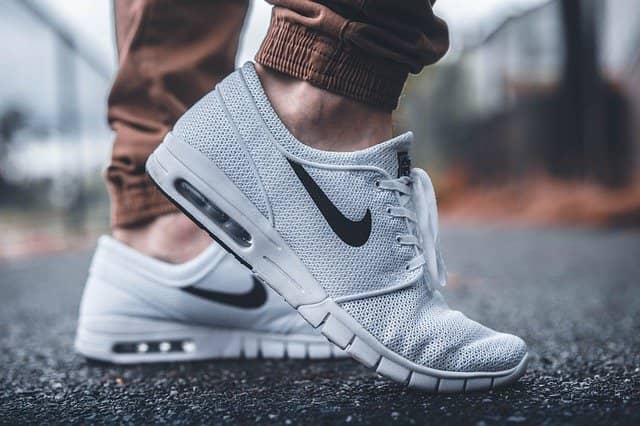 Xiangchi Trading Company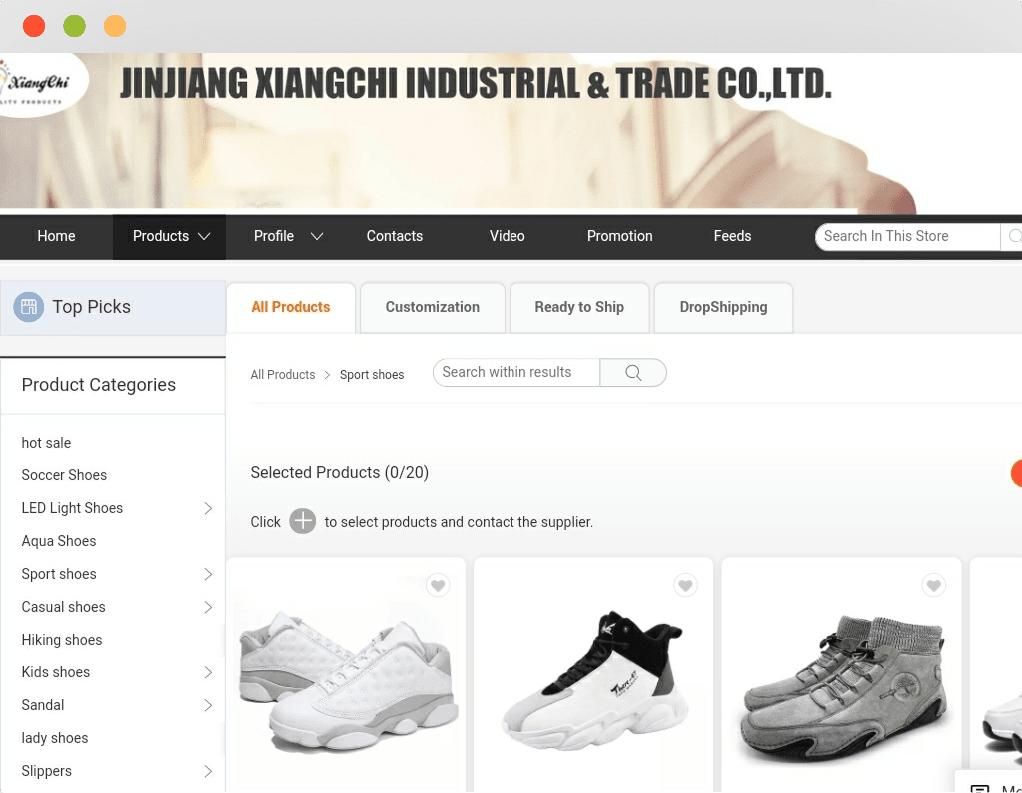 Xiangchi Trading Company was established in 2015 and is based in Fujian City, China. It manufactures and sells different types of outdoor shoes, including sneakers, locally and internationally.
The range of sneakers from Xiangchi includes designs for men, women, and children. They are also available in lots of different colors and fabrics that would meet the needs of customers with different preferences.
Some of the stand-out designs you may want to look out for include:
Wear-resistant non-slip basketball sneakers
Cushioned sneakers for extra walking comfort
Thick-soled winter-friendly sneakers
Breathable sneakers designed for warmer climates/seasons
Xiangchi manufactures about 30,000 pairs of sneakers in a year. It offers low MOQs ranging mostly between 1 to 20 pairs. Ordering more units of shoes per design automatically earns you a better wholesale price.
This firm additionally accepts custom orders if you would prefer to develop an original line of sneakers for your store. You could also opt to customize the existing designs through a white labeling approach.
The MOQ for white labeling is set at 100 pieces while that of custom shoes is negotiated case by case. Xiangchi ships sneakers to clients in Africa, South East Asia, Eastern Europe, North and South America.
Baoding Zuta Import and Export Trading Company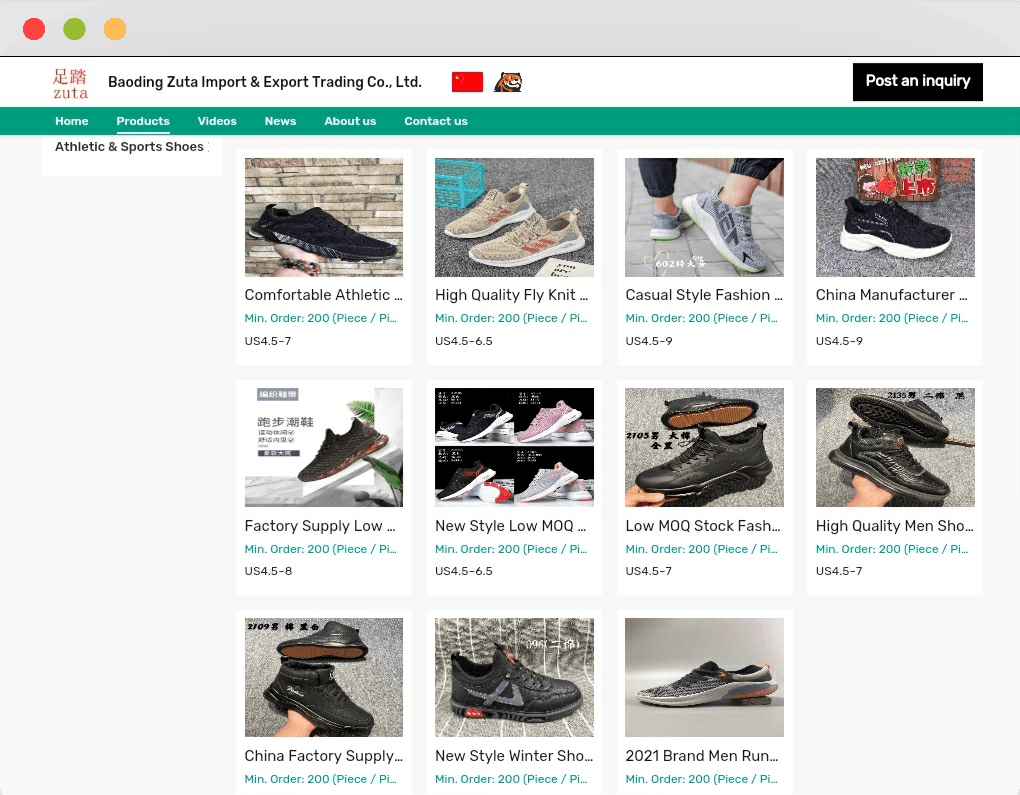 Baoding Zuta manufactures and sells casual shoes wholesale. The company is based in Hebei, China.
Sneakers are Baoding Zuta's top recommended product. They produce sneaker designs that are fit for use by runners and other athletes as well as fashion wear sneakers.
They also offer a winter line of sneakers made with prominent treads and sufficient insulation for snowy weather.
This would be a go-to supplier if you need to source running shoes for men, women's sneakers, and sports shoes in general. The sizes range from about size 4.5 to 9 (US) but this varies depending on who the shoe is designed for.
The MOQ for most of the sneakers is 200 pairs and the turnaround time for bulk orders is 25 to 30 days.
On branding, Baoding Zuta offers branded packaging on request as well as white labeling and private labeling manufacturing.
Jinjiang Tepao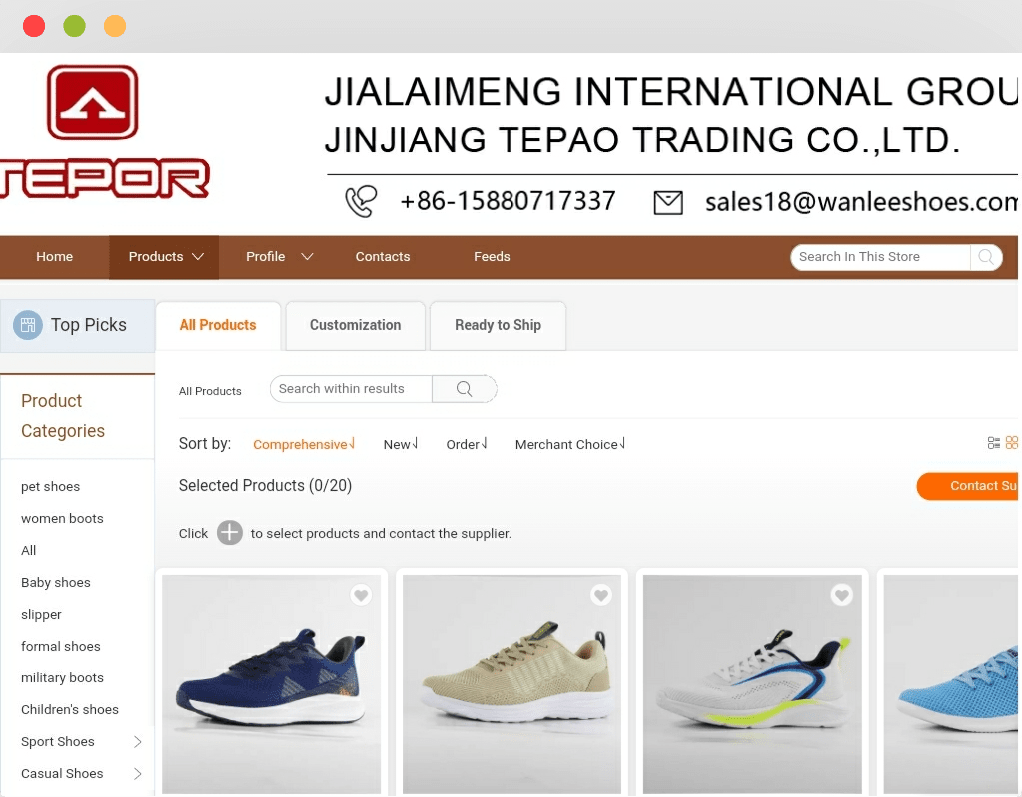 Jinjiang Tepao has over 30 years of experience in shoe production. The company is based in Fujian and has a mega factory with a production capacity of about 6 million pairs per year. Its shoes are sold under the 'Tepor' trademark.
A quick look at the Tepor catalog and you will realize that this manufacturer keeps track of the latest fashion trends.
Their range of sneakers is stylish and would likely sell well in most urban markets. The shoes are also designed for comfort with features such as breathable fabric.
Tepor shoes can be purchased as seen on the catalog or they can be customized with your brand's logo. You would equally have the liberty to select your preferred shoe colors.
The company also accepts private label orders and provides samples for approval within 2 to 3 weeks.
The MOQ for customizable sneaker designs is 600 pairs per style. You could, however, opt for the ready-to-ship sneakers that have a much lower MOQ of 2 pairs per design.
Jinjiang Tepao has a production capacity of 8 million pairs and has worldwide shipping networks.
Jinjiang Senpai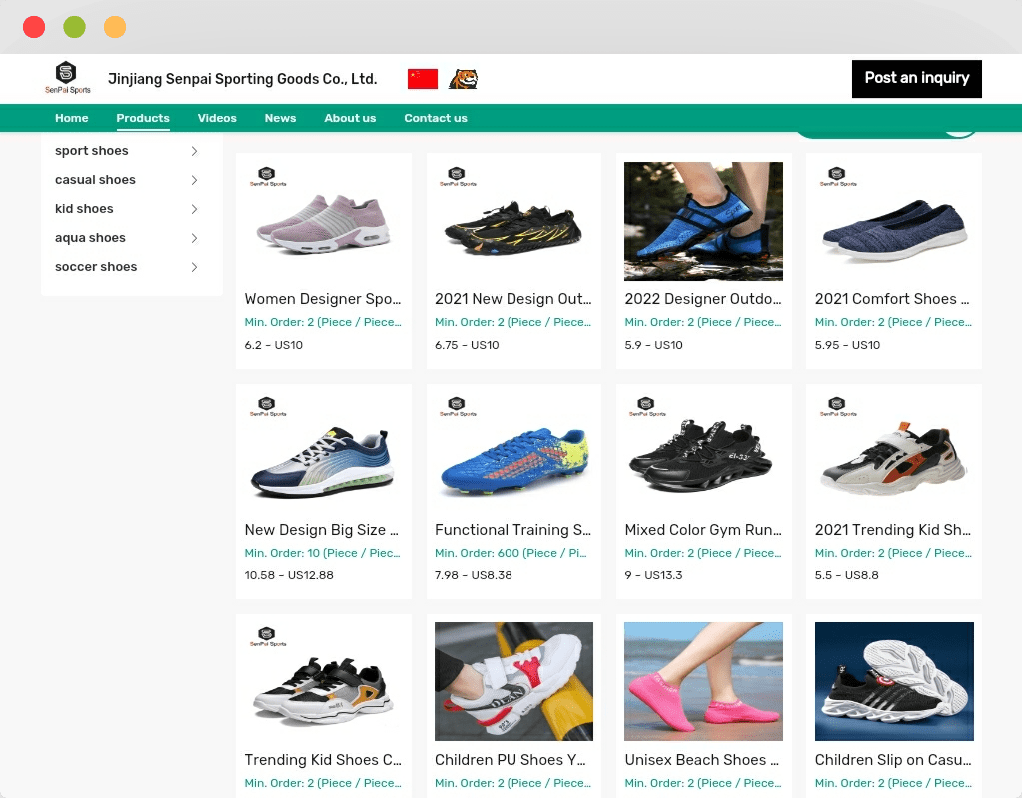 Jinjiang Senpai is a manufacturer and wholesale supplier of sneakers and athletic footwear in general. It is located in Fujian, China.
The sneakers collection from this manufacturer comprises sneakers with laces and others with a sketcher-like design. There are options for men and women as well as a wide variety of vibrant color combinations.
The unique designs such as the Aqua and Aqua Yoga sneakers designed for the beach are also certainly worth considering.
The minimum order for sneakers ordered as displayed on the catalog is 2 pairs. This would, therefore, be an ideal supplier if your business is still growing and you are not ready to buy bulk quantities.
However, if you would like customizations of any kind or an entirely new design, the MOQ is 600 pieces per color and 1200 pairs per design. On the upside, these stipulations are negotiable.
Jinjiang Senpai ships internationally and uses trackable courier services.
Shengta Sports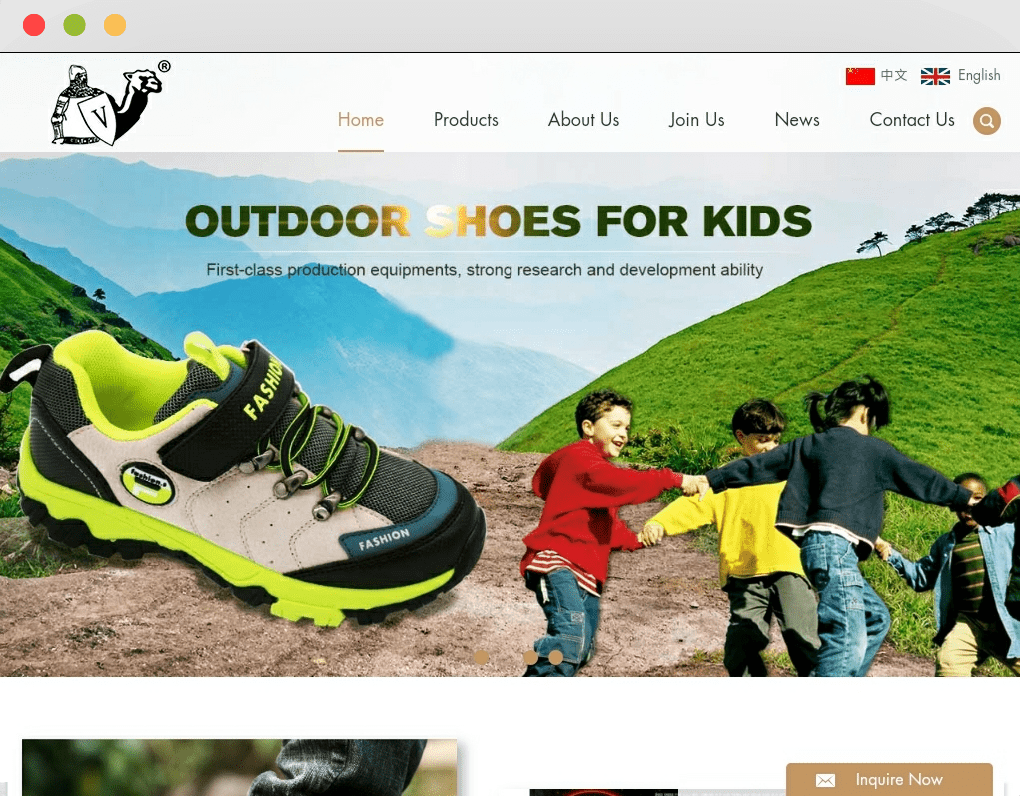 Shengta Sports is a manufacturer of sporting goods but shoes are its main area of focus. The company was founded back in 1996 and is thus well-experienced in shoe production processes as well as B2B partnerships.
One of the distinct factors about this brand is that its shoes are designed and categorized based on annual weather seasons. This could work in your favor because:
You can order different sneakers from one season to another and offer customers exactly what they need at the right time.
You can select designs that can specifically be suitable for your local terrain and weather.
Shengta Sports displays its designs on its online platforms and includes color options and sizes in accordance with the European size chart. You can buy them as shown or partner with the company for white label or private label manufacturing.
That said, you would have to reach out to the company directly if you would like to place an order or get a quote.
Mingwei Shoe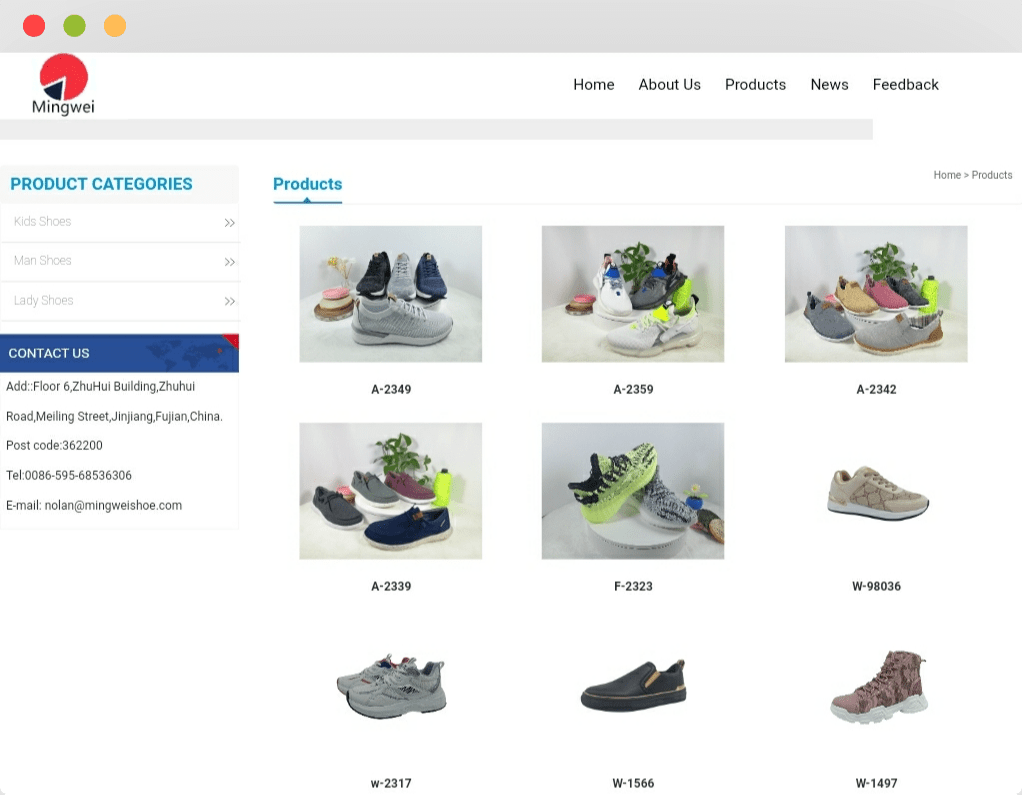 Mingwei Shoe has been in the shoe industry since 2013 and is situated in Jinjiang City. Despite being in the business for under a decade, it has made a name for itself and attracted clients such as FILA, Wrangler, and Lee Cooper.
At Mingwei, there are sneakers for just about any preference. They range from classic sneakers styles and modern designs to simple but comfortable sneakers that would be great for everyday wear. You will also find options for kids, ladies, and men.
Notably, Mingwei is an eco-conscious brand and has been making strides to shift to using recycled materials to make its sneakers. This makes them a prime candidate for a supplier if you prefer to sell eco-friendly products or run your business in an eco-conscious market.
On the downside, Mingwei requires that you reach out to them for inquiries on prices, MOQ, and their scope of delivery.
AAA Shoes China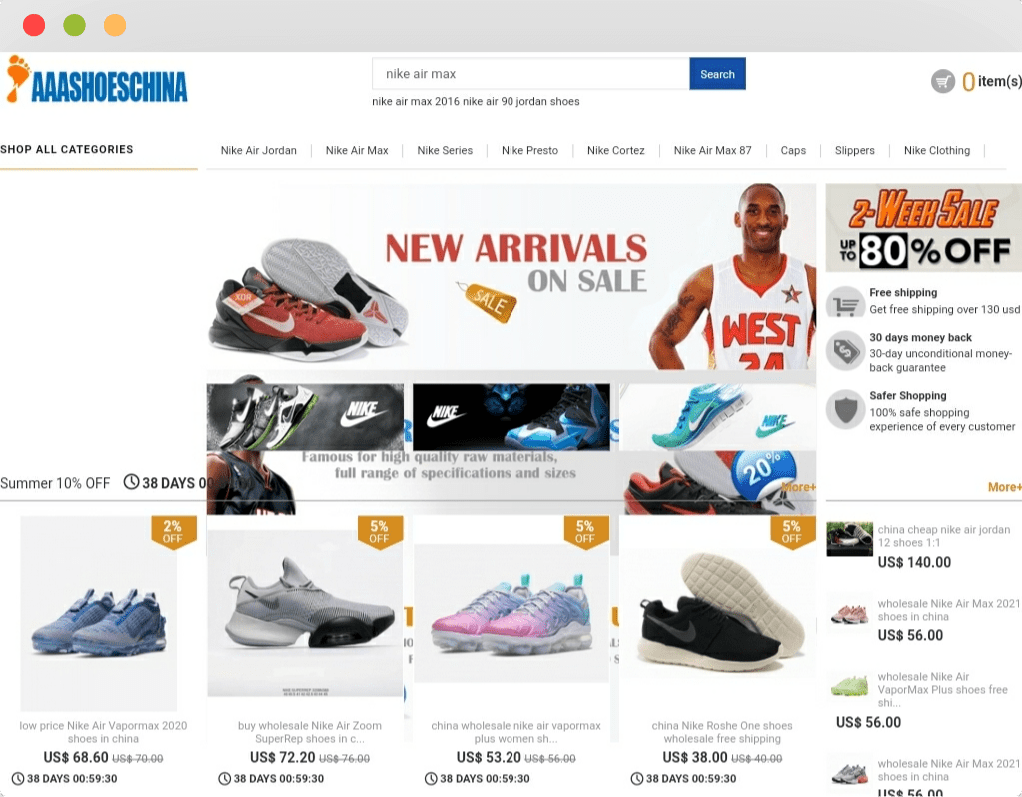 AAA Shoes is primarily an online shoe store that sells sneakers in retail and wholesale. Its main products are replica Nike shoes that are cheaper than the original versions.
Admittedly, this could present a moral gray area for your business. However, these kinds of shoes are often hot sellers among shoppers that are not able to buy the original designs. It would also be prudent to fully disclose that you sell replicas and price them fairly.
AAA Shoes does not have MOQs but you would have to buy at least 10 pairs per design to qualify for wholesale pricing. You can also reach out to the company to set up a shoe dropshipping agreement.
The purchase process is simple. You only need to add items to your cart, pay, and wait to receive a tracking number for your shipment. AAA Shoes ships to Europe, North and South America, the UK, and Southeast Asia.
Saiqi Sports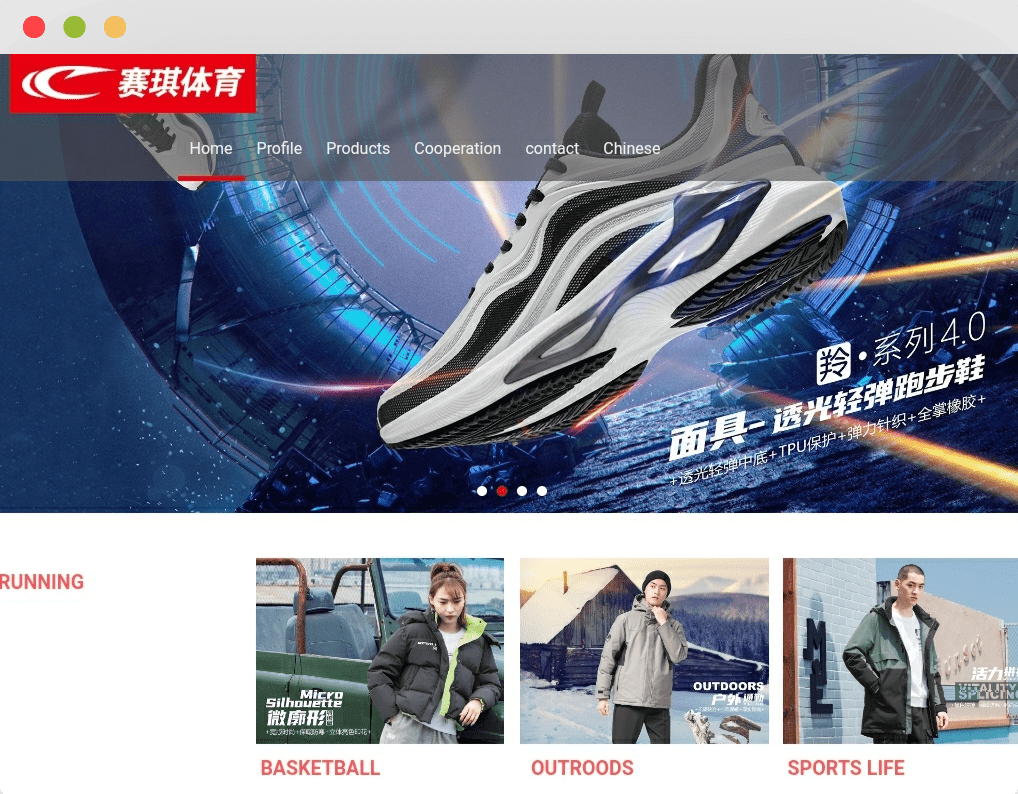 Saiqi Sports is an all-around sporting goods manufacturer located in Fujian. It produces sports clothing, shoes, and other accessories such as bags and armbands. It, nevertheless, has separate factories for clothing and shoes.
The Saiqi shoe factory manufactures up to 5 million pairs in a year. Its sneakers variety offers options for men and women but is also quite diverse in terms of style and the materials used to make the sneakers. Some of the material options you will encounter include:
It would be wise to evaluate these materials and the different kinds of soles offered by Saiqi to find out which of them would be suitable for your target market.
The MOQs for Saiqi sneakers are set at 800 pieces per order. This is quite high but may work well for you if you would like to be a distributor for other retailers in your local market. The estimated lead time is 45 to 60 days.
Jinjiang Shike Shoes and Clothing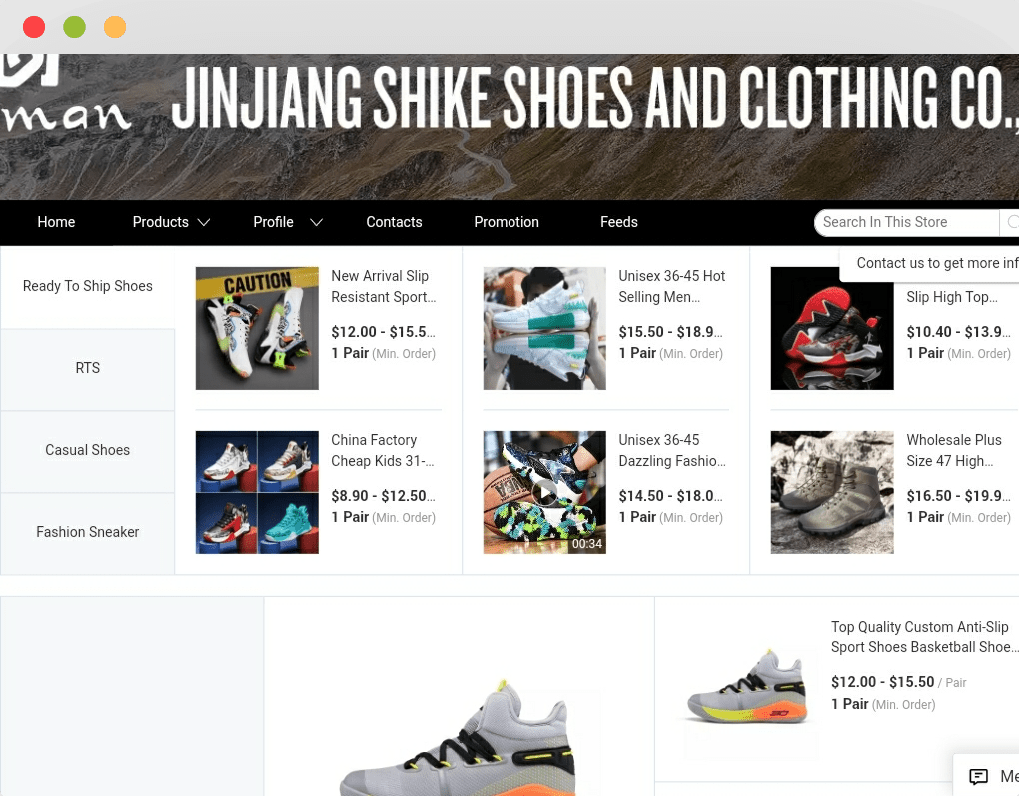 Jinjiang Shike Shoes and Clothing is a manufacturer and wholesale distributor of casual shoes based in Fujian. Its sneakers designs are heavily influenced by basketball culture and current shoe fashion trends. Most of them are ideal for men and children.
Jinjiang Shike allows wholesale buyers to buy ready-to-ship sneakers or order white label or private label custom sneakers.
Ready-to-ship designs have an MOQ of 1 pair but can be cheaper if you choose to buy them in bulk quantities. Custom orders, on the other hand, have higher MOQs of 600 pairs or more and lead times of about 50 days. Jinjiang Shike ships to most parts of Europe and Asia.
Sijun Commerce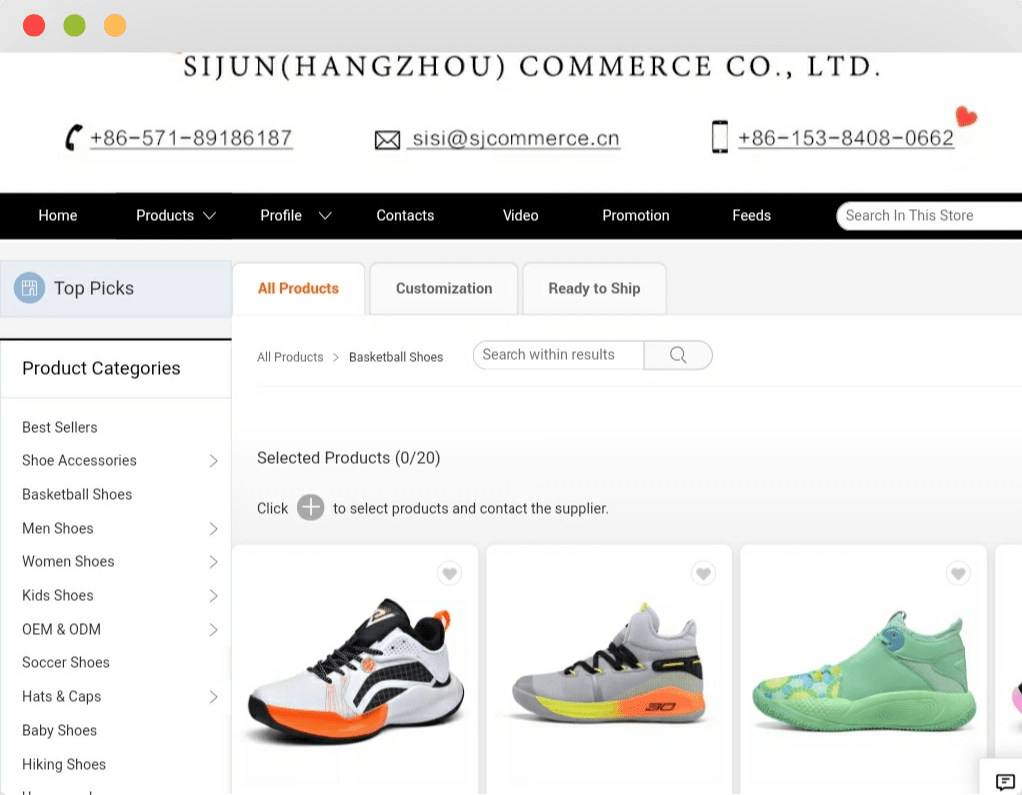 Sijun Commerce is relatively new to the industry as it was set up in 2018. Still, its products and quality of work seem to have earned it a good reputation and a list of top-tier international clients like Springfield and Jazz Star. The company is based in Zhejiang, China.
Sneakers from this brand fall under the 'basketball shoes' category. They are colorful and include designs for children, men, and women.
As suggested by the category, most of the sneakers are influenced by basketball culture but there are a few designs that would appeal to shoppers looking for simple classic sneakers for casual wear.
Like most of its competitors, Sijun Commerce offers ready-made and custom sneakers. The ready-made designs have an MOQ of 1 pair and the custom ones have an MOQ of 1,000 pairs but with prices as low as $5.
Sijun Commerce currently ships to America, Spain, Japan, Malaysia, and Peru but is open to shipping to other destinations.
Jinjiang Wanjiang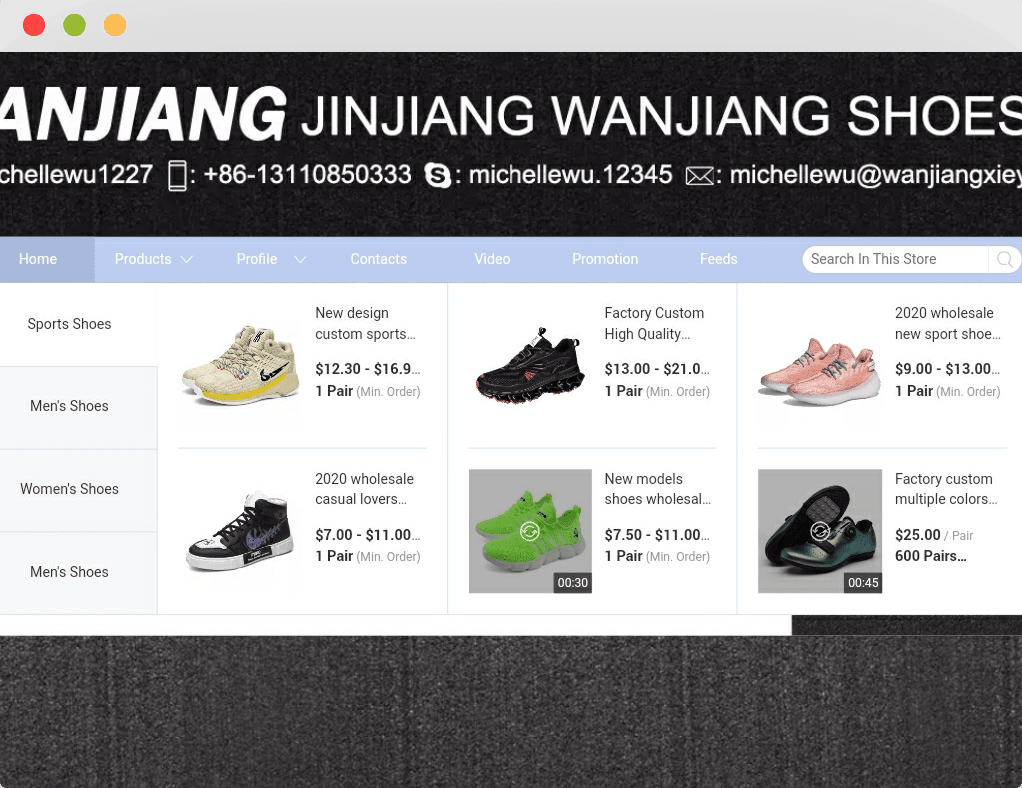 Jinjiang Wanjiang manufactures sneakers that are suitable for fitness adventures like running and gym exercises. It also has a line of sneakers that is dedicated to fashion-forward designs that can be paired with casual outfits.
The company factory is in Fujian. Aside from producing sneakers for women, men, and children, it also offers custom design production and customization services. Subsequently, you can order both ready-to-ship sneakers.
The MOQs for custom and high-quality sneakers range from 20 to 600 or 1200 pairs per design.
Wahyi Group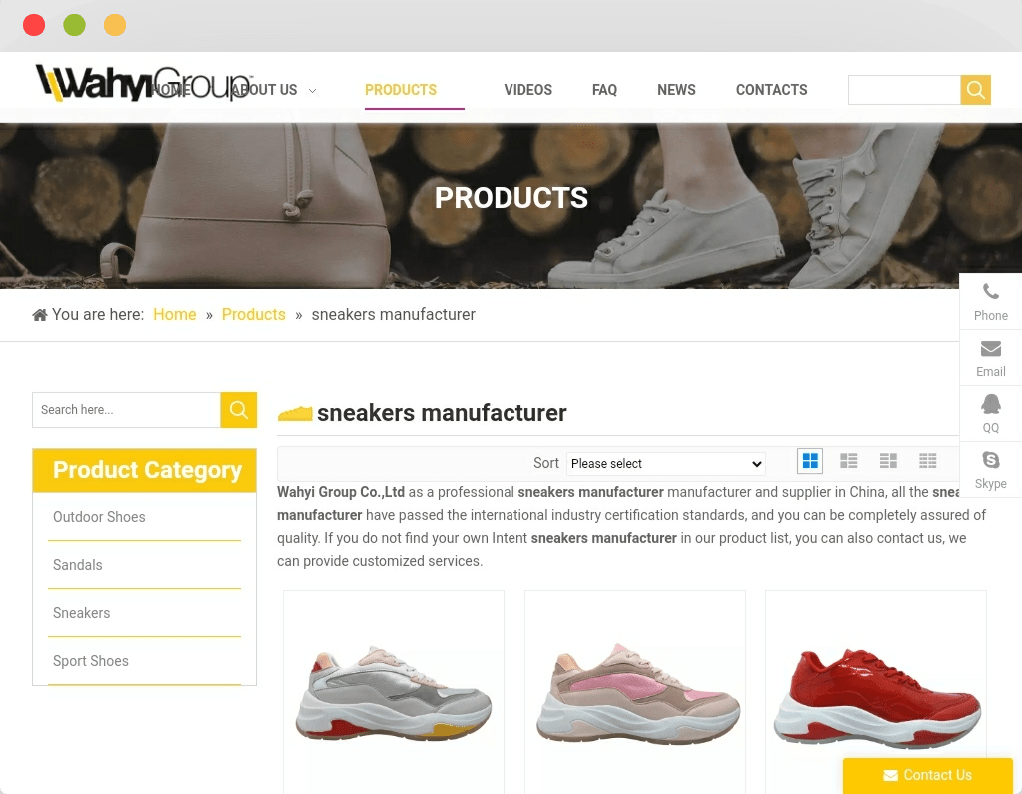 At first glance, you can tell the Wahyi Group makes an effort to design and produce sneakers that are unique to the company. The shapes of its shoe soles are unique and its selection of prints is fun and includes rare concepts like floral prints.
The Wahyi Group shoe factory is located in Fujian but the firm has satellite offices in Hong Kong, Spain, America, and Chile. It also works with numerous partner factories to source quality raw materials or get insight on how to best achieve custom designs for foreign markets.
Wahyi makes sneakers for men and women and welcomes international orders. However, it only shares price and wholesale details upon inquiry.
XinDeSheng China Shoe Factory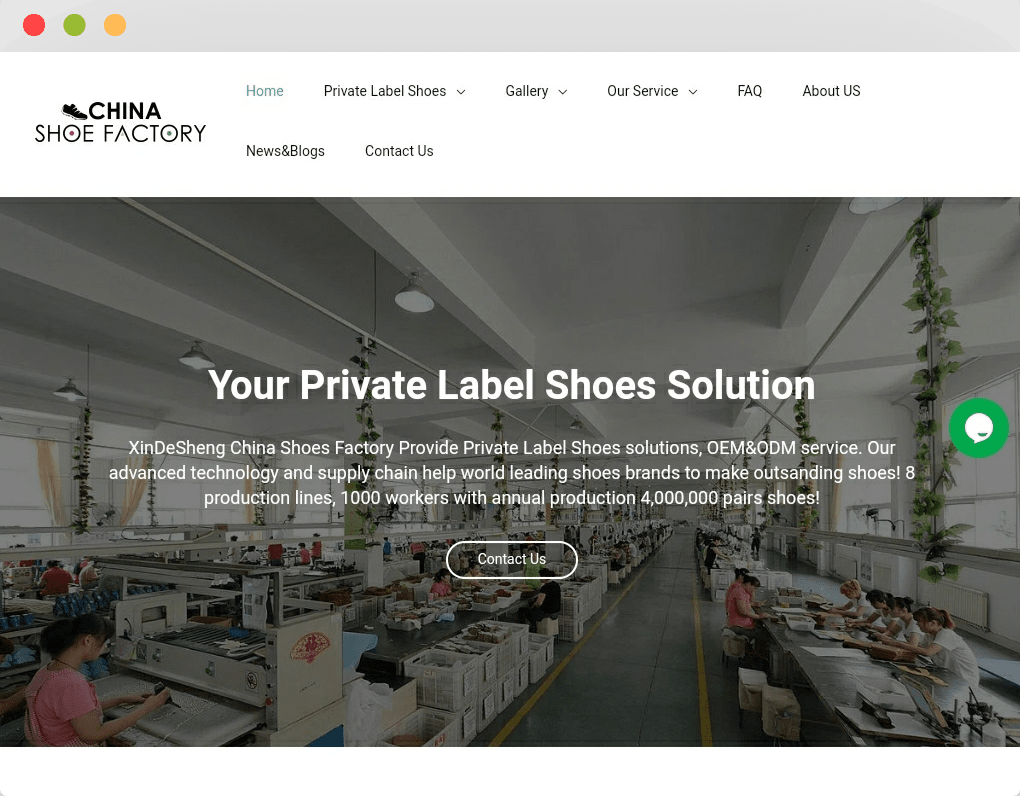 The XinDeSheng China Shoe Factory would be a good pick if you are looking for a private label sneakers manufacturer. It is located in Jinjiang City and has a production capacity of 4 million shoes per year.
This firm has structured its services to ensure that it can deliver a myriad of shoe designs that meet various international quality requirements.
It uses materials of the same standards as top brands like Nike and Adidas but develops its own designs that you can customize or use as inspiration during your own product development journey.
XinDeSheng offers in-depth details about materials and design dimensions to enable you to make an informed order. They also have an R&D team that you can work with to perfect your product ideas.
MOQs for wholesale private label orders start at 500 for in-stock designs and 1,000 for fully custom designs. Sample lead times are between 10 to 25 days depending on the design and sample fees are refunded if you confirm your order.
FAQs on Buying Wholesale Sneakers From China
Are Wholesale Shoes From China Worth It?
Yes.
In recent years, major shoe brands have been expanding their manufacturing partnerships to other Asian countries. However, China remains the leading choice; especially for retailers and other entrepreneurs sourcing for resale.
For context, let us discuss a few advantages of sourcing wholesale sneakers in China.
Accessibility- shoe manufacturers in China have made a concerted effort to keep their products and services available to customers online, through trade fairs, and factory visits. The same can hardly be said for other countries in the region.
Variety- there are hundreds of sneakers manufacturers in China. They all contribute to providing a vast variety of sneakers designs that you can compare and choose from in shoe markets, on online marketplaces, or by visiting their factories.
Favorable prices– wholesale sneakers in China are priced at very affordable prices. This ensures that your costs even after shipping are still low enough for you to sell the sneakers at reasonable prices and make a profit.
What Is the Best Website to Buy Shoes From China?
Reputable online platforms like CJ Dropshipping, Alibaba, and 1688, are always the better options to turn to if you would like to buy wholesale sneakers online. This is because they:
List shoes from thousands of bulk suppliers
Are optimized for easy searches
Provide supplier ratings and give access to customer feedback
Can help you with dispute resolution if you follow the rules and have challenges with a supplier
Offer buyer protection clauses
If you choose to use other online sites, be very wary of scammers. Do your due diligence before making any payments and as always, if the deal is too good, you should probably reconsider its authenticity.
How Do I Choose the Right Shoes Wholesale Distributors from China?
Begin by defining your sourcing needs and the needs of your business. What type of sneakers are you looking for? What quantities do you want to buy? Do you plan to scale or diversify your shoe business in the future? If so, what services will you need?
With these answers in hand, you would have an easier time finding wholesale sneakers distributors that can help your business thrive. Additionally, be vigilant about factors such as the quality of the materials they use and their production methods.
For better certainty, consider ordering samples of the sneakers you would like to order before making any bulk purchases. Look out for customer reviews on platforms like Quora, Facebook, or dropshipping forums.
What Are the Best Ways to Engage Suppliers of Wholesale Sneakers in China?
Most sneakers suppliers are easily accessible via their websites, email, or phone. Alternatively, you could also make arrangements to visit their factories or their displays at fashion and shoe trade fairs.
However, if you do not live in China, direct sourcing poses its fair share of challenges. You may have a hard time communicating with contacts due to language barriers and you may also be unfamiliar with China trade practices which could make negotiations difficult.
For these reasons, it is often a great idea to consider working with a trusted sourcing agent. They work as your dedicated representative to ensure that you find the shoe products you are looking for and negotiate the best possible terms with shoe suppliers.
Granted, sourcing services are provided at a fee but it is a very dismal cost compared to what you may incur after receiving substandard sneakers or being scammed by unscrupulous suppliers.
To Wrap It Up
Sneakers or sports shoes, as they are commonly named, have stood the test of time in terms of demand and popularity. Plus, if the industry's global value is anything to go by, selling this type of shoes is undoubtedly a profitable venture.
Moreover, we, at NicheSources, would be happy to help you start your shoe business on the right foot. Our sourcing services are business-friendly and focused on supporting you to grow your business to even greater heights.
You can count on us to find outstanding wholesale sneakers at fair prices and reasonable MOQ terms. We are also a one-stop shop for all things dropshipping, product branding, and global shipping.
Ready to get started? Simply request your free quote and we will find you exactly what you need.