Amazon has been making a consistent effort to keep up with the evolving needs of shoppers and vendors using the platform. This has led to the introduction of new features such as the option to buy gifts for loved ones or the much-talked-about Amazon Posts.
If this is your first time hearing about Amazon Posts, then this is the blog for you. In it, we address how it works, who can use it, and more importantly, what it can do for your business.
Shall we begin?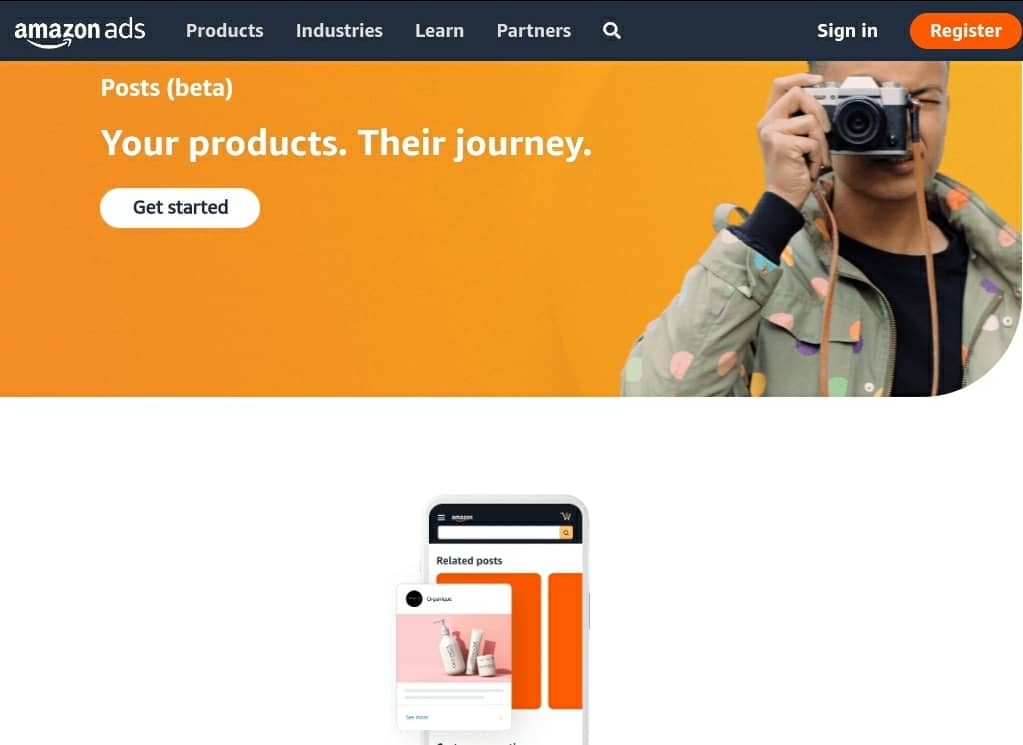 What Are Amazon Posts?
Amazon Posts are a digital marketing solution on the Amazon platform. They allow Amazon sellers to showcase their brand or specific products to Amazon buyers using an image and a caption just like a social media post.
Take, for example, that you are an Amazon seller selling travel mugs. If you want to promote a new travel mug design to buyers, you could take a picture of one, come up with a caption, and create an Amazon Post.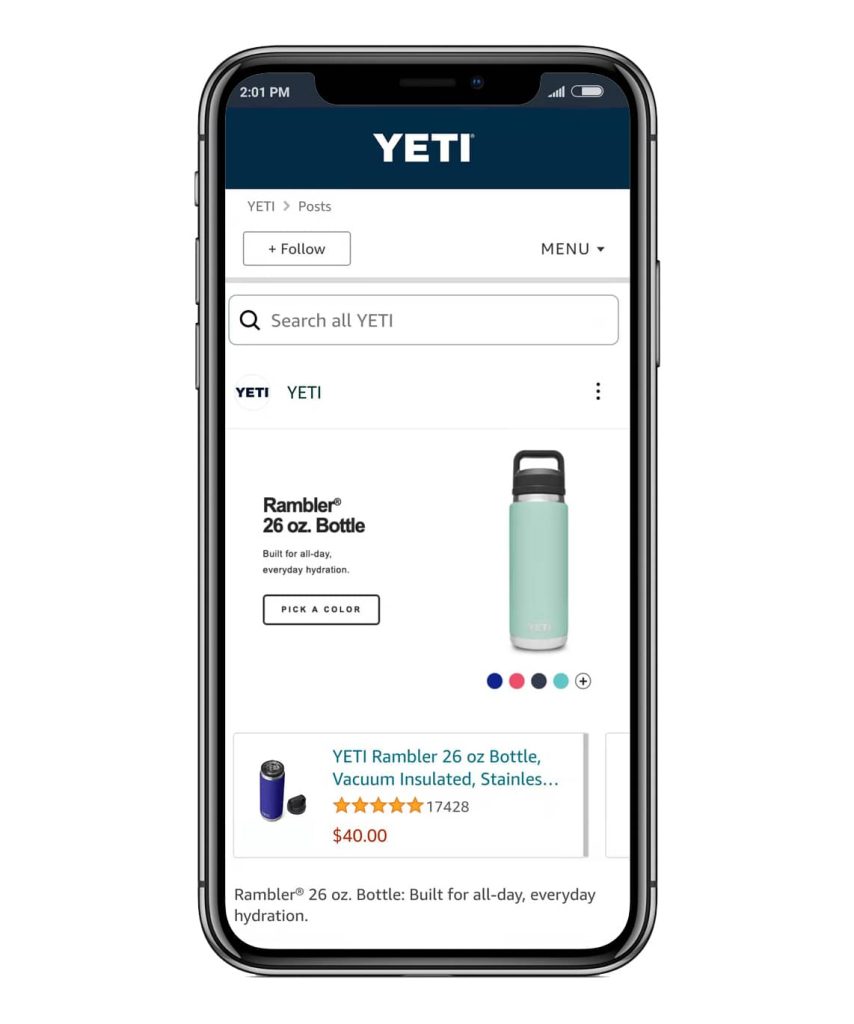 The Amazon Posts feature would then display your post on different sections on Amazon where it would be visible to buyers. These buyers are targeted based on how relevant your brand or product is to them.
What Is the Purpose of Amazon Posts?
At its core, Amazon Posts is a marketing tool. However, that is a blanket description that hardly does this feature any justice.
So, instead, let us break 'marketing' down and discuss the distinct roles that Amazon Posts play.
Amazon Posts can be used to:
Help Buyers Discover New Products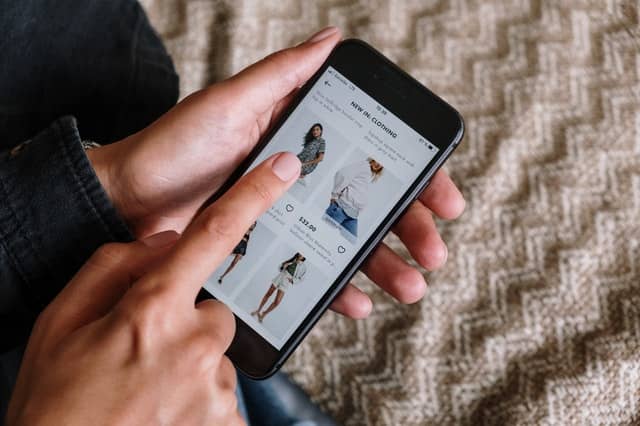 Amazon prides itself on being the go-to e-commerce platform where buyers can find a dynamic range of products.
However, the range of products on Amazon is so extensive, making it difficult for buyers to explore it fully. As a result, they may miss out on cool products that could provide essential solutions for them.
Amazon Posts help bridge this gap by displaying a wider variety of product options to shoppers. They may not necessarily be shopping for those particular items but learning about them could spark their interest and even lead to a sale.
Promote Your Brand
Brand visibility is important on Amazon. The more people know about your brand and what it can offer, the more they are likely to buy from you or refer you to others.
Every Amazon Post you create is displayed with your logo at the top of the captioned image. Shoppers, therefore, relate what they see in the picture with your brand name.
Amazon Posts also include a link to the product you display on the picture. If customers click on it, they are redirected to your brand page which is a direct opportunity for them to learn more about your brand.
Obtain Feedback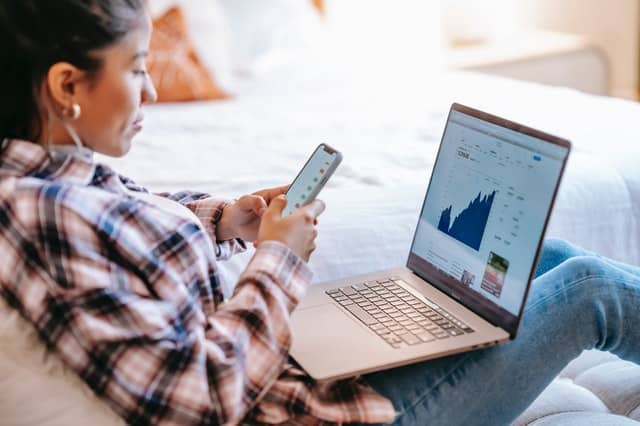 As Amazon Posts displays your post across different sections of Amazon, it also gathers data. The data is about how customers interact with your posts.
Consequently, you would learn:
How many shoppers clicked on the product link provided in the post.
How many impressions a post made i.e., the number of people that read through your post.
The number of new followers of your brand page's feed.
If you created multiple posts, you could also analyze their impressions periodically to see which products draw more interest among shoppers.
Who Can Use or Create Amazon Posts?
Amazon Posts is up and running but it has not fully been rolled out, yet. In tech-speak, it is still in the beta stage. Amazon may want to see how it works for limited users and tweak a few things before going all out.
As such, Amazon Posts is currently only available to:
U.S. Amazon sellers
Amazon store owners
Amazon Brand Registry members
Where Do Amazon Posts Appear?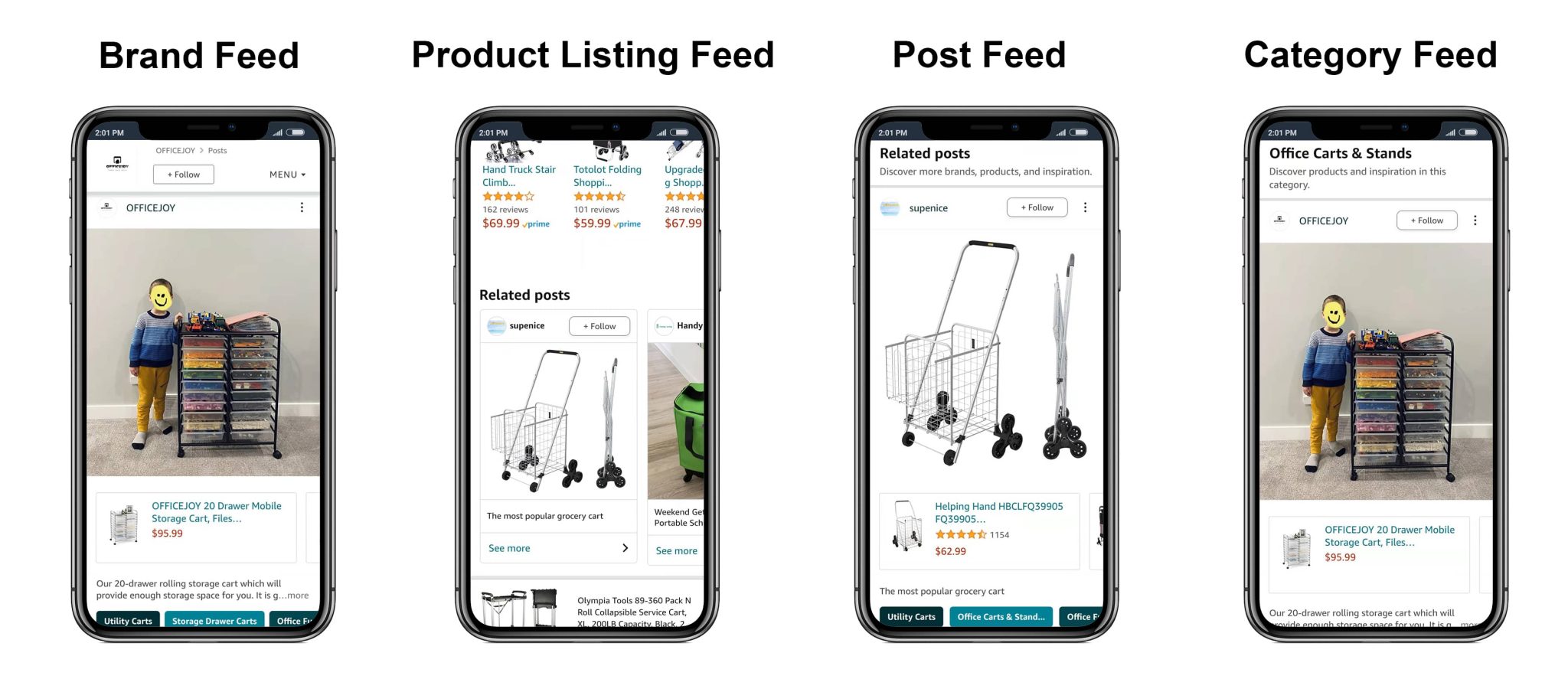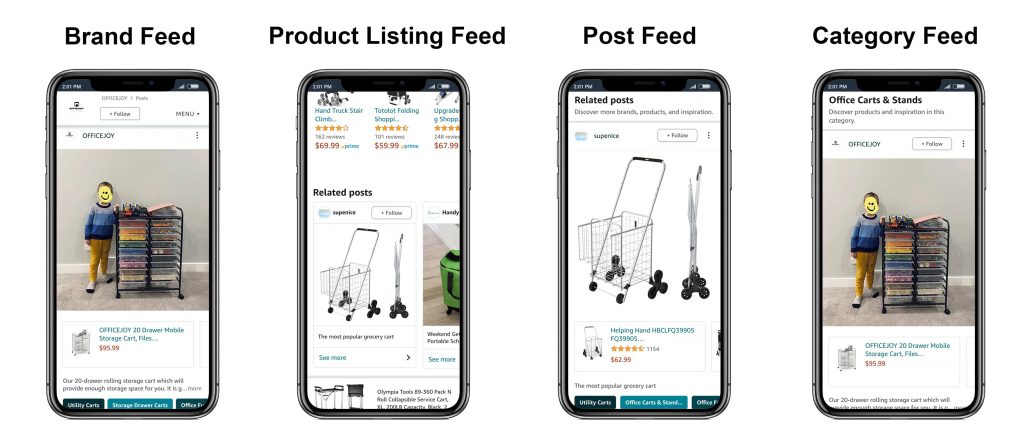 Amazon Posts are displayed on:
Brand feeds – your store's logo is displayed at the top of every image you use in a post. If a shopper clicks on the logo, it leads them to your brand feeds where all your posts are displayed.
Product listings – when a customer is checking out a product listing relevant to your post, your post will be displayed towards the bottom of the page after the product listing.
Post/Category feed – when a customer clicks on a post, they will be redirected to a page where they can view the post fully. Other relevant posts will also be displayed below it. If they click on any category linked to a post, they will be redirected to posts relevant to that category.
It is important to mention that you only create the post. It is Amazon's algorithm that decides when and where to display it to shoppers based on relevance.
What Are the Elements of an Amazon Post?
An Amazon Post contains different elements that each play an important role. They include: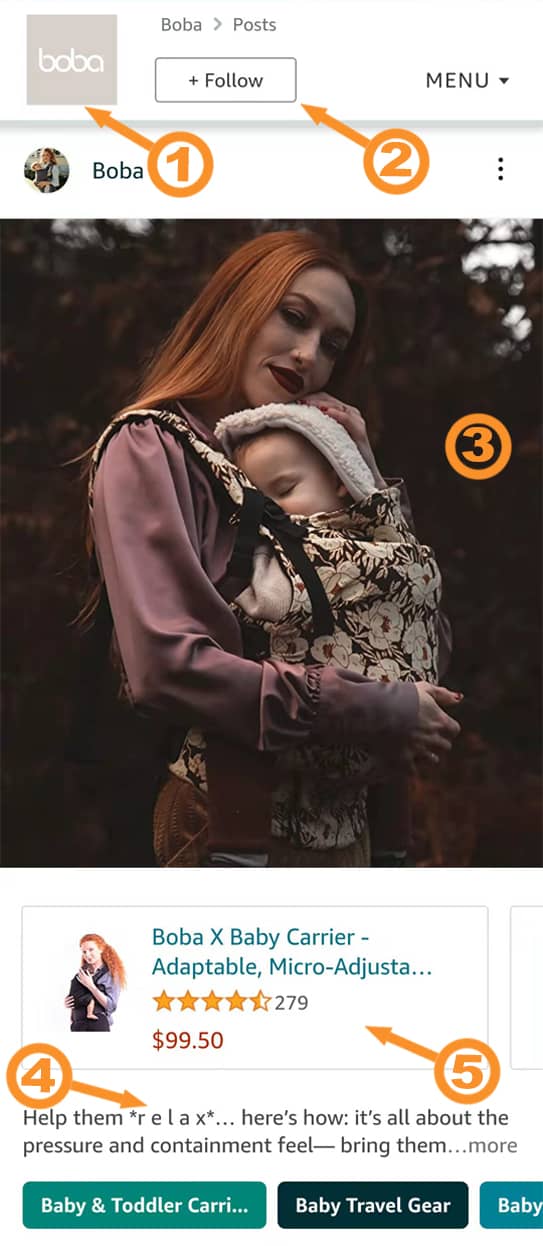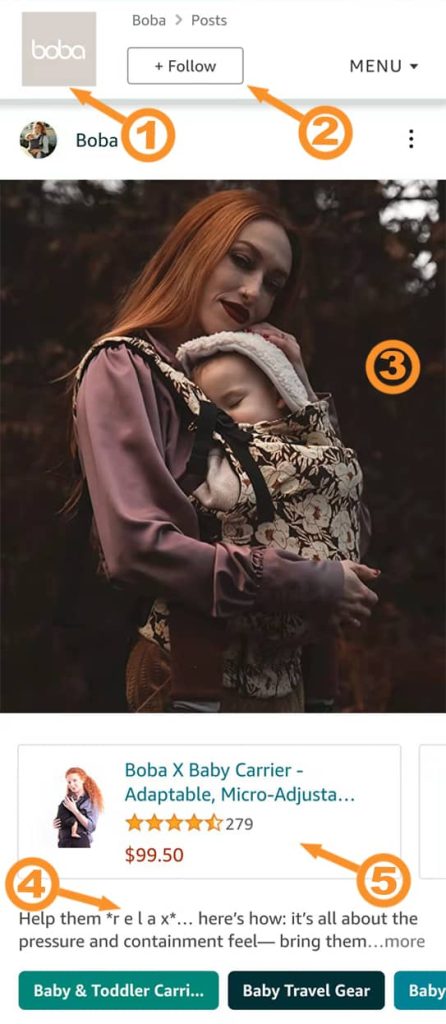 1. A Store Logo
Your logo is included on every Amazon Post that you create. The goal is to help you build brand awareness.
Amazon Posts seeks to boost interaction between brands and shoppers.
The follow button is thus placed at the top of the post alongside your store's logo. The point is to encourage shoppers to click on it if they like what they see on the post and would like to interact with your brand some more.
3. A Picture
The picture is the centerpiece of the post because it showcases the product that you would like shoppers to see. It is recommended that you use high-quality images to display the product in a practical approach.
For example, if the post is about a baby carrier wrap, it would be of little impact to display it in a box. It would be more helpful and relatable to buyers to use a picture that shows a parent/caregiver actually using the wrap.
The caption is a short statement that should ignite the interest or curiosity of shoppers. Ideally, it should not be a repetition of what is already stated in the product description.
5. Product Link
At the bottom right of Amazon Posts images, you will notice a 'show product details' button. If a shopper clicks on it, they will be redirected to the product page where they can view all its features, in-depth descriptions, or even buy the product.
How to Sign Up for Amazon Posts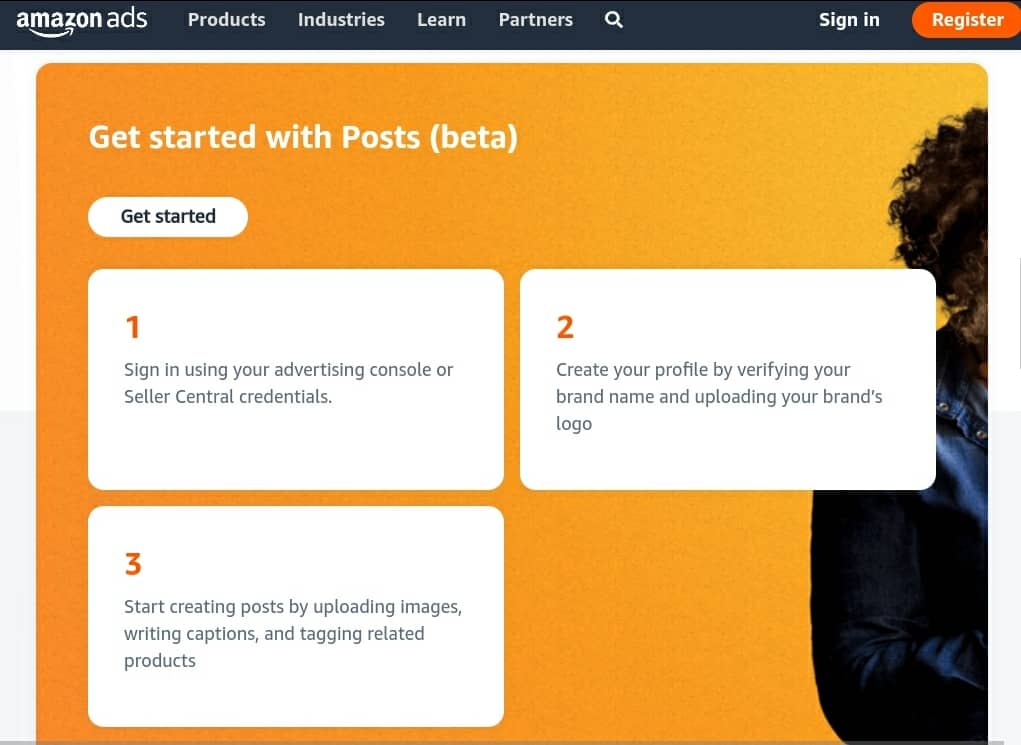 First, confirm that you are eligible for Amazon Posts. If you are, proceed to sign up as below.
Access Amazon Posts
Visit posts.amazon.com. The link will land you on the seller login page. Enter your seller credentials and login. You will then see the Amazon Posts dashboard.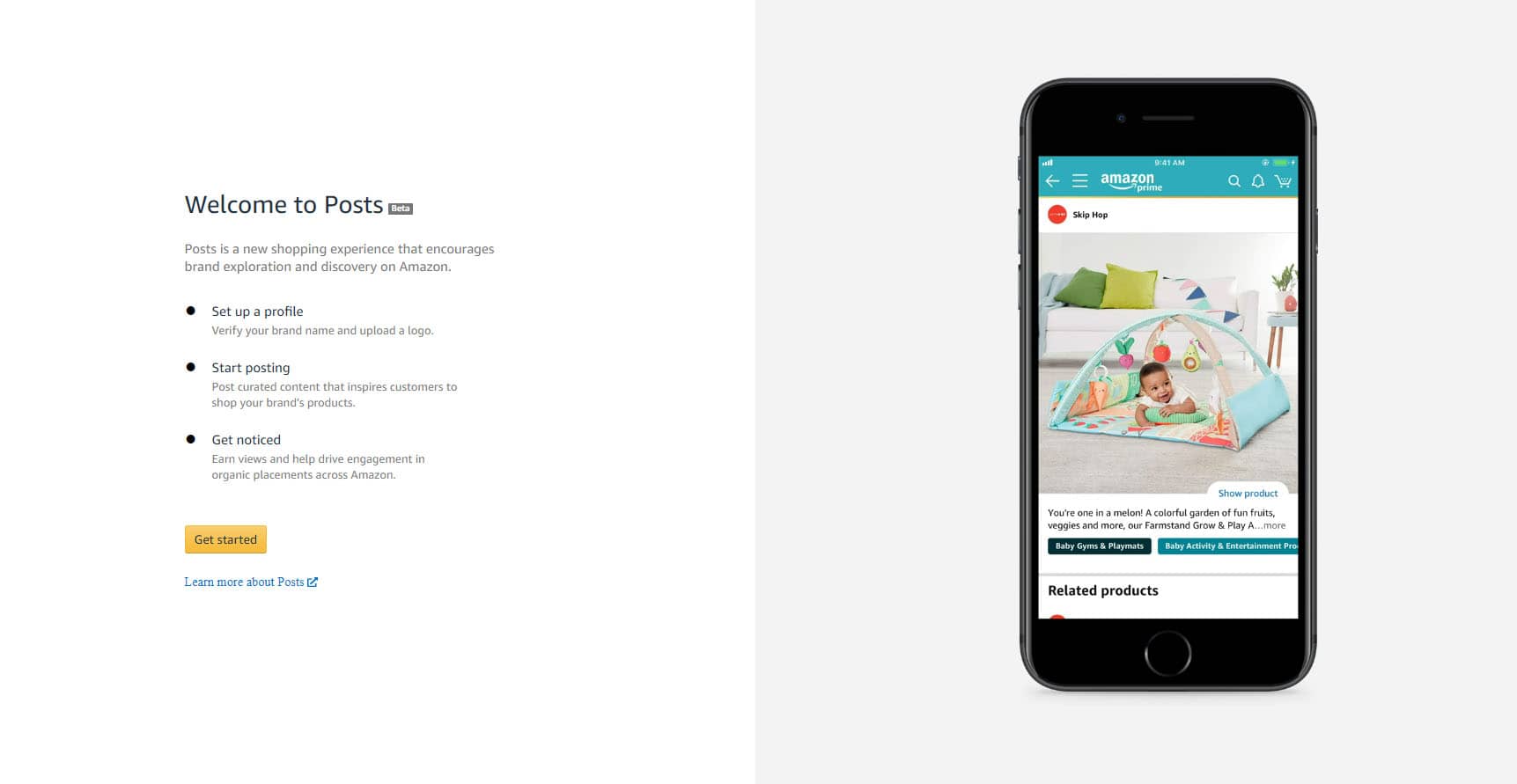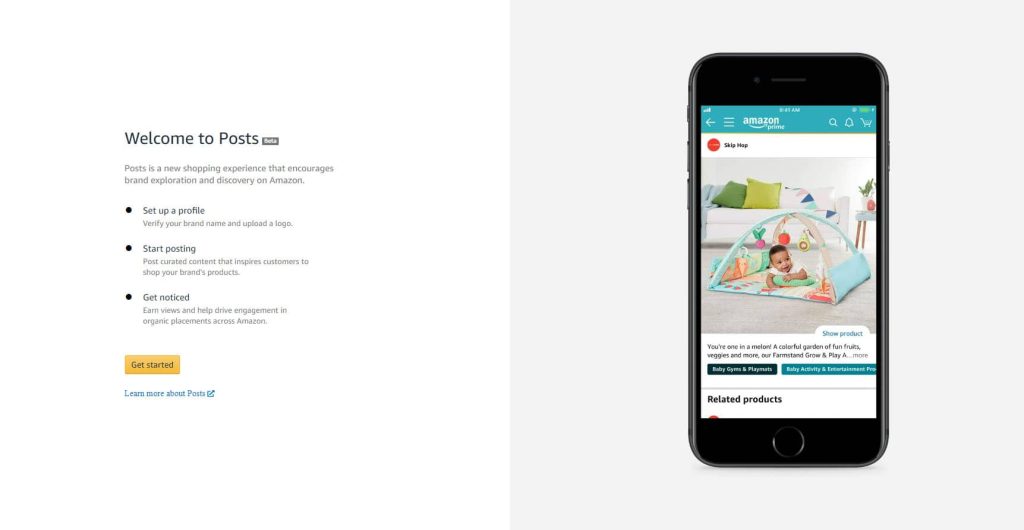 Create Your Amazon Posts Profile
Click on the Amazon Posts dashboard to begin creating your profile.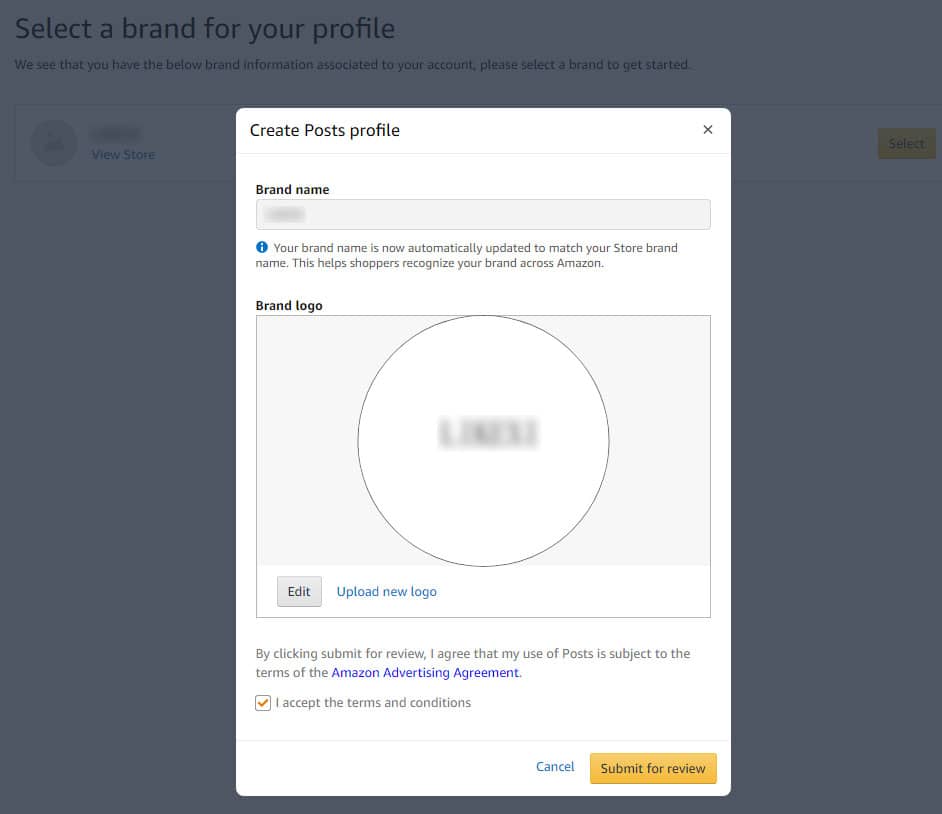 You will need to provide details such as:
An upload of your brand logo
Your brand name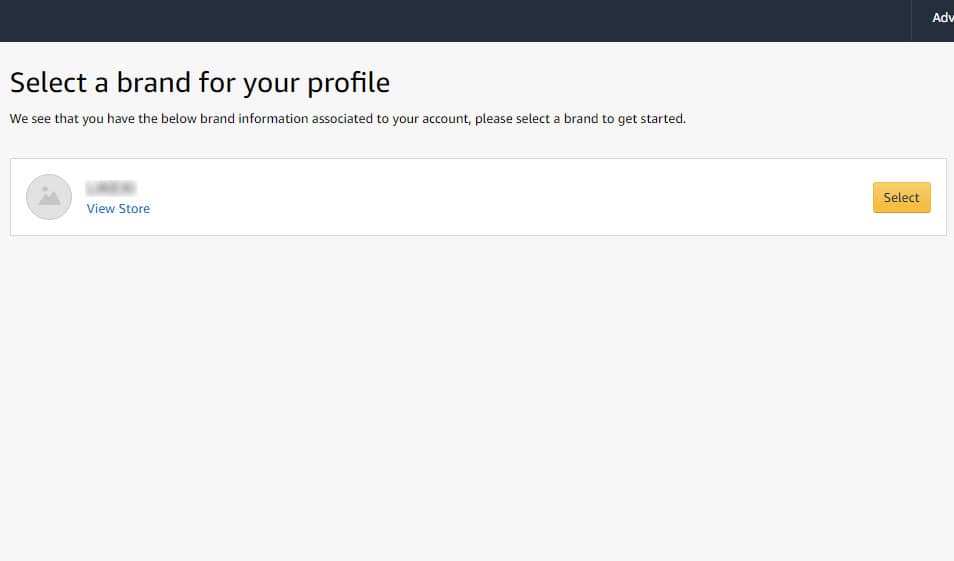 Once you provide all the required information, Amazon will send you a confirmatory email. Click on the link provided on the email to verify your Amazon Posts profile.
Post Away
After verifying your profile, you can access the Amazon Posts dashboard and click on 'Create Post'. This will direct you to the post builder and you can officially start creating your posts.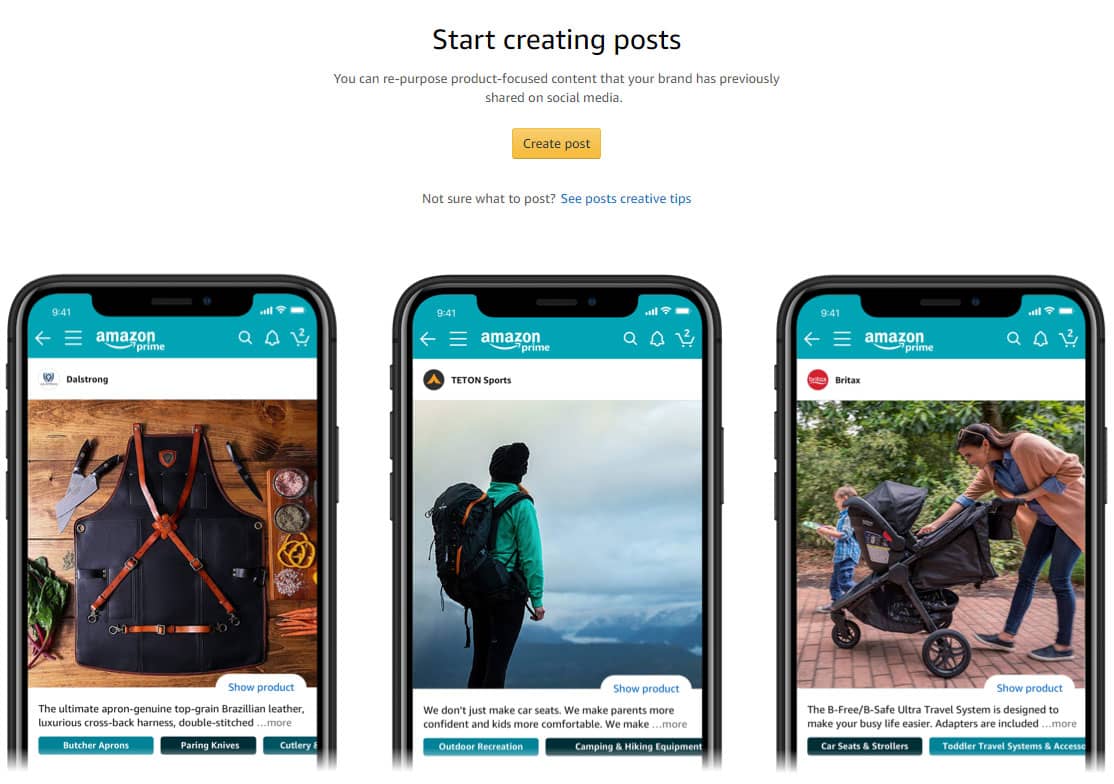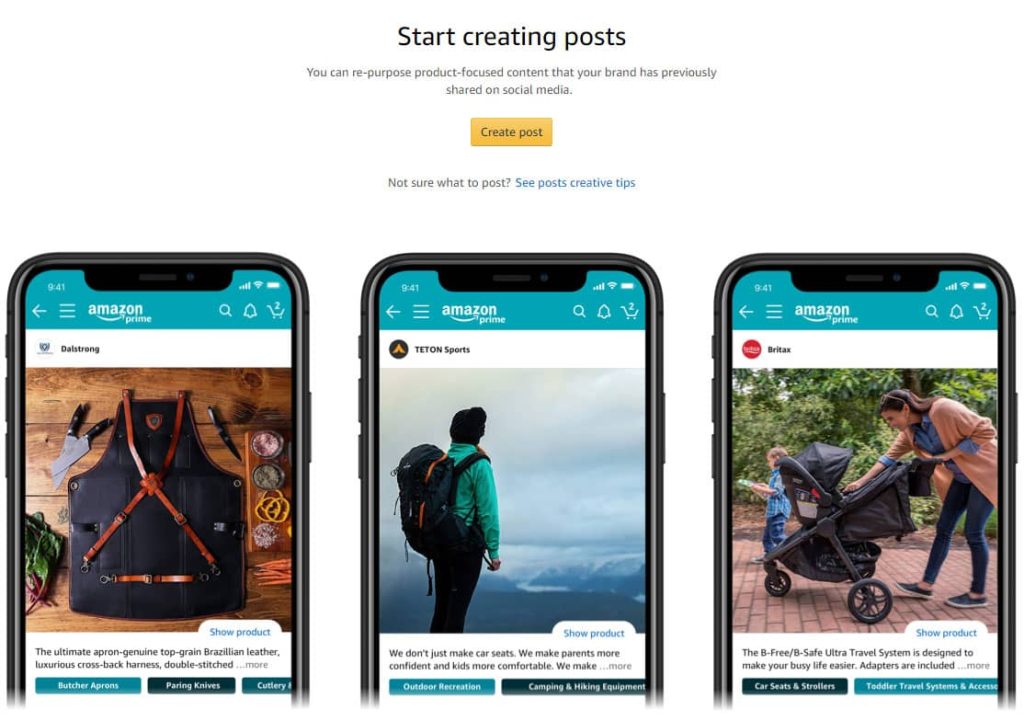 While it may sound sophisticated, the post builder is a simple template. It has sections where you can upload your image, caption, and product ASIN. Once all these details are uploaded, click 'Submit' to publish the post.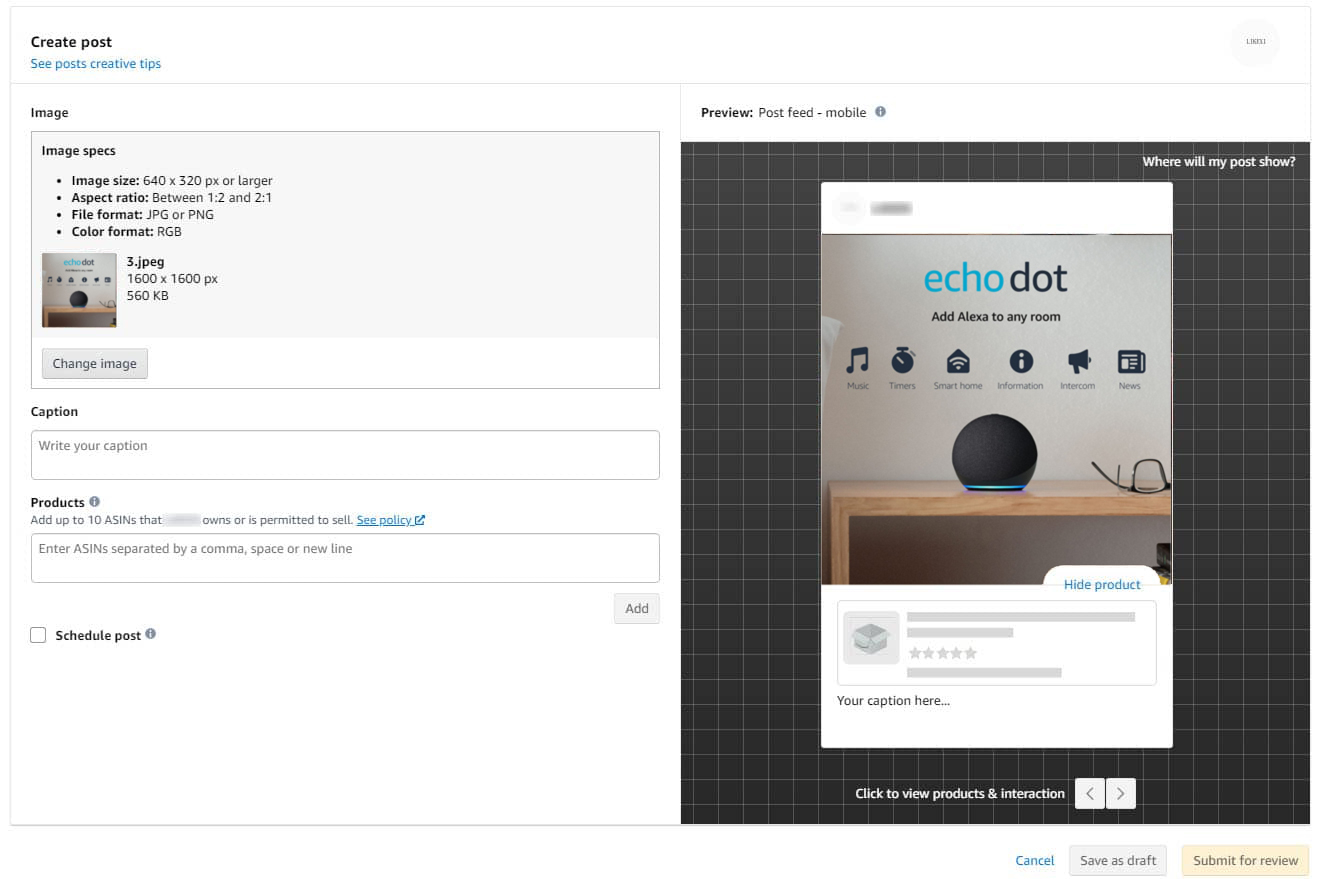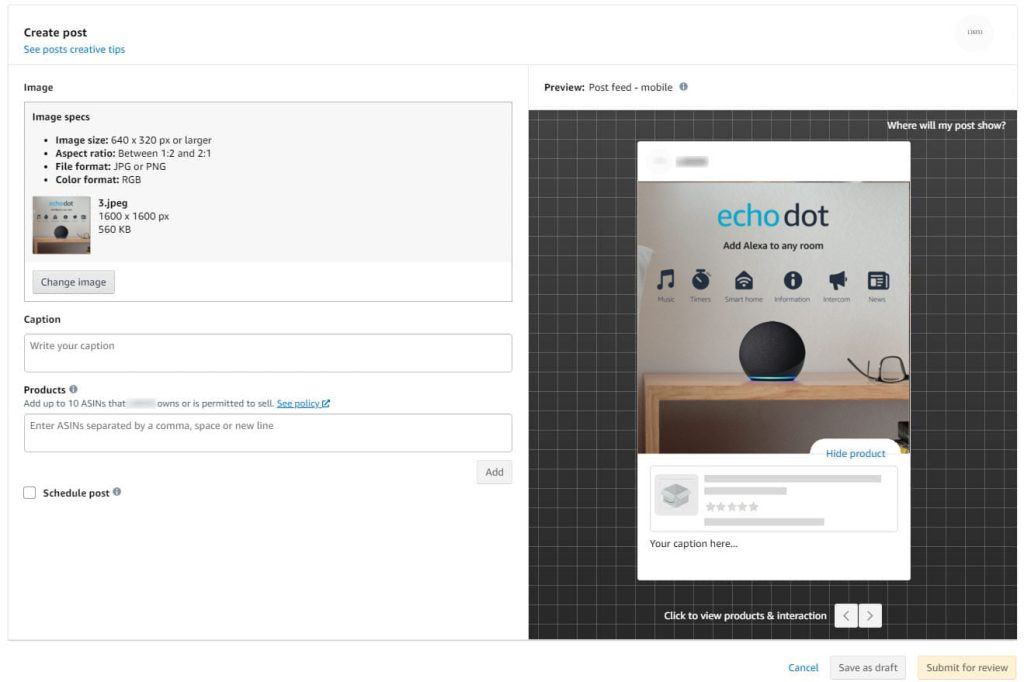 Remember to:
Upload an image that matches the indicated size requirements.
Use a caption that is 2200 characters or less.
Confirm that you have used the correct product ASIN to direct the customers to the correct product when they click on it.
What Are the Best Practices For Amazon Posts?
Amazon Posts is quite easy to use because all you have to do is enter the components of the post on the post builder and Amazon will handle the rest.
Nevertheless, to enjoy the full benefits of this tool, it is important that you adhere to the best practices outlined by Amazon and also work at it just as you would any other advertising campaign.
Here are a few pointers to help you ace it.
Create a Strategy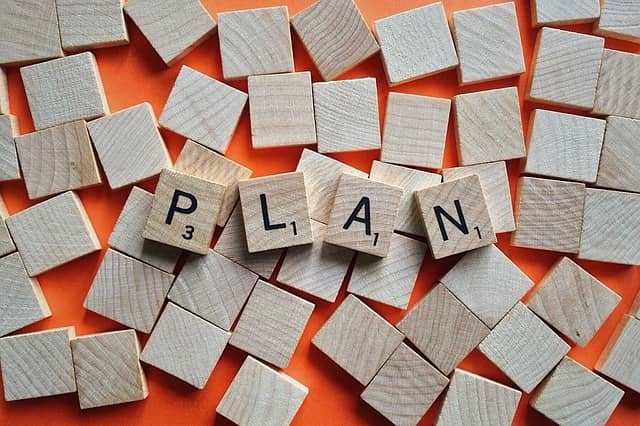 Creating impactful Amazon Posts requires an advertising strategy. Consider:
Who is your target audience?
What kind of caption would they relate to?
How can you structure your posts to draw more interactions?
What brand image would you like to portray?
Answering these and similar questions will help you come up with a more targeted series of posts instead of creating random posts that may have a lower chance of success.
Captions help you sell your product to buyers. They allow you to tell them what the product can do for them and why they need it.
That said, aim for short engaging captions instead of long ones. You are also allowed to use emojis to make them more interactive.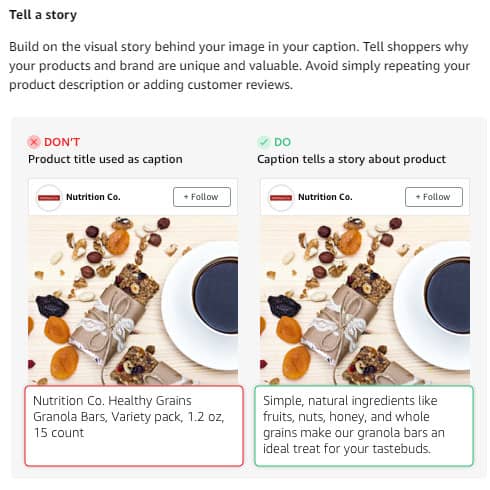 If you choose to use a CTA, it has to be creative because Amazon does not allow the typical 'Buy Now' type of CTAs.
Use the Right Pictures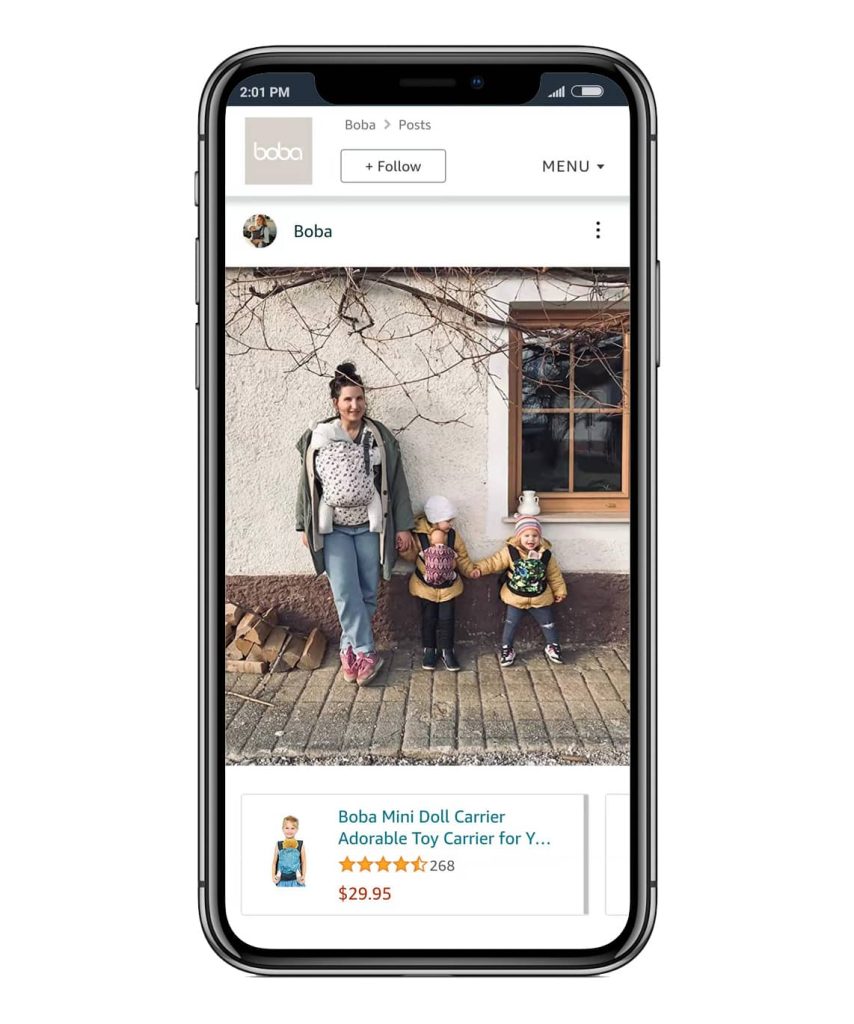 It is advisable to always use authentic pictures when creating posts. Ensure that they are clear and display that wow factor you want shoppers to notice about your product. More specifically, aim for images showcasing a realistic lifestyle setting of your products.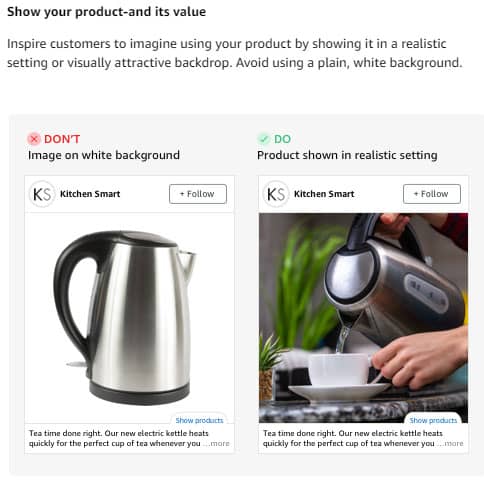 Further, Amazon prohibits the use of pictures that:
Feature multiple products
Contain lots of unnecessary text and icons like play buttons or arrows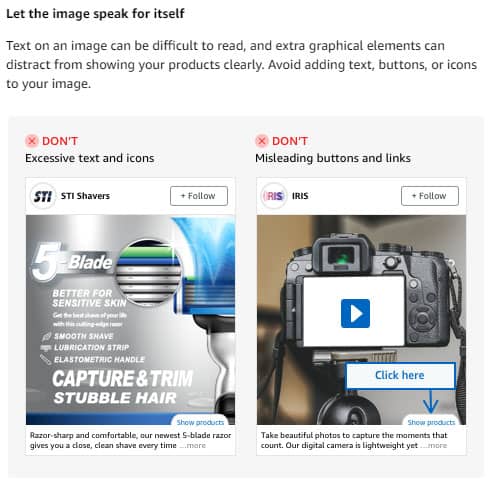 Feature customer reviews or contact details
Feature requests for customers to share, like, or comment on the post
Are accompanied by promo or sale information
Only show the brand logo but no product
Amazon Posts is quite similar to social media platforms like Instagram. So, if you have content for your brand from those platforms, you can use it on Amazon Posts too.
You may only have to make a few changes to ensure that the content structure meets Amazon's requirements.
Stay Consistent
Creating regular posts is more likely to get you more brand exposure than posting sporadically. Besides, posting regularly means you would have more posts running and thus increase your chances of buyers engaging with your brand.
How to Measure the Performance of Your Posts
Amazon Posts is designed to collect data on:
Product clicks
Impressions
Follow clicks
Engagement with your posts
Here is a quick guide on how to access these important metrics on your posts.
Click on the Amazon Posts dashboard.
Select 'My Posts'.
Choose the specific post whose metrics you would like to view.
The post will be displayed alongside details such as when you posted it and the caption you used.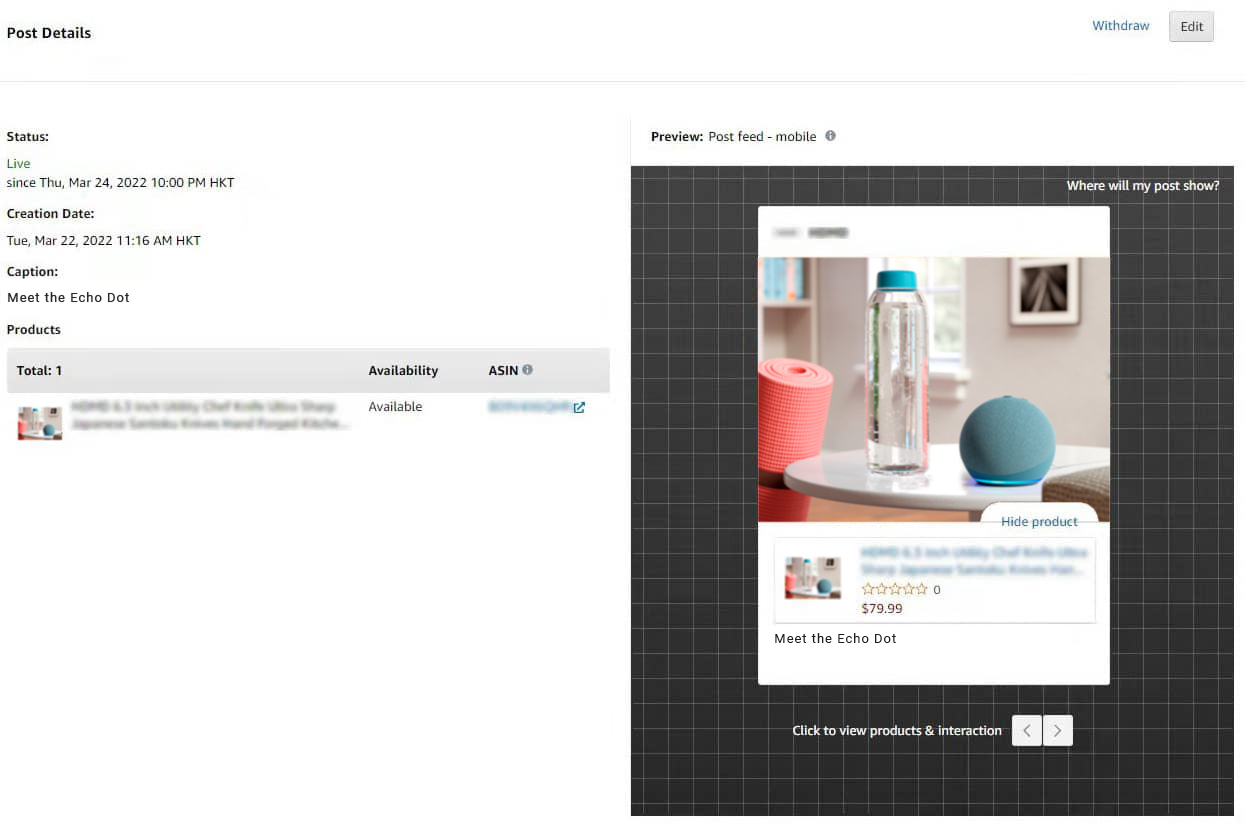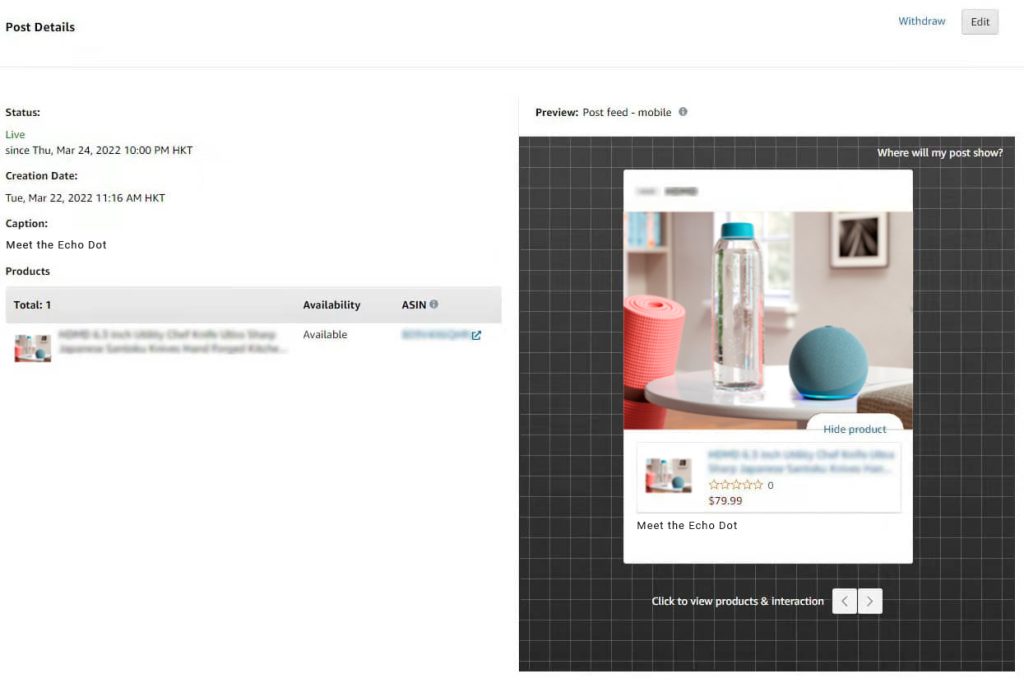 Check below the post image and you will see a 'Click to View Products & Interaction' navigation button.
Click on the navigation button. It will direct you to a page with metrics illustrating the performance of your post.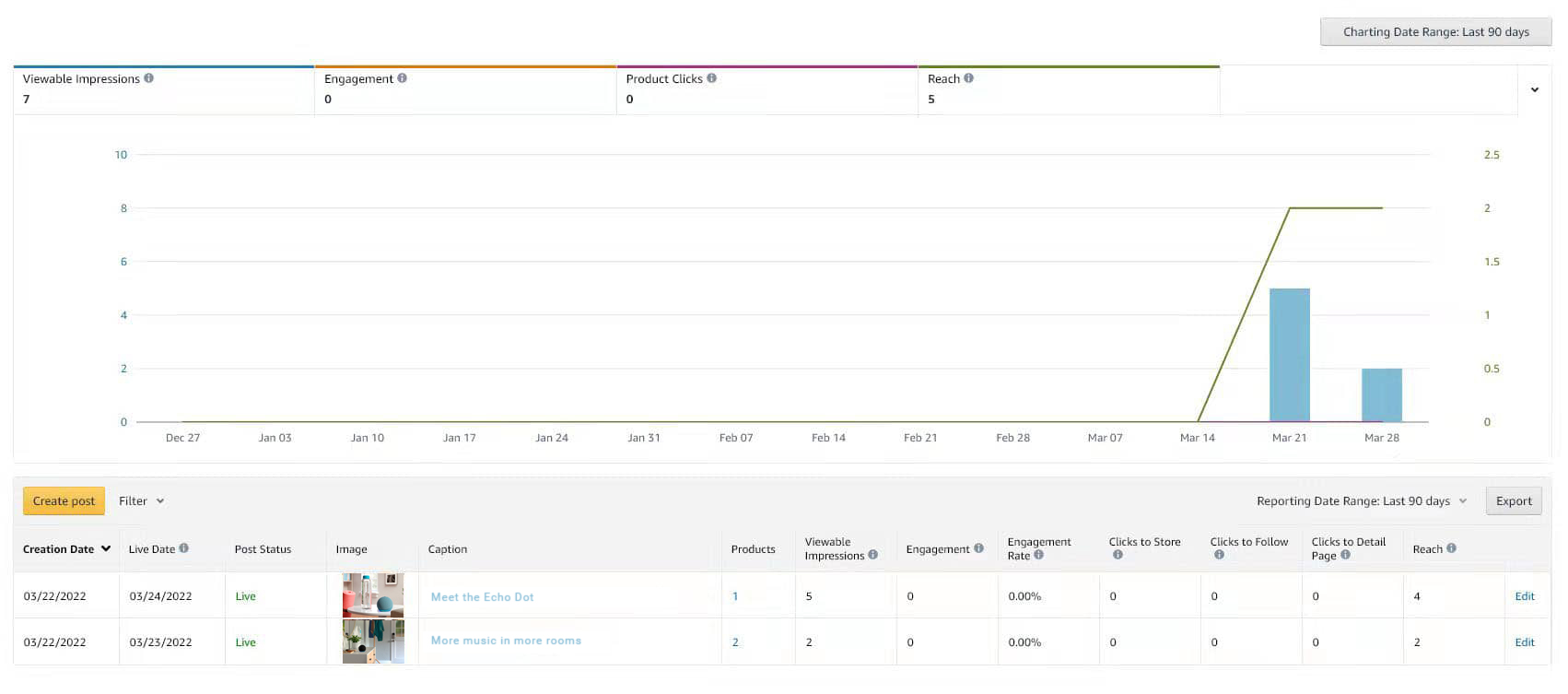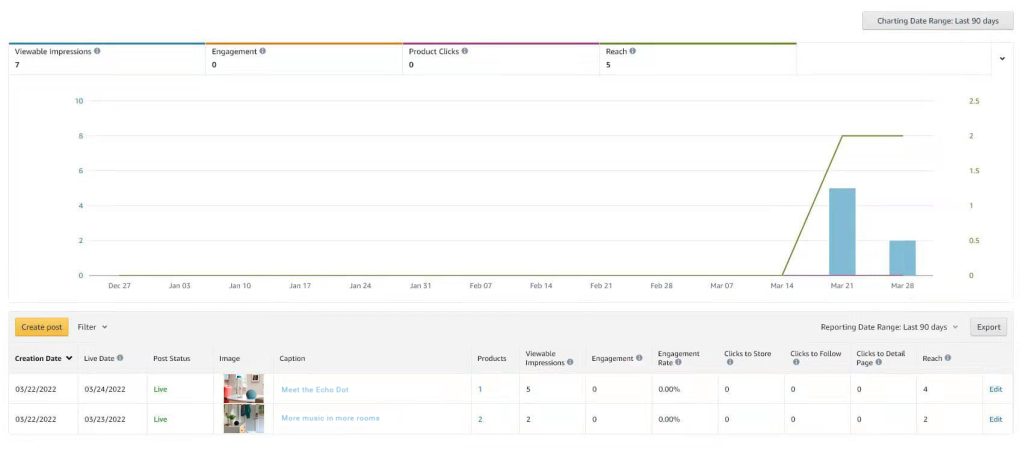 It is best to give each post time before deeming it successful or not. Impressions take time and being impatient could have you changing content strategies too soon.
What Are Some Successful Examples of Amazon Posts?
Successful Amazon Posts draw your attention and offer helpful insights into the product. Let us examine a few examples to inspire you as you create your own posts.
Mia Milly
Mia Milly's Amazon Posts check all the boxes. The pictures show parents using their baby care products in real-life situations and include Amazon ratings and the product price.
However, the captions stand out even more. They briefly explain the advantages of the product and how they can improve the lives of both parents and their babies. The wording is also light and engaging, yet informative.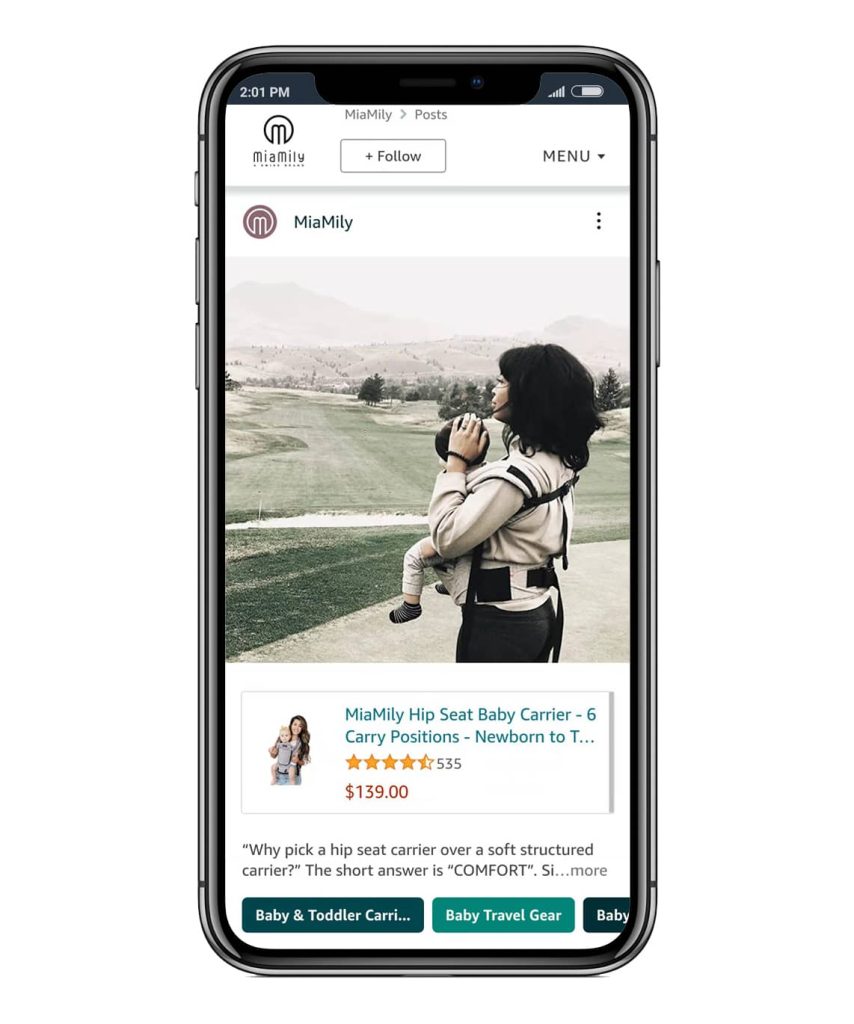 Drive Auto Products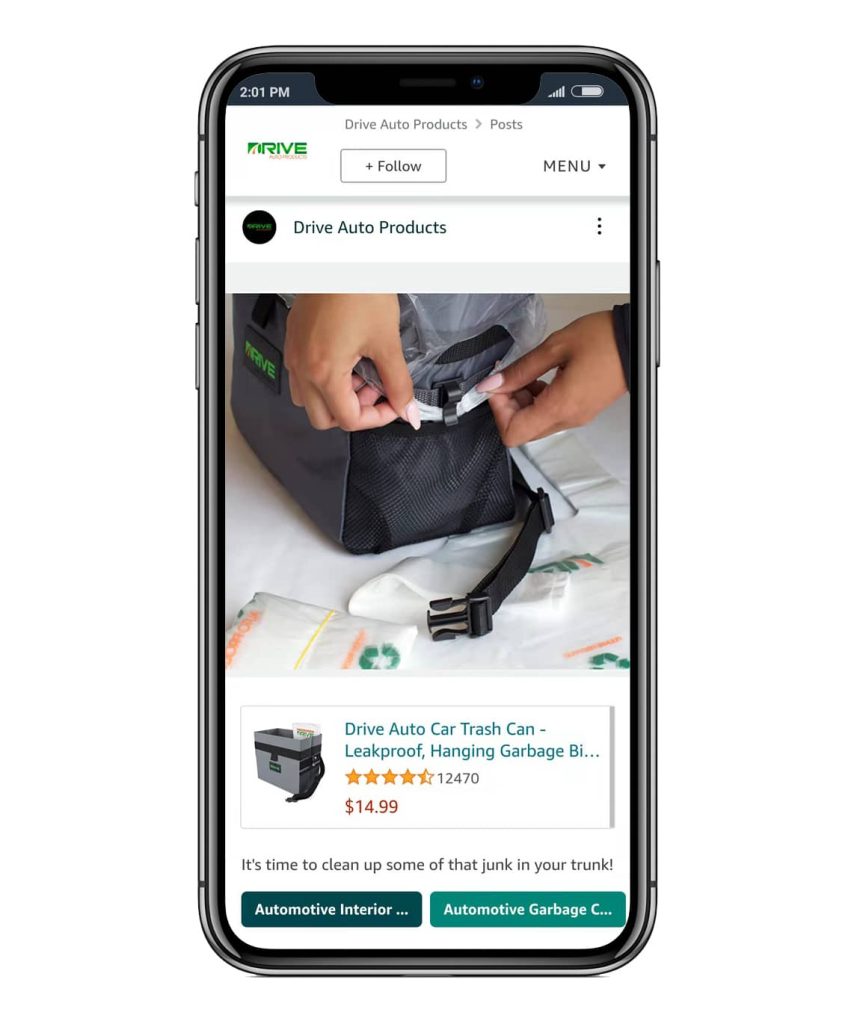 Admittedly, not all posts from this brand are great. However, in this post, it delivers a brilliant CTA. The CTA encourages buyers to clean out their auto junk and the picture shows them a Drive Auto product that can help them achieve that. Win-win.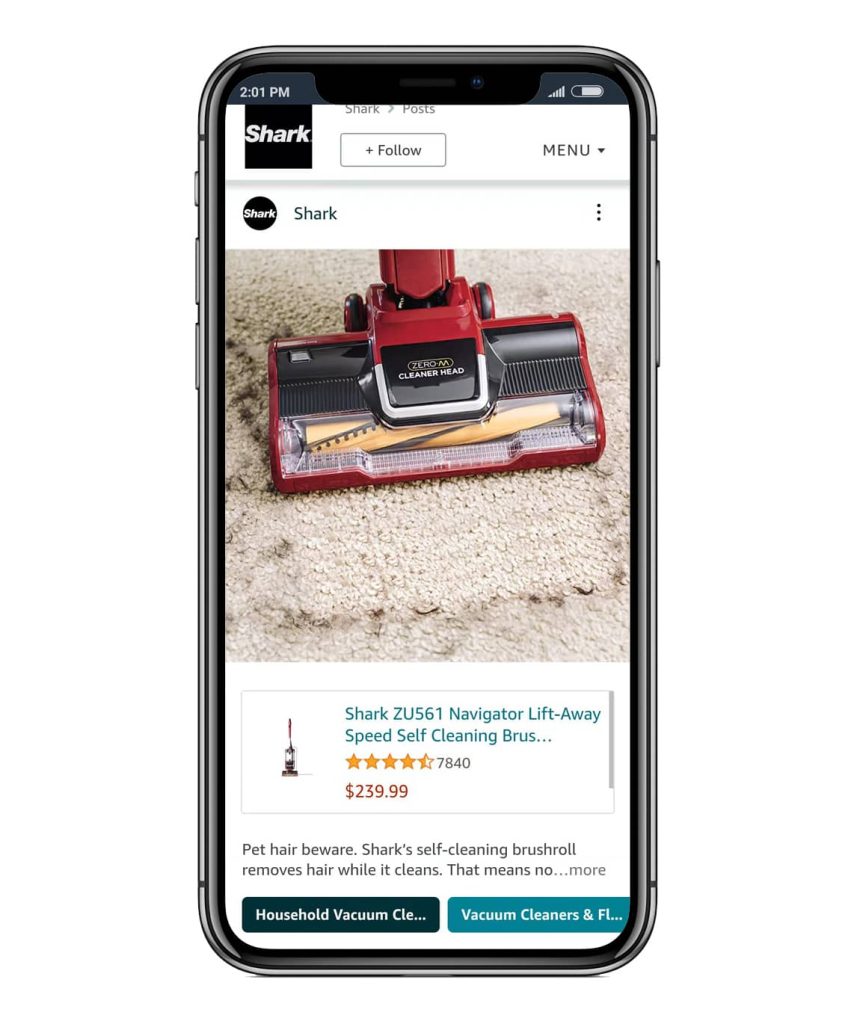 Shark presents another good example of a post that combines the right picture with the right caption. Any shopper browsing through this post can easily relate to the annoyance of vacuuming pet hair and having to clean the vacuum thereafter.
The caption then swoops in and successfully highlights the features that make this particular vacuum cleaner the right solution.
dbest Products Inc
Amazon Posts allows the use of hashtags in post captions although they do not appear as clickable links like on social media channels.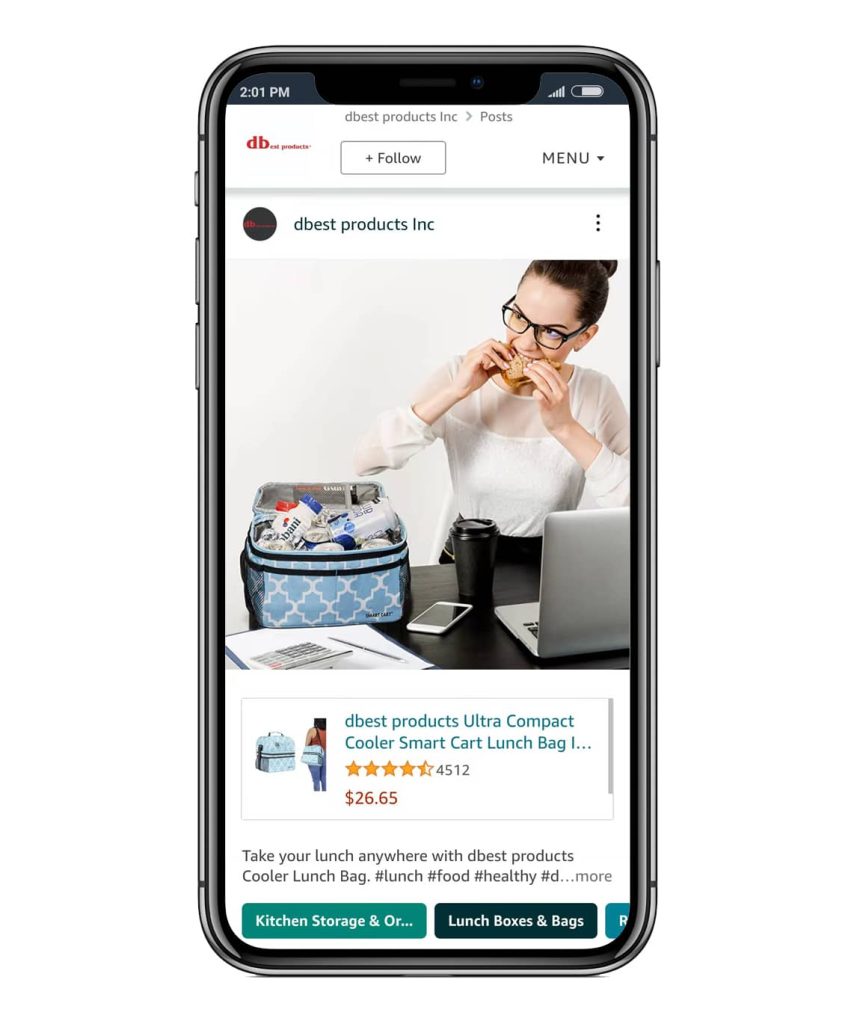 dbest Products Inc demonstrates this well and also aces the use of lifestyle photographs to give shoppers better context for their products.
Pros and Cons of Amazon Posts
Is Amazon Posts an option worth exploring, or should you stick to other methods of gaining brand visibility? Let's discuss some pros and cons to help you decide.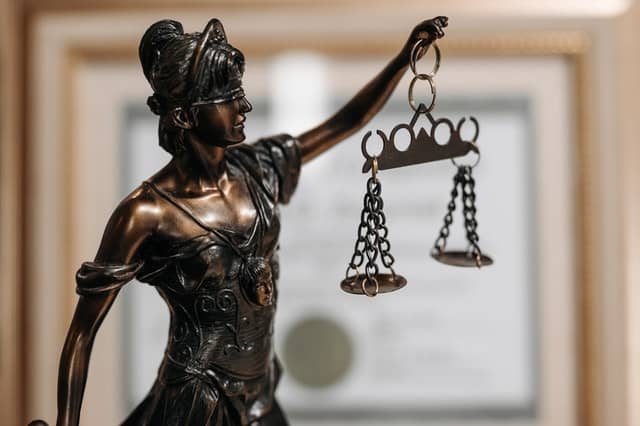 Pros
It is free – yes, this sounds too good to be true but Amazon Posts is currently free to use. This is a massive advantage considering that even social media sites charge vendors for this level of reach.
It offers a wide reach – Amazon posts are displayed in multiple sections of Amazon and not just on your brand feed or page. This greatly increases the number of shoppers that you can reach with a single post.
It is easy to use – creating an Amazon Post is quick and easy. You simply need to upload your content to the post-creator and publish it.
It delivers feedback – ad solutions are seldom helpful unless you can gauge how your audience interacts with them to see if they are making any impact. It is, therefore, a major plus that Amazon Posts gives feedback on impressions and CTRs.
Cons
Access to Amazon Posts is currently limited – only Amazon sellers from the US, store owners, and Brand Registry members can currently publish posts. Anyone that is not in these categories can not enjoy the benefits of posts.
Posts do not always show on every page – according to Amazon, relevant posts are supposed to show on product detail pages. However, this does not happen for all products. Perhaps it will improve after the beta stage.
It offers very little control – publishing a post is like setting a bird free. You have no control over how often shoppers will see your post, it is all decided by an algorithm. So, you really have to get your content right to gain visibility.
FAQs about Amazon Posts
What Are the Rules for Posts Content?
Amazon Posts requires content that:
Is appropriate for a general audience.
Matches the language of the Amazon website used to publish the post. So, if you use Amazon French your content should be in French.
Is clear and concise.
Does not contradict or differ from the information on the landing page.
Only promotes products owned by your brand or that your brand is authorized to sell.
How Often Should I Post on Amazon Posts?
The general consensus is that you should post regularly so that you can achieve consistent brand visibility.
In terms of a specific frequency, you could start by posting 2 to 3 times a week. You can then evaluate your impressions over time and decide whether you should increase or maintain the frequency of your posts.
How Can I Get More Views on Amazon Posts?
As you create posts, aim for content that will summon the shopper's attention. This does not mean that your images need to be over the top. Rather, they should just be inviting enough and curiosity-inducing.
Some ways to do this would be to:
Use real photographs. Photo-shop is convenient but it can make your pictures look fake. It would also make it difficult for shoppers to trust your brand or develop an interest in your posts.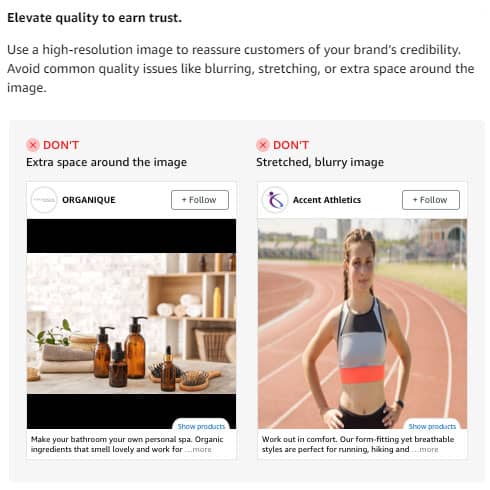 Aim for relatability. It makes customers understand why they need your product and piques their interest enough for them to want to learn more. In this image, for example, dbest Products Inc reminds us all how hard it is to get luggage upstairs.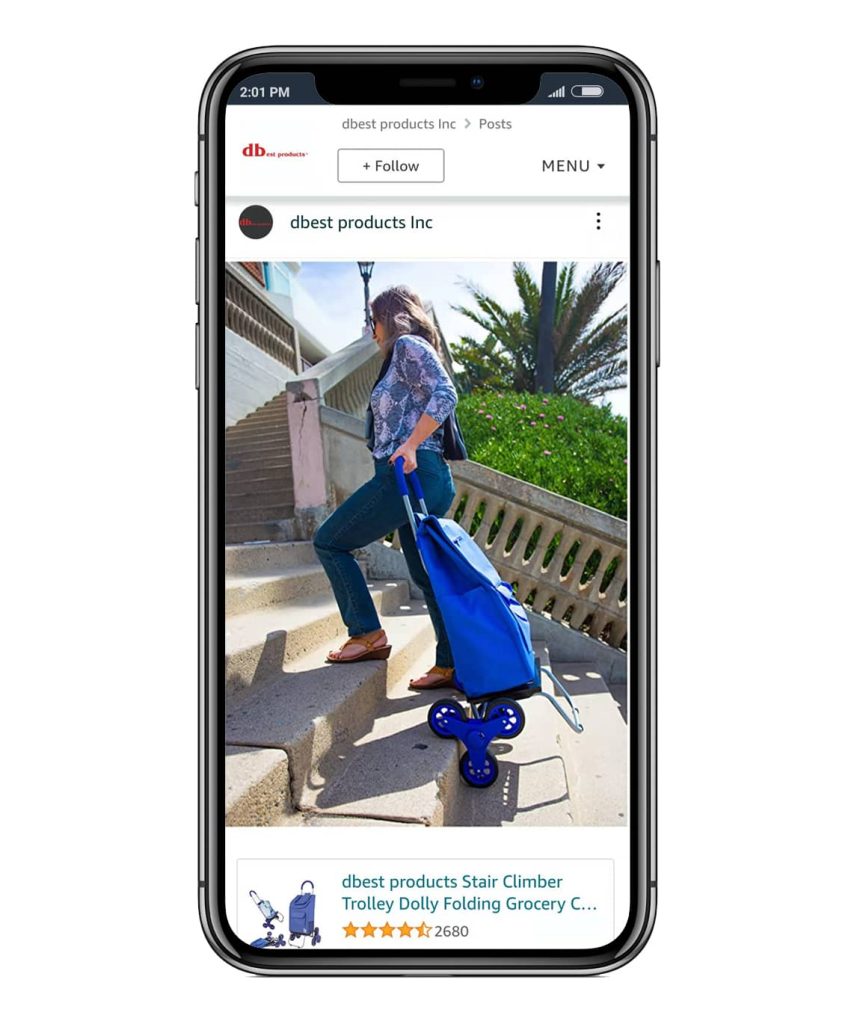 Keep your captions short and sweet. Long captions are exhausting to read but short ones that are witty and informative are more likely to earn you higher engagements.
It is impossible to click on a hashtag on Amazon Posts like you can on Twitter or TikTok. However, hashtags can relate your post to certain products or other relevant posts.
Take, #TravelAccessories, for example. If you use it in a caption, the algorithm will likely pick up on it. As a result, your post may be displayed when shoppers look up travel accessories which is a broad category ranging from backpacks and suitcases, to travel pillows.
To Sum It Up
Amazon Posts is an outstanding example of how important it is for any e-commerce platform to keep up with current trends. Plus, it is simple, affordable, and a breath of fresh air compared to other in-app advertising methods that are often annoying to shoppers.
It remains to be seen if Amazon will make any changes between now and when it fully rolls out Amazon Posts. In the meantime, learn as much as you can from participating brands and use the tips we have shared to make the most of it.
If you need a hand with finding suppliers for your store or sourcing products so that you can focus on creating posts and running your Amazon store, we can help. Simply send us a brief of the products you need and request a free quote at any time.