Backpacks are a convenient way to carry along one's belongings during various trips and errands. They are easier to carry than most bags and can be designed to be just as stylish and secure.
As a result, it is no surprise that the backpack market was worth approximately 18 billion in 2019 and is forecasted to grow to about 22 billion by 2026. So, if you are toying with the idea of selling backpacks, consider this the sign you have been waiting for to take that leap.
Of course, we would not cheer you into selling backpacks without some sourcing leads. Here is a curated list of suppliers of wholesale backpacks in China that are worth considering as you venture into this niche.
Kinmart
Kinmart has been manufacturing bags since 1994. Later, in the year 2000, it officially began accepting custom bag orders and selling bags wholesale. It is based in Fujian.
The Kinmart catalog of bags is quite large. It ranges from make-up bags, totes, handbags, backpacks, and more. The backpacks options include:
Backpacks for women
School backpacks
Laptop backpacks
Unisex drawstring backpacks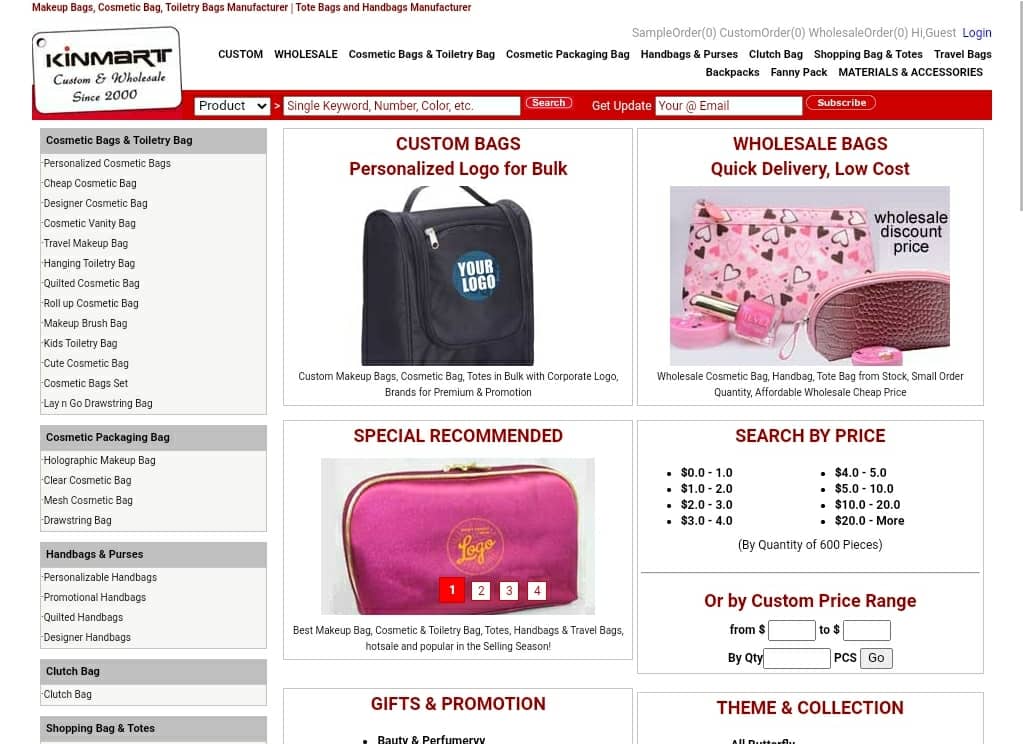 Kinmart can modify the design features of these backpacks or manufacture backpacks based on your original design. Large orders are eligible for better wholesale prices and low MOQs. Orders can be shipped internationally. 
Center Bags
If you are looking for backpacks for children, the Center Bags may interest you. It manufactures colorful backpacks designed to suit the active lives of kids.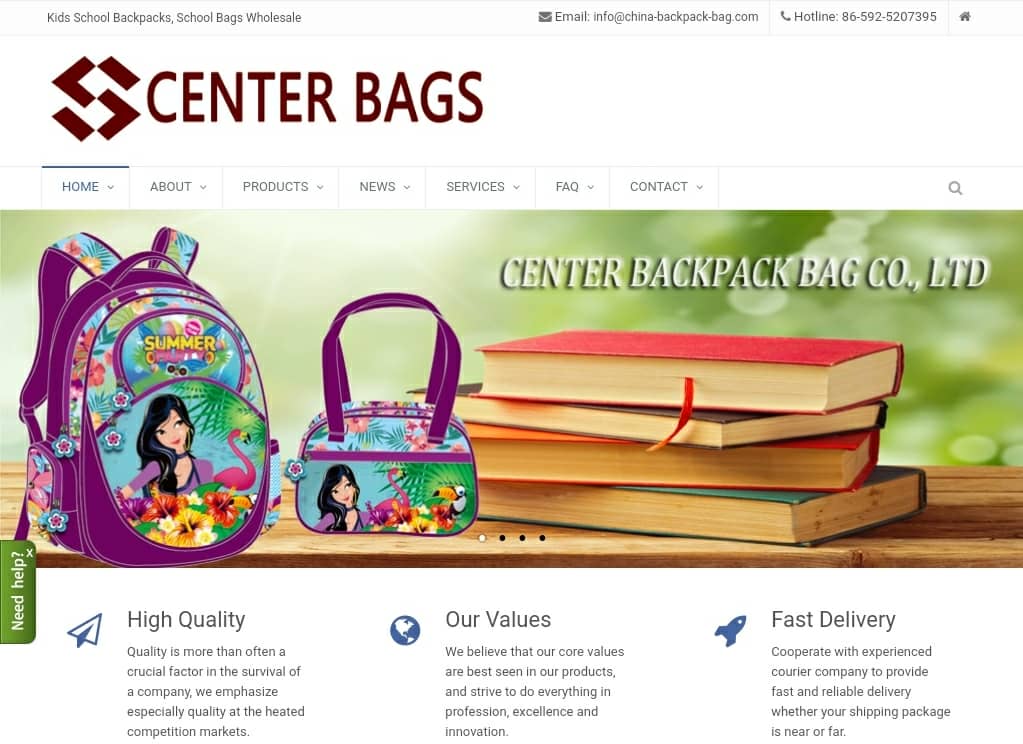 The animation themes used to decorate the bags could certainly make your store a favorite among parents. They are also thoughtfully designed with lots of compartments and a carry handle.
The Center Bags factory is located in Xiamen in Fujian Province. It can execute customization requests and put out bulk orders on schedule. The MOQ is 1,000 pieces per color.
Zhongyi Bags
The Zhongyi Bags factory is located along the Zhejiang Industrial Park. The company was established in 1999 but only began exporting its bags in 2006.
Zhongyi Bags produces backpacks to suit specific functions. Its catalog includes backpacks that are for:
Waterproofing luggage
Carrying tech gear
Military missions
Cycling
Carrying police gear
Fly racing
Camping
Diving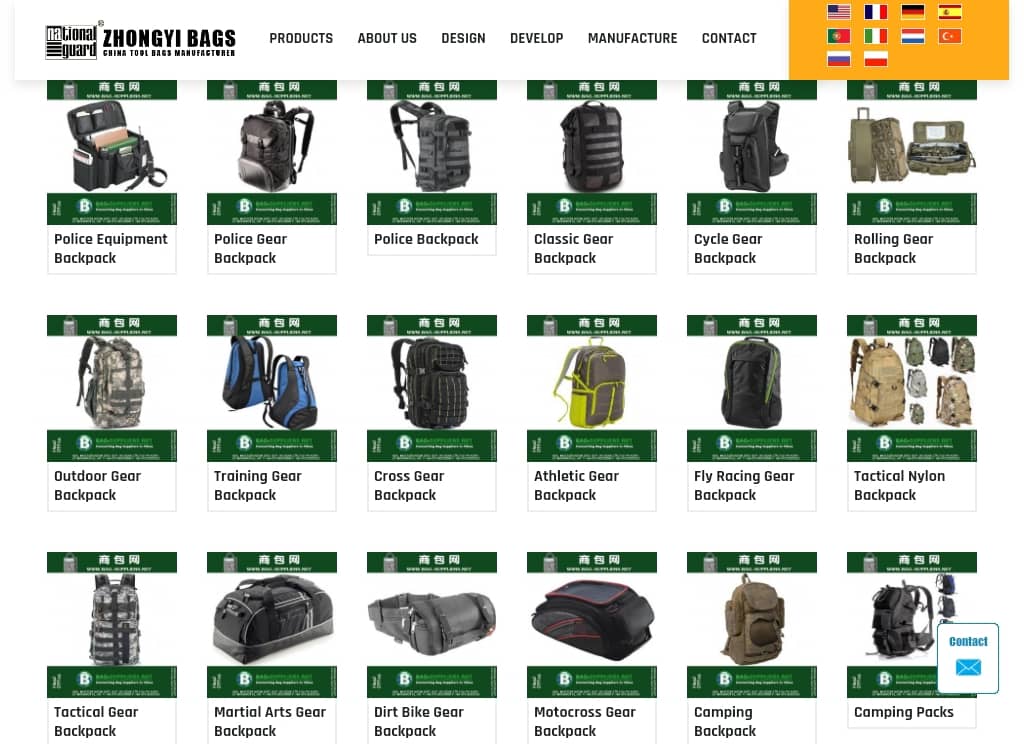 The wholesale price and MOQ for each type of backpack are provided on request. The company accepts private labeling and white labeling orders too.
Another upside to this firm is that it manufactures all kinds of bags, enabling you to diversify your business in the future. It is also well-experienced in export procedures and could help you get through them.
Ace Bags
Ace Bags is a private label bag manufacturer. It prides itself on delivering quality backpacks on time at affordable prices. Couple that with over 20 years of experience, and you can see why this supplier made it onto our list.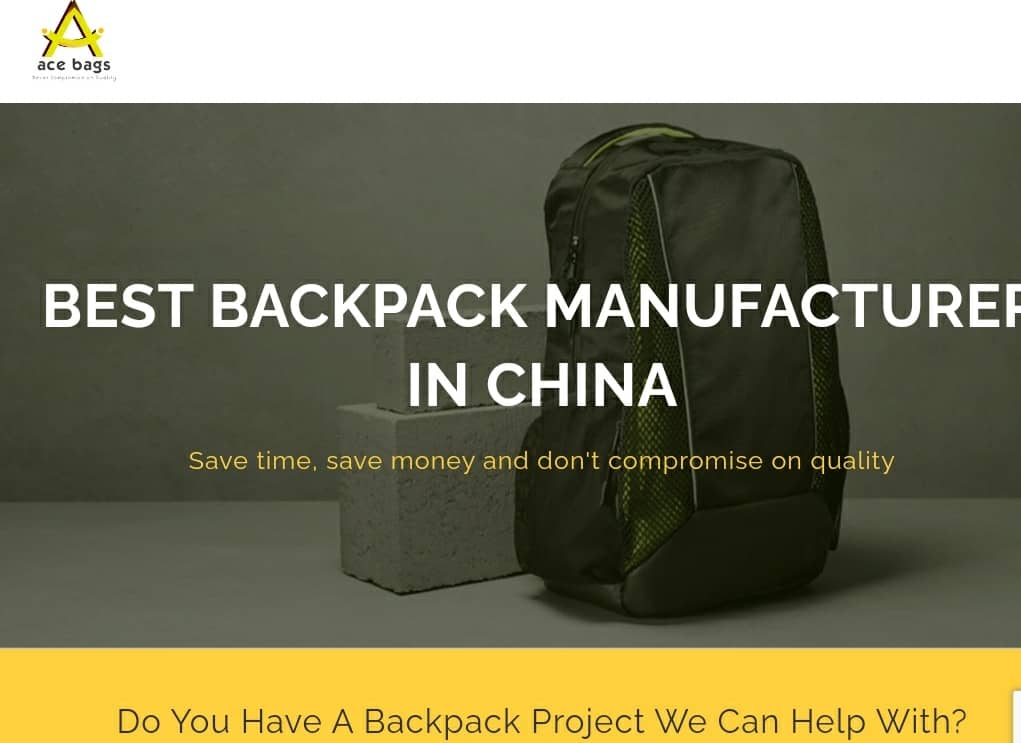 If you choose to work with this firm, you can either provide your desired backpack design or customize one of the designs from the Ace Bags catalog. Customization, in this case, would entail modifications such as:
Choosing a preferred color and decoration styles
Requesting the backpacks be made in a specific fabric
Reconfiguring compartments
Adding a logo to the bag
The Ace Bags factory is located in Xiamen and is certified by Disney, BSCI, and ISO. It is fitted with enough production lines to deliver samples as quickly as 5 to 7 days, while bulk orders are processed in 30 to 40 days.
Ace Bags partners with clients across the world. The MOQ is 500 pieces per style.
Newcom Bag
Newcom Bag is based in Hangzhou. Contrary to its name, it is not a newbie in the business. It has been manufacturing and exporting backpacks for over 22 years.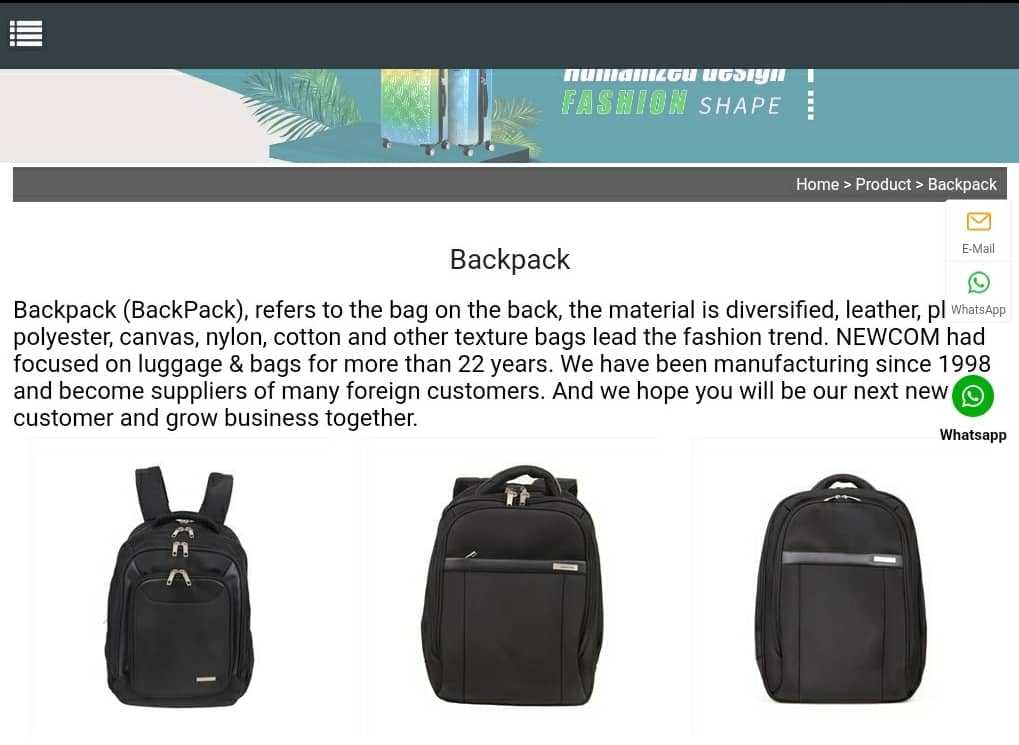 The variety of backpacks by this supplier stands out. In terms of materials, Newcom Bag manufactures leather, canvas, polyester, nylon, and cotton bags. On functionality, it offers an even wider array of options by producing backpacks that are ideal for:
Daily commutes
Parents that need to get around with stuff for their babies
Gym visits
Day-to-day use with a fashionable appeal
Carrying laptops, work documents, books, and other accessories
Long-haul travel
These examples are only the tip of the iceberg, and there are many more backpack designs in the Newcom catalog.
The MOQ for each backpack design is 500 pieces. While all bags are priced on a wholesale basis, the exact price offer you will receive will be determined by the number of bags you order and whether you require customization.
Guang Hui Bags
Guang Hui Bags is situated in Quan Zhou City, Fujian. It has over 10 years of experience in manufacturing bags and has earned BSCI certification.
If you are sourcing on a budget, this supplier has backpacks within the low to average price range. Its factory is well-equipped and most functions are performed using automated machinery. This yields higher precision and better workmanship on the bags.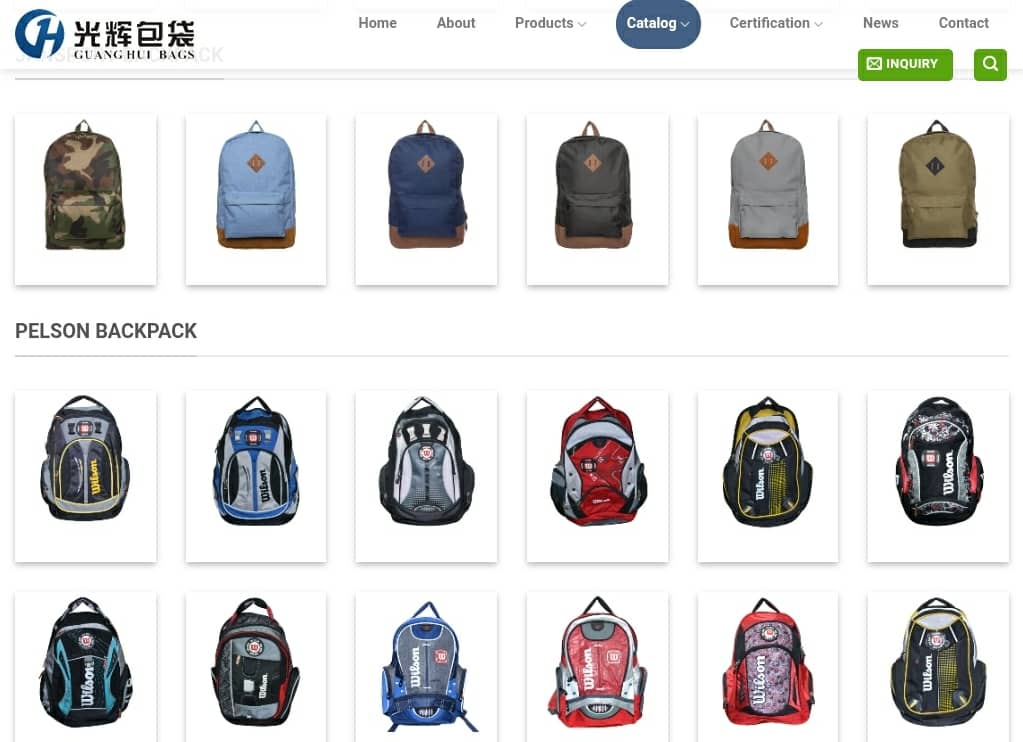 Each type of backpack is designed with a feature that matches its purpose. Laptop bags, for example, are waterproof and have a USB port and anti-theft provisions. 
The fashionable bags have vibrant prints, student backpacks have multiple compartments, and sports bags are made using durable canvas material.
The MOQ for all backpacks is 100 pieces. Guang Hui Bags ships backpacks worldwide via air or sea.
YC Bag Making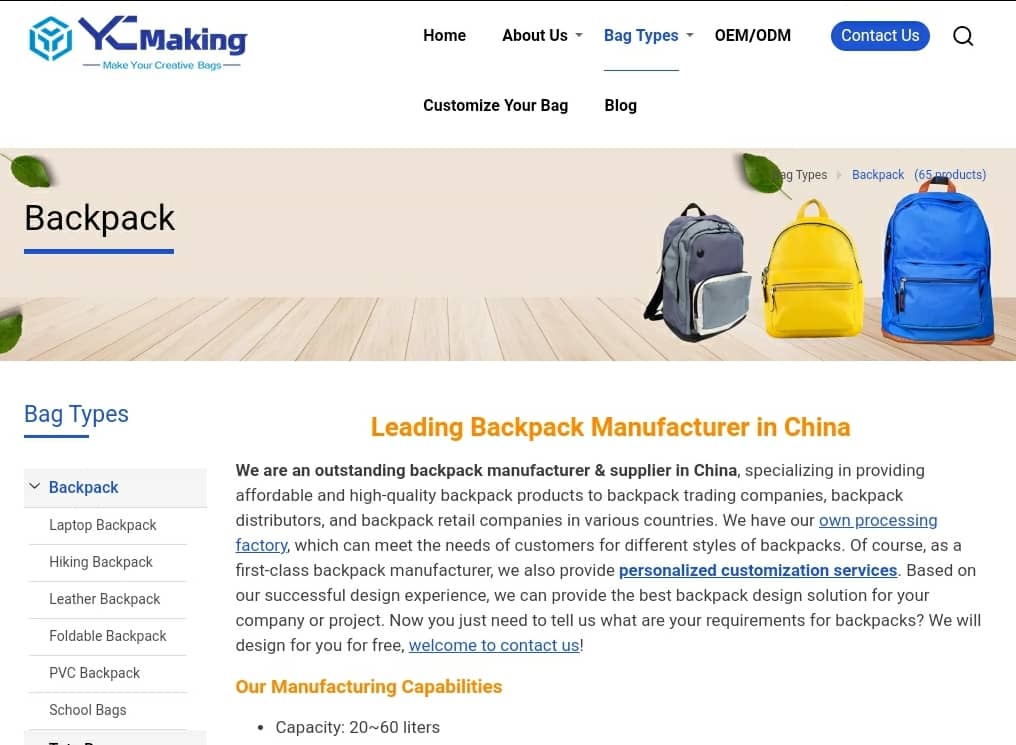 YC Bag Making manufactures and supplies backpacks to distributors, wholesalers, and retailers. As a result, the company understands the modalities of wholesale pricing to facilitate fair profit margins for businesses.
This supplier allows you to order in-stock or custom backpacks. For custom orders, the R&D team would examine your brief and develop a sample. They would then move on to production after your approval.
Production takes between 15 to 30 days, depending on the size of the order. You could, however, request a rush order at an extra cost. The MOQ for in-stock designs is 100 pieces while that of custom orders is 500 to 1000 pieces.
YC Bag Making is based in Fuzhou City and ships internationally.
Honeyoung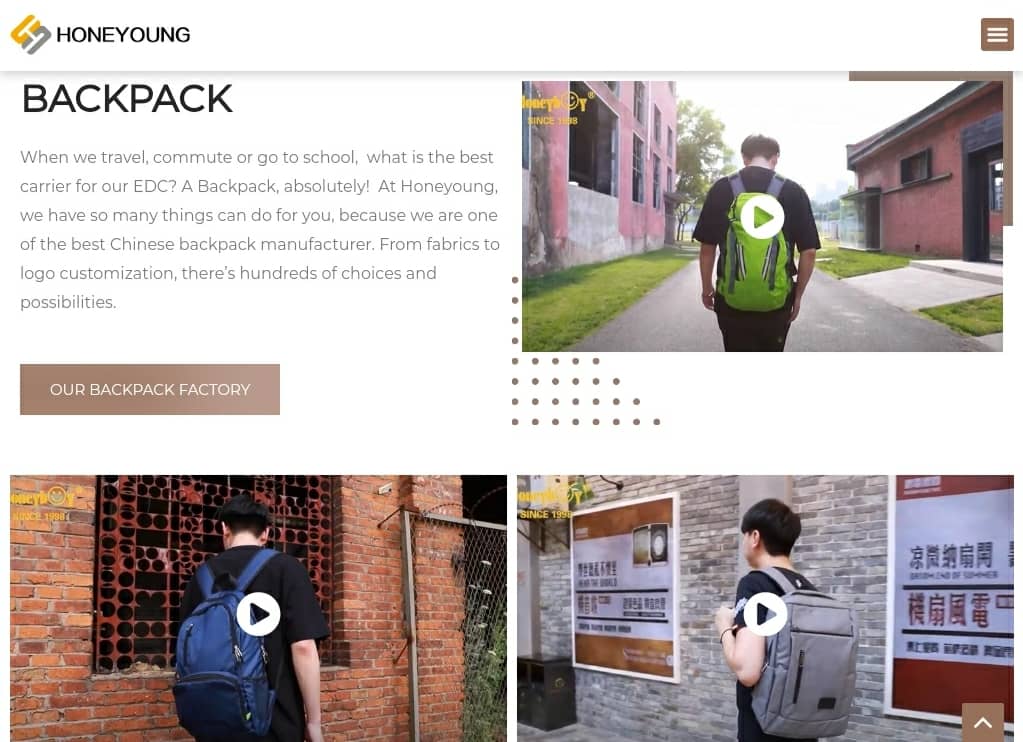 Honeyoung could be an ideal supplier if you are looking for high-end backpacks in bulk. It was established back in 2008 and operates from its headquarters in Anhui, China.
The Honeyoung catalog includes backpacks designs such as:
Medical backpacks
Square backpack
Dirt bike backpacks
Trolley backpacks
Crossbow backpacks
Make-up artist equipment backpack
The company can add logos to your bags on request. The MOQ is 500 pieces.
Honeyoung ships across the globe and offers different shipping options as well as convenient shipping terms such as DDU and DDP.
Dreamwork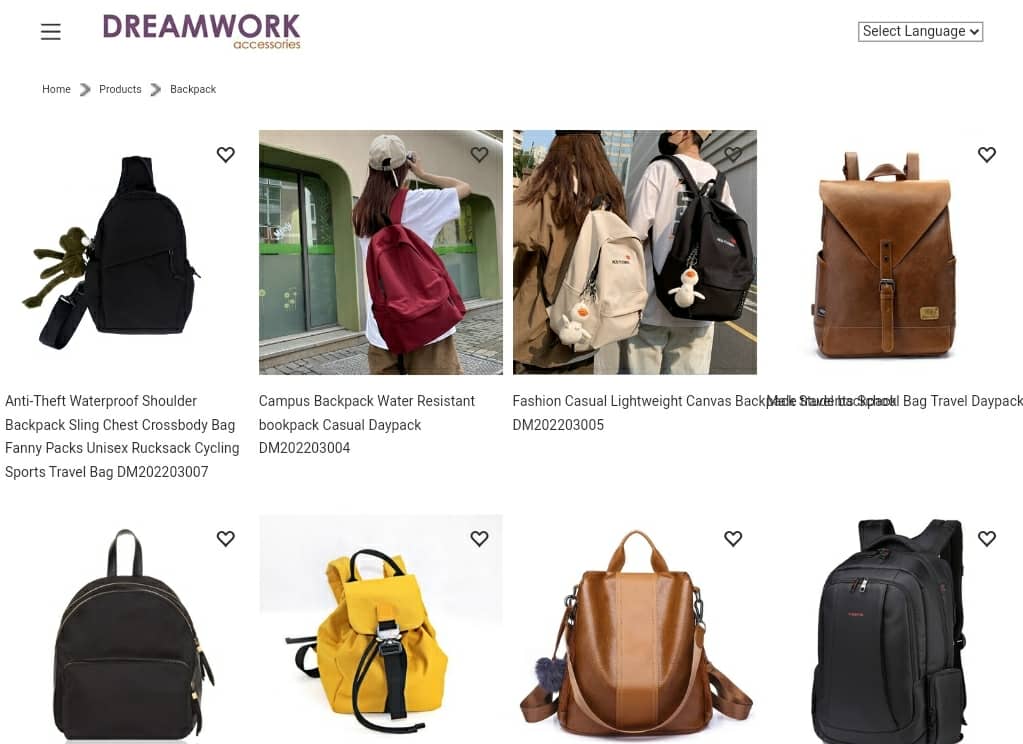 Dreamwork is based in Yiwu. It manufactures trendy backpacks that could appeal to customers who prefer bags that complement their fashion sense.
Notably, this wholesale backpack supplier also manages to create backpack collections that cater to the needs of adults and younger people. It accepts low-volume orders at reasonable prices and also accommodates OEM and ODM requests.
Wenjiebag
Wenjiebag has been manufacturing backpacks, totes, gym bags, tools bags, and much more for a decade. Within that brief duration, it has managed to grow its clientele across Asia and other parts of the world too. Its factory is situated in Zhejiang.
Wenjiebag designs backpacks for travel, day-to-day use, and adventures like hiking or other sports. Most of them are made using nylon or polyester fabrics but there are also some designs made of leather.
All backpacks by this manufacturer are lined and ergonomically padded for comfort where necessary. Most also come with value-adding features like output for headphones and strategic compartments based on the bag's applications.
MOQs are not specified but the company states that they are low and negotiable. It also accepts trial orders just in case you would like to see how your target market responds before ordering in bulk.
Lintian Bag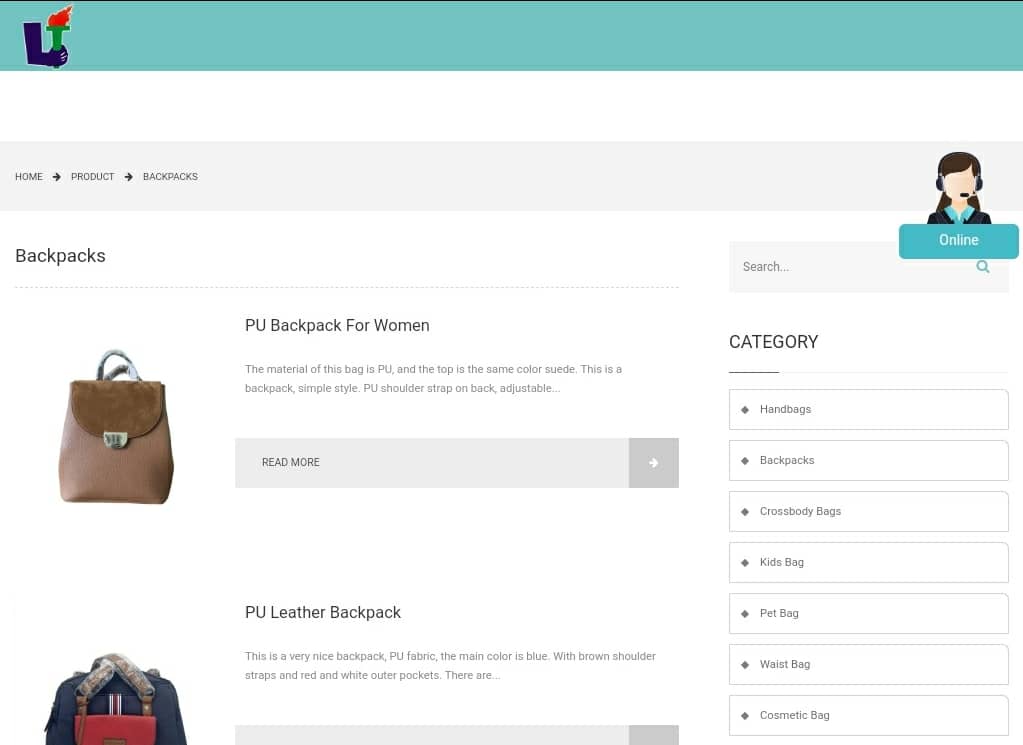 Lintian Bag manufactures a wide selection of bags. It supplies the local market in China and retailers in Australia, America, and Europe. Its production facility in Yangzhou, Jiangsu is accredited with BSCI, REACH, and AZO standards.
The backpacks by this firm are mostly made of polyester, PU, and TPU leather. You could also impress your eco-conscious customers by ordering Lintian's recyclable backpacks.
That said, no matter your choice, Lintian put great effort into making its backpacks vibrant and stylish. It is equally possible to customize designs to meet the needs of your target market or brand. Lintian additionally provides custom packaging.
The MOQ is 500 pieces.
Luisway
Luisway was founded in 2004 and is based in Shanghai. It is one of the largest manufacturers in the China bag industry. Aside from its vast experience in the trade, it is also well-versed in international trade and has sufficient capacity to fulfill bulk orders.
This mega-supplier offers:
Leather backpacks
Travel backpacks
Waterproof backpacks
Business backpacks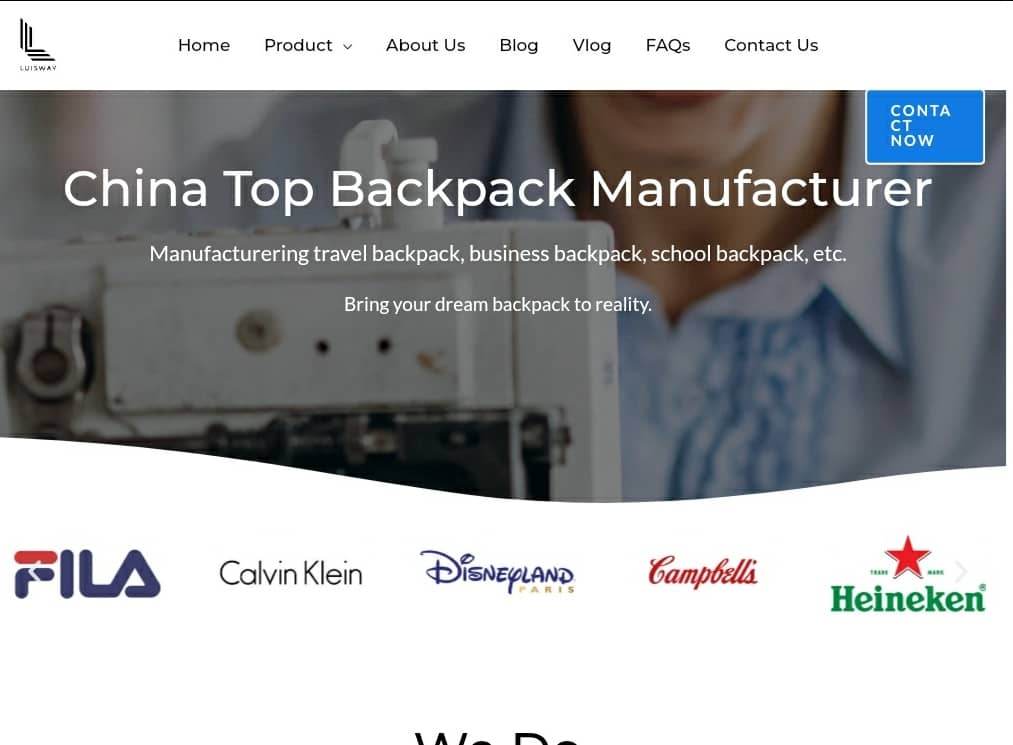 In addition to leather, Luisway used canvas, nylon, and polyester. You can, however, request custom materials for your backpacks. Logos can also be added through:
Embossing
Screen or silk printing
Affixing woven labels
Rubber badges
Samples for custom bags can be prepared within 7 days while actual orders can be ready within 20 to 30 days.
There is no MOQ for stipulation for in-stock orders. Meanwhile, the MOQ for custom orders without test requirements is 500 pieces. If you require testing for any order, the order will be evaluated and the MOQ adjusted as appropriate.
Xinyuan Company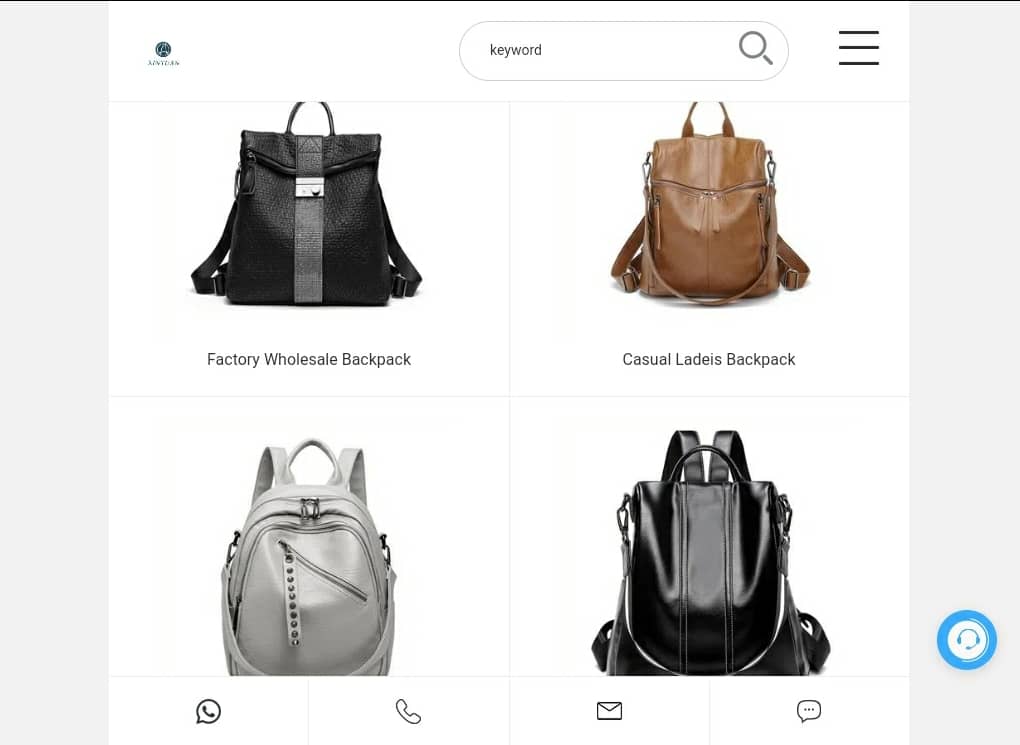 Xinyuan Company does not manufacture its bags directly. It partners with various factories that manufacture its bags on order. It sells a variety of genuine leather bags but its partnerships also accept ODM/OEM orders.
The selection of backpacks by Xinyuan mainly consists of genuine leather designs. They range from casual-style backpacks to travel backpacks. They are distinct in their gleaming leather fabric and classy designs.
MOQs are provided on request. Xinyuan is open to shipping to clients worldwide. It can ship to you directly or through your nominated freight forwarder.
Amazing Action
Amazing Action has been a bag supplier for prominent brands across the world. They include FILA, National Geographic, Germany's KIK, and Brazil's Track & Field. Its headquarters are in Quanzhou City, Fujian.
The standout feature of this company is the essential design touches it includes in its backpacks to make them more user-friendly and attuned to their application.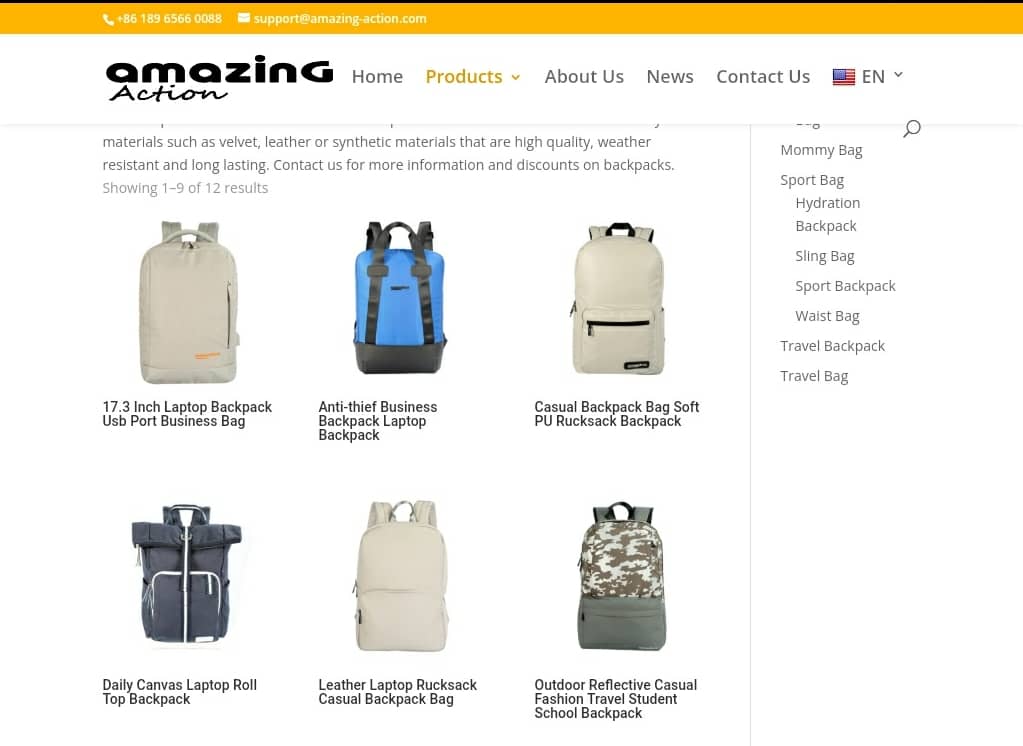 Its hiking bags, for example, are optimized for comfort during excursions and durability that can survive rough terrain. You will find equally thoughtful additions in the laptop, anti-theft, casual, sports, travel, and business backpacks too.
The wholesale prices of the backpacks are favorable but dependent on how many bags you order. MOQs are specified on request.
Devilshe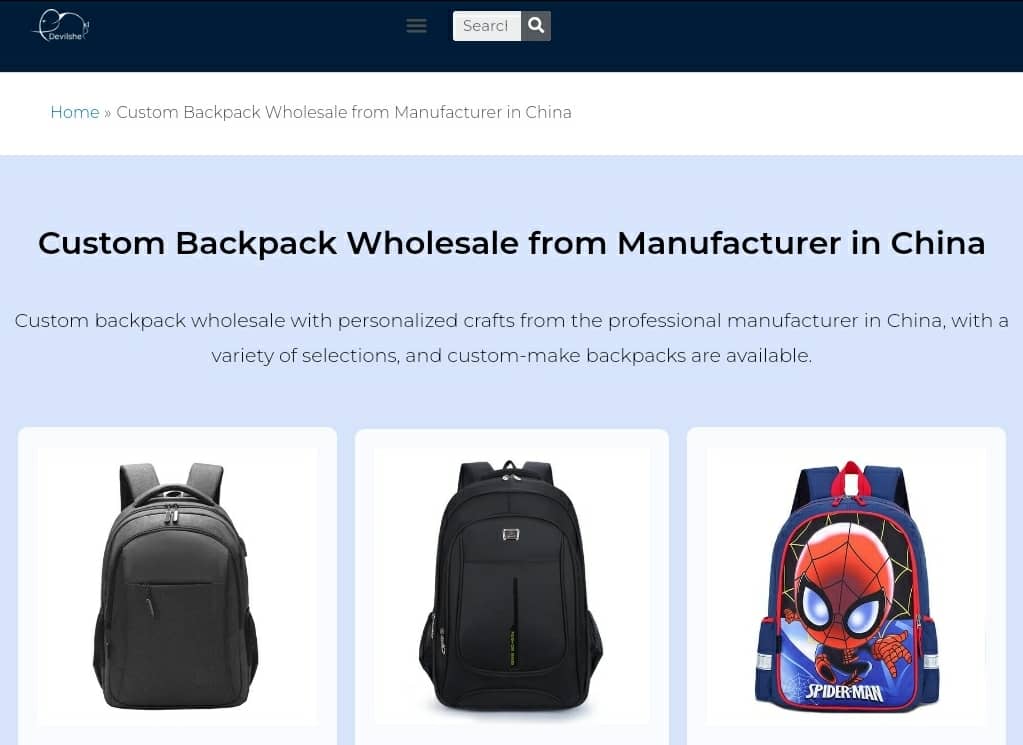 Devilshe focuses on manufacturing custom backpacks. The company opines that the development of custom bags can:
Address the needs of your target market better
Fulfill your advertising goals
Help you source bags within your budget
The Devilshe facility in Dongguan can produce laptop backpacks, fashionable backpacks for girls, college, travel, and drawstring backpacks. They can be made using jute, mesh, nylon, cotton, canvas, or PU leather as long as they fit your custom design.
Samples are provided before mass production at a refundable fee. The MOQ is set at 1,000 pieces and lead times are between 30 to 45 days.
Enfung Cases and Bags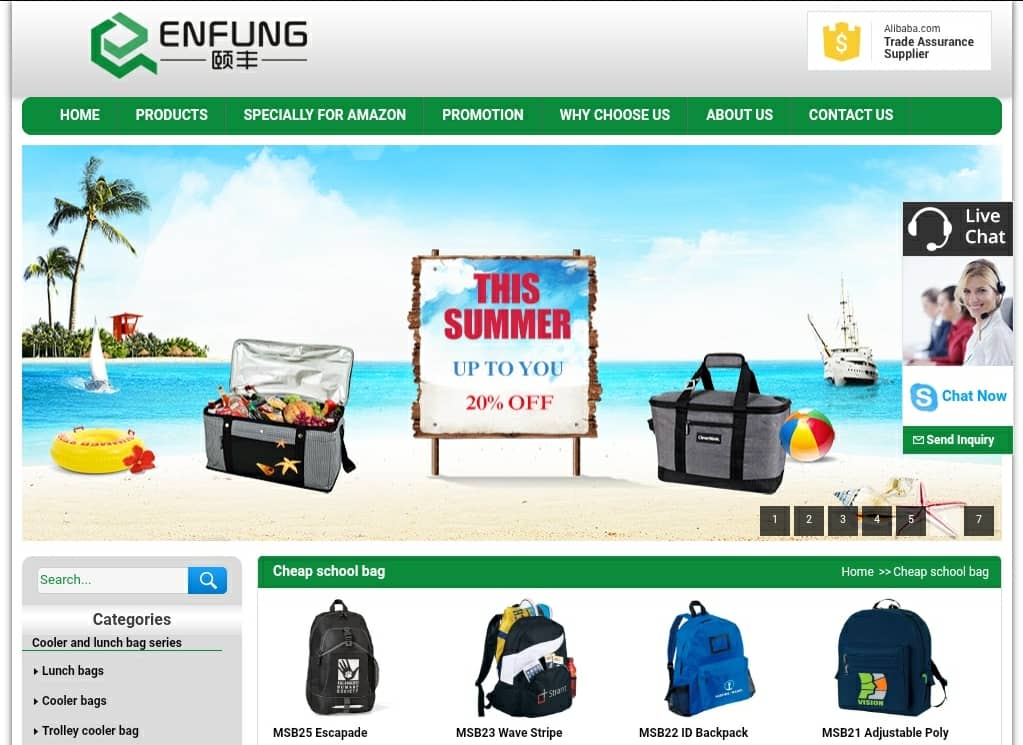 Enfung is another veteran in the China bag industry. It was founded 15 years ago and also has an impressive list of top brands on its resume. It operates out of Quanzhou.
This manufacturer could serve you well if you require a manufacturer that is experienced in producing custom bags for promotions. It, nonetheless, manufactures good school backpacks, strip reflector backpacks, and general-use backpacks.
Beyond this, Enfung provides extra support to clients that take part in e-commerce. The company can help you optimize your orders to suit your e-commerce venture on Amazon or other platforms.
Any backpack design can be customized on request. The MOQ is 1000 pieces and the average lead time is 35 days.
Royal Sac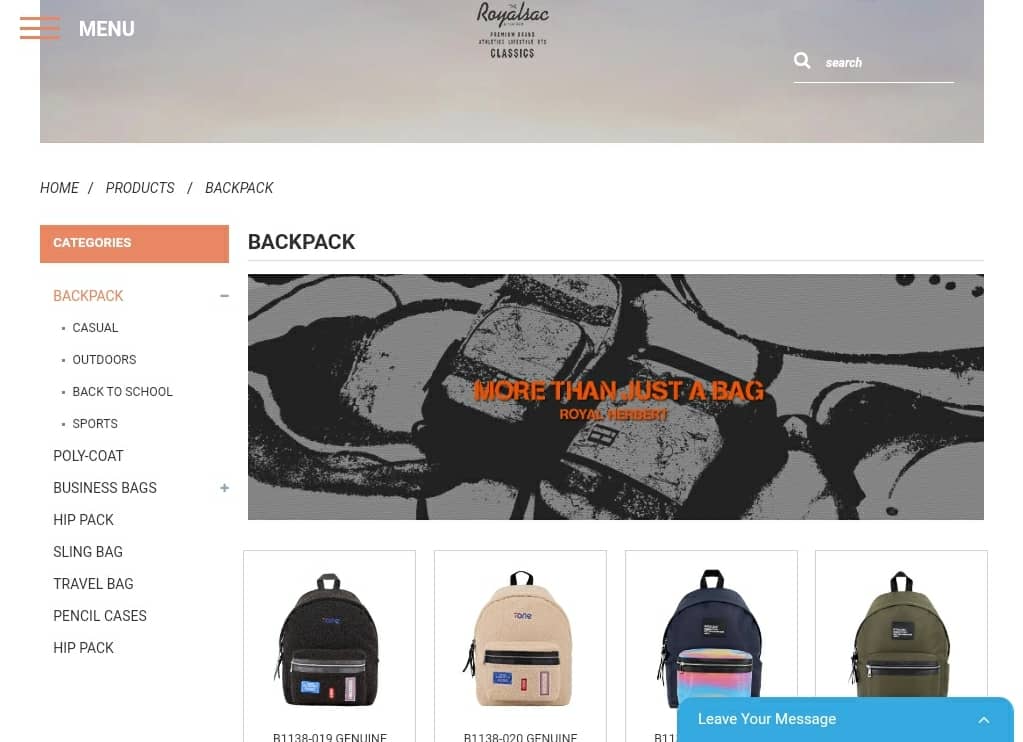 Royal Sac backpacks could easily impress you at first glance. They are suave, and have cool, eye-catching colors and clever designs that are not monotonous.
This Xiamen-based manufacturer produces backpacks for carrying laptops and for use by students, travelers, as well as sports and fitness enthusiasts. They can be customized in-house to meet your requirements and you can also order private label backpacks.
Royal Sac ships globally and can handle high-volume orders. MOQs and wholesale prices are determined on request.
Arctic Hunter
Arctic Hunter is a major exporter of backpacks and has lots of experience in producing designs in accordance with international standards. It works with and ships its products to clients across all continents.
The Arctic Hunter factory is located in Huadu District, Guangzhou. It churns out business backpacks, computer backpacks, as well as casual, school, travel, and sports backpacks. Most of the production processes are handled by automated machines.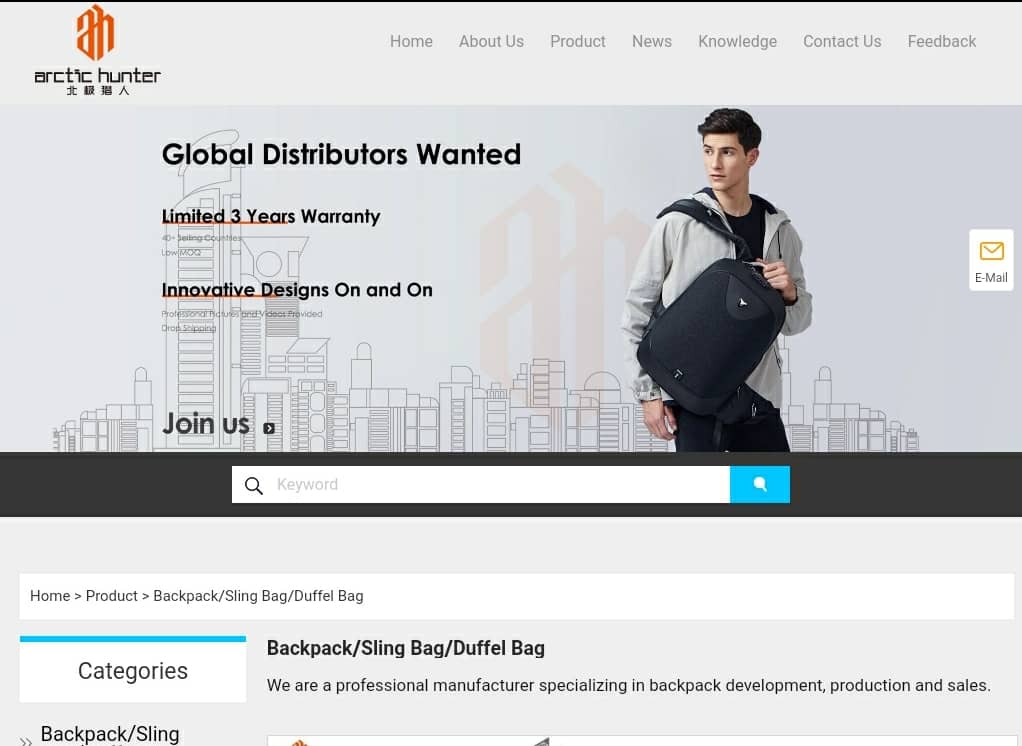 This supplier's innovation efforts are evident in the backpack features it delivers. Some bags, for instance, can be expanded to accommodate more luggage and come with slots specifically designed to hold gadgets like power banks or USB ports.
The MOQ is 20 pieces for standard designs and 500 pieces if you require custom details.
XiyiFuture
Does your target market mostly comprise young individuals? Then XiyiFuture may be a suitable supplier for your business. It mainly manufactures trendy backpacks for students and teenagers.
Aside from just aesthetics, XiyiFuture bags are optimized for young users through features like:
Padding for comfort
Compartments to suit an active lifestyle
Resilient fabrics that are easy to clean
Good weight distribution to ensure the bags do not weigh users down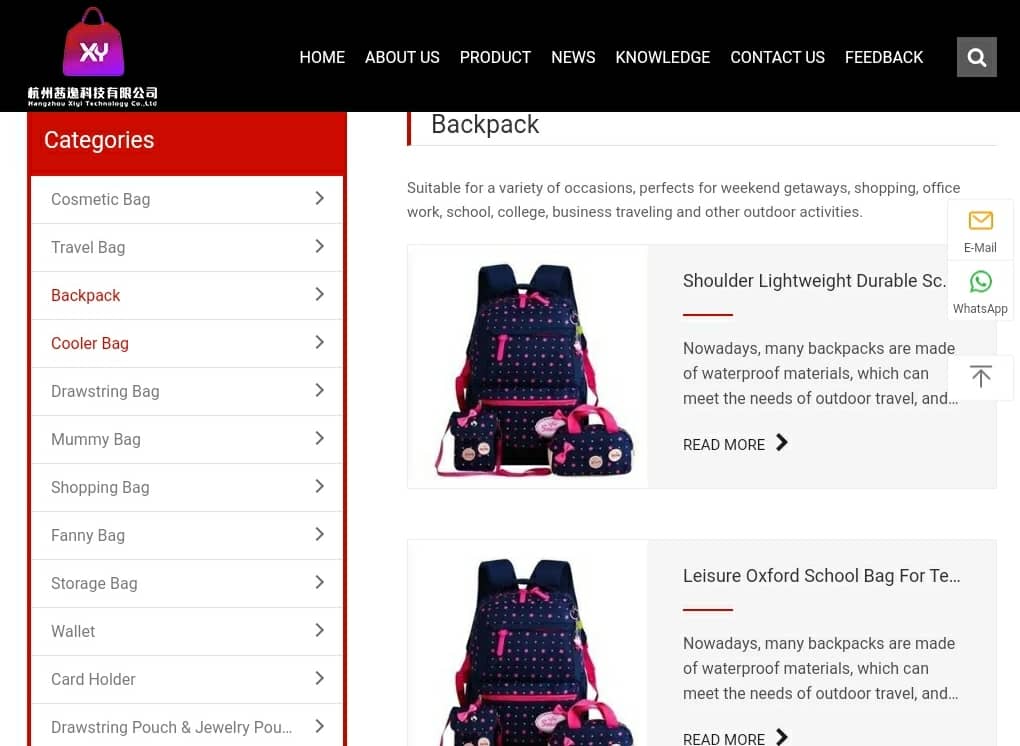 The material options include PVC, polyester, canvas, cotton, and nylon. XiyiFuture allows you to choose between them if you opt to have your backpacks custom-made.
The MOQ is 5 pieces and the turnaround time is about 25 to 30 days.
Ebox
Ebox could be a great go-to supplier if your customers appreciate tech solutions. It incorporates technological solutions such as:
RFID chips in its couple business backpacks to enhance the safety of the bags and their users.
USB ports in most of its backpacks that allow users to charge phones on the go
Solar charging features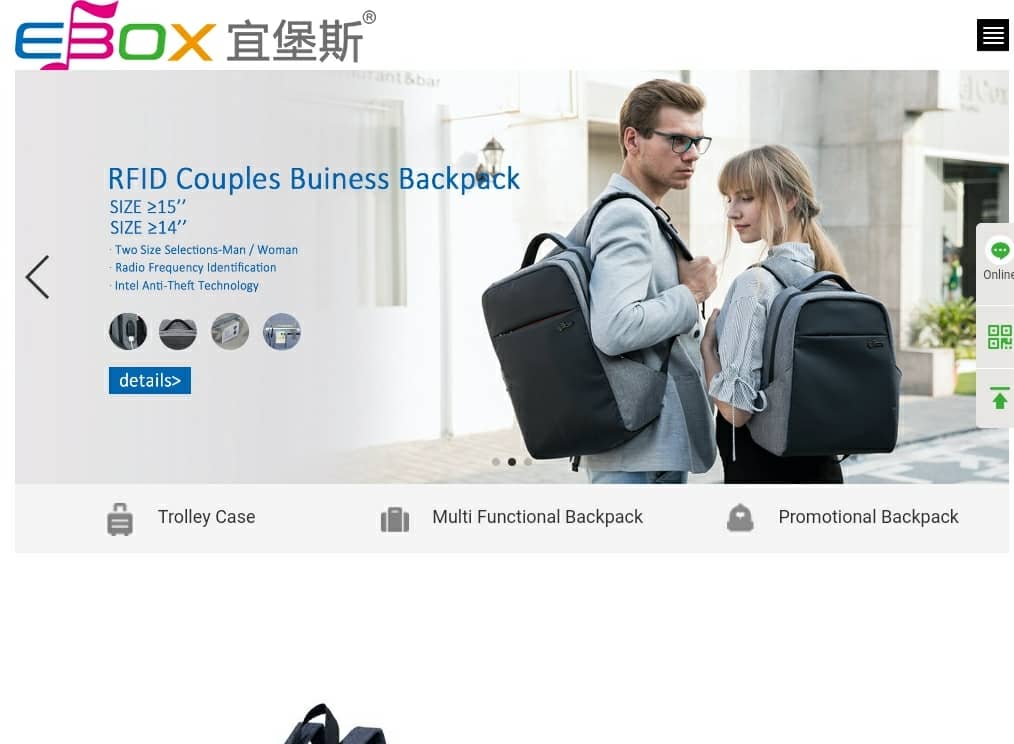 Better still, Ebox also manufactures typical backpacks that can be used to carry laptops, DSLR cameras, or a variety of tools. Are you also on the lookout for fashionable day-to-day backpacks? Ebox makes those too.
The production time is about 30 to 45 days. MOQs are unspecified.
FAQs about Buying Wholesale Backpacks in China
How Do I Find a Good Wholesale Backpack Supplier in China?
The suppliers on this list would certainly be a good place to start. However, in the off-chance that none of them meets your requirements, you could:
Visit relevant trade shows – most backpack manufacturers from China attend trade shows in and outside China to showcase their products. Attending such exhibitions gives you a chance to interact with them and evaluate their products. 
Visit China – visiting China could give you access to many more backpack manufacturers and industry trends. You may even be able to negotiate better when you visit individual manufacturers. 
Harness the internet – Alibaba, DHgate, AliExpress, Global Sources, and similar platforms could introduce you to hundreds of top backpack manufacturers in the comfort of your home or office anywhere in the world.
Hire a sourcing agent – a registered and reputable sourcing agent based in China who understands all the complexities of the backpack industry. They can find you the right supplier for your project fast and work with you through the purchase.
What Should I Consider When Sourcing Backpacks from China?
Begin by figuring out what kind of products you would like to offer your customers. This will guide you as you evaluate crucial details such as:
Backpack quality – aim for neat stitchwork, durable fabric that is easy to clean, and high colorfastness.
Budget – the backpacks you buy should be fairly priced so that you can earn a healthy profit margin and still sell them at a price that your target market can afford.
Target market preferences – how old is your target market? What kind of activities do they take part in and what backpacks suit them? What kind of prints, colors, and sizes would appeal to them?
How Do I Identify the Right Wholesale Backpack Supplier For My Business?
The right backpack supplier is one that offers what you need.
Factors such as their prices, MOQs, lead time, customization capabilities, production capacity, and shipping radius should match what you need and your budget.
Make an effort to also ask potential suppliers about whether they have an export license, the shipping terms they offer, and what after-sale services they provide.
To Wrap It Up
It is easy to imagine that the backpack market is overcrowded and not worth venturing into. Yet, as we have learned on this blog, it is not only profitable, but there are also new innovative backpack designs that you can sell and outpace your competitors.
We, at NicheSources, have a great network of backpack suppliers in China and also understand the nuances of the industry. We can also help you get through the sourcing process, product development, and shipping.
Is this the kind of business partnership you have been hoping for? Then send us a brief of your backpack sourcing needs, request a free quote, and let us handle the rest.