Alibaba is globally renowned as an online marketplace that offers an incredible variety of goods at great prices. Its popularity over the years has grown so steadily that it is now ranked among and competes with e-commerce giants like Amazon.
However, buying from Alibaba remains a mystery to lots of shoppers and entrepreneurs. Most are uncertain about how the purchase processes work and how to navigate key issues like shipping. Concerns like scammers also throw a spanner in the works.
Are these or any other challenges holding you back from sourcing goods on Alibaba? Well, then this is the right blog for you. Read on as we lay bare everything about buying from Alibaba easily and safely.
Let's get into it.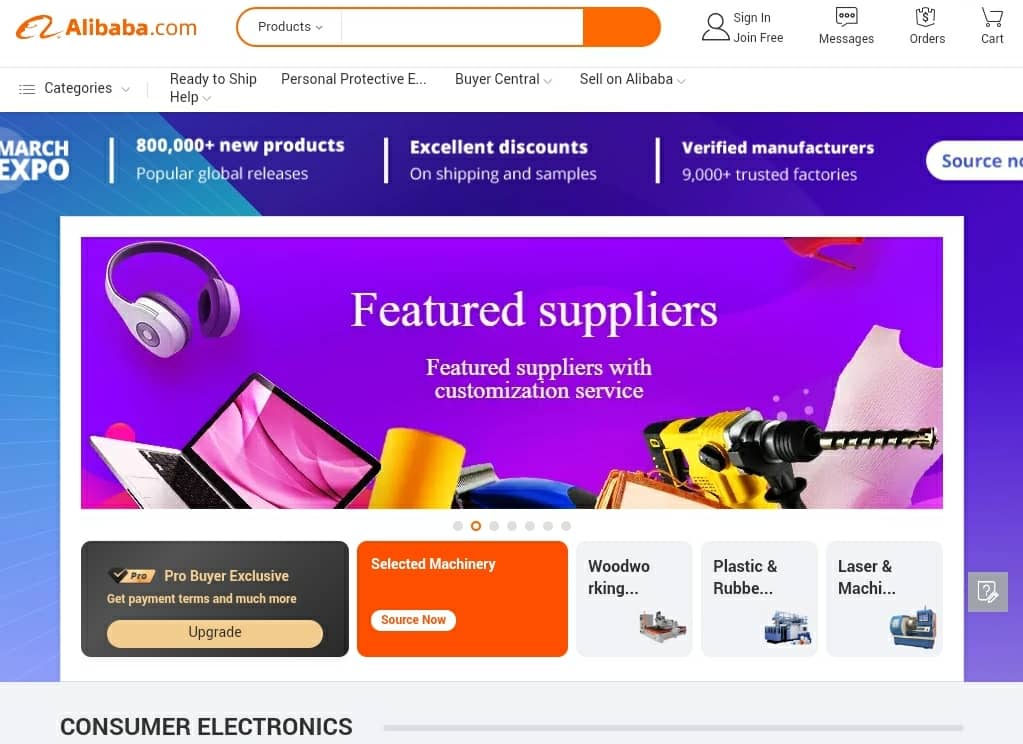 What Is Alibaba?
You probably already know that Alibaba is an online marketplace that originates from China. It is owned by the Alibaba Group and the goods listed on the platform are primarily made in China.
What you may not know is that Alibaba is not a retail shopping platform. Rather, it is a B2B e-commerce platform that hosts suppliers that sell goods in bulk at wholesale prices.
The products range from apparel and personal care to consumer electronics, construction equipment, machinery, furniture, and a whole lot more.
Most suppliers on Alibaba are either trading companies or product factories. Unlike retailer suppliers, they can supply larger quantities of goods and offer extra services like order customization, white labeling and private labeling.
Can Anyone Buy from Alibaba?
Alibaba is an ideal platform for companies or entrepreneurs sourcing goods to resell in bulk, retail quantities, or through dropshipping.
Nevertheless, anyone can shop on Alibaba as long as
Your order can meet the MOQ set by the supplier you choose.
You and the supplier can agree on the terms of the sale.
On the flip side, while some suppliers may not have an MOQ, buying small quantities may deny you access to wholesale prices.
So, if you only require a few units of an item, especially low-value items, it is best to look it up on AliExpress as it is a retail-oriented online marketplace.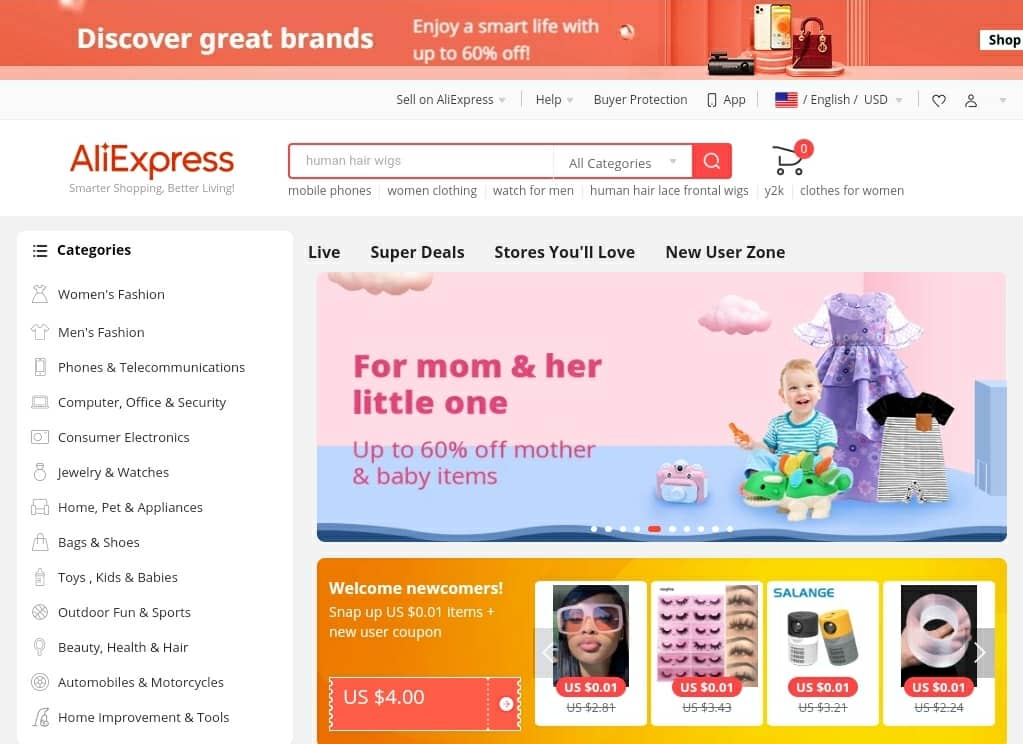 How to Buy from Alibaba
At face value, buying goods from Alibaba is not much different from buying goods on other online platforms. The only difference is that shopping from Alibaba entails more communication between buyers and sellers because:
The volume of the goods being transacted is larger. Thus, the logistics tend to be more complex.
In some cases, you may have to liaise with the seller about details like customization.
That said, if you have not shopped on Alibaba or similar platforms before, it is understandable that you may feel out of your depth. Let us discuss each step of the buying process and shed light on what to expect and how to navigate it.
Identify the Goods You Require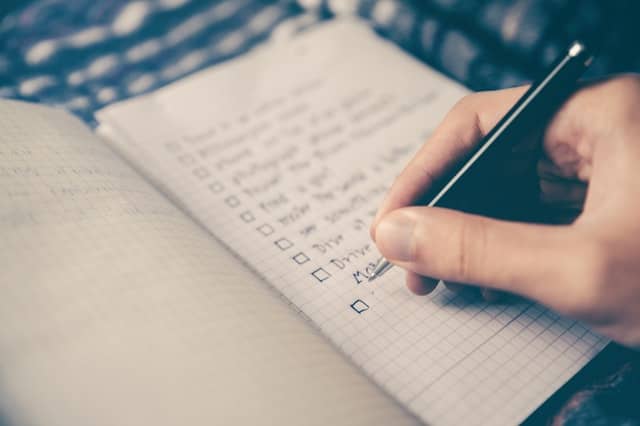 It is best to have a defined idea of the goods you would like to buy from Alibaba. Once you know what you plan to buy, decide on issues such as:
Color
Size/dimensions
Model of the item (especially for gadgets)
The quantity of goods
Your budget range
Any details of the goods that you would like to be customized
This step is essential because it will determine the keywords you will use when looking up the items on Alibaba. The type of products you need will also define exactly what kind of suppliers you need to find.
Run a Search
Running a search on Alibaba allows you to:
See whether the products you require are available
Identify potential suppliers that may be able to sell you what you need
To illustrate how it works, let us consider, for example, that you would like to buy wholesale leather handbags.
The first step would be to access the Alibaba website or app. Notice the search bar at the top of your screen and a filter button right next to it.
Enter 'wholesale leather handbags' as your search term/ keyword
Click on search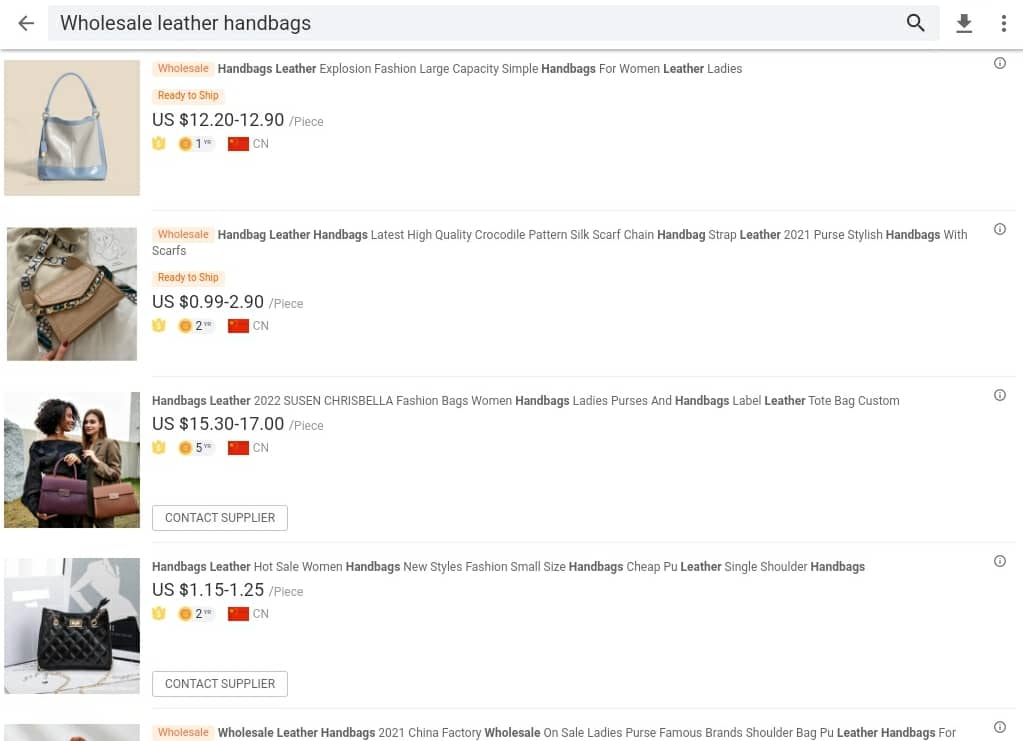 This will bring up a list of different leather handbags from suppliers that sell them wholesale. However, if you would like to get a list of the suppliers instead of the products, you can change the filter setting from 'Products' to 'Suppliers'.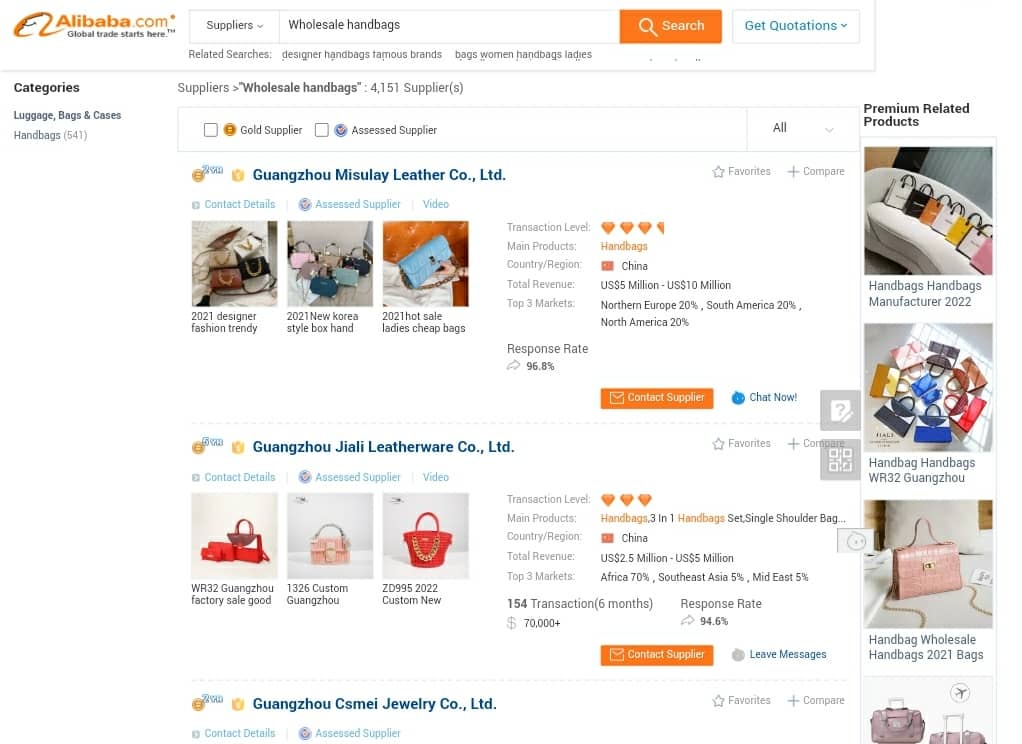 Take your time to scroll through both kinds of search results. Identify the items that match what you are looking for as well as the suppliers that offer them. You can bookmark them or open them in separate tabs for closer evaluation later on.
Choose the Right Supplier
You will likely have a shortlist of potential leather handbags suppliers that caught your eye after running your search. While it may be tempting, avoid placing any orders from the first great option that you are drawn to.
Instead, take the time to weigh and compare all the different suppliers on your shortlist. Evaluate each supplier's:
Products- do the products they offer match what you are looking for? Is the quality good enough? What materials were used to make the products? Are they durable, or can you find better alternatives?
Service provisions– what options can each supplier offer? Look out for advantageous provisions such as customization, flexibility to accommodate mixed orders, and a wide range of product varieties.
Experience- long term experience is often a plus because it assures you that you are dealing with a supplier that is not a novice at handling orders or delivery logistics.
Verification status- verified suppliers are those that have undergone independent 3rd party vetting and been found to be genuine. It does not mean that they are perfect but it is a vote of confidence in their service.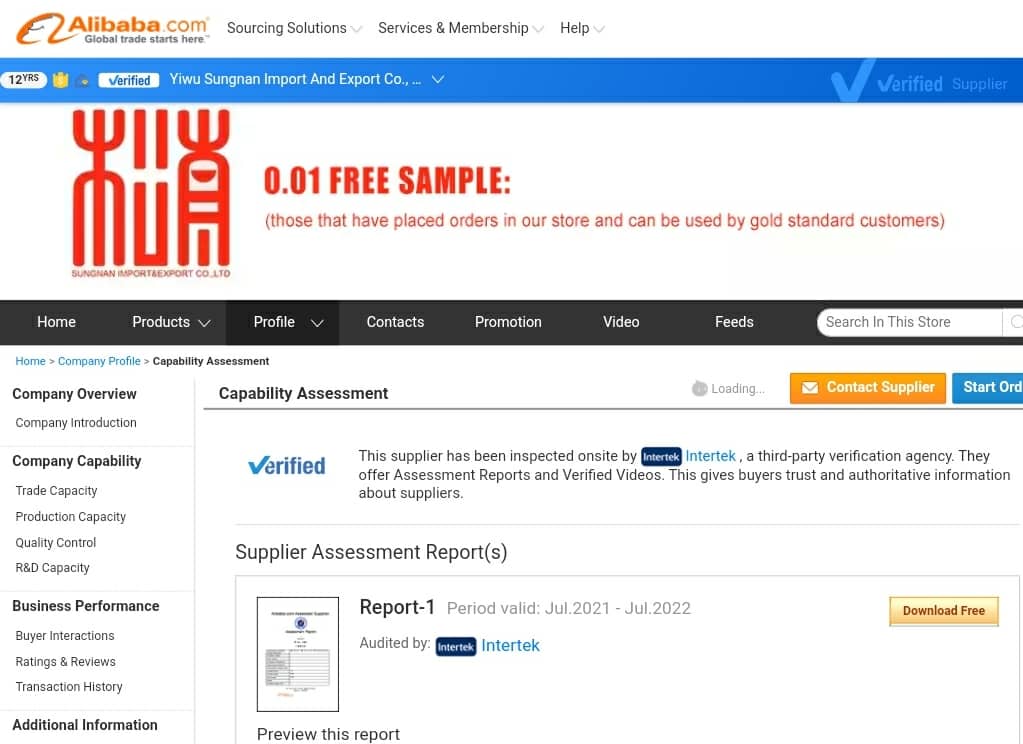 Gold supplier status- only suppliers with a stellar reputation of service qualify for gold supplier membership. They are also more trustworthy as they usually have to provide a business license and other formal documents to verify their business.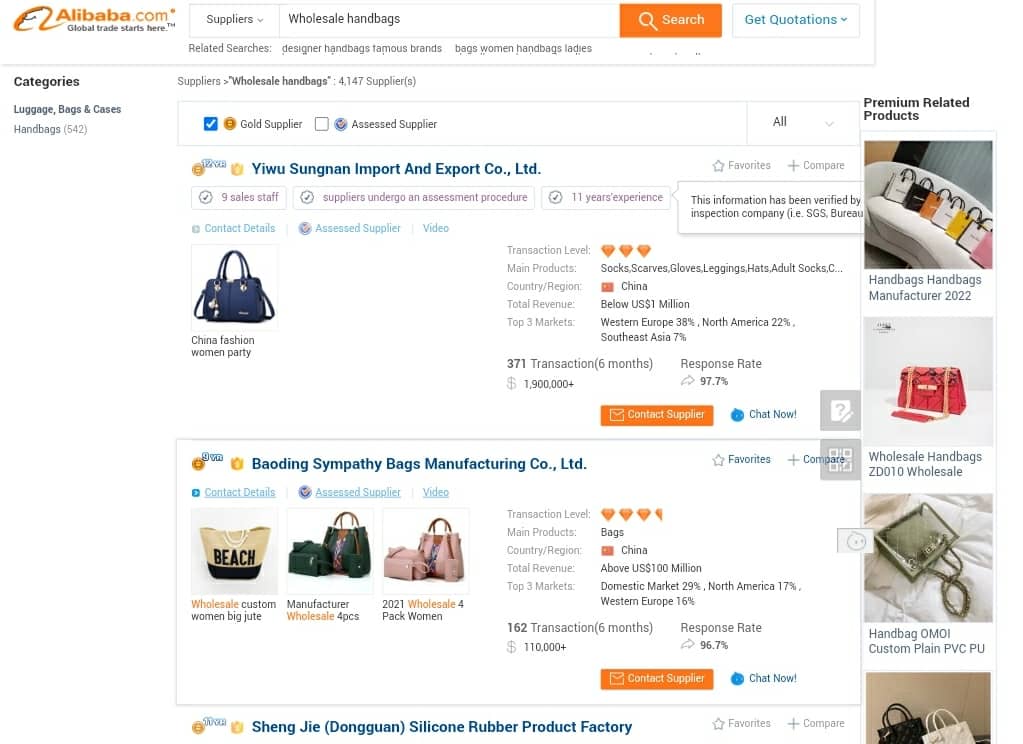 Shipping terms- some shipping terms like EXW favor the supplier while others like FOB are a healthier compromise for both parties. Consider the shipping terms each supplier offers, their suitability, and whether there is room to negotiate.
MOQs- aim for suppliers whose minimum order quantity rules are fair enough to accommodate the quantity of goods you need to order. Fairly low MOQs are particularly ideal, as they allow you to reduce or increase your order size whenever necessary.
Pricing- the final prices of goods on Alibaba may vary based on the specifics of your order. However, the trick is to choose a supplier with fair wholesale pricing. It should not only be low but bulk orders should also earn you discounts.
Using these factors will help you narrow down your list of suppliers to an even shorter list of eligible suppliers that can meet your needs.
Contact Shortlisted Suppliers
Reaching out to your shortlist of suppliers is mostly about finding out if they can supply what you need at terms that are favorable for both parties.
First, set up an account on Alibaba if you do not have one yet. This is the only way you can receive and manage messages from suppliers via the Alibaba messaging platform.
Once you log in to your account, look out for the 'contact supplier' button next to each product or supplier listing. If you click on it, it will redirect you to a chat box where you can type a message to your supplier.
In your message state:
Your name and that of your business
Your country; this will give the supplier context to decide whether they can fulfill your order and make it easier for them to provideyou with an accurate quote.
The goods you require including specific details
Your request for a quote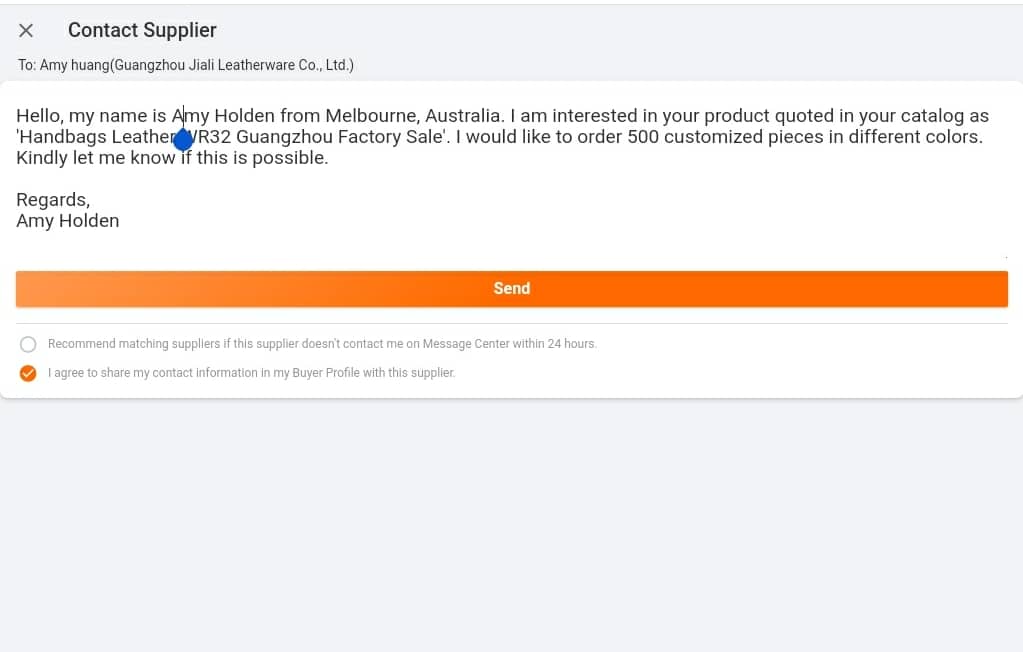 Send the message to all the suppliers on your shortlist and check your Alibaba messages regularly for intervals. Each supplier responds within their own timelines and so it pays to be patient.
As the responses come in, sift through them and further identify the suppliers that offer the best terms. Prioritize those that respond within reasonable timelines and serve you efficiently at this stage.
Request Samples
It will be easy to tell which suppliers you can work with after the initial consultations. Pick one or two that meet your standards and request samples of the products you would like to order from them.
Some suppliers may offer free samples and shipping at your cost while others may expect you to pay for the samples plus shipping. In some cases, the cost of samples is also refundable if you eventually place an order with that supplier.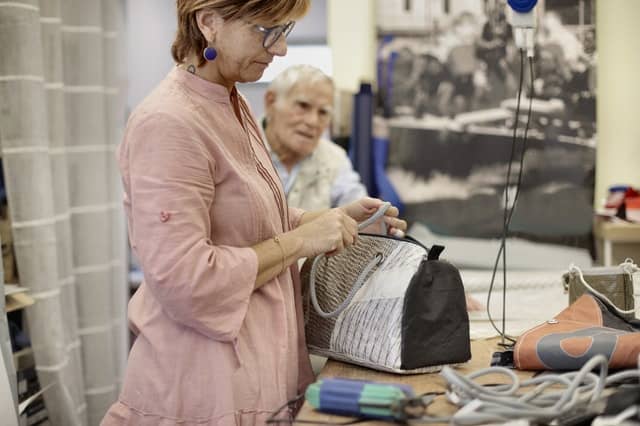 Test the samples extensively once you receive them. Examine how they look, how well they function, as well as whether they remain sturdy even after multiple uses.
Remember, you do not have to give the supplier an immediate response. Take your time and be thorough. You can also order alternative samples from a different supplier for comparison and to ensure you make the best choice.
Negotiate
After the sampling, you will likely zero in on one supplier. However, before you proceed to order from them, negotiate.
Try to get the best price you can without the supplier compromising on product quality. 
It is also possible to request a lower MOQ or minimum order value (MOV) if the one indicated is too high. More so if you explain to the supplier that you would like to introduce the product(s) to your customers before ordering in bulk.
Discuss Shipping
You will need to provide your supplier with a specific shipping address so that they can deliver the goods to your preferred location.
Beyond that, take time to agree on other key shipping issues such as:
Packing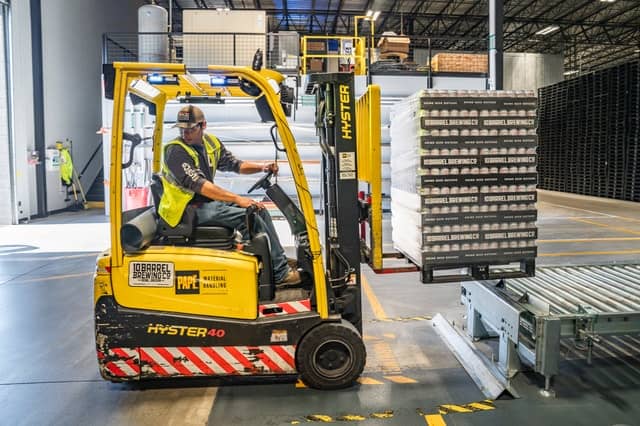 Be sure to inform your supplier of any packing preferences you may have. This includes requirements like branded/custom packaging or packing according to Amazon FBA standards.
Shipping Terms
Options like FOB or CIF that require the seller to handle all export logistics in the country of origin could make things much easier for you if you buy from outside China.
On the other hand, if your chosen supplier is adamant about using Incoterms like Ex-works, you may need to explore finding a different supplier or consider hiring an agent to help you manage the shipping process.
Shipping Carriers
Find out what shipping carriers your supplier uses, how effective and reliable they are, as well as how long it will take for the goods to arrive at your destination. Raise any concerns you may have and see if the supplier can offer better solutions.
The Mode of Transport
You may have to choose between options like rail, air, or sea shipping.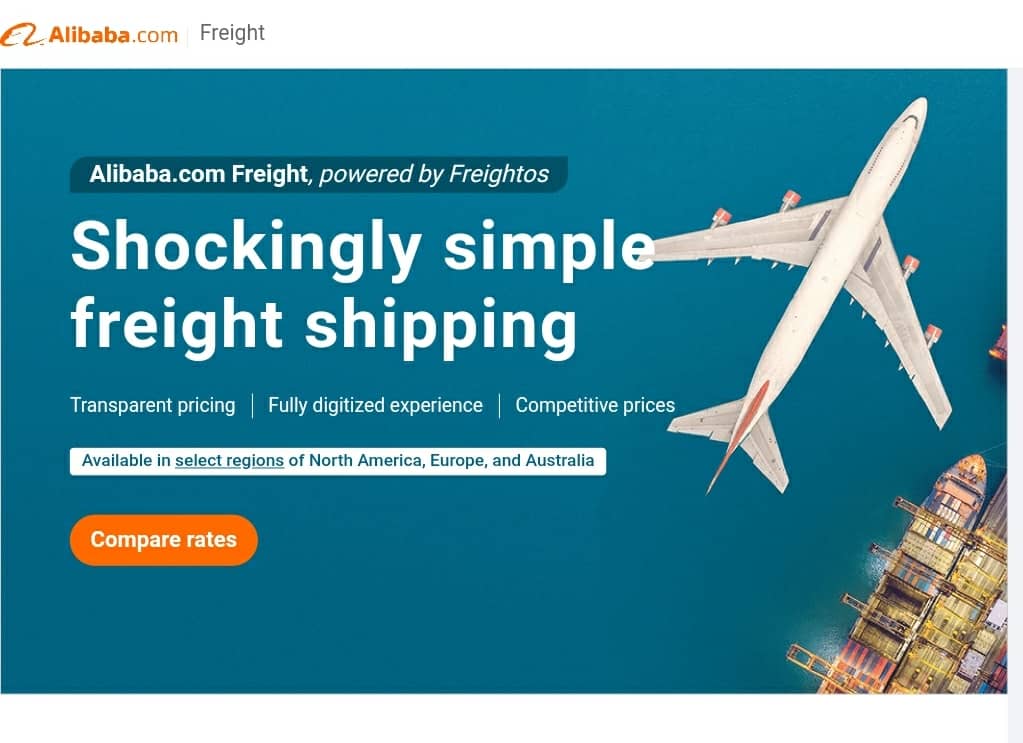 Air freight is fast but attracts high costs. It is ideal for situations where the shipment is:
Of low to average volume
Contains high-value items
Requires quick delivery
In contrast, sea shipping is quite affordable. More so for shipments with high volumetric weight. It does, however, take longer than air freight.
Place an Order
Having agreed on all terms, you can proceed to sign a purchase agreement with your supplier and place an order for your goods.
Strive to make your order as detailed as possible. For instance, if you are ordering fitness apparel, state:
The type of apparel you are ordering i.e. shorts, yoga pants, sports bras, tracksuits, etc.
The sizes
The colors
The fabrics
Any branding that should be included
While you may have discussed all these issues with your supplier, making a precise order minimizes errors and ensures that they have a reference to guide them as they process your order.
Plus, if you are not specific about your requirements, you may end up with goods that you do not need and can not return.
Arrange Payment
It is crucial that you stick to the payment methods recommended by Alibaba. Doing so keeps you protected from scammers and makes it possible for you to initiate a complaint and seek a refund through Alibaba if a seller does not deliver what was agreed upon.
The official payment channels allowed by Alibaba include:
T/T
Credit card
Online Bank Payment
Boleto
Western Union
Online Transfer
PayPal
Apple Pay
Letter of Credit
D/P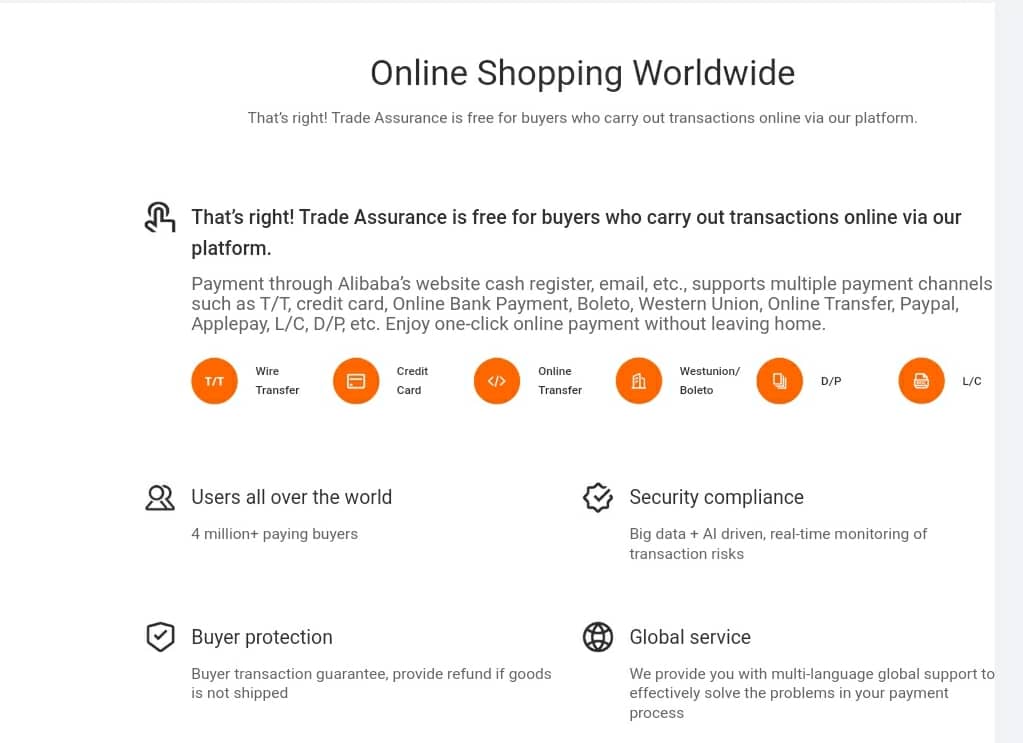 Some suppliers may require a partial deposit of about 30% before production and the rest once the goods are ready. Remember to keep a record of all payments and request receipts from your supplier too.
Shipping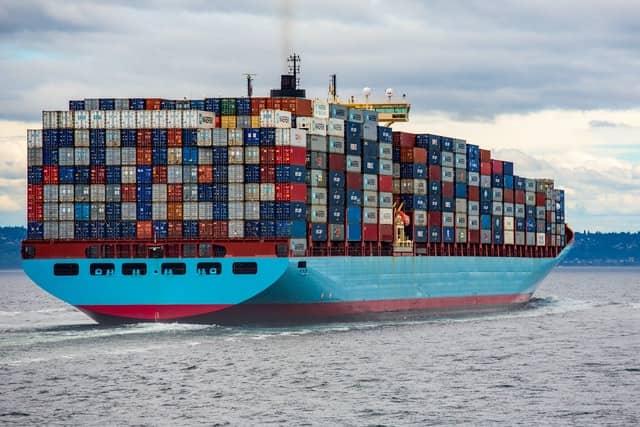 Your supplier should notify you when they dispatch your goods and share:
The details of the carrier
The tracking number
All relevant shipping documents that they received such as a bill of lading or a notice of onboarding
Use the tracking number to monitor the progress of the shipping process and also prepare to receive the goods. When the goods arrive, unpack them carefully and inspect each item. Ensure that you received the correct number of items too.
If all is in order, you can reach out to your supplier and confirm receipt and offer any feedback you may have.
Alternatively, if there are any complaints, let the supplier know and ask them to resolve them. If they do not provide any assistance and you are discontent with their service, you can launch a formal complaint with Alibaba.
Tips on Sourcing Goods from Alibaba
At this point, you likely know how to navigate shopping on Alibaba. Still, here are some key pointers to help you do it safely and smoothly.
Follow the Rules
Alibaba has made great strides towards eradicating scamming on the platform. It has mostly done this by creating rules that govern buyer-seller relationships and providing avenues for redress for both parties.
If you stick to the rules, it significantly lowers your chances of getting scammed or running into other troubles. It equally keeps you eligible to seek redress through provisions like the Alibaba Trade Assurance.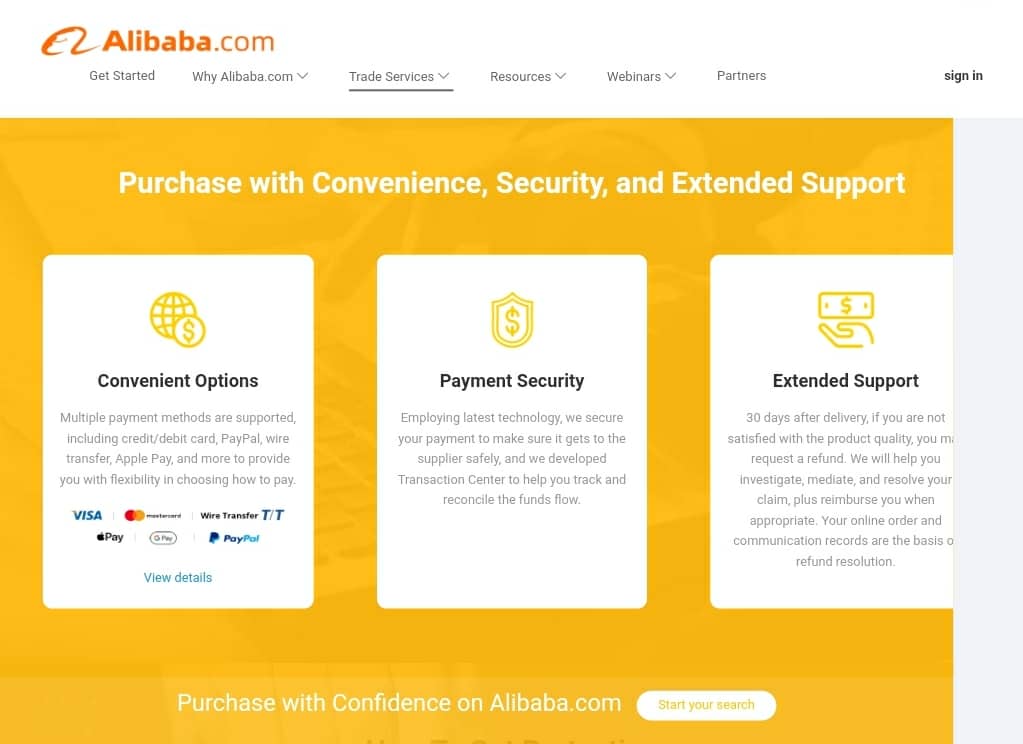 Be Patient and Do Your Due Diligence
It takes time to find a good supplier, negotiate, and reach amicable terms. It, additionally, requires careful vetting to ensure that your supplier is experienced enough and has the wherewithal to deliver what they promise.
Here are some due diligence checks you could perform.
Ask your supplier to take authentic pictures of their products before ordering samples. True pictures showcase a more realistic view of items than generic internet photos.
Ask to see their business licenses and certifications. This will tell you if they are qualified to produce the kinds of goods you require.
Inquire about their factory setups, production lines, production capabilities, and similar details. This may not seem crucial in the beginning but it will be down the line when you need a dependable supply chain or are trying to scale your business.
Manage Your Communication
All correspondence between you and your supplier is essential for future reference. So, do not delete any chats that you have or any documents shared with you via email.
In light of this, it is wise to stick to specific communication channels. The Alibaba messaging app is ideal but you could also request your supplier to communicate via email.
Emails can be quicker to check and you can turn on notifications for them. They also make it easy to store and find documents or conversation threads.
WeChat is very popular among Chinese vendors but it is not encouraged by Alibaba and is rather informal.
Keep a Record of All Transactions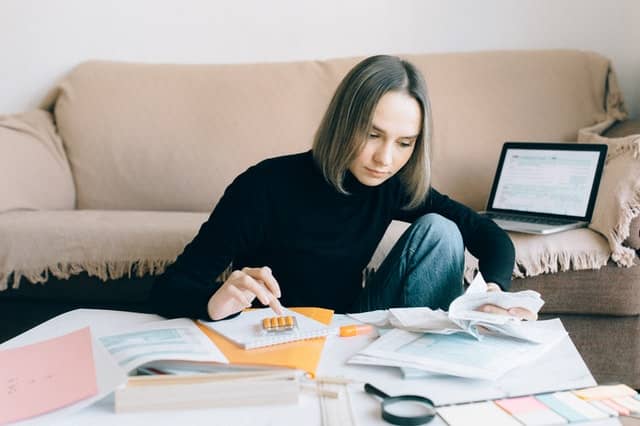 Take note of every service or product that you order and pay for. Request for a receipt from your supplier after every payment too. These will come in handy if your order falls short or is not fulfilled and you need to seek redress.
Do Not Get Carried Away by Low Prices
Low prices are great when you are sourcing goods on a budget. However, they are not always a sign that you are getting a great deal.
Make an effort to vet your supplier and their goods beyond their price tags. Are their prices low due to economies of scale and other benefits or do they water down product quality to keep their prices low?
If it is the latter, it is best to move on to another supplier.
FAQ About Buying from Alibaba
Is Alibaba Safe to Buy From?
Yes, it is.
The Alibaba website is encrypted to keep customer data safe and so you do not have to worry about security breaches.
On scammers, it would be an exaggeration to claim that all vendors on Alibaba are forthright. Some may indeed let you down. You can, however, avoid them by:
Sticking to the recommended communication and payment channels
Trading only with verified suppliers that have proper certification
Reporting any red flags or suspicious requests to the Alibaba customer care team
Why Is Alibaba So Cheap?
The goods sold on Alibaba are made in China. They are affordable because:
The manufacturing sector in China enjoys government support through conducive policies and subsidies.
Labor in China is more affordable than in most countries which helps lower the cost of production.
The use of advanced machinery in factories makes it possible for suppliers to produce in bulk at lower costs.
Additionally, it is cheaper to produce in bulk than in small batches. Consequently, because goods on Alibaba are sold in bulk, the sellers enjoy economies of scale and are able to pass them on to you through lower prices.
Unfortunately, if you require a small order of custom goods, the economies of scale are reduced and you may, therefore, have to buy at higher prices.
What is the Difference Between Buying From a Trading Company and a Factory on Alibaba?
A trading company is a mega distributor that supplies goods to businesses in bulk. A factory/manufacturer is the actual producer of the products you are buying.
The buying process on Alibaba is the same whether you are buying from a trading company or a factory.
The only difference is that dealing directly with a manufacturer can be more ideal if you require customization or services such as private labeling or white labeling. They have the resources and experience to deliver all those services without having to consult a third party.
How Can I Buy From Alibaba Without a Company?
It is possible to buy from Alibaba whether you have a company or not. You can use your name as a substitute for the company name and proceed with the buying process as normal.
To Sum It Up
All things considered, Alibaba is a highly convenient e-commerce platform for anyone looking to source goods in bulk. It makes finding what you need much easier and more affordable than traveling to China to visit multiple factories in person. 
Plus, you can always delegate some of the purchase processes to us, at NicheSources, and free up your time for other business management tasks. We can help you find suitable manufacturers, collect and warehouse your goods, and provide shipping support.
Ready to start your sourcing journey? Send us a brief of your requirements and request a free quote at any time.