Every business selling physical products needs to have readily available products for their customers as and when required. That's why the process of product sourcing is vital for your business's survival.
As a business owner, you can either source products from a third-party supplier or manufacture them yourself. Most retailers buy products in higher quantities at wholesale prices and resell them in smaller quantities at a higher price per product.
This article will discuss every aspect of product sourcing and how you can do it in the most efficient and profitable ways.
Let's begin.
What Is Product Sourcing?
Product sourcing is the process of acquiring or buying products from the source supplier to sell them to consumers.
The main idea behind product sourcing is to buy products in bulk quantities at a lower price per item and resell them in smaller quantities for a higher price per item to earn a certain profit per product.
Where to Find Wholesale Product Suppliers?
You can find source suppliers in multiple ways. Some of the most common ways to find suppliers are mentioned below.
Online Search
This is probably the easiest way to find the suppliers. You can write whatever you want on the internet and you will be presented with several solutions.
But how you carry on your research depends upon your skills to reach the best supplier for your business. It is a lengthy task as finding something on the internet depends on multiple factors.
You might miss out on a great supplier who did not even bother to be present on the internet or did not do the right SEO of his website.
The most common methods to find a supplier online are mentioned below.
Search engines
Online marketplaces like Alibaba
Social media (Facebook, Instagram, YouTube, LinkedIn, etc)
Physical Visits
You can do market research and visit the wholesale markets physically. You have to find out the local wholesale markets in your country.
If you want to source products from other countries like China, you may consider visiting places like the Yiwu and Guangzhou markets.
Trade Shows
Attending trade shows and business expos can be a good idea if you want to find legitimate suppliers for your products. Try to attend the trade shows in your niche.
For example, if your product is related to beauty, you may consider attending shows that have the most suppliers from the beauty niche.
Trade shows like Cantor Fair and Yiwu Fair will help you find the suppliers of your choice. That's because the suppliers attending these shows have invested in these fairs to interact with their customers.
So, you can say that the suppliers attending these shows are reliable and the chances of being scammed are slim.
Product Sourcing Companies
Retail or e-commerce businesses have many challenges. There are many business aspects like product research, marketing, and customer services to take care of.
At the same time, product sourcing from the best supplier is a full-time job per se.
Hiring the services of a product sourcing company can reduce your workload by up to 50%.
These companies are specialists in finding the best suppliers for your products at the most affordable costs and also provide other services like order fulfillment, product storage, worldwide shipping, etc.
Product Sourcing Methods with Their Pros and Cons
Product sourcing is such a huge business practice that it has taken a variety of innovative shapes since its inception.
Let's discuss the most common product sourcing methods to make it easier for you to choose the sourcing method that best suits your business.
Product Sourcing from Manufacturers
Acquiring products from direct manufacturers or OEMs is one of the most desired methods of sourcing products. That's because the retailers are confident about the quality of products and they are sure of getting products at the right prices.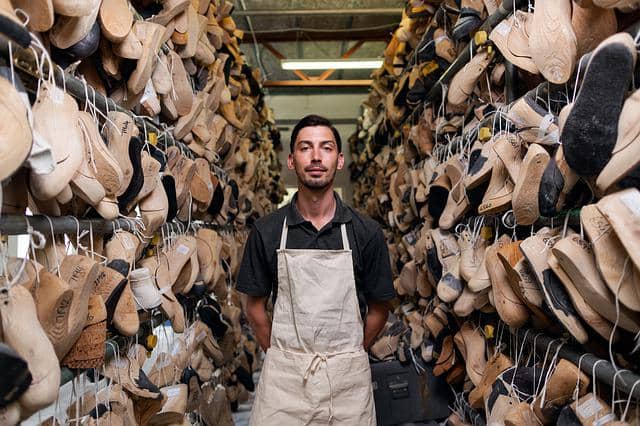 Most manufacturers are always comfortable selling products to retailers with certain business terms and conditions. They also have dedicated sales and marketing departments to deal with buyers.
Having said that, it is not always easy to work with a manufacturer. For example, if you are planning to buy from a Chinese manufacturer, you need to take certain tips and tricks into account to buy direct from a China factory.
Pros
Cons
Higher MOQs
Communication challenges
Difficult professional rapport
Product Sourcing from Wholesalers
Wholesale suppliers or wholesalers are specially meant to sell products to the retailers. A wholesale supplier may also be a manufacturer, distributor, or stockist who has acquired products in high quantities.
The main objective of a wholesale supplier is to sell those products to the retailers in smaller batches with MOQs.
For example, if a wholesale supplier has manufactured or acquired 100,000 pieces of one product, he may be willing to sell those items with an MOQ of 100 or 1000 pieces per order.
Pros
Ready stock available
Easy reordering for the same products
Minimum lead times
Specialized in shipping offering all kinds of shipping Incoterms
Cons
Limited options for customization if the wholesaler is not the manufacturer
Limited flexibility in MOQs
Higher competition with retailers selling the same products
Product Sourcing from Dropshipping Suppliers
Dropshipping is the business model in which a retailer does not acquire the products from the supplier. Rather he tells the supplier to ship the products directly to the customer.
So, if the supplier agrees to dropship products on your behalf, he does not set an MOQ for his products. But the products are offered at a higher price in a dropshipping model as compared to the wholesale model.
Pros
Hassle-free business
No warehousing required
Limited business expenses
No worries for dead stock
Cons
Higher costs per product
Less control over product prices and lead times
Difficult to compete with retailers who bought in the wholesale model
Product Sourcing from Online B2B Marketplaces
You can also source products from the online e-commerce marketplaces that work on a B2B model. These websites host a variety of wholesale sellers, manufacturers, and other sellers who mostly offer products with MOQs.
The websites like Alibaba, DHgate, Global Sources, etc. have made online product sourcing very easy. It is best to find online marketplaces that are based in China for the best China-made products.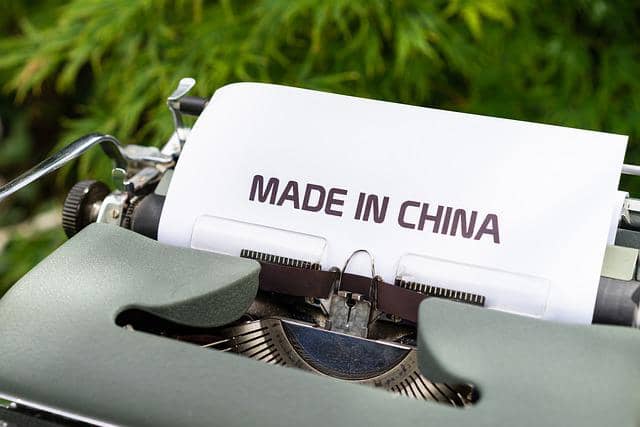 You just visit these online platforms, choose the products and suppliers of your choice, and place orders that are also protected by these platforms.
Pros
No physical visits required. Easy and remote access to suppliers.
Multiple suppliers are available in one place.
Secure payments from platform protections
Cons
Difficult communications
Difficult to choose a supplier among many options
Product Sourcing from Sourcing Agents
As discussed earlier, a sourcing agent or a company does everything on your behalf to reach and source the best products from the best suppliers.
You can save a lot of time and focus on other important tasks of your business by hiring an expert sourcing agent at an affordable cost.
Pros
Time-saving sourcing method
Easy to communicate your messages to the supplier via a local sourcing agent who understands your language
Experienced sourcing agent already knows the best suppliers in particular niches.
Cons
No direct relationship with suppliers (factories, wholesalers, etc.)
An inexperienced or unreliable sourcing agent can be a nightmare for your business.
Product Sourcing from Closeout & Liquidation Stores
You can also source products from the closeout stores or stores that are after liquidating their excess stock at lower costs.
These stores are either trying to replace their items or planning to close their businesses by selling their remaining stock.
So, if such stores have products from your niche, it would be a good idea to source products from them as they may be offering those products at discounted prices.
You can find these stores online or locally in your country.
Pros
Products are available at discounted prices.
Easy to collaborate and negotiate for bulk order quantities as they want to get rid of their stock.
Chances to check out products by visiting their warehouses
Cons
Such stores are limited in number and difficult to find.
Products may be old or damaged in some cases.
Limited product variety. You may have to compromise on product specifications and quantities.
Product Sourcing from Existing Retailers
Some small businesses that cannot buy products in large quantities also source products from existing retailers. This especially happens in e-commerce.
Such retailers list the pictures of the products from existing retailers on B2C platforms like Amazon, eBay, Walmart, etc.
They try to sell at a higher price to earn a little profit per sale. They can resell the products on the same platform or can also source from one platform and sell on another.
This is also a form of dropshipping as you don't have to buy products in advance before having orders.
An example is shown below.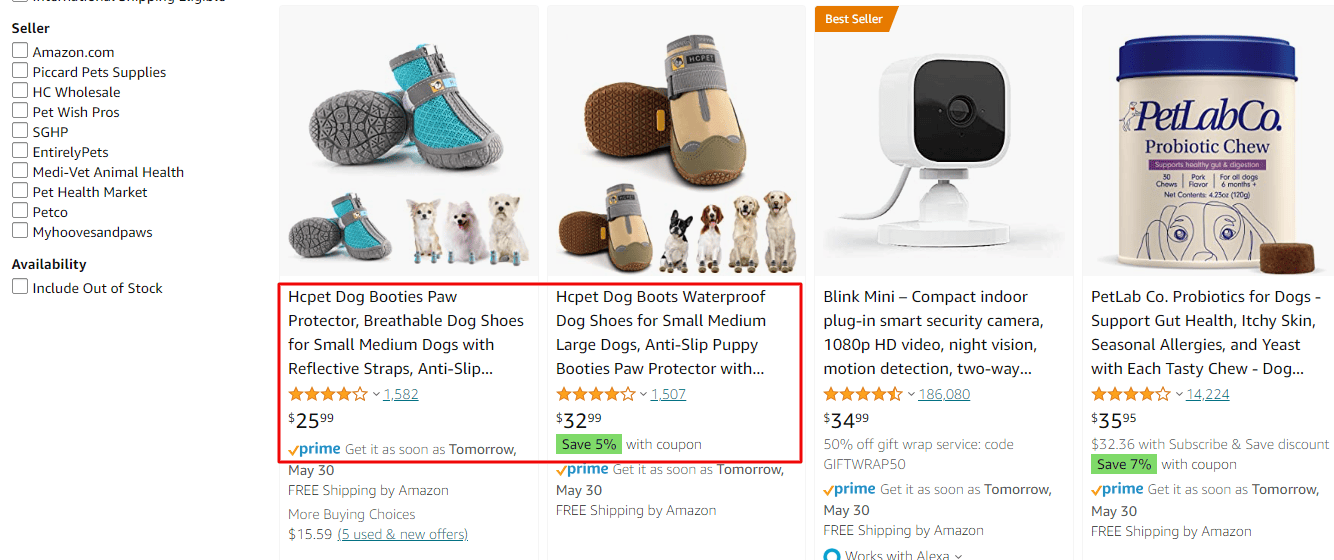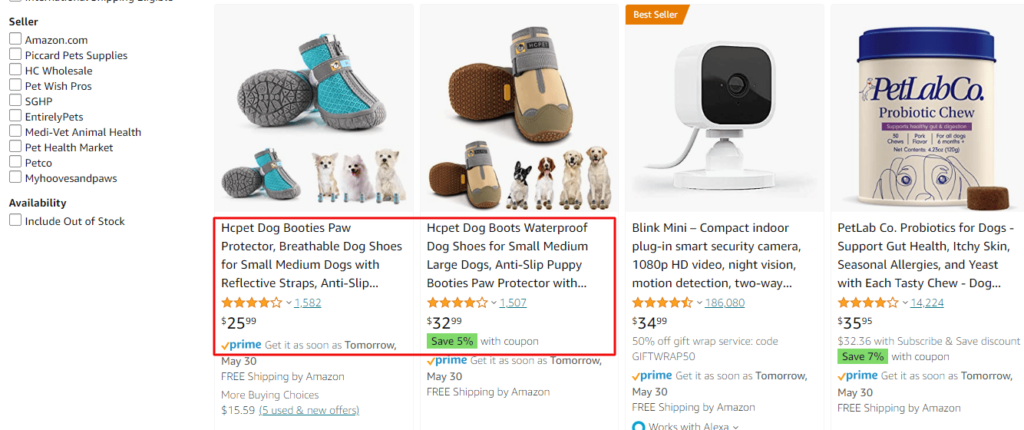 As you can see in the screenshot, both products look the same and are from the same brand (HC Pet Shoes). One retailer is selling them at $25.99 per 4 pcs and the other is selling them at $32.99 per 4 pcs.
Interestingly, both sellers have managed to have sales on Amazon.
While it is possible that both retailers have sourced products from a wholesaler but it may also be a case of buying from an existing retailer.
It is just the angle of product pictures and a little mingling with the Amazon EBC that may give an impression to the buyer that the products are different.
Pros
Low startup costs
No product storage
Looking at the sales trends in the marketplace, it is easy to select the high-selling products.
Cons
Difficult selling. Not a long-term business.
Lower product margins
Little control over pricing and inventory
You may lose repeat sales and customers if they find out that your items are overpriced as compared to other sellers.
Which Product Sourcing Methods Should You Choose?
All the product sourcing methods are legitimate and work well for retailers. It depends on some factors that you have to analyze before deciding on selecting the product sourcing methods that would best suit your business.
These factors have been mentioned briefly below.
Business Capital
One of the prime factors in choosing sourcing methods is your business startup capital.
If you have a small budget and cannot afford to buy products in large, you would be looking for small business wholesale suppliers willing to sell products in small quantities.
In that case, it is recommended that you explore suppliers at online B2B marketplaces and utilize search filters to explore suppliers that are willing to provide products in desired quantities.
For example, you can mention the maximum MOQ and price for a certain product at Alibaba as shown in the screenshot below. You can also select the country of supplier for your convenience.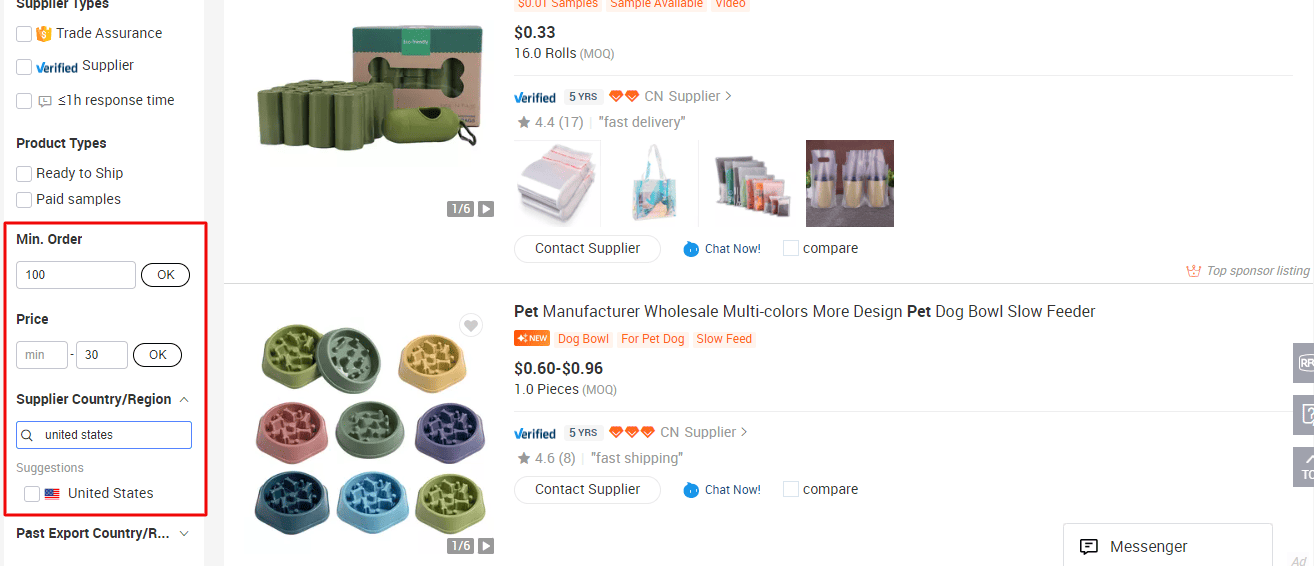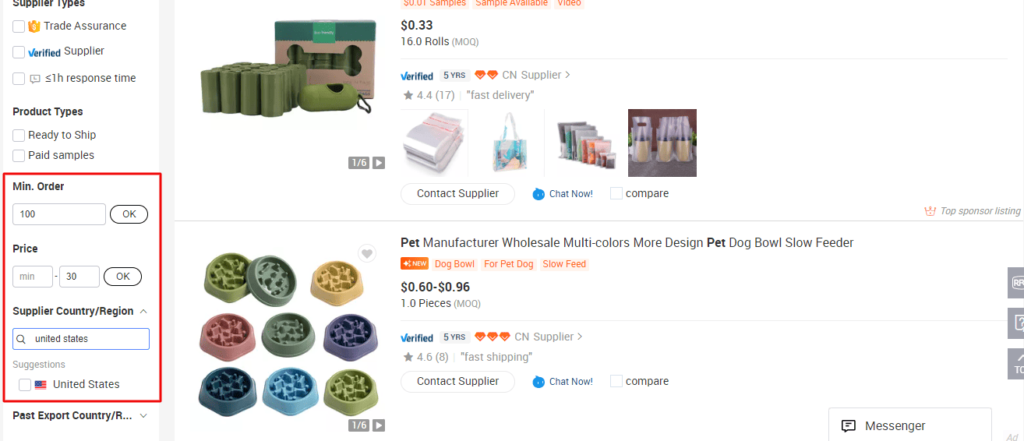 But what if you have no budget for purchasing inventory in advance? In that case, we recommend you go for sourcing products from dropshipping suppliers and existing retailers.
Inventory Storage Options
Another factor that can influence your decision about sourcing methods is your capability or willingness to store inventory.
If you have your warehouse or you are willing to store your products in third-party warehouses or fulfillment centers, you may opt to source products from the following options.
Manufacturer
Wholesaler
Closeout stores
Sourcing agents
Online e-commerce platforms
If you don't want to store inventory, you can go for the following sourcing methods.
Dropshipping suppliers
Sourcing from existing retailers
Product Checking
If you are the kind of retailer who likes to check all or majority of the products yourself, you should choose the following sourcing methods.
Visiting wholesale markets locally or internationally
Sourcing from a manufacturer or wholesaler who is willing to share a sample for the approval before the order
Branded Selling vs Simple Reselling
If you are just into the simple reselling retail model without an urge to start your brand, you can source products from the following types of suppliers.
Wholesale suppliers (both physical and online marketplaces)
Closeout & liquidation stores
Dropshipping suppliers
Existing retailers
On the other hand, if you want to scale your business by running a white-label or private label business, you should consider sourcing from the following suppliers.
Manufacturers
Product sourcing agents
Time Allocation to Product Sourcing
Whether you are a small or large business, sourcing products is time-consuming.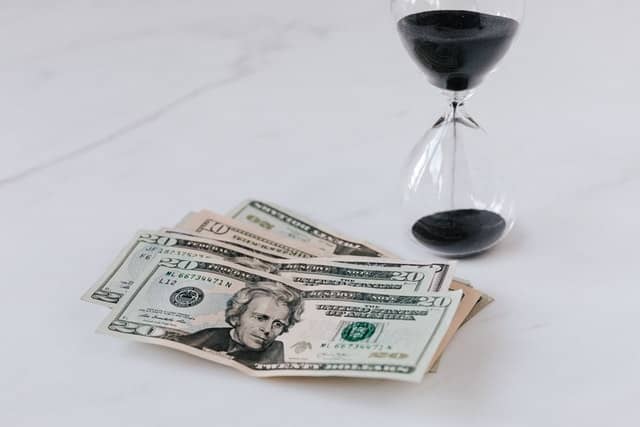 Even if you have a separate sourcing department, you can still be unsure whether you have sourced products from the best available supplier.
You also need to be involved in every nitty-gritty of the sourcing process.
For example, if you are planning to buy from China, you have to be abreast with information regarding how to import small quantities from China in the most cost-efficient manner.
So, in this case, the best option is to source a sourcing agent/company.
Successful Product Sourcing in 5 Steps
You must have got an idea about what step you need to go through for successful product sourcing. Just to reaffirm, the must-do steps to complete the product sourcing process are mentioned below.
Product Research
You can't just source a product without even knowing whether it would sell or not. You need to evaluate a product in terms of the following criteria before you can finalize to source it.
A large and passionate consumer base for that product
Your interest and knowledge in that product
Evaluation of the competition among retailers selling the same products
Decent profit margins
Finding Suppliers
After you finalize a product, the next step is to find wholesale suppliers selling that product.
If you are not hiring a sourcing agent and want to find the supplier yourself, you should leave no stone unturned to dig out the best supplier that offers the best quality at an affordable price and MOQ.
You should shortlist 4-5 suppliers so that you can negotiate with all of them to finalize the one that offers the best price, quality, quantity, and services.
Negotiate and Finalize Terms and Conditions
It is advised that you always have room for negotiations with your supplier. You can take quotes from multiple suppliers and ask each other to lower the prices and MOQs as offered by other suppliers.
Further Reading: How to Negotiate a Low MOQ with Chinese Suppliers
Finalize a supplier and agree to terms and conditions. Share all the specifications with your supplier in detail including the color, size, dimensions, packaging, etc.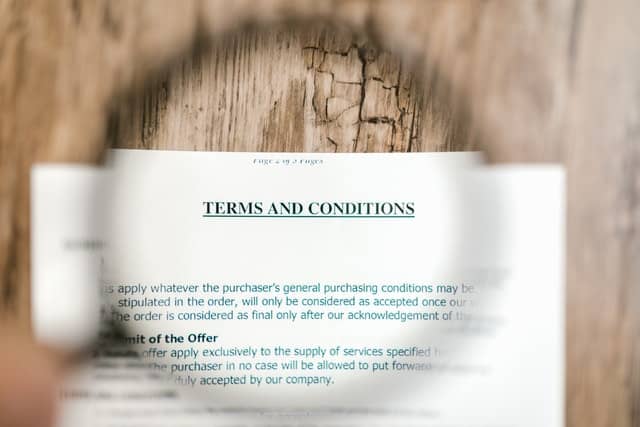 Set clear obligations and responsibilities for your supplier, especially in shipping and delivery.
For example, if you are new to import business, you can agree on the DDP Incoterms which puts most responsibilities on the supplier.
Order a Sample
It is advised that you order a sample first, especially if you are ordering in bulk quantity. Check the sample against your specifications and ask the supplier to make amendments if required.
Approve the Sample and Place Order
When you approve the sample, the last step is to place the order, make the payments, and wait for your order to arrive at the agreed place of destination.
What Is Strategic Sourcing and Why Is It Important?
Strategic sourcing refers to the systematic process of optimizing your business procurement. It focuses on devising a strategy to fulfill the gap between demand and supply of any business.
It involves processes like product forecasting, inventory management, and supplier registration for systematic ordering keeping in view the sales trends of a business.
It helps businesses save time in looking for vendors every time they need products.
It also incorporates lead times and prior planning to overcome issues of product shortages and late deliveries during peak times (Oct to Dec).
In contrast to the typical procurement, strategic sourcing emphasizes developing a relationship with competent suppliers rather than searching for the cheapest solutions every time.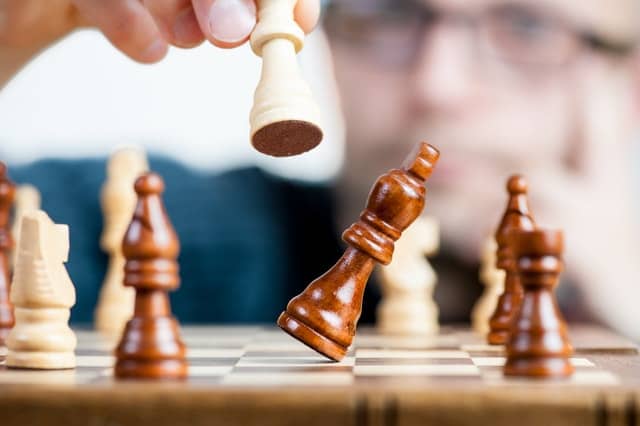 The concept of strategic sourcing is very important for the business's survival. A long-term business cannot afford a shortage of supplies or late shipments.
This idea is growing with wide popularity, especially in e-commerce where retailers like Amazon FBA sellers cannot afford product shortages by following strategic sourcing techniques.
As an example, a typical FBA seller with aggressive strategic sourcing often has one container at the Amazon fulfillment center, one in transit, and one in the ordering process with his supplier.
How to Optimize Product Sourcing Strategy?
You can only optimize your product sourcing strategy once you have devised one for your business.
Every business has different dynamics. The product you are selling has a particular audience, demand patterns, and the reordering cycle based on your sales trends.
So, to optimize your product sourcing strategies, you have to make a specialized sourcing strategy that is tailor-made for your business.
Let's say you are selling beauty products to a specific audience in the USA via your online store. You would have some organic traffic, and you may intend to get some more traffic by advertising.
You would need to set the sales target yourself keeping in view the dynamics of your audience and the intensity of your marketing campaigns and order accordingly.
If you are planning to sell them through Q4, you may expect some more sales due to the events of Black Friday and the gifting season during Christmas and New Year, etc.
If you are selling seasonal products, you would have to devise a sourcing strategy based on the seasons or before the times of their peak demand.
You need to place an order well before the arrival of the season so that you have the stock ready for selling as soon as the season begins.
For that, you have to calculate the number of items to be ordered. You can forecast this by seeing the previous trends and considering how aggressive your marketing campaigns will be.
You have to calculate the shipping time by discussing it with your supplier and placing the order keeping the grace period of 15 days in the case of importing products from China to the USA via sea.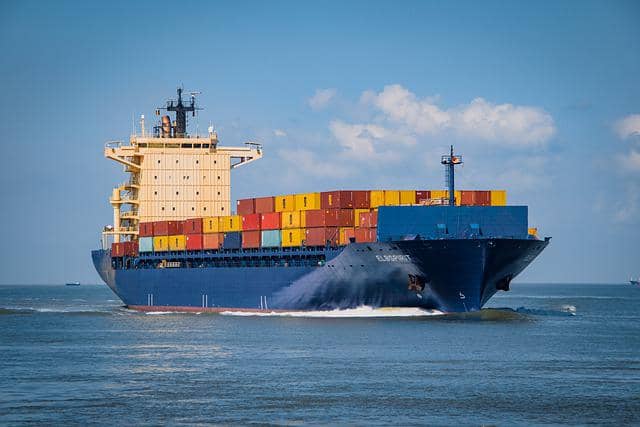 FAQs about Product Sourcing
Read the answers to the following frequently asked questions to address any confusion regarding product sourcing.
What Skills Are Needed for Sourcing?
You would require the following skills if you intend to source products successfully. These skills are vital in the case of importing products.
Supplier research
Communications skills preferably in the language of the supplier
Negotiation skills
Knowledge about customs clearance and shipping Incoterms
Comparative analysis
What Is the Difference between Sourcing and Procurement?
Procurement is a vast terminology. It refers to buying anything that a company needs. It is also used for purchasing day-to-day products.
Buying stationery or pens for a company for general tasks like signing the documents is an example of simple procurement.
Sourcing relates to identifying the best available sources for a particular product. It is a specialized form of procurement. In most cases of sourcing, a company or a business intends to resell those items at the retail model.
Sourcing a fidget pen (anti-stress pen) is an example of product sourcing.
Is It Better to Source Products Locally or Globally?
The whole idea of product sourcing is to find the products that are lower in price and you can earn profit by selling them at a higher price per product.
It is up to you to decide whether buying locally or globally fits best your business needs.
Most retailers buy globally (typically from China) in search of cheaper products.
As China has the lowest production costs in the world, retailers across the world tend to buy more from China.
If you are getting the same products locally at a cheaper cost, it would be pointless to source them globally.
Does Product Sourcing from China Get Any Advantages?
Yes. There is a reason why a major portion of the world buys products from China. You can have the following benefits if you source from China.
Cheapest prices
Value for money
Provides solutions to your product ideas. You can find the type of products you want to sell.
Home of innovative and unique products
Customization options
Easy product development
Worldwide shipping
Easy reordering
How to Ensure the Quality of Products Sourced from China?
As mentioned earlier, you can ask the supplier to share the sample of the product before giving him a green signal for the complete order.
You must share clear requirements and specifications of the products with your supplier and write them down in the agreement.
After that, you can ask the supplier to share the reports as per the following inspection practices.
Pre-production inspection
During production inspection
Post-production inspection
Pre-shipment inspection
Container loading inspection
If you cannot rely on the supplier, you can hire a third-party inspection service in China to do so for you. They check the products for quality and quantity and share a report with you.
Tip: If you have hired a product sourcing agent, you may get rid of the quality-related headaches.
Summary
Product sourcing has been considered the most vital part of the supply chain. A wrong sourcing decision can give a heavy blow to your business.
So, it is always advised to follow all the tips and tricks that are required to do successful and profitable sourcing.
If you want to source products from the best suppliers in China at the most reasonable prices, ask for a free quote today and let one of our specialists walk you through every hurdle of product sourcing with an expert opinion.