Global Sources is a well-known e-commerce platform for most online shoppers worldwide. You may recognize it from ads, referrals, or even online search results for products or product suppliers.
The platform offers access to a wide range of products from suppliers in China at fair wholesale prices. However, mixed online reviews about its legitimacy can easily make you apprehensive about shopping on Global Sources.
So, is Global Sources Legit? Come along and let's find out.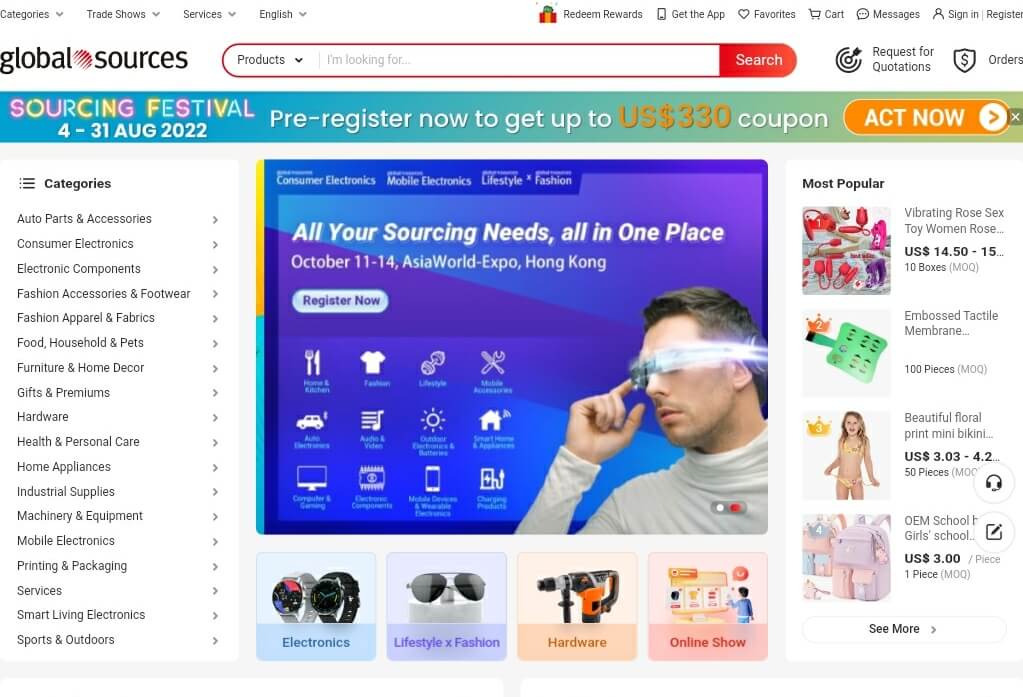 What Is Global Sources?
Global Sources is a B2B e-commerce platform. The parent company was founded in 1970 in Hong Kong but the Global Sources website was set up much later in 1995. The company has also recently launched a mobile app.
The platform boasts of over 150,000 suppliers that offer products in over 30 categories and millions of registered buyers from Hong Kong, China, and across the globe.
How Does It Work?
Buyers can access the Global Sources app or website, browse through products, or run product searches without any restrictions. However, all buyers have to register on the platform to make purchases or effectively communicate with suppliers.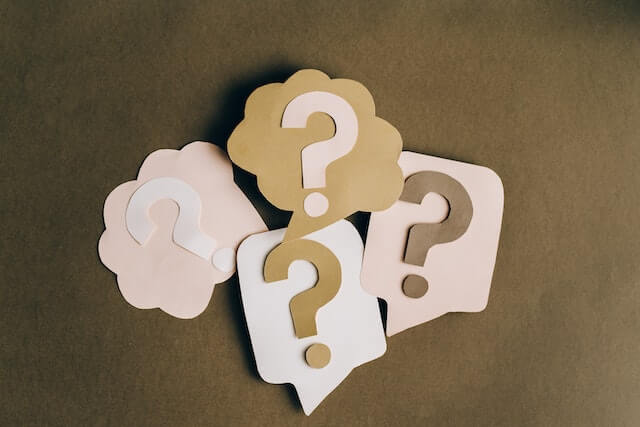 Sellers, on the other hand, have to register before listing any products for sale. Global Sources then runs background checks and approves their applications if their details meet the platform's requirements.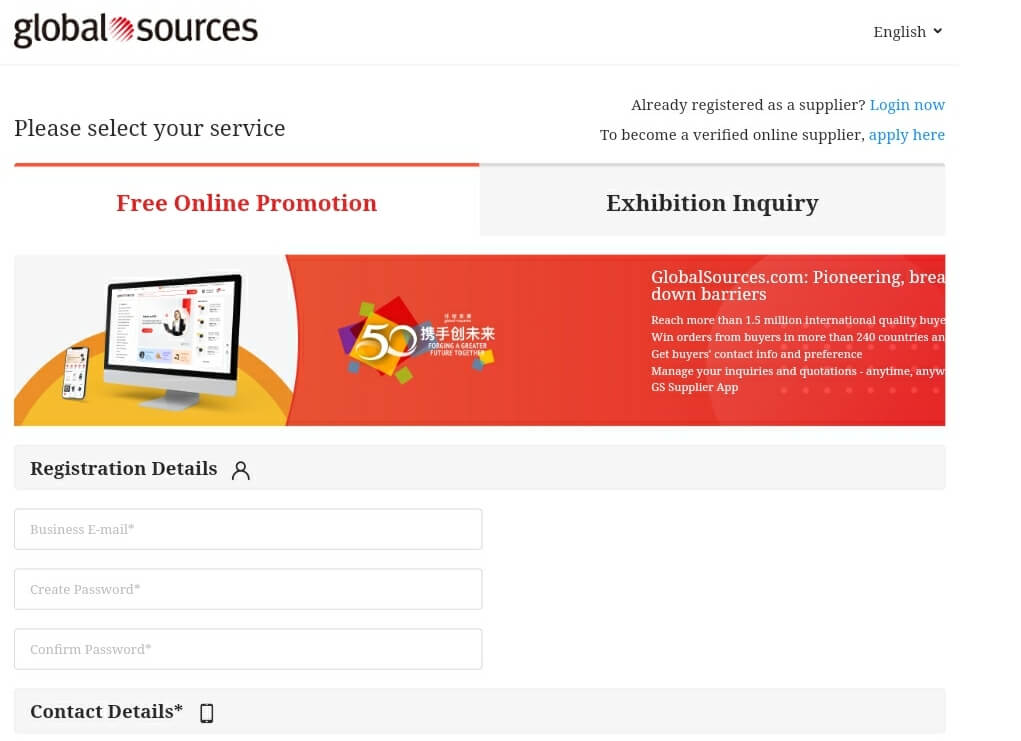 The sellers include wholesalers, trading companies, and manufacturers. They sell in bulk but have different MOQs.
Finding Products or Suppliers
The Global Sources app and website have a search bar at the top of every page. You only need to type in the name of the product you want and the platform's search engine will bring up relevant options.
The search bar allows you to select whether you would like to search for products or suppliers. The search engine also brings up results for both options and you can alternate between them if you need to.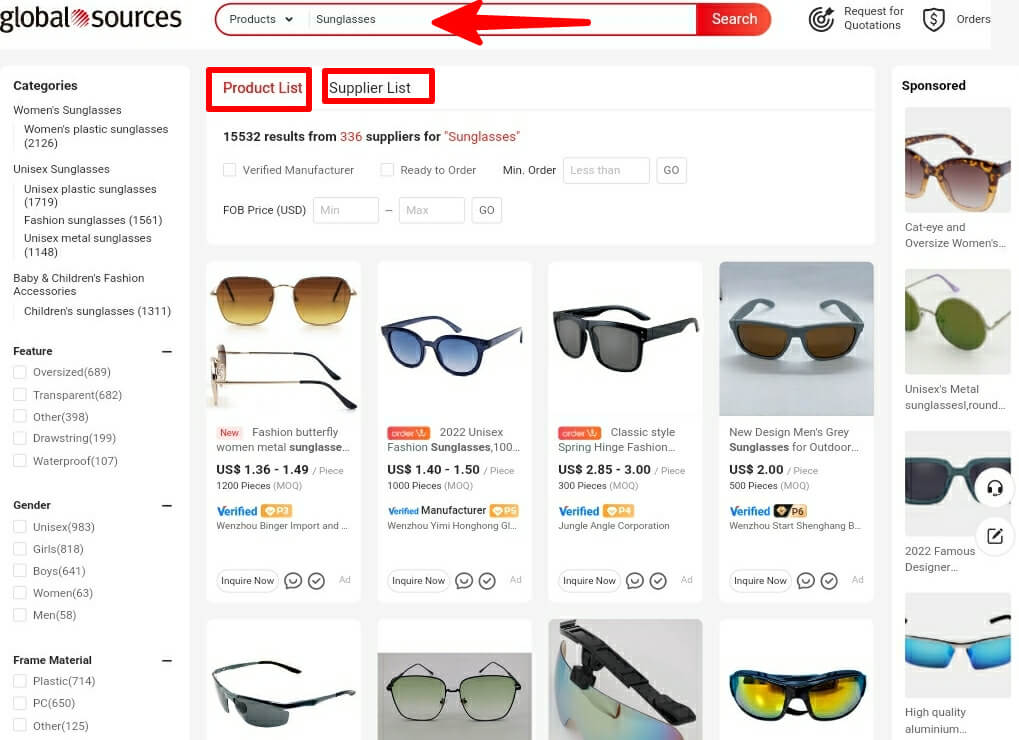 Additionally, Global Sources offers filters to help buyers fine-tune their search results based on preferences such as:
Placing an Order
Once your search results come up, you can click on an item to view it and read through the terms of sale. You can then send an inquiry to one or more sellers with the specifics of your order or any questions you may have.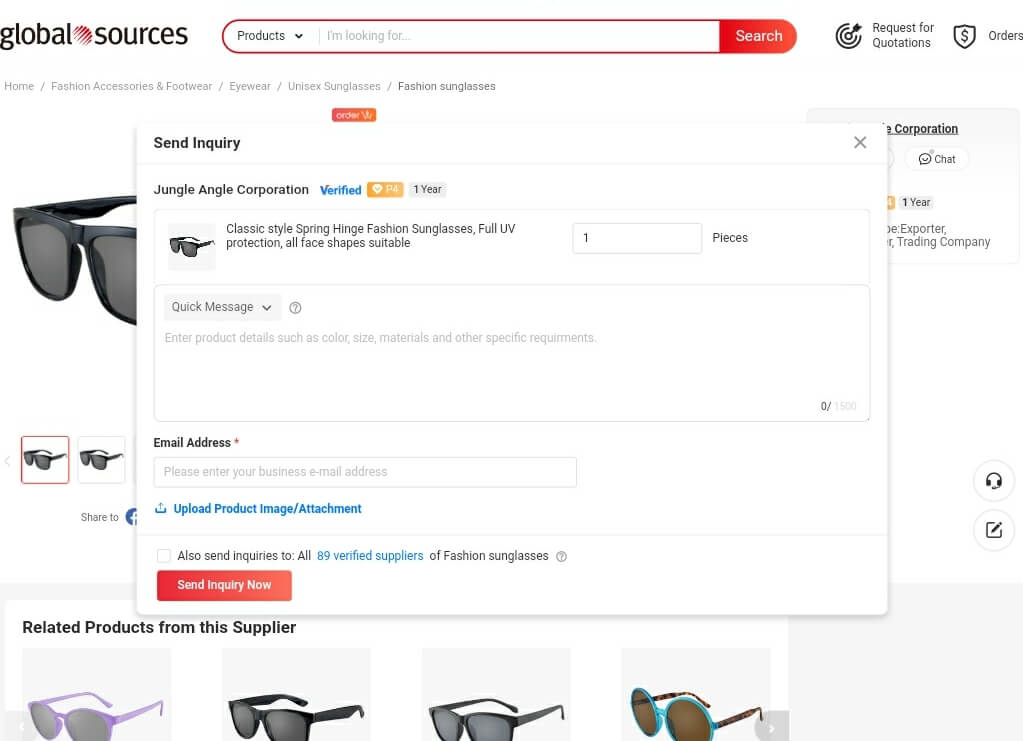 You can send an inquiry as an unregistered buyer but it is advisable to first create a buyer account. Signing in will make it easier for you to receive replies, keep track of your conversations with different suppliers, and monitor your orders later on.
The seller(s) will go over your inquiry and respond with details such as price or answers to any of your questions. You may then proceed to place an order if you find their terms agreeable or keep vetting more suppliers.
Payment Methods
Suppliers on Global Sources accept payments through:
Wire transfer
Letter of credit
Credit cards
Western Union
PayPal
Global Sources now also offers an escrow payment solution through Global Sources Payments. The service receives and holds payments from buyers. The payments are only released to sellers after buyers receive their orders.
Shipping
Shipping terms and options vary between suppliers.
Each supplier indicates their shipping terms and average lead times in the product details section. You could go along with them if they are ideal or try to negotiate for more suitable terms.
Return Policies
Global Sources allows each seller to stipulate their own returns policy. It is, therefore, vital to read through the terms and conditions offered by a seller to understand:
The circumstances under which you can return goods
How long do you have to initiate a return
Who bears the cost of the shipping returns
The turnaround time for a refund or replacement products
If a seller does not outline these terms on their page, it is best to ask them for clarification before proceeding with the purchase.
Customer Support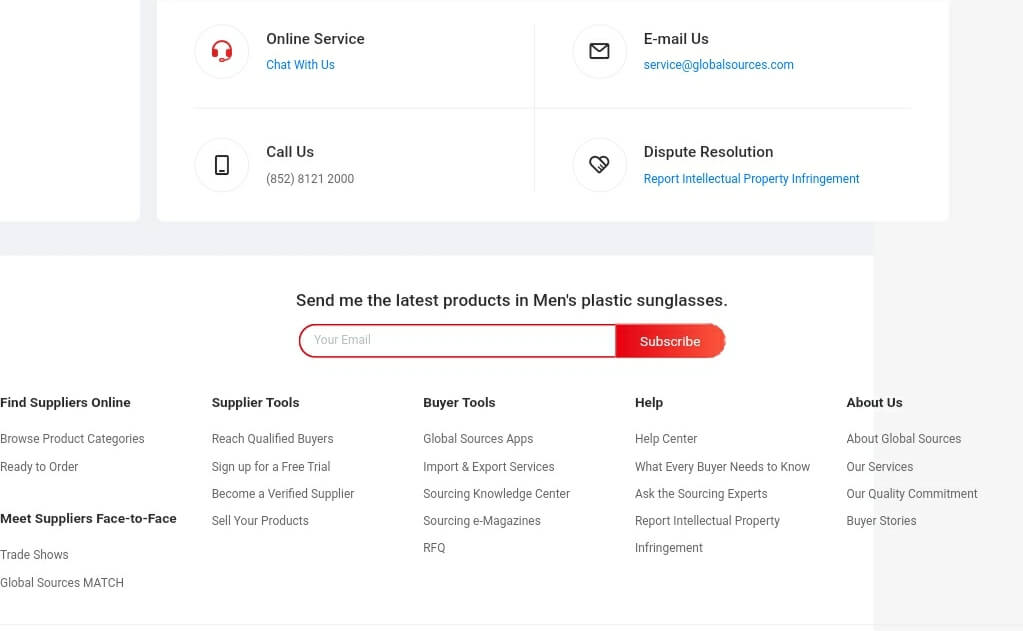 Global Sources offers customer support to both buyers and sellers via:
Phone
WeChat, Facebook, or Twitter
Email
The average response time ranges between 24 to 48 hours. Consider using a different channel if you do not get a response on one.
What Are the Benefits of Global Sources?
At face value, Global Sources seems like any other B2B online platform. However, it stands out from the rest because it goes the extra mile to create a unique and beneficial sourcing experience for its customers.
Here are some of the outstanding benefits of sourcing from Global Sources.
Trade Shows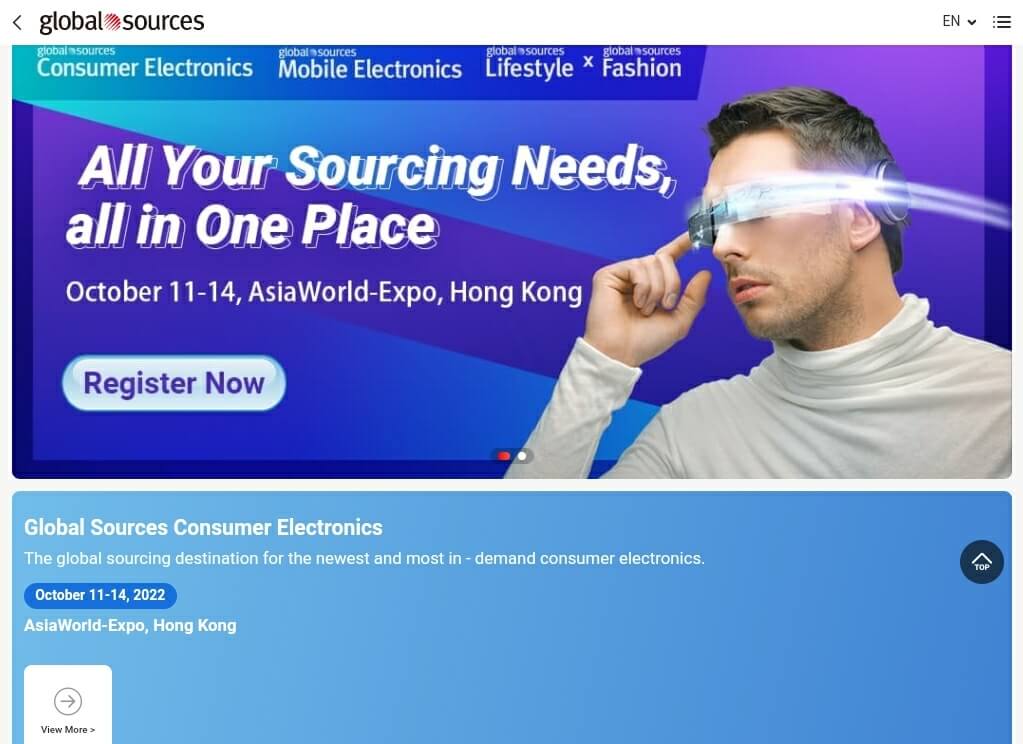 Global Sources holds trade shows every year where suppliers in different categories get to showcase their products. Buyers that attend can:
Visit different exhibition stands
Evaluate products in person
Obtain generic samples
Request quotes
Negotiate supply terms with sellers
This is a distinct advantage that most e-commerce platforms do not offer. Plus, it is particularly helpful if you prefer a more hands-on sourcing approach.
User-friendly Platforms
The Global Sources app and website are easily accessible and very user-friendly. It is equally easy to find products and suppliers as well as curate your results using filters.
Moreover, Global Sources has designed resources on the app to sync with its annual trade show. For example, you could use the QR code scanner on the app to find specific vendors at the trade show online.
Such small details are very convenient because buyers do not have to keep taking notes to remember the names of sellers. They make sourcing through Global Sources a remarkable experience.
Variety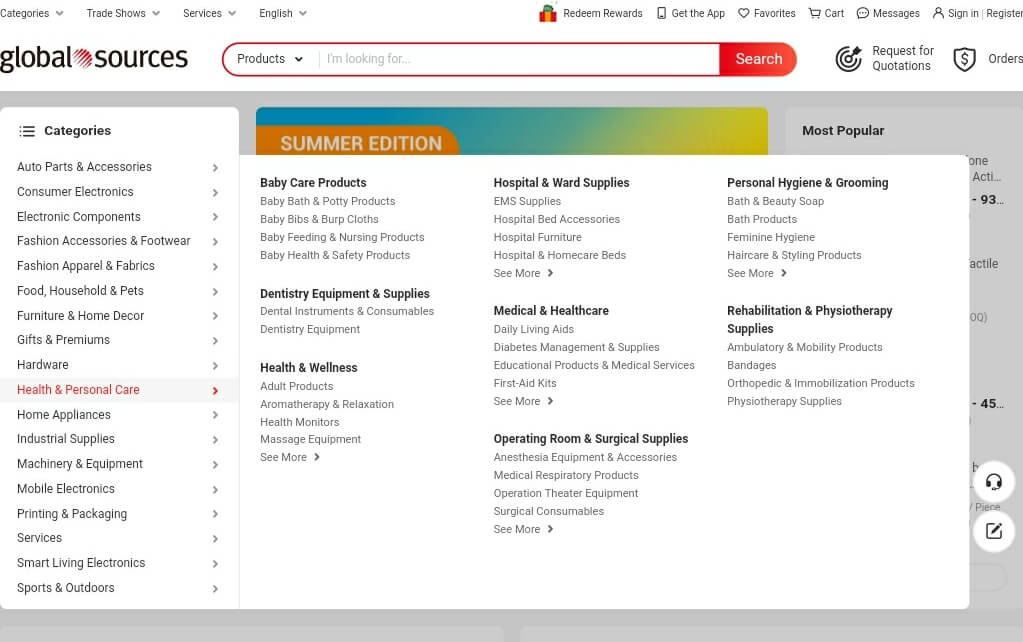 The selection of products on Global Sources is incredibly vast. You can find a product listing or a supplier for just about anything. Access to multiple suppliers also gives you different product designs, prices, and ideas to choose from.
Vetted Suppliers
Global Suppliers vets sellers before they can begin selling on the platform. Verified suppliers, in particular, undergo thorough checks that evaluate their business registration details, credit worthiness, and supply capabilities.
Subsequently, the quality of suppliers and sellers is fairly high compared to that of online marketplaces like Alibaba where the vetting standards are lower.
Trending Products
Sellers on Global Sources offer trendy products to ensure you can offer your customers the latest products. You could also opt to receive notifications when there are new listings of products that you are interested in.
Is Global Sources Legit?
Yes, Global Sources is a legitimate online sourcing platform.
Admittedly, not all sellers on Global Sources are trustworthy. Some are unscrupulous and may deliver substandard products or scam you by not delivering the goods you paid for. This accounts for most of the negative online reviews from some customers.
Nevertheless, this does not mean that the entire site is a scam. You only need to understand and adhere to the recommended ways of safely sourcing goods from Global Sources.
How to Safely Source Goods from Global Sources
Sourcing goods from Global Sources is relatively simple and secure. However, you can make your sourcing process safer in the following ways:
Work with Verified Suppliers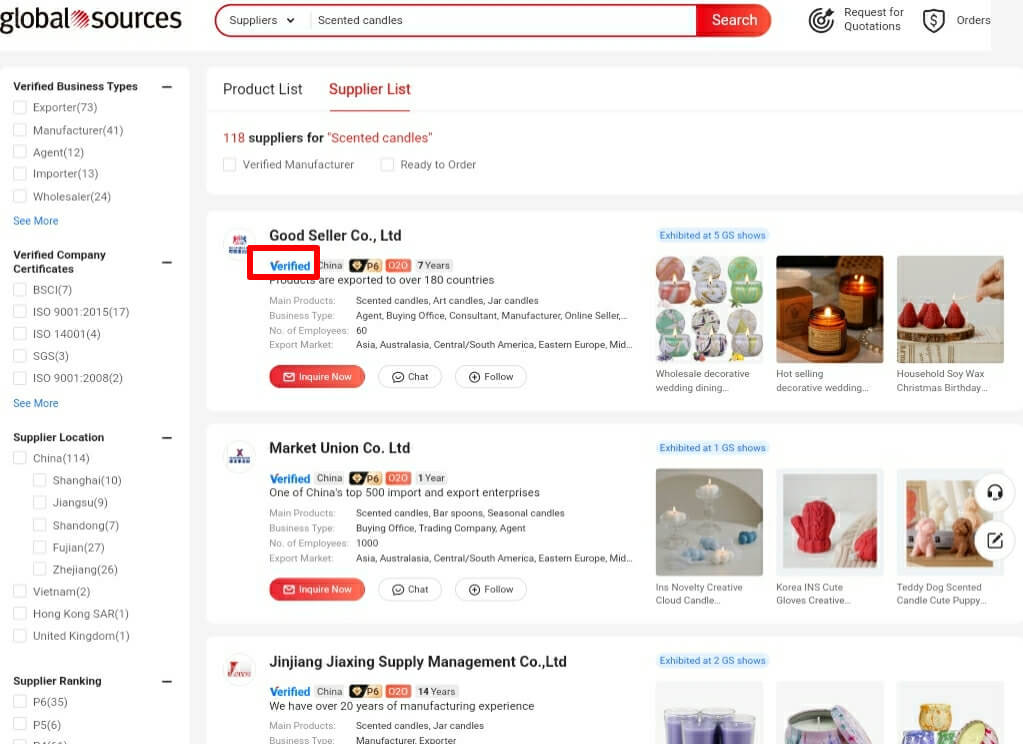 Verified suppliers on Global Sources undergo more in-depth vetting and are, therefore, more trustworthy. They are easy to spot because they have a distinct blue verification badge next to their company names.
Additionally, you can use the 'Verified Supplier' filter to curate your search results accordingly and avoid unverified suppliers.
Do Your Due Diligence
There is no harm in doing your own due diligence to ensure that you are dealing with a legit supplier. Consider:
Asking potential suppliers for their business registration details and verifying them with the authorities online.
Inquiring if potential suppliers have worked on orders similar to yours and requesting proof of them.
Requesting samples to verify the quality of a supplier's products.
Requesting a virtual factory tour if the seller claims to be a manufacturer.
Requesting product pictures or videos.
Consider Experience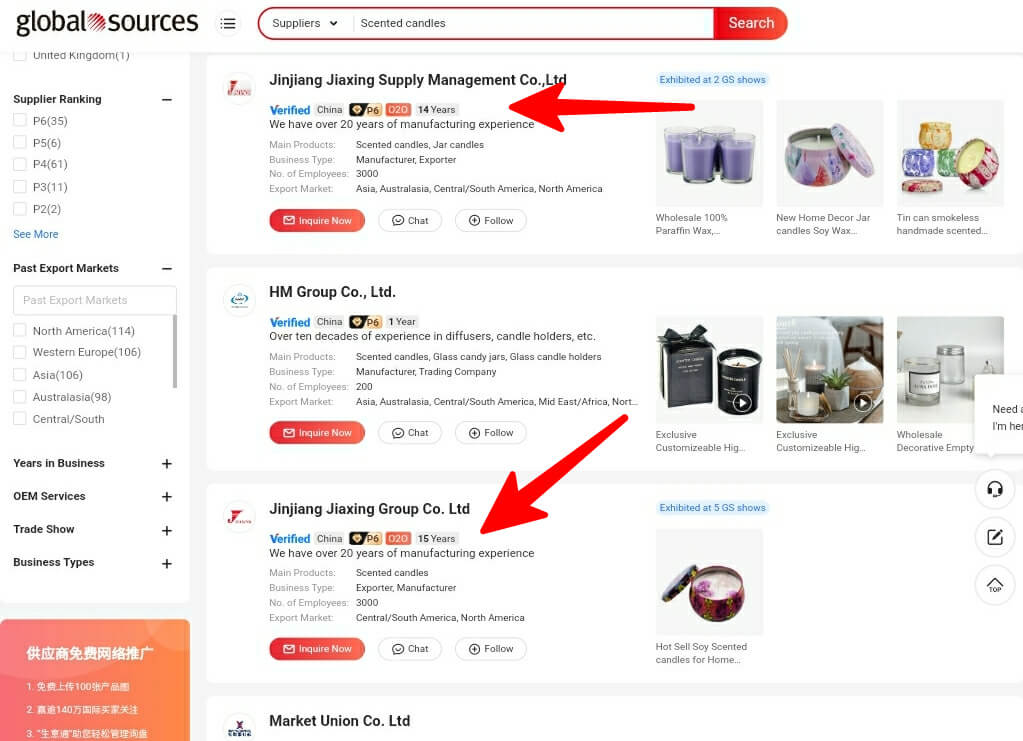 The longer a supplier has been on Global Sources, the higher the chances that they are legitimate. Most scammers do not last long on such platforms because customers call them out in reviews or report them.
Experienced sellers may also have a better understanding of the products you require and more streamlined operation processes.
Insist on a Written Contract
A purchase contract is a safeguard for all parties because it outlines:
What the seller should deliver
Lead times
Shipping terms
Costs
Payment terms
Dispute resolution options
If a supplier fails to deliver the products as agreed, you can use such an agreement to seek redress.
On quality, it may be helpful to also have a product specification sheet outlining all the details about the products you want. This will guide the supplier better than general instructions that can easily be misunderstood.
Pay in Installments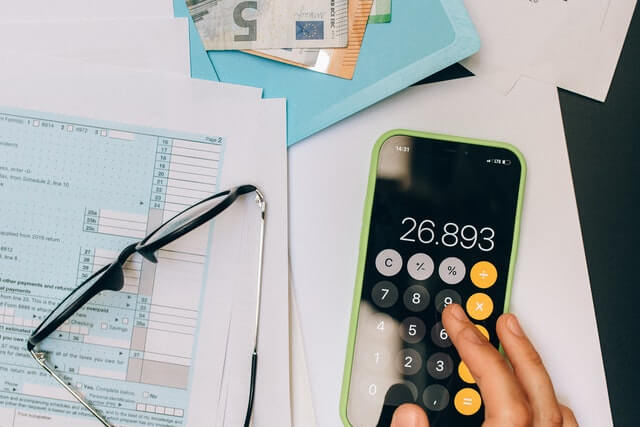 Suppliers on Global Sources offer ready-to-ship and custom products. The latter have longer lead times because they have to be produced based on your instructions before they can be packed and shipped.
It is advisable to pay for custom products in installments rather than a lump sum. The promise of a pending payment incentivizes suppliers to be more diligent and fulfill your order on time.
It equally cushions against losses in case a supplier does substandard work or turns out to be dishonest.
Use Escrow
The Global Sources Payments system holds your payment in escrow until you confirm that you have received your order and have no complaints. This is a highly safe approach because the seller has to ensure delivery so they can receive their payment.
Escrow payments are safe for both you and the seller. It may thus be a red flag if a seller opposes it for no good reason.
Work with a Sourcing Agent
Buying goods in bulk is a high-stakes business move. Anything that goes wrong could have dire consequences for your business and your finances. It can also be quite tough to make decisions about your order based on online evaluations and correspondence.
Consequently, it may be safer to hire a reputable China sourcing agent to see to your interests. They could:
Verify a supplier's credentials
Share your instructions with the manufacturer
Negotiate better prices or shipping terms on your behalf
Conduct quality inspections before dispatching your goods
Arrange faster and more reliable shipping options
Seek Referrals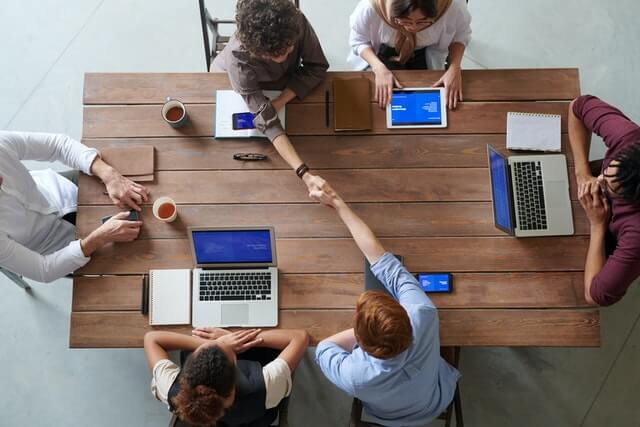 In some instances, it may be much easier to seek referrals for trusted suppliers from other sellers. Of course, most entrepreneurs are often not open about sharing their sources but you could get some helpful tips through:
Online business forums relevant to the products you are sourcing.
Relevant threads on Quora or Reddit.
Most entrepreneurs on these sites are usually more open to sharing tips because they have moved on to other business ideas. Some also reckon that other sellers are not a threat because they operate in a different consumer market.
Notably, the reviews you get from these sites are not always a perfect fit. It is important to still evaluate the recommended suppliers carefully.
Global Sources Reviews
Global Sources receives mixed reviews ranging from customers that are utterly pleased to others that are highly disappointed. Let's take a look at some of them to get a sense of what works and the red flags to look out for.
Review 1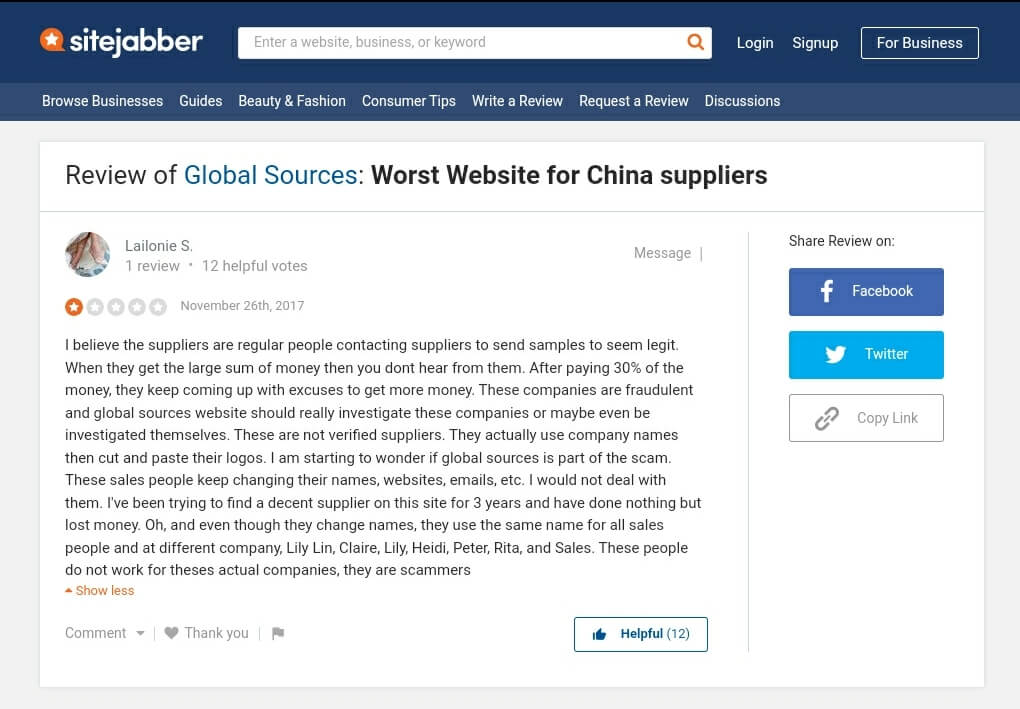 In this review, the buyer makes multiple complaints pointing to:
An unscrupulous seller that was unwilling to stick to the payment terms.
Shifting identities where the seller keeps changing their email addresses and using other companies' logos.
No seller verification.
All these pitfalls are avoidable through due diligence. They serve as proof that you should:
Have a contract outlining payment terms or better yet, strictly insist on escrow payments.
Limit your options to verified sellers.
Verify all the business registration details of a supplier before engaging them.
Review 2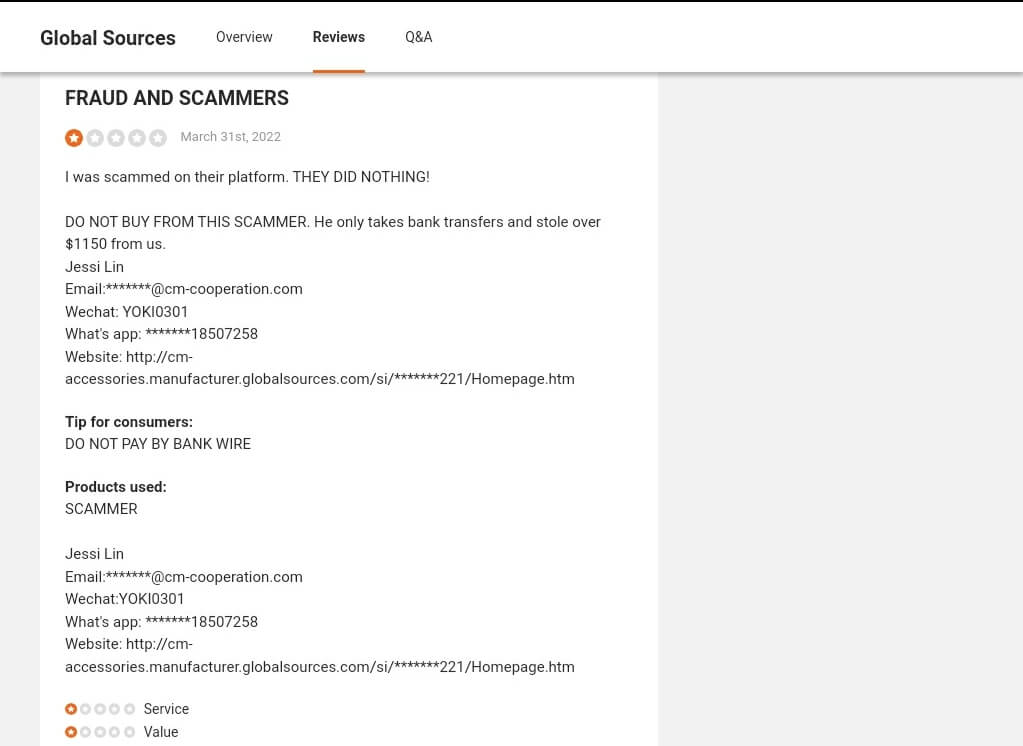 This buyer's complaints are not uncommon. Most scammers on online platforms in China insist on only one payment method.
A wire transfer, for example, was ideal in this case because it is relatively tough to reverse and the scammer receives the funds without any restrictions.
Escrow payments can help you avoid this. However, if a bank transfer is inevitable, ask for the supplier's account name. Legit suppliers register bank accounts in their business names. Be wary if the account name is an individual's name or is tied to a personal account.
Review 3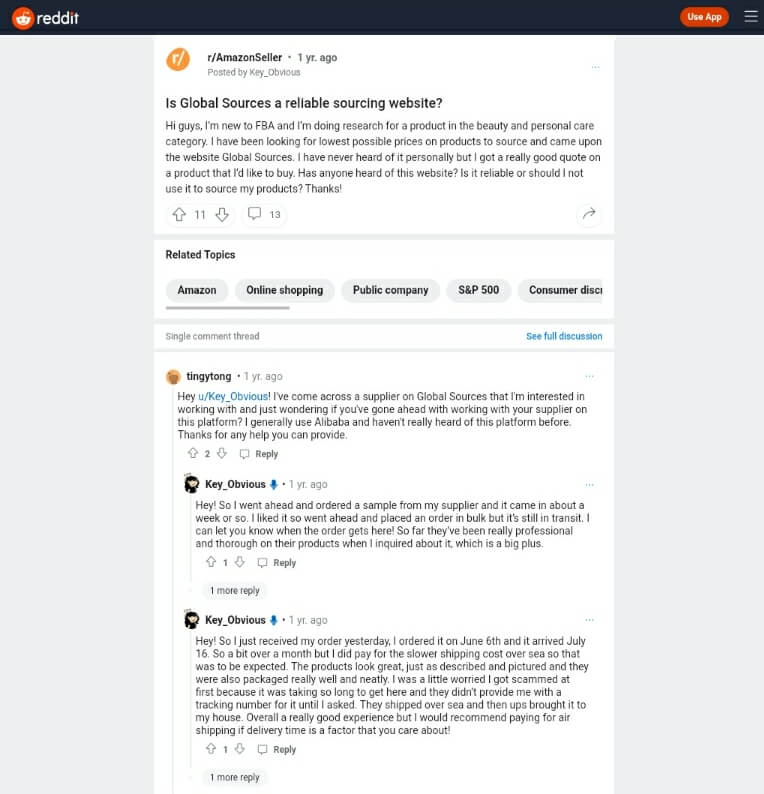 This review offers a more wholesome perspective that most reviews do not offer. Both Reddit users had not sourced through Global Sources before but one of them eventually did and had a good experience.
The takeaways?
Ordering samples is worth it and can help you gauge a supplier better.
You can find good suppliers in Global Sources.
Review 4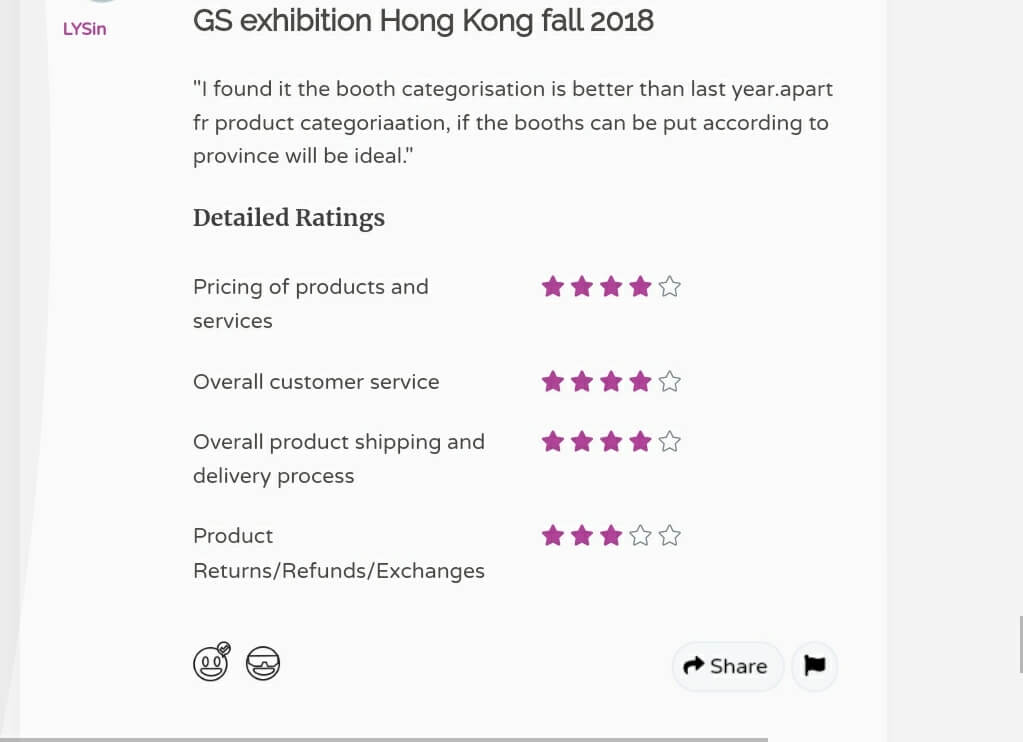 Would you like to attend a Global Sources trade show? Well, here is some proof that it may be worth the trip. The guest rates pricing, customer service, and (most importantly) delivery at 4 out of 5 stars which is quite impressive.
FAQs about Global Sources
Which Is Better: Alibaba or Global Sources?
Each has its strengths and weaknesses.
Alibaba offers great prices, has a broad international reach, and has millions of sellers and products. On the downside, it does not vet its suppliers intricately and this can predispose you to scammers and low-quality goods.
In contrast, Global Sources has a lower number of sellers than Alibaba but it is keen on vetting. The products on the site are thus of better quality and there are fewer scammers.
Additionally, Global Sources shopping platforms offer a better shopping experience where you can find products or suppliers easily on mobile or PC. The benefits of its trade shows are also a major plus.
Is Global Sources Free?
Yes, it is free for buyers but sellers have to pay commissions based on their sales.
Does Global Sources Have a Rating System?
Yes, but it may not be of much help to the average buyer.
The 'P ratings', for example, indicate a seller's commitment to promoting export trade. They show that the seller is an exporter but say nothing about their performance as a seller.
Platforms like Alibaba or AliExpress outdo Global Sources on this point because they have more effective and insightful rating systems. They also allow customer reviews which Global Sources also lacks.
The Verdict
Global Sources is, indeed, a legitimate e-commerce platform. It faces its fair share of setbacks just like its competitors but it equally has lots of advantages worth considering. More so now that you know what pitfalls to avoid.
We, at NicheSources, can also make your product sourcing efforts much safer. You can rely on us to vet suppliers, convey your instructions, negotiate for better terms, inspect your products, and arrange reliable worldwide shipping.
Ready to source? Do send us a detailed outline of your product requirements, request a free quote, and we will provide the first-class solutions that you deserve.