A retail entrepreneur is always in search of thriving B2B marketplaces. Thanks to the ever-growing competition between wholesale sourcing platforms, retailers have plenty of options to ensure maximum profitability with more ease of business.
While pricing may be the most important feature to shortlist B2B platforms for a few retailers, other factors, like product variety, costs to use the platform, and flexible MOQs, may make you prefer one platform over the other.
This article will cover the top B2B marketplaces in China and the USA. After a brief introduction to every marketplace, you will learn about the MOQs, pricing, and key features to help you decide which platforms best suit your retail business.
Let's start.
1. Alibaba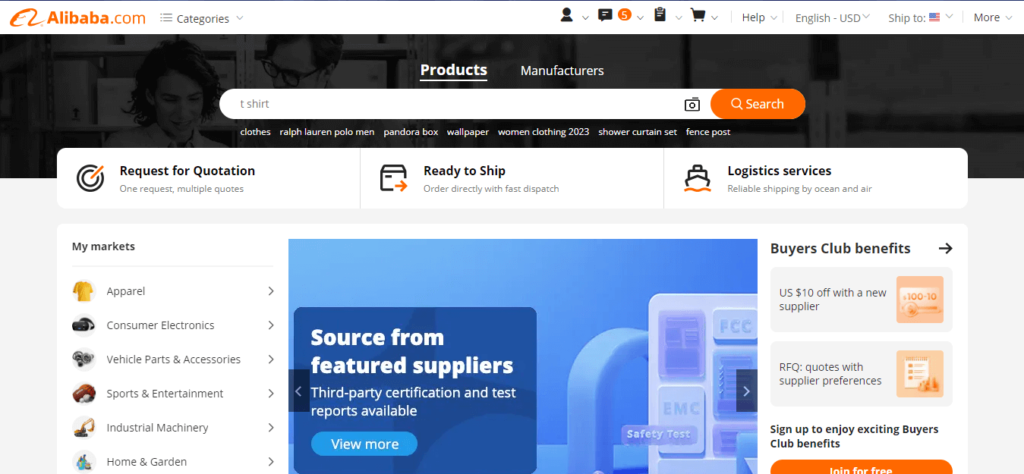 Retail business and Alibaba go hand-in-hand. Alibaba is the mother of many successful retail businesses. This B2B ecommerce platform in China has been the hub of Chinese wholesale suppliers since 1999.
From industrial equipment to general consumer merchandise, you will find everything at Alibaba. Have a product idea in mind, just post an Alibaba RFQ, and the relevant suppliers will directly submit quotations.
MOQ
The platform offers flexible MOQs depending on the supplier and the product. You will find the MOQ as low as one piece for many products.
Pricing
Free
Key Features
Widely regarded as the world's largest online platform.
A hub of Chinese suppliers and manufacturers.
Higher chances of getting in direct contact with the factories.
Ideal for sourcing private-label products.
Offers a massive variety of products in multiple categories.
Live product videos.
Impartial seller ranking and statistics to help you choose.
Low prices of the products.
Excellent buyer protection.
Customer-first approach.
Mobile app for better usage.
2. 1688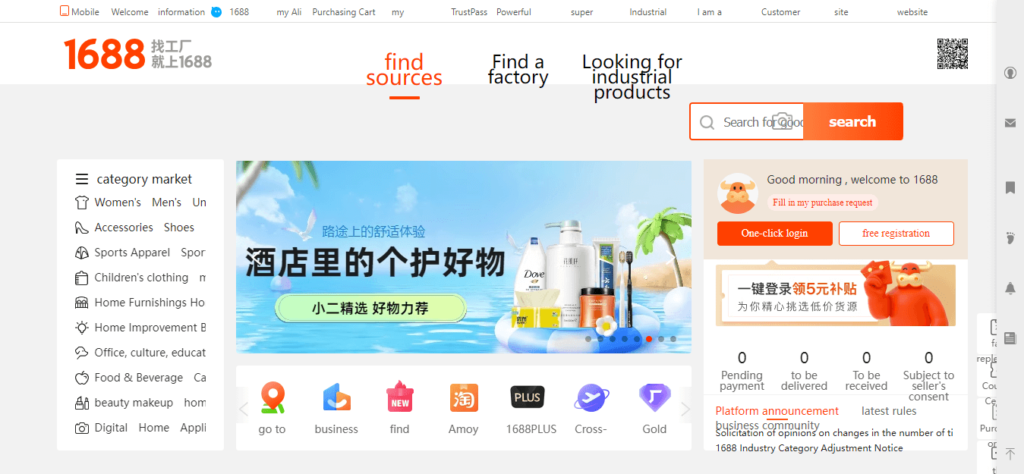 1688 is a subsidiary of Alibaba Group that is offered to local Chinese retailers. You can interact with the Chinese manufacturers that may not be present on Alibaba to grab a better deal.
1688 is in the Chinese language, but you can still access it by using Google Translate or with the help of a sourcing agent in China to communicate on your behalf.
MOQ
MOQs are negotiable and may vary according to your demand.
Pricing
Free
Key Features
More chances to find the products at lower prices.
More product options with unique features.
A chance to make a deal according to your preferred terms.
Independent long-term cooperation without platform meditation.
More margin of negotiations.
Options to club your items from multiple suppliers to ship together.
3. Made-in-China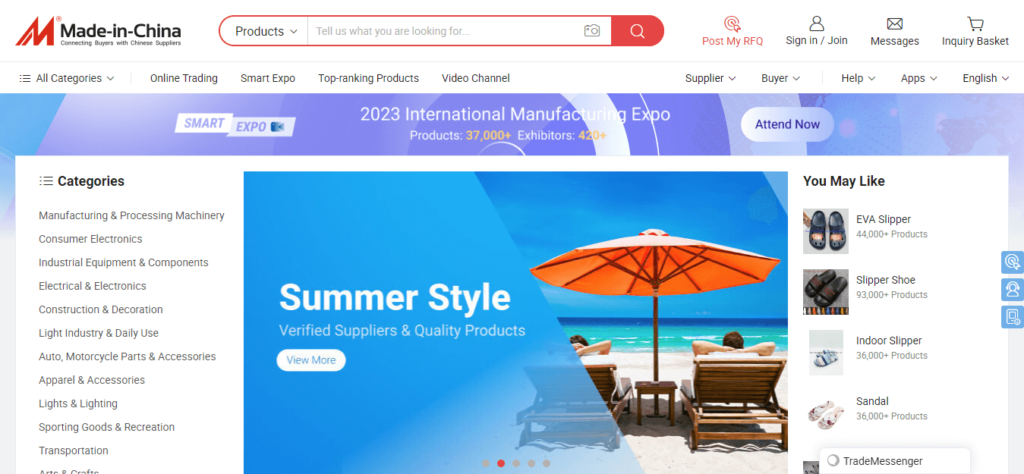 Made-in-China is another reliable B2B marketplace platform that was launched in 1996. This B2B marketplace has over 6 million registered suppliers who serve over 20 million international buyers.
You can find almost any item on this platform. That confuses almost every retailer to find a better choice between Made-in-China and Alibaba.
You can browse through the categories, search for the products, or even use the "Post My RFQ" feature to get to your desired suppliers.
MOQ
Flexible MOQs, as low as one piece per product for selected items.
Pricing
Free
Key Features
Offers over 4300 product categories to get to your required product easily.
One of the leading B2B ecommerce marketplaces globally.
Strict checks and balances of suppliers.
The latest products are added regularly.
You can enter general and niche business expos through this platform.
Offers realistic videos of the products to give you a real feel.
Amazon handmade sellers can source handmade products from a dedicated section.
Mobile app for ease of use.
4. HKTDC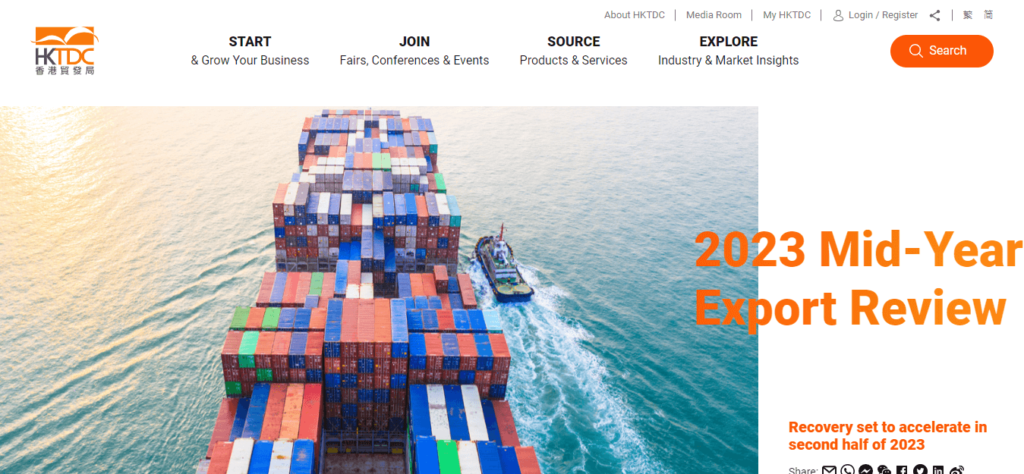 Do you want to explore a massive list of products and suppliers from Hong Kong? Try HKTDC. Hong Kong Trade Development Council was launched in 1966 and is an official B2B marketplace for international buyers.
This platform is backed and supervised by the Hong Kong government. As they want to promote international trade, you may have some of the best sourcing options on this marketplace.
MOQ
Flexible. Varies according to the suppliers and products.
Pricing
Free
Key Features
Thousands of registered suppliers from China, Hong Kong, and other Asian countries offer the best products and services.
Over 700 thousand international buyers have sourced various products from this marketplace.
A wider and more synchronized global presence with over 50 local and international offices.
You can participate in business expos hosted by this platform.
Higher chances of negotiations to crack a desirable deal with the supplier.
Facilitates online video conferencing with HKTDC suppliers.
Most suppliers offer product customization, paving the way for private label businesses.
Mobile app to use on the go.
5. Global Sources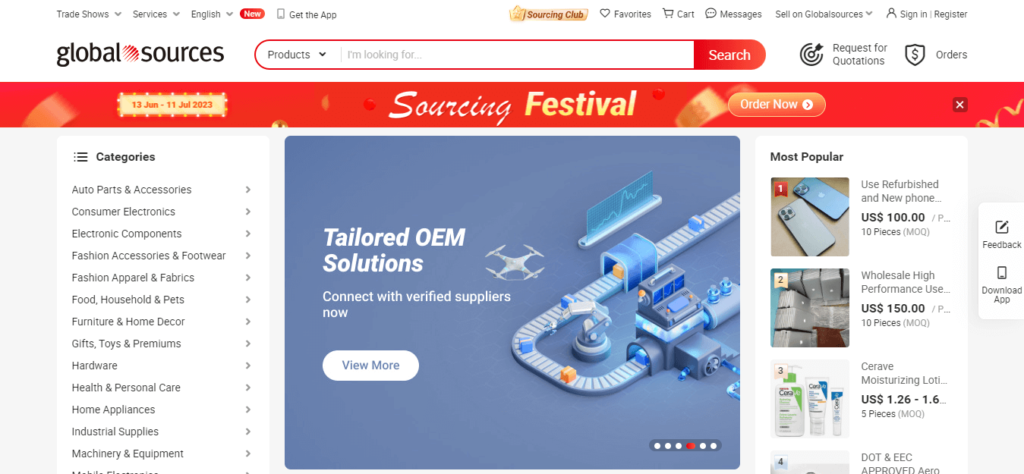 Do you want to have a blend of Hong Kong and China suppliers? Consider Global Sources. It is an awesome online B2B marketplace that started in 1995 and helped millions of retailers to source quality products at affordable prices.
This platform has successfully sold millions of products to international buyers bolstering trust, credibility, and reliability. No wonder why people find it hard to choose between Global Sources and Alibaba.
MOQ
Varies as per suppliers and your demand.
Pricing
Free
Key Features
The platform hosts over 200 thousand sellers from China, India, Vietnam, and South Korea.
The platform has a strict registration process for suppliers to ensure the quality of products and services.
Many search filters to find your products and suppliers easily.
You can also attend general and niche trade expos through this platform.
Options to discuss negotiable terms with recommended suppliers
Puts extra effort into checking products for quality compliance.
Facilitates virtual factory visits.
Mobile app for further convenience.
6. DIYTrade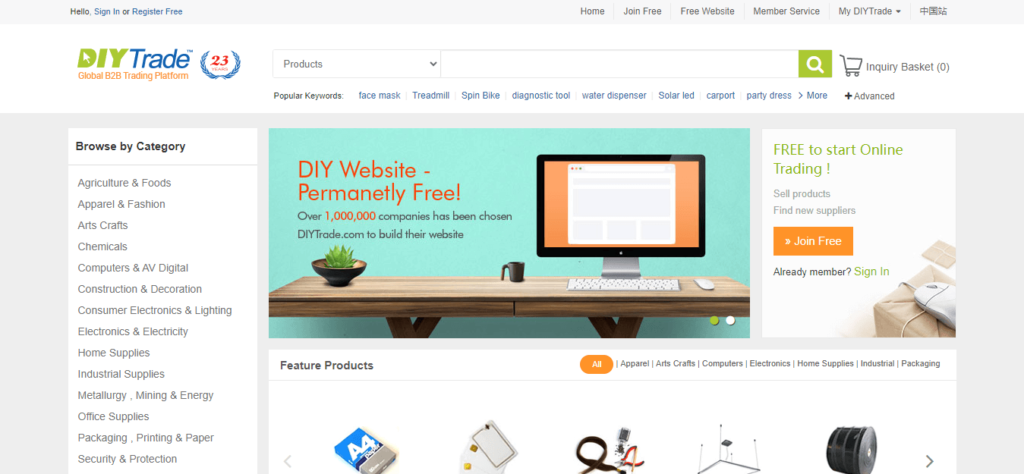 DIYTrade is a prominent B2B marketplace in China that connects retail buyers with wholesale suppliers. As one of the pioneer B2B marketplaces, it offers a wide range of products and services to promote global trade since 1998.
An extensive list of products gives you more chances to find your desired product. Most products require you to raise an inquiry to discuss your requirements with the suppliers in detail.
MOQs
Negotiable
Pricing
Free
Key Features
Offers over 5 million products divided into multiple categories.
Over 1.5 million international buyers trust this platform.
Pre-vetted suppliers to keep the platform authentic for reliable buying.
One of the most popular product directories in China.
Option to search for a product or a company or seller.
The platform has a special focus on ensuring the delivery of quality products.
Prices of the products can be negotiated as per your demand.
7. EC21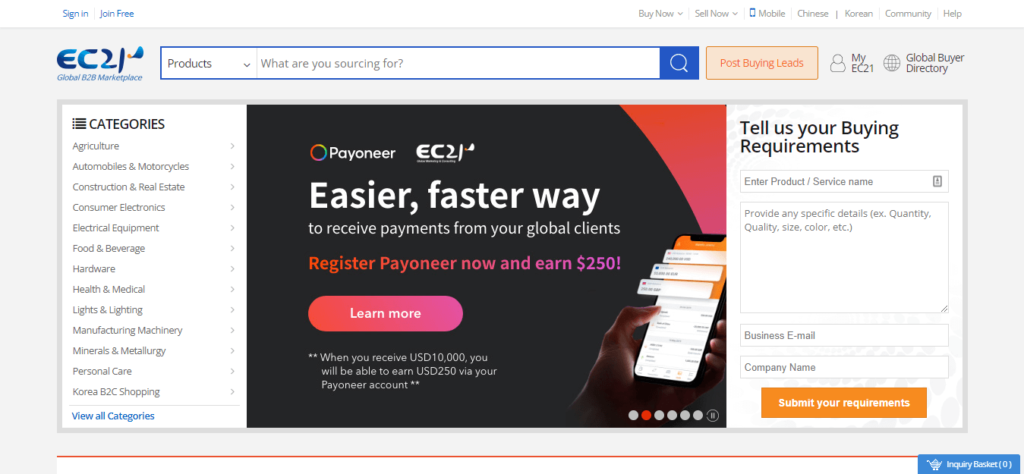 EC21 is a prominent B2B marketplace that connects buyers and sellers from various industries as a global digital platform. This marketplace is primarily based in Korea but has offices in China and Vietnam. So, if you want to diversify your sourcing experience, consider EC21.
Founded in 1997, EC21 has an extensive reach and a comprehensive range of products. It facilitates international trade by providing a trusted platform for businesses to engage in B2B transactions.
MOQ
Depends on suppliers and products.
Pricing
Free
Key Features
Over 2.5 million registered international buyers.
Offers over 7 million products from a variety of product categories.
Strict supplier verification process to ensure quality.
Cooperative inquiry and quotation management.
You can attend trade shows using this platform.
Direct communication and negotiation between buyers and sellers until they reach an agreement.
Offers buyer protection features to safeguard against fraudulent activities.
8. TopTenWholesale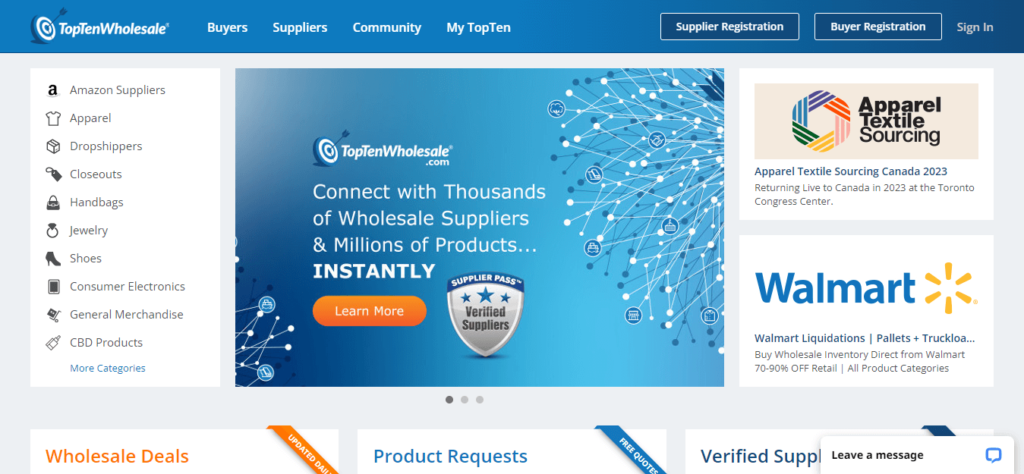 Do you prefer to look for wholesale suppliers in the USA instead of China or any other country? Try TopTenWholesale. It is an online B2B marketplace in the USA that started in 2005 and helped numerous retailers establish profitable businesses.
Instead of costly manufacturing in the USA, they source products from various countries, including China and Vietnam, but you will also find "Made in USA" products on this marketplace.
This website works differently. The website informs users about the suppliers that offer specific types of products, so you can source directly from them.
MOQ
You have to discuss MOQs and other requirements with the suppliers.
Pricing
Free
Key Features
Product customization or private labeling options are available.
Having warehouses in the USA allow shorter lead times compared to many sellers in China.
A lengthy and difficult registration process for sellers broadly ensures the quality of products and services.
A special segment for Amazon suppliers to cater to the special procedures of Amazon business.
You may attend various international expos using this online B2B marketplace.
9. Wholesale Central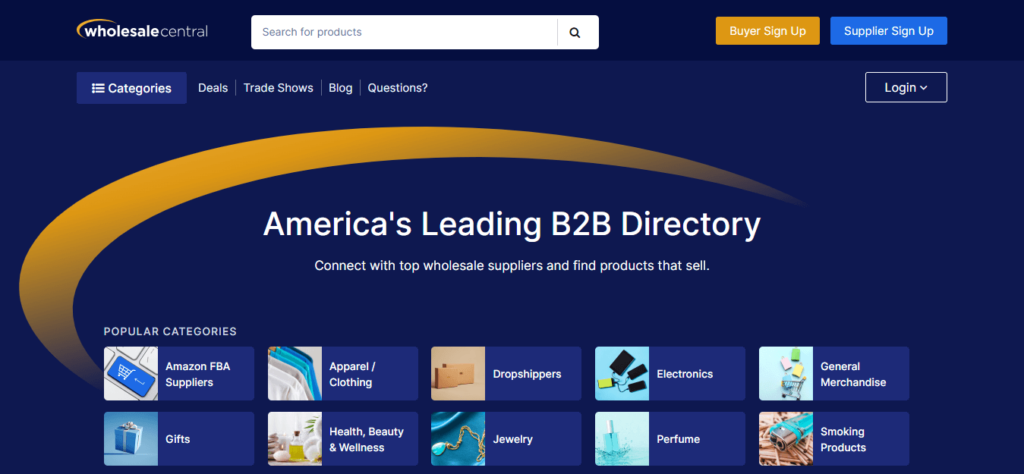 Wholesale Central is also a reliable B2B marketplace to find products from suppliers based in the USA. Starting in 1996, this platform has been one of the most prominent and trustable sources for buying wholesale products.
The most unique and exclusive feature of this marketplace is that it takes you directly to the relevant supplier's website. You can contact them directly and negotiate your terms.
MOQ
Depends on your supplier and demands.
Pricing
Free
Key Features
You can find verified wholesale suppliers, importers, and manufacturers in one place.
Multiple product categories are available, including apparel, home decor, and sporting items.
Suppliers undergo a strict verification process to be registered at this marketplace.
You will find information on the current and future tradeshows to plan accordingly.
Multiple discounts, promotions, and closeout deals are available.
A dedicated portion for Amazon FBA suppliers.
10. Inventory Source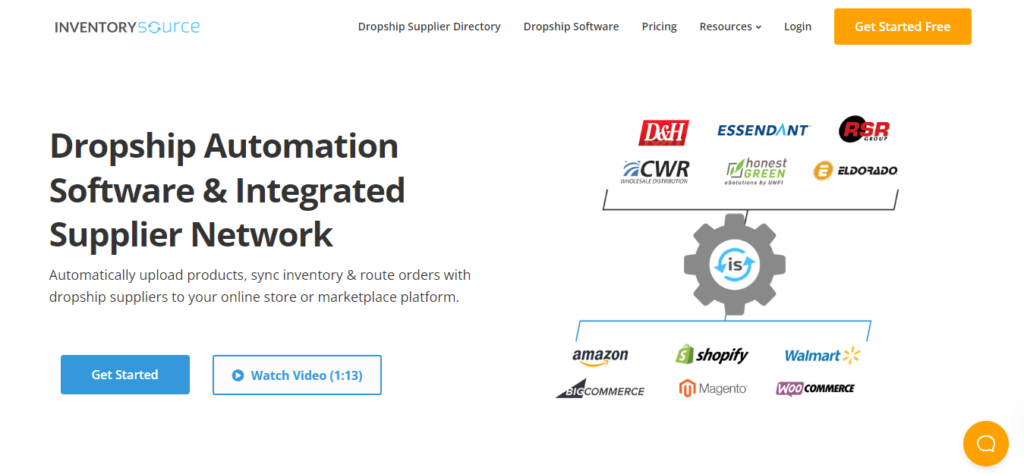 As the name suggests, Inventory Source is an online B2B marketplace in the USA to present registered wholesale suppliers to retailers to facilitate their supply chain.
Starting in 2002, this platform grew famous enough to be one of the most preferred marketplaces for retailers in the USA.
Over 4,000 registered supplier offer products from a variety of categories. This marketplace is preferred for directly liaising with your existing or potential suppliers.
MOQ
Depends on suppliers and products
Pricing
Free to access suppliers, charges for added features like store integration and inventory automation.
Key Features
Ideal platform for small and medium businesses.
You will find suppliers for wholesale and dropshipping business models.
The platform facilitates automated dropshipping.
Advanced search options to find relevant suppliers more quickly.
11. Worldwide Brands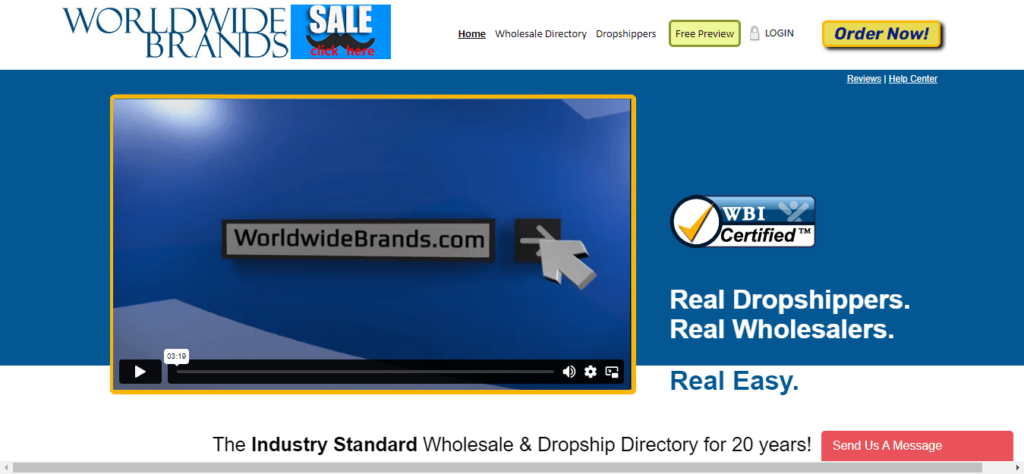 Worldwide Brands is a renowned B2B marketplace that connects online retailers and entrepreneurs with reliable wholesale suppliers. With its extensive database of wholesale suppliers, this marketplace provides businesses with a trusted resource to source products for resale.
As a trusted and comprehensive platform for businesses searching for reliable wholesale suppliers, this platform stands out with its certification process, extensive product selection, market research tools, and ongoing support.
MOQ
Varies according to the suppliers and products.
Pricing
One-time membership fee of $299. They keep offering discounts on membership fees throughout the year.
Key Features
Hosts over 8,000 premium suppliers that are strictly vetted by the platform.
Offers over 16 million products, and the database gets regularly updated.
In addition to the USA, you will find suppliers from the UK and EU to enhance your sourcing options.
They have special sections to find specialized sellers for platforms like Amazon and eBay.
Option to search for the desired product by category, location, and MOQ.
Educational resources, training materials, and tutorials are available.
Being a paid platform, they ensure to provide exceptional customer support.
FAQs about B2B Marketplaces
Read the following answers to the most frequently asked questions about B2B marketplaces to address your current or potential queries.
What Are B2B Online Directories?
B2B online directories have pretty much the same objective as B2B marketplaces. Both facilitate retailers.
Online directories like Thomasnet and MFG usually provide the contact details of suppliers. But the B2B marketplaces are more organized as they offer value-added features, like search filters, buyer protection, supplier ratings, etc.
Where Do You Find Offline B2B Marketplaces?
Offline B2B marketplaces in China include wholesale markets like Yiwu International Trade City and Guangzhou Wholesale Markets, along with trade shows such as the Canton Fair.
In the USA, notable offline B2B marketplaces can be found in locations like The Mart in Chicago, the Las Vegas Market, the New York International Gift Fair (NY NOW), and the Los Angeles Fashion District.
These physical marketplaces and trade shows offer opportunities for businesses to connect with suppliers, explore products, and engage in B2B transactions.
What Is the Best Way to Source Products without B2B Marketplaces?
Finding the ideal B2B marketplace is always a daunting and hectic task. The results will still not be guaranteed. Instead of going through the hassle, the optimal solution is to enlist the services of a product-sourcing agent.
Such sourcing company specializes in swiftly locating the right suppliers for your products. Why waste hours searching for unreliable suppliers when you can rely on experts?
Hiring a professional sourcing agent like NicheSources ensures that you obtain products at highly competitive prices while also benefiting from additional services such as storage and expedited shipping.
Summary
Finding a reliable and long-term sourcing partner is the backbone of a retail business. One decision can make or break your business. That's why retailers keep trying to find a list of good marketplaces, both online and offline, so they may sell products with peace of mind.
You can always take help from this article to find reliable B2B marketplaces by quickly reading the overview and features. All of the mentioned marketplaces have a strong reputation.
If you want us to source quality products from China at the most affordable prices for your business, ask for a free quote now. Our sourcing expert will take care of everything you need.