Everyone loves jewelry. From glittering rings to stylish pendants, jewelry has always been the center of attention for both men and women. Hence, it has been one of the most attractive and profitable businesses for many years.
Consequently, as many retailers have jumped into this field, buying wholesale jewelry for resale has been getting more and more competitive. That's why you must know all the hacks of this lucrative yet sensitive business.
This article will tell you everything you need to know even if you are starting the jewelry business from scratch to generate a profitable income stream.
Let's start.
What Is a Wholesale Jewelry Business?
A wholesale jewelry business runs on a model of buying jewelry in bulk quantities and selling it at wholesale prices. The jewelry wholesalers may purchase jewelry items from the manufacturers and sell them to the retailers at a little higher prices.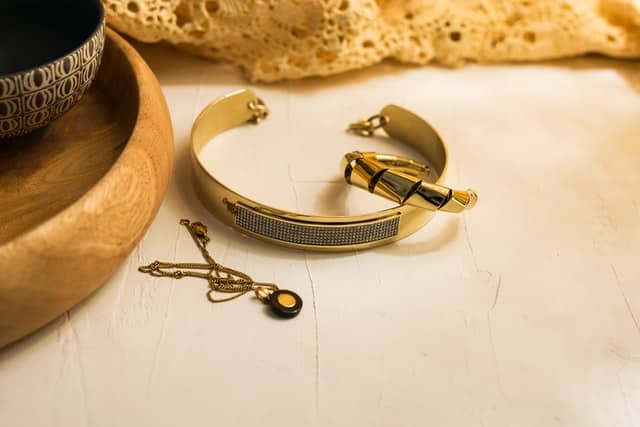 The retailers sell those items in smaller quantities and earn a certain profit margin per item.
Due to its viral selling nature, jewelry has attracted a lot of wholesalers. When you step into the jewelry business, you may feel that every other person is involved in selling jewelry items, at least the ones who sell general items.
That is exactly what makes the competition more fierce. If you don't know where to buy wholesale jewelry from, the right prices, and who the trustable wholesalers are, you may lose the game already.
How to Find Your Jewelry Niche Market?
Jewelry is a whole new world. You can't just start selling everything that comes across you.
That's a full-fledged challenge that you'll face when you step into the jewelry business. As the jewelry is meant to be attractive, you may find every jewelry item appealing enough to start selling.
It is only when you come across another jewelry design, you decide to sell it too.
So, as much as it is important to decide what jewelry items to sell, it is probably more important to decide what not to sell.
To make it easier, you just have to research different jewelry niches and select one for you.
When you have decided on your niche, you can start working with a clear focus. Your niche decides your target audience, your markets, the suppliers, and other business dynamics like shipping procedures, etc.
Tip: Many new businesses get bogged down in the decision-making process regarding which jewelry items to sell. Do detailed research to come up with your favorite jewelry niche once and for all.
How the Wholesale Jewelry Business Works
If you want to sell on a wholesale business model, you have to look for the jewelry manufacturers in your niche so that you can buy from them at a higher scale and sell those products in smaller batches to earn profit.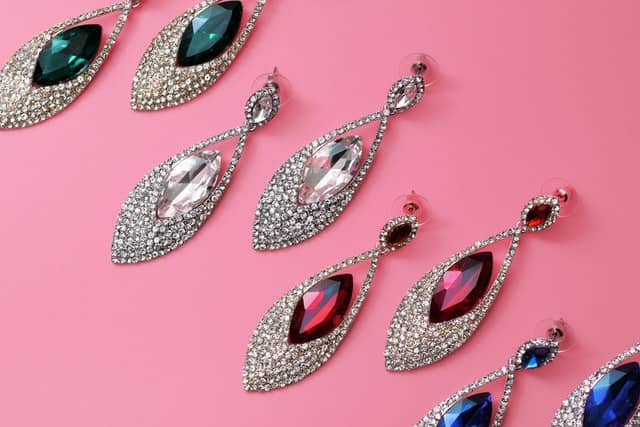 You would have to take care of the MOQs in the wholesale business model. The manufacturers are mostly willing to sell their items in higher quantities. In return, you'll also sell those items in smaller but definite MOQs.
For example, a manufacturer may have an MOQ of 10,000 pieces for a golden heart ring. Let's say you buy 10,000 pieces from him at $0.5 per piece. This wholesale buying will cost you $5000.
After that, you will start selling those rings to the retailers with an MOQ of 100 pieces at $1 per piece.
Although you would take some time to sell your 10,000 pieces to 100 retailers, you will have a $10000 revenue which would mean a gross profit margin of $5000.
A retailer will buy 500 pieces from you and sell them one by one at $3 per piece. Hence earning $2 per piece.
So, the deciding factor in this whole model is the timing. The longer the wait, the higher the earnings.
Where to Buy Wholesale Jewelry?
After you've decided on the niche, the next step is to find wholesale jewelry for selling. You must explore all the major sources to reach the one that best suits your needs.
China has largely become the world's source of supplying wholesale products. The major part of the world buys at wholesale prices from China and sells them to other parts of the world.
Owing to its cheap labor and supporting government facilities, Chinese suppliers have been the most desired sources of supplying cheap products with satisfactory quality.
That's why you will most probably find lucrative wholesale deals from Chinese suppliers.
There are two main ways of finding wholesale jewelry suppliers in China.
Physical Wholesale Markets in China
If you have a chance to visit wholesale fashion markets in China, you will get a lot of wholesale jewelry shops in famous Chinese markets.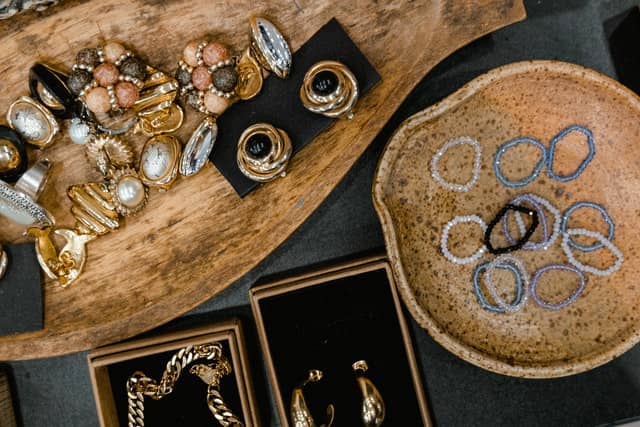 Most importantly, you can visit Yiwu and Guangzhou markets. You will most likely find enormous competition for jewelry and other products in these markets.
A few markets have been mentioned below along with the names of jewelry businesses for your convenience.
Shenzhen
JewelryBund, Charming Jewelry, Mass Jewelry, Beyaly Jewelry, etc. You must visit Shuibei international jewelry exchange center.
Guangzhou
Nina Jewelry, Wing Wo Hing, Silverbene, Joacii, Jingying jewelry, Kirin Jewelry, etc.
Yiwu
Hengsheng Jewelry, Gujin Jewelry, Nicholas Jewelry, Meng Jinyun Jewelry, etc.
Hong Kong
You must visit Ladies Market in the Kowloon district. You should also check their website Hong Kong Trade Development Council for sourcing from Hong Kong suppliers.
Online Wholesale Marketplaces
If you can't visit physical markets in China or any other country, you can visit online B2B marketplaces and look for the required jewelry products.
It is even more convenient as you'll have tons of options within a few clicks.
The following are a few of the best online marketplaces for finding jewelry items. These online platforms are a mix from China and other parts of the world but all of them ship products internationally.
Made-in-China
Sunrise wholesale
Mx Wholesale
Pinktown USA (for women's jewelry)
Asian Beauty Wholesale
Worldwide Brands
Salehoo
How to Private Label Jewelry?
Selling jewelry is surely a kind of business that can give you good profit margins. More than 29 million Americans buy jewelry items daily. You can only imagine how huge its customer base is.
A unique jewelry design can impress visitors so much that they may pay insanely high prices for it. The profit margin can further be increased if you private label those special jewelry items.
There are many ways of private labeling your jewelry business, including taking simple steps of putting your logo on the product or packing it in an attractive custom packaging.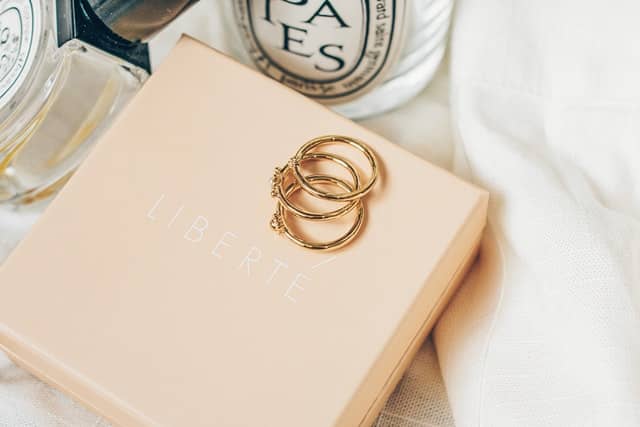 You need to explore the list of top private label jewelry manufacturers to source private label jewelry. You can contact them one by one to discuss your business proposals.
The following are the steps for private labeling your jewelry business.
Select the Products
The first step in starting a private label jewelry business is to select the product you want to sell. As there may be countless options for jewelry items, it may be difficult for you to decide which jewelry item you'll initiate your business with.
This is especially true in the case of private labeling as you can only private label a single or a few items at the start.
You can also launch a few random jewelry items in your general store to see what sells more. You can private label the best-selling items from your general store and launch a separate store for those products.
If you don't want to do this step, you can also analyze what your competitors are selling and select your products from their collection.
Analyze the Trends
Do check for the trends of the products you choose. Sometimes, you are attracted to a product and think that it will sell a lot. But that product is already at the stage of maturity in the market.
So, when you launch that product, its demand may have already declined.
That's why you need to check the trends of a product to have an idea of its demand life.
A good tool in this regard is Google Trends. It tells you the people's interest in a product over a defined period.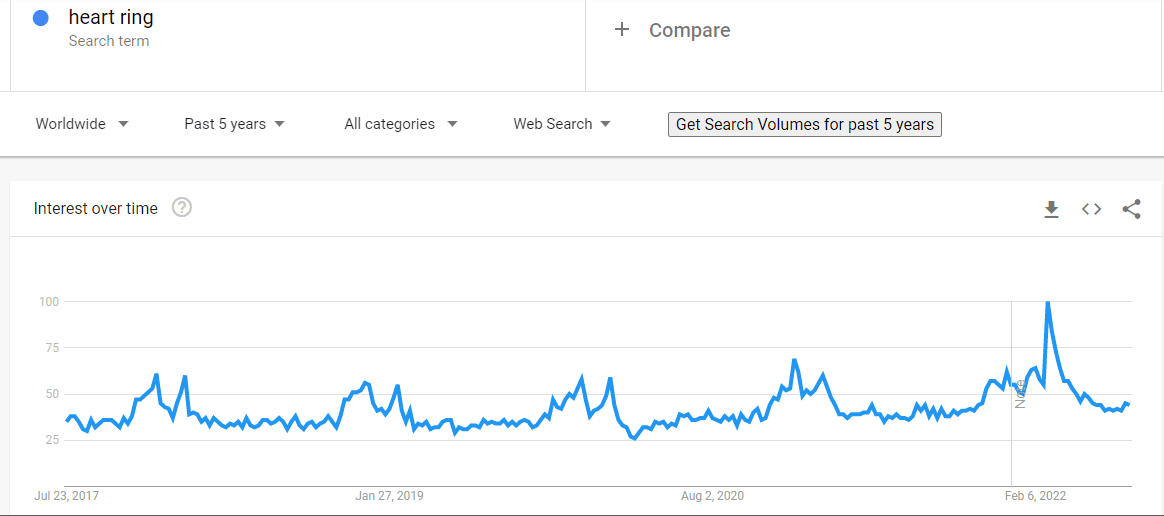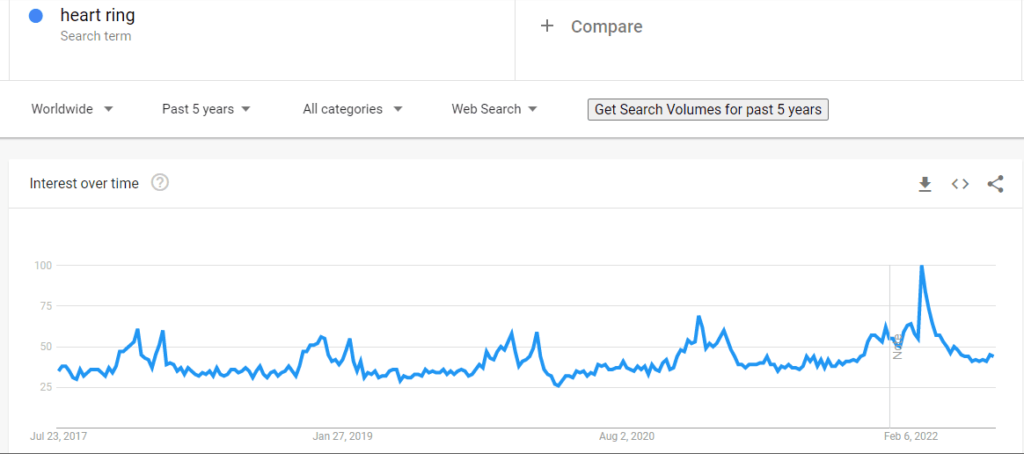 Run a Competitor Analysis
Another trick is checking the competition. If every other person is selling that product, it may be near extinction.
If a handful of people are selling it, it may mean that the product still has some juice and you can take your share of the pie.
You also have to get an idea of what your competitors are doing to sell that product. You need to analyze their prices, reviews, product descriptions, etc. and check if they are doing anything special.
You need to consider these factors and run the extra mile if you want to beat your competition.
Find a Private Label Jewelry Supplier
When you finally select your product, you need a private label jewelry supplier. He should either have those products already or can arrange it as per your requirements.
You can find private label jewelry suppliers by searching online or more conveniently, through a product sourcing company.
Discuss Detailed Requirements
You should share in detail in a product specification sheet what parts of the products you want him to make unique so that it looks different and branded.
It is better that you find a manufacturer because it will be more convenient for him to make the desired changes to your products.
Negotiate and Finalize the Costs
Discuss the costs, MOQs, delivery times, etc. to finalize the deal. You must contact multiple suppliers so that you can compare their rates and services and place the order with the best one.
Decide the Selling Price and Calculate Profits
After calculating the delivered costs of your products, you can set their retail prices and estimate the tentative profit margins.
You should apply a sense check to your prices to validate that your products are competitive in the market. You can compare your data with the previous competitor analysis.
If you think that your prices are lucrative and realistic enough to run a profitable business, you can go ahead with other steps.
Order a Sample
Place the order of a sample to physically check the finished product. If you're satisfied with its quality, you can place the order.
Decide Your Selling Platform
While your order is in transit, you can utilize this time to decide which platform to use for selling your products. Multiple selling options depend on how much you want to invest in this business in terms of time and money.
Let's discuss the selling options in the following section.
Where Can You Sell Jewelry?
If you have gone through the sourcing part correctly, the sky is the limit for selling them. Following are a few of the options you can consider for selling jewelry.
Physical Shops
This is the most traditional form of selling jewelry. You can sell it via physical shops.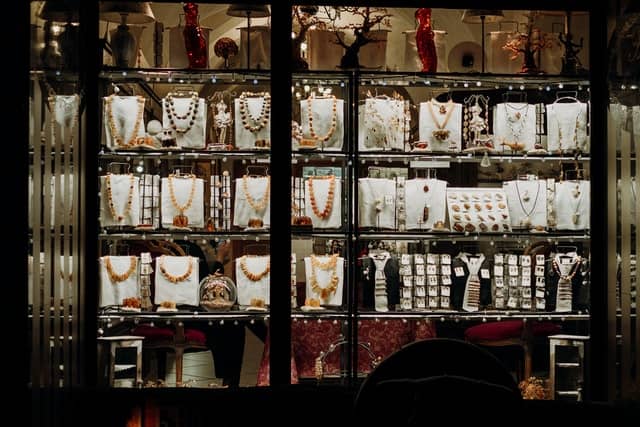 You just need to make sure that there is a lot of traffic around your store.
A shop in the fashion or makeup market can be a good idea.
Online E-commerce Platforms
If you want to go beyond boundaries, you need to go and sell jewelry online. One of the most effective ways to open an online shop is to use e-commerce platforms like Shopify or Woocommerce.
These platforms give you a lot of options to build your online store. You just have to upload the pictures, descriptions, prices, and other details of your products and your store will be ready to go.
Amazon
Amazon is the world's leading e-commerce website that sells almost everything an online shopper requires.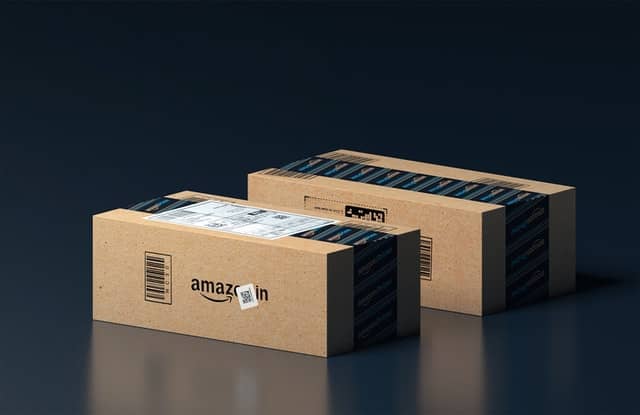 There are a few popular methods on Amazon that allow you to establish your brand using its amazing features. You can launch your jewelry brand using Amazon FBA or FBM depending upon your preferences.
Its exclusive features like Amazon EBC and Amazon Handmade can help you get quick orders.
Misc Retail Websites
You can also open your online shops on other miscellaneous retail websites that already have a huge customer base.
Following are a few examples of these websites.
In addition to being a platform to connect, social media has helped establish many small businesses. So, you must explore options like Facebook marketplace and Instagram shop, etc.
Influencer Marketing
Some people have their ideals whom they follow blindly. They like to copy how they look and what they wear. They are also waiting for their recommendations.
Influencer marketing involves paying these celebrities to promote your products. You can also give them gifts in exchange for their recommendations.
It can be quite influential in selling jewelry. You just need to ask the fashion figures who have a passionate following on social media to promote your products and you can nail it.
Even if they promote one of your products, the rest of them will also start selling naturally.
Search Engines
Yes, you can also get sales from the search engines by including the relevant search terms in your product descriptions.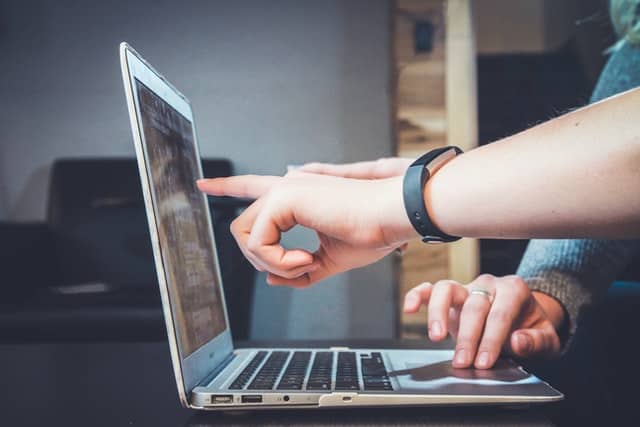 For example, there are a few buzz words in jewelry that people are always looking for. The words like 'stainless steel jewelry', 'love ring', and '22K Gold Jewelry', etc are always high in demand.
By including such words in your product descriptions, you can give a signal to the search engines that your store offers these products. Hence, you can have free or organic visitors searching for the products you're selling.
Tips for Buying Wholesale Jewelry for Resale
Let's discuss some useful tips for buying wholesale jewelry for resale.
Authenticity
One of the main issues in buying wholesale jewelry is difficulty in trusting suppliers. As you are about to invest thousands of dollars in buying jewelry items, you must have a strong belief that you are buying it from an authentic source.
Ask the wholesale supplier to provide you with the following details.
Registered business address
License to sell wholesale items
His experience in this field
Details of his warehouses
Customer reviews
Official website
Official social media pages (LinkedIn, Pinterest, Twitter, Facebook, etc.)
You should only trust the wholesalers who are willing to provide the most of this information.
Product Quality
You should also double-check the quality of the jewelry. A slight difference in what you checked as samples and what you receive can get you in big trouble.
So, it is advised to have a proper check on your products' quality, especially at the time of loading before shipment.
Value-Added Services
Getting quality products is not sufficient sometimes. You also need to get excellent services if you want to run a smooth business.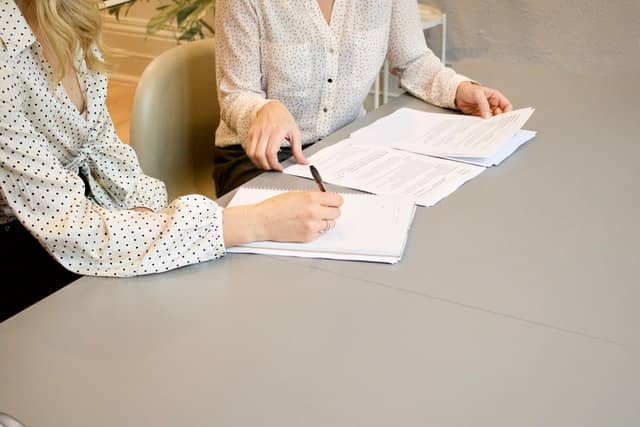 Make sure that your supplier can provide extended value-added services like expedited shipping and making custom changes in your products as and when requested.
Hire a Sourcing Agent
How will you be able to check the authenticity of your supplier and the quality of your products at different stages? You probably can't do it on your own.
You also won't be able to do anything if your supplier refuses to deliver the products earlier. You can make these things possible by hiring a professional product sourcing agent that can help you in the following ways.
Assist you in finding high-quality jewelry products at the most affordable costs.
Inspect and validate the quality and quantity of products.
Communicate your messages to the suppliers in their native language for perfect clarity.
Store your products in their warehouses and ship as and when you ask them.
Work as your eyes and ears in the source country to assist you with any other requirements.
FAQs about Buying Wholesale Jewelry for Resale
Let's read the answers to the most frequently asked questions about buying wholesale jewelry for resale.
Do I Need a Business License to Sell Jewelry?
No. In most countries, you don't need a business license to sell jewelry items. But if you have shown that you sell handmade jewelry, you may have to display a proper license or proof of that.
Platforms like Amazon may also ask you to show proper documentation if you sell under their handmade section.
How Much Does It Cost to Start a Jewelry Business?
It depends on the kind of jewelry business you want to start. If you want to open a physical jewelry shop, it may cost $10,000 or even more.
But if you want to start an online jewelry business, you can do it in within $1000 in the case of dropshipping. Depending upon the type and cost of jewelry items, you may need from $3000 to $6000 to start a good online jewelry business.
What's the Average Markup on Jewelry?
The average markup on jewelry items is around 2.5 to 3 times its wholesale costs. But if you find a unique jewelry item that is new to the market, you can sell it on even higher markups until the market gets saturated.
Summary
Fashion jewelry is an evergreen business. As long as people want to look attractive, it will always find its relevance. That's what makes a jewelry business more reliable.
But still, many jewelry businesses die down too soon because of their wrong wholesale deals. That's why you need to take care of all the sensitivities in buying wholesale jewelry for resale discussed in this article.
If you want to start a profitable jewelry business with an error-free sourcing experience, ask for a free quote from us and one of our experts will guide you through every step.