Selling on Amazon is quickly becoming synonymous with online selling in major parts of the world. Your products are visible to around 200 million active monthly buyers around the world as soon as you register as a seller on Amazon. And the number is growing with every passing day.
If you have decided to start selling on Amazon, you have headed the right way. But how would you want your orders to be fulfilled? Would you like to fulfill the orders yourself? Or would you want Amazon to fulfill them for you?
In this extensive comparative guide on FBA vs FBM, we will walk you through the ups and downs of both fulfillment methods that will help you decide which method suits you best.
Let's jump right in.
What Is FBA?
FBA stands for Fulfillment By Amazon. It means that when you get an order on Amazon, your order will be picked, packed, and shipped to your customers by Amazon's fulfillment centers.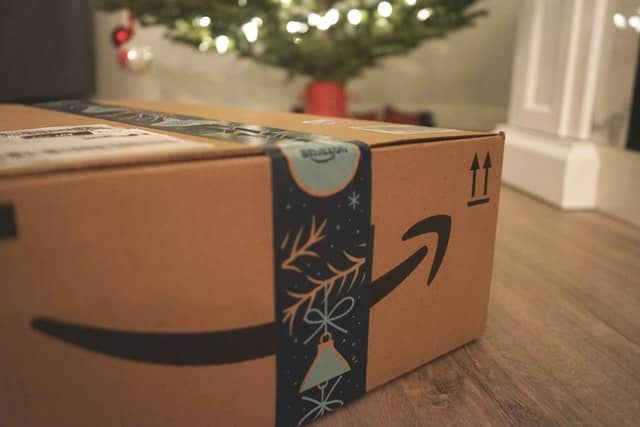 You just have to focus on managing your listing, getting sales, and leaving the fulfillment part to Amazon.
In fact, FBA goes beyond just fulfillment. It also handles customer service and returns on your behalf.
Prior to your order, Amazon also keeps your products stored in its fulfillment centers and charges you accordingly.
What Is FBM?
FBM is an abbreviation that stands for Fulfillment By Merchant. In this fulfillment method, an Amazon merchant (seller) is responsible for storing products and fulfilling the orders himself.
The Amazon seller has to perform all the steps related to fulfillment including picking, packing, and shipping the orders to the customer's address.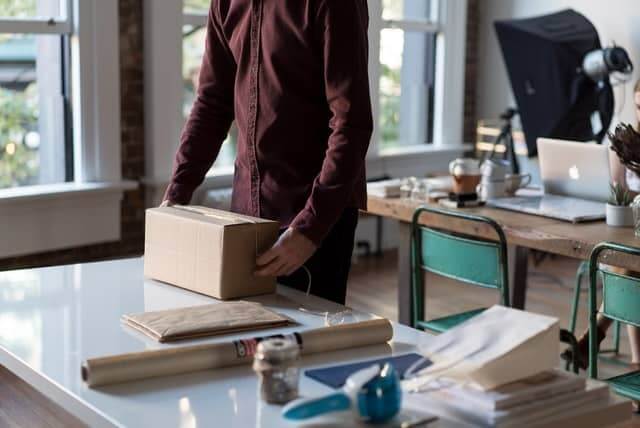 Additionally, the FBM seller is also responsible for providing customer services and processing the return and refund requests from his customers.
The Amazon merchant is free to get the fulfillment done by third-party services (other than Amazon) or by himself.
It is also called MFN (Merchant Fulfillment Network).
Is There a Set Formula to Choose Between FBA and FBM?
Now that you have the basic idea of FBA and FBM, this obvious question of choosing between these fulfillment methods would surely pop up in your mind.
A million-dollar question, indeed. This very selection can make or break your Amazon business.
So, is there a straight formula or a rule of thumb to decide what suits you best? Unfortunately, no.
It depends on multiple factors. That's why we are discussing each aspect of Amazon selling in upcoming sections.
We will suggest which method would suit you, particularly for the aspect in question.
Just read on and it will become easier for you to decide.
FBA vs. FBM: The Process
The process of how FBA and FBM works is one of the most important factors in choosing between these two fulfillment methods.
Let's have a quick review of the typical process used in FBA and FBM.
A simple FBA process would undergo the following steps.
You send your products to the relevant Amazon fulfillment center(s) following the Amazon guidelines
Amazon fulfillment center receives your products, checks them, and stores them
You receive an order for your products on Amazon
Amazon locates your products, picks, packs, and dispatches them to your customer's address
Your customer receives your products with an Amazon tag on the packaging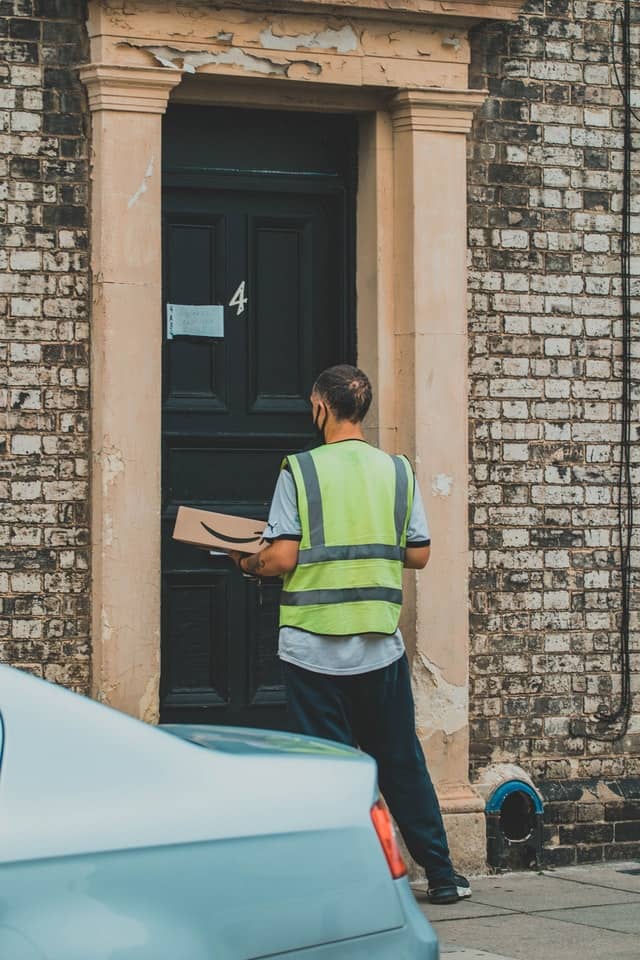 A typical FBM process undergoes the following steps.
You create your product listings on Amazon Seller Central by selecting the option of FBM.
You store your listed products in your own location or third-party warehouse.
You get an order on Amazon.
You ship orders to your customer's address with proper packaging and labeling within the promised delivery time.
You facilitate and process any return requests from your customers as per Amazon's return policies for FBM.
So, FBA sets you free from worrying about logistics and you can save a lot of time and focus on more productive tasks as you don't have to provide customer services too.
Additionally, the customers easily trust Amazon's tag of FBA, and hence FBA sellers get more sales.
On the other hand, FBM gives you more freedom to manage your inventory, packaging, shipment methods, etc.
It also favors sellers with fewer orders as they will not have to pay for standard FBA storage charges that you have to pay even without sales.
FBM suits multi-taskers. If you think you can manage the marketing, sales, fulfillment, customer services, etc while still being profitable, you are advised to go for FBM as it may cost you less than FBA.
Here's a quick recap that would help you decide which method is better for you in terms of process.
You Should Use FBA If…
You are unable to set up your logistics.
You don't want to handle the customer service.
You want to leverage Amazon's tag.
You want to benefit from increased productivity.
You want to run your business anywhere.
You Should Use FBM If…
You want more control over your business.
You have a slow inventory turnover.
You are able to maintain a high level of productivity.
FBA vs. FBM: The Logistics
Handling logistics is another big aspect of running an online store. As you can have orders from multiple locations around the country, handling the logistics is an important part of delivering your orders.
Let's discuss which method suits you more in terms of logistics.
FBA handles all the logistics on your behalf. It is Amazon's headache to deliver your products to your customers' doorsteps.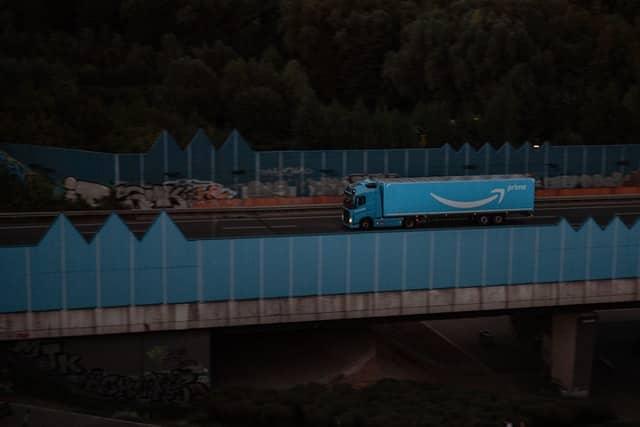 In return, you can focus on getting sales rather than being bogged down in managing each shipment.
The good part about FBA is that it is not meant for Amazon orders only. You can use Amazon fulfillment for your other sales channels too.
It is Amazon's paid service to provide fulfillment on your behalf. You can consider FBA just like a third-party fulfillment service that you can also use for the Amazon sales channel.
Good logistics management helps you manage your deliveries well which ultimately affects your product inventory levels.
Using FBA can help you earn a good IPI (Inventory Performance Index) score. This helps you with good inventory forecasting to avoid lost sales due to product shortages. You can also avoid piling up dead stock by having unwanted products in your inventory.
You need to ask yourself if you can manage the logistics yourself if you want to choose FBM. If not, you must work with third-party logistics services to execute your deliveries in FBM.
As an FBM seller, you have more control over your inventory and set your expected delivery time so that you can manage the deliveries at your ease.
You also have certain liberty over product packaging, shipment methods, and overall sales cycle.
Let's sum up the logistics part of using FBA or FBM in the following.
You Should Use FBA If…
You are unable to set up your logistics.
You want to focus on selling rather than fulfilling.
You have a fast inventory turnover.
You can keep a high IPI score.
You Should Use FBM If…
You have your logistics set up.
You work with a logistics company that will handle your warehousing and fulfillment.
You enjoy packing and shipping products.
You have a slow inventory turnover.
You want more control over your inventory.
FBA vs. FBM: The Business Model
Whether you should choose FBA or FBM method also depends upon your business model on Amazon. One business model differentiates itself from the other depending upon the selling strategies and product types.
The most popular business models on Amazon are as follows.
Private Label
Amazon private label refers to selling branded products on Amazon. The private label sellers can either have their own products or get them manufactured with customizations to be sold under a brand name.
It is considered the most profitable business model on Amazon but it is also the most expensive one.
You can also use Amazon EBC to promote your private label products.
Amazon Wholesale
The wholesale business model on Amazon refers to buying products in bulk quantities at a lower cost per product and reselling them (one by one) to Amazon shoppers at a higher price per product.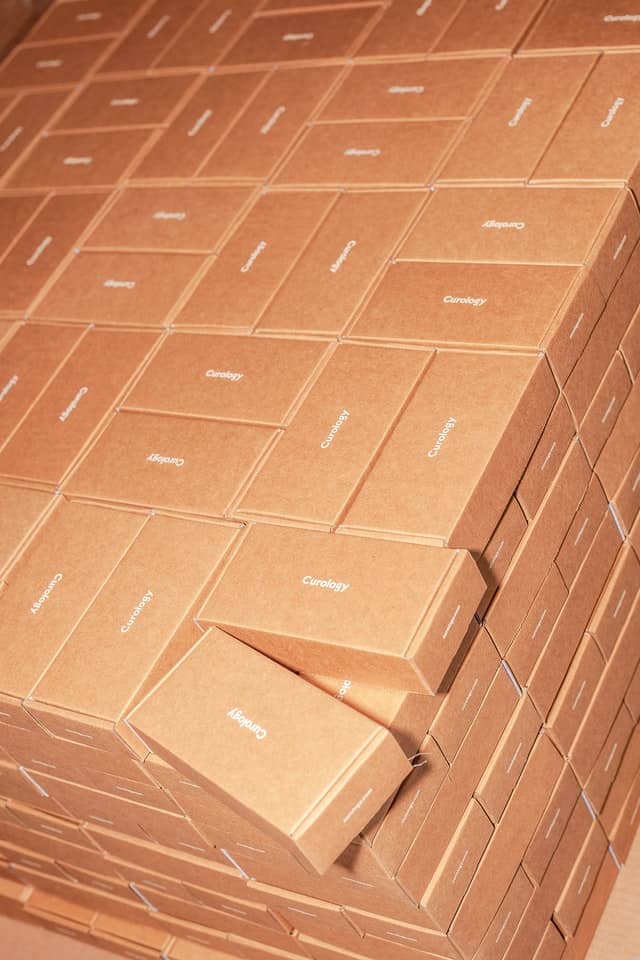 This is also one of the most common practices at Amazon and can attract a lot of orders that might require your extensive involvement in shipping, customer services, logistics, etc.
Retail Arbitrage
Retail arbitrage refers to buying certain products from one retail store at a lower cost and reselling them at higher prices to bag the profit margins.
An example is buying a product from a retail store at a Black Friday sale and reselling it at full price.
This is a comparatively easier way to start selling on Amazon but at the same time, it is not much profitable as you have little margins after paying the Amazon fees and other operating costs.
Online Arbitrage
Online arbitrage works exactly like retail arbitrage but the seller buys cheaper products from an online store and sells them at higher prices on Amazon.
Dropshipping
Amazon dropshipping is a popular online selling model where a seller does not procure items unless he gets the orders. The seller promotes products of other suppliers or manufacturers at a price higher than the source price.
Amazon dropshippers can also promote products from other Amazon sellers at a higher price. After getting an order, they place the order with the original Amazon seller with their customer's shipment details so that the original seller ships products directly to their customers.
Handmade
As the name suggests, this business model refers to selling the products that the sellers have made themselves. These can be innovative products with little modifications including jewelry, DIY, decoration pieces, etc.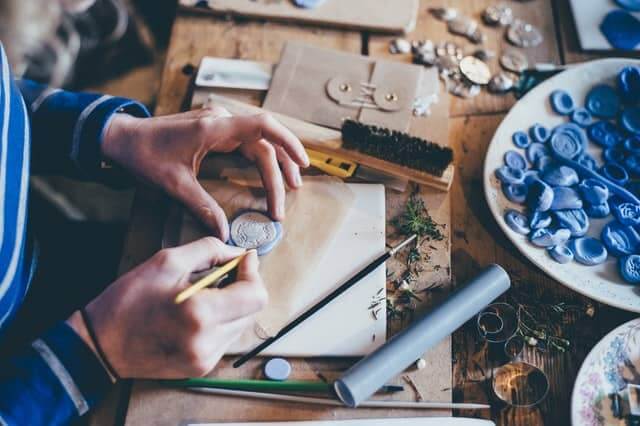 You are not limited to using a single business model on Amazon. Many Amazon sellers use multiple business models simultaneously to see what works best for them.
Furthermore, you are not also bound to sell on Amazon only. As an online seller, you would want your products to be sold as much as possible irrespective of the sales channel.
So, in addition to Amazon, you can also sell via other marketplaces. They include the following.
eBay
Social Media (Facebook, Instagram, Twitter, LinkedIn, TikTok, etc)
Your choice between FBA and FBM depends not only upon the Amazon business model but also on the sales channels you use to sell your products.
You can select multi-channel fulfillment (MCF) and link your channels together through software for better synchronization. Amazon also provides MCF facilities but with few marketplaces and only within the USA.
Did you already guess what the right fulfillment method is according to each business model and sales channel? Let's mention it clearly for your ease.
You Should Use FBA If…
You sell private label.
You sell retail arbitrage.
You sell wholesale.
You Should Use FBM If…
You sell retail arbitrage.
You sell wholesale.
You dropship on Amazon.
You sell handmade products.
You sell through multiple channels.
You Should Use MCF If…
You sell through multiple channels.
FBA vs. FBM: The Sales Power
Another important factor in choosing between FBA and FBM is the method that will attract more sales on Amazon. As discussed earlier, FBA is more acceptable to an Amazon customer because of the trust factor.
Furthermore, another aspect of increasing your chances of getting more sales on Amazon is the Buy Box.
A Buy Box is what you see on the right-hand side of the product page that contains the price of the product with CTAs of "Add to Cart" and "Buy Now".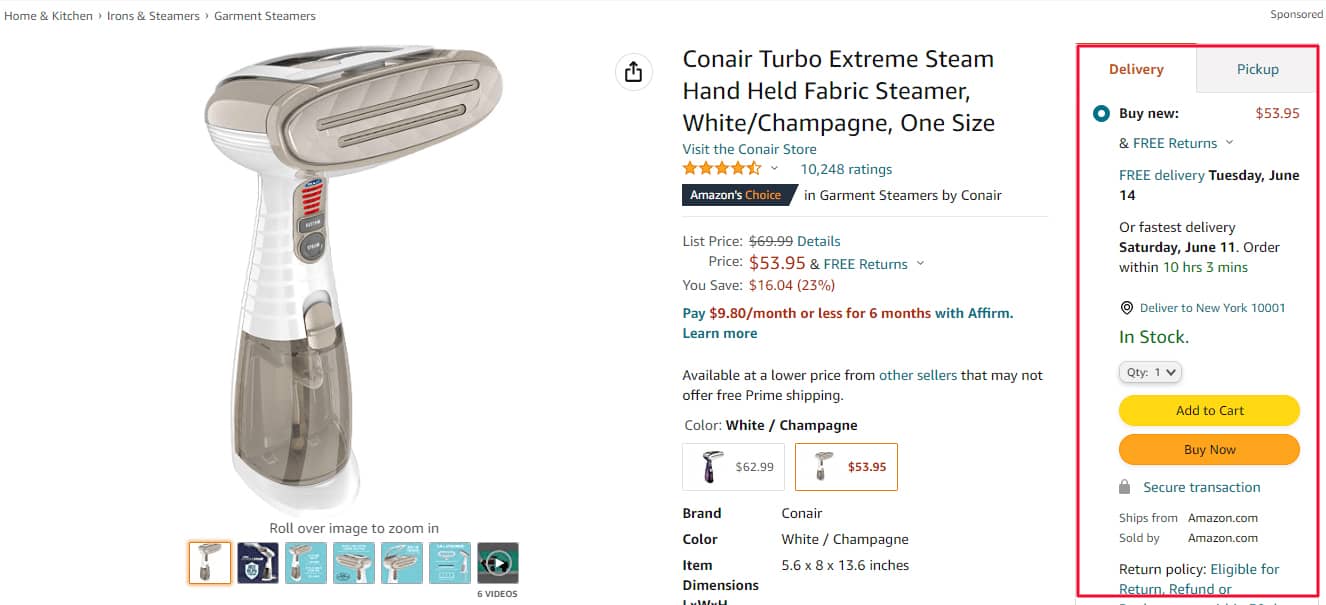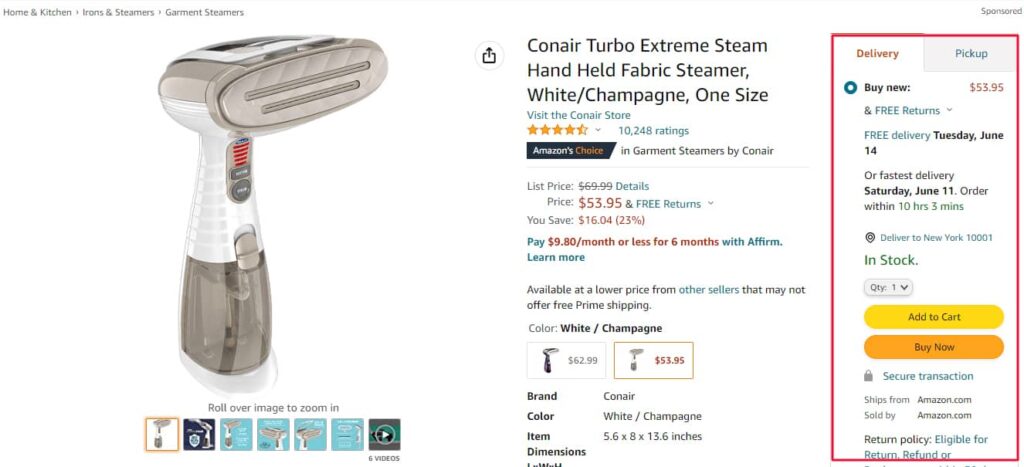 When a customer decides to buy from Buy Box, the seller who has the highest performance rank on Amazon wins the Buy Box. In most cases, the highest performance rank is achieved by FBA sellers.
That's the sales power of Amazon FBA.
The order can only go to an FBM seller if he is successful in outperforming the FBA sellers.
FBA also helps improve the SEO of FBA sellers. Good SEO translates into more organic sales.
As Amazon has its own search engine, it shows FBA sellers in the top results for most searches.
On the other hand, FBM sellers have to strive hard to improve their SEO to compete with FBA sellers.
FBA orders also qualify for free lightning-fast deliveries like Amazon Prime's two-day delivery. They also have the Amazon Prime badge.
Such fast delivery schedules also boost sales and attract eager consumers.
So, what did you learn from the sales power? Let's summarize below.
You Should Use FBA If…
You want to win the Buy Box.
You want to have SEO perks.
You want your products to be eligible for Amazon Prime's free two-day shipping.
You Should Use FBM If…
You can perform better than FBA competitors.
FBA vs. FBM: The Seller Feedback
Choosing FBA or FBM is a decision that can affect your feedback as a seller on Amazon.
Amazon allows its customers to leave seller feedback after they have received products. The customers evaluate a seller in terms of delivery speed, the quality of fulfillment, and if the product was as described in the product description.
They also evaluate the customer service experience provided by the seller and their facilitation in returns and refunds, etc.
They can rate their experience within 90 days of receiving products. They give an overall rating to the seller out of 5 stars which are shown publically to every Amazon visitor.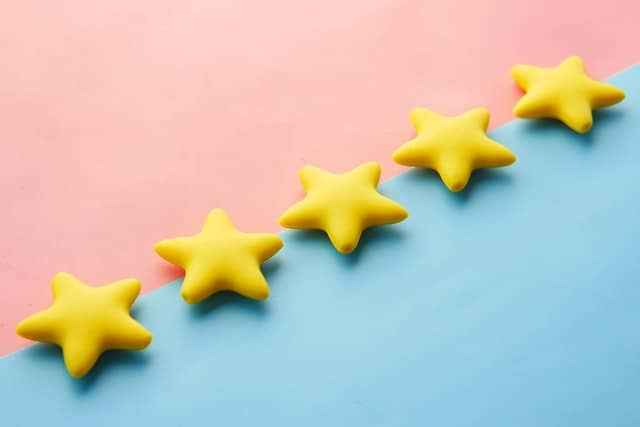 Don't confuse seller feedback with product reviews which merely shows customers' opinions about the products.
The seller feedback can affect your Amazon business as the customers mostly check the seller feedback before placing an order.
Amazon also uses seller feedback in deciding to place your products in search results (SEO) and Buy Box.
As most services related to seller feedback are provided by Amazon itself in FBA, these sellers are most likely to get good seller feedback from their customers. And if the bad services are provided by Amazon, you can easily remove the negative feedback.
An FBM seller has to work almost flawlessly in every aspect of fulfillment to achieve an equivalent or higher score in seller feedback as compared to FBA sellers.
So, what do we conclude here? Let's find out.
You Should Use FBA If…
You do not want to receive negative seller feedback.
You Should Use FBM If…
You can provide fast delivery.
You can provide top-notch customer service.
FBA vs. FBM: The Expenses and Fees
Lastly, you would have to calculate the costs and fees you have to pay using both fulfillment methods.
If you use FBA, your fees will depend upon the type of the product, its weight (see volumetric weight), and the sales channel used.
FBA fees are charged for storage and fulfillment.
FBA storage fee ranges from $0.83 to $3.63 per cubic foot depending upon the type of products (dangerous or non-dangerous goods) and the peak or non-peak season.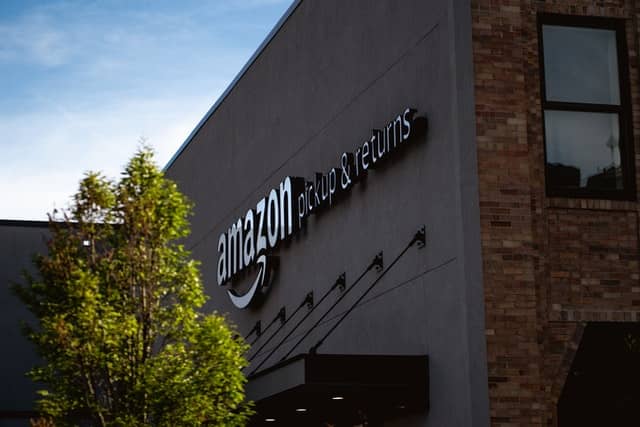 FBA fulfillment fee is charged per unit fulfilled. It depends upon the size and shipping weight of the product. Depending upon these factors, it can go from $2.5 per item (small items) to $150+ per item (special oversize items).
There is no storage fee charged by Amazon to FBM sellers. The FBM sellers also set their own shipping charges depending on the seller's plan (Professional or Individual).
The FBM sellers with the Professional plan are free to set their own shipping costs. Amazon receives the payment from the customer and credits the shipping charges to the FBM seller after deducting a certain portion of the referral fee.
The FBM sellers with the Individual plan have to select from the shipping rates mentioned by Amazon.
So, you would have to analyze which method costs you less in terms of expenses and fees. The following summary may help you decide this.
You Should Use FBA If…
The products you sell are small and lightweight.
The FBM fulfillment fees for your products are higher than Amazon's.
The monthly inventory storage fee of your warehouse is higher than Amazon's.
The operating cost of your warehouse is high.
You Should Use FBM If…
The products you sell are oversized or heavy.
The FBM fulfillment fees for your products are lower than Amazon's.
The monthly inventory storage fee of your warehouse is lower than Amazon's.
The operating cost of your warehouse is low.
How to Do Both FBA and FBM?
Amazon does not bind you to use a single fulfillment method. Rather, many Amazon sellers use both FBA and FBM methods to sell their products.
The final goal is to become more profitable. It would depend on your calculation keeping in view the suggestions shared in previous sections of this article to decide which product should go with FBA or FBM.
Just for an example, you can sell oversized and low-selling items via FBM and small-size items with frequent sales via FBA.
FAQs about FBA vs FBM
The following frequently asked questions will attempt to clarify any confusion between choosing FBA and FBM.
What Percentage of Amazon Sellers Use FBA?
FBA is the most popular fulfillment method on Amazon. There are different statistics to prove this fact.
The percentage of Amazon sellers who use FBA ranges from 73% to 92%. While the stats may differ, the fact remains that it is the most widely used method to sell on Amazon.
Which One Is Better for Beginners?
If you are just starting out on Amazon (selling from your home), FBM would most probably be the best option for you. That's because you can save a lot of FBA costs, especially for long-term storage fees, that you have to pay even without sales.
Which One Is More Profitable?
It depends on your expertise on how well you manage your fulfillment. If you can outperform FBA using FBM, you can be more profitable. If you think you are unable to beat Amazon fulfillment, you may have to consider FBA for being more profitable.
Does Amazon Charge for FBM?
Amazon does not charge fulfillment or storage fee for FBM. The FBM sellers are charged for the selling plan and referral fees just like the FBA sellers.
The charges for the selling plan are $0.99 per unit sold in Individual Plan and $39.99 per month in Professional Plan. The charges for referral fees are 8%-15% depending upon the product category.
Can I Switch from FBA to FBM?
Yes. You can switch from FBA to FBM anytime. To do this, you just have to open your product listing page and click the "Offer" tab. Choose the FBA or FBM option in the "Listing Details". Save this option and you will be good to go with your new fulfillment method.
Summary
Choosing between FBA and FBM is not an easy task. Certain factors that may compel you to choose FBA despite your dedication to providing a perfect fulfillment experience yourself using FBM.
That's why we mentioned clear scenarios in this article that will help you decide which method would work best for you in certain situations.
Do you want to source products for your FBA or FBM at the most affordable prices? Ask for a free quote today to leave everything regarding your product sourcing to us.