What makes a visitor turn into a customer at online marketplaces like Amazon? Is it the product's uniqueness, low pricing, or anything else?
A customer does not always buy a product with the lowest price. He is also not always persuaded to buy a product for its uniqueness. It is the right content like the Amazon EBC that explains everything about the product and convinces a shopper to buy from your store.
This article discusses everything about Amazon EBC. Let's dive right into it.
What Is EBC
EBC stands for "Enhanced Brand Content". Just like Amazon posts, it is a service provided by Amazon to its registered brand sellers. It helps sellers present information about their brands and products in very creative and interactive ways.
Amazon EBC, aka A+ listing, is an excellent option to make your brand stand out from your competitors. It is like an infographic showing the info about your brand in a pictorial form.
EBC is considered one of the most effective brand marketing tools.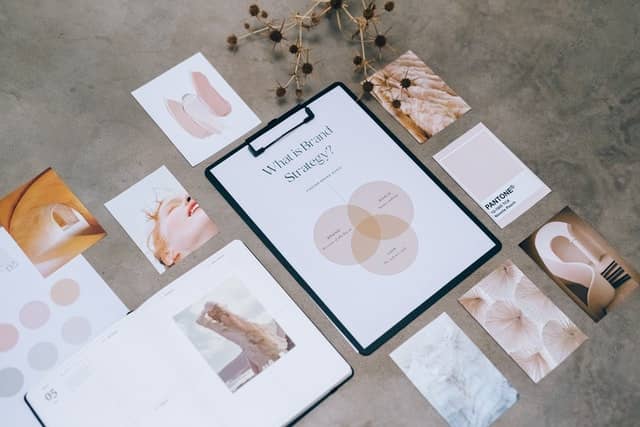 Amazon Premium A+ content is the next level as compared to Amazon A+ Content or EBC.
Note that the Amazon A+ Premium content features are not free to use and are not available for everyone. It is invite-only or comes at huge prices.
Amazon A+ Premium content is utilized by large and more established brands to show their importance and stand out from A+ Content or EBC.
It has added features and advantages that are listed below.
Full-width images that sometimes cover the entire space on the Amazon page.
More attractive Q&A section that is clickable.
More attractive videos.
Striking charts and tables to show product comparisons.
Differences between A+ Content and A++ Content
First of all, let's get the terminologies straight. Read below to eradicate the confusion.
Amazon EBC and Amazon A+ Content are the same.
Amazon Premium A+ Content and Amazon A++ Content are the same.
Now, let's discuss the differences between A+ Content and A++ Content in the following.
A+ Content and A++ Content are both meant to present brand content but A++ Content provides slightly better options.
A+ Content is free to use while A++ Content is quite expensive.
A+ Content is available to the registered brand owners while A++ Content is only available to invited users.
A+ Content has 5 different modules while A++ Content has up to 7 modules.
To sum up the differences, A+ Content has somewhat limited features as compared to A++ Content.
Functions of Amazon EBC
The functions of EBC refer to the purpose or objectives of having EBC. The following are the four functions that EBC does for your brand or business.
Inform
One of the main functions of Amazon EBC is to disseminate information about the brand stories and their products. That is why there are different options at EBC that a brand can utilize to showcase its sparkling features and benefits.
Educate
Informing visitors about their brand and products is one thing, educating them about what they don't know is another.
EBC is used to educate visitors about a problem, why that problem occurs and how your products are going to solve those problems.
The following is a good example of educating pet owners regarding dog behaviors.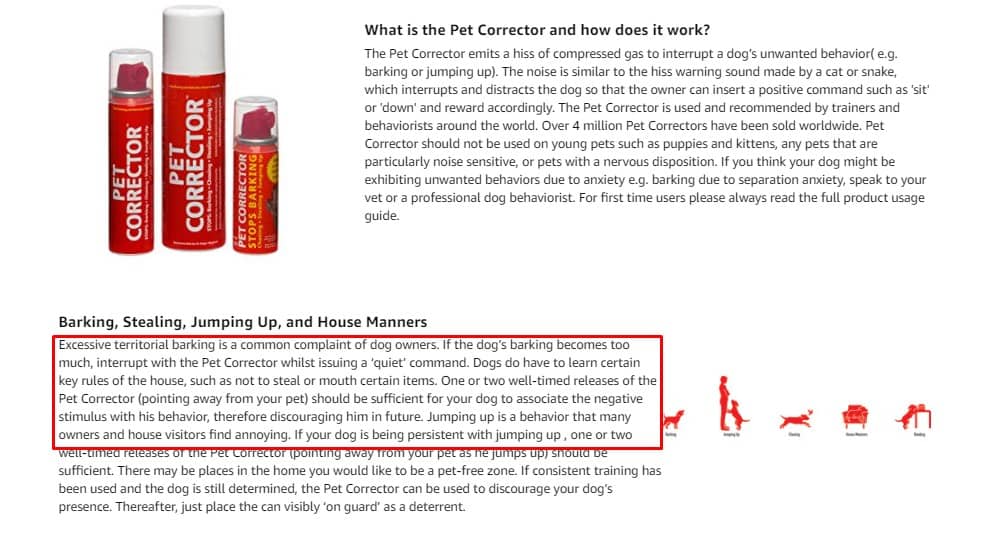 Impress
Another important function of the EBC is to impress a visitor so much that he stops at your product detail page and starts reading what your business content is trying to tell them.
You can also write all the information in your product descriptions but showcasing that info in the form of EBC maximizes appeal to customers.
Sell
Increasing sales is the last but most important function of EBC. After all, you are doing all that stuff just to increase your sales, right?
Who Can Create EBC?
If you want to create EBC, you have to enroll in Amazon Brand Registry. It means that you have to be a brand owner.
If your brand is not established yet, you can also utilize the EBC feature but for that, you have to be a part of emerging brands and be registered with programs like Launchpad and Amazon Exclusives.
You have to wait for the approval from Amazon and once approved, you are all set to create EBC only for the product catalogs Amazon approves.
What Does EBC Consist Of?
EBC looks simple product description just in a different way. It is much more than that.
Ideally, you have the following options that you can use as ingredients for a successful Amazon EBC.
Infographic
Infographic is mostly a large picture containing different sets of information. It aims to grab the reader's attention.
As the time spent on a product page by a potential buyer is only a few seconds, this image gathers all information and presents it quickly and clearly.
One of the best practices in creating an infographic is to include bullet points about the product along with its image.
These images or graphics are professionally built so that they impress the visitors and stop them from leaving the page.
If you don't know how to create an infographic, you can sketch it by hand and ask a graphic designer to build a high-quality one.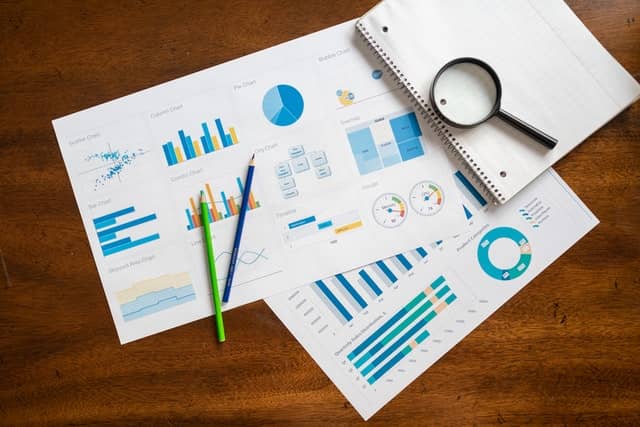 Product Slideshow
The product slideshow is a mix of product photos and texts about them. It not only contains product images but also related information.
Try to use striking sentences alongside the product photos so that it sticks in your customers' minds and compels them to click that "Buy Now" button as soon as possible.
There is nothing wrong with bragging about the differentiating aspects of your products in the slideshow. This will create an impact on visitors' minds.
Product Carousel
With a carousel, you have more room to play around. You have the option of displaying 6 different images of a single product or you can show 6 different products from your shop that are largely related to each other.
Every image must have a precise description that highlights the sparkling points of those products. This is a more creative way to use the carousel option.
As these 6 carousel images are clickable, this would avoid losing visitors' attention going forward to other Amazon sellers.
A more popular way to use a carousel is to make a comparison of your product with others. You can compare the product descriptions and highlight the differences.
This helps shoppers conclude that your products are superior to your competitors'.
Brand Story
Every business has a brand story. If you think your brand does not have a share-worthy one, you might be wrong.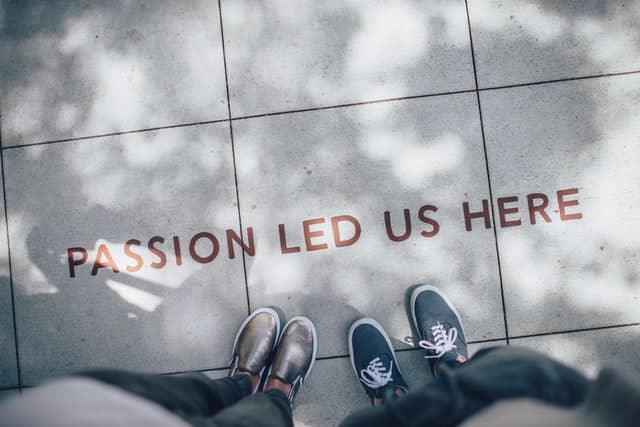 It is all about how you narrate your story. You can start by how you founded the brand and started from scratch to build a list of loyal customers.
You can also share how you thought of the product idea or how you made your products different from the rest of your competitors.
A brand history makes customers feel related to you or your brand. That is why you must narrate it in a way that somehow evokes their deepest emotions.
Try to put human faces on your brand story. This makes your brand look real. It could be a face of the CEO or a team handling the brand or the company.
Benefits of Using EBC
In simple words, EBC is a professional tool to make you profitable as a seller on Amazon.
Let's break down the individual benefits of using EBC as follows.
Increasing Sales Percentage
Using EBC will increase your sales percentage by doing simple steps. There will be a visible difference between your sales percentage before and after using EBC.
But you have to be realistic about EBC. EBC may not double your sales but will surely increase your sales from 20 to 30% in ideal cases.
Increasing Conversion Rate
Having more traffic but fewer conversions can be frustrating. You might wonder why people check out your branded products but leave without buying.
EBC can help you with that. It increases the conversion rate of your brand in the following ways.
The striking EBC pictures intrigue a visitor's inner needs and desire that he could fulfill through the product.
The high-quality pictures will stick in visitors' minds even after they are gone. So, if they had not purchased the product instantly, they might return to buy it in the future.
Timing is important in online purchases. EBC pictures deliver the most information in a jiffy, helping your customers decide about the purchase quickly.
As EBC pictures are better forms of product descriptions, they help visitors clarify their confusion about a product.
Visitors find the plain text more boring. So, they most likely relate that boredom with the product too. A more presentable product page helps them convert easily.
Without EBC, a product page might look empty from the bottom, especially in a mobile version. EBC utilizes the space on the Amazon product page more efficiently giving customers ample reasons to convert easily.
Sometimes, a good picture is worth more than a thousand words. EBC pictures are able to convert customers just by showing what they want.
EBC video is also a powerful tool to ensure customers that the products are for real, not just photoshopped.
SEO Booster
Putting more data and content into EBC will boost the SEO of your Amazon brand. You would notice that you get pictorial results from Amazon against your Google search. These are due to EBC.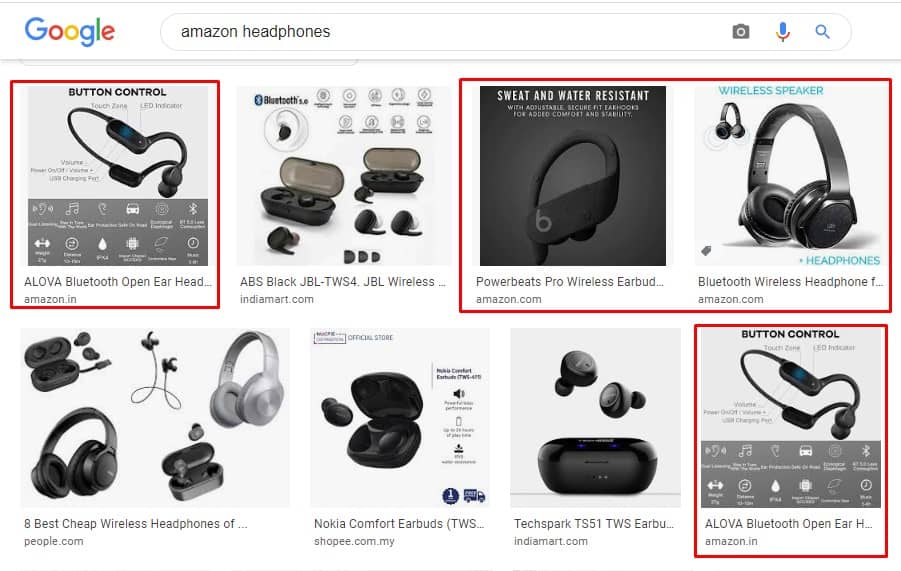 Amazon asks you to submit a set of keywords while uploading images to EBC. These keywords are also known as alt-text. They give signals to search engines about including them in the search results against search terms related to those keywords.
Amazon itself acts as a search engine. Most Amazon visitors search different terms directly on Amazon rather than on Google. EBC helps brands come up in top results.
Increasing Traffic
More traffic means more chances of increased sales. EBC invites more traffic in multiple ways.
Better Indexing
Indexing at Amazon and external search engines is an important act to start appearing in search results. Your brand will get indexed quickly by using EBC.
Better Paid Targeting
EBC helps make advertising more convenient. Paid advertising requires you to take pictures or videos that convince a customer to buy those products.
If you have used EBC features on your product pages, you won't have to recreate the pictures for advertising. The same images would be good to go.
Customer Trust
Trusting a brand that only has an online presence is a difficult task. Better presentations always trigger higher trust levels.
EBC helps give brands a professional look. Hence increasing customers' trust.
Guidelines and Tips to Use EBC Properly
Just implementing EBC won't do the job. You would have to do it properly. It is a systematic way to market your brand and products.
Following are some of the best EBC practices that you can use to implement EBC properly.
Use HD Images
EBC images are the faces of your brands. Use high-quality images so that your brand looks more professional.
That is because the visitors tend to zoom in the infographics for better visibility. So, if your images are not in HD, your brand will lose its impression.
Grab Maximum Attention
Amazon shoppers have a behavior of scrolling down fast to the end of the product page. They do not tend to read all the information that is provided along with the products.
They have this fact in mind that the information or the product description always brag a little bit.
So, most Amazon shoppers generally move down to the bottom of the page to read reviews.
You have to do your best to stop them from doing so. That is because if they reach the reviews section, they also get to see the products recommended by Amazon.
This is where they can get distracted. So, try to catch maximum attention in a short time using EBC images.
Clear Message
Each EBC picture should communicate a clear and direct message. You can target tiny and minute details of your products. They may have an impact on some customers which you might not think of.
But you would have to do this clearly and easily.
A good EBC picture is mostly understood without reading the whole text.
Utilize Amazon Content Builders
You can make use of the DIY content builders that Amazon provides. It has different modules starting from simpler builders to more complex ones (up to 6 modules).
Use Relevant Backgrounds
One of the most important factors in grabbing a visitor's attention is to make them relate to the images on your product page.
For example, if your product is meant for outdoor or holidays, using natural landscapes such as a beautiful beach as the background of the product would be a good idea.
Emotional Factor
Try to build an emotional connection with your existing and potential customers. This takes your brand out of a price war with your competitors.
For example, a famous clothing brand named "Sapphire" introduced biodegradable shopping bags with seeds infused.
They offered their clothing in these bags at no extra cost and encouraged customers to plant a tree.
This emotional idea helped this brand seal the deal. They made record sales by attracting every other potential buyer who cared for the environment.
So, if you are successful in making an emotional connection with your buyers, you are more likely to knock out the competition.
But you need to include relevant and short taglines in your EBC to grab your customers' attention and give them your emotional message.
Text to Pictures Ratio
The whole point of the EBC is to attract customers with visuals. So, should you only include photos? Or should you only include the text in visual forms?
If using both, what should be the amount of text and the size of the picture in an EBC? Let's discuss.
You need to have a good balance between texts and images in an EBC. Try not to use longer sentences. Use the minimal amount of words that suffice the main idea or the point you are trying to make.
Try to look at your EBC from the customer's point of view. Assume that you have a very short time and you are looking at the EBC images.
Are they good enough to grab you?
The best is to make your EBC pictures be skimmed and scanned in a go.
The picture should clearly show the feature or benefit of the product and the surrounding text should be able to support, clarify, and validate the perception of the product's image.
Use Icons
Sometimes, the icons convey a message far better than the real pictures. They are smaller in size and they are ready to use without much editing.
So, you can use icons in place of real pictures to be more creative while saving a lot of space on your EBC picture.
For example, you can use kitchen icons for selling a kitchen-related product instead of using real pictures to save space.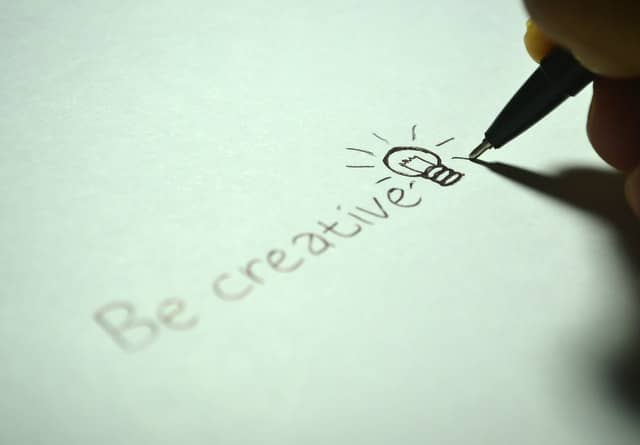 EBC Violations
Following are some of the points that can get your EBC rejected by Amazon.
Using prohibited keywords like CBD and Free Shipping, etc.
Text errors including formatting and grammatical mistakes.
Rhetorics and false claims about your products that are especially related to health or energy-saving.
Using prohibited logos like "FDA Approved".
Using low-quality images.
Which Categories Are Not Allowed for Amazon EBC?
EBC is available for all the brands that are registered with Amazon Brand Registry but a few categories are not allowed under the brand registry process.
These include digital media and books.
FAQs about Amazon EBC
Following answers to the most frequently asked questions about Amazon EBC will further imprint the true essence of EBC in your minds.
Is EBC Indexed on Amazon?
Yes. As discussed earlier in this article in the section for SEO Booster, EBC comes with certain keywords and alt-text. So, EBC is meant to be indexed on Amazon.
How Much Does EBC Cost?
Right now, EBC is free to use for the registered brands on Amazon. No matter whether the seller uses Amazon FBA or not. Amazon mentions on its website that it may start charging for its EBC services in the future.
In that case, Amazon will inform registered brands via notification and the same information will also be available on the seller's dashboard.
How Many Modules Are Allowed in EBC?
Amazon allows using six different modules under its EBC program. You can use the premade modules or make your own module using its templates.
Following are the six modules that are allowed in EBC.
A single image with a sidebar.
A single image with specifications of a product.
A single image with highlights of a product.
Four-image with main product features.
Image with light text overlay
Product comparison charts.
Can You Add Videos to EBC?
Yes. Once registered as a professional seller on Amazon, you are allowed to add videos to EBC. One of the prime benefits of adding a video to Amazon EBC is to be visible in the Amazon video shorts section.
But the videos must comply with Amazon's terms and conditions. Otherwise, your video may get rejected and will not be visible anywhere on the platform.
Adding video to your EBC is simple. Open your EBC under the Seller Central option at Amazon and choose "upload video".
Is EBC Available for All Sellers in Different Amazon Marketplaces?
Yes, EBC is available for all registered sellers in Amazon marketplaces. Just like in Amazon USA, the registered brands at Amazon in Europe and Australia can have this feature at no additional cost.
Final Words
Content management is the key to success in e-commerce. The right content is what makes your brand get an extended reputation as compared to others.
Amazon knows this very well. That is why it brought a great feature of EBC to help brands get noticed. EBC helps visitors make purchase decisions quickly without much research.
We hope we have covered everything related. Do you have a white label or private label brand on Amazon and want to source products from a reliable company?
We can also do product branding. Ask for a free quote and we'll be right there to take your brand to new horizons.