Let's cut right to the chase: yes, Banggood is a legitimate e-commerce platform.
It does, however, have a chequered reputation as illustrated by some of the feedback some customers share about the platform. Its prices also tend to seem too good to be true and hence the question: is Banggood legit?
On this blog, we explore what Banggood really is about, how it works, and share some tips that could help you make the most out of it.
Read on.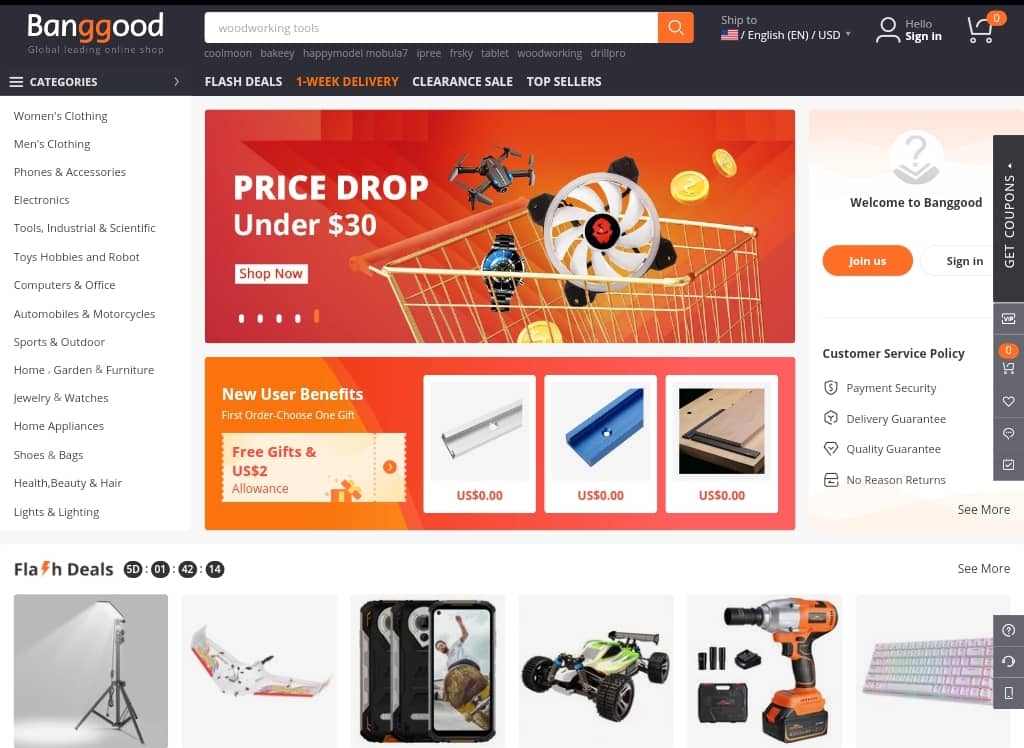 What Is Banggood?
Banggood is an online retail platform that sells a wide array of consumer goods. The goods range from health & beauty products, and apparel to electronics and home & garden products.
This B2B e-commerce platform was established in China in 2006 and is structured to cater to the international market. Its parent company was initially a tech company but it later pivoted to e-commerce as the sector began to take off in China and the rest of the world.
How Does Banggood Work?
Banggood takes a rather unique approach to retail e-commerce.
It sources goods directly from manufacturers in Guangzhou, Yiwu, and other wholesale market regions in China. It then uploads images and descriptions of these goods and sells them to customers online.
Consequently, when you shop on Banggood, you are buying directly from the company and not a bunch of sellers on the platform.
This model differs from that of most online marketplaces, like Taobao, DHgate, or AliExpress, that host numerous sellers who offer various products.
Shopping on Banggood
The shopping process on Banggood is pretty much like what you would find on any other e-commerce platform.
The first step would be to register an account on Banggood and provide the relevant details so that your orders can be duly processed. Once this is done you can begin shopping.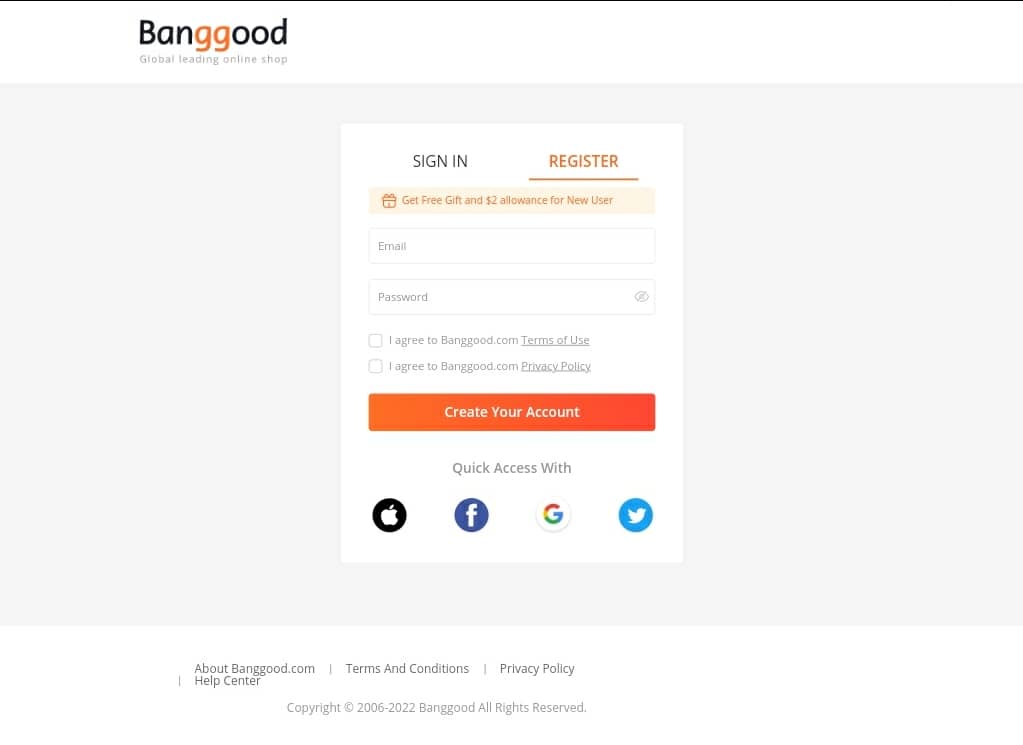 You can run a search or browse through categories to find the products you need, compare different options, and add the items you want to your cart.
The important bit here is to carefully evaluate the products that you choose before proceeding with your purchase. Look at the dimensions, the materials used to make the item, its certifications (if any), and the customer reviews linked to the product.
This vetting process is crucial because images may not always accurately showcase each product.
In fact, one of the leading complaints among customers that question the legitimacy of Banggood is that the quality or size of the item they received was not what they saw while shopping on the platform.
Doing your due diligence could save you from facing the same fate.
Banggood Payment Options
Banggood accepts payments via debit and credit cards from recognized banks, PayPal, and multiple local digital payment platforms like Konbini and DotPay.
Additionally, Banggood provides a cash-on-delivery option but only for select countries. They include:
Saudi Arabia
Bahrain
The UAE
Kuwait
Qatar
Indonesia
Malaysia
Oman
Thailand
Singapore
Vietnam
The upside here is that if you are worried about sharing your bank details with Banggood, you can always pay via a digital wallet. Alternatively, if your country is on the COD list, you could wait to pay for your order when it arrives.
Banggood Shipping
In a bid to serve global customers more effectively, Banggood has set up multiple warehouses in almost 40 countries.
Beyond extending the company's reach, these warehouses also help cut shipping durations.
This is because if you order a product that is in stock at your regional warehouse, your order can be processed and shipped faster as opposed to if your order had to come from the main warehouses in China.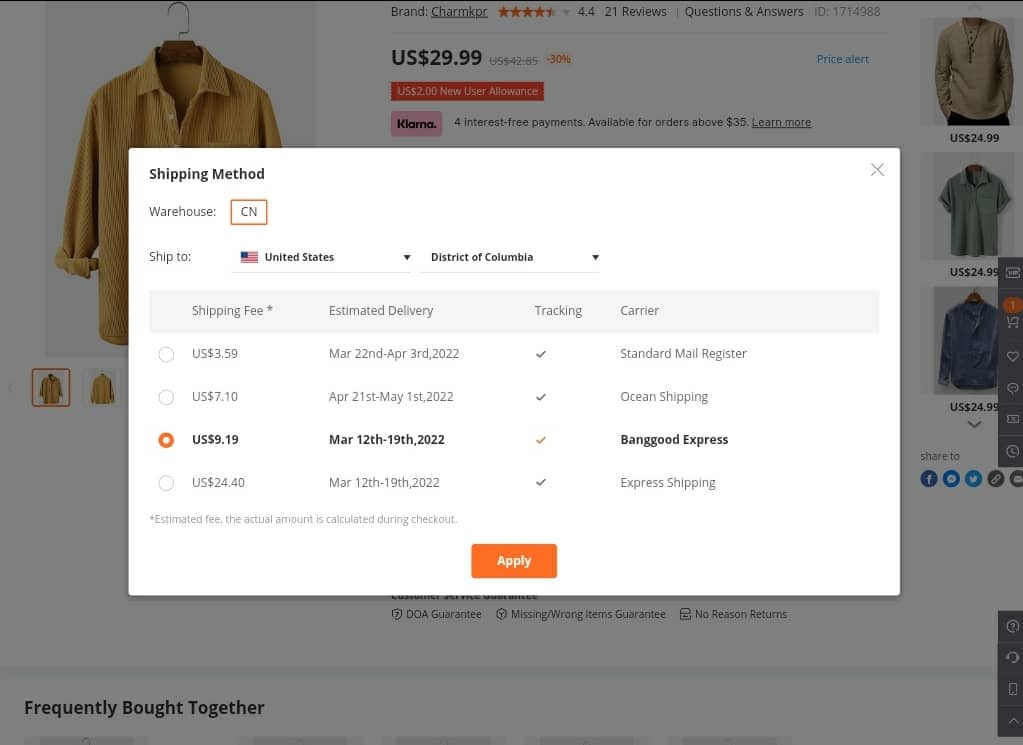 The typical shipping plan is via Banggood Express but it is possible to choose other carriers and shipping options that can provide quicker delivery. They do, however, come at a higher cost.
Overall, Banggood promises fast and efficient delivery. Its shipping can, however, take between 3 to 60 days. This depends on the destination of delivery, the method of shipping that you choose, and whether the product is being shipped from China or a local warehouse.
The Banggood Refunds and Returns Policy
Banggood customers have a 7-day and a 30-day return window. The 7-day window addresses the return of goods that are problematic while the 30-day window is for 'No Reason' returns.
The 'No Reason' returns clause states that you could just return the order if you want to as long as it is in good condition.
The 7-day return policy specifically allows customers to return goods that;
Arrived broken or damaged
Do not match the details of the order in terms of size, color, or material
Note: Intimate products, naturally, do not qualify for returns.
To qualify for a return, the product has to be in the condition it arrived in. It should not have been washed or damaged any further. Upon verification of the problem, Banggood may organize a refund or an exchange.
Nevertheless, returns on Banggood are not always a smooth process.
In some instances, you may have to incur the cost of shipping back the product which may be equal to or even more than the value of the item you had bought. Refunds are also not always made in full.
Pros and Cons of Banggood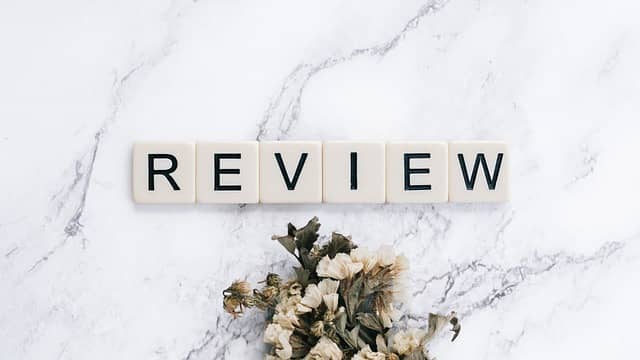 Pros:
The shipping process is relatively fast and effective
Affordable product prices
Banggood offers a unique but diverse selection of products
Multiple payment options include cash-on-delivery for some countries
Banggood has a well-defined dropshipping program that dropshippers can easily join
Cons:
The Banggood refund process is not very reliable
The quality of products on Banggood can be wanting
Products do not always match the provided description on the Banggood site
Tips to Buy Safely from Banggood
It is evident that shopping on Banggood is safe but it presents its fair share of challenges. Here are some tips to help you safely on the platform.
Pay Attention to Sizing Charts
When shopping for shoes and clothes, you will notice a selection of sizes right next to the item. Click on it to see the measurements that each size offers. A 'medium' size item by China standards could be a 'small' size elsewhere.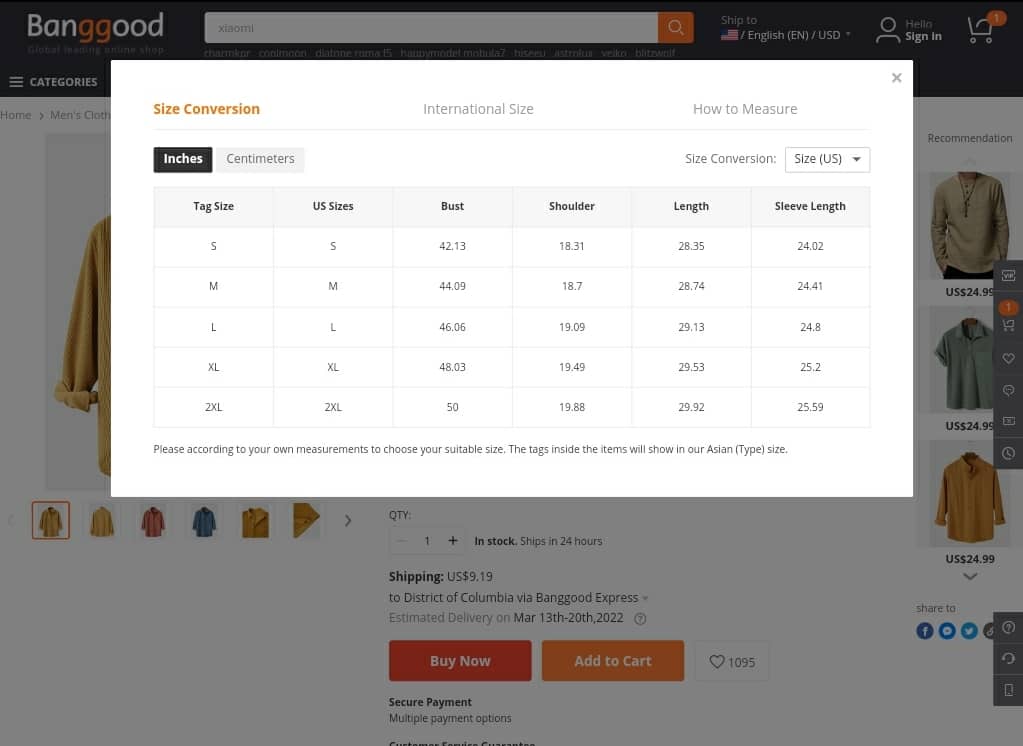 For non-clothing items like mats, shower curtains, or even gadgets, check for the dimensions in the longer product description. These are usually in standard measurements like millimeters or centimeters so you can consider them as they are.
Understand the Conditions Set for Your Country
Delivery durations, payment methods, and even return durations on Banggood can differ between countries. Carefully read what is indicated as you order so that you can make the right decisions.
Be sure to set the right location as you shop on the Banggood app or website so that you are presented with the right options.
Be Mindful About the Indicated Shipping Durations
As you browse through different items, you may notice that Banggood indicates an estimated date of delivery next to most items. It is a helpful bit of information but it is crucial to know that it is not a precise date.
As the word suggests, it is just an estimate. It is predicted based on the belief that every step of preparing and shipping your order will go smoothly. Notice that it also changes based on the courier.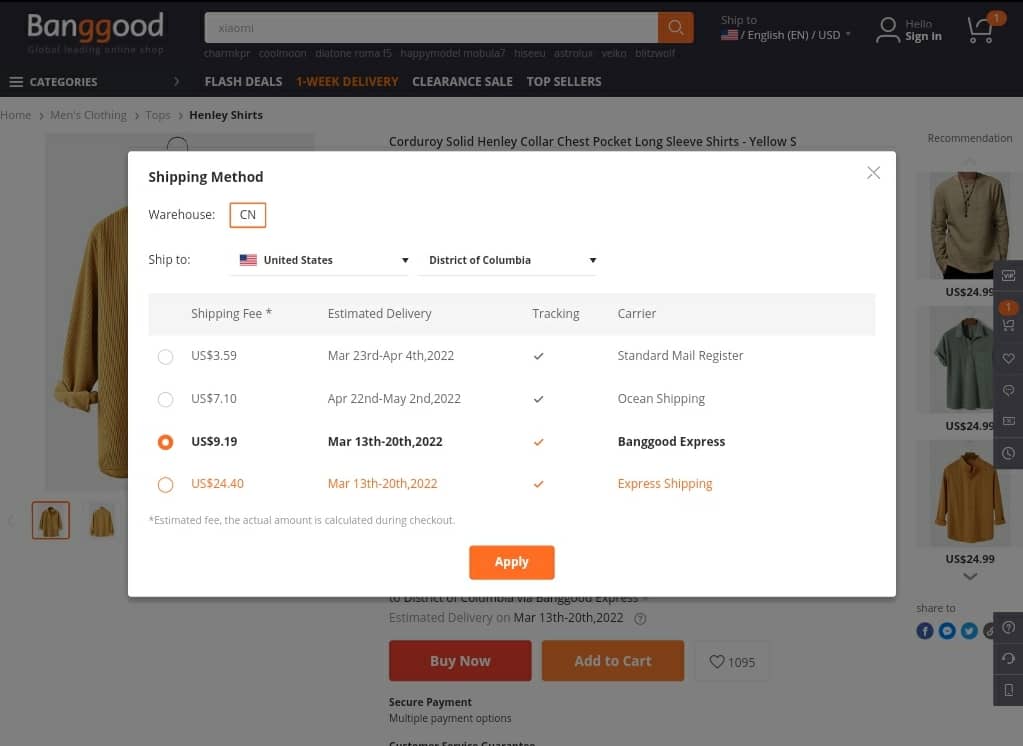 Unfortunately, unforeseen supply chain challenges, delayed custom clearances, or even bad weather can get in the way. As such, it is best to be prepared that your order may take longer than the estimated duration to arrive.
Start Small
When you see all the great products and even greater prices that Banggood has to offer, you may feel tempted to go on a shopping spree. Pace yourself.
It is better to start with a test order and see how your order is executed and evaluate the quality of products that are delivered. If it goes well, then you can gradually increase your orders.
The idea here is to minimize your losses. It is better to get disappointed by an order of $50 than one of $500.
Banggood Reviews
Most of the reviews from trusted review sites show that some customers had a delightful experience while others were quite disappointed. Some of the specific issues cited by customers included:
Delivery Delays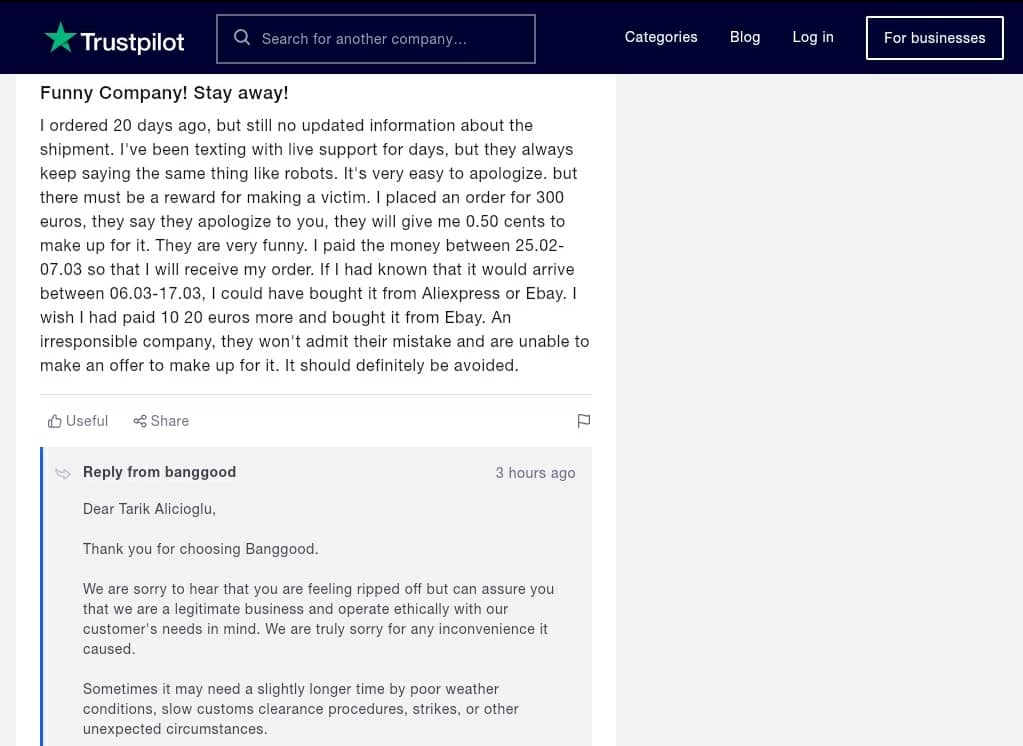 Problems with Product Descriptions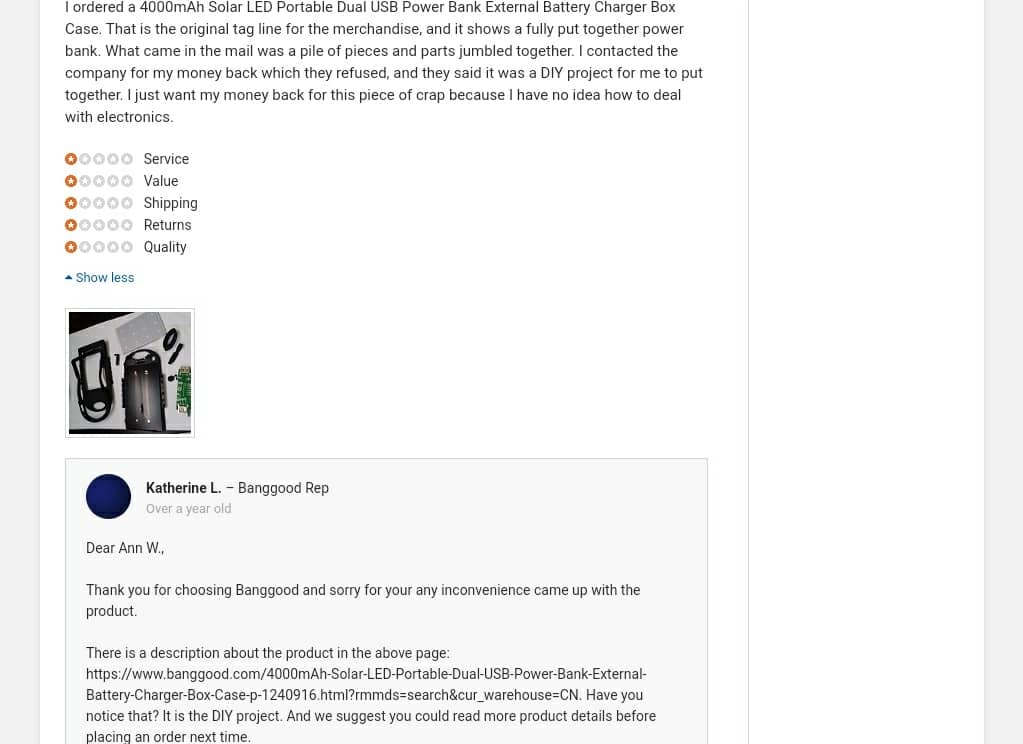 Product Quality Issues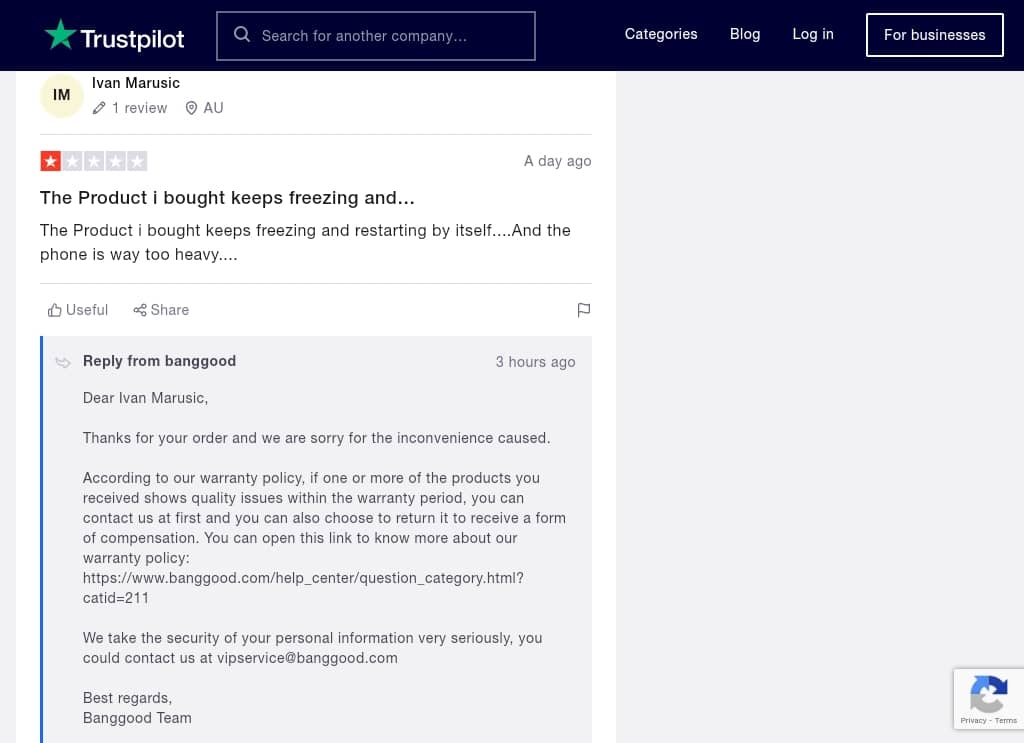 Pricing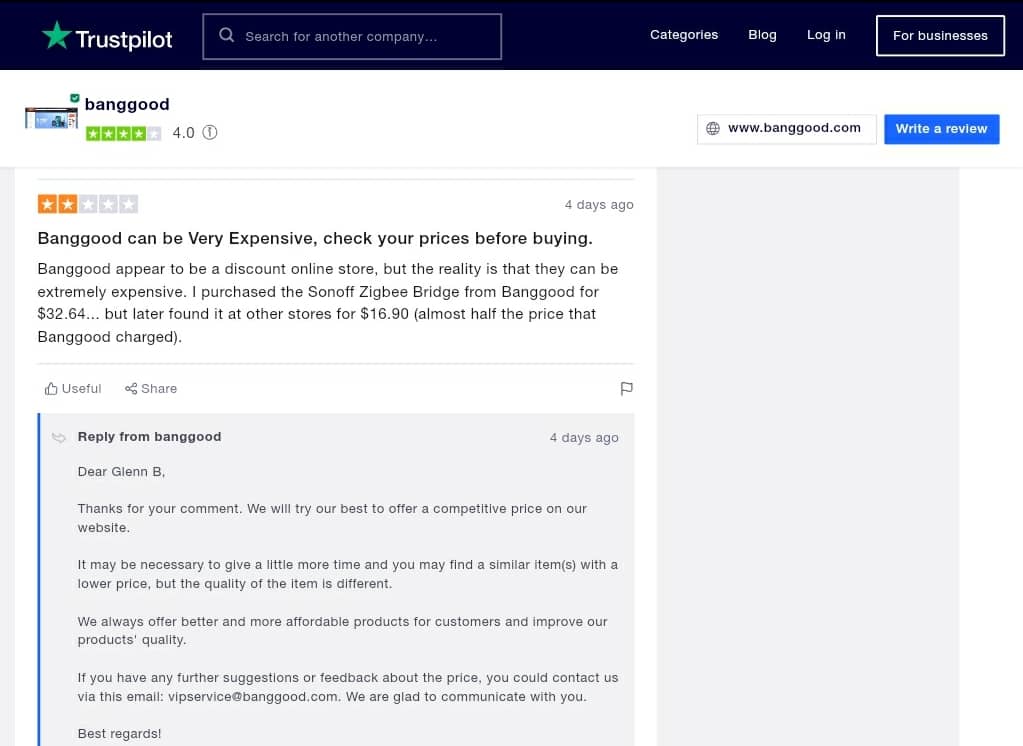 Notably, this review on pricing is rare as most products have low prices. However, it serves as an important reminder that there is no harm in comparing prices between e-commerce sites before buying.
On the bright side, some positive reviews highlight:
On-Time Delivery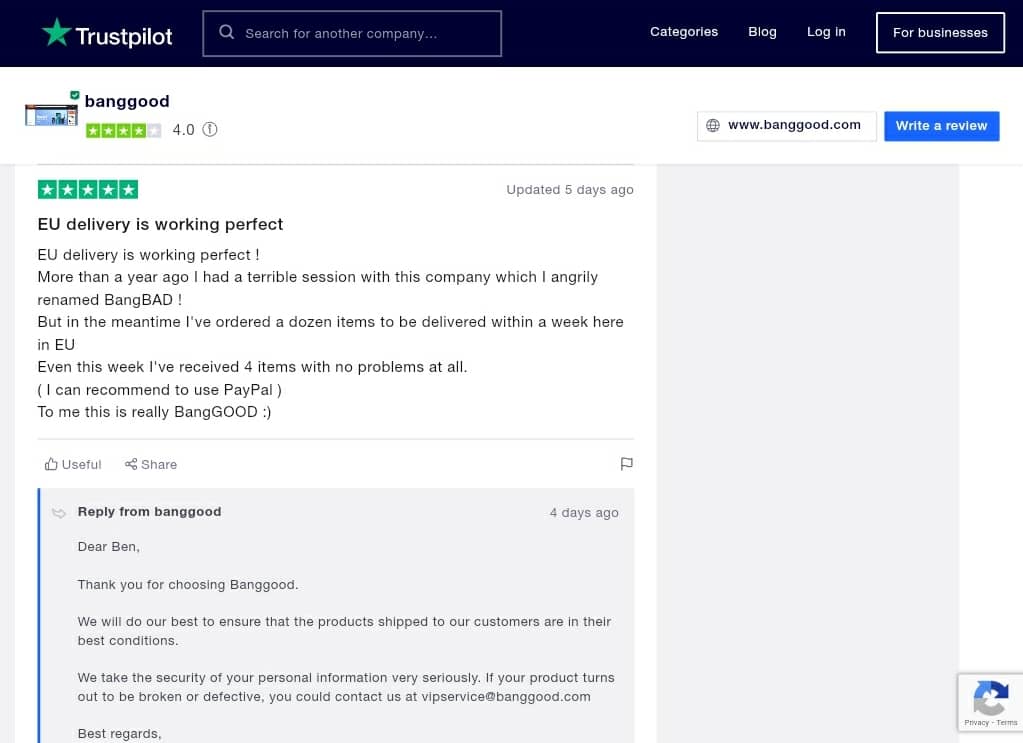 Efficient Service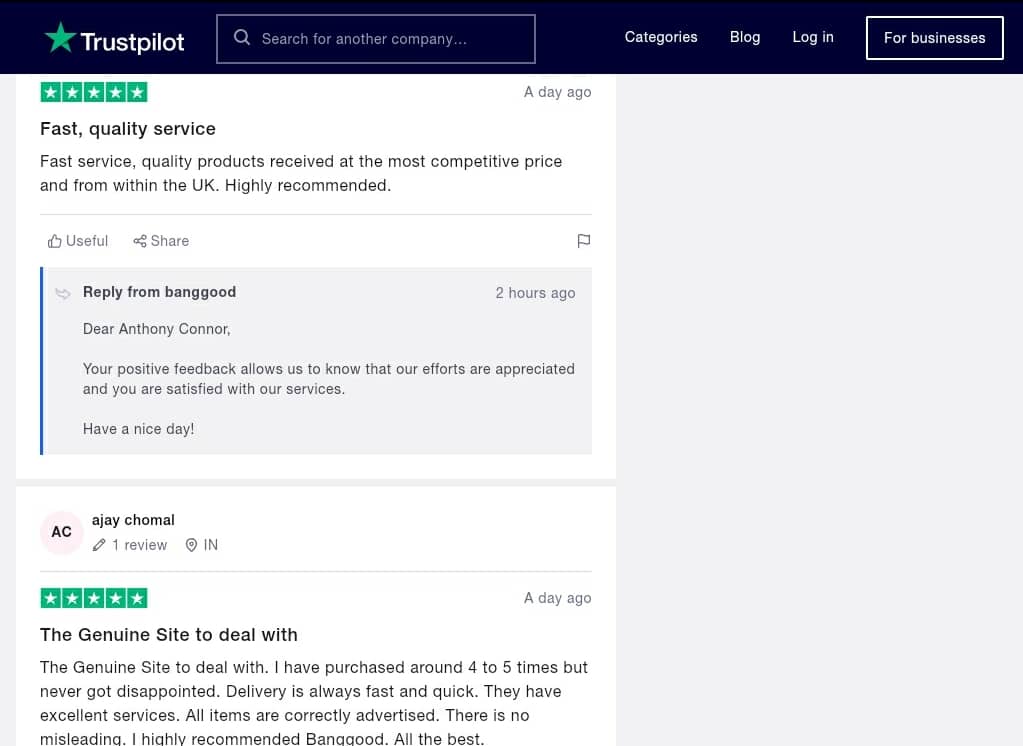 As we mentioned above, reviews differ but they are a great way to get insights on a product listed on Banggood or any of the ordering processes. It is also clear that reading other consumers' experiences could easily pinpoint mistakes to avoid.
FAQs on Banggood
How Trustworthy Is Banggood?
All things considered, Banggood is a fairly trustworthy e-commerce platform. Moreover, it is possible to protect your interests by:
Opting for payment upon delivery (if possible) if you are worried about your order not being fulfilled.
Using digital wallets for payment to keep your banking details private.
Launching a complaint with the customer care team if you have any issues with your order.
Ordering a sample product first to confirm product quality and the efficiency of Banggood shipping in your region before placing a larger order.
Alternatively, you could hire a sourcing agent in China to manage your orders. They would receive your orders, inspect them, consolidate them (if necessary), and ship them to you.
If there are any problems, the agent would liaise with Banggood customer care, on your behalf, and find a fair resolution. This would likely be much easier than simply shopping on blind trust.
Are Banggood Reviews Accurate and True?
They likely are.
As you go through them, you may notice that not all of them are glowing reviews that only praise the platform. Some reviews are quite negative and represent the true experience that some customers have had while shopping on Banggood.
Faked reviews, on the other hand, tend to only highlight the good side.
Is It Safe to Order From Banggood?
Banggood has not been linked to or found to be committing any customer data breaches or using it in any sinister way. The website has a well-documented privacy policy and is encrypted, as recommended for e-commerce sites, to protect customer transactions.
Does Banggood Have a Quality Control Policy?
The challenge with quality control is that it is relative. What one customer may consider great quality, may not be so great for another.
That notwithstanding, while Banggood promises quality products at great prices, some products leave much to be desired because they are nothing like the appealing images used to market them on the site.
Banggood has, however, introduced a 180-day return policy for goods that customers find to be of poor quality. As we have discussed above, not all returns go smoothly and you may get a full refund in some cases and only a partial refund in others.
Still, this policy is a step in the right direction.
To Sum It Up
The upside to online marketplaces like Banggood is that they may offer you a unique selection of products. While everyone else shops for the same pool of products on DHgate or AliExpress, you could gain a competitive edge by shopping elsewhere.
Granted, Banggood still has much room for improvement but it is not fraudulent or as terrible as it is made to sound.
Nevertheless, you do not have to navigate Banggood shopping on your own. We, at Niche, can handle your orders and ensure you get your money's worth. We also provide order fulfillment support that could help you earn a better income.
Simply send us a detailed list of your sourcing requirements, request a free quote, and we will promptly get back to you.