Product sourcing for online businesses is getting more and more challenging. With a lot of players in the e-commerce industry, maintaining profit margins has become tougher.
That's why, in this guide, we'll settle the AliExpress vs. Taobao debate and declare the winner in the race of sourcing the cheapest and high-quality products.
Learn everything about these platforms and choose the right sourcing partner wisely.
Let's start.
What Is AliExpress?
AliExpress is probably the most popular online platform for buying cheap products from China. Established in 2010, it is the subsidiary of Alibaba and runs on B2C and D2C models.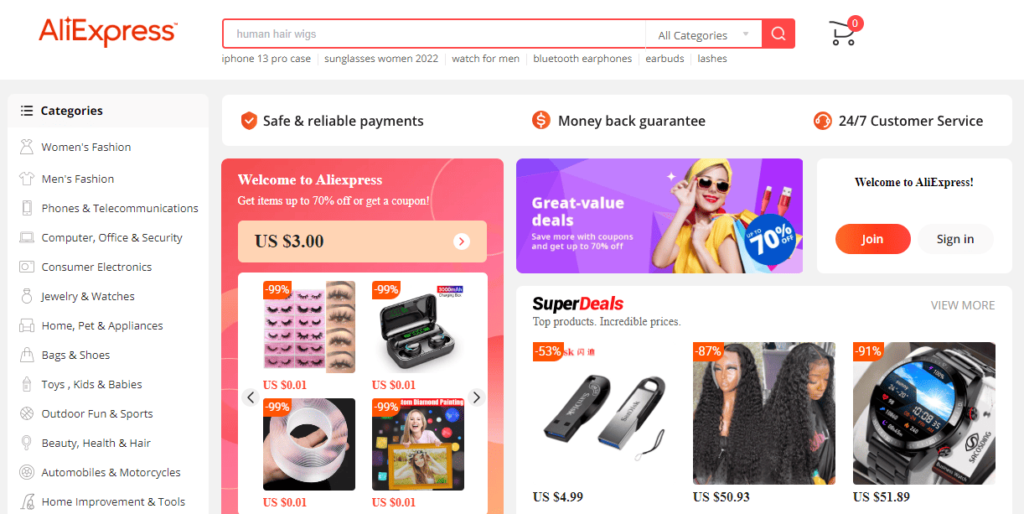 It has been the favorite website for online shopping in many countries for years and its popularity is increasing every year.
Many businesses like dropshipping have become successful by using AliExpress as their sourcing partner.
It features independent sellers who offer their products to international customers. Due to this model, AliExpress is often compared with eBay.
What Is Taobao?
Taobao is another subsidiary of the Alibaba group that works on C2C and D2C models. Launched in 2003, this e-commerce platform is meant for Chinese people to buy and sell products.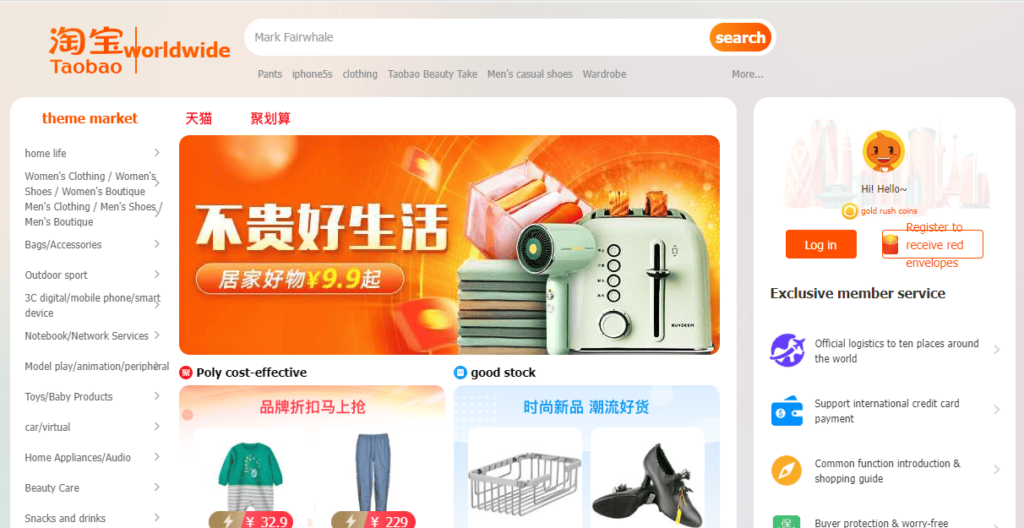 It also has a huge variety of products but as opposed to AliExpress, a majority of Taobao users are from China.
That's why the website only operates in the Chinese language. Taobao means "treasure hunting" in Chinese.
Chinese manufacturers who don't know how to communicate in English are present on this platform.
AliExpress has many middlemen who resell on AliExpress at higher prices after buying from Taobao.
You can get the cheapest products at Taobao and a chance to know about a product even before it's available at AliExpress.
AliExpress vs Taobao: The Similarities
Following are the common points in AliExpress and Taobao.
Both are subsidiaries of the Alibaba group.
Both work on a direct-to-consumer model.
Both have a majority of Chinese suppliers.
Both websites can be accessed via mobile apps
Both platforms offer price-competitive products.
Both offer a similar range of products for almost every day-to-day needs.
AliExpress vs Taobao: The Differences
Following are the main differences between AliExpress and Taobao.
AliExpress mostly receives international orders while Taobao is meant for local Chinese buyers.
AliExpress can be accessed in 18 languages while Taobao is only available in Chinese.
AliExpress was launched almost 7 years after Taobao.
Taobao has an average of 483 million monthly active users while AliExpress has a little over 450 million.
Dropshipping via AliExpress is more popular as compared to Taobao.
AliExpress offers more payment methods than Taobao.
Taobao has lower product prices than AliExpress.
Unlike Taobao, AliExpress has more detailed information about the products.
More chances of finding the latest products on AliExpress.
Pros and Cons of AliExpress and Taobao
Let's learn about the advantages and possible drawbacks of both platforms in the following section.
Pros of AliExpress
Following are the advantages of using AliExpress as your sourcing platform.
Product Mix
With over 100 million products, AliExpress offers a huge variety of products divided into multiple categories for easy access.
You can get almost every trendy product here. You can even find the products launched on platforms like Kickstarter, Indiegogo, etc.
Cheap Prices
AliExpress prices are way cheaper than the platforms like Amazon because of the fierce competition among sellers. That's why Amazon sellers often source products from AliExpress to sell in the USA and other countries.
For your information, some sellers also suggest global prices for you to set the retail price and calculate your profit margins with ease.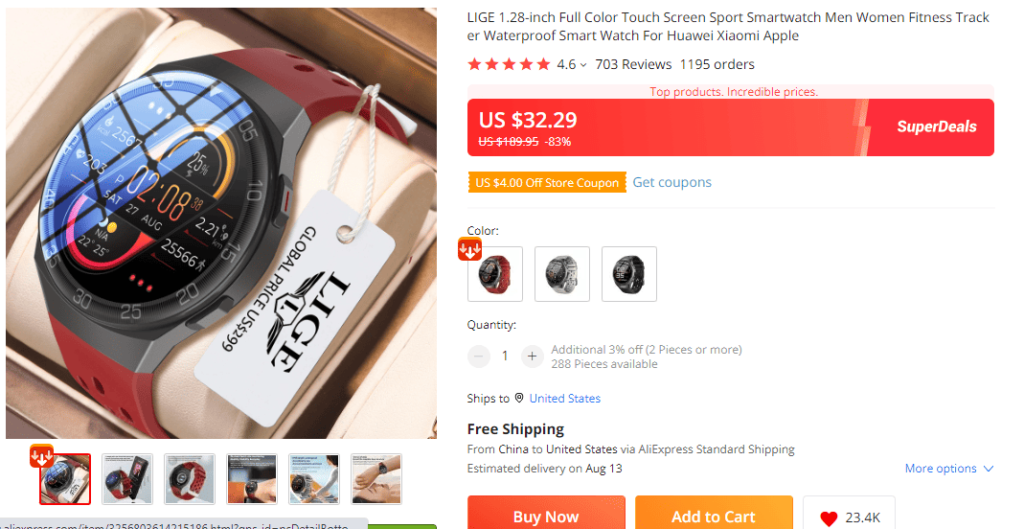 Easy Dropshipping
AliExpress is the pioneer in hatching the idea of dropshipping due to its cheap prices, and international shipping rates.
That's why most e-commerce entrepreneurs turn to AliExpress to source products.
Many dropshippers are able to sell the items 3 to 4 times up their price on AliExpress.
Experienced Sellers
AliExpress sellers understand dropshipping very well and they facilitate dropshippers in every way. Once you get your order, you just need to forward it to the seller.
He will not include the price tags and other promotional material in the package, so the end-user doesn't know that the product came from another supplier.
Well Described Products
Some products are a bit complex to be fully understood. AliExpress sellers know how to deliver the idea of a product to the users with easily understood descriptions.
Some product videos clearly show their features. Smart businessmen then edit those videos and use them on their websites.
The sellers also live stream to show their products and increase trust factor.
Affordable Worldwide Shipping
The best thing about AliExpress is its ability to deliver small parcels worldwide at affordable prices.
Although the shipping times may be longer in some cases, it is still desirable due to the lower delivery costs.
Additionally, some sellers have warehouses in multiple countries (USA, France, Germany, etc.) for faster shipping.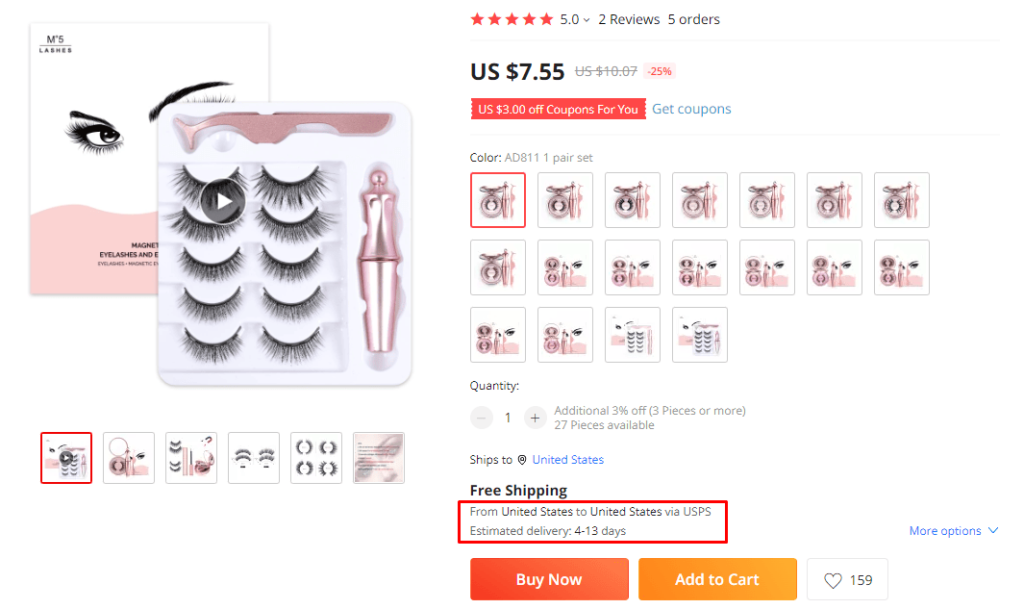 Free Shipping
Some products at AliExpress are offered with free shipping. Although the product's price may already be included in the shipping price, it still entices buyers.
Supporting Apps
If a platform becomes popular, many apps are launched to support it. AliExpress is also one of them.
There are apps like Ali Insider to keep track of products' prices. You can check whether the price of a product has increased or decreased in a given time.
Some apps import the customer reviews from AliExpress that you can use on your website. Other apps include photo and video downloaders for AliExpress.
Multiple Integrations
AliExpress can be easily integrated with many e-commerce platforms like Shopify and WooCommerce. You just have to synchronize your accounts and all the product details and prices can be imported directly to your online shop.
There are dedicated platforms like Oberlo that use AliExpress products for easy sourcing on Shopify.
Buyer Protection
AliExpress protects buyers by giving them confidence that their payments are in safe hands.
In case the products are not delivered or are not as described, AliExpress mediates between the buyer and the seller to provide an agreeable settlement.
Cons of AliExpress
Following are the possible drawbacks of AliExpress.
Long Delivery Times
While many sellers offer delivery times of 7 to 15 days, some sellers can take up to 60 days or even more to deliver products from China to the USA.
This applies to standard shipping. Expeditious shipping is also available but it is quite expensive.
Communication Gap
Although the Chinese sellers on AliExpress communicate in English, they still have challenges with smooth conversation.
So, if you want a detailed discussion with the AliExpress seller, you would either have to talk in a very simple language using short sentences or communicate via a translator.
Limited Payment Options
While there are many payment options offered at AliExpress, some popular payment methods like PayPal are still not accepted by every seller on AliExpress.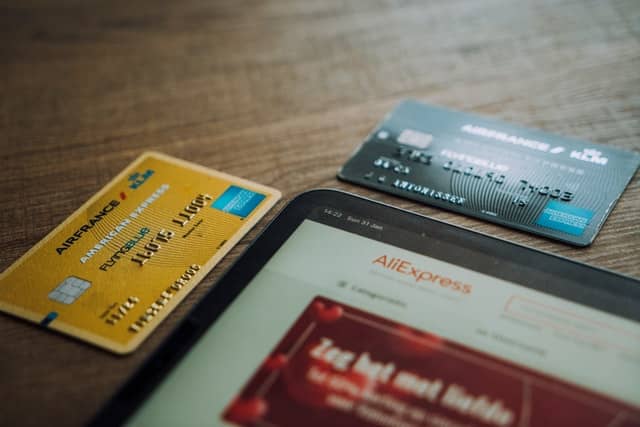 Middlemen
Many suppliers on AliExpress are not manufacturers. They are middlemen who take products from the manufacturers and sell them on AliExpress at a particular profit margin.
So, this would already increase the products' prices.
Pros of Taobao
Following are the advantages of using Taobao as your sourcing partner.
Cheapest Prices
The products on Taobao are offered at local retail prices in China. Hence, they are naturally cheaper than other platforms.
Products Variety
You will find a lot of products on Taobao that are hard to find anywhere else including AliExpress. That's because the products offered by some Taobao sellers are exclusive to this platform only.
You may also find some products similar to those on AliExpress but with small modifications. So, you can beat your competition by selling those unique products.
OEM Suppliers
You have a higher chance of buying directly from a factory at Taobao.
Many Chinese manufacturers are only comfortable working in the Chinese environment. Plus, they may only want to work at a limited scale.
You have a great chance of shaking hands with those manufacturers. Even if they can't ship internationally, you can do it by partnering with 3PL services.
Working directly with the manufacturers gives you multiple benefits. You get the best prices and you can ask also ask them to make some modifications to the products so that you can start a private label business.
First-Hand Products
Chinese suppliers at Taobao and AliExpress usually launch their products on Taobao first. Those products are listed on AliExpress after some time.
Some products that have a great market in China may take some time to be available for international users.
This is the time to take the lead. You can contact those suppliers and start selling those products until they are available at AliExpress.
So, you can be ahead of the competition just by contacting the suppliers at the right time.
Genuine Deals and Promotions
While the deals and promotions are also available at AliExpress, you will notice that the sales promotions offered at Taobao are more heavily discounted.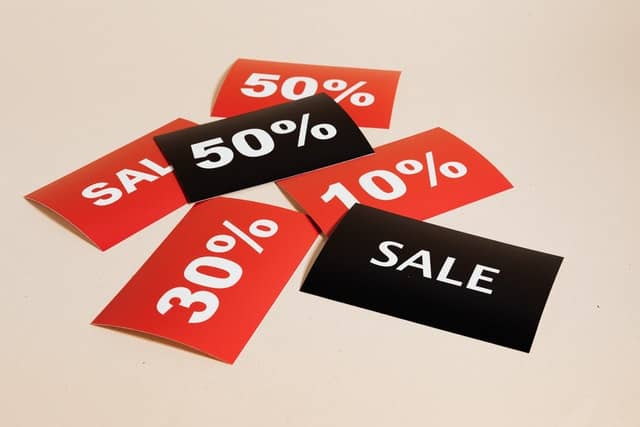 You will find some crazy low prices on Taobao that may even be hard to believe. But most of them will be true.
Most promotions offered at the Single's Day Event "11.11" are at bottom prices.
If you compare the rates of products on AliExpress and Taobao at this event, you will find a visible difference.
Cons of Taobao
Following are the possible drawbacks of Taobao.
Language Barrier
Quite understandably, the language remains a huge barrier on Taobao as it is only operated in the Chinese language.
Although you can use Google Translator services, it is still hard to communicate with the Taobao suppliers.
You may need a translator to make sellers understand your requirements.
The safest option, in this case, would be to hire the services of a good China sourcing agent who can accurately deliver your messages to the Taobao suppliers.
Missing International Trends
Taobao sellers might not understand Western markets. Therefore, the latest trending products may not be available on Taobao.
Limited Services
Not every seller will accommodate international shipping. Sellers who are only present at Taobao either have no experience of shipping internationally or are not much interested in doing so.
Delays and Scams
There are higher chances of getting products different than they were described on the website. You can also expect delays in your shipments.
Taobao is also not free of scams.
Comparison by Features
Let's compare the features of both platforms.
Payment Methods
Taobao supports Alipay, Chinese bank transfers. Some sellers also accept credit cards that include MasterCard, Visa, and JCB.
AliExpress supports debit cards and credit cards like Visa, MasterCard, and American Express. It also offers limited options of PayPal, Alipay, ApplePay, and GooglePay.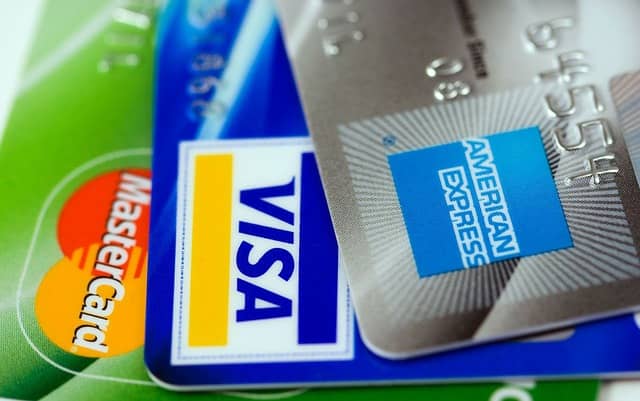 Buyer Protection
Taobao offers decent buyer protection but for that, you have to remain within the defined limits. If you have done a direct deal off the platform, Taobao will not provide protection. The same goes for AliExpress too.
In case of a refund, Taobao processes the request within 2 days.
AliExpress offers a more robust buyer protection. Due to its international clientage, AliExpress concludes the refund requests within 5 to 10 days.
Customer Support
Taobao offers fast and more reliable customer support over the phone during office hours.
AliExpress doesn't offer customer support over the phone. Rather it works on a ticketing system.
Final Recommendations
Let's conclude our arguments in this section and give a verdict on which platform is the best in different circumstances.
AliExpress Is Best For
Latest trending products
Better communication
Dropshipping
More payment options
Convenient international shipping
Better product descriptions
Easy product search with relevant filters
Multiple integrations
Taobao Is Best For
Cheapest prices
OEM sellers
More discounts and promotions
More products variety
Quicker customer support
FAQs about AliExpress vs Taobao
Let's read the answers to the following frequently asked questions about AliExpress vs Taobao.
Can Foreigners Use Taobao?
Yes. Although Taobao is meant for the local Chinese people, international users can also use this platform.
You can access the website, contact the suppliers, and place orders as a foreigner on Taobao.
The only hindrance you might have is the language. If you overcome that problem, you are good to go with Taobao.
Are AliExpress and Taobao Safe and Legit?
Yes. Both platforms are safe and legit to buy from. As both platforms fall under Alibaba Group, both have full credibility within and outside of China.
Although some people may have bad experiences with both websites, both platforms do not leave the customers helpless.
As long as you remain within their guidelines, your transactions are legit and safe.
How Can I Buy Safely from Taobao?
The safest option to buy from Taobao is to hire the services of a professional sourcing agent. It will eliminate your major risks and will help you source products at the cheapest costs.
You won't have the hassle of translating, searching for the right products, shortlisting suppliers, and much more just by hiring a sourcing company.
In some cases, an agent is also able to source products other than Taobao and AliExpress because of their experience and expertise.
Final Words
Both AliExpress and Taobao have been serving consumers for over a decade within and outside China. Many businesses have benefited from both platforms.
But a good businessman doesn't put all the eggs in one basket. So, it is always advised to have a look at multiple platforms so that you source from the cheapest and most reliable platform. It will take some time but that is the name of the game in every business.
Do you want to save your time and have the cheapest products with great quality? Ask for a free quote today and one of our experts will be right there to guide you.