Yes, Alipay is a safe digital payment solution. All transactions on the platform are protected through software encryption and other security features like two-factor authentication.
However, for better context, let us take a step back and delve a little deeper into the workings of Alipay. Come along as we discuss how the Alipay system works, its features, and how to use it safely.
Read on.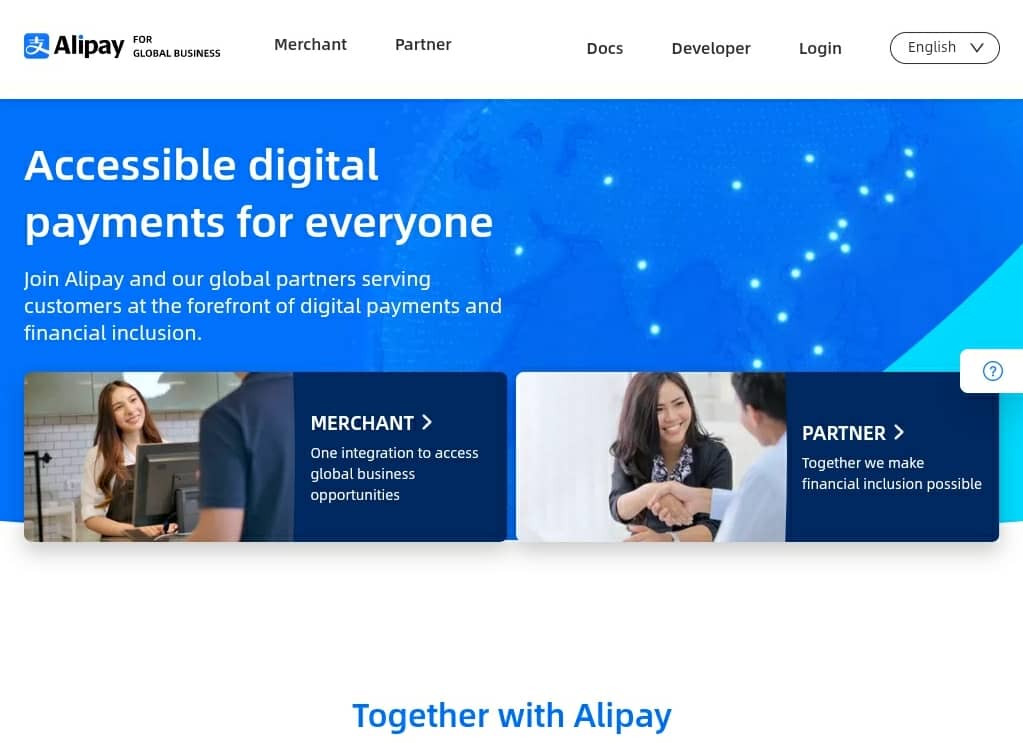 What Is Alipay?
Alipay is a digital payment system that is owned by the renowned Alibaba Group. It was launched in 2004 in China and was mainly designed to be a payment solution for online shoppers.
However, over the years, Alipay has evolved quite significantly. It is now:
Used for both online and physical/in-store shopping
Accessible to tourists visiting China from other countries
Compatible with about 18 currencies instead of just the Chinese Yuan
How Does Alipay Work?
Most shoppers are often apprehensive about entering their banking details on online shopping platforms. This is because their financial security can be at great risk if such sensitive information ends up in the wrong hands.
This challenge hinders most people from shopping online as freely as they would like. So, Alipay was created to solve this problem. It does so by enabling customers to make online payments without directly sharing their banking information.
It works as follows:
Set up an Alipay account (more on this below)
Link it to your bank card
Transfer money from your bank account to your Alipay wallet
Shop online at stores that accept Alipay
During payment, transfer money from your Alipay wallet to the seller's/store's Alipay wallet without having to provide any of your bank details to the online store
Tip: This method works the same way when shopping in a physical store.
Notably, an Alipay account can only be linked to a Chinese bank account. As such, it may not be fully accessible to non-Chinese nationals.
Nevertheless, if you are visiting China, Alipay now has a special provision known as the Tour Pass. It allows foreigners to create an Alipay account using their passports and top it up with funds from their VISA or Mastercard bank cards.
Once their Alipay accounts are topped up, they can use them in the same way that any other users can. The pass is, however, only valid for 90 days.
Beyond paying for goods or services, you can also transfer money from your Alipay wallet to another user's Alipay wallet just like you can with Venmo or Paypal.
Alipay is additionally expanding its scope of services to make it possible for users to perform other tasks on the app such as:
Seek credit
Find and pay insurance providers and premiums
Access different types of merchants and service providers
Pay bills at different venues like train stations or personal utilities like electric bills
How to Set Up an Alipay Account
Setting up an Alipay account correctly is crucial because it is at this stage that you can select the proper security features for your account.
Here is a quick step-by-step guide on how to navigate the set up.
Download the Alipay app from the App Store for Apple devices or the Google Playstore for Android
Select your region and preferred language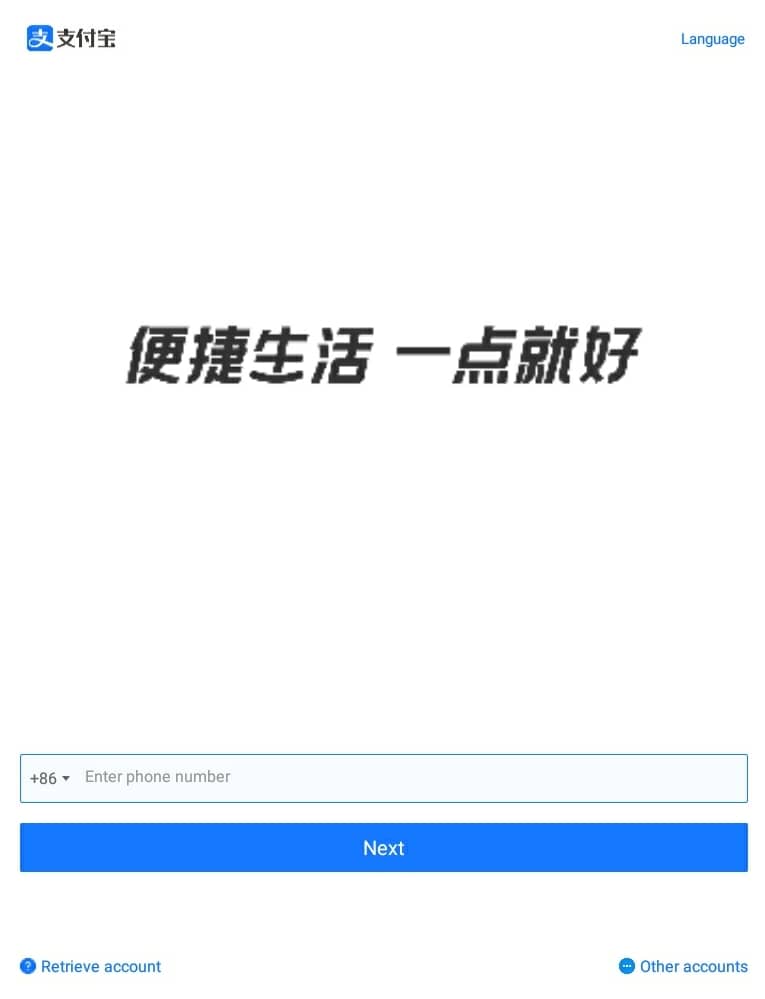 Register your account using your phone number
Alipay sends a confirmation code to the phone number
Verify your account by entering the confirmation code on the Alipay sign up platform
Create a strong 6 digit passcode for your account. It is also advisable to activate two-factor authentication by adding an option like biometric authorization
At this point, you will be redirected to the next stage of registration where you will be required to provide bank details so that your Chinese bank account can be linked to your Alipay.
Once you link your Alipay account to your bank card and all the details are verified, you can load it up with funds and begin using it.
Alipay users are assigned limits on how much money they can receive. The limits are not unanimous but are usually influenced by factors such as the currency you are using, and whether it is a business or personal account.
Paying Using Alipay
Alipay provides different methods to navigate payments depending on the transaction you are performing. Let us examine how they each work.
Online Shopping
The first step here would be to confirm that the online platform/vendor you are buying from accepts Alipay as a method of payment.
If they do, you can select Alipay as your preferred method and provide the necessary details for your Alipay account. This way, you can just follow the prompts during checkout and then authorize the payment on your Alipay app.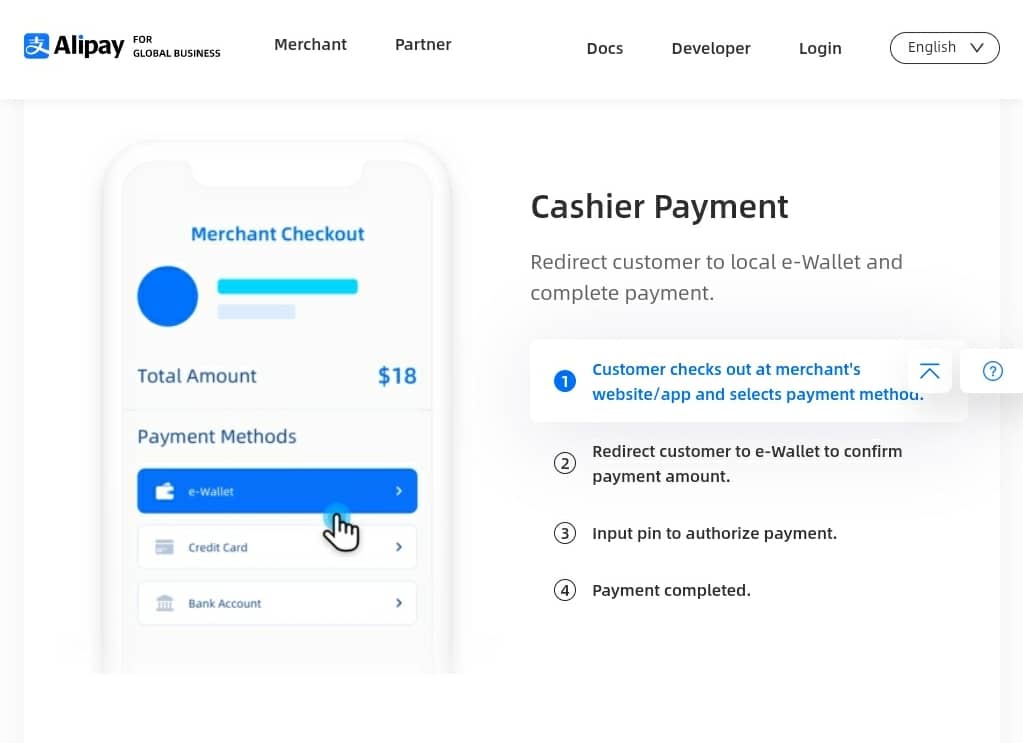 In-store Shopping
In-store shopping using Alipay is done using a QR code. Transactions can be done in one of two ways.
In the first approach you would:
Open the Alipay app on your phone
Click on your QR payment to code to display it on your screen
Show it to the cashier for them to scan it
Authorize the transaction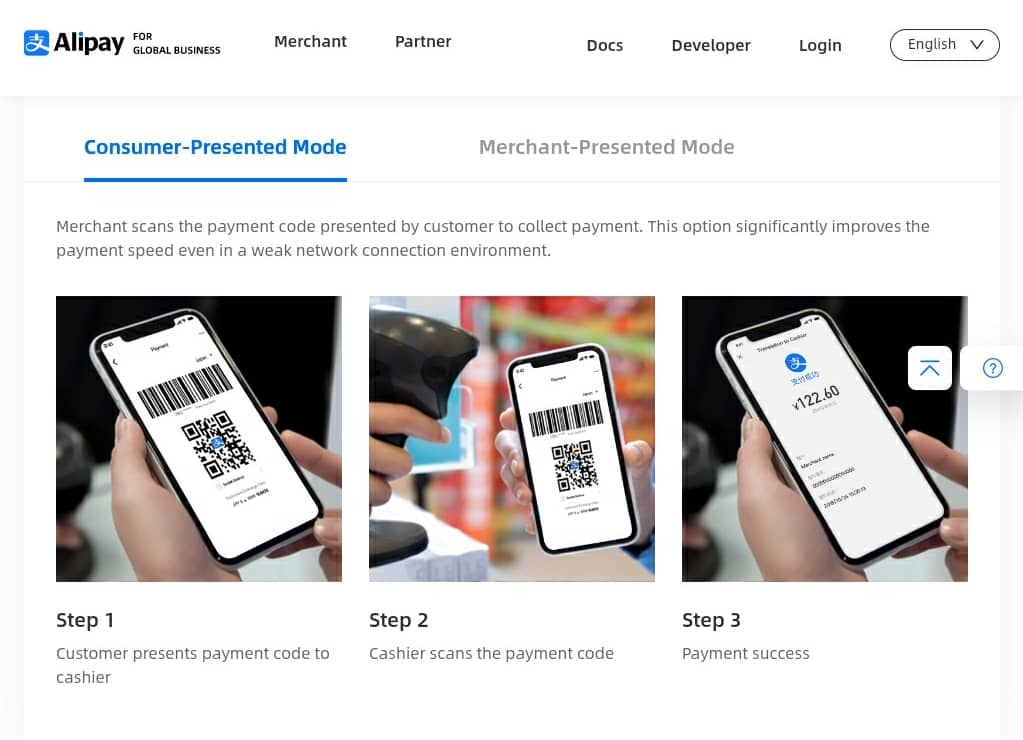 Alternatively, you may find a store that displays its Alipay QR code at payment points. In such cases, payment works as follows:
Scan the QR code
Enter the amount to be paid to the store
Authorize the payment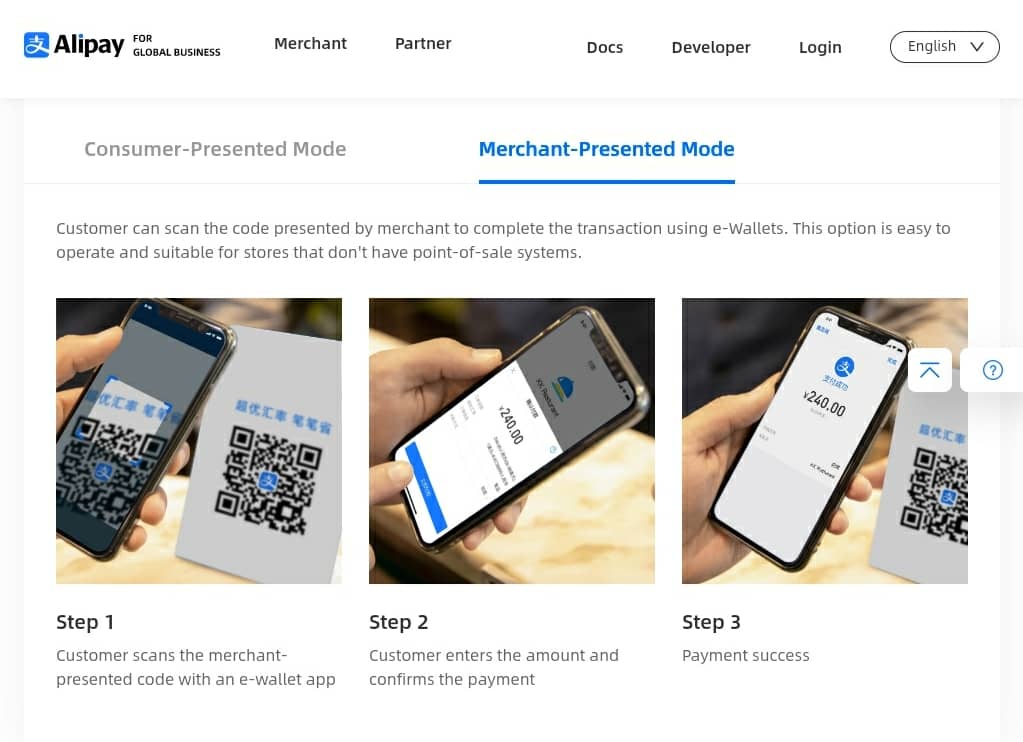 Transferring Funds to Another Alipay Account
Sending money from your Alipay wallet to another user's Alipay wallet works as below:
Open the Alipay app and enter the Alipay ID of the person you would like to transfer money to
Enter the amount
Authorize the transfer by entering your Alipay passcode
Alipay Transaction Fees
Alipay does not charge any transaction fees when transferring fees from one user to another. However, you would be charged a fee of 0.1% (of the money transacted) if you withdraw any amount over RMB 20,000.
Vendors, on the other hand, are charged a transaction fee of 0.55%. It is comparably much lower than the 2% or more that most global bank payment platforms usually charge merchants.
What Makes Alipay Safe?
The Alipay system is designed with in-built features that safeguard its integrity. They include:
Encryption– encrypting users' financial data makes it difficult to access. Moreover, even in the unlikely event that such data is accessed it takes a lot of effort to decrypt it and be able to use it. In essence, it deters data breaches.
A risk management system– the Alipay risk management system scans the system and accounts for any unusual activity and flags it. It helps curb any suspicious activity very early on.
Account security features– every Alipay transaction has to be approved using either a 6-digit PIN (which can be harder to crack than a 4-digit one) or biometric authorizations like a fingerprint scan or facial recognition.
Nevertheless, as an Alipay account holder, your actions equally play a role in the security of your transactions. It is highly recommended that you:
Create an Alipay passcode that is unique
Keep your passcode to yourself
Activate two-factor authentication on your account
Only share your Alipay payment QR code with authorized cashiers
Only use vendor QR codes after confirming with the sellers to confirm that they are legit
Avoid accessing your Alipay account through shared devices or unsecured wifi connections
Advantages and Disadvantages of Using Alipay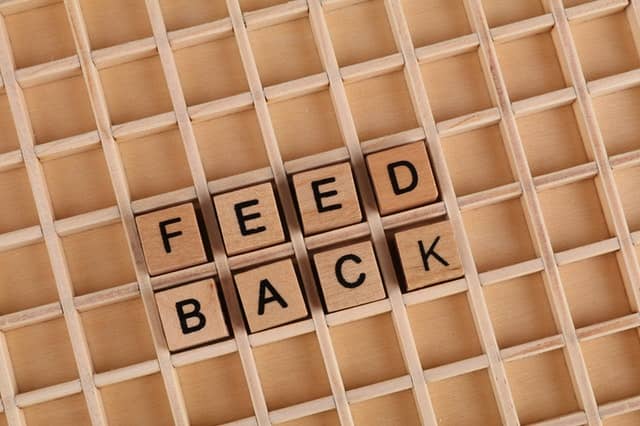 Advantages
Security- using Alipay means you no longer have to share your banking details with multiple vendors. You also do not have to walk around with wads of cash to shop or access services.
Convenience– Alipay now enables users to not only send money to each other but also access other essential services like seeking credit, finding service providers, and paying utilities to providers.
Low transaction fees- Alipay transaction fees are cheaper than those of most banks. This makes them a great and affordable option to shoppers and merchants of all calibers.
Buyer protection– if you find any service provider or merchant through the Alipay system, Alipay provides buyer protection. It holds your payment to the vendor in escrow until you receive the delivery and confirm that it matches what the seller promised to deliver.
Disadvantages
User limitations- the fact that Alipay has to be linked to a Chinese bank account makes it inaccessible to most people around the world that would enjoy its convenience.
No Deposit Insurance Scheme protection- funds on Alipay are not covered by the China Deposit Insurance Scheme. Subsequently, if Alipay suffers a catastrophic loss of funds through fraud or a cyberattack, it may be difficult for users to be reimbursed.
FAQs About Alipay
Can I Use Alipay Without a Chinese Bank Account?
Only if you are visiting China as a tourist and have registered for an Alipay Tour Pass. This provision is also only temporary.
If you live outside China and are not able to register a Chinese bank account, your only option may be to handle Alipay transactions via a third party.
For example, payments on online marketplaces like Taobao have to be made via Alipay. So, if you would like to source products from such a platform, you could partner with a sourcing agent based in China.
The agent can easily set up an Alipay account (because they are Chinese residents) and pay for the items you want on your behalf. Most even have Alipay accounts already.
What Is the Difference Between Alipay and Paypal?
The general concepts of Alipay and PayPal are alike. They are both digital payment platforms that are linked to users' bank accounts and can be used to transfer funds between peers or pay merchants.
Nevertheless, PayPal:
Is accessible in about 200 countries while Alipay is only available in China as it requires a Chinese bank account to sign up.
Can facilitate the transfer of funds between the bank accounts of users but Alipay only allows funds to be sent between Alipay accounts.
In contrast, Alipay:
To put it briefly, PayPal and Alipay are alike but their features differ. It may not be possible to substitute one for the other.
Is Alipay Safe in the US?
The safety provisions of the Alipay system are the same regardless of where the transactions are done. Consequently, yes, Alipay is safe in the US, in the UK, and all other countries where Alipay is authorized for use.
Does Alipay Work in Foreign Countries?
You may find businesses in the US, Europe, or other regions that accept Alipay. This is only possible if the business has set up a Chinese bank account and subsequently fulfilled all the requirements of creating an Alipay account.
The processes of paying or receiving payments via Alipay remain the same even abroad. You can even use your local currency to pay as long as it is one among those that are supported by Alipay.
Is Alipay a Payment Plan?
No, it is not. It is a digital payment system. Users can upload cash to their Alipay account from their bank accounts and use it to pay for various goods or services. It is simply like withdrawing money and putting it in your wallet to pay for stuff only that it is digital.
That said, there is an independent feature on the Alipay app that serves as a payment plan service. It is known as Credit Pay Installment and allows users to acquire an item and pay for it in 2 installments.
The Verdict
Having weighed all Alipay features and security controls, there is no doubt that Alipay is indeed a secure payment platform. Is it flawless? Certainly not but, at the bare minimum, you would be sure that you can move your money freely and securely.
If you are not able to access Alipay, you do not have to miss out on the joys of safe shopping. We can reliably handle your payments on platforms like Taobao or any other retailer or manufacturer that only accepts Alipay.
To get started, simply send us a brief of the products you require and request a free quote at any time.