AliExpress is a globally renowned online marketplace. It is popular for its product variety, easy access, trendy products, and, most importantly, its incredibly low prices.
However, while the bargain prices are alluring, they tend to make most shoppers apprehensive about shopping on AliExpress. It all simply seems too good to be true.
So, what's the catch? Why is AliExpress so cheap? Settle in and let's finally unravel this mystery, shall we?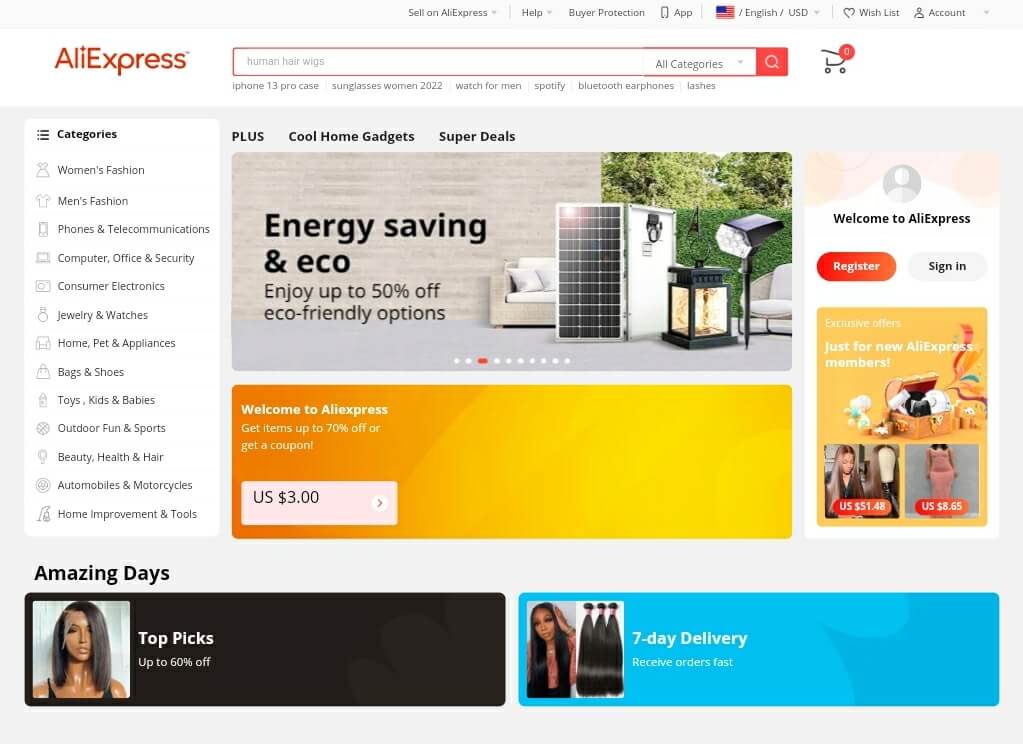 How Does AliExpress Work?
Before we get to the pricing, let us begin by understanding how AliExpress works.
AliExpress was designed as a platform where product suppliers in China can sell their products to the world. It thus comprises thousands of sellers offering products in over 30 categories.
Vendors only need to:
Meet AliExpress qualifications
Sign up as a seller
List their products
Start processing orders
Buyers, on the other hand, can access the AliExpress website from anywhere in the world. You can freely browse through products and their prices even before creating an AliExpress account.
Signing up as a buyer is free. It enables you to:
Communicate with sellers
Safely buy products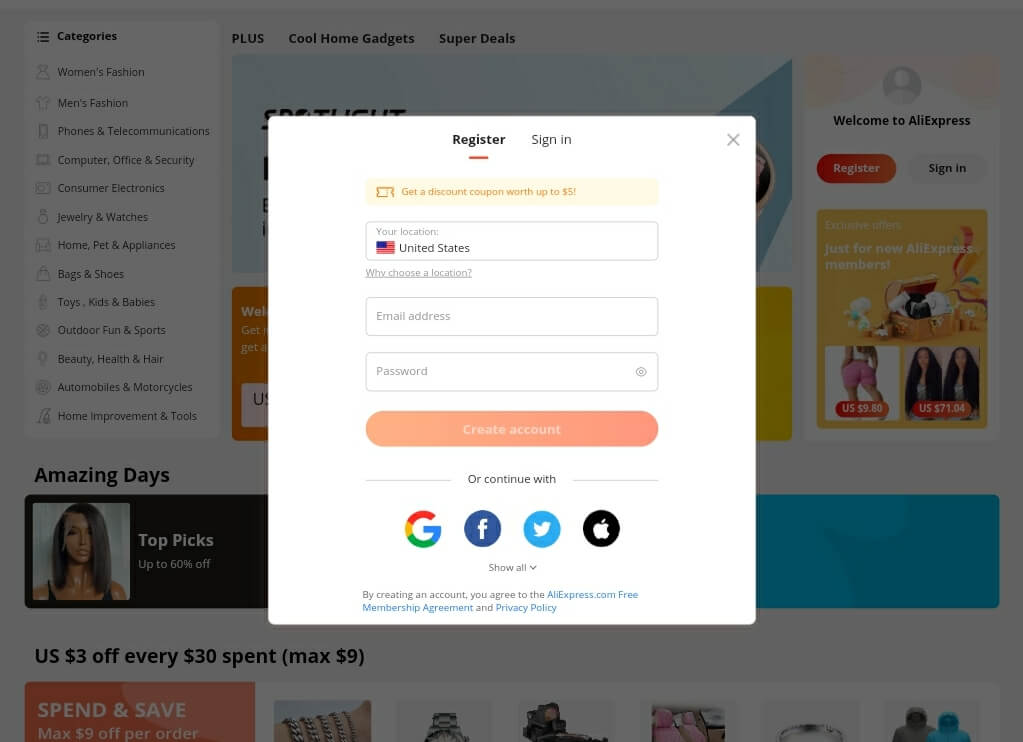 Buying Products on AliExpress
The purchase process is quite direct. It works as follows:
Log in to your AliExpress account
Find the products you need
Add the products to your cart
Click on the cart to check out
Select 'Buy All'
Provide your shipping and payment details
Select 'Pay My Order'
The seller(s) will process and ship your orders once this process is complete. You can track the progress of your order under the 'My Orders' tab on your account profile.
Payment Options
Each seller on AliExpress is allowed to choose their preferred payment method. You can view the various options by clicking 'Show All Payment Methods' during checkout.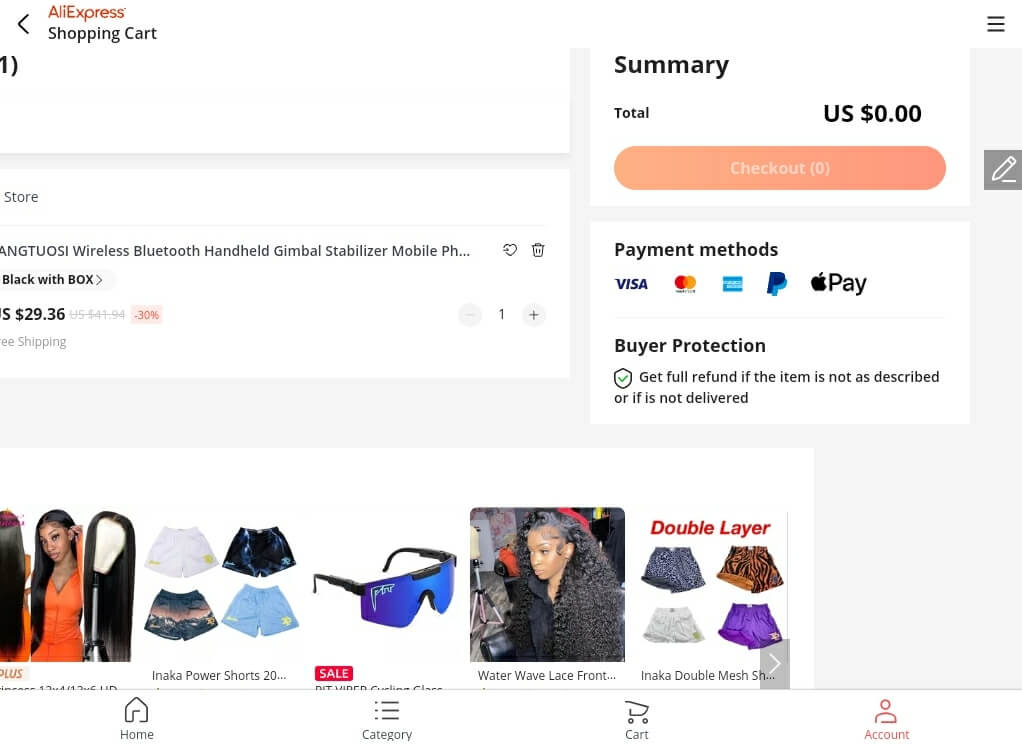 Some of the common payment options among AliExpress sellers include:
Major debit and credit cards
PayPal
Bank transfer
Apple Pay
It is advisable to use the payment methods formally indicated on AliExpress. It ensures that your purchase is covered by AliExpress buyer protections. Consider it a red flag if a seller insists on making alternative payment arrangements.
Shipping
Most sellers indicate the shipping options that they offer alongside each product. This includes the estimated shipping time and whether or not the option offers tracking details.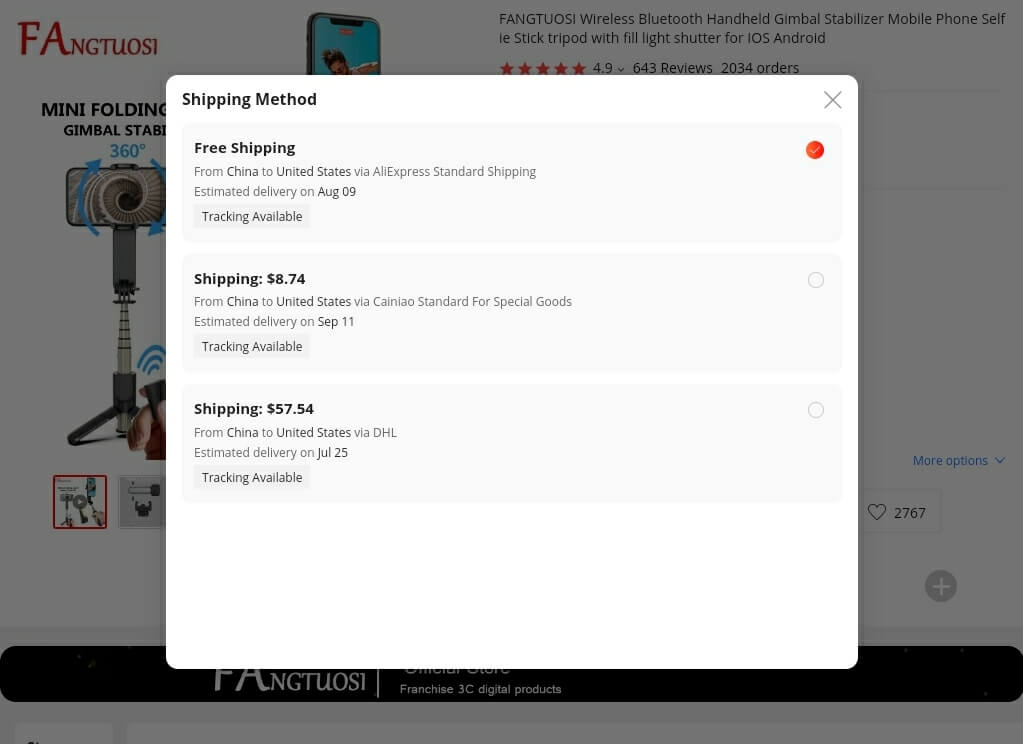 You are free to choose any suitable and affordable shipping option. Nevertheless, it may be safer to choose an option with tracking and a reasonable lead time.
If none of the options seem like a good fit, consider working with a dropshipping or sourcing agent in China. They could receive your goods and arrange for expedited shipping.
Returns and Refunds
AliExpress allows buyers to initiate returns or refund claims within 15 days of receiving their order. The products must be in good condition, complete with their original labels and packaging.
The process works as follows:
Initiate the dispute within 15 days of receiving your delivery
Print the return label from AliExpress
Drop off the package at the designated return point
Wait for your refund after the seller receives the returned item
Refunds are made through the same payment channel that you used to pay for the goods.
Why Is AliExpress So Cheap?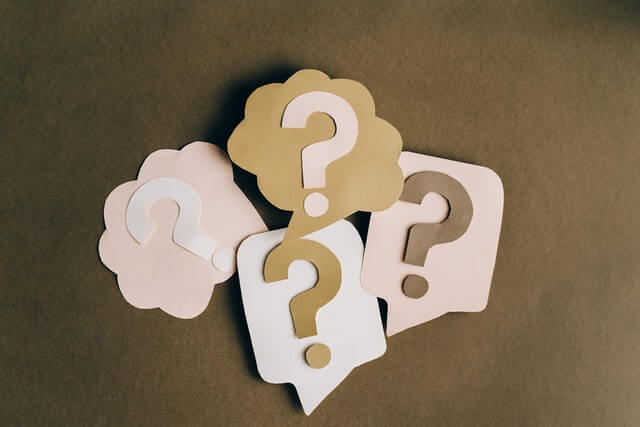 As you can tell from the description above, AliExpress is not too different from other online marketplaces. So, why are products on AliExpress cheaper than on platforms like Amazon or Etsy?
Here are the key reasons why AliExpress is cheaper.
You Buy from the Source
Most sellers on AliExpress are manufacturers or trading companies.
Manufacturers' prices are incredibly low because they are not significantly marked up like retail prices.
Admittedly, trading companies offer slightly higher prices than manufacturers. This is because they markup factory prices to earn a profit. However, their prices are still much cheaper than retail rates.
The upside here is that you can compare as many sellers as possible and decide whether to buy from a manufacturer or a trading company.
Stiff Competition
AliExpress hosts thousands of sellers, creating a highly competitive environment where sellers try to outdo their competitors.
As you browse through products, you may notice that each seller in a niche tries to set appealing prices to win over customers. When price undercutting is no longer tenable, sellers strive to stand out by offering discounts on product prices or shipping, from time to time.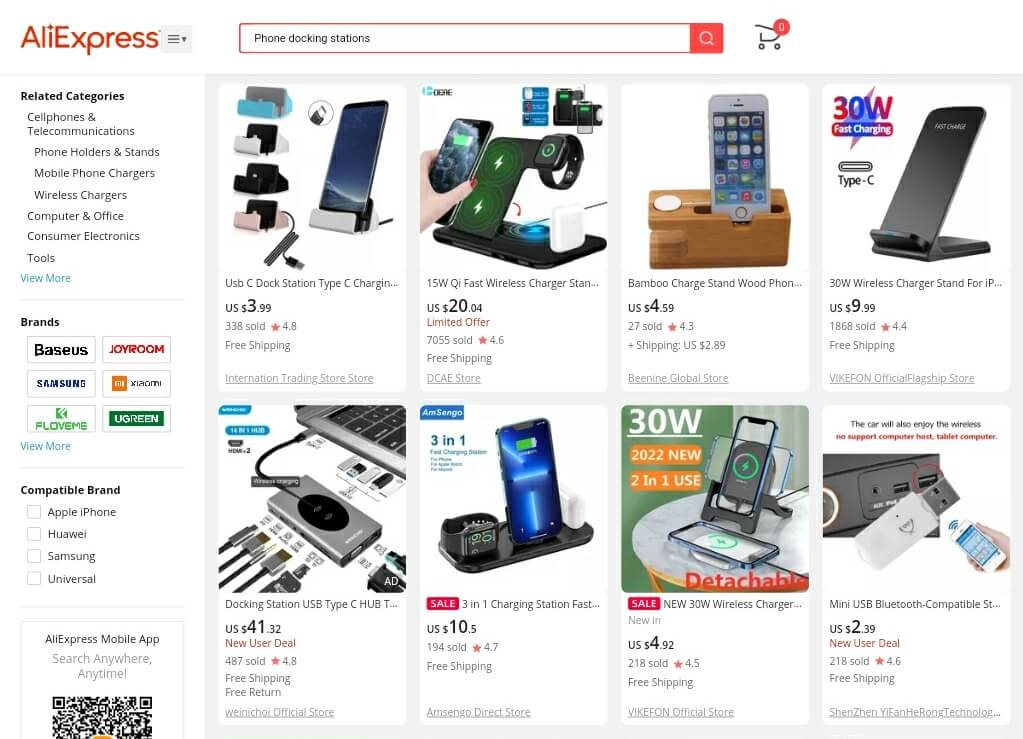 At the end of the day, all these competitive moves only work to benefit the AliExpress shoppers.
Manufacturing Advantages in China
The prices of most commodities are generally cheaper in China than in other countries because:
The government has created a business-friendly environment with affordable taxation and incentives that promote manufacturing and trade.
China's outstanding infrastructure makes transporting raw materials and finished products affordable.
Factories in China have access to a broad variety of raw materials within the country and from neighboring countries.
Most factories use high standards of automation, keeping their production costs low.
Bulk production enables factories to capitalize on economies of scale and pass on those advantages to buyers.
The sellers on AliExpress enjoy all these benefits. Consequently, they can afford to sell at low prices and still make a profit unlike sellers from other parts of the world.
Low Shipping Costs
Shipping costs often inflate product prices on most other e-commerce marketplaces. AliExpress has, however, found ways to overcome this challenge.
AliExpress is a subsidiary of the larger Alibaba Group. AliExpress sellers can, therefore, ship orders using Alibaba's vast Cainiao Logistics Company at very affordable rates. In turn, they can charge buyers very low shipping fees or even ship for free.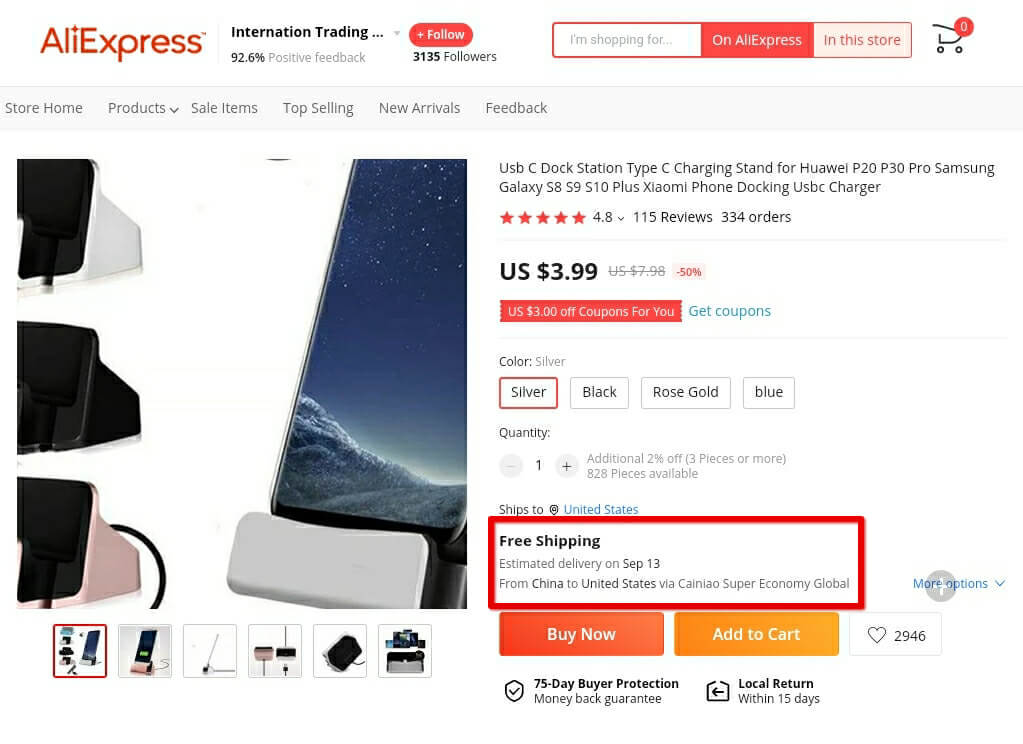 Notably, most packages from AliExpress are shipped by sea which is generally the cheapest shipping option.
Brand Diversity
You can find all kinds of product brands on AliExpress. A few are premium and famous but most are upcoming brands in China or generic brands that you can hardly tell apart.
The upcoming and little-known brands keep their product prices low to attract customers. Most products on AliExpress are thus affordable because these brands make up the majority of vendors.
Bulk Discounts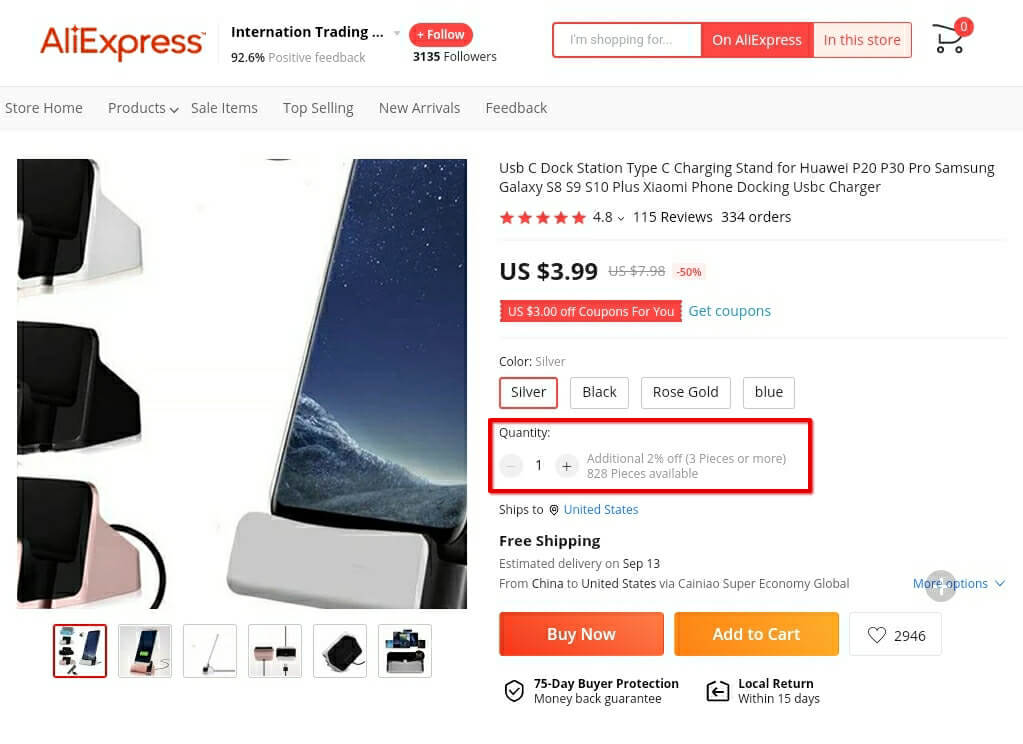 AliExpress vendors offer lower prices if you buy in bulk. It is a win-win scenario because it encourages customers to buy more and allows the seller to make higher sales at a reasonable profit margin.
Bulk discounts are often indicated alongside the product. However, if a bulk discount is not indicated, you can always reach out to the seller and try to negotiate a better rate. Most sellers tend to accommodate such requests.
Does AliExpress Sell Fake Products?
It would be an unfair generalization to state that AliExpress only sells counterfeit products. Most sellers give genuine descriptions of their products and sell quality authentic merchandise.
That said, yes, a small percentage of unscrupulous sellers on AliExpress sell fake products. Thankfully they are easy to spot if you know what to look out for. Some tell-tale signs of a fake product include:
A price that is far lower than the market price of the product.
An unusual product design that resembles the original but has some design variations.
A misleading or inaccurate product description.
For example, if you look up the Samsung Note 10 mobile phone on AliExpress, the following device shows up as one of the options.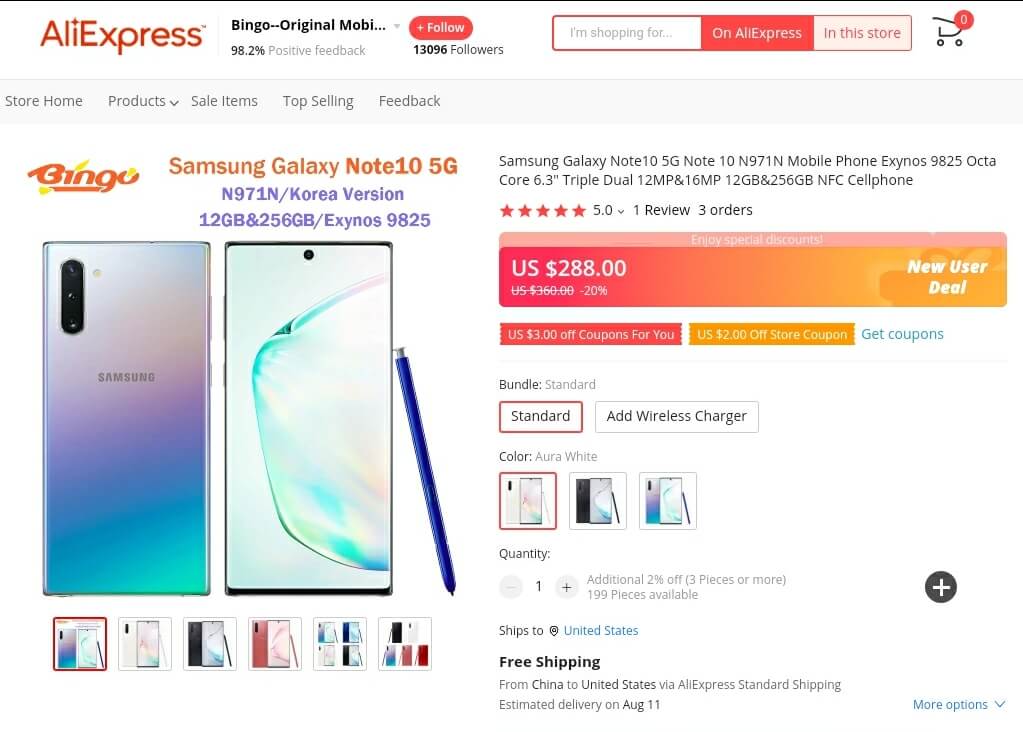 The supplier does not mention anything about refurbishment. They pass the phone off as a new product. However, a quick look into the product description reveals something different.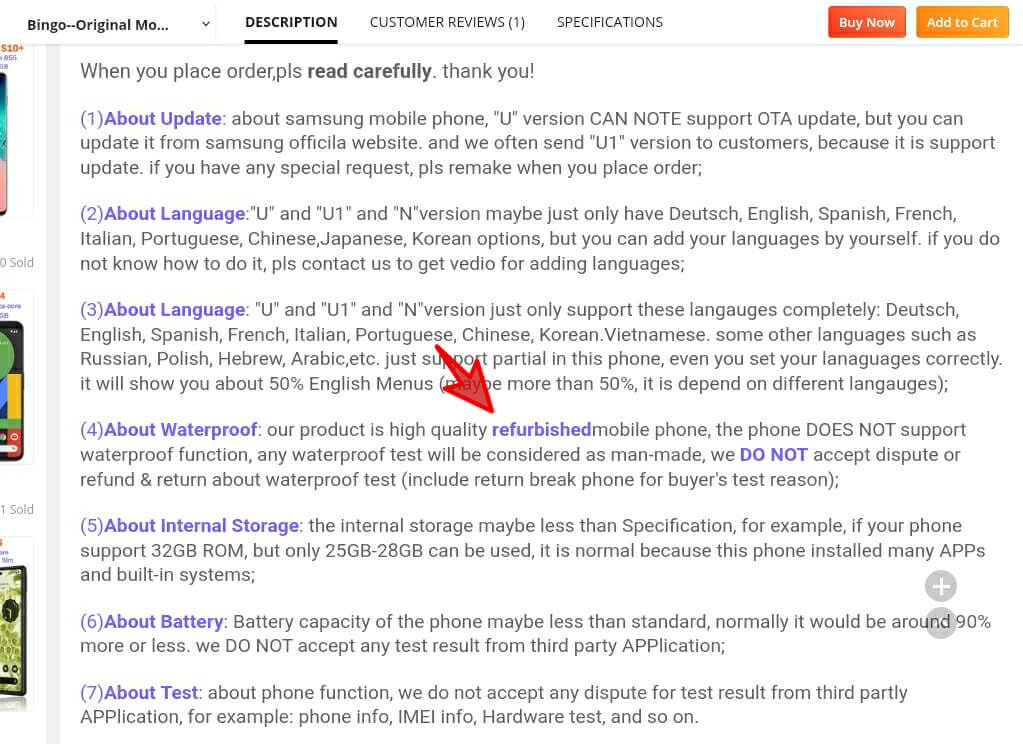 In a nutshell, products on AliExpress are cheap but within a reasonable range.
Be wary of products that are priced too low. Read through their descriptions and reviews carefully, question the seller, and verify the product details by comparing them to other product listings.
Is It Safe to Buy on AliExpress?
Yes. While AliExpress may have its challenges, it is safe to shop on the platform. Let's explore some safeguards to back this up.
The AliExpress Buyer Protection program was introduced to make shopping on the platform safer. It covers concerns such as:
Delayed deliveries – buyers are allowed to initiate a dispute and claim a refund if an order is not delivered within the timelines indicated by the vendor.
Substandard products – you can return a product and claim a refund if it does not match the product description offered by the seller. AliExpress can also oversee a resolution if you choose to work it out with the seller.
No reason returns – you can return any product with no reason if it is eligible for domestic returns. However, it needs to be in perfect condition.
Counterfeit products – you are eligible for a full refund (including shipping expenses) if you buy goods marked 'Guaranteed Genuine Products' and still receive counterfeit goods.
Alternatively, insist on buying products marked 'Guaranteed Genuine Products'. The badge is only assigned to products that have been authenticated by AliExpress before listing.
How to Find High-Quality Products on AliExpress
Look through Reviews and Ratings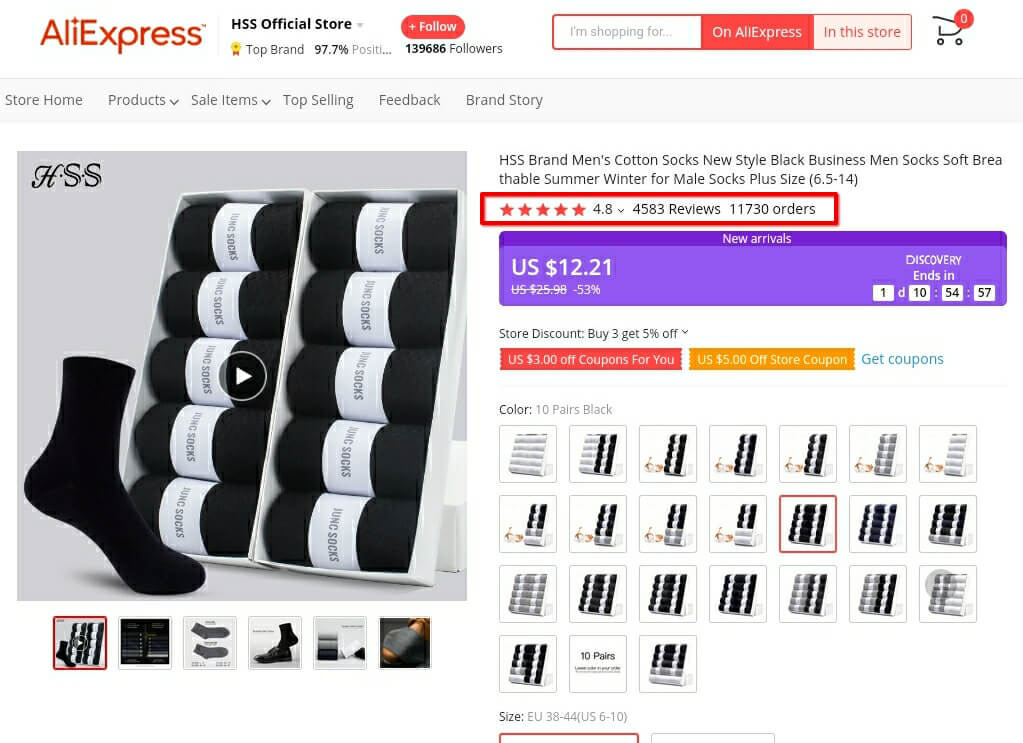 Reviews and ratings give insights into the kind of service and products that other buyers have gotten from a seller. They are helpful because they allow you to learn from other buyers' experiences and make an informed decision with no risk.
AliExpress ratings are on a scale of 1 to 5. They are based on:
Whether the product met the description
The seller's response rate
Shipping speed
Aim for sellers with ratings above 4.5 stars.
Consider Experience
New sellers often have trendy products that are hard to resist but they can be unpredictable. They often only have a few ratings and even fewer reviews if any.
Experienced sellers that have been on AliExpress for 2 years or more may, therefore, be a safer bet. It is easier to evaluate their reputations and decide if they would be a good pick for you.
It is also a good idea to evaluate experience together with the number of orders that a seller has handled. More orders are usually a positive sign that their goods are worth it.
Look for Authentication Badges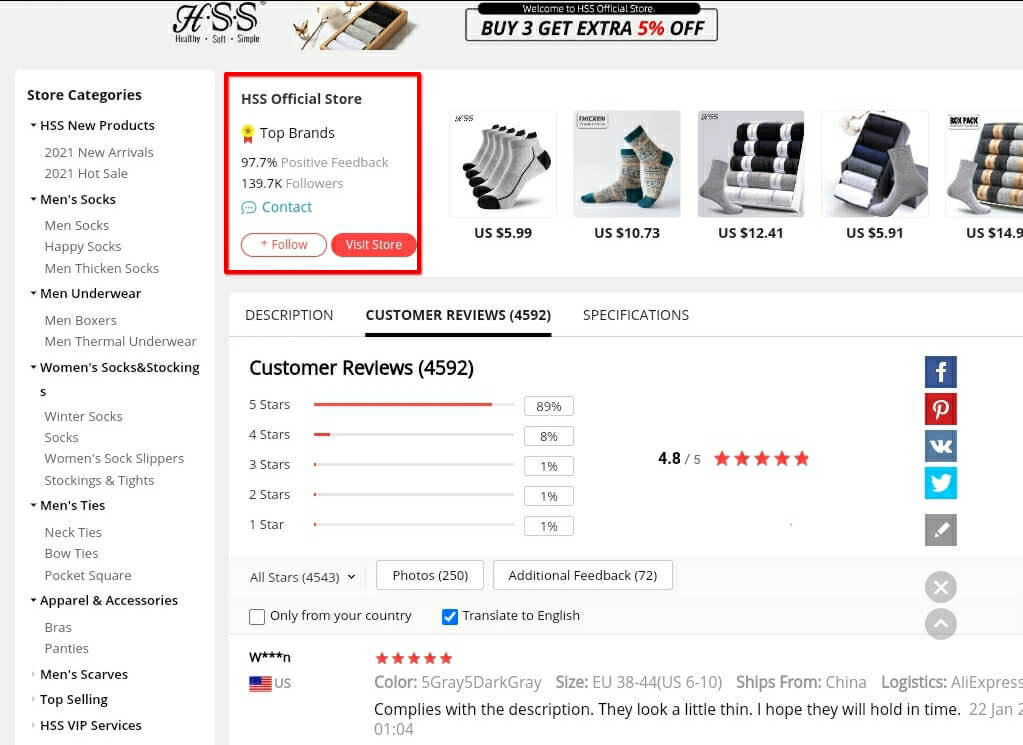 AliExpress awards badges to sellers based on their performance and qualifications.
For example, if a seller has a 'Top Brand' badge, it shows that they have been verified by AliExpress and have received consistently positive reviews from customers. The 'Guaranteed Genuine Products' badge further shows that the product quality has been verified.
Consider and prioritize buyers with these types of badges when shopping for quality products.
Pay Attention to Prices
Suppliers on AliExpress are constantly under pressure from their competitors. They, therefore, price their products with very slim margins to keep prices appealing to customers.
Subsequently, product prices are usually relative to quality. Cheap products have lower prices because they do not cost much to make. In contrast, products with higher prices tend to cost more because they require premium inputs.
Aim for products with average to high prices. Their quality is likely better than that of the cheapest products on the list.
Examine the Feedback Information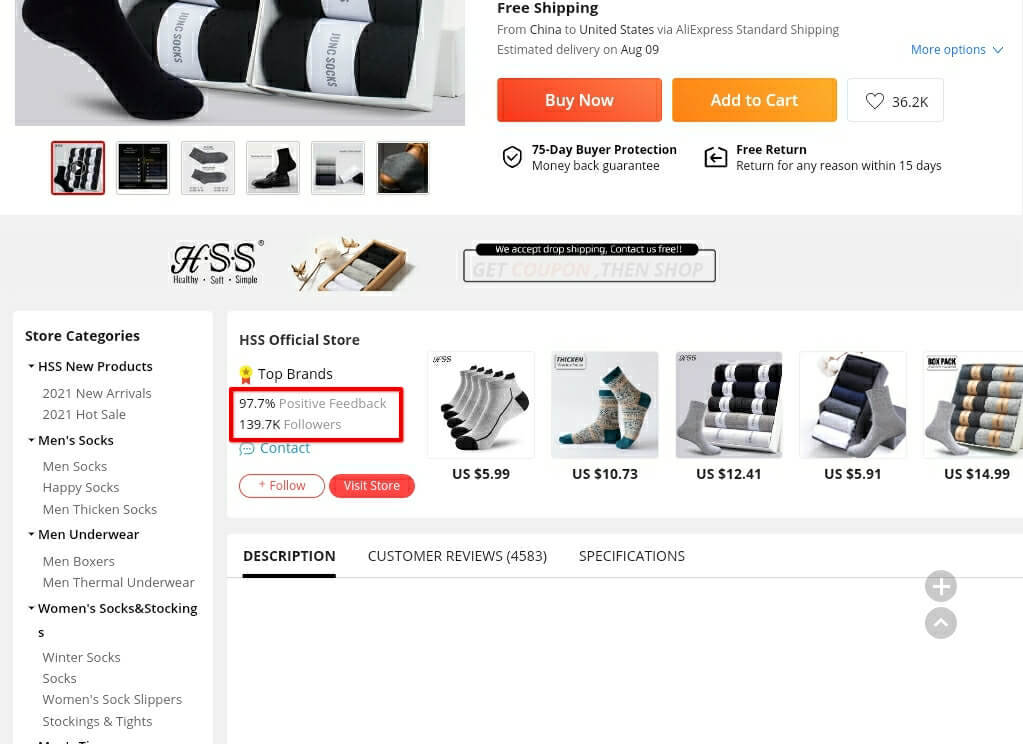 AliExpress awards sellers a positive feedback rate and a feedback score. If a supplier sells quality products, their positive feedback rating will likely be over 90 to 95% at the least. Aim for a feedback score of 2000 or more.
Order Samples
Sometimes nothing is more certain than seeing a product and evaluating it in person. More so if you are a dropshipper and may never get to receive your orders before your customers.
If you find yourself in such situation, use the tips above to narrow down your picks to one or two top product options. Order a sample(s) so that you can fully ascertain their quality.
FAQs on AliExpress
Which Is Better: Alibaba or AliExpress?
It depends on your shopping needs.
Both Alibaba and AliExpress offer great prices. Their product quality is mostly similar and both platforms bring together Chinese suppliers. The only difference is that AliExpress is a retail platform while Alibaba is a wholesale platform.
Therefore, shopping on Alibaba may only be a better option if you are buying in bulk. Its suppliers are mostly manufacturers that offer impressive bulk discounts bigger than those on AliExpress. However, the discounts are tied to MOQs.
Is Amazon Cheaper than AliExpress?
No, the prices on AliExpress are lower.
So much so that lots of sellers source goods on AliExpress and resell them on Amazon at a much higher price.
Are AliExpress Reviews Fake?
Some are fake but most are genuine.
You can spot fake reviews by looking for consistency. For example, if a seller has lots of glowing reviews but their 'sold' tab shows that they have only made a handful of sales, the reviews are probably fake.
Further, look for consistency in reviews and feedback information. If you see lots of positive reviews but the feedback score and rating are low, consider it a red flag.
Genuine reviews should correspond with the feedback information. They may not be equal but the disparity should not be too large either.
In Conclusion
All things considered, AliExpress is a genuinely affordable online platform. You only need to shop with a discerning eye to avoid falling prey to scammers or buying overly cheap and poor-quality products.
Moreover, our services make sourcing goods on AliExpress easier and safer.
You can ship your AliExpress orders to our warehouse in China where our team can inspect, approve, or return them on your behalf. We also offer product branding and can arrange faster shipping options or dropshipping.
Reach out to us with all your sourcing needs, request a free quote, and let us introduce you to seamless product sourcing.