Sourcing goods wholesale is one of the best financial decisions for your business. It ensures that you have enough inventory and gives you access to wholesale prices that you can mark up for higher profit when reselling the goods.
If you choose to source your goods from online marketplaces, it is important to note that there are retail and wholesale marketplaces. The latter would be the better option because they list suppliers that sell in bulk and at affordable wholesale prices.
In this blog, we delve into top online wholesale marketplaces, the products you can find on them, and some of the distinct features worth checking out.
Come along, will you?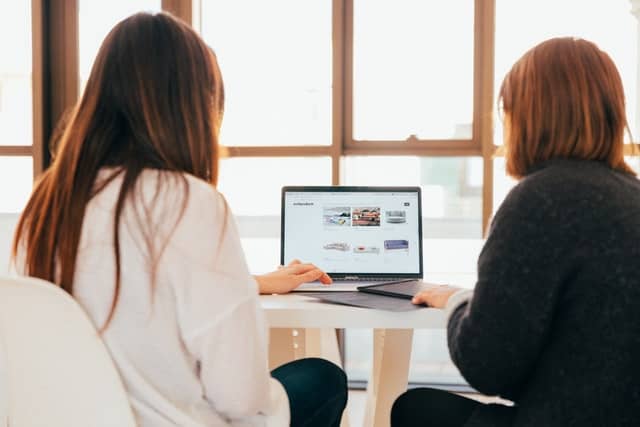 Boutsy
Boutsy brings together over 200,000 vendors and brands that offer unique products. The listed brands and items are curated based on consumer research.
Wholesale buyers are required to:
Create an account on the Boutsy platform
Fill in the application form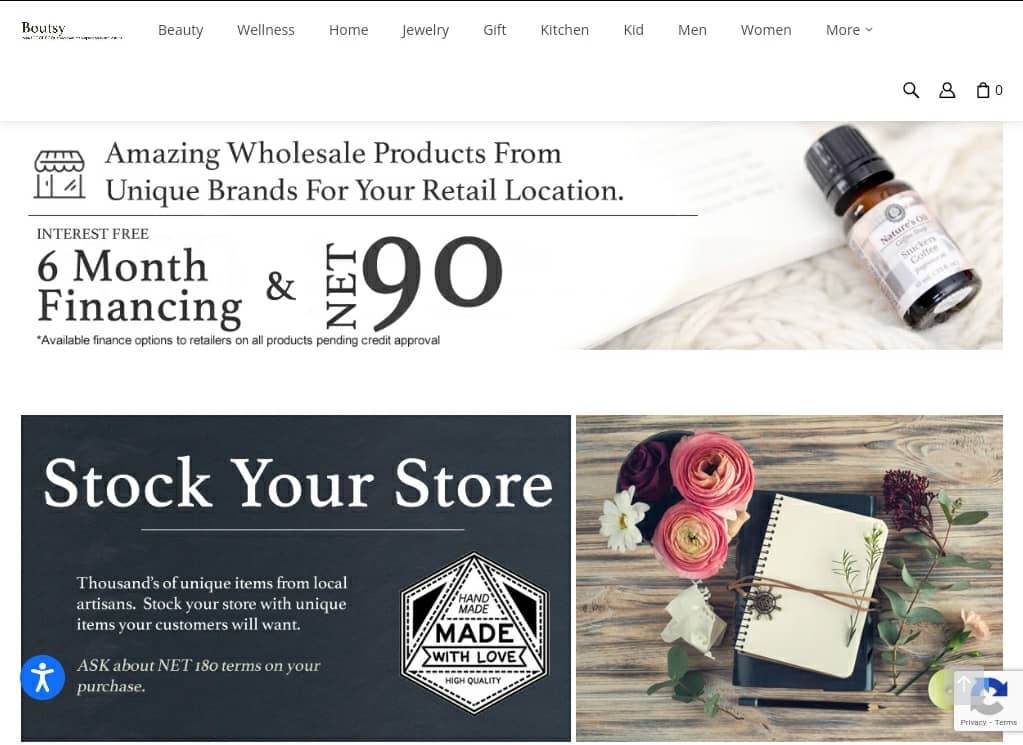 The Boutsy team would get back to you after reviewing your application and request your tax details if your application was successful. Completing this process will formally grant you access to wholesale prices and offers in the marketplace.
Boutsy only shops within the USA and Canada.
Product Categories
Beauty
Wellness
Home jewelry
Gift items
Kitchen
Clothing and grooming products for men, women, and kids
Pet care products
Stationery
Highlight Features
Registered wholesale buyers can access:
Trayde
Trayde is a UK-based wholesale marketplace. It hosts a handpicked selection of suppliers that sell a vast variety of products from home care to personal wellness products and much more.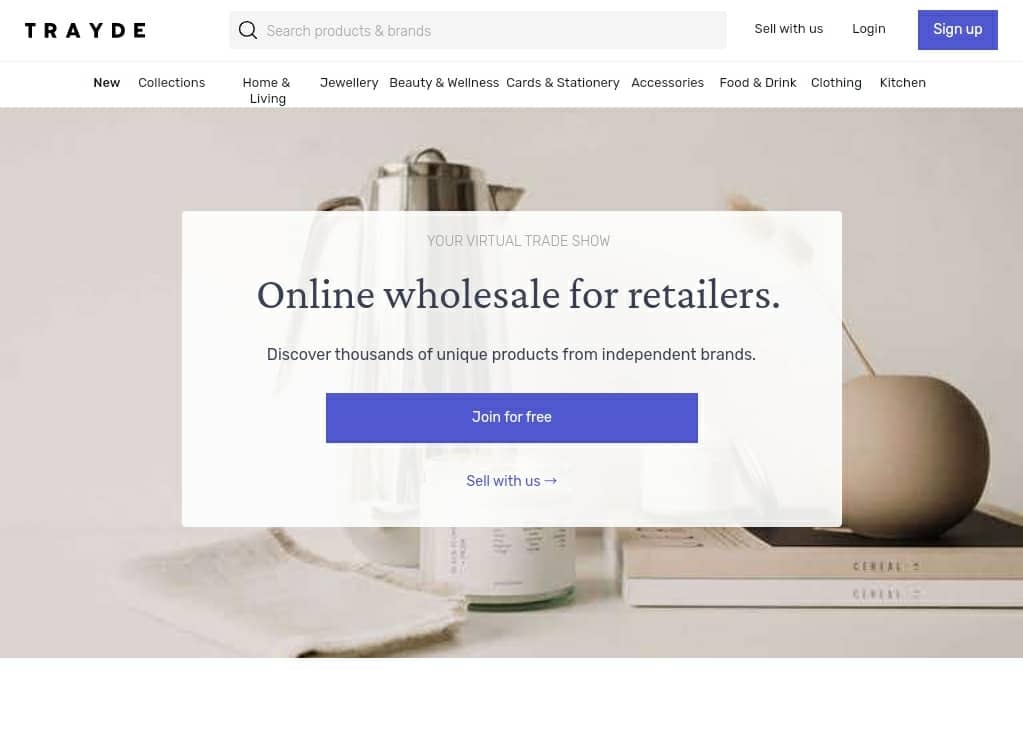 Buyers can access Trayde for free but you have to sign up for an account to start shopping. Payments can be made via Visa, Mastercard, or Amex Cards.
In terms of reach, Trayde suppliers mainly ship within the UK and neighboring countries.
Product Categories
Home & Living
Jewelry & Accessories
Beauty & Wellness
Clothing
Baby & Kids care products
Stationery
Kitchen
Food & Drink
Highlight Features
Trayde presents a special selection of product brands and suppliers.
Suppliers have low MOQs although each sets their own.
You can shop from multiple brands and check out in one swoop.
Net 30 and Net 60 payment terms are provided to buyers that qualify.
Dropee
Dropee was founded and operates in Malaysia. It aims to connect wholesale suppliers of different products with buyers and make it easier for buyers to buy in bulk.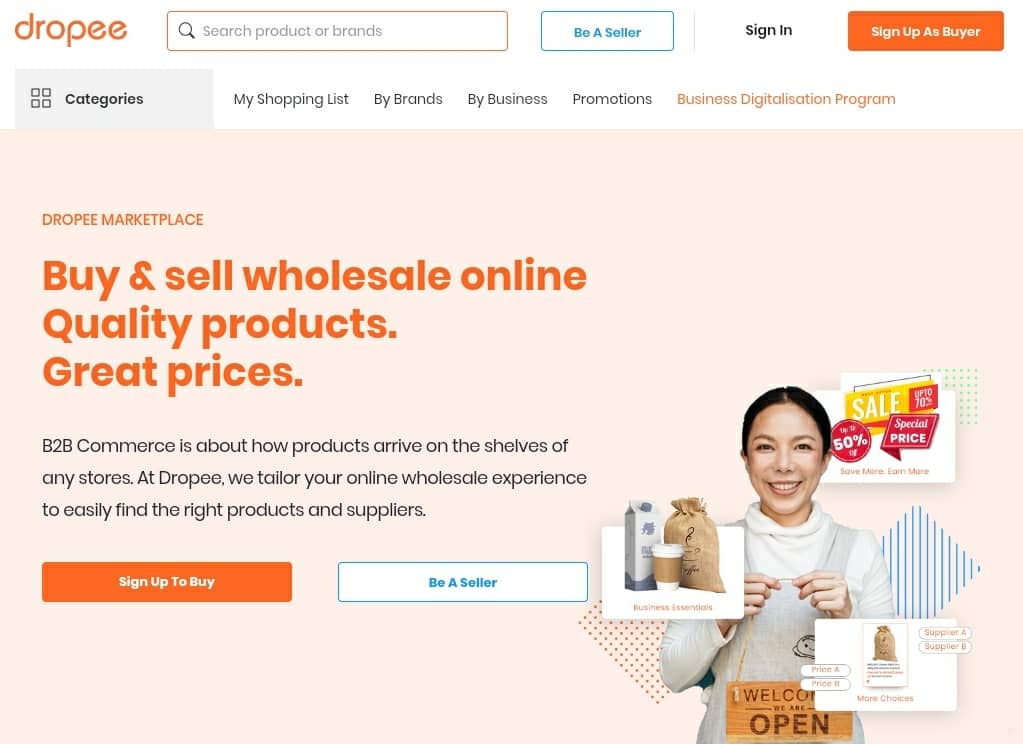 While most online marketplaces organize goods only based on category, Dropee also offers lists of goods that may interest specific businesses such as restaurants, and convenience stores, among others.
To join the over 50,000 buyers that shop on Dropee, you would have to register for an account. You will then be prompted to verify the account via email and you will be all set.
Dropee only ships to buyers within Malaysia.
Product Categories
Natural and Herbal-based products
Home & Kitchen
Sports & Hobbies
Automotive
Household & Cleaning supplies
Food & Beverage
Babies, Kids & Toys
Health & Beauty
Fashion
Highlight Features
Buyers can order and pay for shipping or collect the goods.
It is possible to pre-order goods that a supplier does not currently have in stock.
Loyal and reputable customers can access credit lines to pay for their orders after 60 days.
Tundra
Tundra originates in the USA. It has a strict rule that only businesses and organizations can shop on the platform. Consequently, you would have to provide a link to your business website or social media pages to prove that you meet the criteria.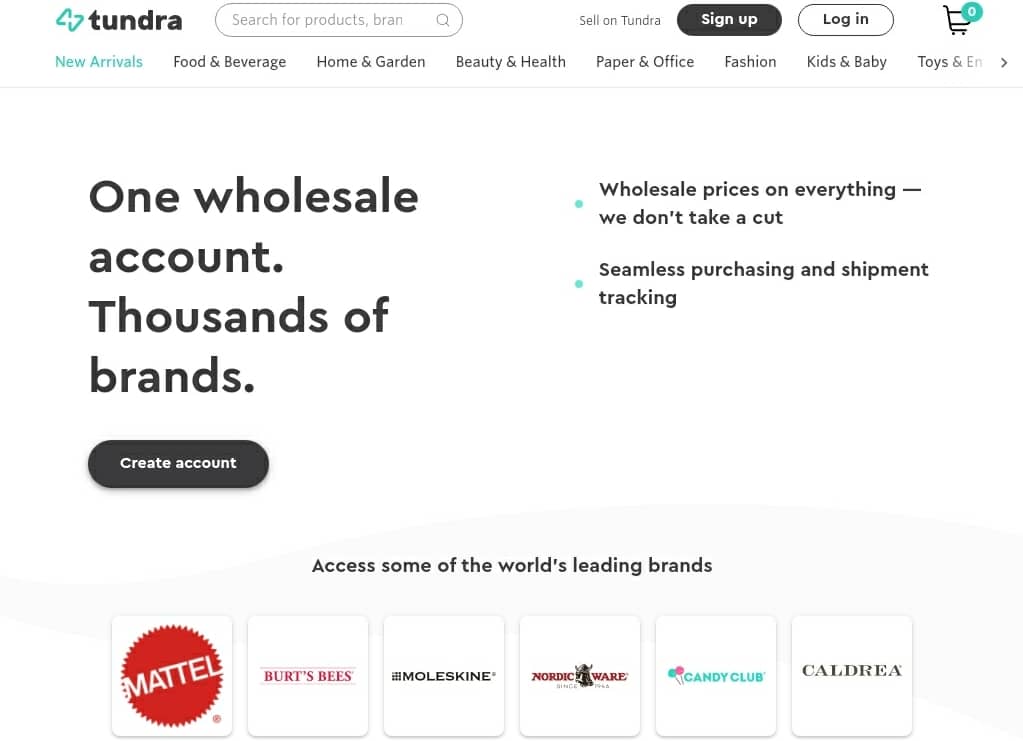 So, how does Tundra wholesale work? It is a quick straightforward process.
Log in to your Tundra account
Select the product you want to buy
Indicate the quantity and provide delivery details
Click 'Add to Cart'
Once you are redirected to the shopping cart click 'Checkout'
Orders worth $2,500 or less can be paid via credit card. Tundra also accepts payment via ACH bank transfers and wire transfers. It currently ships to 106 countries scattered across all continents.
Product Categories
Business & industrial
Electronics
Sports & Outdoors
Paper & Office supplies
Toys & Entertainment
Home & Garden
Beauty & Health
Kids & Baby
Fashion
Food & Beverage
Highlight Features
Tundra does not charge suppliers any listing fees. This allows them to sell at the lowest direct wholesale price.
Buyers are prohibited from selling goods bought on Tundra on 3rd party marketplaces like Amazon.
Tundra has partnered with Kickfurther to provide inventory financing to businesses.
Joor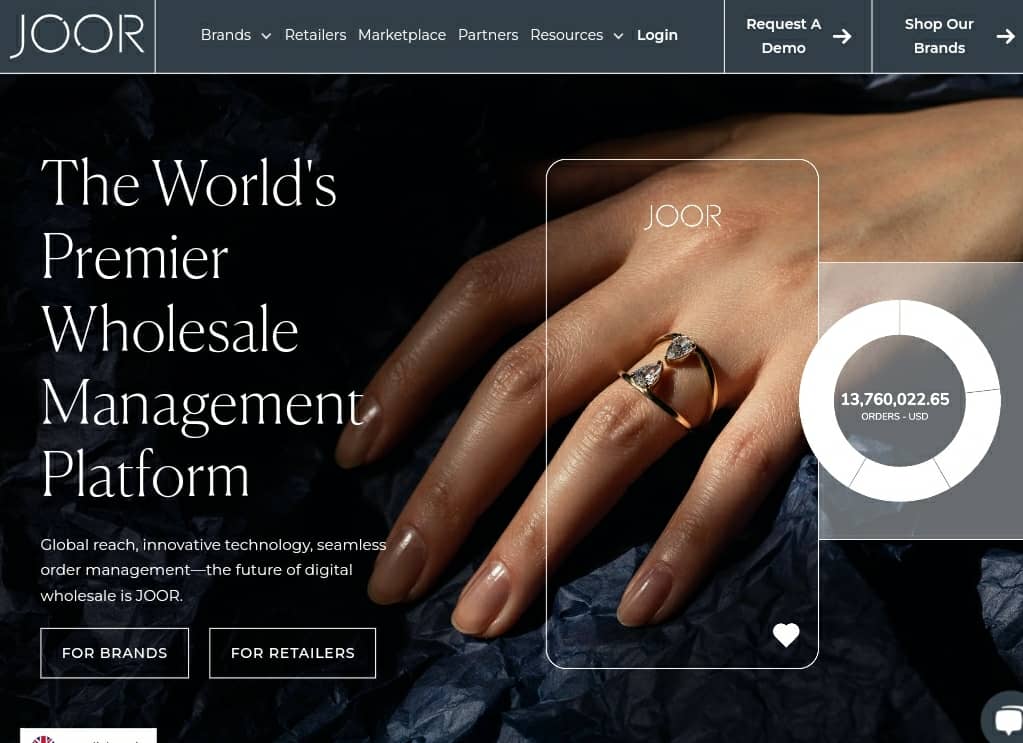 Joor is a wholesale marketplace that specializes in fashion. It lists over 13,300 brands including some high-flying ones like LVMH, Shopbop, and Neiman Marcus.
Both suppliers and buyers have to pay to access the Joor marketplace. The marketplace does, however, offer extra perks such as industry insights through reports and an assortment of planning tools.
Joor is accessible to retailers in 150 countries and accepts payments in 135 currencies.
Product Categories
Highlight Features
Brands can create virtual showrooms and trade shows that you can attend remotely on Joor and order what is on offer.
Joor provides helpful business tools for both suppliers and retailers.
Retailers can request a demo to get a feel of how Joor works.
TradeIndia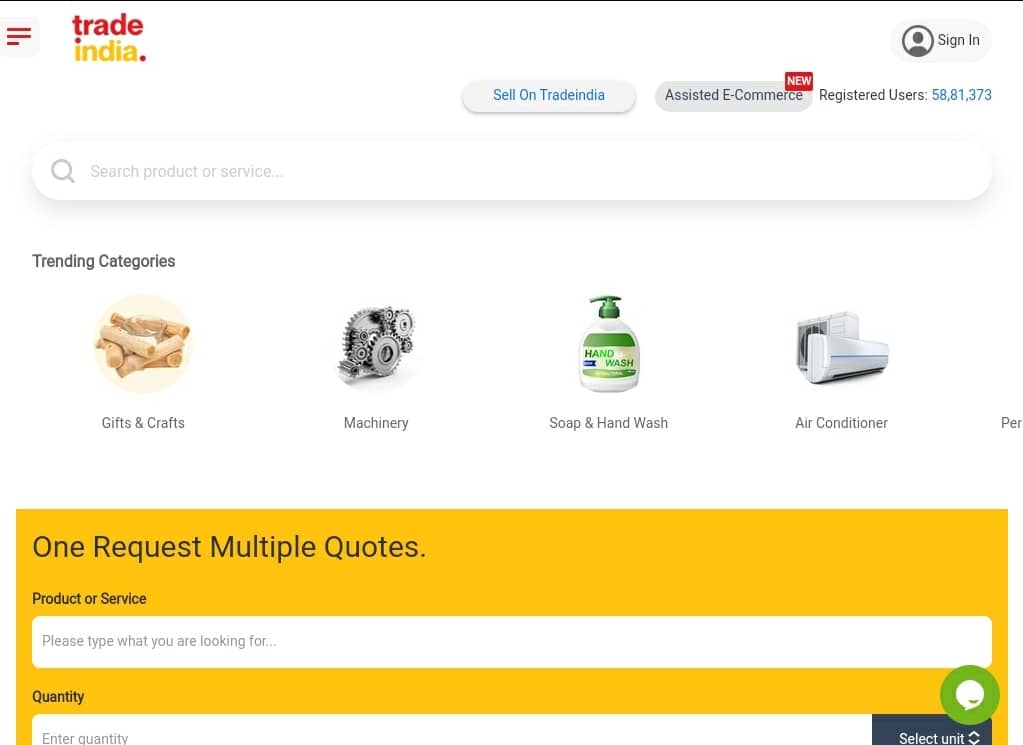 TradeIndia is primarily a bridge between wholesale suppliers in India and both local and international buyers. However, it also has an international segment where you can find suppliers from other regions.
Most suppliers on TradeIndia ship internationally. The marketplace also offers multiple payment options such as Tipay and bank transfer among others.
Product Categories
Agriculture
Industrial supplies
Transportation
Hospital & Medical supplies
Jewelry & Gemstones
Apparel & Fashion
Health & Beauty
Note: This is only a summary, there are over 30 product categories on TradeIndia.
Highlight Features
TradeIndia offers payment protection provisions.
Assisted e-commerce is now available on Trade India and features services like product sourcing and order fulfillment.
Made-In-China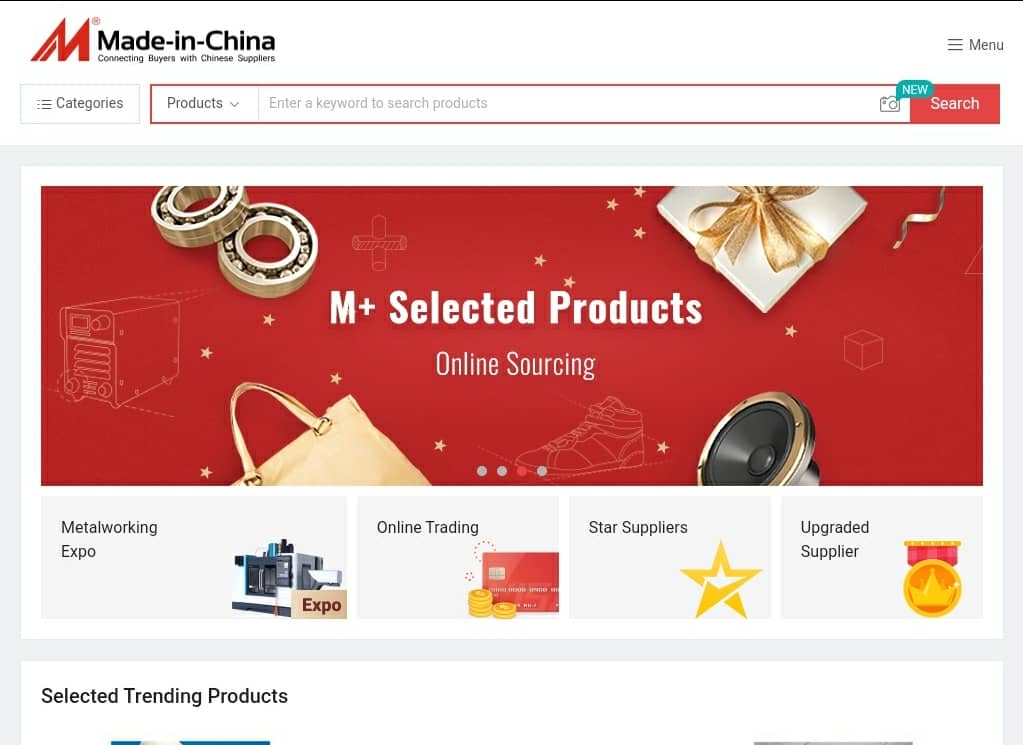 Made-In-China connects Chinese wholesale suppliers to buyers across the world. Sourcing wholesale goods on the platform works as follows:
Sign up
Search for the products you want/post a sourcing request
Filter and analyze the search results
Contact your shortlisted suppliers and agree on terms
Trade safely as per Made-In-China guidelines
The suppliers are not necessarily hand-picked like on some niche marketplaces. However, if you are keen on secure sourcing, you can always stick to premium suppliers. They are vetted and verified by reputable independent bodies like SGS or TÚV Rheinland.
Product Categories
Food & Agriculture
Apparel & Accessories
Arts & Crafts
Bag, Cases, & Boxes
Consumer electronics
Furniture
Security & Protection
Textiles
Office Supplies
Highlight Features
Made-In-China offers supplier audit reports and Secure Trading Services (STS) to help buyers trade safely.
Buyers can access Made-in-China for free.
EC21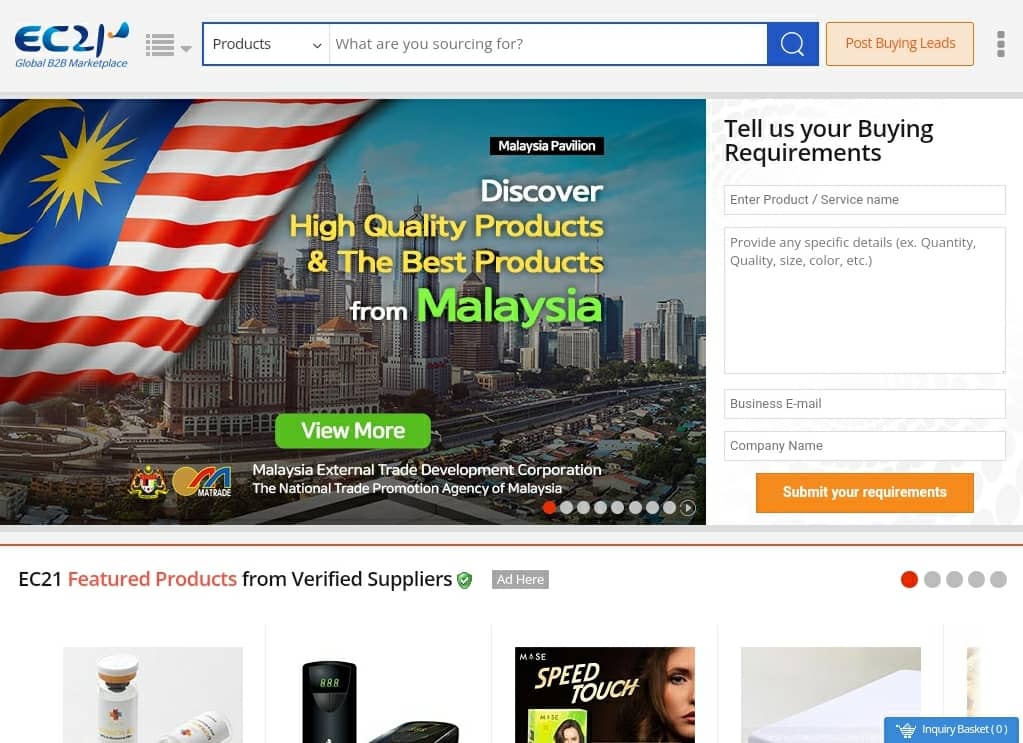 EC21 was founded in South Korea but it allows suppliers from all over the world to list their products. Both suppliers and buyers can sign up for free.
The collection of products and brands on this marketplace is quite diverse and the prices are alluring. However, sourcing goods on EC21 requires discernment to avoid getting scammed.
Aim for green badge suppliers. They are considered safer because the badge is only awarded after vetting.
Product Categories
Agriculture
Automobiles
Consumer Electronics
Construction & Real estate
Food & Beverage
Health & Medical
Home & Garden
Personal care
Highlight Features
Suppliers are assigned a dedicated home page to list their products, making it easy to shop from specific sellers.
You would have to pay a fee to access a seller's audit report.
Buying leads and other insights are available in the marketplace.
IndiaMART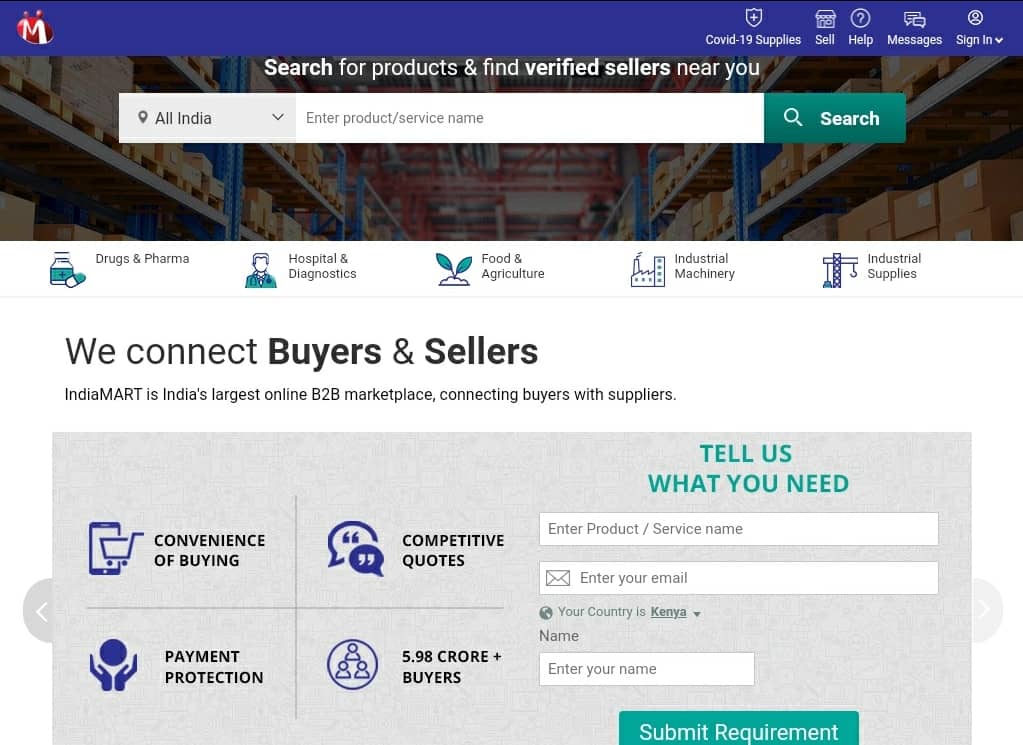 IndiaMART is the largest online B2B marketplace in India. There are over 6.5 million suppliers listed on the platform, over 143 million buyers, and over 80 million products to choose from across different categories.
Shopping on IndiaMART is simple but a little different. You need to:
Sign up
Post the products you require or run
Provide your contact details
Receive and evaluate the recommendations you receive
There is no check-out system in IndiaMART. Subsequently, when you choose to buy an item, you have to contact the supplier directly and arrange the purchase details.
Product Categories
Pharmaceuticals
Food & Agriculture
Electronics & Electronic supplies
Office supplies
Apparel & Garments
Furniture
Housewares
Chemicals
Machinery
Highlight Features
IndiaMART suppliers are predominantly Indian but you can also find suppliers from other regions.
Suppliers and e-commerce entrepreneurs can access support services like advertising and professionally designed online catalogs.
Global Sources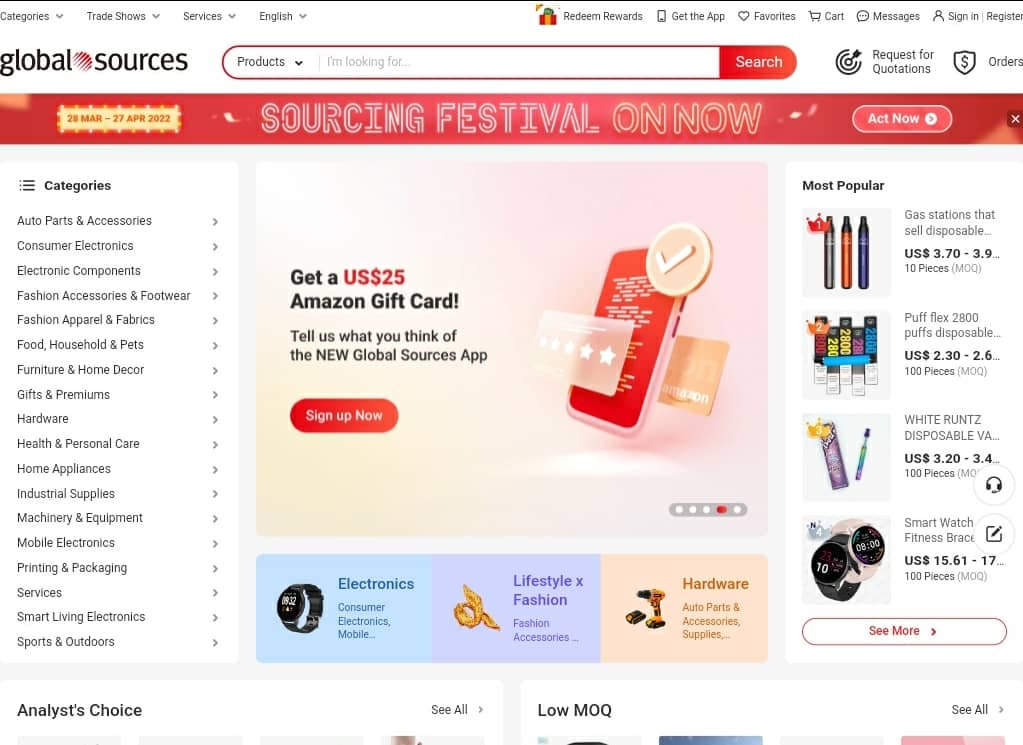 Global Sources is a veteran wholesale marketplace in China. It connects Chinese suppliers to buyers in over 250 countries. There are, additionally, some suppliers from other countries like India, South Korea, and Vietnam.
Suppliers have to pay to join and sell on the marketplace but buyers can join for free. All suppliers are also vetted before being allowed to list their products.
This marketplace does not have a checkout option. You, therefore, have to contact the listed supplier.
Product Categories
Autoparts & Accessories
Consumer electronics
Fashion & Footwear
Machinery & Equipment
Health & Personal care
Home appliances
Sports & Outdoors
Highlight Features
The Request For Quotation service allows you to obtain and compare multiple quotes from different suppliers.
Buyers can attend virtual trade shows hosted on Global Sources.
Buyers can access other business support services in Global Sources.
Payment protection is provided.
CJ Dropshipping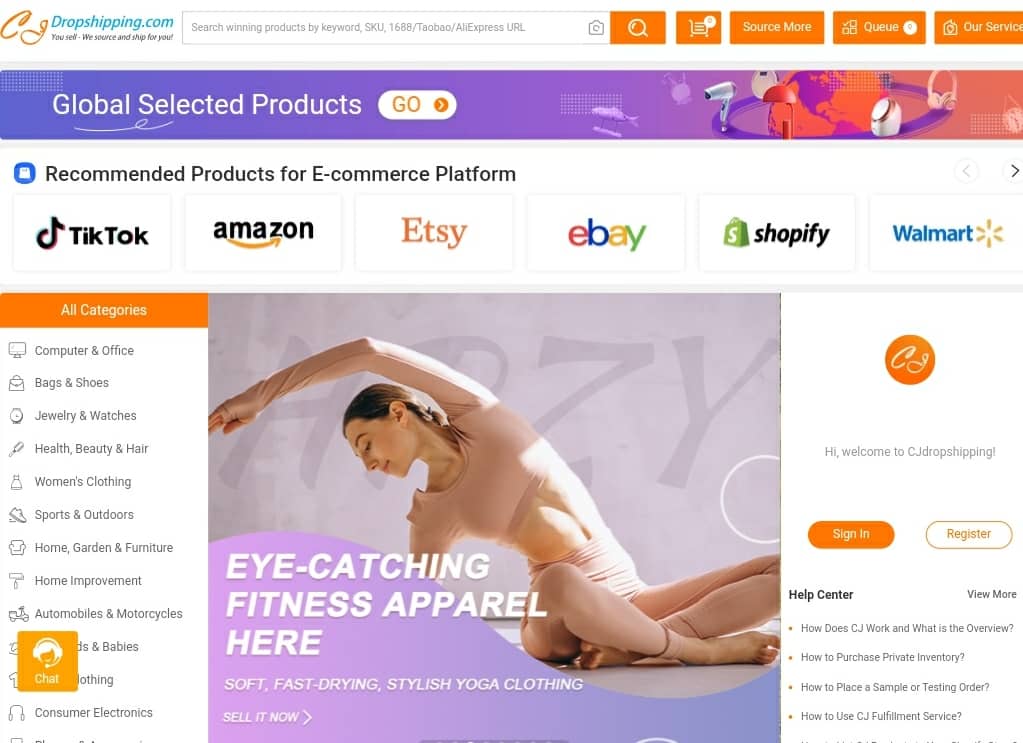 CJ Dropshipping mainly hosts Chinese product suppliers. It has a global reach with warehouses in China, the USA, Germany, Thailand, and Indonesia, making it fast and easy for international clients to receive their orders.
Shopping on this marketplace is quite easy. All you have to do is:
Sign up for an account
Search for the products you need
Create an order stating the order quantity
Provide shipping details
Pay
Product Categories
Computer & Office
Bags & Shoes
Jewelry & Watches
Home, Garden & Furniture
Health, Beauty & Hair
Men's & Women's clothing
Toys, Kids & Babies
Phones & Accessories
Highlight Features
Buyers can buy products wholesale and have CJ dropshipping fulfill their orders or ship the inventory to them.
CJ Dropshipping has an app compatible with most e-commerce platforms.
You can sell products bought on CJ Dropshipping on 3rd party marketplaces or even on social media platforms.
Alibaba
Alibaba is globally renowned as a go-to marketplace for anyone seeking manufacturers and wholesalers based in China. Estimates show that it attracts over 500 million users from around the world.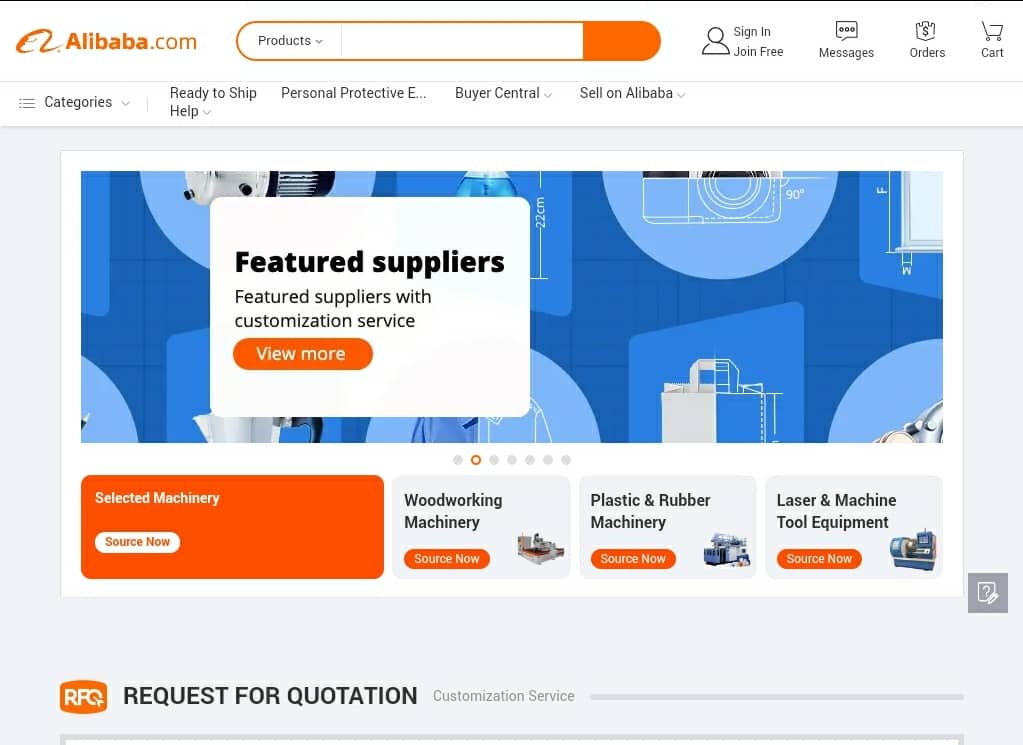 The variety of products that buyers can access on Alibaba is mind-boggling. You can even source custom products if you can not find ready-made products that suit your needs.
Products are listed with prices, MOQs, and supplier details. The marketplace is designed to allow you to add them to your cart and check out. However, if the order is large or you require customization, you may have to consult with the supplier.
Product Categories
Apparel & Fashion
Lighting, Construction & Real estate
Home & Garden
Fabric & Textiles
Beauty & Personal Care
Luggage, Bags, & Cases
Shoes & Accessories
Commercial service equipment
Chemicals, Rubber & Plastics
Highlight Features
Alibaba offers lots of sales and discounts.
Buyers enjoy benefits such as trade assurance, quality inspection on orders, ocean and air freight, and secure payment solutions.
Alibaba is accessible to shoppers in different languages.
DHgate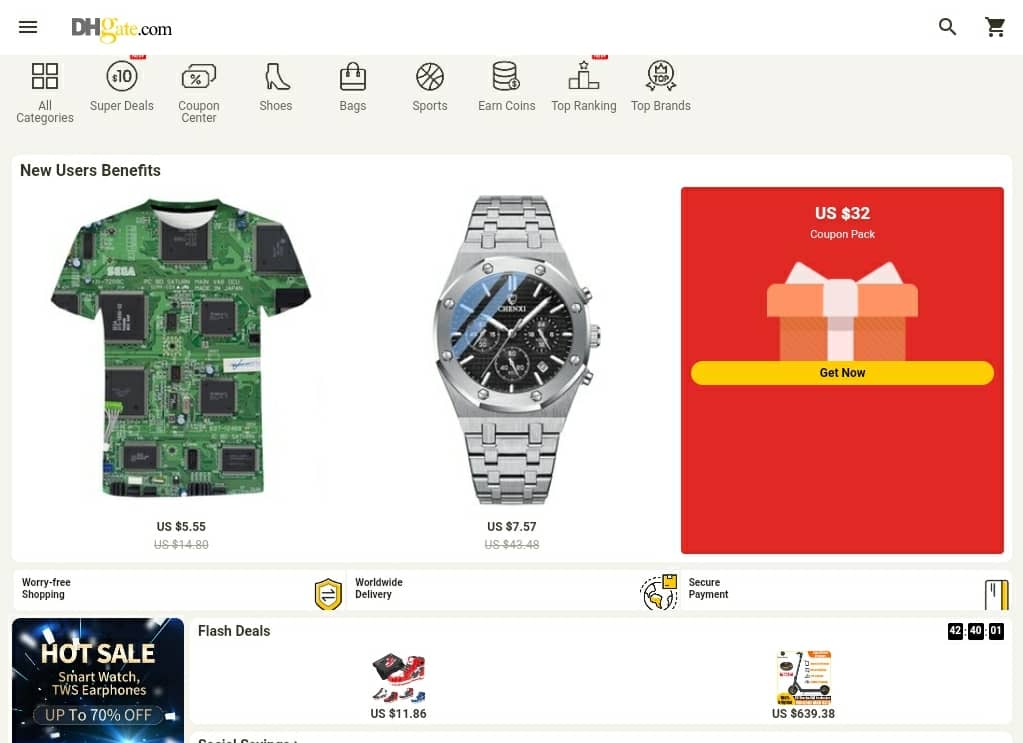 DHgate is another China wholesale marketplace that showcases Chinese and global product suppliers. It lists about 2.2 million suppliers and attracts over 26 million buyers worldwide.
Buyers can access and buy from this marketplace for free by simply creating an account. It is available on the web as well as via the DHgate app. Both platforms have a check-out option.
Product Categories
Sports & Outdoors
Shoes & Accessories
Apparel
Watches
Fashion accessories
Bags
Jewelry
Home & Garden
Health
Highlight Features
DHgate offers incredible shopping discounts.
It is easy to filter goods based on your preferred MOQs, minimum order value, shipping destination, or price range.
DHgate has robust buyer protection policies.
Handshake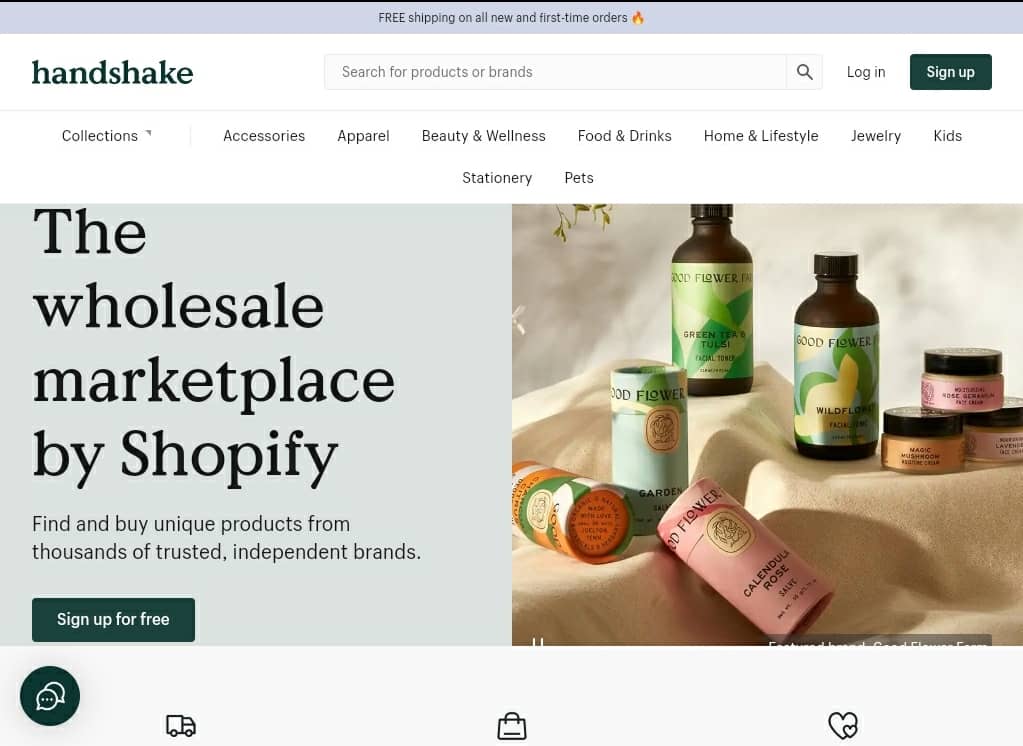 Handshake is a wholesale marketplace created by Shopify. It allows buyers to discover about 1,500 handpicked product suppliers at no charge.
If you choose to source your products from it, you can expect the same intuitiveness that Shopify offers towards e-commerce. Product listings are also well-organized with top-quality images and informative product descriptions.
Handshake currently only caters to buyers in the USA.
Product Categories
Accessories
Apparel
Beauty & Wellness
Food & Drinks
Home & Lifestyle
Kids
Stationery
Pets
Highlight Features
Wholesale goods are mostly sold on a minimum value basis.
Brands that qualify can sell on Handshake for free and thus offer better prices.
If you own a Shopify store, you can seamlessly pair it with your Handshake buyer account.
Abound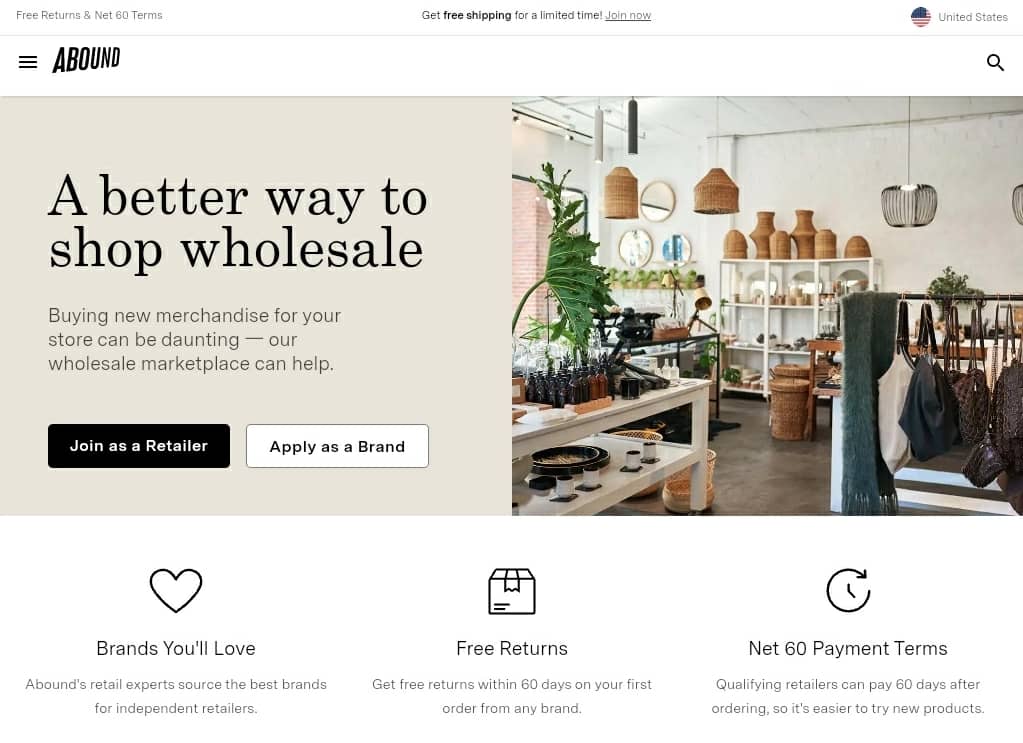 Abound introduces wholesale buyers to small brands that offer unique outstanding products. Each of them is carefully evaluated which means you would not have to worry much about their reliability.
Buyers can join and source goods on Abound for free. However, the signup form requires some details about your business. Sellers, on the other hand, are charged a commission instead of a sign-up fee.
Product Categories
Clothing & Accessories for men and women
Baby & kid's clothing and care products
Beauty
Cards & Paper
Food & Drink
Home & Living
Jewelry
Pet care products
Highlight Features
Products are sold on a minimum value basis.
Abound is only accessible to buyers in the USA and the UK.
Buyers are eligible for free returns within 60 for their first order.
Approved buyers can pay for their orders after 60 days with no interest.
Faire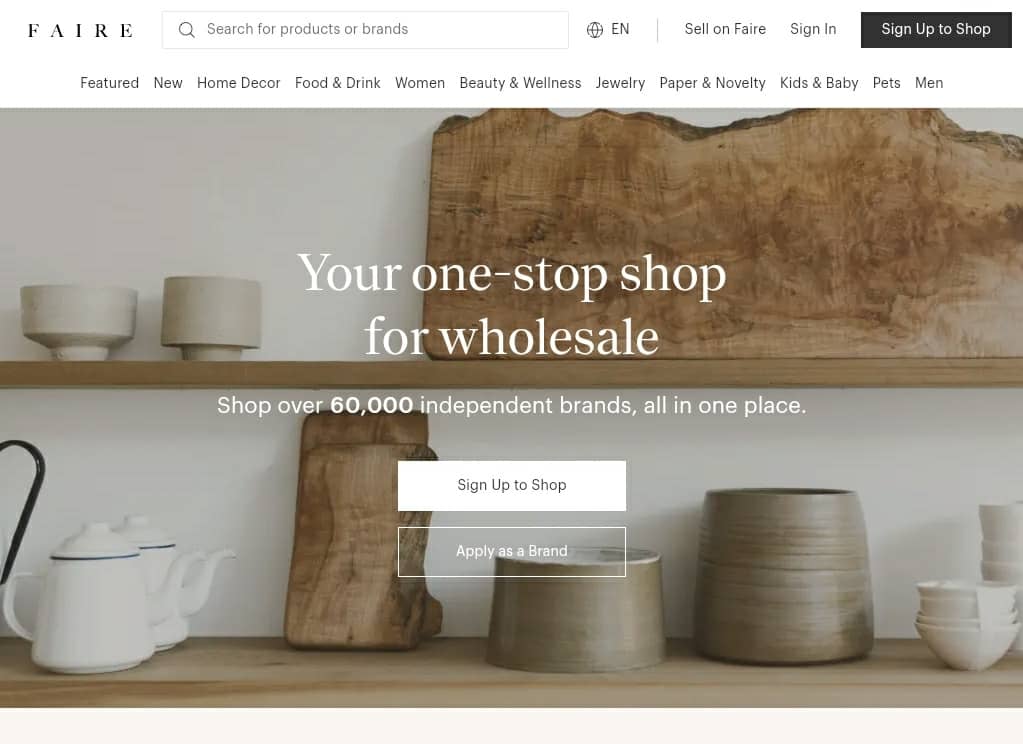 Faire presents over 60,000 brands and suppliers. Over 400,000 buyers shop on it from the USA, the UK, Canada, and multiple countries across Europe.
It will cost you nothing to sign up and start sourcing goods on Faire. However, you need to provide formal documents to authenticate your store or a link to a live online store. This is how Faire confirms your eligibility for wholesale pricing.
Product Categories
Home decor
Food & Drink
Women's/Men's apparel, Accessories & Footwear
Beauty wellness
Jewelry
Paper & Novelty
Kids & Baby
Pets
Highlight Features
Faire offers helpful filters to sort product options based on their brand, brand values, minimum order value, lead time, location, shipping window, and more.
Buyers are eligible for free returns on their first order.
Approved buyers can access 60 net payment terms.
The 'Top Shop Program' makes it easy to identify leading suppliers.
eWorldTrade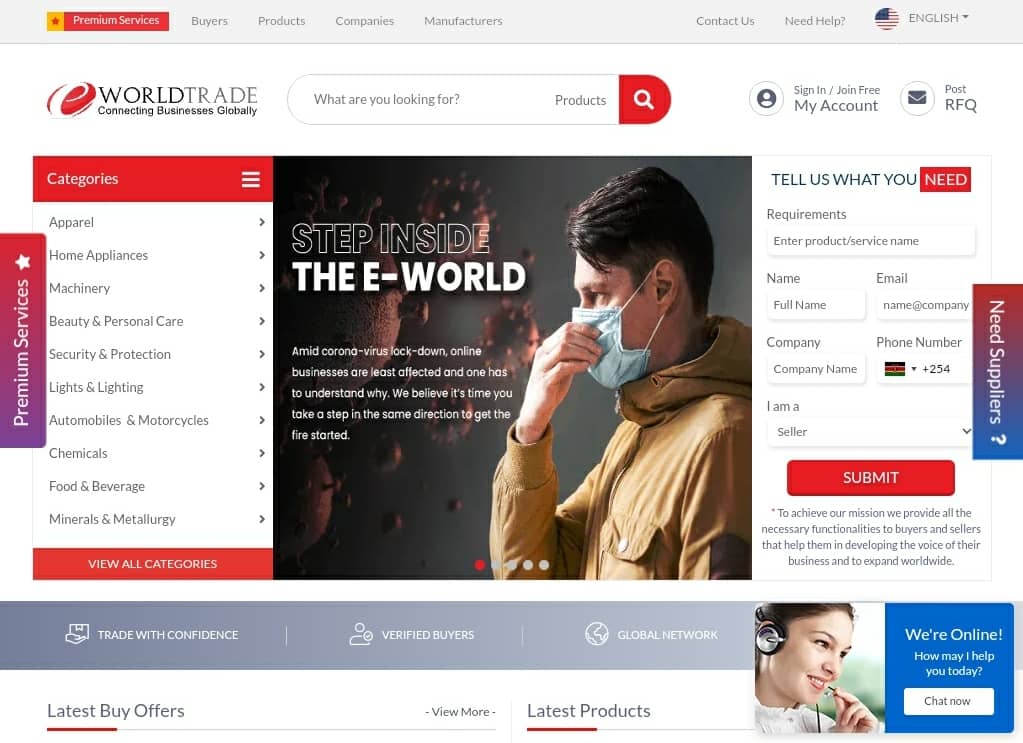 eWorldTrade was established in the USA but it has since grown into a worldwide marketplace that now hosts suppliers, brands, and manufacturers from all over.
Buyers can join for free and enjoy access to buying leads, round-the-clock customer support, and free quotes from sellers.
Notably, products listed on eWorldTrade do not have prices indicated and it is not possible to check yourself out. Instead, you would need to contact individual suppliers of the goods you would like to buy and inquire about price, MOQ, and such details.
Product Categories
Minerals
Chemicals
Beauty & Personal care
Security
Toys & Hobbies
Furniture
Food & Beverage
Home & Garden
Highlight Features
eWorldTrade hosts virtual trade shows.
Buyers can access value-adding services like special product recommendations.
FAQs about Online Wholesale Marketplaces
Which Is the Best Wholesale Marketplace?
It could be misleading to pick one marketplace and proclaim it as the best overall. This is because every business has different sourcing needs and, therefore, what works for your business may not work for another.
So, here is a better response. The best wholesale marketplace is one that meets your business' sourcing requirements.
If you can find exactly what you need in an online wholesale marketplace, at a favorable price, and the suppliers ship to your destination, then you are certainly on the right platform.
What Are the Benefits of Sourcing Goods from an Online Wholesale Marketplace?
Sourcing goods wholesale means that you will be buying in bulk. As such, it is understandable that you may feel skeptical about doing so online.
However, here are some benefits of online marketplaces that are worth considering.
Online wholesale marketplaces give you access to numerous suppliers at your convenience. They make sourcing goods much easier, faster, and cheaper.
Product prices on wholesale marketplaces are affordable and could thus boost the profitability of your business.
Online wholesale marketplaces list goods from different brands. This allows you to compare different options and choose a suitable supplier for your business.
Beyond just sourcing goods, some wholesale marketplaces also provide business support services such as dropshipping order fulfillment, access to virtual trade shows, and escrow to secure payments.
What Factors Should I Consider When Choosing an Online Wholesale Marketplace to Source Goods from?
It is advisable to consider:
Product variety – aim for a marketplace whose suppliers sell what you need as well as other products related to your niche. The latter will, particularly, be instrumental for the growth of your business.
Prices – compare prices on different platforms and identify one or two where suppliers offer the best value for money. Factor in costs like shipping too to get better price estimates.
Minimum Order Quantity/Value – aim for a wholesale marketplace where suppliers sell at a minimum order quantity or minimum order value that matches your budget and the quantity of goods you require.
Shipping – what areas do suppliers on the marketplace ship to? How long does it take and how much does it cost? Is it possible to find quicker or better shipping terms on another wholesale marketplace?
The brands/suppliers – every wholesale marketplace lists products from specific brands or suppliers. Examine their reputation and reliability through ratings on the platform and independent reviews to avoid scams and other mishaps.
In Conclusion
Sourcing goods on online wholesale marketplaces can be a game-changer for your business.
It exposes you to a whole new variety of products that your customers may appreciate and your competitors may not have access to. All while improving your profit margins and saving you travel expenses.
Anxious about trusting online vendors or navigating import processes? Well, you do not have to do it alone. We can source products on your behalf from trusted suppliers, inspect your goods, guide you through the purchase, and organize worldwide shipping.
Plus, partnering with us is easy. Let us know what you need, request a free quote, and we will get back to you with top wholesale supplier options.