Have you ever wondered – why is DHgate so cheap compared to other marketplaces? DHgate is one of China's leading B2B eCommerce marketplaces and one of the most popular destinations for bargain hunters.
But, how come items on DHgate are so cheap? And do these low prices come at a greater cost (pun intended)?
In this must-read guide, we'll explore the reasons behind DHgate's low prices and provide you with helpful tips on how to shop safely on the platform in 2023.
So, let's dive in!
What Is DHgate?
DHgate.com is a leading cross-border B2B eCommerce marketplace that caters to medium and small-scale retailers worldwide.
Established in 2004, DHgate is headquartered in Beijing with offices located in several countries, including the US and UK. Their business model focuses on facilitating the purchase of wholesale goods by overseas buyers, particularly resellers.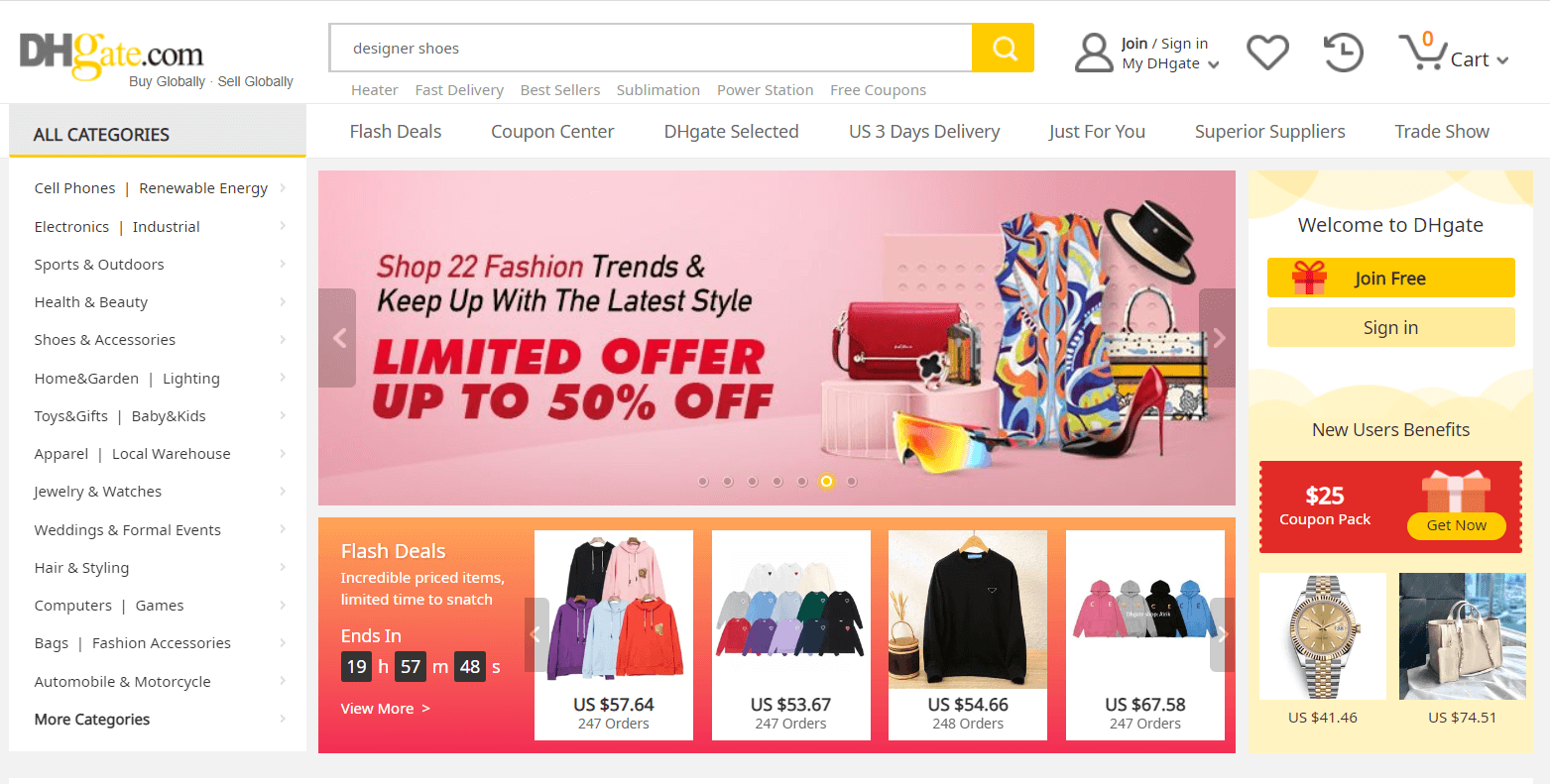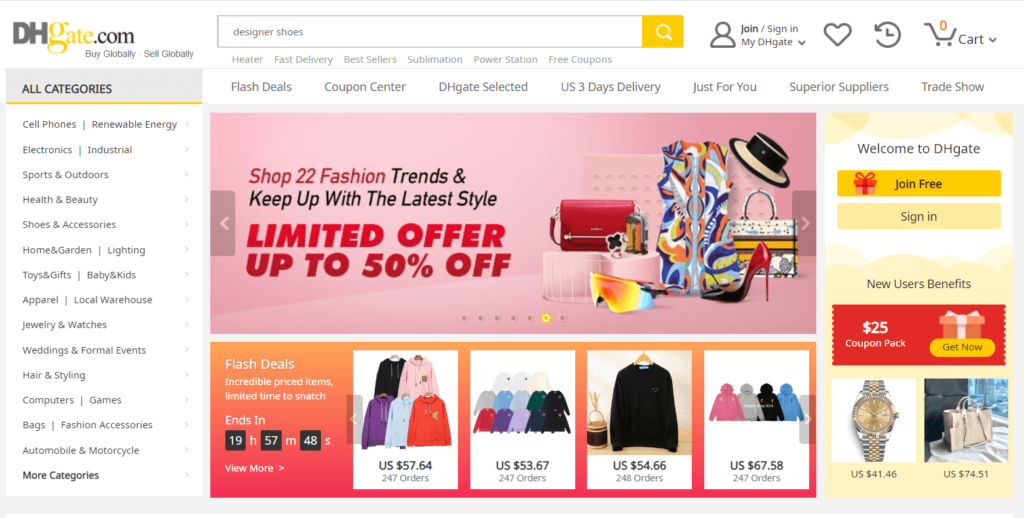 DHgate offers a vast range of product categories, such as apparel, consumer electronics, shoes and accessories, bags, home, garden products, and more – all sourced from China.
Considering that most individual sellers on DHgate are manufacturers or wholesalers, it's no wonder they have some of the most competitive prices out there.
Lastly, the platform currently hosts over 32 million product listings and incredible 31 million individual buyers.
How Does DHgate Work?
Similarly to AliExpress, DHgate doesn't sell or ship anything. Instead, it consists of many third-party individual sellers with different offers, product qualities, shipping costs, etc.
Joining DHgate and creating an account is free for both buyers and sellers.
Let's see step by step how you, as a buyer, can place an order and make a purchase on DHgate.
Sign up for a new buyer account
Search for the product you need to buy
Check product and store reviews
Place an order
Define the logistics (shipping costs)
Complete the payment
Funds stay in DHgate Escrow
Seller ships your order
You receive and check the goods
DHgate releases the funds to the seller once you confirm the delivery
DHgate Product Categories
When it comes to product variety, DHgate doesn't disappoint. Here are all the product categories you can find on DHgate:
Electronics | Industrial
Sports & Outdoors
Health & Beauty
Shoes & Accessories
Home & Garden | Lighting
Toys & Gifts | Baby&Kids
Apparel | Local Warehouse
Jewelry & Watches
Weddings & Formal Events
Hair & Styling
Computers | Games
Bags | Fashion Accessories
Automobile & Motorcycle
Office & School Supplies
Business & Industrial
Video Surveillance
Intercom & Access Control
Tactical Gear
Guitars & Accessories
Household Appliances
DHgate Payment Methods
Considering that DHgate caters to worldwide buyers, it's no wonder that they accept most major payment methods worldwide:
Credit Card (VISA, MasterCard, American Express)
E-wallet (Skrill, MasterPass)
Bank Transfer
Credit/Debit Cards (Diners, Discover, UnionPay, Maestro Card)
Apple Pay
Aside from these global payment options, there are also country-specific ways to pay. You can see all of them here.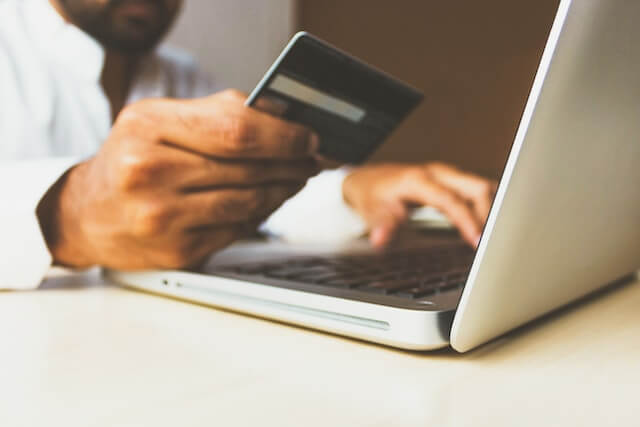 DHgate Shipping
When you're about to buy a product on DHgate, you'll see several carriers available, and you should choose the one that fits you best.
Most sellers on DHgate will say they offer free shipping to attract buyers. However, in reality, they offer only ePacket free shipping, which can take weeks to arrive.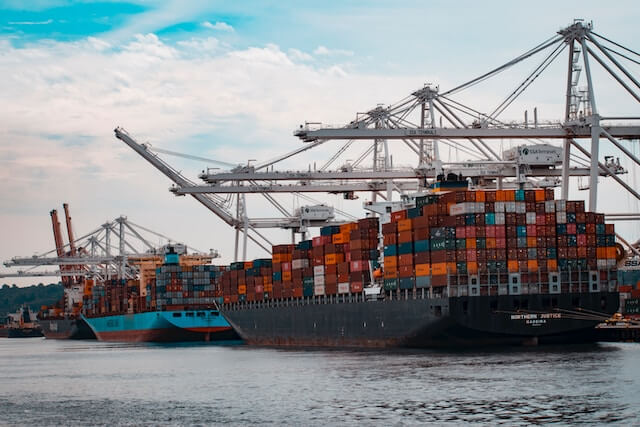 Here are all the available carriers (from slowest to fastest):
ePacket
EMS
TNT
DPEX
UBI
UPS
FedEx
DHL
Note that the shipping costs are one of the biggest problems when buying from DHgate. Depending on the country, many products don't have free shipping at all, and options like DHL can cost a fortune – often much more than the product itself!
If you order larger quantities, you could negotiate the shipping costs with the seller. However, for smaller quantities, the shipping is usually immensely expensive.
Check out this DHgate shipping guide for more in-depth information.
DHgate Buyer Protection
In theory, DHgate's Buyer Protection program involves holding payment until the seller delivers the product and the buyer confirms receipt. This is done using Escrow, which acts as a safeguard for both parties during a transaction.
If issues arise between the buyer and seller, DHgate can offer a full or partial refund to the buyer. The buyer has to open a dispute in order to do this.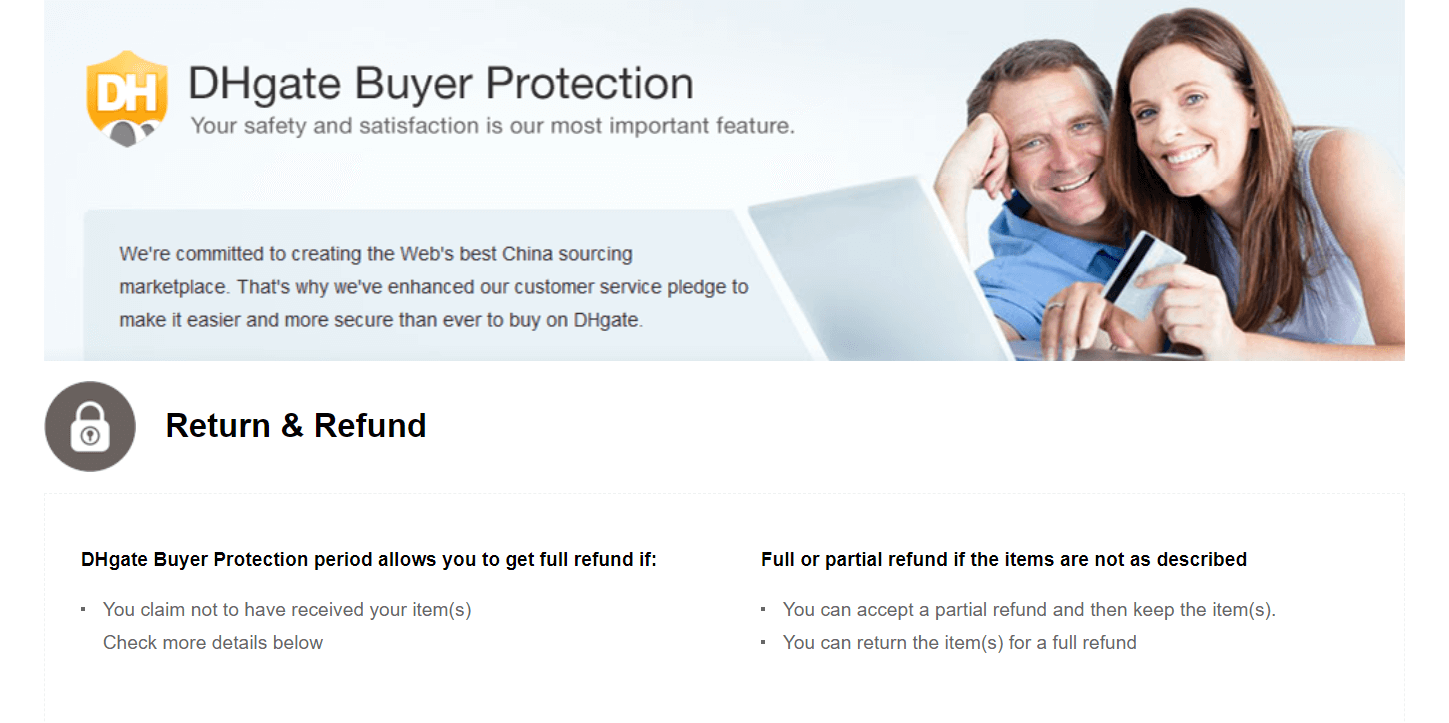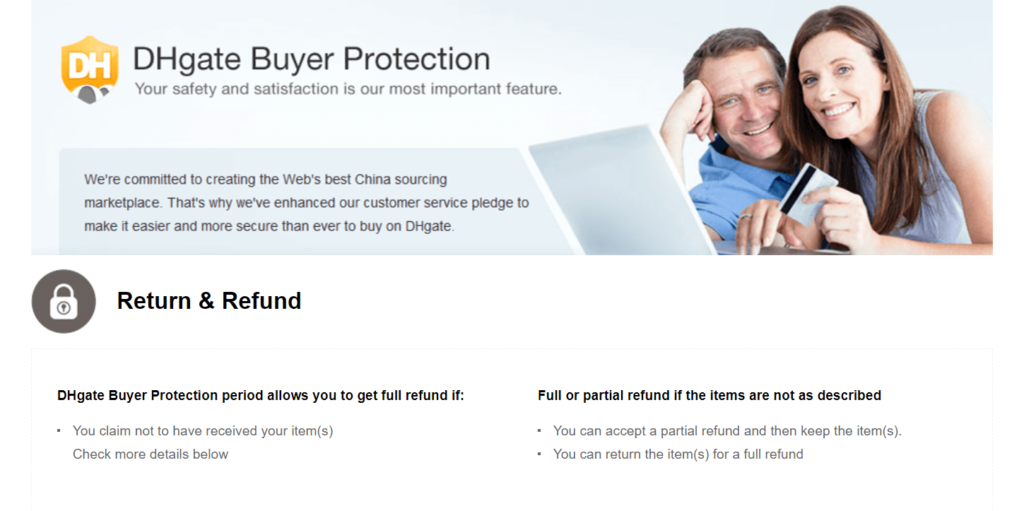 The "Return & Refund Guarantee" is a seller promise on products sold on DHgate.com. If an item is not as described or has quality issues, the buyer will receive assistance from the seller to resolve the matter.
In the event that the seller is uncooperative, DHgate provides additional support to ensure a satisfactory outcome for the buyer.
In practice, buyers don't always get full refunds and often deal with unresponsive sellers.
DHgate Quality Control
Some of the most unsatisfactory buyer reviews for DHgate products point to a lack of proper quality control. This applies to products that don't match the description, are of lower quality than expected, and have similar issues.
As a DHgate buyer, activating an "Inspection Service" for certain products is possible, but this only applies to orders over $200 and shipments with expensive express carriers like DHL, FedEx, UPS, TNT, etc.
Is DHgate Legit?
DHgate is a legit B2B eCommerce marketplace that connects global buyers and sellers from China. Keep in mind that, unlike Amazon, DHgate functions as an intermediary platform between buyers and individual sellers. This means that choosing the right seller is crucial!
So, while DHgate is unquestionably a legitimate platform, its reliability depends entirely on the credibility of the seller you choose to buy from.
Pros and Cons of DHgate
Next, let's take a look at the advantages and disadvantages of buying from DHgate.
DHgate Pros: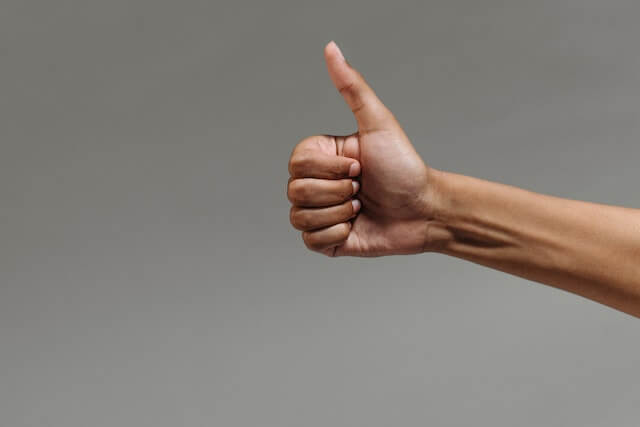 Cheap prices which are even lower for buying in bulk
Possibility of bulk buying and dropshipping
Most items have no (or low) MOQs
A wide range of products available
The ability to see seller and product reviews
A variety of payment methods
Buyer Protection (funds stay in Escrow until receiving the product)
Most sellers ship worldwide
DHgate Cons: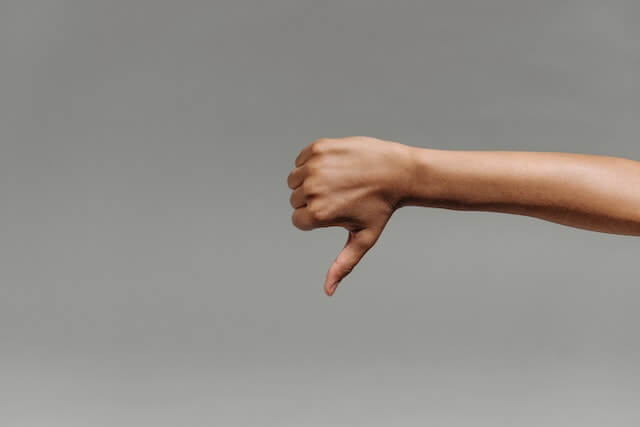 Lots of replica products or fake brands
Lengthy shipping times
High shipping costs
Product quality can vary depending on the seller
Not the best customer service
Many unreliable sellers
Why Is DHgate So Cheap?
Now that we've explained what DHgate is and how it works, we're left wondering – then why is DHgate so cheap? Let's see!
1. No Third-Party Middlemen Involvement
Most sellers on DHgate are factories or manufacturers, meaning no third parties are involved. This allows the sellers to list their products at cheaper prices.
If you buy from retailers, for instance, the price for the same product would be much more expensive since the retailer also adds his earning.
So, when you buy from DHgate individual sellers who are manufacturers, you get factory prices.
2. Selling Excess Stock at Reduced Prices
Since DHgate sellers are mostly manufacturers, it's no wonder they often produce more than they manage to sell from a single product.
In these cases, they will list their stock surplus and sell it at discounted prices, with little to no profits for themselves. This is typically done in case of storage issues, and it allows them to make space for their new stock. It's a win-win scenario for customers looking for bargain deals!
3. Based in China with Low Production Costs
DHgate is based in China, where production and labor costs are lower than in many other countries. This allows the platform to offer products at lower prices than its competitors.
4. No Physical Store Costs
DHgate operates entirely online, eliminating the need for physical stores and associated costs like rent, utilities, and maintenance. Instead, individual sellers use their DHgate online shops to list and sell items at factory prices.
5. No Advertising Costs
DHgate doesn't spend any money on advertising. Instead, it relies solely on word-of-mouth and search engine rankings to attract new customers. This approach helps keep costs low and explains why the platform offers many affordable products.
6. Wholesale Prices for Bulk Orders
Products on DHgate are cheap as it is, but their prices get even lower when you buy in bulk. Typically, the larger the quantities you buy, the cheaper the prices.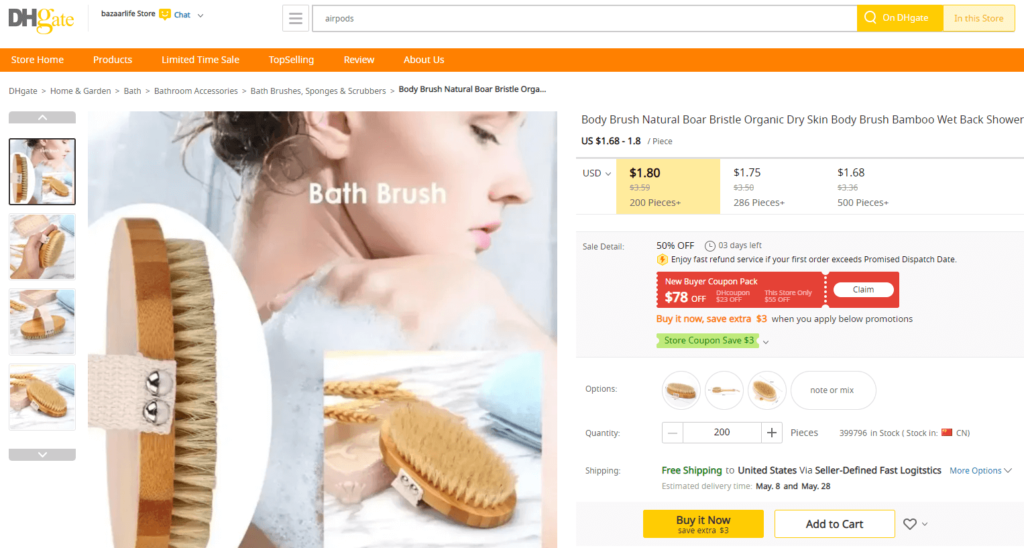 7. Fewer Taxes and Fees
The price we pay for any given product almost always includes taxes, fees, and other charges. However, when purchasing items on DHgate, these costs are significantly reduced because the platform is based in China and most sellers are as well. This means fewer fees and taxes are added to the cost of items, resulting in lower prices for customers.
China has no national income tax or sales tax (VAT), and only levies local taxes on companies. As a result, prices on DHgate can be much lower compared to Europe or North America where these taxes are present.
8. Low Seller Commissions
DHgate operates on a commission basis, like most other marketplaces, but with a significantly lower commission rate. While Amazon and eBay charge sellers 15-20% and 10-15%, respectively, DHgate only charges around 3%.
This lower commission structure enables sellers to sell products at lower prices. Plus, DHgate doesn't charge sellers listing fees, maintenance fees, etc. This further enables sellers to offer their products at lower prices.
9. Lots of Sellers and Competitive Prices
On DHgate, sellers are free to set their own prices for the items they sell. This approach may seem like it would result in high prices, but it's quite the opposite.
Since sellers compete with each other, they tend to lower their prices to attract more customers. And, of course, you, as the buyer, benefit greatly from these competitive prices.
10. Replica Products
If you've browsed through DHgate at least once, for sure you've noticed ridiculously low prices for seemingly "branded" pieces of clothing or accessories. Even products with names like Dolce & Gabbana, Dr. Martens, and Gucci are on the platform.
Well, if it wasn't clear from the price point already, these products are not original brands but replicas. Since selling replicas is frowned upon (and might even cause you problems with customs clearance), we recommend sticking to non-branded products if you plan to resell the products.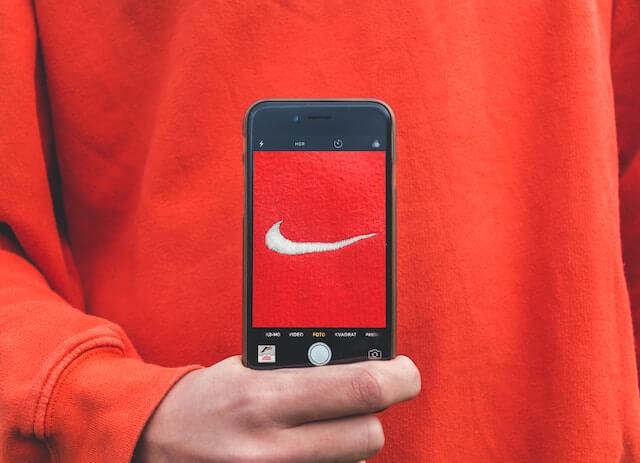 11. Price Negotiation Possibility
Last but not least, it's important to note that negotiation and bargaining are not out of the question when you buy from DHgate.
In fact, negotiating can lead to better deals and discounts, especially if you place a bulk order.
Tips on Buying from DHgate Safely
Equipped with all this info, let's see some best practices for buying from DHgate safely:
Always Pay through DHgate
We advise you to never pay a seller directly, outside of the DHgate platform. Always pay through DHgate so that you can use their Buyer Protection and Escrow service, and stay on the safe side.
If you pay privately to a seller, DHgate cannot help you with any disputes in the future, and you won't qualify for a full or even a partial refund.
Evaluate Sellers Carefully
Before you buy any product from DHgate, it's advisable to evaluate the seller in terms of:
Years operating: the more, the better, but at least 2 or 3 years is satisfactory;
Seller feedback: we recommend going for sellers with 95+% positive feedback;
Product quality: above average;
Customer service: above average;
On-time delivery rate: green arrow up;
Store categories: most professional sellers will sell products that belong to one specialized niche;
Read Product Reviews
We recommend sticking to products that have over 4.5-star feedback and lots of positive reviews (aim for over 100 reviews to ensure that they're legit and not posted by the seller). This will show you that the majority of customers were satisfied with the product quality and shipping times.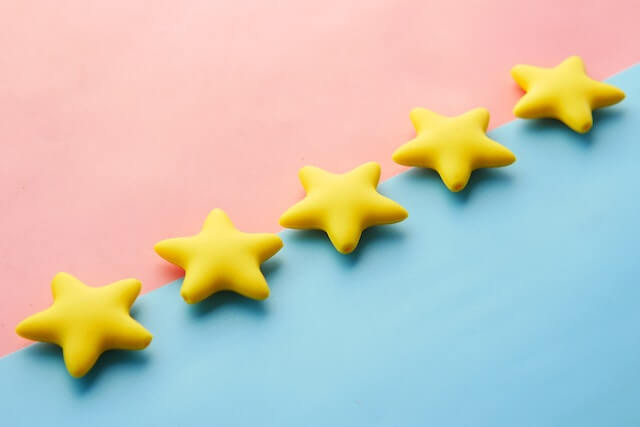 Look at Real Buyer Photos
Many DHgate buyers leave product reviews with attached images. We recommend checking out these images before you buy from DHgate since they will show you what the product looks like in real life.
Often, product descriptions and photos uploaded by sellers don't match the actual product. So, looking at buyer photos can help you make an informed decision.
Check the Delivery Date on Products
When placing an order and choosing your shipping methods, you'll always see an estimated delivery date. Don't forget to check this before buying since their free shipping options can take up to two months to arrive, depending on your destination.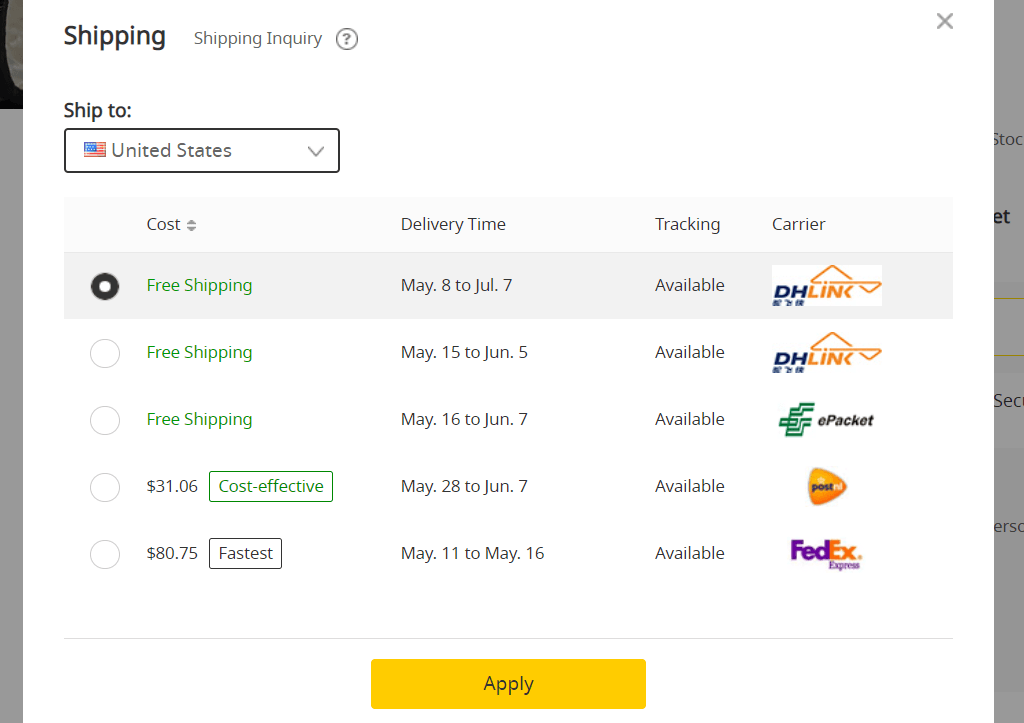 Ask for a Tracking Number
The best way to ensure that your product arrives is by asking the seller for a tracking number. If they're unable to provide it, they should contact the carrier company and ask for it.
To add another layer of safety, you can aim for sellers that have "Top Merchant" or "Premium Merchant" badges displayed. If you find a seller for your product with these badges, this would be the safest option.
Don't Confirm the Delivery Beforehand
As mentioned above, when you buy a product on DHgate, your funds stay safe in Escrow. They only get released to the seller once you confirm that you received your order. So, we advise you to wait until you actually receive the product and are able to check it before you confirm.
Always Read Product Descriptions Carefully
Don't rely solely on product photos when you buy from DHgate. Often, the product images will be misleading, but the description will be accurate.
If you skip the description where the seller wrote exactly what you're getting, your dispute will be refused by DHgate later on since, technically, you were informed about everything beforehand.
Order a Sample Beforehand
Asking for a sample or ordering a single item is always recommended before placing a bulk order. Unfortunately, in many cases, the shipping costs on DHgate are enormous, especially for small quantities. This often prevents buyers from ordering samples.
FAQs
Lastly, let's answer some of the most frequently asked questions on the subject of DHgate being so cheap.
Is It Safe to Buy on DHgate?
If you do a fair amount of research into the seller and know what you're doing, buying on DHgate can be safe. However, note that some of the most common complaints and reviews for DHgate products are the following:
Product quality not as described
Products arrived late or didn't arrive at all
High shipping costs
Bad customer service
Are Things from DHgate Fake?
You can find some great products and deals on DHgate but also many replicas and even counterfeit products. So, if you see a brand name on a product with surprisingly low pricing, it's most likely a replica.
If you plan to resell your products, we recommend against buying counterfeit or replicas since this might cause customs clearance issues and harm your local business as well.
How Do I Know If a DHgate Seller Is Legit?
You can do a bit of research and dig through the seller's profile to make sure they're legit. Aim for sellers who:
Sell products in one niche (or two related niches);
Have over 95% positive feedback;
Have been operating at least 2 years on DHgate;
Have above-average product quality, customer service, and on-time delivery stats;
Have badges displayed in the Buyer Protection section (Return Policy, Refund for No Delivery, Secure Payment);
Are responsive and don't take too long to get back to you;
Does DHgate Sell Illegal Items?
Although it's definitely possible to find trustworthy DHgate sellers with legit products, many are not legit in terms of being replicas or counterfeit. If the seller has clearly stated that the product is a copy of the original (but not the actual original), then we're talking about a replica.
However, if the seller lists the product and tries to deceive customers into thinking he's selling an original brand, then it becomes a counterfeit product.
Which Is Safer – DHgate or AliExpress?
Both AliExpress and DHgate can be safe to use with some seller research in advance. However, in terms of quality control, buyer protection, and seller verification, AliExpress seems to be a better choice.
Note that AliExpress is a B2C platform while DHgate is mainly B2B. This means that bulk orders might be cheaper on DHgate than on AliExpress. However, the high shipping costs on DHgate almost always compensate for the difference.
Do You Get Your Money Back If You Get Scammed on DHgate?
In most cases, you will get a full or a partial refund if you get scammed by opening a dispute (as long as you didn't deal with the seller outside of DHgate):
A full refund if you agree to return the product;
A partial refund if you keep the product;
Note that in most cases, the shipping costs for the return fall on the buyer. Considering how expensive this can be, it might be better to settle for a partial refund and keep the products.
You'll need a valid reason for the refund request. For instance:
The product did not arrive as described;
The product didn't arrive within the deadline;
The product didn't arrive at all;
The product arrived damaged;
Final Words
By connecting Chinese manufacturers and wholesalers directly with buyers around the world, DHgate is able to offer products at wholesale prices, which are often significantly cheaper than what you'd find on other online marketplaces.
However, as with any online purchase, it's important to be cautious and do your research before buying from DHgate. By following the tips outlined in this article, you can safely and successfully buy from DHgate while taking advantage of their low prices.
And, if DHgate is still too risky for you, get in touch with us and ask for a free quote! As a leading sourcing agent in China, we can also buy directly from factories and offer you the best price vs. quality ratio on the market – without any of the risks!