Knowing how to buy wholesale products in bulk is crucial for anyone in eCommerce or retail who wants to scale and grow.
The way you choose a wholesaler can make or break your business. After all, the supply chain is one of its most important elements. So, you need wholesalers that are trustworthy, reliable, and ready to meet your growing needs.
With the help of this guide, you can learn how to buy from a wholesaler with ease as well as all other details surrounding wholesale ordering and distributors.
Let's jump right in!
What Does It Mean to Buy Wholesale?
Buying wholesale simply means buying in bulk directly from a manufacturer or a wholesaler at a discounted price. As a result, you get lower wholesale prices and higher profit margins.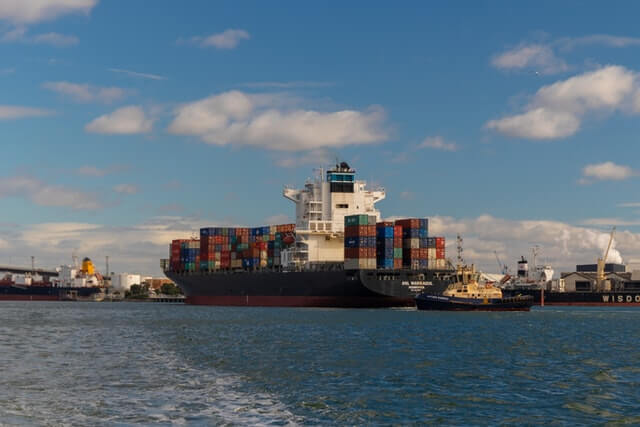 What Are Wholesalers and Their Types?
Wholesalers are people or companies that sell products in bulk to a retail business, usually at low prices. The supply chain typically looks like this:
Manufacturer → Wholesaler → Retailer → Consumer
However, the manufacturer can also act as a wholesaler. And, the wholesaler can sometimes act as a retailer. In fact, there are different types of wholesalers that you can come across:
Manufacturers
If you have the option to choose a wholesaler, always go for manufacturers. Buying directly from a factory will give you the best bulk prices. Additionally, buying from a manufacturer will give you the option of OEM or ODM services, private labeling, or white labeling.
Retail Wholesalers
As the name itself suggests, retail wholesalers buy in bulk from manufacturers and then resell the products to retailers, also in bulk.
Merchant Wholesalers
The SHEIN platform is the perfect example of a merchant wholesaler. They buy in bulk from manufacturers and resell to retail businesses but sell directly to end consumers as well.
Avoid this type of wholesalers since they're also your direct competition.
Naturally, we can also categorize wholesalers according to their other attributes.
Based on their specialization:
General wholesalers – they resell all types of products in bulk.
Niche (or product line) wholesalers – they resell products belonging to one line or niche.
Specialized wholesalers – they specialize in one specific type of product and sell nothing other than this product.
Based on their area of operation:
Local wholesalers
Regional wholesalers
International wholesalers
Do You Need a Wholesale License to Buy Wholesale?
In theory, if you plan to resell the products individually, you do need a wholesale license, otherwise known as a reseller's license, a reseller's permit, a reseller's certificate, or a sales tax permit.
However, to just buy wholesale items or buy bulk products for personal use is completely legal and allowed. The issue is only reselling these items if you don't have a permit.
A wholesale license is needed because:
It helps observe and control supply and demand which is not possible with unregistered sellers and buyers.
You need to adhere to local tax laws and pay your taxes. Otherwise, it can be considered tax evasion.
It keeps both sides of the transaction protected and makes them a legit business entity.
All in all, if you plan to lead a long-term retail or eCommerce business in a legal way that won't bring you in trouble with the law, then having a wholesale license (as well as other supporting permits) is a must.
What Do You Need to Buy Wholesale for Resale?
Here, what we're going to discuss are under laws and regulations. So, if you live elsewhere, please do your due diligence and check your local laws.
Generally speaking, to buy wholesale products for resale, you'll need:
A Company
If you're in the USA, you can choose between five different company options:
A Limited Liability Company (LLC)
Sole Proprietorships
Partnerships
Corporations
S Corporations
Typically, retailers and eCommerce business owners choose an LLC at first since it's the safest option.
A Business License
The next thing you might need is a business license which is practically your permit to operate within a specific region. Each state has different rules and laws, so check what types of licenses are needed in yours.
An EIN Number
In the US, the IRS requires you to issue an Employer Identification Number which will serve for filing business tax returns. You can get your EIN by applying on the IRS website online.
A Tax ID (TIN)
If you sell products in different states, you'll also need a Tax ID since you'll need to collect sales taxes. This is otherwise known as a Taxpayer-Identification Number or TIN.
A Wholesale (Reseller) License
Next, you need a wholesale license or a reseller's license. Although it sounds complicated, obtaining a reseller's license is beneficial in terms of sales taxes.
An Insurance Policy
Next, you'll need to get insurance. Having insurance will protect you against anything going wrong in your business or at least cover some of the damage.
The Right Wholesaler
Last but not least, you'll need the right wholesaler. Different business models have different supplier needs. Consider the type of product you need, the price, quality, customer service, customization needs, etc.
The above requirements apply to a US company and they can slightly differ from one state to another. However, if you live in another country in the world, you might have different local laws.
How to Buy Wholesale Without a Business?
Without a business entity or a tax ID number, the only way to buy wholesale products is like a consumer. However, legally, you aren't then allowed to resell these products.
So, buying in bulk is allowed as an individual consumer without a company. However, reselling your wholesale purchase is not.
How to Buy Wholesale for Resale Online?
Sourcing wholesale products for resale can be tricky at first, especially if you haven't bought in bulk before. It entails buying larger quantities at discounted prices and then selling them individually to the end consumers for higher prices (a retail price).
To buy wholesale products online, you can visit one of the many online marketplaces we will mention in the next section (Alibaba, CJDropshipping, Made-in-China, etc.), browse online eCommerce forums, or just use Google.
How to Buy Wholesale from a Manufacturer?
Buying wholesale from a manufacturer or a factory will give you the best prices possible. Additionally, this is the best route for retailers that need product customization or OEM services.
However, buying from a factory can be tricky especially since most factories are located in China where you might experience language barriers and communication problems.
To buy directly from a factory in China, you have several options:
Where to Buy Wholesale Products?
Here are some options including online marketplaces and other sources you can use to buy wholesale:
1. Alibaba
Alibaba is the most well-known B2B marketplace on the globe. There, you can find different types of wholesale distributors, including factories and manufacturers.
On Alibaba, you can search for products or suppliers. If you search for suppliers, you can filter your results to show you only Verified Suppliers and those with a Trade Assurance badge.
Check out these tips for buying from Alibaba safely.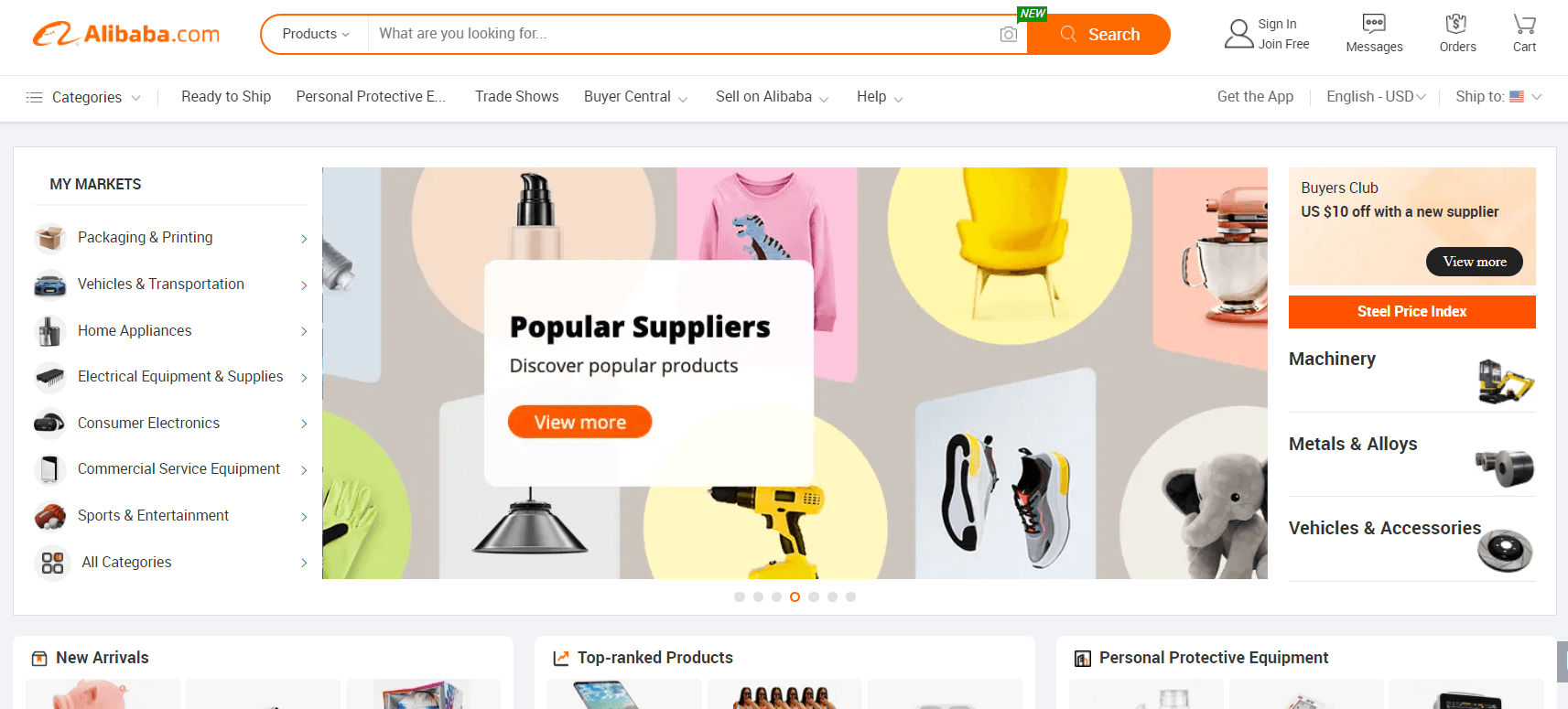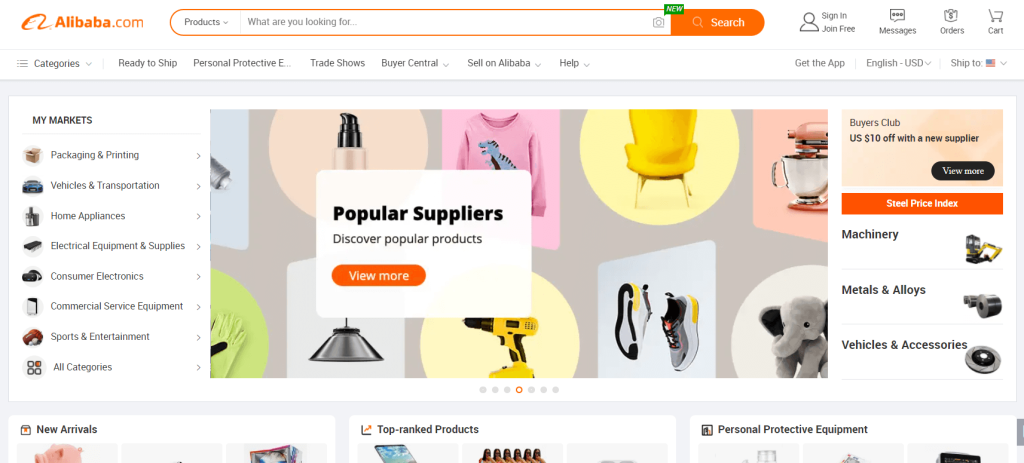 2. CJDropshipping
CJDropshipping is another platform where you can find wholesalers that sell all types of products in every niche imaginable. They have warehouses in many different countries worldwide, which can help you cut down your shipping costs and time.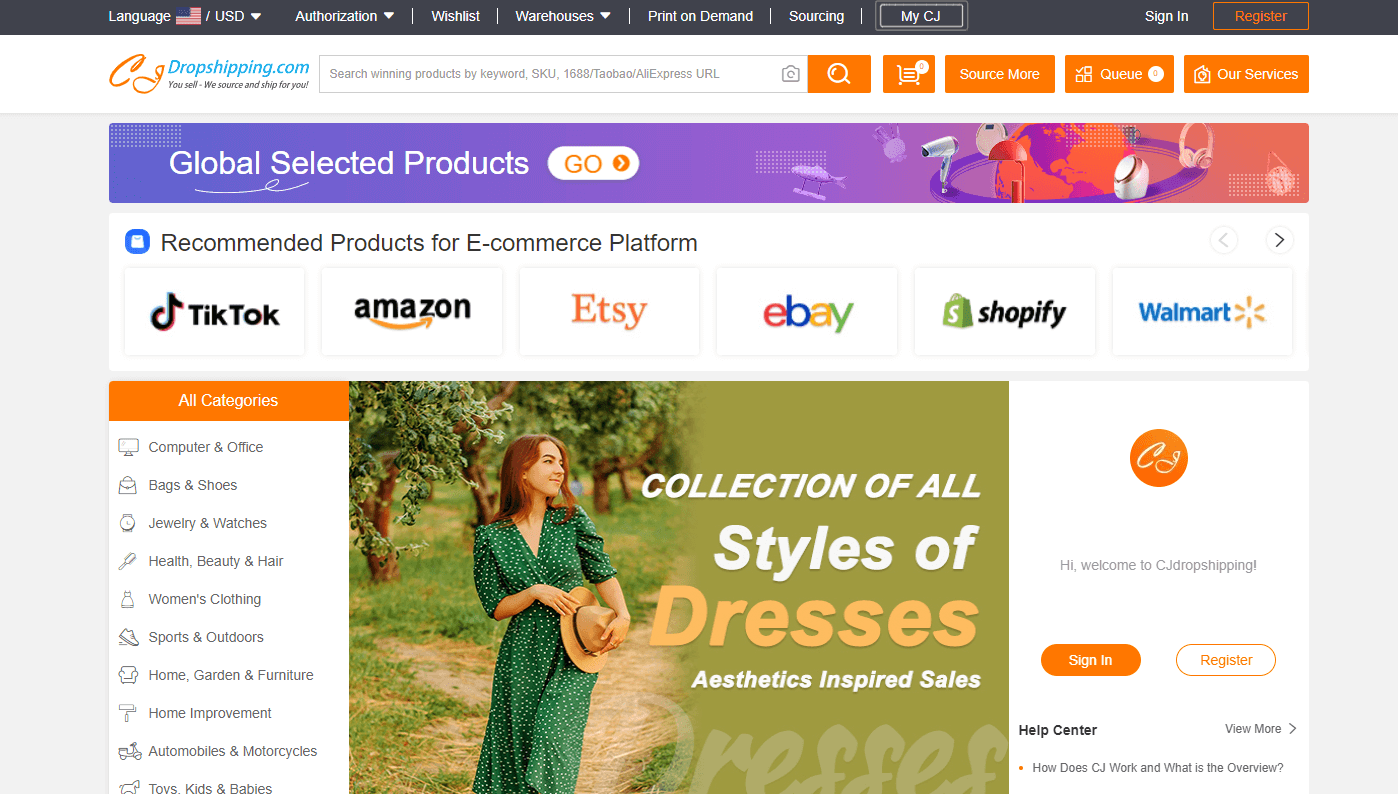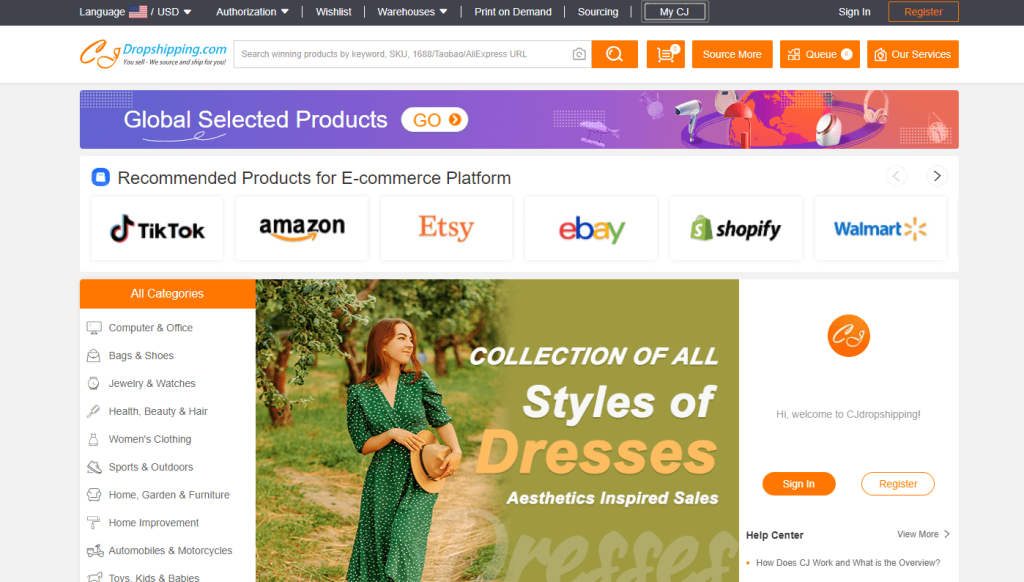 3. DHgate
Next, we have DHgate – a China-based marketplace where you can find different wholesalers selling all types of products. DHgate can be great for both dropshippers and bulk buyers since it has low or zero MOQs.
Be wary of ordering replica products from DHgate since you might face customs clearance problems in different countries.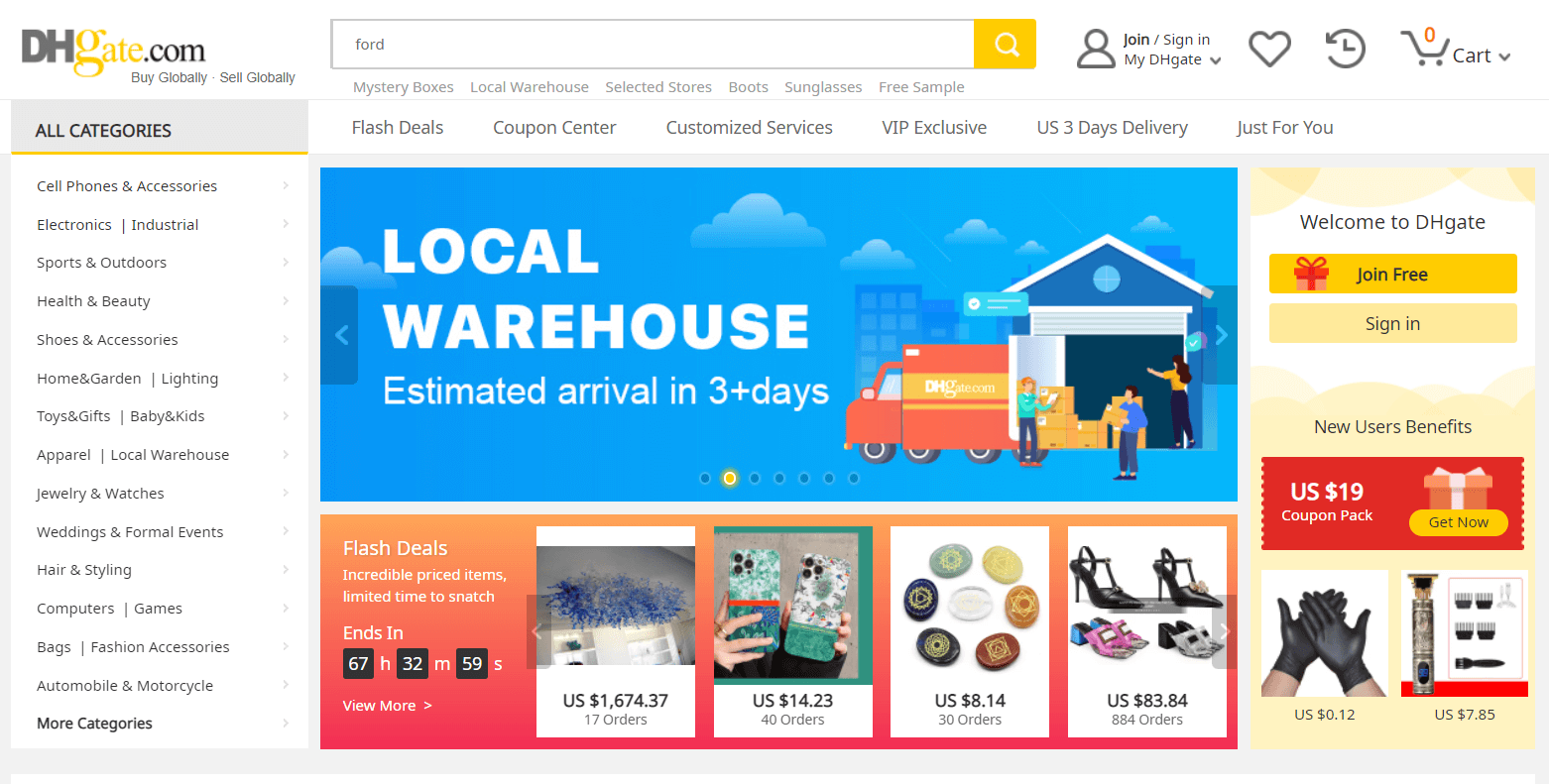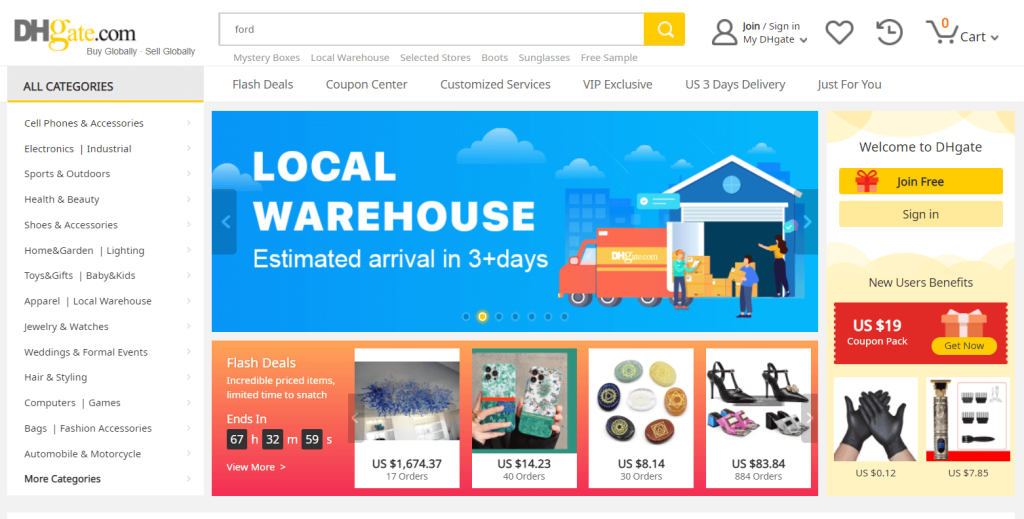 4. Global Sources
Our next suggestion is Global Sources, another China-based B2B marketplace with incredible prices and generally low MOQs. Global Sources offers a wide variety of products and categories to choose from, so it's definitely worth taking a look at.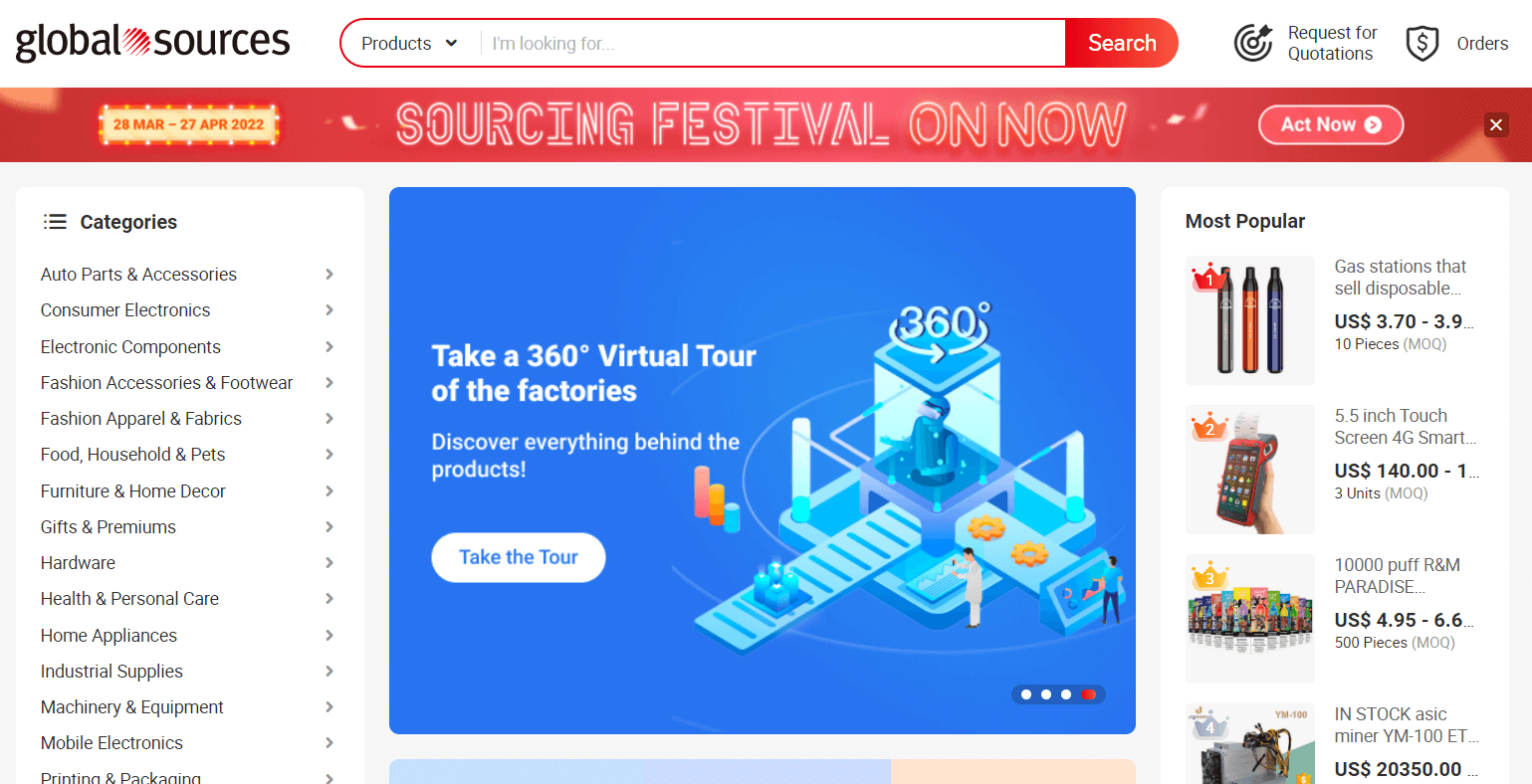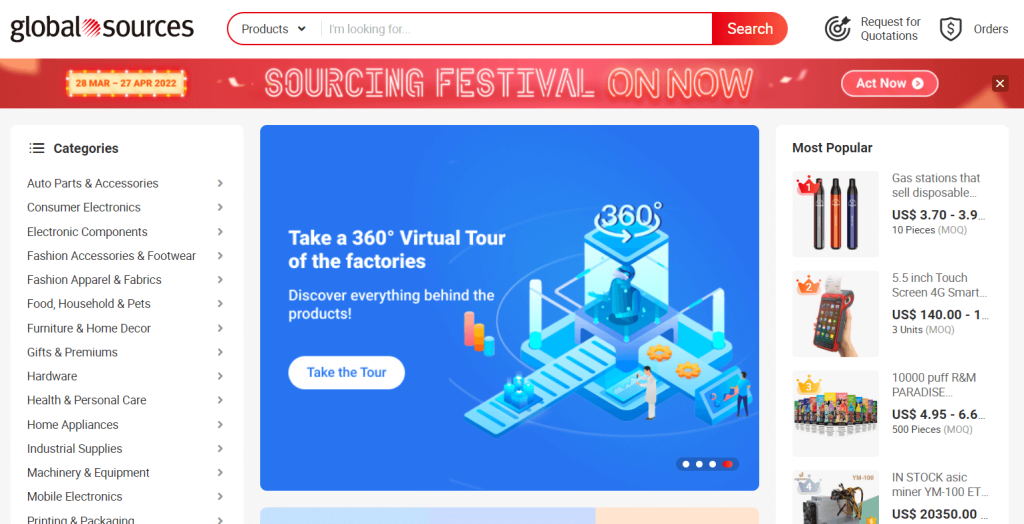 5. Made-in-China
Made-in-China is another great Chinese marketplace with a focus on technology and gadgets. On Made-in-China, you can get in touch with suppliers and agree on specifics before placing an order.
Additionally, the platform allows you to see which suppliers are audited, for increased buyer security.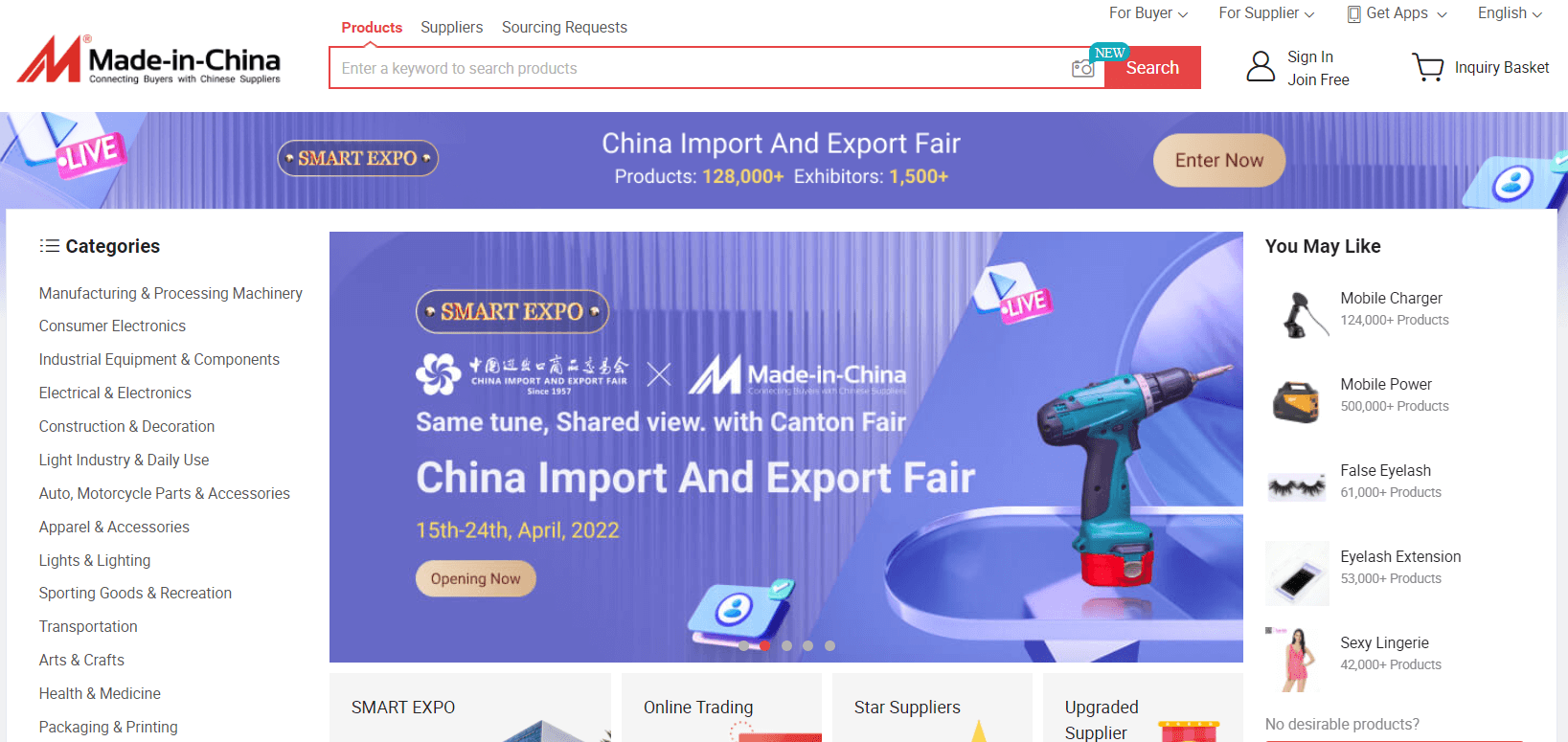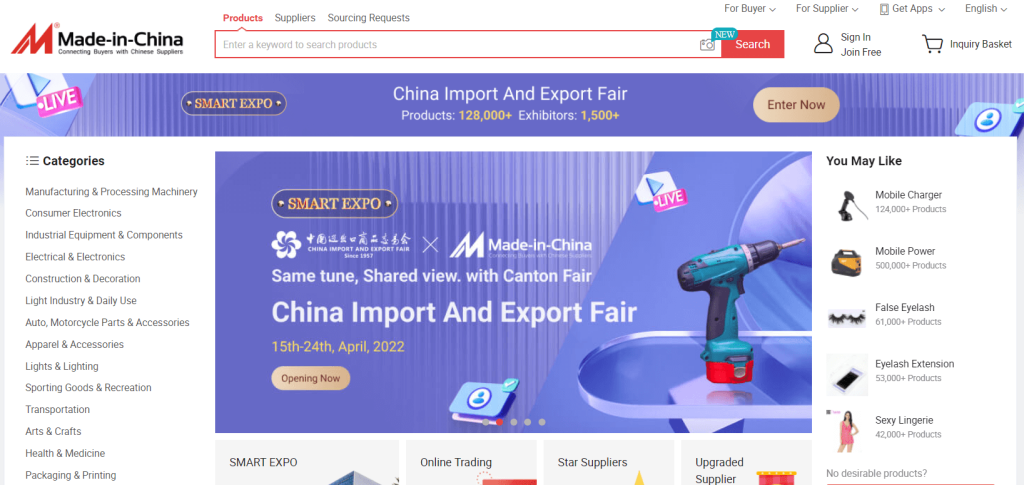 6. IndiaMart
IndiaMart is a great platform for anyone looking to buy industrial, pharmaceutical, or technological products. However, the selection is not limited So even if you need clothing, you'll find it there.
On IndiaMart, sellers have different badges showcasing their trustworthiness and audit status. Always look at these badges before placing an order.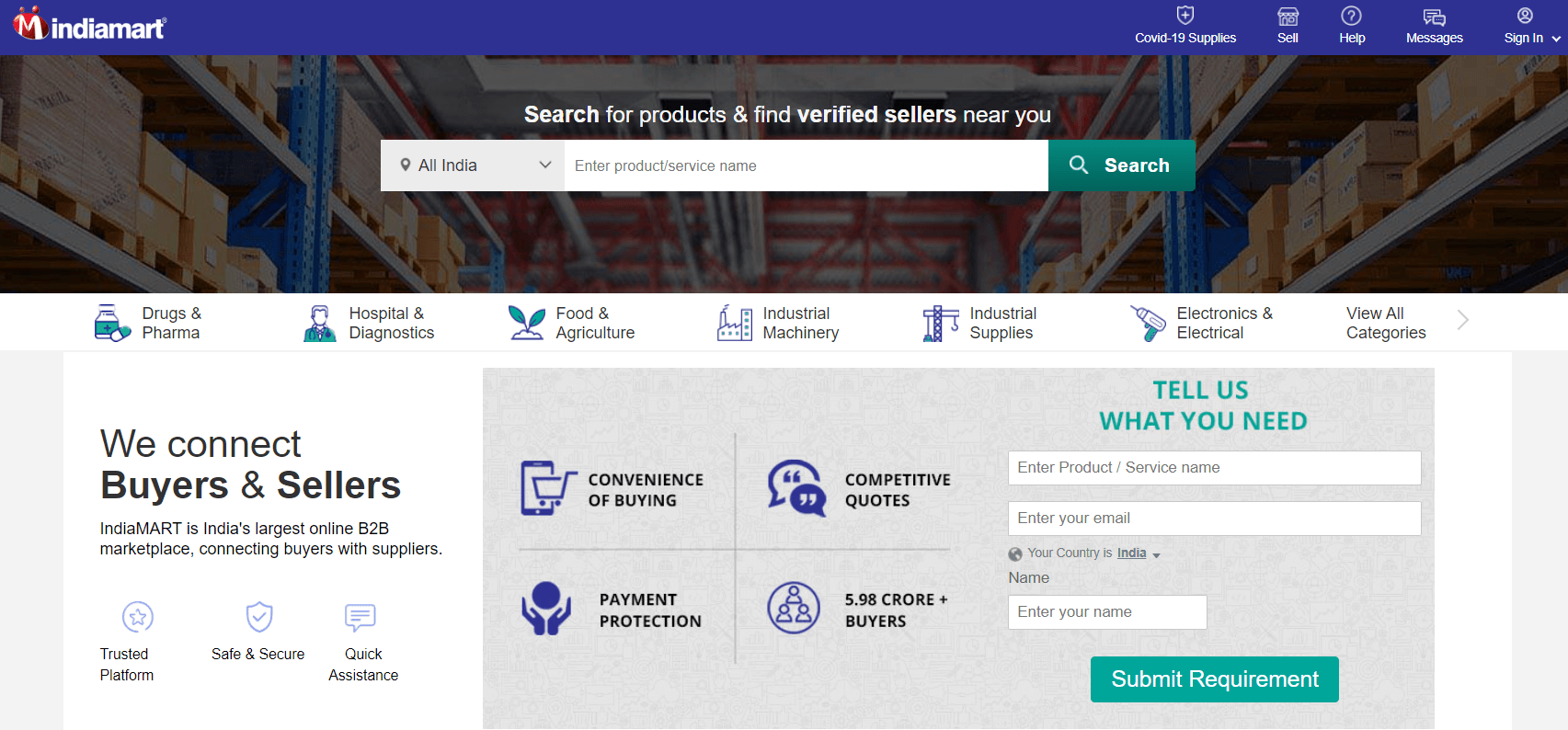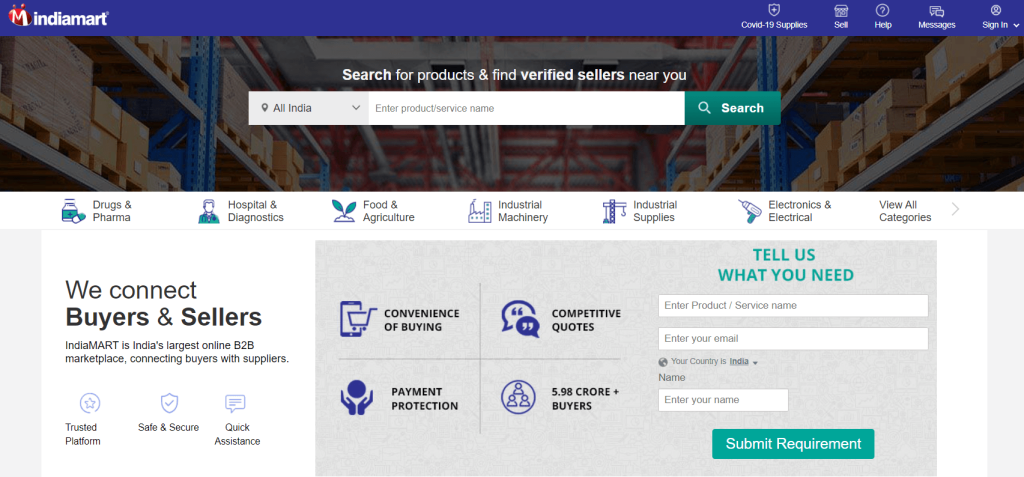 7. eWorldTrade
Next, we have a US-based B2B online marketplace that connects sellers to buyers globally.
A platform like eWorldTrade is great if you're based in the US and want to source from local wholesalers.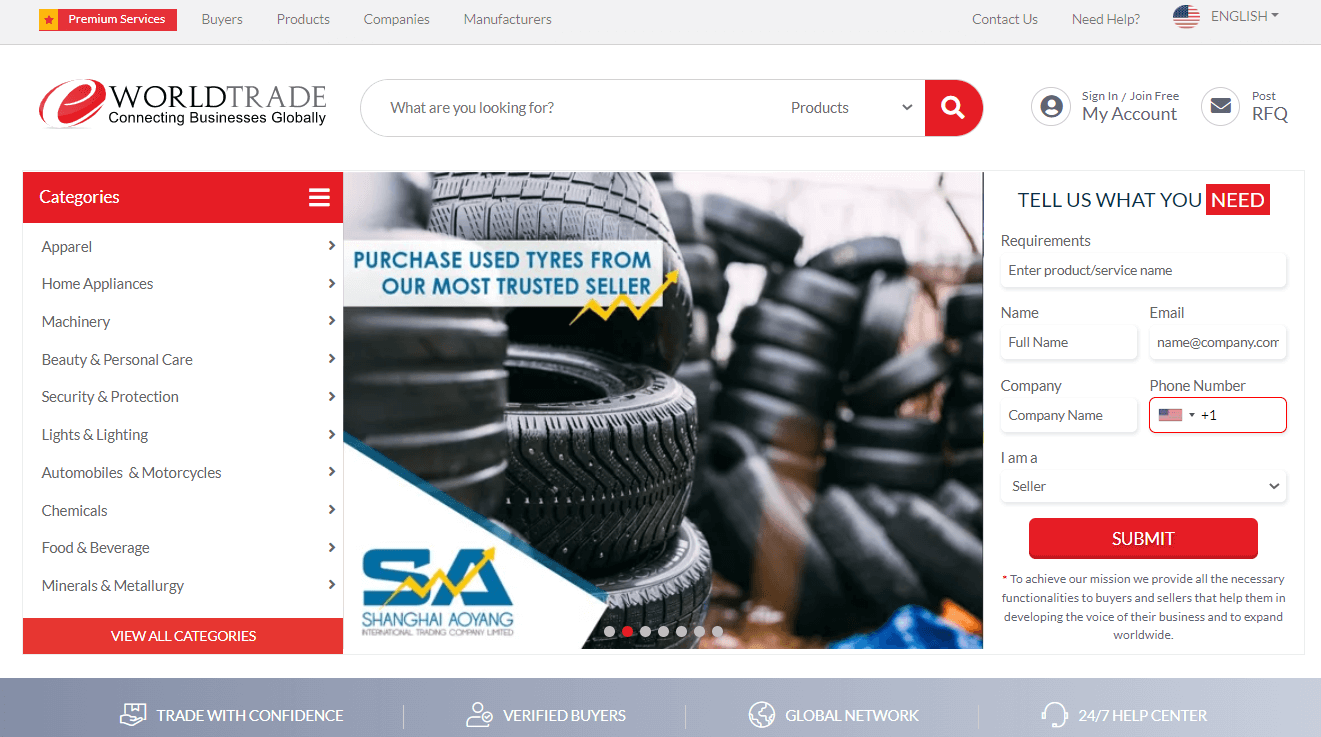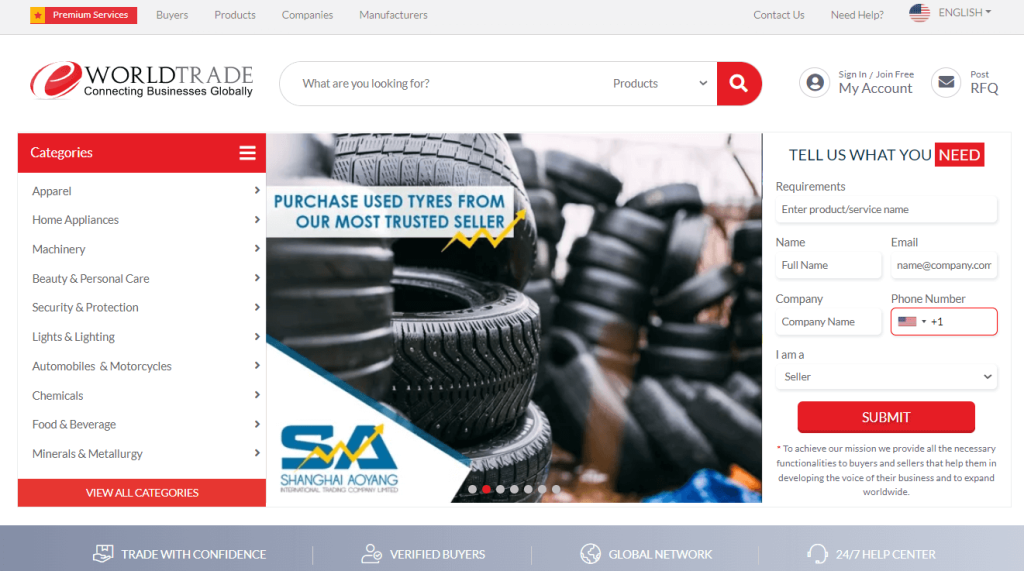 8. eBay
Our next suggestion is eBay – a well-known marketplace for B2C and C2C transactions. However, on eBay, you can also find many wholesalers with acceptable prices and MOQs. All in all, we believe it's worth exploring.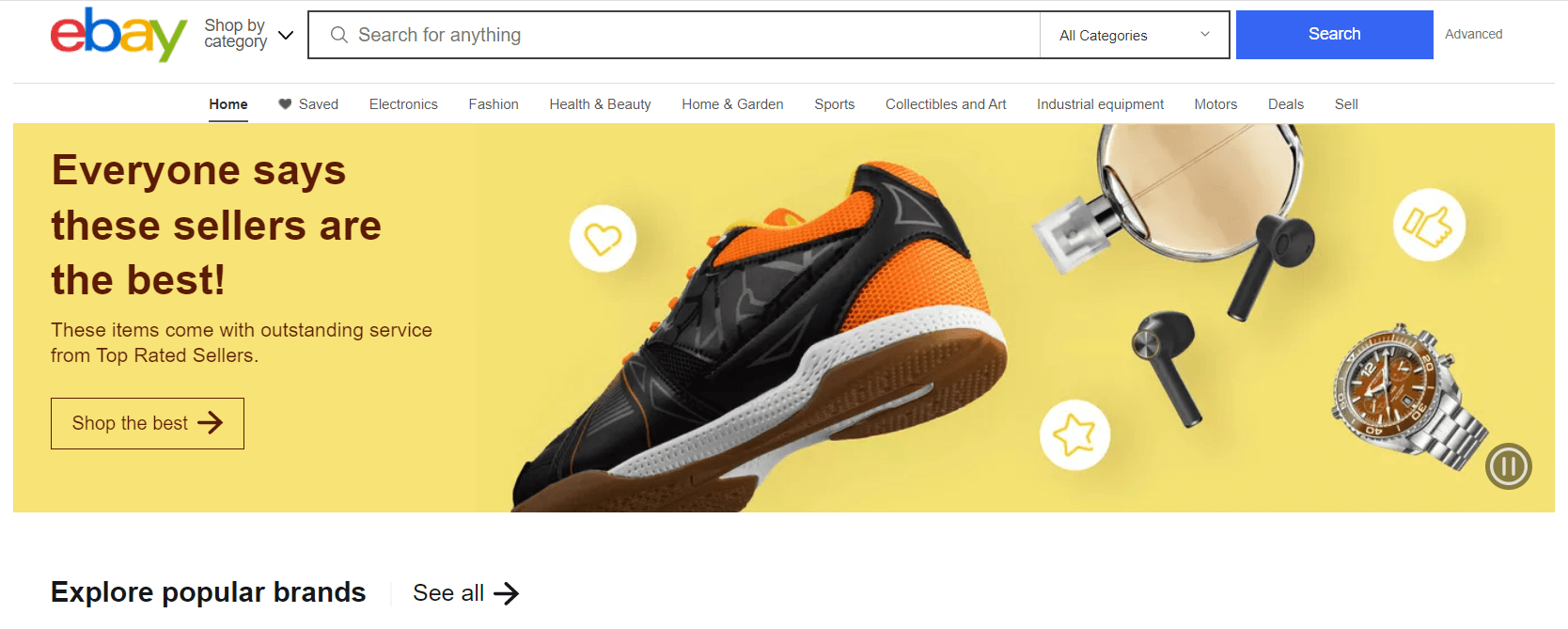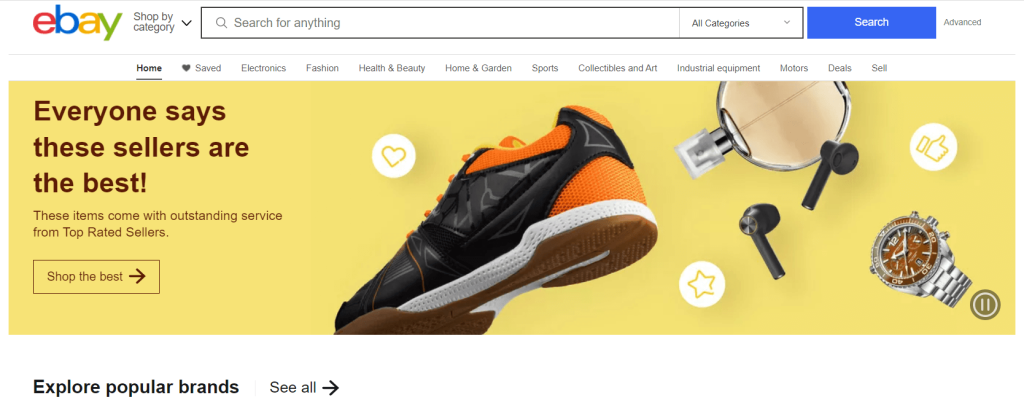 Chinavasion is another marketplace based in China where you can find electronics, gadgets, clothing, and all other product categories you can think of.
The great thing about Chinavasion is that they have programs for both dropshippers and wholesalers, making it suitable for anyone in eCommerce or retail.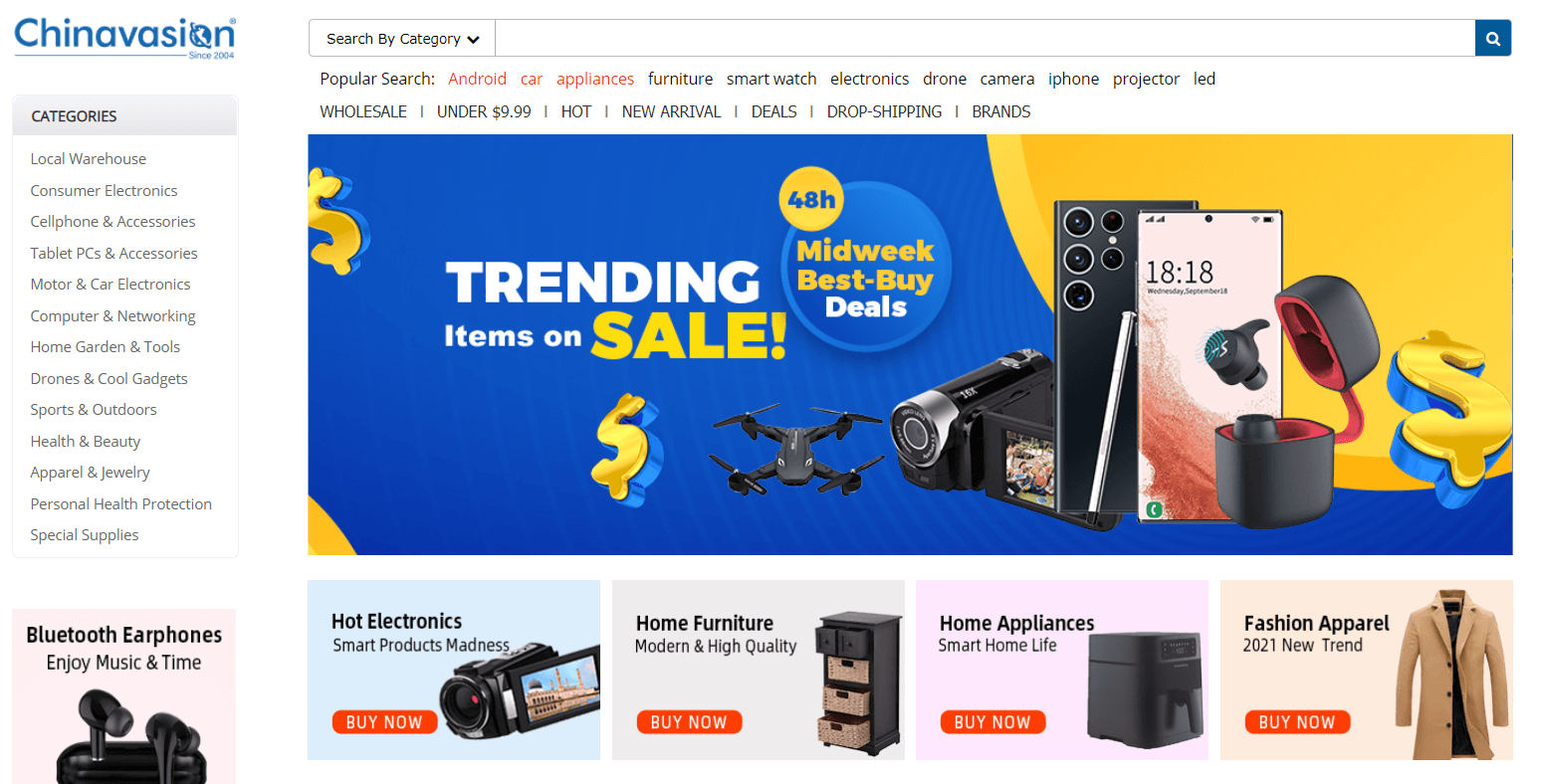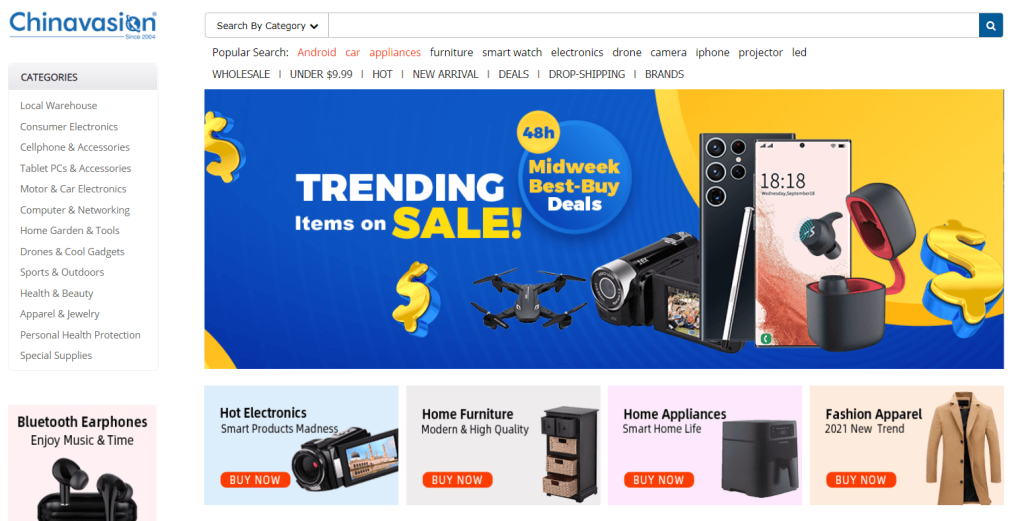 10. SaleHoo
SaleHoo is a directory of vetted and trustworthy suppliers, including wholesalers. With SaleHoo, you can access over 8000 manufacturers and suppliers, some of which also offer dropshipping as a service.
The beauty in subscribing to SaleHoo is that you know you can choose a wholesaler safely, knowing they've been vetted.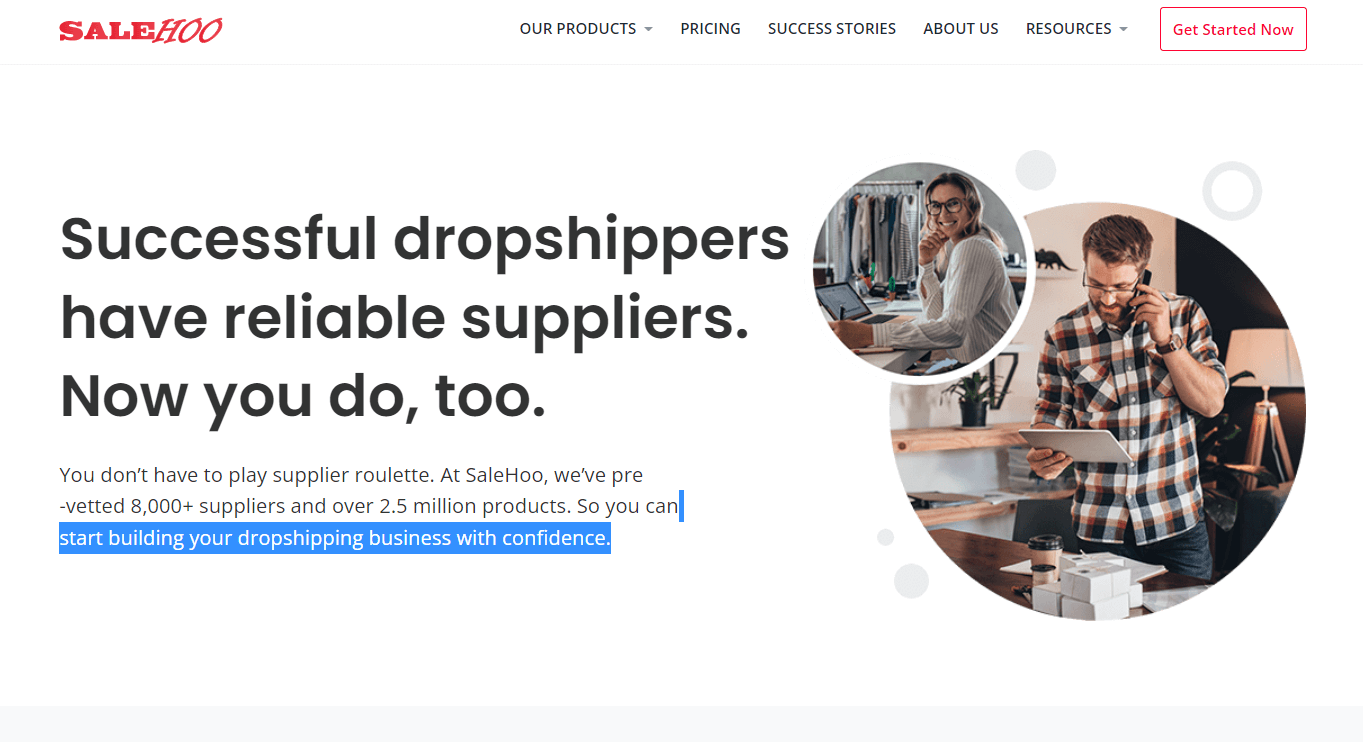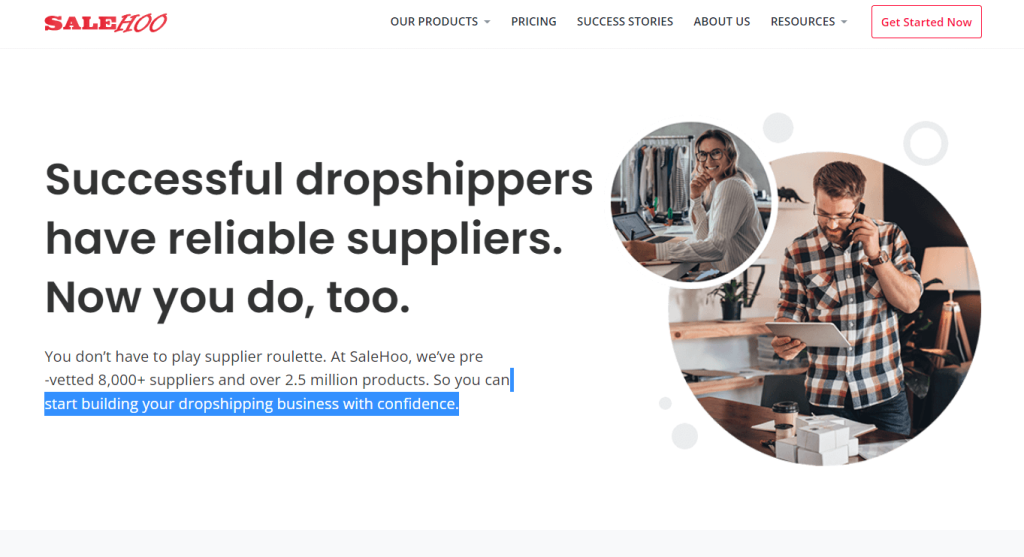 11. Worldwide Brands
Worldwide Brands is another directory of suppliers (wholesalers and dropshippers) whose database you can access with a one-time and lifetime fee of $299.
All suppliers on the Worldwide Brands platform are certified, legit, and verified, which helps you avoid scams and frauds.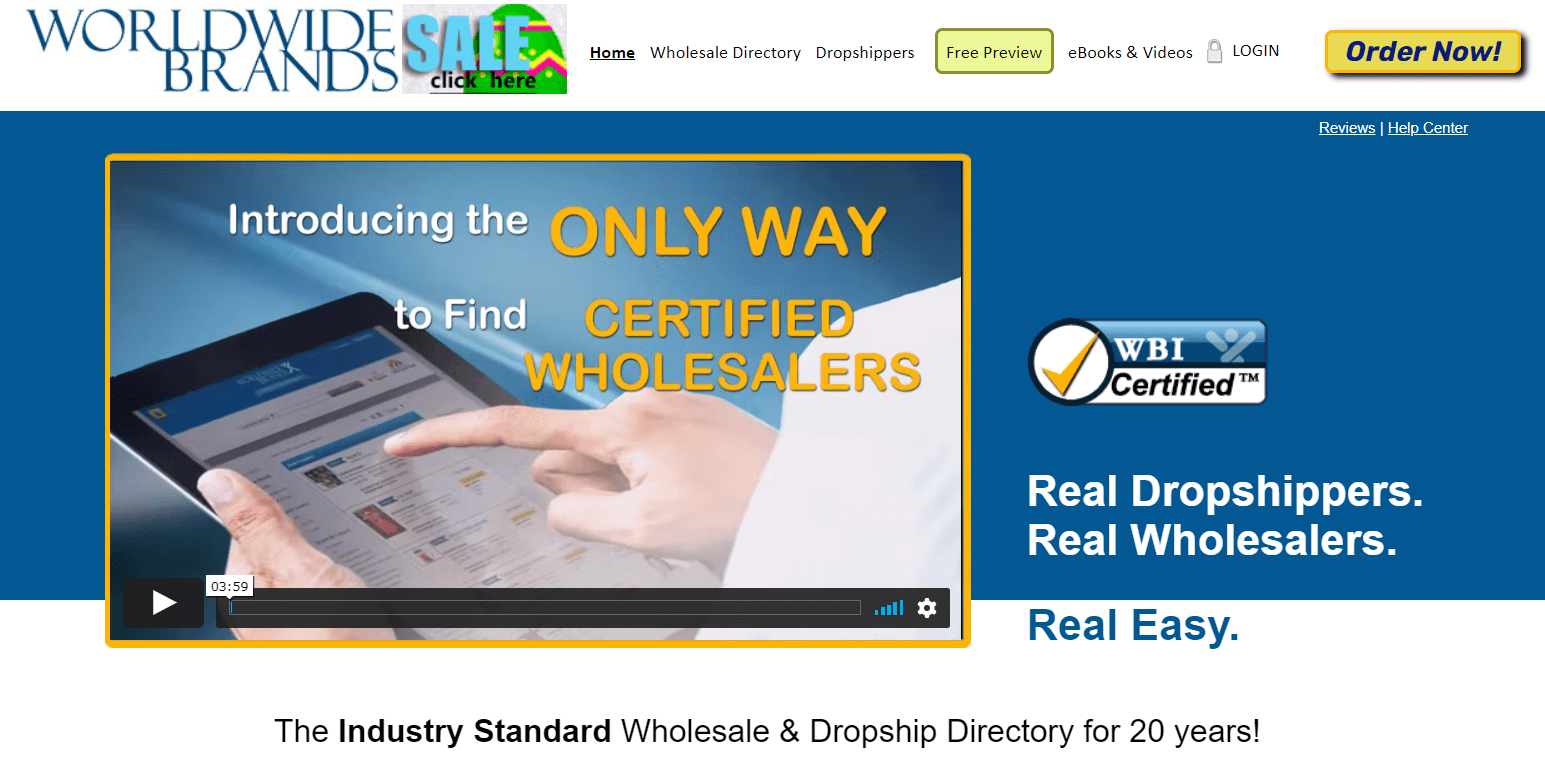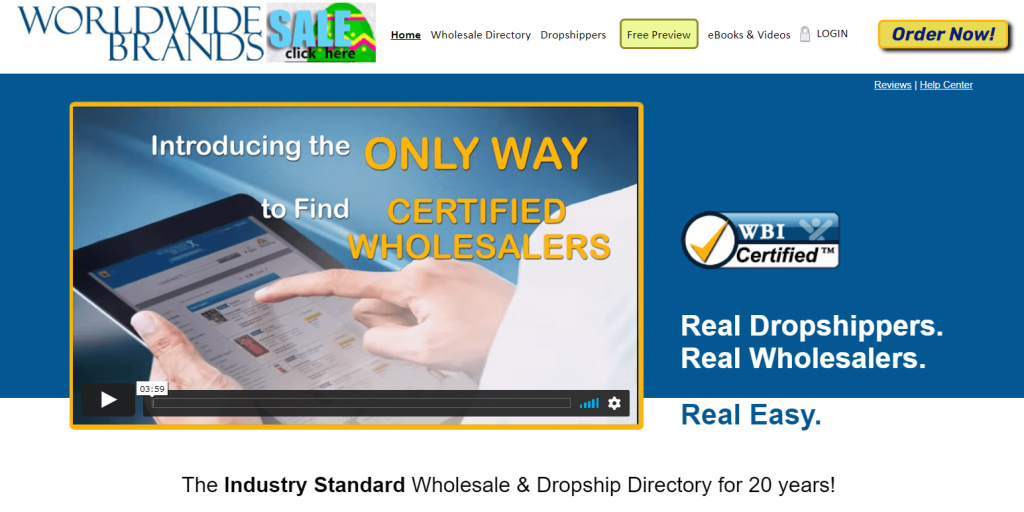 12. Etsy
Next, we have Etsy, a DIY marketplace where you find artists and creators that make their own products and sell them on the platform for a living.
These are typically hand-crafted products, which means they'll probably need longer to manufacture a bulk order. However, it's worth looking into once you find the right product you can scale.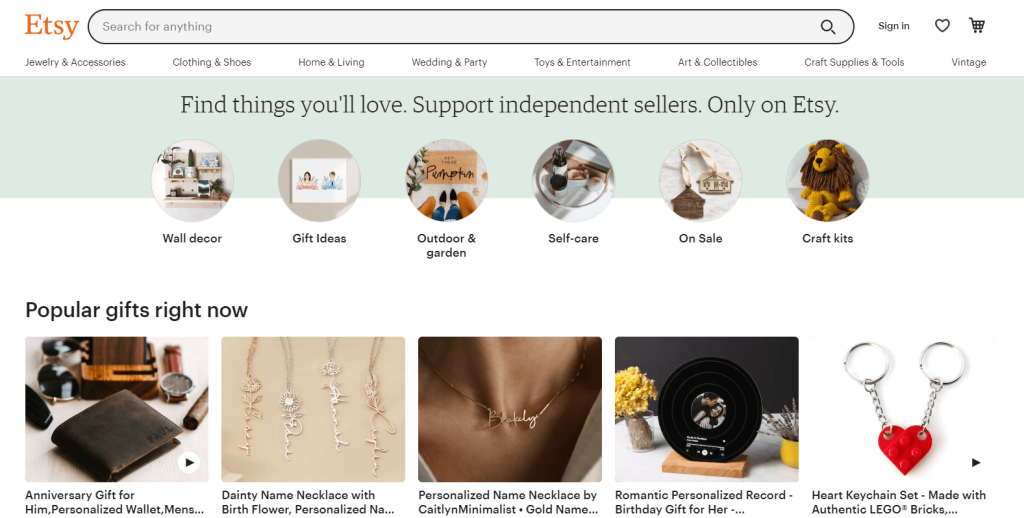 13. Trade Shows
The next thing you can do is to visit trade shows in China. China is a hub of manufacturers and wholesalers. Visiting their trade shows will bring you the best local prices. However, language can be a barrier.
A trustworthy sourcing agent in China can help you buy wholesale from trade shows.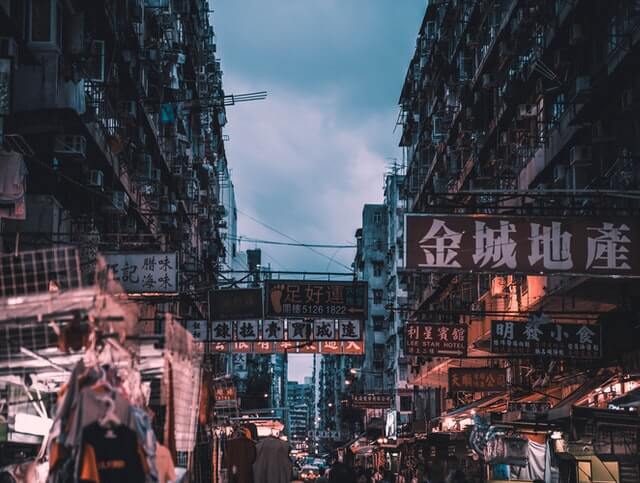 14. Google
The next thing you could do is simply Google "wholesale suppliers for [product]" or "[product] wholesalers in China". Browse through the first one or two pages on Google and see if you find wholesalers that fit.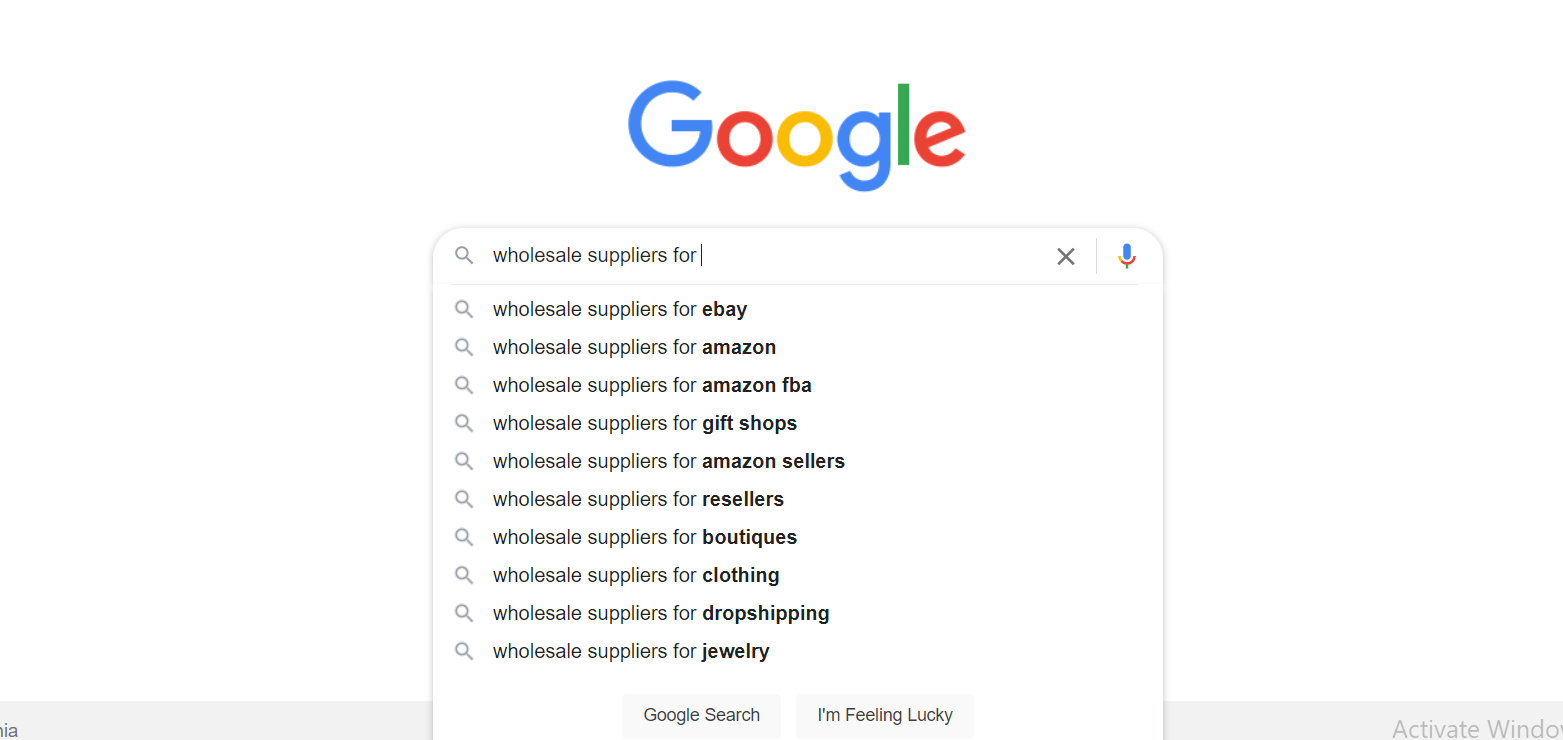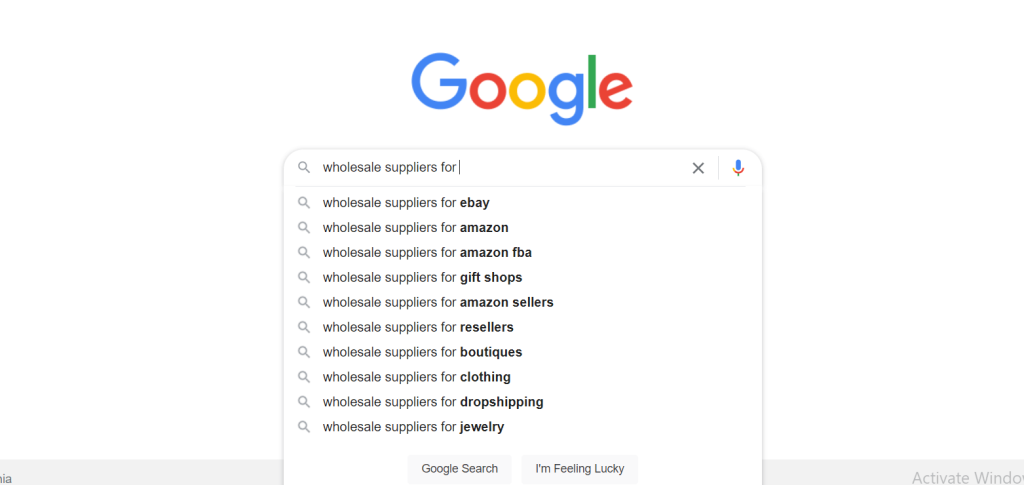 15. A Sourcing Agent
Collaborating with a sourcing agent in China such as Niche is a great option if you're looking to scale and grow. A local agent can help you find the best price vs. quality ratio since they know the market and speak the language.
A good sourcing agent should also offer additional services such as:
16. Other Online Sources
Needless to mention, there are other online sources where you can find wholesale products. For instance, Facebook groups, eCommerce forums, and similar.
However, we cannot recommend these as trustworthy sources simply because they aren't regulated and the risk of fraud is too high.
How to Choose a Reliable Wholesaler?
Learning how to buy from a wholesaler and how to choose a wholesaler that suits your needs is crucial for your business success. Here's what to consider:
Type of Wholesaler
Firstly, look at the supply chain – what type of wholesaler are you dealing with? Are they a manufacturer? Or are they merchant wholesalers?
Type of Product
Next, you need a wholesaler that sells the type of product you're looking for. You can work with one wholesaler or multiple, depending on your needs. Additionally, make sure they're able to supply the needed quantities.
Price vs. Quality
Browse around and check the prices and product qualities that other wholesalers offer. This will give you the data you need to negotiate prices and get what you pay for.
Customer Service
If you plan to work with a wholesaler long-term, customer service is an important point to consider. How quickly can you reach the wholesaler? How soon do they help when an issue arises? How well do they communicate?
Return and Refund
Ask to see your wholesaler's return and refund policy. This is important to know in advance in case of any product quality issues or damaged stock arriving. You need to know if they will reimburse you or replace the damaged products with new ones.
Customization Needs
Will you need product customization? Is the wholesaler a manufacturer? Will they be able to provide the customization you need? For private labeling, white labeling, or ODM and OEM services, it's better to buy from a factory.
MOQs and Lead Times
The next thing you'll need to know is their MOQ (minimum order quantity) and the lead or production time. Additionally, don't forget to ask about the shipping costs and storage options. All of this is important to calculate your costs and profits precisely.
User Reviews
No matter which wholesaler or online marketplace you choose, always check the user reviews and comments first. This will give you an idea of how good the product is and how satisfied the buyers are with the service of the wholesaler.
Product Knowledge
Your wholesale partner should have an in-depth knowledge of the product they're selling. Why? Because this shows that they know what they're selling, care about their business, and stand behind the quality of the product they sell.
Lack of product knowledge is always a red flag when choosing a wholesaler.
Additional Services
Last but not least, think of any additional services that you need your wholesaler to offer. For instance, do they offer dropshipping services, OEM services, or private labeling?
Should I Use Domestic or Overseas Wholesalers?
Both domestic and global vendors have their pros and cons.
Use domestic when:
You don't have experience buying wholesale.
You want to sell locally-made products.
You don't mind paying a higher price per unit.
You want shorter lead times and faster delivery.
Use overseas when:
You're confident in your ability to sell a bulk order.
You want a lower price per unit.
You want to scale.
You're familiar with international trade.
You want a larger product selection and more choices.
What Are the Benefits of Buying Wholesale for My Business?
Buying wholesale has many benefits, especially for a business that's ready to scale and grow:
Lower price per product unit
Better profit margins
Ability to negotiate the prices
Better for stock management
Consistent product quality
Possibility for customization
Lower shipping costs
What Are the Disadvantages of Buying Wholesale for My Business?
Although wholesale ordering and buying in bulk are great for most businesses looking to scale, they might not be the best idea in some cases.
Here are some cons of buying wholesale:
Higher upfront costs
Requires warehousing and inventory storage
More risk of not being able to sell the entire stock
Longer lead times
A trend passes or the product expires before selling
Tips for Buying Wholesale
We've gathered a list of practical and useful tips you can implement for a safer and easier buying in bulk:
Don't forget to negotiate the prices.
Always order a sample first, before placing a bulk order.
Ensure your wholesaler can meet your increasing quantity demands.
Always check supplier and product reviews.
When budgeting, don't forget to include auxiliary costs like shipping, storage, etc.
Set up your storage and warehousing question in advance.
Ask the wholesaler about their lead times and shipping methods.
Ask the wholesaler if they sell directly to consumers (these are the so-called merchant wholesalers that you might want to avoid).
Ensure you've tested the product in advance and that you can actually sell a large quantity of it.
Give detailed and precise product descriptions to avoid misunderstandings (material, size, color codes, etc.).
Don't pay everything upfront using shady payment methods like Western Union.
If you order clothing in bulk, note that sizing may vary from one country to another. For instance, Chinese sizes are typically smaller than Western ones.
FAQs about Buying Wholesale
Now, let's look at some frequently asked questions on the subject of buying wholesale products.
How to Buy Wholesale Clothing?
You can buy wholesale clothing from different sources:
Online marketplaces like Alibaba, DHgate, CJDropshipping, etc.
Visiting trade shows in China
Searching for wholesale clothing suppliers on Google
Browsing through online eCommerce forums
Working with a sourcing agent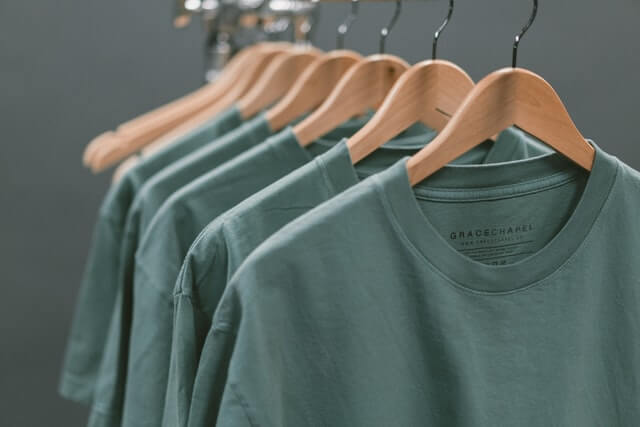 How to Price Wholesale vs. Retail?
Wholesale prices are those you pay to the wholesaler when you buy in bulk. A retail price is what you set in your store for the end consumer to pay.
Both of these prices affect your profit margins. Here's how to calculate your retail margin:
T-shirt wholesale price – $10
T-shirt retail price – $20
Formula:
Cost/Retail Price = Retail Margin (%)
For instance:
$10/$20 = 0.5 or 50% margin
Real life is more complicated because things like warehousing and shipping costs also enter the equation. So, don't forget these things, they can add up.
The chosen Incoterms will also largely affect your wholesale price. So, if you're shipping your bulk order from overseas, discuss the types of shipping Incoterms with your wholesaler in advance.
What to Buy Wholesale and Resell?
Some of the best-selling products where you can set good profit margins in 2023 are:
Smartwatches
Men's grooming products
Indoor fitness equipment
Skincare products
Sustainable and eco-friendly products
Mid-ticket outdoor furniture
Aim for a middle price range and a quality product that you can afford to market and sell at a higher price range.
Finally, don't forget to add up all expenses associated with the product, including storage and shipping costs.
Is It Worth It to Buy Wholesale?
Yes! Above, we've shown you all the benefits you get by buying in bulk at wholesale prices. You'll get a lower price per unit, and these savings add up with high-volume sales. Like this, you'll be able to enjoy higher profit margins.
What Is the Difference between Dropshipping and Wholesale Buying?
Dropshipping and wholesale buying are simply the back-end supply chain methods of retailers or eCommerce owners. The only difference is that dropshippers don't hold stock – they pass the order to the supplier. On the other hand, wholesale buyers hold their own inventory.
To Wrap It Up
If you don't feel ready to work with wholesalers on your own, our product sourcing service is free of charge and at your disposal. Tell us the product you need and the desired MOQ, and we'll show you what we can do with no obligations. Get a free quote today!
We sincerely hope that this detailed guide will help you learn how to buy wholesale products in 2023 and scale your business with ease.