Candles are a highly versatile product. While their primary function is to provide lighting in different spaces, they can also be used as decorative fixtures, for religious purposes, festivals, and even to promote personal wellness.
Subsequently, selling the right quality and types of candles could attract a wide number and variety of customers and earn you high revenues. So much so that the global candle industry is expected to be worth about $13.28 billion by 2028.
If you would like to establish your own brand of candles and cash in on some of these profits, here are some brilliant private label candle manufacturers that you could work with.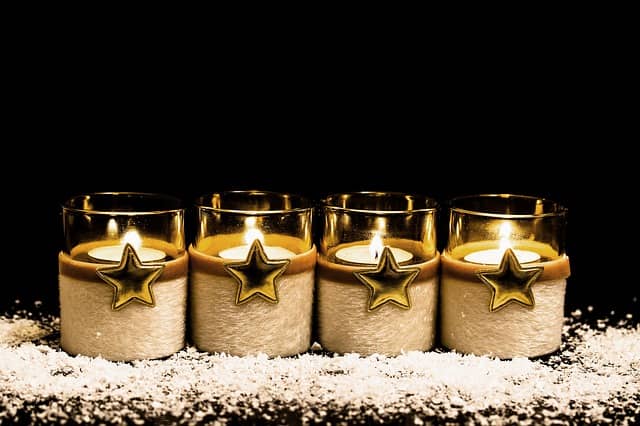 Stoneglow Candles
Stoneglow Candles is a family-owned business. It has been in the industry for over 30 thirty years and now manufactures a variety of candles and home fragrances.
It is based in Romford, Essex in the United Kingdom but works with clients in Ireland, Belgium, Netherlands, France, Germany, Spain, and Italy too.
The private label services from this firm range from the development of candle designs and formulations to manufacturing. During the design and formulation stage, you get to choose the type of wax you prefer and a fragrance (if necessary).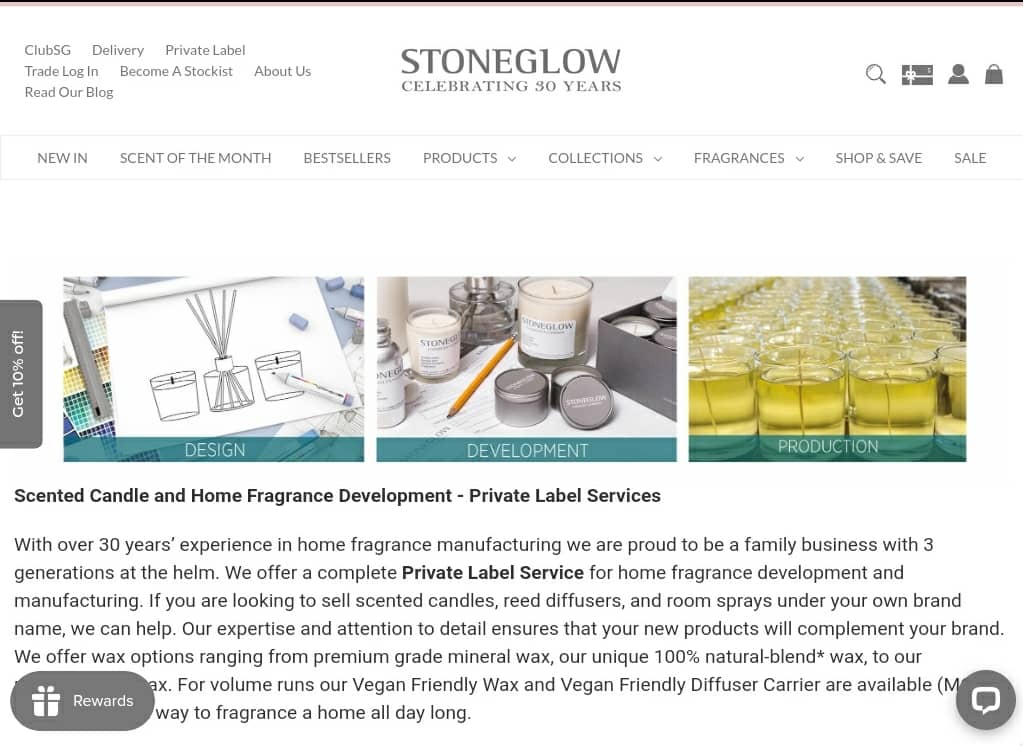 Stoneglow mainly makes candles using vegan-friendly wax, premium mineral wax, 100% natural blend wax, and gel wax. The MOQ for private label candles is 1,000 pieces but the 12,000 square feet Stoneglow factory is equipped to produce much more than that.
If you are on a budget or just looking to create a limited-edition line of candles, this company also offers a contract filling service.
You would, however, have to provide the materials required to make your candles unlike in private labeling where the firm sources the materials.
Caifede Candle Manufacturers
Caifede Candle is a candle and scents manufacturer based in Qingdao, China. It produces tea light candles, pillar candles, Christmas candles, and scented candles.
Most candles from this firm are made using soy wax and natural cotton wicks. You can, nevertheless, request other kinds of wax if you prefer them.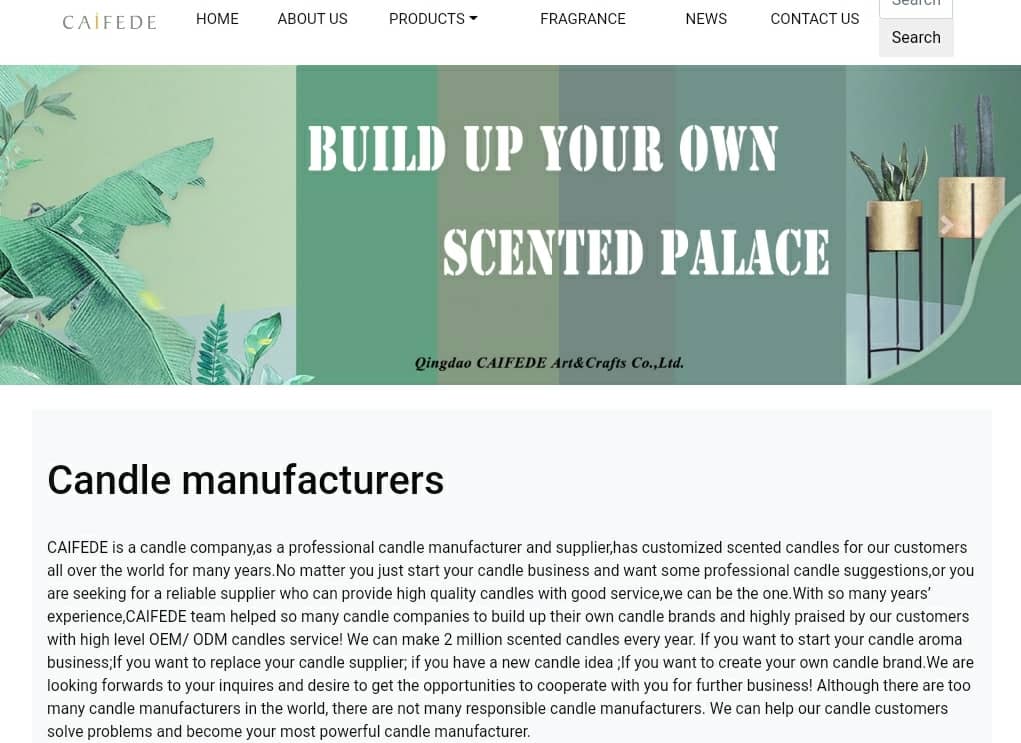 The in-house design team can also help you define other design issues such as the size, shape, decorative details, and packaging of your candles.
Caifede works closely with renowned scent houses like Mane, IFF, and Symrise. This enables the firm to come up with top-quality scents with better sillage thereby making your scented candles stand out. You can equally opt for non-scented candles.
The MOQ for most custom candles is 1,000 pieces but this could vary depending on your design. Caifede has a turnaround time of between 45 to 60 days and ships to every continent.
Calwax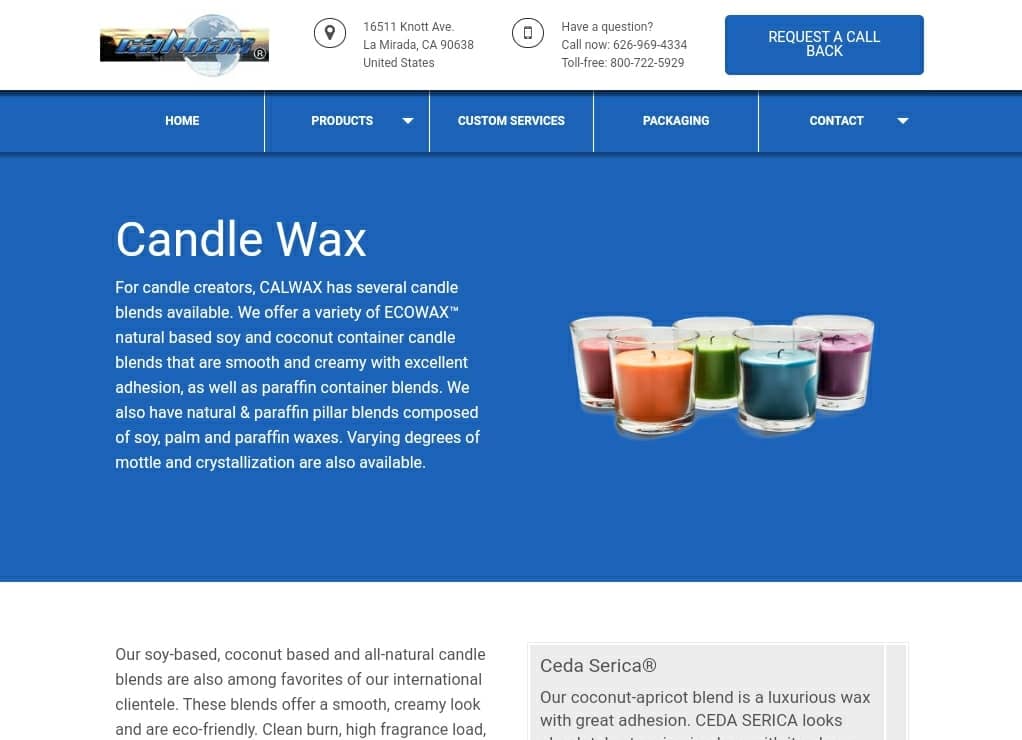 If you would like to produce eco-friendly private label candles, then Calwax may just be the kind of manufacturer you are looking for.
The company is based in California, USA, and specializes in developing different kinds of environmentally-friendly wax and wax products.
Calwax's eco-friendly candle blends include soy-based, coconut-based, and all-natural candles. They also produce petroleum-based candle blends that the firm recommends if you would like candles that have:
Maximum container adhesion
Low shrinkage
A high fragrance capacity
A creamy look with deeper color intensity
While Calwax may offer the wax blends, you would have complete control over the design details of your candles. The company's private labeling services also include specialty packaging and the creation of custom blends to help you create 100% unique candles.
Prosperity Candle
Prosperity Candle is a fair trade manufacturer based in Massachusetts, USA. Most of its candles are made by hand and the firm employs women from conflict-stricken regions seeking job opportunities to better their lives.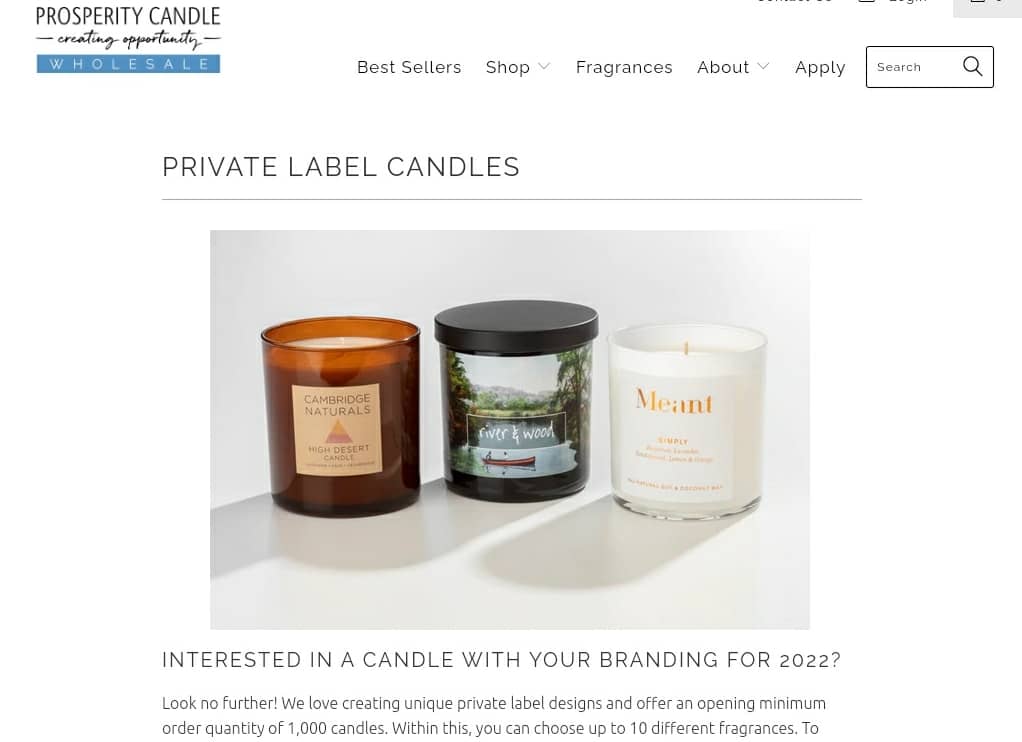 It has a pleasantly simple private labeling process. To get started, all you have to do is:
Choose a container design for your candles
Select a fragrance
Send a copy of your logo to the company
Once this is done, the company would produce samples and you can place your order if you are content with the results. The MOQ for custom candles is 1,000 pieces.
Prosperity Candle manufactures candles using soy wax, beeswax, and coconut wax. All candles are fitted with natural cotton wicks harvested sustainably.
However, if you prefer a different kind of wax or have a unique packaging idea in mind, the R&D team can help you bring it to life. You can even ship your own containers to the firm or share your own scent formulations.
Wiera
The Wiera candle factory is based in Estonia. The firm has been running for over 15 years and has been making private label scented candles for different brands for the past 10 years.
If you choose to partner with this firm, you could opt for either plant-based wax candles or mineral wax candles made of food-safe paraffin.
Wiera candle wax options are also free of sulfur, benzene, and toluene. They yield candles that are stable for longer and have elevated scent distribution.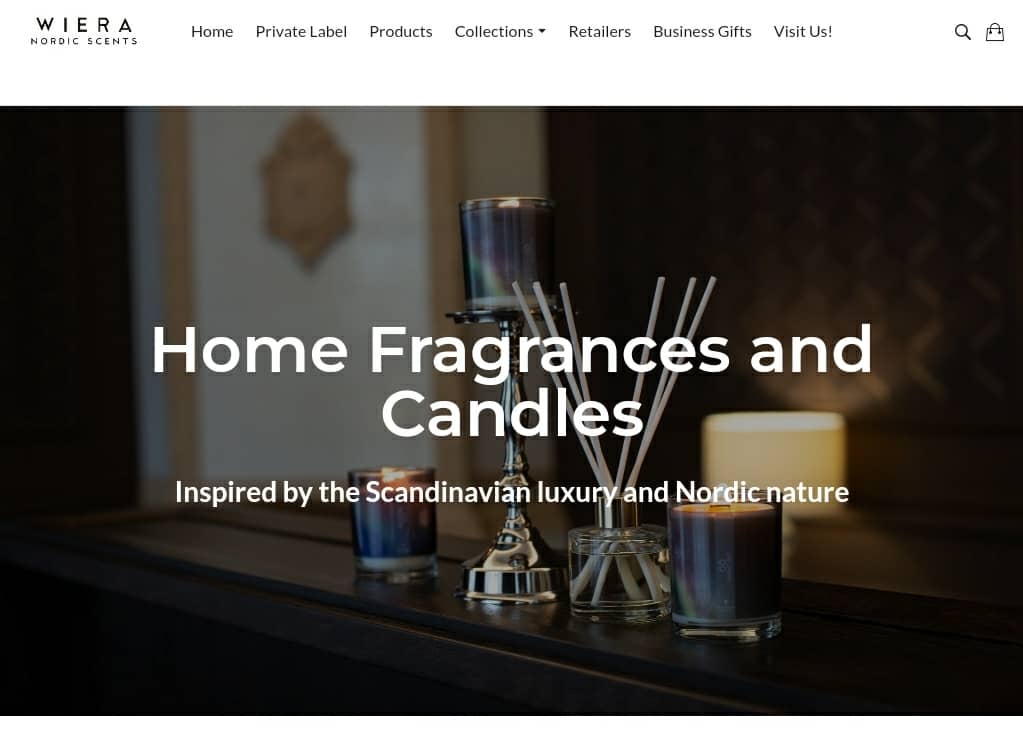 The scents used to make Wiera candles are developed in conjunction with French perfumeries and the Perfume University.
The Nordic wooden wicks are equally one-of-a-kind as they are custom-made at the Wiera factory using Estonian veneer leftovers. Natural cotton wicks are also available.
The in-house design team will consult with you throughout the private labeling process to help you achieve your vision for your brand. All candle designs are sampled for your approval before production and taken through extensive quality checks.
Winby Industry and Trade
Winby Industry and Trade is a candle manufacturing company based in Hebei, China. It is a one-stop-shop for different types of candles, candle gift packaging, as well as candle accessories like candle holders.
If the Winby showcase catalog is anything to go by, the company is adept at making:
Creative candle shapes with Christmas and decorative themes
Scented candles
Gift-themed candle sets
The MOQ for most candle designs is 2,000 pieces but you could also place a sample order at an MOQ of 300 pieces. Winby ships to countries all over the world.
The Country Candle Company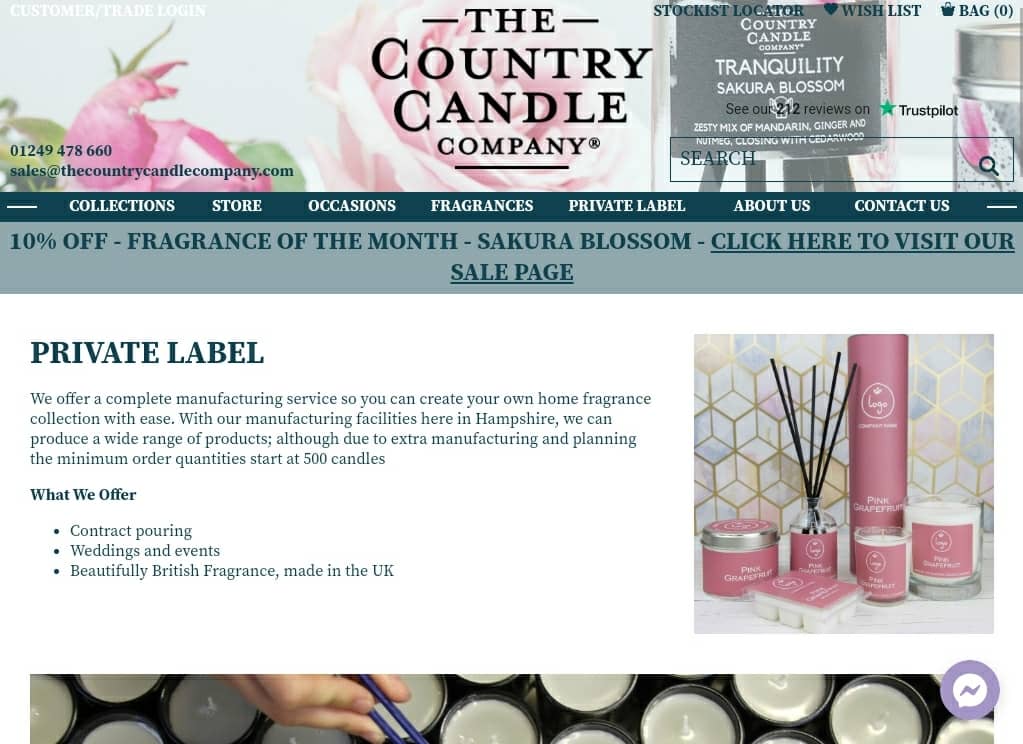 True to its name, the Country Candle Company is based in rural Hampshire in the United Kingdom. It specializes in producing vegan, GMO, and palm oil-free candles alongside other home fragrance solutions.
The candles varieties produced by this firm are scented and include:
Tin candles
Votive candles
Wax melts
Wonderwick candles
Medium-size glass candles
Each of these options is scented but you can always ask for non-scented production during your private labeling consultations. You are also free to present your design and packaging ideas to make your candles exactly what you envisioned for your brand.
The MOQ for private label candles is 500 pieces per design. You can, nonetheless, opt for contract pouring if you are not ready to fully commit to private labeling. Country Candle ships its products to clients across the globe.
Ella B. Candles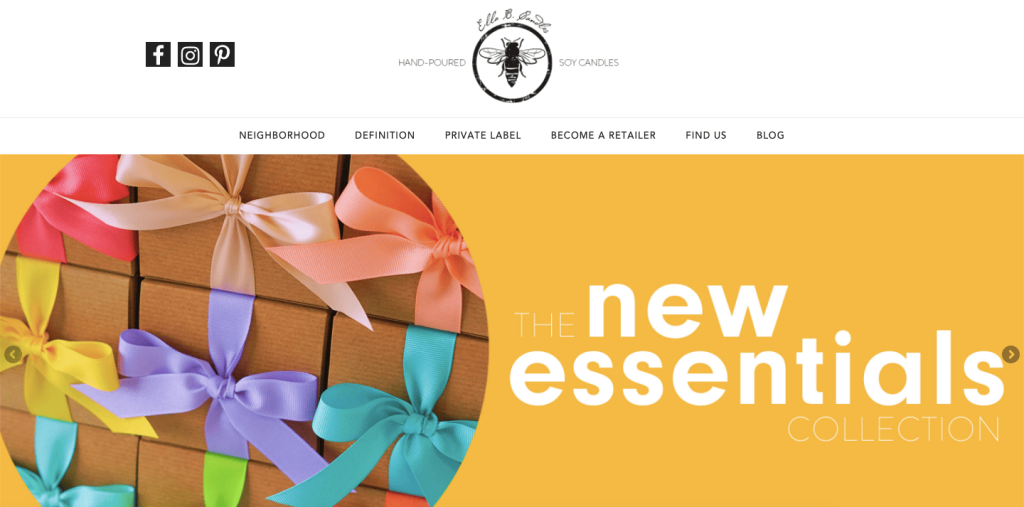 Ella B. Candles could be a suitable partner if you would like to venture into private labeling on a small scale. The company offers an accommodative MOQ of just 25 pieces and allows you to access even better wholesale terms as your volumes grow.
In terms of candle designs, Ella B. provides product development support in-house. They use 100% soy wax and hand-pours all their candles.
Additionally, you get to choose your preferred scent (optional) from a curated menu or one can be blended for you based on your ideas. The firm also has a wide selection of candle vessel and packaging options that you can choose from.
The Ella B. factory is based in North Carolina, in the USA. Still, they are fully accessible for online consultations.
Bougie & Senteur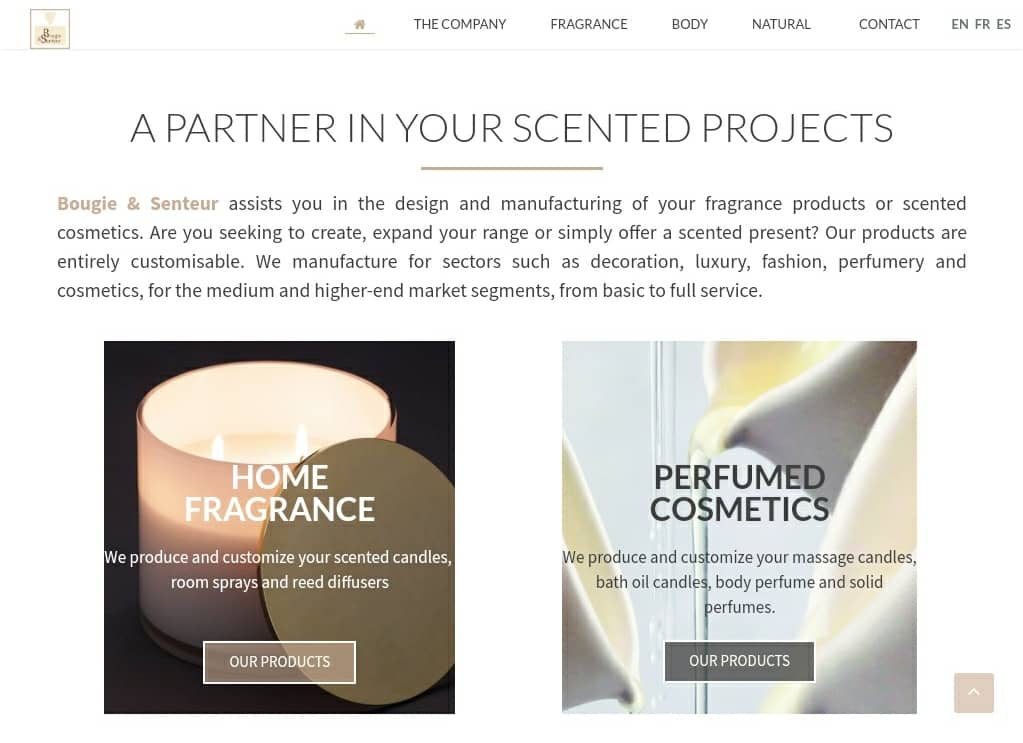 Bougie & Senteur is based in Grasse, France. It has over 15 years of experience in the art of candle-making and the production of other scented products. It has refined its production so well that it is now ranked among renowned luxury candle manufacturing firms.
The first step in private labeling with Bougie & Senteur is a consultative process where you share and discuss the design details of the kind of candles you want. This includes choosing:
Scents
Candle containers and packaging
Design details like embossing, color, or hot stamping.
The candle wax options are all blends of natural ingredients like coconut oil, soybean oil, and essential oils. Bougie & Senteur compliments them with 100% cotton wicks to deliver long burn hours and great scent throw.
Silver Dollar Candle
Silver Dollar Candle makes private labeling easy. The firm provides a clear list of design options that you can choose to create custom candles and also accepts customization design ideas outside of what they have listed on their platforms.
You can have candles made using beeswax, coconut, or soy wax that are all free of dyes and enhancers. The wick selection, on the other hand, includes natural cotton, metal-free wicks, and wood wicks.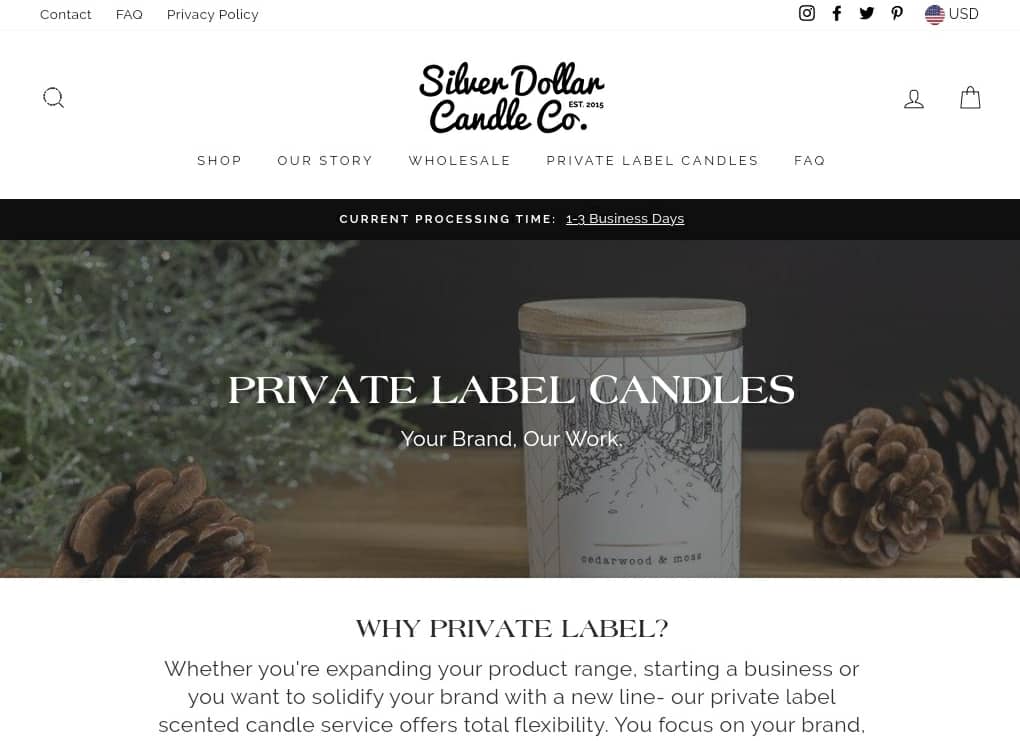 If none of these tickle your fancy, you can present the firm with custom fragrances or wax blend recommendations. The firm will, however, have to perform quality checks on them for product safety.
Silver Dollar ships worldwide from their facility in Knoxville Tennessee. Its range of complimentary services such as warehousing, direct-to-consumer services, and more, are equally quite impressive and could help your private label business thrive.
Gala Group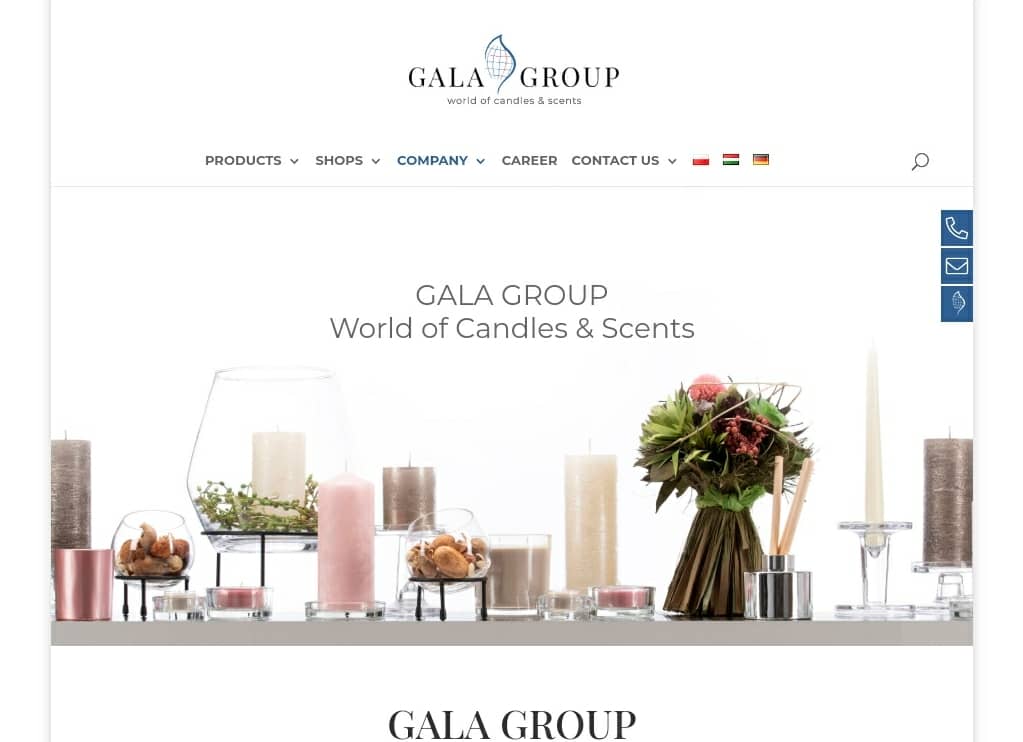 The Gala Group is a well-established manufacturer of candles and scents based in Bavaria. It, additionally, has multiple production sites in India, Europe, and North America.
This gives the firm a unique distribution advantage and could make it easier for you to access consumer markets in different regions. Working with a factory within your region could greatly reduce your distribution costs and durations.
The private labeling process at this firm entails choosing your candle design preferences and working with the design team to implement them. You may also enjoy greater creative freedom as the company can source a broad variety of raw materials.
Sincerina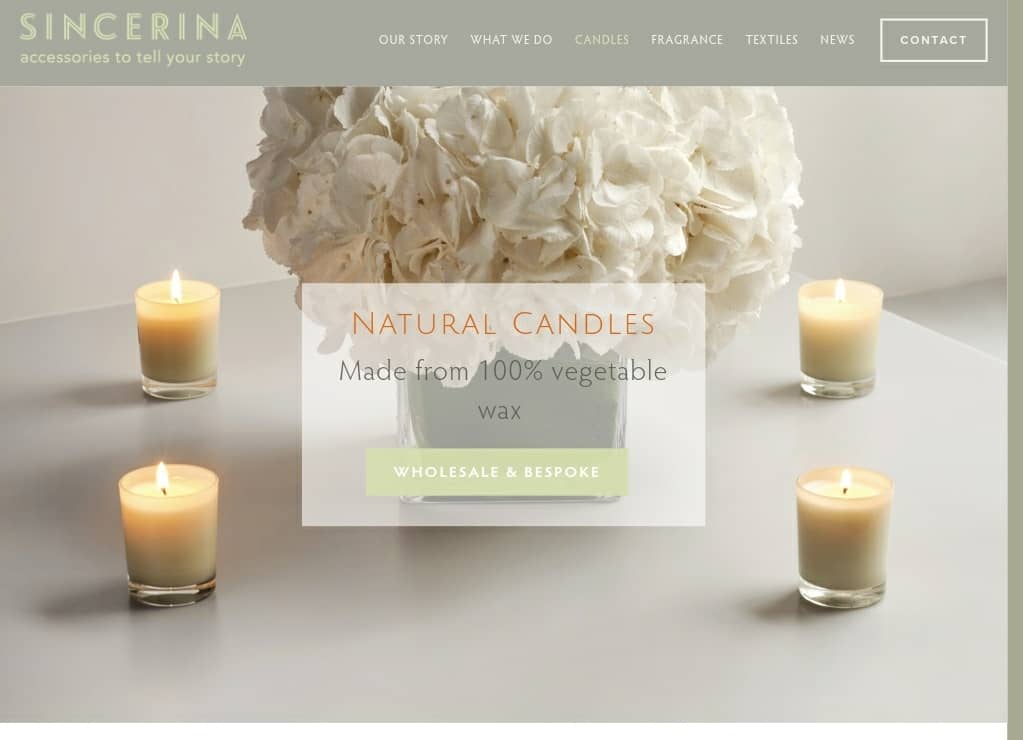 Sincerina has its roots in the United Kingdom. It manufactures ready-to-order as well as private label candles and scents.
Private label clients have the freedom to choose candle scents, materials, packaging vessels, and designs that they feel would align with their brand goals. The Sincerina team then samples the proposed candle design for testing and your approval.
All Sincerina-made candles are free of paraffin and palm oil. They are scented using fragrances developed in Grasse in France and deliver a clean burn to promote health and environmental wellness.
Element Tree Essentials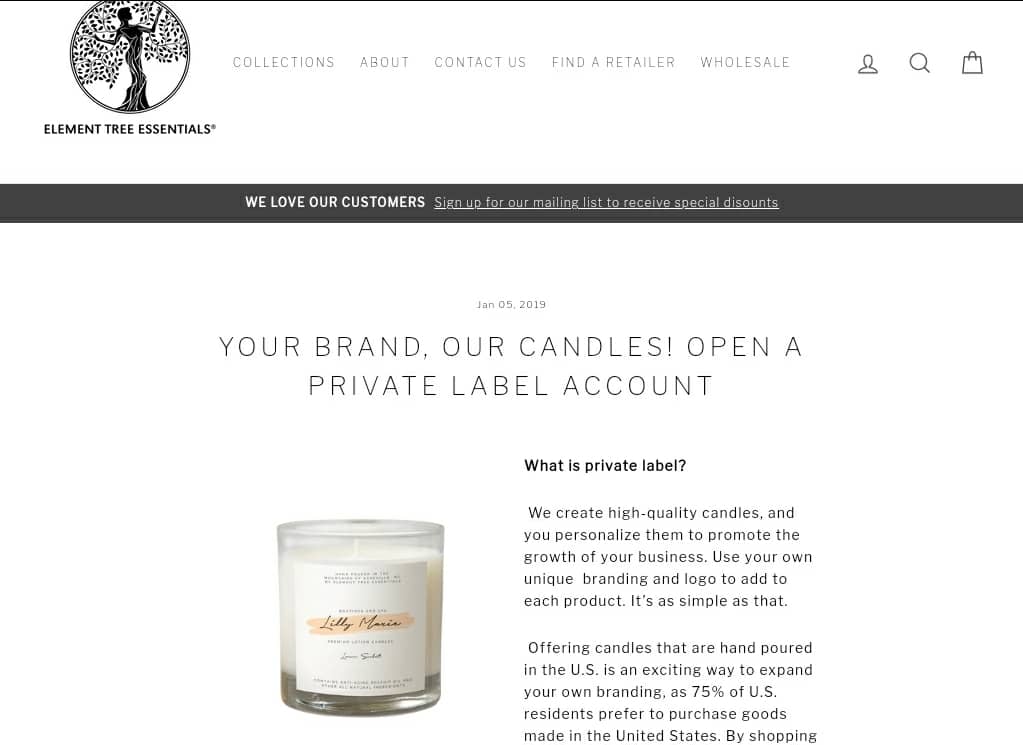 Located in North Carolina, USA, Element Tree Essentials is a budding candle manufacturer that dedicates undivided attention to each brand. Its quality of service gives big firms a run for their money.
Notably, this firm manufactures candles using cosmetic-grade oils such as soybean oil, shea, and coconut oil. It states that this approach makes their candles more health and environment friendly. All the candles it makes are also:
Biodegradable
Free of toxins and carcinogens
Soot free
Made from renewable sources
In a bid to keep its clientele manageable and maintain its top-notch customer service, Element Tree Essentials only accepts private label agreements via application.
All In Candle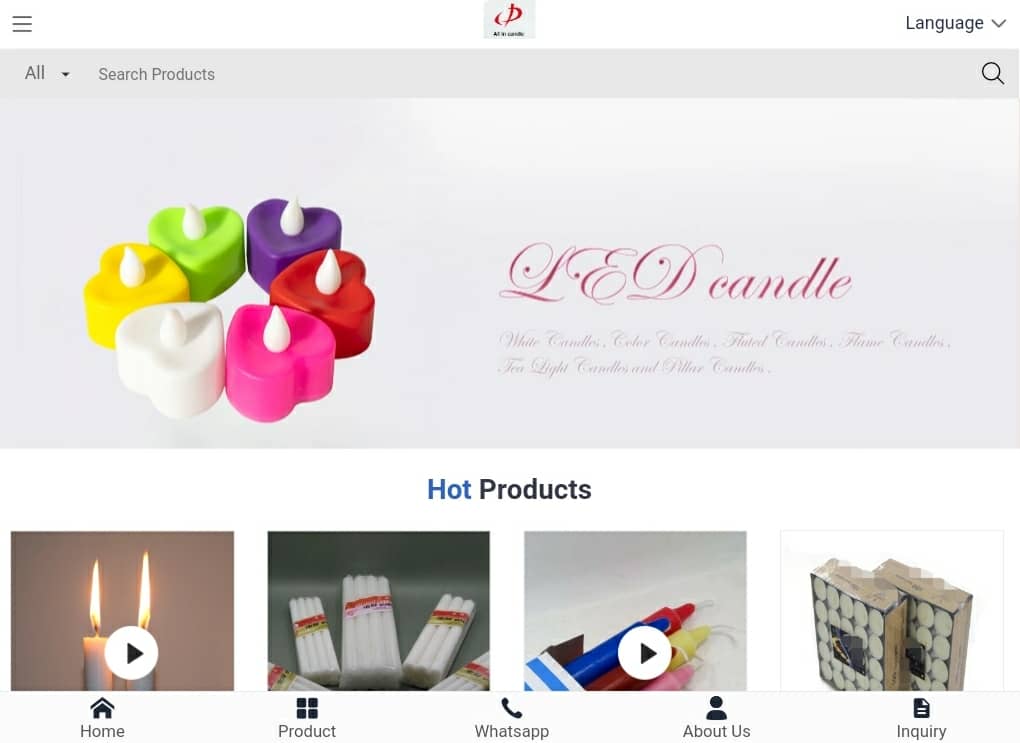 All In Candle was established in 2014 and operates from Hebei, China. It manufactures:
Plain white cancels
Tea light candles
LED candles
Fluted candles
The LED candles, in particular, are a unique innovation that most manufacturers do not offer. They may intrigue customers and elevate your brand.
All private label orders are made through individual inquiries. Prices and MOQ are also calculated on a case-by-case basis depending on the design factors you choose. All In Candle ships across the world and offers a variety of accommodative shipping terms.
Copenhagen Candles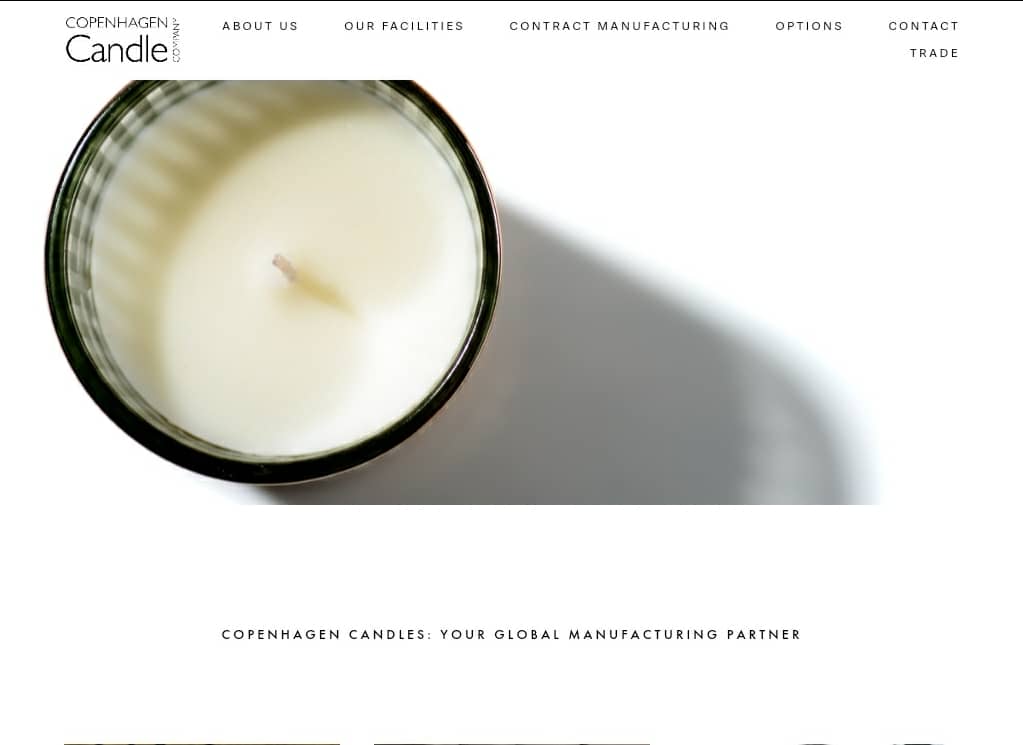 Copenhagen Candles is ironically located in Kent, in the United Kingdom. It additionally has a manufacturing and warehousing facility in China. It was established in 1999 and currently produces about 3 million candles annually for brands across the world.
The private labeling services at this firm cover all the bases from design support to fragrance selection and manufacturing. Copenhagen Candles further produces different candle vessels made of wood, ceramics, glass, card paper, and metal.
All candles undergo rigorous quality tests after production. The logistics team then takes over to ensure that your candles are dispatched on time on FOB shipping terms or other options that are ideal for you.
Panda Bambu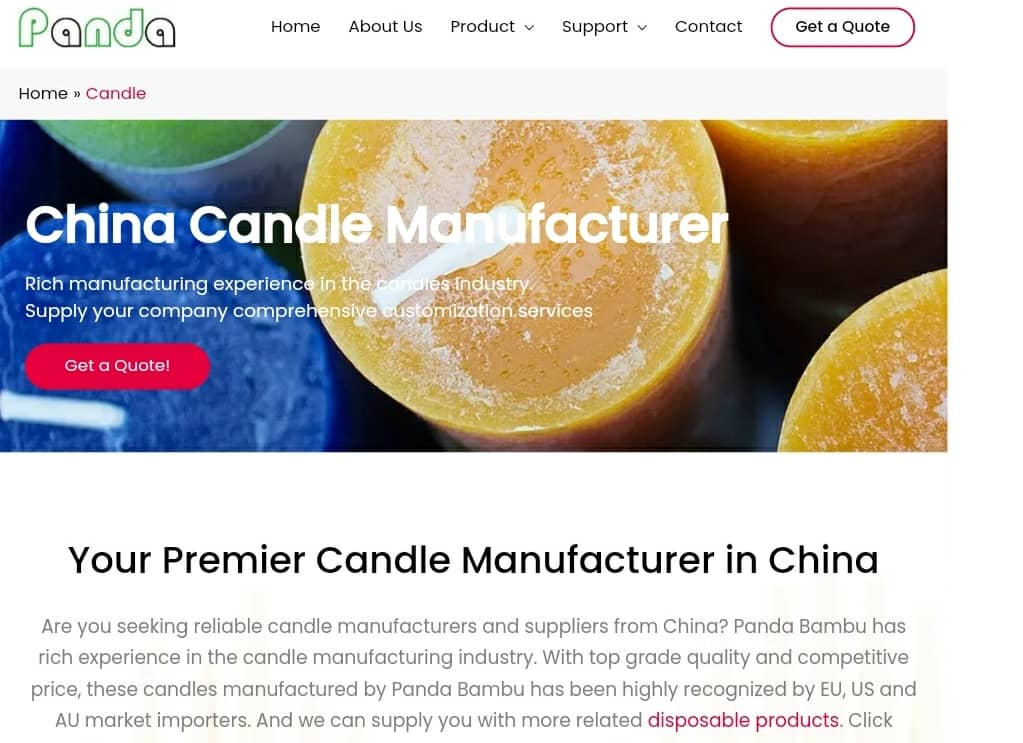 Panda Bambu is a China-based firm that manufactures candles that meet consumer standards in the EU, Australia, the USA among other export destinations.
The upside to this is that once you disclose your target market, the firm can help you design candles that meet the recommended standards. It could save you lots of money and ease your product launching process.
Panda Bambu is experienced in making:
Pillar candles
Glass jar candles
Citronella candles
LED candles
Party candles
Art candles
The wax options range from paraffin wax and vegetable wax like soy and coconut. The MOQ is 25 to 30 cartons. Panda Bambu further offers worldwide shipping and promises short turnaround times.
Karl Winters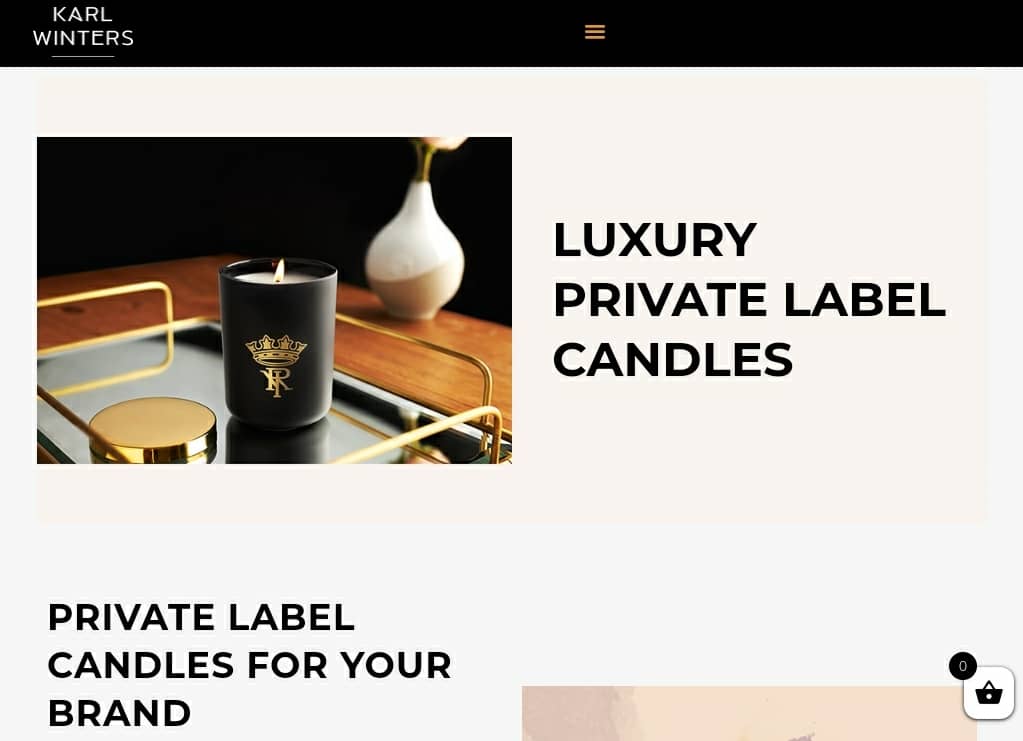 Are you aiming for the luxury candle market? Then Karl Winters could be the manufacturing partner to help you conquer that market niche. It is a luxury private label manufacturer based in Montreal whose client list includes notable brands like the Ritz Carlton.
Private label candles from Karl Winters are made outstanding by the quality of wax, packaging, and high-brow scents used to make them.
The wax and packaging are made in-house while the scents are sourced from Grasse in France which is, in essence, the Mecca of perfumery.
The MOQ is a modest 500 units of candles designed to your wishes.
Bougies La Française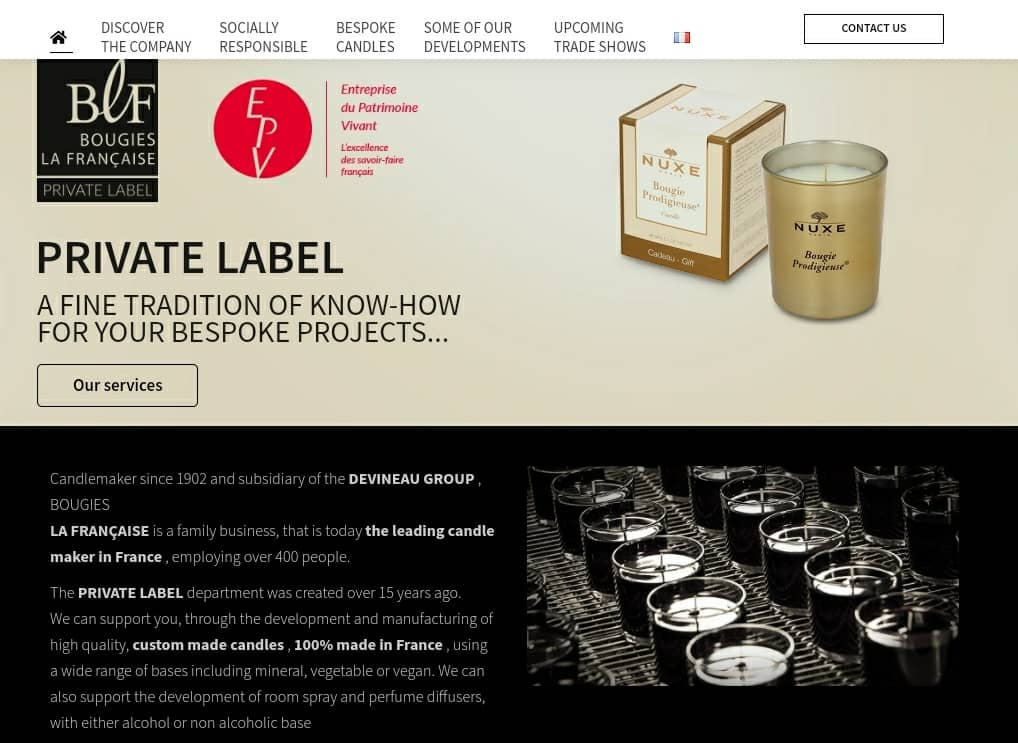 Bougies La Française has the richest history of all the manufacturers on this list. It was begun in 1902 and has perfected its candle-making craft for over a century.
The private label department was, however, only set up 15 years ago as a way for the firm to help other brands grow.
This firm helps brands develop candle designs from scratch or using design inspiration from different sources. You can choose your pick of candle scents, colors, shapes, and even weights.
The R&D team will then help you execute the design idea in the best way possible.
Bourgies La Français ships from France and offers export support to its international clients. The MOQ is only 500 units.
FAQ About Starting a Private Label Candle Business
How Do You Make Your Own Candle Brand?
The first step to setting up a private label candle brand would be to register a business with authorization to manufacture and sell candle products. You can then choose to either:
Manufacture your own candles if you have the resources and expertise
Partner with a white label candle manufacturer
Partner with a private label candle manufacturer
Hire a candle manufacturer to provide contract filling services for you until you are able to produce your own candles
How Does Private Labeling Candles Work?
Private labeling is a business approach where you contract a manufacturer to produce candles specifically designed for your brand. The candles will also be labeled and sold under your brand name.
It is a good approach to consider if you would like to offer your customers a unique design of candles and have an edge over your competitors.
Selling private label candles may equally allow you to sell your candles at a higher profit margin because they would be providing something for your customers that other candles in the market may not offer. Such special qualities could include:
Superior packaging
Better scent variety
Advanced design options like LED candles
Longer and cleaner burns
How Can I Make My Candle Business Unique?
Private labeling gives you complete control over the design process. So, try and do as much market research as you can to identify candle design features that are missing in the market.
For example, if you will be ordering scented candles, try and work with manufacturing partners that provide niche scents that not every other candle company offers. Look out for scents that are pleasant and long-lasting but mild enough to stir allergies too.
Eco-friendliness is now also a major consideration among consumers. It may thus work to your benefit to design candles made from sustainably sourced raw materials, are recyclable or biodegradable, and burn without emitting any harmful fumes.
Is the Candle Business Profitable?
Yes.
Studies show that the versatile applications of candles and the rise of self-care trends have boosted the growth rate of the candle industry.
Nevertheless, it is crucial to research your market and invest in quality products to ensure that your collection of candles appeals to the preferences of your target market.
In conclusion
It is evident that if you choose to start a private label line of candles, you will have an abundance of manufacturers to work with. You only need to clearly define your brand goals and use them as a yardstick to find the best manufacturer for your needs.
Are you worried about finding a reliable private label candle manufacturer? Leave it to us. We can harness our networks to find you top-tier manufacturers and help you navigate the product development and product branding processes.
Do send us a brief highlighting your requirements and request a free quote at any time. We will promptly get back to you to guide you throughout the whole sourcing process.