People all around the world are now keener to incorporate fitness into their lives to boost their health and overall wellness. This has, over time, led to a rise in demand for activewear and fitness accessories.
As a result, there are now lots of activewear retailers and dropshippers. However, the market is not saturated. You can still reap great profits by offering an innovative brand of activewear that appeals to current consumer needs and trends.
In this guide, we highlight some top private label activewear manufacturers that you could partner with to bring your fitness brand to life.
Read on.
Top Private Label Activewear Manufacturers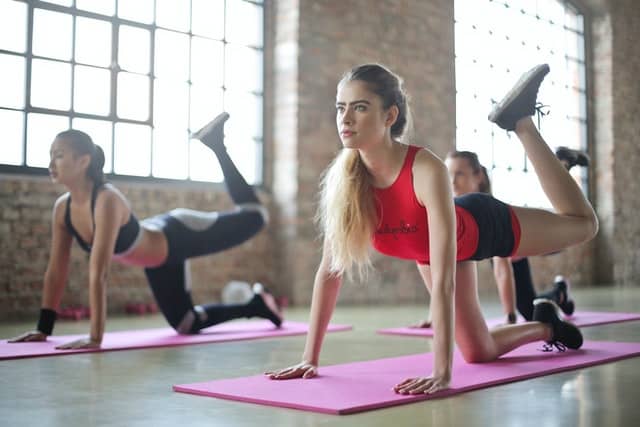 Uga Fashion
Uga Fashion is based in Dongguan, China, and has been manufacturing activewear for almost a decade. It produces shorts, yoga leggings, sports bras, jackets, hoodies, and more.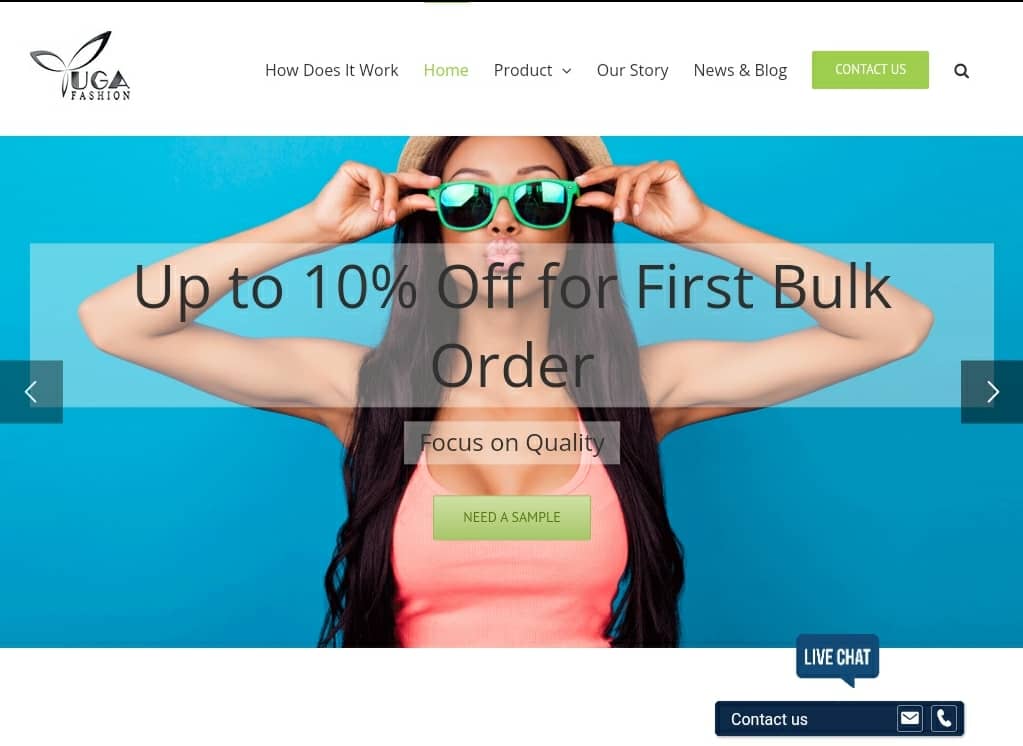 Once you present your design sketches or ideas to the firm, the design team examines them and contacts you to discuss specifics such as fabric options, colors, and product branding. The finalized design is then sampled for your approval before bulk production begins.
The MOQ for most items starts at 200 pieces but the company allows mixed orders where you can order the same item in different colors and sizes. The turnaround time for bulk orders is between 25 to 30 days. Uga Fashion exports to over 30 countries globally.
Arabella Clothing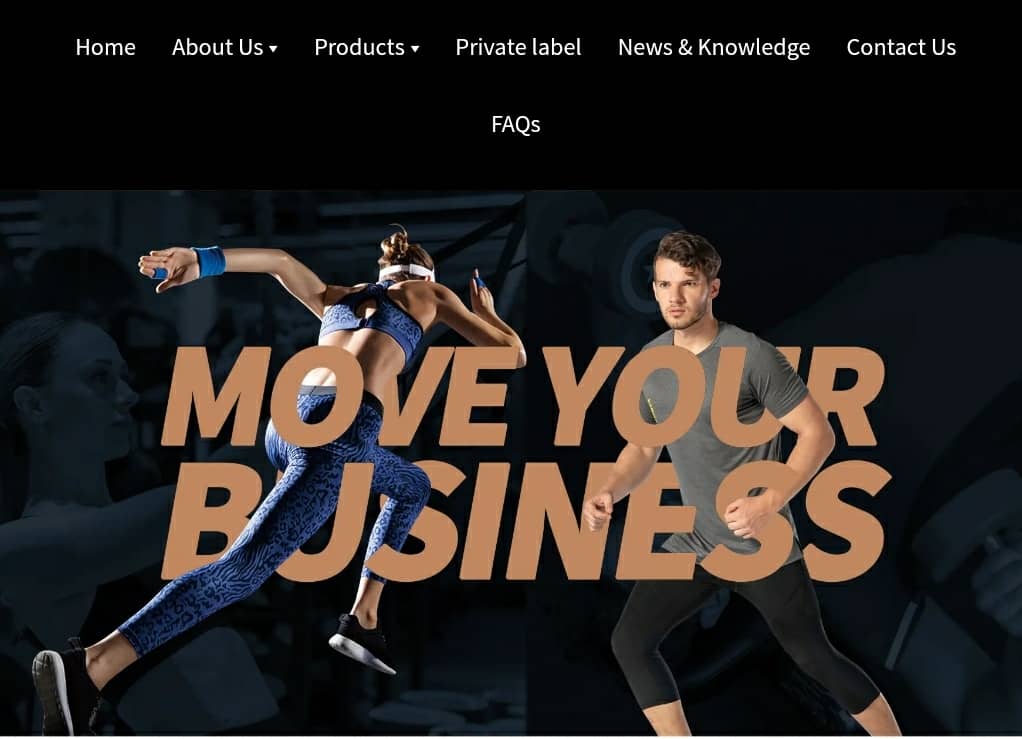 Arabella Clothing is a family-owned business that was set up in 2014 in Xiamen City, China. Despite its short stint in the industry, it has managed to make a name for itself and bag top-level clients like Fila, Track & Field, and Weissman.
The company prides itself on great attention to detail and is also committed to using high-performance fabrics and production methods.
As a private label client, you can partner with the firm in one of two ways. You could either select one of the Arabella catalog designs and have it customized to your preference or present the firm with unique design concepts for your private label fitness apparel line.
The MOQ for unique designs is 600 pieces per style while that of in-stock designs can be lower. The Arabella factory takes about 45 to 60 days, after you approve the samples of your products, to complete a bulk order.
Vimost Sports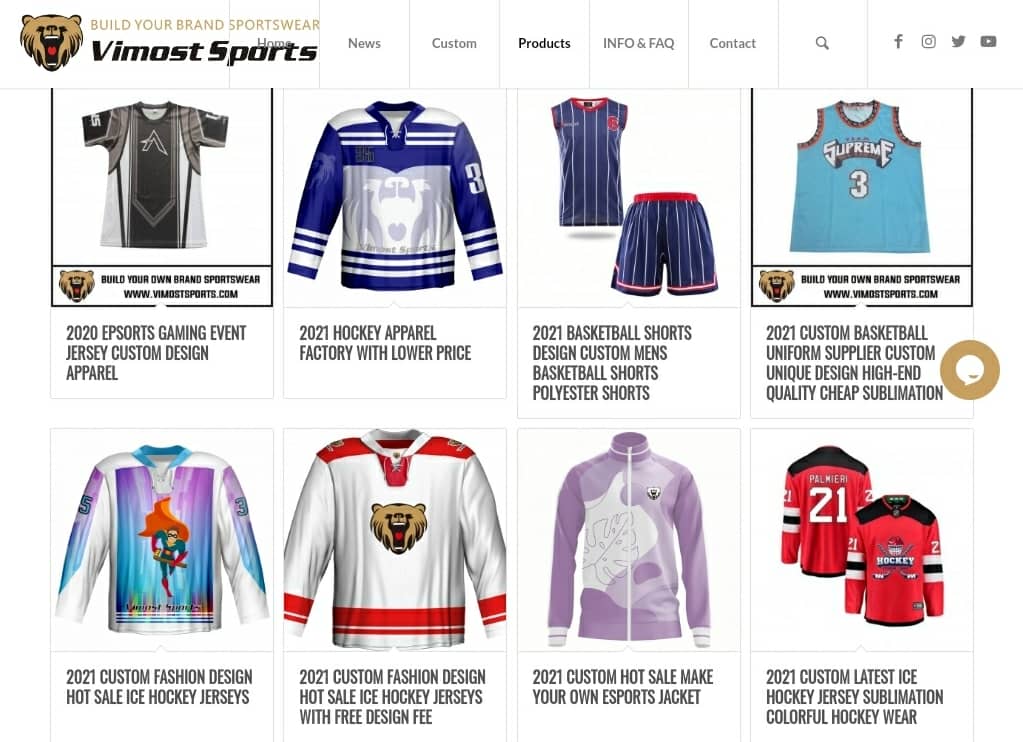 Vimost Sports specializes in the production of sublimated sportswear. The sublimation technique yields more durable and better quality printed clothing compared to other approaches like screen printing or heat transfers.
Some of the activewear items produced by Vimost include:
Sports kits for cycling, ice hockey, basketball, American football, lacrosse, etc.
Hoodies
T-shirts
Polo shirts
Jerseys
The company has an in-house design team that can help you create a suitable design for your private label line or you can share your own ideas.
The team also helps clients pick suitable fabrics that are breathable and ideal for the kind of branding and designs that you propose.
Notably, this firm has no MOQ but orders under 10 pieces attract extra shipping fees.
Speaking of shipping, Vimost is based in Chengdu, China but ships to clients across continents. Orders of up to 300 pieces are shipped within 14 days but bigger orders can take longer.
Fito Industrial Company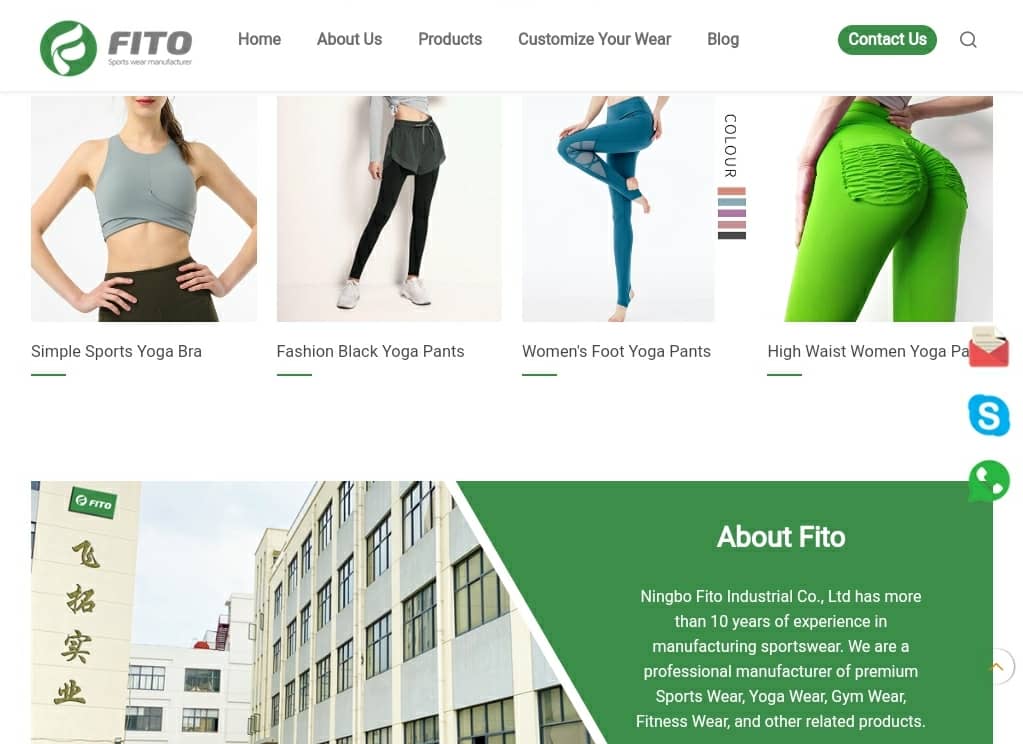 Fito Industrial Company is famous for its yoga wear but it also manufactures men's gym clothes and fitness accessories. It is based in Ningbo, China but it partners with both local and international clients.
The yoga-wear items produced by Fito include yoga bras, yoga pants, yoga sets, shorts, and hoodies for women. If you place a private label order with the company, they can execute your design, brand the items, and even work with you to design and produce the packaging.
Fito produces activewear samples for your appraisal at a fee. The fee is, however, refundable if you place an order within the MOQ which is 1,000 pieces. Trial orders for startups or market tests are, nevertheless, also accepted.
Aktik Custom Sportswear
Aktik Custom Sportswear has over 15 years of experience in the production of fitness apparel. It produces wholesale leggings, biker shorts, custom tracksuits, tank tops, t-shirts, sweatshirts, and much more.
The Aktik factory is based in Dongguan, China. It is a vast and well-equipped facility that enables the company to deliver bulk orders in durations as brief as 25 days.
This may, therefore, be an ideal firm to consider if you would like to get your private label fitness clothing to market in a short time. You may equally enjoy the creative freedom that its wide range of printing and production techniques can offer.
In terms of service delivery, Aktik Custom Sportswear offers a low MOQ of just 100 pieces and has a strict 5-step quality control system for all items. The company has export experience too and ships across the world.
Royal Apparel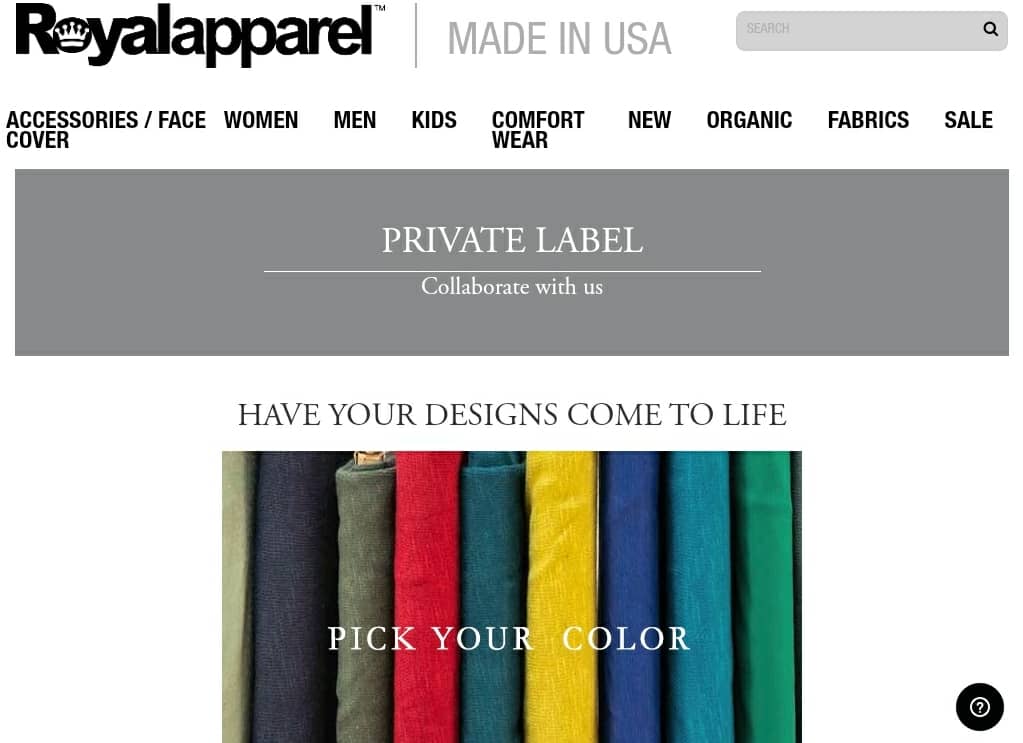 Royal Apparel is based in Hauppauge, New York, and has other branches in the USA. It provides a full range of white labeling and private labeling services for brands that require activewear for women, men, and kids.
The fabric options of this company are particularly worth mentioning. They include eco-friendly options like:
Viscose bamboo organic
Organic cotton
Viscose hemp organic
Eco Triblend
Aside from their sustainability, these fabrics are also durable and breathable. On the other hand, you can still opt for typical fabric options like modal/poly or cotton spandex if you reckon they would be a better fit for your private label fitness workout clothes designs.
Royal Apparel requires private label clients to register an account on the company website when initiating private label consultations. Its MOQs range between 1200 to 1400 units and its lead times are between 8 to 10 weeks after sample approval.
Buranika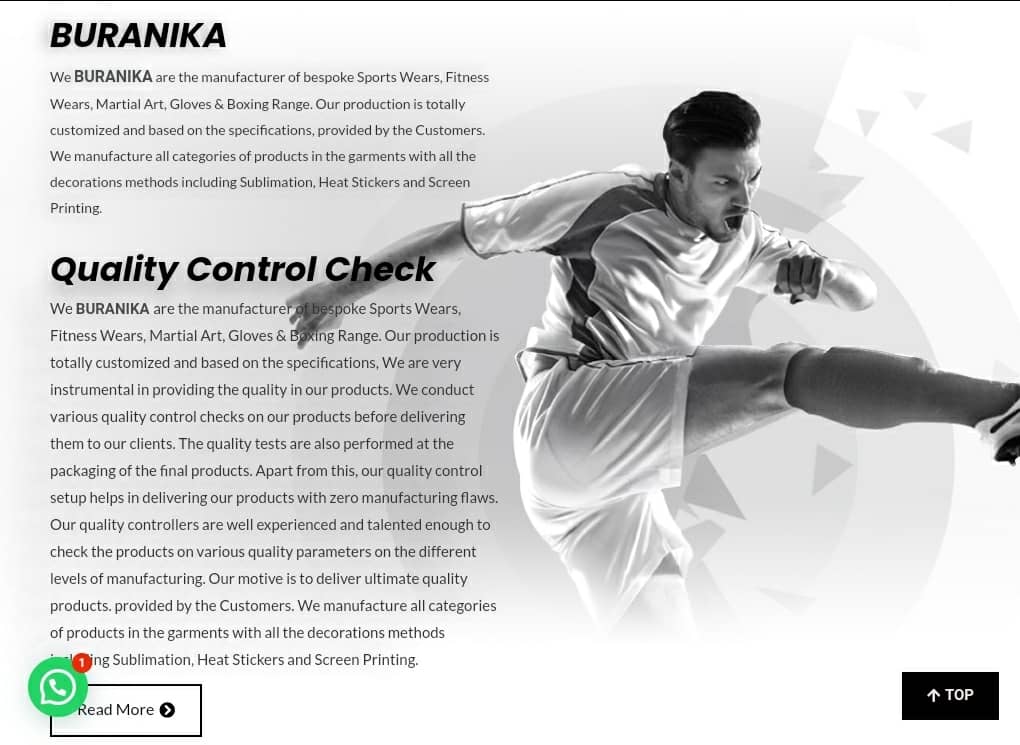 Buranika is a Pakistan-based fitness apparel manufacturing company. It stands out because it manufactures sports apparel for Martial Arts and boxing which are often left out by most manufacturers.
In addition, this company produces other fitness items like leggings, gym shorts, tank tops, track joggers, and sweatshirts.
The Buranika team and factory are equipped to execute different types of designs based on the ideas, drawings, or budget that you share with the firm. This includes decorative methods such as sublimation, heat stickers, and screen printing.
MOQs are differentiated into 2; the Grow Fast category is for start-ups while the Professional category is for mid to large-size private label brands. The company further has a minimum color quantity for mixed orders but provides free size grading services.
All lead times are subject to the details of your order.
Signal Sportswear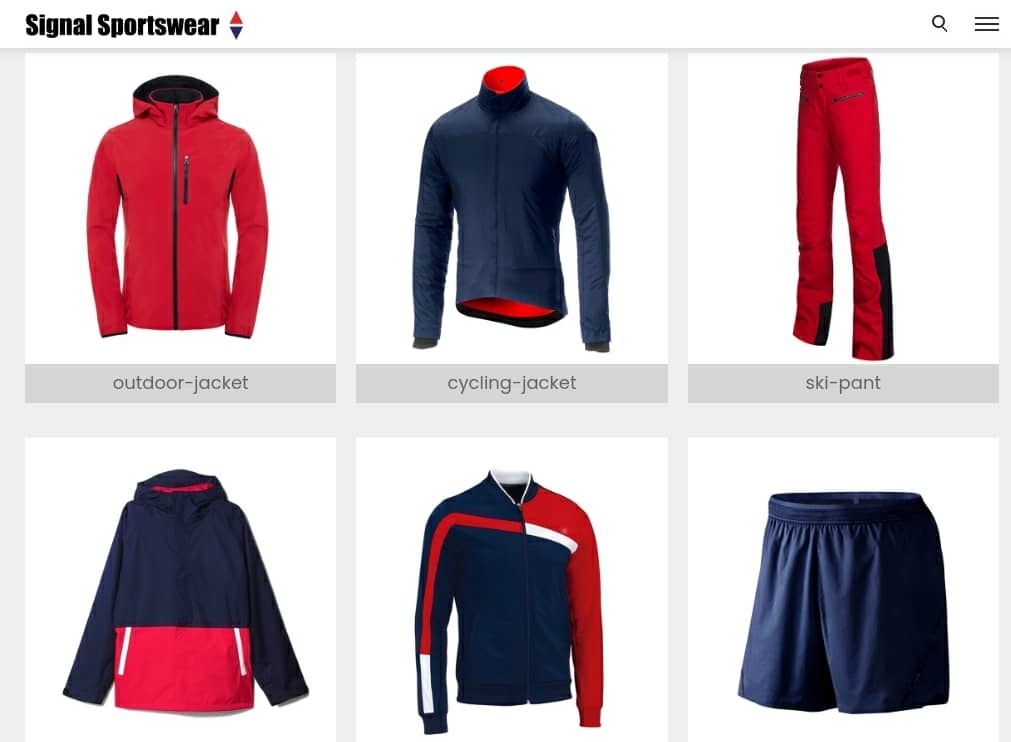 Signal Sportswear is headquartered in Taipei, Taiwan but has production facilities in China, Cambodia, Bangladesh.
This vast supply chain serves various private label clients globally and could make it easy for you to access and distribute your activewear in different markets.
Moreover, Signal Sportswear is proficient in the production of a wide variety of activewear. It can execute private label concepts for sportswear worn by skiers, runners, footballers, cyclists, and even yoga enthusiasts.
The typical MOQ is about 800 pieces but this varies based on the fabrics and designs that you require. The company can source fabric from your nominated suppliers or source the fabric on your behalf. Shipping terms are also negotiable.
Minghang Garments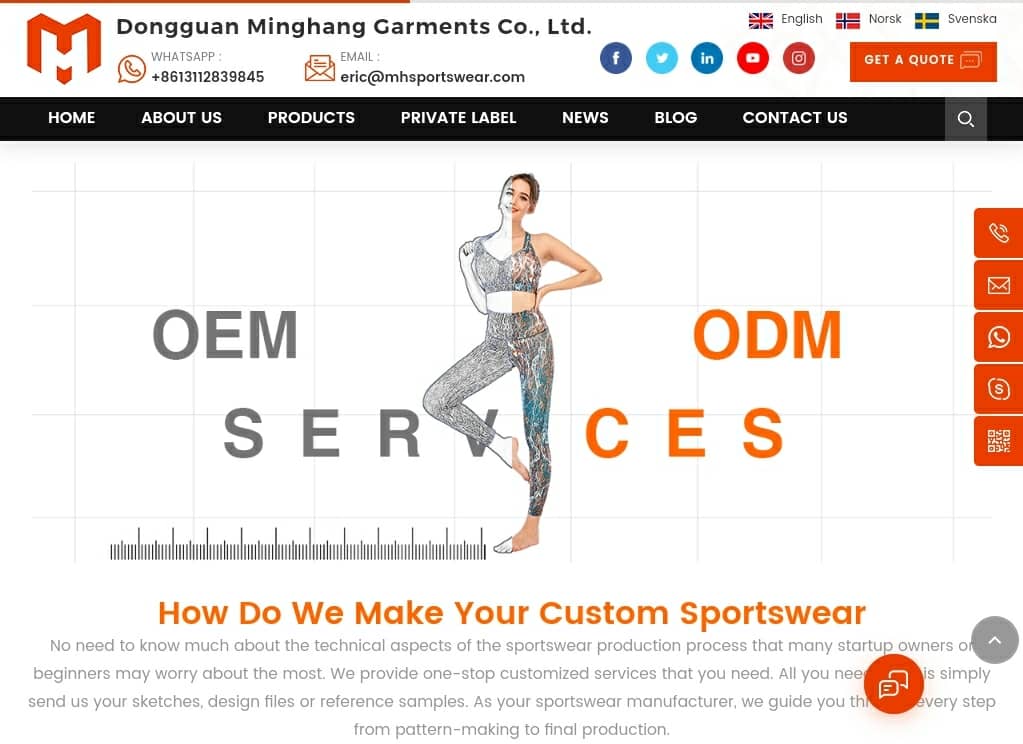 The Minghang Garments factory in Dongguan, China, produces all kinds of sportswear from swimwear to yoga sets, hoodies, sports bras, and shorts.
The company's private labeling process is quite easy and can fully be done online. You only need to:
Provide a sketch with size, color, and any branding details that you require.
Consult with the R&D team to fine-tune design details and fabric options.
The company produces samples and ships them to you.
Mass production begins if and when you approve of the designs.
The lead time for bulk orders is 20 to 30 days.
Fitness Clothing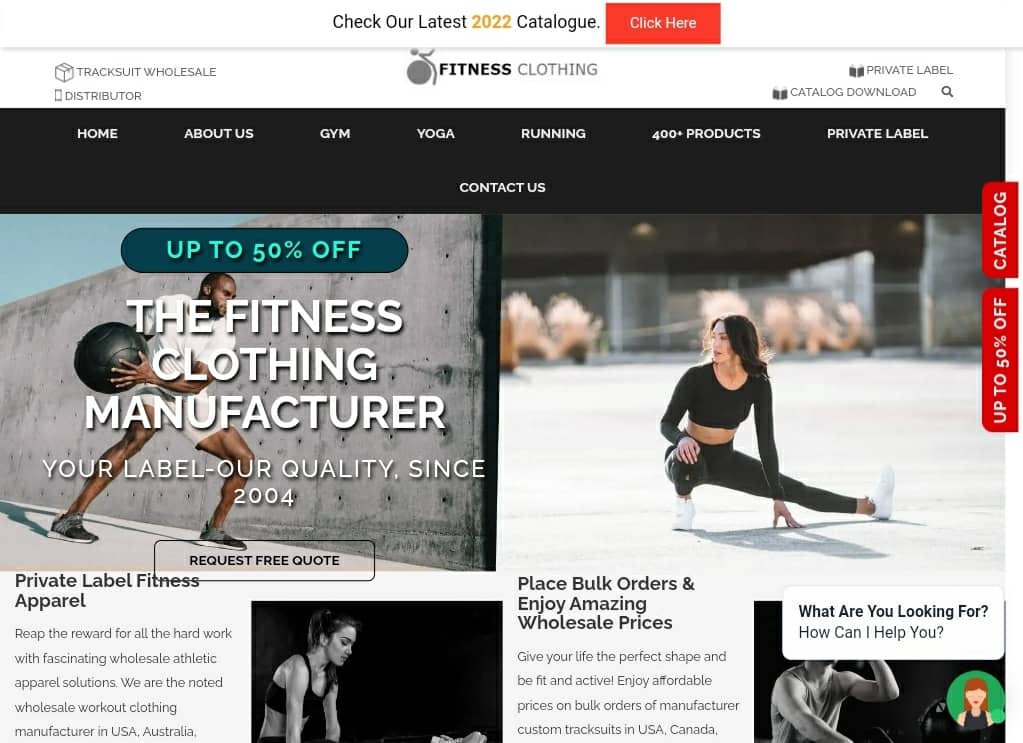 Fitness clothing was set up in 2004. It serves different sports and wellness brands from its headquarters in Beverly Hills, California, and its satellite branch in Sydney, Australia.
This manufacturer's showcase catalog comprises a broad selection of activewear for the gym, swimming, numerous outdoor sports, and yoga. Therefore, you can order any of these items for your private labeling venture.
If you prefer eco-friendly manufacturers and apparel, Fitness clothing would fit that bill too. It offers an exclusive range of eco-friendly and sustainable fabrics.
Zinc Athletics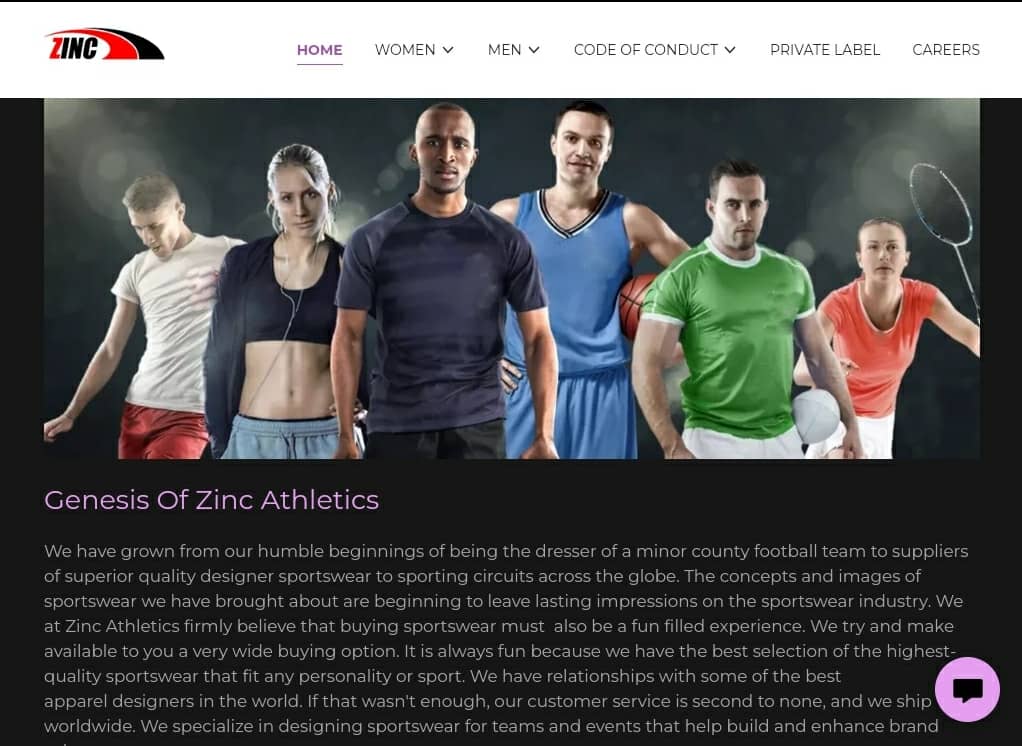 Zinc Athletics would be a dynamic partner to work with. On one hand, it is a sportswear wholesaler that sources and sells goods from multiple manufacturers. However, it also has an in-house private labeling sportswear department.
The upside to this kind of company is that if private labeling seems too challenging at first, you could always start by selling white label sportswear and advance to private labeling after a short while.
Just like with other companies, you only need to share your design ideas and approve samples for Zinc Athletics to produce your sportswear. MOQs vary on a case-by-case basis.
Xinfu Activewear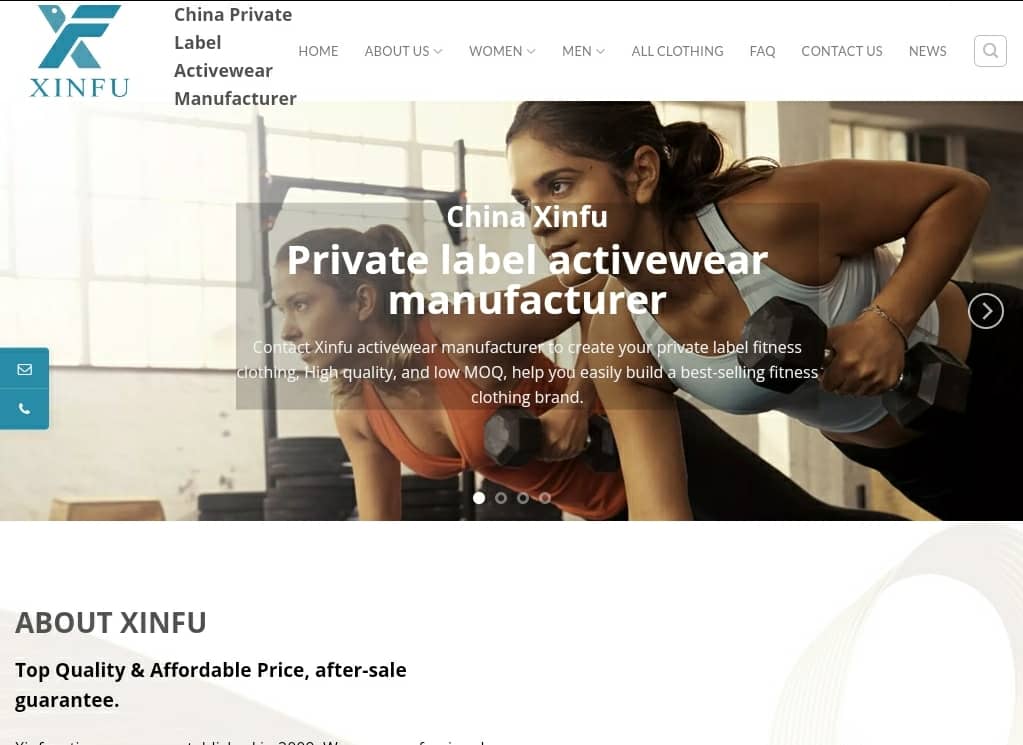 Xinfu Activewear upholds a high level of quality standards that could make your private label workout apparel stand out to customers.
Its quality standard for fabrics, for instance, is the OEKO-TEX standard 100 which is quite outstanding and well-regarded in most countries.
The company produces gym wear, yoga wear, sweatsuits, and athletic apparel for both men and women. Partnering with this manufacturer could also give you access to:
Free size grading including plus sizes which could give you a competitive advantage most brands do not cater to the plus-size target market.
Branded packaging with tags and other brand merchandise
Different logo printing options
Aftersale services
Further, the low 100-piece MOQ could work in your favor if you would like to test the market before placing a bulk order or have a limited budget.
Xinfu is based in Dongguan City, China, and accepts private label orders from customers worldwide.
Berunwear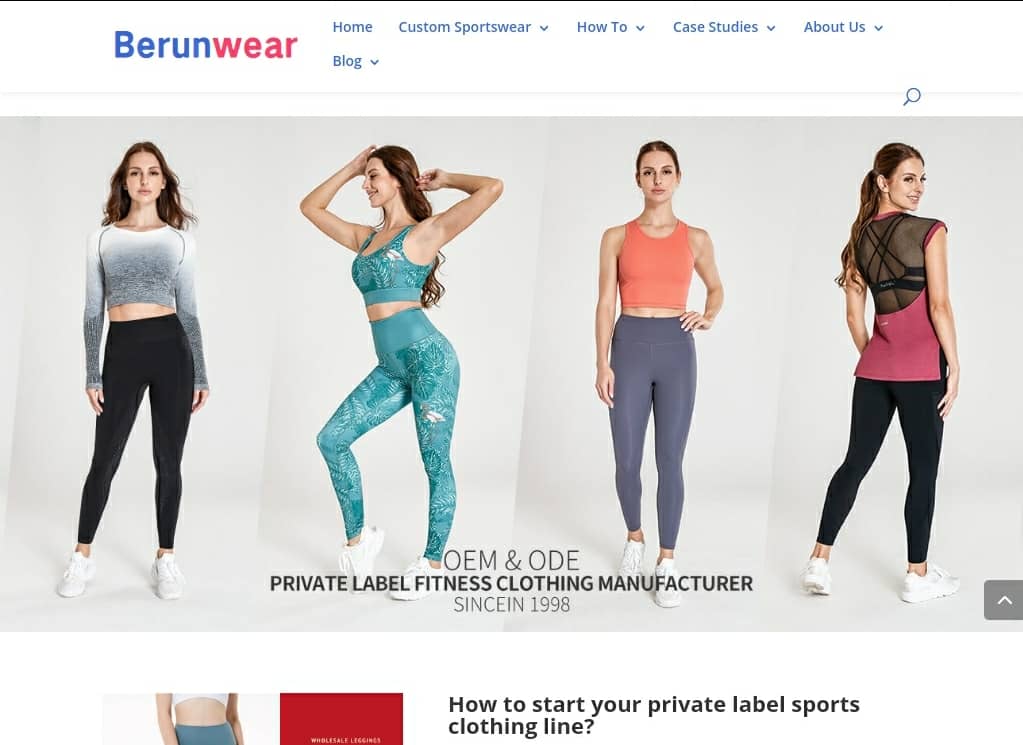 Berunwear takes a wholesome approach towards private labeling. Its list of services covers every aspect of private labeling from researching the needs of your target market to creating a product line with a unique selling point and manufacturing it.
In other words, this could be a great manufacturing partner if you prefer a company that does not just sell you activewear but can instead also help you build a profitable private label activewear brand.
This firm manufactures all sportswear items including niche products like neck gaiters, beanies, and compression wear.
It uses embroidery, sublimation, screen printing, as well heat pressing techniques. It provides numerous fabric options from lycra to cotton and spandex too.
Berunwear determines MOQ based on the production method that you opt for. The MOQ for sublimation fitness apparel is 10 pieces per style while that for cut and sew garments is 30 pieces per style.
The company headquarters is based in the USA but the production facility is located in China. It also has multiple distribution facilities in the UK, Canada, Australia, and ships worldwide.
Tokalon Clothing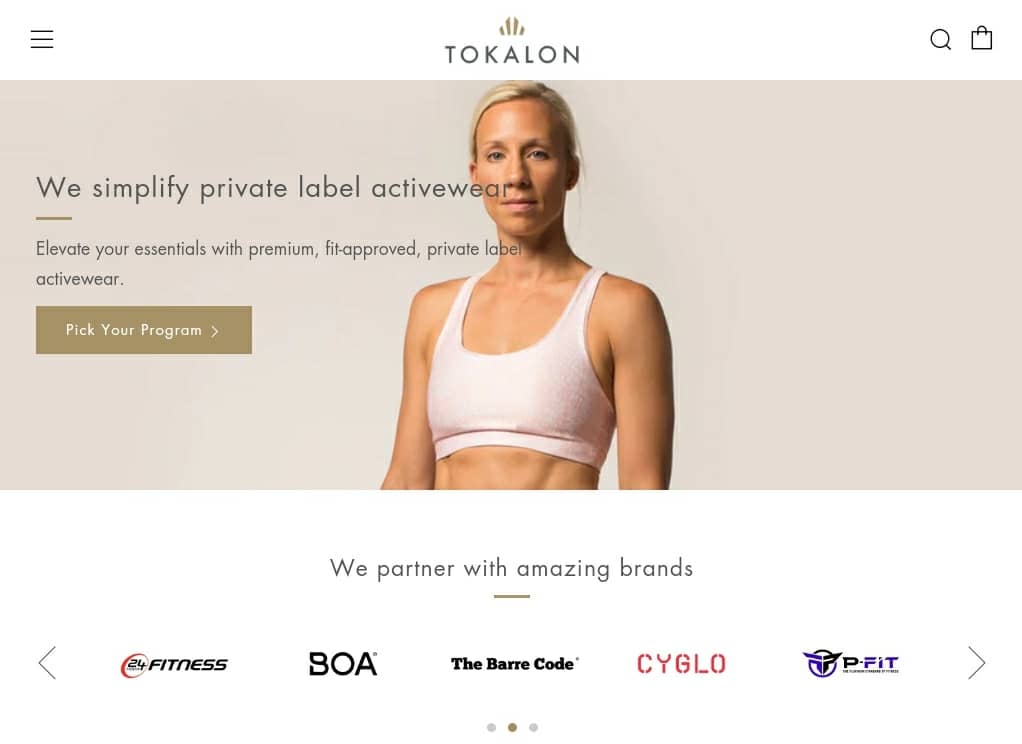 Tokalon clothing offers white labeling and 3 different private labeling packages to fitness apparel brands.
The 'Best Value' package allows you to select designs from the Tokalon Clothing activewear catalog and customize them to meet your requirements.
In contrast, the 'Most Exclusive' is recommended for brands that prefer to create a completely original design from scratch.
The 'Enterprise-level support' package is the most advanced and offers more options than the rest. It, for instance, allows clients to source special fabrics other than those used by Tokalon or request special print techniques or garment trims.
Each of these packages has a unique MOQ and estimated lead time. That said, they simplify the private labeling process and make it easy to only pay for the services that you need.
Hingto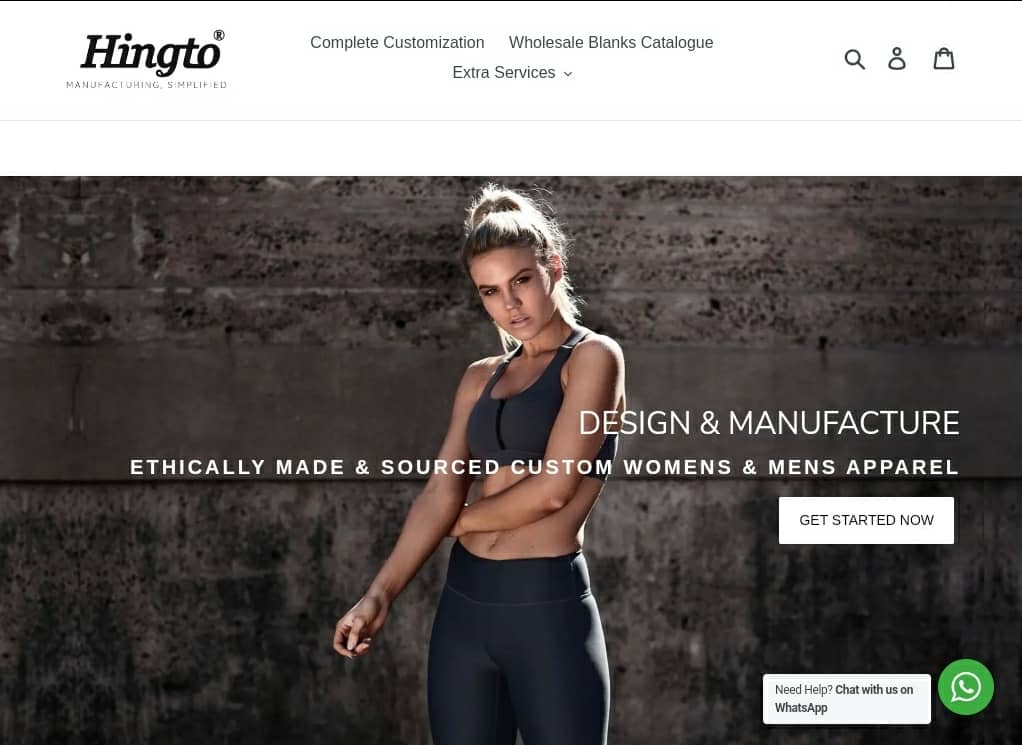 The Hingto headquarters are located in Sydney, Australia while its sales and manufacturing facility is in Guangzhou, China. It manufactures activewear for men and women and adheres to fair trade and sustainability practices.
Instead of only producing activewear for sports or gym workouts, this company also caters to the athleisure market. This is a budding niche that could earn you great returns as there are lots of consumers that enjoy trendy sportswear that they can also lounge in.
Hingto prioritizes product quality and only uses carefully vetted fabrics and decorative techniques. Its MOQs for private label activewear typically start at 200 pieces but could go higher depending on the design. Bulk orders take about 45 days.
MCO Apparel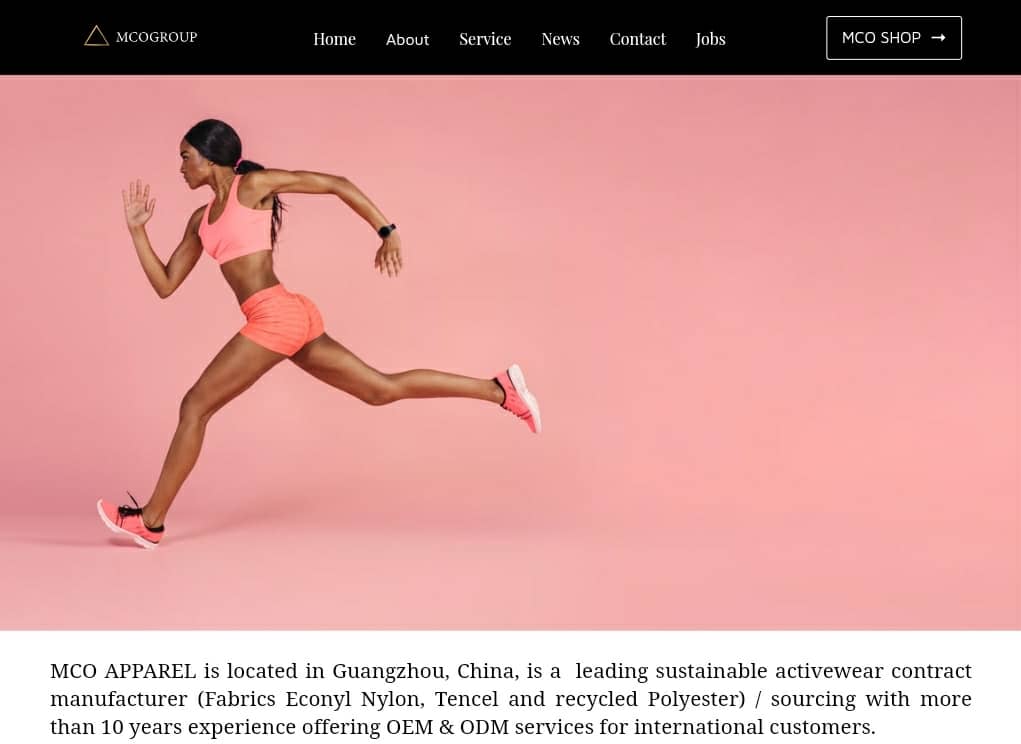 MCO Apparel could be a contender on your shortlist if you need an eco-conscious activewear manufacturer. Its commitment to the environment is particularly evident in its sustainable fabric selection and its OEKO-TEX 100 certification.
The MCO factory is equipped to manufacture sportswear, yogawear, swimwear, and cycling apparel. All processes from sampling and manufacturing to the 5-step quality control checks are all done in-house.
MCO is based in Guangzhou, China but ships private label fitness clothing worldwide.
Hucai Sportswear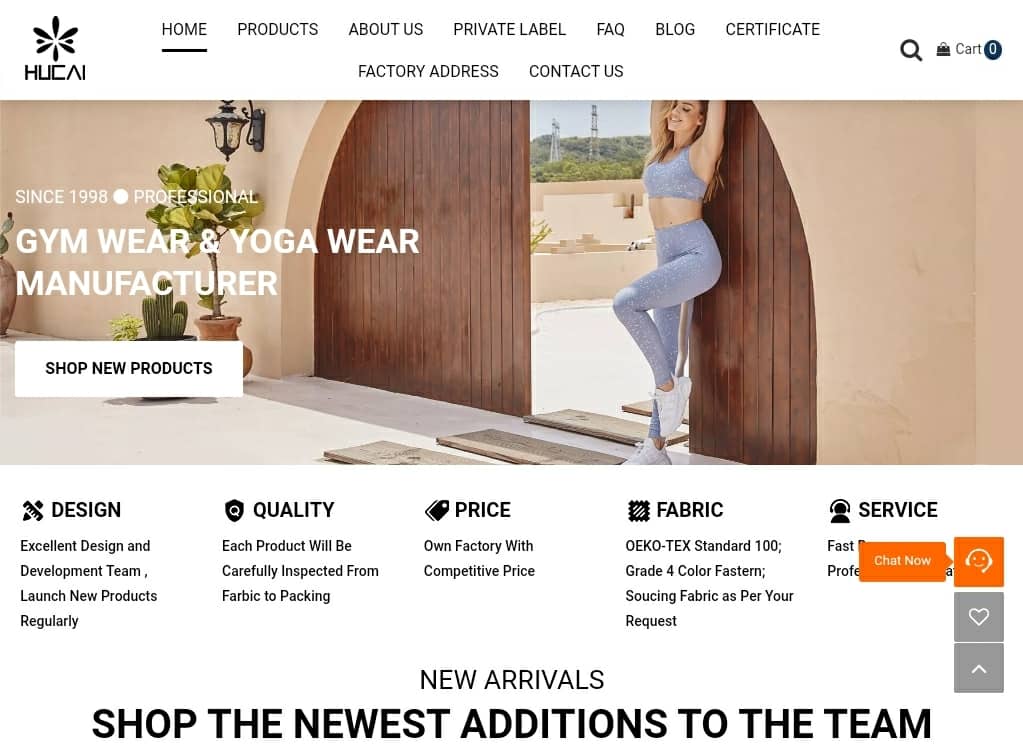 Hucai Sportswear has been in the sportswear industry for over 2 decades. Nonetheless, it continues to produce impressive collections of trendy modern:
T-shirts
Vests
Yoga wear
Sports bras
Gym clothing
The company offers R&D support where necessary to ensure that you achieve your brand objectives. Further, aside from manufacturing, Hucai also offers private label clients:
Decorative services
Care label design and attachment
Color customization
Customized polybag among other packaging options
The MOQ is 200 pieces with a provision to mix 2 different colors and 4 size options.
Strench Fitness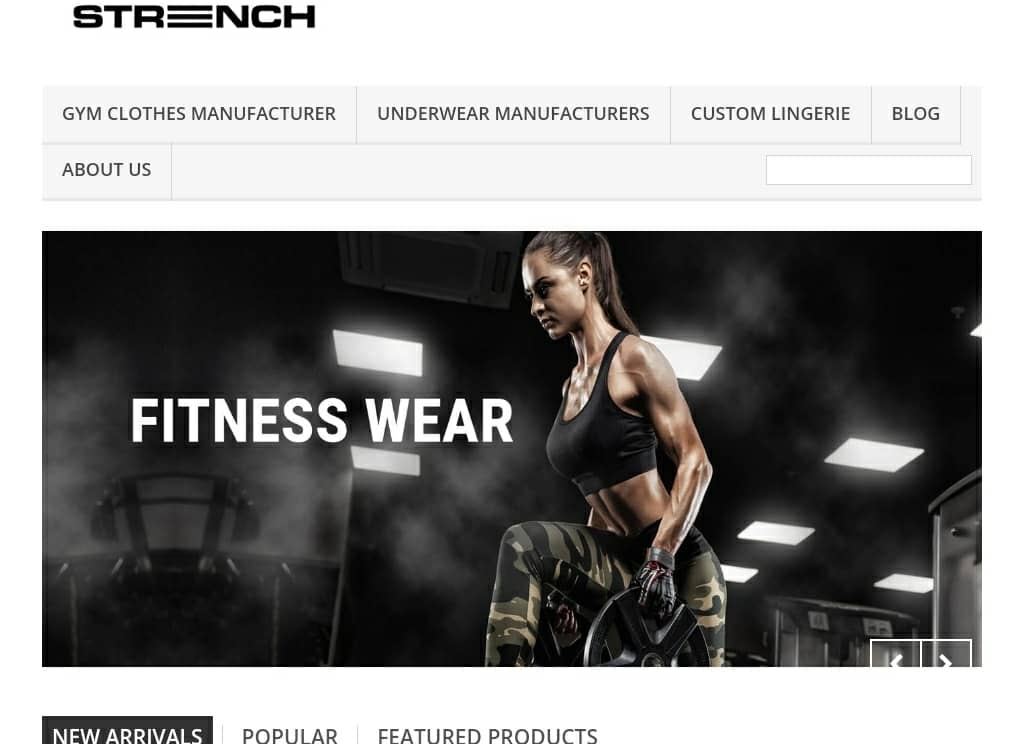 Strench Fitness is a subsidiary of the much larger Strench band based in Yiwu City, China. The firm is dedicated to producing comfortable, stylish, And breathable clothing that supports an active lifestyle in and out of the gym.
You can partner with Stretch Fitness to create private label attire for both men and women. Its staff has lots of experience in producing shorts, leggings, T-shirts, tank tops, seamless leggings, and compression wear.
MOQs are determined based on design and fabric choices. You can, however, place a trial order if you are not ready to order in bulk. Strench Fitness currently works with clients in the UK, the USA, Australia, and Canada but is also open to serving other regions.
The London Pattern Cutter
The London Pattern Cutter could be a particularly beneficial partner if you are starting a private label fitness brand in the UK. Besides the fact that it is based there, its list of services and approach to private labeling is quite impressive.
This firm focuses on details such as comfort, proper sizing, and adequate fabric stretching, that other manufacturers often overlook. Working with them could thus give your activewear the 'wow' factor to edge your competitors out.
The first step would be to share your vision with the team at London Pattern Cutter. They would then advise you on fabric choices, decorative options, and sizing. This is then followed by sampling and production.
There are no MOQs and so you can buy 1 or thousands of activewear items.
Pink Fudge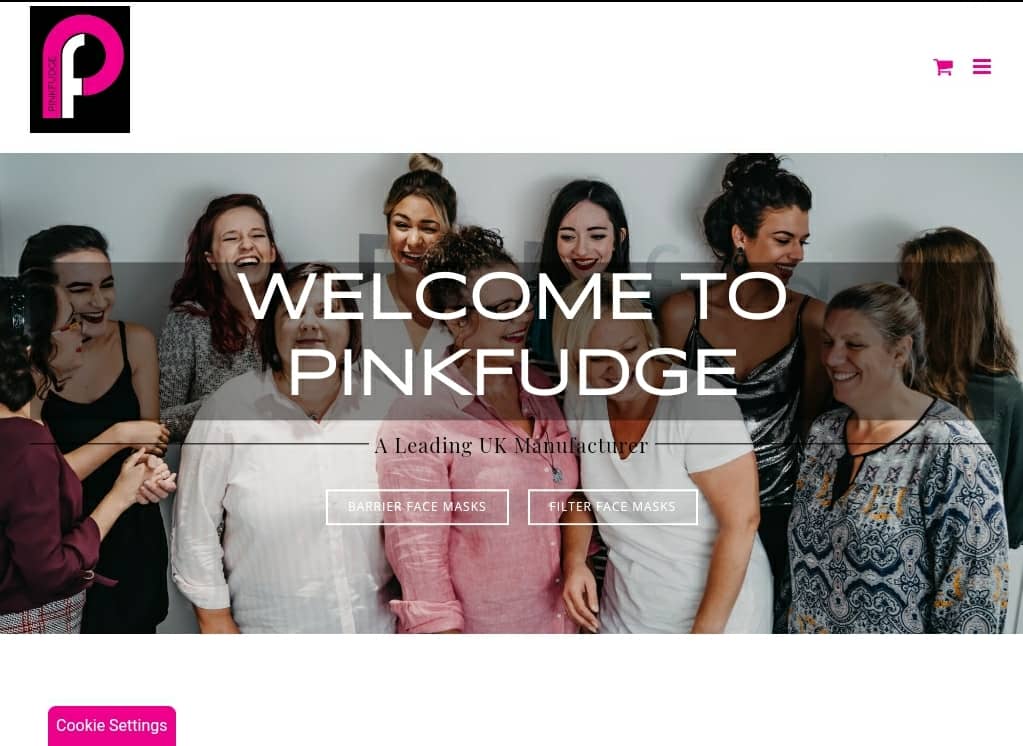 Pink Fudge is based in Basingstoke, in the UK. It manufactures gym clothes for women, men, and children, swimwear, and athleisure apparel for brands and institutions.
One of the notable features about this manufacturer is that its activewear is specifically 4-way stretch no matter the design. This helps create a more flattering and comfortable activewear fit.
All orders can only be placed via email. Subsequently, MOQs are also determined based on each client's private label gym wear designs.
FAQs About Starting a Private Label Activewear Business
What Factors Should I Consider When Choosing a Private Label Activewear Manufacturer?
The manufacturer you choose and the kind of apparel they produce for you can spur the success or failure of your private label fitness brand.
So, look out for key factors such as:
Fabric options- activewear should ideally be made of highly breathable fabric as people tend to sweat a lot during exercise sessions. Eco fabrics and thermal wear are also always a hit among eco-conscious buyers and those that live in seasonal climates.
High-quality standards- insist on very high standards of stitching, dyeing, and even logo addition. The seams should be able to remain intact during rigorous activity and both the color and logo imprints should not fade or chip off.
Technical know-how- a good activewear manufacturer should be able to advise on the right production technique for your design ideas and recommend suitable fabric too.
MOQ and Price – once you have agreed on the design for your custom activewear, it may be best to request a manufacturing quote and MOQ details. This will help you decide whether the firm matches your budget and supply requirements.
Turnaround times- aim for a manufacturer with short turnaround times. This will ensure that you get your product on the market quickly enough and avoid getting outdone by competitors before you even launch.
What Is the Difference Between Activewear and Athleisure Wear?
Activewear is also known as sportswear. It is a form of fitness apparel designed for vigorous activities like running and gym exercise. Resilient fabric that stretches and breathes well is essential when producing this type of clothing.
In comparison, Athleisure is casual clothing that can be worn for light sporting activities like taking a walk or hiking. It is also more focused on aesthetics and lounging comfort compared to activewear.
Is Private Labeling Activewear Profitable?
Yes, it can be.
From a broader point of view, the fitness wear industry is predicted to grow by a CAGR of over 6% between 2021 and 2028. It will thus be worth over $260 billion in the 7 years.
This goes to show just how vibrant the sector is and that there is still room for fitness apparel brands to prosper.
Furthermore, creating a private label activewear brand allows you to set higher prices than other run-of-the-mill options in the market. This could boost your profit margins way more than a white label activewear collection would.
To Sum It Up
Creating a private label brand from scratch can be an uphill task. However, if you find a suitable and reliable manufacturing partner, your private labeling journey can be much easier and more successful.
Any of the 20 private label fitness apparel manufacturers on this blog could be a great partner for your brand. You simply need to ensure that their services match your needs. Nevertheless, if you need more options or a quality assessment before making your choice, we can help.
Do send us a detailed list of your requirements and request a free quote. We will evaluate all the activewear suppliers in our networks, recommend the best picks, and work with you throughout your private labeling venture.