Fitness and fashion go hand in hand; both are incomplete without appropriate activewear clothing. Activewear is an ever-growing trend and working in this niche seldom disappoints business owners.
However, you can't be successful without a dependable supplier to keep the supply chain smooth.
In this article, you will have an ultimate list of activewear wholesale vendors from different regions across the world.
Let's jump right into the list.
1. NicheSources
Yes! NicheSources is on top of the list for a reason. We possess expertise in helping buyers source wholesale products from China at the best prices.
That also includes our expertise in providing the latest and trending activewear clothing and knowing where to look for your activewear requirements.
It is better to source your wholesale activewear products from a company that knows about the best places for your products. That makes NicheSources your number-one choice for buying activewear clothing.
Delivery Zones
We have delivered products to over 210 countries and regions across the world.
Key Products
Tops, sports bras, tees & tanks, outwear, bottoms, leggings, shorts &, skirts, pants, and gym sets.
Key Features
China's leading product sourcing company
Source best quality products at the most reasonable costs
Saves your time, effort, and money
Trusted by 3000+ businesses
Helps you source private-label activewear clothing as well
2. HC Sportswear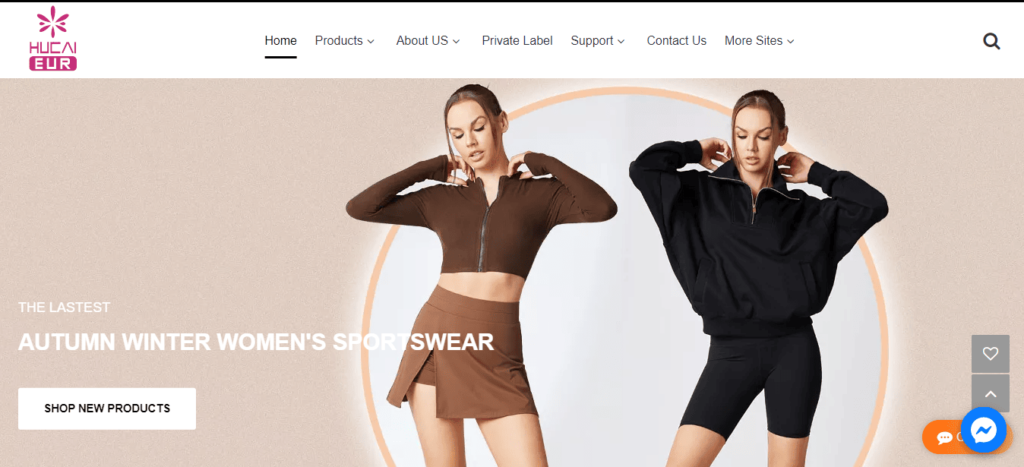 Dongguan Humen Hucai Garment Co is a promising sportswear manufacturer and wholesaler in China. Established in 1998, it has been one of the dependable activewear vendors in China.
It has various segments on its website that deal with selling activewear products for the USA and European markets.
Remember that this website is not meant for women only. They have a dedicated section for men's sportswear as well. You can find that portion on the website's main menus.
Delivery Zones
Australia, the United States, the United Kingdom, the Netherlands, Sweden, Norway, and other countries and regions.
Key Products
Leggings, sports bras, t-shirts, tank tops, hoodies & jackets, shorts, crop tops, skirts, seamless, and jumpsuits.
Key Features
One of China's largest activewear wholesale sellers
Direct manufacturers
They also provide private-label options
They use recycled fabric for manufacturing activewear clothes
3. Alanic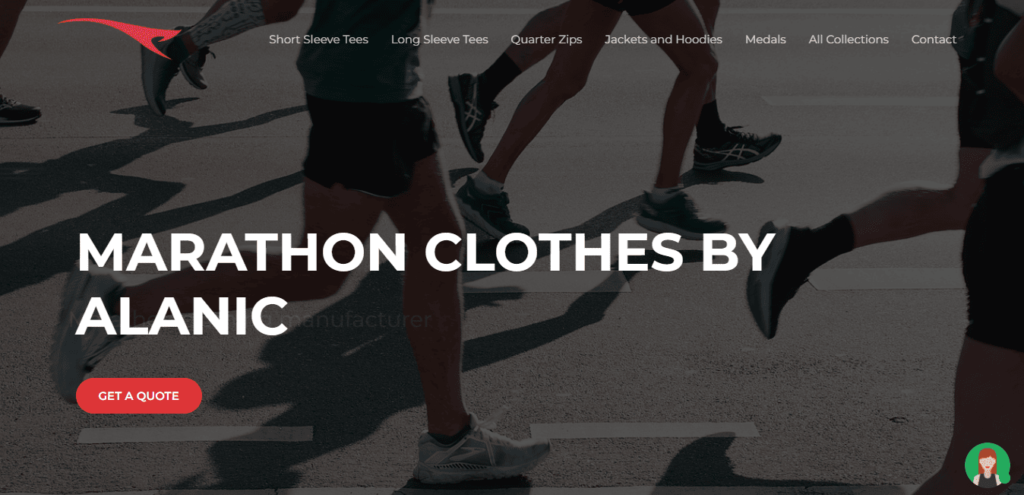 Alanic is a reputed wholesale activewear wholesale vendor in the USA. It is a subsidiary of Dioz Group established in 2005..
Alanic can be a good option for selling premium activewear clothing, as you can find a variety of quality sportswear clothing on this site. They also have a special range of products for running events like marathons.
It has a dedicated website for wholesale, offering different types of wholesale clothing items related to fitness, sports, and exercise for men, women, and children.
They offer a 10% discount as a "price-beat guarantee". If you find an activewear item that is similar to the one offered by Alanic at a lower price, they will cut the price for that product by 10%.
Delivery Zones
They offer worldwide delivery. They have offices in the USA, Canada, Australia, New Zealand, France, and the United Kingdom.
Key Products
Short sleeve tees, long sleeve tees, quarter zips, jackets and hoodies, medals.
Key Features
Premium activewear clothing options
Long range of activewear products to choose from
Fashionable and trending items
Private label option available
4. Zaful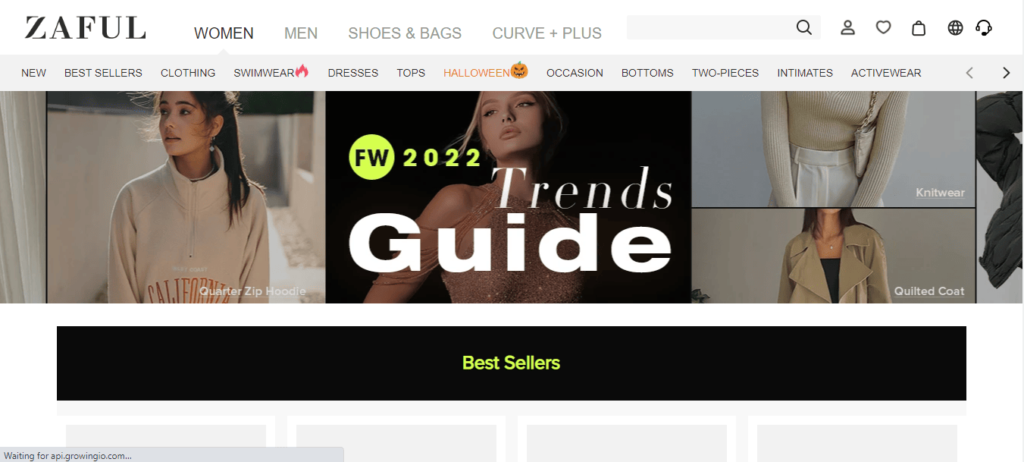 Zaful is another great option in our list of activewear wholesale vendors. It was founded in 2014 and is headquartered in Hong Kong.
It has a huge range of fashionable clothing and accessories. They offer a variety of styles and sizes in activewear for men and women.
They have established their network in major markets. That's why you will find their dedicated subdomains for various countries like the USA, Canada, Australia, etc.
Delivery Zones
Worldwide delivery with standard and express shipping options.
Key Products
Clothing, jackets & coats, dresses, sweaters & cardigans, swimwear, tops, bottoms, shoes & accessories.
Key Features
Huge variety of activewear clothing
Latest and fashionable clothing
Offers a lot of discount coupons
Photo reviews of products are available
5. Gym Clothes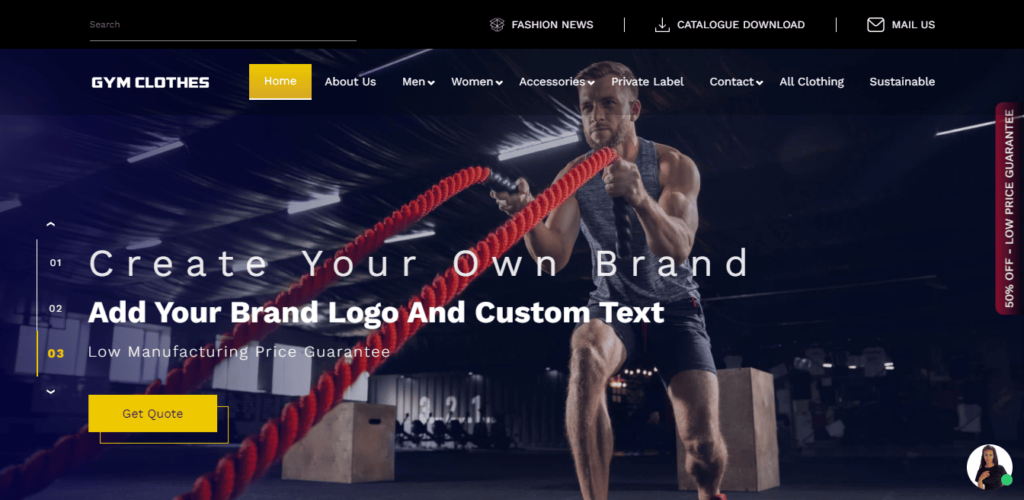 Gym Clothes is another subsidiary of the Dioz Group based in the USA. It deals in manufacturing clothes meant for gym and exercising. It has been offering its made-to-order clothing for over 16 years.
They offer high-end products with premium quality so you can also market their products accordingly to bag those extra dollars.
Their website shows a lot of quality certifications that speak volumes about their focus on quality.
They have over 160 factories worldwide to manufacture over 10,000 activewear clothing for various sports and related activities.
So, if you want a wholesale supplier of gym clothing, you can consider this company.
Delivery Zones
Worldwide delivery at competitive pricing.
Key Products
Custom tracksuits, tank tops, short-sleeve tees, pants, shorts, long-sleeve tees, outerwear and jackets, sports bra, tank tops, women's shorts, women's gym leggings, and tracksuits.
Key Features
Direct manufacturers of activewear clothing
The private label option is available
50,000+ worldwide retailers
6. Xinfu Activewear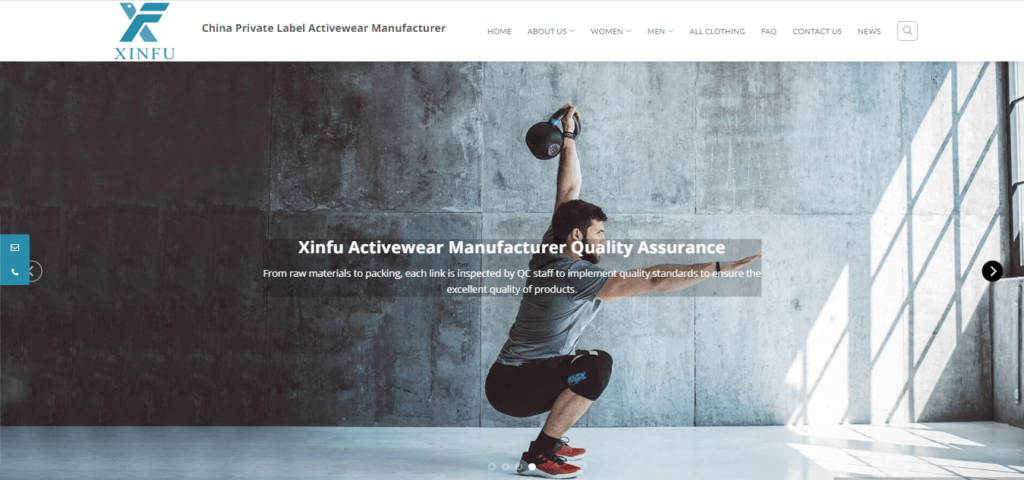 Xinfu Activewear is a good option to get your activewear items manufactured the way you want. It was established in 2009 in China.
This company deals in manufacturing activewear clothing and offers its products at competitive wholesale prices.
They claim that their manufactured items go through a lot of quality checks before the final approval.
They offer manufacturing in low MOQs. You can get your dream activewear manufactured by placing an order of 100 units only.
Delivery Zones
They deliver all over the world.
Key Products
Sports bras, sports t-shirts, yoga tank tops wholesale, custom sports hoodies, sports jackets, sweatshirts, yoga pants, leggings, jogger pants, biker shorts, running shorts, sweat shorts, sweatsuits set, fitness clothing, gym clothing, men's sports hoodies, track jackets, gym t-shirts, gym tank tops, track pants, and athletic shorts.
Key Features
Rich R&D procedures to ensure premium quality
They manufacture 10,000+ units per month
Easy and cost-effective sampling procedures
7. Sun Active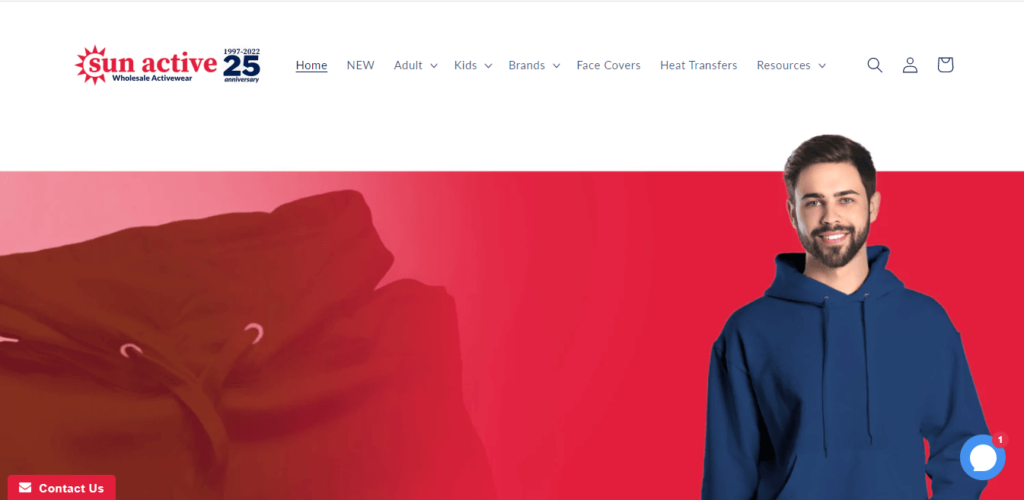 Sun Active is another great option in the list of activewear wholesale vendors. It was established in 1997 and is located in the USA.
They are one of the few US suppliers that offer apparel related to activewear only.
The prices are mentioned on their website just to give you an idea about the starting range of the product. The rates vary according to your demand.
They work with some of the world-renowned companies like American Apparel and Fruit of the Loom.
Delivery Zones
They deliver all over the world.
Key Products
Shirts, hoodies, joggers, face covers, heat transfers.
Key Features
One of the oldest activewear wholesale vendors in the USA
Unique activewear apparel
Excellent presentation of the products
Bulk discounts are available
8. Fitness Clothing Manufacturer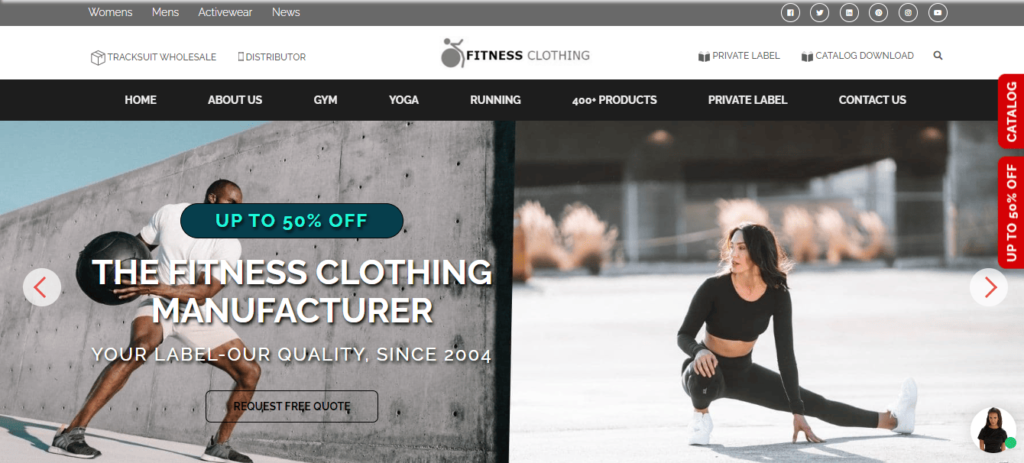 As its name suggests, Fitness Clothing Manufacturer makes clothing for fitness activities. It was established in 2004 in the USA.
They claim to be among America's top 5000 fastest-growing companies.
They offer up to 50% discounts on bulk ordering. So, you can consider this company if you want a cost-effective activewear wholesale vendor in the USA.
They have displayed a lot of quality certificates on their website, so you can trust their care to provide premium quality items. They also claim to be eco-friendly and sustainable wholesale suppliers.
You can also apply to become an official distributor of their company if you want.
Delivery Zones
They deliver all over the world. They have a presence in the USA, Australia, Canada, the UK, UAE, Europe, Qatar, and Saudi Arabia.
Key Products
Gym clothing, yoga pants, running apparel, athletic clothes, swimwear, and activewear for men, women, and kids.
Key Features
Innovative activewear products
A great option for private labeling in the USA
Reasonable discounts on bulk quantities
9. BTC Activewear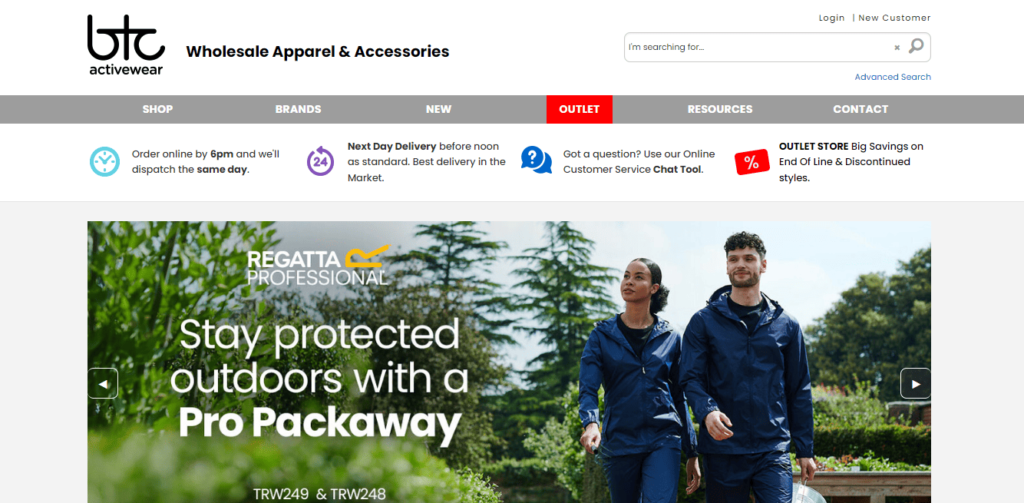 If you have an activewear brand in the UK and want to find a supplier that makes sourcing easier and within your reach, you should consider BTC Activewear.
They provide an extended range of activewear apparel with fashionable designs and reasonable quality.
They work with leading global brands and give a platform to shop it all in one place.
You can also ask them to send your products directly to your customers with a special note from your side.
Delivery Zones
It delivers within the UK region only.
Key Products
T-shirts, polos, sweatshirts, hoods, joggers, shirts & blouses, knitwear, fleece jackets, softshell jackets, jackets, bodywarmers, children & toddlers, trousers & coveralls, hi-vis & PPE, aprons, underwear, towels, headwear, bags & luggage, shoppers & totes, footwear, print & embroidery, accessories.
Key Features
Works with over 50 international activewear brands
Next-day delivery within the UK
Quality products at wholesale prices
10. Active Wear Productions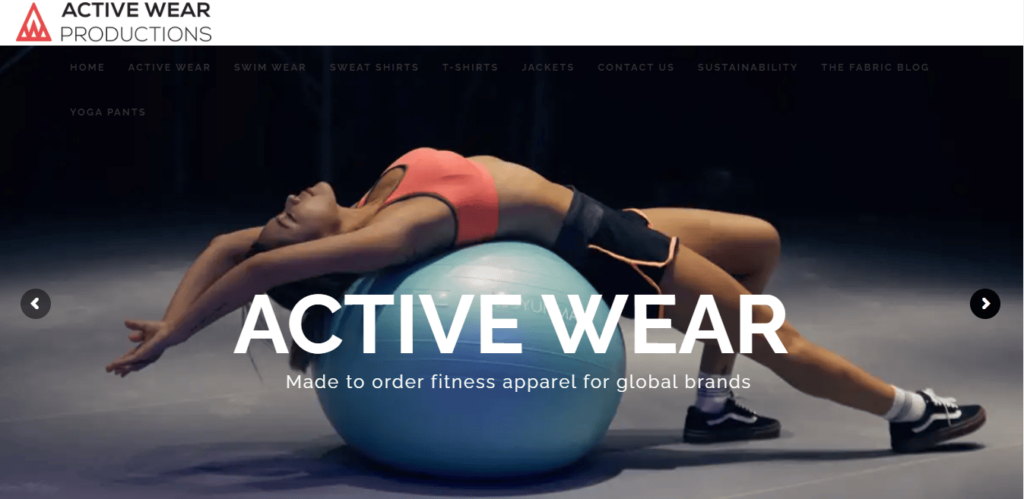 Active Wear Productions is another great manufacturer of activewear clothing based in China.
They are only in the manufacturing business. They don't offer anything to choose from their stock. So, you can try them as your private label activewear supplier. The pictures on their website are just for reference.
Their MOQ is 1000 pieces per activewear style. So, you can consider them if you have decided to launch a dedicated activewear business.
You can send them your requirements, and they will make activewear clothing according to your demands.
Delivery Zones
They offer worldwide delivery.
Key Products
Leggings, joggers, fitness apparel, sports bras, t-shirts, tops, and jackets.
Key Features
Great quality activewear products
Product sampling is also available
Imported fabric for sustainable clothing
FAQs about Activewear Wholesale Vendors
The following answers to the most frequently asked questions about activewear wholesale clothing would further enhance your understanding of this business.
How Do I Start an Activewear Business?
You only need an online store, a good activewear supplier, and some marketing skills to start an activewear business.
You can consider opening a store on Shopify or starting Amazon FBA.
But you need to have a fair understanding of activewear clothing first. You can perform well in this business only if you understand it from your customer's point of view.
You need to understand your customers and why activewear is important to them. It will help you find the right supplier for your prospective customers.
You can also do market research and study the buying patterns and the latest trends for activewear. You can analyze your competitors by checking out what's selling most on their websites.
Lastly, you can finalize a supplier who meets your requirements and place the order. You can start selling to your customers as soon as you receive your products.
Who Buys the Most Activewear?
Fitness enthusiasts, who care a lot about their physical fitness, buy the most activewear clothing.
According to different studies, the US is the largest buyer market for activewear clothing. You can also target people aged 25 to 45 who are highly likely to buy activewear clothing.
For example, if you advertise on Facebook, you will get more insights about your activewear audience.
Women are also more likely to buy activewear clothing as compared to men.
How Can I Make My Activewear Brand Successful?
First, you need to find a good supplier ready to make customized activewear for your business. You can only run a brand by sourcing customized products.
There are a few vendors in the list of this article who provide private label services. You can ask them to put your logo on your products.
You should start targeting your audience by sensitizing them about your activewear brand.
If your private-label products would impress your customers, your business will be good to go.
In that case, all you need to do is to make the supplies smooth without compromising the quality and the required quantity of your activewear products.
Summary
Fitness fashion is the new normal. Fitness enthusiasts work hard to keep themselves fit; hence, they don't compromise on their activewear clothing.
You can't afford to work with untrustworthy activewear wholesale vendors. This can badly hurt your business' reputation. Therefore, your activewear brand needs a supplier who never lets you down.
You can try out the activewear wholesale suppliers discussed in this article and keep your business up and running. If you want us to source the best activewear clothing at the most reasonable prices, ask for a free quote now and leave your sourcing needs in the safest hands.