Finding the right supplier for wholesale intimate apparel in China can be challenging. Unfortunately, a necessary one if you're looking to build a lingerie brand.
According to a Statista survey, the global lingerie retail market value was 42 billion U.S. dollars in 2020, and it's estimated to grow to 78.66 billion U.S. dollars in 2027.
These statistics show us that there's definitely an audience and buyers for intimate apparel. And this number will only go up. So, now that we know that starting a lingerie brand is a good idea, let's start from the beginning – finding a supplier.
Let's jump in and see the best suppliers for wholesale intimate apparel in China!
18 Best China Lingerie Wholesale Suppliers
So, we did our research to save you time and let you focus on growing your business. Here are the top 18 wholesale lingerie suppliers in China:
1. Alibaba
When we talk about any wholesale product from China, buying from Alibaba is the first thing that comes to mind.
Alibaba is the largest and most well-known B2B marketplace that connects Chinese wholesalers, trade companies, and manufacturers to buyers from all over the world.
On Alibaba, you can find all types of products, including intimate apparel and sexy lingerie.
Sellers on Alibaba typically sell in bulk and have higher MOQs. This can be a downside if you're looking to buy small quantities.
But, for those of you that are ready to buy in bulk, especially if you're interested in ODM or OEM services, definitely check what Alibaba offers.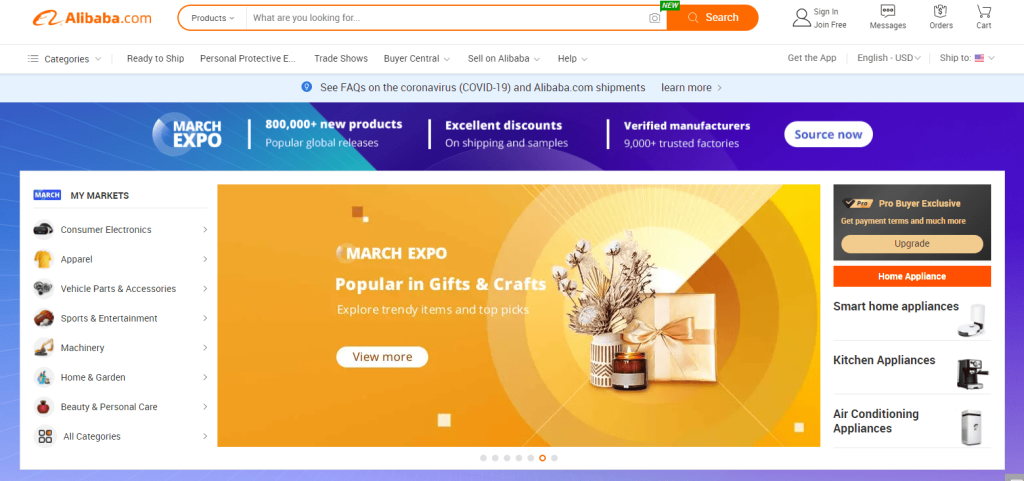 2. Made-in-China
Made-in-China is another marketplace where you can find all types of intimate apparel with varying MOQs.
Some have no MOQs or a symbolic MOQ of 5 pieces while others can have MOQs of 50, 100, and 500+ pieces or sets. That's good news since it means it offers something for everyone.
For each product listed on the Made-in-China platform, you can see the supplier selling it, their company info, and the main products that they're selling. In this section, you can see if you're dealing with a manufacturer or a trading company.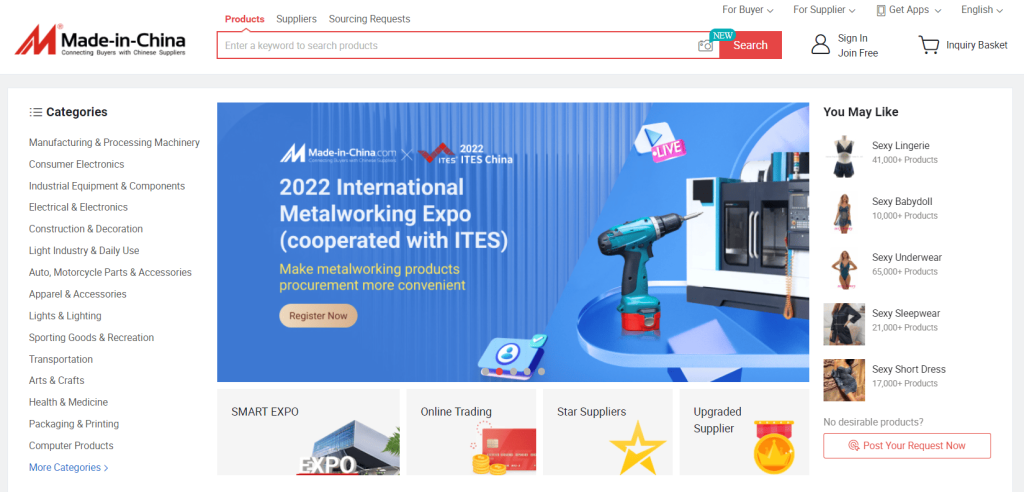 3. Global Sources
If you're looking for sexy Chinese lingerie, look no further – Global Sources is the platform you need.
Global Sources is a well-known B2B wholesale platform where many different suppliers sell products from all categories you can imagine, including lingerie.
As per our research, sexy lingerie seems to be their forte since there's an abundance of models, prices, and MOQs that suit everyone's pocket.
If you're ready to order in bulk, Global Sources has listings that are really affordable for high MOQs. For instance, you can get a sexy lingerie set with an MOQ of 1000 pieces at just $1 or $2 per piece.
All in all, Global Sources is an excellent way to find wholesale intimate apparel suppliers in China, especially if you're confident in your sales numbers and have the finances to meet higher minimum order quantities.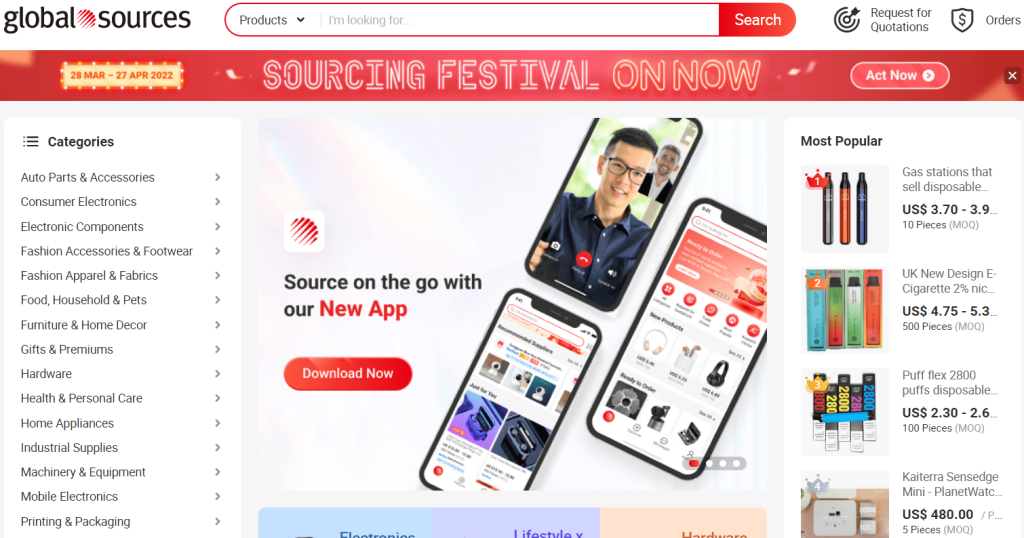 4. AliExpress
If you're looking for an Alibaba product but with a lower MOQ, check out AliExpress.
Although AliExpress is officially a B2C company suitable for dropshippers, they often have discounts or bids for larger MOQs.
Beware that AliExpress suppliers are usually trading companies or wholesalers, so they won't be able to help you with ODM or OEM services.
In the best-case scenario, they might be able to help you with branding or white labeling a product.
All in all, we recommend opting for AliExpress in the early stages of testing products that work. Once you find a product that sells and you are confident in your ability to scale, switch to a more B2B-oriented platform like Alibaba.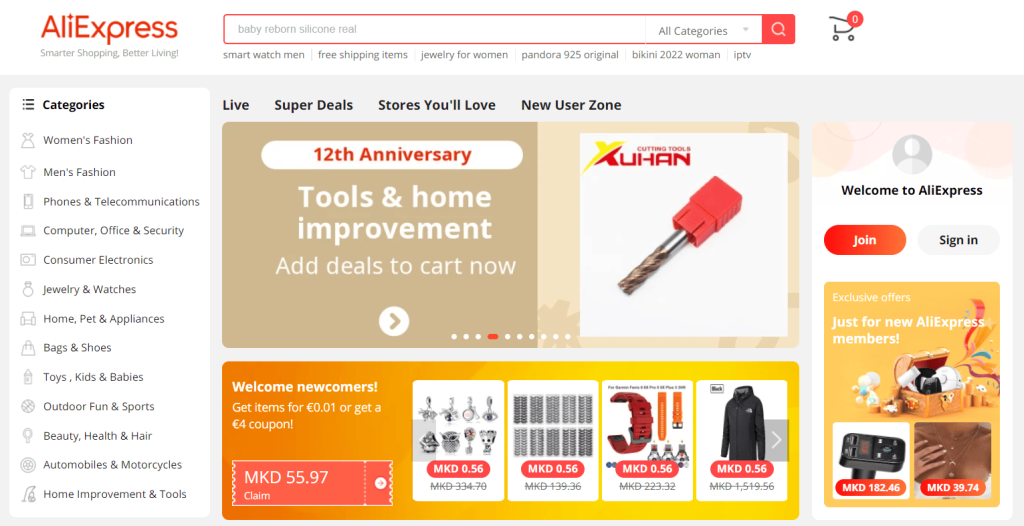 5. QLingerie
From corsets and waist-shapers to costumes, plus-size lingerie, and sexy intimates, QLingerie has it all.
The best thing about QLingerie is that they work with a no-MOQ policy, which means you can order single pieces of any product you like. This can be great for those new to eCommerce and those that want to test products before ordering in bulk.
And, of course, let's not forget to mention that QLingerie offers OEM services as well as drop shipping for their buyers and clients.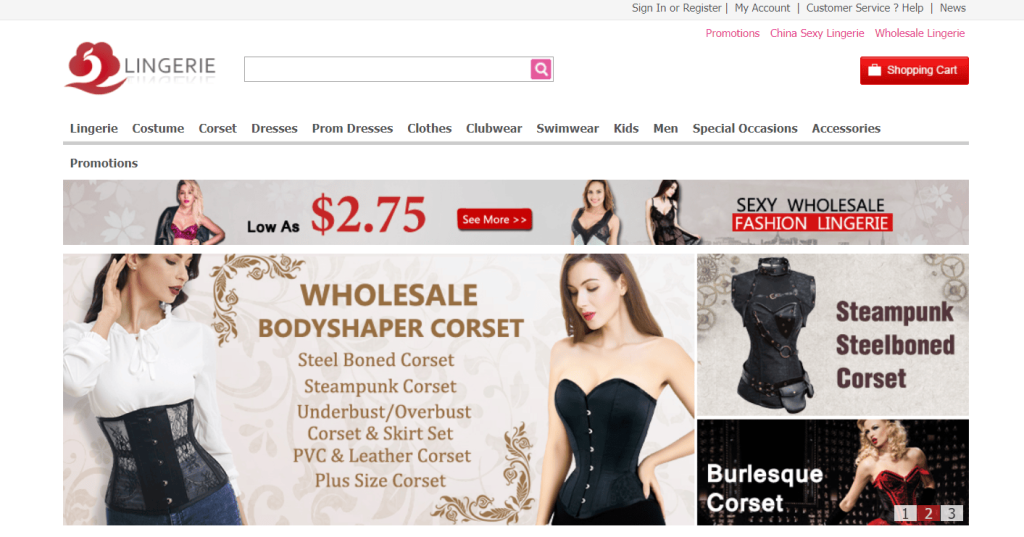 6. DHgate
DHgate is another B2B Chinese marketplace similar to Alibaba where you can find all types of products including intimate apparel.
Although DHgate doesn't have any MOQs and typically has low product prices, you can still get great discounts by purchasing a larger quantity.
In terms of product quality and consistency, we advise you to be careful and always order a sample first.
Additionally, DHgate is the home of many suppliers selling fake brands and counterfeit products. Naturally, stay away from these as much as possible.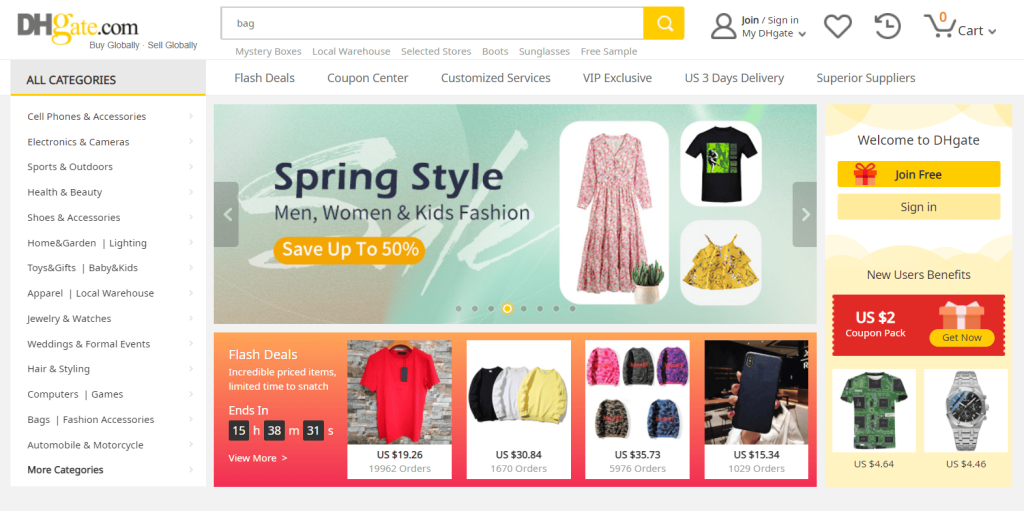 7. Wonder Beauty (HouMao Sexy Lingerie)
Wonder Beauty Lingerie is heaven for those wanting to source sexy lingerie from China.
To purchase from Wonder Beauty, you need a minimum order value of $200. However, the higher your order value, the more discounts you can get.
Last but not least, Wonder Beauty also offers private labeling and OEM services, so if you're looking to build a lingerie brand, they can be a great supplier for you.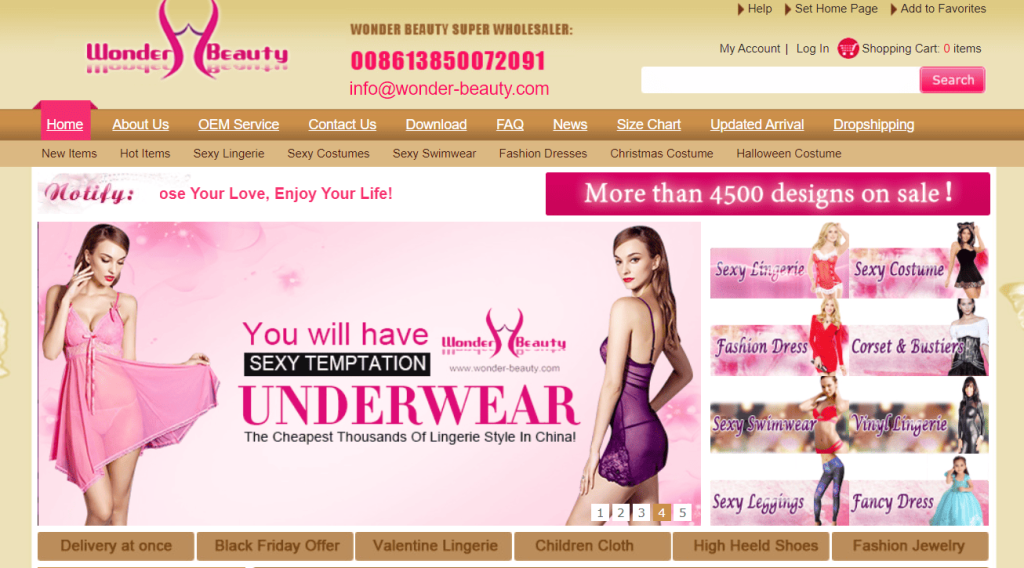 8. Amanda China
Amandachina.com is a leading general trading company in Yiwu, China. They offer products from all niches including intimate apparel.
They have low MOQs, but they offer free FCL (full container load) shipping, with mixed orders allowed.
All in all, Amandachina.com can be a great option if you want to collaborate with a trading company experienced in international shipping.
One downside of Amandachina.com is the limited number of lingerie choices. But, it's worth taking a look.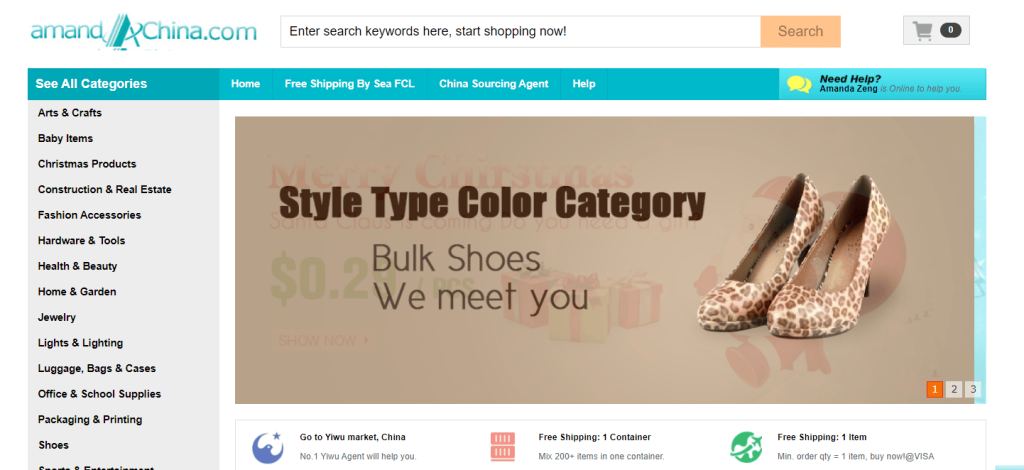 9. Charmingirl Wholesale Center (Lingerie Wholesale China)
Charmingirl is a manufacturer of sexy lingerie and sexy clothing in China. They offer products like lingerie, sexy costumes, stockings, accessories, sleepwear, etc. It might not be for everyone's taste, but if this is what you're going for, it's a great supplier.
As a wholesale supplier, Charmingirl could be suitable for anyone's budget since their minimum order value is just $50.
Finally, we have to mention that they also offer an OEM service for anyone that wants to customize and develop products and build a lingerie brand.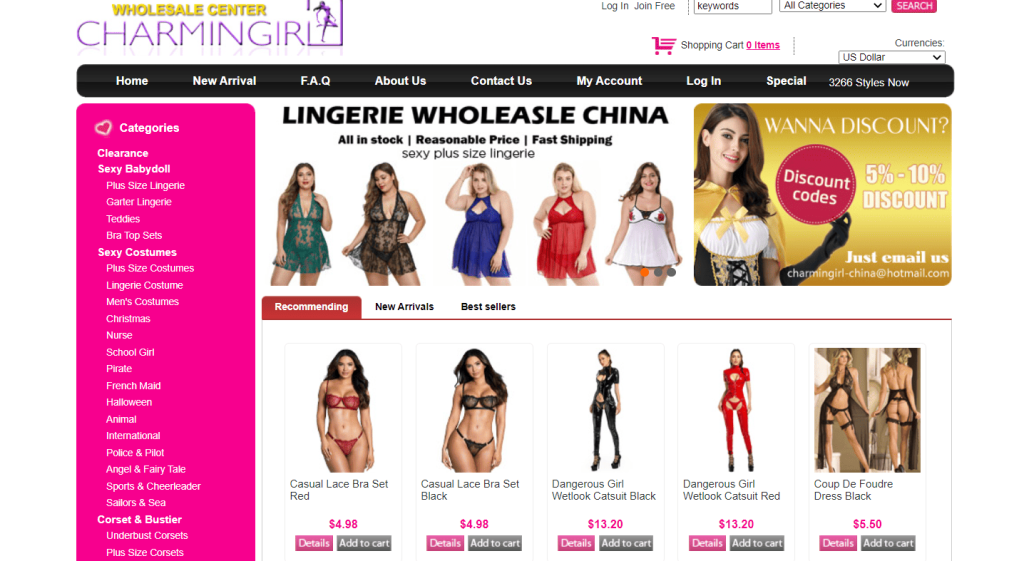 10. CM Intimates (Guangzhou Charm May Apparel)
CM Intimates are an intimate apparel manufacturer in Guangzhou. Their MOQs start at 100-300 pieces per style and they can ship and export under different Incoterms (FOB, CFR, CIF, EXW, FCA, CPT, CIP).
CM Intimates offers an exceptional range of products that are of good quality and beautifully designed.
If lace sets are your thing, definitely check them out. The same goes if you want to source plus-size lingerie – they have great sets and collections to choose from, in many different colors.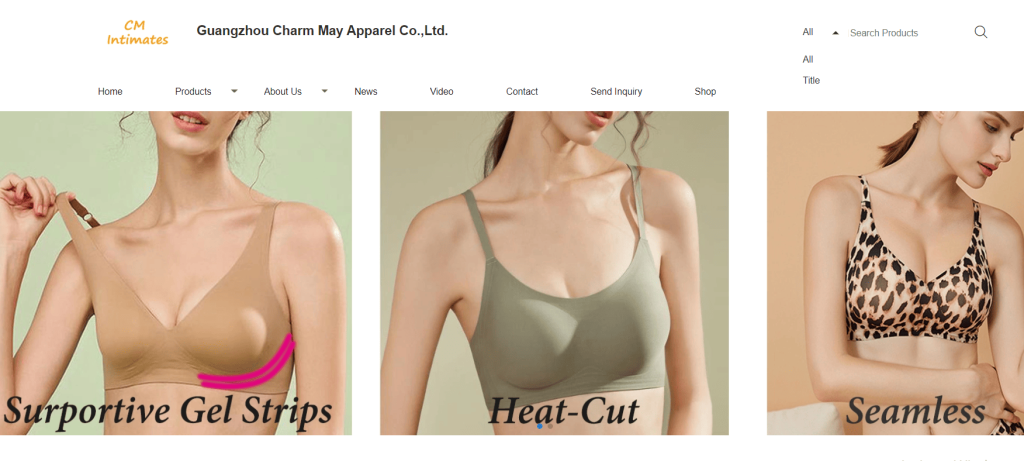 11. SHEIN
SHEIN is a well-known Chinese B2C marketplace that outsources its manufacturing to several different suppliers.
Although SHEIN dropshipping might not be the best idea since they don't allow using their model photos (plus packages arrive with the SHEIN brand), buying in bulk is definitely doable.
However, take into consideration that customization, private labeling, or even white labeling are probably not an option when buying from SHEIN. So, either disclose that you're reselling SHEIN lingerie or order in bulk and then add branding on your own.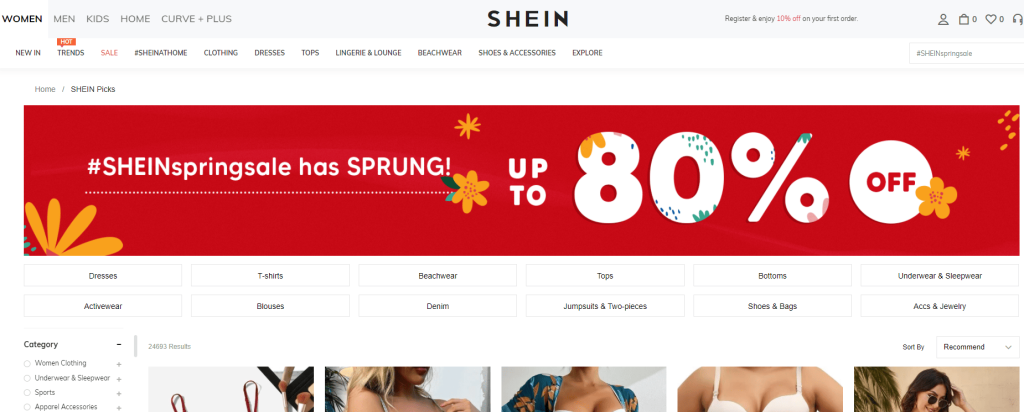 12. Dear-Lover Wholesale
Dear-Lover is a women's clothing and lingerie wholesaler from Quanzhou City, China.
One of the things we liked most about Dear-Lover is their no (or low) MOQs, as well as their bulk order discounts.
OEM services are also an option with Dear-Lover, so making customizations and branding your lingerie shouldn't be an issue.
All in all, it's a solid wholesale intimate apparel in China that you can check out and see if it fits you.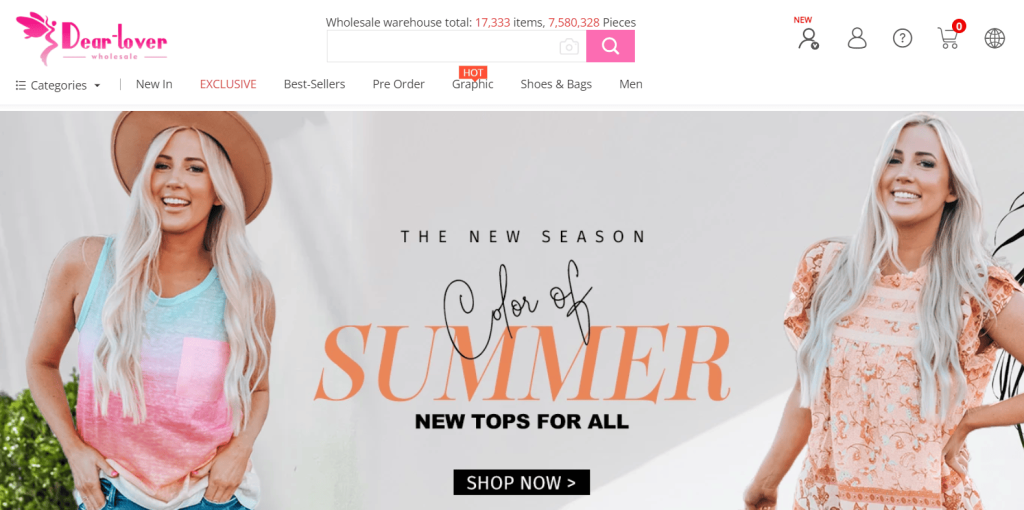 13. MallTop1
MallTop1.com is another wholesale supplier on the list for those of you that want to build a brand selling sexy lingerie.
With MallTop1, you can find almost anything you can think of – sexy costumes, leather lingerie, event dress-up lingerie, corsets, stockings, clubwear, and much more.
While there's no MOQ ordering from MallTop1, you should be aware that all orders need to be at least $100. Otherwise, calculate a price increase of 25% of your order value.
MallTop1 might not be the best solution for single orders or dropshipping, but it's worth looking at if you're interested in placing larger orders.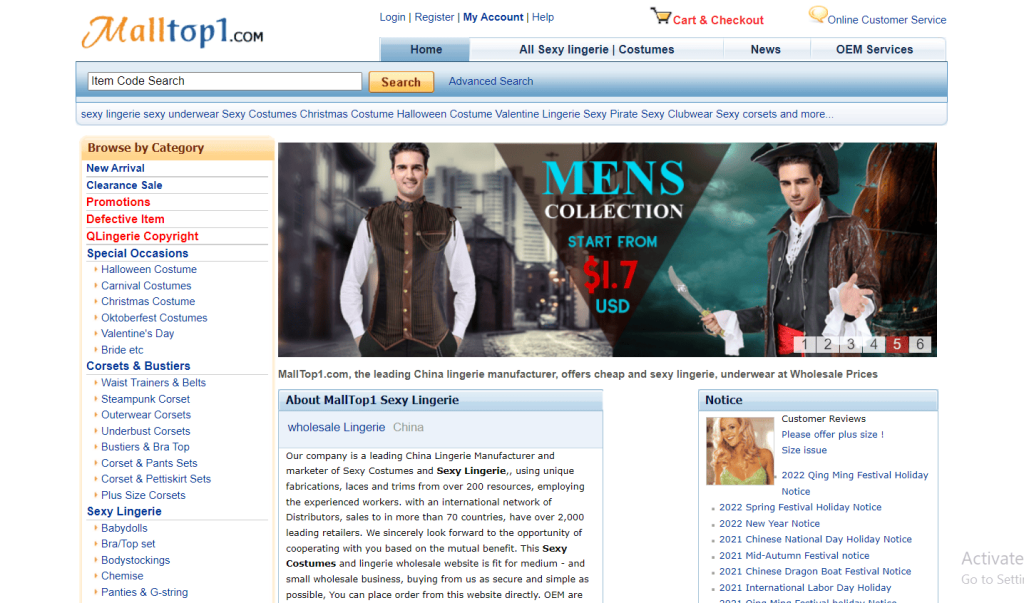 14. YYW
Next, we've come to YYW – a Chinese supplier of women's clothing and lingerie. On YYW.com, you can find many unique intimates to sell such as invisible bras, period panties, padded panties, g-strings, waist-shapers, and more.
If you want product development or customization, get in touch with YYW. They're not a wholesaler or a trading company but an actual factory, which means they can help you make product adjustments.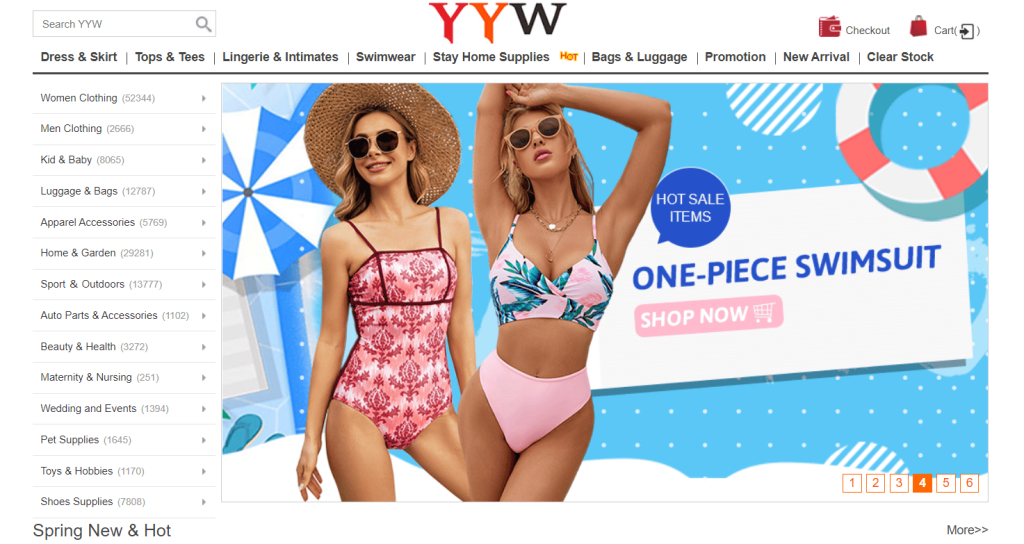 15. 1688.com
1688.com is a popular Chinese platform that has locals as a target group since the entire website interface is in Chinese. So, you might need some help from a sourcing or a dropshipping agent for this one.
If you manage to surpass the language barrier, 1688 is a great platform with unbeatable prices set for locals. It's a part of the Alibaba Group in China. Imagine Alibaba, but with better prices. So, ordering in bulk from 1688 can give you great profit margins.
On the 1688.com marketplace, you can find many different styles of lingerie as well as other product categories and varieties to choose from.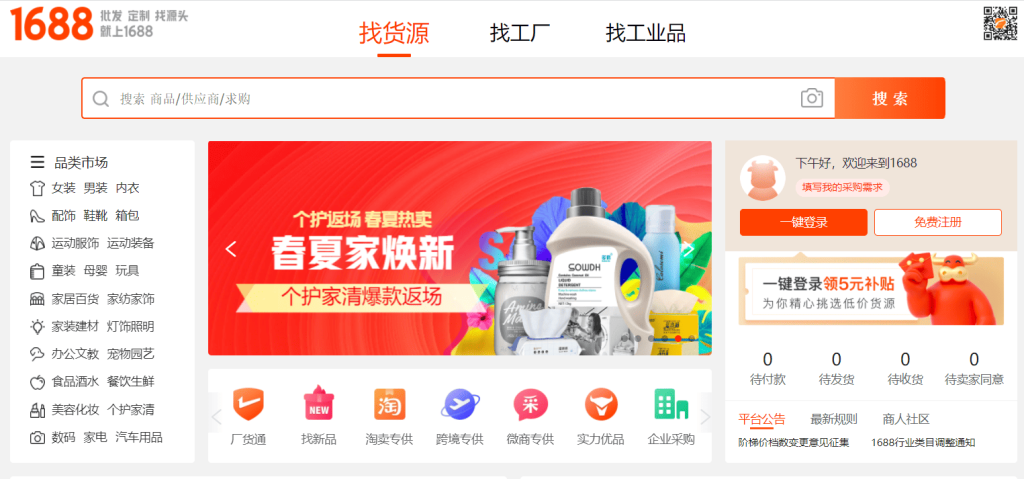 16. CJDropshipping
CJDropshipping is a popular dropship-friendly Chinese platform where you can find all types of products, including cheap wholesale lingerie.
With CJDropshipping, you can choose between dropshipping or private labeling products, making it very easy to start in eCommerce even if you've never sold anything online before.
All in all, CJDropshipping has a solid choice of lingerie and intimate apparel to choose from. So, it's definitely worth taking a look.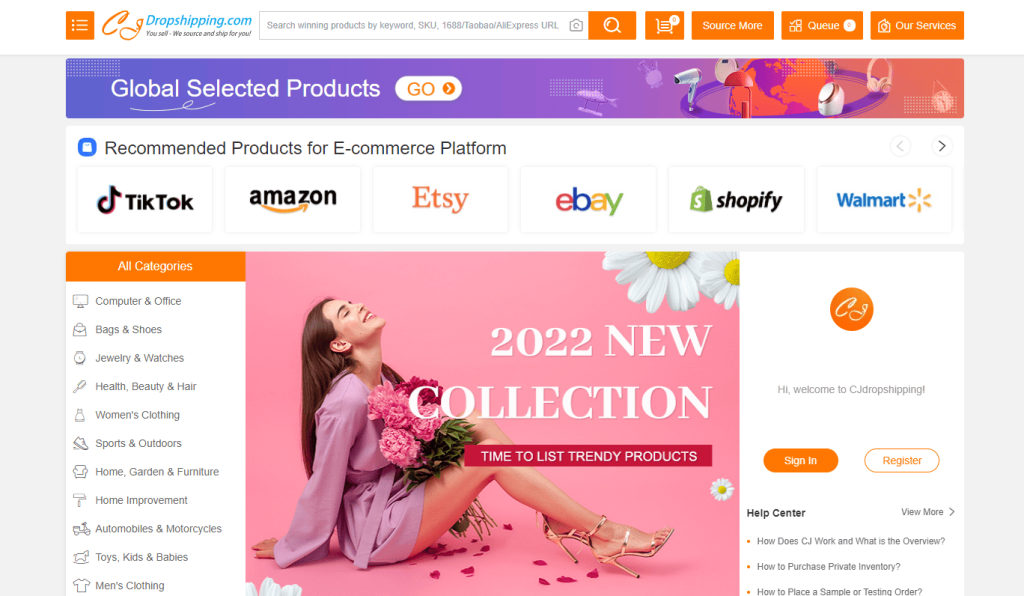 17. Banggood
Next, we have Banggood, a Chinese B2B marketplace operating since 2006.
On Banggood, you'll find both women's and men's underwear, panties, boxers, and other undergarments. In fact, you can find all types of products, similar to AliExpress or Alibaba.
Banggood can be a great option for both bulk buyers and dropshippers alike. They have no MOQs and are dropship-friendly, but also offer discounts on wholesale and bulk purchases.
All in all, for those looking to buy wholesale intimate apparel from China, Banggood is a solid option.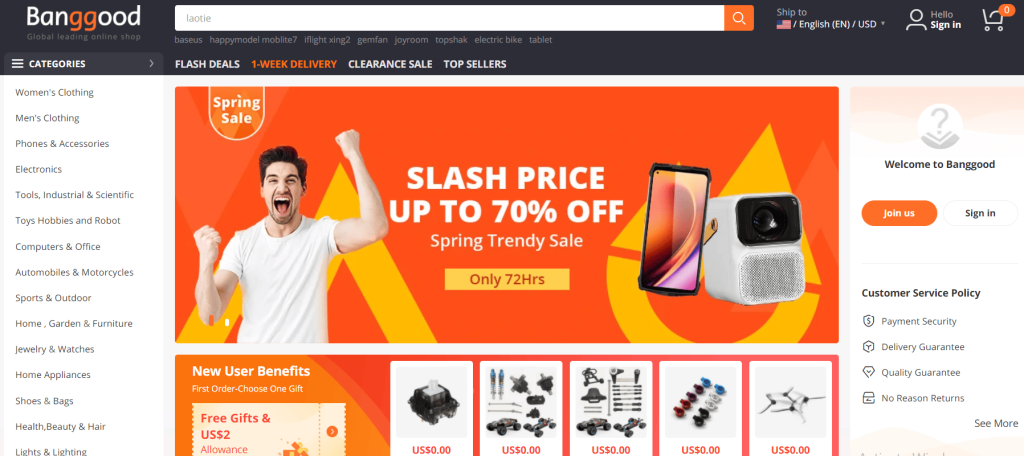 18. Niche
If you don't want to deal with searching, contacting, and vetting suppliers and want free time to focus on marketing and sales, get in touch.
We can help you with:
Private labeling
White labeling
Dropshipping
Niche is an industry-leading sourcing agent in China and we can help you source or develop any type of intimate apparel. With our help, you can launch your lingerie brand quickly and painlessly. Start by asking for a free quote – no risks, no obligations.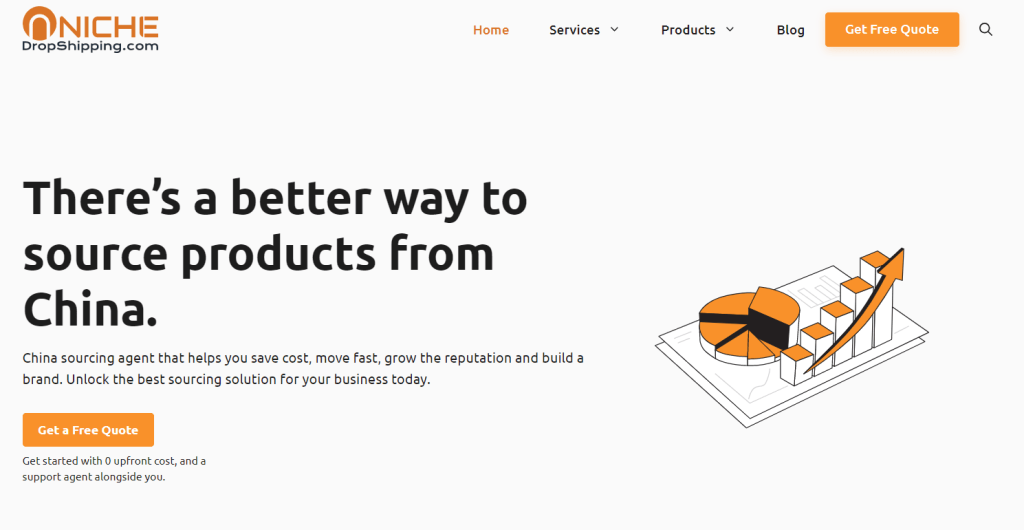 FAQs about Buying Wholesale Intimate Apparel from China
Now, let's go ahead and take a look at some of the most frequently asked questions on the subject of wholesale intimate apparel from China.
How to Find a Good Lingerie Wholesaler?
Here are some things you can do to locate and isolate the best wholesale intimates supplier for your needs:
Bookmark this list
Above, we've given you 18 great intimate suppliers in China that you can get back to whenever you need them. All you need to do is bookmark this article and come back when you're ready.
We've tried to include trustworthy suppliers only that fit everyone's taste. So, if you didn't yet, scroll back up and see which supplier fits you best.
Google "wholesale intimate apparel China"
If you couldn't find what you were looking for in this list, simply go to Google and search for "wholesale intimate apparel China".
Then, take a look at the first two pages of the search results and see if you like any of the recommendations.
Visit China trade shows and markets
Another way to find good wholesale intimate apparel in China is to visit it if you have the chance.
Visiting Chinese trade markets can be a great way to buy bulk at local prices.
However, this can be tricky if you don't speak the local language or don't have anyone to guide you. So, do your research and get informed beforehand.
Work with a product sourcing agent
Last but not least, if you're ready to start a serious business and confident in your abilities, you could work with a product sourcing agent in China.
Typically, a good sourcing company should be able to find the product you're looking for, help you customize it, brand it, and even store it and ship it to customers.
All things considered, local sourcing agents have a vast knowledge of the market and are able to negotiate prices in your name. For serious businesses, a sourcing agent can be a great asset in scaling.
What Are the Best Sexy Lingerie Wholesale Suppliers in China?
Some of the best Chinese intimate wholesalers who offer sexy lingerie are Alibaba, Global Sources, QLingerie, Charmingirl Wholesale Center, Dear-Lover Wholesale, MallTop1, and AliExpress.
If you still can't find precisely what you're looking for on these websites, you could with a sourcing agent in China like Niche that can help you find and buy exactly what you need.
What Are the Best Private Label Intimate Apparel Vendors in China?
If you need private labeling, ODM, or OEM services, you don't need an intimate apparel wholesale distributor, but a factory (a manufacturer).
Some of the best private label intimate apparel manufacturers can be found on Alibaba, AliExpress, Banggood, Wonder Beauty, QLingerie, Charmingirl Wholesale Center, or Niche.
What Types of Intimate Apparel Should I Buy and Resell?
All types of lingerie, underwear and intimate apparel will be on the rise in the years to come. So, this is largely a personal choice. Before choosing the type of intimate apparel you're going to sell, make sure you find the right supplier for it.
For example, some types of intimate apparel you can sell are:
Sexy lingerie
Bras
Sports bras
Underwear
Sleepwear (night robe, nightgown, etc.)
Corsets
Costumes
Babydolls
Plus-size lingerie
Maternity bras
Seamless or laser-cut underwear
Bra and bottom sets
This is not an exclusive list, let your imagination run. Build a brand you'll feel confident representing and scaling. Think of market needs and market gaps.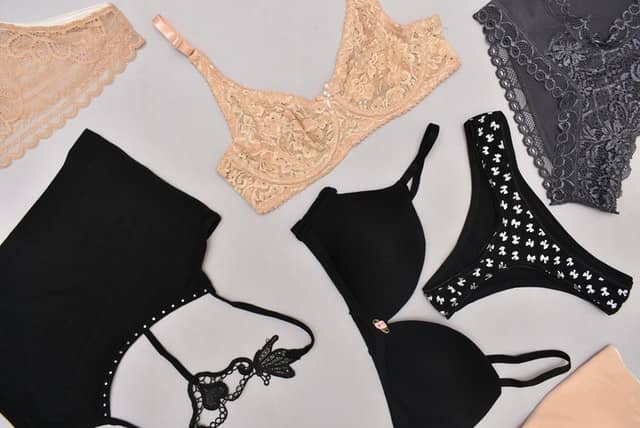 How to Make Sure I'm Ordering Quality Lingerie from China?
To ensure you're getting the quality that you paid for, follow these tips:
Give clear product specifications (color codes, sizes, material composition, etc.)
Ask everything in advance
Order a sample (a great way to check the product quality and the shipping time at the same time)
Do a supplier background check (Google them)
Read reviews, testimonials, and customer feedback
Ask about their return and refund policy
Do a quality inspection
Work with a local sourcing agent who can see the products in real life
Be realistic when it comes to the price vs. quality ratio. Although products in China are generally cheaper, the same rule applies – you get what you pay for.
So, if a supplier comes to you with an offer that sounds too good to be true – it probably is. In cases like these, you can automatically expect a bad product quality. That's why we always insist on being as detailed as possible when placing an order.
Can a Sourcing Agent Help Me Buy Cheap Lingerie from China?
Yes. A good product sourcing agent should be able to help you find suppliers that match your needs and capacity. You'll need suppliers that can grow with you and keep up with their supply as you scale.
Hiring a sourcing agent is a great idea, especially if:
You're new in eCommerce and international trade
You're interested in private labeling, ODM, or OEM services
If you find yourself in one of the above descriptions, get in touch and we'll help you get started.
A local sourcing agent will be familiar with export and import procedures, help you navigate the local market, and help you avoid language barriers and possible misunderstandings.
On a Final Note
Reselling wholesale intimates can be a really lucrative business idea when executed right. And, in order to do that, your first step is to choose the right supplier.
We sincerely hope that this list of wholesale lingerie suppliers in China will help you find what you're looking for and build the brand of your dreams.
If you still didn't find what you need, get in touch and grab your free quote. Let us find the best suppliers for wholesale intimate apparel in China!