Research data indicates that by 2020, the global pet supplies industry was worth over $200 billion. It is further expected to keep growing as more people embrace pet-rearing and prioritize keeping their little charges healthy and well-groomed.
Based on this, there is no doubt that you could earn decent profits by selling pet care products. You simply need to research the needs of your target customers then source and sell them pet products that can fulfill those needs.
Nevertheless, sourcing pet products can get challenging because there are hundreds of options to choose from. In this blog, we highlight top wholesale pet manufacturers that are innovative and sell quality pet products.
Would you like to learn more about where to source pet supplies? Let's explore some options.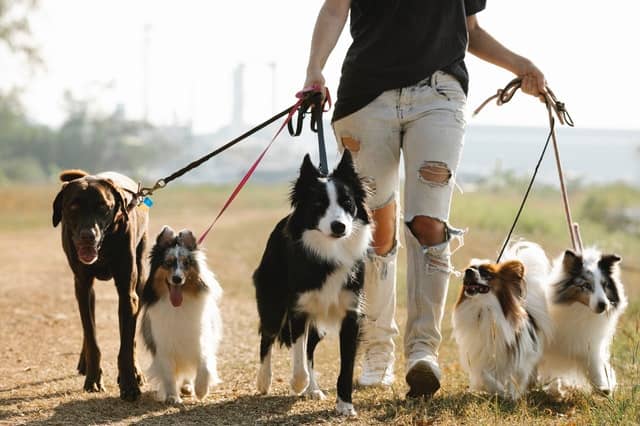 Pet Supplies Manufacturers in China
China has a thriving pet supplies manufacturing sector. It offers an impressively broad selection of pet products at affordable prices. You could consider partnering with manufacturers such as:
Petfond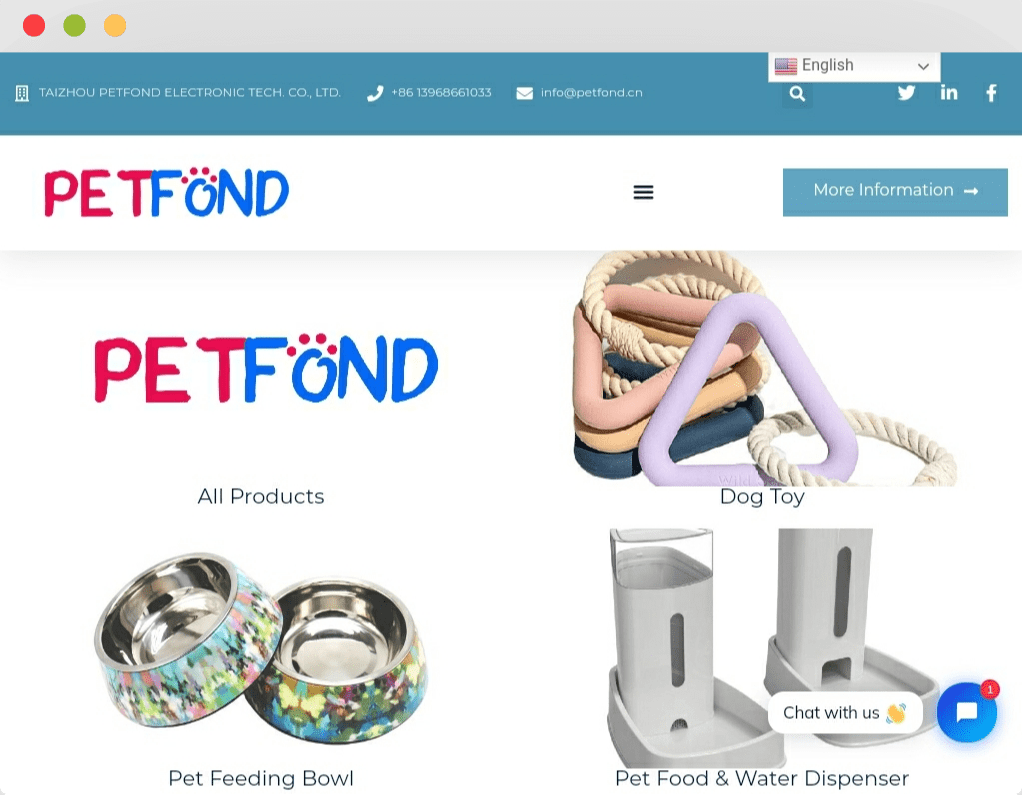 Petfond has been in the pet supplies business for over a decade. The company factory is based in Taizhou and mainly manufactures pet items for dogs and cats.
This manufacturer offers products that have innovative designs and make pet-rearing easier. Some of the unique products that stand out include:
A pet cooling device
A dog toilet
A cat litter box with a scoop
A treat dispenser toy
Portable dog water bottles
In addition to these items, Petfond also manufactures other typical pet items such as leashes, pet carriers, feeding troughs, and food containers among others.
The company supplies its products wholesale to local businesses in China and also exports to foreign countries. It has a customer care team that addresses any aftersale questions and complaints that you may encounter.
Ningbo ViPet Pet Products Company
Ningbo ViPet is based in Zhejiang, China, and offers a full range of pet care products. They include:
Pet clothing
Feeding accessories
Grooming products
Pet beds
Leashes and collars
Notably, some of these ViPet products are strictly made using eco-friendly materials that are also safe for pets. This would, therefore, be a good choice of a supplier if your target market is eco-conscious.
The company vigorously tests and has received multiple certifications for its products. It supplies them to distributors, retailers, and e-commerce sellers in Europe, North America, Asia, Oceania, among other global destinations.
Suzhou Topro Company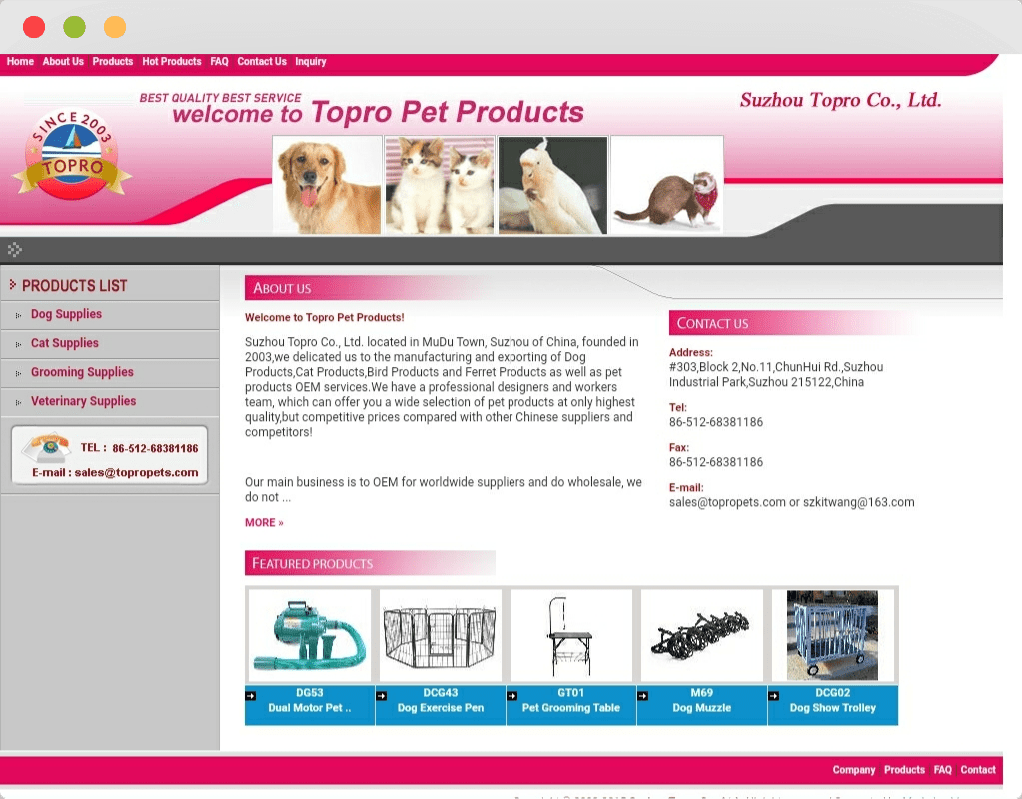 Suzhou Topro has been manufacturing pet products for over 14 years. It is located in Jiangsu, China.
The Suzhou Topro factory is quite vast and has an impressive production capacity. As a result, the company promises quick turnaround times and the ability to handle bulk pet product orders.
Its product listing is also quite diverse and comprises:
Pet beds
Grooming products
Cages
Carriers
Feeding bowls and troughs
Collars and leashes
Veterinary care products like pet surgery tables
Pet strollers
Suzhou Topro additionally offers original equipment manufacturing(OEM) services. This could come in handy if you have an original idea for a pet product that you would like to have manufactured for your brand.
Petsdude Company
Petsdude Company specializes in luxury pet travel products. It manufactures stylish bags and carriers that keep pets comfortable in cars, flights, or during walks with their owners.
While the company supplies wholesale orders worldwide, it currently does not have a mainstream online presence. You could, however, reach them on their social media platforms, emails, phone calls, or through a sourcing agent.
It is equally important to mention that Petsdude has a low MOQ and is, therefore, ideal if your business is still in the start-up/small-scale stage.
International Pet Product Manufacturers
As your pet product e-commerce or reseller business grows, you may want to expand into different markets.
Wholesale pet product manufacturers with an international network would be ideal partners for such situations. They could make it easy for you to fulfill orders to customers across the world quickly and affordably.
Let's take a look at a few manufacturers that fit this bill.
King Wholesale Pet Supplies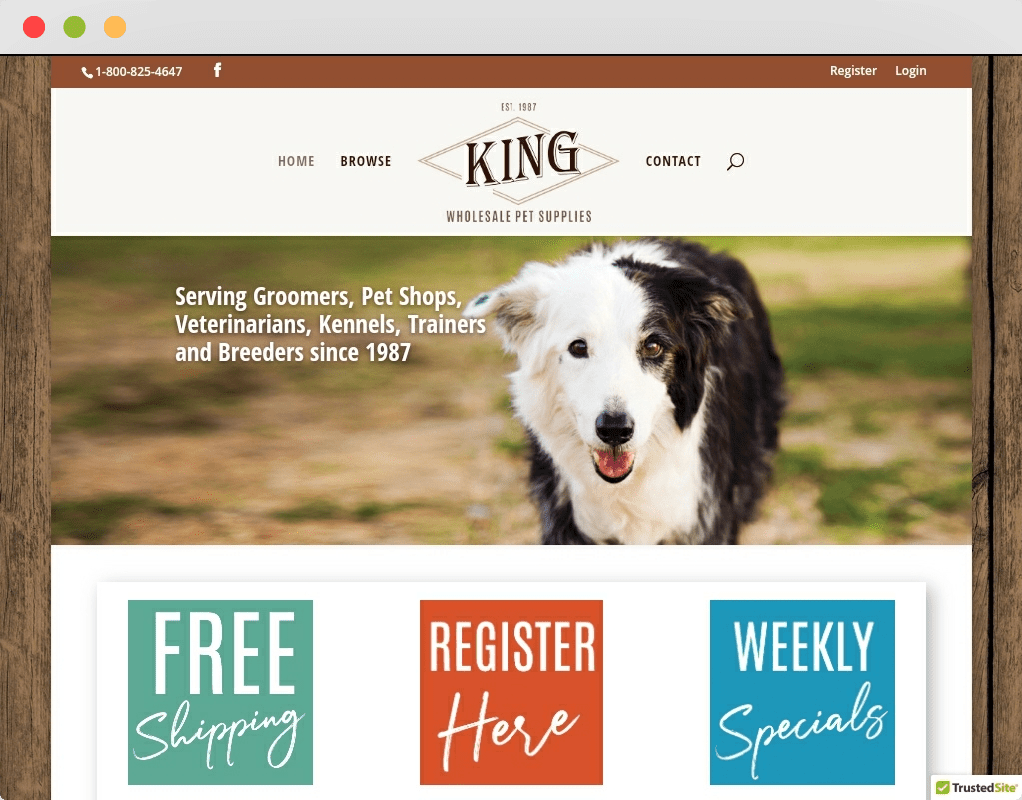 King Wholesale Pet Supplies has been in the pet business since 1987. It is a well-established brand that has managed to continuously reinvent its products to meet modern pet care trends and demands.
Its product range covers pet grooming, living quarters like kennels, training accessories, and treats.
While the firm is based in California in the USA, it has built its systems to ensure that it is accessible to customers across the world. You can place orders for your pet products online, submit your payment electronically, and simply await delivery.
The wholesale minimum order policy is based on price. Buyers based in the states can place orders worth a minimum of $250 while international clients have to meet the $350 threshold. King has a customer support department that handles all order process queries.
Starmark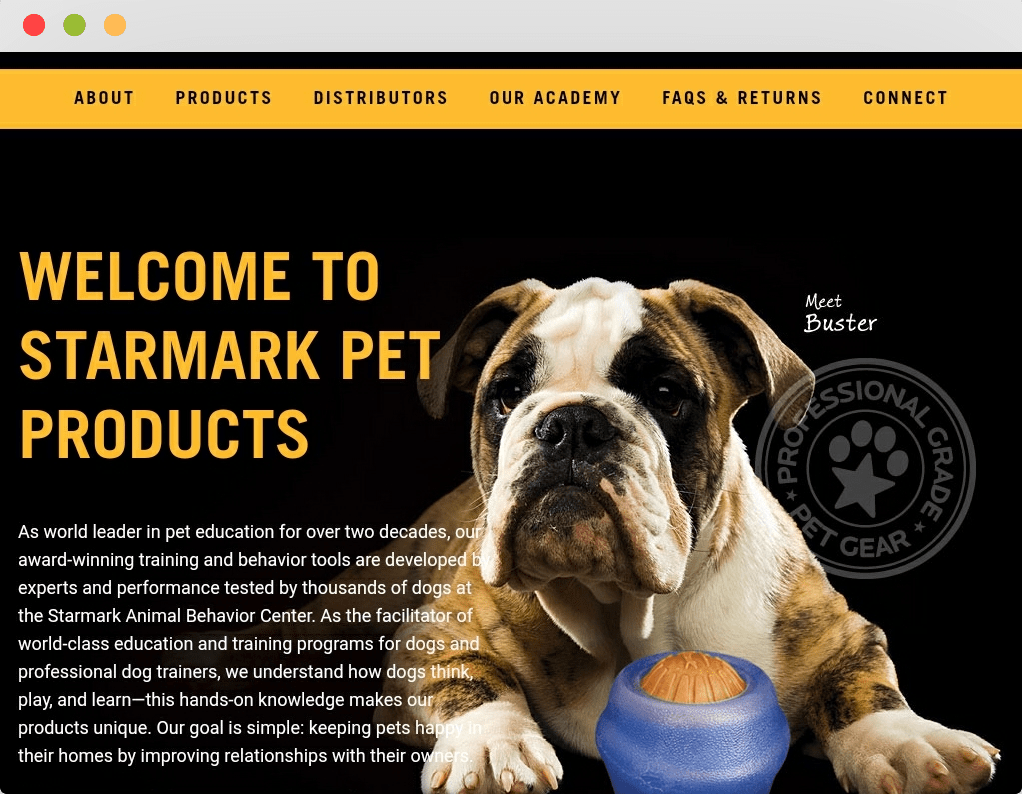 Starmark presents a special dimension of pet products. It specializes in dog training and behavior solutions. Partnering with this firm and selling their products could carve out a distinct niche in your market as not many stores sell this kind of items.
The Starmark product list comprises:
Mentally stimulating treats
Treats and rewards for good behavior
Training collars
Training clickers
Training dog beds
Training safety light
Durafoam toys for interactive games
The company offers resources to help pet owners understand how to best use these products.
Starmark is based in Hutto, Texas. However, it has a network of distributors across different states in the USA to make its products more accessible.
For the international market, Starmark has distributors in China, Saudi Arabia, Australia, Europe, and South America.
Mendota Pet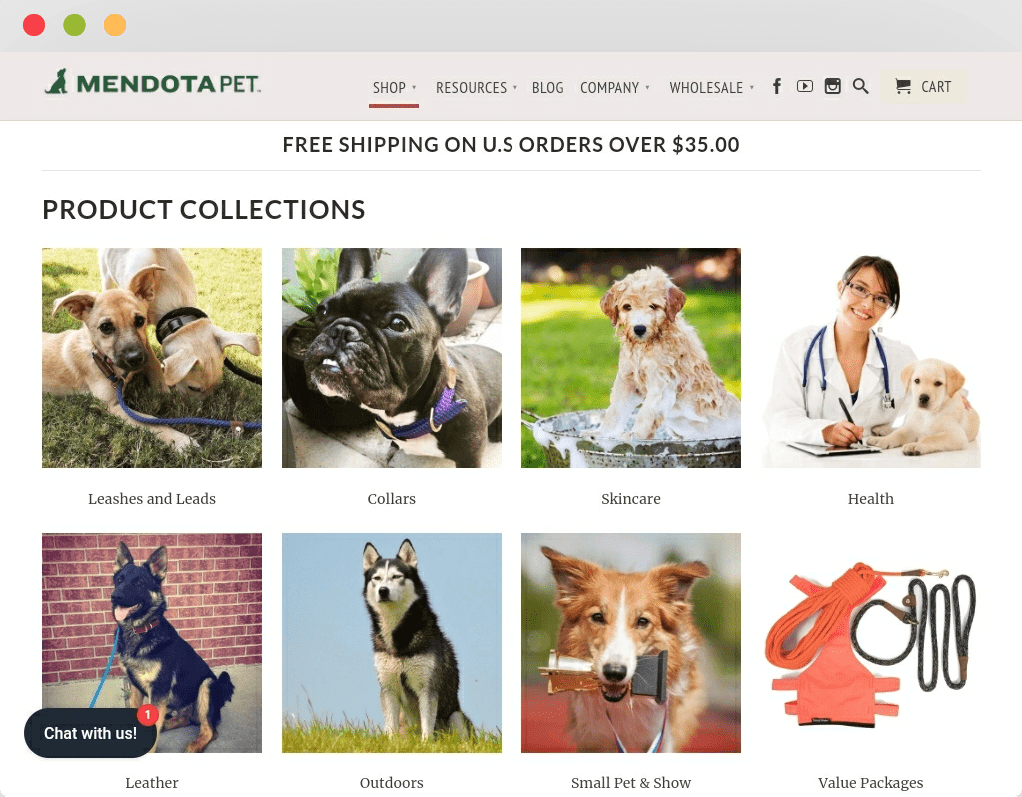 Mendota Pet has over 2 decades of experience in developing and manufacturing pet products. It is situated in Minnesota, USA.
This firm could be a good fit if you are specifically looking for a wholesale supplier for dog care products. It specializes in manufacturing dog gear (such as leashes), as well as dog health supplements and skincare products.
Notably, these products are not common and may, therefore, draw the attention of most dog lovers to your store. More importantly, the supplements and skincare products are made of all-natural ingredients and are thus safer for dogs and less likely to cause any irritations.
Mendota Pet has a broad supply network that spans across the world. The company has achieved this by partnering with international distributors in:
Hong Kong
Singapore
Western and Southern Australia
South Africa
France
The UK
Canada
Iceland
On the downside, because Mendota Pet already has dedicated distributors, it does not allow reselling on platforms like Amazon or eBay. However, there are no restrictions if you own an independent retail pet store.
Private Label Pet Products Suppliers
Private label pet products are custom designs sold under your brand name. Your pet product manufacturer produces them in accordance with the custom features that you request.
Take, for example, that you are working with a pet bed manufacturer. You may like the overall design of their pet beds but perhaps you would prefer them in different fabrics, in a bigger size, or different colors.
Private labeling would mean that once the manufacturer receives your order, they would manufacture them in the fabric, size, and color that you requested. They would also not sell your requested design to any other buyer.
If you would like to sell or dropship private label pet products in your online store, here are some manufacturers that offer private labeling services.
Hangzhou Yizhan Pet Products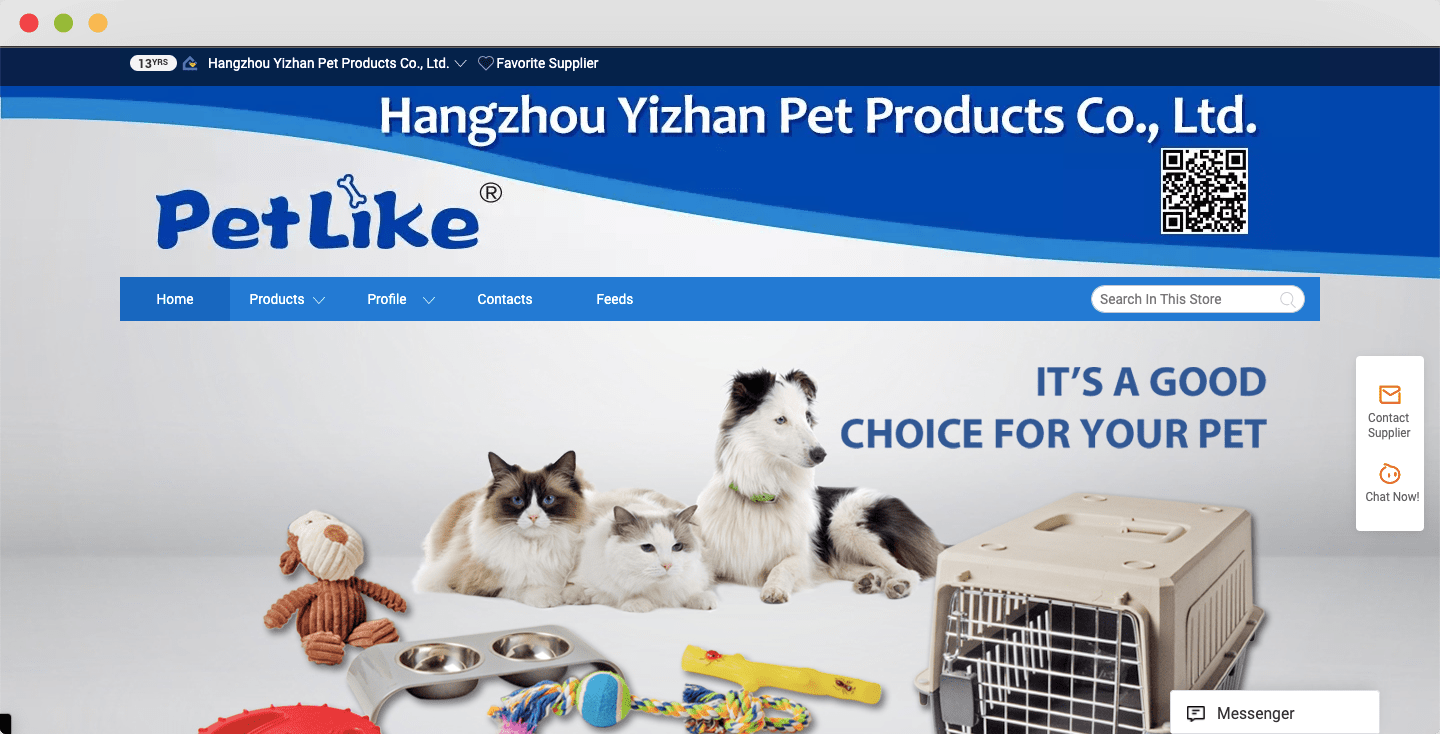 Hangzhou Yizhan Products are sold under the brand name 'PetLike'. The company base is situated in Zhejiang, China.
The PetLike product catalogue consists of original designs including some that are patented. The diversity of the product range may, however, be the thing that catches your eye because it covers all the bases. PetLike offers:
Pet food for cats and dogs
Pet Bedding
Grates and crates
Pet cleaning supplies
Grooming accessories such as dryers and brushes
To buy these items at wholesale prices, ensure that your order matches the stipulated minimum order quantity. That said, if you would like to have the product customized, the pricing may be slightly higher due to the extra costs of customization.
Senful Pet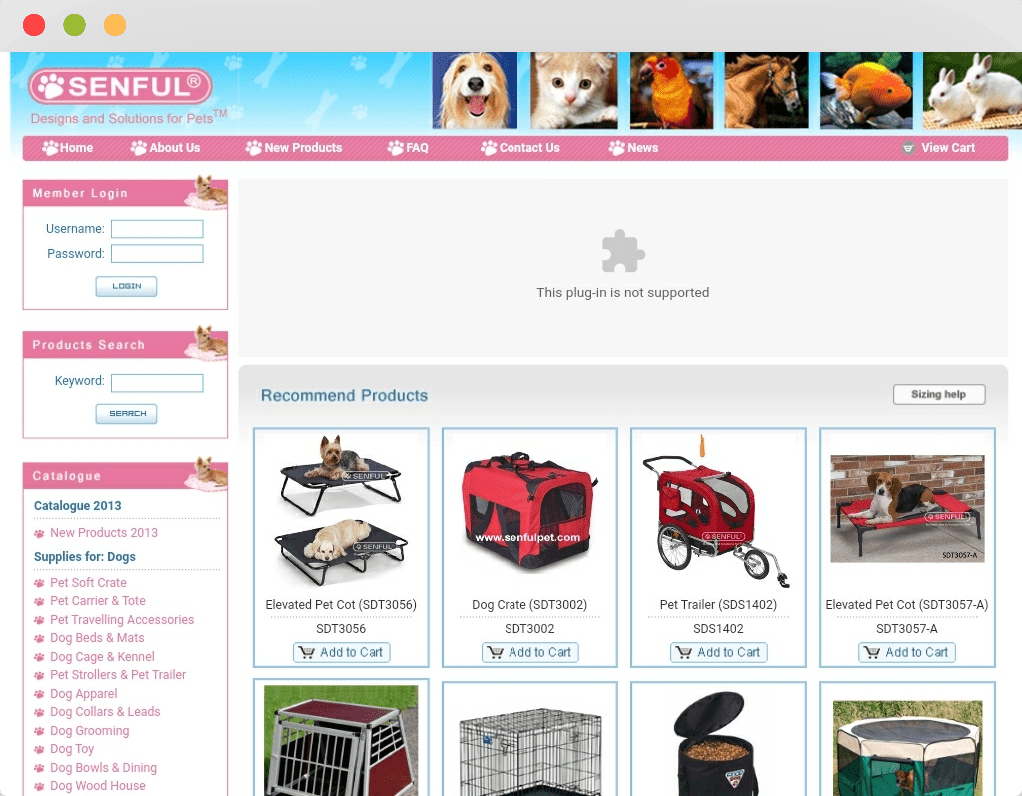 If you are looking for a manufacturer that offers products for a variety of pets then Senful Pets is certainly an option to consider. This Shanghai-based manufacturer produces pet care items for dogs, cats, rabbits, birds, and horses.
Senful Pet manufactures a unique range of items for each type of pet based on their care needs. Every item has a set MOQ at which you would be entitled to wholesale prices. Fortunately, the MOQs are relatively low and mostly range between 100 and 120 pieces.
In terms of branding solutions, the company provides both ODM and OEM services. This means that you could request design modifications on a pet product for private labeling or you could contract Senful Pet to manufacture your entirely new design concept.
My Days Outdoors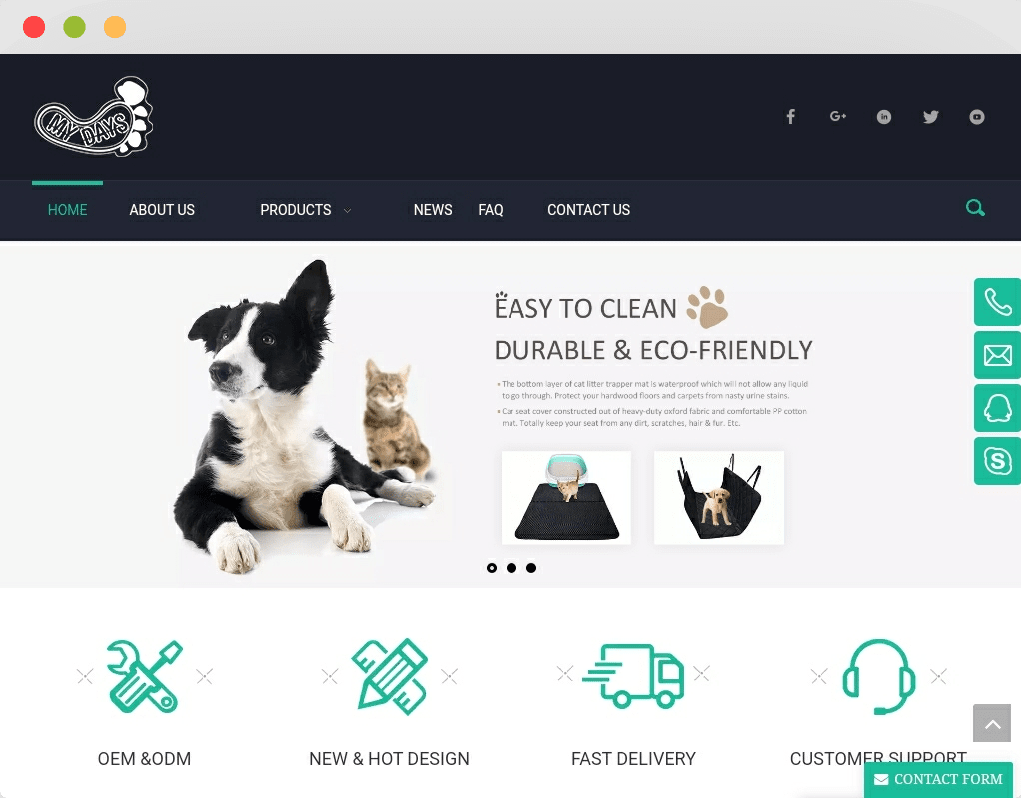 My Days Outdoor would be a great pet supplier to consider if you would like to diversify from selling run-of-the-mill pet products. Its products provide pet owners with outdoor pet solutions they may not necessarily even know that they need.
Take car seat covers, for example. They keep pets comfortable during car rides and help pet owners keep their car seats clean and free of scratches and scuffs from pet paws. Other eye-catching products from this company include:
Horse hay packaged in an easy-feed bundle
Waterproof front car seat for dogs
Portable outdoor sleeping bags for dogs
Indoor/outdoor foldable pet beds
Portable silicone dog foot cleaner
My Day Outdoor is located in Jiangsu, China but exports its products to numerous countries. It mainly handles wholesale orders but not all items are restricted by MOQ rules.
For private labeling, the firm has an in-house design team that can help you perfect your design ideas. You can also request pet product samples before production begins.
Yuyao Pugga Pet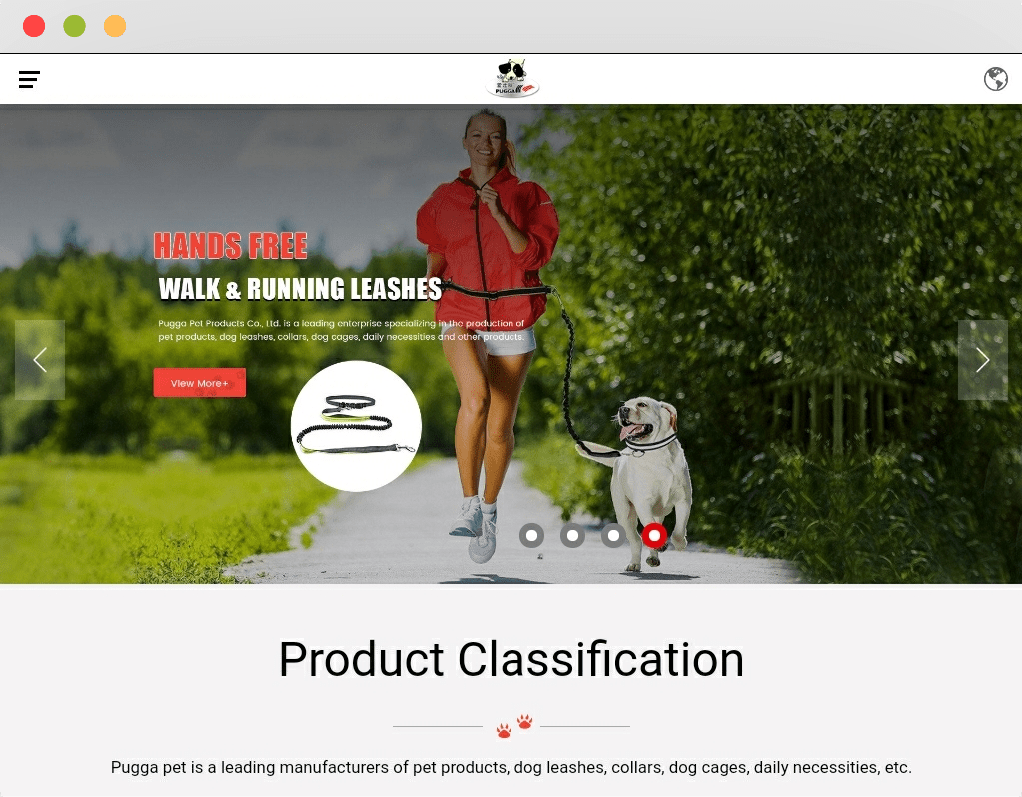 Yuyao Pugga Pet operates from its factory in Ningbo, China. It manufactures creative pet items that would be ideal for pet owners that have an active lifestyle and enjoy exercising or going on adventures with their pets.
Some of Pugga's products include:
Retractable leashes
Running leashes made of resilient materials
Dog seat belts
Harnesses and dog collar supplies
Dog muzzled
Dog carriers and mats
Pugga Pet is particularly invested in ensuring that it delivers top-quality products. Its facility is fitted with high-tech quality inspection equipment that is used to vet every product before packaging.
For custom designs, the company requires a brief and any sketches or drawings you may have to illustrate your specifications. It will then offer feedback and move on to make your private label products after approval.
CN Pet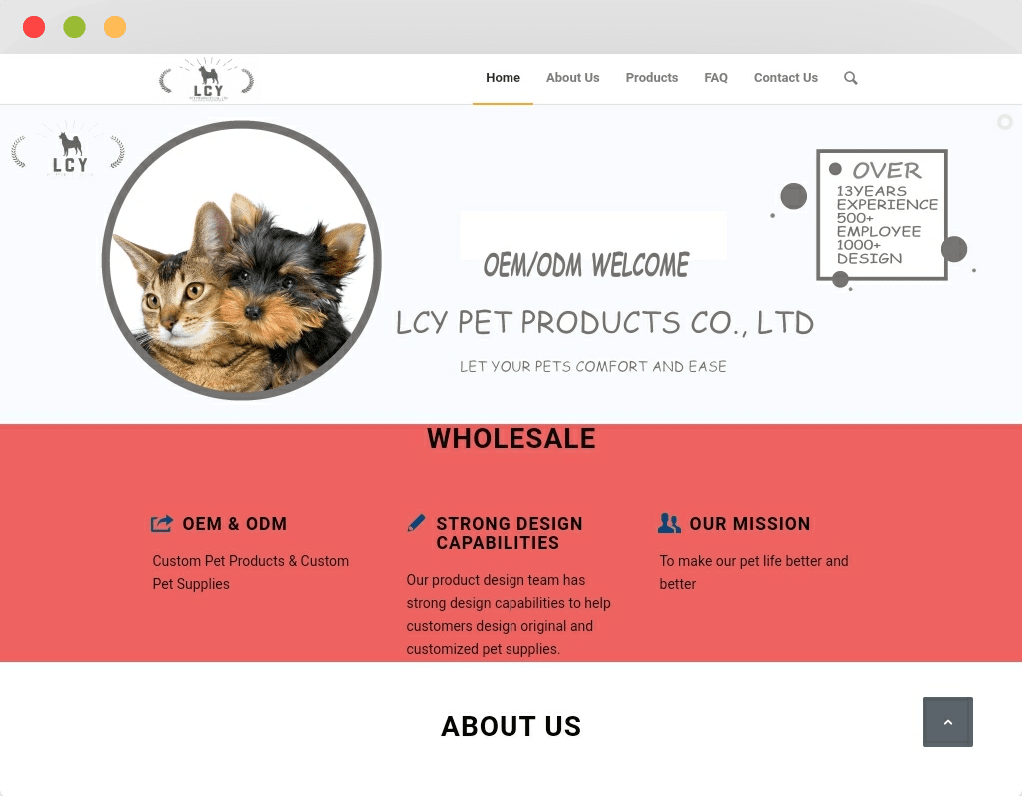 CN Pet is primarily based in Yiwu in Zhejiang, China but it also works with satellite factories in Hangzhou, Guangzhou, Tianchang, and Heza. Subsequently, the company has a high production capacity and a more effective supply chain.
Speaking of supplies, CN Pet manufactures:
Pet bandanas
Pet grooming products
Pet beds
Harnesses and leashes
Pet toys
Most of these products are manufactured and available in-store. Once you place your order, CN Pet can process and ship it within 3 to 15 days.
However, if you place an order for private label pet products, the lead time varies between 30 to 60 days because they have to be made from scratch. Private label orders also have to meet the set MOQs which range from 500 to 1000 pieces.
On the upside, CN Planet handles the entire private labeling process. It does not just customize your pet items, it can also brand them with your company logo and package them to suit your preference.
Frequently Asked Questions About Wholesale Pet Product Manufacturers
What Factors Should I Consider When Selecting Pet Products to Sell in My Store?
This is an important question because the type of products you choose to sell will determine the kind of pet products manufacturer you need to work with.
As you weigh your pet product options, it would be wise to consider:
Prevalent pets in your market- people in different regions prefer different pets; often due to climate or culture. One of the best ways to rake in good sales is to identify the most prevalent pets and source products that their owners would need.
The materials used– pet products need to be made of materials that are safe for pets' health. Plastic bowls, for example, may not be popular due to the risk of exposing pets to BPAs. Avoid products with harsh chemicals or heavy scents too.
Durability- pets can be quite active and rough. Their leashes, costumes, carriers, and other items need to be resilient enough to outlast their adventures.
Comfort– pet owners generally want to keep their beloved companions cozy and well. Look out for padded leashes, well-cushioned beds, roomy and stable carriers, and similarly comfortable pet supplies.
What Are the Advantages of Working With Private Label Manufacturers?
Private label pet supplies are a great way to make your brand stand out from your competitors because they are unique.
You can also customize them to fulfill a need that other brands in the market do not meet and, subsequently, win over more customers.
Better still, if your design ideas improve the product, you may even be able to sell it at a higher mark-up than standard market prices.
How Do I Identify the Right Wholesale Pet Supplies Manufacturer?
The first step to choosing the right manufacturer would be to identify your needs.
What type of products are you looking for?
What quantities do you need?
Where would you like the pet supplies to be delivered?
Once you have definitive answers, it will be easy to zero in on manufacturers that could be a good fit. Make a shortlist and choose one or more that offer you:
Good wholesale prices
Short lead times
Reliable shipping arrangements
Value-adding services like private labeling
Premium quality products
In Conclusion
Finding the right pet supplies manufacturer is a process. The truth is, you may even have to try a couple of them before you find the right fit.
Take your time and be discerning. Remember that the quality of products that a manufacturer offers and their reliability in terms of supply can make the difference between your business thriving or dwindling away.
On the other hand, if you are having a hard time sourcing pet supplies, leave it to us. We are a reputable sourcing company in China and have long-standing relationships with top-tier manufacturers. You can rely on us to:
Find the right wholesale pet supplies manufacturers
Obtain a quote for you
Negotiate profitable prices on your behalf
Perform quality inspections on your orders before dispatch
Handle international shipping processes on your behalf
Advice and guide you through the entire sourcing and purchasing process
Our sourcing services can help you get your pet product business up and running.
Request a quote to get started.