FBA has been the most preferred way of selling on Amazon for many years. As the number of FBA sellers is increasing day by day, the competition is also getting fiercer among them.
Since they have to pay heavy FBA fees, they are always in need of cost-effective and reliable wholesale suppliers to stay competitive and profitable.
That's why we have brought a list of top Amazon FBA wholesale suppliers to help you save time in selecting the best one for your Amazon business.
Let's jump right into the list.
1. Alibaba
Alibaba is the top destination for low-cost wholesale products from China. Founded in 1999, it has been the largest B2B e-commerce platform in China that connects millions of buyers with Chinese suppliers.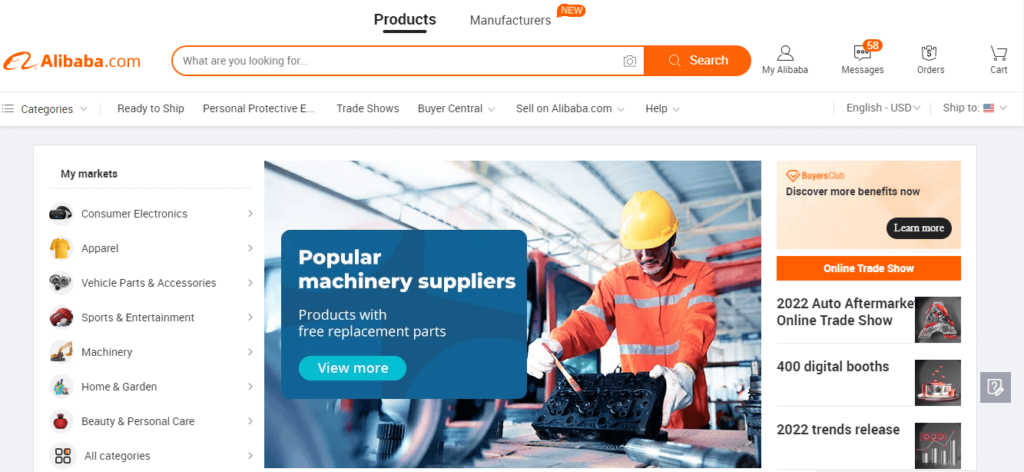 Alibaba to Amazon FBA has always seen an upward trend because of its credibility, supplier options, and product variety at cheap costs. direct manufacturers also give you great opportunities to start an Amazon private label business.
Products
Consumer electronics, apparel, vehicle parts & accessories, sports & entertainment, machinery, home & garden, beauty & personal care.
Features
Largest wholesale website in China
Over 150,000 suppliers
Over 10 million local and international buyers
Ships products to over 190 countries
Cheapest prices quoted via Alibaba RFQs
Virtual reality supplier showrooms
Ability to view products in live sessions
2. 1688
1688 is a subsidiary of Alibaba. It also works on a B2B model. It serves as a local platform to connect Chinese wholesale buyers and suppliers. That's why the website is also in the Chinese language.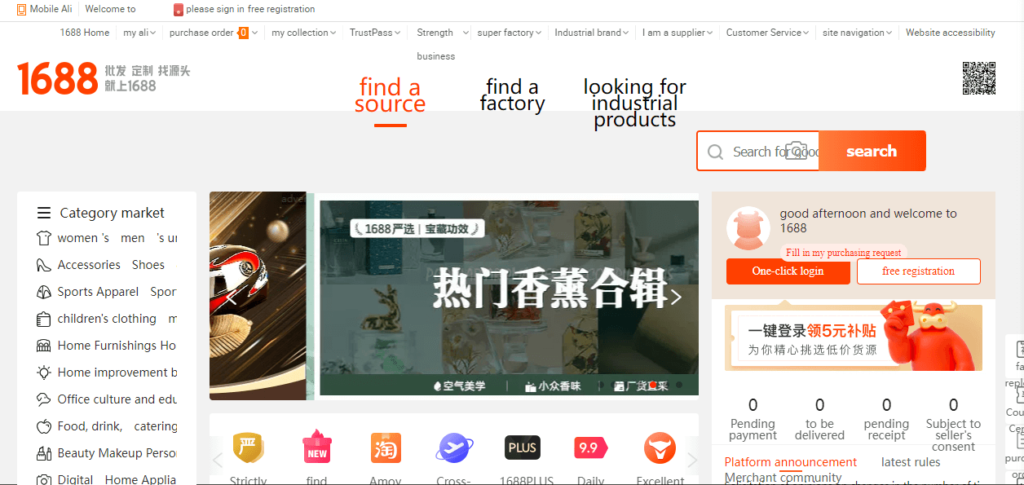 Although you can access the website using Google Translate, you may need a translator or a sourcing agent to communicate with the suppliers. Most of them supply products with a certain minimum order quantity.
Products
Women's & men's underwear, accessories, shoes & bags, sports apparel, sports equipment, children's clothing, mother & baby toys, home furnishings, home textiles, home improvement, building materials, lighting, office supplies, pet, gardening, food & beverage, beauty makeup, personal care, home cleansing, digital home appliances
Features
Buy products at local Chinese rates
Over 50,000 suppliers
Over 10 million products
Direct factory and manufacturers are available
Great chances of starting a private label business
3. DHgate
DHgate is another Chinese platform that has a large variety of products. Founded in 2004, it has been a great option to source products for Amazon FBA. It has various suppliers working on B2B and B2C models.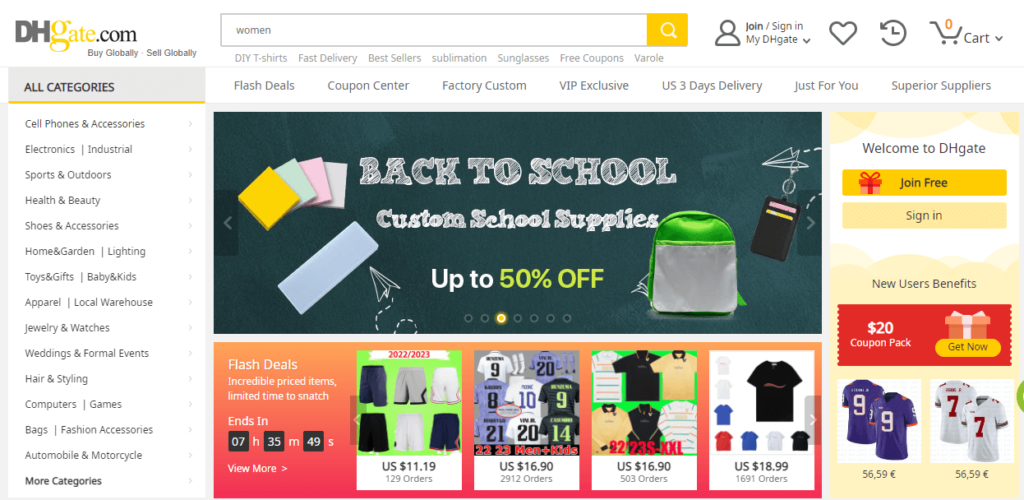 The suppliers are also willing to treat your business as a special case. You can negotiate with them as per your needs.
Products
Cell phones & accessories, electronics, industrial, sports & outdoors, health & beauty, shoes & accessories, home & garden, lighting, toys gifts, baby & kids, apparel & local warehouse, jewelry & watches, weddings & formal events, hair & styling, computers, games, bags, fashion accessories, automobile & motorcycle
Features
4. Made-in-China
Founded in 1996, it has been one of the oldest platforms to source Chinese products. It works on the B2B model and has MOQs in place for most products.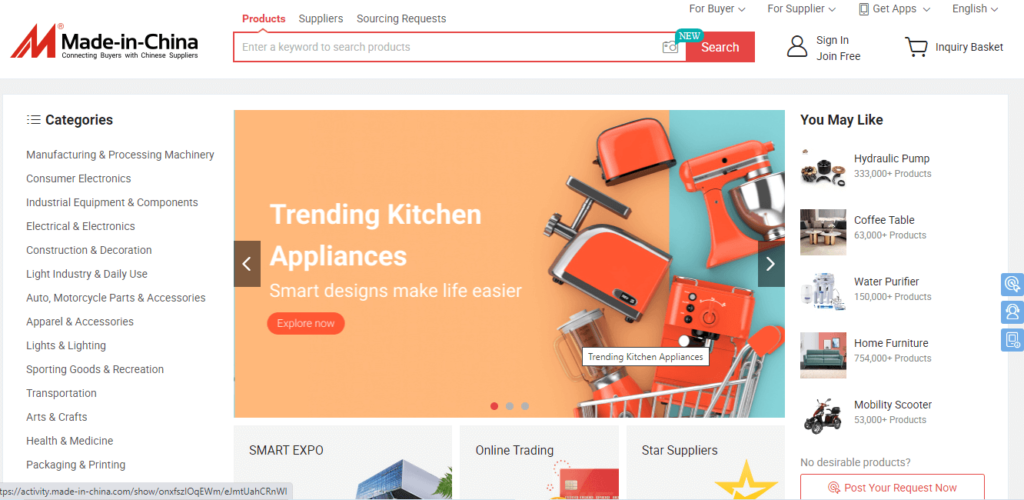 The prices mentioned on this website vary as per the required quantities. It also facilitates digital participation in business fairs.
Products
Manufacturing & processing machinery, consumer electronics, industrial equipment & components, electrical & electronics, construction & decoration, light industry & daily use, auto, motorcycle parts & accessories, apparel & accessories, lights & lighting, sporting goods & recreation, transportation, arts & crafts, health & medicine, packaging & printing, computer products
Features
Huge list of trusted suppliers
Thousands of international buyers
Massive product variety
Variable and negotiable prices as per the quantity
5. Global Sources
Founded in 1995, Global Sources is a great platform to source good quality products at cheap prices. It hosts a variety of Asian suppliers.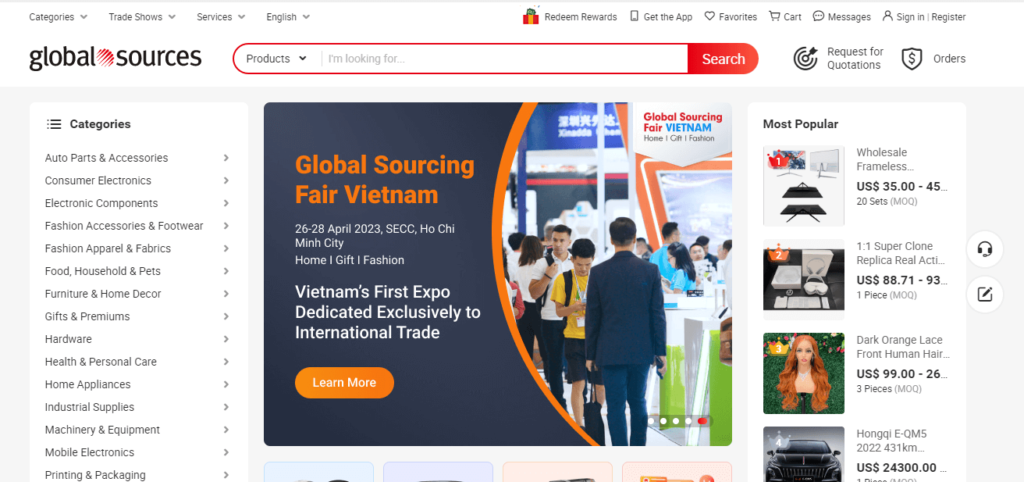 Based in Hong Kong, it has thousands of reliable suppliers who are quite familiar with Amazon FBA. You will find great flexibility in the prices of the products as you increase the required quantity.
Products
Auto parts & accessories, consumer electronics, electronic components, fashion accessories & footwear, fashion apparel & fabrics, food, household & pets, furniture & home decor, gifts & premiums, hardware, health & personal care, home appliances, industrial supplies, machinery & equipment, mobile electronics, printing & packaging, smart living electronics, sports & outdoors
Features
One of the oldest sourcing platforms
Over 4 million products
Around 200,000 suppliers
Fresh daily products uploads
Low-cost products
6. Banggood
Founded in 2006, Banggood is one of the highly reputable e-commerce platforms to source quality products at affordable costs. It has a variety of mixed suppliers working on retail and wholesale models.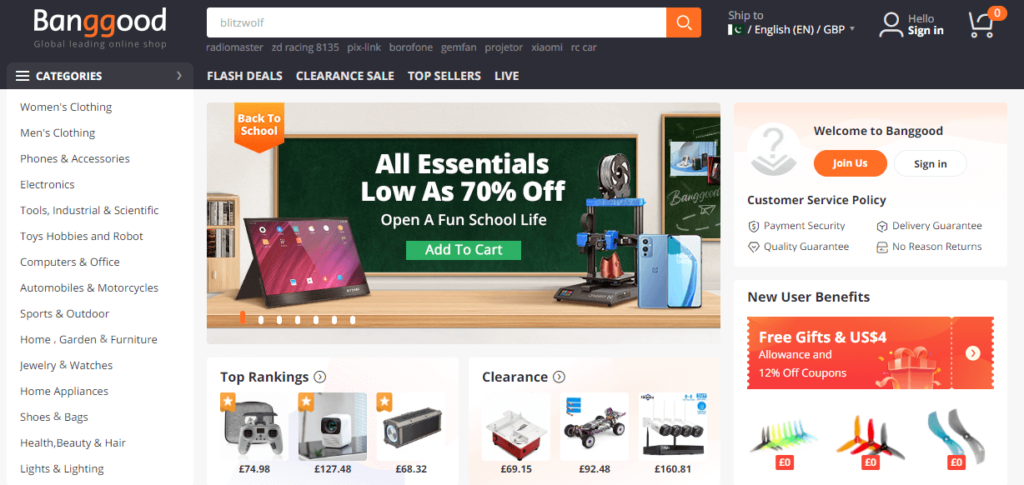 It has a huge variety of products from nearly all the niches. It is one of the great options among small business wholesale suppliers. You can also find new products here before they are available anywhere else. The products are a great value for money.
Products
Women's clothing, men's clothing, phones & accessories electronics tools, industrial & scientific, toys hobbies and robots, computers & office, automobiles & motorcycles, sports & outdoor, home, garden & furniture, jewelry & watches, home appliances, shoes & bags, health, beauty & hair, lights & lighting
Features
Over 100,000 suppliers
Over 1 million products
Bulk order discounts are available
App-only deals are also offered
7. DIY Trade
Founded in 1999, DIY Trade is another reliable Chinese platform to source a variety of products from registered suppliers. It has helped many small businesses succeed.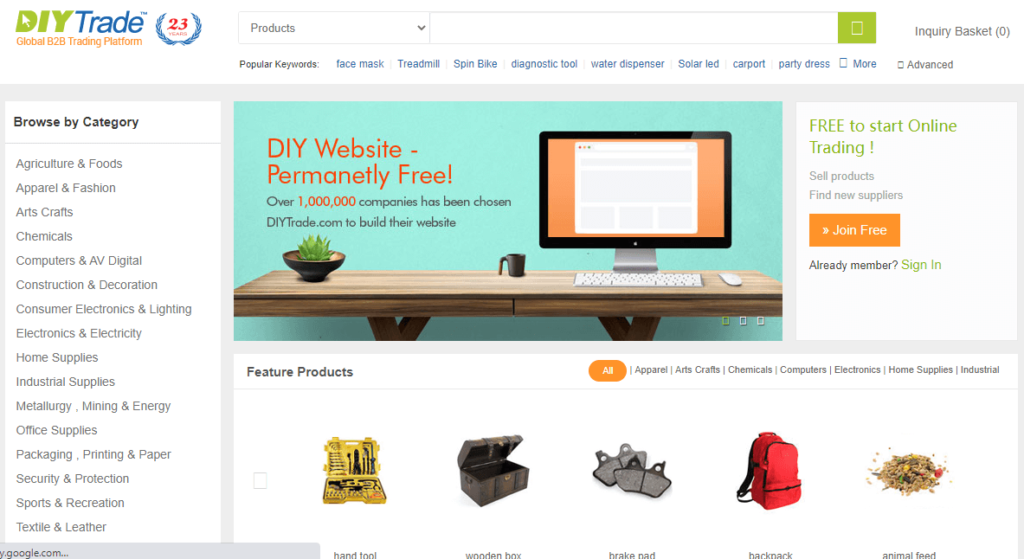 It has plenty of experienced suppliers who are already working with FBA sellers. So, you won't need to explain much to them.
Products
Agriculture & foods, apparel & fashion, arts crafts, chemicals, computers & AV digital, construction & decoration, consumer electronics & lighting, electronics & electricity, home supplies, industrial supplies, metallurgy, mining & energy, office supplies, packaging, printing & paper, security & protection, sports & recreation, textile & leather, toys, transportation
Features
A massive variety of over 5 million products
Over 11,000 suppliers
Negotiable prices for bulk quantities
Free to use
8. Light in the Box
Founded in 2007, Light in the Box is a Chinese online marketplace known for its selected range of products that retailers can source to sell at high profit margins.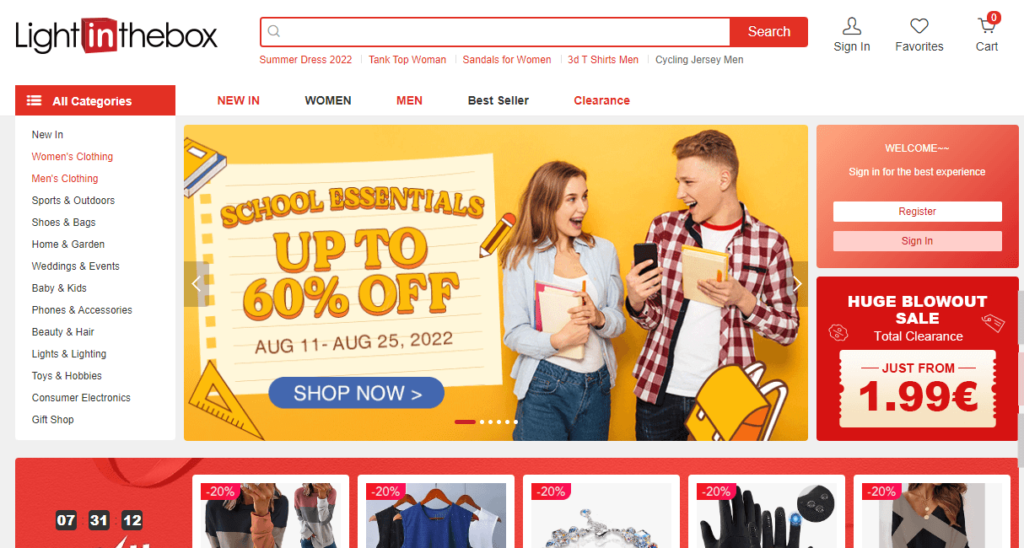 You can find retail products here but you can also contact the suppliers for wholesale deals. It also has a mini-version named Miniinthebox that offers a reduced range of selected products.
Products
Women's clothing, men's clothing, sports & outdoors, shoes & bags, home & garden, weddings & events, baby & kids, phones & accessories, beauty & hair, lights & lighting, toys & hobbies, consumer electronics
Features
A huge network of 2 million+ suppliers
Home to the latest and trending products
Negotiable prices based on demand
9. Worldwide Brands
Founded in 1999, Worldwide Brands is one of the finest US-based wholesale directories of global wholesale suppliers. You don't have to worry about the authenticity and legitimacy of the suppliers as they are scrutinized before registration.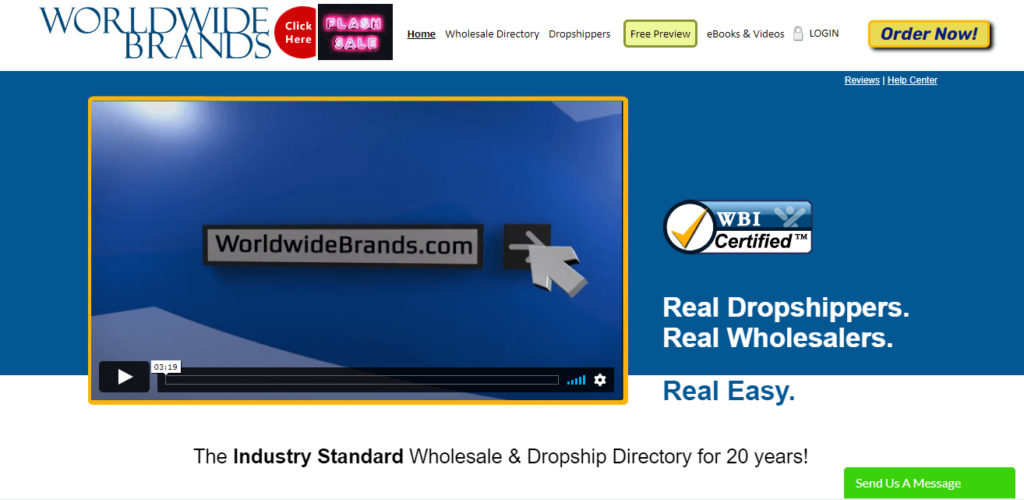 You can also find manufacturers and direct factories here. You have to pay a one-time membership fee of $299 to access the directory. The product and pricing details are only visible to the registered members.
Products
Art, adult products, baby & maternity, books, movies & media, business products, clothing, shoes & accessories, collectibles, computers, craft supplies, electronics, food & drinks, health & beauty, home & garden, jewelry & watches, music & instruments, office & school supplies, party supplies, pet supplies, sporting goods, supplements & nutrition, tools & hardware, toys, games & hobbies, travel products, vehicles, parts & accessories
Features
Both retail and wholesale models are available
One of the best platforms to find the US, UK, and EU suppliers
Profit margins are protected due to suppliers' scrutiny
Over 8,000 verified suppliers
Over 16 million products
Amazon-friendly
10. HKTDC
Sourcing products sounds incomplete without including Hong Kong suppliers. Hong Kong Trade Development Council (HKTDC) is a website where all the major Hong Kong-based suppliers are accessible.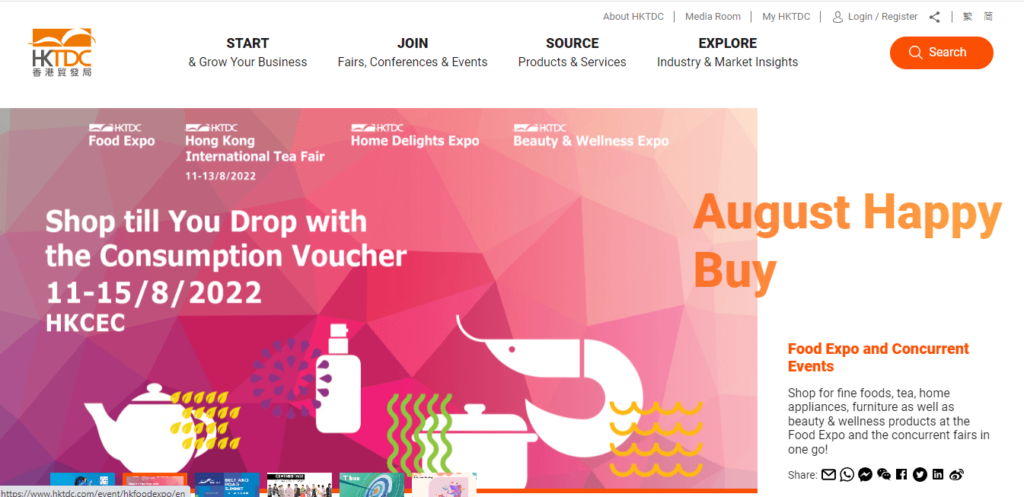 The presence of direct manufacturers on this platform further makes your job easier. If you have a winning product on Amazon FBA, you can ask the manufacturer to help you launch your own brand with that product by making small tweaks.
Products
Automobile & transport, electronics, fashion, clothing & accessories food & beverage, gifts, toys & sports supplies, health, beauty, and baby care home products, lights & constructions, industrial machinery, parts & raw materials, jewelry & watch, printing & packaging, stationery & office equipment
Features
Over 130,000 suppliers
50 international offices
Supported by the government
Special focus on small and medium businesses
Online trade shows bridge the gap between buyers and suppliers
11. Wholesale Central
Wholesale Central is a popular platform for providing a huge list of professional suppliers. This US-based directory of wholesale suppliers was founded in 1996.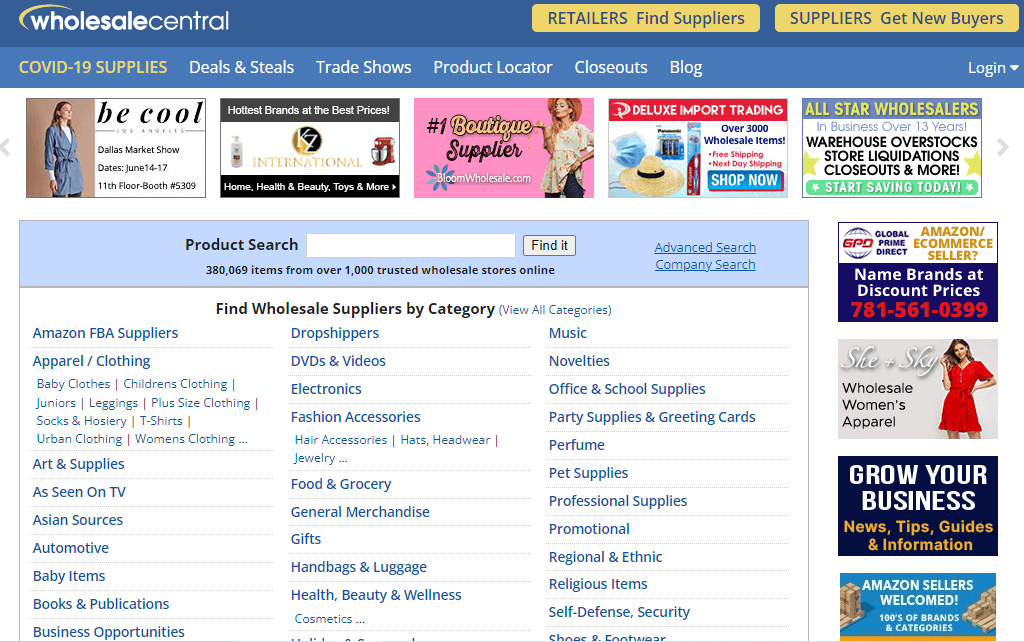 As it contains a mix of vendors including wholesale and retail, you have to make sure that you contact the right supplier for your FBA business. The suppliers include importers, wholesale distributors, and manufacturers who offer a massive variety of quality products.
Products
Apparel & clothing, art & supplies, as seen on tv, baby items, crafts & supplies, dollar store, fashion accessories, hair accessories, hats, headwear, jewelry, gifts, handbags & luggage, health, beauty & wellness, housewares & home decor, jewelry, knives & swords, lawn & garden, leather, office & school supplies, party supplies, greeting cards perfume, pet supplies, regional & ethnic, religious items, self-defense, security, shoes & footwear, sporting goods, sunglasses & eyewear, toys & hobbies watches
Features
Over 1,000 vetted suppliers
Over 370,000 products
Recommended for finding US suppliers
Dedicated portion for Amazon FBA
No subscription charges
12. Inventory Source
Inventory Source is another US-based platform that hosts most suppliers from the USA and China. The suppliers are well-aware of the FBA processes and provide full-length services accordingly.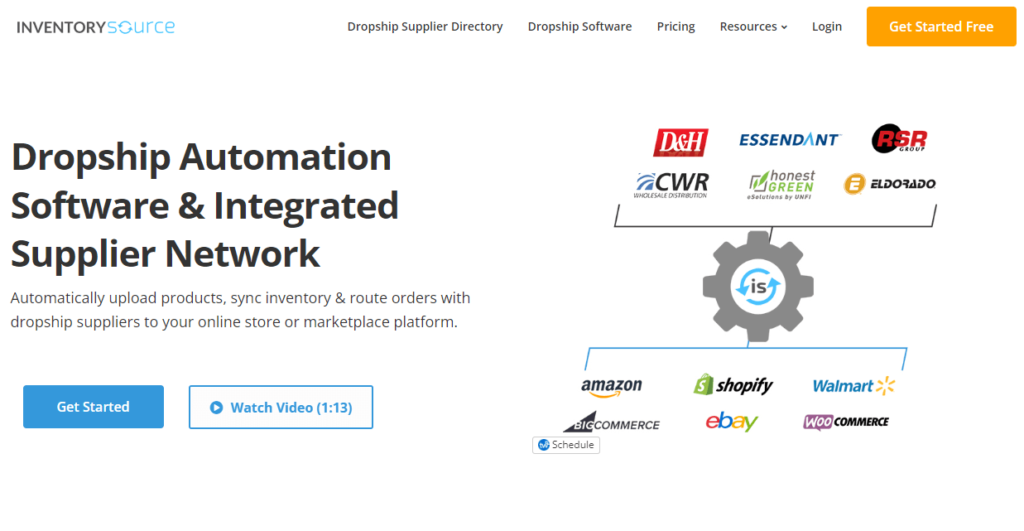 You can integrate your Amazon store with that platform to synchronize your inventory and streamline your ordering process. You can use the filters on this website to find the suppliers of your choice easily.
Products
Survival, tactical & camping, pet products & supplies, hunting and fishing, adult products & lingerie, bath, body & fragrance, baby, kids & toys, consumer electronics, vitamins & supplements, fashion, apparel & jewelry, furniture & home decor
Features
Millions of products
Over 4,000 prescreened suppliers
Free access to the suppliers and products
Convenient vendor and product management
13. Bargain Wholesale
Bargain Wholesale is one of the most reputable and experienced wholesale suppliers in the USA. They have strategically-located warehouses to expedite their shipment processes within the USA.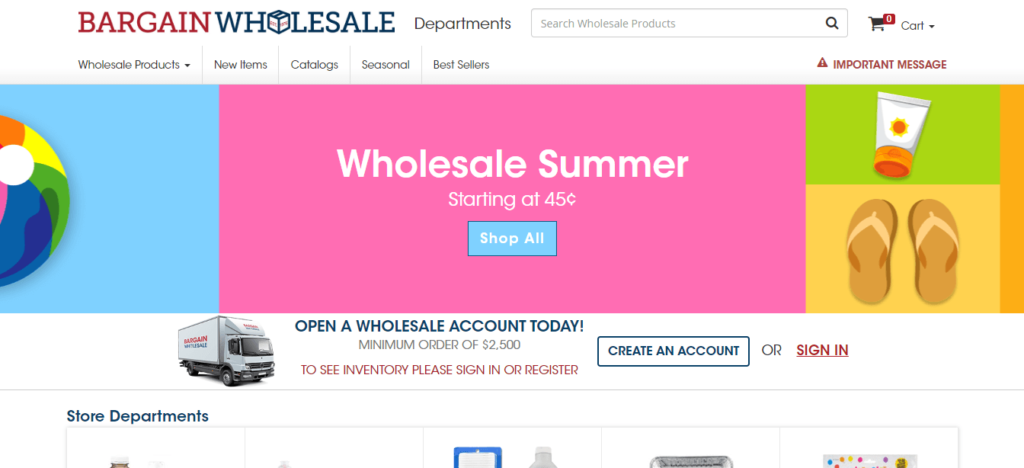 Although you will also find products like beverages, cookies, bakery items, etc. on this website, it has almost every product that FBA sellers usually require, including seasonal items.
Products
Health & beauty, food & beverage, household, pet, food storage, hardware & auto, kitchenware, picnic, stationery, electronics, home decor, apparel, party, plastics, toys, and sports
Features
40+ years of wholesale experience
Provides products to over 10,000 US stores
Best for dollar store items
Minimum order of $2,500
14. Furdela Wholesale
Furdela Wholesale is a great option to source apparel and accessories at cheap costs. If you are into the fashion niche, this is the platform you need to check.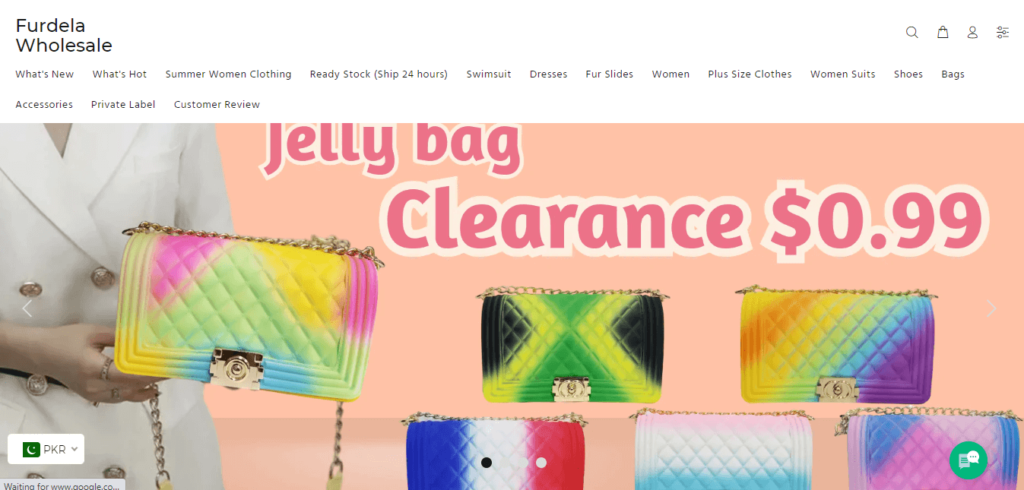 It is based in Hong Kong and offers products on a single platform so that you don't have to deal with multiple suppliers individually. It has a dedicated section for the private label business.
Products
Summer women's clothing, swimsuit, dresses, fur slides, women's fashion, plus size clothes, women's suits, shoes, bags, accessories
Features
Suggests hot and new products to sell
Offers clearance sales on a variety of products
Small MOQs
Available discounts for large quantities
15. Liquidation.com
Liquidation, as the name suggests, is a wholesale marketplace offering retailers various liquidation items.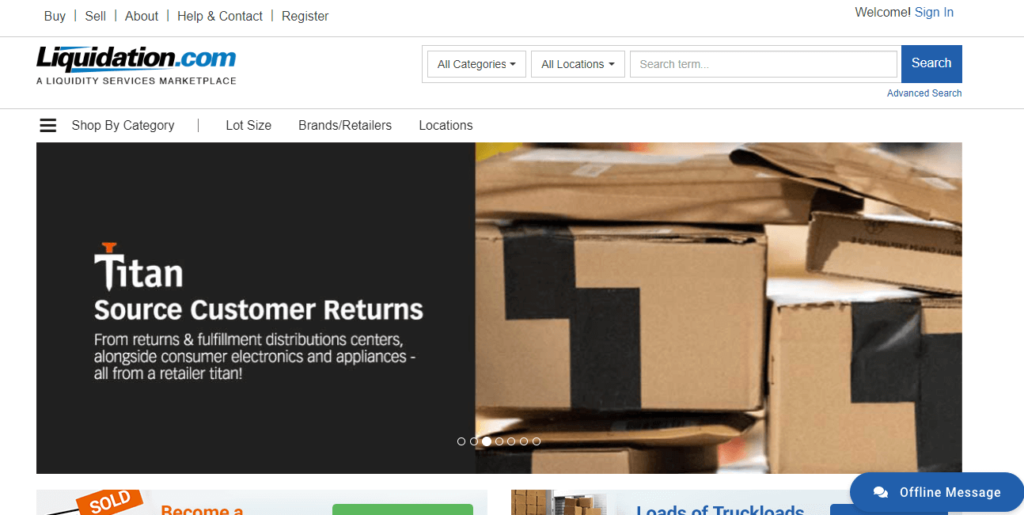 It is based in North America and claims to offer products at 70% to 90% lower than the retail prices. So, you can buy unsold Amazon products at lower prices and resell them using your marketing skills.
Products
Clothing & accessories, computers & networking, consumer electronics, furniture, general merchandise, housewares, jewelry & watches, tools & machinery
Features
Offers Walmart liquidation auctions
Opportunity to buy pallets or truckloads
Access to branded items at discounted prices
10 warehouses in the USA
16. Price Master
Established in 1988, Price Master is another great option to source products for your FBA business. As its name suggests, it offers products at low prices to retailers so they can remain profitable.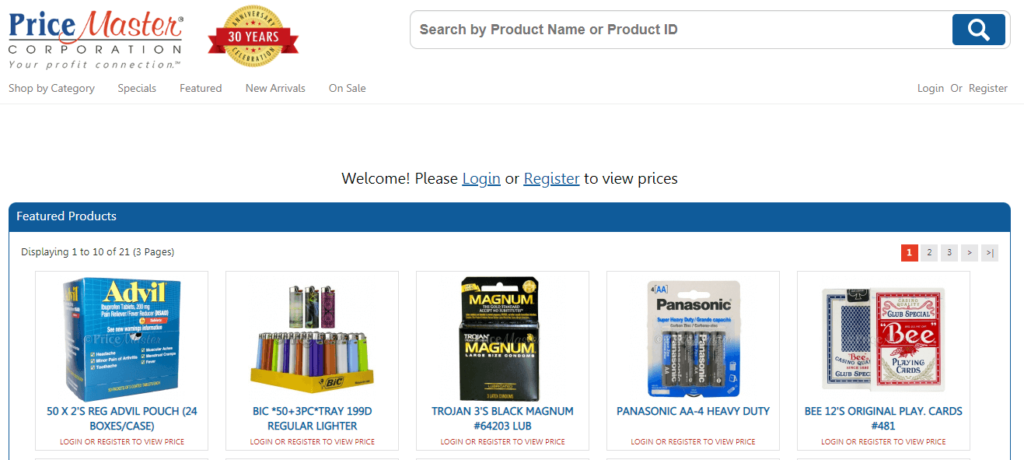 Do visit the "on-sale" section on their website to check the crazy deals. It also provides clearance and closeout deals. You have to register and sign in to view the prices.
Products
Medicines, vitamins, batteries, food products, health, beauty aids, cigarette and tobacco, novelty and games, home and auto products, consumer electronics
Features
One of the oldest wholesale suppliers in the USA
Products are available at low prices
Best for general-use items
Over 3,000 items in their product line
Minimum order of $1,000
17. TopTenWholesale
TopTenWholesale is yet another great supplier for your FBA business. It was founded in 2005 and is based in California, USA.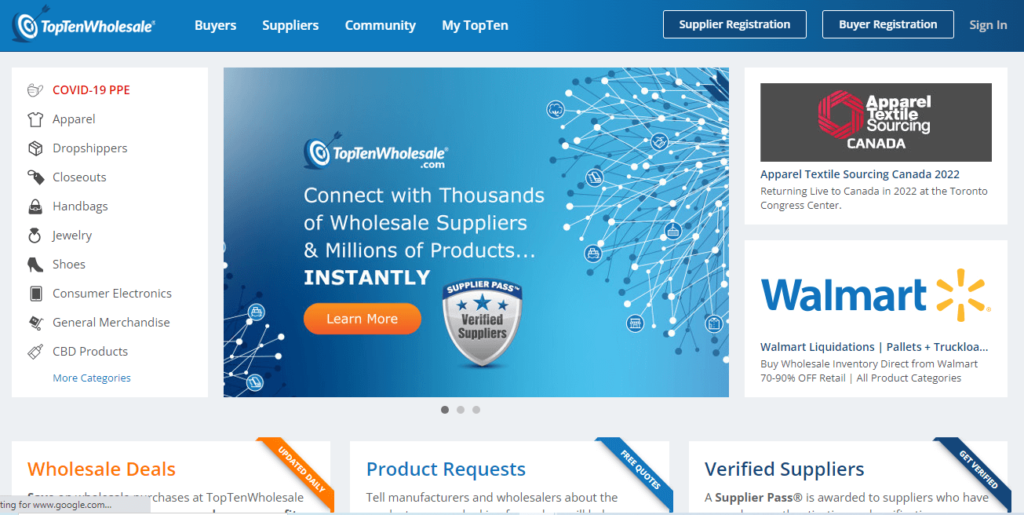 If you are in search of "Made in USA" products, this can be the right platform for you. You can also request a product from American manufacturers to check their availability.
Products
Apparel, closeouts, handbags, jewelry, shoes, consumer electronics, general merchandise, CBD products
Features
Thousands of verified suppliers
Most suppliers have FBA experience
Millions of products are available for retail and wholesale
Offers opportunities to join trade fairs in USA and Canada
Free to access products and suppliers
18. Dollar Days
Dollar Days is a website that offers many products at cheap wholesale prices. It was founded in 2001 in Arizona, USA with a mission to serve the needy at the most affordable costs. They also work with retailers.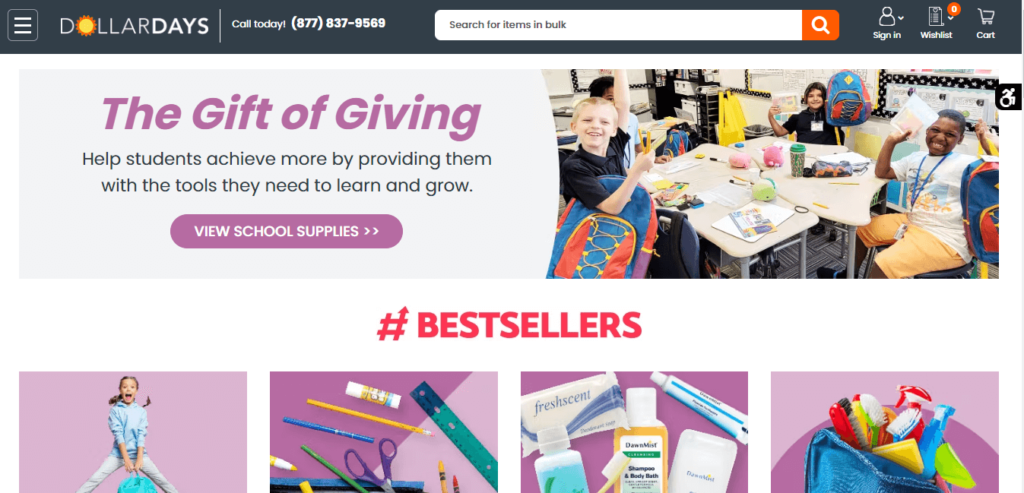 So, it can be a good supplier if you are working with Amazon USA. Their wide network of warehouses within the USA helps them deliver products fast across the country.
Products
Baby, backpacks, bedding, bath & decor, clothing & shoes, electronics, food, hardware, tools & outdoors, holiday & party, household essentials, kitchen & dining, luggage & travel accessories, personal care, pet supplies, PPE & masks, school & office, toys & games
Features
Supplies to nonprofits and schools, etc.
Decent variety of products
Options to buy in bulk quantities
Shipping is only done inside the USA
FAQs about Amazon FBA Wholesale Suppliers
The following answers to the most frequently asked questions will help clarify any doubts about Amazon FBA wholesale suppliers.
How to Find Wholesale Suppliers for Amazon FBA?
Sometimes, finding wholesalers that fit your business needs takes a fortune. Although most suppliers may show that they are Amazon FBA wholesalers, you need to double-check because you cannot afford to work with the wrong supplier.
You can take help from the following tips to find the best wholesale supplier for your Amazon FBA business.
Physical visit of affordable China wholesale markets like Yiwu and Guangzhou.
Extensive online search especially using Google and online directories.
Search for the suppliers using social media. Check buyers' reactions, comments, and feedback on their accounts to build an opinion.
Use professional platforms like LinkedIn where most companies have their official presence.
Attend online and physical trade fairs and business expos.
How to Select a Supplier for Amazon FBA?
What if you have contacted a few suppliers and want to finalize one of them for your FBA business? How would you know what to look for in a supplier?
You can take help from the following points.
A good supplier should:
Supply best quality products at prices much lower than their selling prices
Provide fast and trackable shipping services
Should have multiple warehouses at different locations
Be familiar with the whole FBA process
Accommodate edits in your orders at short notice as and when required
Have a good history as an FBA supplier.
How to Negotiate with Amazon FBA Wholesale Suppliers?
You don't need to agree with everything that a supplier says. There's always a margin of negotiation. You can negotiate prices and services with a supplier using the following suggestions.
Always show yourself as an experienced FBA seller
Share your high sales figures so that they take you seriously
Take quotations from other suppliers and share the lowest price with the shortlisted supplier
If the supplier is not willing to decrease the price, ask him to compensate in the MOQs and other services
Test their response by telling them that you are considering canceling the sourcing deal due to the high prices.
Summary
Selecting your supplier is a decision that can make or break your business. With so many suppliers out there, it can get a little confusing which supplier would work best for you.
That's why the list of trustable Amazon FBA wholesale suppliers shared in this article will always help you select a supplier from the best available options.
If you still need help sourcing products for your Amazon FBA business, ask for a free quote and let a veteran guide you through everything.