E-commerce and China are almost inseparable. With all their innovation and lucrative profit margins, Chinese products have dominated the world.
That's why online sellers find it convenient to source products from Chinese wholesale websites like Alibaba and Made-in-China. At the same time, e-tailers have a fundamental question to worry about: is Made-in-China legit and reliable?
In this article, you'll learn everything about the Made-in-China website to help you decide whether you can trust this for your product sourcing.
Let's start.
What Is Made-in-China.com?
Made-in-China is an e-commerce website that connects and ensures smooth online transactions between international buyers and Chinese suppliers. It began in 1998 and has been working on a B2B model to provide products made in China at certain MOQs.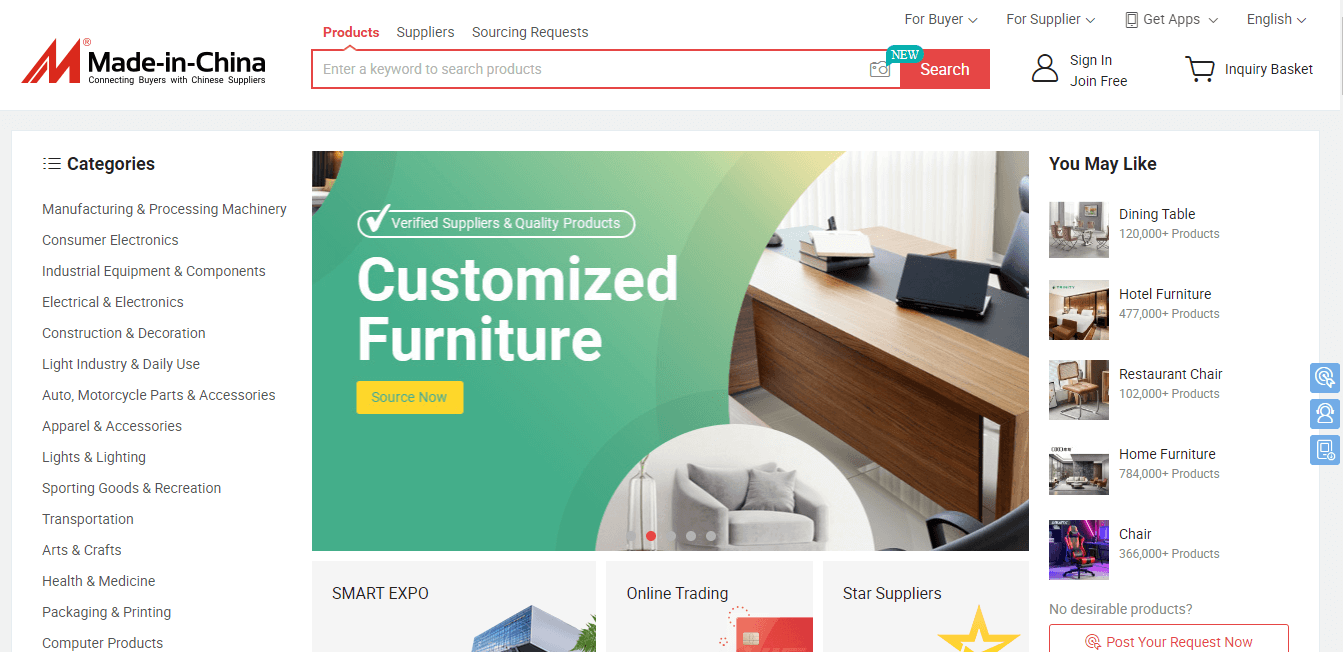 It has headquarters in Jiangsu, China and two registered offices in the USA.
With over 40 million products from over 3600 categories and 27 sectors, it serves as one of China's leading directories of products and suppliers.
It claims to have over 6 million suppliers and over 14 million registered buyers.
Online retailers worldwide source products from this website at wholesale prices and sell them at a retail model to earn decent profit margins.
To facilitate better communication, the website operates in eleven different languages, including English.
Is Made-in-China Legit?
Yes. Made-in-China is absolutely legit and safe. It works under the Focus Technology Company, a renowned B2B eCommerce solutions provider in China.
It is legally registered and has been present in China for over two decades. Only legal businesses maintain such a long legacy.
With its registered offices in China and the USA, this company cannot afford to do anything illegal that may jeopardize its existence.
How Does Made-in-China.com Work?
Made-in-China provides an online platform where buyers can look for the required products and contact suppliers to crack the deal.
There are two ways a buyer can find a product. Either he can search for products or suppliers from its directories or post an inquiry on this platform where the relevant suppliers will contact that buyer with their proposal.
You have the following three search options on the homepage of this website.
Products
Suppliers
Sourcing requests

Let's discuss each option briefly.
Product Search
You will have a lot of options in search results with brief product details to give you an overview.
You will notice that the prices are given in ranges. That means the price per product may increase or decrease depending on the ordered quantity.
As it is a wholesale website, the MOQs are also mentioned with the products.
When you click on a product, you will see a detailed product description in most cases along with HS code, packaging type, and other product details like production capacity, etc.
To give you a live feeler about the products, many sellers provide 360 virtual tours so you can check them from every angle.
In some cases, you can also request product customization. So it also allows you to run a private label business.
The products in search results also mention brief details about the suppliers. You can contact them regarding the products and chat to discuss more.
Note: Just like its main competitors like Alibaba, you can also search for a product by uploading its image.
Suppliers Search
Made-in-China has a mix of suppliers, including wholesalers, manufacturers, and direct factories.
Just like the products, you can also search for the suppliers on Made-in-China. You just have to write the product in the search bar and click on the "suppliers" option.
The smart algorithm of Made-in-China displays all the suppliers offering those products.
You will have the following details about suppliers.
Member type
Business type
Main products
City/province
The specific signs with the suppliers show that they are classified as per their membership in Made-in-China.
You will see certain badges alongside the suppliers on Made-in-China. They are listed below.
Suppliers with verified business licenses
Audited supplier
Free trade security from payment to delivery
Sourcing Requests
You can also use the "Sourcing Requests" feature to find out the previously posted sourcing requests by other buyers regarding your products.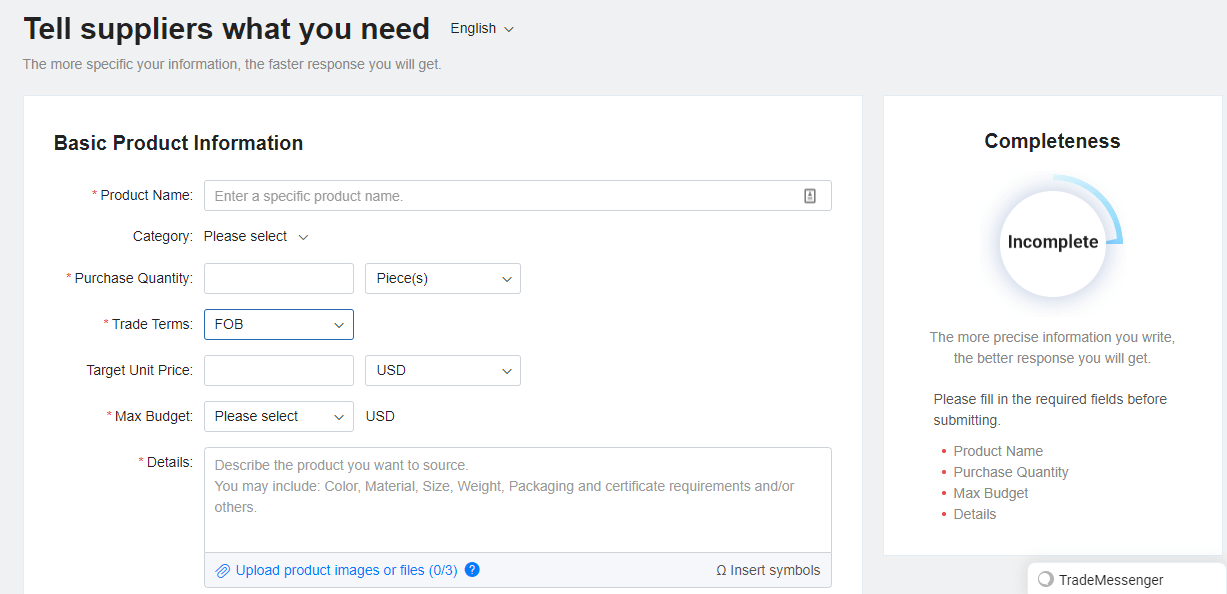 The information includes the date posted for the quote request, product categories, and purchase quantity or maximum budget.
Ordering
Once a buyer agrees to buy the products from the supplier, he places the order by sharing the delivery address and other details. After depositing the payment, the supplier arranges for the products to deliver to the required address.
Made-in-China closely monitors the whole buying and selling process to ensure transparency and customer satisfaction.
Shipping Policy of Made-in-China.com
Made-in-China delivers products to every part of the world. That's why it is convenient for e-tailers to buy anything from this platform and get the products delivered to their desired destination address.
International shipping is determined by Incoterms. Made-in-China largely works on FOB shipping terms.
It means that Made-in-China suppliers are responsible for delivering the products from their warehouses to the vessel or ship. After that, the goods are the responsibility of the buyer.
The shipping is provided by the following two methods on Made-in-China.
1. Made-in-China Shipping Fulfillment
In this method, Made-in-China provides shipping facilities to the buyer. Currently, Made-in-China is in contract with UPS and 4PX for delivering its products across borders.
UPS may take up to 10 business days, and 4PX may take up to 14 business days for the products to be delivered from China to the USA. The delivery times vary according to the final destination.
2. Supplier-fulfilled Shipments
The suppliers can also arrange the shipping. You can agree on shipping terms with a supplier when you contact him and discuss your preferences.
If a supplier doesn't offer international shipping, Made-in-China doesn't take any guarantee of the shipping procedures.
You can share your requirements with Made-in-China, and they will inform you about the shipping details for your required products.
You agree to the shipping contract with suppliers, make the payment, and wait for your products.
Most shipping types provide tracking services.
Shipping Disputes
Made-in-China suggests waiting for the products for up to 60 business days before opening up a dispute. It also adds 15 more days as an additional margin to receive your products.
After that, you can launch a complaint against the supplier, and they will do whatever they can to resolve your issue.
Payment Options of Made-in-China.com
Made-in-China ensures the safety of its customers' payments. It has an escrow system that keeps the payments on hold for the suppliers until you give a green signal to them.
In case of late or no delivery, the suppliers cannot afford to lose their product without getting any payment. Hence, the suppliers at Made-in-China act professionally.
Made-in-China accepts payments in USD only. International buyers can use the following two payment methods to purchase products from Made-in-China.
1. Credit/Debit Card
You can make payments using the following types of credit or debit cards.
Visa
MasterCard
JCB
Diners Club
American Express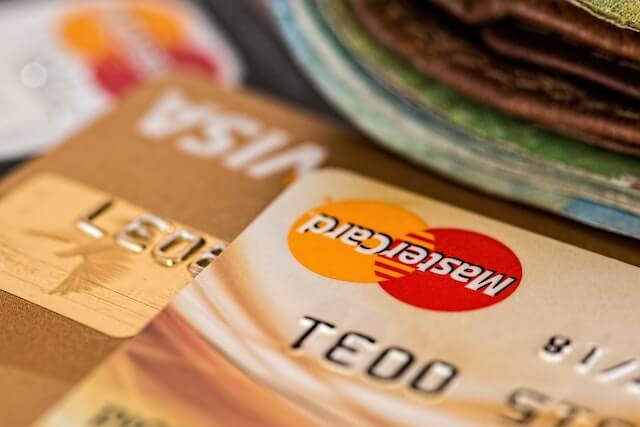 It is the quickest payment method in Made-in-China. You can transfer funds successfully within two hours, but you can't send more than USD 5,000.
2. Bank Transfer (T/T)
Another payment method on Made-in-China is through bank transfer. Although there is no limit to the amount on bank transfer, it has a drawback too.
It is a lengthy process. It can take up to 2-7 business days till your suppliers receive funds in their accounts.
Return & Refund Rules of Made-in-China.com
Made-in-China provides returns and refund policies on its website to secure your payments.
The following two cases are eligible for returns and refunds on Made-in-China.
1. Defective Products
If you receive products with defects (broken or damaged) or a different product that does not match its promised description.
2. Products Not Received
You pay for the products in advance on Made-in-China. So if you don't get your orders within the promised timeframe, you can raise a refund inquiry.
Ideally, you should be able to track your products throughout their journey. But if you can't do so, you should follow up with your supplier.
Made-in-China advises you to wait for another 15 business days in case you do not receive your products. After that, you can apply for a refund.
However, Made-in-China does not accommodate a refund claim for the following reasons.
Delays beyond the seller's control, such as natural disasters or other social actions, etc.
Delays caused due to the receiver, such as wrong address or not receiving the product, etc.
Refund Processing Time
Once your refund is approved by Made-in-China, you will get it within 5-10 business days.
Refunds for Customized Products
Made-in-China doesn't accept refund claims for products specially customized as per your instructions. So you have to be very careful with your private-label products.
You can still negotiate with your supplier and settle the dispute mutually, but Made-in-China doesn't mediate in the case of customized products.
In all the above-mentioned circumstances, Made-in-China advises you to contact your suppliers directly. In most cases, suppliers cooperate and try to resolve the dispute amicably.
Otherwise, you would have to contact the Online Trading department at Made-in-China. You just have to share the details of your grievance and one of their representatives will reply within one (1)business day.
That's where Made-in-China mediates between buyers and suppliers. If you have your case on merit, Made-in-China will refund your payment.
Note: Most suppliers would try to offer you other lucrative incentives like reduced prices on other items against the withdrawal of your complaints. It is up to you to decide whether you want to go with the dispute or agree to the supplier's incentives.
Buyer's Responsibilities in the Return Process
In case of a return, you must ensure certain steps. You would have to dispatch the items to the seller's address along with their tracking details and proper documentation, etc. Failing this may result in no refund at all.
Made-in-China.com Reviews in the US and European Countries
Made-in-China has a mix of reviews from the US and European countries because of the different experiences of the customers.
People on Trustpilot give it an average of 3.3 stars out of 5. Further segregation shows that 43% of the customers are fully satisfied with this website while 45% had bad experiences.
The reviews vary from case to case, depending on the customers' personal experiences. That doesn't necessarily reflect the overall service of a website.
The persons giving bad reviews can result from the dissatisfaction caused by the individual supplier on Made-in-China. So, it would not mean that the platform as a whole provides a bad service.
Review.io gives it an average rating of 4.4, based on only five reviews.
Here is another average rating of Made-in-China from Scamadviser.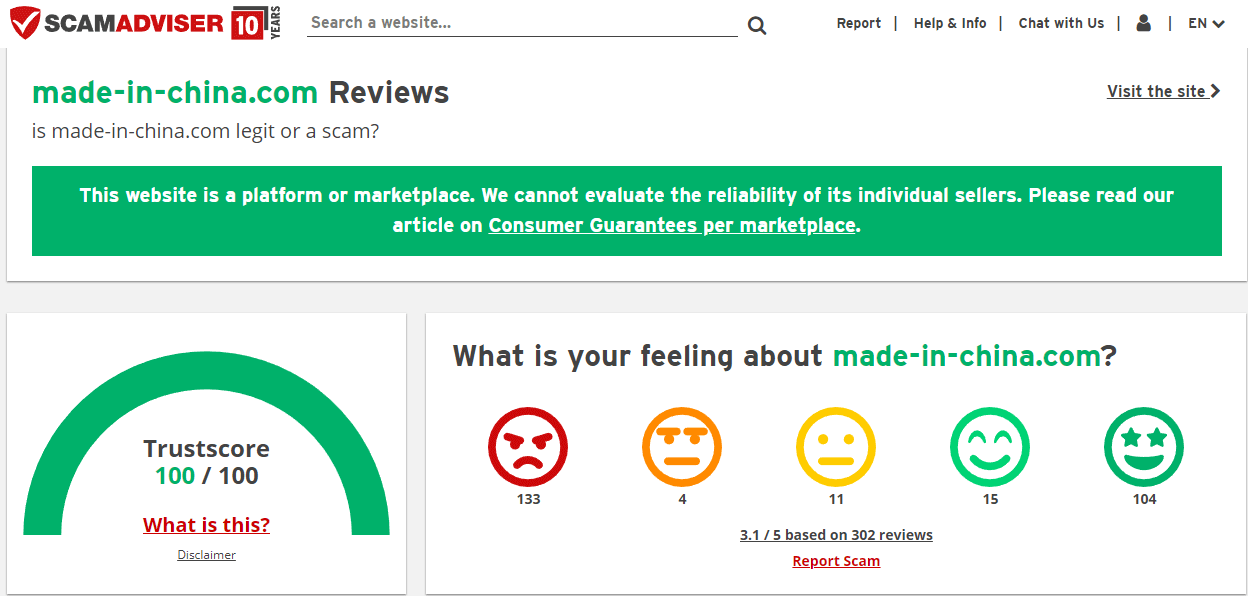 As you can see, Scam Advisor gives Made-in-China a 100% trust score. The users give it an average ranking of 3.1 stars out of 5.
It is a decent score for a Chinese B2B website as many people rate it according to the factors like communication difficulty with the Chinese suppliers.
Tips to Buy Safely from Made-in-China.com
Following are useful tips that will help you buy safely from Made-in-China.com
Buy from Reputed Suppliers
You should buy from verified suppliers on this platform. You can also apply a sense-check before selecting a supplier. Try looking at the supplier's profile, factory address, and stock details to name a few.
Use Sourcing Requests
You should consider using the "sourcing requests" option on Made-in-China. It is an automated service from this website that brings the right sellers in contact with you. So, you have the option to choose from the list of recommended suppliers.
You can also email your requests directly to Made-in-China. They will search from their database and will get back to you with the recommended solutions.
Follow Proper Business Procedures
Made-in-China works purely on a business-to-business model. So, you must follow the standard procedure to avoid any unpleasant circumstances.
You must perform the following steps to make your business transaction safe and secure.
Written and signed contract between you and supplier
Work with proper invoices
Make secure transactions through verified banks
Hire loading inspection services
Use Secured Trading Services (STS)
Made-in-China offers its buyers "Secured Trading Services." In this special service, Made-in-China provides special customer services, secured and monitored payments, easy settlement assistance, etc.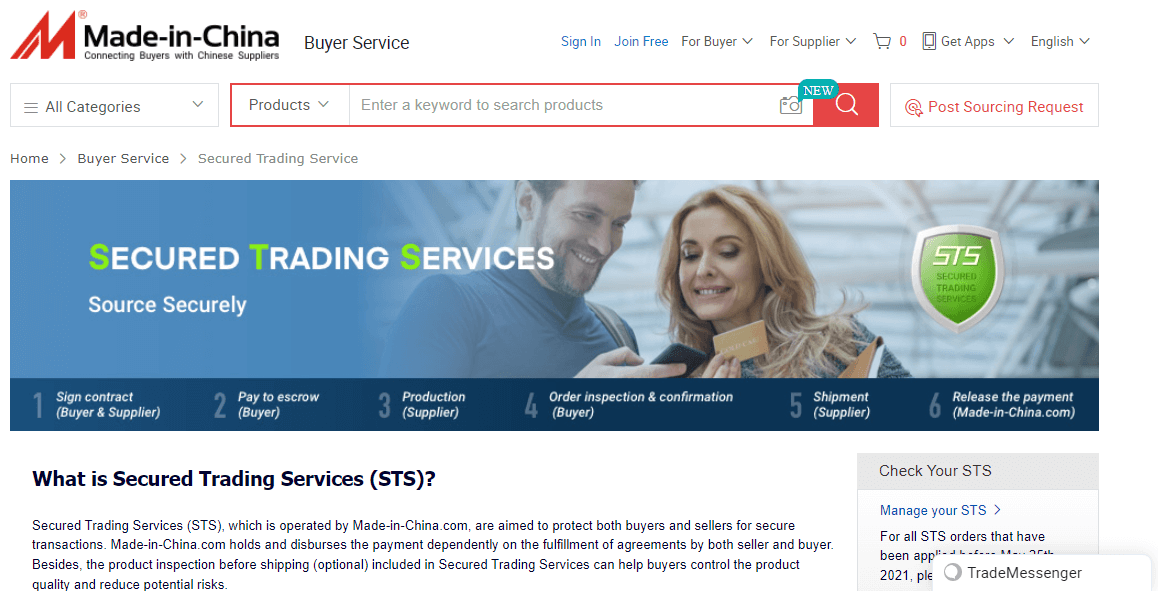 You can use this service just by applying for this service and following the required steps.
Become a Star Buyer
Made-in-China gives an option to all buyers to register as a Star Buyer with very simple prerequisites.
Star Buyer badge will help qualified and premium suppliers to contact you. You can evaluate a supplier with third-party inspection services for your confidence and have the privilege of visiting the supplier's factory sites.
You will also have "Secured Trading Services" from Made-in-China to minimize your risks.
Hire a Professional Sourcing Agent
A professional and experienced product sourcing agent like NicheSources would be the safest option for you to buy anything from China. That's because an agent knows how to find quality products at cost-effective prices.
It is also possible that the sourcing company comes with a product solution that even surpasses the offer you got on Made-in-China.
FAQs about Made-in-China
Let's read the answers to the frequently asked questions to understand if Made in China is legal and reliable.
Does Made-in-China Have Fake Products?
Made-in-China doesn't have its own products on its website. It is only the platform that connects buyers and suppliers. So, it depends upon the seller if he intends to sell fake products on this website or not.
Can You Get Scammed at Made-in-China?
No. If you keep your transactions under the supervision of Made-in-China, you will not be scammed. But if you make a direct deal with one of its suppliers outside the platform then you will have no protection from this platform.
In that case, it may increase your chances of getting scammed.
What Is the Difference between Alibaba and Made-in-China?
There is no functional difference between Alibaba and Made-in-China. Both are B2B online selling platforms based in China. But both are different companies.
A major difference between them may be the suppliers' origin. Alibaba has diverse suppliers even outside China while Made-in-China focuses on Chinese suppliers only.
Summary
Selling wholesale products is an integral part of Chinese business in international trade. As the world is getting more and more dependent on Chinese products, it is vital for established and aspiring e-tailers to have substantial information about the product selling platforms.
Made-in-China is a great option for finding the products and suppliers of your choice. All you need to do is to stick to the platform's rules and communicate professionally with the suppliers to ensure safe business transactions.
If you want to source quality products from China at the most cost-effective prices, ask for a free quote now, and our representative will be right there to assist you with everything you need.