Made-in-China and Alibaba offer shoppers across the globe convenient online access to tons of suppliers in China. This has made them household names in global commerce.
While their general concept is similar, these platforms work differently and present unique benefits and features to users. You may, therefore, find yourself conflicted about which of them to use during your sourcing journey.
So, in today's blog, we analyze the pros, cons, and features of Made-in-China vs Alibaba. By the end, you will have all the information you need to effectively choose between them. Shall we begin?
Overview of Made-in-China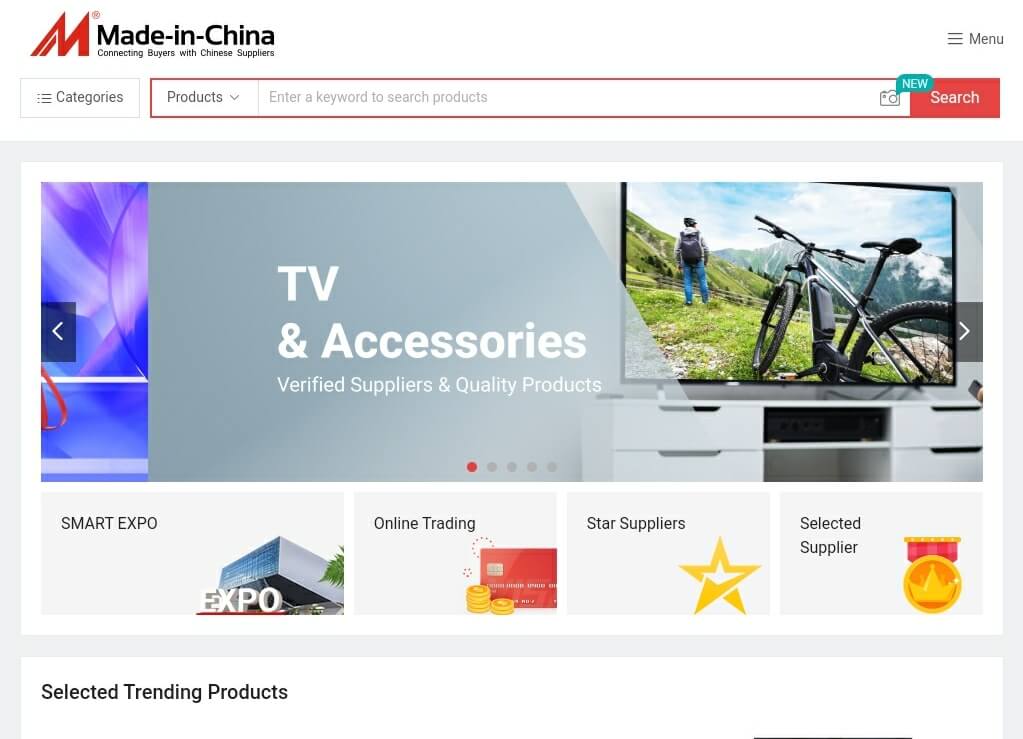 Made-in-China was established in 1998. It is thus one of the veteran trade platforms that sought to open China up to the world. It is owned by Focus Technologies and has its headquarters in Nanjing, China.
It, additionally, has 27 branch offices in China and a robust online presence that is its gateway to the world.
The Made-in-China website is an e-commerce website. However, unlike most other platforms, it focuses more on connecting shoppers to suppliers of different products in China.
The list of suppliers covers 27 categories ranging from clothing and technology to machinery and furniture and much more.
Overview of Alibaba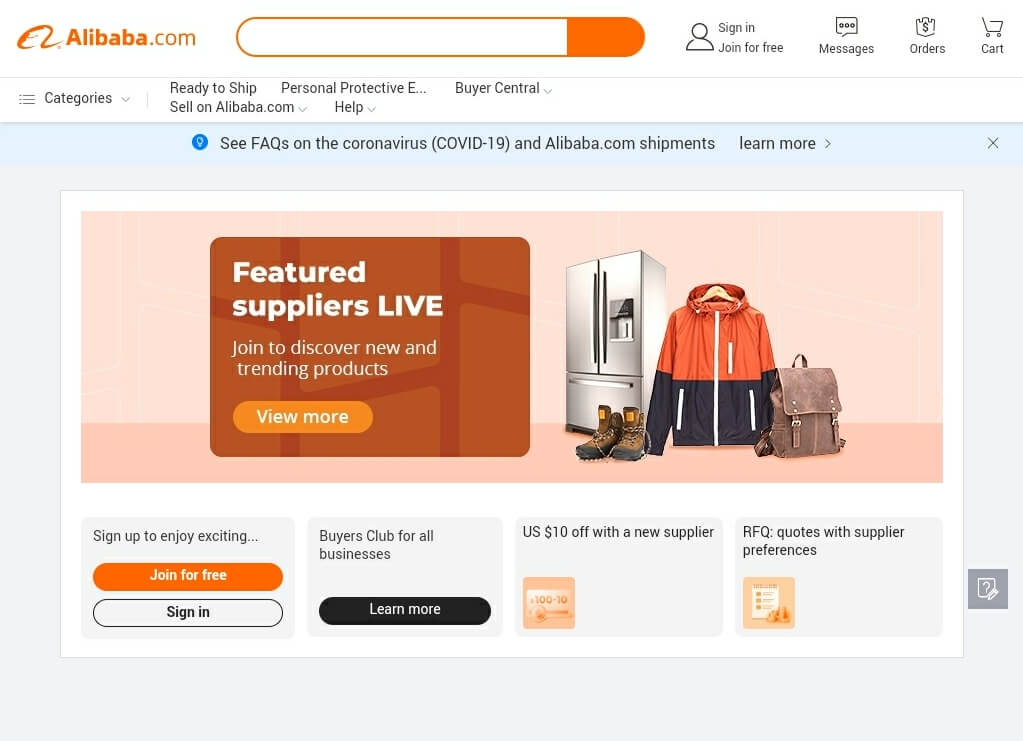 Alibaba was founded a little later, in 1999, by Jack Ma. It propelled the mainstream use of e-commerce in China by creating a platform where vendors and sellers could, for the first time, fully buy and sell goods online.
Alibaba is owned by the Alibaba Group. Its headquarters are located in Hangzhou, Zhejiang in China, but it also has satellite offices in the greater Asia Pacific region, Europe, the Middle East, and America.
The Alibaba website is a wholesale marketplace where suppliers list goods for sale, including prices. Shoppers can thus browse or look up different products and contact the supplier to initiate the buying process. The variety of goods spans 36 main categories.
Made-in-China vs Alibaba: Similarities
Made-in-China and Alibaba may not work the same, but they certainly share distinct similarities. They include:
Chinese Suppliers
Alibaba and Made-in-China mainly focus on product suppliers from China. This is based on their shared goal of connecting Chinese suppliers to shoppers worldwide. Nevertheless, Alibaba admits suppliers from other regions too.
B2B Focus
The suppliers on Made-in-China and Alibaba mostly sell goods on a wholesale basis. These are, therefore, B2B-oriented marketplaces and not retail.
Made-in-China offers premium membership programs such as Star Buyer for exclusive sourcing services and Premium Member for audited suppliers.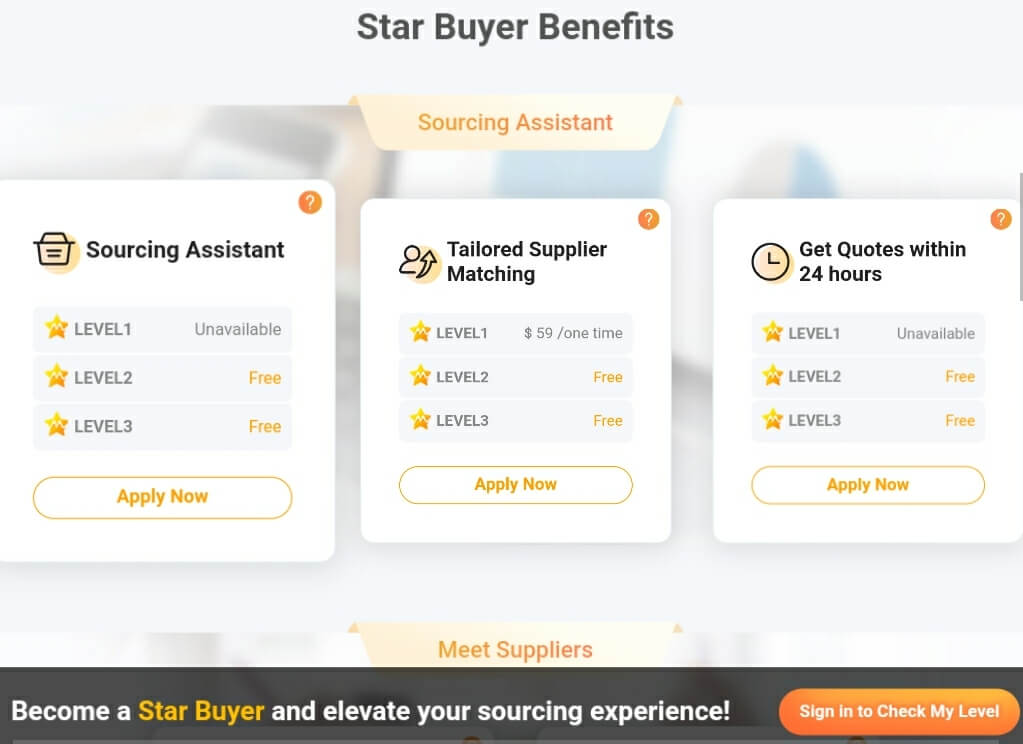 Similarly, Alibaba has a Platinum Buyer membership with special offers and sourcing support. It also has a Gold Membership for suppliers that includes extra promotional opportunities.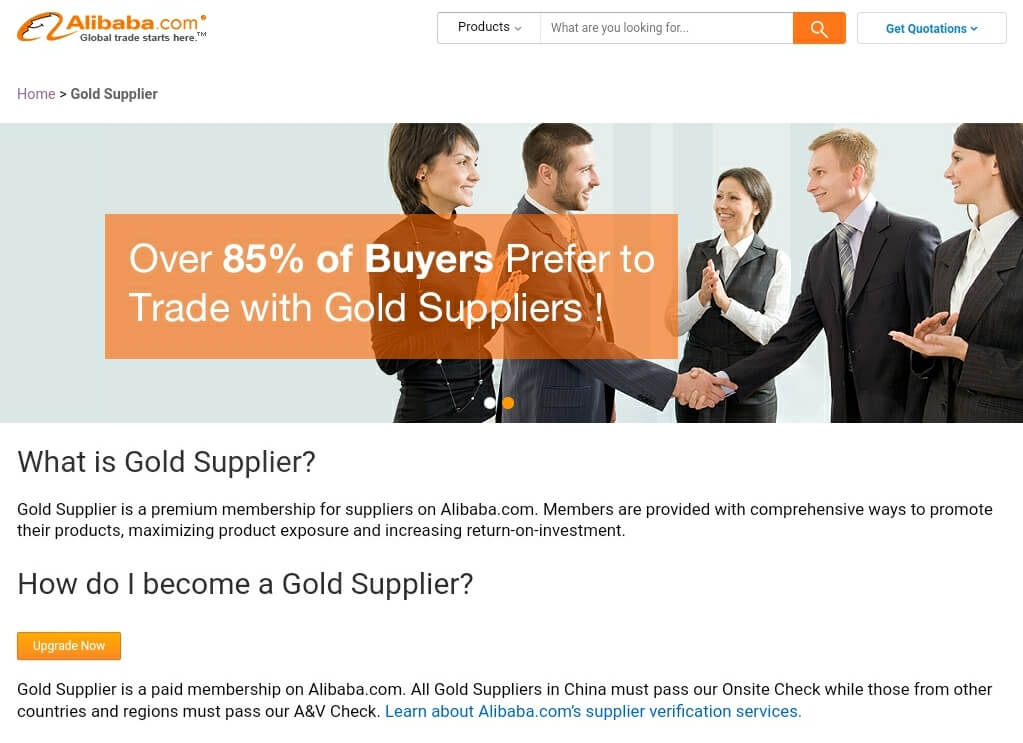 Buyer-Seller Contact
Buyers on both platforms communicate directly with sellers to discuss purchase details. This stands out because it is unlike in retail marketplaces where shoppers simply add goods to a cart, pay, and check out.
Made-in-China facilitates this through its Trade Messenger tool, while Alibaba has Alibaba Messages.
Terms of Sale
Most suppliers on Made-in-China and Alibaba operate on similar principles. You may notice that on both platforms:
Products are listed wholesale.
Products have MOQs.
Prices vary based on the size of the order.
Most suppliers offer product customization services.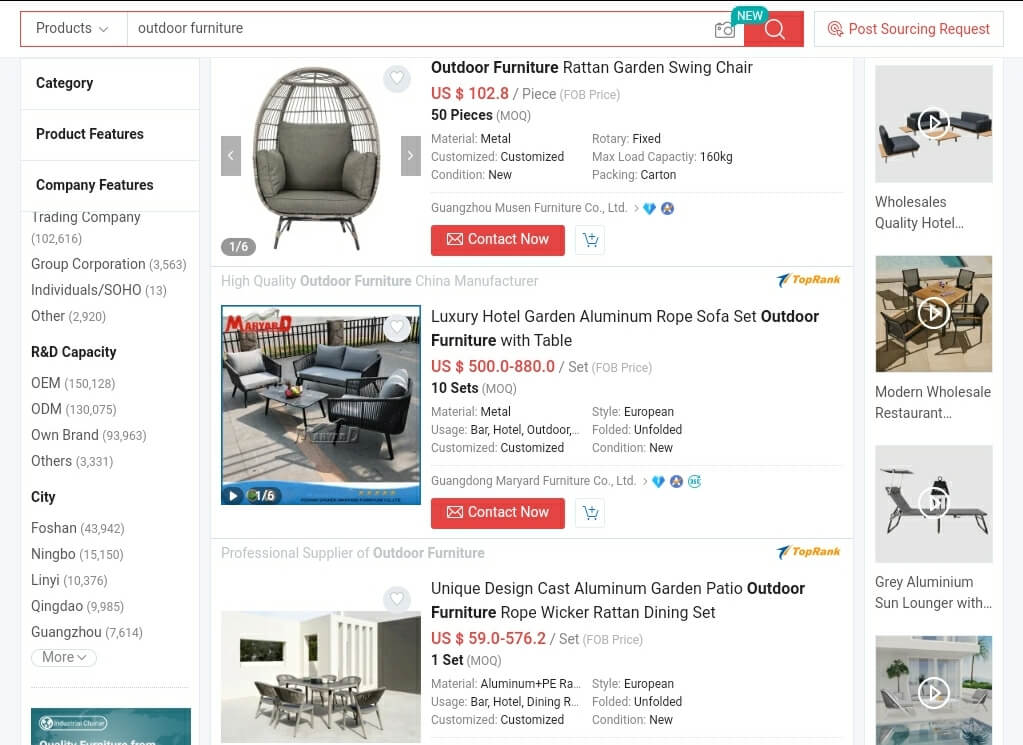 International Payment Solutions
Made-in-China and Alibaba both recommend international online payment solutions like PayPal and wire transfers.
They, additionally, have escrow payment options where they (Alibaba or Made-in-China) receive payments from buyers and hold them, then remit them to suppliers once buyers confirm delivery.
These solutions make transactions traceable and enable buyers from around the world to source and procure goods safely and conveniently.
Made-in-China vs Alibaba Comparison by Features
| | | |
| --- | --- | --- |
| Feature | Made-in-China | Alibaba |
| Product categories | 27 | 36 |
| Product Variety | 3800+ product variations | 5900+ product variations |
| Key Products | Industrial and commercial goods | Consumer products |
| Suppliers | From China | From China and a few other countries. |
| MOQ | Often 100+ | More flexible and can go as low as 1 unit. |
| Review System | None | Yes, customers can leave reviews. |
| Sourcing Options | RFQIndustry hub sourcingSourcing based on awardsOne-on-one sourcing support | RFQReady to ship product selectionSourcing from worldwide suppliersDropshipping |
| Shipping and Delivery | Not well-defined; depends on the supplier. | Fairly well-defined; you can negotiate with suppliers or use Alibaba logistics. |
| Return Policy | 7-day return window | 30-day return window |
| Customer Support | Live chatEmail | TelephoneLive chatEmail |
| Response time | Fair (approx 48 to 72 hours) | Below average and fairly inconsistent. May require follow-ups. |
| Buyer Protection | Secure Trading Services; provided at a fee. | Trade Assurance; freely accessible to all. |
The features on Made-in-China and Alibaba as well as how they work can equip you to decide which is a better platform for your needs. So, let's compare their key features head to head and see what they each have to offer.
Product Categories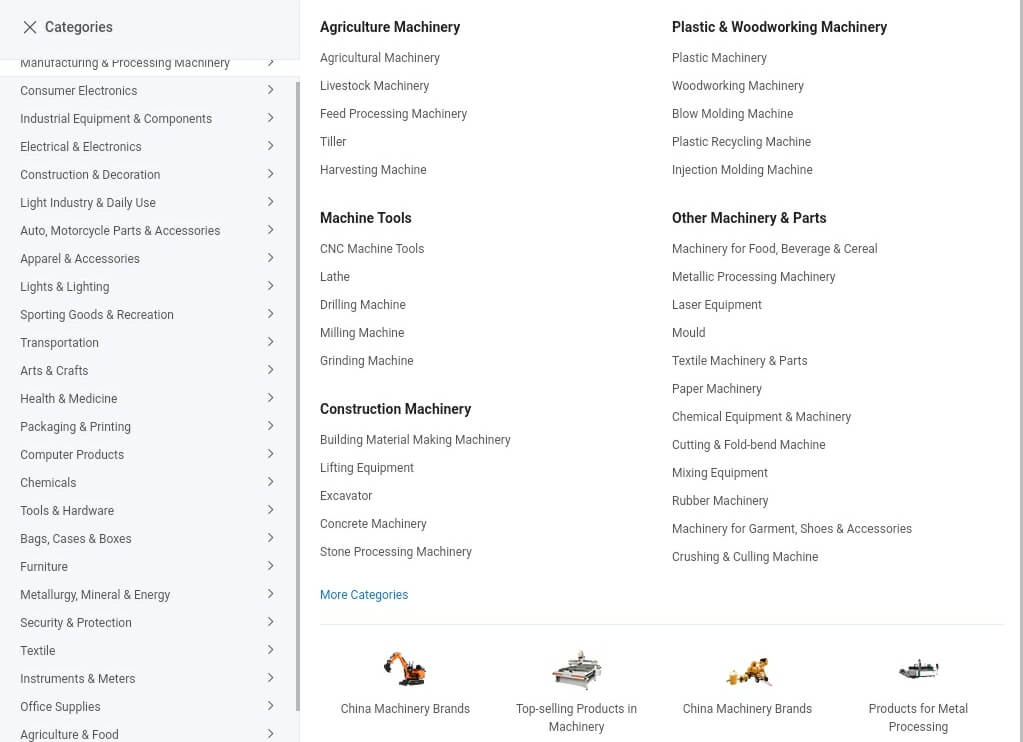 Made-in-China has 27 main product categories. They comprise consumer goods like apparel and electronics and more business-oriented products like packaging solutions, construction materials, and industrial equipment.
Alibaba has a slightly larger variety of 36 product categories with about 5,900 product variations. It is well-known for its consumer goods, but it also has an extensive provision of technical and industrial products for different sectors.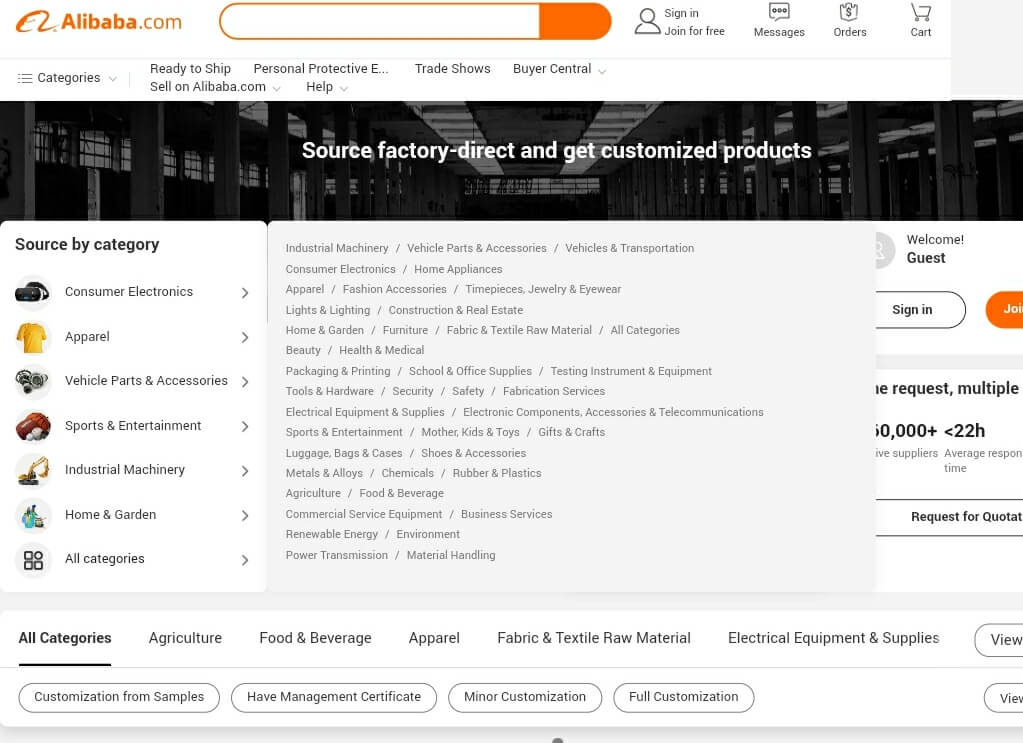 Overall, Alibaba ranks higher in terms of scale and product variety. More so when it comes to trending consumer goods.
Made-in-China, on the other hand, provides an adequate variety of suppliers and products to explore. It, however, stands out when you need to find technical products; be it hospital beds, earth-moving machines, or commercial cooking equipment.
Product Quality
Alibaba was, for a long time, associated with cheap poor quality Chinese products. It thus invested in:
Improving its vetting systems.
Restricting the kind of suppliers that can receive gold membership and verified supplier status.
Developing an escrow payment system where buyers can return goods if they do not meet the standards indicated on an Alibaba listing.
These initiatives, coupled with due diligence by buyers, have made it easier to find quality goods on Alibaba than before.
In comparison, Made-in-China's vetting and supplier registration processes are not very rigorous. Most suppliers also earn the Diamond Supplier Grade status despite their low-quality goods.
Consequently, it can be harder to find quality product suppliers on Made-in-China compared to Alibaba.
Buyer Protection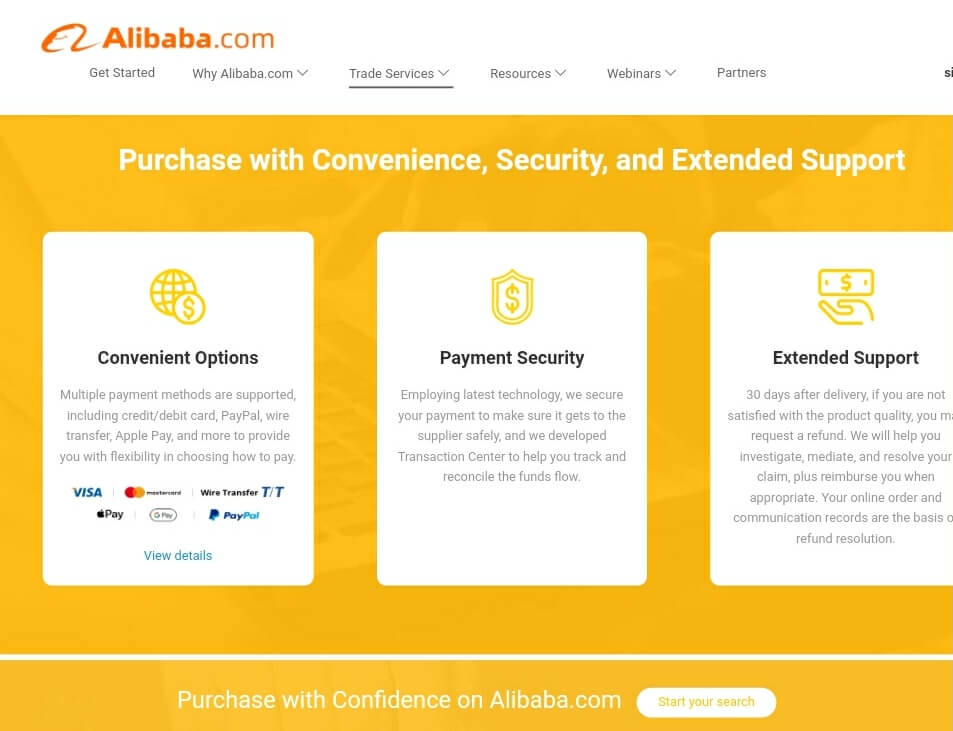 Alibaba's buyer protection program is known as Trade Assurance. It is an escrow payment system where buyers can pay for items through Alibaba but have the option to seek a refund if they:
Receive substandard or damaged products.
Do not receive their order within the expected time frame.
Made-in-China's version of this is known as Secure Trading Service. It is equally an escrow service that works as follows:

The buyer and seller sign a contract.
The buyer pays for goods via escrow.
The supplier prepares the goods.
STS facilitates the confirmation of the order and product inspection.
The supplier ships the goods when cleared.
Made-in-China releases the payment to the supplier upon receiving confirmation from the buyer.
Alibaba's Trade Assurance is available to all shoppers, while Made-in-China's Secured Trading Service is a subscription that attracts extra fees.
You may, therefore, need to decide if you prefer the free service from Alibaba or the paid alternative from Made-in-China, albeit with additional services like product inspection.
Return Policies
The Made-in-China return policy requires buyers to initiate the return process within seven (7) days of receiving their order. The buyer also incurs the cost of shipping the goods back to the supplier.
Meanwhile, on Alibaba, you must initiate a return within 30 days of receiving your order. The logistics of shipping the goods back to the supplier may vary depending on how you and the seller decide to resolve the dispute.
Pricing
Made-in-China and Alibaba are both renowned for their affordable wholesale prices. However, pricing on Alibaba tends to be slightly lower than on Made-in-China.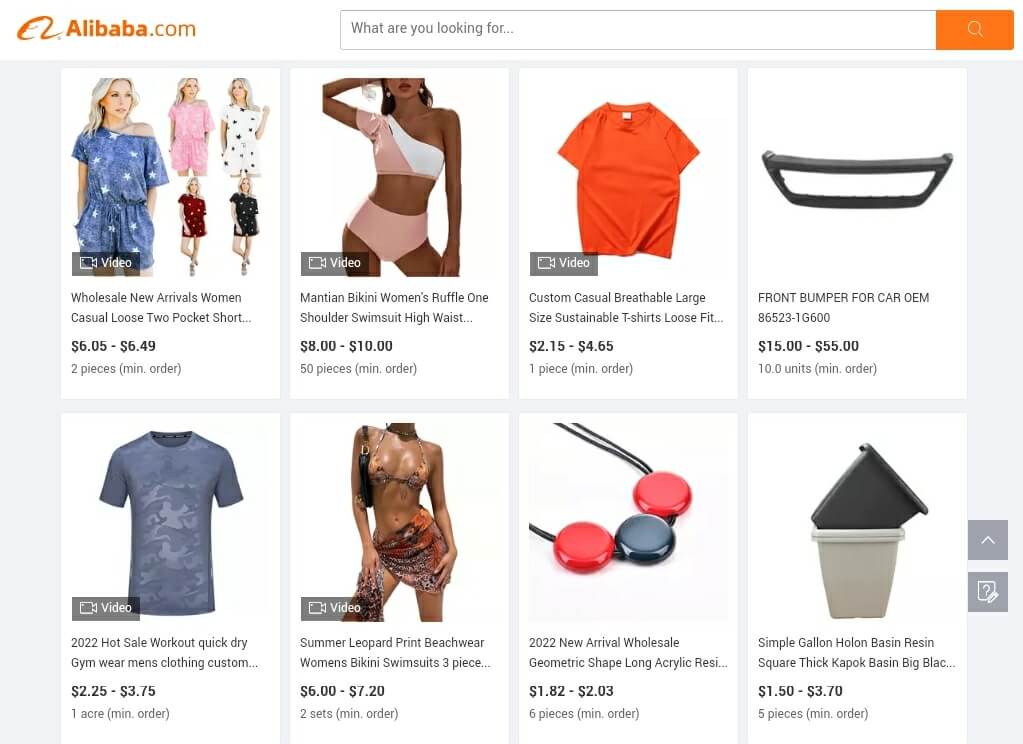 That said, it is wise to always look beyond prices when sourcing goods from China. Consider value, too, because some suppliers compromise product quality to achieve lower prices to attract buyers.
MOQ
Suppliers on both platforms mostly sell in bulk and offer great discounts for wholesale buyers. That said, MOQs vary between individual suppliers. Some may even have none.
In a general comparison, suppliers on Alibaba offer more MOQ flexibility. More of them accept single unit to bulk orders compared to suppliers on Made-in-China, who often have higher MOQs.
Sourcing Options
The Made-in-China and Alibaba websites have search bars where you can enter keywords to find products or suppliers.
They each also allow you to source products by posting requests for quotes where different product suppliers can send you quotes to compare.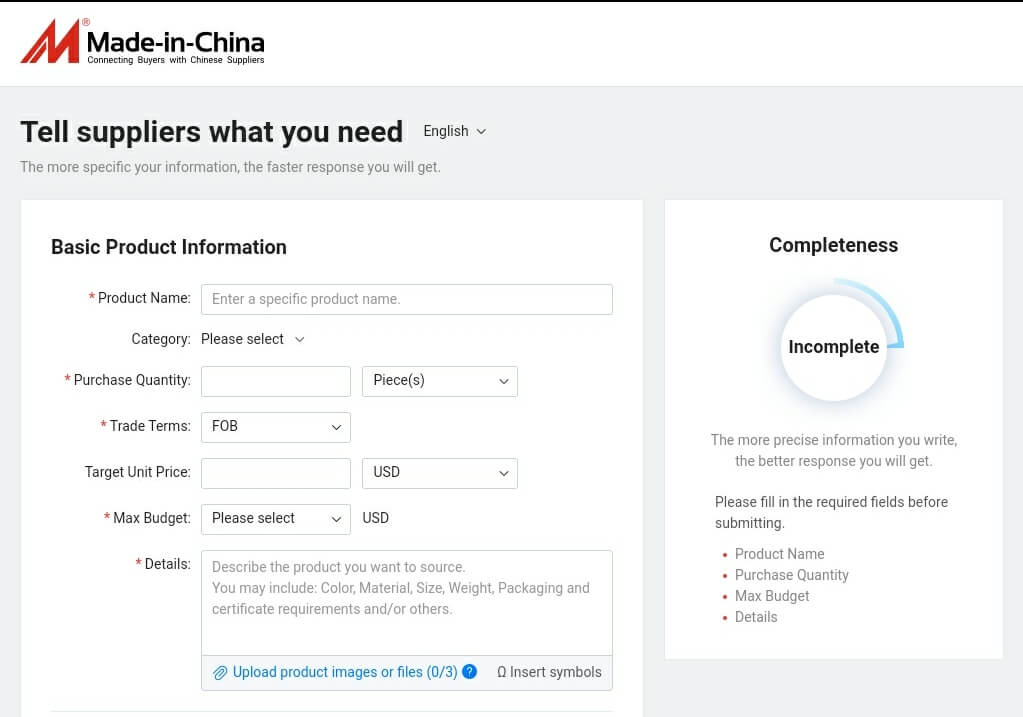 Alibaba further allows you to:
Source only ready-to-ship goods
Source from suppliers in and outside China
Browse through suppliers that dropship
Made-in-China, in response, offers additional sourcing provisions where you can:
Source products based on industry categories.
Source only from a pool of award-winning products.
Explore different suppliers and product options through the Made-in-China Expo.
Enjoy one-on-one sourcing support.
Shipping
You can discuss shipping terms with suppliers on Alibaba to find out if they offer any of your preferred options. Alternatively, you could choose to use Alibaba logistics which promises:
Competitive prices
Online tracking
Delivery to over 190 global destinations
Fast ocean and air shipping
Shipping arrangements on Made-in-China vary between suppliers as well and are negotiable.
Still, the platform has a list of logistics partners that offer fair prices to shoppers. You can also send a logistics request to the customer service team, and they will suggest more suitable shipping options.
Customer Support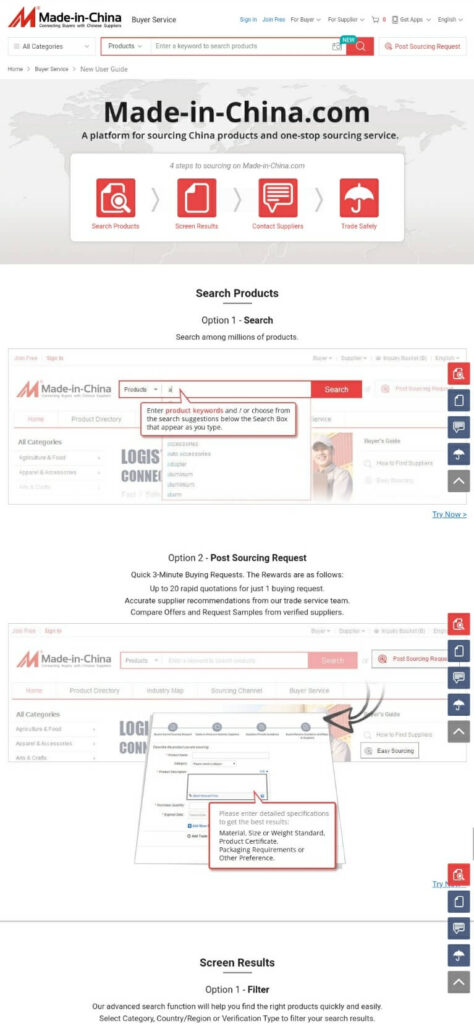 Made-in-China has an informative new user guide and FAQ section. It provides additional customer support through fax, live chat, and email. The live chat channel is relatively faster than email inquiries which have a turnaround time of about 48 hours.
Alibaba has a buyer help center where you can troubleshoot using the answers provided in the detailed FAQ section. You can seek further guidance too via the online chat provision, email, or phone.
Alibaba customer support channels experience a very high volume of correspondence. It may take up to 72 hours to get a response. You may also need to make a follow-up if you get no answer.
Languages
You can adjust the language settings on the Alibaba and Made-in-China websites. Alibaba caters to a broader audience with 16 language options, while Made-in-China offers 10.
Reviews Systems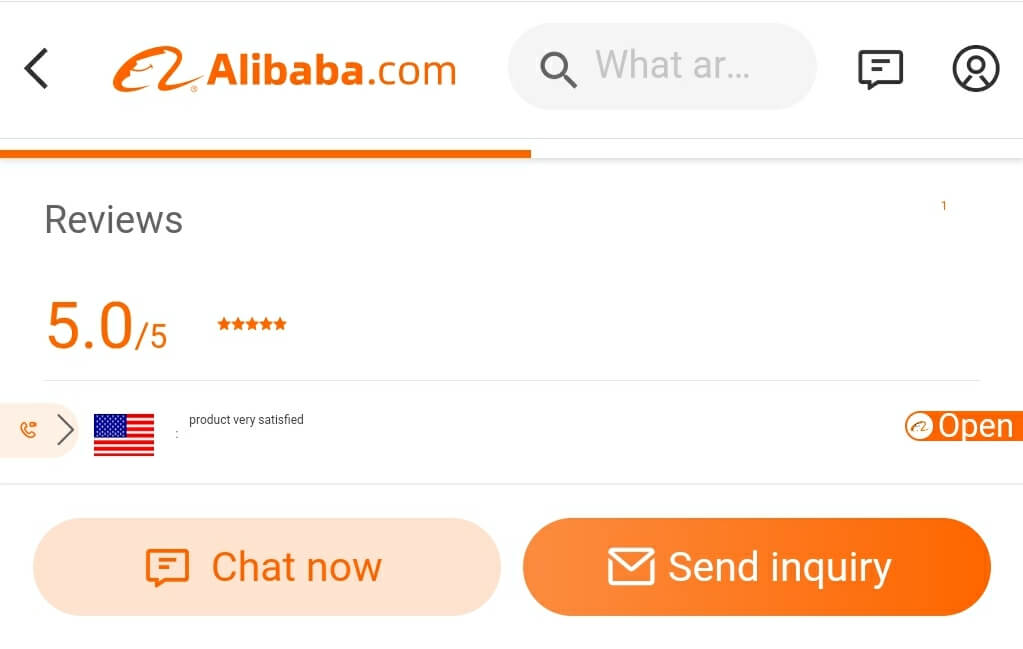 Alibaba has a review system where customers can provide feedback about a supplier's services or a product they bought. This gives other customers helpful insights when deciding whether to buy a product from a particular supplier.
Admittedly, most customers leave fewer reviews compared to those you may find on AliExpress or other retail marketplaces. Still, the provision creates room for open criticism and feedback.
On the flip side, Made-in-China does not have an in-built customer review system. You may have to rely on feedback from independent online review sites like Sitejabber or Pilot Reviews for insights.
Supplier Details
Suppliers on each platform provide details about their companies and products.
Nevertheless, Made-in-China stands out because the platform's suppliers offer detailed information, including helpful FAQs with answers. The presentation of information is also easier to read than the descriptions on Alibaba.
How to Choose Between Made-in-China and Alibaba
Made-in-China and Alibaba each provide numerous benefits. Fortunately, they are different and you can identify the more suitable platform for your sourcing needs by considering: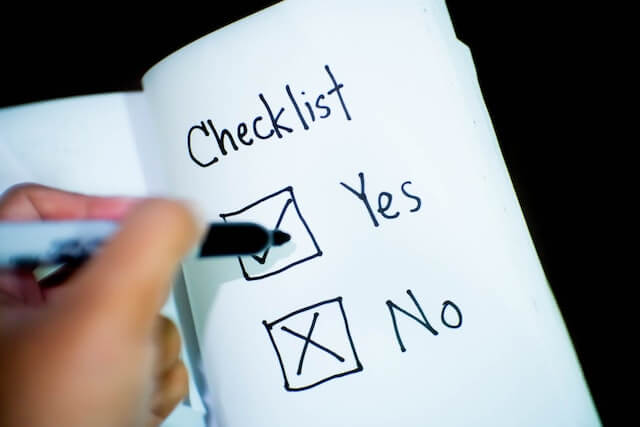 Your Sourcing List
Alibaba offers a great selection of consumer products at affordable prices. It is an ideal go-to platform for:
Electronics
Fashion items
Home or office furniture
Decor items
Utensils
However, if you are looking for more technical niche products, Made-in-China may be a better option. It has endless suppliers of:
Construction machines
Commercial culinary equipment
Medicare supplies
Tools
Chemicals
Metals
Logistics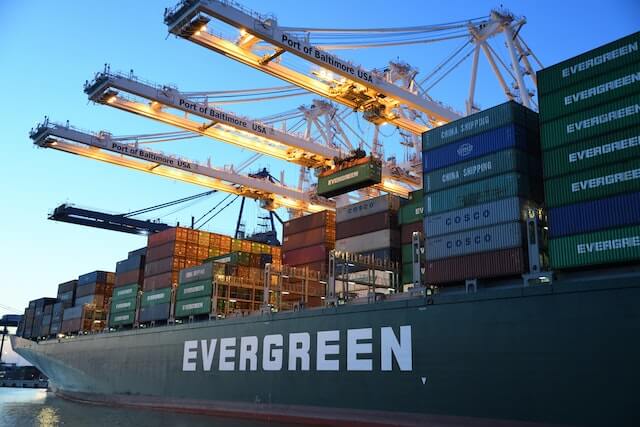 Consider whether potential suppliers on either platform ship to your location before committing to a purchase.
Compare the terms and shipping costs on Alibaba and Made-in-China too. Aim for a platform with fairer prices and effective shipping.
Buyer Protection
The Secure Trading Service by Made-in-China provides end-to-end safeguards for your purchases. It, however, attracts fees between $29.99 and $89.99, making this a suitable choice only if you have the budget.
Meanwhile, Alibaba's Trade Assurance service is free and would be ideal if you would like to minimize your sourcing costs.
Scale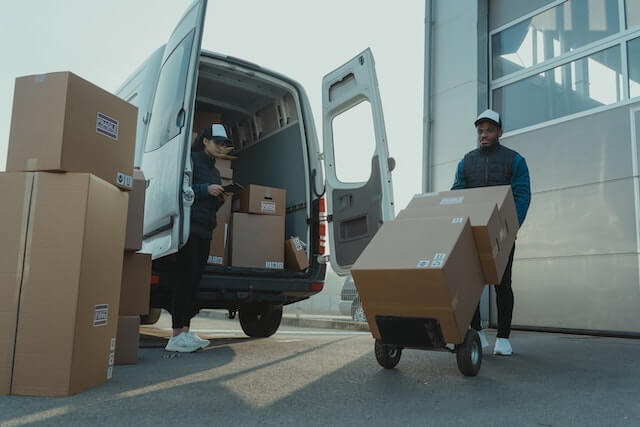 The flexibility of MOQs on Alibaba makes it an excellent solution for small to medium-scale purchases. Bulk purchases, on the other hand, are less complex as you can compare offers from suppliers on Made-in-China and Alibaba and choose the best one.
FAQs on Made-in-China vs Alibaba
Which Is Better, Made-in-China or Alibaba?
Comparing these e-commerce platforms reveals that none is 100% better than the other. Instead, their suitability varies between circumstances.
Therefore, it is better to evaluate your sourcing needs, weigh them against the provisions of each platform, and then decide which offers the most favorable solutions.
Can I Trust Suppliers on Made-in-China or Alibaba?
As the old saying goes: trust but verify.
This simply means that most suppliers on Made-in-China and Alibaba present correct information about their services and production capabilities. Still, it is advisable to do your due diligence and confirm that the details are accurate.
You can do this by:
Running a Google search of potential suppliers.
Reading through other customer reviews(if any).
Requesting information about other projects that they have handled.
Requesting company registration details.
You can equally mitigate your business risk by buying goods under the buyer protection provisions of either website.
How Do I Choose the Right Suppliers on Made-in-China vs On Alibaba?
The right supplier in either marketplace should match your sourcing needs. They, for example, should offer:
Prices within your budget
MOQs within your limits
Shipping to your destination
Any manufacturing or customization services you require
In addition, pay close attention to supplier ratings. Look out for Gold suppliers on Alibaba and audited suppliers on Made-in-China as they are vetted before attaining such status. Long-term supplier experience is also a plus.
In Conclusion
Alibaba will serve you well if you need affordable consumer goods, flexible MOQs, broad shipping options, and free buyer protection. Meanwhile, Made-in-China is suitable for bulk purchases of technical/commercial products and offers multiple sourcing solutions.
Would you prefer a more hands-on sourcing approach? We, at NicheSources, can source products for you, liaise with suppliers on your behalf, perform quality inspections, and arrange reliable shipping across the world.
Do send us your detailed sourcing brief, request a free quote, and we will promptly get back to you.