Toys are a fundamental part of child entertainment and development. They help kids learn new skills as they play and also amuse them when they are fussy or cranky.
As a result, parents, caregivers, and nurseries all over the world are always on the hunt for fun and educational toys. The key, therefore, is to source a proper mix of such toys and make them easily available to this target market at fair prices.
It is no secret that the China toy manufacturing industry is dynamic and produces thousands of toy varieties. Still, with so many options, it can be difficult to find a supplier that offers exactly what you need. Herein endorse www.TonySourcing.com – they provide sourcing/ supply/ QC/ shipping as a one-stop export service for children's products.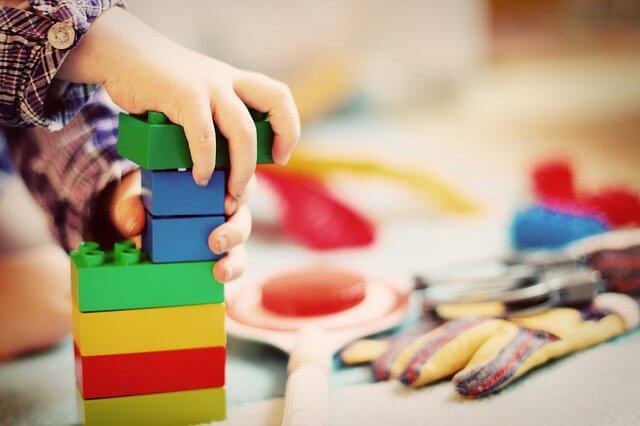 So, how about we ease that burden for you? Ready? Here is a shortlist of prime suppliers of wholesale toys in China worth checking out.
Hexin Toys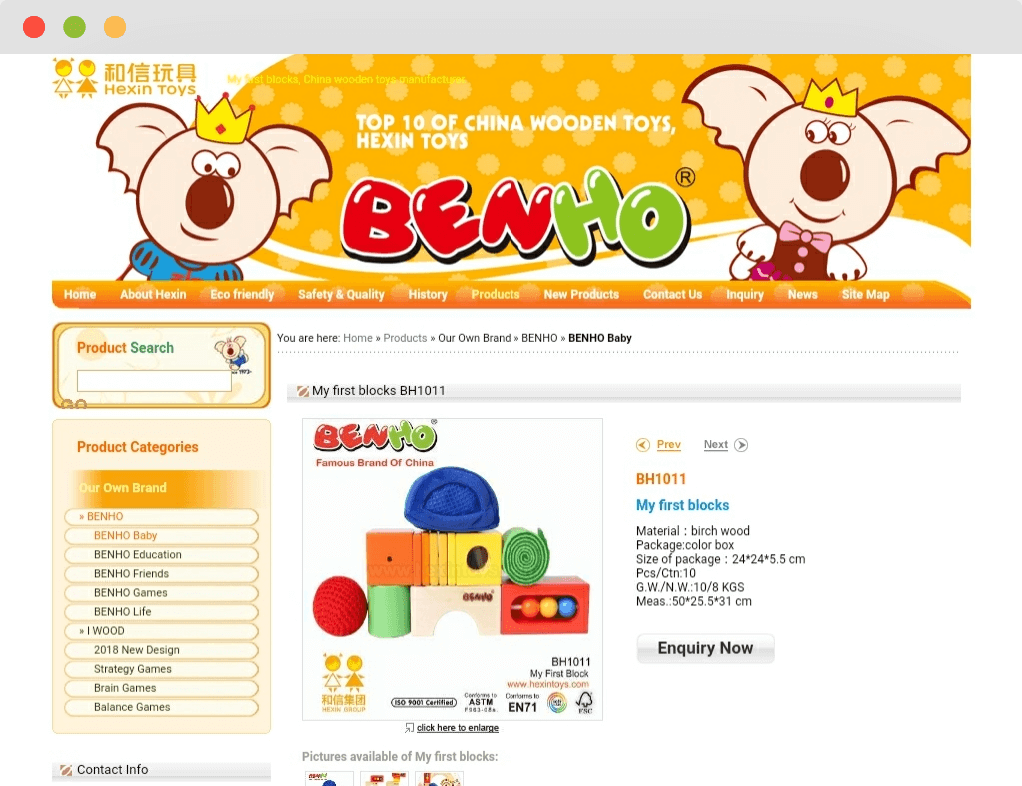 Hexin Toys has been manufacturing wooden toys since 1973. The company is based in Zhejiang where it has 2 production factories but It also has two satellite offices in Shanghai and Yiwu. Its toys are sold under the brand name, Benho Baby.
The Benho Baby line of toys comprises toy options for children of different ages. They range from clutch toys for infants to small rocking horses and building blocks for toddlers and puzzles for slightly older kids.
Aside from entertainment, Benho Baby toys include a range of educational and group play toys. The puzzles and musical sets, in particular, are designed to promote learning new skills and developing children's cognitive capabilities.
This company prioritizes safety and designs its products to adhere to USA and Europe toy safety standards. Additionally, all the wood used to make Benho toys is made using recycled materials or sourced from renewable forests.
Hexin Toys accepts offers for customized or original design toys for white labeling and private labeling respectively. It does not specify MOQs but rather encourages buyers to reach out with direct inquiries about the products and wholesale quantities they would like to order.
Hexin Toys exports its products to Europe, the USA, and Southeast Asia.
Hongji Toys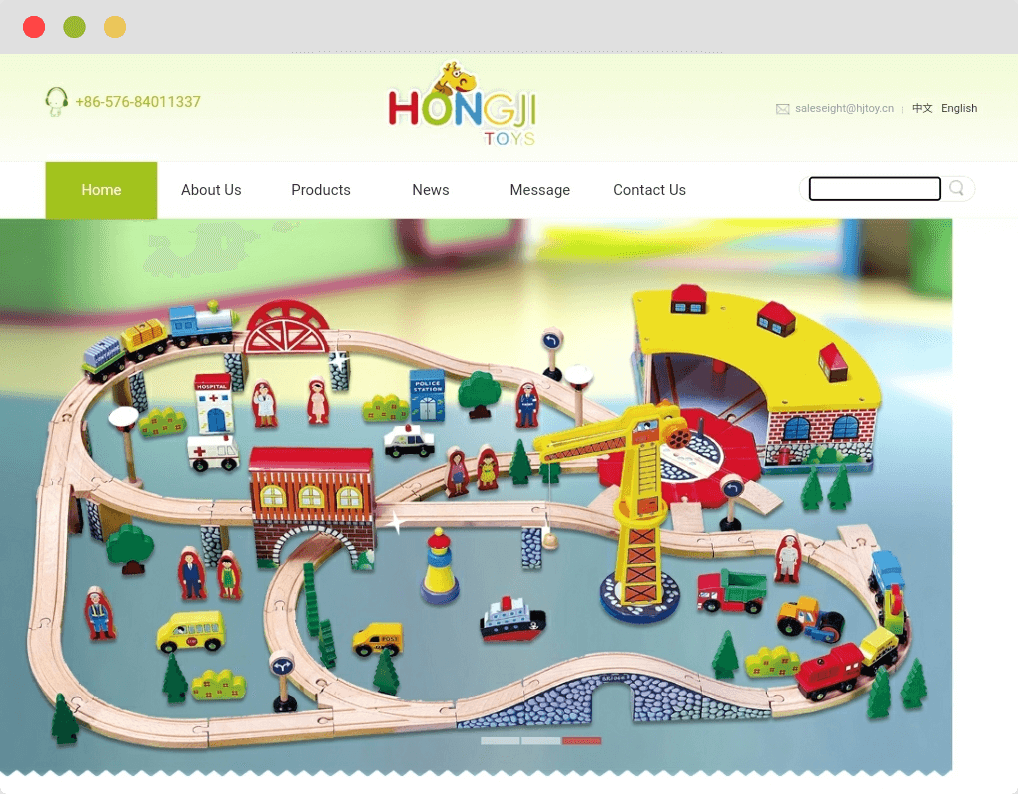 Hongji Toys has been in the industry for about a decade. Its headquarters and factory are located in Huangyan in Zhejiang but the firm also has warehouses and showrooms in Yiwu and Shanghai.
Hongji toys are primarily made of wood, bamboo, and grass. The colorful product range includes:
Train track sets
Building block and beads sets
Paper and wooden puzzles
Board games
Role-playing toys like kitchen sets
A spark wisdom series comprising toys designed to promote mental development and education
In terms of quality, toys from Hongji are carefully inspected after production. They also meet ISO 9001:2000 certification and pass both TUV and SGS tests.
Hongji Toys exports its wooden toys across all continents. However, you would have to reach out to them and request a quote as it does not state its wholesale prices or terms on its platforms.
Viga Toys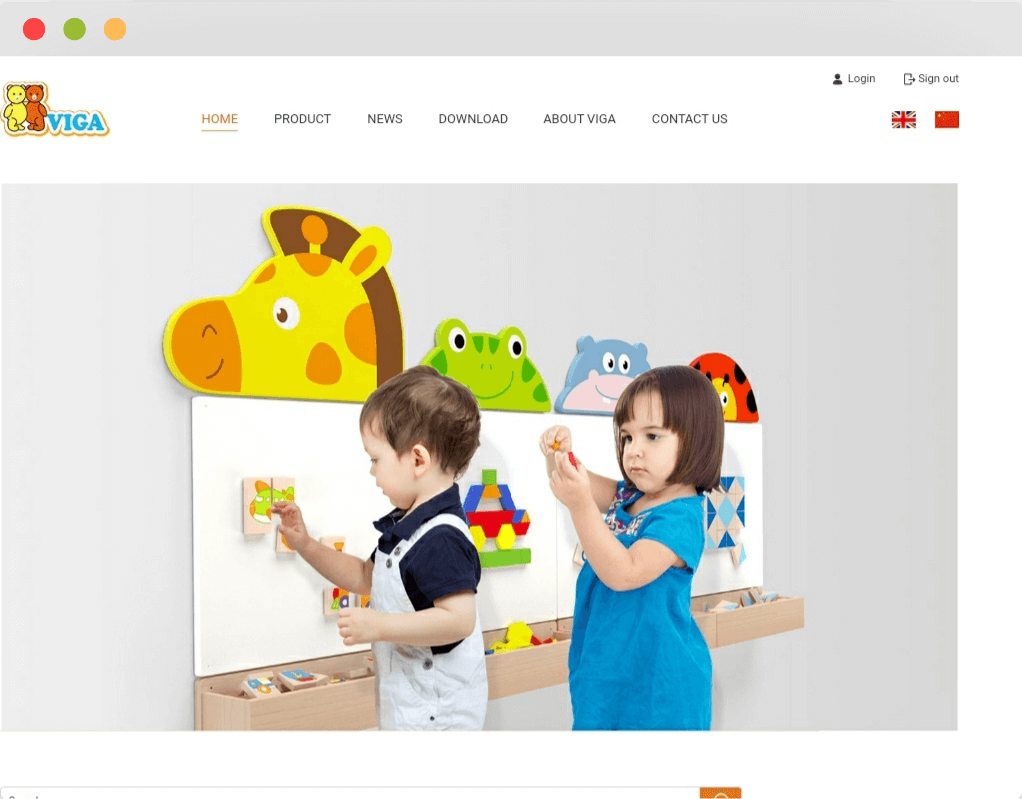 Viga Toys is located in Ningbo, China, and has over 2 decades of experience in the toy industry. It has an ultra-modern factory that is equipped to handle all stages of production in-house from design and production to safety testing.
The Viga Toys product offering is quite vast and conveniently categorized by type and age suitability. This would make it easy for you to identify and select appropriate toys based on the data you obtain after researching your target market.
Some of the toys you can buy from this company include:
Kitchen and food play
Baby walkers
Push and pull-long toys
Music toys
Wooden blocks
All Viga Toys products undergo safety testing during the design phase and quality control checks after production. The company also readily provides proof of EN71, ASTM, and GB6675 toy safety standard certification.
Viga Toys exports its creations to over 60 countries across the world. Once you set up an account on the Viga Toys website, you would have access to a complete and updated product catalog to guide you as you place your order.
D King Toys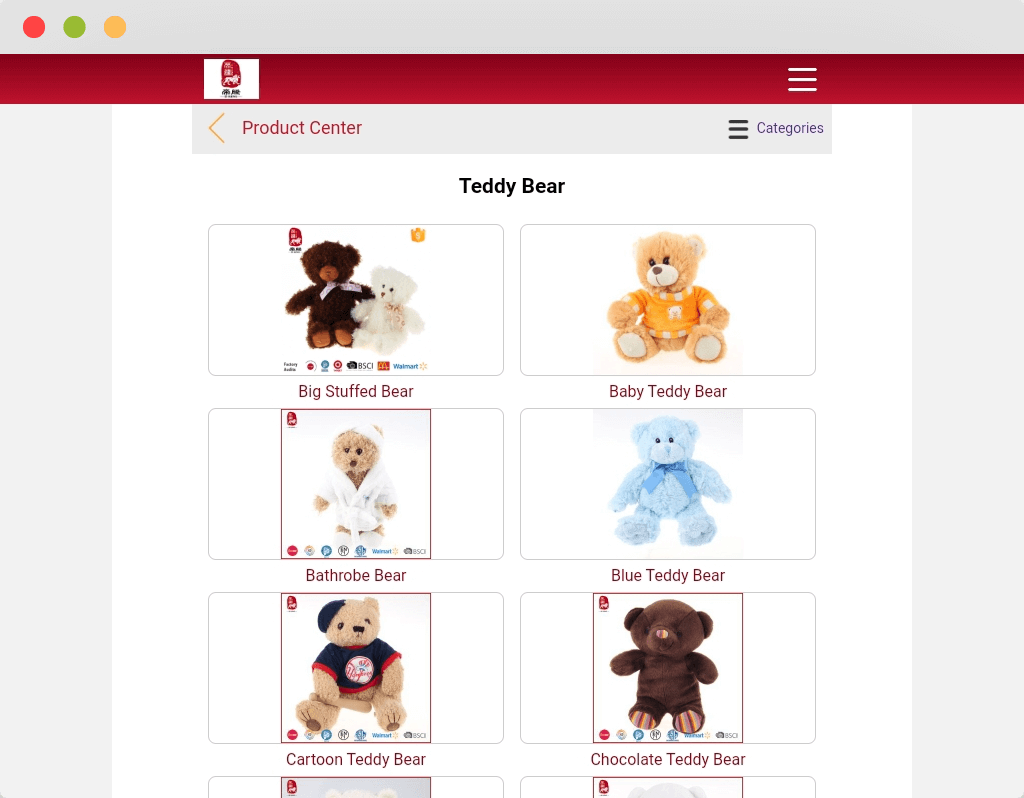 D King Toys specializes in manufacturing plush toys such as teddy bears among other play-related accessories. It is based in Yangzhou City but mostly corresponds with clients online.
The D King website makes it easy to find toys as well as explore what the company has to offer. The toy product categories include:
Dolls
Playsets of emoji-branded items and fluffy or knitted animals
Finger puppets that can be used for early education
Plush animal toys
Teddy bears
Christmas-themed toys
The MOQ for most items is set at 500 pieces. You can buy the toys as they are or request customization at an extra cost. D King Toys also works with brands to create and manufacture original toy designs. The company has a production capacity of 200,000 units/month.
D King Toys' products are safety certified and meet the quality standard requirements of major international retail brands like Wal-mart and Disney. It mainly exports to the EU and North America.
Eva Toys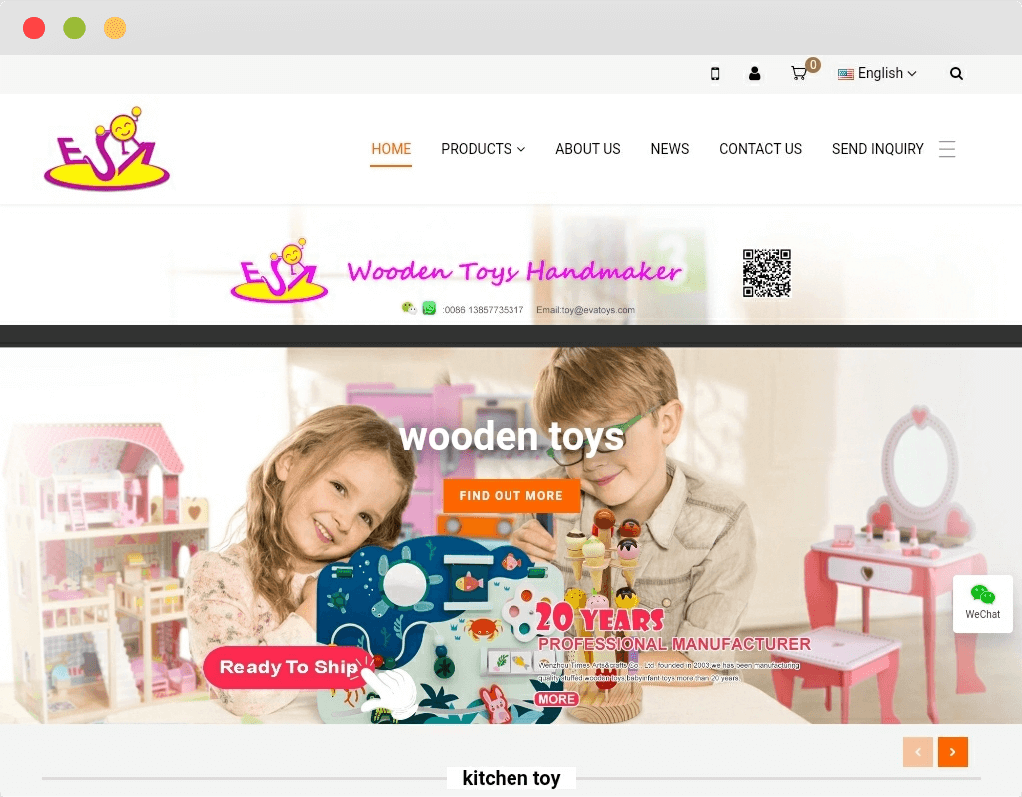 Eva Toys is a manufacturer and wholesale supplier of wooden toys. The company was established over 18 years ago and is based in Wenzhou.
The distinct advantage to this supplier is that the Eva Toys product catalog consists of products for all the different child milestones. They range from infancy to playgroup toys and furniture.
Further, the toys also promote different types of child development. The push walkers and balance bikes, for instance, are great for mobility training while the drawing board and Montessori toys provide educational nourishment.
In a nutshell, this would be an ideal supplier to work with if you would like to offer your customers a wholesome range of products.
All toys from Eva Toys are painted using eco-friendly non-toxic paint and wood. They also meet EN71 and ASTM requirements.
MOQs vary from product to product whereas wholesale prices are offered based on the size of your order. White labeling and private labeling services are also available. Eva Toys mainly ships to Europe and North America but is open to orders from other regions.
Jiangfengyuan Toys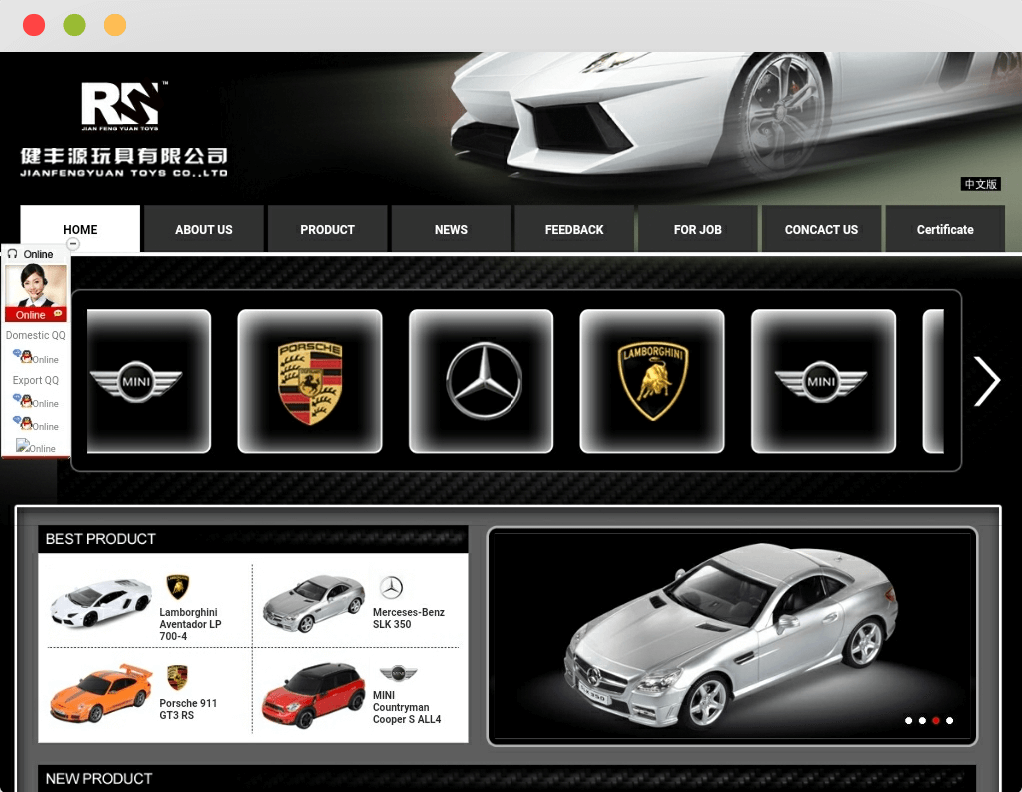 Jiangfengyuan Toys would be an ideal supplier if you are looking to stock up on toy vehicles. It designs, manufactures, and sells miniature toy versions of top brand cars like Lamborghini, Porsche, and Mercedes. It is situated in Shantou, Chenghai District.
While its product selection is great and would likely appeal to children that are curious or excited by cars, Jiangfengyuan Toys offers very little upfront information to online customers.
You would have to reach out to them by phone or email to get better insight into their full product range and wholesale purchase terms.
Rastar Toys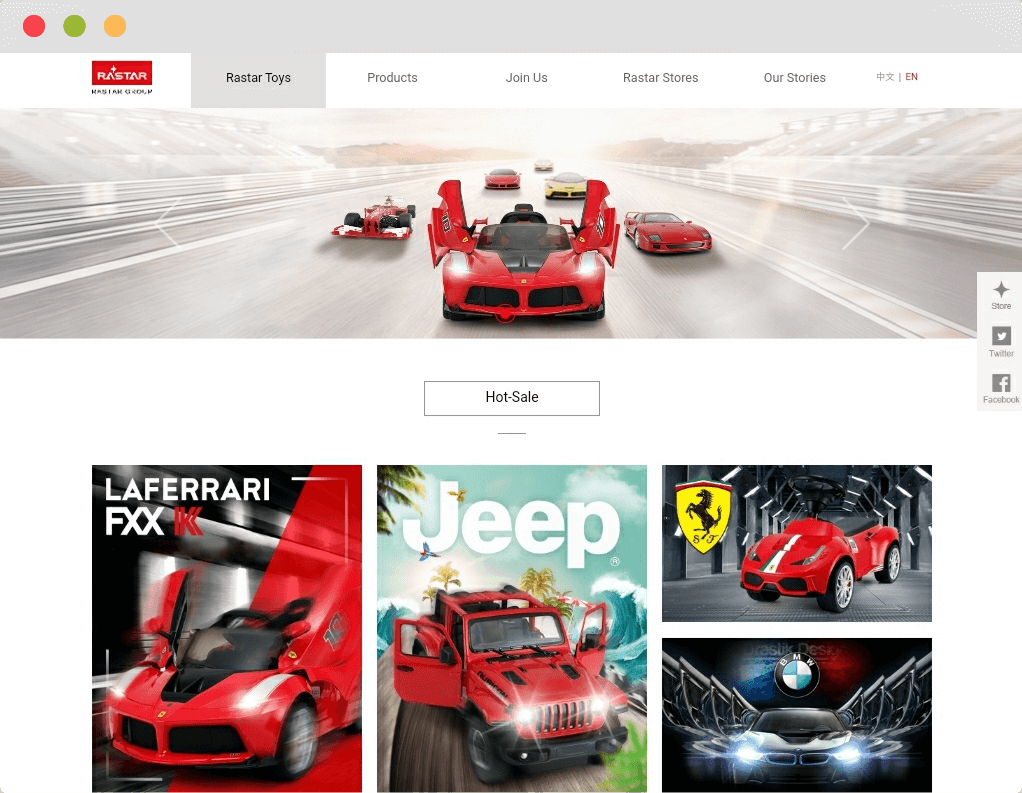 Rastar Toys is a subsidiary of the much larger multinational Rastar Group. It has offices in Guangzhou and Shantou.
Rastar Toys manufactures and sells:
Remote control toy cars and robots
Ride-on cars for toddlers
Balance bicycles for toddlers
Tricycles
All toy cars and bicycles from this company are replicas of designs of major brands such as Landrover and BMW (with proper copyright acknowledgment). The product catalog includes options for toddlers and older kids up to the age of 14.
The upside to sourcing from this firm is that the diverse range of products enables you to continuously offer appropriate products to your customers even as their children grow. The quality of Rastar toys is also quite high.
Rastar provides detailed information about each one of its toys. However, you would have to reach out to the firm's customer service team if you would like to learn more about how to place an order.
ZhengFeng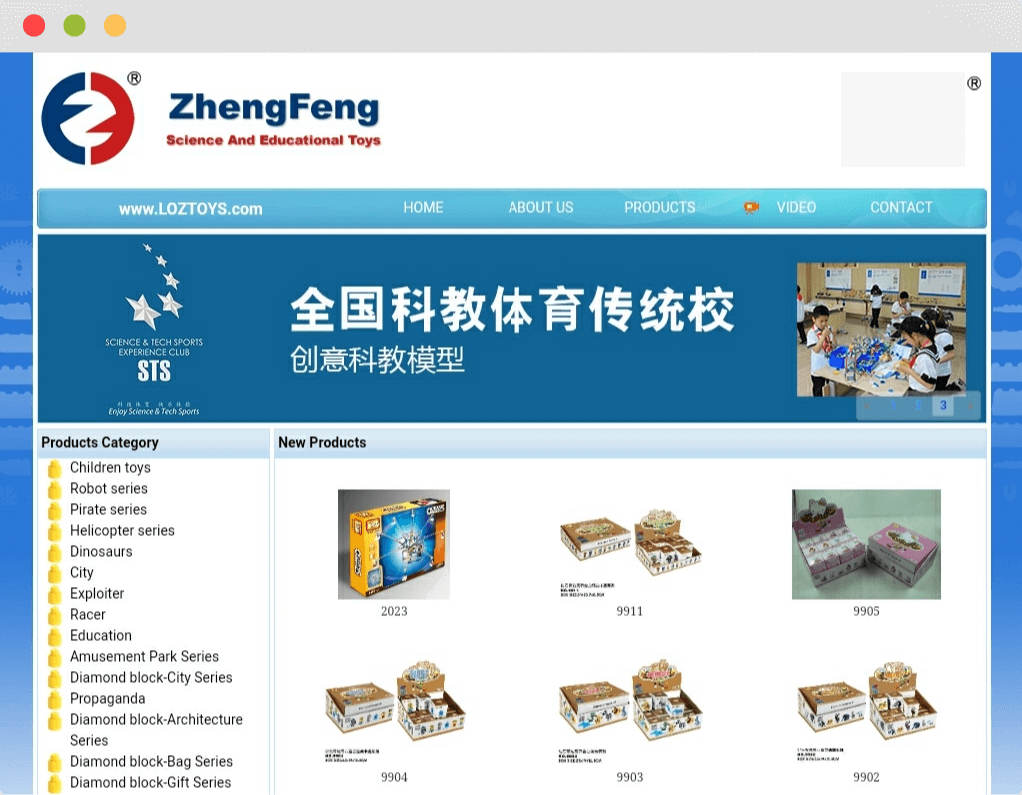 Zhengfeng manufactures and sells science and educational toys wholesale. It is located in Chenghai and has over 20 years of experience in the business.
Zhengfeng toys are mostly made of plastic and designed with fun, cognitive development, and learning in mind. They include:
Building block puzzles
Remote controlled toys like helicopters
Auto battery-operated amusement toys
Architecture puzzles
Zhengfeng lists its products on Alibaba and Taobao marketplaces. This makes it easy to place bulk orders as all the information on prices and MOQs is fully provided.
This company ships to all continents but it would be wise to make inquiries as to whether it specifically ships to your country.
KinYu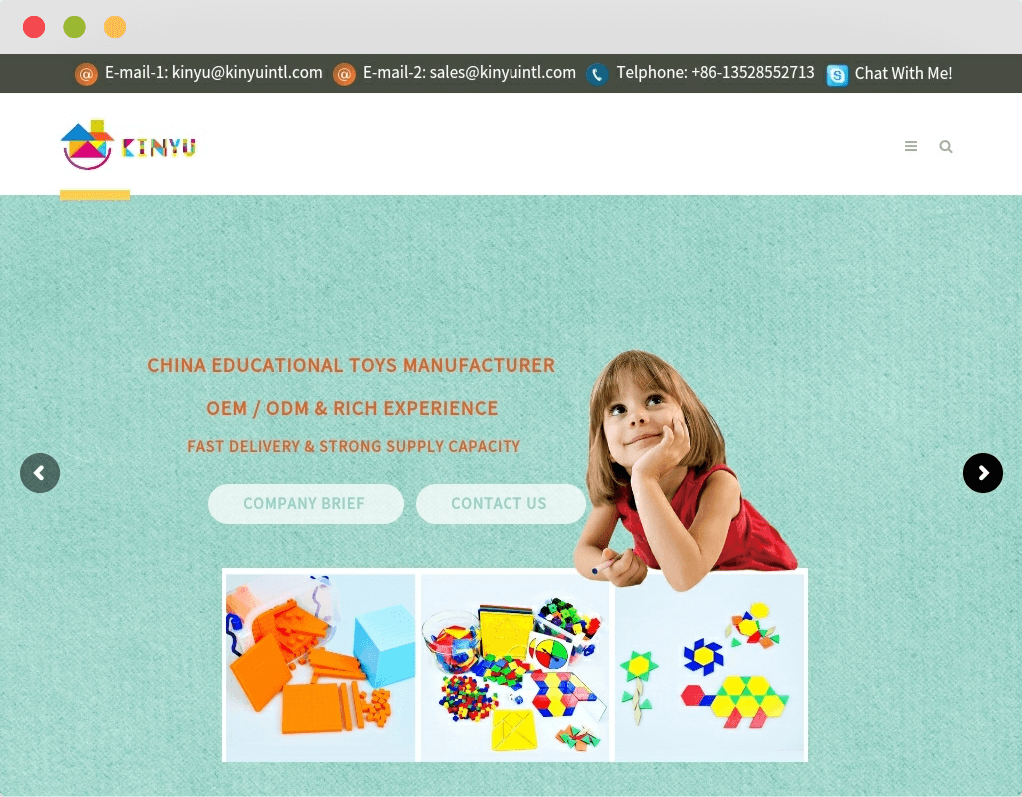 KinYu is an expert manufacturer and global distributor of educational toys and learning accessories. It is based in Guangzhou, China.
KinYu toys are categorized by the subject they are designed to help teach. The subjects include science, math, and general literacy. The toys, also known as manipulatives, inspire learning by prompting children to solve simple tasks like:
Counting
Building block structures
Drawing
Identifying colors or numbers or letters
KinYu has high MOQs ranging from 3,000 sets to 5,000 sets depending on the toy. You could, nevertheless, consider negotiating a lower MOQ. All prices are set on a wholesale basis and all toys are EN71 and ASTM compliant.
MR Wooden Toy Manufacturer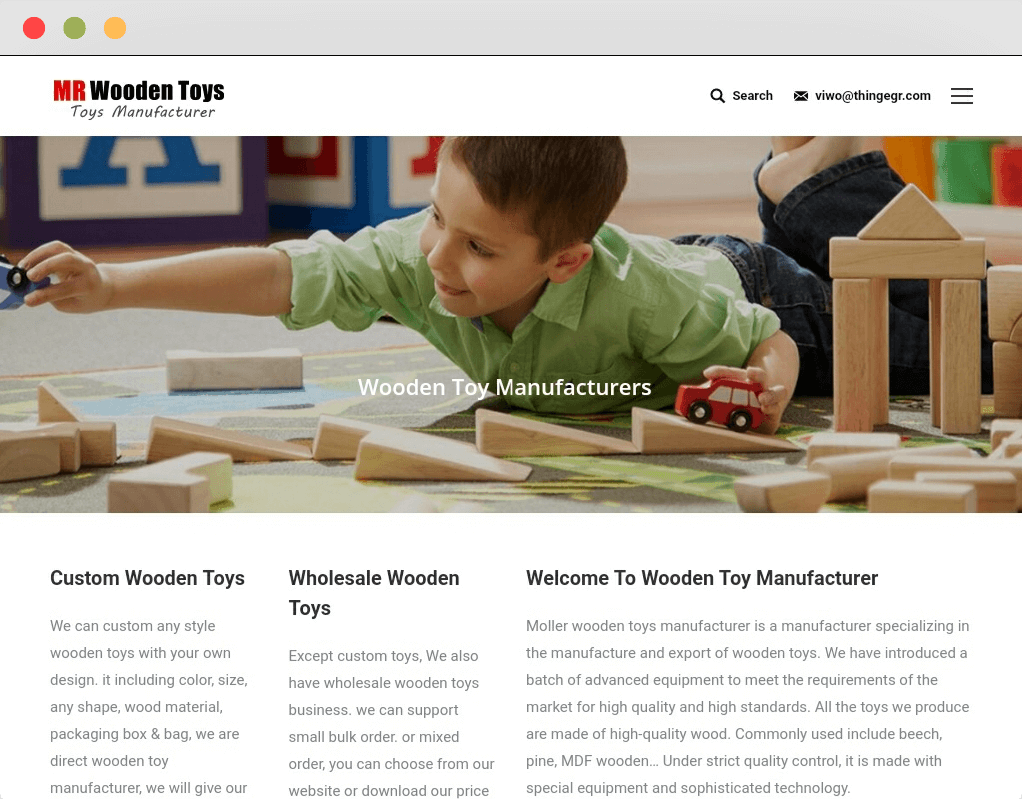 True to its name, this firm manufactures wooden toys for play and learning purposes. Its products are made of beech, pine, lotus, oak woods, or MDF which are all sourced in an eco-friendly way.
MR Wood Toy Manufacturer's catalog includes:
Block toys
Train toys
Dollhouses
Wooden car toys
Wooden puzzle boards
Kitchen and food play toys
The company allows you to order items from its catalog or request custom designs. All products are, however, made in accordance with safety requirements including the use of water paint to avoid VOC emissions.
The MOQ for catalog products is 500 units while that of custom orders is 1500 units. Customers are also allowed to request mixed orders and small orders at negotiable wholesale prices.
The MR Wooden Toy Manufacturer company ships to East and West Africa, Europe, North and South America, as well as Asia, Australia, and the Middle East. All its shipping partners are trackable.
Huadong Entertainment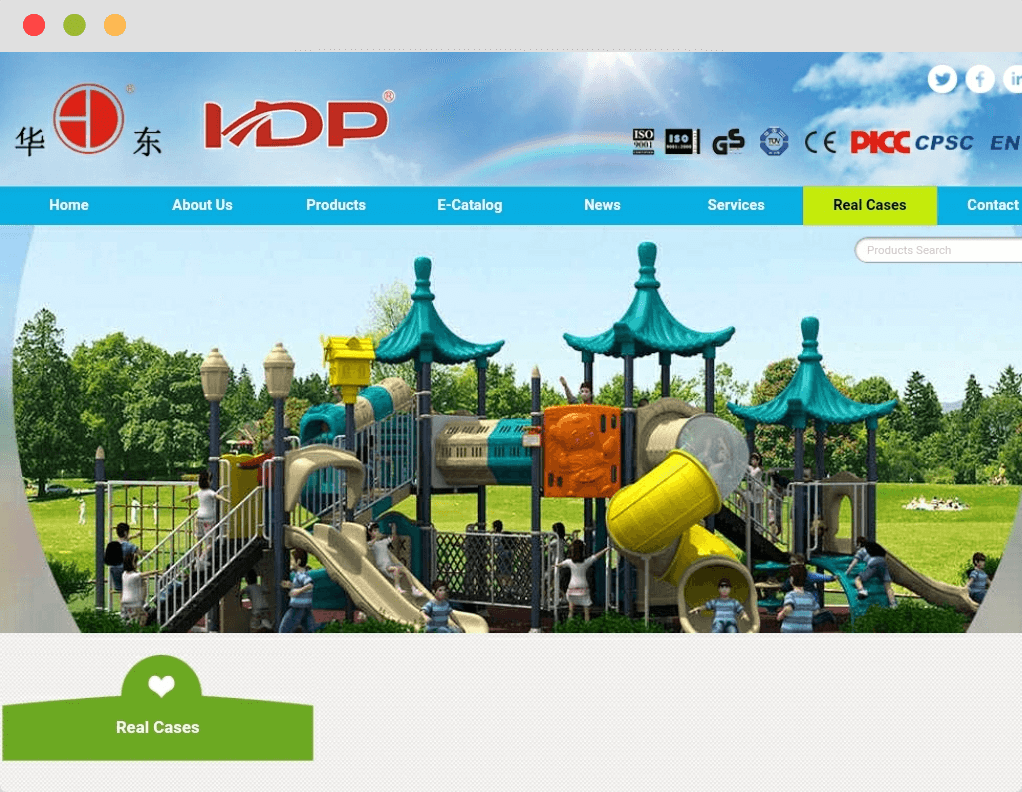 Huadong Entertainment is a one-stop manufacturer when it comes to children's toys and play equipment. Unlike most firms on this list, it covers a much wider base of products for:
Indoor playgrounds
Outdoor playgrounds
Small plastic toys
Building blocks and educational toys
Kindergarten furniture
The beauty of this diverse catalog is that it would make it easy for you to scale your business into other toy-related niches. You can also target other customers such as restaurants and nurseries as opposed to just parents and guardians.
Huadong Entertainment does not specify product MOQs but it offers detailed specifics about each product including safety certifications. Your wholesale quote would likely be determined by the number of units you order.
This company is based in Wenzhou, China but supplies its products both locally and abroad. It ships to Europe, UAE, Indonesia, Japan, and most of the EU.
China Toy Factory Association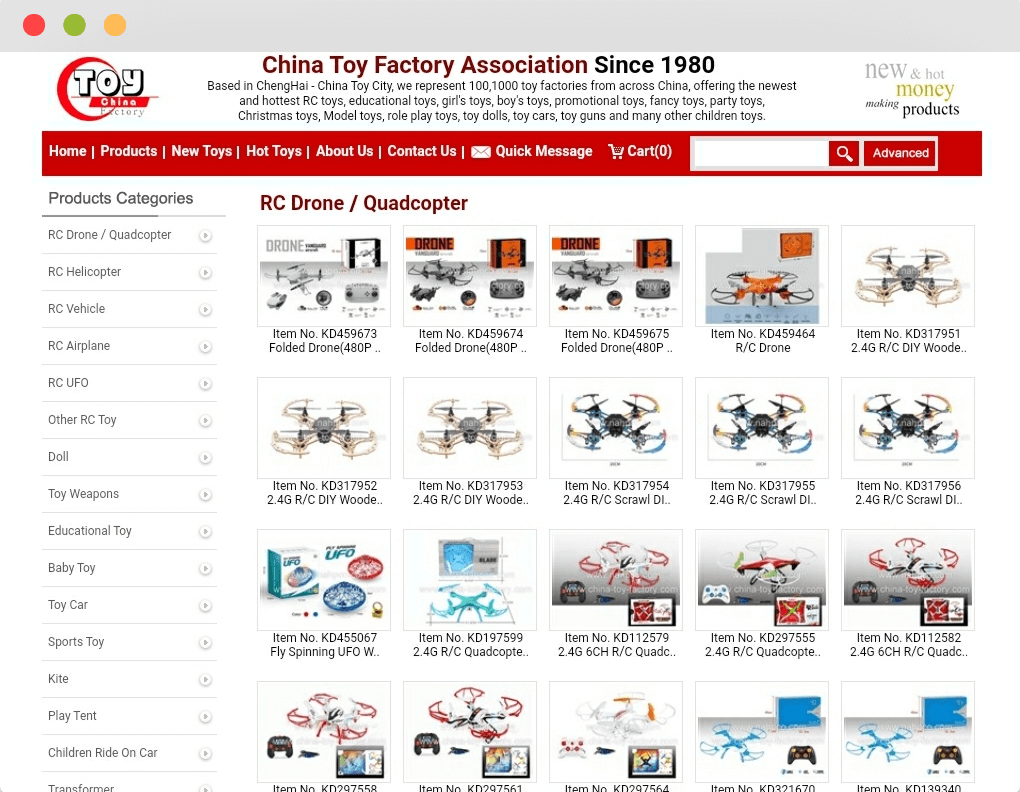 The China Toy Factory Association could best be described as a giant trading company. It supplies toys from over 100,000 China toy manufacturers to wholesalers and retailers across the world.
The toy selection mainly consists of remote-controlled helicopters, airplanes, cars, and drones. Other toy product options include kites, playsets, play tents, action figures, summer toys, musical instruments, and much more.
This mega supplier is based and has a showroom in Chenghai. They, nonetheless, have an online platform where you can view all the products it has in stock and place an order. Wholesale orders are available by the carton.
TBC Toys and Gifts Company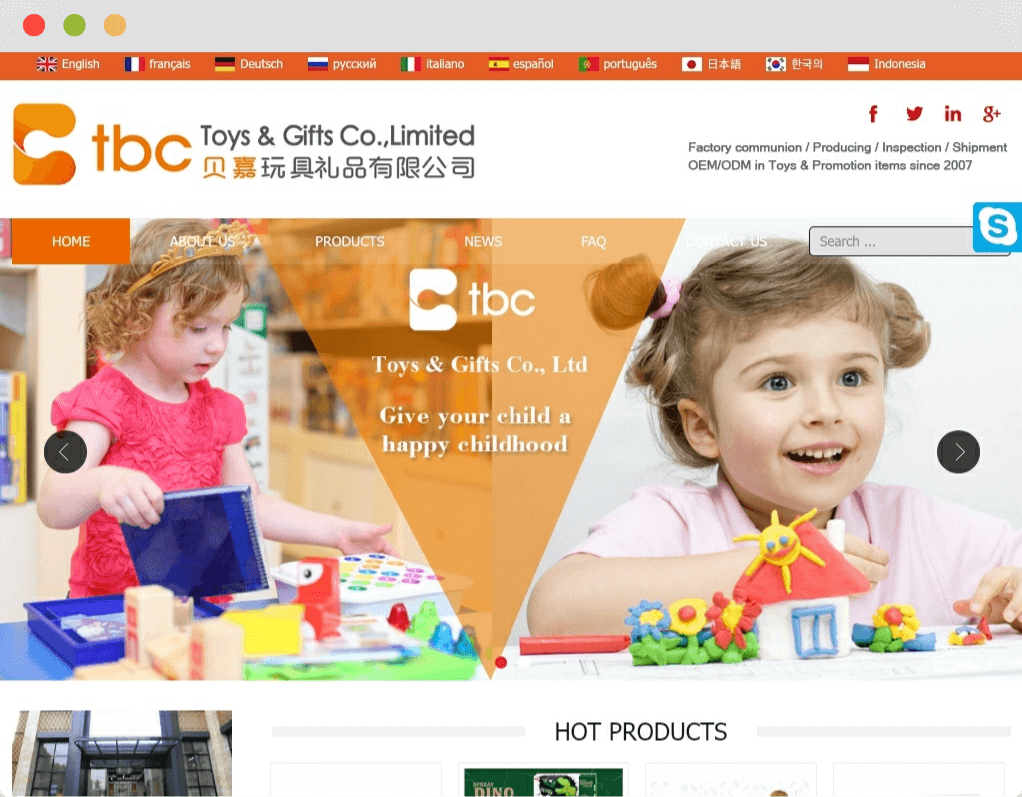 TBC Toys and Gifts offers a full array of manufacturing and wholesale services. It is located in Shantou City, Chenghai, and began its toy production enterprise in 2007.
The toy catalog from TBC is impressively vast and could easily make your toy store a hit among parents and children alike. In it, you will find:
Pretend play toys
Remote-controlled helicopters, drones, vehicles, and flying balls
Dolls
Summer toys: water guns, beach balls, beach toys
Outdoor toys: skipping ropes, racket toys, balls
Plush animal toys
Educational toys; building blocks, DIY toys
Most of the catalog items are listed on the TBC website complete with wholesale prices. The MOQ for most items is 5 cartons. Orders are, however, placed via direct inquiries.
TBC welcomes white label and private label orders and has an in-house R&D team that can help you perfect your design ideas. Samples worth below $10 are provided at no cost(except for shipping). The company adheres to international toy safety standards.
Orders are shipped internationally through reputable couriers. You will also receive quality control confirmation photos for assurance before dispatch.
Guoxin Trade Company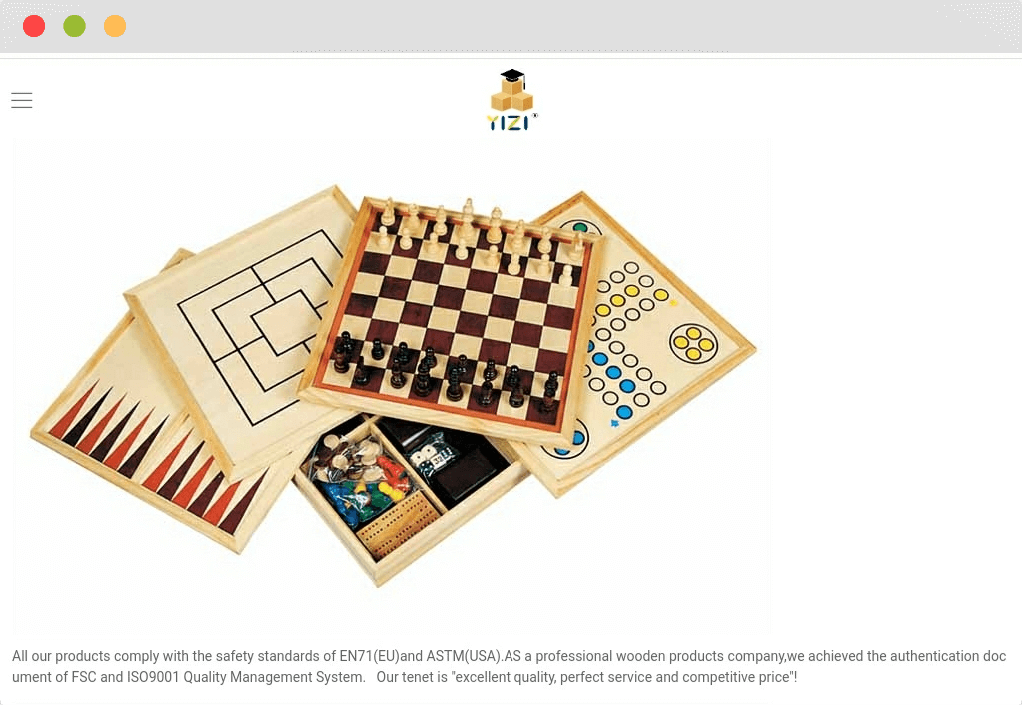 The Guoxin Trade Company headquarters is located in Ningde, Fujian. It, nevertheless, has 2 factories in Zhejiang that produce wooden toys and 2 others that are dedicated to the production of wooden board games.
This company offers toys for both indoor and outdoor play. Most of the toys require a considerably advanced level of understanding and would thus be ideal for children in the early stages of school while others are recommended for older kids and adults.
Still, the retro toys and games are designed for the whole family and could be a hot-seller given that they promote fun and family bonding.
On the downside, all orders and prices queries can only be resolved by reaching out to Guoxin Trade. The company offers no upfront details on wholesale terms. It does, however, promise worldwide shipping.
FAQs on Wholesale Toys Suppliers From China
What Regions Should I Visit to Buy Wholesale Toys in China?
Chenghai district is arguably the biggest hub when it comes to toy manufacturing and wholesale. Most toy factories are based around Shantou, in particular, and those that are not based there have showrooms in the area.
Compared to other regions, toy shopping in Chenghai could be beneficial because:
You will mostly be buying directly from factories or manufacturer's showrooms. This would ensure that you receive authentic quality merchandise.
You will be able to shop at factory rate prices
The high concentration of toy suppliers in Chenghai provides a great variety of products to choose from
As you consider where to buy toys in China, keep in mind that suppliers in Chenghai sell quality products, and thus their prices are slightly higher. They may, however, be worth it because most customers prioritize quality, especially for children's toys.
What Factors Should I Consider When Sourcing Wholesale Toys in China?
The variety of toys available in China is quite expansive and while this is a good thing, it also calls for discernment as you shop.
Safety should ideally be your top priority. International health safety standards recommend that:
Toys are free of toxic materials like lead or VOC-emitting paints.
Toy components are large enough to prevent them from becoming choking hazards.
Toy structures be smooth and have no sharp edges
Toy packaging is child-friendly and does not pose a risk of suffocation.
Additionally, consider:
Durability– quality toys should preferably be made of materials like wood, bamboo, or hardened plastic so as to keep up with the day-to-day rigors of play sessions.
Value- people invest in toys and board games for the educational and entertainment value that they provide. You are, therefore, likely to enjoy better sales if you select toys with this in mind.
Weight- toys should not be unduly heavy as this could result in frequent injuries during play. Heavy toys may also cause you to incur very high shipping costs.
Is It Safe to Buy Wholesale Toys From China?
Evaluation studies carried out on some toys made in China have, in the past, revealed that some manufacturers were producing substandard toys. Their toys were found to have some toxic chemicals and contaminants.
However, this is only a handful of manufacturers and it would be unfair to write off the entire lot of China toy manufacturers based on this.
Moreover, you can avoid dealing with substandard manufacturers by asking for safety certifications and test reports on their toys from internationally recognized regulators.
What Are the Best Ways to Source Toys from China?
The best sourcing approach differs from one entrepreneur to another. Factors such as budget and willingness to travel could determine whether you can visit manufacturers and suppliers in person or whether you would have to explore other options.
That said, you can find reliable wholesale toy suppliers by:
Online Wholesale marketplaces– online marketplaces like Taobao and CJ Dropshipping offer an immeasurable variety of toys at wholesale rates. They also make it easy to identify toys, pay online, and await shipping. Their MOQs are also reasonable.
In-person shopping– if you have the time and resources, consider visiting various toy suppliers in China. You may have a better chance to evaluate product quality and negotiate favorable supply terms.
Trade fairs– hundreds of toy manufacturers attend events like the Hong Kong Toys and Games Fair to showcase their products and attract international buyers.
If online shopping feels too uncertain for you and in-person visits to manufacturers and trade fairs do not work for you, consider working with a sourcing agent.
A sourcing agent would work as your representative and find the toys you need from trusted wholesale suppliers. Working with a China sourcing agent also presents the following advantages.
You would not have to incur the time and cost of travel.
A well-established sourcing agent can negotiate better wholesale prices and MOQ terms based on the strength of their relationship with manufacturers/wholesalers.
Given that your sourcing agent is based in China, they can easily liaise with manufacturers as they would not have any time difference challenges.
Sourcing agents help bridge language barriers and are more conversant with local wholesale purchase processes.
In Conclusion
Entertainment and learning accessories like toys will always be relevant in society. Their high sales also tend to go even higher during peak times like the Q4 dropshipping season and other festive times.
Look out for reliable toy wholesale suppliers that are also visionary enough to adapt to new trends and uncompromising on safety and quality standards.
On the other hand, you do not have to struggle through this journey on your own. We, at NicheSources, offer all-inclusive sourcing services to retailers, dropshippers, importers, and even wholesale distributors.
We only source toys from top-rated manufacturers with verifiable certifications and strive to ensure that you receive the best quality of products possible.
Simply request a free quote and leave the rest to us.