Wholesale buying can be lengthy and confusing for new buyers. It can be more difficult to choose from thousands of suppliers on the world's leading B2B platforms like Alibaba.
But if you have reached the RFQ stage of procurement, it means that you have identified what kind of products you want to procure.
This article explains insights about what an Alibaba RFQ is and how you can utilize it to select the best supplier for your business in less time.
Let's start.
What Is an RFQ on Alibaba?
An RFQ is a request for a quotation. It is a formal or written request from a buyer to the seller asking for prices for the required products.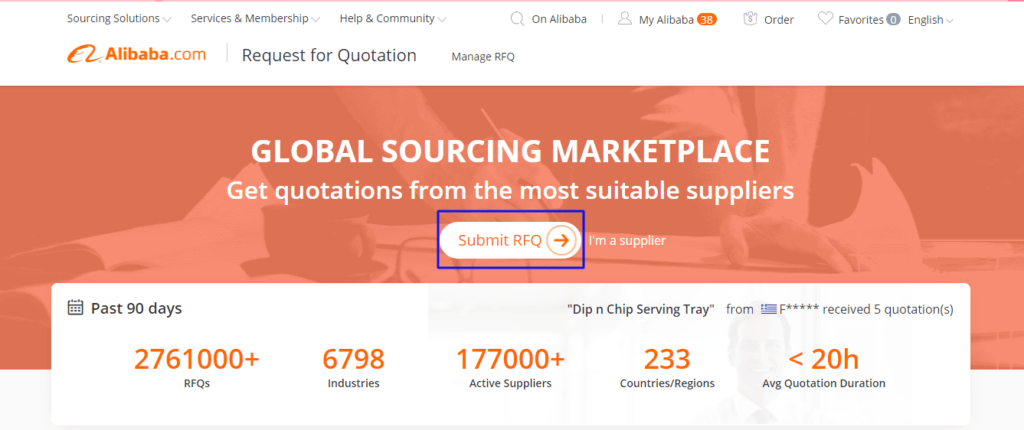 As Alibaba is a wholesale B2B platform, an RFQ on Alibaba means that a wholesale buyer (retailer) would ask for a quotation for the products that he wants to buy from the wholesale supplier on Alibaba.
The quotation typically includes the prices for the products and/or services that a wholesale supplier on Alibaba would offer to the buyer.
The Purpose of RFQ on Alibaba
The main purpose of an RFQ on Alibaba is to ask a supplier at what price he will provide the products to the buyer. Upon receiving the RFQ, the supplier would analyze the product details and other requirements.
If he could fulfill the requirements shared in the RFQ, he would send a quotation to the buyer stating the prices and services, if any.
After a potential buyer receives a quotation from a supplier, he is in a better position to decide whether the prices of the products are within his budget so that he can place the order.
So, an RFQ is a document that assists both parties. The suppliers get to know exactly what a buyer wants, and the buyer is only contacted by the suppliers who can fulfill his demands.
The quotations that a buyer receives from multiple suppliers for the same requirements also help him identify the supplier with the best offer.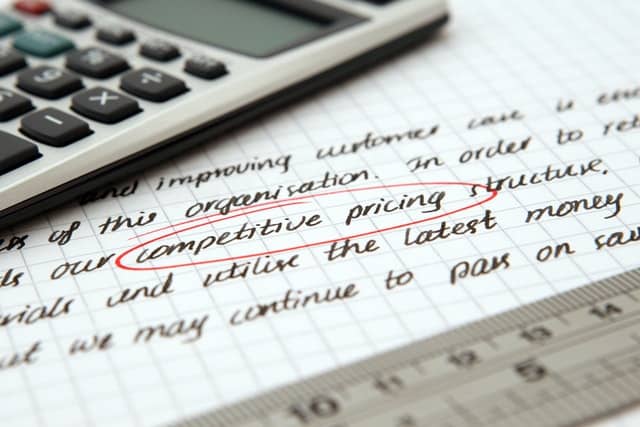 How Does Alibaba RFQ Work?
The RFQ process on Alibaba is quite simple. As Alibaba is a user-friendly website, it has made an easy-to-follow RFQ process so that every kind of buyer can ask for quotations.
Alibaba's website mentions the following three simple steps to initiate and close the RFQ process.
1. Submit RFQ
You can find the RFQ option on Alibaba's homepage just by dragging it down a little bit.

You just have to write what you want and mention the quantity followed by its unit. Multiple units are given from which you can select according to the type of your product and your requirement.
After that, you will move toward the detailed RFQ page.
We will discuss how to fill out an RFQ form in detail in the later section of this article. So, stay put.
2. Analyze Quotations
After you have posted the RFQ on Alibaba, you will start receiving quotations from multiple suppliers in the next step.
Don't rush it. Most established Alibaba suppliers are loaded with a lot of work. This makes them busy. So, all suppliers may not be able to reply to your RFQs immediately.
It may take up to 10 days for a supplier to share the quotation with you. The suppliers with late submissions of the quotations are not always the bad suppliers.
You may get the best quotation at the end. You might end up buying an expensive product if you only consider the early quotations.
So, if you are in a hurry to have quotations from suppliers, it is advised that you raise the RFQ well in advance.
3. Communicate in Real-Time
Communication comes with an integral part of purchasing, that is negotiation. After you receive quotations from suppliers who can provide the products you want, you start discussing the terms and conditions of your potential purchase deal.
You can also negotiate the prices with them. The more quotations you receive from suppliers, the better.
This will give you more room to negotiate the prices and other flexibility in terms of services.
Most Chinese suppliers are accommodating and welcoming. They are open to negotiations. They can offer discounts for higher quantities. They can also lower the MOQs in certain cases.
You can shortlist the suppliers offering the best prices with acceptable quality.
You can also take help from the quotations of other suppliers to convince the shortlisted ones to lower the prices and/or MOQs.
When Should I Use Alibaba RFQ?
Alibaba is the favorite destination of retailers and e-tailers. There are many visitors on Alibaba who are not even sure about what product they want.
They may be in the phase of product research. Some visitors may just have a product idea and would be looking for the products that match best with their ideas.
Such product hunters are also welcome to write their product idea and ask for RFQs. They may get quotations from the product developers (manufacturers) present on Alibaba.
RFQ is the stage of procurement when you are sure about what product you want from Alibaba. In most cases, you have also identified that the product you want to source from Alibaba is available with Alibaba suppliers.
That's the stage when you raise an RFQ to ask for quotations from Alibaba suppliers.
Benefits of Using Alibaba RFQ
Following are the benefits of using RFQs on Alibaba.
Time-Saving
Alibaba is a massive platform. It has over 150K wholesale suppliers and millions of products. If you try to search for a supplier on Alibaba, it may take hours to reach the eligible suppliers.
As time is money for a businessman, posting an RFQ can save a lot of time just by filling up a simple form and letting the suppliers reach you.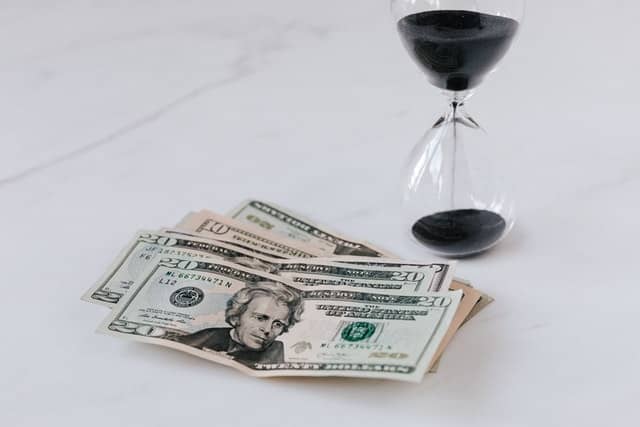 Simple Process
Alibaba has multiple filters and other features. While they may be useful for some users to refine and narrow down their search, they may look confusing to others.
Sending an RFQ is a simple process where you don't have to go through the whole platform. You just post your requirements and the suppliers having the solutions will contact you themselves.
Serious and Qualified Suppliers
As the suppliers contact you themselves in response to your RFQ, the possibilities of interacting with a supplier who cannot provide the product you want are quite slim.
Moreover, the suppliers you see on the top Alibaba pages as a result of your search may be good but they may not even respond to your queries due to their workload or your low requirement.
The RFQ function brings you the suppliers who are eager to have orders and are willing to provide their best quality products at the most competitive rates to win contracts.
Therefore, you can utilize the RFQ feature of Alibaba to have a list of serious suppliers that qualify to provide the products you need.
Easy Comparison
When you receive quotations from suppliers on Alibaba, you have room for comparison. You can compare the rates and services offered by each supplier just by matching their quotations.
As the quotations have a breakup of prices for the products and services, it would be easier for you to compare each offer.
Opportunity to Assess Suppliers' Skills
How well a supplier would respond to your queries is always a point of concern at Alibaba. As there are many Chinese suppliers on this platform, a buyer has to identify their communication skills in the English language.
The quotation along with his message or a cover letter (if any) will give you an idea about his ability to communicate with you and understand your message.
Communication is especially crucial when you are dealing with the manufacturer from whom you want to get your product developed with customized features.
Supplier's Response Time Validation
You would have a clear idea of how early or late a supplier has responded to your RFQ. This will shape your perception of a supplier and whether or not you can do business with him.
If the supplier has responded to you after many days of your RFQ and the quotation he offered also does not look feasible, it would mean that the supplier was not worth-waiting.
What Should an Alibaba RFQ Include?
When submitting the RFQ, you must include maximum details of your requirements. Following are the examples of what your RFQ should include.
The number of items (tentative quantity of overall order) required
The crucial quality parameters
When you want the products to arrive
Delivery requirements specifying the supplier's responsibilities
Any other requirements from the supplier
Different Ways of Submitting an RFQ on Alibaba
Let's discuss how you can submit an RFQ on Alibaba. Following are the four types of RFQ in which you can ask for quotations from Alibaba suppliers.
Invited Bid
As the name suggests, an invited bid is a kind of RFQ in which a buyer invites selected suppliers to place their bids against your requirements. The buyers mostly select this option if they want a limited number of bids against their RFQ.
It depends on the supplier whether or not he will respond to your RFQs. At the end of this process, a buyer has offers from selected sellers whom he had invited to place bids.
The buyer compares the prices and services offered by the sellers and selects a seller with the best bid.
Pros
Bids from known suppliers
Quicker process
Higher trust factor
Easier decision making
Cons
Limited number of bids
You may lose a better bid from an unknown supplier.
Open Bid
An open bid on Alibaba refers to the type of RFQ in which a buyer asks for quotations from specific suppliers and the offer from every seller is open or visible to each other.
One seller can see exactly what price other sellers have quoted the buyer. The primary objective of this type of RFQ is to induce a high level of competition among the sellers.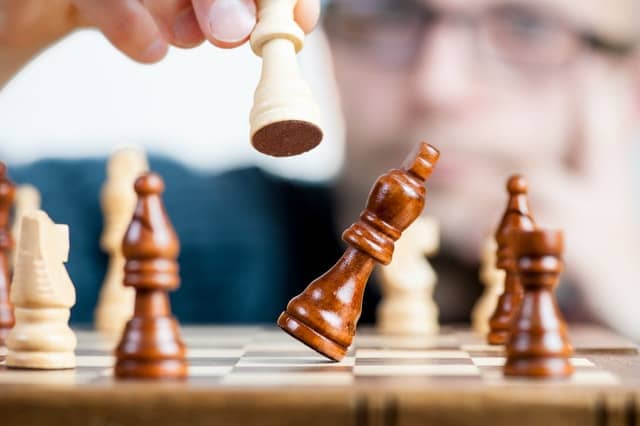 A seller may offer you the lowest price as compared to all the other suppliers to win the contract ultimately favoring a buyer. Once submitted, a supplier can also lower prices to stay competitive until the bid is closed.
Pros
Fair and transparent process
Higher competition among sellers
More chances of having the lowest price offer
Cons
All the bids may be placed keeping in view the competitor's pricing only resulting in price uniformity.
You may lose the genuine offers from suppliers.
More chances of getting bogus or unrealistic offers
Sealed Bid
In contrast to an open bid, a sealed bid, as the name suggests, refers to the bids or offers from suppliers that are only visible to the buyer. This type of RFQ seals or hides the bid details from other suppliers so that they submit their genuine best offers without knowing about the offers from other suppliers.
This leaves suppliers with the only option to submit their bottom prices to win the offer. However, it may increase the chances of having higher prices from most suppliers as they might be charging you with their standard pricing.
Pros
Independent and genuine offers from the suppliers
Fewer chances of fraud
Fewer chances of receiving bogus offers
Cons
Less competition among suppliers
Reverse Auction
This type of Alibaba RFQ works in the opposite direction of the auction process. In this case, there is one buyer who receives offers from multiple suppliers bidding at lower and lower prices to win the contract. Hence the name reverse auction.
The price of the required product naturally goes down with every seller taking part in this type of bid. Most buyers choose a reverse auction if other kinds of bids did not work for them.
But this type of bid is essentially focused on the lowest pricing only. It does not induce competition in any other factor of the contract including value-added services and shipping etc.
Pros
Intense competition among suppliers
Lowest prices offered
More transparent in terms of pricing
Cons
More chances of bogus or fraudulent bids
Does not focus on services
The Rule of Engagement for Alibaba RFQ
Alibaba has a simple yet very effective rule of engagement of RFQ for the buyers and suppliers. The rule is briefly mentioned below.
RFQ Rule for a Buyer on Alibaba
One RFQ on Alibaba can get up to 10 quotations from suppliers. The quotations can be less than 10 but not more.
That's because Alibaba is monitoring the quotes that the suppliers are sending you. Its algorithm makes sure that you receive the top 10 most relevant and best quotations.
RFQ Rule for a Supplier on Alibaba
Similarly, there is an upper limit on submitting RFQs for the suppliers on Alibaba. Every supplier can submit up to 30 quotations per month. This rule is also in the favor of buyers as the suppliers would be conscious enough to submit quotations that are most related to them.
How to Get Supplier Recommendations from Alibaba?
You can get automatic supplier suggestions from Alibaba while you are contacting a supplier for your product. You just have to check the box that says "Recommend matching suppliers if this supplier doesn't contact me on Message Center within 24 hours."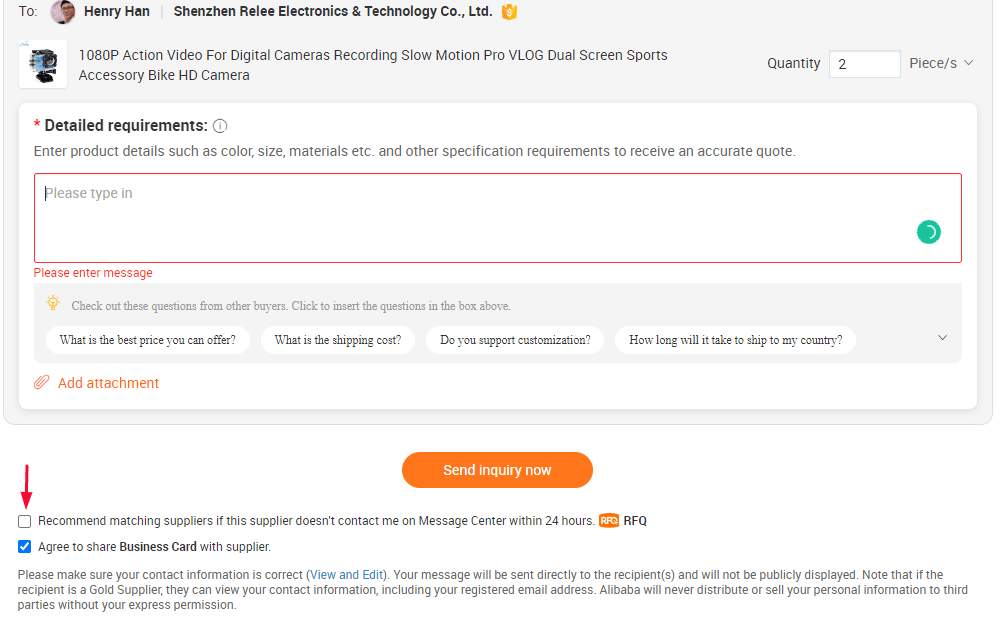 This excellent Alibaba feature lets a supplier realize that he is bound to respond to the inquiry within 24 hours. Otherwise, Alibaba will refer the query to some other supplier.
Moreover, the Alibaba algorithm will suggest a better supplier within the same product category for your convenience.
How to Make an RFQ on Alibaba Step-by-Step?
First of all, you must have a profile on Alibaba. If you don't register yourself on Alibaba, you can only browse the products but cannot submit an RFQ.
You can access the RFQ option on Alibaba in simple ways. As discussed earlier, you just have to open the Alibaba website and drag down the homepage till you find the RFQ section.
You can also visit the dedicated URL for Alibaba RFQ directly. You can also access this URL just by opening the first organic result on Google if you write "Alibaba RFQ" on a Google search.

Another way to access Alibaba RFQ is to hover your mouse to "My Alibaba" and you will see the option of "Submit RFQ" as shown in the screenshot below.

After clicking the "Submit RFQ" button, you will see a simple form where you will have to provide the information regarding your product.
You have to fill out this form correctly to have quotations from the most relevant suppliers.
Here is what the Alibaba RFQ form will look like.

Let's split the form according to the RFQ steps to address each section.
Product Name
Write your product name that best describes your product in a few words. The keyword matters here because it is an automated way of searching for the matching suppliers.
Try to use the most relevant keywords in general terms so that Alibaba accesses a large pool of relevant suppliers to bring out the best sellers for your required product.
Category
After writing the most relevant keyword along with the product name, you have to fill out the next information about choosing the category.
Try to use the category that best describes your product. In the case of a customized pet bed, you may choose the "Pet Products" category.
As you can see in the screenshot below, Alibaba's algorithm is smart enough to suggest the product category that saves your time.
You can select this suggested category if it matches your product.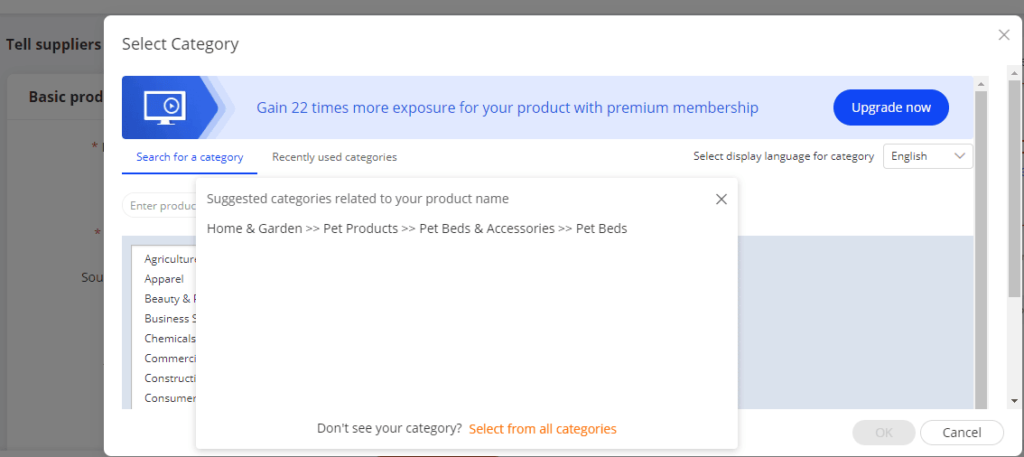 Sourcing Type
This section has self-explanatory options in a drop-down menu. In the case of a customized pet bed, we would choose "customized product" which opens up another related option asking for more information on customization as shown below.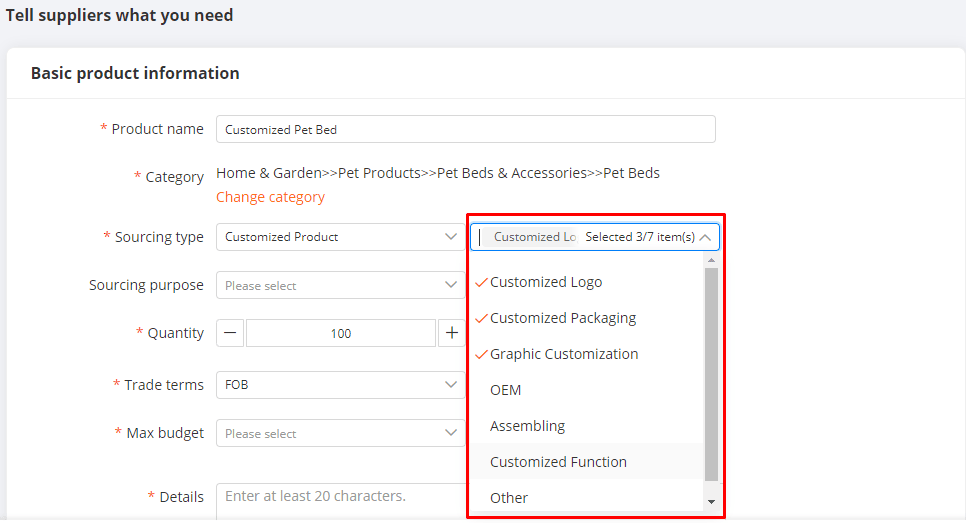 Sourcing Purpose
Here, you will get the following options in the drop-down menu.
Wholesale
Retail
Production Equipment
Raw Material for Production
Corporate Consumption
Personal Use
Other
Here's the trick. If you are a retailer, you still have to choose the "wholesale" option because you would be buying in bulk quantities. That would qualify you for the wholesale option, not for the retail.
If you choose retail, Alibaba may give you the sellers who are working on the retail model.
Yes, Alibaba has suppliers who work on the retail model offering MOQs as low as one piece per order.
Quantity
This is also a tricky part. The quantity matters most in a wholesale business. A supplier would look at your required quantity to decide whether or not he would respond to your RFQ.
You don't have to put the quantity which you would require in your first order. You are filling up an RFQ form, not your first order quantity form.
So, you can mention the overall quantity that you would be requiring from a seller in multiple orders.
You have to be a little generous in mentioning the quantity but don't be unrealistic. Don't mention the quantity that you can't afford. This will not help.
You can put the quantity 2 to 4 times higher than your monthly forecast to attract more eligible suppliers to submit a quotation against your RFQ.
For example, if you expect to sell 500 pieces of a particular product, you are suggested to put the quantity to 1000 to 2000 pieces.
If you are not yet selling the product, you can analyze the sales of your competitors to get on the decision to put the quantity here.
Trade Terms
This section asks you to mention the shipping Incoterms you want to choose for your contract. You can choose FOB Incoterms if you don't want a seller to charge you more in terms of shipping.
If you want the seller to take care of the maximum shipping responsibilities, you can choose DDP Incoterms.
Maximum Budget
Here again, you can mention the overall budget for the product that you are going to spend over several different orders for the same product.
This also attracts good suppliers. As this is a mandatory requirement to submit an RFQ, you have to tell them your maximum budget.
Details
This text box asks you to write a brief about your product. In this section, you have to give the necessary information regarding color, size, dimensions, packaging, etc.
Only include the most crucial information here to attract a wider pool of suppliers. Try to be as professional as you can to leave a good impression on sellers.
Tip: You can take help from the product description of your competitors if you are not sure about this yet.
Attachments
It is always good if you can provide product images to facilitate the suppliers. You can share an image from your competitors to give an idea of the products you require.
Shipping and Payment
Select the shipping method if you are sure about this. Otherwise, you can also leave it blank for now. You should mention the lead time by which you require the products after you make the payment to the supplier.
You have to select the destination and payment method to close the RFQ process.
Submit the RFQ
When you submit the RFQ, you can manage it in your account. You can have a look at your RFQ to recheck if you made any mistakes. Your RFQ may look like this.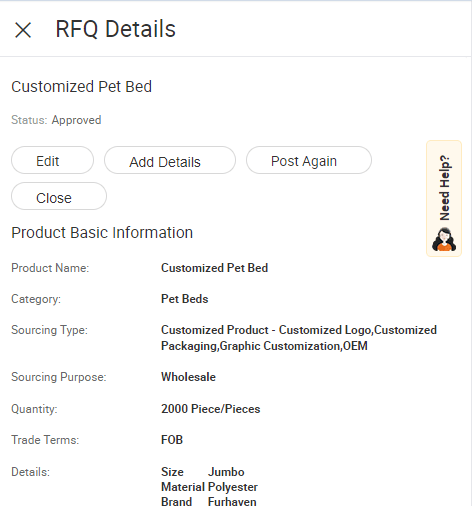 As you can see, you can still edit this RFQ, add more details, post it again, or close it.
How to Make Your RFQ More Attractive to Suppliers?
The main purpose behind posting an RFQ on Alibaba is to get supplier options from whom you can choose the best one. But how to attract good suppliers on Alibaba via your RFQ?
You can't do much about the mandatory requirements on Alibaba. That will be pretty much the same for all the RFQs. You can make your RFQ more attractive by utilizing the detail option.
Let's explore a few hacks.
Sound professional with your words, especially when you write the details.
Mention that you are an e-commerce company.
Don't mention that you are just launching a new business. Tell them you are adding a new product to your product line.
Give all the necessary details.
Do your research and mention certifications that you require, if any. This will give an impression that you know the product well.
Be as short and simple in your details as you can.
Mention that you have multiple sales channels.
You can also mention your regular customer base so that they know that you would most probably have repeat order requirements.
RFQ Template
Following is an example of an attractive Alibaba RFQ template.
Hi there,
My name is Stanley. I am working at NicheDS company as a supply chain manager. We are looking to add a customized pet bed to our existing line of pet products.
Please refer to the attached pictures and the following details for an idea of the required product.
Color: Stone Gray
Size: 44″ x 35″ x 8″ (4″ Foam; Sleep Surface: Approx. 38″ x 29″)
Material: Polyester
Fill Material: Egg Crate Orthopedic Foam
We are anticipating a minimum annual order of 6000 pieces for this product from our passionate customer base.
The requirement can also increase if we expand our marketing campaign if our customers are satisfied with the product.
If you can provide this product, please respond with the following details.
Are you a manufacturer or a trader?
Can you provide samples (paid or free) before order processing?
Can you customize this product?
What will be the lead time to deliver this product in the USA?
Early response will be highly appreciated.
Regards,
Stanley Nieh
Supply Chain Manager
NicheDS
How to Select the Best Supplier after Receiving Quotes?
When you receive quotations, you have the suppliers' overview showing their history and other details that will help you choose the most eligible suppliers.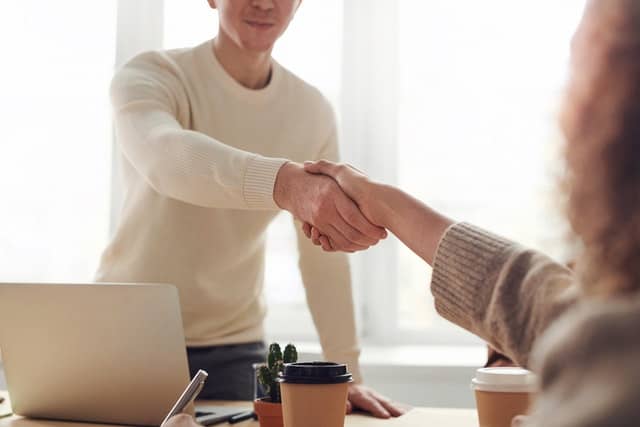 It is better to shortlist the suppliers who fall under the "Trade Assurance" and "Verified" categories.
You can compare the quotes and decide on the best supplier who offers the best rates along with the services (fast shipping, customization, etc.).
How to Use RFQs Outside of Alibaba to Get More Suppliers?
As you must have noticed, Alibaba RFQ is not specific to Alibaba only. It is a pretty simple and general RFQ format.
The same format is good enough to be used on other platforms too. You just have to define your specifications and requirements once.
You can also write one general RFQ format which you can use on sites like Alibaba.
FAQs about Alibaba RFQ
The following brief answers to the frequently asked questions regarding Alibaba RFQ would surely help you clear any confusion.
Do All Suppliers Listed on Alibaba Respond to RFQs?
No. All suppliers don't respond to RFQs on Alibaba. Alibaba scans through its directory of suppliers to present your RFQ to the most relevant suppliers.
It is up to them if they want to respond to your RFQ or not.
It is possible that you don't get a single quotation against your RFQ. But, at the same time, it is also possible that you get 10 quotations for your RFQ immediately.
Can the Prices Be Changed after Submitting the RFQ?
Yes. A supplier can also share the revised pricing after submitting the RFQ on Alibaba. Negotiation is an integral part of every wholesale business.
A supplier and buyer can negotiate the pricing and reach an agreement to close the deal.
What Should I Do If My RFQ Has Been Rejected?
There must be a reason behind the rejection of your RFQ. If your RFQ got rejected on Alibaba, you can go to your Alibaba account and click the "Manage RFQ" option.
You will have your rejected RFQ. You can "edit" that RFQ, make the required changes, and submit it again for approval.
Summary
The RFQ feature opens up new possibilities for a buyer on Alibaba. It is up to a buyer's skills how he utilizes this feature to attract good suppliers.
We have tried to walk you through the crucial steps of Alibaba RFQ and how to use it in your favor to target good suppliers.
NicheSources is also an expert in product sourcing. We help small businesses scale to reach new horizons of success. Request for a free quote to unlock the path to the most efficient, dependable, and affordable sourcing.