According to recent studies, Asia is the leading exporter of jewelry in the world. Whether you are looking for luxury, fashion, or bridal jewelry, you will likely find enough suppliers in the continent.
However, as you weigh your sourcing options, the jewelry industry in China will likely stand out from others in the region. You may notice that it has the widest variety of jewelry suppliers and they offer an equally diverse range of jewelry manufacturing services.
Based on this, it would be more cost and time-efficient to source jewelry from China than working with multiple suppliers across the continent.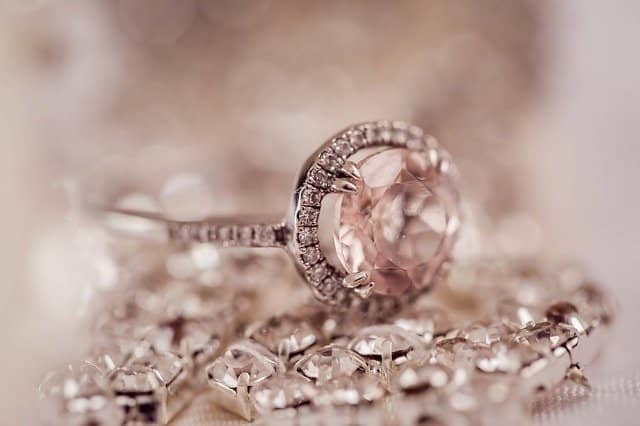 Wondering where to begin? Come along as we review some stellar manufacturers and suppliers of wholesale jewelry in China.
JewelryBund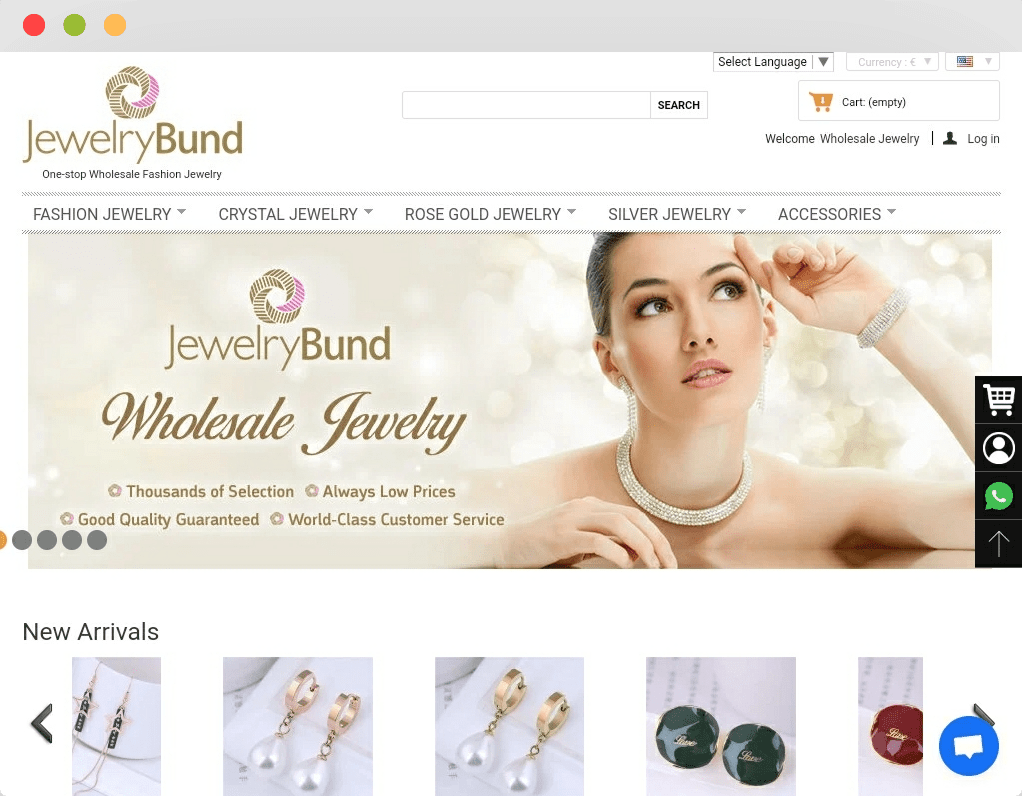 JewelryBund is a fashion jewelry and accessories manufacturer based in Shenzhen, China. The company has been in the business since 2008 and has an impressively vast catalog of jewelry products.
The main categories of jewelry from JewelryBund include:
Fashion jewelry
Korean jewelry
Fine jewelry
Crystal jewelry
Silver jewelry
Rose gold jewelry
These categories are further differentiated in terms of necklaces, earrings, hair accessories, rings, bracelets, and much more.
All JewelryBund products are available on its online store complete with images, prices, and descriptions. This makes it easy for you to browse through all the options and simply add your selections to your cart.
JewelryBund only accepts wholesale orders and has a minimum order stipulation of $80. If you would like to place a significantly large order, the company recommends that you contact them directly to get a bulk discount.
Dropshipping can also be arranged as long as your orders meet the minimum order sum.
Orders are processed within 2 to 3 business days and shipped via trackable couriers such as DHL, FedEx, and EMS. JewelryBund ships to over 200 countries across the globe.
Nina Jewelry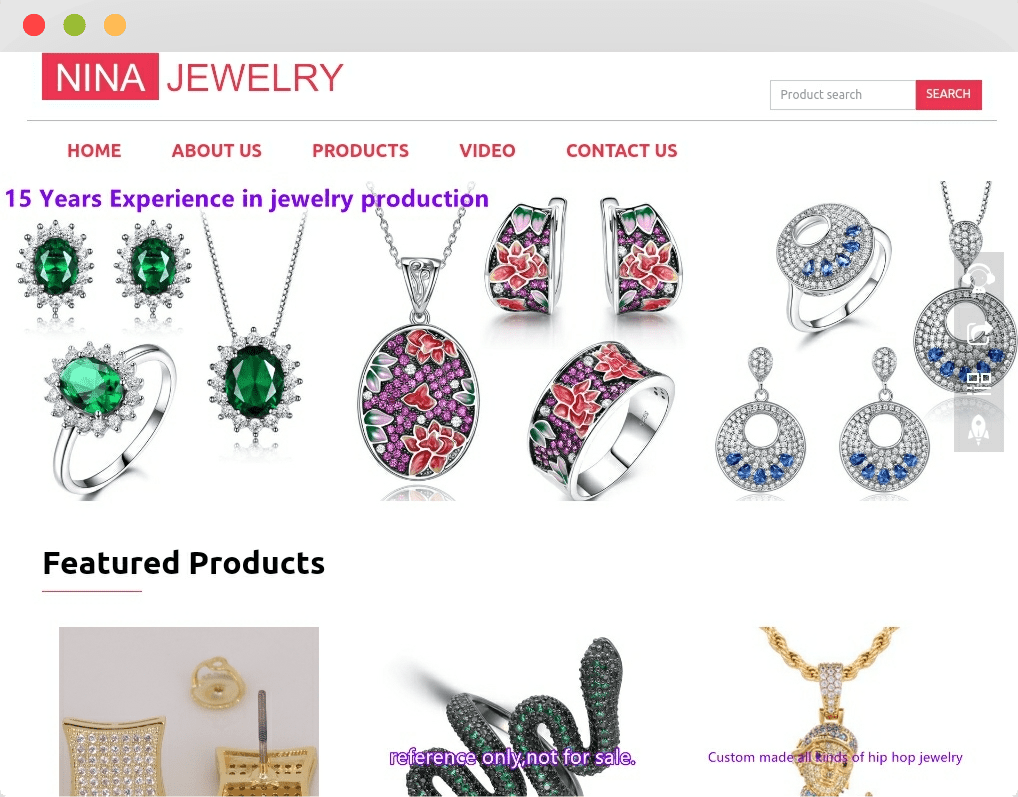 Nina Jewelry specializes in manufacturing 925 sterling silver jewelry for local and foreign jewelry brands. As such, this would be a suitable B2B partner if you would like to venture into selling white label jewelry.
The silver jewelry product range includes earrings, rings for men and women, tennis bracelets, jewelry sets, custom chains, custom hip-hop jewelry, and lots more.
All items are available in plain silver as well as more sparkly alternatives embellished with cubic zirconia or rhodium, gold, or rose gold plating.
The Nina Jewelry factory is based in Guangzhou, China but the firm is also easily accessible online. The order process works as follows:
Browse through the Nina Jewelry website
Select the jewelry pieces or sets that you would like
Send an inquiry stating your details, order quantity, and any other specifications (like branding) that you would like
Nina Jewelry would then reach out to you with a quote and you can confirm your order if you are agreeable to the terms. The lead times are between 25 to 40 days.
Charming Jewelry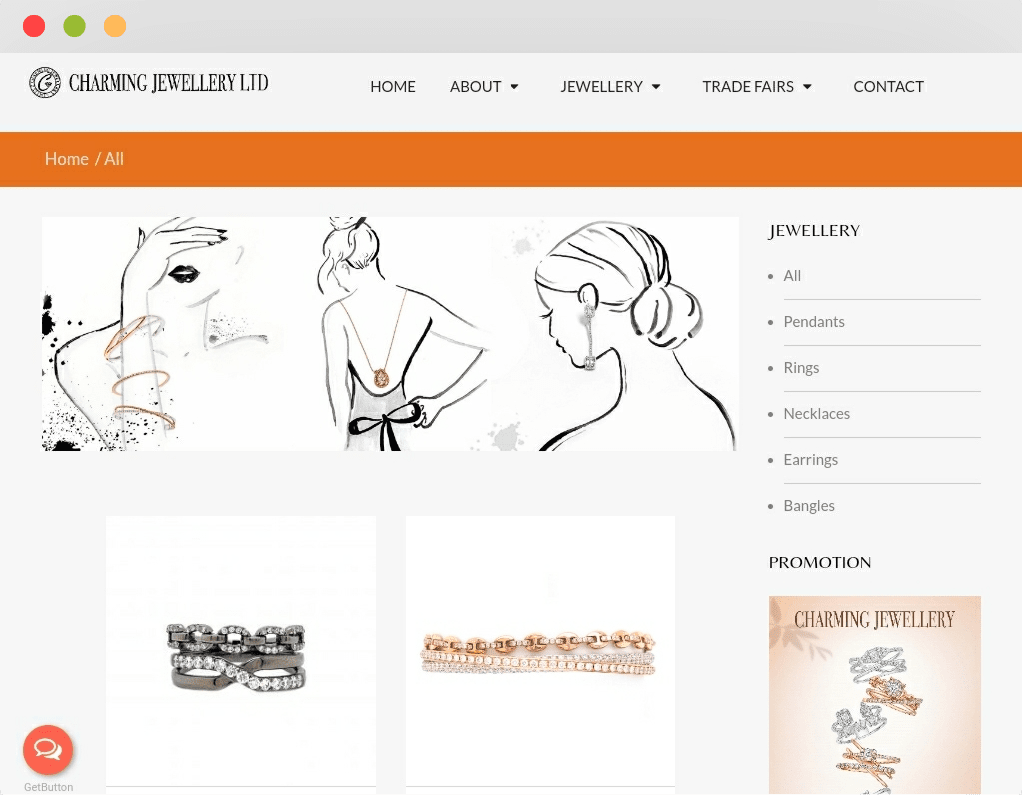 If you are looking to stock up on high-end jewelry then Charming Jewelry may just be the solution to your problems. It only manufactures and wholesales pieces made using K gold with diamonds, pearls, and other precious stones.
This company was established in 2006 and has a state-of-the-art factory in Shenzhen but its headquarters is in Hong Kong. It relies on advanced methods of production such as 3D designing and machine cutting to ensure that each piece of jewelry is flawless.
Due to the exclusive standard of Charming Jewelry products, the company recommends that you place orders through personal inquiries.
Alternatively, you could visit the Charming Jewelry stand at various trade fairs that it participates in each year like the Mideast Watch and Jewelry Show, the Hong Kong Jewelry and Gem Fair, or the JMA Hong Kong International Jewelry Show.
Kirin Jewelry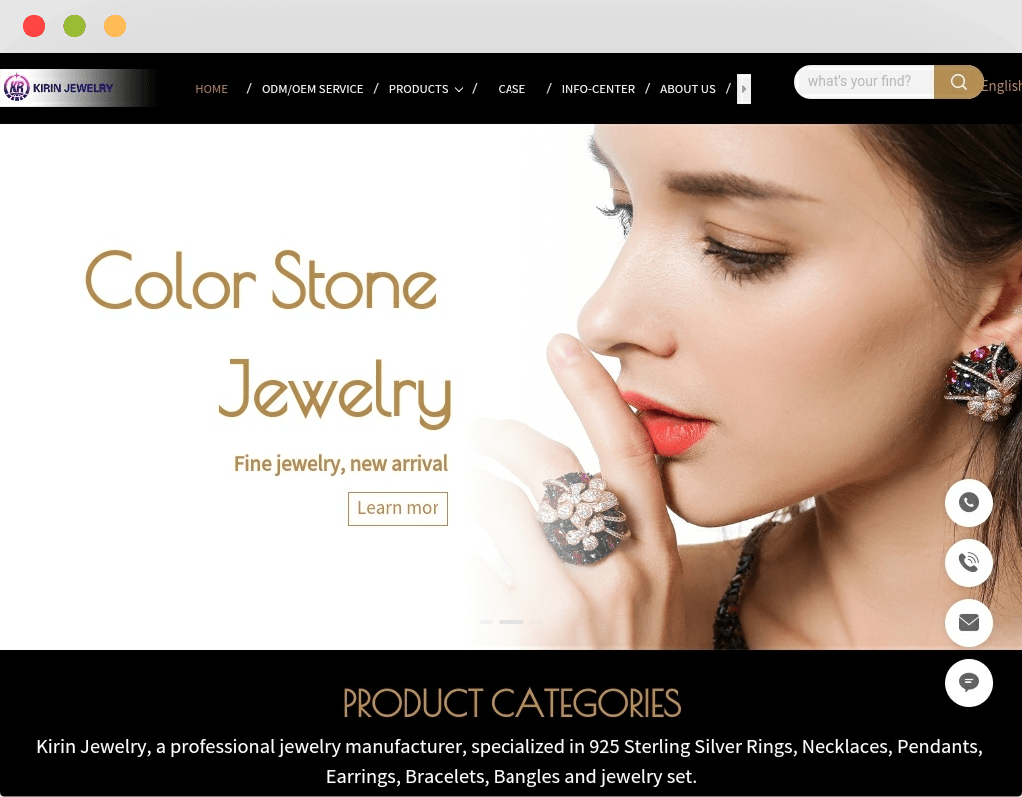 Kirin Jewelry is based in Zhuahai, Guangdong. It is a manufacturer and wholesaler of 925 silver and brass jewelry.
Evidently, working with Kirin Jewelry could make it easy for you to appeal to a wider and more diverse target market. The firm provides a variety of jewelry options that not only cater to different tastes but also different budgets.
The catalog of product samples includes:
Different types of ornaments– earrings, necklaces, pendants, bracelets, bangles, and brooches.
Different types of stones– semi-precious gemstones, cubic zirconia, and synthetic stones.
Different finish options– fine silver finishes as well as, rhodium, black rhodium, rose gold, yellow gold plating.
The best part is, Kirin provides both white labeling and private labeling services. You can, therefore, order jewelry design and material combinations that you know would be hot-sellers in your market. This, of course, should be guided by market research.
All products are sold at wholesale rates but due to the variance in design, MOQ is determined based on your order.
Wing Wo Hing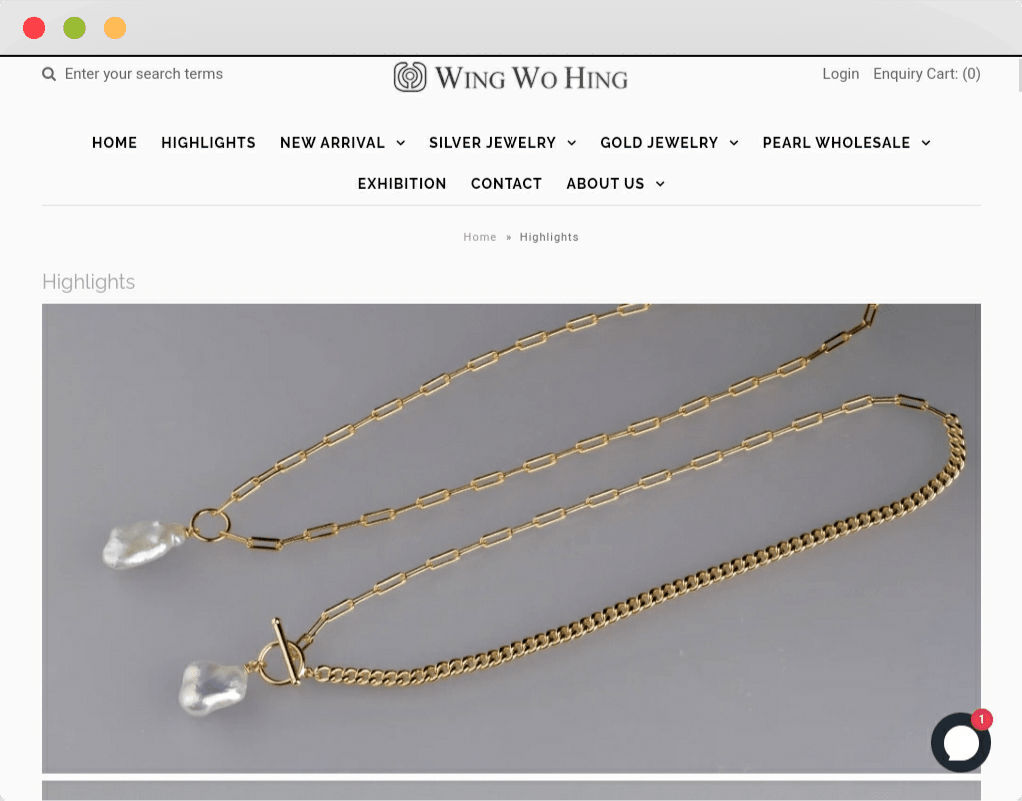 Wing Wo Hing has been manufacturing pearl jewelry for 40 years now. Its main premises is located in Guangzhou but it also has 2 showrooms in Kowloon, Hong Kong.
If China is a trip too far for you, you can stop by the Wing Wo Hing booth during the annual jewelry trade fairs in Venezia, Italy, and Vegas, USA.
The jewelry from Wing Wo Hing includes necklaces, earrings, rings, bangles, and bracelets. The pearls are either strung together on their own, mounted on 925 sterling silver, or paired with 9k, 10k, 14k, or 18k gold.
Wing Wo Hing offers Freshwater pearls, Tahiti, South Sea, and Akoya pearls. They all differ in quality and thus the specific type of pearl used to make your selected jewelry will depend on your budget and the quality of products you would like to provide to your customers.
You can buy wholesale jewelry from Wing Wo Hing through the company's online store. All you have to do is register on their platform to gain access to the full catalog and begin adding items to your cart.
The MOQ is 30 pieces per style. Wing Wo Hing accepts orders from stores and retailers across different countries and can also customize them to meet the quality requirements of your country.
Mass Jewelry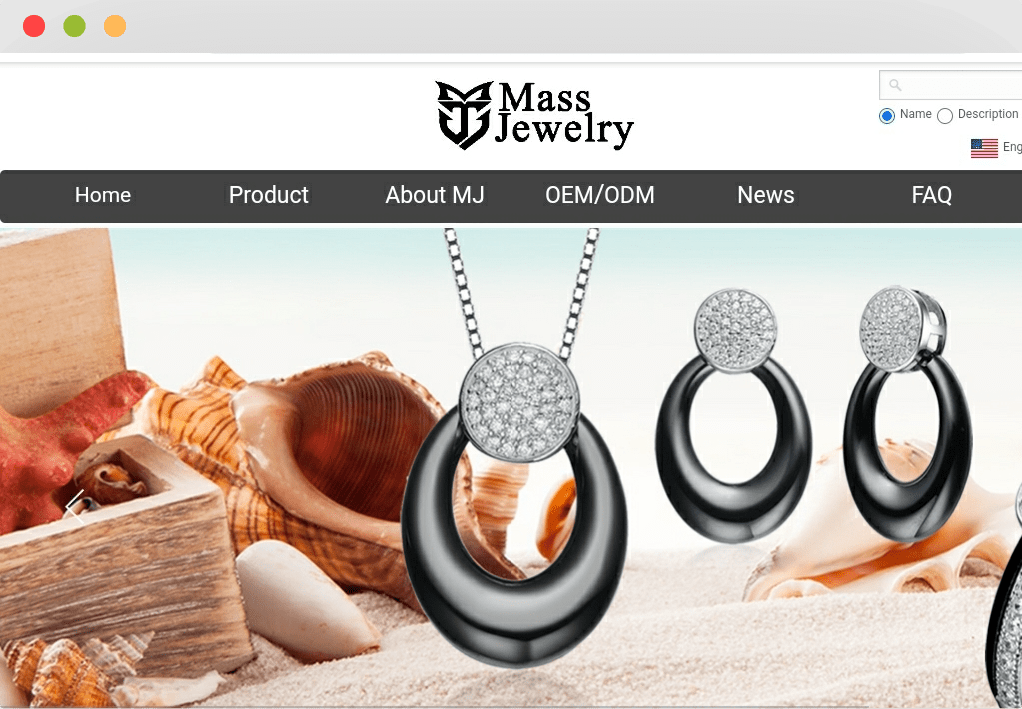 Mass Jewelry is based in Shenzhen. It manufactures jewelry made of:
Tungsten
Titanium
Stainless steel
Silver
Brass
Ceramics
The Mass Jewelry product catalog features over 5,000 designs of rings, necklaces, bracelets, and other kinds of jewelry for men and women. However, these are only samples.
If you prefer white label jewelry, you can choose a sample design and request branding or minor customizations to make it your own.
On the other hand, if you would like to go the private label route, you can come up with an entirely novel concept and share it with the Mass Jewelry R&D team.
This supplier also offers:
Branded packaging on request
Custom jewelry renders and HD images that are ideal for advertising
Intellectual property protection covered by an NDA
Small orders for product testing and evaluation
Henry Jewellery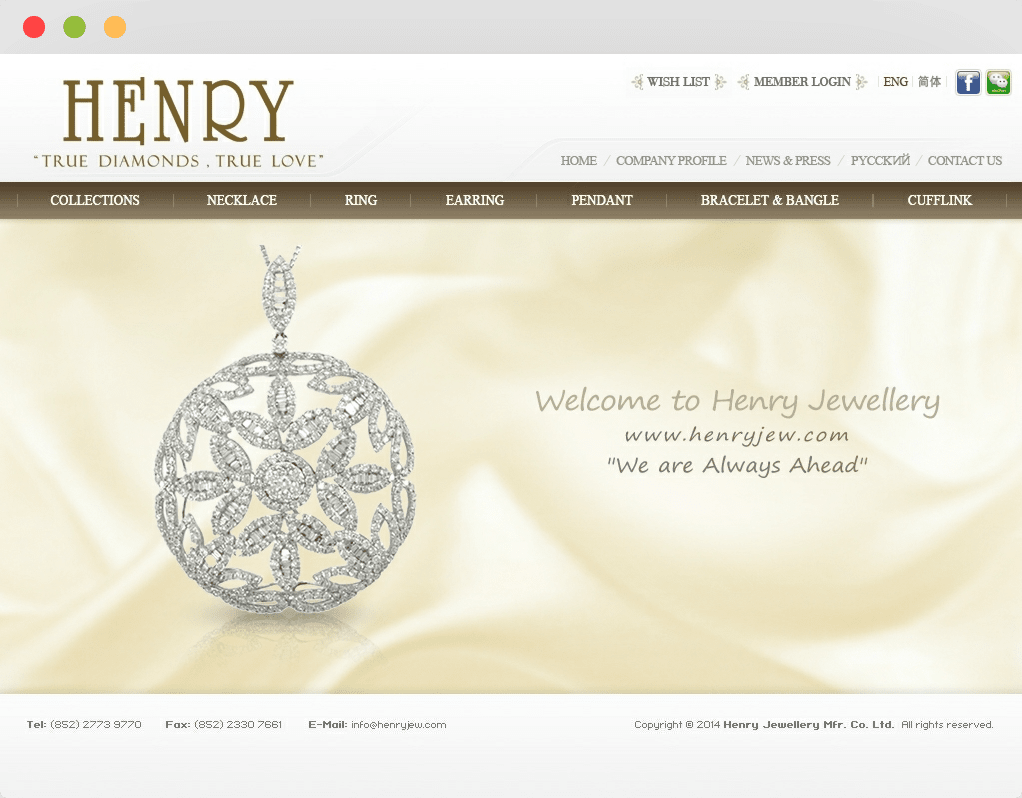 Henry Jewellery has over 35 years of experience in jewelry design and production. It is one of few high-end manufacturers that offer all-in-one services under one roof. Their services include:
Original Design Manufacturing (ODM)– you get to choose any of the sample designs from the Henry Jewellery catalog and have them branded or customized to fit your brand's style.
Original Concept Manufacturing– it entails you presenting a unique design concept to the firm which the design team can perfect and produce a sample for your approval.
Own Brand Manufacturing(OBM)– Henry Jewellery manufactures 5 brands of its own jewelry and distributes it wholesale.
The jewelry pieces from this company include rings, earrings, pendants, bracelets, bangles, and cufflinks. Your material options would comprise 8k to 18k gold, platinum 950, and silver. They can be set with either pearl, semi-precious gemstones, or diamonds.
Henry Jewellery partners with and ships products to retailers and brands in China, the USA, Europe, Africa, and Australia.
Beyaly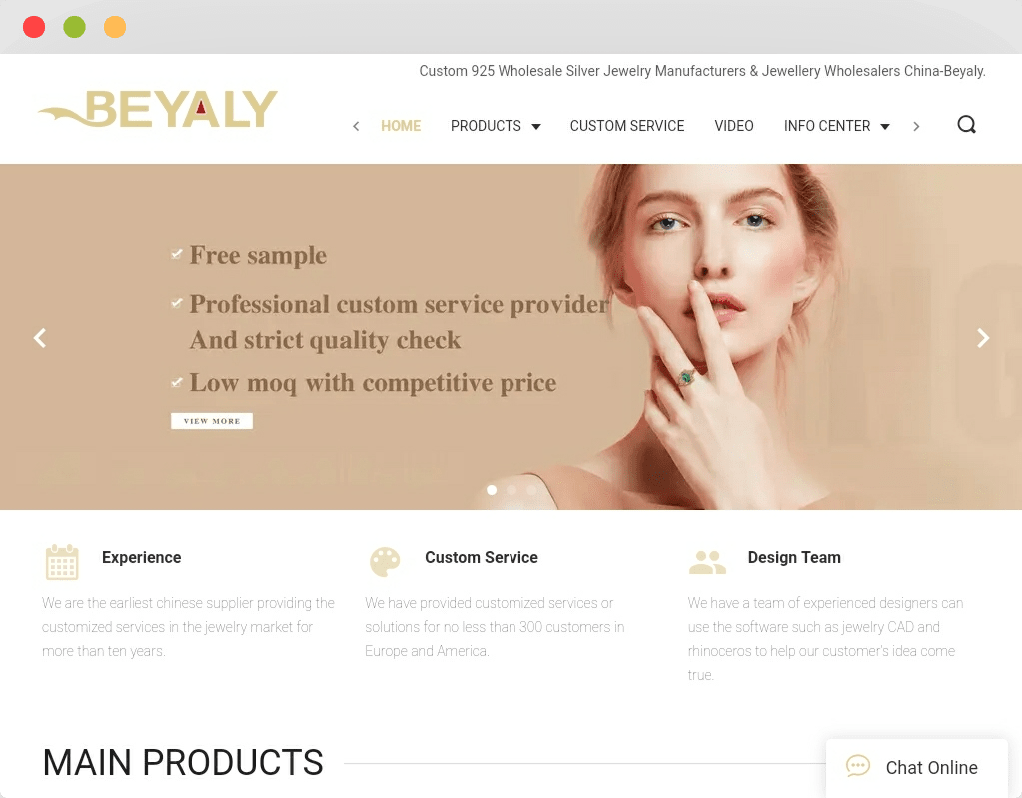 Beyaly Jewelry is based in Shenzhen and has been a jewelry wholesaler and manufacturer since 2008. It offers jewelry designs that you can order right off the company catalog and it also accepts and fulfills custom orders.
This would, therefore, be a good supplier to consider whether you are running a start-up or are looking to scale your business by growing your brand.
The fashion jewelry made by this firm mainly consists of pieces made of 925 sterling silver, brass, or stainless steel, paired with various semi-precious and synthetic gemstones. It includes charms, pendants, jewelry sets, among other ornaments.
Silver and brass pieces have an MOQ of 50 pieces while stainless steel jewelry has an MOQ of 100 pieces. Estimated lead times are about 25 to 35 business days and shipping is done via express couriers such as UPS, FedEx, or DHL Express.
AYPearl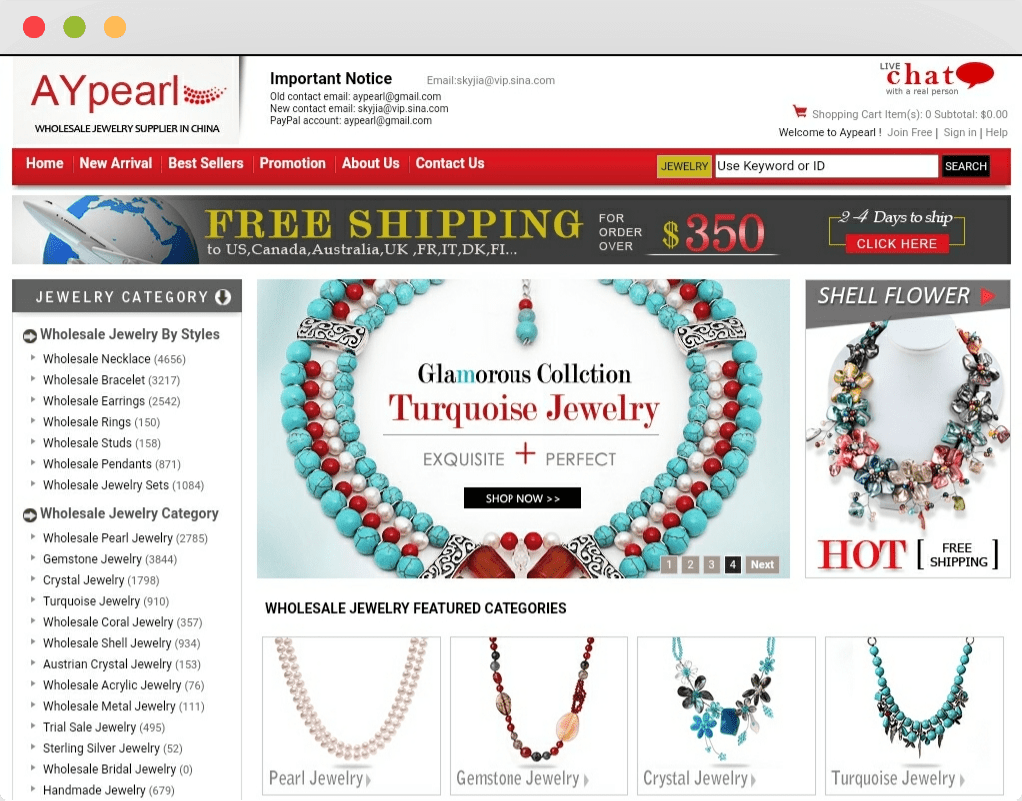 Contrary to what its name suggests, AYPearl does not only sell pearl jewelry. It manufactures and distributes an extensive selection of jewelry made of pearls, gemstones, crystals, shells, silver, and acrylics, in wholesale.
It would be a top supplier choice if you would like to make your jewelry store a one-stop-shop for shoppers of all preferences.
AYPearl accepts wholesale orders via its online store. Once you set up an account, you can:
Select jewelry items
Assess the different MOQs and wholesale prices offered
Enter your preferred quantity and the items to your cart
All wholesale orders are subject to a minimum order sum of $100. If you are apprehensive about making a big order for a first-time purchase, you can reach out to the customer service team and ask to make a sample order.
Given that most items are held in stock, your order would be processed and dispatched immediately after payment; this excludes custom orders. AYPearl ships to over 220 countries worldwide.
Silverbene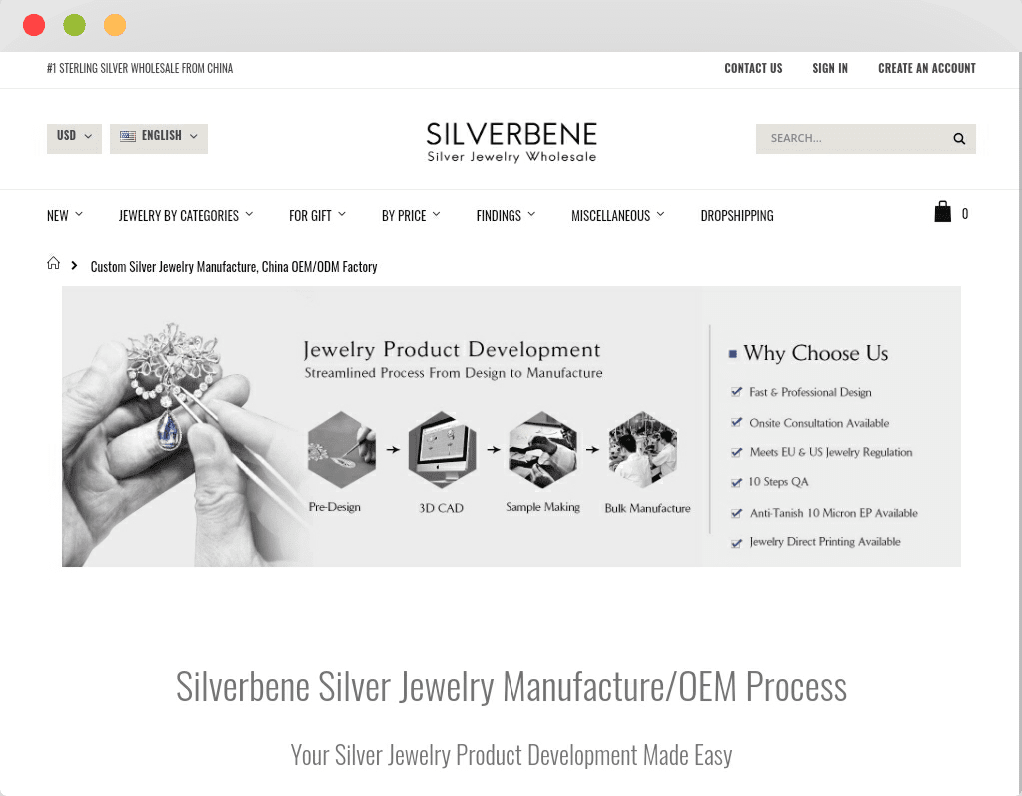 Silverbene manufactures all its jewelry using 925 sterling silver with a purity rating of over 92%. It does not use any alloys and only embellishes its pieces using gold or rhodium plating and gemstones or pearls.
The product catalog includes rings, necklaces, brooches, anklets, and a broad selection of men's jewelry. You are free to order them in any of the designs showcased on the Silverbene online store.
As a wholesale buyer, you would be entitled to factory-rate discounted prices but you would have to meet the 10 pieces per item MOQ restriction.
You can also request:
Dropshipping services- there is no MOQ restriction for this kind of purchase but you would buy jewelry at a higher price than that offered to wholesale buyers.
Custom bulk manufacturing– this is ideal for private and white labeling. You would have to meet the MOQ of 50 pieces per item.
Silverbene has a 60-day return and refund policy. It allows you to ship back any products that you are not content with upon delivery.
Name Jewelry (NJ)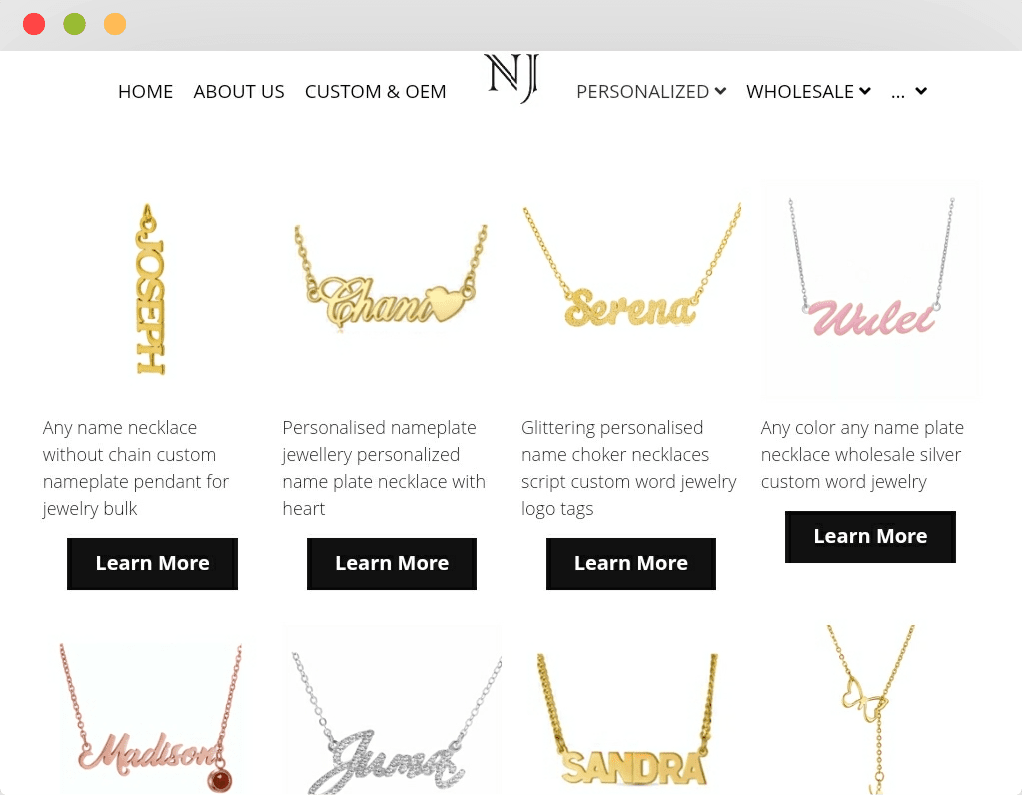 Personalized jewelry is highly popular among gift shoppers and shoppers that just like pieces that have some sentimental value.
If this sounds like a target market you would like to explore, then Name Jewelry could be a great fit for you. They produce bespoke jewelry carved into different names or decorated with other custom touches.
On the upside, working with NJ would not restrict you to personalized pieces. The firm also manufactures and keeps in stock different designs of rings, necklaces, bracelets, and earrings that you can order wholesale.
Better yet, you are allowed to place a mixed order comprising custom and in-stock items.
For personalized name jewelry, the MOQ is 5 pieces per design and 10 pieces per order while that of in-stock items is 10 pieces per item and 50 pieces per order. The MOQ for custom designs is negotiable.
NJ ships worldwide via ePacket, DHL, TNT, FedEx, and EMS and also provides tracking numbers. Branded gift box packaging can be facilitated upon request but at an extra cost.
Joacii Jewelry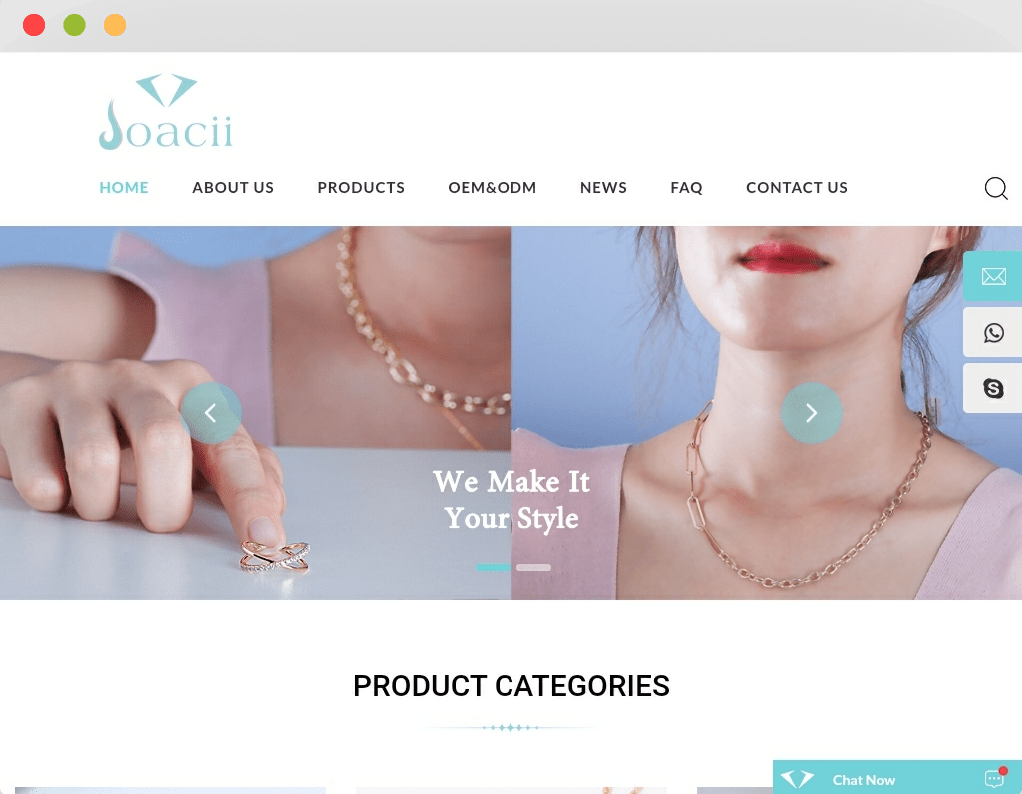 Joacii Jewelry has over 20 years of experience in jewelry design and production. The company factory is situated in Guangzhou and is operationally supported by a sales center in Xiamen in Hujian.
This China jewelry wholesale manufacturer's core area of expertise is high-quality jewelry made of 100% K gold or sterling silver. Most of its designs are also paired with diamonds, gemstones, pearls, or beads.
A quick look at the Joacii product catalog introduces you to its artful and elegant designs of bracelets, rings, pendants, and jewelry sets. You can order any of them or opt for original design customizations.
Joacii has a production capacity of about 10,000 units per month. The MOQ for most off-the-shelf jewelry items is 10 units. If you choose to go with a custom design, the MOQ will be negotiated on an order-by-order basis.
J and CW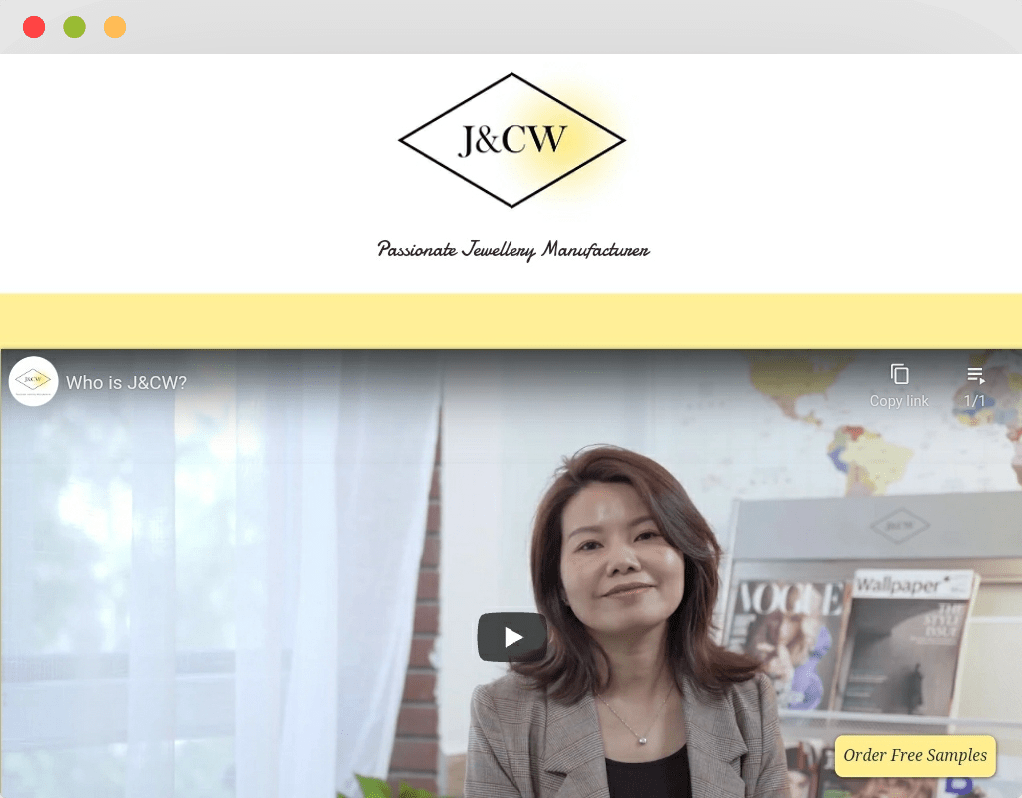 At J and CW, every client's jewelry brand is a unique project. The company, through its R&D team, works with you to bring whatever vision you have to reality. Suffice to say, this would be a top pick if you are looking to start a line of private label jewelry.
In keeping with their original design policies, J and CW allows you to choose:
A base metal of either silver, brass, or stainless steel
A plating color; 14k/18k gold, rose gold, or rhodium
Stones, beads, or pearls to adorn or encrust the jewelry piece with (depending on the design)
After you hand in your preferred designs, the company will develop samples for you to approve. If you are content, you can negotiate MOQ and other terms and proceed to confirm your order.
The typical lead time is 3 to 4 weeks. All complete pieces are then taken through rigorous quality controls before being shipped to you.
Chingying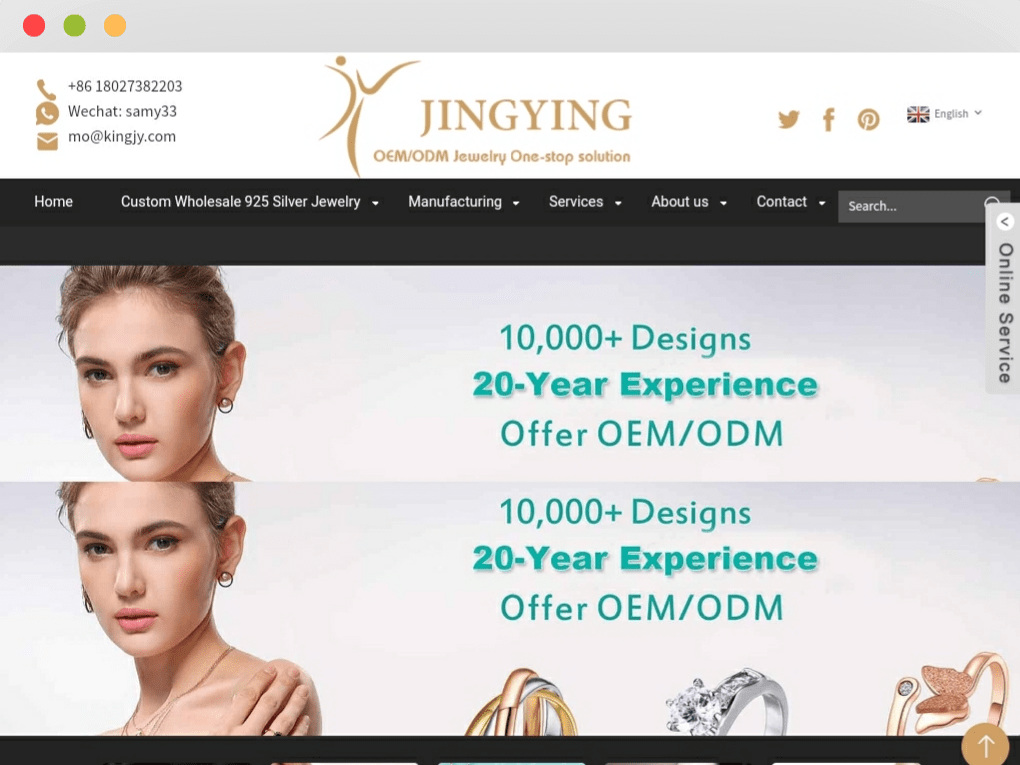 Private label jewelry can be an expensive pursuit. More so if you would like to maintain high quality standards.
However, Chingying offers a great alternative if you would like to venture into private labeling on an average budget. It manufactures and sells high-quality fashion jewelry wholesale.
All Chingying jewelry items are made of 925 silver which is more durable and skin-friendly than cheaper metal alloys. It is, nonetheless, much more affordable than K gold and other precious metals.
Chingying provides numerous sample designs on its catalog that you can use for inspiration as you develop your own concepts. Each design is prototyped, sampled using 3D technology, produced and quality tested using automated systems to ensure top-notch accuracy.
Delleb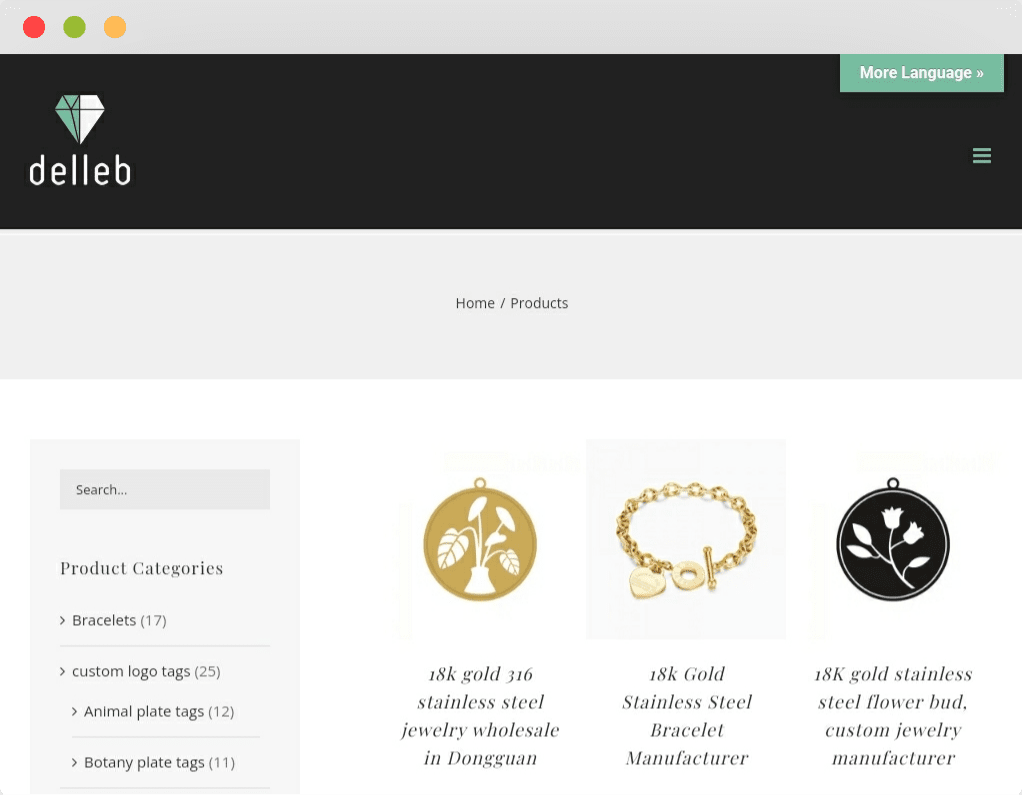 Delleb equally offers premium quality but affordable white label and private label fashion jewelry. Its factory in Dongguan churns out thousands of jewelry pieces made of high-grade 316L stainless steel for numerous brands across the world.
The jewelry options include dainty bracelets, brackets, animal and plant-themed pendants, earrings, rings among many other items.
Most of the sample designs additionally showcase Debell's capacity to deliver intricate artwork, different colors of plating, and the installation of different stones or pearls.
Most product MOQs begin at 100 pieces but may vary depending on design preferences and materials. The estimated turnaround time is 3 to 4 weeks.
CJ Jewelry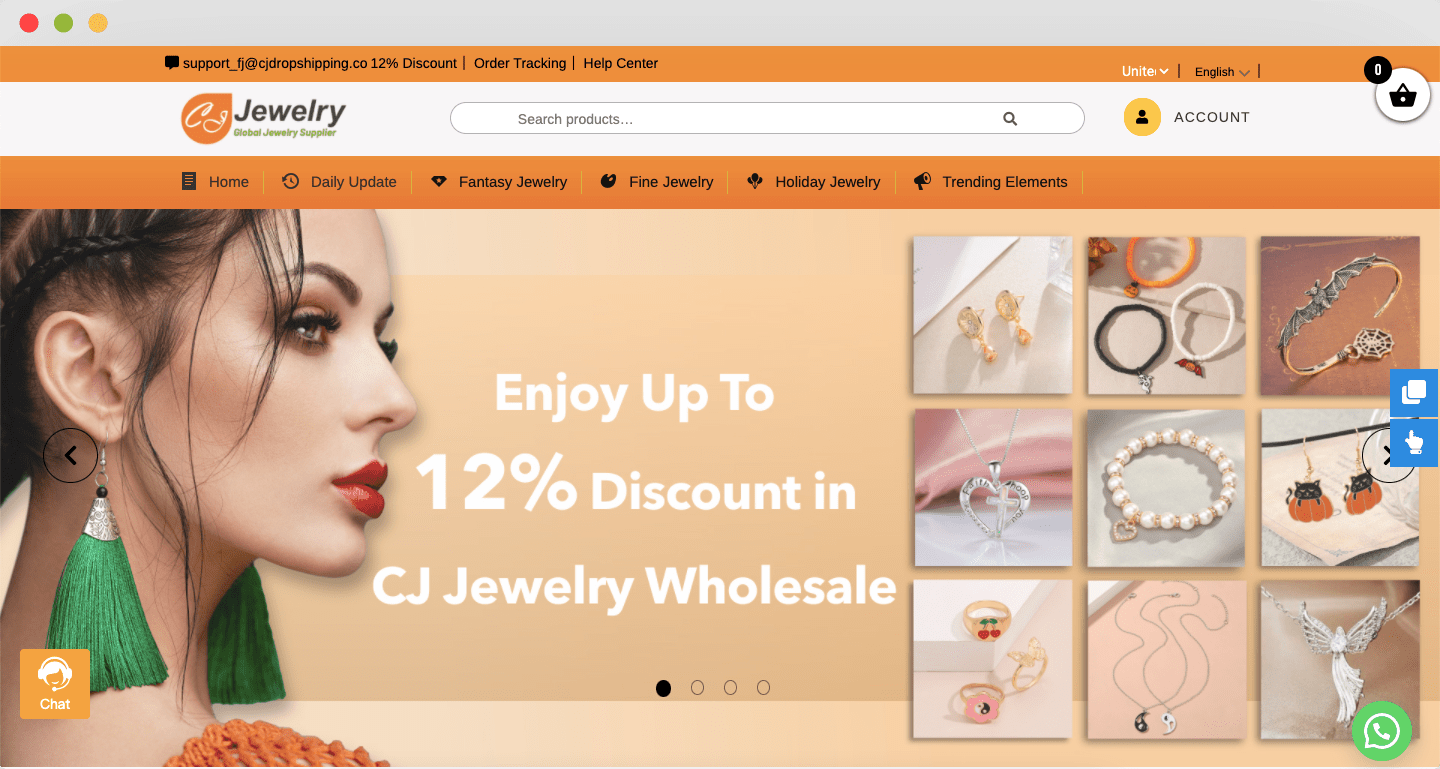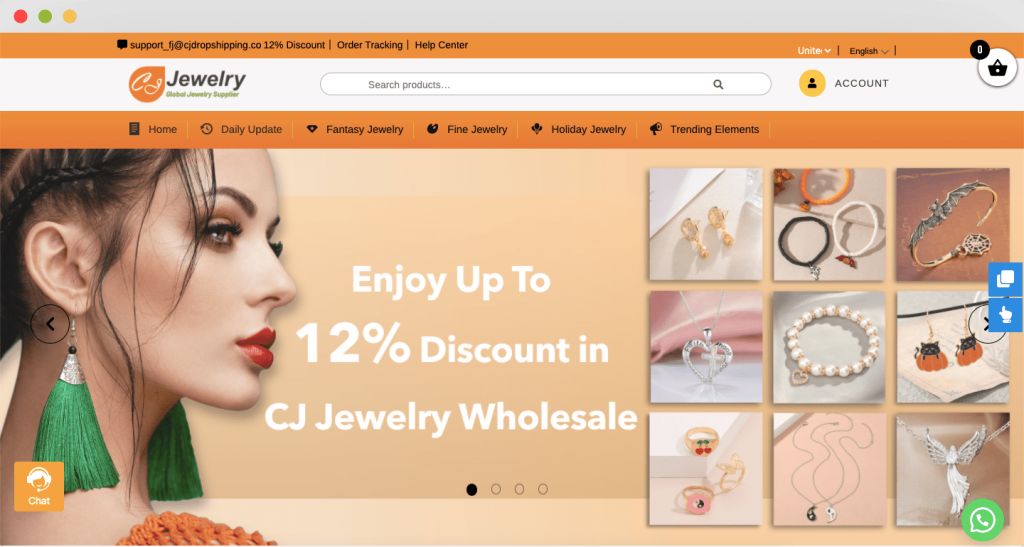 CJ Jewelry is a global jewelry supplier based in Zhejiang, China. Established in 2015, the company strives to offer quality jewelry and accessories all over the globe.
You can find the categories of jewelry that CJ Jewelry offers on the upper portion of their website. They include:
Daily update of trending products and super deals
Fantasy jewelry
Fine jewelry
Seasonal jewelry
Trending jewelry elements
But if you have a particular product in mind, you can search for it through their search bar conveniently located right above the jewelry categories.
You can easily navigate around their website as it is beginner-friendly and well-curated. Plus, CJ Jewelry regularly offers discounts and deals and it's something you will look forward to so you can keep a higher profit margin.
They may be relatively young in the jewelry niche, but CJ Jewelry is definitely a supplier that one must pick for their trendy and readily available items, reasonable prices, strict quality control, and 24/7 customer service.
And for those who wish to return their items or ask for a refund, CJ Jewelry has an established return and refund policy. So, as long as your case falls under the rules, they will process your request right away.
FAQs About Sourcing Wholesale Jewelry in China
What Qualities Should I Consider When Choosing a China Jewelry Wholesale Manufacturer?
Factors such as the quality of products that a manufacturer offers, their promptness to respond to queries, and the scope of products that they offer, can quickly tell you whether they are worth considering.
However, beyond these first-impression characteristics, it would be prudent to evaluate:
The materials they use- the recommended standard is that jewelry should be free of nickel, lead, and cadmium. Further, consider your customer's purchasing power when choosing between safer materials like gold, silver, brass, or stainless steel.
Certifications- it is one thing for a manufacturer to claim that they use 925 sterling silver or real solid gold but it is another for them to back it up with test reports. It is imperative to always request verification documents and do your due diligence.
Product scope- how much can your potential manufacturer produce? What kind of products can they make? Do they only offer original design manufacturing or do they also offer in-stock designs for beginners?
Tip: The broader the scope the more options you will have to grow your venture.
Wholesale terms- the price and minimum order quantities a manufacturer offers need to be profit-friendly and within your budget range.
Services- consider their scope of shipping and whether they offer other services such as warehousing, special packaging, or jewelry dropshipping if you reckon you will need them.
Is It Safe to Buy China Wholesale Jewelry Online?
The answer here varies from one situation to the next. For example, if you are buying from well-established platforms like Alibaba and AliExpress, your purchase will likely go well if you:
Follow the customer safety rules recommended by the platform
Prioritize wholesalers based on their rankings
Look out for negative reviews and feedback from other customers before you make your decision
On the other hand, if you are buying from a company's online store, you may have to do more due diligence. Make an effort to:
Vet the company and ask for documents to prove their authenticity.
Ensure that their online store has the right safety encryptions before you enter any sensitive data like your credit card or bank account details.
Look up the company online and go through any reviews or ratings provided by other customers. Social media as well as merchant and dropshipping forums can be great tools for such research.
Inquire from the company what avenues of redress or guarantees they offer just in case your order is not fulfilled or the products do not meet the expected standard.
Begin with a small order to minimize your losses just in case the online merchant is not genuine or their products are substandard.
What Are the Benefits of Sourcing Bulk Wholesale Jewelry from China?
Compared to other destinations, China offers better:
Jewelry prices– most factories enjoy economies of scale and broad supply markets. As such, they are able to offer very fair wholesale prices.
Variety- while this list only highlights a few top jewelry suppliers and manufacturers, Guangzhou and Yiwu are home to hundreds of them. Whatever kind of jewelry you need is either already available in the market or can be custom-made for you.
Production capabilities- jewelry manufacturers in China have invested heavily in well-equipped factories. Subsequently, they can produce bulk quantities within short turnaround times and keep your supply chain running effortlessly.
Shipping networks – most suppliers from other countries ship within limited radiuses due to a lack of well-established global shipping networks. Meanwhile, China has countless couriers, ports, and transport systems that can ship cargo almost anywhere.
Wrapping It Up
Most people wear at least one piece of jewelry in a day. It could be for fashion, utility, or even just for vanity. The secret is to learn what style of pieces would appeal to their fancy and make them available in your store.
Keep in mind as well that jewelry, no matter its value, sells based on the allure of luxury. So, make an effort to package it in gift boxes or bags that draw the eye as much as the jewelry does.
Does all of this sound too overwhelming for your busy entrepreneur's schedule? Then we, at NicheSources, would be happy to help. We offer a comprehensive range of sourcing services that are specifically curated to lighten your load.
From finding the right wholesale jewelry supplier and negotiating MOQs, to quality control and shipping, there is hardly a need we do not cover. More importantly, we are reputable and reliable.
Request a free quote and begin your sourcing journey today.