Amazon FBA has been a wonderful business model for beginners to help them establish profitable e-commerce businesses. Although FBA is one of the most reliable business models, just getting into it without the right products may not be wise.
As starting the FBA business requires a handsome investment, beginners can't afford to buy and send the items to Amazon warehouses and keep paying for their storage without getting reasonable sales.
The key to success lies in identifying profitable items that cater to market demand and align with the ever-changing preferences of customers. This article will explore some of the best items for beginners with their demand and possible earning potential.
So, without further ado, let's jump straight into the list.
Note: We have calculated the earning potential of each product by comparing the "Best Seller" product on Amazon with its average cost on Alibaba. The earning potential is just an estimated gross figure. Real earning revenues may differ depending on various factors against each item.
Fitness Equipment
The health and fitness industry has witnessed tremendous growth in recent years with a constant demand for fitness equipment. Products like yoga mats, fitness trackers, and relaxing accessories are popular among fitness enthusiasts.
As people are getting busier than ever in their personal and professional lives, they run short of time for personal fitness. Still, the realization of personal fitness is consistently getting stronger.
That calls for beginners to tap into smart and handy personal fitness equipment and generate steady sales on Amazon FBA. Here are a few exciting product ideas that are already best-sellers on Amazon.
1. Yoga Mats
Yoga is a popular exercise for fitness enthusiasts. A yoga mat is also commonly used equipment for any other form of exercise. So, beginners can start selling yoga mats as there will be a high demand for this particular product in the future too.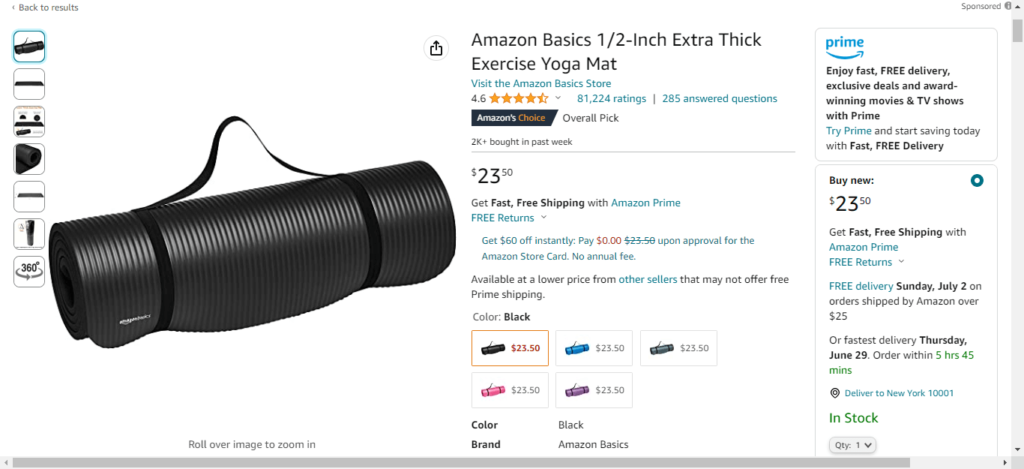 Earning Potential
As you can see in the screenshot below, you can find similar yoga mats on Alibaba for around $1 per piece. That gives you a great earning potential of around $22 per item.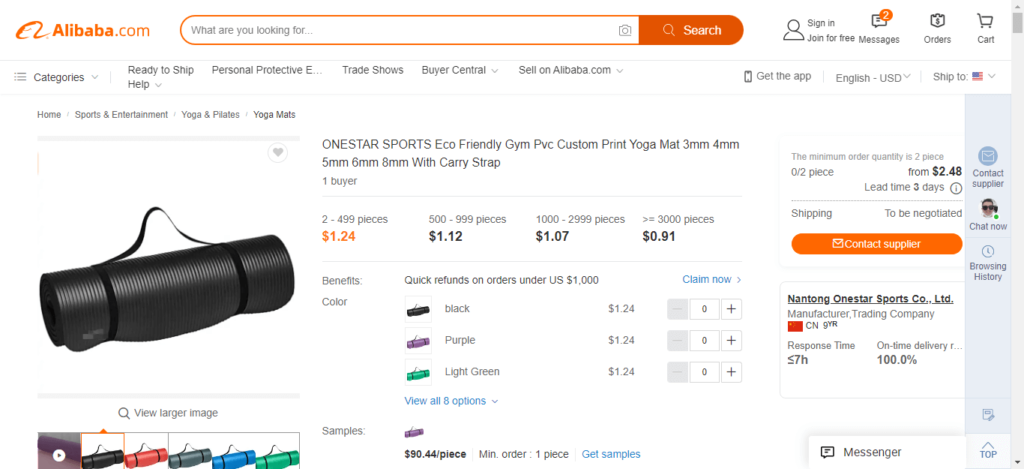 Consider sourcing a different or a better yoga mat with additional features and convince your audience with a compelling product description to get easy sales as a new FBA seller.
2. Smart Fitness Watch
We have recently witnessed a shift towards gadgets for tracing our health and fitness activities. Smart fitness watches come at the top among popular products for tracking fitness.
As a beginner on Amazon FBA, you can look for a similar watch that provides value for money. You will likely start getting sales right away.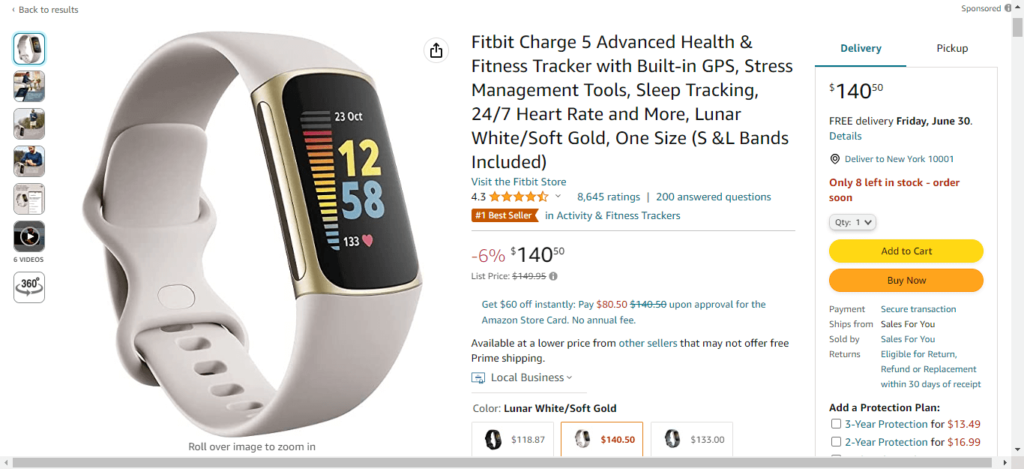 Earning Potential
You can get the same best-selling smart fitness band from Alibaba for around $60 per item. That gives you a huge earning potential of around $80 per item.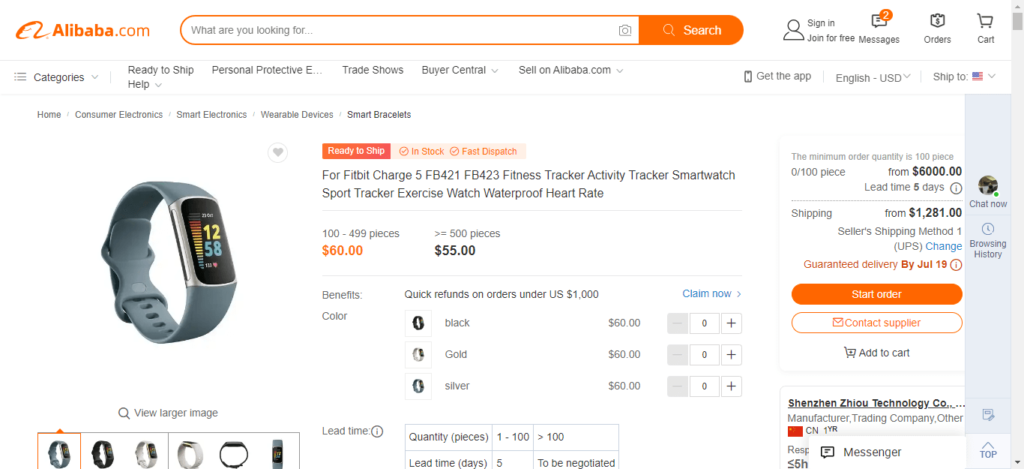 3. Neck and Shoulder Relaxer
We all get tired and a handy piece of equipment to relax our neck and shoulders would always sound to be a safe buy. That's why such relaxing equipment sells really well.
Amazon FBA beginners must consider selling such items, as they are always in huge demand.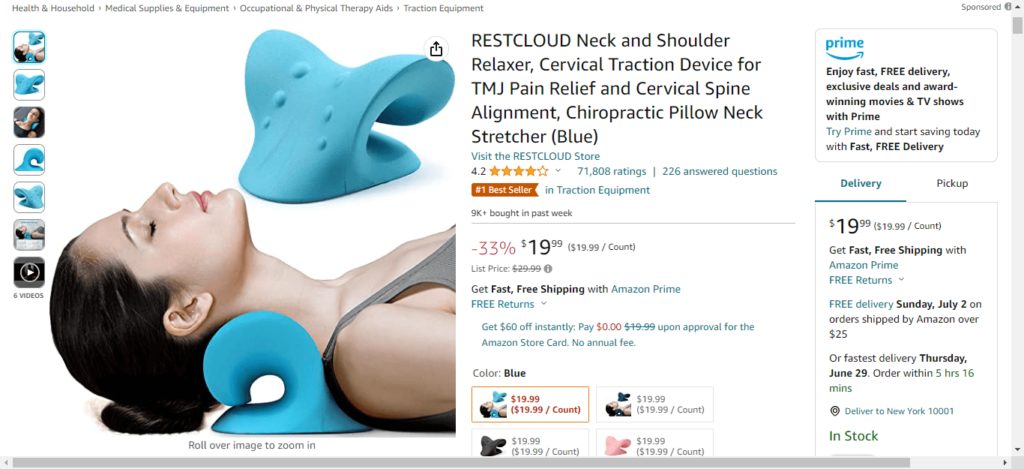 Earning Potential
You can source the same neck and shoulder relaxer from Alibaba for just around $4 per piece. The price can even get lower for an increased order quantity. This simple yet effective equipment has an earning potential of around $16 per piece.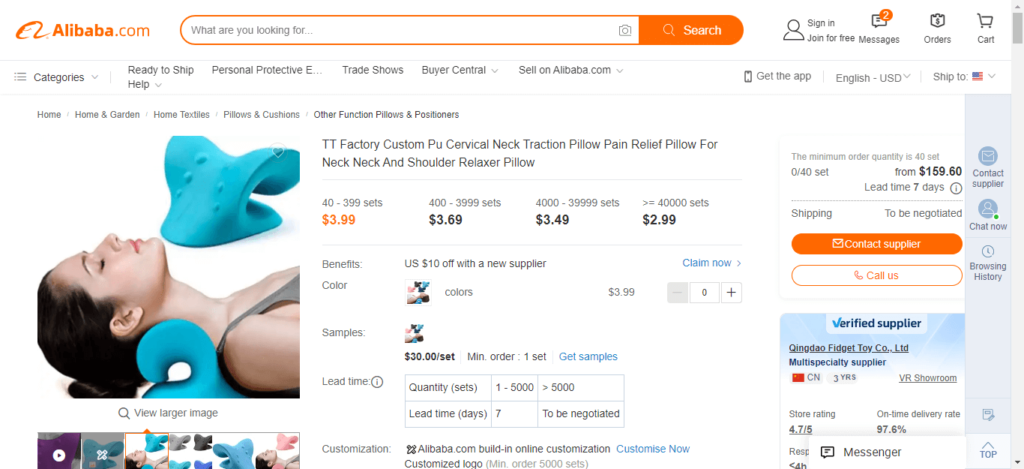 Portable Appliances
Portable appliances for personal use are a part of the latest and emerging trend that seems to stay for a long time. Consumers are going crazy for items like portable blenders, coffee makers, and steamers.
Beginners can explore this category, taking advantage of the variety of products available and the potential for higher profit margins. In addition to the fresh demand, these items mostly get repeat orders too.
So, if you provide quality home and kitchen appliances for the first time, you will likely get more orders for the same or other related products from your Amazon FBA store.
Let's discuss a few products and try to get an idea of their earning potential.
4. Juicer Blenders
Protein shakes and fresh juices go hand in hand with good health. That's why juicer blenders always get huge demand from fitness enthusiasts. Add a little innovation like portability to this item, your sales can skyrocket.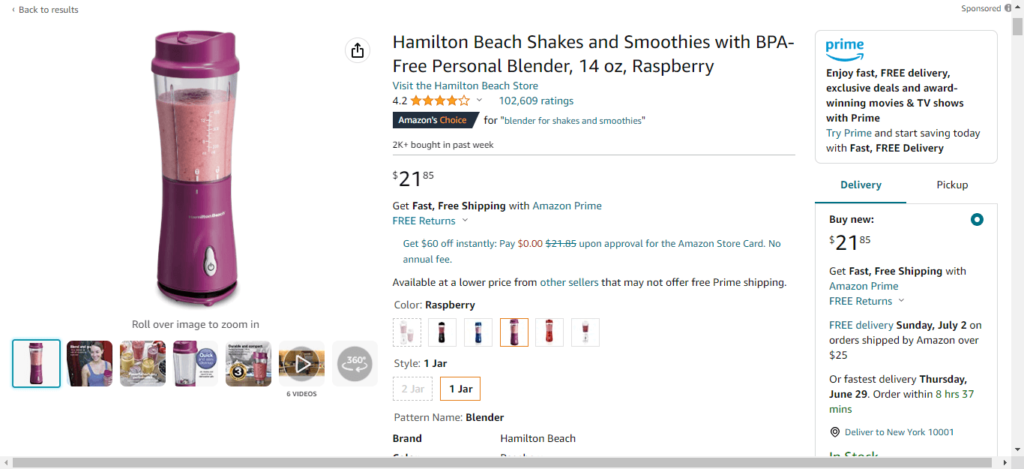 Earning Potential
As you can see from the screenshot below, you can get a similar juicer blender on Alibaba for as low as $12 per piece, giving you a decent earning potential of around $10 per item.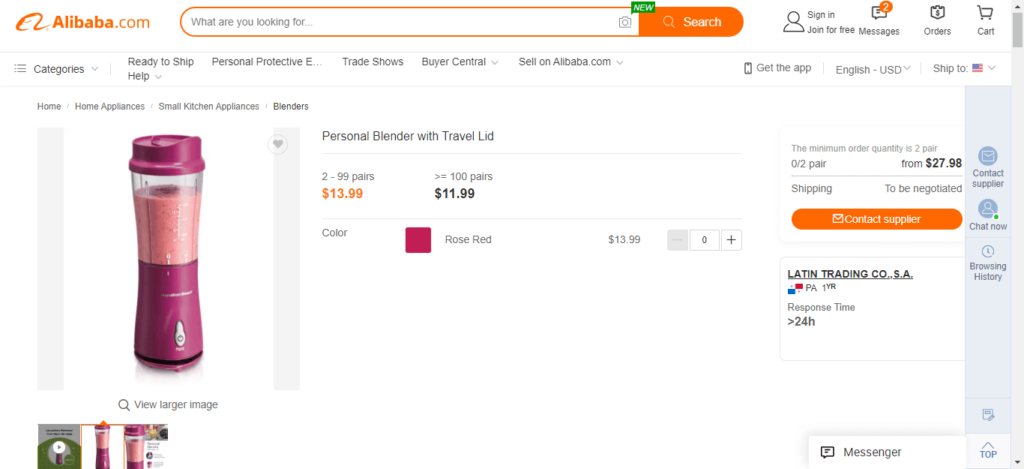 5. Coffee Maker
People are moving closer to preferring handy coffee-making devices over going out for having one from coffee shops. Beginners should hop on to this new trend by selling portable and affordable coffee makers that consumers can use in their homes and offices.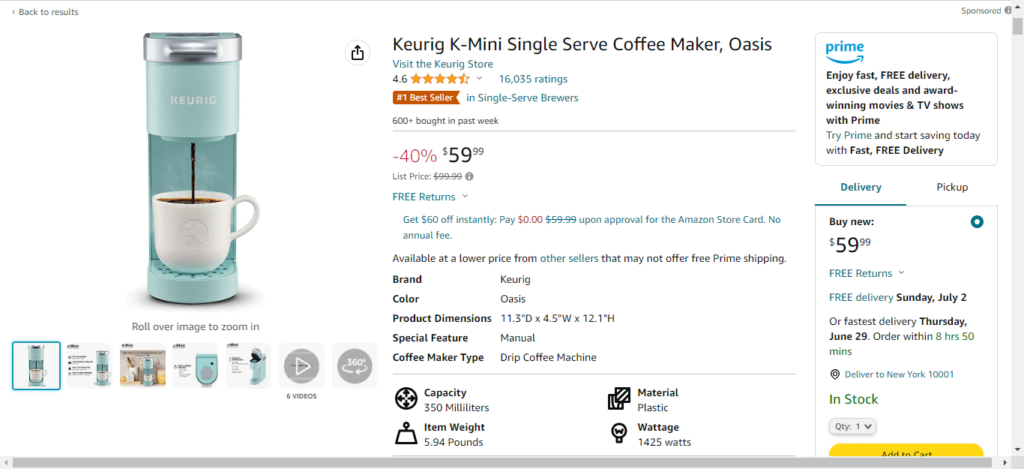 Earning Potential
You can get the same Amazon best-selling coffee maker shown in the screenshot above for just $25 per item and even less for increased order quantity at Alibaba. That makes a whopping earning potential of $35 per item on the minimum.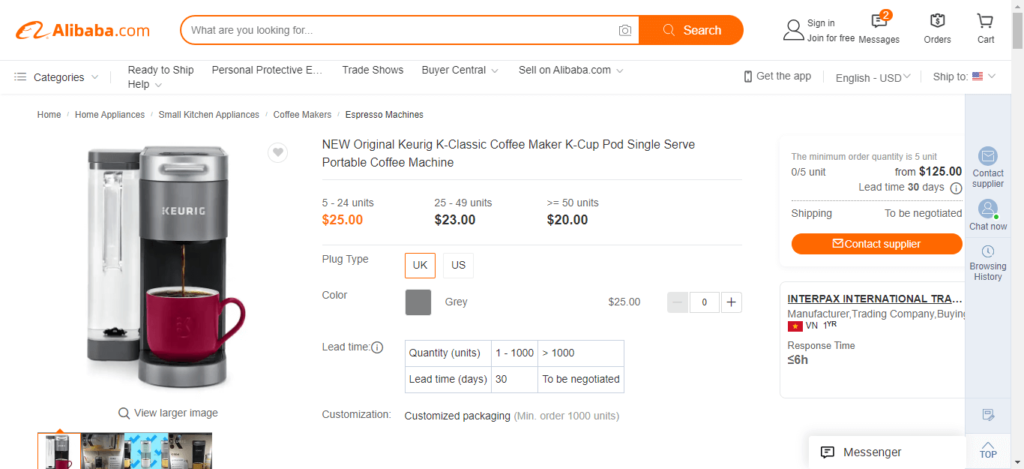 6. Portable Steamer
Who wouldn't like to have a portable steamer to iron clothes quickly and without having to do special arrangements? A good, reliable, portable steamer is preferred for busy consumers. Such products work best for home, office, and travel.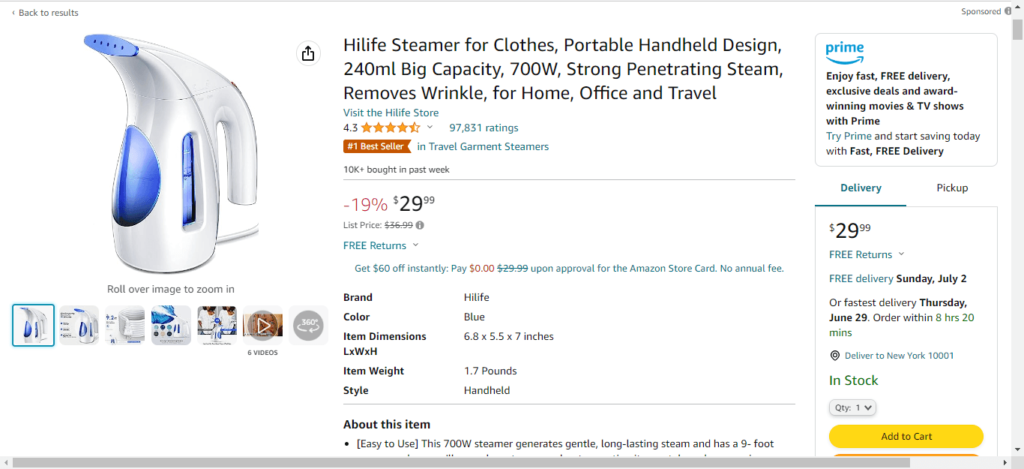 Earning Potential
If you source this item from Alibaba, you can easily earn around $14 per product by selling it on Amazon FBA.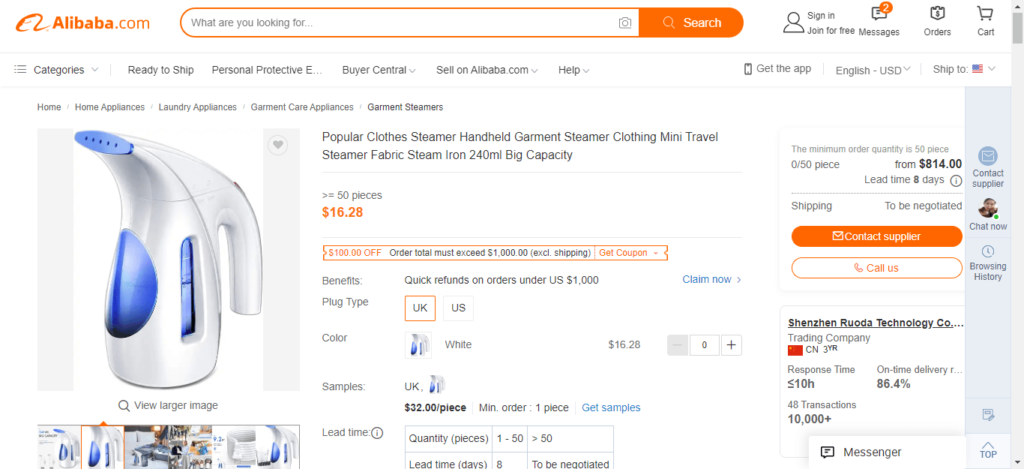 Baby Products
Baby products fall under a highly profitable product category on Amazon. The baby market offers a steady customer base as most parents prefer purchasing these products online.
Beginners can tap into the baby niche and establish a profitable business on Amazon FBA. The beauty of this niche is the ongoing introduction of innovative products that are not only helpful for babies but are equally useful for parents too.
Consider selling the following items to get into the wonderful niche of baby items.
7. Baby Monitors
Today's busy world spares less time for parents to care for their babies. This is especially true for new parents. They want to keep an eye on their babies while they perform other tasks.
A baby monitor is a huge problem-solver for such parents. If you market it well, this product will never disappoint you.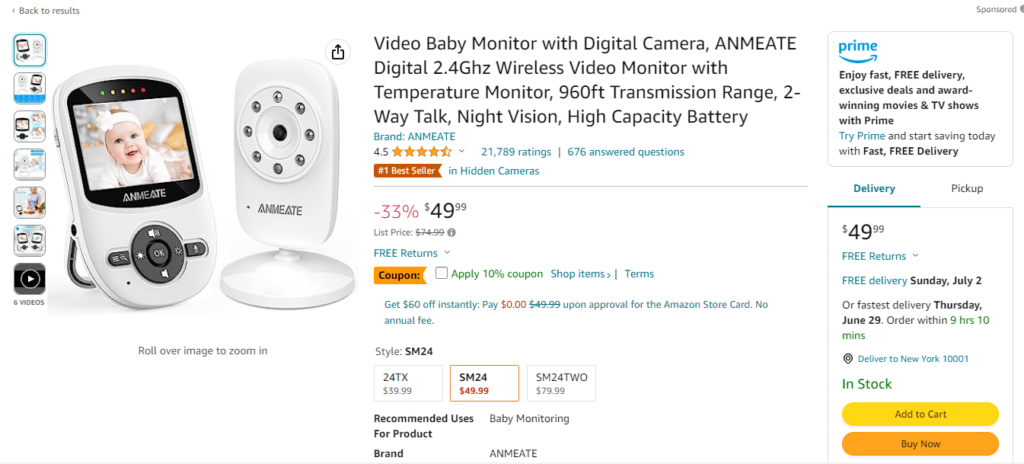 Earning Potential
You can easily get baby monitors on Alibaba for around $30 per piece, making you around $15 per item. You can set a reasonable price for this product if you private label this product with your brand name.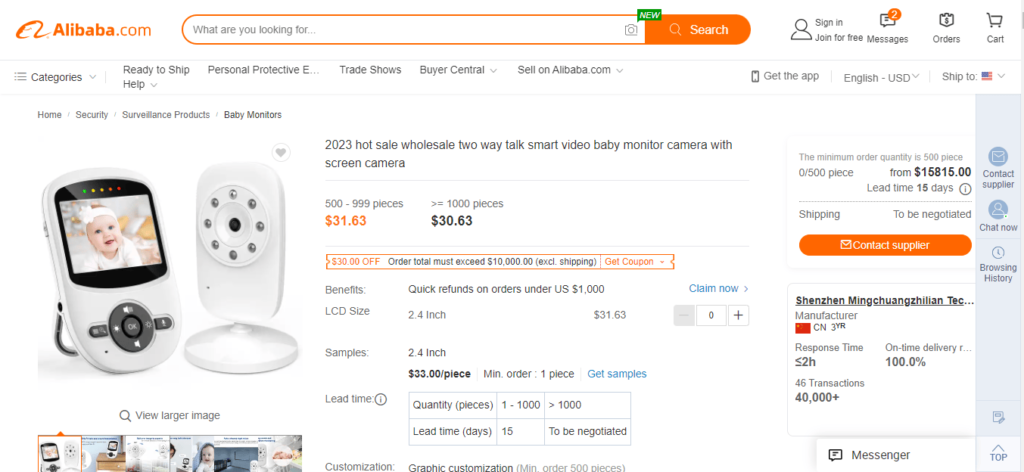 8. Baby Organizer Bag
Parents have to carry a lot of stuff for their babies. Baby organizer bags are a blessing for parents who often go through daily commutes with their babies.
These bags are also helpful in homes and during travel. Beginners should explore selling such bags to get easy sales.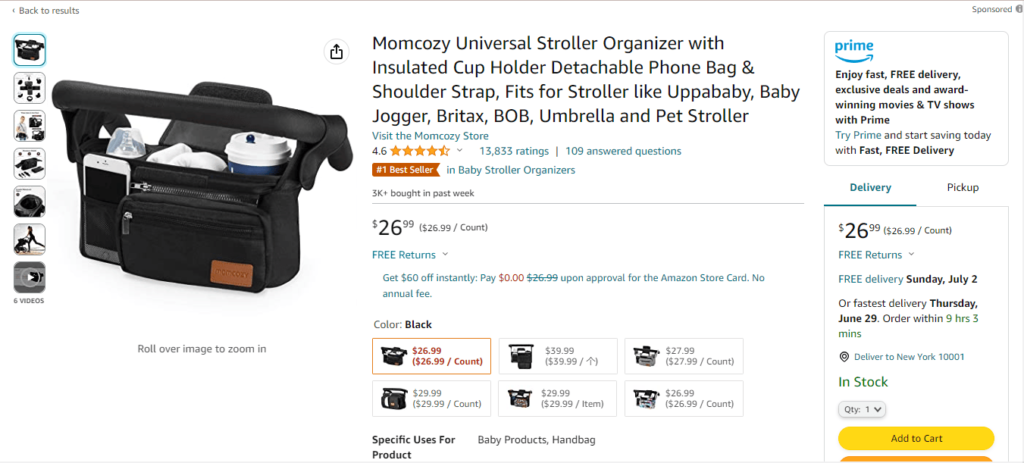 Earning Potential
You can find Amazon's best-selling baby bag on Alibaba for around $6 per item, giving you an earning potential of around $20 per product.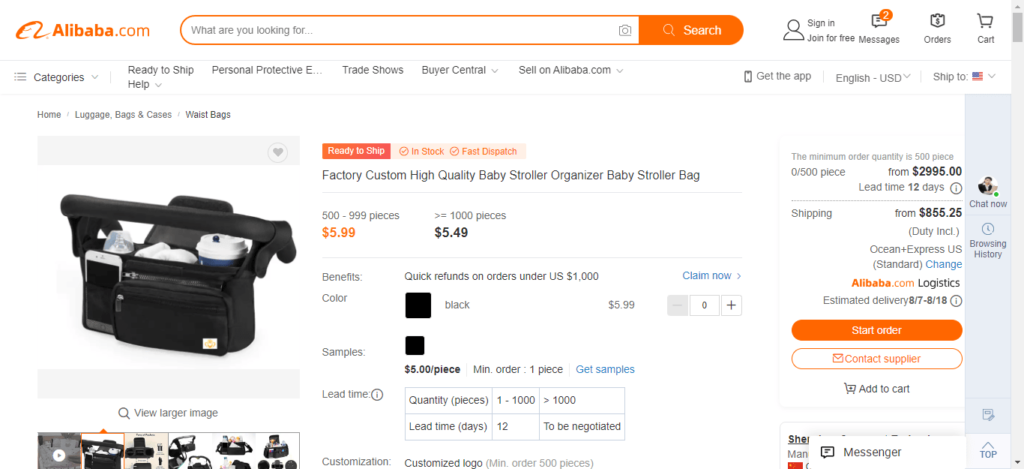 9. Baby Carriers
New parents, especially the ones with more than one baby, find it hard to carry their babies when they go out. Baby carriers provide ergonomic comfort to parents and make their movement easier while protecting their babies at the same time.
You can try selling different varieties of baby carriers, especially the ones with added pockets to carry baby stuff along. The more you facilitate parents, the more you get chances of higher sales.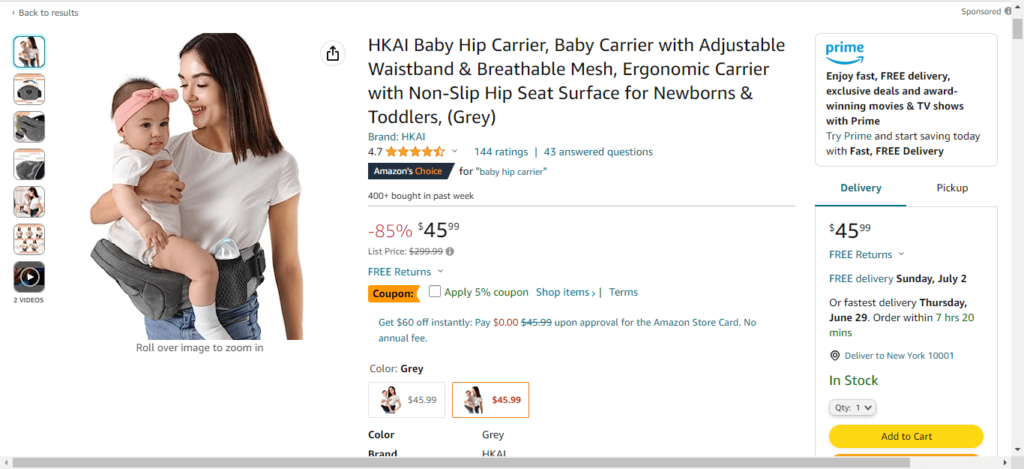 Earning Potential
As you can see in the screenshot below, you can get a quite similar baby carrier for a maximum of around $6 per piece, making you a profit margin of around $40 per item. Yes, you can get such lucrative profit margins by making simple tweaks to your products as you see in this example.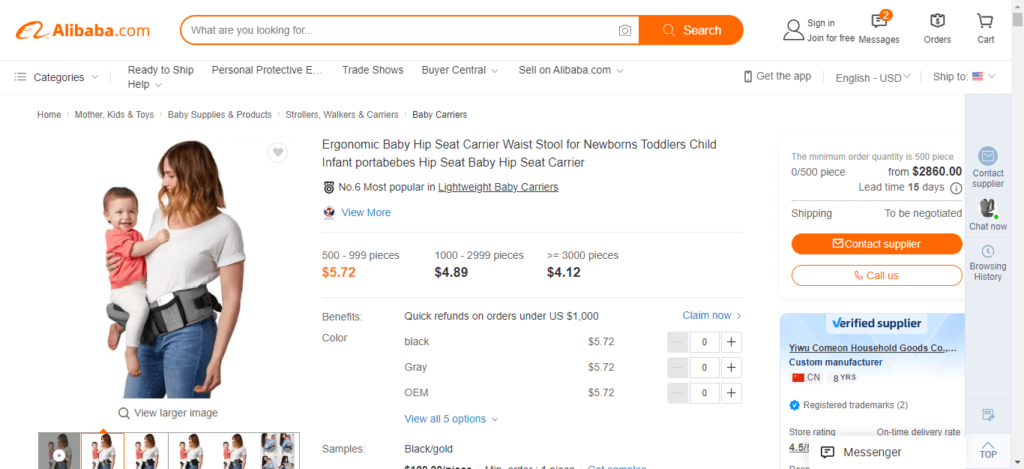 Pet Supplies
Pet owners are always on the lookout for quality products for their furry friends. From hair removers to pet beds and grooming products, the pet supplies market offers a wide range of selling opportunities.
Amazon FBA beginners can target specific niches in pet products, such as eco-friendly pet products to cater to the growing demand for specialized pet care items.
The key is to impress pet owners to the extent that they instantly buy products from your store. Here are a few examples:
10. Pet Hair Remover
Pet owners always need pet hair removers for their furry pets to keep them neat and clean. Therefore, selling pet hair removers will be a good idea for Amazon FBA beginners.
You may probably start getting a few sales right away. You can tweak your profit margins and write compelling descriptions to attract more pet owners.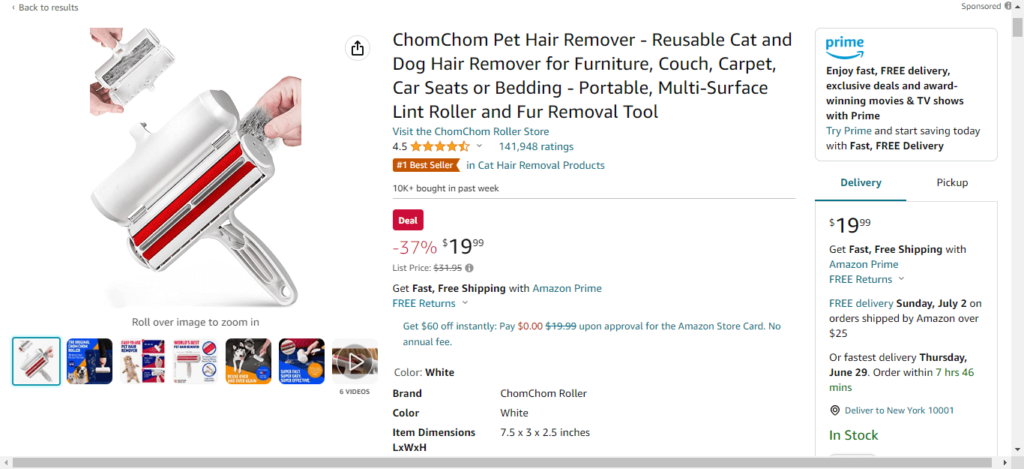 Earning Potential
Already surprised to see the earning potential? Yes, you can get the same or at least a similar pet hair remover from Alibaba for as low as $1 per product and earn around $19 per item.
You can explore a massive variety of pet hair removers and come up with a unique product to get new pet customers.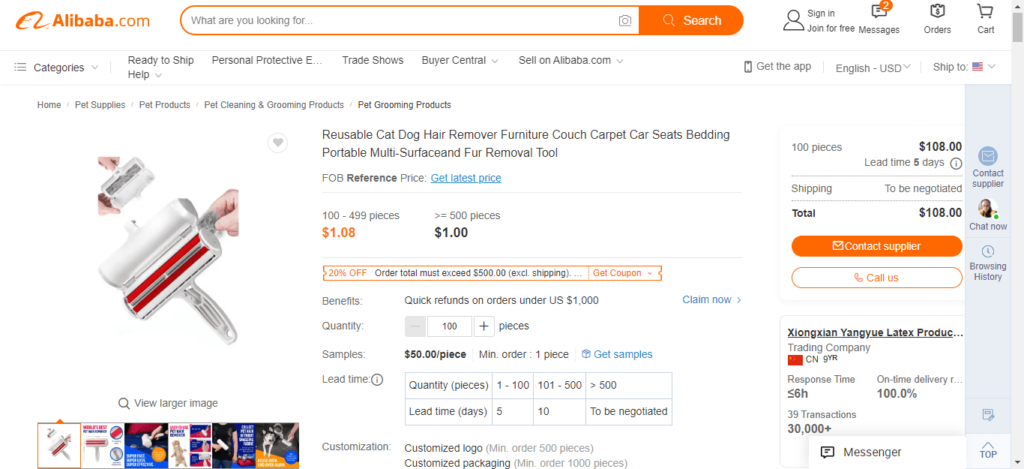 11. Artificial Grass Mat
You have to target new and old pet owners while trying to sell pet products, so you can pitch your products accordingly. This artificial grass mat is meant for new pet owners struggling to train their pets.
With an increase in the trend of keeping pets, Amazon FBA beginners have a great chance to sell similar products. If you successfully attract a few pet owners with your products, the sky will be the limit for you.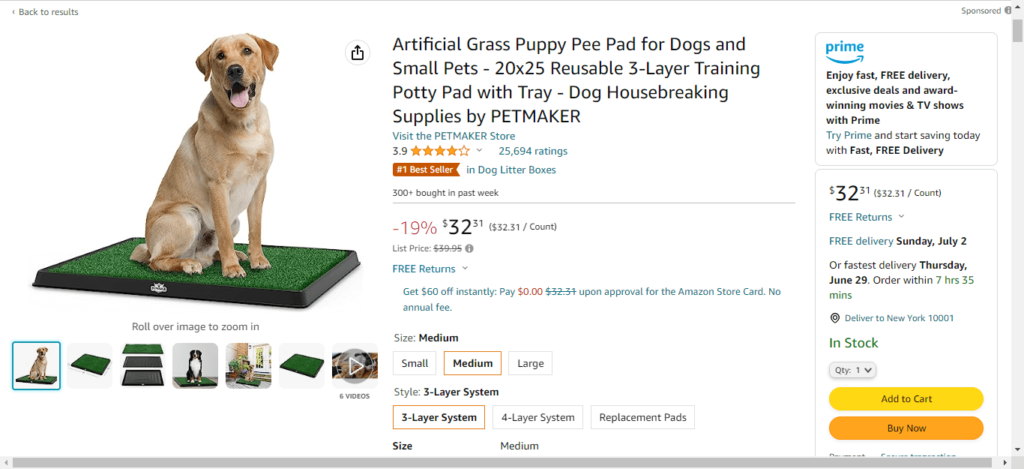 Earning Potential
You can get this simple artificial pet grass mat for as low as around $7 per item, giving you a good earning potential of around $25 per item.
12. Pet Bed
Passionate pet owners consider their pets just like the members of their families and treat them accordingly. Presenting them with a comfortable bed for their pets will easily convince them to buy from your store.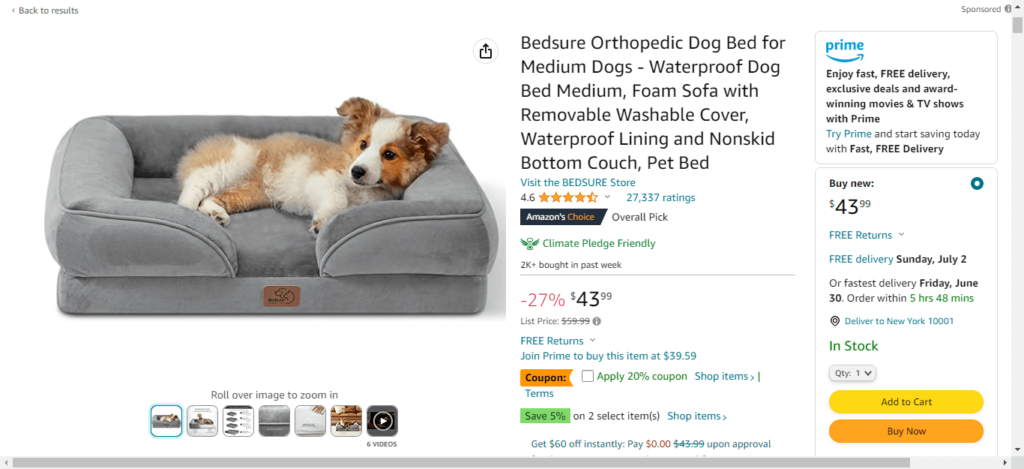 Earning Potential
You can get the same Amazon best-selling pet bed from Alibaba for as low as around $16 per item and earn $28 per item. You can earn even more if you go for private labeling such items at a later stage.
Home Decor
Where there is a home, there is the decor. Home decor is one of the most popular categories on Amazon with a consistent demand as people strive to enhance the aesthetics of their living spaces.
Items to decorate a room, kitchen, and garden easily impress customers and provide a good chance for early sales for beginners.
Let's explore some of the best-selling decor items on Amazon and learn about their earning potential.
13. Solar-Powered Turtle Statue
Everyone loves turtles. People are more inclined towards the statues of animals that are near extinction. Combining the statue with a little innovation like solar power can be a good decorative addition to a home's garden.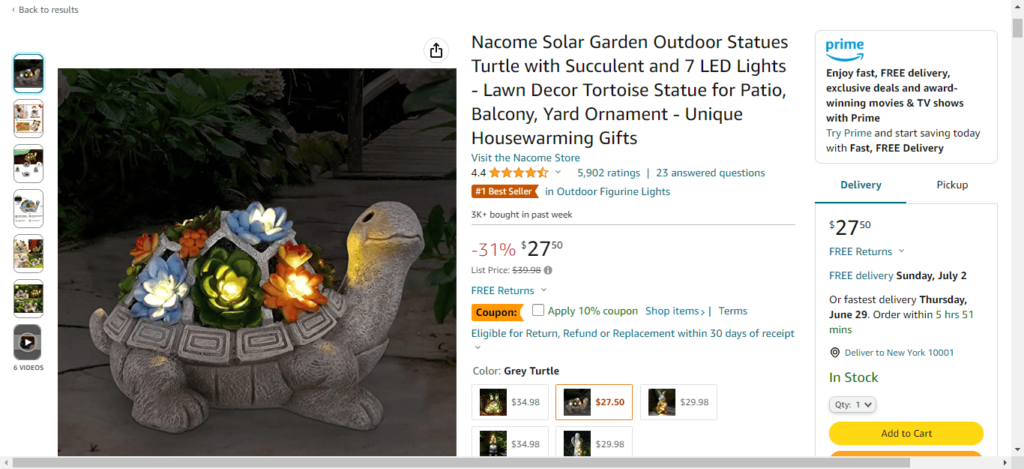 Earning Potential
You can source the same solar-powered turtle statue from Alibaba for as low as $3 per piece, giving you an earning potential of around $24 per piece.
You can also get it for even lower prices if you dig deeper into Alibaba or other sourcing websites.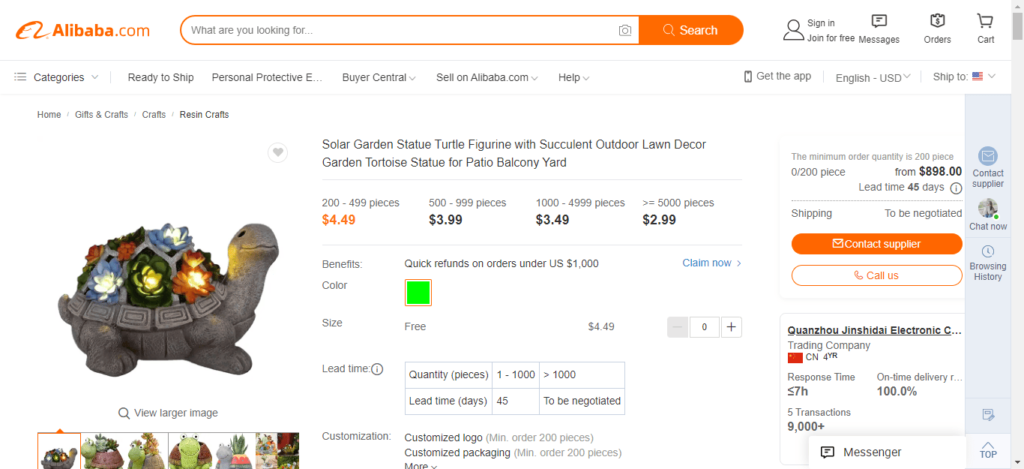 14. Wooden Plant Stand
The love for plants has been growing stronger in today's age of global warming and deforestation. That's why products like a wooden plant stand always catch attraction.
Amazon FBA beginners can explore similar eye-catching products that consumers would like to place in their homes or offices for decoration.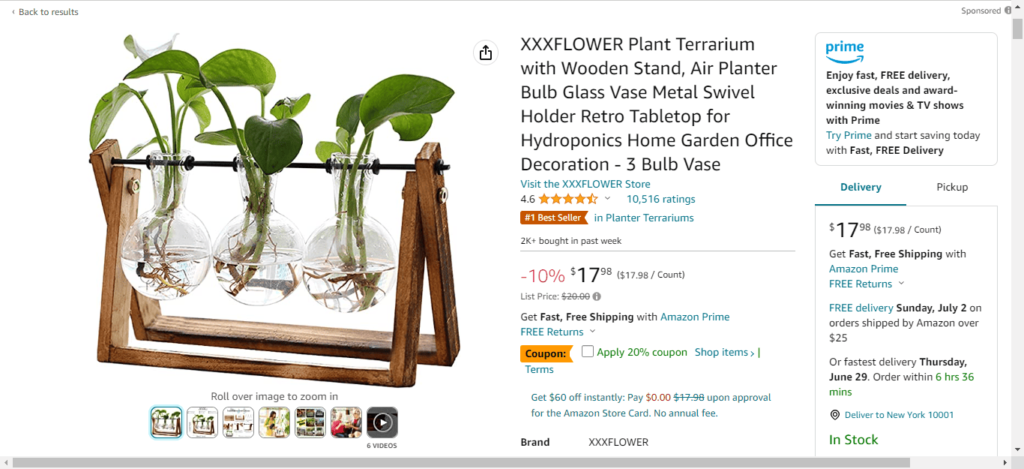 Earning Potential
As you can see from the screenshot below, you can source the same product from Alibaba for around $3 to $4 per piece, giving you the earning potential of around $14 per item on Amazon FBA.
So, it can be a great product to sell on Amazon FBA as a beginner.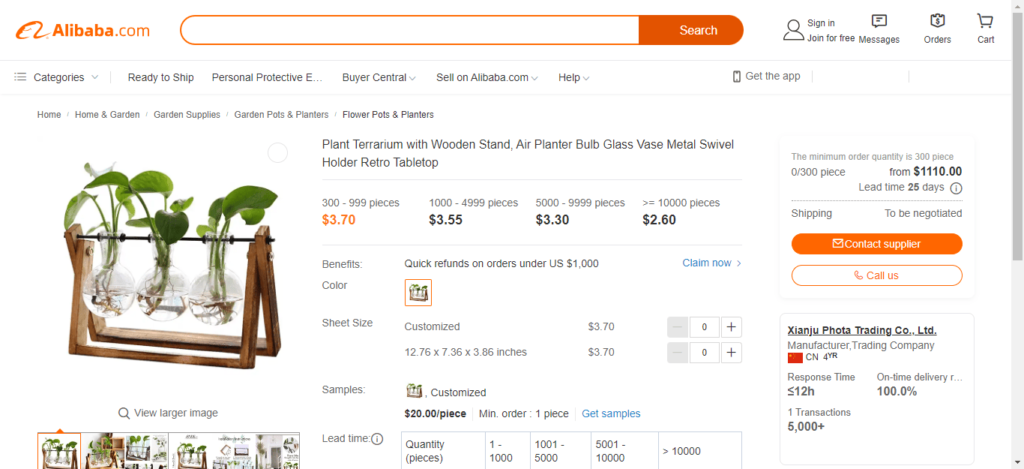 15. Water Fountain
Imagine having a handy and portable water fountain right on your room's table or the office desk. Who wouldn't love having a personal waterfall? Such innovative home decor items seldom go unnoticed.
You can also look for similar attractive items that would immediately catch the attention of consumers who like to decorate their homes or offices.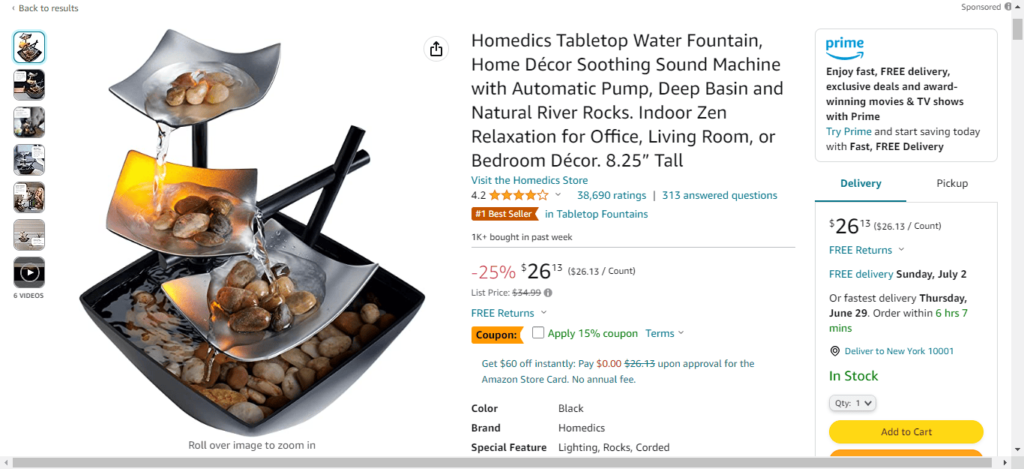 Earning Potential
You can source the same water fountain from Alibaba for around $8 per piece. An earning potential of around $18 is good to kickstart your Amazon FBA business.
Try looking for similar items that have a huge potential of turning out to be profitable products to sell on Amazon FBA.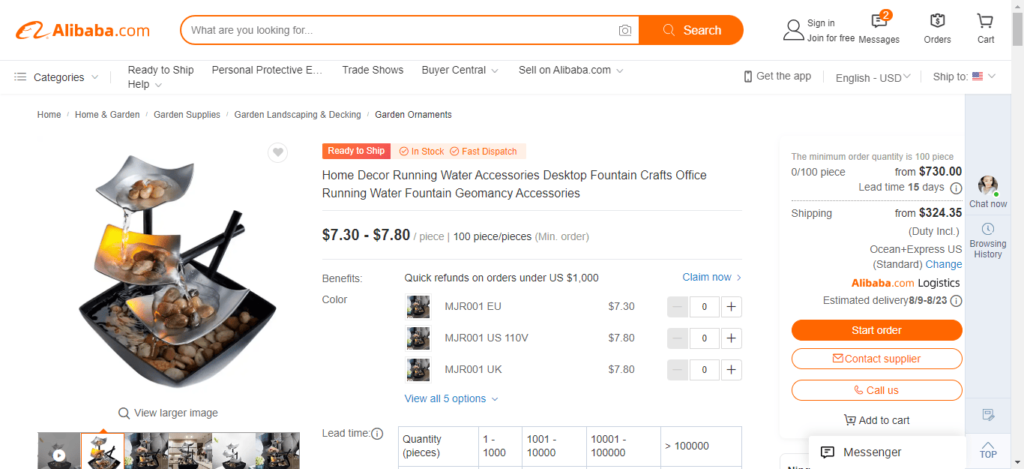 FAQs about the Best Items to Sell on Amazon FBA for Beginners
Read the answers to the most frequently asked questions about the best items to sell on Amazon FBA for beginners. These answers will address your existing or potential queries about starting your Amazon FBA business safely.
How to Select the Best Items to Sell on Amazon FBA for Beginners?
As a beginner, you should always do your homework before starting the Amazon FBA business. Conducting a detailed product research is the key to success in the FBA business.
Identify items with consistent demand, a stable audience, and lucrative profit margins. Always have a lookout for trending products and start selling them before saturation.
Don't forget to study the competition in your niche and what you need to stay ahead to beat your competitors.
It will be great if you can start with the items that align with your interest, knowledge, and experience.
What Should You Avoid Selling on Amazon FBA as a Beginner?
As a general rule of thumb, beginners should avoid selling saturated products with the crazy competition that doesn't leave you enough profit margin to sustain your business.
Beginners should also avoid relying only on seasonal items, as their demand is inconsistent throughout the year. You should also avoid selling delicate items that may get damaged during transit. Otherwise, you will have to face returns and chargebacks.
Should You Start Selling Private Label Products as a Beginner on Amazon FBA?
Starting with private label products can be challenging for beginners. It involves additional steps such as product design, manufacturing, and branding. Most private label sellers started with a general wholesale business model first.
Beginners may benefit from gaining experience and understanding the market before venturing into private labeling. Starting with general wholesale vs private label is good to get an idea of demand, user behavior, and profit margins would be safe for beginners.
What Are the Most Efficient Ways of Sourcing Products for Amazon FBA?
Here are a few common ways of sourcing products for Amazon FBA.
Visit online B2B marketplaces like Alibaba, DHgate, and Made-in-China.
Utilizing online supplier directories to find wholesale suppliers and manufacturers.
Attend physical or online trade shows and exhibitions to explore multiple suppliers.
The most efficient way to source products for Amazon FBA is by hiring a professional product sourcing agent like NicheSources that helps you source quality products at the most affordable prices.
You have to spend most of your precious time searching for the best supplier for your business. Hiring a product sourcing company will save your time and effort, so you may focus on more crucial tasks of your business.
Final Words
Deciding what to sell on Amazon FBA can be daunting for beginners. With the vast array of categories on Amazon and the ever-changing landscape of top-selling items, it is crucial to conduct thorough research before starting the FBA business.
Reselling popular products can open up a world of opportunities for you. You can always get ideas from this article to find the best products for Amazon FBA. Additionally, you can diversify your product listing by using paid Amazon tools like Jungle Scout to find top-selling items on Amazon.
Do you want us to find profitable products from China right from direct manufacturers? Ask for a free quote now. One of our Amazon FBA experts will handle everything for your business.