Suppliers are the backbone of every online business. Even if you are working with some reliable suppliers, you always need to find new suppliers for better profitability or a diverse product mix.
While searching for reliable and cost-effective suppliers can be daunting, but online supplier directories have made it easier. You have access to many thriving suppliers for your niches in one place.
In this article, you'll learn about top free and paid online supplier directories. We'll also spotlight their main features, pros, and cons to help you choose the best directory to find suppliers for your business.
Let's start.
Free Online Supplier Directories
You can have access to many supplier directories without spending a dime. These directories host a variety of suppliers offering the best of their sourcing services.
Following is the list of top free online supplier directories.
1. Alibaba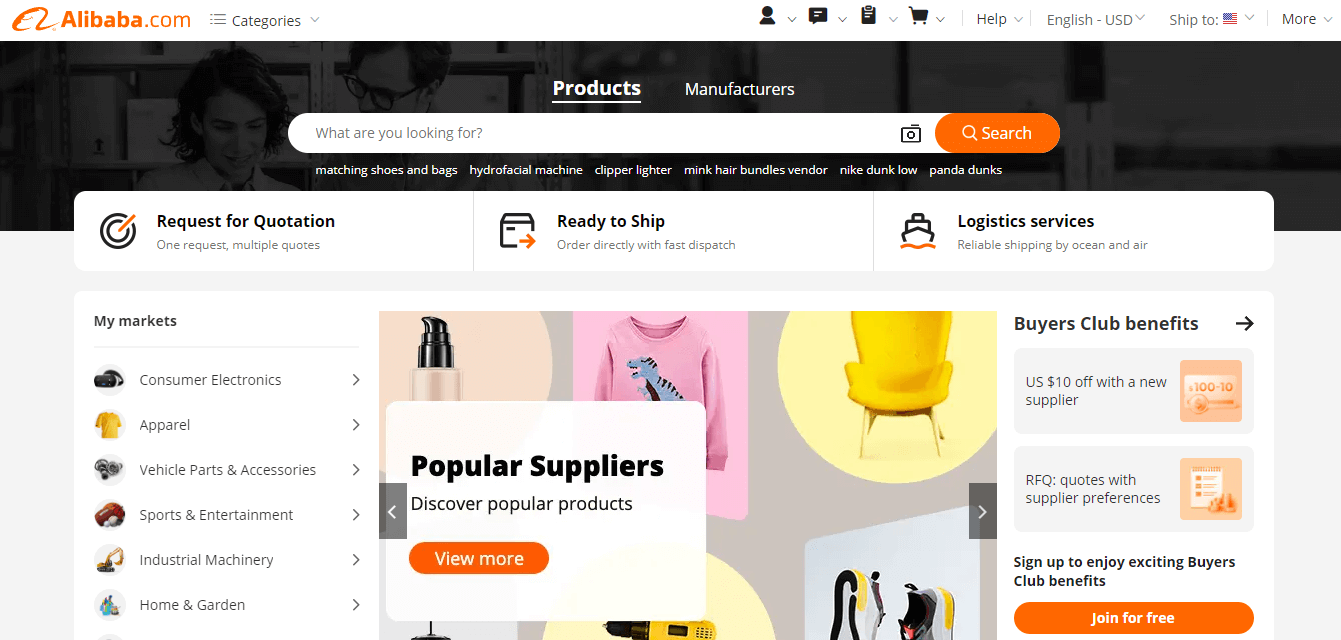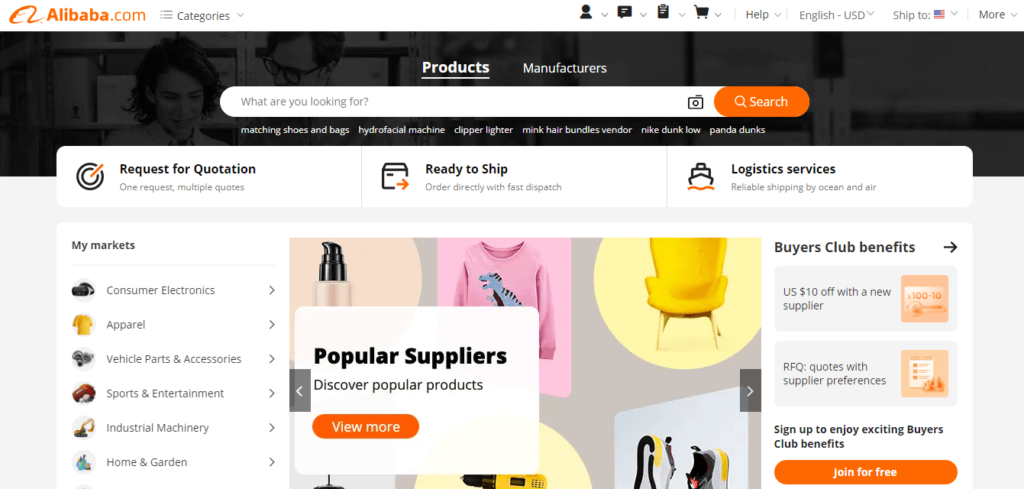 Alibaba is one of the most famous names in ecommerce. It is one of the largest supplier directories, hosting thousands of suppliers from China and other countries. From industrial supplies to consumer goods, you will find a supplier for almost every niche on this website.
Features
Over 150,000 suppliers
Supplier ratings are available
Millions of products
Access to direct manufacturers
Purchase financing is available for qualified businesses
Supplies products to over 190 countries and regions
Website can be accessed in 18 different languages
50+ currency conversion options
Niches
Consumer electronics, apparel, vehicle parts & accessories, sports & entertainment, industrial machinery, home & garden, and beauty.
Pros
Products are available at low cost
Prices can be negotiated
Private label options are available
Multiple options to search for your required products or suppliers easily
Buyer Protection Program via Alibaba's Trade Assurance
Simple returns
Cons
MOQs in place
Longer shopping times in certain countries
Communication barrier with Chinese suppliers
Quality can be compromised with some suppliers.
2. Thomas Net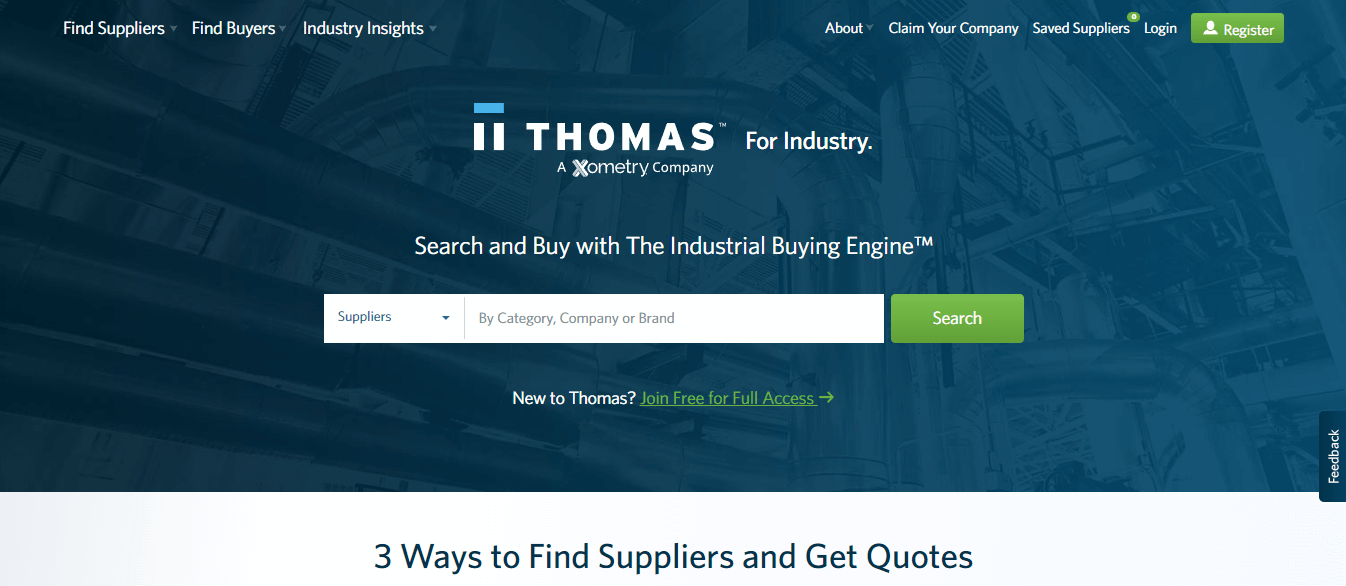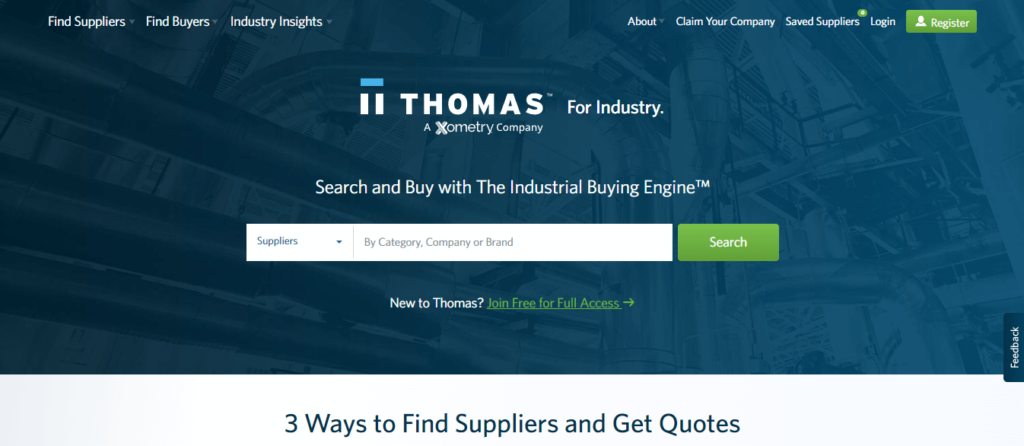 Do you want to find US suppliers for your business? Thomas Net can be a great option to consider. It hosts top North American companies from the US and Canada. So, you can rely on these suppliers, especially if you sell in the US.
Features
Easily find your required supplier using its Supplier Discovery feature.
Over 500,000 suppliers are listed.
Over 6 million products are available.
Register as a buyer so the supplier can reach you directly.
Instant Quote option to post your requirements.
Easy and convenient communication in English.
Transaction Assurance program to protect your orders.
Regular and updated industry insights are shared.
Niches
Adhesive & sealants, agricultural & farming products, chemicals & gases, cleaning products & equipment, communication systems & equipment, computer hardware & peripherals, construction equipment and supplies, controls & controllers, display & presentation equipment, electrical and electronic equipment & systems, explosives, armaments, and weaponry, fluid & gas flow equipment, food processing & preparation, health, medical, & dental supplies and equipment, HVAC, labels tags signage & equipment, laboratory and research supplies and equipment, machinery & machining tools, material handling & storage, material processing, mechanical components and assemblies, mechanical power transmission, mining, oil drilling, refining products & equipment, mounting & attaching products, non-industrial products, optics & photonics, packaging products & equipment, paints & coatings, plant furnishings & accessories, portable tools, printing & duplicating equipment, retail & sales equipment, robotics, safety & security equipment, monitors & transducers, software, test & measurement, textile industry products, thermal & heating equipment, timers & clocks, transportation industry products, vision systems, waste management & waste handling equipment, and welding equipment & supplies.
Pros
A home to reputed North American companies.
Private label and wholesale options are available.
Detailed product descriptions.
You can simultaneously search for suppliers and products.
Option to search for suppliers by brand names.
Cons
Products come at slightly higher costs.
More focused on products related to industrial usage.
Limited search filters.
3. MFG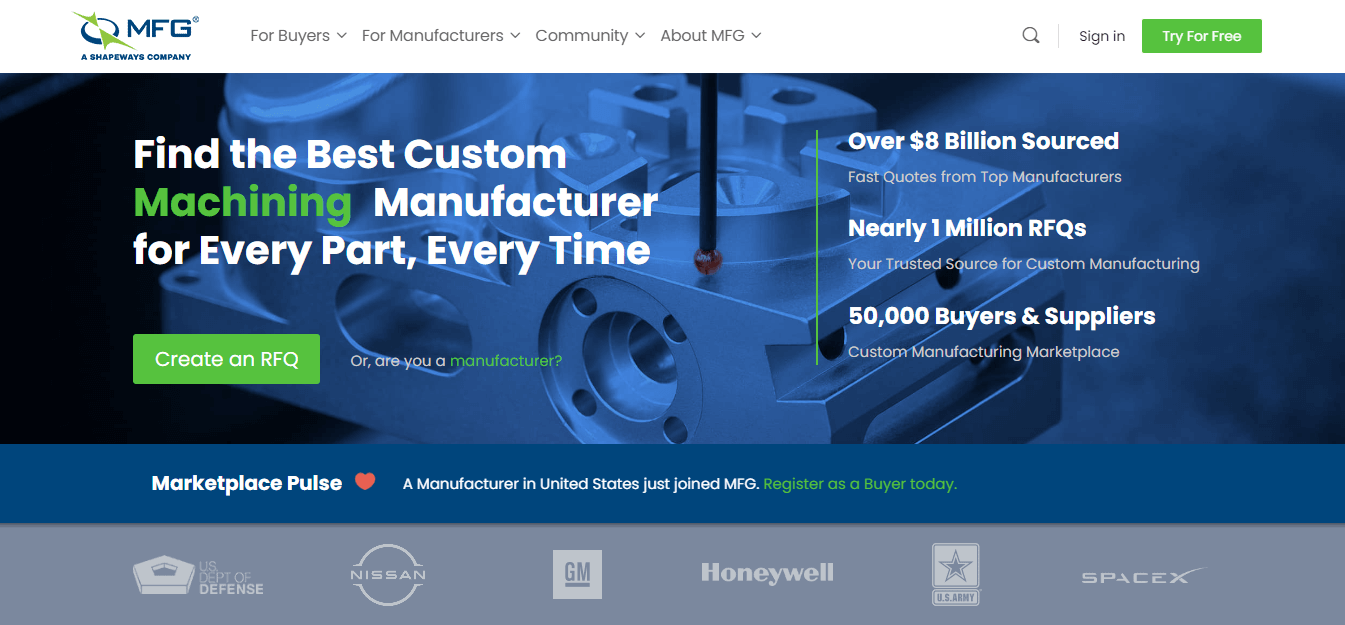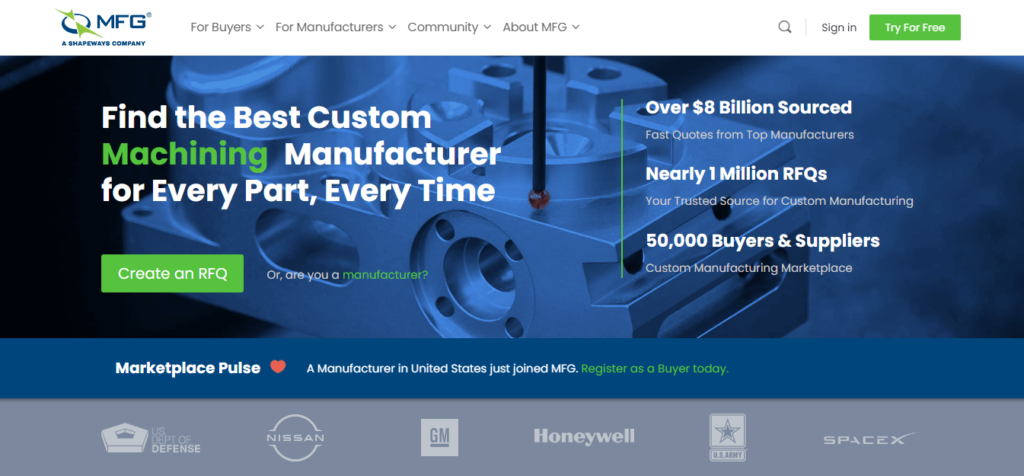 If you want to find suppliers to get custom products, MFG may be the right website for you. Founded in 2000 and based in the USA, this website is one of the largest online directories of manufacturers.
Features
Over $8 billion worth of products sourced
Millions of RFQs generated
Over 100,000 registered suppliers
Niches
3D printing, engineering & design services, extrusions, fabrication, machining, sheet metal, blow molding, compression molding, die casting, electro-mechanical assembly, forging, gears, injection molding, investment casting, printed circuit boards, rotational molding, RTV molding, sand mold casting, springs & wire forming, stamping, structural foam molding, thermoforming, tool, die & mold making, tube modification wire harness, and woodworking.
Pros
Hosts a variety of suppliers from Asia, Europe, Mexico, Canada, and the USA.
Ideal for sourcing industrial products.
Suppliers are pre-vetted to deliver quality products and services.
Best for private label manufacturing.
Provides professional guidelines through free blogs and forums.
Cons
More focused on industrial supplies.
Technical categories instead of general items.
4. Wholesale Central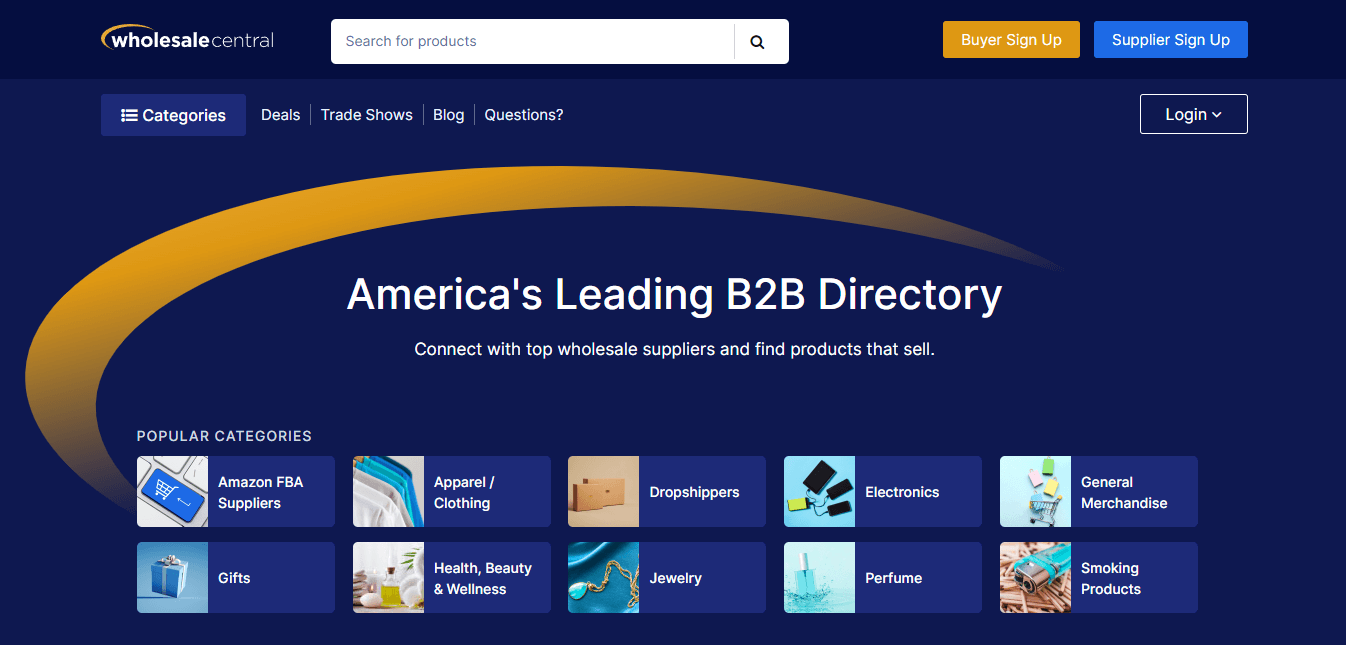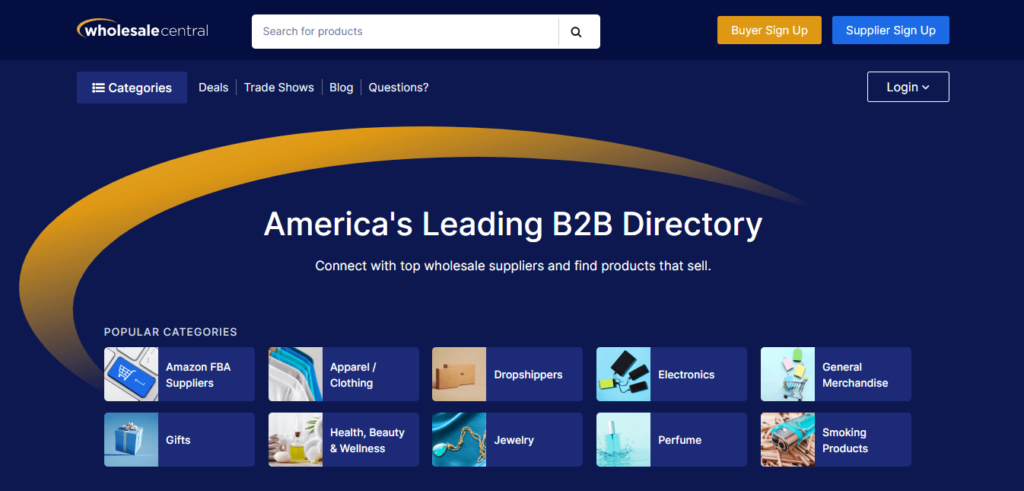 Wholesale Central is one of the leading wholesale supplier directories. In addition to the suppliers, you can find many helpful tools to make your business successful. Starting in 1996, the company has successfully given tremendous value to online retailers.
Features
An ideal platform to find manufacturers, importers, wholesalers, dropshippers, and distributors.
Free Buyers Network ensures that the users search this website free of cost.
Over 1400 suppliers for different niches.
The suppliers go through a rigorous verification process
Niches
Automotive, baby items, business opportunities & services, c-store items, candles, oils, incense, CBD, cell phone accessories, closeout suppliers, collectibles, computer products, covid-19 supplies, crafts & supplies, dollar store, fashion accessories, food & grocery, handbags & luggage, holiday & seasonal, housewares/home decor, knives & swords, lawn & garden, leather, military goods, novelties, office & school supplies, party supplies & greeting cards, pet supplies, professional supplies, promotional, regional & ethnic, religious items, self-defense, security, shoes & footwear, souvenirs, sporting goods, store/dealer supplies, sunglasses & eyewear, tools & hardware, toys & hobbies, vape products/e-liquids, and watches.
Pros
Wide range of products.
Vetted supplies ensure quality products and services.
The suppliers and products are updated regularly.
Competitive pricing for most of the products.
Excellent customer support.
Made-in-USA products are available here.
Cons
Wholesale Central is just a medium between users and suppliers. It doesn't guarantee prices and quality.
Some products may have a limited description, which may leave you confused about those products.
As there is a fee to be a supplier on Wholesale Central, not many suppliers will be available there.
5. Wholesale Deals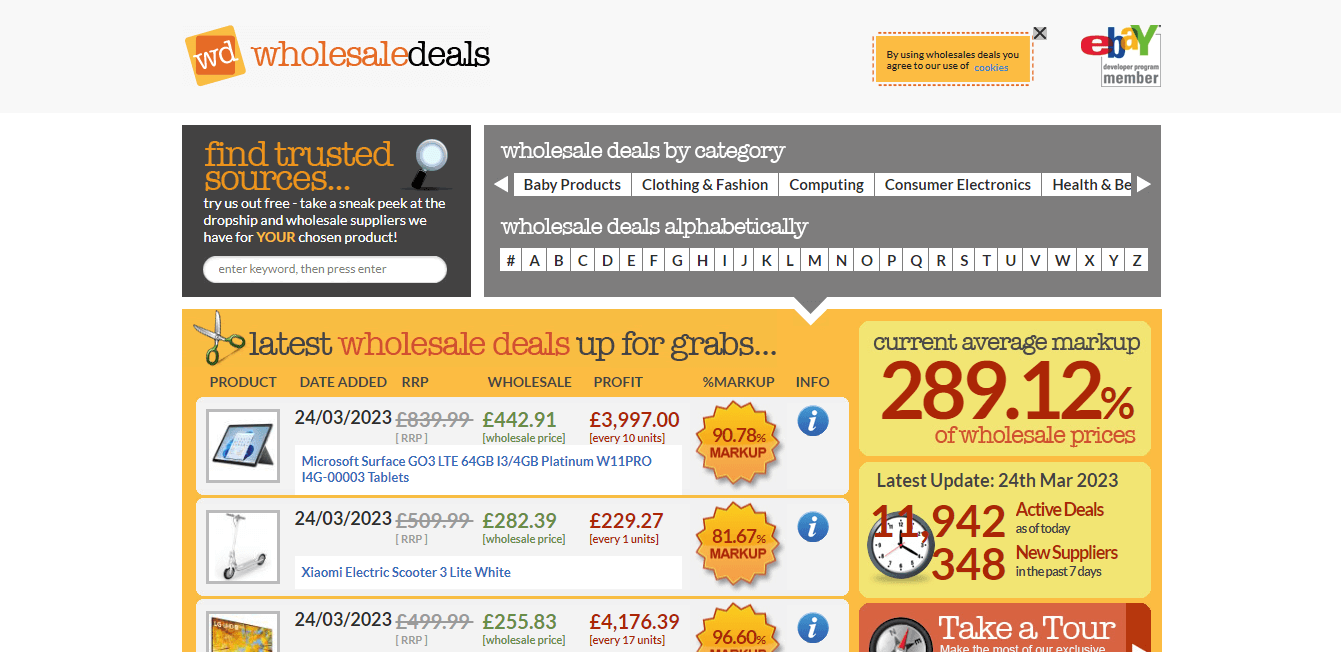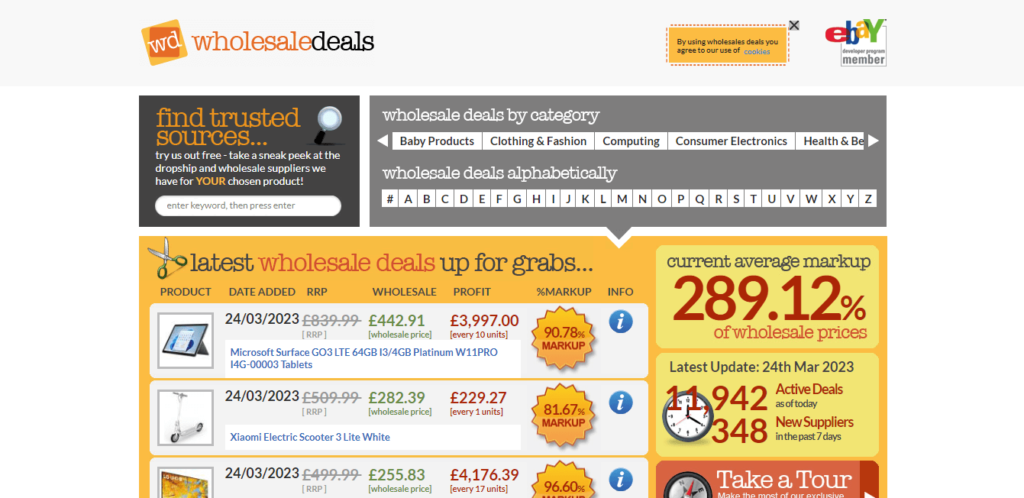 Wholesale Deals is a UK-based platform to find and connect with trustable wholesale and dropship suppliers in multiple categories. The company started in 2004 and became one of the top supplier directories in the UK.
Features
Around 500,000 wholesale and dropshipping suppliers.
eBay's developer program member.
Products are offered at up to 95% off recommended retail prices (RRP).
Great profit margins.
Niches
Baby products, clothing & fashion, computing, consumer electronics, health & beauty, home & garden, jewelry & watches, leisure & entertainment, mobile & home phones, office & business, police auctions & auction houses, sports & fitness, surplus stock lots, and toys & games.
Pros
Offers to search for the suppliers alphabetically.
You can also search for a supplier according to the product category.
Latest wholesale deals are available, showing the product's date added, its product's retail and wholesale pricing, profit margins, etc.
Ideal for supplying products on eBay.
Top-seller products are listed separately.
Cons
Limited availability of suppliers outside the UK.
Limited search filters to find your desired supplier or product.
6. Top Ten Wholesale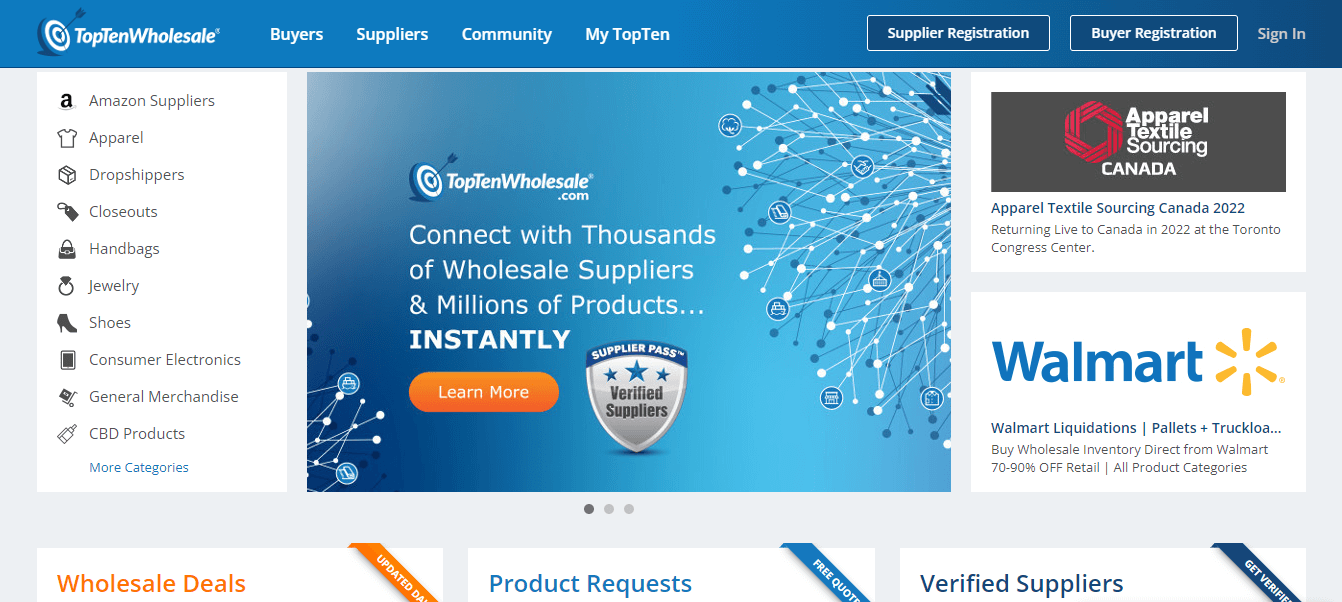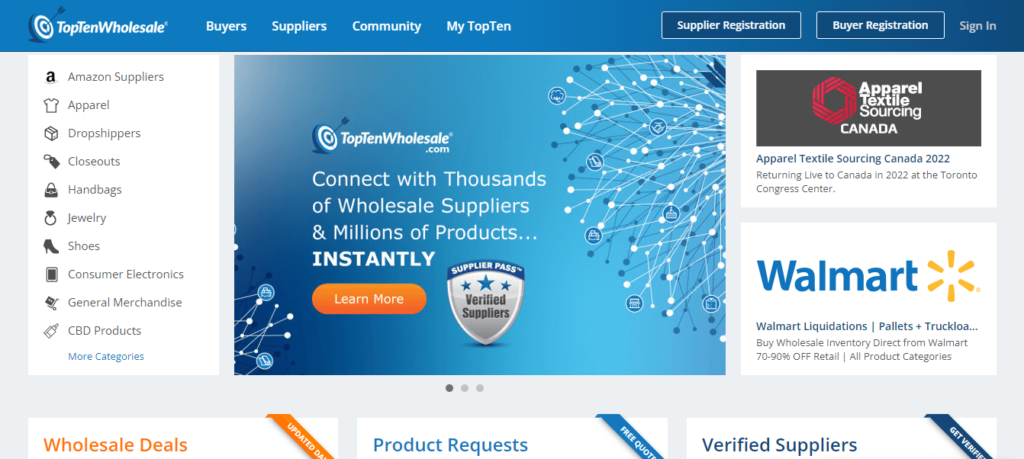 Top Ten Wholesale is a free directory to find suppliers in multiple categories. Established in 2011, this online directory is based in the USA and also has offices in China.
Features
Thousands of registered suppliers.
Millions of products are available.
Hosts online trade shows for specific niches.
Niches
Apparel, closeouts, handbags, jewelry, shoes, consumer electronics, general merchandise, and CBD products.
Pros
Suppliers from multiple countries are available.
Offers dedicated sections for the suppliers for Amazon and dropshipping.
Suppliers are verified by the platform.
You can find wholesale deals offered by the suppliers.
Recommendations on hot-selling products.
Closeout deals are also available.
Multiple filters to refine your search.
Cons
Lesser number of suppliers are available compared to other directories.
Some suppliers may have higher MOQs.
7. Inventory Source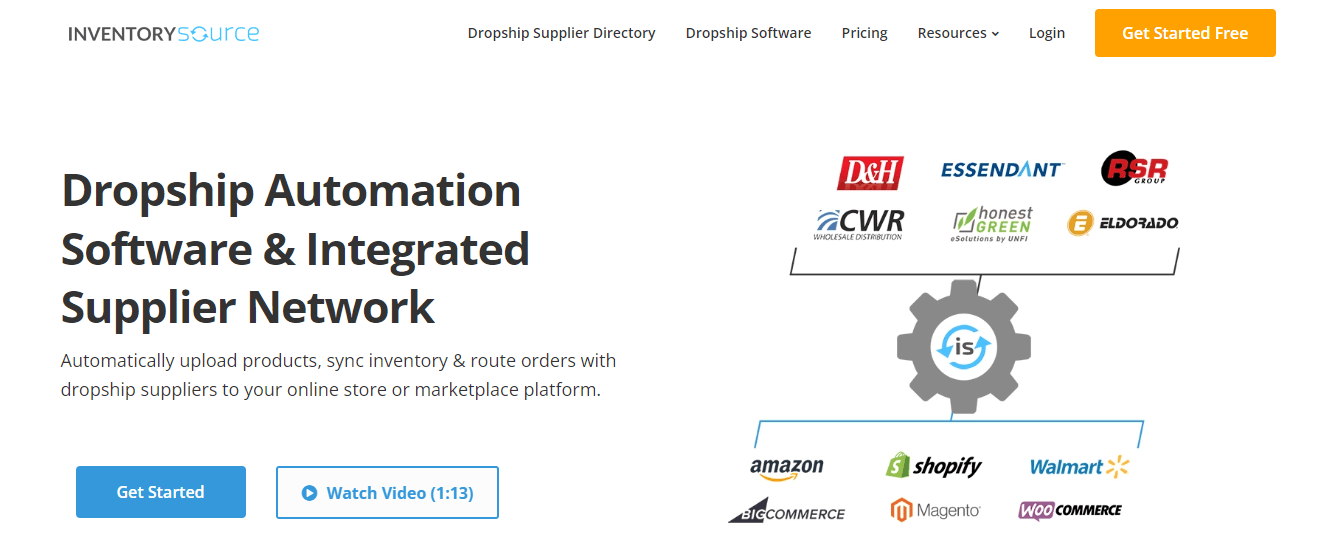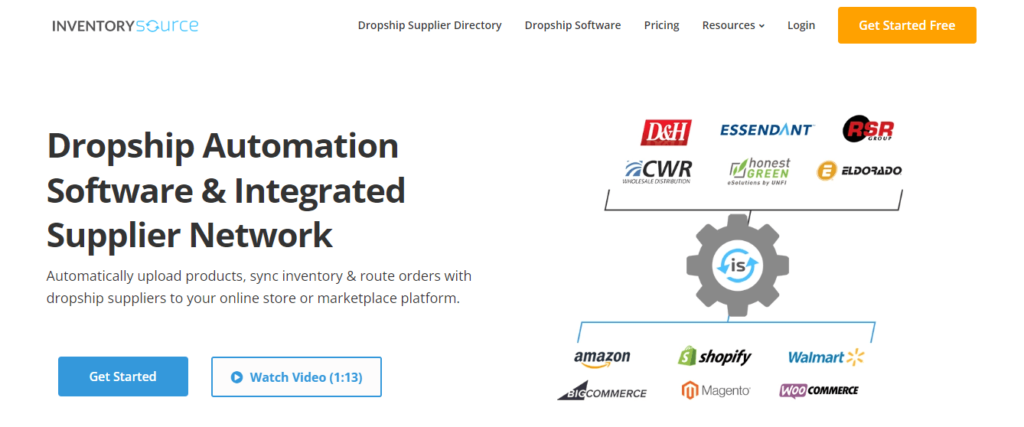 Inventory Source is another free online directory to find suppliers from the US and other countries. It was established in 2002 and is based in the USA. The core purpose of this platform is to make small businesses and start-ups successful.
Features
Free access to over 4,000 wholesale and dropship suppliers.
Provides useful insights and tips to succeed in a dropshipping business.
Dropship automation services.
Free access to blogs and tips.
Niches
Survival, tactical, camping, baby, kids, toys, pet supplies, consumer electronics, hunting & fishing, vitamins & supplements, adult products & lingerie, fashion, apparel, jewelry, bath, body, fragrance, furniture, and home decor.
Pros
Advanced filters and search options to find the required suppliers and products quickly.
Provides complete details about a product.
Dropship software to automate your business.
Dedicated support center.
Cons
Only focused on dropshipping.
Inventory automation is a paid feature.
8. eSources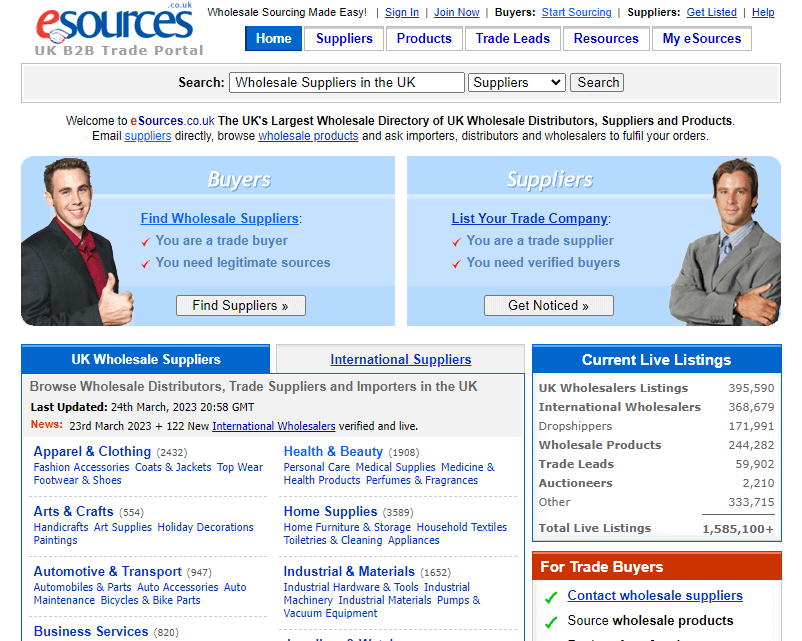 eSources is a UK-based online supplier directory. This website lets you find wholesalers, importers, manufacturers, dropshippers, and wholesale distributors. The company started in 2005 and has become a leading supplier directory in the UK.
Features
A rich directory of wholesale suppliers from the UK and other countries.
Many product categories are offered.
TradePass sign verifies that the supplier is fully vetted and passed by this platform.
Niches
Apparel & Clothing, arts & crafts, automotive & transport, business services, business supplies, computer & software, construction & DIY, electrical & lighting, electronics & photo, floral & garden, food & beverages, gifts & giftware, health & beauty, home supplies, industrial & materials, jewelry & watches, promotional merchandise, publishing & print, security & protection, sports & leisure, surplus & stock lots, telecommunications & mobiles, textiles & fabrics, toys & games, and travel & outdoors.
Pros
Simple website layout with easy-to-use options.
You can choose if you want to find international or UK-based suppliers.
Quick category selector option saves time by giving multiple options to choose a supplier for a specific product category.
Number of available products is mentioned against every category.
Multiple filters to refine your search.
Cons
This directory has a majority of suppliers who deal in the UK only.
Limited number of suppliers as compared to other directories.
Some wholesale suppliers offer higher MOQs.
9. Global Sources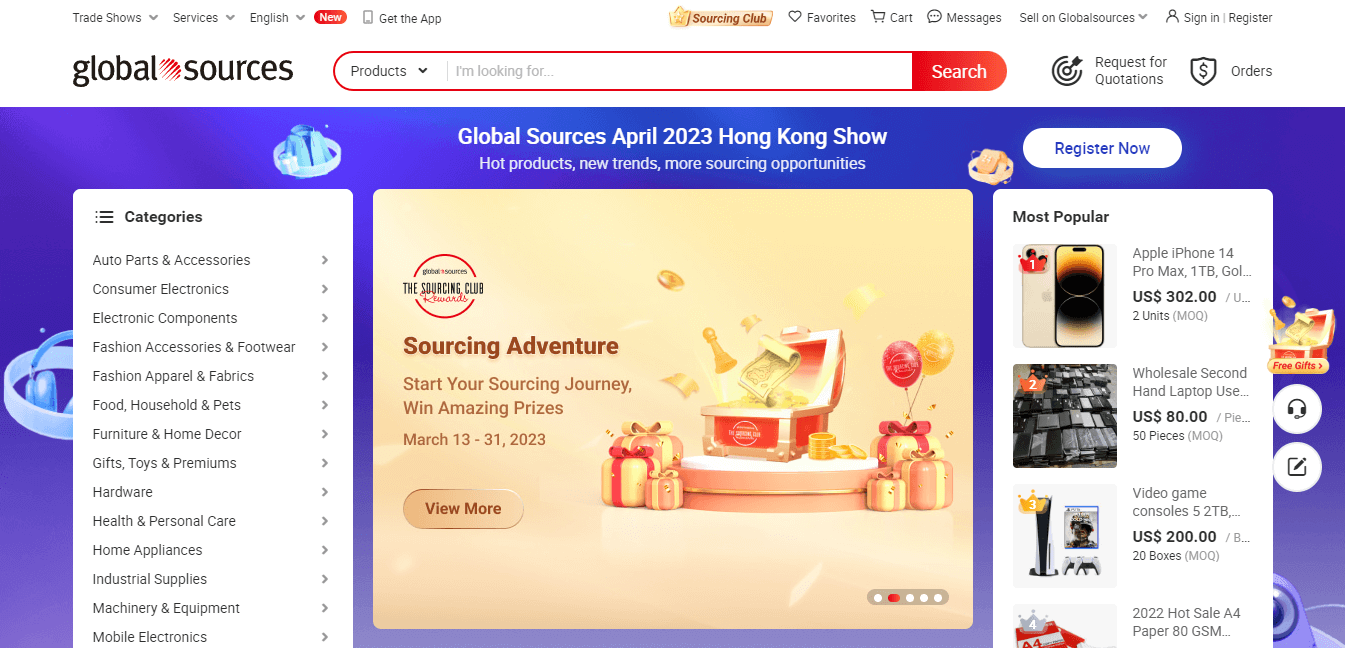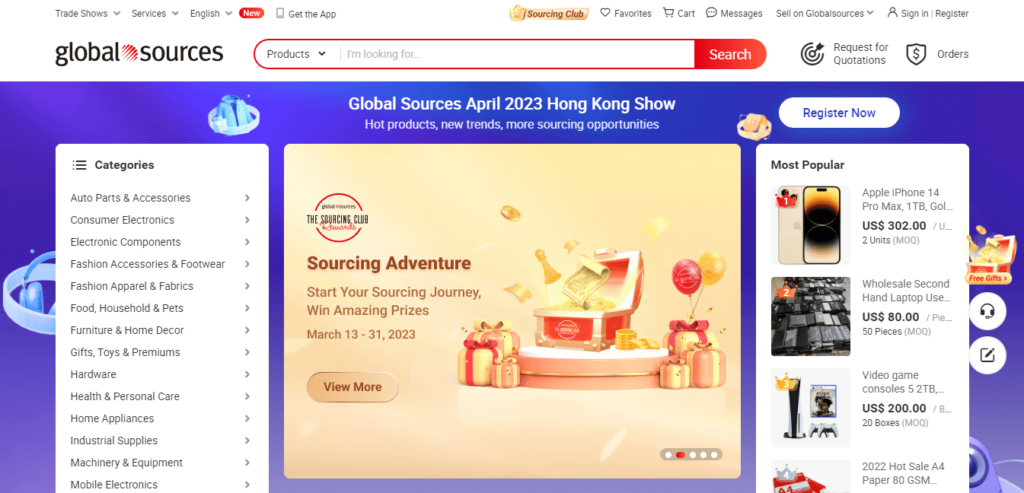 Global Sources is another great online directory for finding reliable suppliers. It was founded in 1971 and is based in Hong Kong, China. It is an excellent platform to connect buyers with suppliers.
Features
Around 200,000 qualified suppliers.
Hosts millions of products from multiple categories.
The suppliers include manufacturers and wholesalers.
Runs international trade shows to make their suppliers easily reachable.
Sourcing products by region, including China, India, Vietnam, and South Korea.
Niches
Auto parts & accessories, consumer electronics, electronic components, fashion accessories & footwear, fashion apparel & fabrics, food, household & pets, furniture & home decor, gifts, toys & premiums, hardware, health & personal care, home appliances, industrial supplies, machinery & equipment, mobile electronics, printing & packaging, smart living electronics, and sports & outdoors.
Pros
Manufacturers are verified by the platform.
Ideal for Amazon, eBay, and private label sellers.
Multiple subcategories to find your required products easily.
Direct contact with the suppliers.
Quick RFQ procedure.
Cons
MOQs in place.
Doesn't provide live customer services.
Communication with some Chinese suppliers may be challenging.
10. Wholesale Forum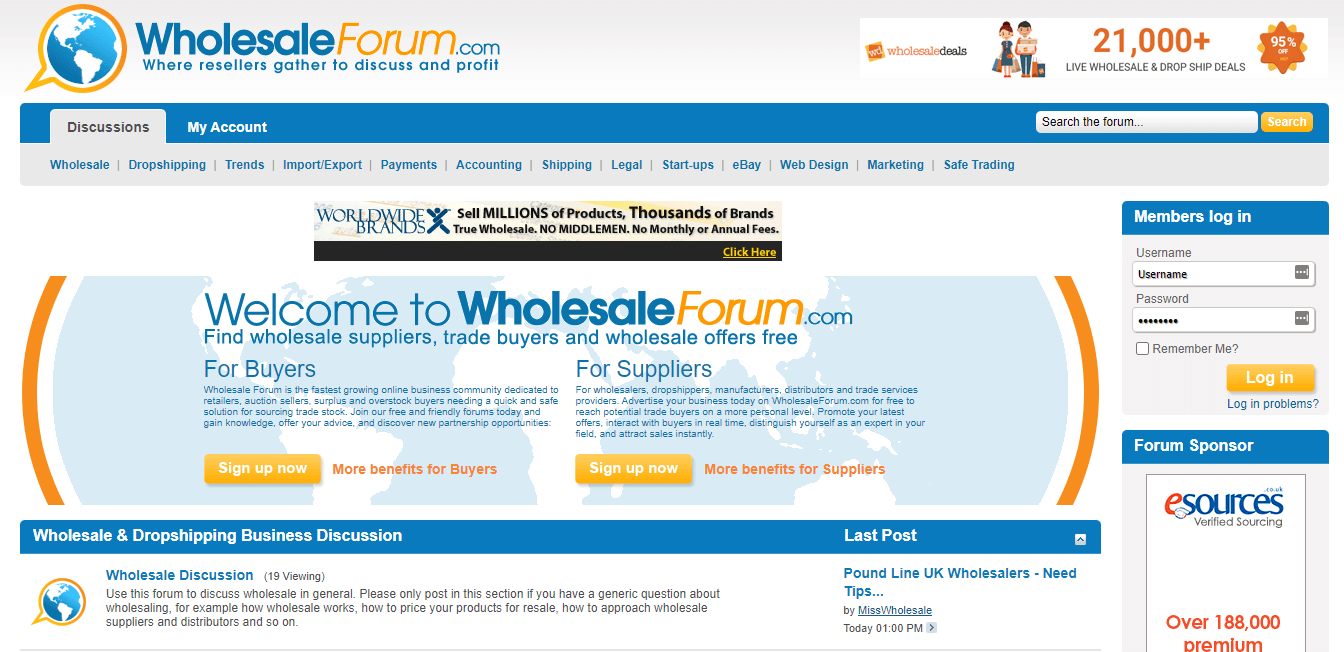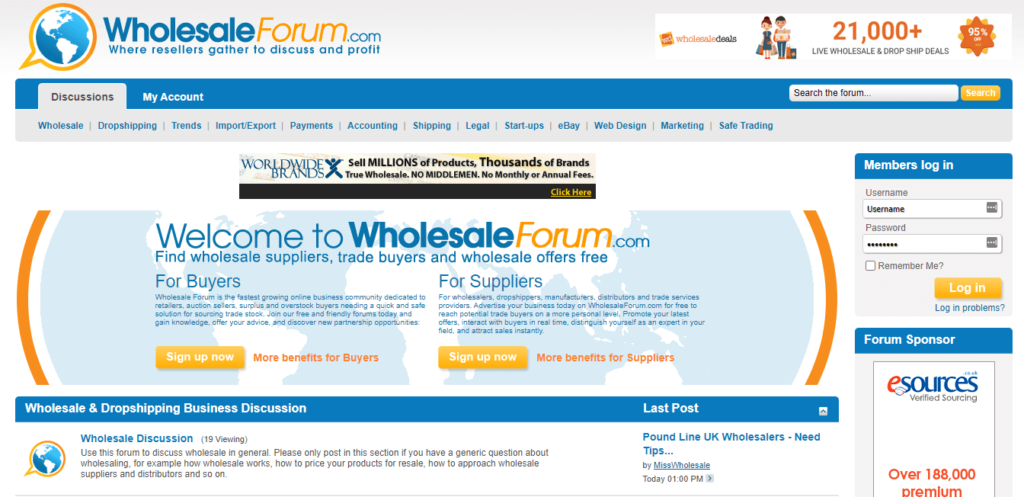 Wholesale Forum is a great forum to discuss and find online suppliers to fulfill your business needs. If the existing directories can't fulfill your requirements, sharing your requirements on a forum, and asking for advice may work well for you.
Features
Free and friendly forums to increase your knowledge.
Guides and professional tips for newcomers.
The presence of industry professionals helps you make wise decisions.
Niches
Wholesale, dropshipping, trends, import/export, payments, accounting, shipping, legal, start-ups, eBay, and safe trading.
Pros
Targeted discussions by choosing a dedicated section.
You learn from the discussions not to repeat the mistakes that others did.
Free to discuss and use the forum.
Cons
No guarantee can be given for a recommended supplier in the forum.
Finding suppliers via discussions may be a lengthy process.
Paid Online Supplier Directories
Although paying for a service may feel intimidating for a new business, spending a few bucks to find quality suppliers may be worth your money.
The following is the list of paid online supplier directories.
11. SaleHoo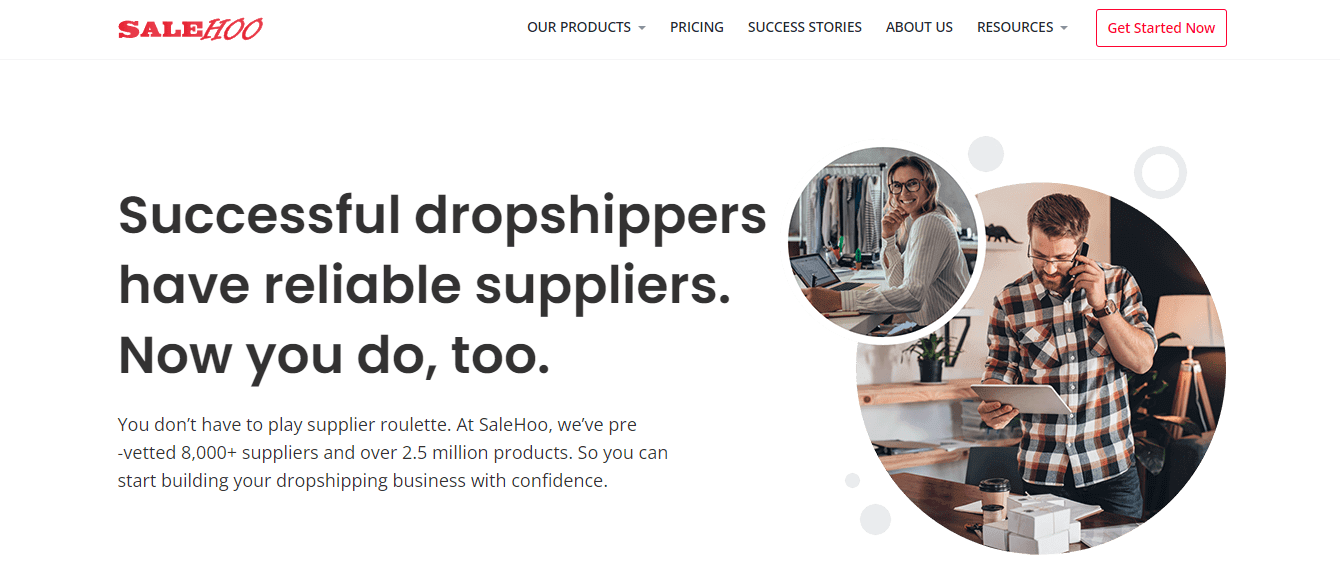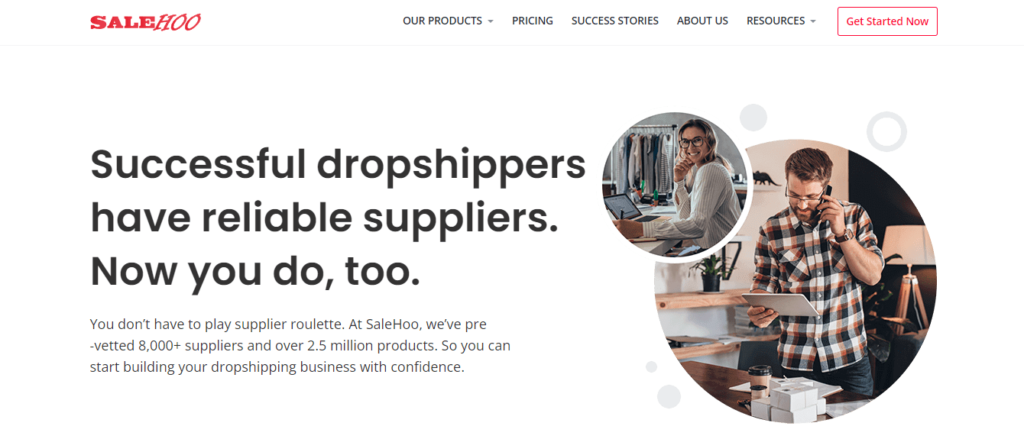 SaleHoo is an online directory of wholesale companies and dropshipping suppliers. It started in 2005 and is based in New Zealand. If you are into a dropshipping business, this website may be an ideal choice to source your products.
Niches
Apparel & accessories, automobile & motorcycles, beauty & health, cellphones & telecommunications, computer & office, consumer electronics, electronic components & supplies, furniture, home & garden, home appliances, home improvement, jewelry & accessories, lights & lighting, luggage & bags, mother & kids, novelty & special use, office & school, pet products, security & protection, shoes, sports & entertainment, tools, toys & hobbies, underwear & sleepwear, watches, weddings & events.
Pricing
SaleHoo offers two pricing structures. If you want access to the SaleHoo suppliers for a year or less, you may buy its suppliers directory for $67 per year.
If you want lifetime access to its suppliers, you can get it by paying a one-time payment of $127.
Features
Over 8,000 verified suppliers.
Extensive directory of dropshipping and wholesale suppliers.
Provides market research tools to make your business profitable.
Pros
Personalized help to search for your desired products or suppliers.
Unlimited 1-1 customer support.
Free suggestions for the hottest products.
The search function helps you find your desired products faster.
More chances of getting quality products and services from verified suppliers.
Cons
Limited selection of suppliers as compared to other platforms.
Most suppliers are only focused on the dropshipping business model.
12. Worldwide Brands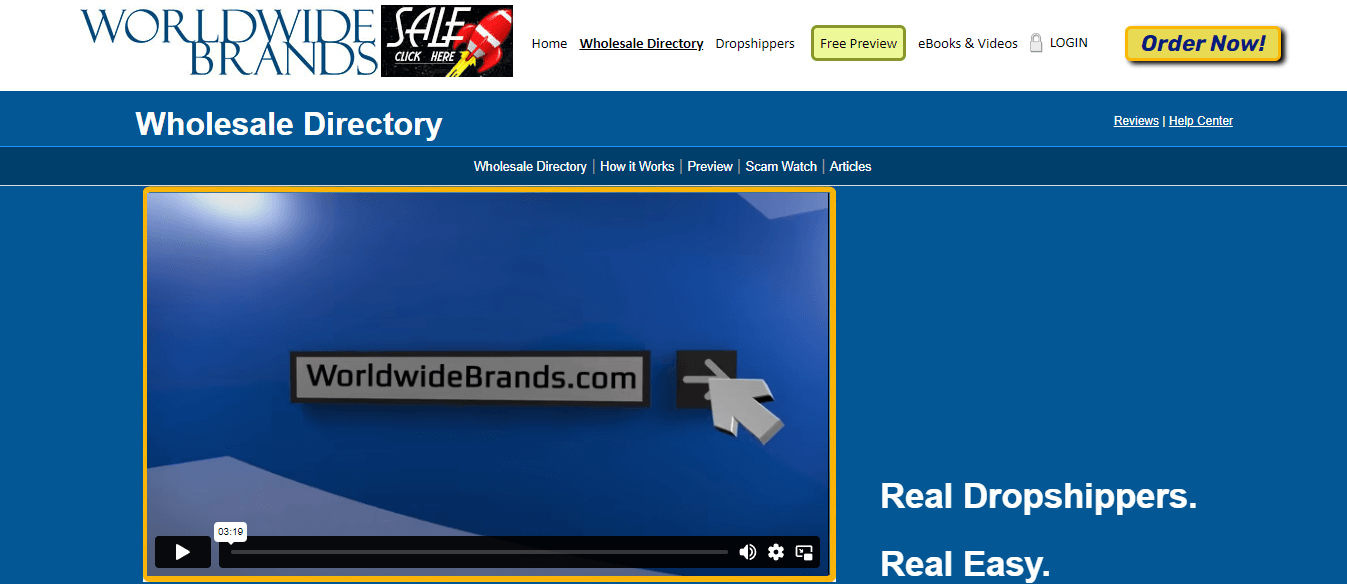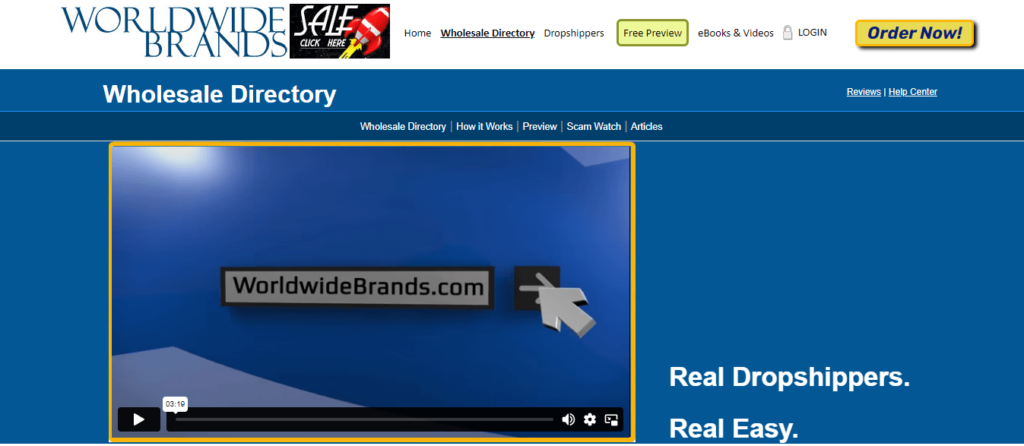 Worldwide Brands is an exclusive directory of wholesale and dropshipping supplies. Starting in 1999, the company became one of the largest supplier directories in the world.
Niches
Pet supplies, toys, games and hobbies, jewelry & watches, home & garden, consumer electronics, clothing, shoes & accessories, baby & maternity, sporting goods, travel, office & school supplies, special occasions & parties, food & drinks, mature audiences 18+, health & beauty, computers & networking, supplements & nutrition art, books, movies & media, business & industrial, collectibles, crafts & supplies, tools & hardware, vehicles, parts & accessories.
Pricing
The price to use the Worldwide Brand's directory is $299. This is a one-time payment to get lifetime access to its suppliers.
You may also pay the fee in parts by paying $99 as a first installment and two installments of $110 each.
Features
Hosts over 16 million wholesale products in different niches.
Known for providing quality suppliers.
Safe and secure transactions.
App available at Google and iOS play stores.
Pros
Almost all the product categories are available in one place.
Separate portions for wholesale and dropshipping.
Experienced suppliers to provide products for Amazon, eBay, and your personal online stores.
Tips and guides to help you increase your business.
Lifetime membership
Easy refund policy
Great support team
Suppliers are updated every week.
Cons
No tools or added advantages are offered in paid membership.
Membership is costly, especially for newcomers in this field.
Limited search options.
13. Wholesale2b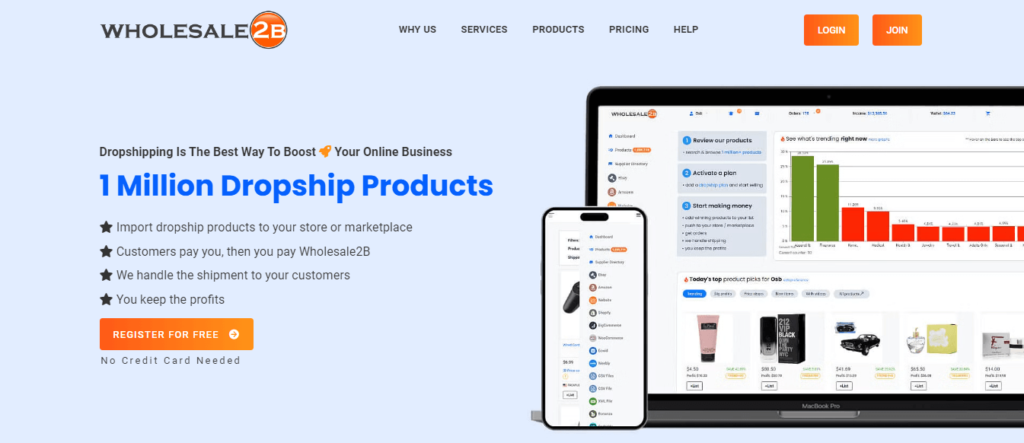 Wholesale2b is an online directory to find dropshipping suppliers and products. Although some suppliers may also provide products at a wholesale model, most suppliers work on a dropshipping model.
Niches
Clothing, electronics, pet supplies, baby items, computers, bath and bedding, cellular products, collectibles, costumes, exercise equipment, perfumes, garden decor, sports items, gifts, groceries, health & beauty, health supplies, home decor, jewelry, kitchen, lingerie, magic, marine, medical, musical instruments, security, occult, office items, optics, outdoors, shoes & boots, toys & games, handbags, watches, arts & crafts, automotive, and seasonal products.
Pricing
The pricing to use Wholesale2b depends upon the choice of your integrations. The prices vary from $37.99 to $49.99 per month.
Features
Automated dropshipping solution.
Hosts over 100+ suppliers.
Free guide to making your e-commerce business successful.
Provides access to the dropshipping community to exchange views.
Pros
The automated tools save much time.
Access to over 1.5 million products.
Suppliers and products are updated regularly.
Multiple integration options for your online store.
Cons
Only focused on dropshipping.
Wholesale2b does not monitor the quality of products.
Average customer service.
14. Spocket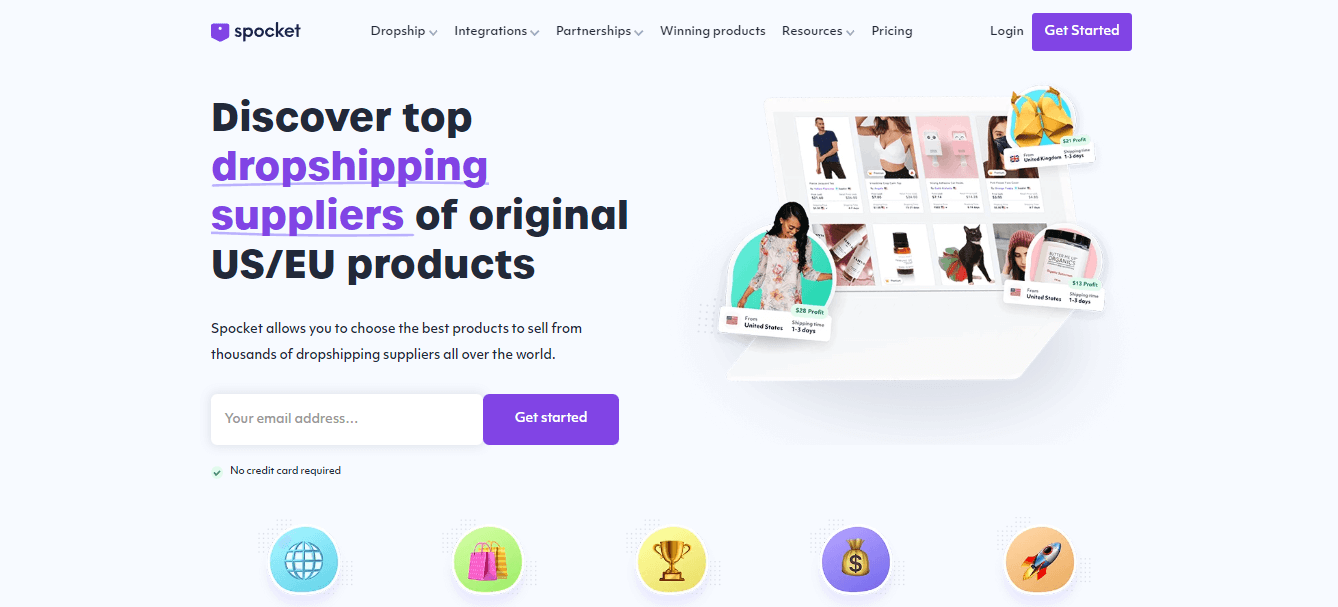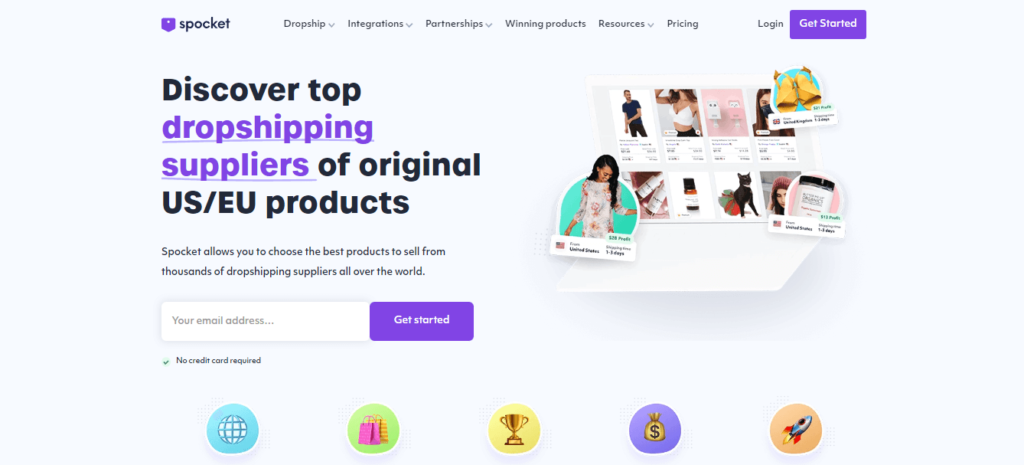 Do you want a reliable source for your dropshipping business? Spocket hosts a variety of global dropshipping suppliers from multiple categories. It was established in 2017 and is based in Canada.
Niches
Women's clothing, bath & beauty, kids & babies, jewelry & watches, tech accessories, toys, home & garden, pets, footwear, accessories, automotive, men's clothing, bags & wallets, seasonal, festivals & parties, sports & outdoors, and gifts.
Pricing
The pricing starts at $49 per month and goes up to $99 and $299 monthly depending upon your requirements. The platform also offers discounts on its pricing from time to time.
Features
Most suppliers are from the US.
Regular suggestions for trending products.
Offers over 20 product categories.
Excellent 24/7 customer support with a live chat option.
Pros
Ideal for sourcing made-in-USA products.
You will also find European suppliers on this platform.
Automated dropshipping options with store integrations.
Product discounts are available.
Cons
No direct access to the suppliers.
Limited options for private label business.
Mainly focused on dropshipping.
FAQs about Online Supplier Directories
Read the answers to the following most frequently asked questions about online supplier directories to better handle your product sourcing needs.
How to Select a Good Supplier?
Selecting a supplier for your business depends upon multiple factors. Your niche, target market, and business model usually determine which supplier would work best for you.
For a general online store, look for the following options in a supplier to check if it would be a great fit for your business.
Product variety and availability.
Product costs to decide on your margins.
Integration options to automate your business.
Customization options if you run a private label business.
After Sales service so that you can provide the same to your customers.
Shipping times, depending upon your target market.
How to Negotiate with a Supplier?
Negotiations are a part of the sourcing process, especially in a wholesale business. If you intend to buy in bulk quantities, you may negotiate the pricing, shipping incoterms, and other services with your supplier.
You may take multiple quotations from different suppliers to negotiate according to different offers.
What Is the Best Way to Source Your Products?
Searching for the right supplier may be a tedious task. If you want hassle-free sourcing by just focusing on other important tasks of your business, consider hiring the services of a product sourcing agent.
A professional product sourcing company, like NicheSources, is specialized and experienced in sourcing different types of products for its clients. It knows the best sources to find the products and deliver them according to the instructions.
Summary
Exploring online supplier directories is a useful way to find the right supplier for your online business. While there are various free and paid supplier directories, you must look for the one that gives you multiple options to compare and choose from.
The top supplier directories shared in this article are handpicked to give you options, so you may select the one that best suits your business. You may refer to this article whenever you want to select or add a supplier for your business.
If you want a one-stop solution to source quality products at reasonable prices from the best suppliers in China, ask for a free quote from us now. One of our sourcing agents will help you through every step.