Establishing a profitable Amazon business requires a lot of work. While it is theoretically correct to do everything on your own, it is practically impossible. Manual work cannot outperform tools.
Amazon itself doesn't work without automated algorithms and bots. Plus, it can be quite tiresome and still unproductive to do everything that inches you closer to success on Amazon.
That's why we are sharing the list of best Amazon seller tools that will help put your Amazon business on the fast track. Check out all the tools and decide which ones best suit your needs.
Let's dive straight into the exciting Amazon seller tools.
1. Helium10
Most Amazon FBA sellers agree that Helium10 is probably the best tool to support in multiple ways. It provides useful analytics that includes Amazon trending items and interesting data analytics.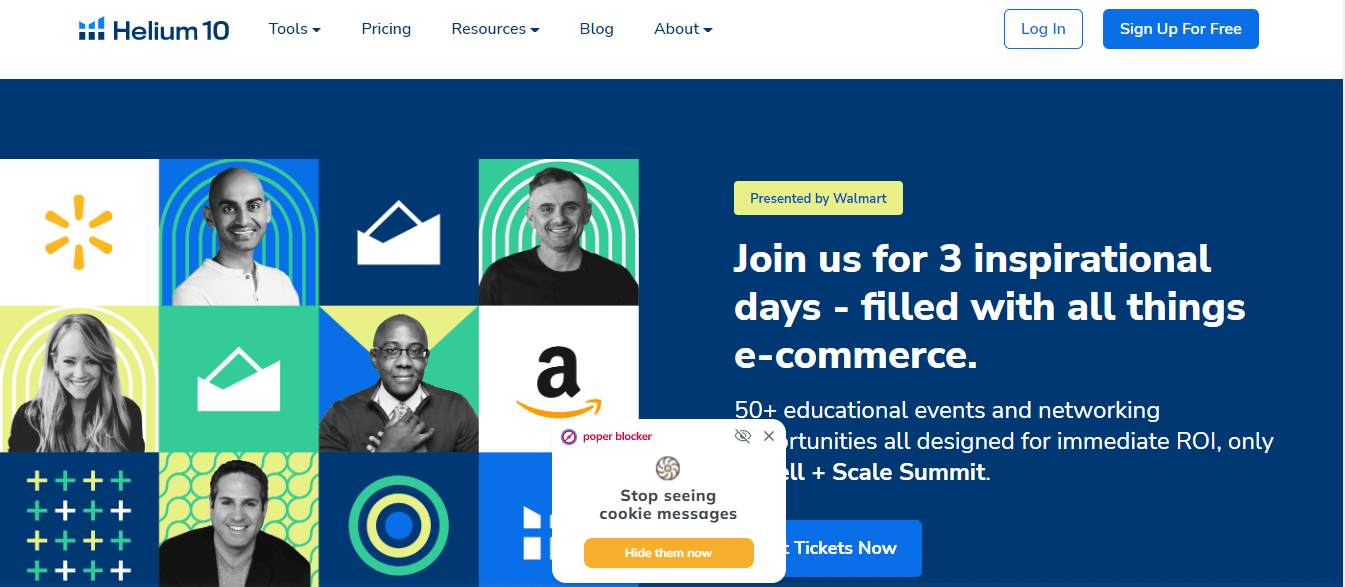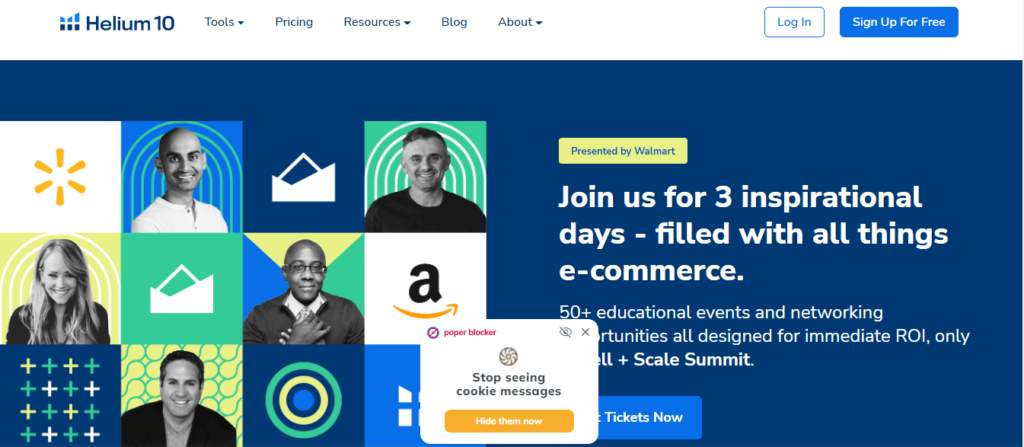 If you are about to select a product to sell on Amazon, you can take help from this tool to get an idea of how much you can earn.
In addition to suggesting the right keywords, it also helps you optimize your listing using profitable keywords appropriately.
It provides a bunch of supporting tools under one umbrella. It also offers a few free tools that include an Amazon keyword research tool, ads evaluation, data analysis, ranking tracker, etc.
In addition to Amazon, it also assists in selling on Walmart.
Salient Features
Easy product research
Keywords research
Listing optimization
Inventory management
Performance trackers
Much more
Paid and free tools
2. JungleScout
JungleScout is the talk of the town among Amazon sellers. It is considered one of the best Amazon seller tools due to its multiple benefits.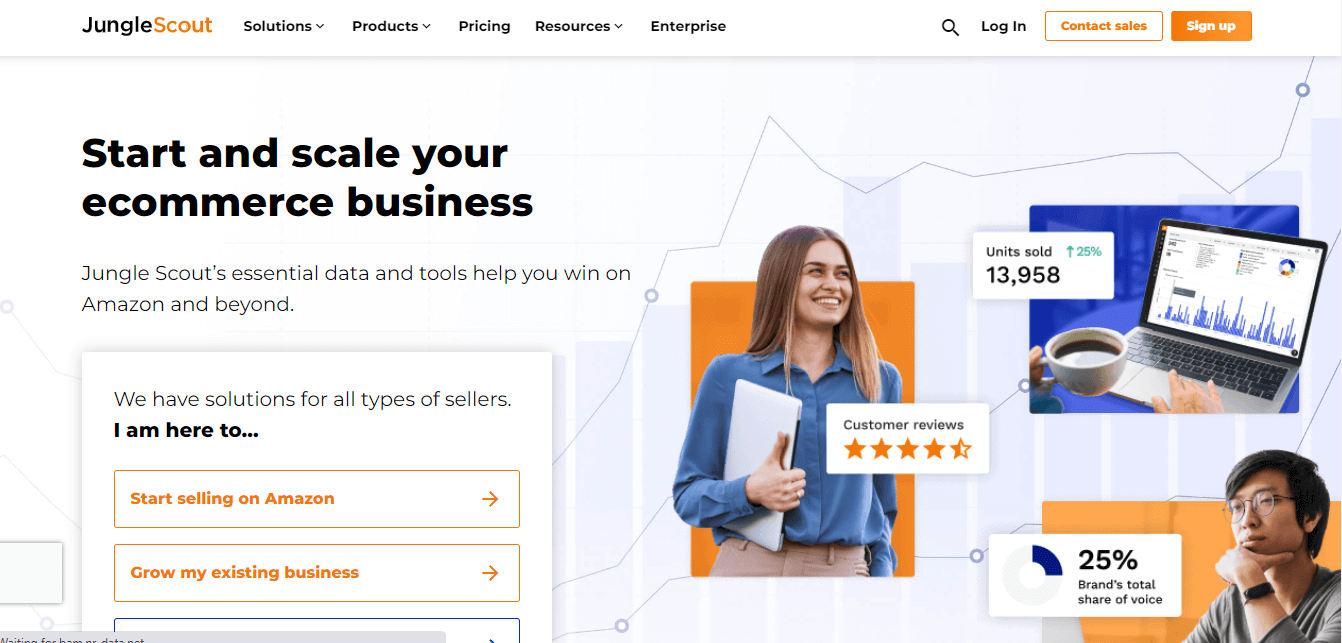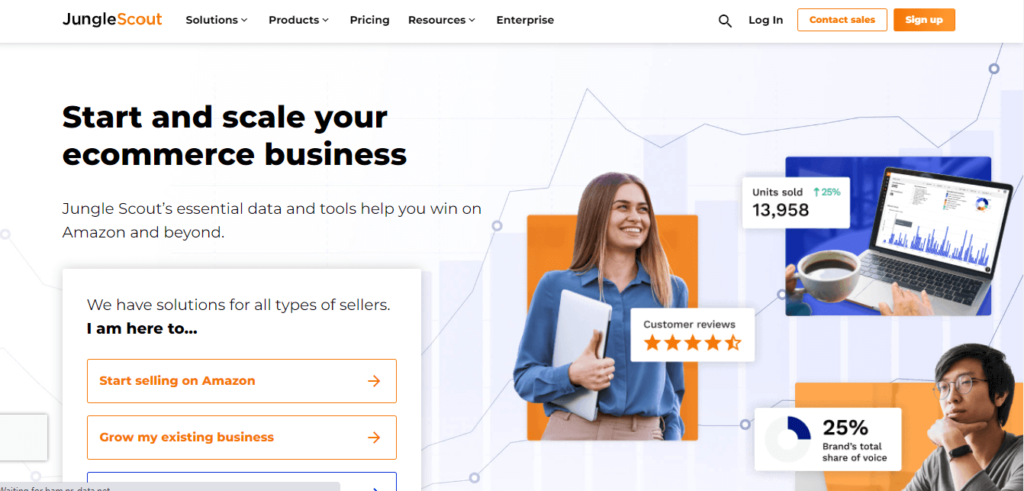 From product research to listing optimizations and promotion management, it provides everything that an Amazon seller needs. That's why it is regarded as a comprehensive standalone tool for Amazon.
One of its most amazing features is its supplier database. So, if you want to sell a successful product on Amazon, this is the right place for you.
You can use it to find the supplier of your choice for your chosen product. It also tells you information about other Amazon sellers who are buying from the same supplier and how the seller is performing.
You can also promote your products using JungleScout to get easy Amazon sales. It gives you analytics about your store's performance and what you can do to improve it.
Its paid plans start from $149 and go up to $999 per month.
Salient Features
Product research – Opportunity finder
Opportunity and listing quality score
Product and rank tracker
Listing optimization
Review automation
Supplier database
Sales and advertising analytics
Inventory and promotions management
Paid plans – free trial available
3. Cash Cow Pro
Cash Cow Pro is one of the most popular Amazon seller software tools that help businesses grow at a fast pace. It claims to provide the winning analytics for Amazon sellers.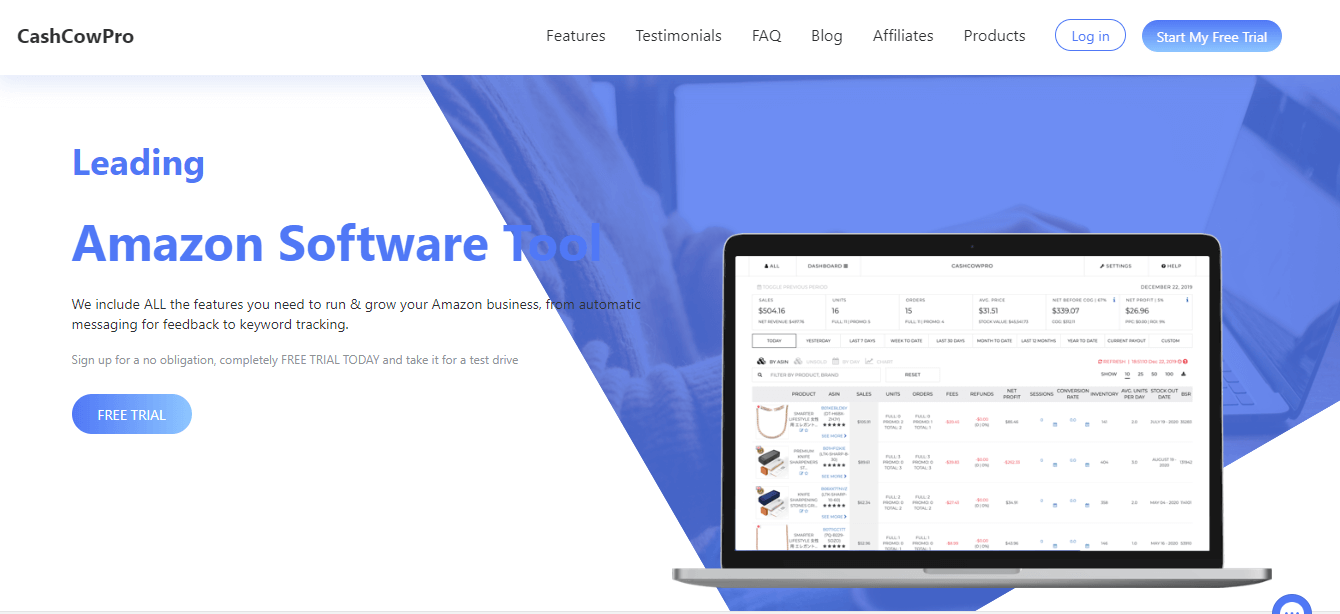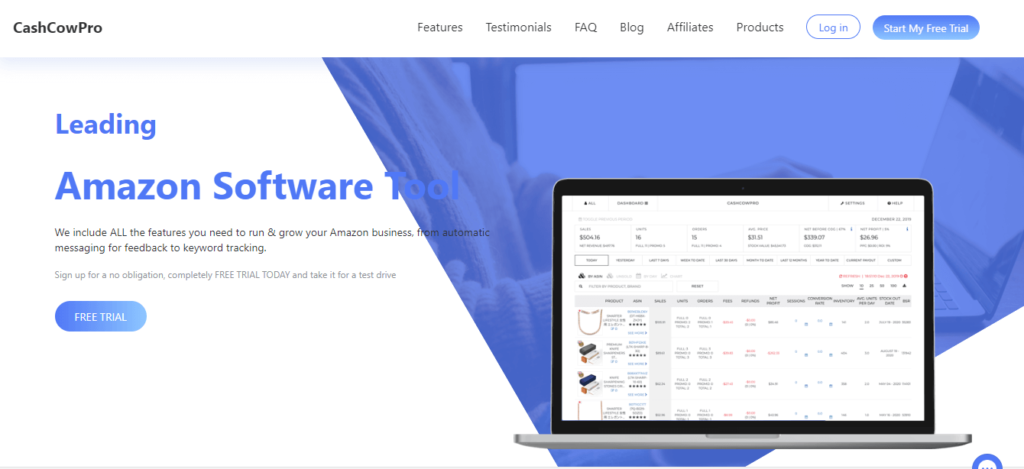 It provides strong data analysis. It is up to you to make use of that data in your favor. It offers tons of options like profit analysis, ranking status, conversion rate, etc.
You can also find sales and promotion analysis from this tool. In addition to these wonderful metrics, you can also use this tool to send automatic emails to ask your customers for feedback.
So, it is a complete package for every Amazon seller. You can start using this wonderful tool for $49.97 per month or $497 per year.
Salient Features
Sales data
Growth tracker
Keyword tracker
Automated feedback
Inventor monitoring
Conversion percentage
4. Repricer
As the name suggests, Repricer is a tool that helps you set the prices of your products on Amazon. As price is one of the main factors in winning the Amazon buy box, it suggests you set the required price to increase your chances of winning it.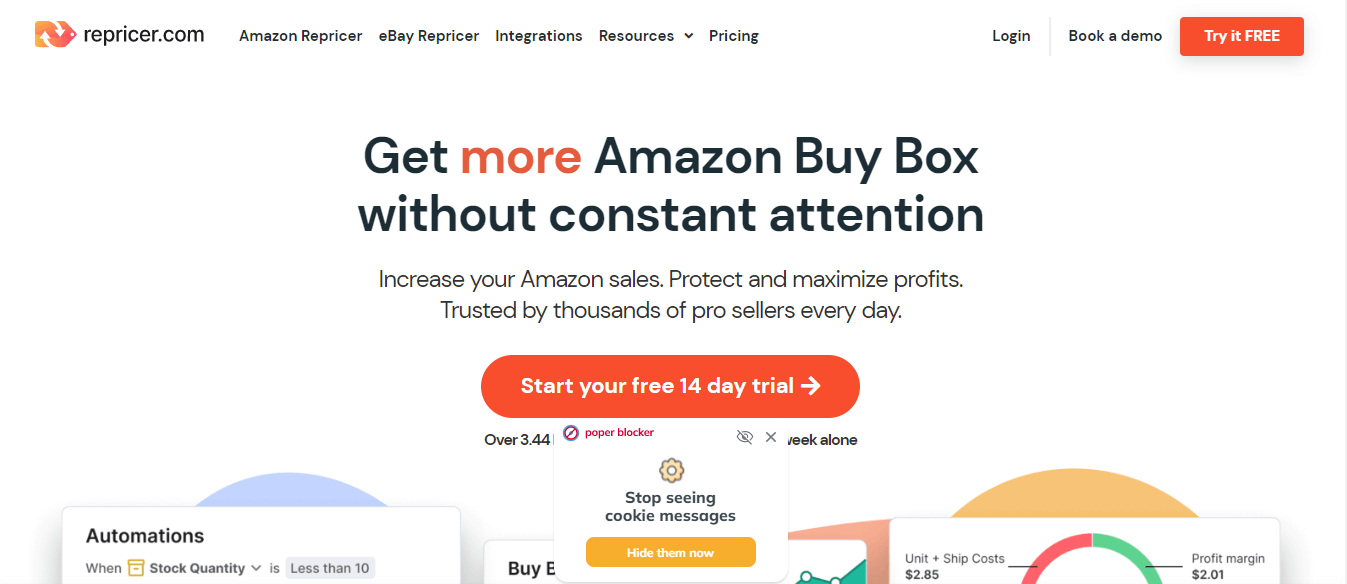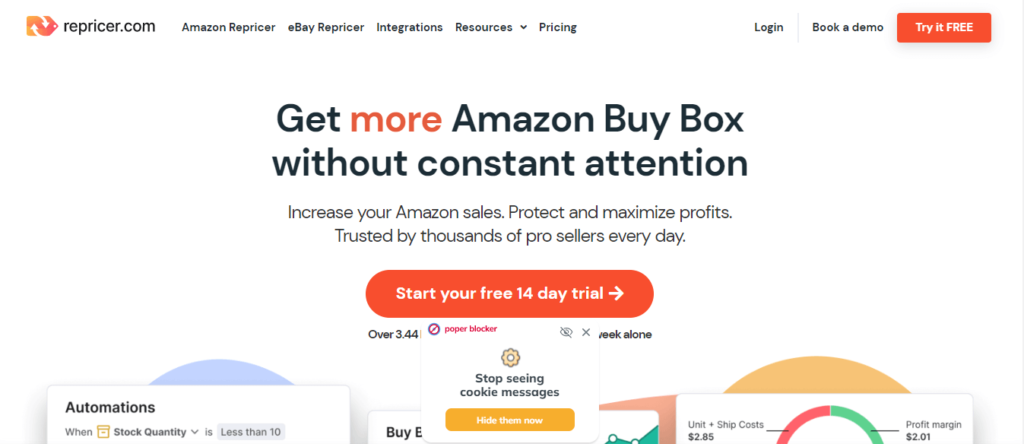 So, it helps you beat your competition using its applied suggestions. You can also exclude your competitors who have set very low prices.
It provides you with automated ways to improve your overall store's performance. For example, you can use this Amazon seller app to increase the price of a product when it is left in low quantity. All of such settings will be set by you and will apply automatically.
It is available in four pricing plans starting from $85 to $1249 per month depending upon the options that Amazon sellers can use.
Salient Features
Sales and profit maximization
Competitor analytics
More Amazon buy boxes
Applicable for Amazon marketplaces and others
5. eComEngine
eComEngine is a great Amazon seller tool for a variety of reasons. It works as a good product research tool for Amazon. You can also use its automated suggestions to manage and refill your stock.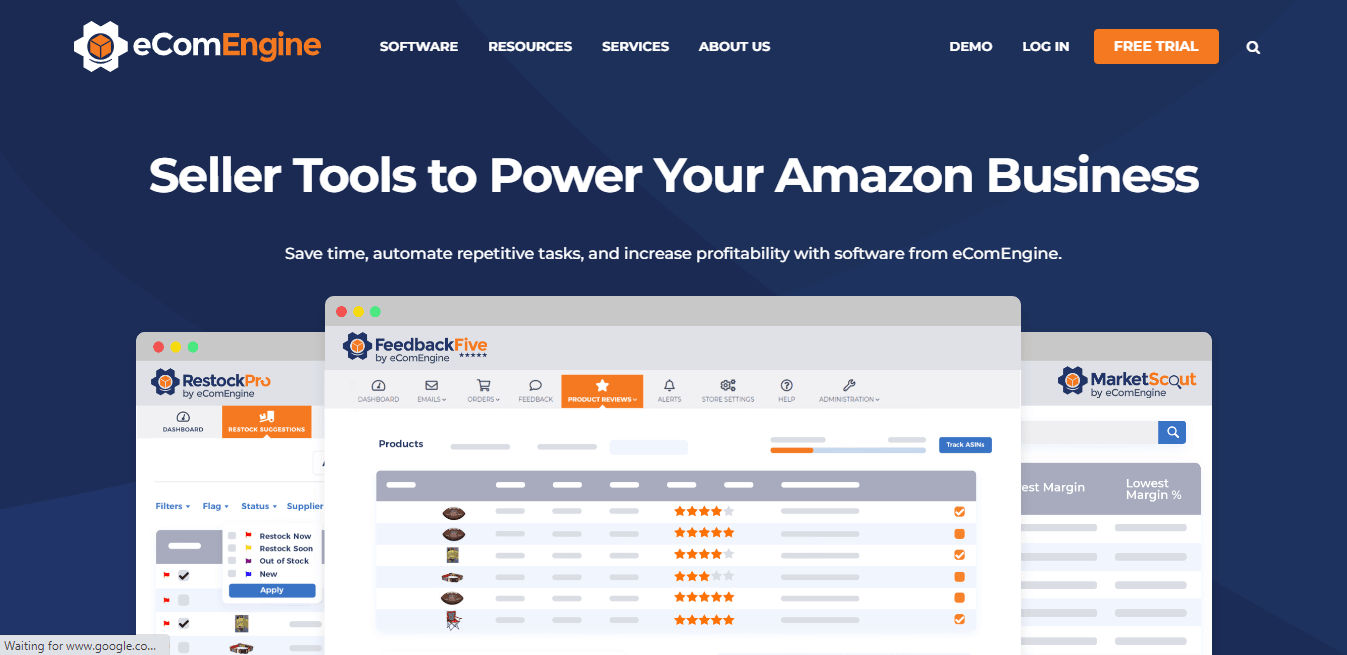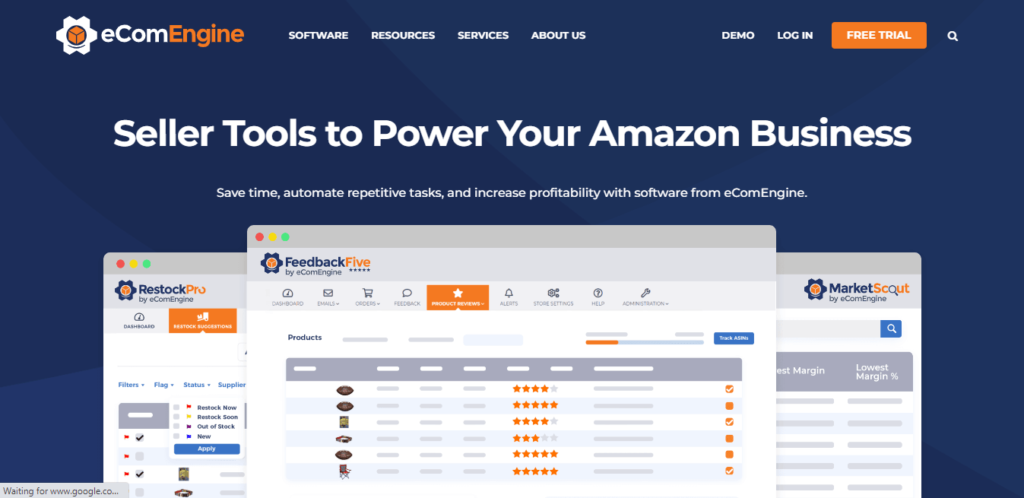 It has an amazing feature to help you maximize customer feedback by sending them auto-requests.
It is a paid tool with a free trial available.
Salient Features
FeedbackFive for managing your customer feedback automatically
MarketScout for product research on Amazon
RestockPro for automatic suggestions to keep your stock updated.
6. AMZ Scout
AMZ Scout is also a handy tool that saves a lot of headaches for Amazon sellers. From product research to listing optimization, it provides most of the basic tools that every seller needs.


It helps you analyze the sales trends of seasonal products. It also provides the unique benefit of calculating Amazon fees.
It is a little expensive tool. You can get the PRO Extension for $16.49 per month or a one-time payment of $499. The Amazon Seller Bundle is available for $29 per month or a lifetime payment of $1,499.
Salient Features
Product research
Listing optimization
Two plans – Amazon seller bundle and PRO Extension
7. Sellics
When it comes to giving suggestions for business improvement, Sellics takes the lead. It offers a comprehensive set of tools to optimize your operational and promotional activities.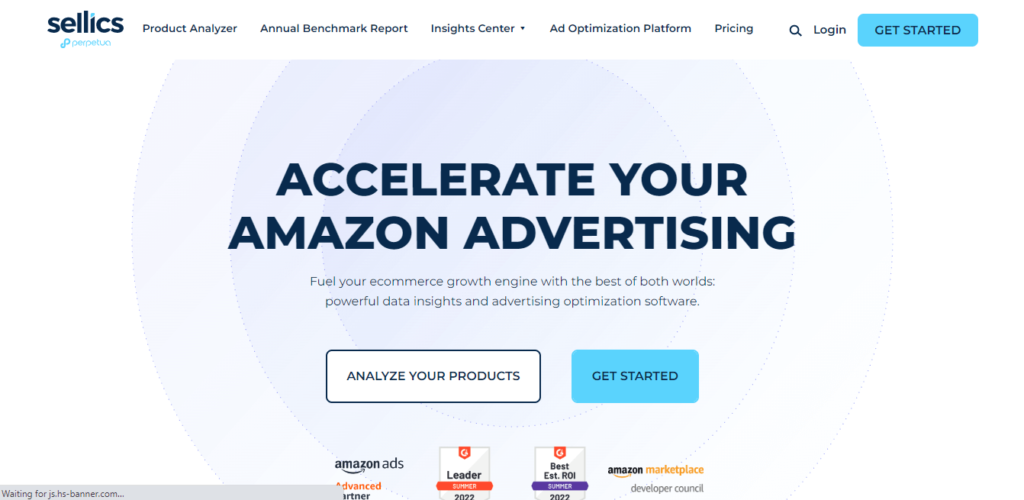 You can improve your store's ranking in Amazon searches.
Besides improving your store's SEO, it also shares useful data for optimizing your paid advertisements and helping with keywords and the Amazon directory.
It offers a free plan for starters and paid plans for $259 and $999 per month.
Salient Features
Product research
Keywords research
Helps achieve better Amazon SEO
Ads optimization
Product reviews optimization
Competitor intelligence
Profit tracker
Inventory automation
8. Zonguru
Zonguru is also a great Amazon tool that helps you in multiple dimensions. It claims to be an official partner of Amazon and Alibaba. So, you will have eyes on the comprehensive data that this tool will provide.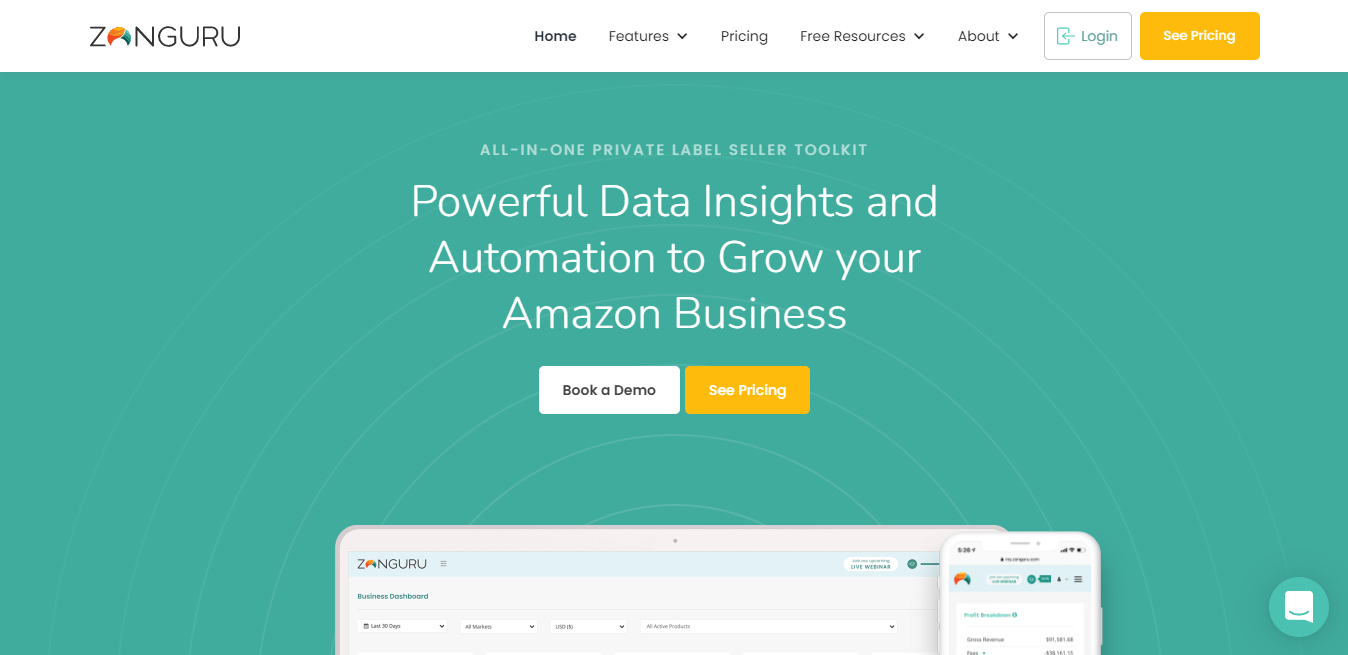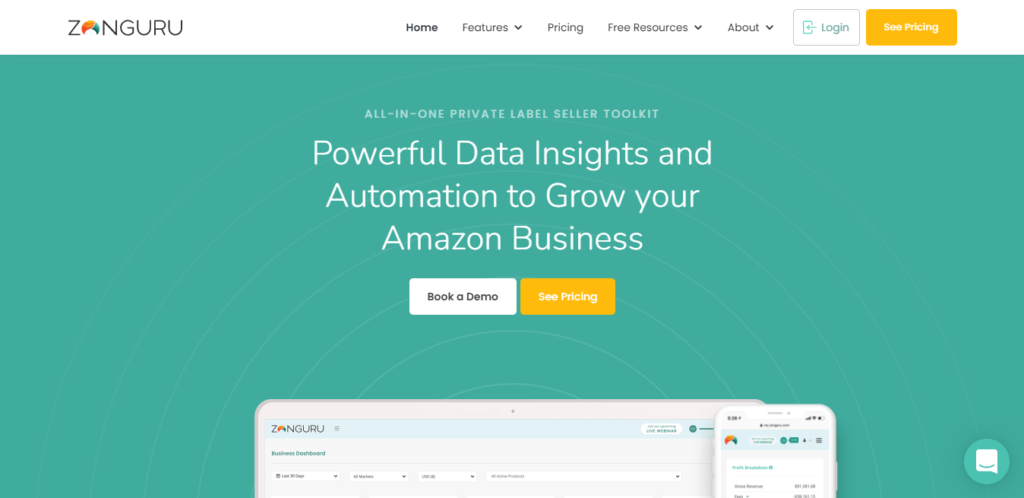 With its outstanding keywords research tool, you get to know which keywords can bring sales if you use them intelligently in your product listings.
It also gives you an idea if you would be able to compete on a specific keyword or not by sharing its difficulty level.
You can also find the hot selling products to get your share of the pie.
It offers two paid plans named researcher for $39 per month and seller for $49 per month.
Salient Features
Product research
Keywords research
Sales tracker
Automatic follow-ups
Easy ranking
Automated review requests
Low costs
9. SellerApp
SellerApp is a very useful tool for Amazon sellers. It has many features all loaded into a single powerful tool. This app suggests great product ideas along with its analytics and data that help you select a product.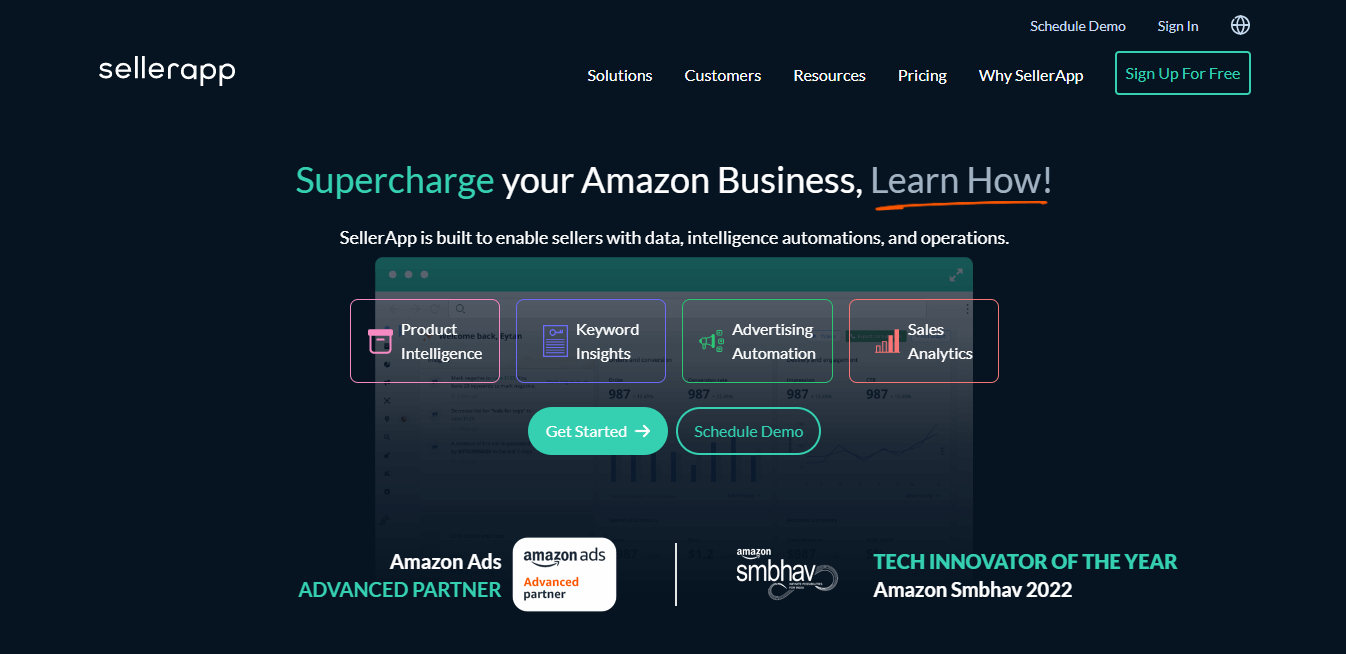 From operational excellence to sales efficiency, this tool can be all that you need to establish a successful Amazon business.
It has special features in sales and marketing that help you get more orders. It also enables you to estimate your profit margins.
The best part is that it offers a free version for new Amazon sellers with limited features. It offers two paid plans namely Pro Lite for $39 per month and Professional for $79 per month.
Salient Features
Product research
Keyword research
Ads optimization
Product sourcing
10. Teikametrics
Teikametrics is a popular Amazon tool for business growth. It assists sellers in automatically promoting their products on Amazon.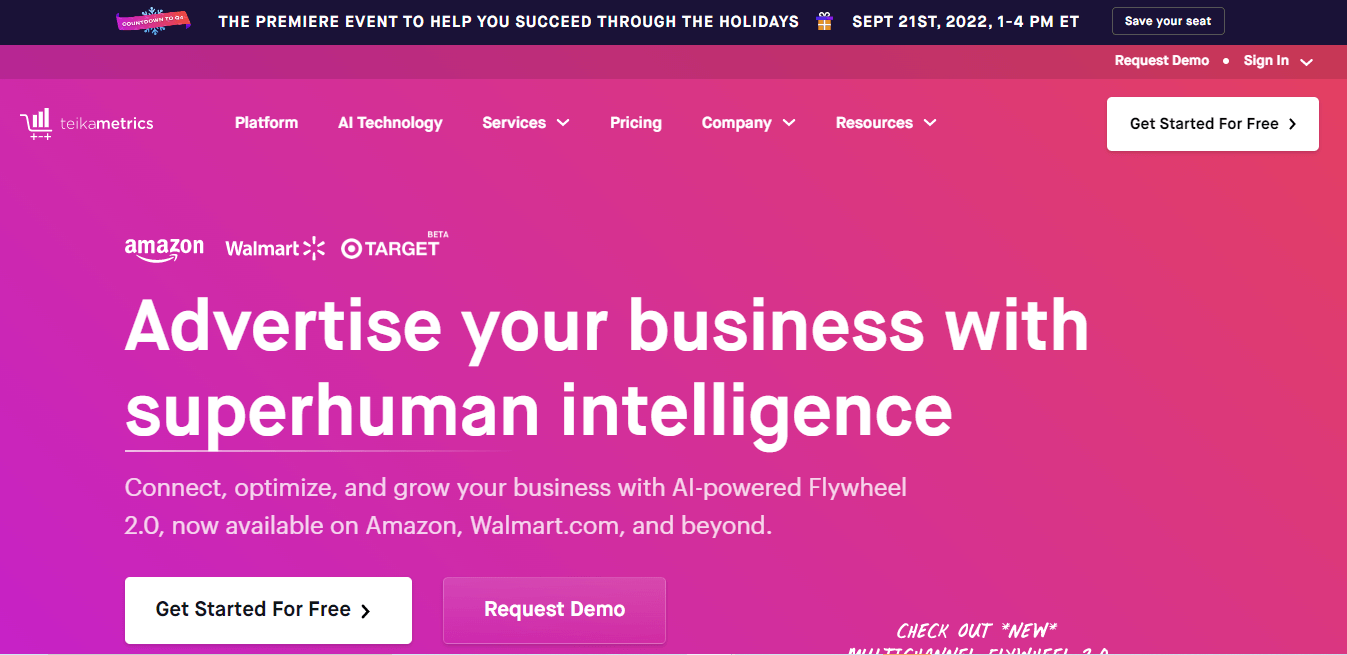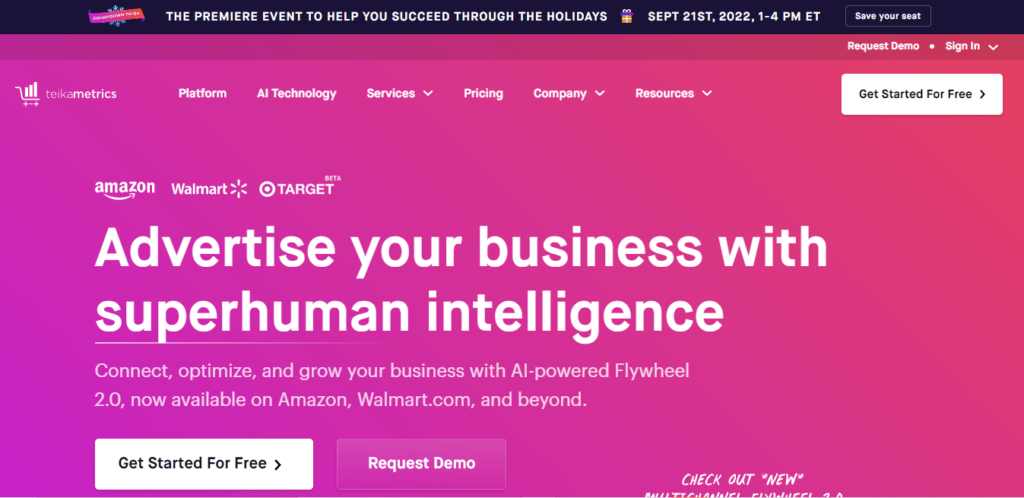 It also helps you synchronize your inventory with your sales. It is equally good for selling on Walmart.
Salient Features
AI-powered advertising
Improves ads efficiency
Data analysis
11. Feedback Whiz
Feedback Whiz is a great tool that helps Amazon sellers automate the process of increasing their feedback and reviews. As customer feedback is crucial for the store's success, this tool mainly focuses on getting you as many reviews as possible.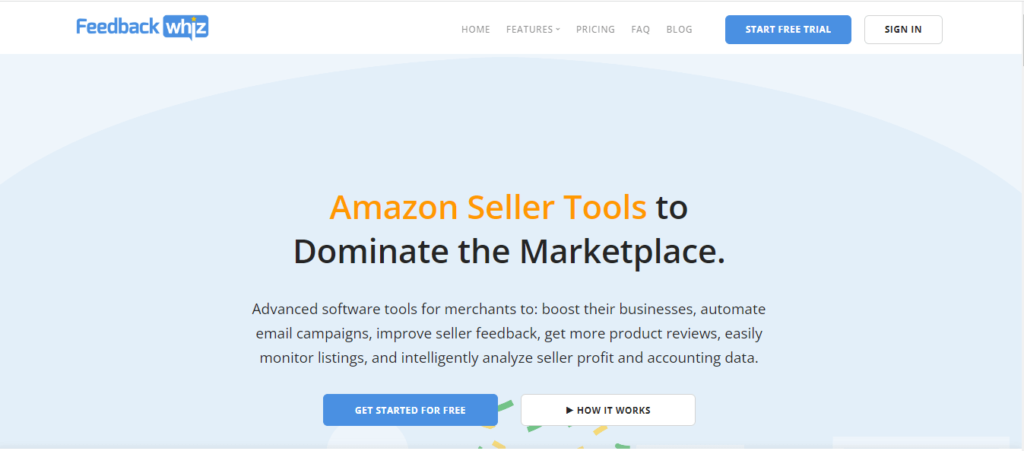 This app keeps reminding your customers about leaving feedback who forgot to do so after buying from your store.
Another awesome feature of this app lets you know whether you have won or lost the Amazon buy box. This allows Amazon sellers to make the most of the buy box or to do the needful if they have lost it.
It also helps sellers monitor their product's performance and check if other sellers are copying your products.
It offers a free plan and the paid ones start from $19.99 and go up to $139.99 per month.
Salient Features
Feedback tracker
Automated feedback requests
Buy box monitoring
Product analysis
Competitor analysis
Listing and profit monitoring
12. AMZFinder
AMZFinder is another great Amazon seller tool that helps you increase customer reviews on your store. It sends automatic emails to your customers containing feedback requests.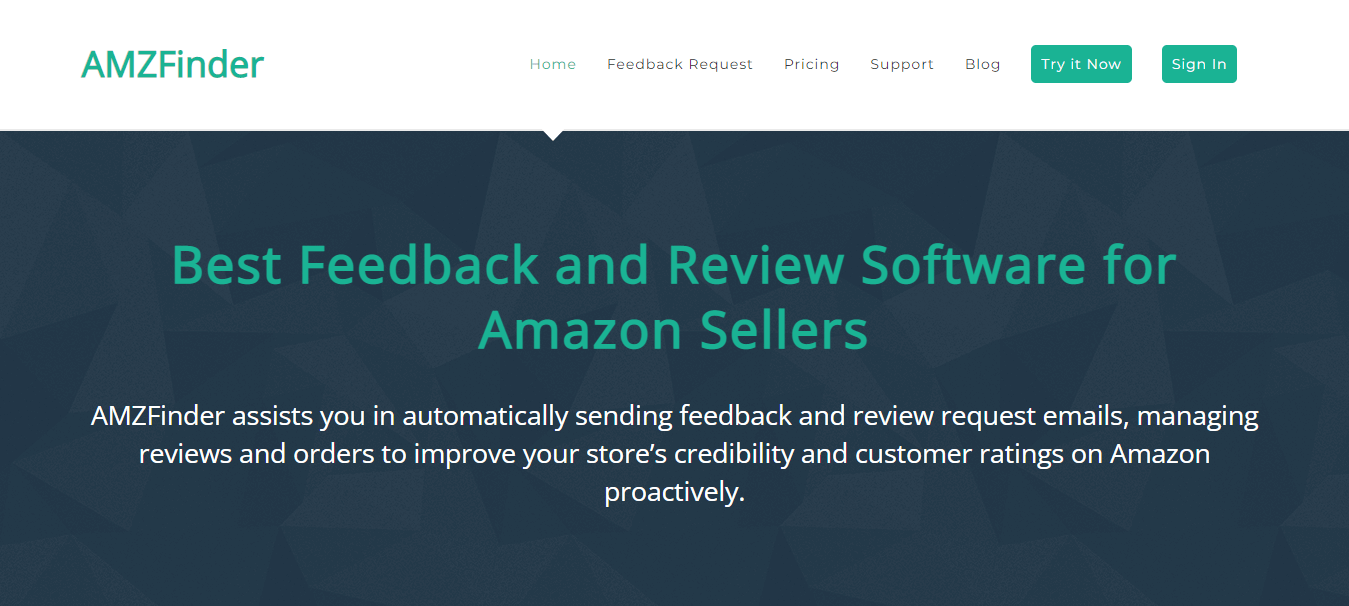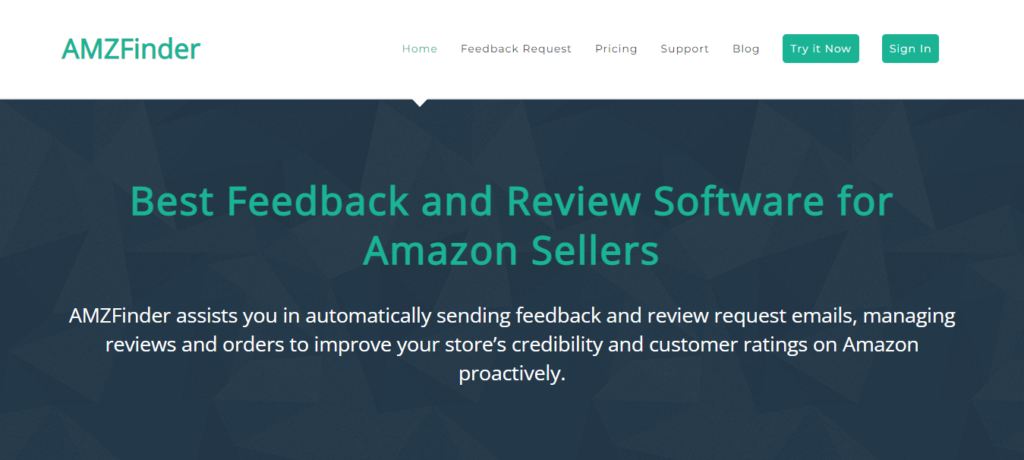 You can also use it to make and send professional invoices to your customers.
It has multiple pricing plans for Customer Emails and Review Management starting from $19 and $29 per month respectively.
Salient Features
Maximize customer reviews
Increases store's credibility
Improved brand identity
Reduces manual efforts
Viral Launch is an Amazon tool meant to facilitate every Amazon seller. It claims to provide better automation, visibility, and results for your Amazon store.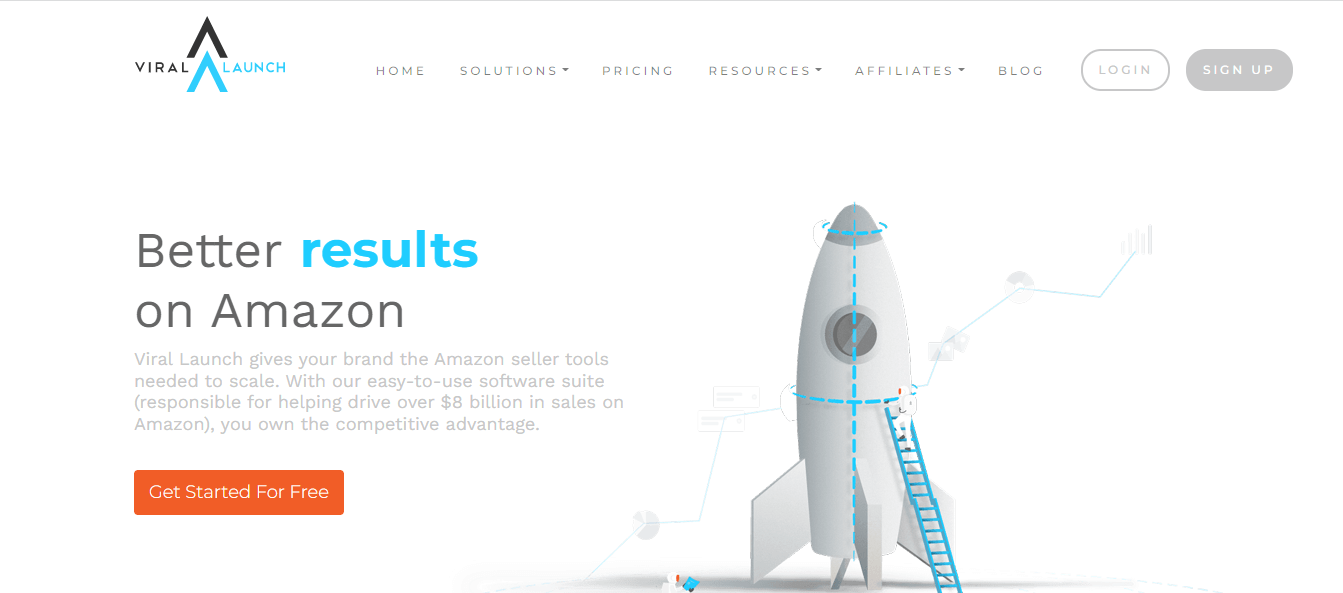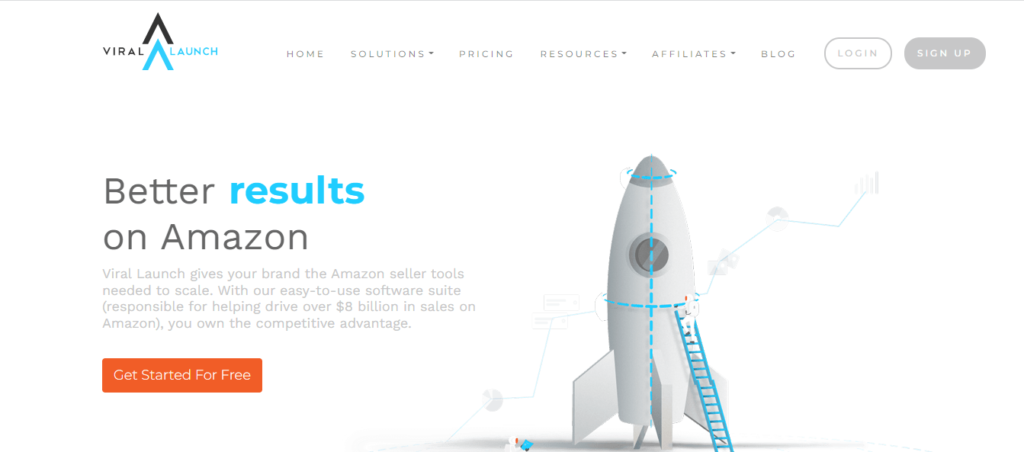 It analyzes your products and shares useful data that hints at the chances of its success. This helps you decide which products you should be selling on Amazon.
It also helps you launch your products efficiently to increase their chances of success. It is also known for making many new brands successful.
It has three pricing plans $69, $99, and $199 per month.
Salient Features
Product research
Keyword research
Competitor analysis
Market Intelligence
Ads optimization
14. Informed
Informed is another repricing tool for your Amazon products. You can use this tool to set specific rules for your pricing by incorporating your competitors' pricing strategies.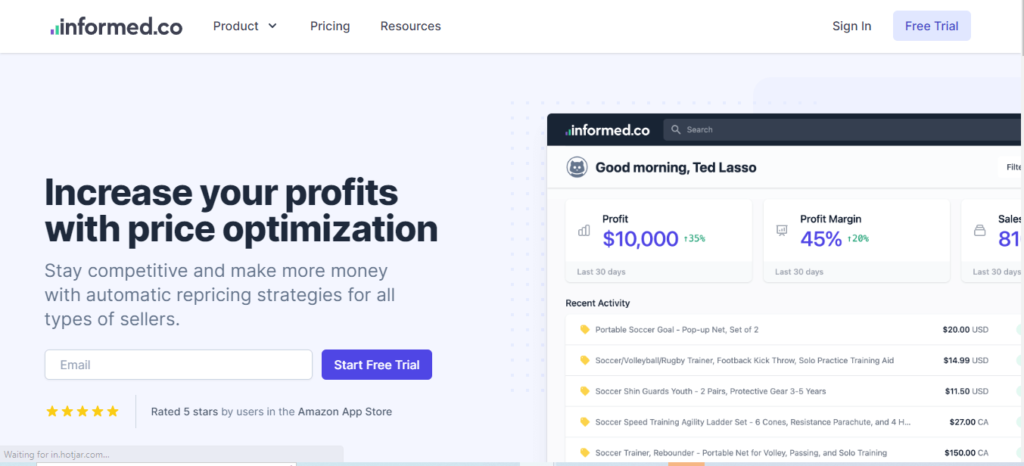 Once set, this tool automatically changes the price when the criteria are met. This way, it helps you win the buy boxes more easily.
It is also helpful for Amazon's private label business to have a clear idea of the right pricing.
It offers a unique pricing structure that is directly related to your monthly revenues. The lowest price is $49 and the highest is $399 per month.
Salient Features
Increased chances of the buy boxes
Profit maximization
Suitable for Amazon and Walmart
15. SmartScout
SmartScout is a decent tool with some useful software to automate your processes that especially suit new Amazon sellers.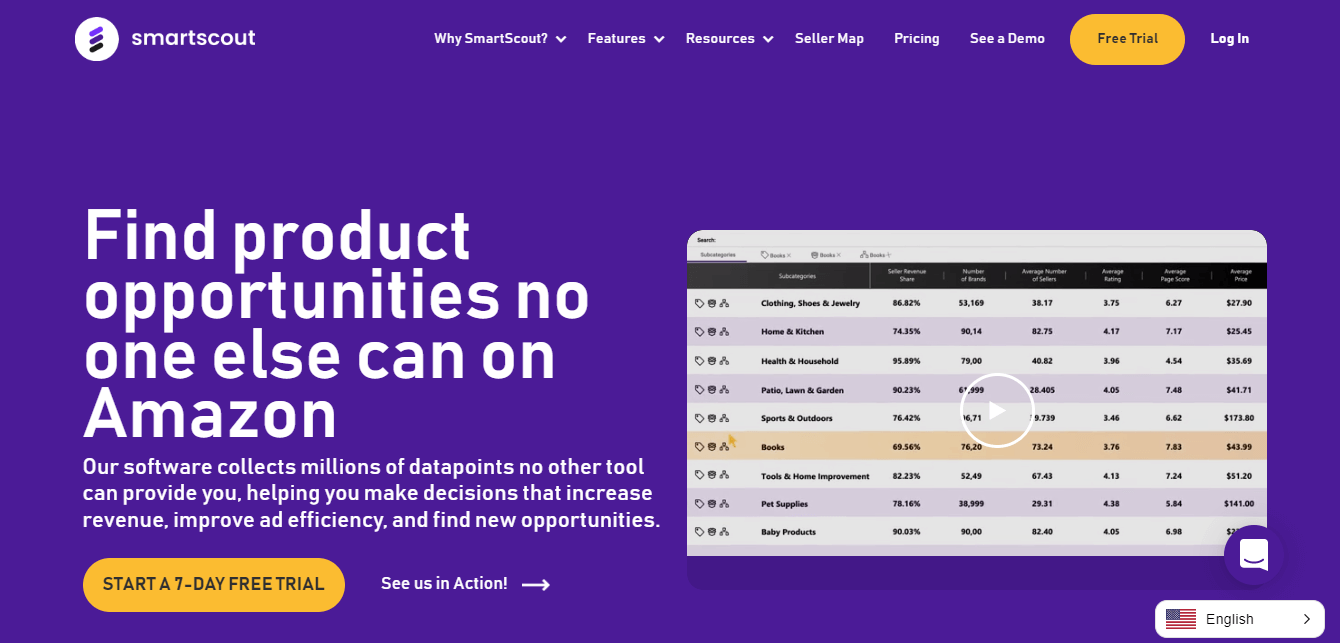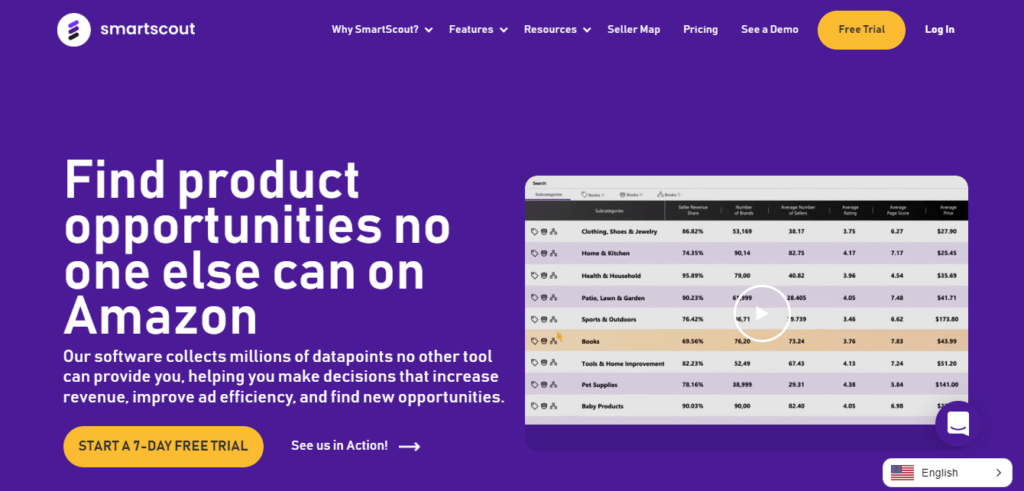 You can use these tools to find profitable products, analyze market trends, and listing optimization.
It is a powerful tool that can help you increase the number of orders by optimizing your store's SEO.
Salient Features
Traffic graph
ROI calculator
Keyword research
Market Intelligence
16. SellerTools
SellerTools provides a set of tools for achieving excellence on Amazon. You can do many useful things with this set of tools.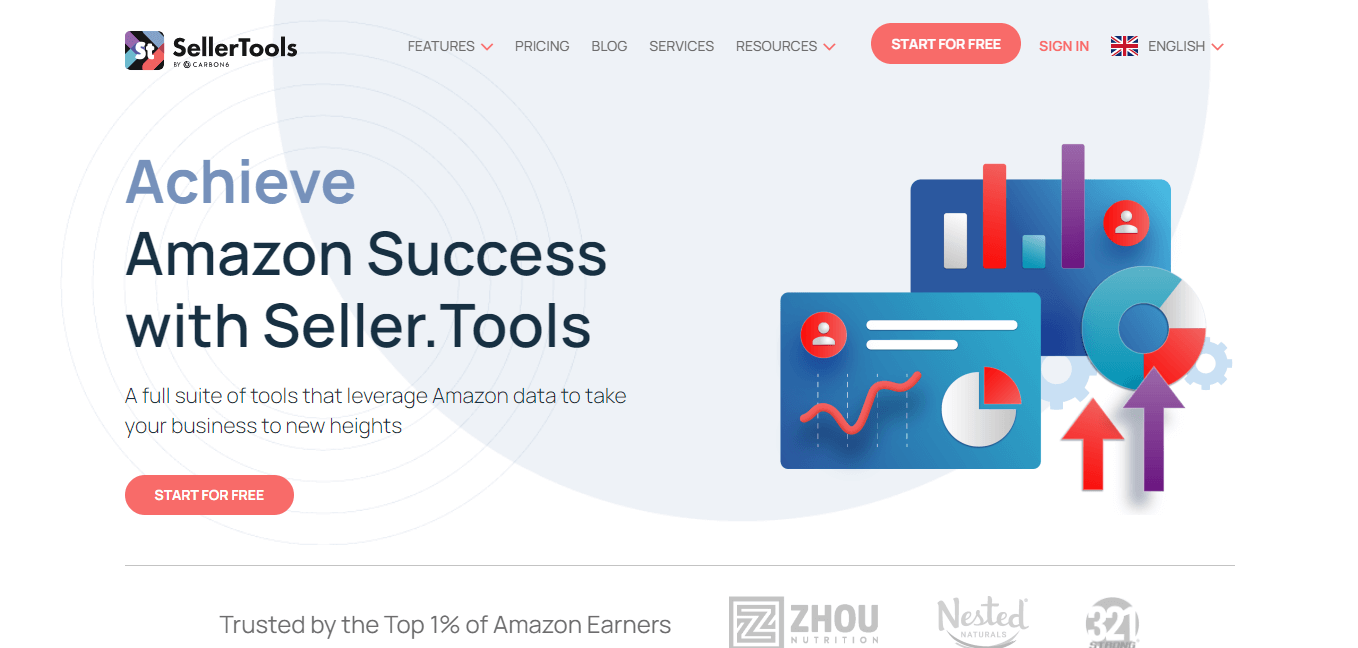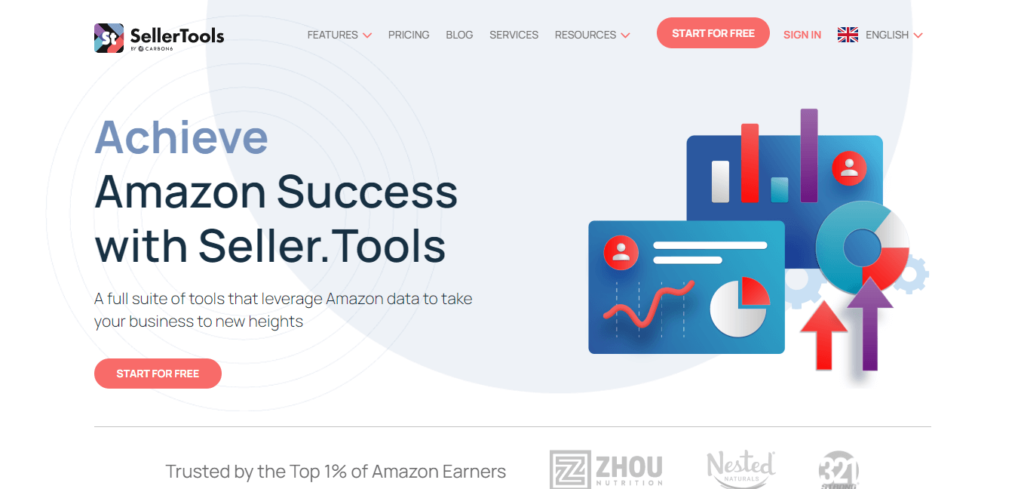 Starting from your product listings and SEO to automating your product launch, this app lets you do every crucial step to make your Amazon store successful.
It offers a free plan for beginners and two paid plans namely Lite and Starter for $67 and $117 per month respectively.
Salient Features
Product manager – Listing optimization
Competition research – Learn from your competitors
Automation – Optimize product launches in paid and organic ways
Chrome extension – Useful metrics in one click
Alerts – Important pings for crucial events like buy boxes and price changes, etc.
17. Feedvisor
Feedvisor is another awesome Amazon seller tool that claims to maximize your profits and overall business success.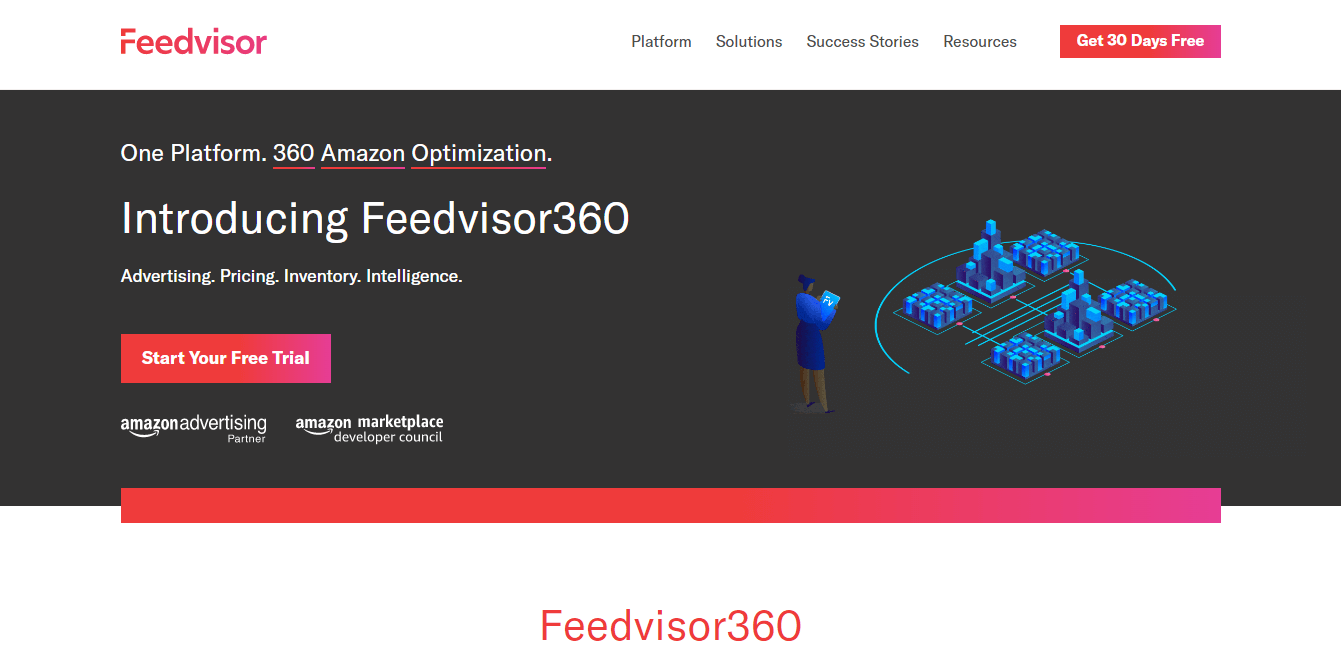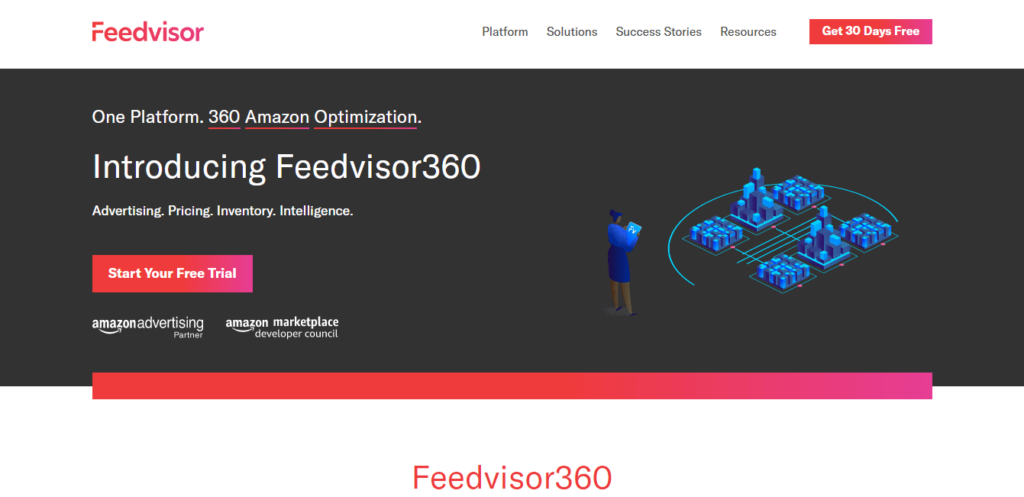 It also acts as a repricing tool to set the prices required to win the buy boxes. It offers its services for brands, Amazon sellers, and managed services.
It shares intelligent market data analysis that is useful to make the right decisions. As it helps you with your pricing and advertising strategies, it claims to be the best end-to-end solution for Amazon sellers.
Salient Features
Pricing optimization
Brand optimization
Advertising optimization
18. HelloProfit
It is a tool to have a track record of your profit margins to keep you updated with what you are earning from your Amazon store. It also tells you about the ups and downs of your Amazon business.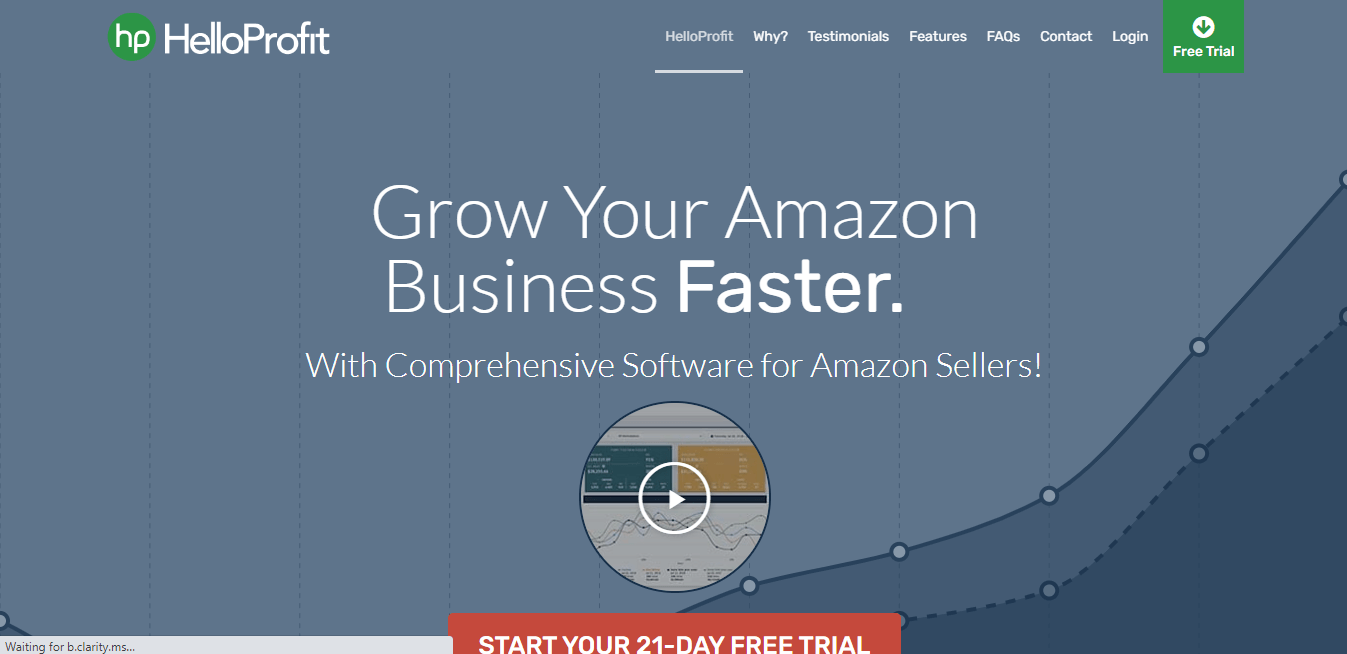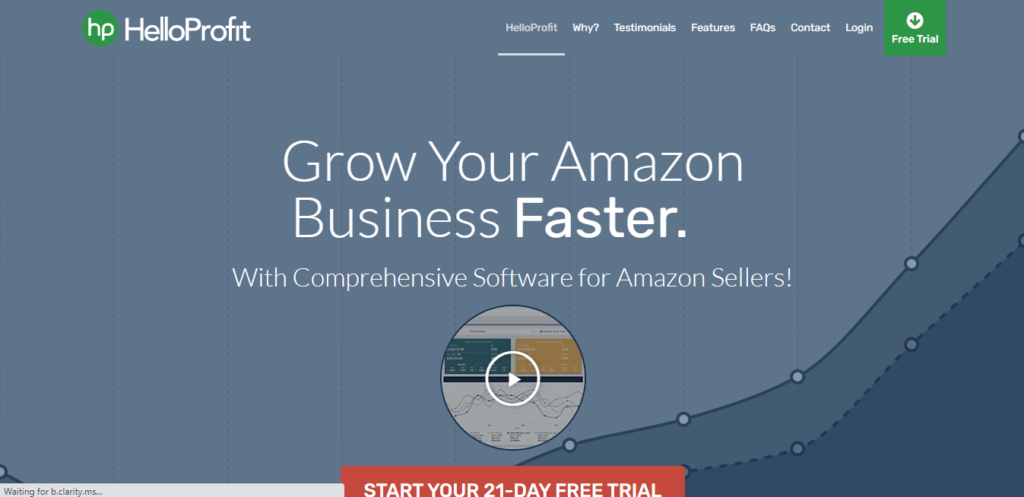 As profit is one of the main reasons behind every business including Amazon, this tool can help you become successful in less time.
It suits Amazon FBA mode due to their reliance on more accurate data.
It offers a 21-day trial free of cost and after that, you can use it for $97 per month.
Salient Features
Multiple merchant accounts – Manage everything in one place
Merchant stats – The merchant data will help you stand out
Near real-time data – The data is mostly accurate for perfect analysis
FAQs about Best Amazon Seller Tools
The following answers to the most frequently asked questions will help clarify any doubts about the best Amazon Seller tools.
What Are the Benefits of Amazon Tools?
Amazon tools help reduce your work. As time is money for every businessman, these tools increase your chances of success as early as possible. Some of the benefits are listed below.
Better chances of appearing in early search results on Amazon
Detailed competitor analysis to stay ahead of your competition
Automate your daily tasks to reduce your workload
Save the costs of hiring extra staff for your business
Inventory synchronization for efficient stock management
Overall improvement in your store's performance and ranking
Optimize your advertising campaigns
Can You Be Successful without Amazon Seller Tools?
Yes. It's alright if you don't want to use tools on Amazon. But given the competition and difficulties in making your new business successful, it is always advisable to use tools.
What Are the Best Amazon Seller Tools for Free?
Many Amazon seller tools offer a free version. More Amazon free tools are listed below. Most of them are related to store optimization and SEO.
Unicorn Smasher
Keyword Tool
Sonar
AMZbase
Summary
Having quick growth at Amazon is essential in 2023. With a quick increase in competition, it is almost inevitable to use the best Amazon seller tools to keep your store alive. 
The tools mentioned in this article help achieve excellence in getting organic and paid orders. If you have just started your Amazon business, try using free versions to kickstart sales and gradually move towards paid versions.
Do you want to source high-quality products for your Amazon business at the most competitive prices? Ask for a free quote and leave everything else to us.