Amazon has largely become the favorite e-commerce platform for online sellers in 2022. As there is a steep rise in the number of Amazon sellers, the criteria to win the orders have also become tougher than ever.
You can't just upload a product on Amazon and get crazy sales all of a sudden. You need to incorporate multiple factors to remain competitive and profitable at the same time.
So, what is the Amazon buy box and how does it help you get more orders? How can you increase your chances of winning it every time?
Let's find out.
What Is the Amazon Buy Box?
Amazon buy box is the white box on the extreme right side of the product page. It shows the product's price and has the options of "Add to Cart", delivery information, and a "Buy Now" button.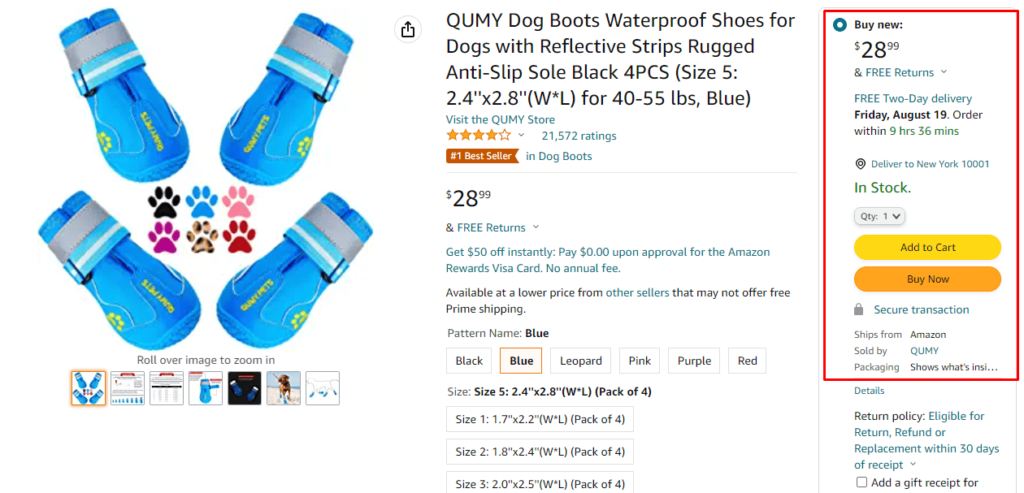 The buy box also shows the seller's name (Sold by) and who will ship the product (Ships from).
When a customer orders from the buy box, Amazon will decide which seller to show based on its algorithm.
This automatic way is generally referred to as "winning the Amazon buy box". So, we can say that the Amazon buy box is Amazon's suggestion to the customer to buy that product from the seller mentioned in that box.
The Amazon buy box is the backbone of your Amazon business. The seller who will get the order for that product means that he has won the buy box.
The Logic Behind the Amazon Buy Box
In most cases, there are a lot of sellers for the same products on Amazon. Therefore, Amazon has to decide which seller will get the order.
Buyers usually don't care about the seller. They just need the required products. That's why Amazon takes the liberty to decide on the seller to keep the buying process smooth.
Let's try to understand this from a seller's point of view. Suppose you are selling dog shoes that you bought from China while 9 other sellers are already selling the same product on Amazon.
When a customer logs into Amazon and searches for "dog shoes", who will get that order? That depends upon multiple factors which we have discussed below.
How to Qualify for Amazon Buy Box?
Following are the factors that help Amazon decide to award a buy box.
Type of Selling Account
Amazon offers two selling plans – individual and professional selling accounts.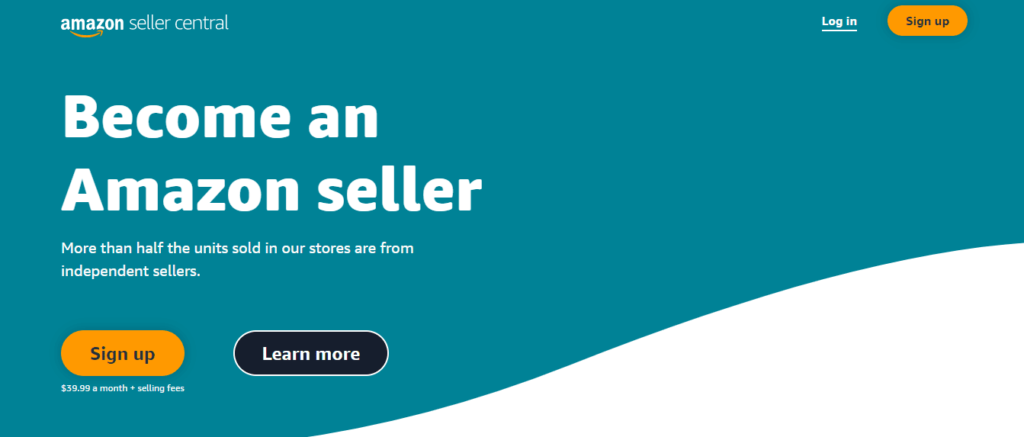 Amazon doesn't give buy boxes to individual accounts. It only awards it to the professional seller accounts.
Product's Condition
One of the prerequisites of winning the Amazon buy box is that your products should be brand new. They should not be used or damaged products. Otherwise, Amazon will not show your shop in the buy box.
Compliance with Amazon's Policies
One of the biggest contributors to your seller's Account Health is your compliance with Amazon's product policies. If you violate them, your store will go down among Amazon's considerations for the buy box.
Product's Availability
Another criterion for winning the buy box is that the products must be available with the seller in stock. If a seller doesn't have those items, his store will not be shown in the buy box.
Additionally, your items must be available most of the time. Amazon doesn't like the sellers who mostly remain out of stock.
Product's Price
If your price is the lowest among your competitors, you have a higher chance of winning the buy box. But abnormally low prices also raise Amazon's eyebrows.
Another factor related to the pricing is your consistency. Some sellers increase the prices of their products during the peak shopping season (Q4) due to multiple shopping events like Halloween, Black Friday, Christmas, and New Year. This is not a healthy practice to win the Amazon buy box.
If you have a lot of pricing fluctuations in a short time, it will reduce your chances of winning the Amazon buy box.
Shipping Time
Suppose all the 10 sellers have the same price with a good stock level and all of them abide by Amazon's policies. Who will Amazon award the order to? Amazon will look for other criteria to prioritize the seller.
One of those criteria is the shipping time. The shipping time is also mentioned in the buy box. That's why Amazon prefers to show the seller in the buy box who offers the shortest delivery time.
The FBA Factor
If you are using Amazon FBA to fulfill your orders, there is a higher chance of winning the buy box. Through this move, Amazon is also promoting its own service.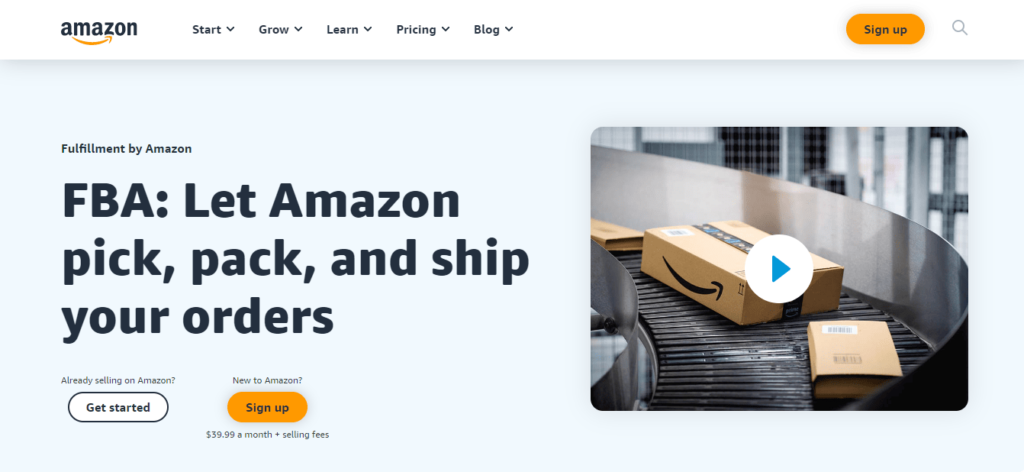 There is a more fair reason for this too. Amazon has an overall objective of providing its customers with a happy shopping experience.
If Amazon handles your products, it will improve the overall fulfillment process and customer service.
So, if you want to have more buy box deals, you should consider using FBA over FBM.
Seller's Profile
If all the 10 sellers have the same seller metrics and are using FBA, Amazon will further rate sellers according to their selling profiles.
The one with the best rating and customer service feedback will get the buy box.
Being a buy box winner is not an overnight miracle. You have to maintain a good selling history to give Amazon a positive signal to.
The following are some factors that contribute to the seller's profile.
Claims and refunds
Products return requests
Timely shipment and deliveries
Answering customer queries
Complaint handling
ODR (Order Defect Rate) and OCR (Order Cancellation Rate)
So, if you have a good rating as a seller on Amazon, it will increase your chances of winning the buy box.
Amazon Buy Box and Me Too
Me too is a concept of selling the same product on Amazon that another seller is also selling. If you scroll down the Amazon buy box, you will see an option that says "Have one to sell?".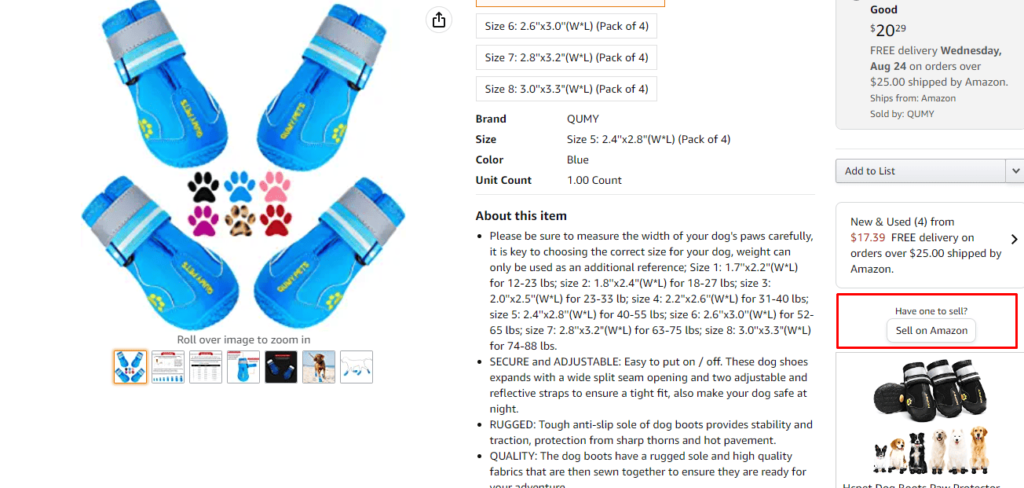 This means that if a buyer or the person visiting the product page also has the same product and wants to sell it on Amazon, he can do so by clicking the option "Sell on Amazon". This concept is generally referred to as Me Too on Amazon.
If someone uses this option, it means that the competition for that product has begun or increased further.
The Me Too concept is directly related to the Amazon buy box because if there was a single seller of a specific product on Amazon, the addition of another seller using Me Too signals Amazon to select the better one between the both.
Why Is the Buy Box Important for Amazon Sellers?
Winning the buy box is the battle of survival at Amazon. This is especially true if you have bought a lot of stock and can't liquidate it in the expected time.
The following are the few factors that make the buy box quite important for Amazon sellers.
Avoids Product Pile-up
Most Amazon sellers are into selling multiple products. If you have a stock pile-up of a certain item, winning the buy box for the same product is essential for you.
Even if you lower the prices, you have to win the buy box to avoid having dead stock.
Minimizes Storage Charges
If you're using paid services like FBA, you are paying heavy storage and handling charges. In that case, it becomes vital for you to start generating sales to keep your business alive.
Minimum Store Optimization
Amazon search engine optimization (SEO) is altogether a demanding job that takes a lot of time and effort to appear high in Amazon searches to generate more sales.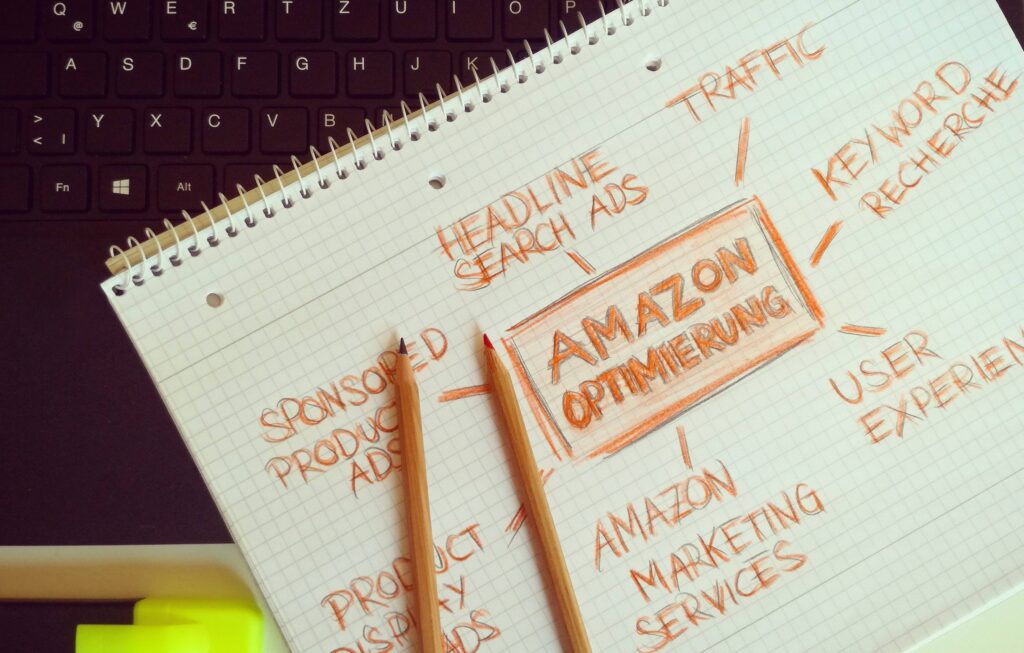 If you start winning the buy box, you won't have to invest much in improving your store's SEO as you would already start getting a lot of orders due to smart Amazon algorithms.
No Giveaways Needed
A major step that wholesalers or retailers have to take is to give gifts or giveaways to their customers to get noticed and eventually capitalize on more sales.
But sellers are not sure how many giveaways are enough to win a reliable customer base. It mostly seems to be an unending paradox.
The Amazon buy box can get you out of this trap. You don't need to give gifts to attract customers if you start getting orders via the Amazon buy box.
Pros and Cons of Amazon Buy Box
Let's briefly discuss the advantages and disadvantages of the Amazon buy box.
Pros of Amazon Buy Box
The following are the benefits of the Amazon buy box.
Amazon keeps rotating the buy box, providing equal opportunity to all the sellers
The fear of losing buy box compels the sellers to improve and maintain the quality of their products and services
Promotes healthy competition among sellers
The ultimate benefit is passed on to the end-users
Amazon sellers can reduce their marketing costs just by focusing on the buy box
Cons of Amazon Buy Box
Although the Amazon buy box is an Amazon feature, it still has a few potential disadvantages. A few of them are listed below.
Higher competition squeezes profit margins
The cruel price war between sellers may affect their passion for the business
Most sellers have to use FBA with heavy fees
How to See If You Are Winning the Buy Box?
You can use a simple manual technique mentioned below to see if you are winning the buy box or not.
Visit the Amazon website as a customer and search for the keywords related to your products. Click on the product that matches yours in the results.
If you see your shop's name under the "Sold By" option on the buy box, it means that you have won the buy box for your product.
If your store's name doesn't appear on the buy box, you can scroll down and see the details of other sellers as shown in the screenshot below.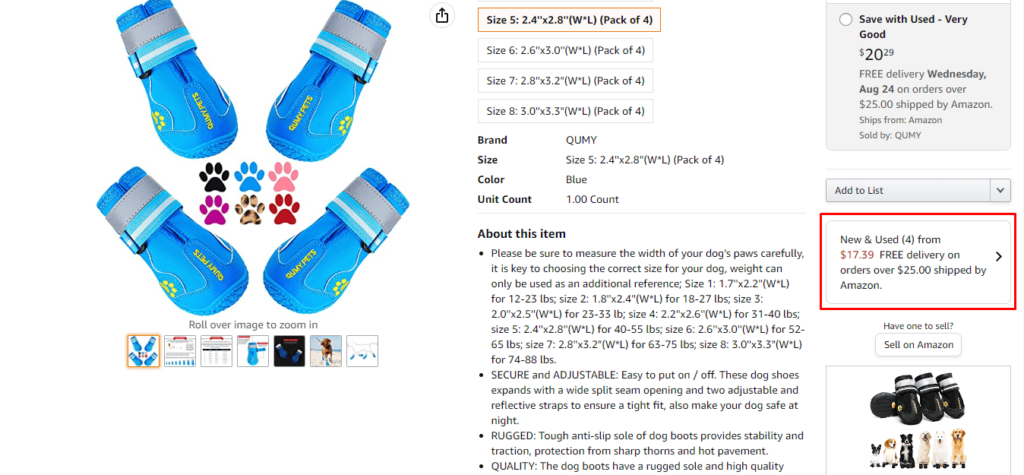 You can click this small box showing the information about other sellers of the same product. Check your name there and compare it with your competitors.
How to Win the Buy Box on Amazon?
Let's discuss some tips that will help you win the buy box on Amazon. You should try all of them if you want to win the buy box sooner.
Use FBA
Call it a monopoly or direct competition with the platform but you should consider switching to FBA instead of FBM if you want success with the buy box.
You may provide over-the-top services using FBM. You can also qualify for SFP (seller fulfilled prime) but the truth is that FBA sellers are more likely to get the buy box.
Competitor Analysis
Winning the buy box is all about beating your competition. You should have a close look at your competitors and try to think ahead of them.
You can only beat your competition if you know their strengths and weaknesses. Try to overwhelm their strengths by going the extra mile to create a difference.
Price Reduction
One of the prime factors among all others to win the buy box is the product's price. If you fulfill other criteria of the buy box, lowering your product's price in comparison to your competitors will boost your chances to win the buy box.
But keep in mind that buy box doesn't always go to the lowest price. You have to keep the prices somewhere around the average selling price as the very low price also does not assure winning the buy box.
More Customer Interaction
Just like any other website, Amazon likes to have more traffic. Even if the visitors are not buying from your store, you should try to have as much interaction with your customers as you can.
This will give a positive signal to Amazon about your store.
Paid Advertisements
When you search for a product on Amazon, you get sponsored advertisements at the top of the results page. These are the paid advertisements on Amazon.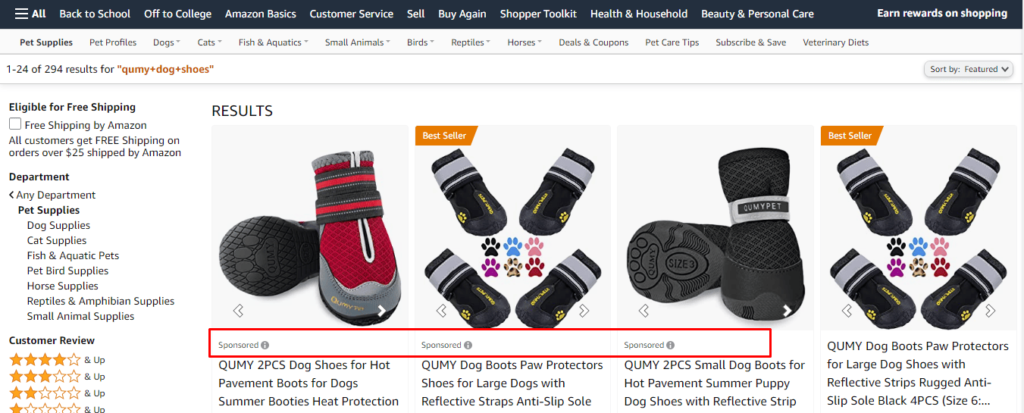 You can also consider running ads on Amazon to show your products at the top against specific keywords. This is the most preferred way of getting noticed by your customers easily.
Being a smarter way of getting early sales, it also requires money to run ads on Amazon. So, you should do that if you are confident about your products, pricing, services, etc.
A good thing about running advertisements is that you already have an idea about the keywords that the customers will most probably use to search for your products.
You can use those keywords in your PPC advertising campaigns and increase your chances of winning buy boxes regularly.
So, you can beat your competition by running advertising campaigns on Amazon.
When Do You Lose Buy Box on Amazon
There are many don'ts of getting the Amazon buy box. Some of them are listed below.
You Can Lose the Buy Box If…
There is a huge difference between your price and the product's average selling price
Your competitor outperforms your store or a new seller with better metrics joins the competition
You violate Amazon's policies
Your account health deteriorates
How to Optimize Your Prices for the Buy Box on Amazon?
As discussed earlier, lowering your price to the minimum doesn't always help. Additionally, the price is not the only factor to win the buy box.
The best tip would be to keep the price a little lower than the average price of your competition and start improving the other metrics that will help you win the buy box.
FAQs about Amazon Buy Box
The following answers to the most frequently asked questions will help strengthen your concepts about the Amazon buy box.
Why Does Amazon Have Buy Box?
Amazon is very possessive about its customers. It always wants to make sure that it provides the best customer experience.
Introducing the idea of the buy box is a great attempt to achieve this. As monitoring every seller is a complex task for Amazon, it uses this intelligent way of compelling the sellers to provide the best overall experience.
How to Win the Buy Box as a New Seller?
As a new seller on Amazon, it seems a daunting task to beat the competition to be on the top. But you can play smart by choosing the product that has little competition.
You can implement the buy box eligibility criteria, keep the prices controlled, and do more than your competitors to win the buy box quickly. If everything goes well, you can expect to have your chance with the help of Amazon's buying box rotation.
Is There Always a Buy Box for Every Product on Amazon?
Amazon usually awards a buy box for every product but there may be no buy box against a specific product. In that case, Amazon shows an option that says "See all buying options".
You will click it and all the sellers for that item will be shown along with the prices.
When Amazon doesn't show a buy box for a product, this would mean that no seller has met the buy box criteria for that product.
What Is a Good Buy Box Percentage on Amazon?
The buy box percentage hints at calculating your chances to win the buy box. The higher the percentage, the higher the chances of winning the buy box again in the future.
This percentage is calculated using the following formula.
Buy Box Percentage = Number of Buy Boxes won / number of product listings views
For example, if you had 2000 page views and you won the buy box 400 times, the buy box percentage will be 20%. This means that you can expect a 20% share of Amazon's sales for your product.
A good buy box percentage varies from case to case. Generally, a good buy box percentage is considered to be around 20-30%.
What Is Amazon Private Label vs Amazon Buy Box?
Amazon private label refers to selling products on Amazon with a unique trademark. As the name suggests, your products will be privately labeled on Amazon and you will be selling them as a brand.
There are higher chances of winning a buy box in Amazon private label. That's because there is almost no competition in selling uniquely branded products.
Even if other sellers start competing with you showing that they also have the same products, you can initiate a case of infringement against those suppliers to keep them away.
So, the Amazon private label reduces the competition and increases your chances of winning the buy box.
Summary
There is a reason why Amazon is so successful as an e-commerce platform. It has implemented some smart strategies that keep refining its operations by default. Amazon buy box is one of such strategic moves to optimize its sellers' performances and improve customer experience.
Getting the buy box is a dream of every Amazon seller and you should leave no stone unturned to get to it and stay there.
If you want to source the best quality products at competitive prices from China, ask for a free quote from us today. Many Amazon sellers have earned buy boxes using our sourcing hacks.