Fulfillment is the most demanding part of e-commerce. New online businesses often fall behind in the race to provide better self-fulfillment services.
That's where third-party fulfillment services like Amazon FBA jump in. While FBA is one of the most reliable services, it is one of the most expensive ones too. Moreover, its strict policies are unsuited to some businesses.
In this article, you will have a list of Amazon FBA alternatives that will help you find one that suits your needs.
Let's start.
1. FedEx Fulfillment
FedEx is the name that speaks for itself. It is a kind of service that goes beyond just e-commerce. Established in 1973, they have quickly taken over the fulfillment service through their global logistic networks.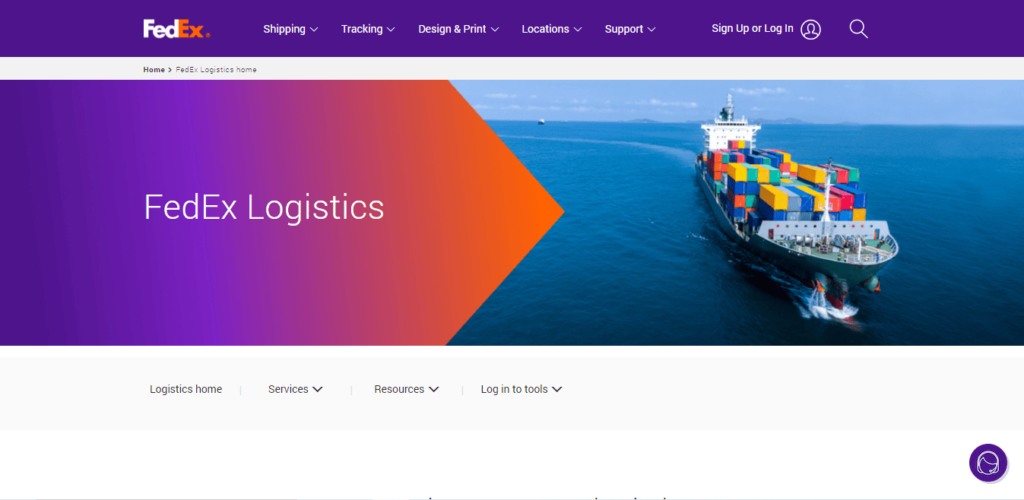 In addition to the fulfillment services, it also provides kitting services to optimize your shipping and storage processes.
It also suits delivering bulk orders for B2-B businesses. But as it is a big company, it requires you to have a certain order value. So, it may not suit businesses that just started.
You can integrate your stores with Shopify, WooCommerce, eBay, Walmart, Etsy, etc. So, you can use a single fulfillment service to deliver your orders from multiple sales channels.
Besides, they provide special storage and shipping facilities for temperature-sensitive products.
For your information, FedEx is ineligible for Amazon SFP as it does not commit to delivering the products within a day or two. It also doesn't provide FBA prep services like custom packaging.
Key Features
Minimum 400 orders per day are required
13 US and 2 international fulfillment centers
Best experiences for the returns
Best For
A lot of monthly orders
Brands and established businesses
Small and lightweight goods
Multi-channel sales
2. ShipBob
Founded in 2014, ShipBob is one of the best alternatives to FBA. You can trust this fulfillment service for multiple reasons. With 24 US and 5 international fulfillment centers, it is one of the most relevant fulfillment partners for e-commerce.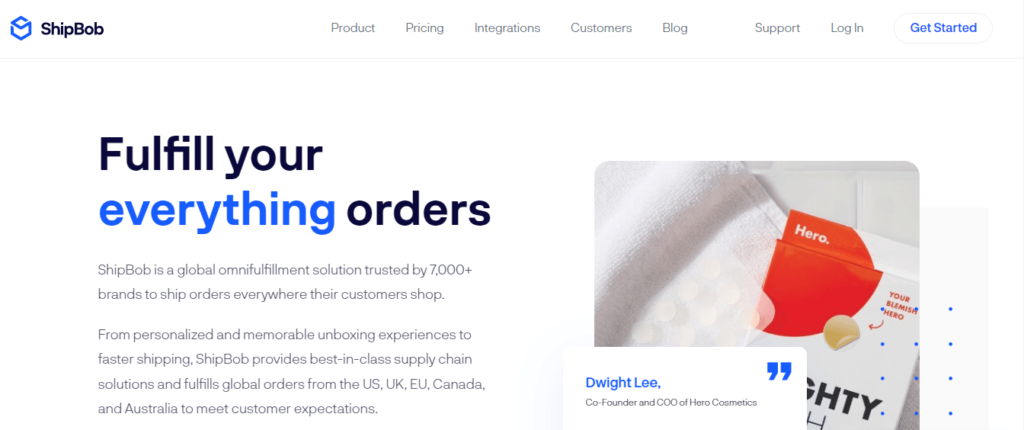 It provides services like warehouse kitting, and FBA prep at affordable costs.
It doesn't only keep all the orders to itself. It partners with leading fulfillment services like DHL, UPS, FedEx, and USPS to expedite the fulfillment processes.
You can fulfill your orders from multiple sales channels including Shopify, Magneto, Woocommerce, BigCommerce, etc.
It also provides shipping and storage solutions for temperature-sensitive products.
It does not support Amazon Seller Fulfilled Prime (SFP) service. So, you can't use the Amazon Prime badge with your products.
With low monthly order requirements and affordable setup costs, you can consider this service a good alternative to FBA.
Key Features
No monthly orders required
Minimum 1800 orders required per year
Supports branded and customized packaging
Partners with leading shipping services for expeditious shipping
Best For
Fulfillment by Merchant (FBM)
Small startups
Shipping general products including beauty, health, clothing, etc.
A small number of monthly orders
Quick returns management
2-day shipping within the USA
3. ShipMonk
Established in 2014, ShipMonk is a specialized e-commerce fulfillment service that claims to revolutionize e-commerce fulfillment.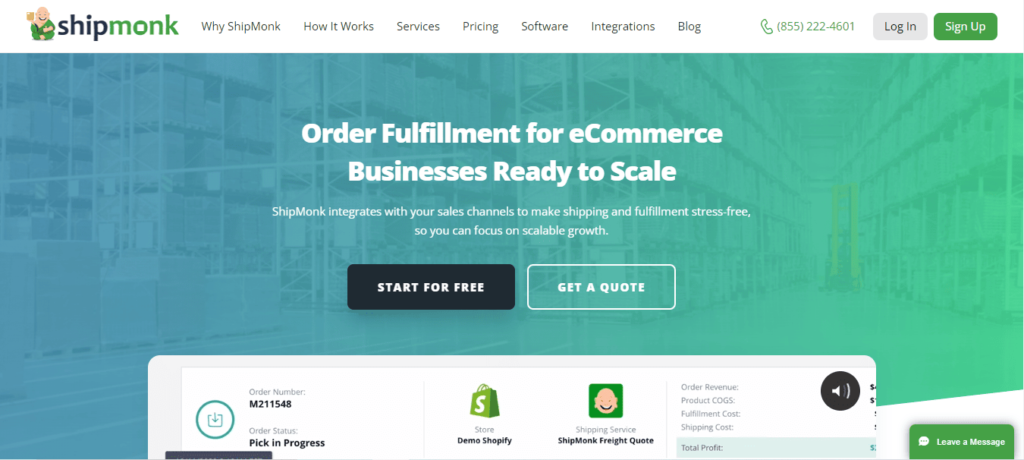 With 1 international and 3 fulfillment centers in the US, they have a comparatively limited network of their own but they partner with other fulfillment companies like FedEx, UPS, and DHL to expedite deliveries.
If you are tired of bad customer support from your existing fulfillment partner, ShipMonk would probably have your attention.
Being relatively newer in this business, they take their customers seriously to win their confidence and long-term trust.
They currently don't provide value-added services like temperature-controlled fulfillment. So, it is a fair option to fulfill orders for general products.
They offer special packaging solutions at affordable prices. They also provide a distant cam view of how your things are packed.
You can instruct, approve, or ask for edits in your packaging before your orders are dispatched.
It also supports the fulfillment of your orders from additional marketplaces like Etsy and Groupon which other fulfillment companies may not provide.
Key Features
No minimum number of orders
$250 fees for picking and packing
Supports B2B orders fulfillment
Eligible for Amazon SFP
More options for sales channel integration
Special discounts for crowdfunding startups
Best For
Emerging small and medium businesses
500+ orders per month
Shipping to different parts of the world
Calculating exact duties and taxes
Subscription boxes fulfillment
4. Red Stag Fulfillment
Red Stag Fulfillment started in 2013 and has earned a good reputation in fulfilling e-commerce orders within and outside the USA.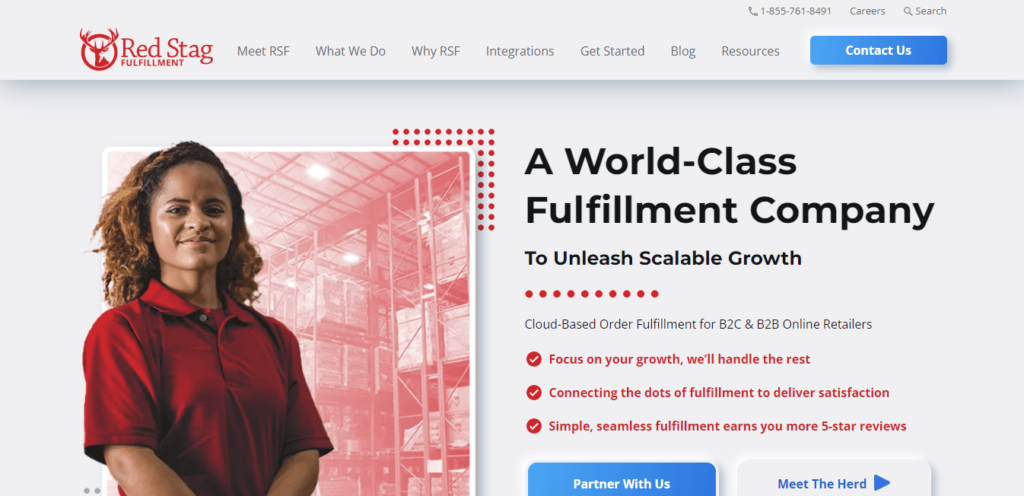 They promise to provide an ideal fulfillment setup for scaling a small business into a big one.
With their claim of 100% fulfillment accuracy, they are probably the best replacement for Amazon FBA. They are so confident of their accuracy that they are willing to pay the penalty for an order that wasn't delivered according to the instructions.
Whether you want to ship oversized furniture or delicate ones like a precious necklace, you can count on Red Stag fulfillment.
With that distinction, they still lack special storage or shipping solutions for temperature-controlled products.
Nevertheless, it is a great option if you are too concerned about product safety during transit.
With all these premium features, it is an inexpensive fulfillment solution and has no cruel monthly minimum to get started. But it is also not the cheapest as it takes special care of the products and their shipping speed.
However, it may not be the best option for a business that has just launched and doesn't have any orders yet.
Although they don't have an international fulfillment center, they still ship internationally with guaranteed accuracy.
Key Features
Minimum 200 monthly orders required
Provides warehouse kitting services
Higher-order accuracy
Same-day delivery
Minimum returns
Best For
SFP and FBM
Small and medium businesses
Fulfilling special products with care
B2C and B2B businesses
Oversized and fragile products
5. Whitebox
Whitebox is another promising fulfillment company that started in 2013 and has been increasing its customer base by providing top-notch fulfillment services to multiple businesses.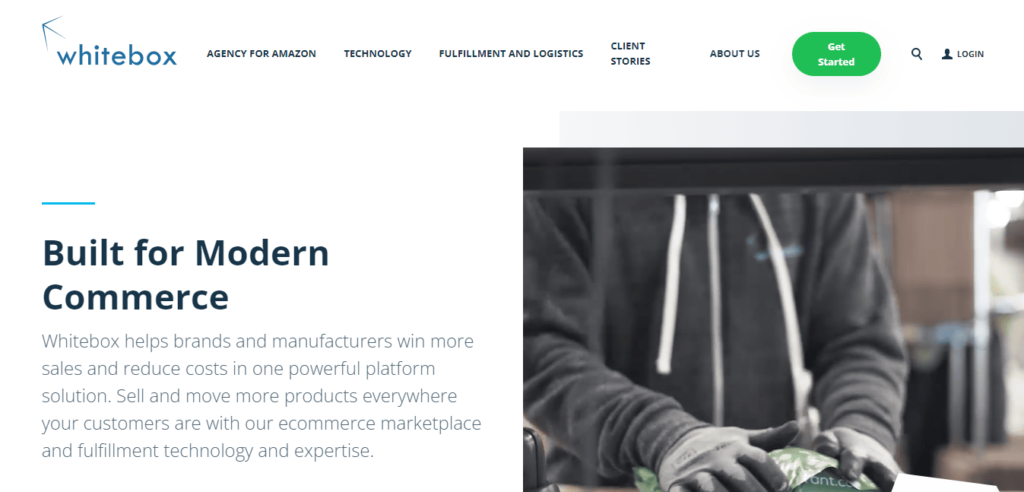 Although they have 3 independent warehouses in the USA, they are still able to fulfill orders in every region by partnering with the major fulfillment services.
They don't have an international fulfillment center but they do ship internationally.
Their prime focus seems to work with US-based Amazon sellers.
They help in your product listing and automate your Amazon business as much as they can. However, they are not eligible to provide SFP because they don't commit to the same-day or 2-day guarantee.
The best part about this service is that they also support fulfilling your dropshipping orders.
So, if you are doing Amazon dropshipping and want to fulfill your orders with over 99.8% accuracy, you can consider Whitebox as an excellent alternative to Amazon FBA.
They also don't have any requirements for long-term fulfillment contracts. So, you can get started right away on a trial just to check if they are a good fit for your business.
Currently, they only provide fulfillment solutions for B2C and D2C businesses. They don't accommodate bulk or B2B orders.
Key Features
Minimum 1000 monthly orders required
Provides excellent storage and shipping transparency
One of the best customer support programs
Provides kitting services
Supports special packaging and storage solutions
2-day delivery promise
Best For
SFP and FBM
Small and medium businesses
Dropshipping fulfillment
Fulfillment within the USA
Having dedicated customer support
6. Shipwire
Founded in 2006, Shipwire is another decent option that can replace Amazon FBA for specific requirements. Starting as a 3PL service, it has expanded into a good fulfillment network.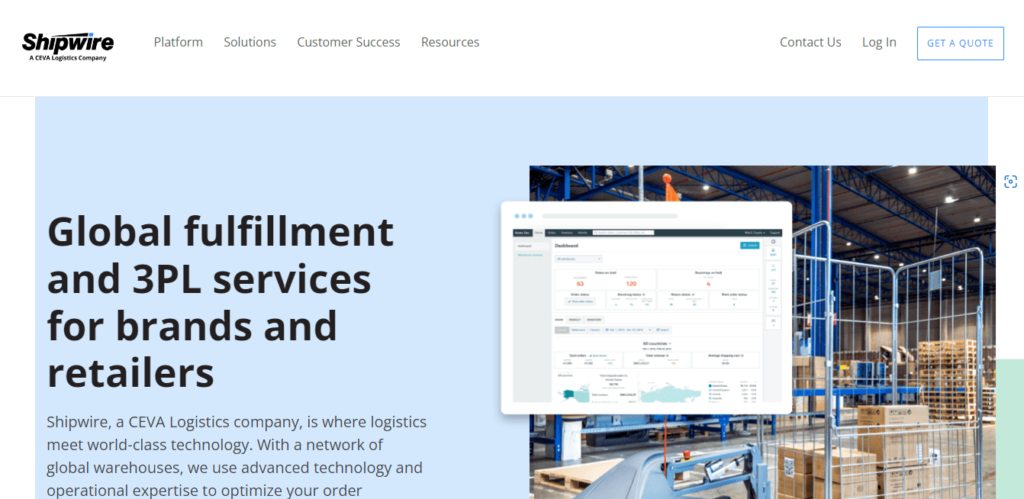 It has multiple warehouses in and outside of the USA that helps deliver your orders on time at affordable prices. They fulfill orders for the B2C, D2C, and Dropshipping business models.
They have great software that integrates your orders and inventory to put more control in your hands. You can customize order fulfillment reports as per your convenience.
Although the pricing structure is vague on the website, they still manage to deal with individual businesses and give them a feasible offer to both parties.
With a wide network of fulfillment centers worldwide, they can give you the best fulfillment pricing along with speedy delivery solutions.
They also take pride in providing excellent returns management with minimum errors.
They also have a very wide range of e-commerce platform integrations. Their software can connect your business to over 200 e-commerce platforms.
Key Features
30 international fulfillment centers
Wide integration with multiple marketplaces
Provides custom packaging solutions
Fulfills B2B and B2C orders
Best For
Small businesses
International shipments
Multi-channel sales management
Crowdfunding and dropshipping orders fulfillment
Detailed customer support
7. eFulfillment Service
Established in 2001 as a simple and reliable fulfillment service, this company has grown to be among the top 10 fulfillment companies.

They don't have a minimum order requirement and unlike some big fulfillment companies, eFulfillment doesn't surprise you with hidden charges for adding up smaller orders for fulfillment.
They have a single dedicated fulfillment center in the USA but also ship products internationally by partnering with the leading fulfillment services.
They also provide integrated solutions for over 40 major e-commerce platforms.
Although they have been in this business for over two decades, they still take their clientage very seriously and provide end-to-end customer support.
They do not provide 2-day delivery. So, you may have to choose another fulfillment company if you want to go for Amazon Seller Fulfilled Prime (SFP).
The best part about this service is that, unlike others, it only charges you for the product, not for the pallets.
Key Features
Provides FBA prep services
Support in special packaging
Free to set up
Provide satisfactory kitting and returns services
Three warehouses in the USA
Best For
Small businesses and new startups
Shipping high volume small size parcels
Lower fulfillment pricing
Excellent customer support
8. Fulfillment.com
Established in 2011, Fulfillment.com is another great option to replace Amazon FBA in terms of pricing, speed, and integration options. It offers lower cost and faster delivery service for e-commerce.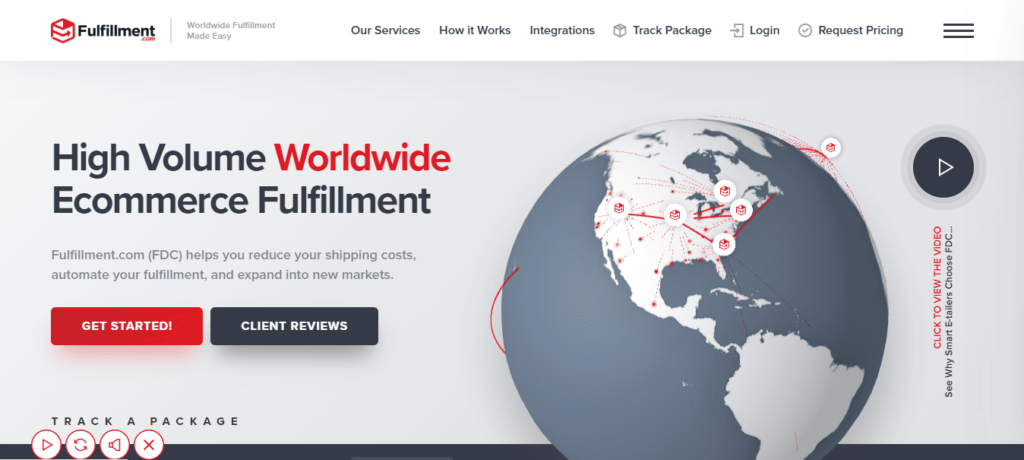 They also give you options to get your products manufactured related to health and beauty at discounted rates. So, they can be your suppliers and your fulfillment agents at the same time.
Their cloud-based order management software allows you to integrate your e-commerce store and manage your inventory more efficiently.
With four fulfillment centers in the USA, it has become one of the best fulfillment companies to ship products within the USA using their strategically located centers to save on shipping costs. They also have international fulfillment centers in Canada, the UK, Europe, and Australia.
Key Features
8 worldwide fulfillment centers
Provides 2-day delivery options
Partners with other leading fulfillment companies including FedEx and DHL, etc
Best For
Amazon SFP and FBM
High volume shipments
Fulfillment in North America, UK, Europe, and Australia
9. Ships-a-Lot
Established in 2014, Ships-a-Lot is another great substitute for Amazon FBA. It specializes in the fulfillment of e-commerce orders and has successfully gained a lot of attention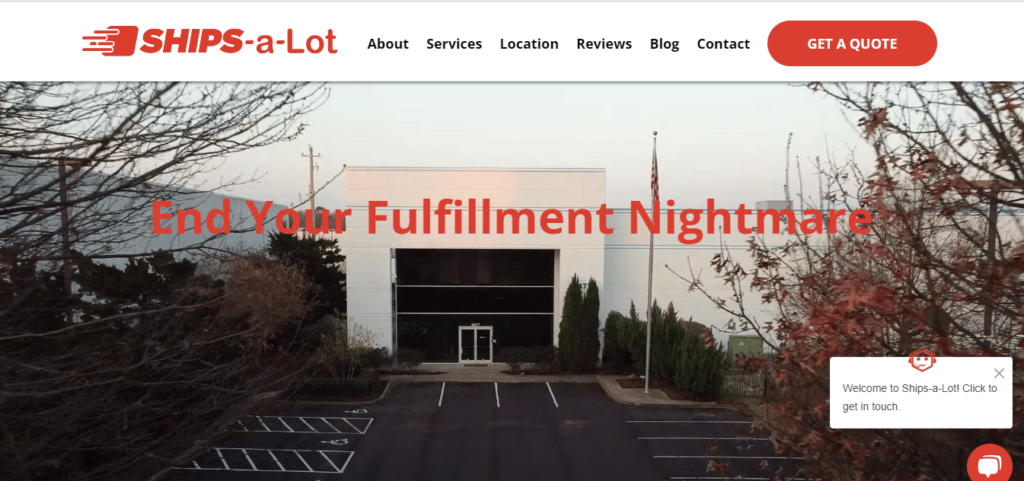 due to its flexibility to facilitate online businesses in terms of order fulfillment.
Another important reason why this service has become a great Amazon FBA alternative is its commitment to its turnaround time for every order fulfillment. If it delays the fulfillment by any chance, it compensates its customers with $20.
At nominal monthly charges, it gives you the option to have as much space as you want in their warehouse.
They have integration solutions with leading e-commerce platforms like Amazon, Shopify, and BigCommerce.
It does not offer 2-day delivery. So, you can't use Amazon SFP with Ships-a-Lot.
Key Features
$35 flat monthly fee
24-hour turnaround promise
Easy-to-use software interface
Simple onboarding process
Best For
Growing businesses that aim to become brands
Top-notch customer services
Transparent and flexible pricing plans
Shipping and tracking items in real-time
10. Orderhive
Established in 2013 as an inventory management software, Orderhive has gained a positive reputation in eCommerce fulfillment.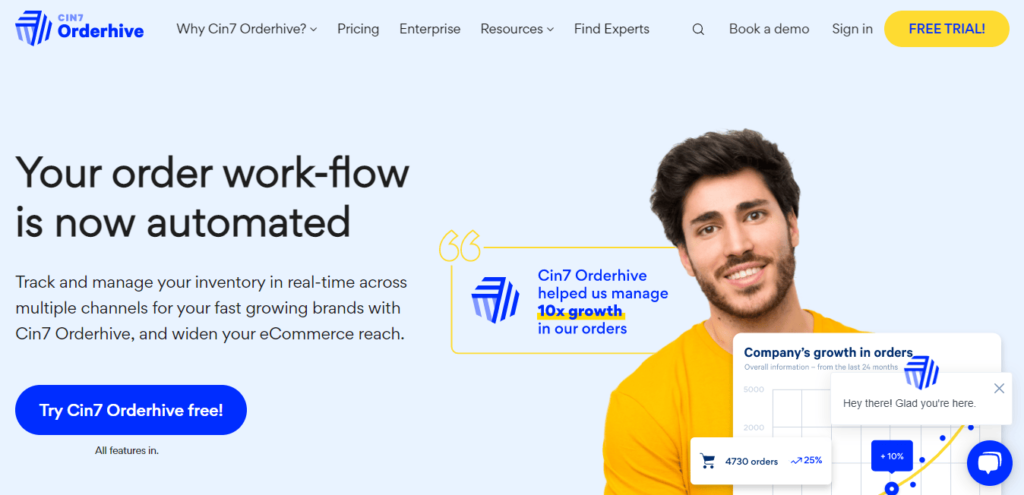 It uses AI to help you automate product listing, order compilation, inventory management, tracking, etc.
It offers multiple integration solutions across different leading channels including Amazon, eBay, Shopify, etc.
It comes with flexible and transparent pricing options starting from $95 per month to $500 per month. The best replacement for Amazon FBA is the standard package at $195 per month.
You should have a minimum of 1000 orders per month to avail of this package.
It does not provide 2-day delivery. So, you can't have SFP with Orderhive.
Key Features
Saves cost by automating the process
Just-in-time fulfillment solutions
Minimum errors
Round-the-clock customer support
Best For
Small and medium businesses
Amazon FBM
Dropshipping fulfillment
Multiple-channel integration
FAQs about Amazon FBA Alternatives
The following answers to the frequently asked questions will help you develop a clear understanding of FBA alternatives.
Why Should You Use an Alternative to Amazon FBA?
The main reasons to look for an alternative to Amazon FBA may be related to the costs and satisfaction levels. However, we have listed the top reasons why you should use an alternative to Amazon FBA.
To cut down the inventory storage costs and hefty fulfillment fees.
To have more control over your packaging and product shipment schedules.
You are not satisfied with how Amazon handles its sellers.
You want dedicated customer support and more transparency.
You want to ship your products faster as compared to FBA.
Is Amazon FBA Worth It in 2023? 
There are many reasons why Amazon FBA is worth it in 2023. Some of them are briefly listed below. 
FBA sellers enjoy a high volume of sales due to the Amazon tag.
FBA sellers only have to focus on getting orders, leaving everything else to Amazon.
Despite its heavy costs, FBA is still a very profitable business model.
Amazon has a wide global audience and it is increasing day by day.
FBA supports multi-channel sales.
Although it is growing more and more competitive, FBA is a business that a majority of Amazon sellers adopt for current and future growth.
Is FBM Better than FBA?
This depends on your business priorities and how you want to carry your business. The most important points in FBA vs FBM are briefly described below.
FBA is better if you don't want to deal with inventory storage, pick, pack, ship, and provide customer services.
FBM is better if you have all the set up for storage and complete order fulfillment.
FBA is better if you have a large number of orders to fulfill and you want to focus more on getting orders.
FBM is better if you have just started from your in-house inventory and fulfillment.
FBM is also better if you don't want Amazon's tag or its services like Buy Box, etc.
FBM is also good for unique products that other sellers don't have.
Keeping in view the points we discussed, you have to decide which is better for you.
What Is 3PL FBA?
Amazon FBA has two major functions. It provides fulfillment services for its Amazon sellers. It also acts as a third-party logistics service to fulfill orders from other platforms.
3PL FBA refers to Amazon FBA acting as a third-party logistics company that stores, picks, packs, and ships products from other platforms against set charges.
How Many Sellers Use FBA?
According to an estimate, there are around 10 million Amazon sellers. Out of them, almost 73% sell via FBA.
So, there are over 7 million sellers that use FBA.
Summary
Shipping orders correctly is the most important part of the supply chain process. If you make common mistakes while shipping Amazon orders, you will downgrade your Amazon seller rating. That's why Amazon's fulfillment is widely done with FBA.
But if Amazon FBA fees and limited control over your products are challenges for your business, you can always take help from this list of top 10 Amazon FBA alternatives.
If you want help regarding sourcing products for your FBA shop, ask for a free quote to let one of our sourcing experts guide you through every step.